Click To Go Back To The Main www.GlenStephens.com Stamps Homepage


Welcome! You are visitor
to www.GlenStephens.com




Glen Stephens
Monthly "Stamp News" Market Tipster Column


April 2007

---
Tax Office actively
targets ebay sellers
Dealer Michael Eastick kindly forwarded me a news item from "The Australian" national daily on March 13.

In part it the article said:

"Yesterday, eBay emailed about 1000 Australian sellers who had annual turnover of more than $50,000, telling them that in response to a request from the ATO, details of their memberships and dealings on eBay had been passed on to tax officials."

"Data the ATO asked for covered the tax years from 2003-04 to 2005-06, and included members' contact names, sellers' user names, telephone numbers, duration of membership and monthly sales turnover.''

"The ATO declined to comment on the nature of its inquiries."

There are certainly many local sellers of stamps on ebay who turn over more than $A50,000 p.a.

Whether they routinely remit the Tax Office (ATO) the 10% GST on those local sales is anybody's guess, but some of them openly and proudly call themselves "collectors", so draw your own conclusions.

GST is just one side of the coin ... evaded income tax on the profits is the other side, and both have severe penalties and fines on offer if those avoiding either tax are detected.
The ATO is also cracking down on those Australian sellers who in the past have claimed the GST component of ebay fees as an input credit.

This is illegal as ebay Australia is overseas based and is not liable to pay GST itself on fees collected, "The Australian" article outlined.

It stated that ebay's: "Australian business is run from Switzerland by eBay International, and as a foreign entity it does not collect GST."

One large dealer told me today his ebay related fees averaged about $1,000 a month, and he has innocently claimed about $5,000 total in recent years as a GST input credit, fully assuming GST was buried within that figure.

He was now concerned he needs to voluntarily pay that back now – as a lump sum, or be penalised 100% - plus interest, and fined, if he is caught in this net.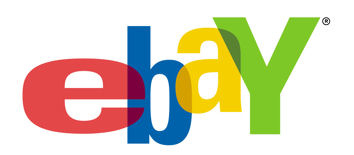 There is also growing pressure for ebay USA and UK to adopt a similar tough stance on those selling on ebay and not paying tax.

I read an interesting article on this in "USA Today" during my plane journey home from New York this month on this growing problem.

Another long piece in the highly respected "Financial Times" can be found here - http://tinylink.com/?RfPrrGX27f

That article outlines a US Government move to require ebay to report to the Internal Revenue Service (IRS) all clients who sell more than 100 lots a year or $5,000 or more value a year in total sales.

The article says the US Treasury expects to collect $US 2 BILLION in extra taxes from the new regime, due to come into force next January.

Ebay has 97 million USA based users, who in 2006 reportedly sold $US 25.2 billion in merchandise, exceeding the gross national product of many countries.

More than 720,000 Americans make their primary or secondary income from ebay, according to a 2005 study.

How many ebay users pay the income and state sales taxes they owe on their online earnings is unknown. However experts suspect the percentage is very low.
Disclaimer – I sell nothing on eBay and in the stamp section think the waters are infested with some quite un-regulated and razor toothed sharks.

Some sellers (not all I stress) are often knowingly peddling regummed, mis-described and repaired junk onto often clueless bunnies, so please tread VERY carefully.

The emails and material sent to me direct for inspection that support this theory would amaze some folks.

Collectors selling off duplicates and small dealers offering thematics and lower priced items certainly offer a very valuable service.

However when large volume traders masquerading as "collectors" who are members of no dealer associations whatever start offering 4 figure items, the alarm bells need to ring loud and clear.

Sadly the emergence of ebay as a large marketplace for expensive stamps means cowboys can get on there and call all sorts of ugly looking second grade junk "well centred" and "Superb" and "MUH" etc.

And sadly, often hoodwink unsophisticated and new to stamp collecting buyers.

One such seller I noticed abusing this in recent times is someone with the ebay handle "joanne620" - who I am reliably advised is not female, nor called Joanne.

I wrote about this seller a year back, and sadly the same over-described material still seems to be getting offered with impunity, so this is an opportune time to re-visit him/her.


This seller is not someone uneducated about stamps. He/she has in fact over 1,567 ebay positive "feedback" points and over 2,263 ebay sales in the past year alone, and sells a lot of stamps - if not entirely stamps.



Sure - offer this garbage on ebay as badly centred and regummed and toned by all means if it is - and pray often clueless buyers buy it from you. However when stamps are poorly centred and clearly faulty please do NOT describe them otherwise.



The ugly looking set of Roo "Specimens" illustrated nearby (lot 200087615960) was offered for sale in mid March by "joanne620" for $A199.95. The lot heading called the stamps in the heading - the silly caps and quotes are theirs:

"BEAUTIFUL KANGAROO C of A SPECIMEN SET"MINT"INVESTMENT" - ""SUPERB" PRISTINE " FRESH "" VERY SCARCE "" INVESTMENT


What total nonsense! No dealer in this magazine would dare offer such heavily hinged ugly off centred junk at even half that price. They are not "beautiful", nor are they "superb", nor are they an "investment" at $199.95 in anyone's wildest fantasy.

Investment? Next month you would NOT get a quarter what you paid for these stamps from any established dealer. See how much I offer you for a Roo with missing perfs.

The text calls them "fantastic" and rambles on about "future capital gains". This person should be charged by ASIC for giving un-licensed (and quite un-true) "investment" advice!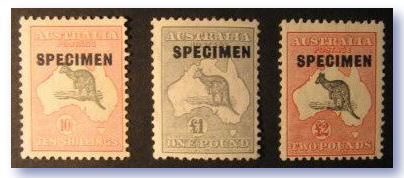 And apologies for the really crummy looking scan. These low grade hillbilly blurry digital photos are all this experienced seller EVER offers to buyers. Hmmmm. Wonder why?

You get the picture. And this is not just an isolated example - "joanne620" always has other overpriced, mis-described offerings that are in the same league. And he/she is not alone.

And if anyone thinks I am being too "tough" here on this seller - think again. I make no apologies for raising him/her again.

This clown has been merrily and knowingly flogging this over-priced junk for well over 3 years and such actions help destroy our hobby.

When the Ma and Pa Kettle newbie buyers that patronise these kind of sellers finally decide to sell, and find they paid miles above retail and lose a packet, they tell others about their fate, and that hurts us all in the end.
Despite a few trade members with contacts in high places spending countless hours trying to get this cowboy removed from ebay - nothing has occurred. ebay de-registered this "joanne620" seller for a short time, and weight of money presumably changed their view.

ebay is after money, and this seller has probably sold way into 6 figures of material, generating ebay many, many, $1,000s of revenue in 2 way commissions - and that seems to be all ebay care about.

One well known dealer has inspected some of the junk this person had mailed out, and advises much of the alleged "MUH" high value Kangaroo material was roughly and crudely regummed and/or re-reperforated.

I urge all readers to carefully peruse Simon Dunkerley's previous articles on some of the pitfalls of ebay - as well as the excellent editorial in this magazine in March 2006 on ebay.

ebay is about profits. Every time a sale is made they make 2 lots of commission. When PayPal is used to pay (the most common payment method) ebay make another commission (often two) as they also own PayPal.

ebay are not stamp dealers, and frankly could not care less about most of the mis-described philatelic stuff being offered. The words "Caveat Emptor" come strongly to mind.

Buy off any large dealer in this magazine and you can bet they are generally members of respected stamp trade bodies. Buy a mis-described dog - and IF the dealer will not play ball, the trade body WILL assist with your refund. Trust me on that.
There was a widely reported news piece in the USA the day I wrote this column (March 14) that a massive scam involving dodgy stamps on ebay USA had been uncovered that had netted the main operators some MILLIONS of dollars profit. Full report link here - www.msnbc.msn.com/id/17171372

Once again the legitimate collectors and dealers have been onto this crook for years and ebay have largely ignored it until now.

He has been investigated by law enforcement and postal authorities, suspended by eBay, and exposed in Internet forums devoted to stamp collecting con men. But keeps merrily ripping off suckers.

It says - "a retired FBI agent who worked numerous stamp fraud cases during his years with the bureau describes it as 'the most prolific and most notorious' scam ever perpetrated in eBay's problematic stamp-collecting category."

There is a very useful website that expertly tracks ebay traders who are selling dodgy material, or who have been suspended - scads.org/shame/shame.htm

Most listed are US sellers, but for instance SCADS has this comment about "joanne620" listed under "Sellers of questionable, mis-described or poorly described items" - "Australian seller, sold reperforated and regummed high-value Australian stamps in private auctions using private feedback in early 2006"

Once again I stress to buyers of stamps on the internet - from whatever source - be CERTAIN the person you are dealing with is a member of reputable stamp trade bodies.

Buy a dud stamp off someone who is, and you stand an excellent chance of a refund or price adjustment down the track. Buy it off Joe Cowboy at some PO Box in Woop Woop, and you totally kiss your money goodbye in most cases.

"I'm just selling my late Uncle's stamp collection, and I am a real novice so please don't ask me any of that technical stuff" is a great smokescreen for many dodgy ebay sellers. Nuf sed.

"PNC's"
One area of modern issues doing incredibly well are the Australia Post FDC's with commemorative coins inserted in them.

These are called "PNC's" - or Philatelic Numismatic covers.

Some $5 coin inset examples are the 1997 Don Bradman issue, and 2000 Olympics.

Several have a $1 coin like 2000 Victoria Cross "For Valour" (which sells for $225) and 2000 "LAST ANZACS".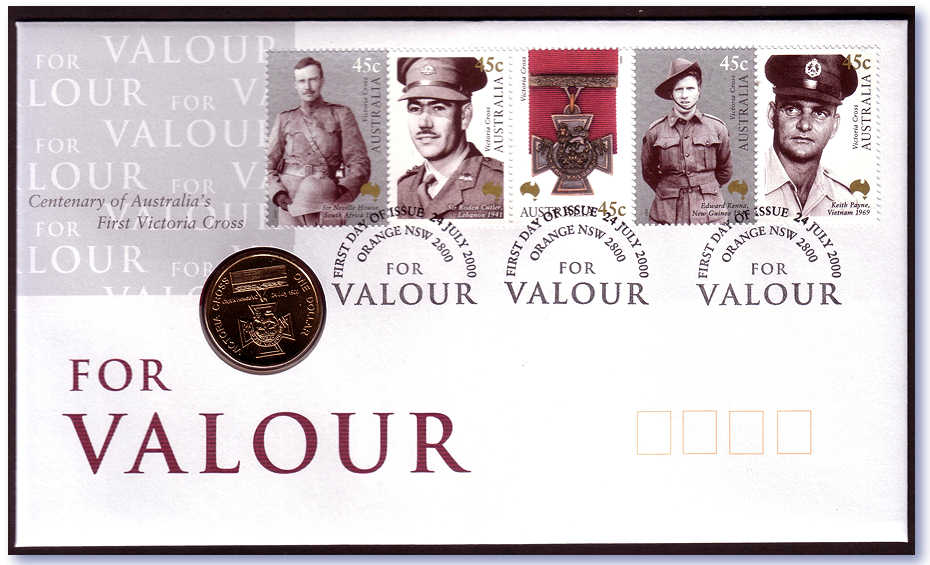 An attractive PNC
And others like the 2002 Queen's Jubilee have a 50¢ coin plus the stamp issues - and that one is the priciest one of them all!

These coin/stamp items clearly have a large following, and mainstream stamp/coin dealers tell me the market is quite strong on these.


These coin/stamp items clearly have a strong following, and mainstream stamp/coin dealers tell me the market is quite strong on these.

I phoned a leading stamp and coin retailer Prospect Stamp and Coins in Sydney to get the input of a retail dealer and was surprised at what I heard.

"These PNC's are the undoubted boom area in Australia Post products" the owner/manager Peter Craft told me.

He continued: "some of the quite recent PNC issues that all your readers could have purchased from Australia Post mail order at issue price, we readily sell for twenty times or more than that price already."

Craft explained to me the reason for the huge increases are because often the coin in the PNC is obtainable to coin dealers and collectors in no other way.

And most importantly that the coin catalogue "Bible" from Greg McDonald now lists and prices and illustrates these PNC's.

"For example, the 2002 Queen Jubilee issue was freely sold by Australia Post at $9.95. The 2002 dated 50¢ coin in there is only available to the coin market if you tear open a 2002 PNC."

We sell these now for $275, and demand is far stronger than supply" said Craft.

Of course, for each one torn up, one less exists for the stamp market!

I asked Peter Craft - a multi decade veteran of this business what his tip was from the growing series of PNC's.

His instant answer was the 2003 Queen Golden Jubilee issue. Issue price was $11.95, and yet he sells them for only $24. He said: "This contains an aluminum bronze 50c piece which is also unique to that PNC."

Peter Craft feels this issue may soon be selling for a much higher multiple on issue price.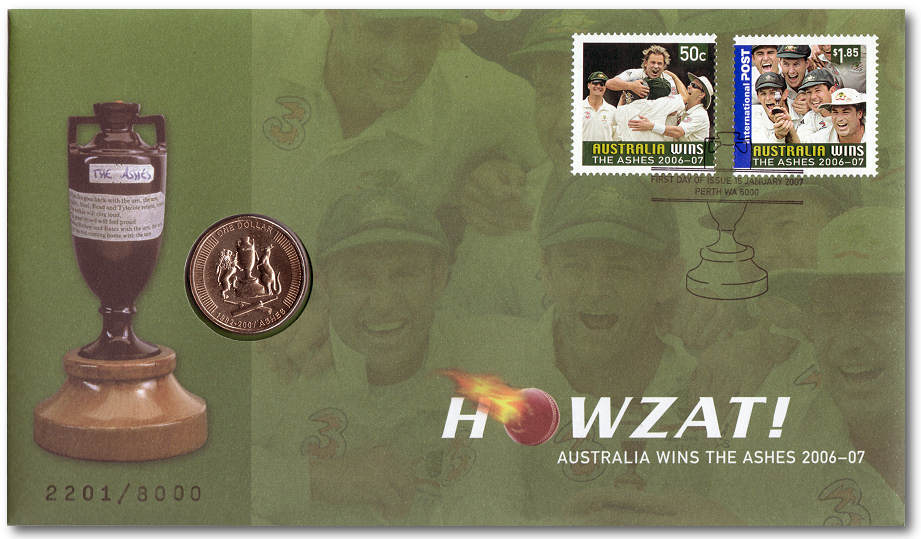 I received large number of calls from clients in recent weeks wanting to buy the recent "Ashes" PNC.

This PNC seems to have been issued with almost no fanfare, and for the first time, is individually numbered – only 8,000 were done – to satisfy both stamp and coin collectors, worldwide.
$150 item
Each PNC has the special "Ashes" $1 coin inset into it. I understand these have sold for up to $150 each on ebay.

I can't confirm that, but did check ebay as this was typed and saw one, lot 230102787016 sell as I watched for $A138 with 8 active bidders, so $150 seems very possible.

The seller was "tonyozcan" - the successful buyer's handle was "youbloodyripper" – you can't get much more Australian than that! P.O. issue price was $19.95 only weeks back.

The demand for these Ashes PNC's is not only restricted to local buyers – near all of my website stock has sold to Indian or British "Cricket" thematic collectors, and 8,000 PNC's will not spread nearly far enough.

If you are looking for a new collecting challenge, PNC's might well be one to consider? There are not many in the series, and prices seem headed all one direction.

The just released Harbour Bridge PNC is NOT numbered, so the "Ashes" being numbered, and in such a tiny run might be a very good item in the future.

Happy Birthday!
The one mint stamp nearly every reader of this magazine lacks is the 5/- 1932 Sydney Harbour Bridge.

It has always been Australia's "glamour" stamp.

Not nearly as pricey as most mint bi-colour Roos, but far more keenly sought in my experience.

The "Five Bob Bridge" is on near every "want" list - and collector wish list.

Like the similar era icons the GB 1929 £1 PUC, and the USA 1930 Zeppelins, this is the real deal for a 20th Century complete collection in most eyes.

Corner cancel CTO copies from "Specimen" packs are very plentiful - and are still very desirable of course.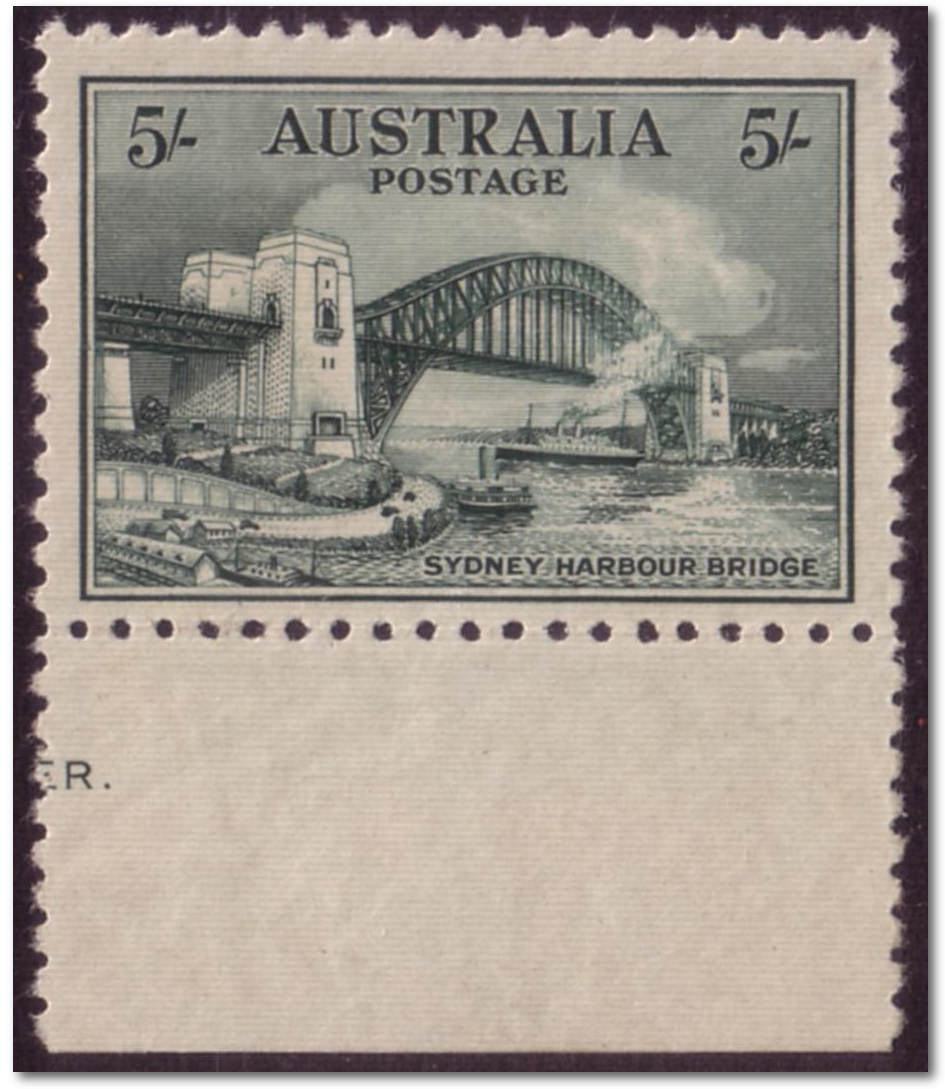 However a mint example, and especially MUH seems like the "Holy Grail" for many folks filling up hingeless albums. They will cost you way less than $1,000 for a genuine example, yet most readers will only ever dream of owning one.

I listed one up on my www.glenstephens.com/rarity page this week. It is illustrated nearby. When the scan was up large on my screen I mused it really has to take the prize as one of the most attractive stamp designs ever issued by Australia.

Finding a nice copy of this stamp is a lot harder than many imagine. They were rotary or single line perforated, on basically blotting paper grade stock, and even adjacent copies have different perfs and centering.

This issue was prone to gum toning, and rust spots also seem to occur on most copies. The hand applied gum cracks and "crazes" heavily on most of them, especially if stored in humid areas. Finally the perfs and centering are often both woeful.

The "Coathanger" stamp issue turns 75 years old on March 14. I plan to get out and walk over it on the real anniversary March 19 - along with 300,000 other folks.

The bridge was closed to traffic on March 19 from 4.30am to 11.00pm - the longest closure in its history.

I had lunch with "Stamp News" advertiser Martyn Grieve from A-One Stamps last month. His lounge room looks directly out on the "Coathanger". Martyn walked across it on the opening day in 1932 - I bet not many readers can claim that!

According to "Guinness World Records", it is the widest long-span bridge in the world and is the largest steel arch bridge.

The weight of the steel arch alone is 39,000 tons. I was surprised to read given our large steel industry that 79% of the steel used for the bridge was imported from the UK. Indeed all the 6 million hand-driven rivets were made in the UK.
A detailed report of my visit to, and the results from, the Arthur Gray 'Kangaroos' sale in New York is elsewhere. (Click HERE.)

Many pundits warned the $A7.15 million paid at that sale would drain every spare cent from the local market for months.

They of course were totally wrong - the exact reverse has occurred. Money is pouring into good Kangaroo items like there is no tomorrow. Because of Gray, not the opposite.

The fact world stock markets are jittery is of course always fantastic news for the stamp market. A safe and secure haven for many.

Prestige Philately had a nice collection of lower value Kangaroos on offer in their March 10 auction.

Most of them were from one major local vendor Barry Gribble. Gribble was described as "leaping out of his skin" over the results!

This issue was prone to gum toning, and rust spots also seem to occur on most copies. The hand applied gum cracks and "crazes" heavily on most of them, especially if stored in humid areas. Finally the perfs and centering are often both woeful.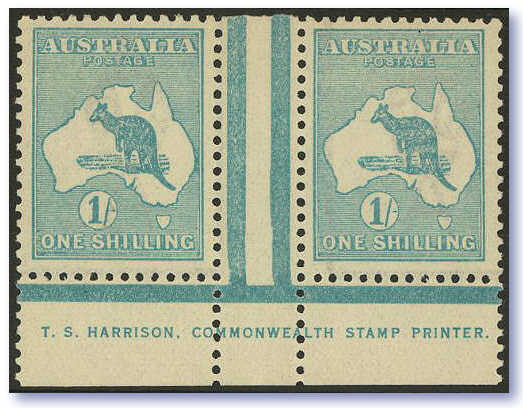 50% over ACSC
When he consigned his material Gribble said he would be happy to get $225,000 for the collection. The invoice price of his sold lots totalled near enough to $A500,000.

This collection was missing the bi-colours, proofs, and essays that Gray was so strong in, but was very solid in lower value Kangaroo monograms and imprints - and decent KGV heads.

I "attended" the Prestige sale live via computer, and was amazed at the prices some of the material realised. Lot after lot was selling for well over full ACSC catalogue value.

A 1/- 3rd watermark hinged imprint pair was one I recall well, that was invoiced for $12,815 on an ACSC value of only $8,000.

One very expensive Kangaroo item I wanted for a client cost me well over 3 times estimate to secure it. The market is RED hot.

A fine used NSW 1d "Sydney View" - SG 12 cat £275 ($A685) was invoiced for about $3,500. Estimate was only $400. The list goes on.










Get my regular market update emails FREE. Stamp gossip, price trends, record sale prices, and many one-time stamp specials, wholesale bargains, and exciting offers and breaking philatelic news. A mini stamp magazine in every email! "KNOWLEDGE IS POWER". The ONE stamp list you MUST be on, to keep in touch with the rapidly changing world market. One client made $65,000 profit in a few months after following my specific advice. Sign up securely and quickly by clicking HERE to access my automated data base. And wiser still ADD your home AND work email, if I only have one right now. Add a stamp friend's email address if you wish. One short click and you are subscribed to probably the most read email list in the stamp world!


Instant Currency Conversion


FREE! Just click here... see exactly what my lots cost in your currency.




If you would like to be notified of updates to this website, Click HERE.
If have any questions,
or comments regarding my site, please email me at glen@glenstephens.com


I am a Member Of
Full Time Stamp Dealer in Australia for over 25 years.
Life Member - American Stamp Dealers' Association. (New York)
Also Member of; Philatelic Traders' Society. (London) ANDA. (Melbourne) American Philatelic Society, etc

GLEN $TEPHEN$
Full Time Stamp Dealer in Australia for over 25 years.
Life Member - American Stamp Dealers' Association. (New York)
Also Member - Philatelic Traders' Society. (London) ANDA. (Melbourne) American Philatelic Society, etc

ALL Postage + Insurance is extra. Visa/BankCard/MasterCard/Diners/Amex all OK, even for "Lay-Bys"! All lots offered are subject to my usual Conditions of Sale, copy upon request .
Sydney's BIGGEST STAMP BUYER: Post me ANYTHING via Registered Mail for my same-day cheque. Avoid the
GENERALLY 40% Auction " Commissions" (15% + 17½ + GST, etc.) AND their five-month delays! Read for details.
"Lothlórien", 4 The Tor Walk, CASTLECRAG (Sydney), N.S.W. 2068 Australia

Phone 7 Days: (02) 9958-1333 Fax: (02) 9958-1444 ( Contact me FIRST before sending a fax please.)
E-Mail: glen@glenstephens.com The Number #1 Web Site: www.glenstephens.com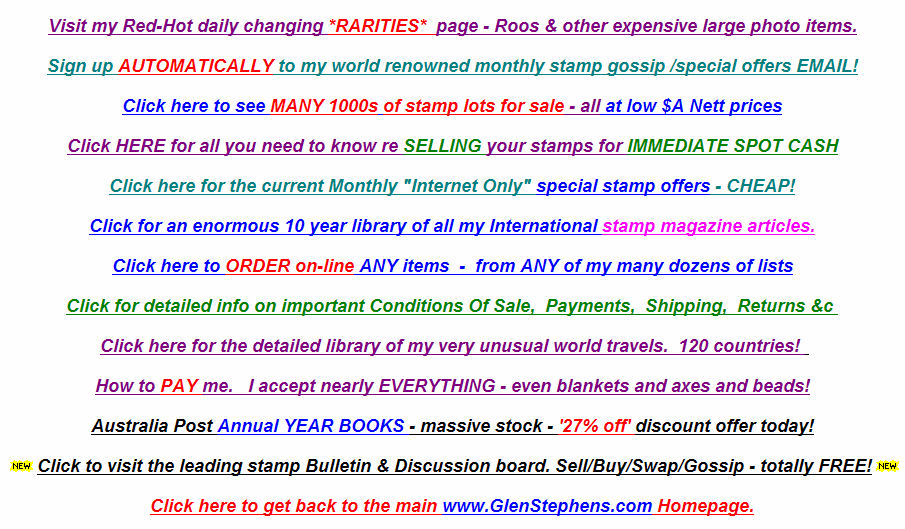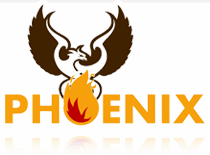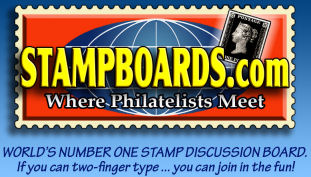 Instant Currency Conversion


FREE! Just click here...


E-mail me at glen@glenstephens.com -
Every credit card shown is accepted WITHOUT fee.
Earn Frequent Flier points while buying at bargain prices!
ALL prices are in weak Ozzie Dollars. I charge NO nasty, nasty
"Buyer's Commission" on stamps like nearly every "Auction" does.