Click To Go Back To The Main www.GlenStephens.com Stamps Homepage


Welcome! You are visitor
to www.GlenStephens.com




Glen Stephens
Monthly "Stamp News" Market Tipster Column


May 2007

---
First Class - FOREVER!
A "Forever" stamp has been debated in the USA for several years - by the public, the PO and the politicians.

This month that debate was settled for all time and the "FOREVER" stamps were issued on April 12.

A clever move as the next postage rate increase does not take effect until May 14!

The idea is that once you own this stamp you are able to use it at ANY time in the future to post a first class standard size (under 1 ounce) letter domestically in the USA.

So for the Maths brains experts among us, it really comes down to whether you feel postage rates will increase faster than money invested in the bank will return to you! (Which of course is taxable - stamp rises are not.)

Until May 14, USA domestic postage is 39¢. Thereafter it increases to 41¢, and is expected to increase again in 2008. The "Forever" stamp will cunningly cost 41¢ from date of issue - which was a month before the rate hike.

When the postage rate next increases (presumably to 43¢) "Forever" stamps will then sell for 43¢ - and so on.

However this 41¢ stamp may still be used ... FOREVER as fully pre-paying First Class postage.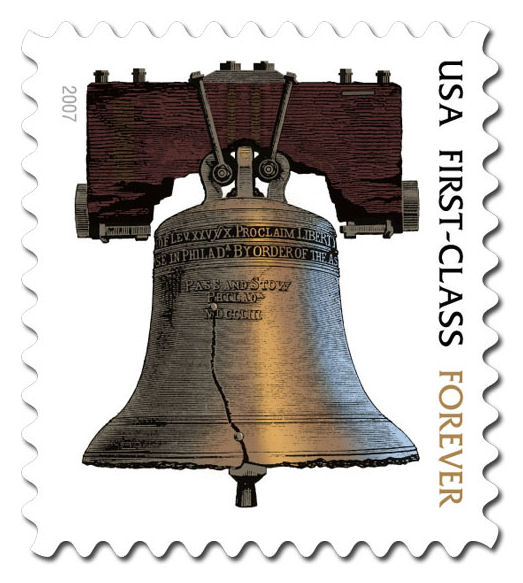 Forever - and EVER
The stamp as per the illustration nearby depicts the Liberty Bell. There is no denomination - simply the words

FIRST CLASS FOREVER

.


If such a stamp has been issued in the past and you bought up big, would you be in front or behind financially?

Remember in the USA a domestic letter was 6¢ as recently as 1971. Heck in Australia when we changed to decimal currency in 1966 a standard letter cost only 4¢!

Can some actuary or accountant out there tell me if you invested 4¢ in a bank in 1966 whether it would be worth (after tax) more or less than the 50¢ postage rate of today?

The US Post Office feels that a lot of these will be sold now, and never used. They will be lost in purses, drawers, car consoles, workshops, and goodness knows where else.

They may well be correct. This is called "breakage" in the marketing world. Things or products folks are entitled to use or redeem - but never do.

The other "plus" for the PO is that you cannot just buy one stamp, or a block of four.

They are sold only in panes or booklets of 20 or an ATM machine vended pane of 18. All are self-stick format. So the minium you can outlay to obtain these is $US7.38 from an ATM, or $US8 from the Post Office.
Sir Gawaine Baillie
Most readers would by now have heard of Sir Gawaine Baillie.

This was a rather eccentric English stamp collector who died in 2003 aged 69.

Almost none of his family or closest friends knew he even collected stamps.

Baillie did not exhibit, belong to clubs, attend auctions, or even discuss stamps with those in his closest circle.

Sotheby's auctioned his superb stamp collection over ten sales, and it realised £15,975,438 - or near on $A40 million.

This sum represents the highest total ever achieved for any single owner series of stamp sales in Europe.

"It was like walking into Aladdin's cave," recalled Sotheby's stamp specialist Richard Ashton, recounting the first time he saw the collection of rare stamps owned by Baillie

The final scheduled sale, which took place on January 19, achieved a record for any philatelic item of the reign of King George VI - which sold for £81,600 = $A204,000 approx.

This was for a Solomon Islands 1939-51 2½d magenta and sage-green imperforate pair.

In the large section dedicated to Sperati forgery items at that sale, the Australian 1913 £2 black and rose Kangaroo die proof brought £3,720 (then = $A9,300) - a world record price for any individual Sperati forgery item.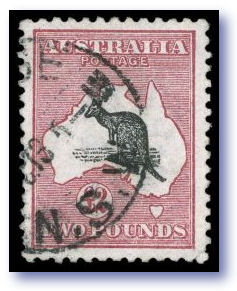 This price was comfortably ahead of the identical Arthur Gray example auctioned a few weeks later in NY.

I bought the Gray £2 Sperati forgery "used" example illustrated nearby for stock.

I was delighted to see Rodney Perry nominate this as one of his "Top 10 Best Value buys" from the 849 lot Gray sale in the April "Stamp News".

The other £2 Roo on offer at Gray was not a Sperati forgery at all, but a genuine stamp some dealers thought. Offered with a 1999 BPA Cert saying it was a Sperati, it sold for about $A4,350.

I also bought the Baillie "used" £1 1892 QV Tasmania "Tablet" Sperati forgery for stock, and now own both the copies thought to exist of his very rarest forgery!



Lady Baillie was understandably delighted with the results of these 10 auctions of stamps.

Each sale had unsold lots and she has instructed Sotheby's to offer all 1,342 unsolds at one last Baillie "Missed Opportunities" sale on May 2/3, 2007.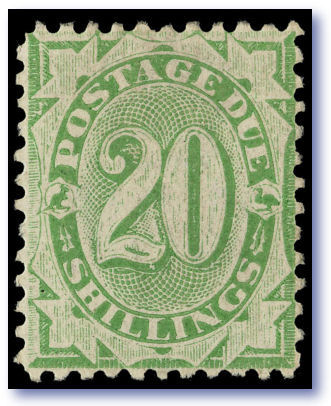 Bargain at £1!
This sale is stated to be totally unreserved. Unless other bids dictate otherwise each lot will open at £1.

The catalogue includes every unsold lot from the ten previous sales. Each lot carries the original description and estimate, with the original lot number referenced at the end of each description.

"If there are no commission bids before the sale, or only one commission bid, the lot will start at £1. That should be enticing, even if you are thinking in Australian Dollars" Sotheby's stamp specialist Richard Ashton told me by email.

This sale of course has some magnificent pieces, as Baillie was most condition conscious.

For one reason or another they did not sell first time around, and this time they will all sell - even for £1.

One item that I'd be rather pleased to buy at £1 is the 1903 20/- (£1) green Australian Postage Due.

The stamp being offered is illustrated nearby, and it is described as being fresh with original gum. Estimate is £2000-3000. The Australia 10/- mono-colour Postage Due is estimated £1000-1500.

In this exceptional centering for the 20/- issue, I'd mark it retail at $7,500 if it were in my stock, so I have a strong feeling the £1 start price will not be needed on this one.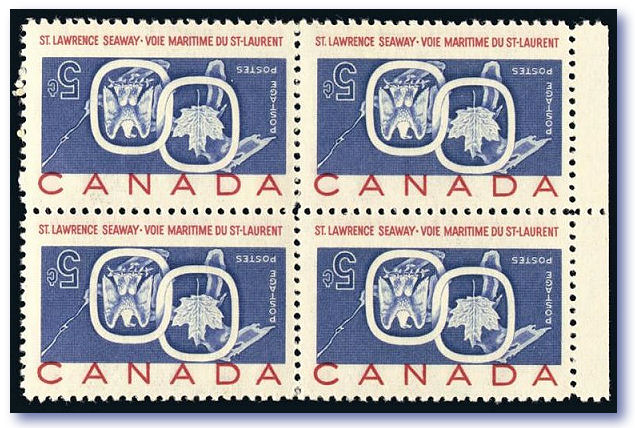 Another Baillie unsold

Naturally there are some very expensive items in this "unreserved" auction. Some in the £20,000+ mark original estimate.

One such item is illustrated nearby - the Canada 1959 5¢ "Seaway" inverted centre block, had an original estimate of £25,000-£28,000. (=$A62,500-$A70,000.)

It is all good marketing of course, as near all will sell this time around - and most at or above original estimate is my guess.

Sotheby's sadly have a barely functional website, so good luck trying to locate anything specific without a hard copy catalogue!
A note of warning - buying stamps off Sotheby's can be an exercise in total frustration, and can raise your blood pressure several times normal levels!

Getting my purchase mailed after the Baillie Sperati sale was a many hours long saga.

They had a signed and dated bid form from me, agreeing to their 6 pages of fine print terms and conditions. They know me, I've met their stamp consultant, and their press office had been in contact with me seeking this article prior to my Accounts Department exchange.

The Sotheby's accounts department were recruited from Dickensian England Central Casting it seems, and then all carefully trained by Sir Humphrey Appleton.

They refused to take any notice of any of the above, and demanded PHOTO ID before they'd debit my credit card and mail the goods.

Now I am a card merchant too and know that verifying the identity of buyer is essential, but someone in the stamp world not believing or verifying Glen Stephens of Castlecrag was a real person, is someone simply not doing their job.

I emailed the credit card details 4 or 5 times, emailed my background, emailed referees they were free to check with (including the PTS in London and their own in-house stamp "expert") - all to no avail.

This exasperating nonsense took - and I am not kidding - about 20 emails. I was "cc" ing 4 staffers (Stamp Department head included) in on all emails and suggesting if they were unable or unwilling to make a decision, to please escalate it to someone who could, and stop being so obstructionist and irritating. No chance.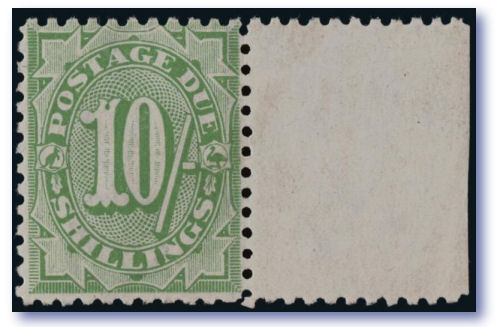 Also £1
| | | |
| --- | --- | --- |
| | The Dalek running their accounts department to whom this had been escalated was then emailed a full size signature, and I suggested she cut out my signature, and paste it onto all her precious vellum or parchment file scrolls, and please mail my purchase. | |
"Forgery"
She replied this would amount to "forgery" and refused to do it! I swear this was her actual wording. It was like a bad Monty Python script. A monocolour Fax she was happy with, but a colour email signature sent from my account was "forgery!

At this point I did my block, and emailed all the Directors of Sotheby's, politely suggesting their accounts department be urged to toss away their quill pens, button-up boots, and pink ribbons, and be invited to join the 21st century like everyone else in the stamp business had done long ago.

The you-know-what then hit the fan. I was inundated with concerned emails from Directors and their personal secretaries, apparently appalled at the petty nonsense responses I'd attached.

All kinds of managers and functionaries all down the line were booted up the Khyber it seems, and grovelling apologies were coming in from all directions to my inbox.

They offered to waive their 1.5% credit card fee (I'd never at any time minded paying that, or objected to it) and offered to waive the postage and insurance cost, and in general apologised profusely for the antics of Ms Dalek and her cronies.

I just hope they hired a new accounts department staff, so that any readers who care to bid in future will at least have benefited from my hours of bureaucratic frustration.

It is no wonder that American auction houses like Shreves are fast emerging as the preferred place to sell good British Commonwealth material. These British dinosaurs simply refuse to move with the times.

Like the buggy whip makers, if you do not keep pace and adapt, you will vanish into obscurity.

The super professional way the Arthur Gray auction was presented and publicised by Shreves would be impossible to beat. All 849 lots sold in the room, and that is believed a world first for a major stamp sale.

When it came to payment Shreves did not want photo ID, or DNA samples, or a Statutory Declaration from my Priest or Rabbi or Mullah. Quite an interesting comparison to Sotheby's, as I paid both bills in the same month.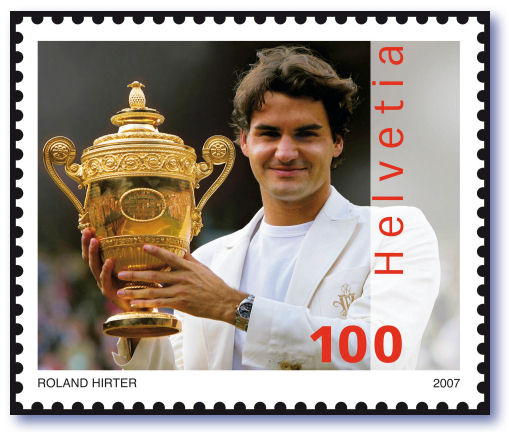 Switzerland's postal service issued a special stamp celebrating tennis legend Roger Federer on April 10.

The one franc stamp - the First Class domestic letter rate value most commonly used in Switzerland - depicts Federer lifting the Wimbledon trophy over his right shoulder.

It is the first time that Swiss Post has ever issued a stamp featuring someone still alive.

Swiss Post had announced plans for the stamp on February 26. This was the day Federer reached his 161st successive week at Number 1 - to break Jimmy Connors' 30-year-old mark, but the design was kept a secret.

The stamp went on sale on Tuesday April 10, 2007 at all post offices across Switzerland, and can also be bought online and from New Issue dealers.

I flew down to see Federer play at the Australian Open in January. I was guest of my Swiss friend Rudi who turned up at the tennis wearing the full Swiss traditional costume, to the great amusement of the crowd!

I flew to Basel Switzerland in February after the Gray auction for "Fastnacht". Basel is Federer's home town of course and he very deservedly is a hero there.

An attractive stamp, and at about $A1 face value, one that thankfully is affordable by all sporting fans.



"PRC" becomes "TAIWAN"
An interesting thing occurred late February.

Stamps from the "People's Republic Of China" ceased to bear that name, and appeared inscribed "TAIWAN".

As this is the name commonly given to the country by westerners, it might not come as a surprise to anyone, but it caused a near riot on the island.


And the reaction from Beijing was not far behind!

The decision to change the island's name on stamps was taken by President Chen Shui-bian, who describes Taiwan as a sovereign entity - one not related to China.

The Post Office released a single $NT5 stamp February 28, commemorating the opening of a Memorial Museum in Taipei.

Thousands of collectors - and supporters of Taiwanese Independence, queued outside Post Offices all over the island on issue day, waiting to buy a stamp that marks a significant event in the country's history.

Taiwan's postal services issued this stamp without the long established "Republic of China" title, describing the island simply as "Taiwan".

Legal?
The state-owned "Chunghwa (China) Post' also changed its name to "Taiwan Post" in February in a move which has angered China, the Taiwan opposition and deeply angered the Taiwan postal unions.

Many have contested the legality of such a name change, because there was no amendment or approval from the legislature. The government has stated that it is prepared to change the company back to the Chunghwa Post if necessary.

A residual legal issue was that the postal monopoly in Taiwan is by law given to the "Chunghwa Post", not "Taiwan Post". Thus any company named other than "Chunghwa Post" providing mail service is technically doing so illegally.

The Government claimed that the name change is lawful and would not affect mail service.

A recent government attempt to introduce bills amending four pieces of legislation to facilitate the name change at law were blocked by the Pan-Blue coalition, which controls the Taiwan Legislature.

The post Office claims the name change would facilitate better delivery of inward mail in the future. Some mail is now sent to China they say, because mail personnel in other countries often confuse Taiwan with China.

This is one of the first moves of a government "name-rectification campaign" that aims to assert the island's identity, distancing it from the Chinese identity.

Throughout the campaign, several state enterprises – including the public transport agency – have changed their name, dropping all reference to the word "China".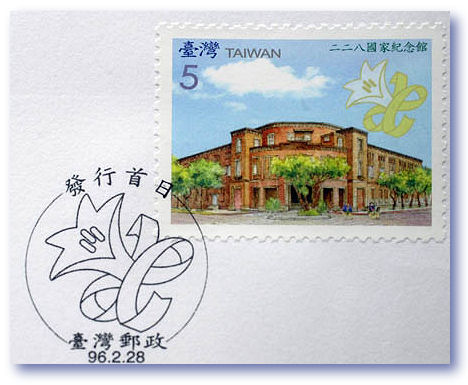 The new stamp
This is a new move by the government aimed at (they say) "rectifying the name of the island, a sovereign entity detached from the People's Republic of China".

On issue date, during a rally, President Chen said the new stamp: "served to mark the 60th anniversary of the bloody '2-28 Incident' and to: "prevent Kuomintang (the nationalist party spawned by Chiang, which was in power on the island until 2000) from returning to harm our people".

On February 28, 1947, police opened fire on a crowd of protesters in Taipei. An uprising followed, which was suppressed in a bloody crackdown by Kuomintang troops sent from Beijing. Referring to the killing of tens of thousands of civilians by the army.

The stamp was an instant sell-out. Only a million were printed. Of those 400,000 were sold on the first day of issue.

100,000 were reserved for sale to New Issue subscribers, and 500,000 were set side for the annual year books and for sale nationally on day two of issue.

Issue date February 28 was a national holiday but "China Post" newspaper reported that 51 post Offices around the country opened to offer this stamp for sale.

The report also says that long lines were formed to buy the historic new issue. They report about 1000 people lined up at the North Gate Post Office to buy this stamp.

The Taipei Post Office had only 500 sheets of 20 of memorial stamps on hand on day of issue, all of which it sold to eager customers within half an hour of opening its doors

Customers were only permitted to purchase two to four stamps at a time, but most collectors wanted to buy the entire set of 20 stamps.

"What is the purpose of collecting the stamps if you can only buy four of them?" one stamp collector asked. "It is not worth it!"

"The quality of the design is poor," another stamp collector complained to the "Taipei Times" on March 1. "It looks like it was done in a hurry."

Enthusiasm soon turned into anger as police tried in vain to prevent unruly queuers from sneaking forward in the line to purchase a second set of stamps.

Beijing fears this new wave of revisionism that once again attacks ties with the "motherland". For China, the island is just a "rebel province" that must be united once again, even with the use of force, to the rest of the nation.

A very interesting story, and proves once again that a country's history can sometimes by influenced and facilitated in small part by postage stamp issues!










Get my regular market update emails FREE. Stamp gossip, price trends, record sale prices, and many one-time stamp specials, wholesale bargains, and exciting offers and breaking philatelic news. A mini stamp magazine in every email! "KNOWLEDGE IS POWER". The ONE stamp list you MUST be on, to keep in touch with the rapidly changing world market. One client made $65,000 profit in a few months after following my specific advice. Sign up securely and quickly by clicking HERE to access my automated data base. And wiser still ADD your home AND work email, if I only have one right now. Add a stamp friend's email address if you wish. One short click and you are subscribed to probably the most read email list in the stamp world!


Instant Currency Conversion


FREE! Just click here... see exactly what my lots cost in your currency.




If you would like to be notified of updates to this website, Click HERE.
If have any questions,
or comments regarding my site, please email me at glen@glenstephens.com


I am a Member Of
Full Time Stamp Dealer in Australia for over 25 years.
Life Member - American Stamp Dealers' Association. (New York)
Also Member of; Philatelic Traders' Society. (London) ANDA. (Melbourne) American Philatelic Society, etc

GLEN $TEPHEN$
Full Time Stamp Dealer in Australia for over 25 years.
Life Member - American Stamp Dealers' Association. (New York)
Also Member - Philatelic Traders' Society. (London) ANDA. (Melbourne) American Philatelic Society, etc

ALL Postage + Insurance is extra. Visa/BankCard/MasterCard/Diners/Amex all OK, even for "Lay-Bys"! All lots offered are subject to my usual Conditions of Sale, copy upon request .
Sydney's BIGGEST STAMP BUYER: Post me ANYTHING via Registered Mail for my same-day cheque. Avoid the
GENERALLY 40% Auction " Commissions" (15% + 17½ + GST, etc.) AND their five-month delays! Read for details.
"Lothlórien", 4 The Tor Walk, CASTLECRAG (Sydney), N.S.W. 2068 Australia

Phone 7 Days: (02) 9958-1333 Fax: (02) 9958-1444 ( Contact me FIRST before sending a fax please.)
E-Mail: glen@glenstephens.com The Number #1 Web Site: www.glenstephens.com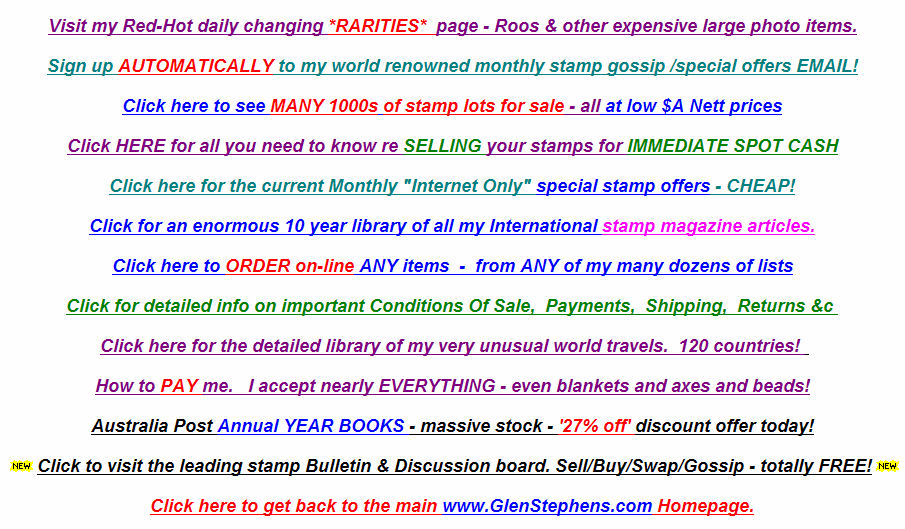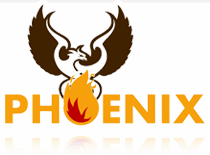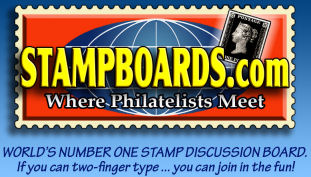 Instant Currency Conversion


FREE! Just click here...


E-mail me at glen@glenstephens.com -
Every credit card shown is accepted WITHOUT fee.
Earn Frequent Flier points while buying at bargain prices!
ALL prices are in weak Ozzie Dollars. I charge NO nasty, nasty
"Buyer's Commission" on stamps like nearly every "Auction" does.