Click To Go Back To The Main www.GlenStephens.com Stamps Homepage

Welcome! You are visitor
to www.GlenStephens.com



PNG 1994/5 "Emergency" Overprints:

The REAL story!
| | | |
| --- | --- | --- |
| | (I broke this story to the stamp world via my magazine articles in Australian, UK and US magazines. Not a word had been written about them until that time. Since them it has been reproduced all or in part (FREE - with my permission when asked) in over 30 magazines and stamp club e-journals worldwide - on 5 continents - and it still is as good a read as when I first broke the story over a decade back.) | |
---------------------------------
There has been enormous worldwide interest in the long series of Papua New Overprints, issued between March 1994 and August 1995. The number of face different previously issued stamps that were overprinted now totals 24 stamps.

In addition to these stamps, 3 se-tenant values of the January 1995 "Tourism" set of 4 pairs was finally issued with a surcharged overprint, although a few copies are known to have been sold missing the overprint. (I have some of the values in stock WITHOUT overprint for sale.) The January 1995 "Pope John Paul" 90t stamp was also overprinted at the last moment and sold as a K1 value. Many copies without overprint exist. (All such stamps mentioned here exist as they were sent to dealers as New Issues. The dealer credit cards were charged, and stamps simply never returned to the Bureau for exchange for overprints.)

This makes a total of 31 face different stamps issued by the PNG Bureau, and among these 31 stamps there is a world of variations and printing errors, and this article is an attempt to clarify the matter for collectors of Papua New Guinea. Very little has been written outside Australia on this most philatelically interesting and challenging issue of overprints.

These were purely and simply a panic EMERGENCY overprint done hastily at a local non-security general printer, as the Government refused to increase postage rates the PO had assumed was a done deal. The stamp issuing reputation of PNG had hitherto to this issue been one of one of THE most conservative in the Pacific.

it is obvious that these were not "created" for revenue raising purposes to extract bucks from collectors - quite the opposite. The highest overprinted value was K1, which was then worth about $US50¢! Some have face values of a couple of pennies each. If there had been 20K "Air Express" versions, or 15K "Officials" or whatever, a lá Cook Islands, we would all have reason to be a lot more suspicious and cynical!
13 DIFFERENT LETTER RATE OVERPRINTS
It should firstly be understood that the reason for the great bulk of the overprinting was purely and simply to satisfy postal needs, due to increases in rates, and to a large extent, a genuine shortage of the 21t letter rate stamps. Of the 31 different stamps referred to above, no less than 13 are stamps overprinted "21t" which until late 1995 was the domestic letter rate in Papua New Guinea. The collector might ask why the stamps overprinted late 1994/early 1995 to make rates other than letter rate, are restricted to a small time frame, whereas the 21t overprints span 18 months. The reason for this can I think be attributed to one word ... POLITICS!

The PNG economy has been in a great deal of upheaval in the last ten years. The national currency, the Kina was for quite some years pegged very closely to K1=$US1, and in fact a Kina was frequently valued a little higher than one $US. History shows us that the Kina was officially devalued 12% on September 11th 1994, and was then "floated" on October 10th 1994. The result of these unexpected movements was dramatic, and the Kina lost some 25% of its value against the $Australian and other world currencies in a one month period.

This soon became an effective 40% devaluation against the $Australian. This naturally has had a devastating effect on the country, as PNG has a very non-industrial economy, with nearly all consumer goods, manufactured items and machinery, even much foodstuffs being fully imported. Workers getting paid their normal wages in Kina found their new TV set, motor vehicle, Swiss watch, bottle of wine or spirits or even cans of imported baked beans or soup had risen some 40% very quickly and continued to increase for years. (As I update this story in latter 2004, the rate has sunk to well under HALF this level again, with 2.2 Kina needed to buy one $A1, and well over 3 Kina to one $US.)

With this economic background it is not hard to imagine there was no enthusiasm for the Government to approve a 20% increase in the sensitive domestic letter rate. I understand the PNG Post Office had for quite some time urged the Parliament that a rate rise was essential. The 21t rate was extremely cheap by the standards of any populous country and last increased (from 20t) late in 1990. Especially cheap when one considers the vast area of PNG, (183,000 square miles) and more importantly, that there are generally NO traversable roads of any kind between most major centres, due to the wet, heavily mountainous terrain. There are no railroads either.

Mail within PNG largely moves by aircraft, and in a country with very little commercial competition on internal air travel, cost of moving even a domestic letter is many times greater than in countries with a wide choice of air carriers, road hauliers, and train/rail services. The mail volume in PNG is surprisingly high, as the population of PNG is on par with that of New Zealand. In fact PNG has around one quarter the population of Australia. Added to this, for some reason, even way into 2004 as I update this there appear to be little if any office franking machines used in PNG, so mail, even from business houses is typically franked with stamps, not "meters".
"JUST IN TIME"
Papua New Guinea was always very proud of its record of having low domestic mail rates. In fact, they frequently boasted of maintaining the "5 unit" domestic rate over the long period from 1959 to 1971, something no other country in the world had apparently been able to match. The Post Office had its urgent plan to increase the base letter rate from 21t to 25t put on "hold' for quite some time.

My advice from a person in the Post Office was that the official approval "any minute now" actually dragged on for one year. I think this is why there were frequent shortages of 21t stamps. I understand usage of letter rate stamps is over one million a month. No Post Office that fully imports its stamps wants the huge expense of printing, storage and air freight for millions of obsolete rate stamps, so it appears a "Just In Time" philosophy prevailed.

Letter rate stamps would be overprinted for a month or two ahead, assuming the new rate would be Government approved before these were used up. When no approval had been obtained, some more stamps were overprinted, fingers were crossed, and the whole scenario repeated itself. One needs to bear in mind that many months advance planning is required to design, amend artwork, check and approve proofs, and then print a new postage stamp. It is interesting to note that the June 1995 Mushroom/Fungi set of 4 was in planning from late 1994, and the lowest value of the set was a 25t stamp.

This set was issued in June, but as the postal rate did not finally receive approval until September 1995, there were 3 months where that stamp did not meet any existing postage rate!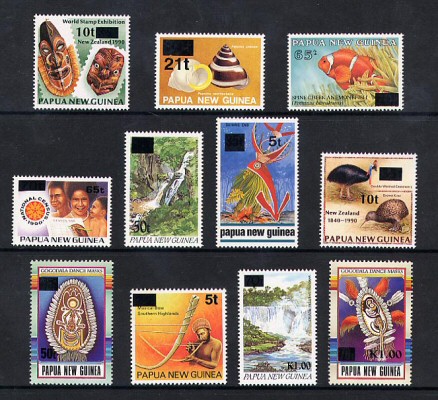 THE EVER POPULAR EMERGENCY "1994 SET OF 11"
Why are these so scarce? NO sets were ever supplied at any time by the PNG Bureau to standing order clients, or to ANY overseas agents or dealers, including the Crown Agents or Australia Post. NO sets were EVER available on First Day Covers. Indeed, I have never seen or heard of a FDC of ANY value of this set of 11. No-one in the stamp world knew these were issued until my original articles on them - some months after issue.

The only way the issue dates and number issued ever surfaced was due to my persistent badgering of the top staffers in the Bureau, John Walup and Paul Paiva, soon after they were issued. During this middle to latter 1990s period I flew to Port Moresby, (and to the Highlands - twice) and had dinner with these Managers and spent a day in the bureau to get to the bottom of this issue.

In about 1997 I bought out the entire overprint stock for a VERY large sum ($40,000+) of the only other large dealer to have amassed a good stock of this issue. He had done so via the same buying ad running in PNG newspapers and scrounging and trading as I had done. Most other dealers needing sets of this for clients have for the past decade or more come to me to source them.

My retail price direct to collectors is thus LOW, as I have EASILY the biggest stocks. Leading Australian dealers like Richard Juzwin have this set 11 in their current pricelists for $330 which is a fair price, and I know he and others have steady sales at this retail price level. The leading Seven Seas Stamps "Australian Stamp Catalogue" (ASC) price for the set 11 is $A420. Collectors are thus coming to the "source" and saving big bucks by doing so as MY price is just unbeatable.

These were purely and simply a panic EMERGENCY overprint done hastily at a local non-security general printer, as the Government refused to increase postage rates the PO had assumed was a done deal. The stamp issuing reputation of PNG had hitherto to this issue, been one of one of THE most conservative in the Pacific.

The 1994 "Emergency set of 11" was exactly that - created in "emergency" circumstances, and I reported the existence of this set in the stamp press, for the first time anywhere in the world. It had never been written about until my articles.

Prices rose very rapidly, and dealers and auctions obtained ever increasing prices. The highest realisation I noted was $A740 for a set of 11 at a Stanley Gibbons public auction on August 23rd 1995. I understand the vendor was a missionary now based in New Zealand, and to have received that price for stamps he had paid only a few dollars for, must have been a very pleasant surprise!
EX GERMAN COLONY
Papua New Guinea, being an "ex Colony" is extremely popular in Germany, and dealers there were soon selling the sets of 11 for 700 Dm, or then around $A550. The catalogue value remains VERY high to this day in the Michel catalogue.

Australian dealers like myself ran ads buying these stamps for months in PNG newspapers, and due to a lot of swapping and exchanging of scarce values, a few 100 "Sets of 11" were pieced together, and this allowed the price to cool off a little and consolidate.
The original "Set of 11" still remains one of the scarcest post war definitive sets from ANY Commonwealth country.
Stanley Gibbons London featured them on the front cover of their Pacific price list at £300 a set, and the "set of 11" is catalogued in the current Stanley Gibbons British Commonwealth Catalogue at £225 as SG 730/740.

I was asked by Scott Publishing Company in the USA to suggest new groupings, and prices, and listed errors for their catalogue, which is a bit of a mess right now. Scott presently lists items that simply do not exist, and frankly overlooks some basic stamps that DO exist and were issued! I really must get onto re-doing them.

Between March and May 1995, over 1,402,000 x 21t stamps were overprinted. These were the 4 different "Bird Of Paradise" (B.O.P) stamps, being overprinted on underlying 45t and 90t stamps that were denominated either 45t or 45T, and 90t and 90T.

Collectors in Australia refer to this as the "B.O.P. Thin overprints", as the numerals "21t" were all in a totally different, thinner type font to the later six B.O.P. overprints.

These 1.4 million stamps were hoped to last until the 25t rate was approved, and as can be seen above, a 25t new issue was scheduled for June 21st release. The most difficult to locate of these 4 x B.O.P. stamps was the 21t on 90T, and Australian dealers were soon paying $A15 a stamp for this key "Bird" topical. No official First Day covers were offered for this set.

A few private sets of FDC covering the 3 different issue dates exist, and being a "Bird" item are keenly sought. (My price $A150 each.)
$A5,000 FOR BLOCKS OF 4
The reason there were both the "small t" and "large T" basic stamps issued in the first place is a fascinating and rather controversial story. The set was printed showing all denominations as 21T, 60T etc, whereas the convention in PNG is for cents ("toya") to be written 21t, 60t etc. The set of 4 was reprinted to show the correct "small t" style, and the "large T" set was not issued, but stored at the Bureau in Port Moresby.

A Sydney dealer, Gabrielle Woodbine of Gabrielle's Philatelic Service somehow obtained and advertised the "unissued" set of 4 "large T" denominated Bird Of Paradise stamps at $A1,000 per set 4, $2,000 a pair, and $5,000 per blocks of 4, and they sold out.

All this was done in one page full colour ads in an Australian magazine. I understand some other dealers offered these stamp at similar prices, and also sold out. Whether purchasers at these prices ever got a refund based on the following paragraph, I never did find out! I'd love to hear how you went if you attempted to obtain a refund of your monies.

The PNG Philatelic Bureau got very angry that such stamps, basically "printer's waste" were being sold at such amazing prices, and simply beat the dealers at their own game, and issued a Press Release commenting on this profiteering, and placing on sale the "Large T" stamps to all who wanted them, at face value of a few dollars a set!

The Bureau issued a one page news release to all customers pointing out these high prices being asked, and thus explaining their reasons for making 50,000 sets of 4 of the "Big T" stamps available at face value. A little like the "Legends Of The West" sheetlet controversy that occurred in the USA.

This is why there are "large T" and "small t" versions of the 4 stamps both available without overprint, and now the remainders of these stamps exist WITH overprint. As these stamp continued in use for some time as a definitive issue, they occur with variants of wording in tiny letters at the base of the stamps referring to printing dates, viz: "1992 Bird Of Paradise" "July 1993 Bird Of Paradise" and "1993 Bird Of Paradise".

If you are totally confused by now, congratulations ... join everybody else!

On June 20th 1995 the PNG Post Office was again running low on 21t stamps, the B.O.P. series having apparently sold out, so all remainders of the 1993 "Freshwater Fish" stamps 45t, 60t, and 90t were duly overprinted "21t", and a total of 540,000 stamps were produced, which should have been sufficient for around 10 weeks supply of stamps. The Post Office felt sure the new 25t rate would be approved before that time period.

The printing quality, especially on the lowest print number, 21t on 60t brown colour Fish stamp, is terrible, with lots of heavy black offsets and smears on the gum side, and much overinking on the overprints, sometimes making the overprint twice or triple the regular thickness. Once again, the Bureau did NOT offer a First Day cover for the "Freshwater Fish" set, and only a small number seem to have been prepared by collectors "on the spot" in Port Moresby
MORE OVERPRINTS
At this point in the story, the overprints SHOULD have stopped. In July 1995, I phoned Mr. John Walup, the PNG Bureau Manager, who advised the Fish trio were "the last" of the overprints, and wished this information to be passed on to readers of my columns in stamp magazines worldwide. This I did. Unfortunately, the overprinting did not stop there.

There was the problem of the PNG Annual Pack that needed to be produced (theoretically!) at the end of 1995. The Bureau had NO copies of the Bird Of Paradise stamps put aside for inclusion in these year books. Mr. Walup left instructions in August 1995 for a few 1000 sets of 4 Birds Of Paradise to be overprinted 21t "the same as the last ones" and went away from the office on a business trip.

The printer interpreted the "same as the last ones" to mean the heavy type used on the Freshwater Fish, and duly produced 3,200 sets of 4 of these. There is a vast difference in appearance in the Bird Of Paradise with the light overprint and the heavy overprint. These 3,200 sets appear to have been "gobbled up" by Bureau staff members, or PNG locals with "friends in high places", and they were sold out in days, and were not put aside for use in the Annual packs.

A reprint of the thin overprint was apparently done later to ensure some supplies were available for the 1995 annual pack, which was delayed for 6 months as a result. My price for this set is $A250 a set 4, (Lot #29 below) and they really are FAR HARDER to locate than the "Set of 11". They really should be double this price. All four bearing attractive Bird stamps and being a major Catalogue listed set internationally also has put pressure on prices.

A few covers exist bearing these "heavy overprint" stamps, but all I've seen have a clearly "philatelic" look to them. One "lucky" collector who obtained some of these sets posted me a set of 4 on a Registered cover from Port Moresby, (now long sold) which did look nice, and only five sets 4 were ever used on commercial mail that I am aware of.

Within this set of 4 heavy overprints there were 2 distinct sub-types, that may or may not have been on open sale - my view is some "insiders" obtained these from the Bureau contacts - just like the set of 4 with "heavy 21t overprint." Only a few sheets of 50 of each were overprinted it was claimed at the time. I have seen a couple of commercial looking covers, so some clearly did get used. (Price $A300 a cover for anyone interested.)

"X-Ray Vision" is required to pick them apart from the other 4 heavy overprints. These 2 stamps both have "1992 Bird Of Paradise" wording along base. One is the Green stamp (45t) and the other is the Pink stamp. (45t) They differ from the "Heavy Font 21t Overprint" set of 4, by both being on the "small t" underlying stamps (i.e. '45t' not '45T') which is why I say you need "X-Ray vision". A little squinting and you can make them out readily of course!

Many dealers in Australia sold these two sub 'varieties' outlined above at between $75 and $400 the pair and they created much controversy. Police were even being involved to sort out the matter. Sour grapes indeed on the part of those involved. No action was taken after extensive police investigation, which it is reported involved a personal visit to the PNG Bureau by one senior officer to investigate!

Everything of course checked out fine with the Bureau and they declared none shown to them were forged – as at least one disruptive member of the trade had been alleging. Some dealers are still persisting with the $350-$400 price level, but I said from Day #1 they were worth more like $150 a pair – and that is all I ever asked for the, and auction prices from Stanley Gibbons have borne this figure out. (N.B. - I can STILL offer these 2 stamps at $A150, either MUH or FU for anyone keen to buy them! See Lot #31 and #32 below. )

All in all, an enormously complicated, and very fascinating stamp issue, the like of which has not been seen from any "respectable" country in at least 50 years. Some of my clients who are "fly speck" specialists in Australian KGV heads and have not bought a New Issue for 20 years have taken up a side-line collection of this fascinating series. The printing quality was absolutely ABYSMAL on most of the overprinting. It must be pointed out the overprinting of all stamps was done by normal commercial printing houses in Port Moresby, NOT by a government printer, or security printer.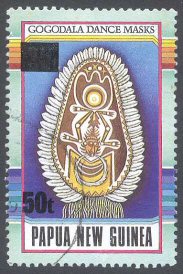 The rarest value of the set, 50t Gogodala Mask fine postally used - a rare stamp - many times scarcer than mint
Many clear double prints exist, and I've even sighted sideways prints. A Melbourne auction in April 1997 offered a TRIPLE overprint on the 5t Musical Instrument, that I had not sighted before. One sheet of INVERTED overprints of the 50t on 35t

Gogodala Mask

was purchased at face value in Kainantu in February 1995. The finder supplied a Statutory Declaration outlining the discovery and offered them to me for purchase. I sold 38 copies from this sheet of 50 to clients, the finder keeping 3 blocks of 4 for his family.

One copy from this sheet was sent for a Royal Philatelic Society Victoria Certificate and was then auctioned by Rodney A. Perry

realising a healthy $A1540.

This stamp is now SG#736a, cat £600. The 38 copies I had were sold for $A750 apiece. One dealer, Stampfinder at Milson's Point offered some of these 38 stamps for sale by Public Tender in page magazine ads, and reported good response at around the $A2,000 a stamp level. This is a higher price than any other PNG stamp since the first set was issued in 1952, and is a commentary on the worldwide demand for major errors from this exciting "Emergency" set.
DOUBLE OVERPRINT
An exciting discovery was made on the 50t on 35t

Gogodala Mask stamp,

Stanley Gibbons 736. This stamp is by the way easily the scarcest of the entire set of 11, and Gibbons catalogue has it at £90 mint which is way too low. Specialist dealer in these issues, A-One Stamps of Sydney told me today:

"The 50t Gogodala is the absolute 'key' to the set. Every copy we secure, mint or used, completes another set of 11 for us. We estimate that of the 45,000 printed, no more than 1,000 copies exist today worldwide in the hands of collectors, mint or used".

The error discovered is on this same stamp. At my stand at an ASDA show in Sydney, well known specialist collector Lance Skinner showed me the used copy later illustrated on the front cover of an "Australasian Stamps" magazine article. Lance is a past-President of the Australian Commonwealth Collector's Club, and is a renowned specialist on KGV heads and has received the highest APF medals.

Lance is typical of the serious traditional collectors who flocked to this PNG overprint issue as it offered a true challenge to a philatelist, due to its crude and "plateable" nature. The stamp was creased top right corner, and has a light but just discernable circular machine cancel reading in 5 lines "Goroka/1995/13 Jan/12.30pm/PNG". Furthermore that cancel was in an unusual shade of violet black.

The big thing was not the cancel, but the overprint ..... which was clearly and rather spectacularly

DOUBLED

. The first overprint had been a light impression, and the printer had ran the sheet through again, with correct inking, but mis-registered it, to a full 3mm to the left of the original print. I asked Lance where he obtained the stamp. It came from a kiloware source and figuratively "cost him nothing". It was some time after he purchased it that he noticed the error. I asked if he wished to sell it as I had a large group of keen collectors of this set, and he said "no way" - so I thought nothing further of the matter until some months later.

When visiting the huge "Pacific 97" Stamp show in San Francisco in June that year, I called in at the stand of well known Melbourne dealer Michael Eastick. With a proud flourish he showed me an item he had just purchased from an American visitor to the show. It was a USA made "legal" sized envelope, posted to Scranton PA by air mail. The sender was the unfortunately named Mr. Jay Puke of Goroka, EHP. (Eastern Highlands Province) The cover is 100% commercial. It has been machine opened on 2 sides, and has filing staple holes at the left, as if an enclosed letter or payment had been originally affixed there for processing. (See scan on ink below.)

The striking thing about the franking is that both 50t Gogodala stamps are also DOUBLE OVERPRINTS. They appear consistent with coming from the same sheet as that of Lance Skinner's single used copy. Best of all is the postmarking. The two stamps were (just) tied with a roller cancel on which the date is not clear. However, to the side of the adhesives there is another strike, a light but completely legible right half of the roller cancel, which reads in 5 lines precisely the SAME town, time and date as that found on Lance Skinner's example! Better still, the same curious black violet ink had also been used. For a photo see - https://www.glenstephens.com//png.jpg
GENUINE IN ALL RESPECTS
I have studied both items carefully and am of the opinion both are 100% genuine in all respects, and imagine that when both or either have obtained a Certificate, that this double overprint will also be listed in Stanley Gibbons, alongside the now rather famous inverted overprint. It may be just co-incidence, but the sheet of inverts was purchased at Kainantu, in February 1995, which is a small town near Goroka, and the time dated cancels on these of only two weeks earlier is also significant. (The overprinting was done 28/11/94 on this value).

I asked Michael Eastick what price he had on the cover, and he was not sure of its correct worth other than it must be "a few thousand". He went on to say: "it is surely the most significant piece of legitimate PNG postal history ever recorded and certainly the centrepiece to any exhibit of this fascinating overprint series".

He ran it in a postal bid sale and

sold for a record price of $4,750.

Full story

here

)

This cover sold on March 3rd 1998 for $A4,750 to a Queensland collector, beating out a number of bids received on this item from all over the world. It is believed to be a record price for any Papua New Guinea postage stamp item, and also a record price for any post war cover from
MISSING OVERPRINT
There have been totally MISSING overprints - in fact one stamp on every sheet of the 65t on 60t Rafting had the value omitted once per sheet! This is an inexpensive major error, which I sell for

$A60 for an imprint positional corner block of 12.

Such a striking block is catalogued by Gibbons as SG 751/b at £48. On varied issues I've seen jet-black gum set-offs, smeared overprints, heavily over-inked and under-inked versions, inky fingermarks all over the stamps, and other printer's errors - by the dozen.

If you ever have a chance to examine a sheet of the quite inexpensive 1994 65t on 50t "National Census" stamp, it must rate as the most inept overprint job in the history of the world! The overprint obliteration rectangle on EVERY stamp in the sheet of 50 varies wildly in size and shape and position. A young child with a black ink felt marker pen would have done a far neater job.

A sheet of 50 mint stamps will cost you around $A150 from specialist PNG stockists like myself, and is a philatelic gem, able to be appreciated by even those with dreadful eyesight, and of great interest to any keen philatelist who does not even collect PNG! I sell many sheets each year.

In Australia the retail price for an "Emergency Set of 11" as quoted by the "Australian Stamp Catalogue" is $A420. This "set of 11" must surely be one of the most expensive sets issued anywhere in the world since World War II. It is a set bursting with appeal for philatelists, given the vast number of errors and varieties that abound.

The good thing is that these printing errors were all created accidentally by local printers with no idea the "fly specking" eyes of the world stamp collecting fraternity would one day be examining their handiwork! The stamps were overprinted very roughly, and very quickly, to cater for genuine emergency postal needs, and this sort of issue is what whets the appetite of a serious collector.

For the interest of collectors, a tabulation of these issues is reproduced below, along with official numbers printed, issue dates, and retail price in Australia, published with the kind permission of the Editor of the "Australasian Stamp Catalogue", published by Seven Seas Stamps.

NOTE - All prices on this page are in weak AUSTRALIAN Dollars:
| ITEM NO | ASC CAT No. | STAMP DESCRIPTION | DENOMINATION | ISSUE DATE | NUMBER SOLD | M.U.H. | FINE USED |
| --- | --- | --- | --- | --- | --- | --- | --- |
| 1 | 538a | Tomato Clownfish | 21t on 35t | 16.03.94 | 750,000 | $25 | $8 |
| 2 | 560a | L'Astrolabe Ship | K1.20 on 40t | 16.03.94 | 254,850 | $10 | $7 |
| 3 | 620a | N. Z. 1990 (Masks) | 10t on 35t | 23.08.94 | 134,950 | $75 | $55 |
| 4 | 626a | Musical Instrument | 5t on 35t | 06.08.94 | 490,350(?!) | $60 | $50 |
| 5 | 633a | Land Shell | 21t on 80t | 28.08.94 | 796,150 | $60 | $35 |
| 6 | 619a | N. Z. 1990 (Birds) | 10t on 35t | 03.10.94 | 70,950 | $50 | $35 |
| 7 | 600a | Baining Dancer | 5 t on 35t | 06.10.94 | 500,000 | $5 | $2 |
| 8 | 615a | Gogodala Mask | 50t on 35t | 28.11.94 | 45,000 | $150 | $120 |
| 9 | 608a | Rouna Waterfall | 50t on 35t | 28.11.94 | 50,000 | $90 | $80 |
| 10 | 613a | National Census | 65t on 70t | 28.11.94 | 50,000 | $8 | $5 |
| 11 | 539a | Anemone Fish | 65t on 70t | 28.11.94 | 125,000 | $8 | $5 |
| 12 | 610a | Wawoi Waterfall | K1 on 70t | 28.11.94 | 75,000 | $25 | $20 |
| 13 | 617a | Gogodala Mask | K1 on 70t | 28.11.94 | 55,000 | $10 | $7 |
| 14 | 649a | Bird Paradise small "t" | 21t on 90t | 27.03.95 | 480,000 | $6 | $3 |
| 15 | 649b | Bird Paradise Large"T" | 21t on 90T | 25.04.95 | 387,000 | $30 | $10 |
| 16 | 647c | Bird Paradise small "t" | 21t on 45t | 16.05.95 | 450,000 | $5 | $3 |
| 17 | 647d | Bird Paradise Large "T" | 21t on 45T | 16.05.95 | 85,000 | $15 | $15 |
| 18 | 685a | Freshwater Fish | 21t on 45t | 20.06.95 | 350,000 | $3 | $2 |
| 19 | 686a | Freshwater Fish | 21t on 60t | 20.06.95 | 70,000 | $9 | $5 |
| 20 | 687a | Freshwater Fish | 21t on 90t | 20.06.95 | 120,000 | $3 | $2 |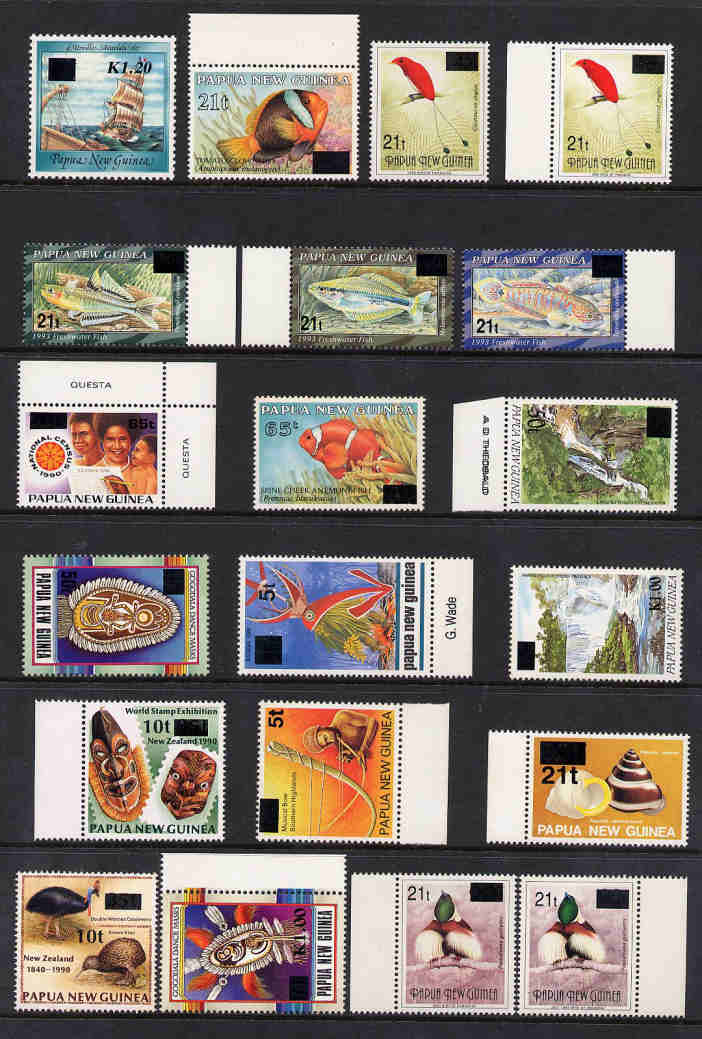 Complete "Set of 20".Probably the most appealing and colourful looking thematic/topical scarce set on earth. EVERY main theme you can think of - Birds, ships, masks, waterfalls, handicrafts, crafts, fish, music, costumes, shells, etc!

INTERNET SPECIAL - MUH "Set of 11" - $A200 (Stock 928XG) and just $A140 for Fine Used (Stock 928XH). Leading Australian dealers like Richard Juzwin has this set for $A330 on his current pricelist, as do most other retailers locally. Seven Seas Stamps 'Australian Stamp Catalogue' (ASC) price for the set 11 is $A420. I have now just one or two sets of blocks of 4 of the set of 11 (most are corner imprint blocks) for $A1,000. This is now a basically 'Impossible' to duplicate item, as blocks of the 3 or 4 key stamps are near impossible to source now.

Better value still - my special internet only price for complete set 20 as shown Mint Unhinged is $A300 (Stock 928XL) and set 20 FU is $A180 (Stock 928XP) and MUH blocks four of all 20 values (and most are corner imprint blocks) are just : $A1,250 (Stock 928XR)
Special "Web Only" discounted prices
for individual groupings are as follows:
21. March 1994 pair, items #1+#2. the 21t in MINT is super elusive. MUH: $A25 FU: $A15 (Stock Code 928ZA/B)

22. Late 1994 "Emergency Overprint Set 11" Items #3-#13. MUH: $A225 or FU: $A185 (Stock Code 928ZC/D)

23. 1994 "Emergency Overprint" set 11 in MUH blocks of 4 - mostly imprint blocks. $A1,250 (Stock Code 928ZE)

24. "Bird Of Paradise" Set of 4. Items #14-17. Superb MUH $A30. Fine Used set 4 is $A25 (Stock Code 928ZF/G)

25. "Freshwater Fish" un-announced set of 3. Items #18-20. $A10 MUH or only $A8 Fine U. (Stock Code 928ZH/I)

26. The COMPLETE SET 20. As needed for "Seven Seas" pages! $A325 MUH, $A250 FU. (Stock Code 928ZJ/K)

27. The COMPLETE SET 20 in blocks of 4 MUH. Mostly imprints. Very Rare Thus! $A1,300 (Stock Code 928ZL)

28. Set 20 all in matched top RH corner Imprint corner blocks 4. Probably unique. $1,750 (Stock Code 928ZM)

29. "Bird Paradise" set of 4 MUH with HEAVY overprints. Nearly as scarce as set 11. $A250 (Stock Code 928ZN)

30. "Bird Paradise" set of 4 MUH with HEAVY overprints. In corner MUH blocks of 4. $A950 (Stock Code 928ZO)

31. "Bird Paradise" heavy overprints. The 2 x controversial "sub types" 1 of each value. $A150 (Stock Code 928ZP)

32. "Bird Paradise" heavy overprints. The 2 x controversial "sub types" - Corner blocks. $A550 (Stock Code 928ZQ)

33. 1994 65t on 50t "National Census" comp. sheet 50 with stunning o/print errors! $A150 (Stock Code 928ZR)

34. 65t on 60t Rafting VALUE OMITTED! Imprint corner block of 9. SG 751/51b £48+ $A65 (Stock Code 928ZS)

36. 1995 Bird of Paradise, SG 755/58 in 16 matched Imprint blocks 4. (64) Photo below. $A450 (Stock Code 928ZU)

37. All sets can come with a Colour Photo Certificate of Genuineness for your set above. $A70 (Stock Code 928ZV)
38. A one off from estate I bought this week. A set of 11 in matched MUH lower left IMPRINT blocks 4. Comes complete with my lavish photo certificate from 1995 when I originally sold these. From the original set of sheets I owned. Impossible to replicate today. Been 5 years since i owned or offered MATCHED corner blocks 4. $A1,500 (Stock 928XA)

39. From same estate. Complete MUH sheets of 50 of the Birds overprint set of 4! See lot #24 above. My discount price is $30 a set 4 - or $1,500 for 50 sets, so sheets of 50 for $A700 is a real "bottom drawer" bargain item! (Stock 928XB)
This MONTH - my INTERNET ONLY
MUH "Set of 11" - $A200 (Stock 928XG) and just $A140 for Fine Used (Stock 928XH). Leading Australian dealers like Richard Juzwin has this set for $A330 on his current pricelist, as do most other retailers locally. Seven Seas Stamps 'Australian Stamp Catalogue' (ASC) price for the set 11 is $A420. I have now just one or two sets of blocks of 4 of the set of 11 (most are corner imprint blocks) for $A1,000. This is now a basically 'Impossible' to duplicate item, as blocks of the 3 or 4 key stamps are near impossible to source now.
Better value still - my special inter
net
only price for complete set 20 Mint Unhinged is

$A300

(Stock 928XL)

and set 20 FU is

$A180

(Stock 928XP) and MUH blocks four of all 20 values (and most are corner imprint blocks) are just :

$A1,250

(Stock 928XR)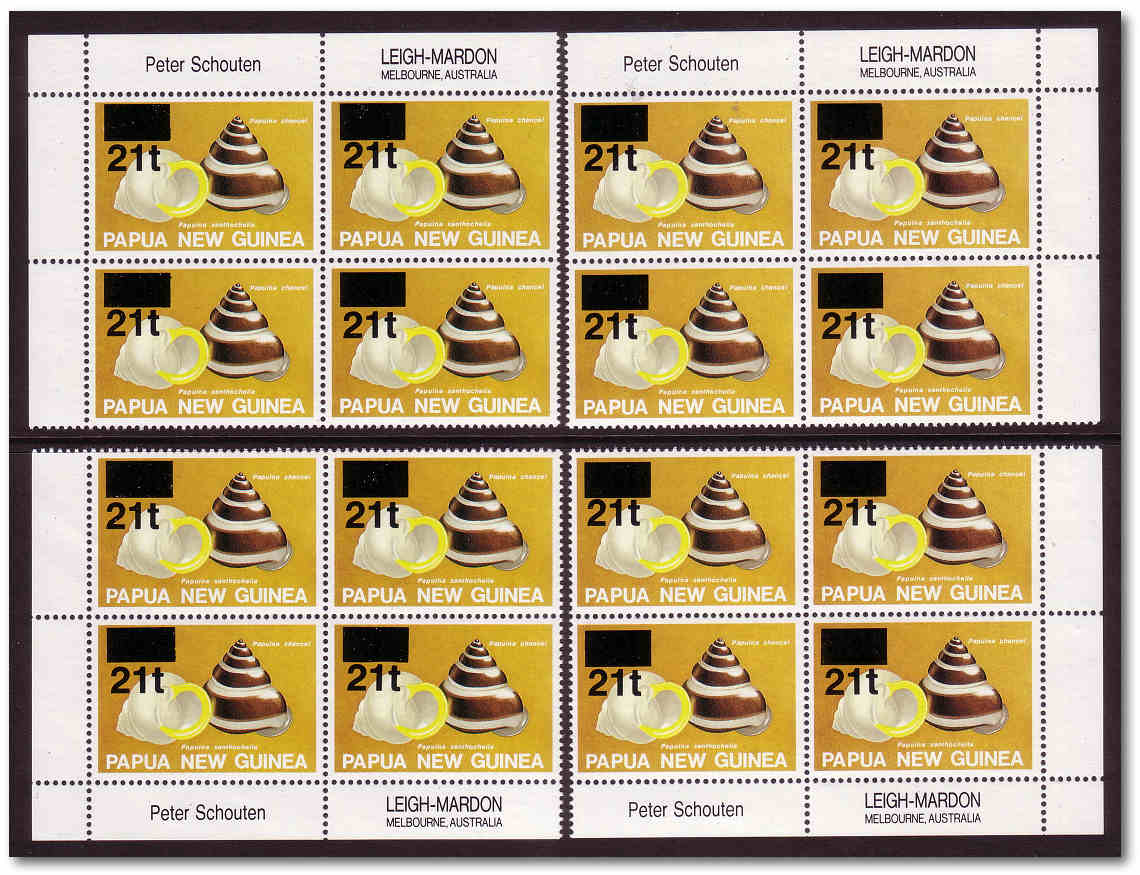 PNG 1994 21t on 80t Land Shell "Emergency Overprint': Corner blocks 4 from all 4 corners, of the rare 21t Land Shell. Always around the scarcest of the entire set. I bought a couple spare sheets of this in 1995 via my cunning "buying" ads in the national "Post-Courier" newspaper. These were mailed to me from a priest up in Goroka who had them in the parish postage folder. Needless to say the Church re-building fund got a sharp upward increase! These I sold to the original buyer in 1995, and the 4 blocks come complete with the lavish dated photo certificate I gave him way back then.

This still today is a

very rare stamp

. SG #734 and current 2007 SG Cat price is £40 each = $A100 a STAMP

= $A1,600

. Here we have 16 stamps in matched corner imprint blocks. My usual price for a single is $60 so 16 singles is $960, making no allowance for the obvious premium that matched Imprint blocks like this must attract. Such an assembly must be virtually unique? Also the impeccable provenance and photo-certificate from 1995 will always be worth a premium too. A real bottom drawer item - the lot for

$A650

| | | |
| --- | --- | --- |
| | Also contact me if you have any specific requirements. i.e. a corner imprint block of a certain value from a certain position etc you are missing. Or corner imprint blocks from all 4 corners of a particular stamp(s) you like for topical reasons etc. I am now low on blocks on key stamps, as demand has been high, but I will happily quote on what I have. Once they are broken down for single sets they are kaput forever. For instance I still have the 4 x 'Bird Of Paradise' values in corner imprint blocks 4 from each corner of the sheet. (i.e. 16 blocks 4 = 64 stamps) Makes a quite superb looking few album page display for a Bird collector! Price $A450. | |

Finally - all 1994 "Emergency" sets

I

sell, are of course guaranteed 100% genuine. If you require a

Photo Certificate Of Genuineness

on my unique colour letterhead for this set, dated and signed, illustrating in colour the

exact

set I mail you. This costs you an extra $A70, largely to cover the considerable time and messing around of preparing and typing up and scanning each one. (See lot #37)

Substantially

cheaper than sending it to the RPS in London, which takes half a year to get back, and also incurs substantial Registered airmail cost to you - in both directions - PLUS their Expert fees. And quite frankly, the R.P.S. would not have a

clue

about these issues. "Too Modern, old chap." (Sniff)
Years down the track, when it comes time to sell your material, such a Certificate Guaranteeing these came from PNG post offices in 1994/6 will add FAR more than $A70 to the extra price you obtain when selling. (Ask for a Certificate on ANY item on this page – Stock Code 928ZW)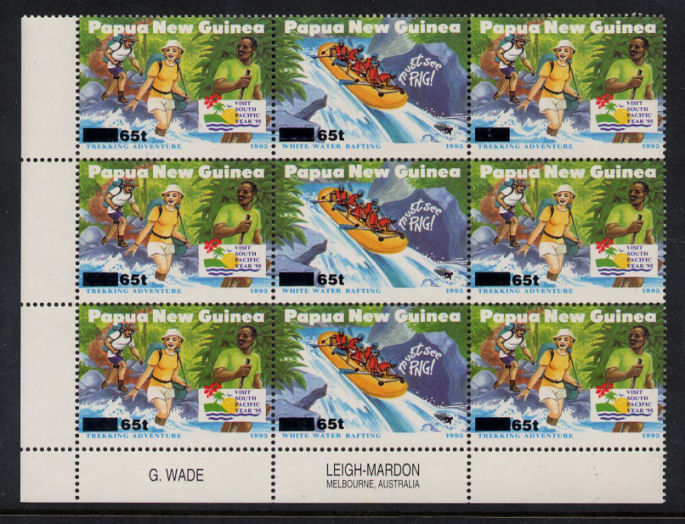 One of the most striking modern errors you will see from ANYWHERE - yet one EVERYONE can AFFORD! The 1995 65t on 60t Rafting with

MISSING VALUE

on stamp 3 in the block! I bought a number of sheets with this amazing error as I heard about it quickly before it was withdrawn. Very few people did. In fact as you can see it is a true "No Denomination" stamp - and I got it listed and priced strongly by Stanley Gibbons as an genuine major printing error. Price for this amazing positional showpiece is only

$A65

(Lot 34 - Stock Code 928ZS)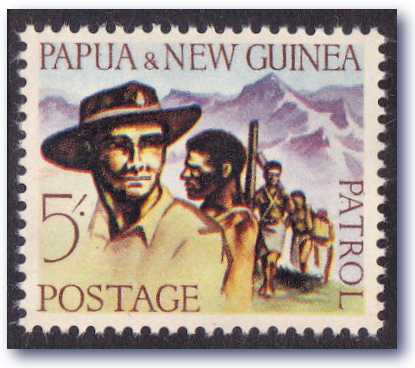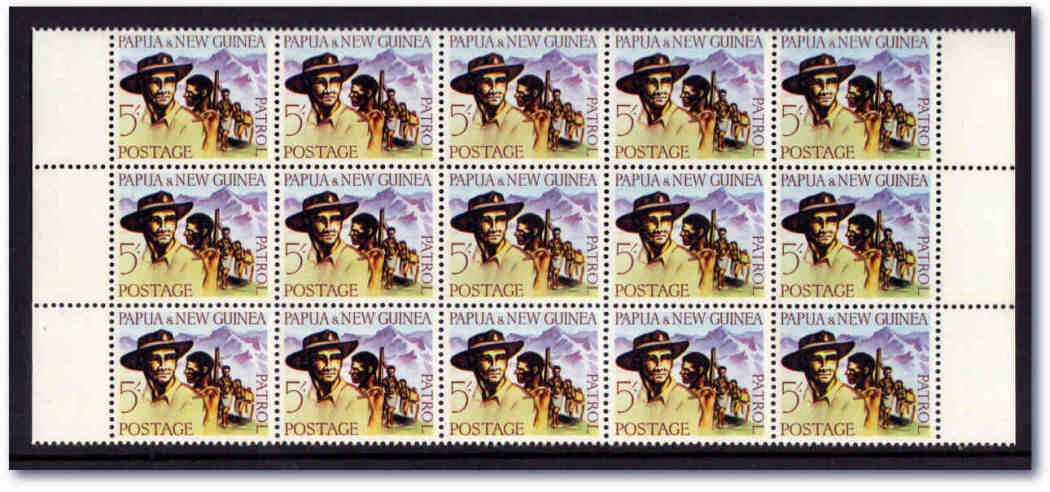 Papua New Guinea 1961 5/- Native Patrolman UNISSUED stamp - the first COLOUR stamp ever to be printed in Australia: A famous issue and about 100 copies existed. I bought the unique full sheet off Kevin Duffy, that I broke up many years ago to clients. One client bought a fair number of those, and they have come back into stock from his estate. This was printed in Australia - who at the time had printed all of PNG's stamps, and indeed administered the country.

Senior bureaucrats noticed the local police carrying rifles and felt showing the "natives" images of armed countrymen would cause problems, and the issue was stopped. (Remember the violent and war like highlanders had had only first seen Europeans that same generation.) Ken Humphreys wrote an article on these in the prestigious ACCC journal.

These were indeed the FIRST stamps of any type ever printed on the new colour Chambon photogravure press and preceded any Australian issues, and preceded the 5d "Inland Mission". For Richard Breckon's story on these see here – www.tinyurl.com/cjc3uw They always get strong prices at auction - Robin Linke got $A3,300 for a block 4 at auction in Aug 2004, on estimate $A2,000. My price is $A650 a stamp for singles or pairs and $A2,400 a block of 4.

---

| | | |
| --- | --- | --- |
| | Papua New Guinea 2002 "Protected Butterflies" 50t pair on piece, neat Goroka cds. Lovely doubled print. First time this has been reported in the stamp world. Priced to sell fast! $A100 | |


Payment via 'real' credit cards possible!



Every credit card shown is accepted WITHOUT fee from me. Earn Frequent Flier points
while buying at bargain prices. I charge NO nasty, nasty 15-20% "Buyer's Commission" on stamps
like every "Auction" does.





| | |
| --- | --- |
| | Search all my 300+ web pages! Simply type in what you are looking for. "Penny Black", "Latvia", "Imprints", "Morocco", "Fungi" "Year Books", etc! Using quotes ( " ) is more accurate for multi word searches - i.e. "Australian FDC" gives FAR more specific matches than simply Australian FDC if used with no quotes. Search is NOT case sensitive. Tip - keep the search word singular - "Machin" yields far more matches than "Machins" etc. |

I am a Dealer Member in Good Standing Of:


Full Time Stamp Dealer in Australia for over 25 years.

Life Member - American Stamp Dealers' Association. (New York)
Also Member of: Philatelic Traders' Society. (London) ANDA. (Melbourne) American Philatelic Society, etc

To order, click

here. To read ordering instructions, click here.

Instant Currency Conversion

FREE! Just click here...

GLEN $TEPHEN$
Full Time Stamp Dealer in Australia for 35 years. Life Member - American Stamp Dealers' Association. (ASDA - New York) Also Member - Philatelic Traders' Society
(PTS London) and many other philatelic bodies.
ALL Postage + Insurance is extra. Visa/BankCard/MasterCard/Amex all OK, at NO fee, even for "Lay-Bys"! All lots offered are subject to my usual Conditions of Sale, copy upon request .
Sydney's BIGGEST STAMP BUYER: Post me ANYTHING via Registered Mail for my same-day cheque. Avoid copping the Now normal 45% Auction "Commissions" (20% Buyer + 15% Seller + GST, etc) AND their five-month delays!
Read HERE for details.
"Lothlrien", 4 The Tor Walk, CASTLECRAG (Sydney), N.S.W. 2068 Australia
Phone 7 Days: (02) 9958-1333 PO Box 4007, Castlecrag. NSW. 2068
E-Mail: glen@glenstephens.com The Number #1 Web Sites:
Back to Lists of Stamp Lots for Sale









Get my regular market update emails FREE. The home of - Rare Stamps. Postage Stamp Rarities. Scarce and Unique world postage stamps. All time Philatelic Classics. Scarce Postal History. Stamp Errors, Stamp Varieties, Stamp Freaks, Stamp Missing Colours and Stamp Imperforates, Stamp Investments, Stamp Classics, and Stamp Collections at bargain prices. Bookmark THIS page and you'll very likely see them offered here eventually!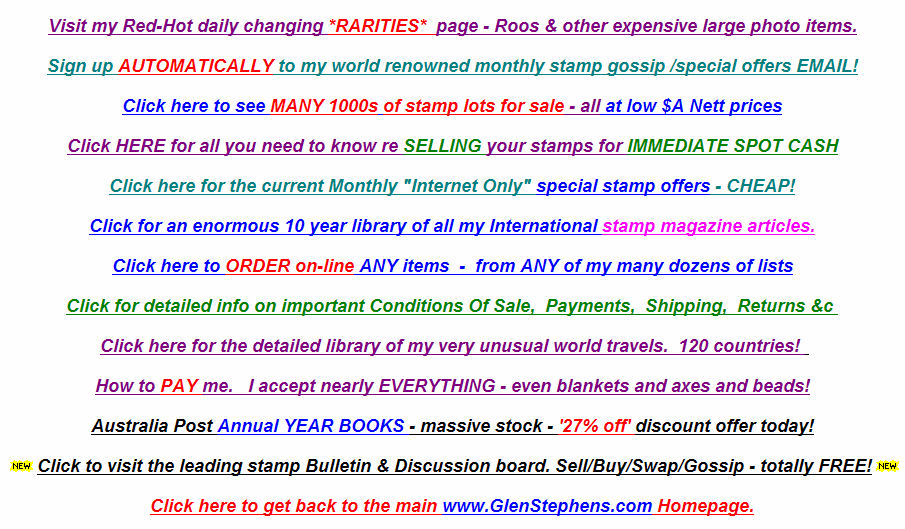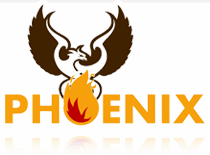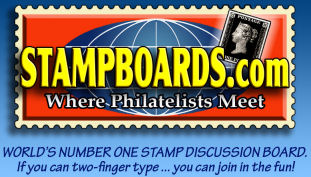 Instant Currency Conversion


FREE! Just click here...

E-mail me at glen@glenstephens.com -