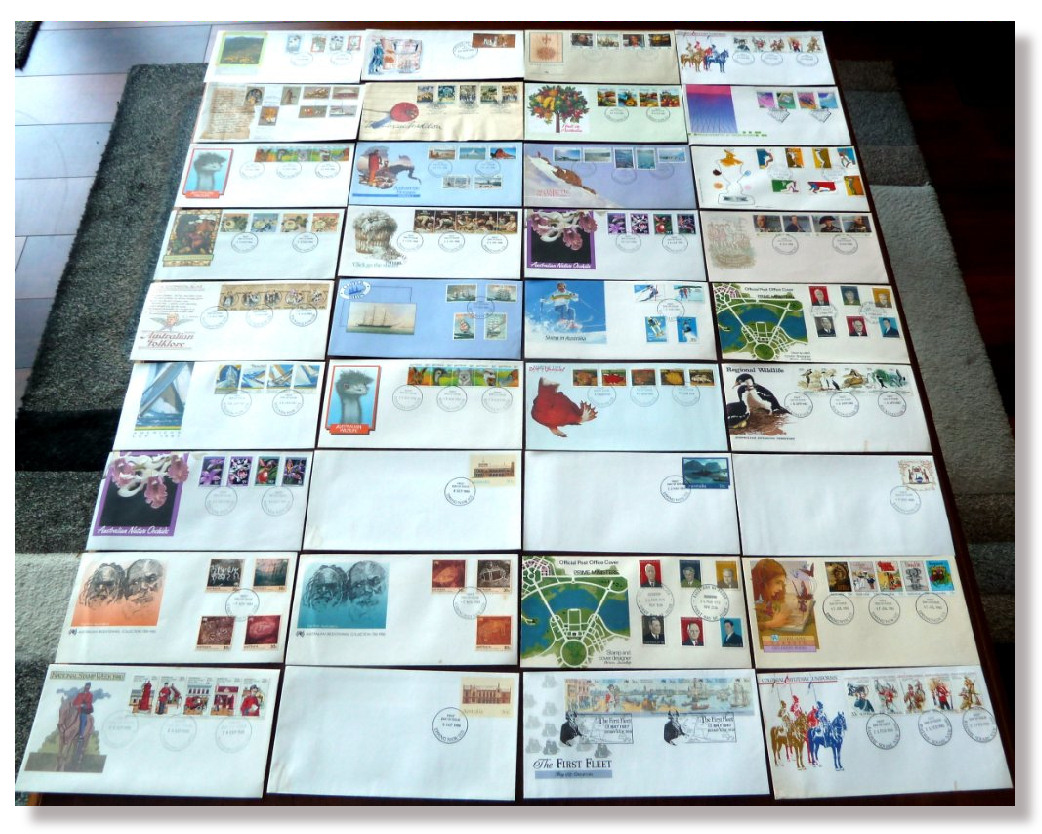 AUST FDC Collection 1970-1995, PO Cost $460 for just $A275! 1970 to 1995 - 383 covers - a carton full! LOTS retail miles higher than face of course. Bought well from a large Estate today, so OUT THEY GO for just $A275, so get some of my money back fast! Retail will be about $1000. Doubles of some, and se-tenant strips, Mini Sheets, SCARCE high cat Eucalyptus booklet panes, (see below). high value Defins to 1977 $10 Painting (2 different) are here too. Many folks forget how HIGH the USED sets are priced in SG from this era. in some cases the SG price is 10 to 43 times the FACE, and off me you are paying MILES under face. Lots of the goodies are here as you can readily see from the photos - totally untouched and unpicked by me as always, "as received" for all the superb topicals and thematics etc.

Usual odd age blemish etc here and there mentioned for strict accuracy, due to 50+ year old age, but a SUPERBLY good lot at this price, and remember even if you choose to soak off the odd one for "VFU", they are still great value. On ebay, results are often superb on these, when offered singly or in groups of each year etc, when they have a free listing day. An Orchid set with SG cat $A15 often gets $5 to $7 from topical collectors, or 5 times your cost etc. Maybe keep the better sets for yourself, and sell off the others, so as you get the ones you retain totally FREE? HEAPS of photos here - tinyurl.com/70-95FDC The Post Office charged 40c above face for each cover, so a $5 stamp on FDC cost $A5.40 to buy etc - 30+ years back. $A275 (stock 763TF)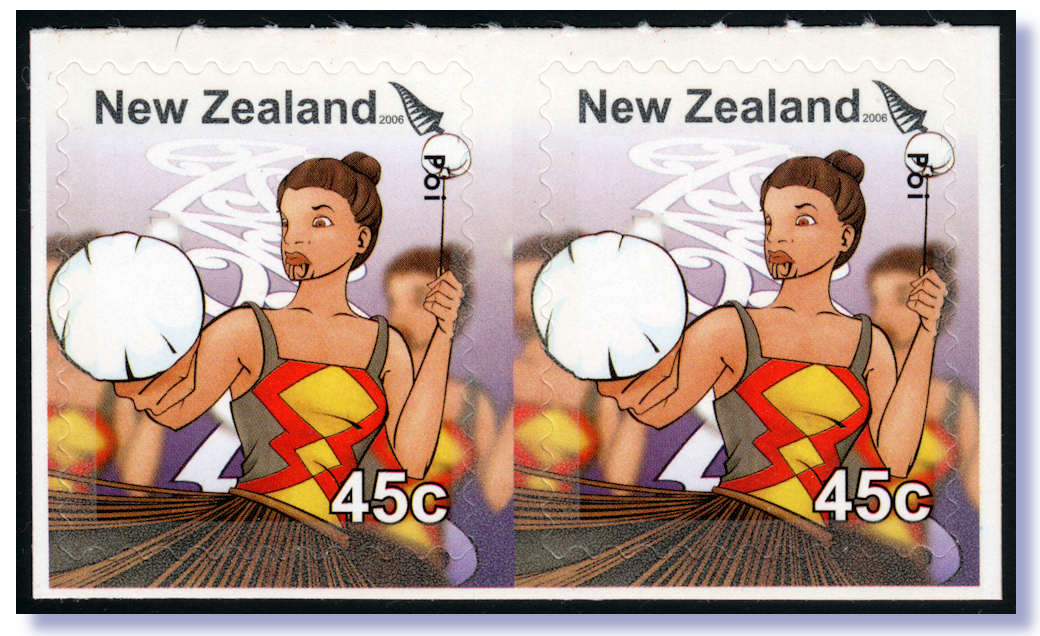 New Zealand 2006 Kapa Haka Maori Dancers Rare "Unissued" set of 5: Sold, advertised, mailed and charged to some standing order clients by NZ Post. But hastily withdrawn in panic at Eleventh Hour, as some Maori activists did not like the design images! 39 mint sets of 5 were mailed, and a few FDC, booklets and one coil roll, and they are the rarest post-war issues for 100 years from NZ. (See detailed note on these in SG "New Zealand" cat after SG #2285.) An affordable way to buy these is via the un-issued 45¢ "Poi" Maori dancer self-adhesive booklet stamps or the 45¢ coil version. FAST ordering is recommended as when my small stock is gone, they can't be replaced.

Current market leading NZ Len Jury mass selling catalogue is $17,500 a set of 5, FDC at $25,000, and coil or booklet 45c singles $2,500 each. MY price is $A1,500 a single (Stock 583AB) 45¢ self-adhesive booklet stamp neatly cut from the block, or $A2,750 (Stock 583AC) a horizontal pair. (45¢ Coil stamps the same prices - Coil strip of FOUR for $A5,000 - Stock 583AH) Or $A5,000 a booklet block of 4 (Stock 583AD) - if a block is still intact of course when you order! (A block of 4 is a booklet "pane" - each booklet has 2 panes of 4, and a pair.) Or the complete booklet of 10 for $A11,000. (One only booklet on hand - Stock 583AE)

These figures are miles lower than NZ retail which is high as tiny supply rapidly shrinks, and news of their existence slowly spreads overseas. "Linn's Stamp News" carried my story on these front page in colour. And best of all, the NZ dollar has strengthened a lot against $A in recent months. A Len Jury auction in Auckland saw a set of 5 of these sell for $14,900 on a $13,500 estimate, and a later Mowbrays NZ sale had a set 5 invoiced at $14,562. In 2016 a set 5 was invoiced at NZ's largest stamp Auction for $11,500. Forget Auction prices - I have a full set of 5 for sale MUH at $A8,500 a set 5 (Stock 583EF) or $A30,000 for matched MUH blocks 4. (Stock 583EG)

If you buy them off me, as an Australian resident, you avoid a certain 10% GST impost upon arrival from NZ as a highly insured item, versus ordering locally, and avoid the nasty new 3-4% "overseas use surcharge" + bad exchange rate your credit card bank will certainly levy. Likewise for NZ buyers, I mail in such a way Registered as to cause no 15% GST and Customs "interest" there on entry. My copies are IN-STOCK, and ready to mail now. NZ Buyers can pay into my NZ account if they choose, to save card and Forex fees.

Remember only 39 mint sets of 5 of these were EVER sold, and a few booklets and coil stamps, and NZ Post has confirmed that in writing, and confirmed these were a fully legit PO issue - see article below. Each stamp in each set is FAR scarcer than the 1906 1d "Claret" Christchurch, which have fetched up to $NZ22,500 each at public auction. See recent strong sales and that stamp's history here - tinyurl.com/NZClaret These Kapa Haka are Classics of the future. For FAR more details of them all here: tinyurl.com/KapaNZ - a full set of 5 from me costs only $A8,500 (Stock 583EF) - or just $A1,700 apiece!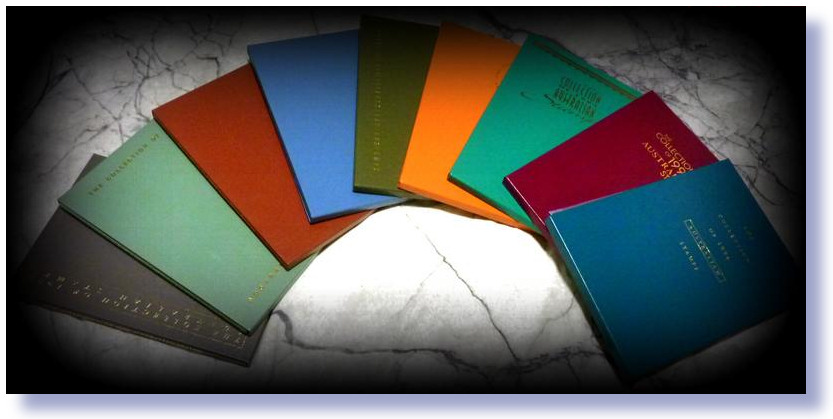 | | | |
| --- | --- | --- |
| | Australia Post Yearbooks 1988-96 - Cost $477, Retail $710, for just $375! Clean looking lot I bought from an Estate this afternoon. Many still have stamps in PO Hangers, and have never been touched since purchase. NINE books at just over $43 a book - and it includes the scarce 1988! But at WAY under the PO cost, and near HALF my $710 retail - tinyurl.com/YearPO - One-Off Special at just $A375! All in the matching hard slipcases. Nice run, nice condition, at more than $100 UNDER what they cost from PO. Huge face value. Estate lot of Australia Post yearbooks 1988 to 1996, PO issue cost $477, and retail value $710! (Also from same Estate I have 2000 to 2006, at an INSANE low price - ask me!) $A375 (Stock 147YP) | |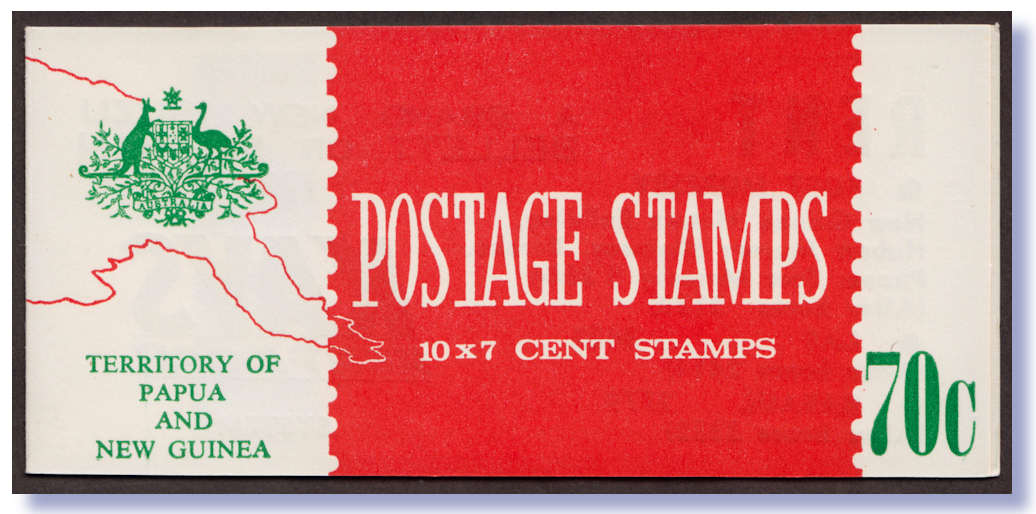 | | | |
| --- | --- | --- |
| | Papua New Guinea 1971 SHELLS Booklet x *50* Mint copies! Estate buy today. Someone looks like they bought these near a Half Century ago, and they have only just now reached the market. Pretty booklet, with marginal blocks 10 of the 1969 7c Shell Definitive stamp. SG SB3, Cat £650 = $A1,300. Pfeffer #3 cat $1,500. Very seldom seen early booklet, and a great ebay re-seller etc, as both PNG and Shells are globally super popular. Just $A5 each, or about $US3 apiece - Cat £650, retail $1,500. Just $US150 - $A250 (Stock 782RT) | |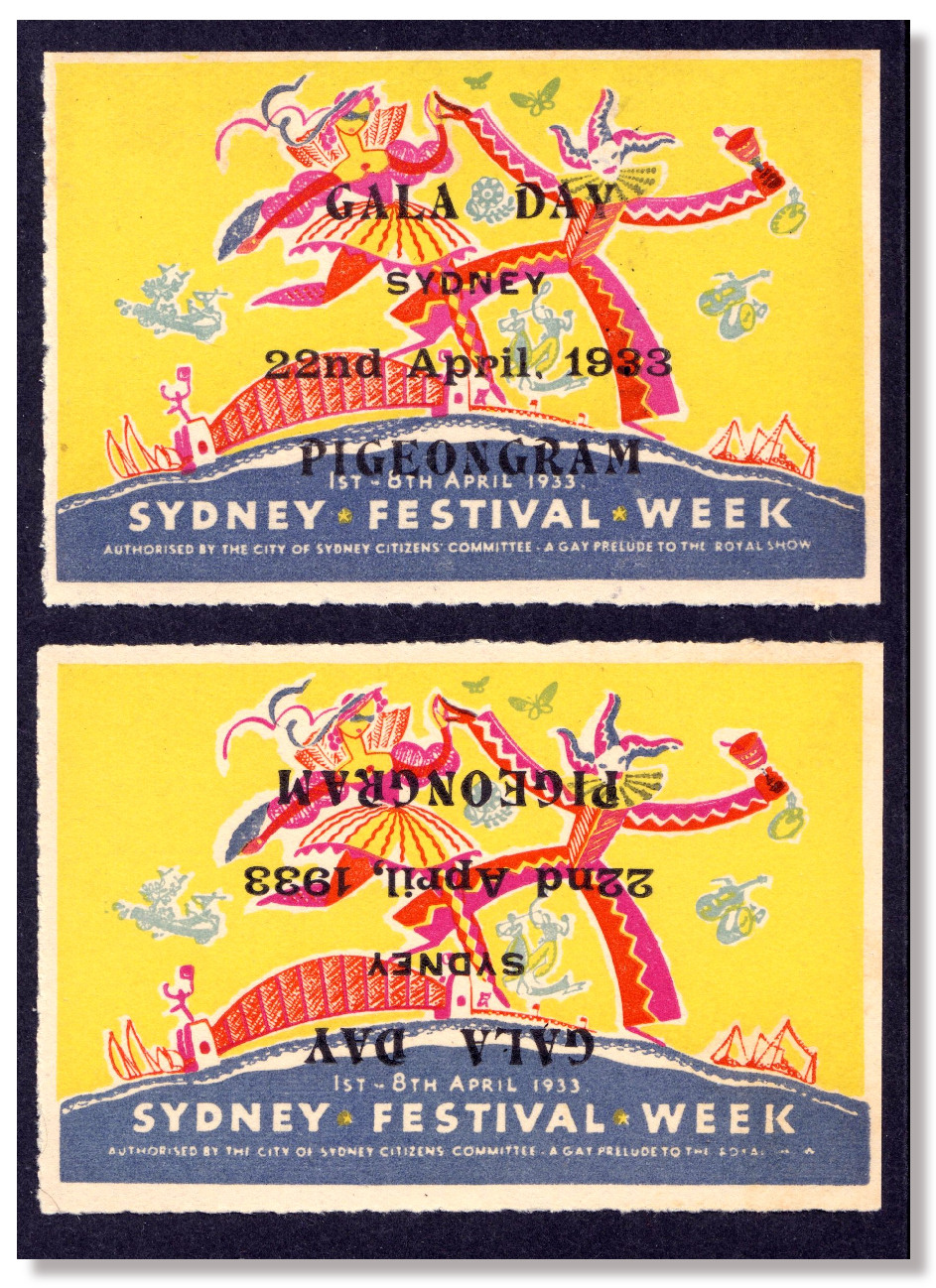 1933 Sydney Gala Day Pigeongram Normal & Inverted *MUH*:

Rare and sought after items – I see one each decade or 20 years. These are better still, both fresh **MUH** original gum. After near 90 years, that grade is basically unheard of. The same way MUH Kangaroo pre-war sell for 3 times MLH, applies also to these. Has anyone EVER seen these offered *MUH*? Been in Europe most of their life.

"A GAY PRELUDE TO THE ROYAL SHOW"

- maybe the debut Gay Mardi Gras here?! Only 200 of the inverts were made, and near all of those are long tossed away, or are thinned, toned, heavy hinged or otherwise damaged in the past 90 years. AAMC - PP5b/c And many were used on souvenir covers sold at the Sydney Royal Easter Show and aimed at kids etc, like all Royal Show gimmicky things, and of course are now long lost. This was the height of the Great Depression and cheap fun like this was what the public looked for.

$A125

(Stock 462LP)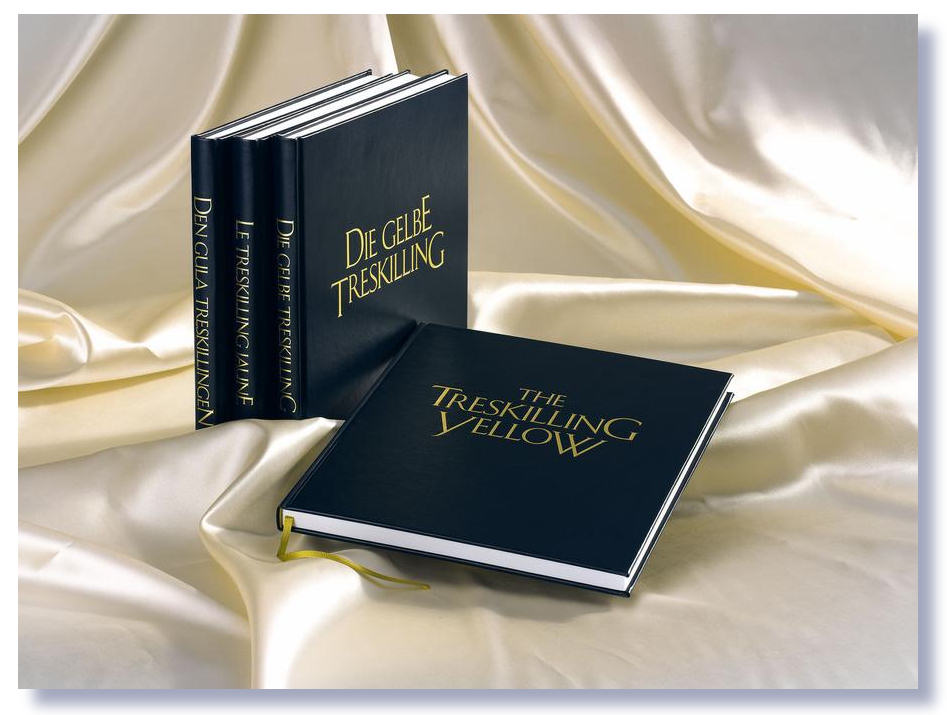 "THE SWEDEN TRESKILLING YELLOW" Superb Hard Covered Book by Lars Fimmerstad: Published in 2004 - superb hardcover: 185 pages done in a small print run. The only example I can see for sale is $US275 second-hand, plus huge post cost to oz via: tinyurl.com/TreSkil - landed cost to you of that will be $A400! An essential book for any decent stamp library.

This is a 185 page hardback book titled "THE TRESKILLING YELLOW : The Most Valuable Thing in the World". Written by Lars Fimmerstad and published in 2004. The "Treskilling" Yellow is a famous postage stamp of Sweden, and considered to be the most valuable stamp in the world. This is its fascinating story and detailed history. Beautifully illustrated, with heaps of vintage black and white, and colour photographs.

In BRAND NEW excellent condition. Was still sealed in shrink-wrap, and I only opened it to take a few photos - contact me if you want me to email you more images. My detailed review of it here - tinyurl.com/Glen5-05 The sought after superbly written ENGLISH Edition is offered here! Rare - most that exist are in Swedish or German. $A150 (Stock 958BP)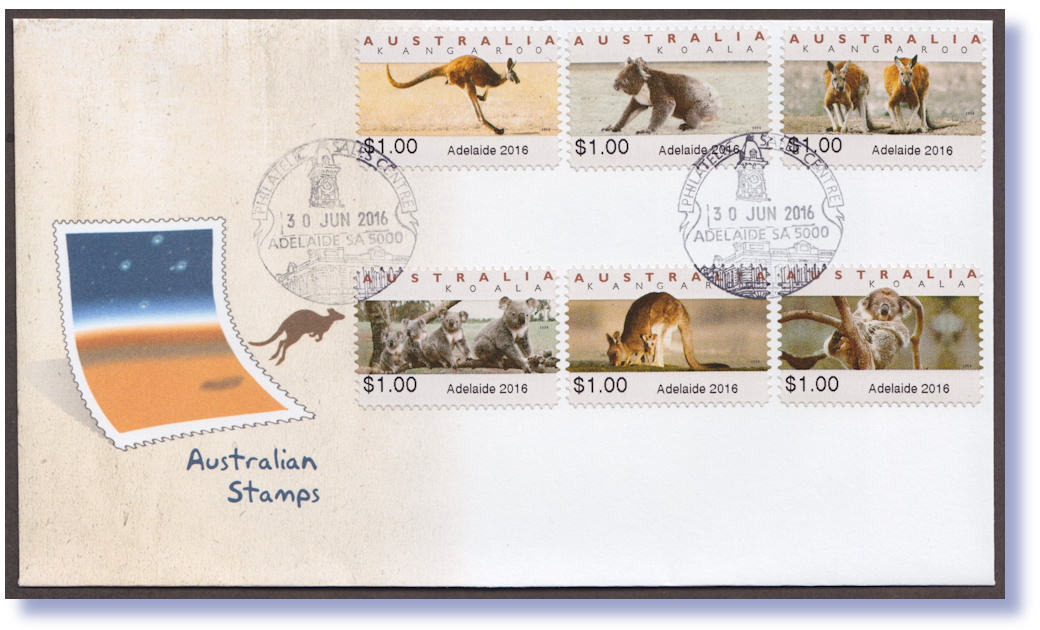 Adelaide 2016 $1.00 set 6 Mint, CTO in week of issue, "Albino", or on "Last Day Cover" $A175: The early 2016 Emergency issue of the ADELAIDE CPS set has caused a global sensation, and the set of 6 x 30˘ is fully listed in Gibbons, and already is priced at $A4,500 a set 6 in Renniks, and $2,500 in new Seven Seas "ASC" Cat. The '$1.00' value in same design issued around the same time is - so far, very oddly, largely overlooked. Only a small number were sold mint, and I've yet to see a single postally used copy of those, despite that being the new postal letter rate. For many collectors the ONLY cost acceptable way to fill up these 6 spaces on the Hingeless Stanley Gibbons, or other printed pages globally, will be with a set of "$1.00", so demand will keep increasing. And prices too. Ton more discussion of this exciting new issue here - tinyurl.com/2016set

I managed to have serviced just SIX Last Day Covers as shown here. On Official PO cover, with the pictorial Adelaide Philatelic Sales Centre "Clocktower" pictorial cancel. Superb item, and stars of the future, at just $A195 apiece. ONE left now – Stock 571GZ) I doubt more than 25 exist globally of these. No mail orders were accepted, no credit cards accepted, hence very few secured them in person. The CPS machine went back to MEL on that same day for scrapping. So a double piece of Philatelic History. Set of 6 MUH - $A65 (Stock 571GX) or 10 sets MUH $A450 (Stock 571GU) or one set MUH and one set VFU for $A120 (Stock 571GF) "$1.00 Adelaide 2016" strip 6 with striking reversed ALBINO "Ghost" prints: $A350 Stock 571GC - (Identical 30c strips have sold over $5,000!) or one of a tiny number made of LAST DAY COVERS illustrated above just: $A195 (Stock 571GZ)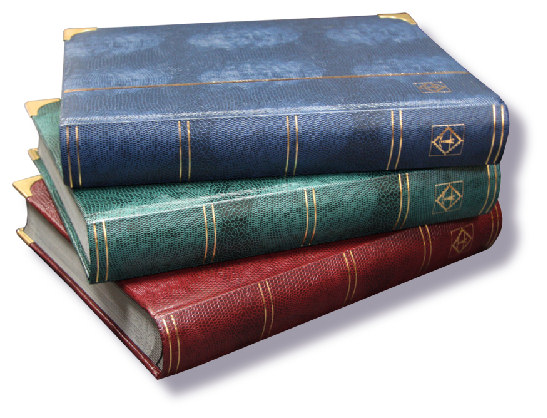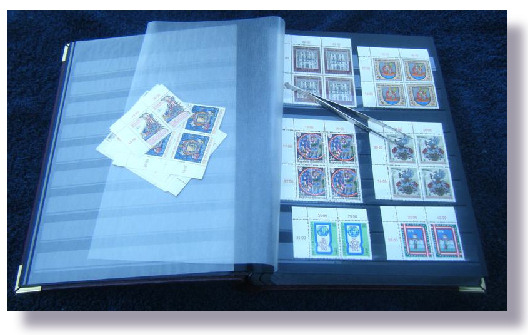 German "Lighthouse" Deluxe 64 page stockbooks, Crocodile skin covers, *30% under retail* - $A67!: 24 carat GOLD cornered stockbooks. CLASSY! For the collector who wants the VERY best for their stamps. "30% OFF RETAIL" As you can see on link below, Australian recommended retail is $A97.50 each. My bulk buy price is over 30% UNDER that! Offered these in past years and was stampeded with orders. Made another huge bulk buy, so here we go AGAIN! Rich, attractively deep grained Crocodile skin style cover, in the 3 colours, with 24 carat GOLD plated corners for long life. The top of the range style, "DELUXE" - from the very top maker. The very classiest stockbooks I've ever sold or handled. Expensive Padded covers, DOUBLE glassine interleaving, quality double linen hinging for very long life and ease of use, and in rich, sumptuous, very realistic looking Crocodile skin grain, genuine leather covers as per many photos HERE - tinyurl.com/CrocSbks CLEAR strips, not glassine, so you can SEE your stamps - not the cheap cloudy glassine strips as used on many lower cost books, that obscure the stamp designs. TWICE as thick as most stockbooks sold, 64 pages in EACH. Popular BLACK pages, so all your stamps look superb. (White pages possible at same cost but nominate that clearly!) Six Books is a massive 384 storage pages.

That is around $1 a page - near HALF the $1.75 RRP price of a Hagner sheet even - and the classy Crocodile skin leather covers, and 24 Carat gold corners are a bonus. With Hagners, you need to then buy Binders at $25 each! Taking the price per page up to THREE times these. For foreign buyers, VERY cheap air shipping to you on cartons of 6 - ask me! The "Lighthouse" brand is the global market leader - the Mercedes Benz of all makers, and uses carefully selected board, with anti-fungal agents added into there, to keep YOUR stamps safe. Or buddy up with a friend or stamp club members, grab a carton, and share them around. THAT makes sense. Each book is factory clear shrink wrapped for gift giving, and secure moisture proof storage, if you do not use them all now. Or, if you prefer the thinner usual size 32 page Lighthouse stockbooks, my other offer is here - also great buying - tinyurl.com/lighthouseSB - for either offer, LayBy/Layaway is also fine. (Note COVID currency adjustment up of 10% on ALL prices on there, these included.) Buy a box as a gift for yourself - $100 or so a month payment for a few months, and you will be set. ** For any overseas buyer I can offer VERY cheap shipping on these HEAVY boxes 6 - ask me **. Retail is $A585 a box - you save around $A185 a box! $A230 for 3 (Stock 482KX) or a carton of SIX for just $A400 (Stock 482KW)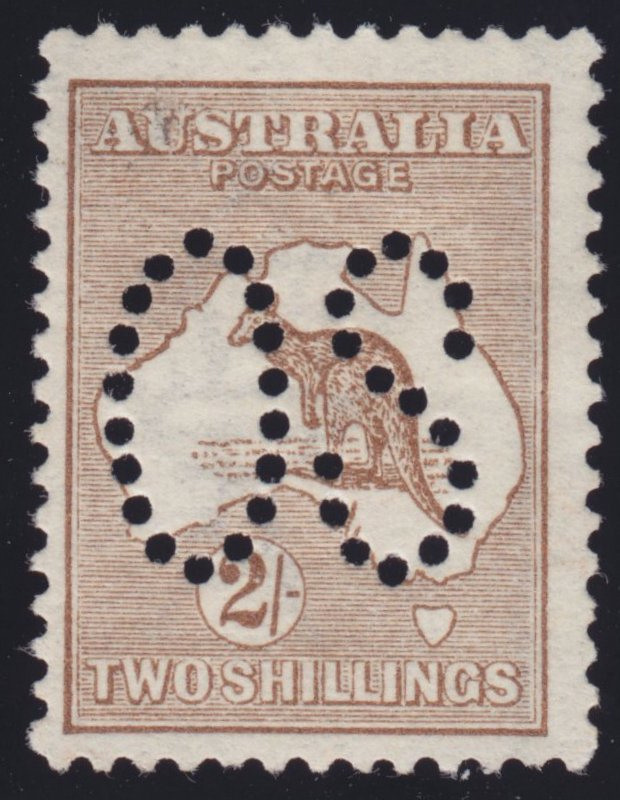 | | | |
| --- | --- | --- |
| | 1913 First Watermark 2/- Roo, Perfin Large "OS" very fresh MVLH: A wildly under-rated stamp. Replaced in months by the small size "OS" as tearing apart the sheets with this large perfin ripped the stamps and was abandoned fast. Even used copies are $100s - a rare stamp in any form, but MINT should really be TEN times the used price. as that is their relativity. ACSC 35ba, $A1,500. SG 011 £650=$A1,300. Very clean and fresh - was in Europe most of its life. Well above average condition and freshness. Light hinge touch. Good perfs and colour, bought well, so $700 under ACSC value. $A800 (Stock 489KT) | |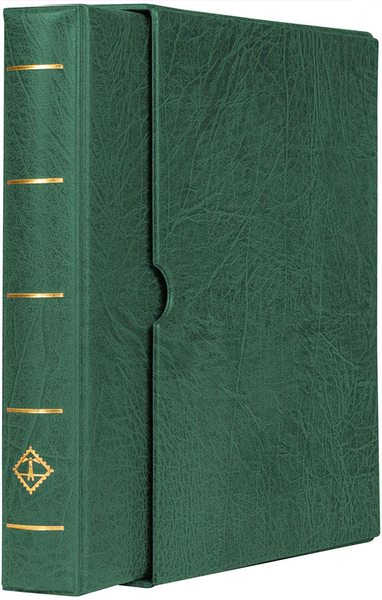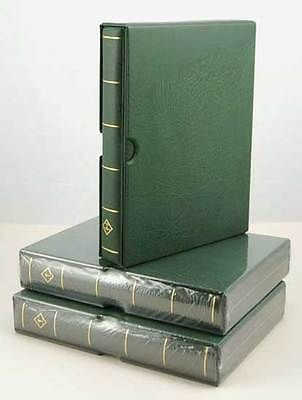 | | | |
| --- | --- | --- |
| | Lighthouse Hagner Albums + Matching Slipcases - BULK BUY DEAL !!: Made a great special bulk buy of these superb new Lighthouse 4 ring binders, in the most popular selling colours - BLACK and GREEN and matching heavy duty slipcases. EVERY collector here MUST have slipcases. Full reasoning on that here - tinyurl.com/Glen08-19 The Classy deeply padded covers, and FULL size binders to take Hagners, Varios, and any of the many pages that fit the standard 4 ring hole punching etc. Padded Lighthouse binder incl. slipcase. A generous size binder format, deeply padded leatherette binder, with quality German made chromed 4-Ring mechanism securely fitted to spine. Each binder with TWO of the hard clear plastic page turners as you can see, to allow easily access to pages, and fast turning over if required. External spine decoration of the famous gold bars and Lighthouse logo. Comes complete with a matching leatherette slipcase. All top quality German made. The Mercedes Benz of Stamp Accessories. Album capacity about 50 Hagner/Vario pages very comfortably, of course depending on content of the pages. For stamp album pages, many more pages. Factory carton of TEN sets ... all shrink-wrapped ex Factory. Only ONE carton 10 of BLACK, and one of GREEN still on hand – DISCOUNTED: $A550 (Stock 793HQ) | |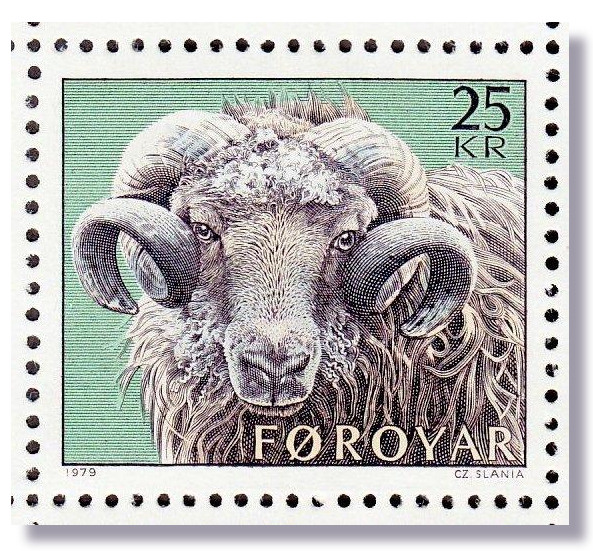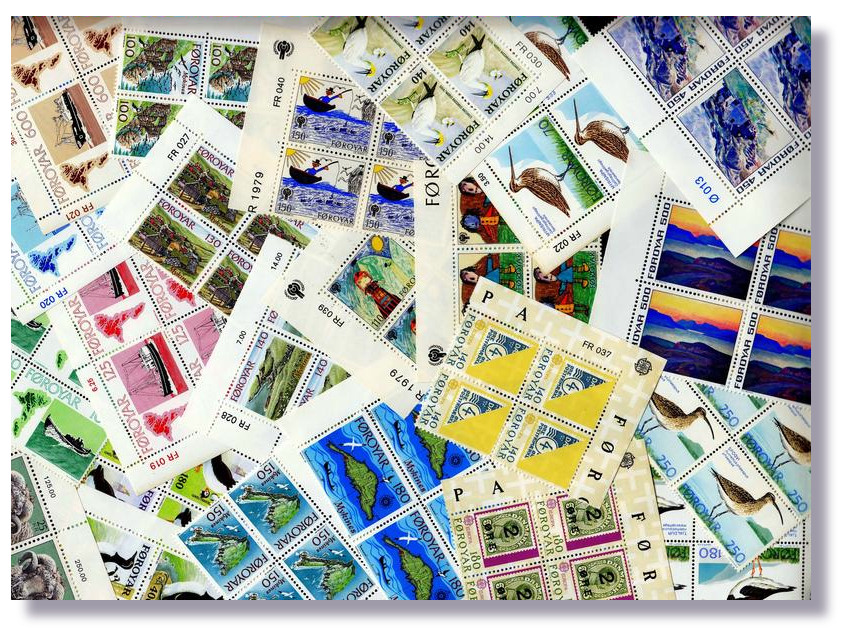 FAROE ISLANDS MUH Corner Plate Blocks 4 collection - $A99: What a deal! Faroe Islands were THE hottest thing on the stamp planet in the early 1980s. Prices were TEN times today's level - indeed the deceased owner paid Max Stern $750 PER set of blocks for these, his invoice showed. He bought 10 such sets and the invoice was generously rounded down to $A7,000. We have 41 Top left numbered Plate number blocks here - 161 x Fresh flat MUH stamps at about SIXTY CENTS OZZIE a stamp! The 1975 Defins (issue #1) were a really expensive set, and those were about $100 a single set on their own back in the day. LOTS of photos of them all here - tinyurl.com/FaroeIs

The VERY first 11 Faroes issues are here in corner Plate Blocks 4. Includes the super high face value 1979 25 Krona Ram - a real FORTUNE back 40 years ago! The CURRENT SG cat as 4 MUH is £202=$A400 valued as single sets and clearly, matched Top Left corner Plate blocks is a nice premium added on top of that. YOU pay just $A99 the LOT! Beautiful steel engraved recess printed, line engraved gems ..... most seem to be engraved by the Master of the genre - Czeslaw SLANIA. The original buyer got TEN sets of matched blocks 4 for his $7,000. Superb lot to offer per set of blocks on ebay etc, or break into singles etc. Bought VERY well from Estate so OUT they go at a silly low price - Two sets blocks - $A179 (Stock 287LQ ) One set $A99 (Stock 287LR)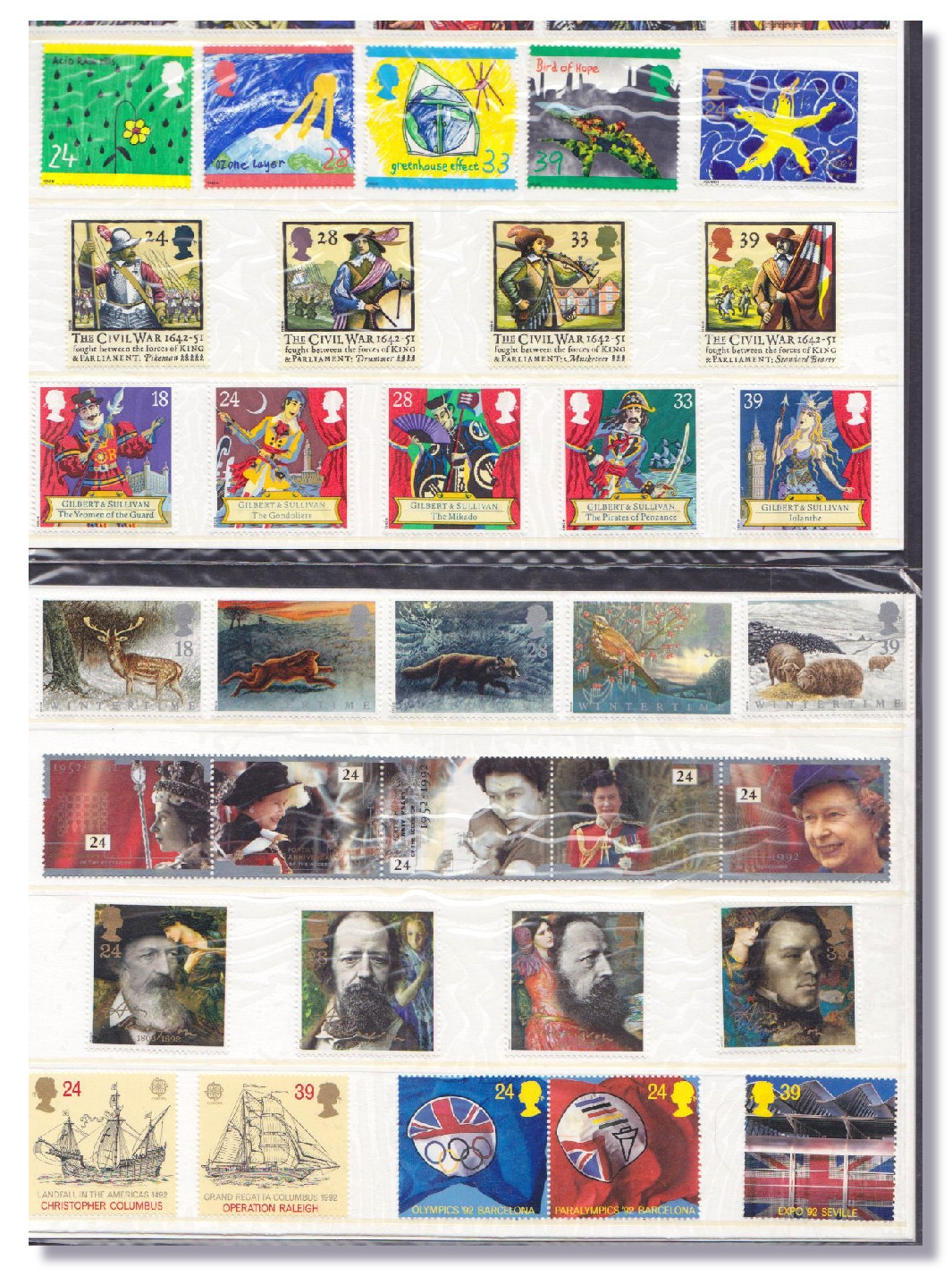 GB fresh MUH COMMEM sets circa 1990, way under face! I just removed all UK stamps from a carton of GB PO Annual Albums this week. From the circa 1990s era, as the books weigh a ton to mail anywhere, and are not fast sellers anyway. Part contents of just one book scanned here to give you an idea, as they are all fully sealed n PO outer plastic and a few outer plastic wrinkles consequently show here in pic. No energy or spare time to take an hour and bust them all out of PO packaging. The year books were latter 1980s and early 1990s like these. TOTALLY unpicked as always -- whatever hot topicals were in each year book are in this postage lot. Either list up on ebay set by set, or start an instant MUH collection, or if you live in UK, use on classy outward sendings. There is 225 quid face value of COMMEMS in there,) in full MUH sets. **NO** dreary Machins of any kind, and no essentially useless 3p and 7p face values etc from 1970s etc! EVERY savvy ebayer seller knows a quid of two of full commem sets on a small UK packet, or overseas letter sendings, are worth MORE than face value retail, nearly cancelled. All these included

I worked that out over 40 years back! See 100s of examples here - www.tinyurl.com/GlenPost Buyers LOVE getting it - but I make a nice profit on EVERY sending. Some other savvy sellers have too. But sourcing pretty full sets of commems in full sets is not simple. They fetch a FAR higher % than dreary Machins, and rightly so. It is receiver useful, versus landfill. The sending of them is appreciated by buyers, who buy again - the dopes using common Machins are cursed by buyers. Me ESPECIALLY. EVERY stamp den on the planet should have a folder of ATTRACTIVE mint commemorative stamps of your country on hand for next mailings. We ALL know what current postage rates are - take them up correctly franked to PO and you are home free - If you can get them in 1 hit under face, far smarter still - email me if anyone is smarter than the average ebayer, and wants £225=$A450 of full attractive, commem sets! MUH full sets and strips etc, for WAY UNDER FACE at $A350. A UK Buyer can pay in Sterling right into my UK account if you want to dodge overseas credit card gouges. Also, for UK buyers I mail in such a secure tracked way, that HM Vatman pays no attention. $A350 (Stock 582LQ)

Your number one source for USED Kangaroo Stamps!
For well over 40 years, I have held the largest stock of used Australia KGV heads and Kangaroos in the world. From poor to superb. Many collectors find it really tough to sort and source these by watermark, and shades, and Dies accurately. In the early 1980's I ran dozens of full page ads in the 2 local magazines listing EVERY key Australian stamp in 5 different grades from "Spacefiller" to "Superb". Even the 1913 Mega Scarce £2 Roo. Not one dealer has done that kind of ad - before or since. 😊
My grading is precise, my stock is enormous, and I have assisted many THOUSANDS of collectors complete their sets of these difficult issues. From budget conscious pensioners filling 5 albums for their grandchildren, where space-fillers of scarcer values will suffice absolutely perfectly, to multi-millionaires who want and buy the BEST - from cars and houses .... to their stamps! You may not be able to afford to LIVE as well as Hugh Morgan or Sir Ron Brierley does, or drive a Bentley like they do, but your used Roos can look JUST as nice!
If you want a complete set of "Melbourne Dec 3, 1913" half circle gloss black cancels on First Watermark - I can supply them. If you want the full gum corner CTO from later Specimen packs I can help. (All these are now listed in the ACSC as CTO, and priced accordingly, per type.) If you want just lovely postally Superb Used like those in the photo nearby - I have always been the #1 choice to buy from. I have 1000's just like them. Read my recent stamp column about WHY you should collect USED stamps in this country - tinyurl.com/Glen07-20
Unlike mint, used stamps do not tone or rust nearly as fast - and are readily 'cleaned' if they do! And unlike mint - no-one goes about regumming used Kangaroos!! And when it comes to filling gaps in high value Roos, opting for USED, even lovely copies, will cost you a TINY FRACTION of what mint hinged will. So it is VERY possible to fully complete your used Roo collection. Mint hinged will cost you $30,000. USED are a tiny fraction of that, as you can see below.
I purchased Private Treaty from Harmers Of Sydney in 1980, the massive H .F. McNess accumulation of used "OS" perfins. He was obsessed with accumulating these issues, and had books full. I still have much of this stock. This was at a time when perf "OS" were poorly regarded by collectors and dealers alike. Not me. I still have multiple copies of items that most dealers have never seen or handled genuine examples of, like - 4d Lemon Yellow, ½d and 1/4d Small Multi perf 14, KGV No Wmk pair, Roo 2½d and 4d Yellow 1st Wmks etc.
I was the person who got the £2 Small Multiple perf "OS" Roo listed into the ACSC after 75 years, by proving beyond doubt 2 totally genuine copies did exist. One of which I bought from a WW2 assembled collection. (The used Arthur Gray copy, who owned the other, then sold for $A40,000.) These "OS" perfins (especially First Wmk) are usually HORRIBLE looking stamps.
The stamp printer directed that badly centered sheets of stamps, too poorly produced for sale to the public, be put aside, and be perforated "OS" for these "nuisance" Free Government Official stamps. That makes CHOICE copies about one in a 100 of the higher 1913 values above 3d. And do note - all perf "OS" sold by ME are genuine, from the massive H.F. McNess hoard I bought etc. Do not TOUCH 90% of what you see on eBay. Read the ENDLESS eBay fakes exposes here - tinyurl.com/EbayOSFake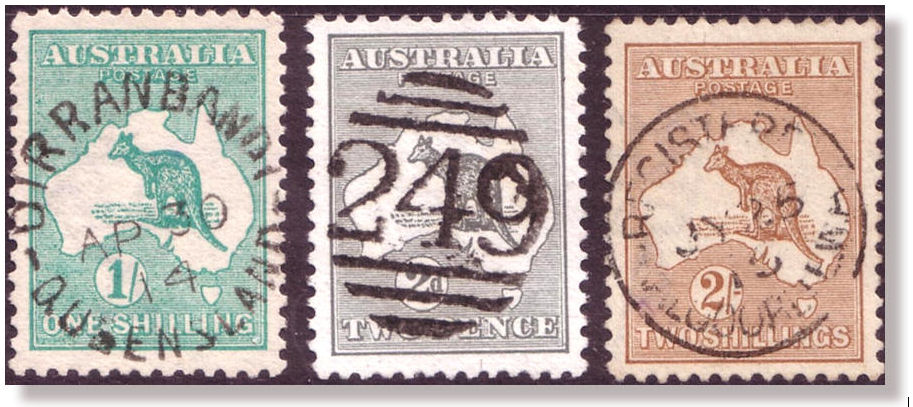 Australian dealers in general are pretty lazy and slap-dash and vague with used stamp terminology. The Term "FU" is applied to ANYTHING, with any cancel, most times! Loosely translated it means "NOT MINT." Convenient for them - yes. Accurate - NO! Entire price lists headed "Fine Used" exist. However they often mean if you order "FU" and the dealer has a single copy in stock that is truly graded AVERAGE used, you'll be cheerily supplied with that unless you complain - end of story. As for private sellers ... "rust and toning and foxing - what's that"?? Is a 3 mm tear, pinhole, or bad corner crease worth mentioning - of COURSE not! "Is that a paper thin, or the watermark - let's say watermark" as it will sell for more. "What is re-perfing?" - they do not know (or care), and you do not know. The Blind leading the Blind in many cases. 😊
I have FIVE specific USED grades in my stock - from Spacefiller Grade, to Superb Used Grade. You pay for, and GET exactly WHAT grade suits your collection best. Warning - the very TOP grade "SUPERB USED" sets are incredibly tough to assemble, as you might imagine, and are priced accordingly, and can take quite a time to assemble and ship. Ask FIRST. The other 4 grades below are good to go right now, when you order. For MOST buyers, "Clean Good Used" is actually perfect. Better than MOST dealer's "VFU" grading!
"Instant Kangaroo Collection": I've assembled full sets of 34 different Roos in EVERY Watermark. 1st and 2nd Wmks to 1/-, 3rd Wmk to BOTH 2/- colours, Small Multi Wmk to 2/-, CofA Wmk to 5/-, and even both the 6d "OS" overprints - which are actually VERY scarce used, but are needed for EVERY printed album. Melbourne retail for these same 34 stamps in normal used condition is over $A950. ACSC cat is way higher. Buy just the EXACT grade that suits your budget, and collecting requirements as follows: (Order as stock number 245RU and specify GRADE.)
Spacefillers - $A225 Average Used - $A400 Nice Good Used - $A575 Clean FU - $A900 Or for the perfectionist - hand selected Superb Used complete set of 34: $1,450. And I also have great stocks of the higher face values than these - and the best stock in Australia of Perforated "OS" Roos - all GUARANTEED GENUINE unlike the ebay Forgery Factory. Also I have great stock of the Stanley Gibbons listed watermark errors, perfs, shades, Dies, and SG listed printing varieties etc. Please enquire. - (Order as stock number 245RV and specify your wanted GRADE.)
Roo "Upgrade" Kit: Add the real key values to the Roo set above. Add the 1913 2/- First Watermark, the 2/- Second Watermark, and both the scarce 5/- Third Watermark, and Small Multiple Watermarks. And last but not least, add the 10/- CofA to your page. These five scarce stamps are missing from near all collections. The 10/- Roo is going up in price strongly each year. ACSC Cat for "normal" average used grade for just these 5, in very cheapest shades is $1,350! So the attractive Good Used set at $675 is HALF CAT. 😊
My price for these 4 stamps: Spacefillers - $A325 Average Used - $A500 Nice Good Used - $A675 Clean FU - $A950 Or for the perfectionist - a hand selected SUPERB Used complete set of 5: $A1,500 - (Order as stock number 245RW - and specify your wanted GRADE.)
This offering above is just a tiny "taste". The prices on this page for these collections supersede any of my other prices on the web. I will gladly price ANY used single stamp you need, and naturally all the later issues. Whether KGV Heads sets of 72, 5/- Bridges, Kookaburra Mini Sheets, £1 Thin paper Robes, £2 Navigators etc. I have them ALL in 5 condition grades. I stock Australia 100% complete, 1913-1985, in used condition. And I have all these above in MINT of course … and MUH. Let me quote you! Glen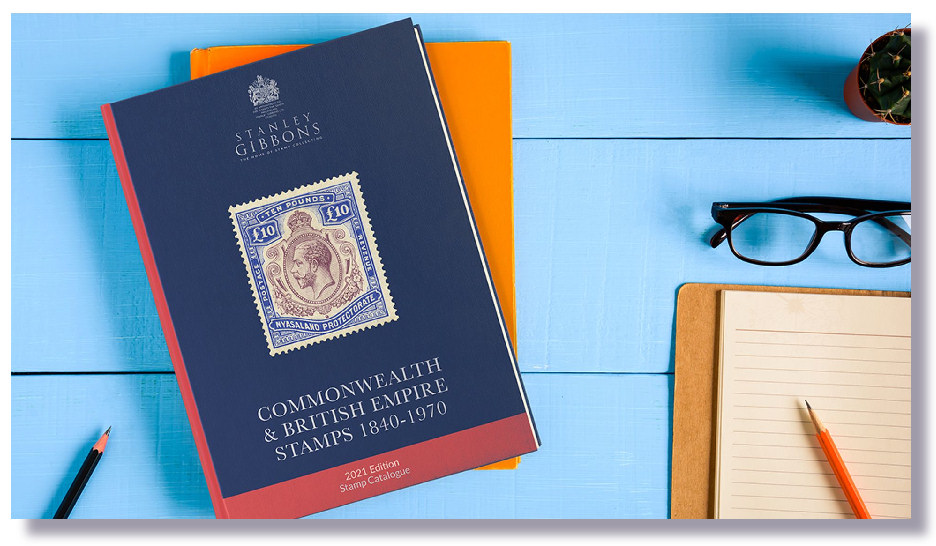 | | | |
| --- | --- | --- |
| | SG *2021* Commonwealth & British Empire Stamp Catalogue 1840-1970: This massive tome is usually released in September in UK for STAMPEX. That show was cancelled of course, and so was the September issue date of this cancelled - for months. Air Freight copies only got here after Christmas. UK retail is £90, plus £45 normal air post shipping to here (which takes 3 weeks lately), as a 3 kilo parcel, plus GST on entry = $A300. This Stanley Gibbons comprehensive "Part 1" catalogue covers Great Britain, Commonwealth and British Empire countries, 1840-1970. The listings include variations in watermark, perforation, paper and printing methods, major shades, watermark varieties, important plate flaws, errors, government telegraph stamps and booklets (all listed and priced). A truly MASSIVE 780 (A4) pages in full colour. Save $70 and get it NOW!! $A195 (Stock 579GQ | |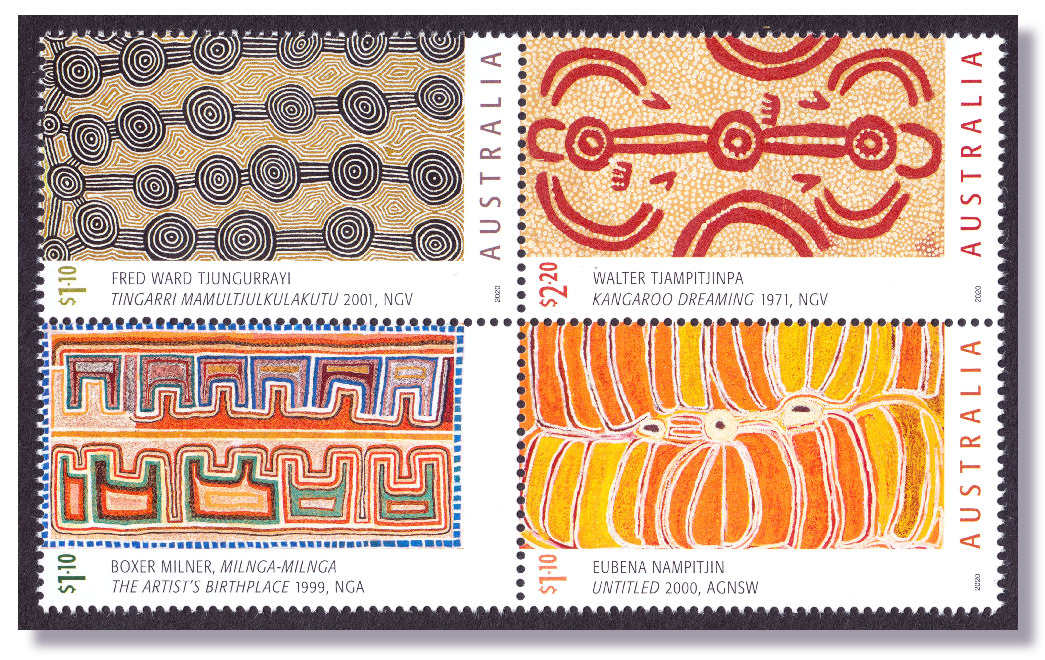 **Spectacular ERROR** stamp Block: MUH or FU - $A175:

The 2020 Australia Year Books I bought all had a very spectacular printing error in there - the entire word AUSTRALIA was clearly *MISSING* on one $1.10 stamp, as well as the issue year - see photo above. A huge error in this modern era of computer checks. NORMALLY the PO would simply swap them over for the corrected version, before placing them on sale. However this year, for the first time ever, all the 2020 annual books did not have stamps loose as usual in a cello bag or Hagner, that you then placed in yourself. They are now for each set, all printed on a page of gummed paper, with extra design all around them, and perforated within that A4/Quarto sized sheet. Each page is like a huge A4 size Souvenir Sheet essentially! So to swap these over by PO, would mean all the completed Year Books had to be destroyed, new pages for that error set printed, and then the entire book totally re-printed again, and that page newly bound in. WEEKS of extra work. As the error was not noticed until almost the on sale date, it was WAY too late for all that, as books are bought heavily each year as annual gifts, and in recent years, sell out very fast. The CORRECT stamp wording was on course on stamps in all the PO packs, on FDC, and in usual mint form etc. Tons more detail on these here -

www.tinyurl.com/Glen1-21



Naturally a PO issued "Country Name Missing" printing error will get into major catalogues globally, and Gibbons and others have already confirmed they are listing it. Such things in the past, like the GB 1988 Xmas error, sold only in GB yearbooks - SG 1414a, is now cat

£

12,500=$A25,000 a single,

mint! The FDC is the same price level. Where the price will finally settle on these 2020 Errors, I have absolutely no idea - they are advertised at $450 already elsewhere, but when my stock is gone, it is gone forever! MASSES of books will be broken up just to secure this error stamp, the ONLY way to source it, and the rest will sit on wardrobe shelves for decades, un-noticed by the regular buyers at POs. Making complete books scarcer than ever. Only 6,500 hand numbered copies were ever printed of the Executive Album of course. (Stock 583KW - and they will be Sleepers!) It seems clear that official Post Offices were told to return all books they held, in early December.

Even single copies used on scruffy covers mailed the year after issue, are getting $160 -

tinyurl.com/ArtError

Every book or block I sell has added free, the CORRECT MUH version of this $1.10 stamp included along with it, that I managed to source separately! I can supply just the "Country Name Missing" error Block 4 as shown above here, which was on front cover of "Stamp News", (and the normal correct $1.10 stamp) for $A175 MUH and/or central VFU - Stock 583KQ - please specify WHICH, or mint will be sent. MUH AND VFU blocks 4 are just $A325 (Stock 583KB) Or a Block 4 on Dec 1, 2020 FDC cover, with error block, and a normal single stamp, side by side for $A250 (Stock 583KB) - you can later hand write or sticker your name on it if required! Only managed to do a very few FDC. OR secure all three of these options above, and save $75, (MUH/FU/FDC) for $A525 (Stock 583KV). Or, the hand numbered by PO, LEATHER cover 2020 year book (only 6,500 hand numbered exist) for $A350 (Stock 583KW) or pristine unopened PO Deluxe album for $A295 (Stock 583KR) Or 5 superb books, all in the outer PO storage boxes for safe long term storage, for just $A1,300 (Stock 583KT)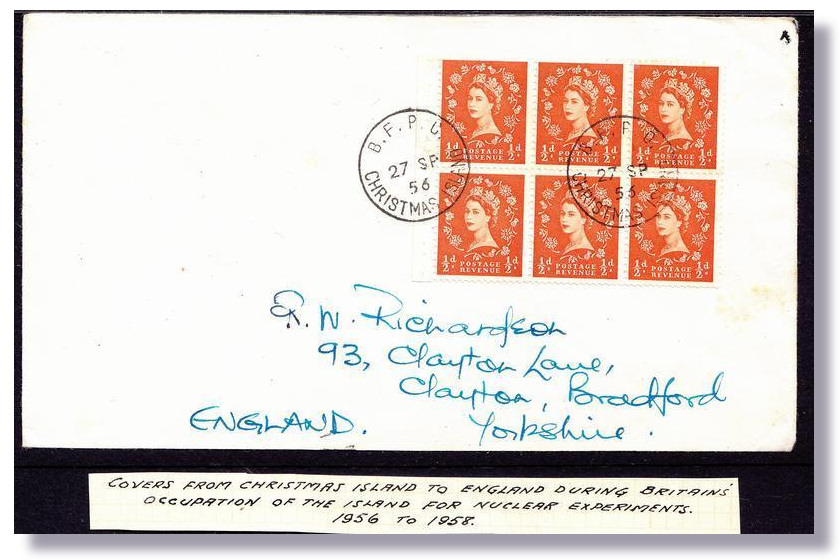 Gilbert and Ellice ''Christmas Island'' BFPO Nuclear Testing Forces 1956-58 covers x 6:

NOTE .. this is not the better known to collectors, of Christmas Island 5000 miles away in the INDIAN Ocean! "Forces Air Mail' concession rate singles on 3 covers. Complete with useful collector notes. The other 3 covers the senders has cunningly used BOOKLET PANES of 6, each with THE stitched top selvedge. All ix are here - tinyurl.com/BFPO56

Postally used they are scarce. USED ON any cover, moreso. Especially from the middle of the Pacific, 10,000 miles back to the UK! Postally used from Christmas Island in the PACIFIC Island, on matched covers, that trio be unique I have no doubt. Never seen even one of these before in 45 years of dealing. Condition a tad mixed after 65 years but a unique group I will bet. Are they worth $20 apiece? You bet!

$A125

(Stock 156GY)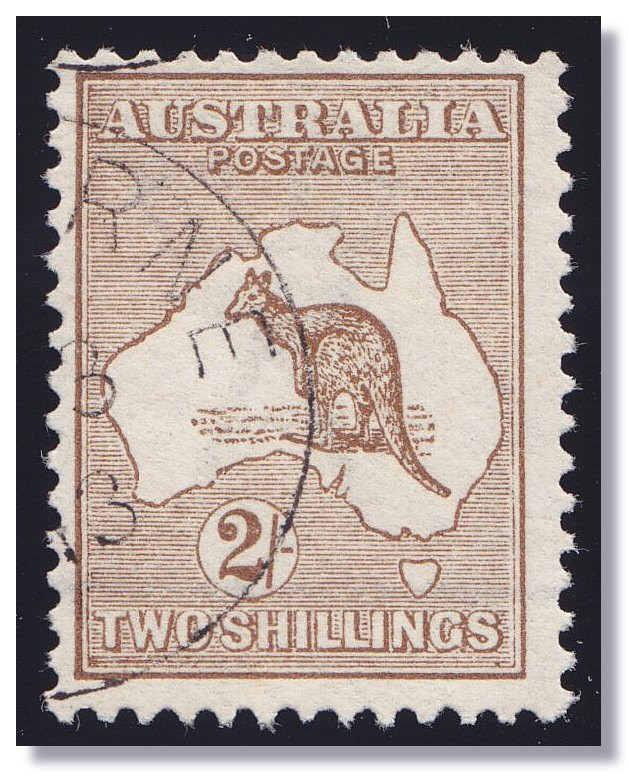 | | | |
| --- | --- | --- |
| | Kangaroo 1913 2/- Brown CTO superb fresh full gum- $A195: CTO Kangaroo prices have gone insane in recent times - single stamps selling for up to SEVEN times the recent ACSC prices. So stamps like this one are worth grabbing NOW = ACSC 35wb, $A300 as cheapest CTO date in average grade. First Watermark - Superbly Fresh - very in Scotland all its life - full flat original gum - noted as MUH in the collection, but I see a super feint hinge touch. Near NONE of these still have gum. I keep EVERY Australian stamp in stock 1913-1980 and in FIVE grades for each, from Spacefiller to Superb Used, to suit EVERY budget. I have EASILY the world's largest stock of used Roos, normal and "OS". I have this exact stamp in stock from $30 to $400 in cost, depending on how fussy or non-fussy you are! Contact me re your Australia USED gaps. Read up on Used Kangaroo Grading here - tinyurl.com/GlenJune19 The reason Grange Hermitage red wine sells for $500 a bottle, and rough reds are always $5 a bottle, is the same as VFU stamps - some savvy folks recognise real quality - and will gladly pay for it! $A200 (Stock 462KY) | |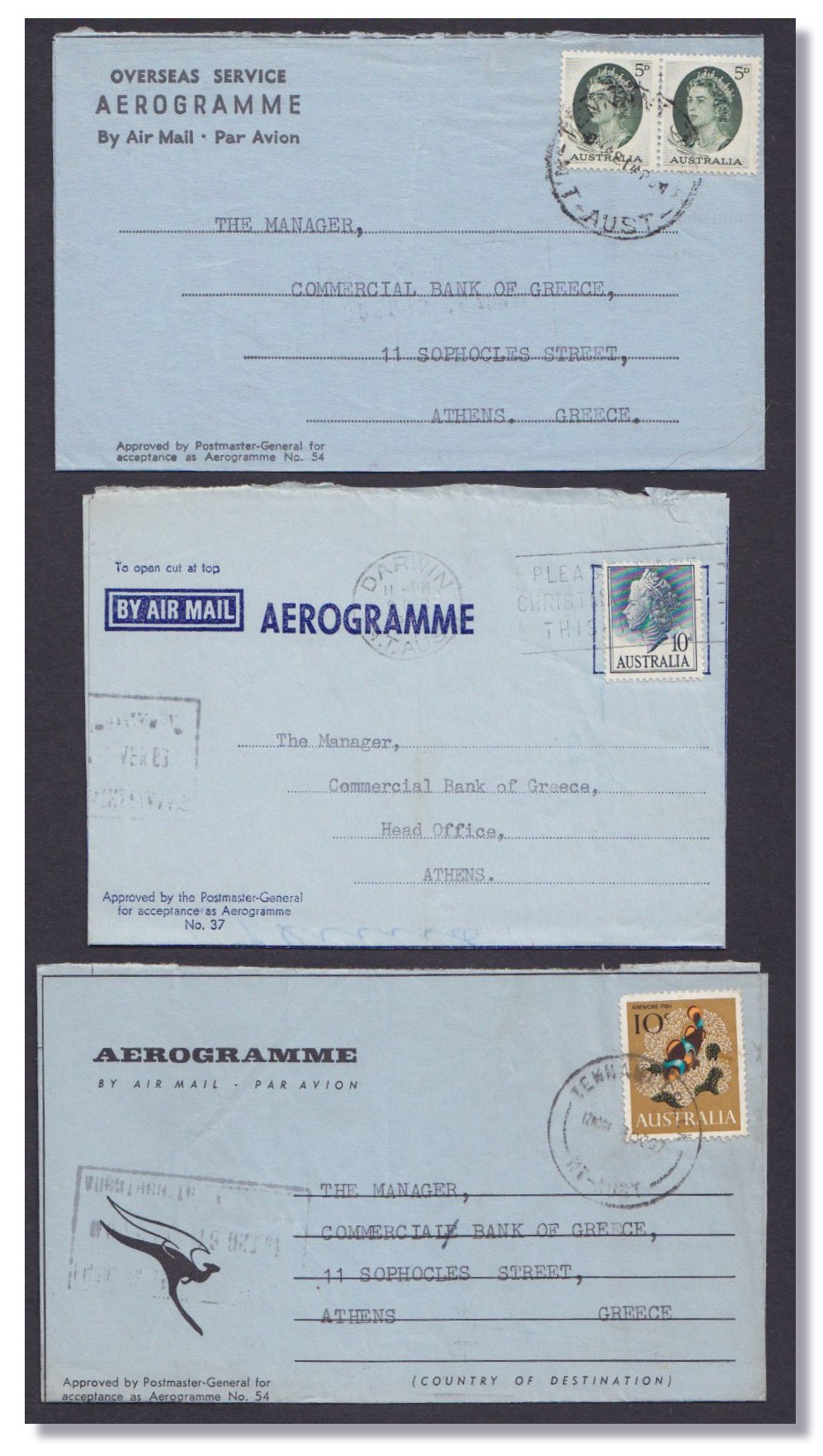 1960s Formular BANK Aeros - Northern Territory to GREECE!

The three Formular Aerograms above were invoiced at about $A250 at public auction, over 20 years back by Rodney Perry Auctions. WHY??? Three Airletters/Aerograms from oz Banks to Greece. One from Tennant Creek, Northern Territory the others from Darwin - NT to Greece - what a combo! Decimal and pre-decimal - nice cut-off pairing. All with cool and colourful bank forms and receipts printed inside. They are the unstamped FORMULAR types. Why banks used those I have no clue. And WHY did they sell for that - way above estimate? This lot comes complete with the original sale invoice, and the Rod Perry original lot card. The 10d blue was 'Approval Style 37', and is not often seen - and that was not even illustrated in the Perry sale cat. Anyway with an estimate $150, clearly there was a bit of bidding, even then, to get it to where it was sold. Over a half Century old now. Many more pix and back and front and insides, and discussion here - tinyurl.com/Aerogs

$A150

(Stock 315AJL)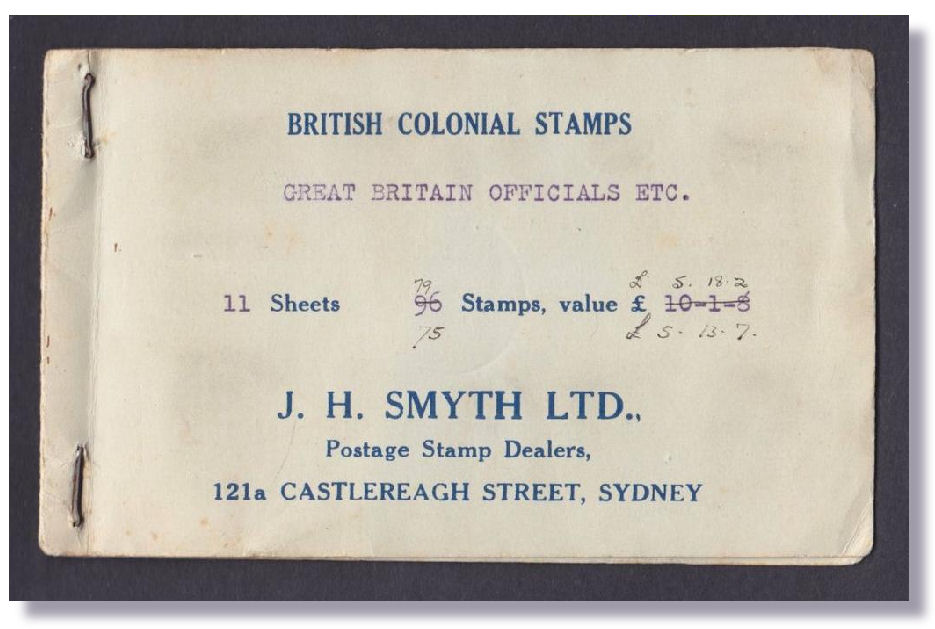 | | | |
| --- | --- | --- |
| | WWI era Smyth Approval book of GB QV/KEVII Officials. SG $4,500 for $A235! Wonderful old relic and survivor that arrived today. A WWI era W. H. Smyth approval book. Smyth was the leading dealer here. He founded his business in 1890 and died in 1923. Stamps have been in this book untouched, for a Century or so. GB QV and KEVII in this Century year old stapled Approval book, that looks exactly like the 1913 2/- Kangaroo stamp Booklet style! Most are lovely clean and sound clean FU, and from this era will be genuine most likely as most faking took place in late 1930s. The spivs crudely fake things on ebay today in large numbers. Generally above average condition for these. SG Cat as you can see is £2,247 = $A4,500. HEAPS more pix here - tinyurl.com/Smyth-GB - Bought well to sell fast at about 5% of SG - $A235 or just $US160. $A235 (Stock 625AK) | |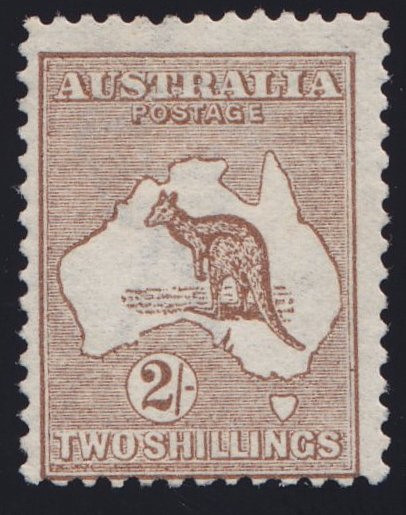 | | | |
| --- | --- | --- |
| | 1913 2/- Brown, First Watermark Kangaroo ** MUH ** Cat $2,750 for just $A500! From the quite massive THREE Generation "Townsville North Queensland Hoard" collection we flew back with - in 8 huge removalist cartons - tinyurl.com/TownsV Formed around issue time of the stamps, and I am very slowly working through it, and listing up a few more interesting pieces that catch my eye, whenever I get 10 minutes spare, here and there! Will take me 10 years to wade through it all. I grab a few now and again, and scan and add them up here. None of these stamps has EVER been on the stamp market before, in the past Century. You will be the FIRST collector to own it since! Was in a glassine envelope since issue time. MUH fresh gum, centred low, as often found, with good perfs for any 1913 issue. ACSC #35, Cat $2,750 as cheapest shade. Bought cheap from The Hoard so out it goes - Cat $2,750, for just $A500 (Stock 624AJ) | |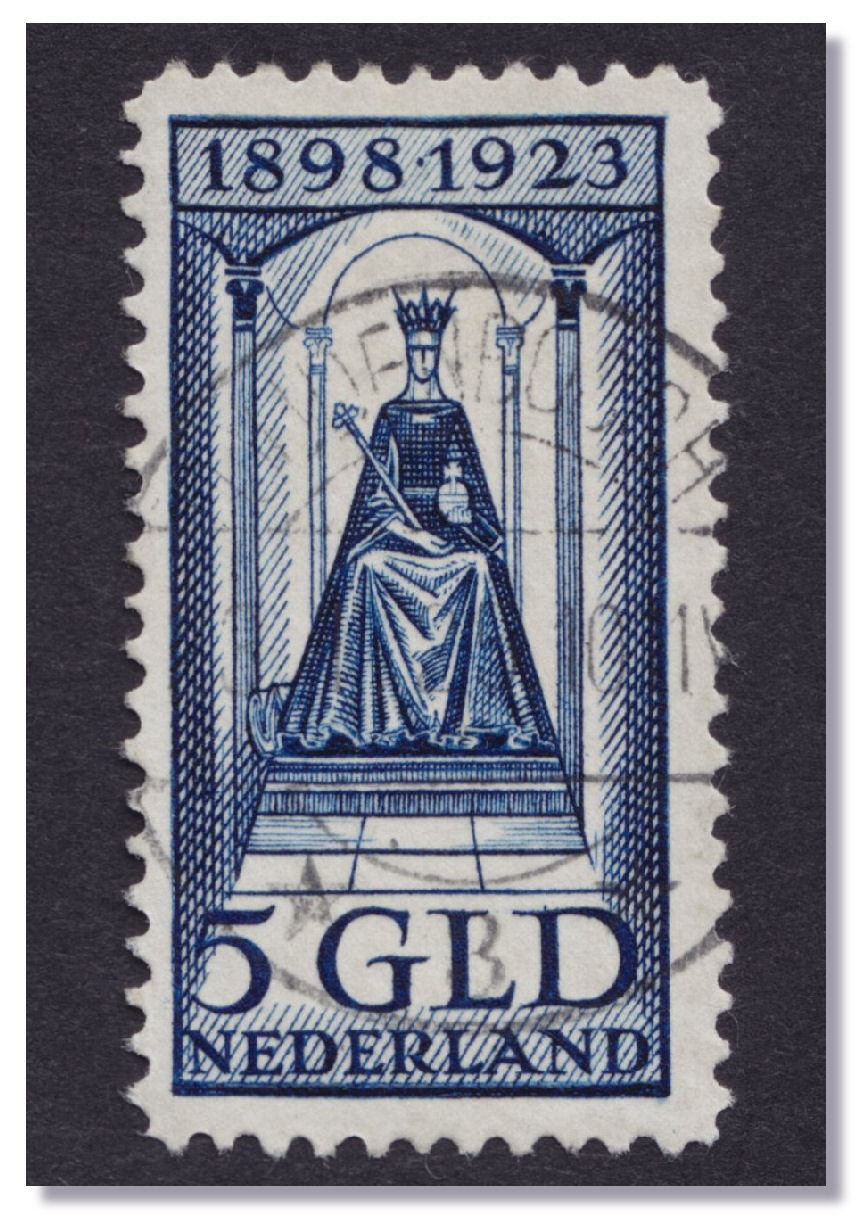 | | | |
| --- | --- | --- |
| | Netherlands 1925 Queen Silver Jubilee Top Value Superb Used: The 5 Guilden Steel Blue top value, superb used, with small town steel upright cds. Superbly clean and flat and fresh, and free of hinges and gook and gunk and usual aging. Superb dated cds from The small village of Oudenbosch - near all cds on top value Definitives are from the large cities. SG 269 £300=$A600, and a finer copy you will never see. Have several other FU high value Netherlands Defins, equally well priced! $A195 (Stock 674AK) | |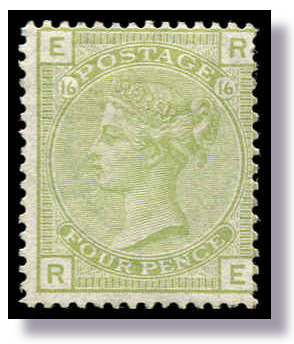 | | | |
| --- | --- | --- |
| | G.B. 1873 4d Sage Green fresh MVLH, SG. £1,400 ($A2,800) for $A475!: Superb fresh, clean MVLH, amazing really for 148 years old, plate 16. 4d Sage Green with large coloured corner letters, lettered R.E., with the Large Garter watermark. Nice bright colour, and great perfs as you can see. SG 153, £1,400 ($A2,800) A little over 15% of SG …. what a deal for someone, as bought very well! $A475 (Stock 693KQ) | |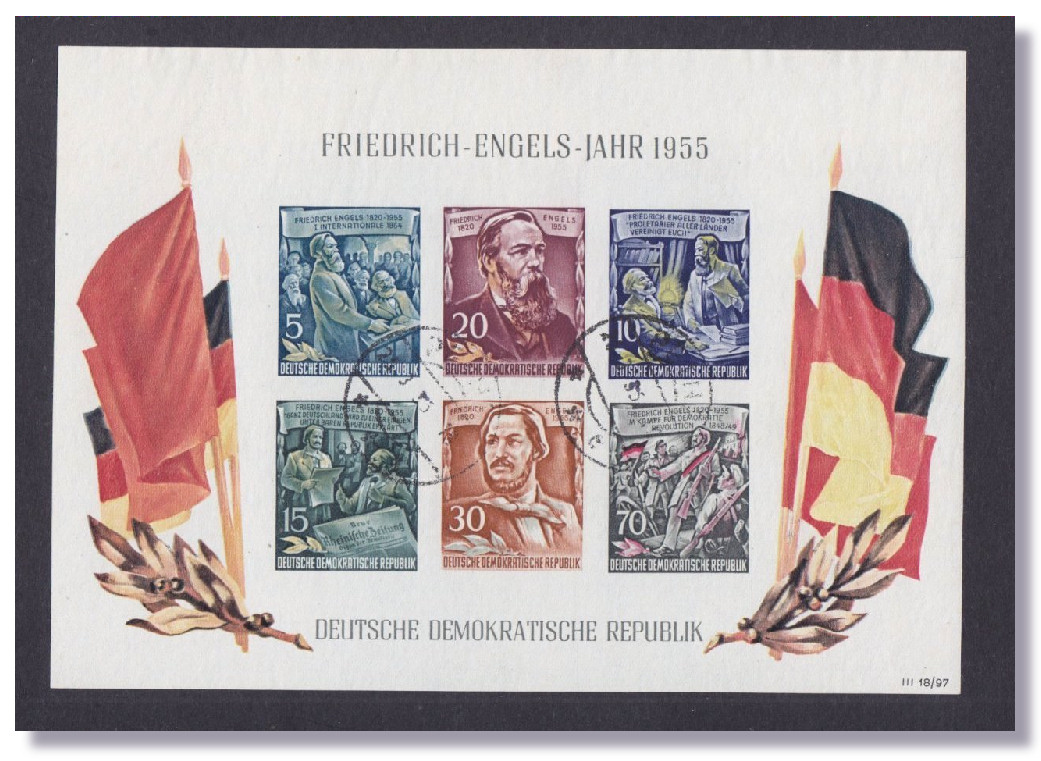 | | | |
| --- | --- | --- |
| | East Germany 1955 Karl Marx Mini Sheet Superb Used: The scarce 135th Birthday Anniversary of this absolute legend of the country. Scarce mint or used - been 20 years since I had one of these. Superb used, clean and flat and fresh with 1955 light central cds. SG E233a, Cat £200=$A400. Bought from an Estate, where the buyer had a Max Stern invoice in with this for $A350 which seems about right. A key post-war German piece for just $A115 (Stock 495BR) | |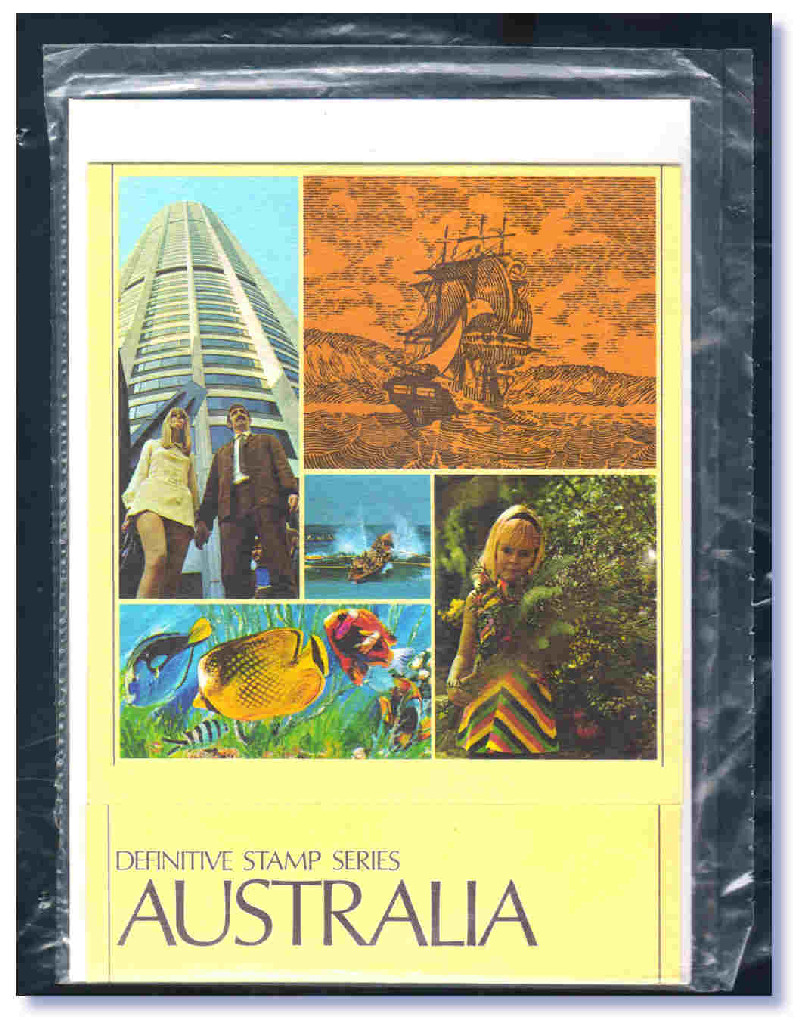 | | | |
| --- | --- | --- |
| | Australia 1970 Definitives, rare Post Office Pack Cat $650, for just $A295: The *Gorilla* - the scarcest Australia face different PO pack by several miles, as it cost a FORTUNE back then. I see one each few years or so. This larger sized B5 pack has all the current Defins right up to the 1966 Navigator set 6, in a plastic Hagner type sheet inside. Add it up - FACE was $10.47 of the stamps here. 'No big deal' you might think today. Well near 50 years back that was huge. A First Class letter then cost 5¢! (There are 2 different 5¢ Queens in here) so $10.47 bought you 210 x first class stamps. Today a First Class letter is $1.50, so 210 of those is $A315 in today's money. Would YOU pay $A315 TODAY for a new issue Post Office pack? Of course not, and certainly almost no-one did in 1970, so they are super scarce, and retail MANY $100s despite being on sale nationally at capital city Philatelic BureauxThe $4 King alone cost EIGHTY times the then 5¢ letter rate. So the pack was about $A315 type buying price, adjusted to today's money. You are paying LESS than that! Little wonder almost none sold. ASC P7, Cat. $650 and seldom seen or offered ANYWHERE. Fresh and un-opened. $A295 (Stock 542JKL) | |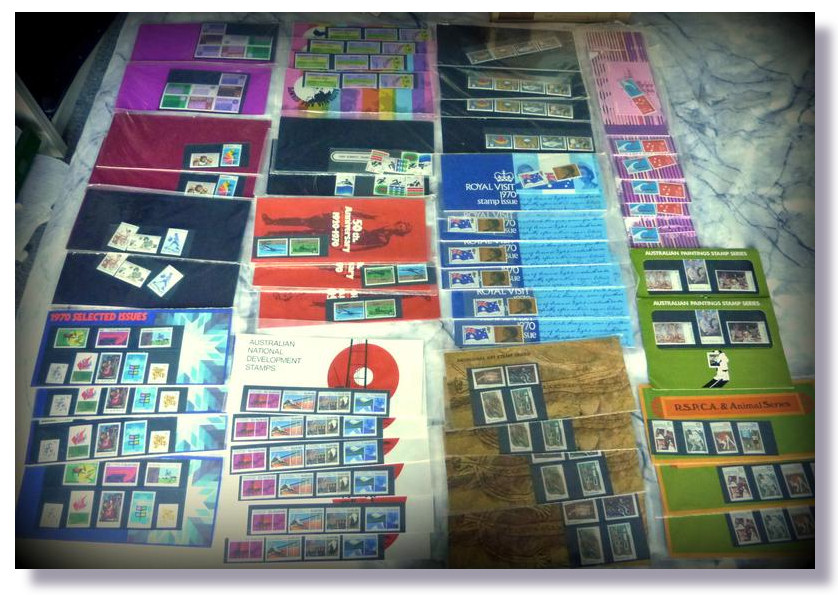 | | | |
| --- | --- | --- |
| | Australia PO Packs 1970-1974 x 50. Retail $800 for just $A175! A superb hoard for someone. Bought by a Postmaster 50 years ago, as they each came out. All sealed and nice. Generally a few of each. This is the GOLDEN ERA. PO only started issuing PO packs in 1969 so these are the SUPER early ones, and few bothered. And those that were bought, were torn open for the stamps. This has the very scarce 1971 Xmas Blocks of 7 - and FOUR of the really scarce 1972 "BEEF" or Primary Industry sets 5 etc, etc. So these super earlies sell superbly well on ebay etc, and the "Stamp Boom" started latter 1970s and NONE of these got bought in multiples, as the 1980 era was. Bought cheap in 20 storage tubs of material, so OUT it goes at a super silly $175! Current retail is $800 as you can see here tinyurl.com/EarlyPax - Full listing and many more pix is there - $A175 (Stock 659UF) | |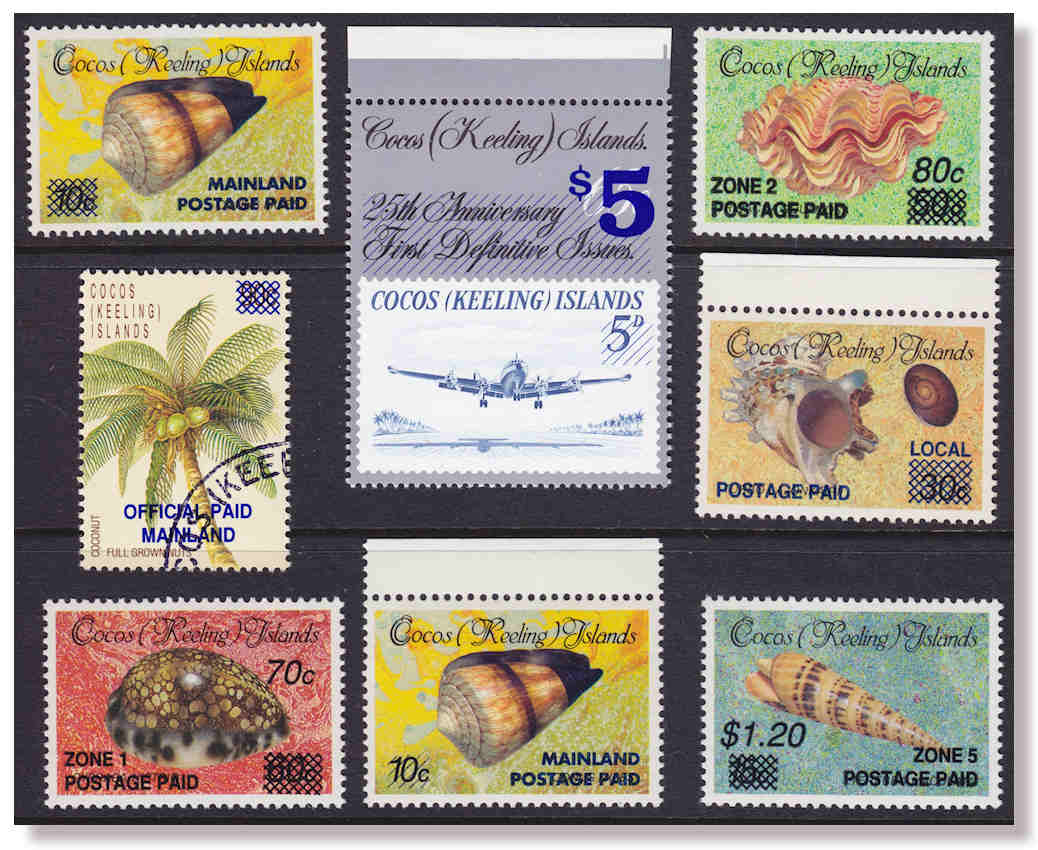 | | | |
| --- | --- | --- |
| | Cocos Island 1991 *Emergency Provisional Overprints* Complete Set: Fresh MUH set of 7 of the regular size stamps, SG 234/239, and that includes the very rare 1991 Coconut "OFFICIAL - PAID MAINLAND" which as always, is CTO with full gum - and was never sold Mint without the corner cancel. A cover with 3 copies, just sold for $A4,800. (SG #01) - see tinyurl.com/Glen4-19 – Cocos prices have gone quite INSANE at auction in March 2019 - click the link! ASC 140a/148a, cat. $A350 just the 7 small stamps. This includes both types of overprint grid bars on 10¢ Shell, as per cat listings - one is VERY scarce. One of the priciest and most sought "Shell" stamp sets of the post war era - globally. The 2017 ASC Catalogue Retail is $350 a set 7. I also have the scarce and huge, December 1990 size $5 on 65¢ Aeroplane, Emergency overprint MUH, ASC 186a, cat $A110, for $A70 (Stock 107CR) So, the basic set of 7, ASC Cat $350 is from me $A275 (Stock 107CQ) or all EIGHT overprint stamps as per photo above, including the scarce and huge $5 Aeroplane, for a $A25 discount - all 8 for: $A320 (Stock 107CT) | |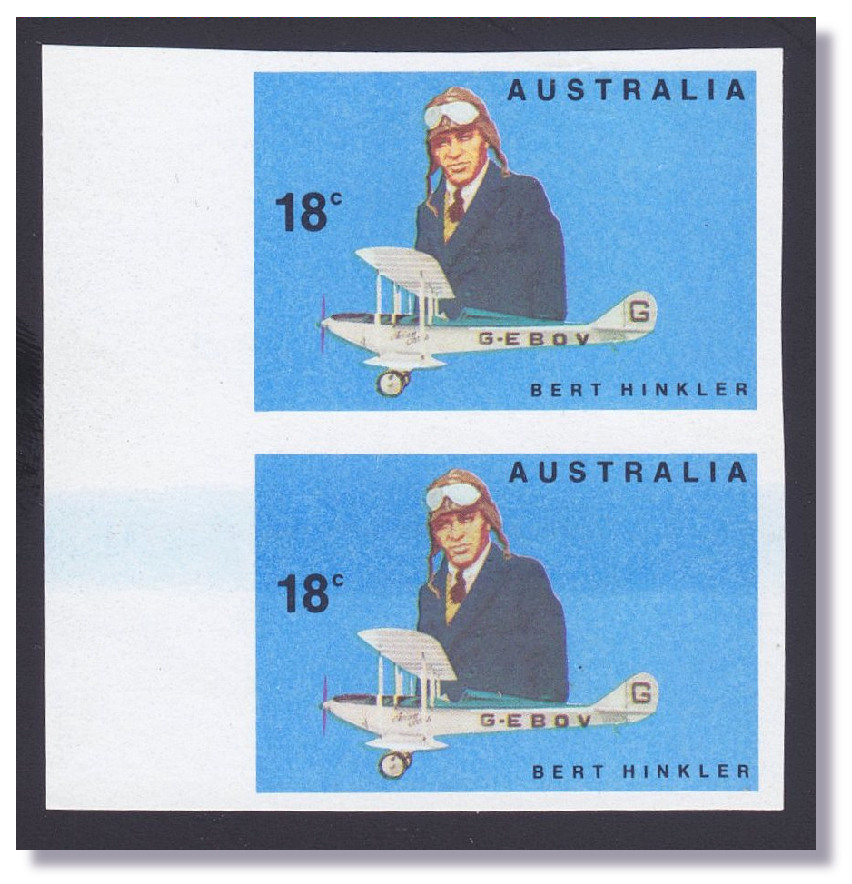 | | | |
| --- | --- | --- |
| | Australia 1978 Aviators 18c Bert Hinkler - *Imperforate Pair*: ACSC #791b, $1,200+ back 19 years back - superb unused, with wide left margin, which support the ACSC suggestion that these may be a plate proofs. Terrific margins as you can see and clean and fresh and flat, ACSC Cat $1,200+. Also is SG 659a, £600=$1,200. The new ACSC Decimals Cat is about to be released, and prices are doubtless now far higher, after 20 years! $A500 (Stock 836PA) | |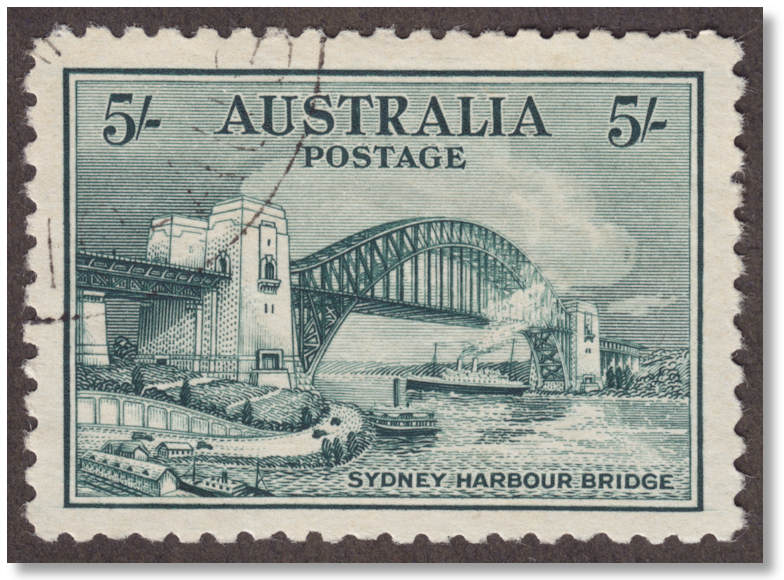 | | | |
| --- | --- | --- |
| | Australia 1932 5/- Sydney Harbour Bridge stamp, Superb VFU: The most iconic stamp from this country, and missing from 95% of collections. It was printed on what was essentially very coarse handtowel type blotting paper, and perforated with blunt nails. This was the absolute height of the Great Depression, and even the Government Printer was economising. The coarse paper means a large number are thinned - try and carefully peel an old hinge off these, and you WILL thin them! And the perfs, as all will know are often terrible and ripped out, and "fluffy" and poorly punched. They were perforated with the single line machine rather like a fancy treadle sewing machine one line at a time, then sheet rotated 90 degrees, and the other sides done. Hence wide margin centring is not common at all. A beauty - clean and perfect with superb perfs and centering for these "terrors". Yes these do sell a little lower at times BUT that is due to the inferior centering and reverses etc. Buy top quality for - $A265 (Stock 912AX) | |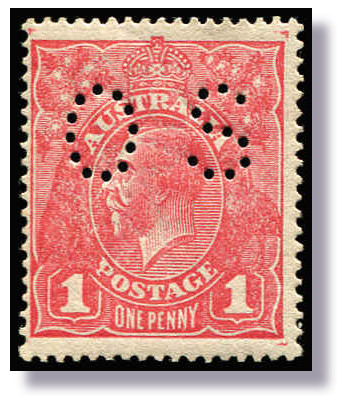 | | | |
| --- | --- | --- |
| | Australia 1918 KGV 1d Rose-Pink (G67) Rough Paper Perf 'OS' with *Drury Certificate* Cat $A2,000 for $A450!: ACSC #72Hbb, MUH, with small gum scuff mentioned for accuracy, Cat $2,000. Michael Drury colour Photo Certificate (2018). A wildly mis-identified shade, in any kind of mint condition, and unless the KGV shades GURU Michael Drury says it is Rose Pink, do not waste your money! LOTS of the common ''Rosine'' get styled as Rose Pink etc. Offered for almost the cost of the current Australia Post Annual album tinyurl.com/APyear - Insane. $A450 (Stock 582KE) | |


| | | |
| --- | --- | --- |
| | Laos 1954 Golden Jubilee set MUH - SG Cat $870, for just $A195! The KEY set from Laos - the "Sydney Harbour Bridge" issue from there!! The 1954 Golden 50th Jubilee of King Sisauang-Vong. Beautifully engraved bi-colour, steel engraved recess intaglio printing. All are flat MUH, with the usual evenly ''suntanned'' gum after 65 years in Indo China. I see these in stock once in 20 years. SG 40/42, £435 = $A870. USED is the exact same price as mint I notice in SG, this set had such a tiny printing, and either mint or used, are NEVER seen offered anywhere, much less at WELL UNDER QUARTER GIBBONS! Just $US145 as I type - $A195 (Stock 584JR) | |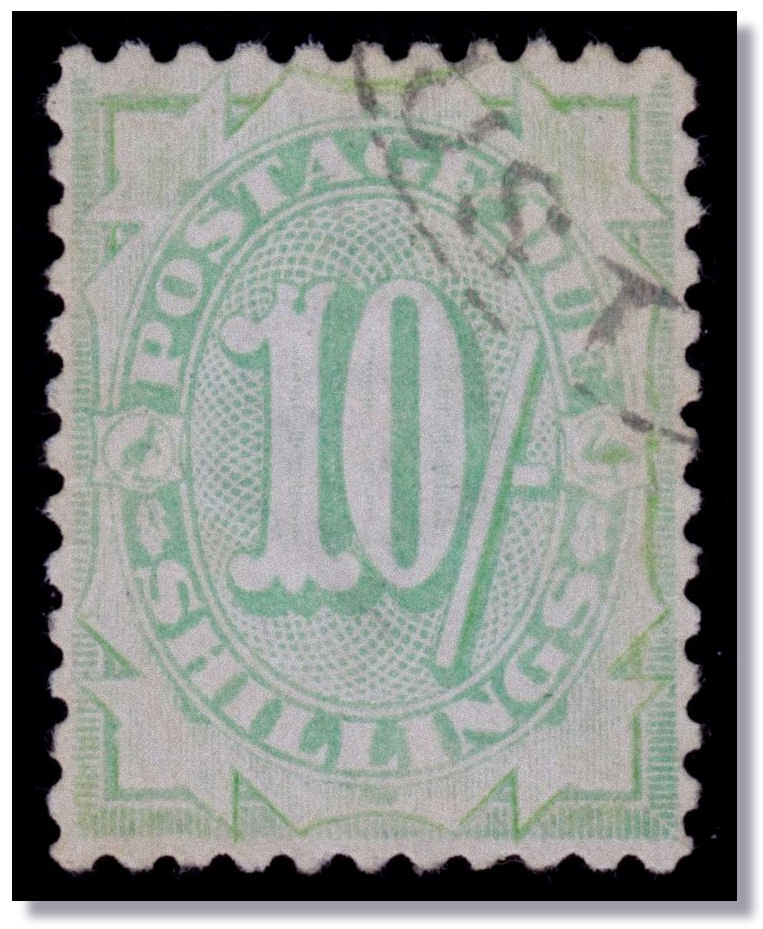 | | | |
| --- | --- | --- |
| | Australia 1902 10/- Dull Green "with stroke" Postage Due FU: 1902-04 Complete at Base design, Watermark Crown over NSW - inverted, as are all known copies - about 50 exist, ACSC advises. Free of hinges and gook and gunk, and a rare stamp either mint or used. Far superior perfs and centering to other values on this monocolour series. These "with stroke" high values were printed early 1909, all in this Dull Green colour, as the 1902 green 1d, 2d, 5d and 10d were easily confused with the original 1/-, 2/-, 5/- and 10/-. They all looked near identical at a quick glance, being numeral figures only. i.e. a 10d and 10/- looked nearly the same, until this issue, both being just a large "10". This 10/- was issued March 1909, and was replaced, (and unsolds destroyed) near immediately by the 1909 Bi-Colour set, which was in a single printing in August 1909. Pencil expertised by A. Diena. SG D61, £26,000, and Scott J37, $US27,500. Bought well so out it goes at $US2,440 as I type, or $A4,000 (Stock 836HW) | |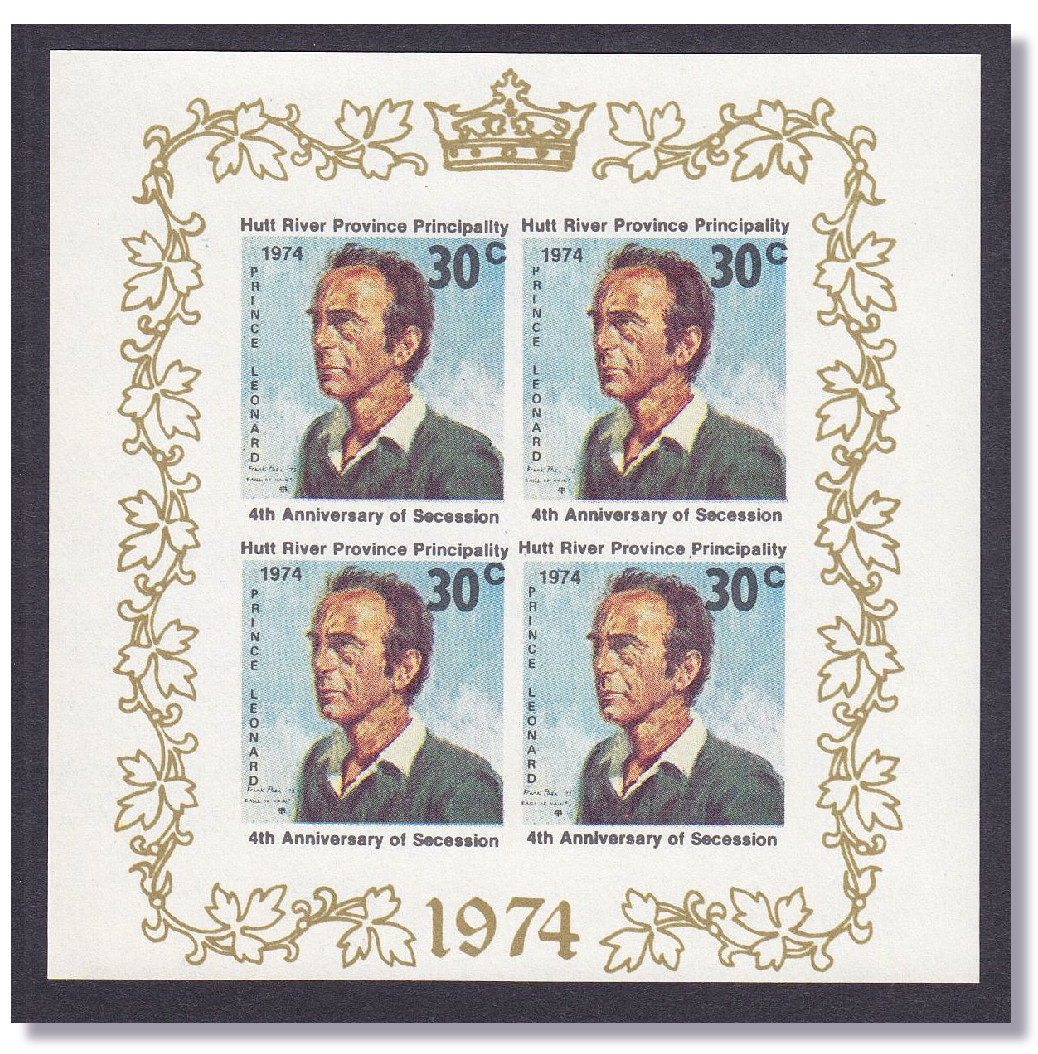 Hutt River Province 1975 Mini Sheet #1 x **440** Retail $3,080 - just $A245!: These were issued in the Stamp Boom, and investors bought quantities of many things. These included, clearly! Someone decided to buy 440 of these attractive Miniature Sheets. Face value is $1.20 a sheet - so FACE alone is $528 alone. He could have bought a mint £2 Roo for that money 47 years back! And dealer retail is $7 a set = $3,080 as you can see here - tinyurl.com/HuttMS Bought well to sell FAST, at a fraction of what he paid 47 years back, and you pay just 7% of current retail. Doing 100+ hour weeks now, and just no time to break these down as I really SHOULD! He had a few other issues in duplicate full PO sheets that he bought at the same time if anyone is interested, also at a low % of retail. Brilliant lot for someone on ebay to offer per sheet, or per 10 or per 100 (you have 440 sheets!) and make a real killing. This Hutt River material is enduringly popular. A few single sets sold for $510 on ebay - to many bidders.

Amazing find .. owner paid $3,200 for these in the 1980s according to his auction invoice. These are near FIFTY years old now of course. Hutt River's FIRST ever Mini Sheet. The Principality of Hutt River is situated some 600 km north of Perth, Western Australia and is an Independent Sovereign State having seceded from the Commonwealth of Australia on 21st April 1970. The Head of State was the late HRH Prince Leonard. His son, Graeme took over the reins of the Province. For many years until recently, he printed his own stamps, issued his own coins and notes, and also issued his own passports and bestowed Knighthoods to visitors from all over the world. Pay neat 7% of current retail, and just 44% of face! $A245 (Stock 462BX)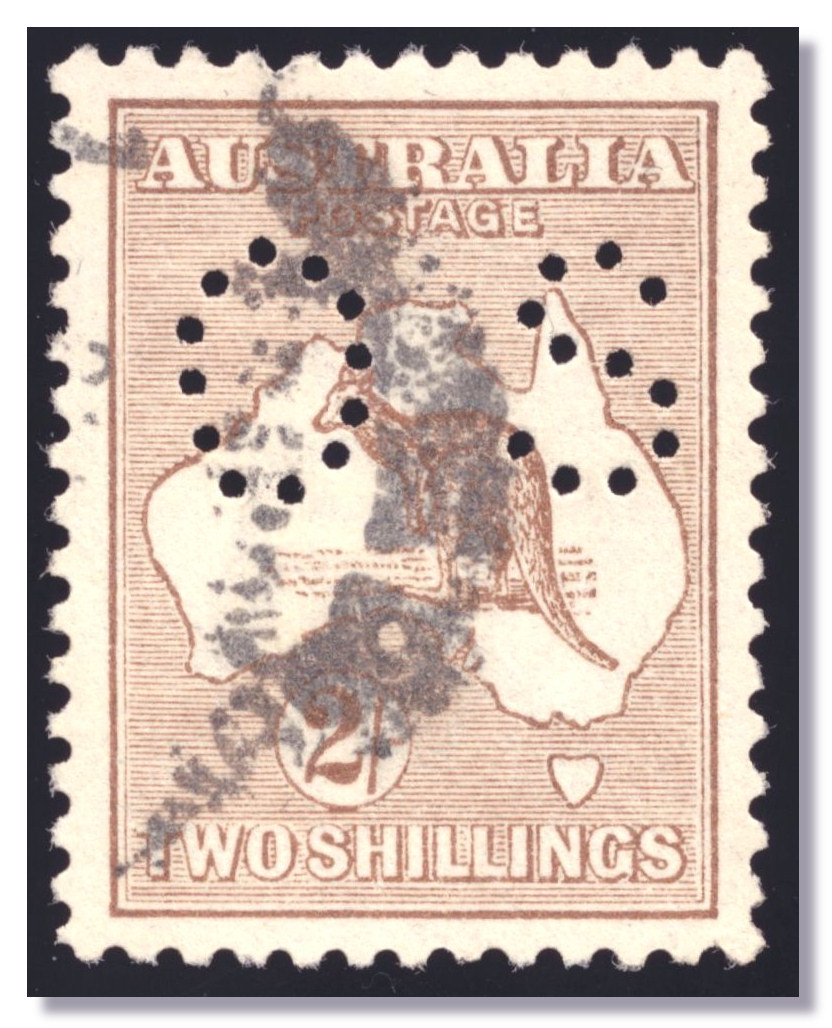 | | | |
| --- | --- | --- |
| | Australia 1916 2/- Brown Kangaroo INVERTED WATERMARK $1,000 under Cat!: ACSC lists the Inverted Watermark stamp as 37a, at $1,500, normal or Perf "OS" in average used - and they often are in terrible shape, from heavy parcel use in WWI. As an example, the only used copy in the huge Arthur Gray Gold Medal sale had short perfs, and a missing corner! ACSC 37a, $1,700. This is a 100+ year old stamp, clean and flat and fresh, very attractive used, free of hinges and gook and gunk etc, so that the watermark shows superbly. Most of this watermark 2/- has really "fluffy" perfs - this one is truly excellent as you can see. Quite decent cds cancel for a parcel usage 2/- … many have ugly smeared boxed grids, or machine rollers etc. Light neat dated cds. Better Kangaroos have gone totally GANG-BUSTERS in recent years. A very pleasing looking stamp, superb perfs and centering- the nicest copy I have seen on this for ages, yet just $1,000 less than the ACSC price - $A700 (Stock 539LQ) | |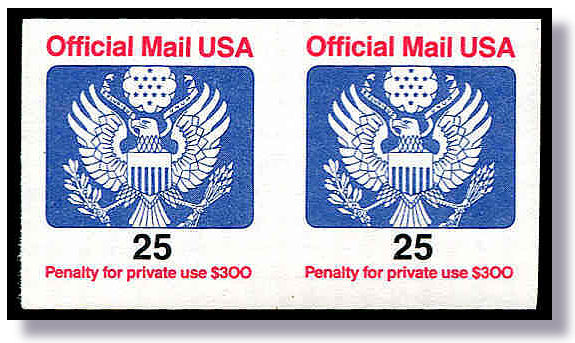 | | | |
| --- | --- | --- |
| | USA 1988-91 Official Mail 25¢ pair *TOTALLY IMPERFORATE*: A rare error, of which only one sheet was apparently discovered. Fresh MUH, with superb wide even margins. Scott #0141a, Cat $US1,000 = $A1,450. SG #02345a, Cat £1,100 = $A2,200. One of the major American post-war stamp printing errors, fully catalogued, and bought well, to sell cheap! Thirty years on, these will never be cheaper. SG Cat $2,200 for just $A695 (Stock 462HU) | |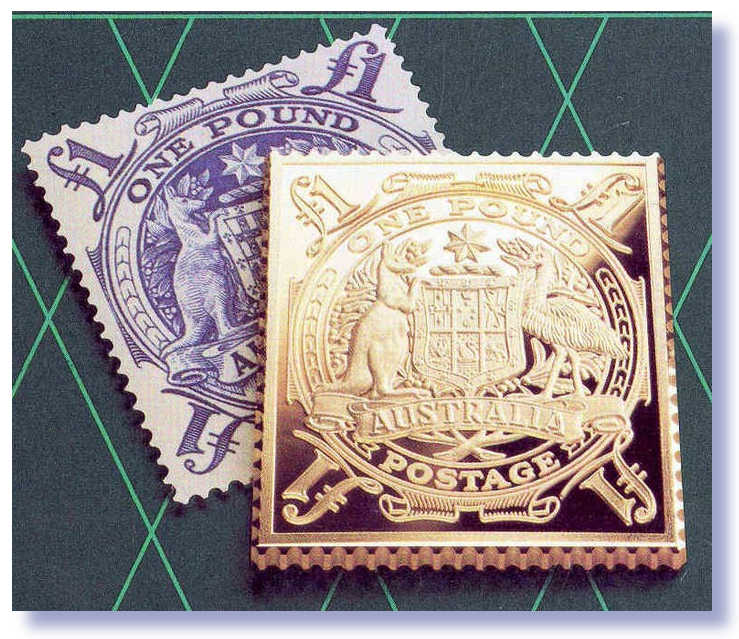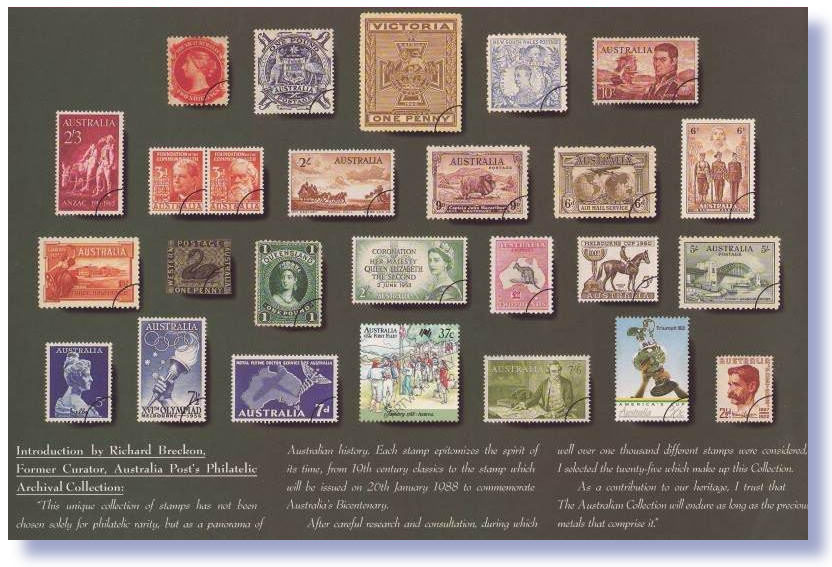 Wide Range Australia & States designs, 24K Gold on solid bullion, Replica Stamps: $A30 each!: A perfect opportunity for you to own stamps from a Deluxe collection of Australian stamps, in gleaming precious metal proof, struck in solid silver, and plated with 24 Carat Gold known as "The Australian Collection" - for the 1988 Bi-Centenary of Australia. Each in original classy packaging, and unopened. Some of the linked photos are taken from the advertising brochure - the copy from my Archive files - that Australia Post mailed to all those on the 'Stamp Bulletin' mailing list back then. MASSES of pix and paperwork here - tinyurl.com/BullionStamp The Australia Post Philatelic Manager fully endorsed and approved this set by mail, and waxed lyrical in a letter to collectors on what a lovely item it all was and great investment etc. See his actual letter on link nearby from my files. Each ingot is identical in exterior size to the huge original stamp, but MUCH thicker of course.

Highly polished Deluxe Proof quality, hand struck in solid sterling silver, mirror finished plated with 24 Carat Gold, and each is a substantial 2.2 mm thick as you can see in photo. Quite a bit of "melt" value in the large chunk of thick Sterling Silver here alone. Rear of all ingots are stamped with "The Australian Collection" and ".925 Silver HF" to authenticate them. In 1988 - over 31 years back - these replicas cost subscribers exactly $A98.60 an ingot. True! See original receipt scanned on link nearby. These are brand new in the original secure and protective packaging. Each ingot is in a special clear moulded mount, inset into a large Racing Green solid card outer folder about the size of a FDC or PO pack. The ingots are thus still in as minted, highly polished mirror proof state, unscuffed or damaged. VERY few would have been retained thus after 30 years, as near all were inset into the fancy display box that came with the set. A bit like better Dinky Toys, or Barbie Dolls etc, in clean ORIGINAL un-opened packaging - worth MANY times the items if outside the packaging.

Easy to store in a #2 or #3 Hagner, or stockbook pages etc, or even stored flat in a large glassine etc. I bought a hoard off someone who paid $A98.60 each - receipt in link below. A first class letter costs 4 times more than it did in 1988, so this had a relativity value of $400 an ingot in today's money.

You are paying under 10% of that!!

I have duplicates of near all the Bullion ingots in the collection, if you want more than one of all of these for the same stamp design, if they suit your collecting themes. Or for ebayer-selling etc. He has duplicates of many - this guy spent $10,000s on these! MASSES of pix and paperwork here - tinyurl.com/BullionStamp Each stamp design has a unique order code - click link for all details of those. ONE packaged ingot of your choice for

$A45

(Stock 526AL)

FIVE

of YOUR choice stamp ingots for

$A200

(Stock 526AK)

TEN

for

$A350

(Stock 527AB)

TWENTY

ingots of YOUR choice for

$A600

(Stock 527AC) or have ONE set only of 23 DIFFERENT Bullion ingot stamps

for just

$A7

00

(Stock 526AAC)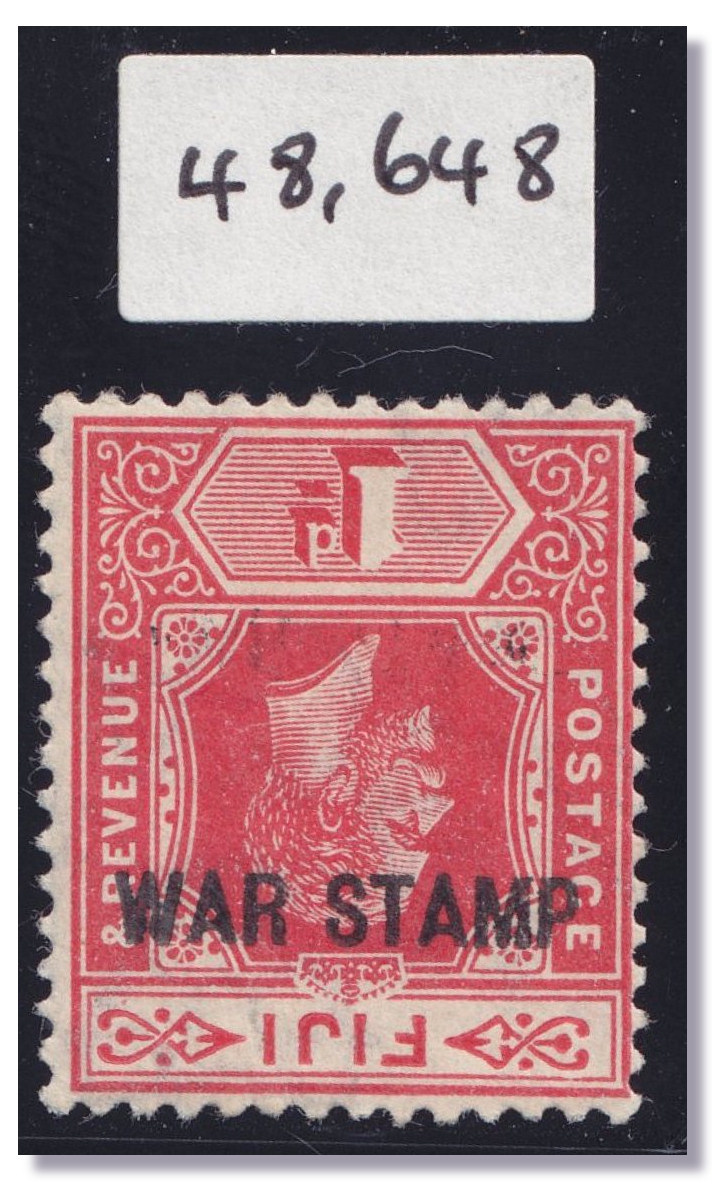 FIJI - 1915-19 'WAR TAX STAMP' Overprint

1d KGV, with

Overprint Inverted, BPA Cert:

SG #139ac, 1d Bright Scarlet, fine MVLH, Cat £600 = $A1200. Clear

BPA

certificate (1998). Near EVERY example offered on FakeBay etc, (even many real Auctions) is of course FORGED, as the basic stamp is worth only peanuts. Also has a light impression of the overprint under King's Neck as can be seen - so technically a DOUBLE oveprint - both inverted! You MUST buy these with clear UK Photo Certificate. Also expertised 3 times on reverse. Very fresh MLH original gum. Priced at $650 under Gibbons to sell FAST -

$A550

(Stock 835KL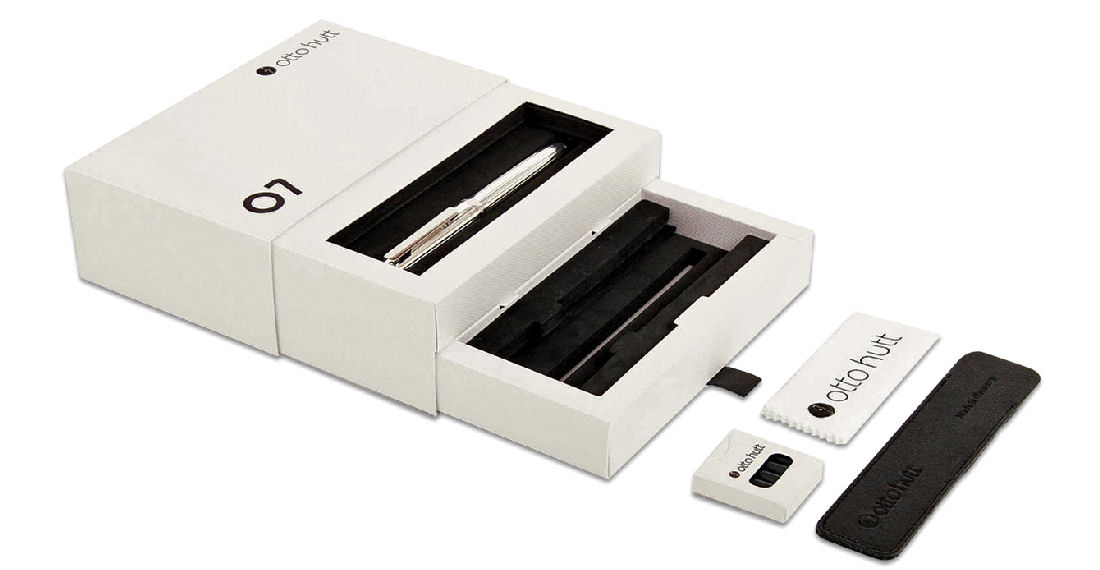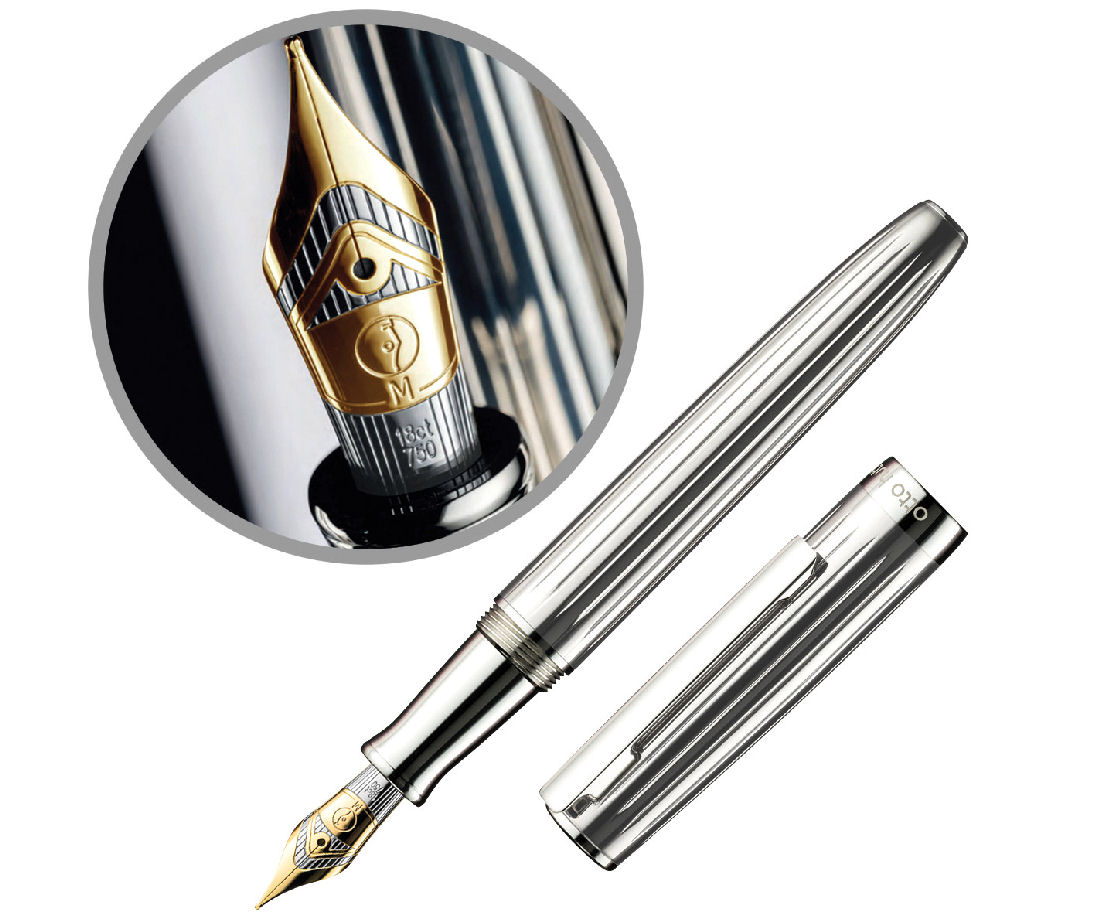 18 Carat Solid Gold and Sterling Silver German OTTO HUTT Fountain Pen, brand new: **$A250 off**! I made a big wholesale buy from local Agent, Renniks/Lighthouse, to celebrate this exciting new product range, (established 100 years), and can offer to clients for $A255 off, at just $A999! All German made, top end quality. The superb gift for a partner, the Boss, someone special, or YOURSELF! In stunning award winning Italian made gift/storage box, with slide out drawers, with polishing cloth, and Deluxe leather carry case, extra ink cartridges, and ink converter etc. A hand numbered and timeless pen, for those who like the VERY finest things in life. VERY expensive 18 carat solid GOLD nib - this is their TOP of the range pen. This exact same pen was advertised in the current Australia Post Philatelic "Impressions" Deluxe catalogue, page 41, for $A1,254, and totally sold out fast - see tinyurl.com/OttoAP and tinyurl.com/OttoRoller - full details of these pens on those links. Comes with the popular Medium thickness nib.

Save $250 on the nib pen at $A999 - indeed that is only $US700! (Stock 386LW) The similar design Platinum/Sterling Silver body, with roller ball tip, also superb gift boxed (see PO link), is discounted $A150, and is only $US600 - $A850 (Stock 386LX)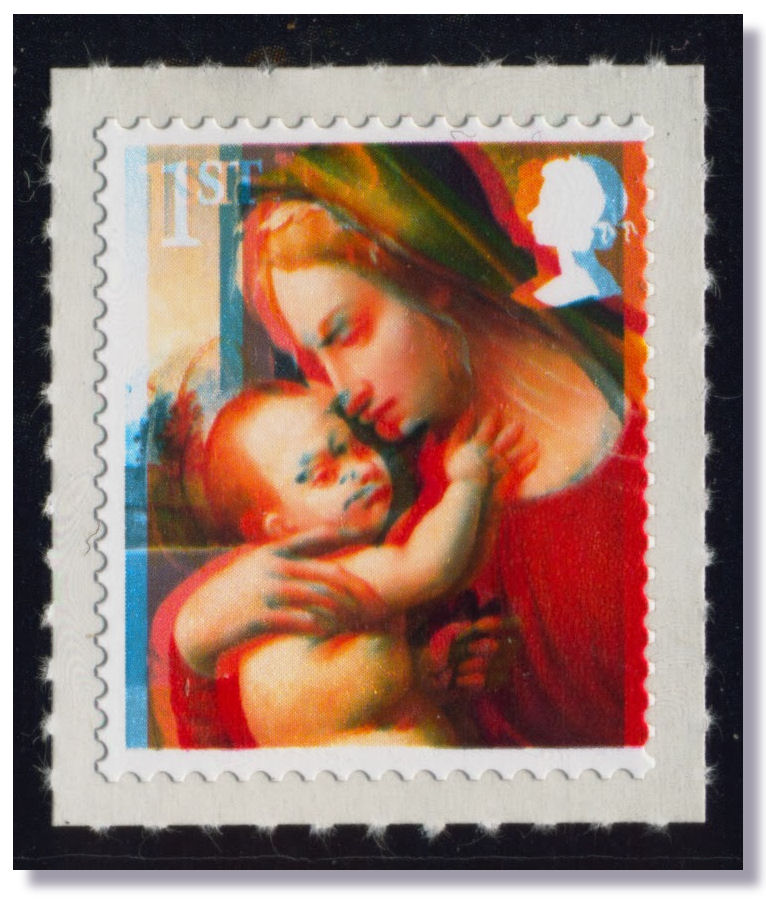 GB 2013 Christmas 1st Class stamp, with quite spectacular Colour Mis-Registration - $A165!:

The most striking error of this type I have seen in any very modern issue. Especially from the GB, De La Rue printings, who these days have VERY sophisticated computer eye quality controls to detect exactly this type of freak. From the one sheet of 50 from De La Rue printers, that was discovered showing this error on some units. Often a spike of electrical outage causes press to "hiccup" for a millisecond, and registration on the roll of paper is slightly skewed - looks like THREE colours are mis-registered here! Very attractive price as you can see superb MUH - "Christmas On Stamps" is a huge topical, and of course GB is mega popular. A MUH SINGLE as shown -

$A165

(Stock 683KT)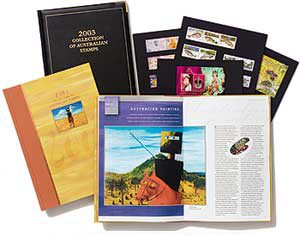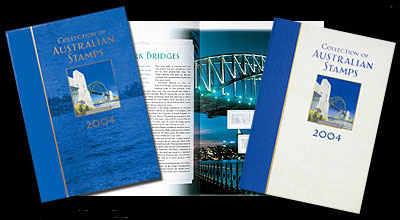 Complete Set Australia Post Year Albums 1983-2003 - $1,000 *UNDER* Retail !!: Red Hot Estate special. All TWENTY ONE albums. The FACE value of the stamps inside is $842.27. You are paying WAY UNDER UNDER ACTUAL FACE! ALL are 100% valid for global postage if you ever need to use them. You are basically buying $100 bills for less than $100! I just bought TWENTY sets of 21, off a guy who bought them for an "investment", so have slashed over $1000 off my usual selling price, to see them clear FAST.

The issue price from PO was $1,103! You are paying $300 UNDER PO cost, and $1,000 less than retail. One of each year Australia Post books here, from the 1983 book, and ALL have a matching coloured, hard slipcase, to prevent dust and moisture entering the book. My discount Retail is $1,810 as per link below. Save $1000 off retail! All the LATER Year Books and the Black "Leather" cover ones are always in stock - I have the WORLD'S BIGGEST YEARBOOK STOCK - also keenly priced cheap, and all are offered singly, if you only need certain issues, at - tinyurl.com/yearbks $A800 (Stock 735ET)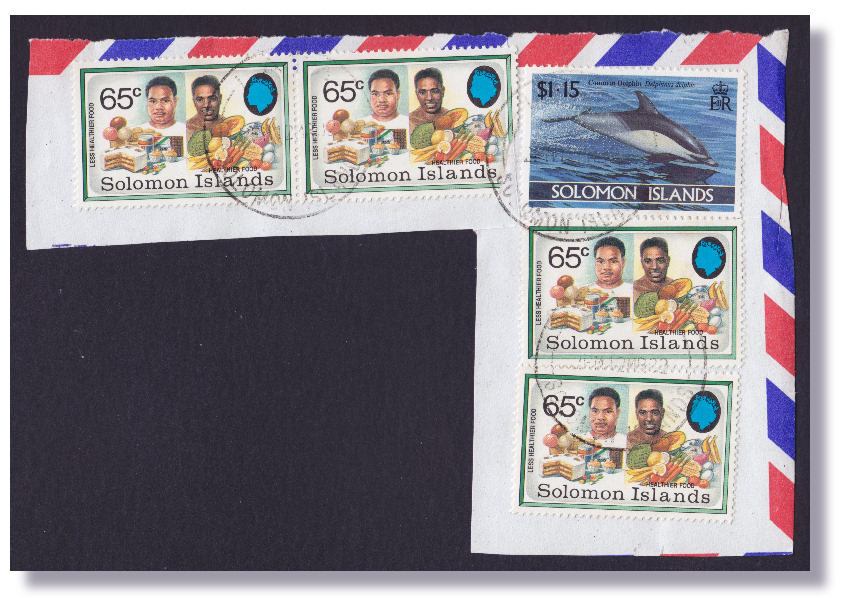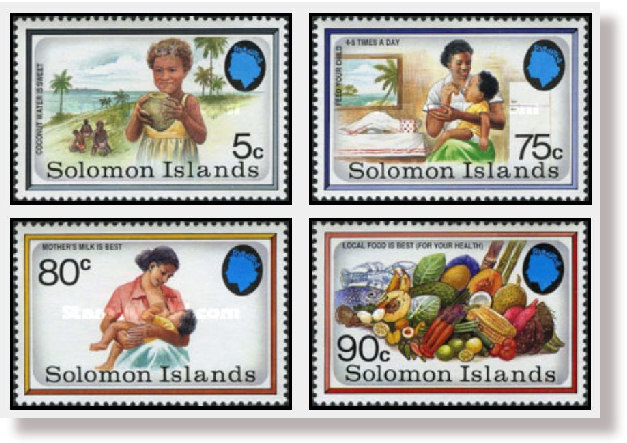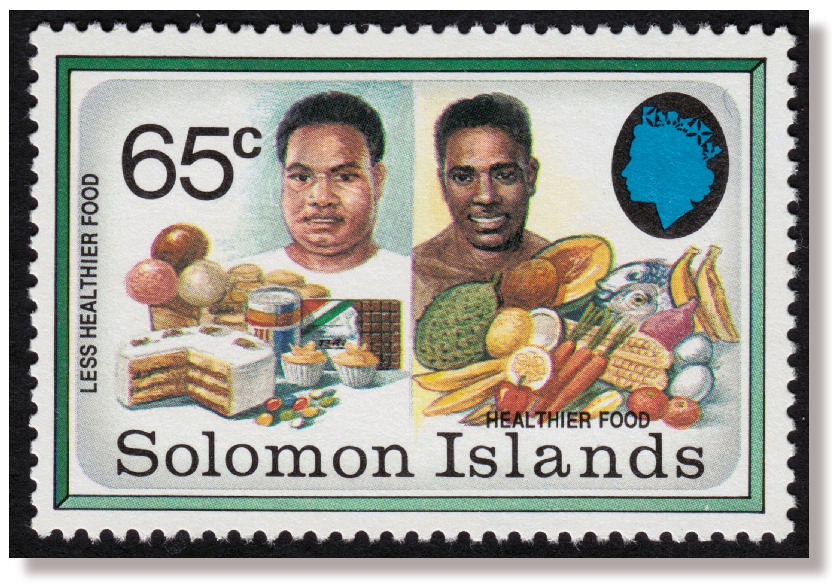 | | | |
| --- | --- | --- |
| | Solomon Islands 1991 **UNISSUED** stamp - fully SG + Scott noted - Cat $525, for just *$A70* each MUH!: 1991 Health Campaign, 65¢ UNISSUED value, depicting "Less Healthier Food" at left. A set of 5 stamps were printed by Walsall Security Printers in the UK, on the usual CA sideways watermarked paper. On arrival of stock in the Solomons, it was decided not to issue this 65¢ value, as it was noted the more correct English term was of course - "Less Healthy Food". In error however, a small number of sheets were delivered to some remote Post Offices, and they were certainly used on commercial mail, and several clearly dated used in period pieces and stamps are recorded, from charity kiloware. Full story here - tinyurl.com/Glen4-19 Used singles have fetched up to $760 each at auction. I have 4 of them on piece, plus another Dolphin stamp, all with a clear "LATA - March 12 - 1992" cds, dated part envelope to North America - see pic above. This unique used multiple is just $A500 = $US310 (Stock 362C) The last 2 loose singles Auctioned by Status Auctions got $670 and $760 each they confirm - see tinyurl.com/SolsError Scott 693a, listed at $US350 = $A575 a mint single. I was sold a block 6 fresh MUH, and I can sell a MUH margin Block 4, Scott cat $US1,400 (= $A2,300), for just $A280 (Stock 362JA) or a MUH single as pictured above, Scott Cat $A525, is just ~$US55 or: $A90 (Stock 362JB) | |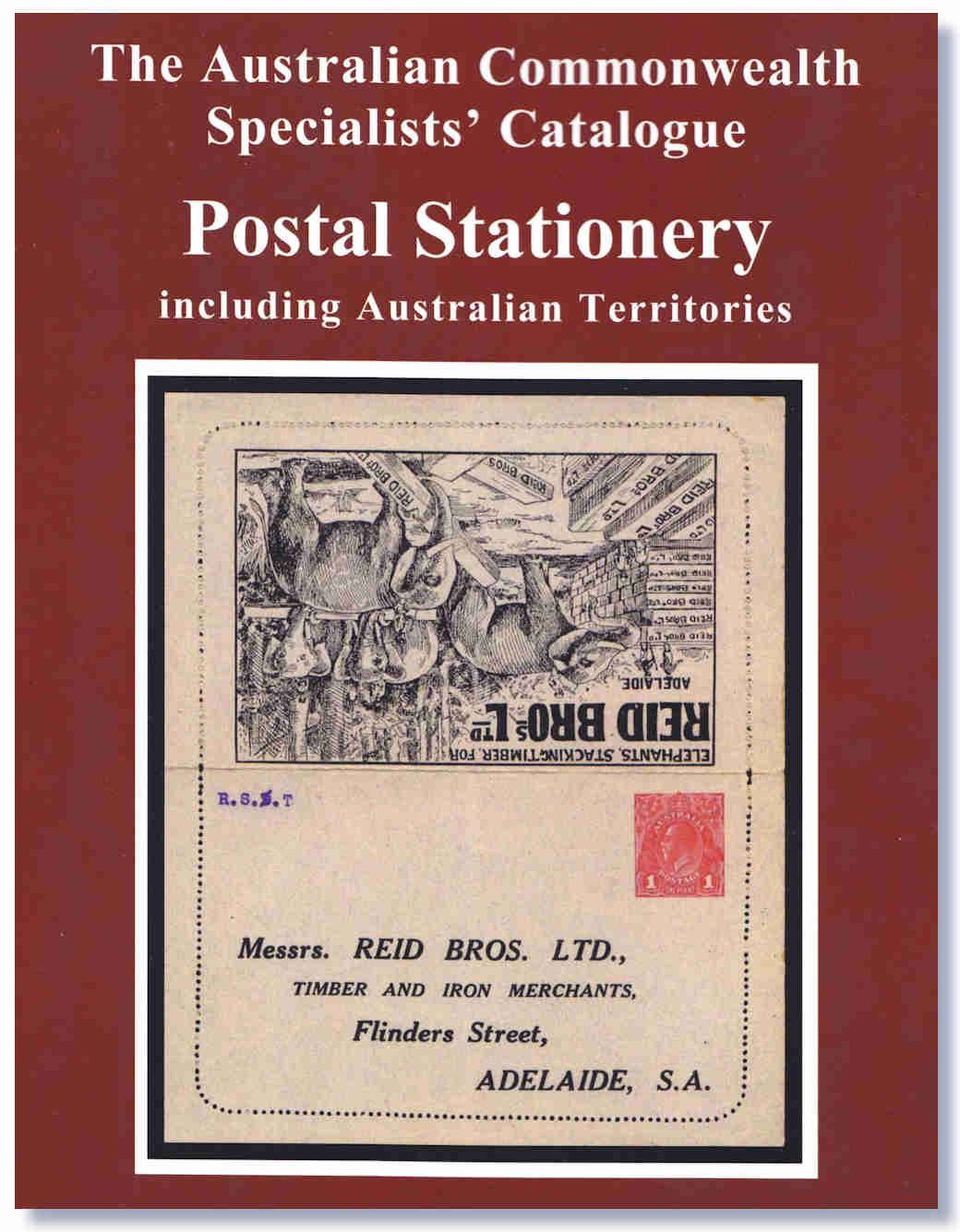 ACSC "Postal Stationery" Catalogue - 484 pages, all in colour: Including Australian Territories, Latest Edition which updates the first edition of seven years back, incorporating a number of corrections and new discoveries. In particular, the Postal Cards up to 1936 have been extensively revised, and there are many additions to the listing of Lettercards. The decimal Stationery produced by the Note Printing Branch is included for the first time. All prices have been fully updated. In full colour, 484 x large A4 heavily illustrated pages, perfect bound. If you only buy one catalogue each decade, whether you are a dealer or a collector, or Auction, you MUST have this. Detailed review of the first edition was in "Stamp News" - and gives you an idea of detailed content in here - tinyurl.com/GS0713 - The most common innocuous looking thing on your desk might be valued at ten times the purchase price of this catalogue! I kid you not. Maybe 25 times.

There are HUNDREDS of items in here listed at between $5,000 and $15,000 EACH. EVERY item is illustrated in colour (reduced in size of course) - a GODSEND for many of the earlier Registration envelopes etc. (Only about 4 pieces in the entire book, they were unable to get copies of to scan!) Very coolly, all down the outer spine is colour coded to go to Wrappers - go right to the BLUE tagged edges. For postcards go to PURPLE tags etc. A breeze to use quickly, as I need to do each day.

I HATED using the initial huge ring binder edition as time went on, as the printer punched the holes way too small in my view. Making finding any given section an annoying juggling act, risking damaging and tearing all earlier pages each time. This one is a BREEZE to use. For instance ALL the "View" Lettercards are now all illustrated and priced SEPARATELY - some 170 different! Some of these are worth a fortune, and dealers and collectors without this book have not got a CLUE as to what is scarce, and what is not. You will easily pay for this book with the first vaguely scarce view you pick up on ebay etc.

There are all the Aerograms illustrated - many quite valuable, all the wide range of Military material, WW2 Food Parcel labels (one is cat $10,000, and another $7,500!), and even all the myriad of different views on the initial 1911 "Coronation" set. All priced separately. The highest price in here I saw was $15,000 for a KGV low face value reply card, that I bet a lot of overseas (even local!) sellers would price at $20 retail and cross their fingers! It is huge - near 500 large A4 pages, on quality grade paper, in full colour - all proudly printed and produced here in Sydney Australia.

Edited by Dr. Geoff Kellow, the usual super high standard of original research work and fine attention to detail has taken place here. Geoff told me much of his original research on numbers printed of the early issues has never been published before the ACSC did these. Not only Australia is covered, but the "Territories" and that includes all the "Formular" Aerograms and airletters etc for the Territories. And all the Papua early issues, and GRI material, and PNG and Cocos and Christmas Islands etc. This is all listed and priced. Heaps more pix are here of contents etc - tinyurl.com/ACSC-PS18 $A240 (Stock 782DV)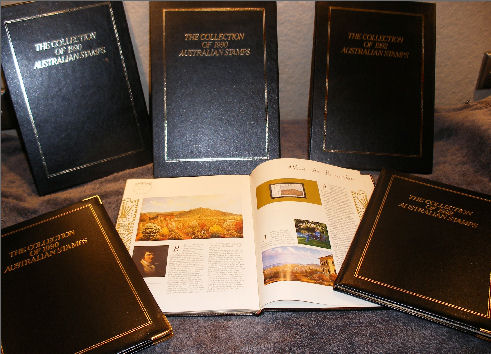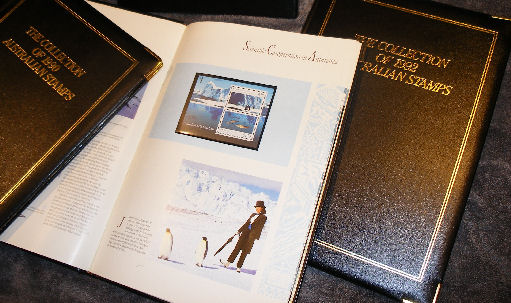 Australia Post Annual "Year Books" Black LEATHER "Executive" Edition complete -
Book #1, to 2000 - near 30% off - *$A500 UNDER retail*!
ONE set only at this price - these Leather (Executive) books are VERY classy. All have been black genuine Leather covered, with brass corners, since the first issue in 1986, so they are a fully matched classy Black leather set, in matching slipcases. Covers are thickly padded and deeply gold inscribed on front and spine. Each book has a matching gold embossed heavy slipcase - see the main photo above - the 3 slipcases are standing at back. These keep dust and moisture OUT of your stamp albums, and are ESSENTIAL in this climate.

Australia Post charges $35 more for each Leather album over the regular Year Books, due to the far higher cost of making leather covers etc in short runs. So retail of each is accordingly much higher - add that extra cost up over 15 books! Numbers produced are a small FRACTION of normal books, so re-sale value stays very strong. Sitting in a neat row on a loungeroom bookshelf these look super classy - like a set of Law Books or Encyclopedia Britannia etc! They come out each year in exact same design, so you can readily keep up to date.

The presentation of the stamps and the artwork and detail on the pages in these books is an absolute credit to Australia Post. High gloss varnished paper, and double facing pages of info on EVERY stamp issue. Laden with photos and factual background information. For collectors with younger children or Grandchildren, this is a goldmine for their education and general knowledge. Or a family heirloom collection to keep up to date. The 2000 regular Year Book surprised everyone by having in it, the Australia Sydney Olympic Gold Medal winner sheetlet of 16. You could obtain this sheet NO other way. That sheetlet alone retails for $100 from many dealers. The 1988 LEATHER book has always been near impossible to source etc. Full retail list of ALL these superb books here - tinyurl.com/POalbums

I have ALWAYS had the largest stock of Australia Post Year Books on the planet - true. No other dealer comes ever close. I buy more estates than anyone else it seems, and also folks come to me when selling these books, as they know I will buy them cash. And I thus MUST on-sell them as cheaply as I can, to MOVE all this stock, or I will drown in it! Bought this nice clean collection CHEAP in an Estate, so OUT they go. This is a lovely clean collection of EVERY Black Leather Year Book issued from 1986 (Leather Book Number #1) right up to the scarce 2000. FIFTEEN matched leather books. A large wine carton FULL.

My normal discount retail on these 15 books, as you can see from link above, is $A1,885. (All the later year Leather Books are in stock of course. I can do a similar bulk discount deal for 2001-2019 etc, or for any other single years you are missing - ask me for my rock bottom price!) A superb gift idea perhaps for someone? As always on pricier lots, happy to do a time payment or LayBy system etc - 4 monthly payments of around $350 and these are yours! To clear this Estate lot fast, out they go for $500 UNDER my retail - a super bargain figure for this ONE discounted set of 15 - near 30% off retail at just - $A1,385 (Stock 451WX)




| | | |
| --- | --- | --- |
| | British Solomon Islands 1907 Large War Canoe 2½d Orange Yellow, very fresh pair, IMPERF AT RIGHT: One of the classic British Pacific stamp issues, with a true global following. The debut issue, crudely local designed, and primitively produced, these are far better than usual - clean and fresh, bright deep colour, with white MLH original gum. Been in Europe near all their life - luckily, as out here they fox badly. SG 4b is cat £12,000 - the imperf between pair of this value. One sheet of those were recorded, and only one sheet with imperf at side. Only a few pairs exist globally. SG do not list imperfs one side from anywhere, but in this case, they are equally as scarce as SG 4b. Only $US1,065 right now - $A1,750 (Stock 598AC) | |




| | | |
| --- | --- | --- |
| | SWITZERLAND 1945 "PAX" Hi-Values. SG £620 for just $A250!: Probably the very scarcest stamps post-war from Europe. Inscribed simply "PAX" (Latin for "PEACE") they were issued as the horrible turmoil of WW2 came to a final end. Back 75 years ago, this 15 Francs was a fortune. These were literally the £1 and £2 Roos of Switzerland, and only very heavy parcels used these top values, of the long PAX set. Many came to Australia due to high air mail cost to here. Clean FU with correct cancels. SG 458/459, Cat £620=$A1,250. Bought well to sell fast, at just 20% of SG Cat - just $US175 as I type this - $A250 (Stock 397BR | |



Papua New Guinea 1994
Rare 'Emergency Overprints':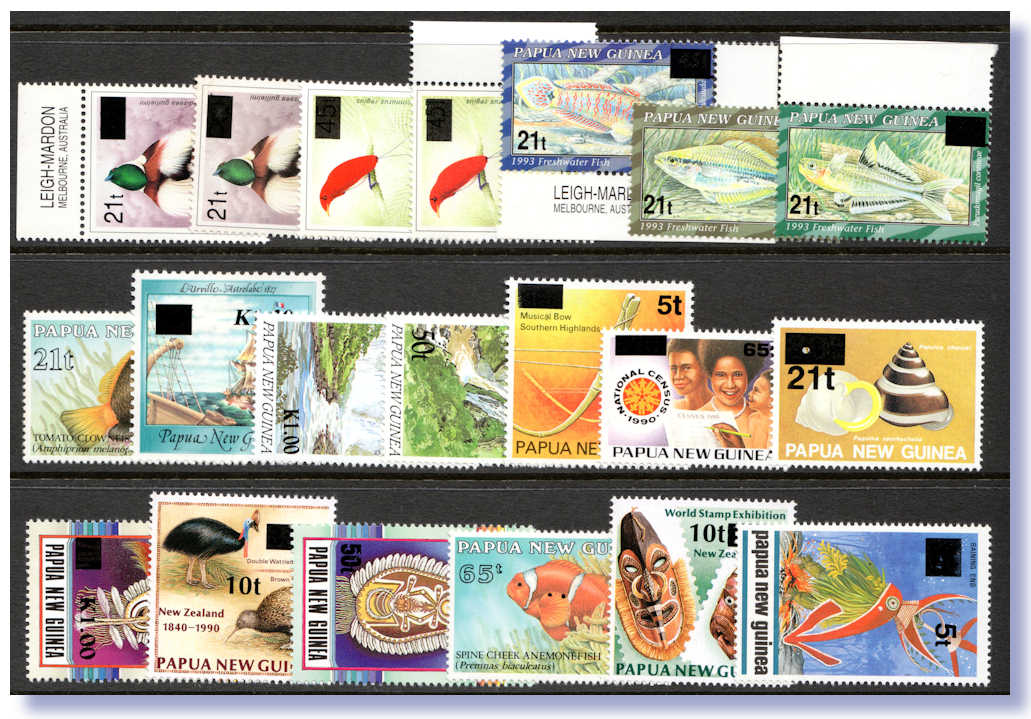 Papua New Guinea 1994 "Emergency Overprints" stamp sets 11 or 20: I have always had the largest stock of these overprints in the world. Buy DIRECT from the original "source"! Thousands of collectors NEED this set to complete their collections, as all album pages on the planet have spaces for them. Only 45,000 sets were ever printed, NONE were ever sold by the agents, the Papua New Guinea Bureau, or even Australia Post. Nearly all were used up on genuine commercial mail. Not discovered by the stamp world until months after all the key values were all used up on mail! I first reported their existence to the stamp world. "Set of 11" - SG # 730/740. Michel # 714 -724. Scott # 860/871. ASC Cat $A420, for the basic set 11 alone.

Definitive sets like the 1967 Anguilla overprints set 16 are already cat at £25,000 mint in Stanley Gibbons - and Anguilla has NOTHING like even 1% of the global collector following of PNG - think about it! This PNG set has a LONG way to go yet - that seems very clear. For very detailed and comprehensive background on this issue, with all numbers printed etc - see my special page on these issues: www.tinyurl.com/1994PNG WEB SPECIAL - set of 11 (ASC Cat $420!) for just $A200 ~$US120 (Stock 928XG) or Fine Used set 11 for $A140 (Stock 928XH) Complete Set 20 as illustrated for $A300 ~$US180 (Stock 928XL) or the Set of 20 Fine Used for just $A185 (Stock 928XP)

Finally - all the 1994 "Emergency" sets I sell are of course guaranteed 100% genuine. You may ask for my Photo Certificate Of Genuineness on my security watermarked colour letterhead for this set of 11 or 20, mint or used, dated and signed, illustrating in full colour the exact set I mail you. If required, this CERTIFICATE costs you an extra $A70 (Stock 928ZW) on top of price of the stamps, largely to cover the considerable time and messing around of individually preparing each one, typing, and scanning etc.

This is substantially cheaper than sending it to the R.P.S. in London etc, which takes half a year to get back, and also incurs substantial Registered airmail cost to you - in both directions. And quite frankly, the RPSL would not have a clue about these issues. 'Too Modern, Old Chap' they would sniff! Years down the track when the set sells for a multiple of what it does now, such a certificate Guaranteeing these came from original PNG sources in 1994/5 will add FAR more than $A70 to the extra price you obtain when selling. (Stock 928ZW)
This month's Special - I have ONE set of MUH blocks 4 of the rare set 11, discounted from $A1,250 to $A995 (Around $US600!) – Stock 928ZK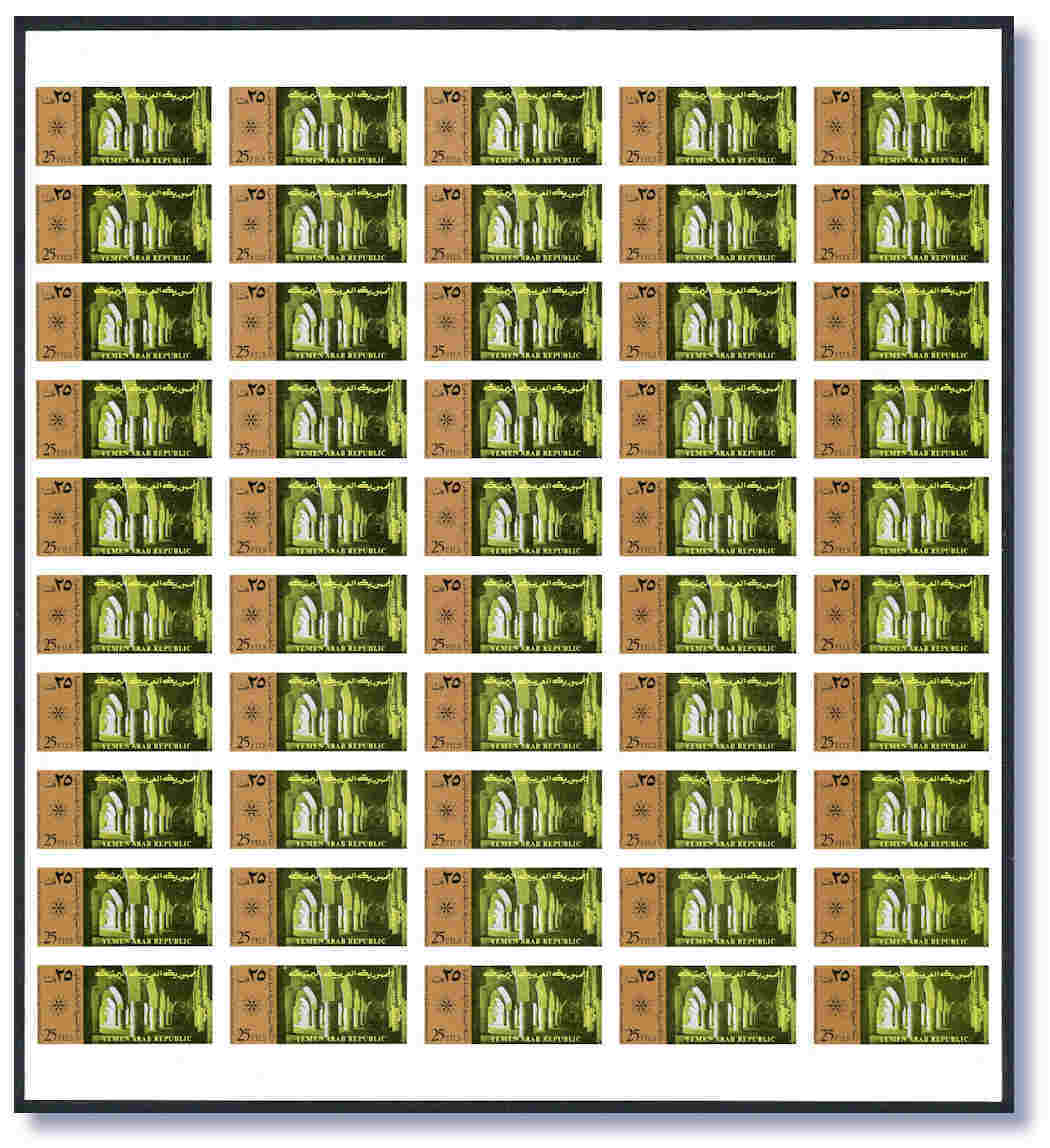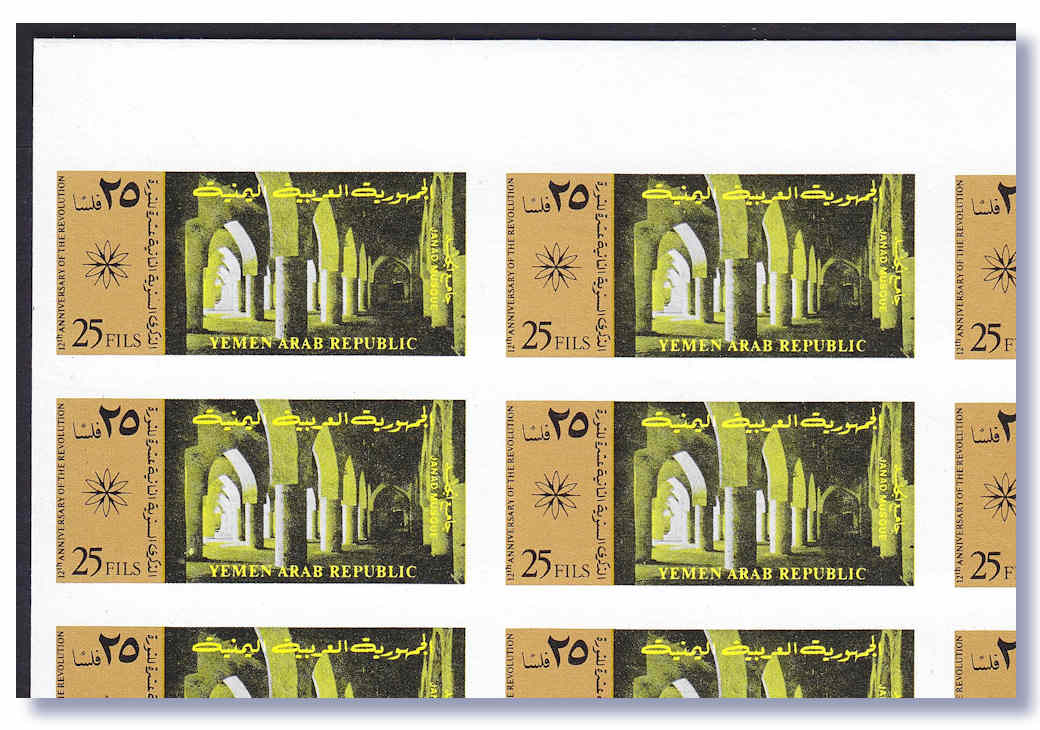 | | | |
| --- | --- | --- |
| | Yemen Arab Republic, 1975 Revolution 25 Fils, Fully *Imperforate* Pane 50 MUH - Just $US5 each!! 12th Anniversary of Revolution : IMPERFORATE pane of 50 x 25 Fils denomination, depicting the 7th Century Al Janad Mosque - one of the world's oldest. Fine, fresh MUH. Catalogue numbers for the normal issued perforated issue 13½ x 14 are - SG #539, Scott #316 and Michel #1545. Cannot see any other IMPERF versions of this about anywhere on the globe for sale, and a full sheet may well be unique - and after 44 years, none will turn up NOW! Just $A7 each - indeed under $US5 apiece - superb ebayer opportunity to offer in imperf pairs and blocks 4 - an easy double or treble your money deal here surely? $A350 (Stock 492RJ) | |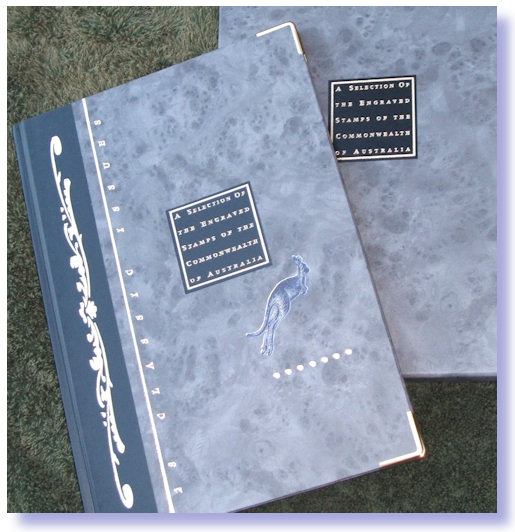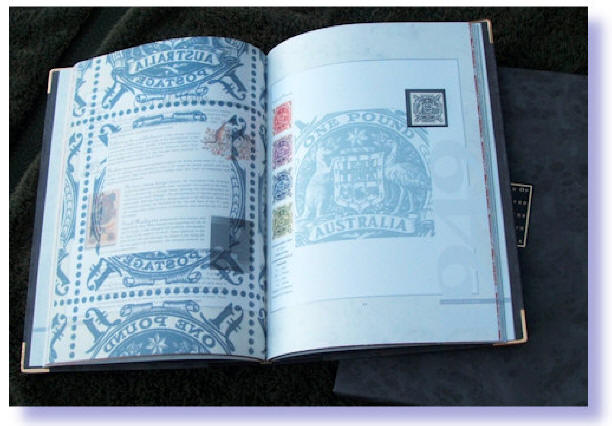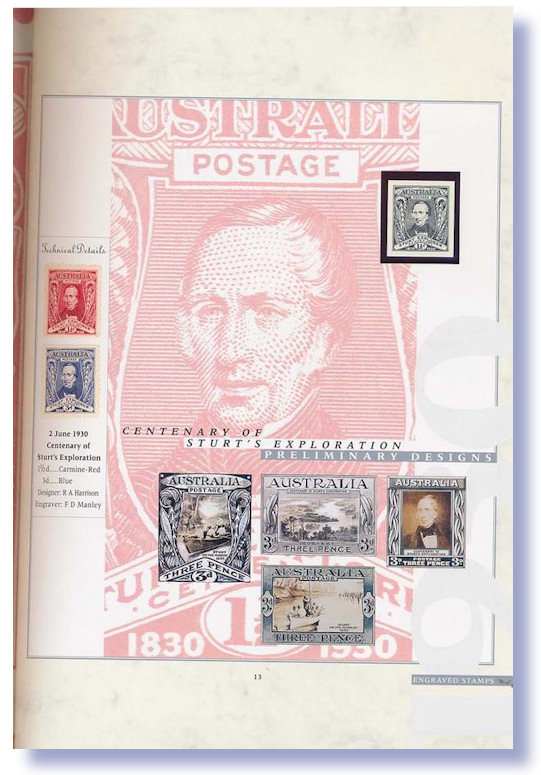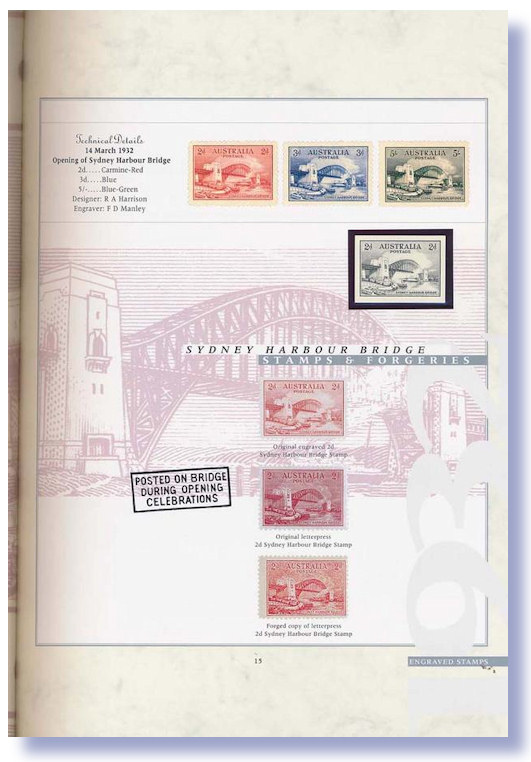 The Engraved Stamps Of The Commonwealth Of
Australia - price *Reduced* $A200 this month!
The quite magnificent official Australia Post produced coffee table book: Compiled by Richard Breckon, the respected PO Archivist, and the PO Art Team. Brass cornered, beautifully gold deeply embossed leatherette cover, gilt edged outer leaf edges, with matching marbled heavy slipcase. Issued in a VERY limited Edition for "Australia 99". I am advised only a few 100 copies were ever made, and were a near instant sell-out, even at the very high issue price. Three similar later books were issued - "Royalty", 32 Die Proofs (Stock 428YR) Blue book "Federation", 30 Die Proofs (Stock 428YU) and Green Book "Transportation", 32 Die Proofs (Stock 428YX) were also sold in FAR lower numbers - $A400 EACH book, or all 3 for $A1,100. (Stock 428YZ). Being quite recent, they almost NEVER come on the market - no-one wants to let them go! HEAPS more pix of them here - tinyurl.com/StampEngr

Semi opaque interleaved pages with designs printed on them. On real heavyweight grade archival weight paper. Varnished glazed paper for effect in parts. The photos here really do not begin to convey the lavishness and class of this book. My guess is the book and slipcase cost well over $100 to make - 20 years back. Shows masses of issued designs and superlative background info. A4, similar in size to a Leather PO Year Book. Also contains 28 different Official correct size recess printed, Intaglio DIE PROOFS in black from the original steel Master Dies. From 1913 1d Engraved KGV, to 1965 Anzac. Inc most early commems - like Harbour Bridge, Jubilee, Canberra, Hermes, Sturt, SesquiCentenary etc. Also high value Definitives like the £1 Robes and Arms, 7/6d Cook &c. All this at around $10 an official Die Proof, in a superb album! And NONE obtainable any other way than via these books.

The Die Proofs sold separately would realise DOUBLE what the entire book is selling for here. The KGV 1d Engraved, or £1 Robes could very easily bring $50 to $100 each on their own if sold separately as official PO issued Steel Die Proofs. ALL of these are now fully listed and pieced in the Brusden White ACSC catalogue - Cat $700 as loose proofs alone! A magnificent book for ANY collector to own. Words cannot describe the lavish production and contents and luxury "feel" .... EVERY person - dealer or collector - who has seen it here on the office desk picked it up, and said "WOW"! Gary Watson's Prestige Philately got $437 for a book in a Public Auction. They called them "without doubt the BEST product released by Australia Post in recent decades". Just bought 3 in an estate, and have reduced the price of last two by $200, from $495 to just $295 each! Buy yourself a classy GIFT you'll always love handling and looking at: $A295 (Stock 428YT)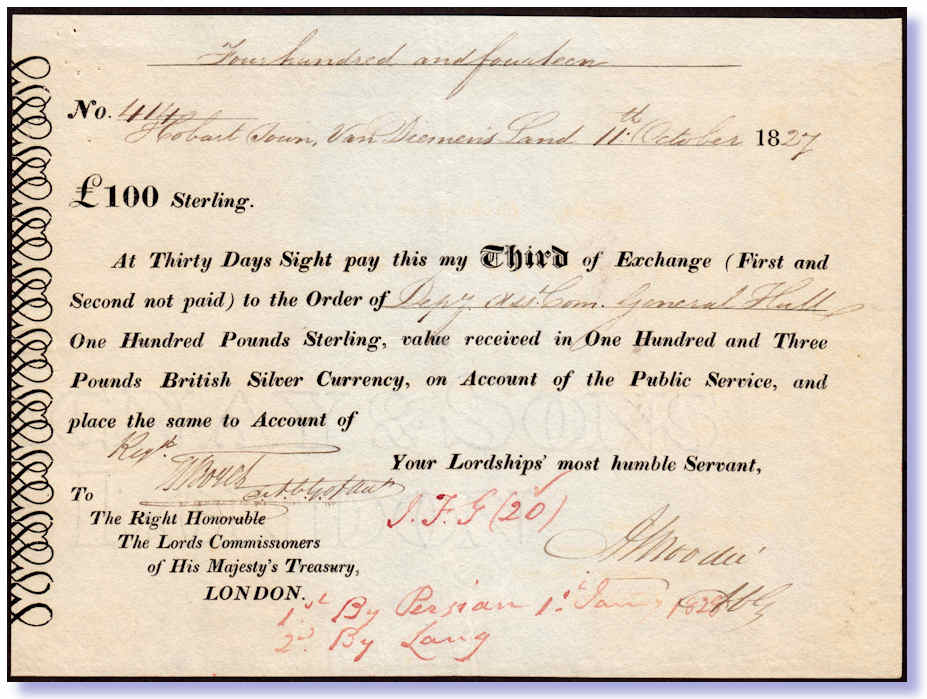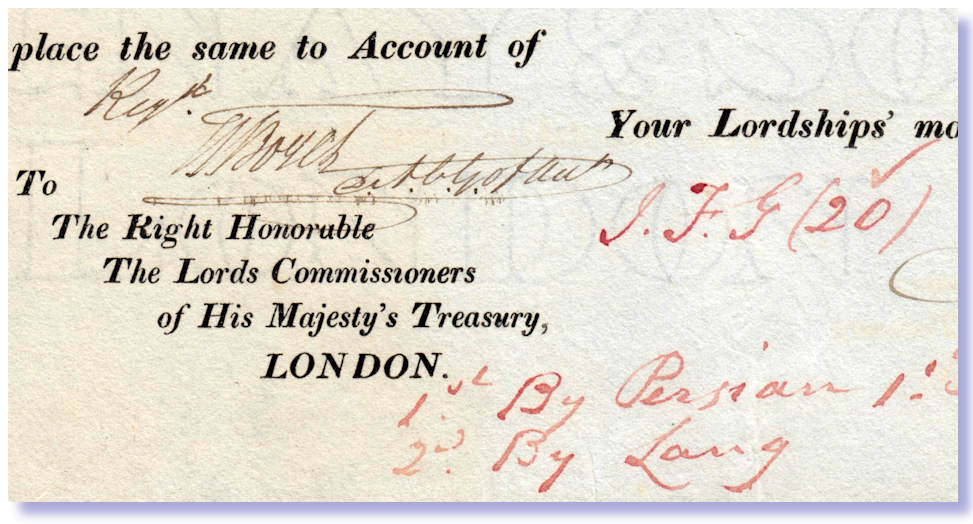 VAN DIEMEN'S LAND (Tasmania) 1827, Bill of Exchange Cheque for £100 Sterling - just $A1,750: Issued in Hobart Town, 11th October 1827, Number 414, payable to Deputy Ass't Comm(issariat) General Hall, and signed A. Moodie. On "Magnay & Sons London" double lined watermarked paper, and signed "Geo Hall" on reverse. Almost identical to the Third Of Exchange example shown in Renniks, from the same year, and has the same two Signatories even, with Renniks Cat $7,500 in VF, and this one is higher graded, XF at least. 105% original, and Guaranteed 105% Genuine. Scan does it no justice at all really - I'll redo later as in the flesh it looks SUPERB! Wonderful condition, and an early piece of our pioneer early history.

An incredibly early official monetary instrument from Tasmania, (indeed for Australia) and in SUPERB condition, especially for something from this region, 191 years old. Hobart was a truly tiny and remote settlement in 1827, and not even a city. Convicts had not yet streamed en-masse from the UK, and the infamous Port Arthur Prison was not even commenced until 1830. She had no Registry of Deeds in which to record land dealings until 1827 when set up by Governor Arthur, and financial arrangements were not much better, the tiny settlement was left to deal with such issues as best it could.

A bill of Exchange Cheque was an early form of Bank Draft. Indeed in early days of Tasmania, a de-facto currency for large sums, backed and guaranteed by His Majesty's Treasury London, no less. The Bank Of Van Diemen's Land was not even established until October 1827, when this was issued. These were generally drawn in "sets" - the Original, the "Second" or duplicate of Exchange, and also a "Third Of Exchange", the most commonly seen. Each was drawn for the same amount, but was worded so that only one of a set of 3 was ever paid. In those days when sea-mails were slow and uncertain, each copy of the "set" was deliberately sent to the Drawer by a different set of ships and sea routes, and the first one to be received in London, was paid.

The sailing ships used to carry this "set" are noted by sender in Red at base of the Bill, and are by "Persian" (400 Tons) and "Lang" (556 tons). The return manifest of "Lang" in Jan 1828 under Capt Lusk included "431 bales wool, 193 casks whale oil, 696½ slabs and 190 bundles of whale bone, 90 tons mimosa bark and 55 planks cedar" (!) Superb condition for something of this nature and age, and one of the very finest of the few survivors. Catalogued $A7,500+ and highly sought after. These appeal to a wide range of collectors - of Banknotes and cheques, early Australian historical documents, and early Tasmania etc.

$A1.750

(Stock 693HQ)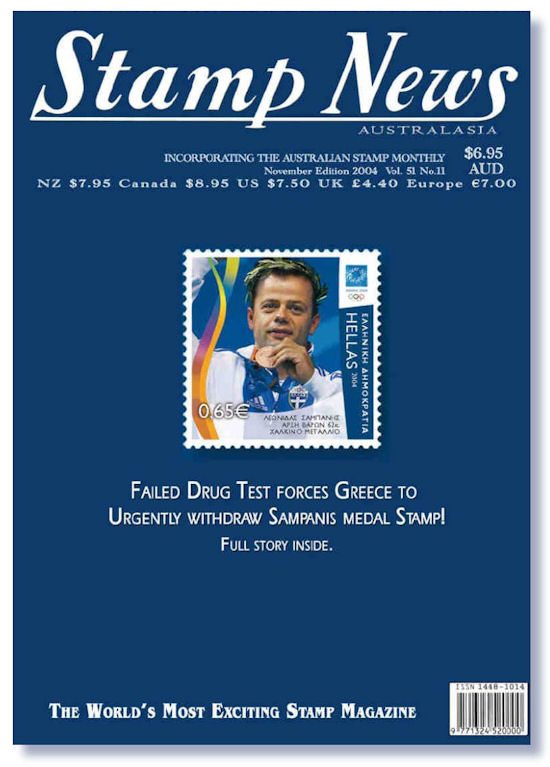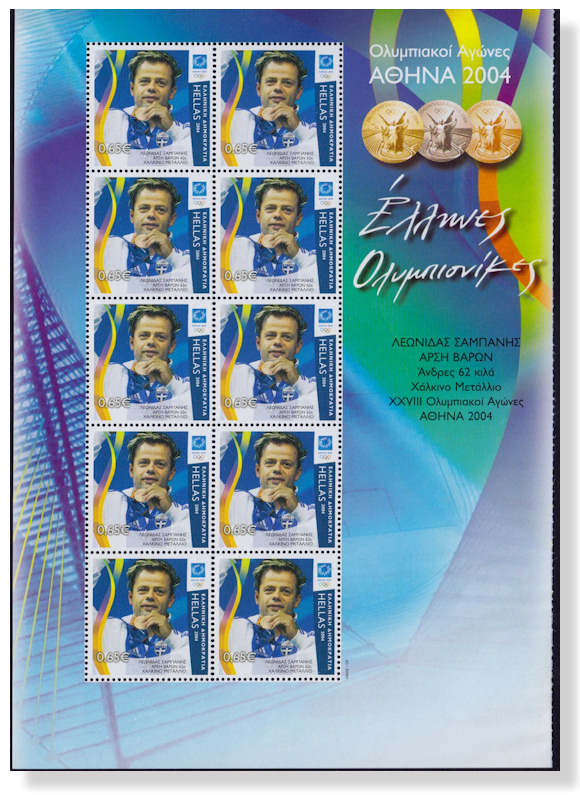 STAMP SHEET of 10 - Leonadis SAMPANIS, Greece Olympic Medal Winner Stripped by IOC: 2004 Athens Olympics. The Greek Post Office (ELTA) in 2004, decided to copy what Australia pioneered successfully in 2000, and issue an "Instant" digital print stamp for every Olympic medal winner from Greece. In fact the design is VERY similar to the 2000 Australian issues as you can see. Like Australia, at a later date, offset copies were also printed of medal winner stamps. This idea proved a great success in Greece, and the general public were the ones out there buying these issues for patriotic reasons etc. Only a small percentage of these will ever re-enter the stamp market. The controversial stamp above was issued to honour the Olympic Medal Win of Leonidas Sampanis in the 62 Kilo weight class of Weightlifting. Sampanis won his medal on Monday 16 August, and the stamps were on sparing sale in limited offices the next day, starting Tuesday August 17.

Sampanis later failed his drug test (twice) and on Sunday 22 August the IOC stripped him of his medal. Consequently, on Sunday August 22, ELTA ordered that all remaining stamps be taken off sale nationally, and immediately returned to their central office and NONE were to be sold. Today these stamps are very Rare as only a handful made it into circulation. You do that math yourself! Not large numbers at all for any issue much less an OLYMPIC one. Nearly all stamp sales were to the general public, and tourists via this initial distribution. Many were used on mail and postcards as the 65¢ rate covered airpost worldwide. Bought this MUH sheet in a decease Estate this week. Owner had bought it off Max Stern who sold it for $500 - they are still on sale there as you can see for $A500 - tinyurl.com/MaxMedal - Bought well, I am selling this A5 Mint Unhinged Sheetlet of 10 stamps at $A200 (Stock 637PE)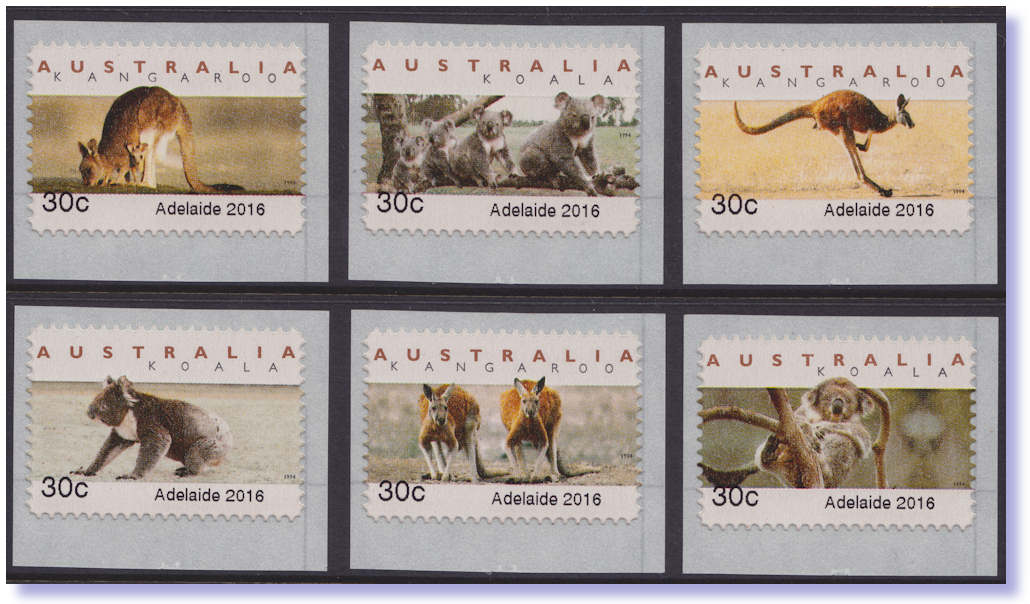 A True "Modern RARITY" set has JUST been issued: Australian domestic postage letter rates were hiked outrageously by 40% on January 4 here. The entire country is on holiday then, and the increase was bungled big-time by head office. No-one there had the brains to reprint up front, a ton of 30¢ Crocodile definitive values to have on hand as "make-up" in each state, to up-rate all current 70¢ stamps, to the new $1 rate. The Australia Post Distributor of Stamps in Adelaide totally ran out of 30¢ stamps the first day the letter rate increased to $1 - on Monday, 4 January 2016. To alleviate this shortfall and appease angry clients holding 70¢ stocks, the Adelaide GPO frantically printed up a very small Emergency issue of 30¢ Counter-Printed peel and stick Stamps. ("CPS") Only a few 1000 sets were made.

They used a 22 year old "CPS" (Counter Printed Stamp) machine, that was only used once a year for the small stamp show souvenir stamps etc. Adelaide is the only state to have retained one. (All states got one in 1994!) Distribution of these Emergency 30¢ stamps began on 5th January to dozens of suburban Adelaide POs urgently seeking 30¢ values. So the earliest potential sale date was 6th January as offices received them, and started selling their stock. Supplies of 30¢ Crocodile stamps were back in the stocks of the Adelaide Distributor Of Stamps from Melbourne, by Friday 8th January, and NO more 30¢ counter-printed stamps were produced - and this has been confirmed by AP. At no time in history has any CPS machine been used for other than current letter rate I understand. This set was a "First" in very many ways.

There was zero advance notice given of these 30¢ Emergency issues, and no philatelic stocks were put aside, or sold to ANYONE. No FDC sets exist. A sharp eyed Adelaide collector noticed them at his local PO, and "the hunt was on"! This is the very first time since Federation in 1901 that the Australian Post Office has printed an Emergency postage stamp issue of any kind. Only a few 1000 sets were sold. It was 100% official, it was sold for face value at dozens of large POs for a couple of days, and they were widely used on commercial mail. Many genuine covers, and lots of postally used copies have turned up in Kiloware. They will be, and are now listed and priced thus, mint and used, in major catalogues at up to $A4,500 per set 6. The PNG items of exactly the same background are listed of course - tinyurl.com/PNGOPS and at very HIGH prices globally, despite a huge 45,000 sets being produced and sold.

Stamp Dealer legend here Rodney Perry, has described this Adelaide Emergency 30¢ issue of 6 as a "Modern Rarity" several times, and I'd totally concur. More discussion on them here, with all the national Fairfax and News Limited media, news and radio story links on them - tinyurl.com/2016set A 30c SINGLE stamp on a commercial cover to Melbourne sold for an unbelievable $1,700 to a medico - tinyurl.com/30cEnv with 67 frantic bids! A totally philatelic cover, non-mailed, sold for $1,880 - with 37 bids - tinyurl.com/1880CPS A set a client bought off me for a few $100 this year, sold soon afterwards for $5,000 - tinyurl.com/varsCPS

The highest price I have seen actually OBTAINED for a set of 6 on ebay is $A8,990 - tinyurl.com/CPS9000 - face value $1.80 - about 5,000 times face value. A standard set sold Feb 15 for $3,200 - tinyurl.com/Set3200 A mint £2 Kangaroo only costs that! I learned about this issue by chance at the very outset, and nabbed a handful of sets from my various long term collector contacts in my home town Adelaide, as I acted fast and paid HIGH! "Linn's Stamp News" in the USA had this Front Page, and as their most viewed story that week - tinyurl.com/Linns30c - Gave an 11 minute interview with Radio 2GB - highest rating radio station in NSW by a margin of 30% - full tape here - www.2gb.com/audioplayer/152241 And they featured on the lead story in a recent edition ion of the biggest selling German stamp magazine "BRIEFMARKEN SPIEGEL" and had a large piece in a recent "Gibbons Stamp Monthly".

These ARE now fully catalogued in Gibbons, SG 4492/4497 and are listed at $4,500 a set 6 Mint, and $3,000 used (4242/4248) in the mass selling Renniks "Stamps Of Australia" catalogue. I have just a few complete sets of 6 MUH left for sale - just $A330 a stamp, for something that maybe 150 or so full mint sets exist of globally, as I type. I mailed a set on 6 covers to the Russian Air Force Base to the Commander of the orbiting "ISS" MIR Space Station, taken to him on a supply flight - he is a keen collector and ordered them! There are 2 underlying stamp design types - Type "A" and Type "B". (Outlined on link above) Latter costs 15% more ($A2,300 - Stock 572GR) , or both sets 6 together, save $200, for $A4,100 (Stock 572GC) I have one flat joined strip of 6 - in scarce Type "B" luckily, for $A2,400 (Stock 571GK) A set 6 is only about $US1,500 a set as I type this (I accept paypal in USD – ask me!), and is $1,000 or so LESS than some recent ebay sales, but only for those who act FAST: $A1,995 (Stock 572GY) Or, the identical designs set of 6 "$1.00 ADELAIDE 2016" that were also sold out fast, for $A75 a set 6 (Stock 571GX) or 10 sets 6 of those for dealers/investors for $A500 (Stock 571GY)

And don't forget, 50 CHEAPER lots under $100, I list up each week HERE - tinyurl.com/StampDeals
REALLY IMPORTANT
- for regular visitors to this page (which changes weekly - sometimes daily) your computer generally "caches" the
old
version. Which means you only see today the PREVIOUS page content you already looked at - NOT the new lots. Hitting "Refresh" does NOT in general update this page. To quickly get around this, press the
"F5"
key
found along the top row of your keyboard. BINGO -
all the exciting new material
will now load! Try it and see.
Also allow a while for the new lots to then load up.

All prices on EVERY list are weak Australian Dollars!!
All prices are "nett" ... what you see is WHAT you pay. NO Nasty, nasty 15%-20% Auction house "Buyer's Commission" silly nonsense is later extorted from you!
Buy with CONFIDENCE from Glen Stephens

| | |
| --- | --- |
| | Search all my 300+ web pages! Simply type in what you are looking for. "Penny Black", "Latvia", "Imprints", "Morocco", "Fungi" "Year Books", etc! Using quotes ( " ) is more accurate for multi word searches - i.e. "Australian FDC" gives FAR more specific matches than simply Australian FDC if used with no quotes. Search is NOT case sensitive. Tip - keep the search word singular - "Machin" yields far more matches than "Machins" etc. |


Full Time Stamp Dealer in Australia for over 45 years.
Life Member - American Stamp Dealers' Association. (New York)
Also Member of; Philatelic Traders' Society (London) IFSDA (Switzerland) etc

For the Order Form, click here. To read instructions on ordering, click here.





Every credit card shown is accepted WITHOUT fee. Earn Frequent Flier points
while buying at bargain prices! ALL prices are in weak Ozzie Dollars.
I charge NO nasty, nasty "Buyer's Commission" on stamps
like nearly every "Auction" does.










Click *HERE* and get my regular market update emails FREE!! The home of - Rare Stamps. Postage Stamp Rarities. Scarce and Unique world postage stamps. All time Philatelic Classics. Scarce Postal History. Stamp Errors, Stamp Varieties, Stamp Freaks, Stamp Missing Colours and Stamp Imperforates, Stamp Investments, Stamp Classics, and Stamp Collections at bargain prices. Bookmark THIS page and you'll very likely see them offered here eventually!


If you would like to be notified of updates to this website, Click HERE. If have any questions,
or comments regarding my site, please email me at ozstamps@gmail.com

GLEN $TEPHEN$
Full Time Stamp Dealer in Australia for 45 years. Life Member - American Stamp Dealers' Association. (ASDA - New York) Also Member - Philatelic Traders' Society (London) and IFSDA (Switzerland) and many other philatelic bodies
ALL Postage + Insurance is extra. Visa/BankCard/MasterCard/Amex/PayPal all OK, at NO fee, even for "Lay-Bys"! All lots offered are subject to my usual Conditions of Sale, copy upon request
Sydney's BIGGEST STAMP BUYER: Post me ANYTHING via Registered Mail for my same-day cheque. Avoid copping the now normal 45% Auction "Commissions" (20% Buyer + 15% Seller + GST taxes, etc) AND their five-month payment delays!
Read HERE for details.
"Lothlórien", 4 The Tor Walk, CASTLECRAG (Sydney), N.S.W. 2068. Australia
Phone 7 Days: 0409 399 888 For valuable items mailed use - PO Box 4007, Castlecrag. NSW. 2068
email: ozstamps@gmail.com or glen@glenstephens.com Visit the Number #1 Web Sites:
www.glenstephens.com/rarity.html and www.stampboards.com

Visit my Red-Hot daily changing *RARITIES* page - Roos & other expensive large photo items.
Sign up AUTOMATICALLY to my world renowned monthly stamp gossip /special offers EMAIL!
Click here to see MANY 1000s of stamp lots for sale - all at low $A Nett prices
Click HERE for all you need to know re SELLING your stamps for IMMEDIATE SPOT CASH
Click here for the current Monthly "Internet Only" special stamp offers - CHEAP!
Click for an enormous 10 year library of all my International stamp magazine articles.
Click here to ORDER on-line ANY items - from ANY of my many dozens of lists
Click for detailed info on important Conditions Of Sale, Payments, Shipping, Returns &c
Click here for the detailed library of my very unusual world travels. 120 countries!
How to PAY me. I accept nearly EVERYTHING - even blankets and axes and beads!
Australia Post Annual YEAR BOOKS - massive stock - '27% off' discount offer today!
Click to visit the leading stamp Bulletin & Discussion board. Sell/Buy/Swap/Gossip - totally FREE!
Click here to get back to the main www.GlenStephens.com Homepage.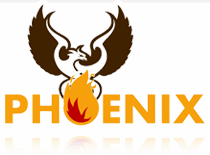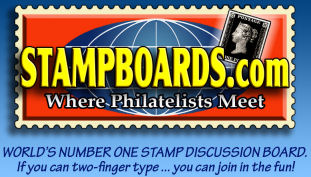 Instant
Currency Conversion

Every credit card shown is accepted WITHOUT fee.
Earn Frequent Flier points while buying at bargain prices!
ALL prices are in weak Ozzie Dollars. I charge NO nasty, nasty
"Buyer's Commission" on stamps like nearly every "Auction" does.