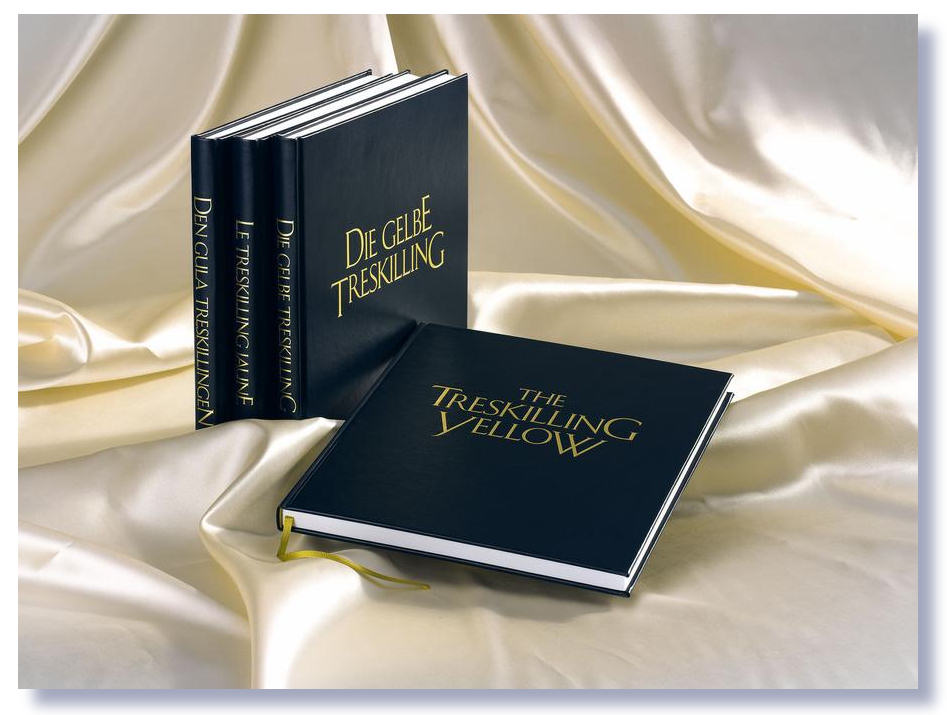 "THE SWEDEN TRESKILLING YELLOW" Superb Hard Covered Book by Lars Fimmerstad: Published in 2004 - superb hardcover: 185 pages done in a small print run. The only example I can see for sale is $US275 second-hand, plus huge post cost to oz via: tinyurl.com/TreSkil - landed cost to you of that will be $A400! An essential book for any decent stamp library.

This is a 185 page hardback book titled "THE TRESKILLING YELLOW : The Most Valuable Thing in the World". Written by Lars Fimmerstad and published in 2004. The "Treskilling" Yellow is a famous postage stamp of Sweden, and considered to be the most valuable stamp in the world. This is its fascinating story and detailed history. Beautifully illustrated, with heaps of vintage black and white, and colour photographs.

In BRAND NEW excellent condition. Was still sealed in shrink-wrap, and I only opened it to take a few photos - contact me if you want me to email you more images. My detailed review of it here - tinyurl.com/Glen5-05 The sought after superbly written ENGLISH Edition is offered here! Rare - most that exist are in Swedish or German. $A150 (Stock 958BP)



Your number one source for USED Kangaroo Stamps!
For well over 40 years, I have held the largest stock of used Australia KGV heads and Kangaroos in the world. From poor to superb. Many collectors find it really tough to sort and source these by watermark, and shades, and Dies accurately. In the early 1980's I ran dozens of full page ads in the 2 local magazines listing EVERY key Australian stamp in 5 different grades from "Spacefiller" to "Superb". Even the 1913 Mega Scarce £2 Roo. Not one dealer has done that kind of ad - before or since. 😊
My grading is precise, my stock is enormous, and I have assisted many THOUSANDS of collectors complete their sets of these difficult issues. From budget conscious pensioners filling 5 albums for their grandchildren, where space-fillers of scarcer values will suffice absolutely perfectly, to multi-millionaires who want and buy the BEST - from cars and houses .... to their stamps! You may not be able to afford to LIVE as well as Hugh Morgan or Sir Ron Brierley does, or drive a Bentley like they do, but your used Roos can look JUST as nice!
If you want a complete set of "Melbourne Dec 3, 1913" half circle gloss black cancels on First Watermark - I can supply them. If you want the full gum corner CTO from later Specimen packs I can help. (All these are now listed in the ACSC as CTO, and priced accordingly, per type.) If you want just lovely postally Superb Used like those in the photo nearby - I have always been the #1 choice to buy from. I have 1000's just like them. Read my recent stamp column about WHY you should collect USED stamps in this country - tinyurl.com/Glen07-20
Unlike mint, used stamps do not tone or rust nearly as fast - and are readily 'cleaned' if they do! And unlike mint - no-one goes about regumming used Kangaroos!! And when it comes to filling gaps in high value Roos, opting for USED, even lovely copies, will cost you a TINY FRACTION of what mint hinged will. So it is VERY possible to fully complete your used Roo collection. Mint hinged will cost you $30,000. USED are a tiny fraction of that, as you can see below.
I purchased Private Treaty from Harmers Of Sydney in 1980, the massive H .F. McNess accumulation of used "OS" perfins. He was obsessed with accumulating these issues, and had books full. I still have much of this stock. This was at a time when perf "OS" were poorly regarded by collectors and dealers alike. Not me. I still have multiple copies of items that most dealers have never seen or handled genuine examples of, like - 4d Lemon Yellow, ½d and 1/4d Small Multi perf 14, KGV No Wmk pair, Roo 2½d and 4d Yellow 1st Wmks etc.
I was the person who got the £2 Small Multiple perf "OS" Roo listed into the ACSC after 75 years, by proving beyond doubt 2 totally genuine copies did exist. One of which I bought from a WW2 assembled collection. (The used Arthur Gray copy, who owned the other, then sold for $A40,000.) These "OS" perfins (especially First Wmk) are usually HORRIBLE looking stamps.
The stamp printer directed that badly centered sheets of stamps, too poorly produced for sale to the public, be put aside, and be perforated "OS" for these "nuisance" Free Government Official stamps. That makes CHOICE copies about one in a 100 of the higher 1913 values above 3d. And do note - all perf "OS" sold by ME are genuine, from the massive H.F. McNess hoard I bought etc. Do not TOUCH 90% of what you see on eBay. Read the ENDLESS eBay fakes exposes here - tinyurl.com/EbayOSFake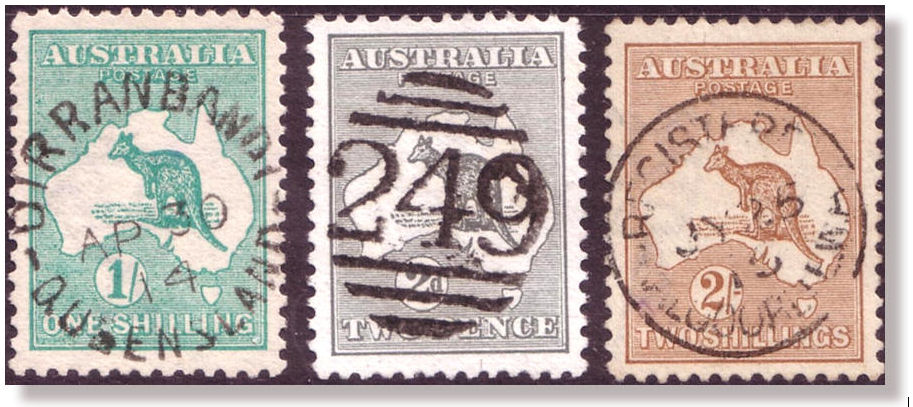 Australian dealers in general are pretty lazy and slap-dash and vague with used stamp terminology. The Term "FU" is applied to ANYTHING, with any cancel, most times! Loosely translated it means "NOT MINT." Convenient for them - yes. Accurate - NO! Entire price lists headed "Fine Used" exist. However they often mean if you order "FU" and the dealer has a single copy in stock that is truly graded AVERAGE used, you'll be cheerily supplied with that unless you complain - end of story. As for private sellers ... "rust and toning and foxing - what's that"?? Is a 3 mm tear, pinhole, or bad corner crease worth mentioning - of COURSE not! "Is that a paper thin, or the watermark - let's say watermark" as it will sell for more. "What is re-perfing?" - they do not know (or care), and you do not know. The Blind leading the Blind in many cases. 😊
I have FIVE specific USED grades in my stock - from Spacefiller Grade, to Superb Used Grade. You pay for, and GET exactly WHAT grade suits your collection best. Warning - the very TOP grade "SUPERB USED" sets are incredibly tough to assemble, as you might imagine, and are priced accordingly, and can take quite a time to assemble and ship. Ask FIRST. The other 4 grades below are good to go right now, when you order. For MOST buyers, "Clean Good Used" is actually perfect. Better than MOST dealer's "VFU" grading!
"Instant Kangaroo Collection": I've assembled full sets of 34 different Roos in EVERY Watermark. 1st and 2nd Wmks to 1/-, 3rd Wmk to BOTH 2/- colours, Small Multi Wmk to 2/-, CofA Wmk to 5/-, and even both the 6d "OS" overprints - which are actually VERY scarce used, but are needed for EVERY printed album. Melbourne retail for these same 34 stamps in normal used condition is over $A950. ACSC cat is way higher. Buy just the EXACT grade that suits your budget, and collecting requirements as follows: (Order as stock number 245RU and specify GRADE.)
Spacefillers - $A225 Average Used - $A400 Nice Good Used - $A575 Clean FU - $A900 Or for the perfectionist - hand selected Superb Used complete set of 34: $1,450. And I also have great stocks of the higher face values than these - and the best stock in Australia of Perforated "OS" Roos - all GUARANTEED GENUINE unlike the ebay Forgery Factory. Also I have great stock of the Stanley Gibbons listed watermark errors, perfs, shades, Dies, and SG listed printing varieties etc. Please enquire. - (Order as stock number 245RV and specify your wanted GRADE.)
Roo "Upgrade" Kit: Add the real key values to the Roo set above. Add the 1913 2/- First Watermark, the 2/- Second Watermark, and both the scarce 5/- Third Watermark, and Small Multiple Watermarks. And last but not least, add the 10/- CofA to your page. These five scarce stamps are missing from near all collections. The 10/- Roo is going up in price strongly each year. ACSC Cat for "normal" average used grade for just these 5, in very cheapest shades is $1,350! So the attractive Good Used set at $675 is HALF CAT. 😊
My price for these 4 stamps: Spacefillers - $A325 Average Used - $A500 Nice Good Used - $A675 Clean FU - $A950 Or for the perfectionist - a hand selected SUPERB Used complete set of 5: $A1,500 - (Order as stock number 245RW - and specify your wanted GRADE.)
This offering above is just a tiny "taste". The prices on this page for these collections supersede any of my other prices on the web. I will gladly price ANY used single stamp you need, and naturally all the later issues. Whether KGV Heads sets of 72, 5/- Bridges, Kookaburra Mini Sheets, £1 Thin paper Robes, £2 Navigators etc. I have them ALL in 5 condition grades. I stock Australia 100% complete, 1913-1985, in used condition. And I have all these above in MINT of course … and MUH. Let me quote you! Glen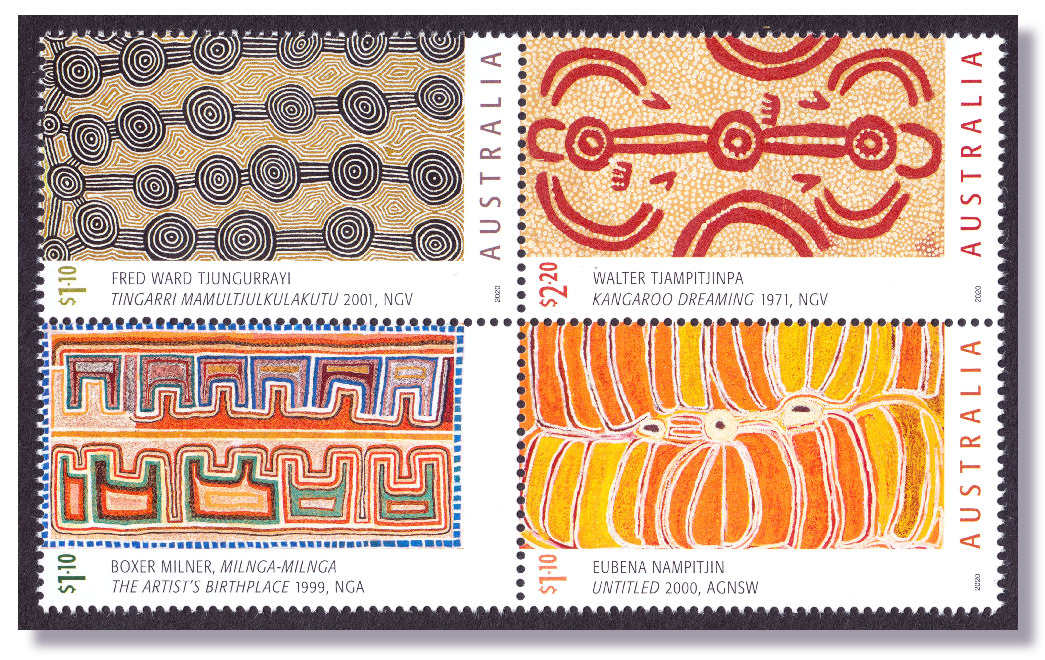 **Spectacular ERROR** stamp Block: MUH or FU - $A175: The 2020 Australia Year Books I bought all had a very spectacular printing error in there - the entire word AUSTRALIA was clearly *MISSING* on one $1.10 stamp, as well as the issue year - see photo above. A huge error in this modern era of computer checks. NORMALLY the PO would simply swap them over for the corrected version, before placing them on sale. However this year, for the first time ever, all the 2020 annual books did not have stamps loose as usual in a cello bag or Hagner, that you then placed in yourself. They are now for each set, all printed on a page of gummed paper, with extra design all around them, and perforated within that A4/Quarto sized sheet. Each page is like a huge A4 size Souvenir Sheet essentially! So to swap these over by PO, would mean all the completed Year Books had to be destroyed, new pages for that error set printed, and then the entire book totally re-printed again, and that page newly bound in. WEEKS of extra work. As the error was not noticed until almost the on sale date, it was WAY too late for all that, as books are bought heavily each year as annual gifts, and in recent years, sell out very fast. The CORRECT stamp wording was on course on stamps in all the PO packs, on FDC, and in usual mint form etc. Tons more detail on these here - www.tinyurl.com/Glen1-21

Naturally a PO issued "Country Name Missing" printing error will get into major catalogues globally, and Gibbons and others have already confirmed they are listing it. Such things in the past, like the GB 1988 Xmas error, sold only in GB yearbooks - SG 1414a, is now cat £12,500=$A25,000 a single, mint! The FDC is the same price level. Where the price will finally settle on these 2020 Errors, I have absolutely no idea - they are advertised at $450 already elsewhere, but when my stock is gone, it is gone forever! MASSES of books will be broken up just to secure this error stamp, the ONLY way to source it, and the rest will sit on wardrobe shelves for decades, un-noticed by the regular buyers at POs. Making complete books scarcer than ever. Only 6,500 hand numbered copies were ever printed of the Executive Album of course. (Stock 583KW - and they will be Sleepers

Even single copies used on scruffy covers mailed the year after issue, are getting $160 - tinyurl.com/ArtError Every book or block I sell has added free, the CORRECT MUH version of this $1.10 stamp included along with it, that I managed to source separately! I can supply just the "Country Name Missing" error Block 4 as shown above here, which was on front cover of "Stamp News", (and the normal correct $1.10 stamp) for $A175 MUH and/or central VFU - Stock 583KQ - please specify WHICH, or mint will be sent. MUH AND VFU blocks 4 are just $A325 (Stock 583KB) Or a Block 4 on Dec 1, 2020 FDC cover, with error block, and a normal single stamp, side by side for $A275 (Stock 583KB) - you can later hand write or sticker your name on it if required! Only managed to do a very few FDC. OR secure all three of these options above, and save $75, (MUH/FU/FDC) for $A525 (Stock 583KV). Or, the hand numbered by PO, LEATHER cover 2020 year book (only 6,500 hand numbered exist globally) for $A350 (Stock 583KW) or pristine unopened PO Deluxe album for $A295 (Stock 583KR)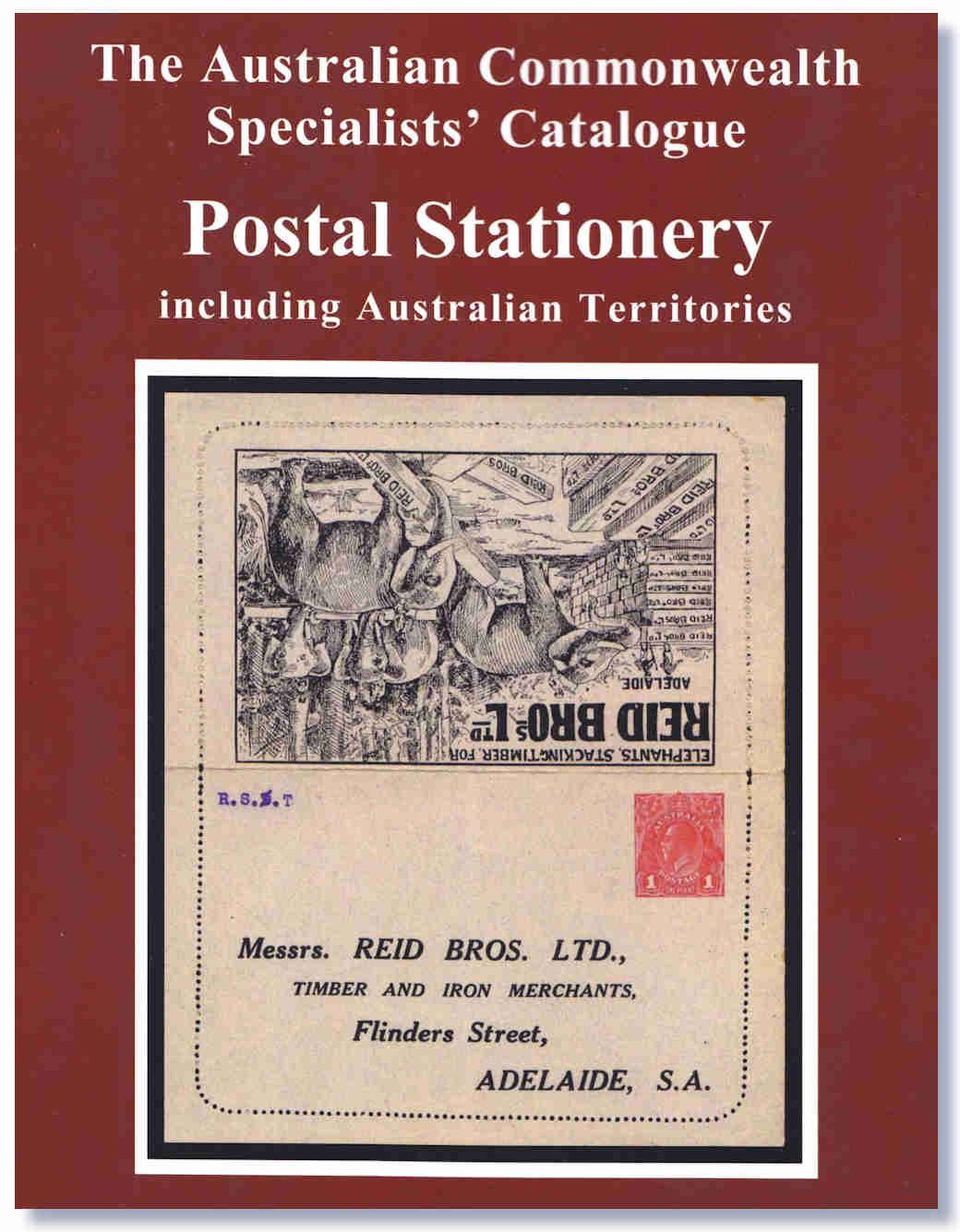 ACSC "Postal Stationery" Catalogue - 484 pages, all in colour: Including Australian Territories, Latest Edition which updates the first edition of seven years back, incorporating a number of corrections and new discoveries. In particular, the Postal Cards up to 1936 have been extensively revised, and there are many additions to the listing of Lettercards. The decimal Stationery produced by the Note Printing Branch is included for the first time. All prices have been fully updated. In full colour, 484 x large A4 heavily illustrated pages, perfect bound. If you only buy one catalogue each decade, whether you are a dealer or a collector, or Auction, you MUST have this. Detailed review of the first edition was in "Stamp News" - and gives you an idea of detailed content in here - tinyurl.com/GS0713 - The most common innocuous looking thing on your desk might be valued at ten times the purchase price of this catalogue! I kid you not. Maybe 25 times.

There are HUNDREDS of items in here listed at between $5,000 and $15,000 EACH. EVERY item is illustrated in colour (reduced in size of course) - a GODSEND for many of the earlier Registration envelopes etc. (Only about 4 pieces in the entire book, they were unable to get copies of to scan!) Very coolly, all down the outer spine is colour coded to go to Wrappers - go right to the BLUE tagged edges. For postcards go to PURPLE tags etc. A breeze to use quickly, as I need to do each day.

I HATED using the initial huge ring binder edition as time went on, as the printer punched the holes way too small in my view. Making finding any given section an annoying juggling act, risking damaging and tearing all earlier pages each time. This one is a BREEZE to use. For instance ALL the "View" Lettercards are now all illustrated and priced SEPARATELY - some 170 different! Some of these are worth a fortune, and dealers and collectors without this book have not got a CLUE as to what is scarce, and what is not. You will easily pay for this book with the first vaguely scarce view you pick up on ebay etc.

There are all the Aerograms illustrated - many quite valuable, all the wide range of Military material, WW2 Food Parcel labels (one is cat $10,000, and another $7,500!), and even all the myriad of different views on the initial 1911 "Coronation" set. All priced separately. The highest price in here I saw was $15,000 for a KGV low face value reply card, that I bet a lot of overseas (even local!) sellers would price at $20 retail and cross their fingers! It is huge - near 500 large A4 pages, on quality grade paper, in full colour - all proudly printed and produced here in Sydney Australia.

Edited by Dr. Geoff Kellow, the usual super high standard of original research work and fine attention to detail has taken place here. Geoff told me much of his original research on numbers printed of the early issues has never been published before the ACSC did these. Not only Australia is covered, but the "Territories" and that includes all the "Formular" Aerograms and airletters etc for the Territories. And all the Papua early issues, and GRI material, and PNG and Cocos and Christmas Islands etc. This is all listed and priced. Heaps more pix are here of contents etc - tinyurl.com/ACSC-PS18 $A240 (Stock 782DV)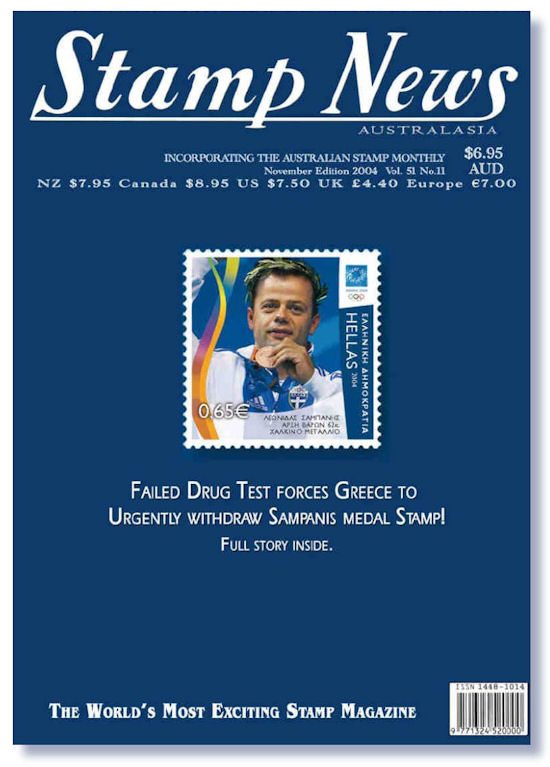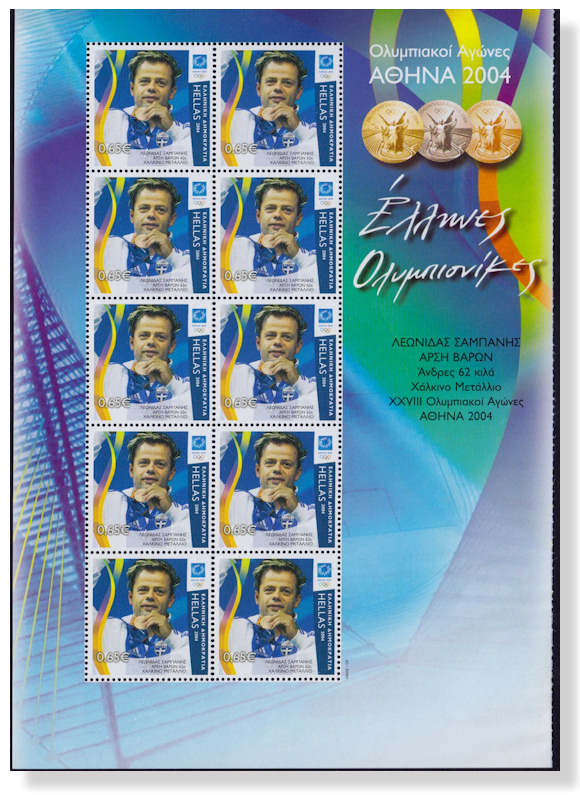 STAMP SHEET of 10 - Leonadis SAMPANIS, Greece Olympic Medal Winner Stripped by IOC: 2004 Athens Olympics. The Greek Post Office (ELTA) in 2004, decided to copy what Australia pioneered successfully in 2000, and issue an "Instant" digital print stamp for every Olympic medal winner from Greece. In fact the design is VERY similar to the 2000 Australian issues as you can see. Like Australia, at a later date, offset copies were also printed of medal winner stamps. This idea proved a great success in Greece, and the general public were the ones out there buying these issues for patriotic reasons etc. Only a small percentage of these will ever re-enter the stamp market. The controversial stamp above was issued to honour the Olympic Medal Win of Leonidas Sampanis in the 62 Kilo weight class of Weightlifting. Sampanis won his medal on Monday 16 August, and the stamps were on sparing sale in limited offices the next day, starting Tuesday August 17.

Sampanis later failed his drug test (twice) and on Sunday 22 August the IOC stripped him of his medal. Consequently, on Sunday August 22, ELTA ordered that all remaining stamps be taken off sale nationally, and immediately returned to their central office and NONE were to be sold. Today these stamps are very Rare as only a handful made it into circulation. You do that math yourself! Not large numbers at all for any issue much less an OLYMPIC one. Nearly all stamp sales were to the general public, and tourists via this initial distribution. Many were used on mail and postcards as the 65¢ rate covered airpost worldwide. Bought this MUH sheet in a decease Estate this week. Owner had bought it off Max Stern who sold it for $500 - they are still on sale there as you can see for $A500 - tinyurl.com/MaxMedal - Bought well, I am selling this A5 Mint Unhinged Sheetlet of 10 stamps at $A200 (Stock 637PE)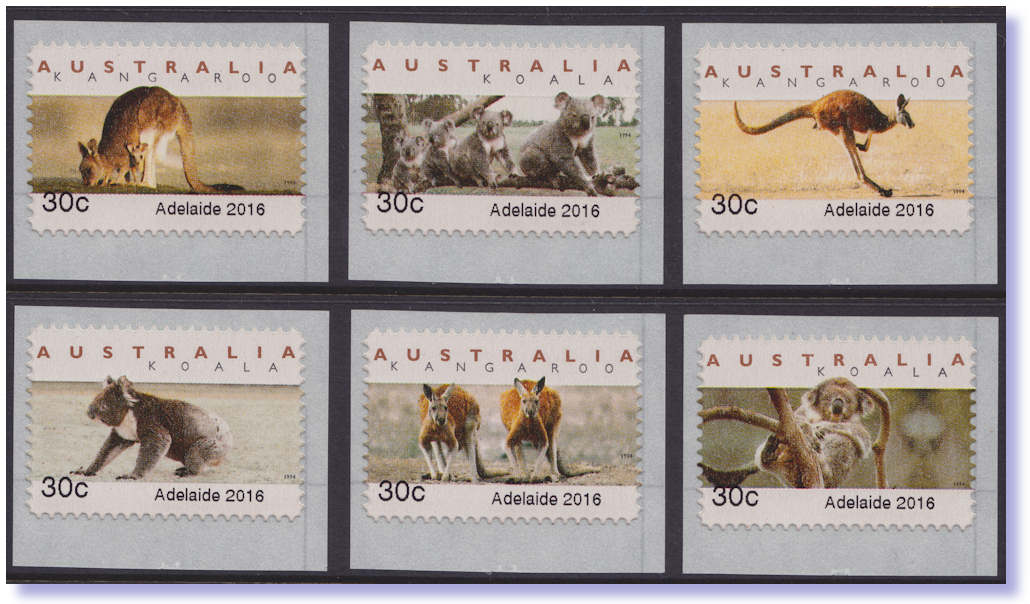 A True "Modern RARITY" set has JUST been issued: Australian domestic postage letter rates were hiked outrageously by 40% on January 4 here. The entire country is on holiday then, and the increase was bungled big-time by head office. No-one there had the brains to reprint up front, a ton of 30¢ Crocodile definitive values to have on hand as "make-up" in each state, to up-rate all current 70¢ stamps, to the new $1 rate. The Australia Post Distributor of Stamps in Adelaide totally ran out of 30¢ stamps the first day the letter rate increased to $1 - on Monday, 4 January 2016. To alleviate this shortfall and appease angry clients holding 70¢ stocks, the Adelaide GPO frantically printed up a very small Emergency issue of 30¢ Counter-Printed peel and stick Stamps. ("CPS") Only a few 1000 sets were made.

They used a 22 year old "CPS" (Counter Printed Stamp) machine, that was only used once a year for the small stamp show souvenir stamps etc. Adelaide is the only state to have retained one. (All states got one in 1994!) Distribution of these Emergency 30¢ stamps began on 5th January to dozens of suburban Adelaide POs urgently seeking 30¢ values. So the earliest potential sale date was 6th January as offices received them, and started selling their stock. Supplies of 30¢ Crocodile stamps were back in the stocks of the Adelaide Distributor Of Stamps from Melbourne, by Friday 8th January, and NO more 30¢ counter-printed stamps were produced - and this has been confirmed by AP. At no time in history has any CPS machine been used for other than current letter rate I understand. This set was a "First" in very many ways.

There was zero advance notice given of these 30¢ Emergency issues, and no philatelic stocks were put aside, or sold to ANYONE. No FDC sets exist. A sharp eyed Adelaide collector noticed them at his local PO, and "the hunt was on"! This is the very first time since Federation in 1901 that the Australian Post Office has printed an Emergency postage stamp issue of any kind. Only a few 1000 sets were sold. It was 100% official, it was sold for face value at dozens of large POs for a couple of days, and they were widely used on commercial mail. Many genuine covers, and lots of postally used copies have turned up in Kiloware. They will be, and are now listed and priced thus, mint and used, in major catalogues at up to $A4,500 per set 6. The PNG items of exactly the same background are listed of course - tinyurl.com/PNGOPS and at very HIGH prices globally, despite a huge 45,000 sets being produced and sold.

Stamp Dealer legend here Rodney Perry, has described this Adelaide Emergency 30¢ issue of 6 as a "Modern Rarity" several times, and I'd totally concur. More discussion on them here, with all the national Fairfax and News Limited media, news and radio story links on them - tinyurl.com/2016set A 30c SINGLE stamp on a commercial cover to Melbourne sold for an unbelievable $1,700 to a medico - tinyurl.com/30cEnv with 67 frantic bids! A totally philatelic cover, non-mailed, sold for $1,880 - with 37 bids - tinyurl.com/1880CPS A set a client bought off me for a few $100 this year, sold soon afterwards for $5,000 - tinyurl.com/varsCPS

The highest price I have seen actually OBTAINED for a set of 6 on ebay is $A8,990 - tinyurl.com/CPS9000 - face value $1.80 - about 5,000 times face value. A standard set sold Feb 15 for $3,200 - tinyurl.com/Set3200 A mint £2 Kangaroo only costs that! I learned about this issue by chance at the very outset, and nabbed a handful of sets from my various long term collector contacts in my home town Adelaide, as I acted fast and paid HIGH! "Linn's Stamp News" in the USA had this Front Page, and as their most viewed story that week - tinyurl.com/Linns30c - Gave an 11 minute interview with Radio 2GB - highest rating radio station in NSW by a margin of 30% - full tape here - www.2gb.com/audioplayer/152241 And they featured on the lead story in a recent edition ion of the biggest selling German stamp magazine "BRIEFMARKEN SPIEGEL" and had a large piece in a recent "Gibbons Stamp Monthly".

These ARE now fully catalogued in Gibbons, SG 4492/4497 and are listed at $4,500 a set 6 Mint, and $3,000 used (4242/4248) in the mass selling Renniks "Stamps Of Australia" catalogue. I have just a few complete sets of 6 MUH left for sale - just $A330 a stamp, for something that maybe 150 or so full mint sets exist of globally, as I type. I mailed a set on 6 covers to the Russian Air Force Base to the Commander of the orbiting "ISS" MIR Space Station, taken to him on a supply flight - he is a keen collector and ordered them! There are 2 underlying stamp design types - Type "A" and Type "B". (Outlined on link above) Latter costs 15% more ($A2,300 - Stock 572GR) , or both sets 6 together, save $200, for $A4,100 (Stock 572GC) I have one flat joined strip of 6 - in scarce Type "B" luckily, for $A2,400 (Stock 571GK) A set 6 is only about $US1,500 a set as I type this (I accept paypal in USD – ask me!), and is $1,000 or so LESS than some recent ebay sales, but only for those who act FAST: $A1,995 (Stock 572GY) Or, the identical designs set of 6 "$1.00 ADELAIDE 2016" that were also sold out fast, for $A75 a set 6 (Stock 571GX) or 10 sets 6 of those for dealers/investors for $A500 (Stock 571GY)

And don't forget, 50 CHEAPER lots under $100, I list up each week HERE - tinyurl.com/StampDeals
REALLY IMPORTANT
- for regular visitors to this page (which changes weekly - sometimes daily) your computer generally "caches" the
old
version. Which means you only see today the PREVIOUS page content you already looked at - NOT the new lots. Hitting "Refresh" does NOT in general update this page. To quickly get around this, press the
"F5"
key
found along the top row of your keyboard. BINGO -
all the exciting new material
will now load! Try it and see.
Also allow a while for the new lots to then load up.

All prices on EVERY list are weak Australian Dollars!!
All prices are "nett" ... what you see is WHAT you pay. NO Nasty, nasty 15%-20% Auction house "Buyer's Commission" silly nonsense is later extorted from you!
Buy with CONFIDENCE from Glen Stephens

| | |
| --- | --- |
| | Search all my 300+ web pages! Simply type in what you are looking for. "Penny Black", "Latvia", "Imprints", "Morocco", "Fungi" "Year Books", etc! Using quotes ( " ) is more accurate for multi word searches - i.e. "Australian FDC" gives FAR more specific matches than simply Australian FDC if used with no quotes. Search is NOT case sensitive. Tip - keep the search word singular - "Machin" yields far more matches than "Machins" etc. |


Full Time Stamp Dealer in Australia for over 45 years.
Life Member - American Stamp Dealers' Association. (New York)
Also Member of; Philatelic Traders' Society (London) IFSDA (Switzerland) etc

For the Order Form, click here. To read instructions on ordering, click here.





Every credit card shown is accepted WITHOUT fee. Earn Frequent Flier points
while buying at bargain prices! ALL prices are in weak Ozzie Dollars.
I charge NO nasty, nasty "Buyer's Commission" on stamps
like nearly every "Auction" does.










Click *HERE* and get my regular market update emails FREE!! The home of - Rare Stamps. Postage Stamp Rarities. Scarce and Unique world postage stamps. All time Philatelic Classics. Scarce Postal History. Stamp Errors, Stamp Varieties, Stamp Freaks, Stamp Missing Colours and Stamp Imperforates, Stamp Investments, Stamp Classics, and Stamp Collections at bargain prices. Bookmark THIS page and you'll very likely see them offered here eventually!


If you would like to be notified of updates to this website, Click HERE. If have any questions,
or comments regarding my site, please email me at ozstamps@gmail.com

GLEN $TEPHEN$
Full Time Stamp Dealer in Australia for 45 years. Life Member - American Stamp Dealers' Association. (ASDA - New York) Also Member - Philatelic Traders' Society (London) and IFSDA (Switzerland) and many other philatelic bodies
ALL Postage + Insurance is extra. Visa/BankCard/MasterCard/Amex/PayPal all OK, at NO fee, even for "Lay-Bys"! All lots offered are subject to my usual Conditions of Sale, copy upon request
Sydney's BIGGEST STAMP BUYER: Post me ANYTHING via Registered Mail for my same-day cheque. Avoid copping the now normal 45% Auction "Commissions" (20% Buyer + 15% Seller + GST taxes, etc) AND their five-month payment delays!
Read HERE for details.
"Lothlórien", 4 The Tor Walk, CASTLECRAG (Sydney), N.S.W. 2068. Australia
Phone 7 Days: 0409 399 888 For valuable items mailed use - PO Box 4007, Castlecrag. NSW. 2068
email: ozstamps@gmail.com or glen@glenstephens.com Visit the Number #1 Web Sites:
www.glenstephens.com/rarity.html and www.stampboards.com

Visit my Red-Hot daily changing *RARITIES* page - Roos & other expensive large photo items.
Sign up AUTOMATICALLY to my world renowned monthly stamp gossip /special offers EMAIL!
Click here to see MANY 1000s of stamp lots for sale - all at low $A Nett prices
Click HERE for all you need to know re SELLING your stamps for IMMEDIATE SPOT CASH
Click here for the current Monthly "Internet Only" special stamp offers - CHEAP!
Click for an enormous 10 year library of all my International stamp magazine articles.
Click here to ORDER on-line ANY items - from ANY of my many dozens of lists
Click for detailed info on important Conditions Of Sale, Payments, Shipping, Returns &c
Click here for the detailed library of my very unusual world travels. 120 countries!
How to PAY me. I accept nearly EVERYTHING - even blankets and axes and beads!
Australia Post Annual YEAR BOOKS - massive stock - '27% off' discount offer today!
Click to visit the leading stamp Bulletin & Discussion board. Sell/Buy/Swap/Gossip - totally FREE!
Click here to get back to the main www.GlenStephens.com Homepage.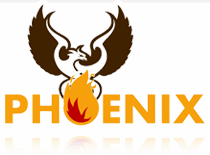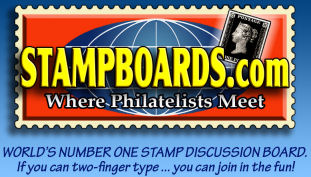 Instant
Currency Conversion

Every credit card shown is accepted WITHOUT fee.
Earn Frequent Flier points while buying at bargain prices!
ALL prices are in weak Ozzie Dollars. I charge NO nasty, nasty
"Buyer's Commission" on stamps like nearly every "Auction" does.