Your number one source for USED Kangaroo Stamps!
For well over 40 years, I have held the largest stock of used Australia KGV heads and Kangaroos in the world. From poor to superb. Many collectors find it really tough to sort and source these by watermark, and shades, and Dies accurately. In the early 1980's I ran dozens of full page ads in the 2 local magazines listing EVERY key Australian stamp in 5 different grades from "Spacefiller" to "Superb". Even the 1913 Mega Scarce £2 Roo. Not one dealer has done that kind of ad - before or since. 😊
My grading is precise, my stock is enormous, and I have assisted many THOUSANDS of collectors complete their sets of these difficult issues. From budget conscious pensioners filling 5 albums for their grandchildren, where space-fillers of scarcer values will suffice absolutely perfectly, to multi-millionaires who want and buy the BEST - from cars and houses .... to their stamps! You may not be able to afford to LIVE as well as Hugh Morgan or Sir Ron Brierley does, or drive a Bentley like they do, but your used Roos can look JUST as nice!
If you want a complete set of "Melbourne Dec 3, 1913" half circle gloss black cancels on First Watermark - I can supply them. If you want the full gum corner CTO from later Specimen packs I can help. (All these are now listed in the ACSC as CTO, and priced accordingly, per type.) If you want just lovely postally Superb Used like those in the photo nearby - I have always been the #1 choice to buy from. I have 1000's just like them. Read my recent stamp column about WHY you should collect USED stamps in this country - tinyurl.com/Glen07-20
Unlike mint, used stamps do not tone or rust nearly as fast - and are readily 'cleaned' if they do! And unlike mint - no-one goes about regumming used Kangaroos!! And when it comes to filling gaps in high value Roos, opting for USED, even lovely copies, will cost you a TINY FRACTION of what mint hinged will. So it is VERY possible to fully complete your used Roo collection. Mint hinged will cost you $30,000. USED are a tiny fraction of that, as you can see below.
I purchased Private Treaty from Harmers Of Sydney in 1980, the massive H .F. McNess accumulation of used "OS" perfins. He was obsessed with accumulating these issues, and had books full. I still have much of this stock. This was at a time when perf "OS" were poorly regarded by collectors and dealers alike. Not me. I still have multiple copies of items that most dealers have never seen or handled genuine examples of, like - 4d Lemon Yellow, ½d and 1/4d Small Multi perf 14, KGV No Wmk pair, Roo 2½d and 4d Yellow 1st Wmks etc.
I was the person who got the £2 Small Multiple perf "OS" Roo listed into the ACSC after 75 years, by proving beyond doubt 2 totally genuine copies did exist. One of which I bought from a WW2 assembled collection. (The used Arthur Gray copy, who owned the other, then sold for $A40,000.) These "OS" perfins (especially First Wmk) are usually HORRIBLE looking stamps.
The stamp printer directed that badly centered sheets of stamps, too poorly produced for sale to the public, be put aside, and be perforated "OS" for these "nuisance" Free Government Official stamps. That makes CHOICE copies about one in a 100 of the higher 1913 values above 3d. And do note - all perf "OS" sold by ME are genuine, from the massive H.F. McNess hoard I bought etc. Do not TOUCH 90% of what you see on eBay. Read the ENDLESS eBay fakes exposes here - tinyurl.com/EbayOSFake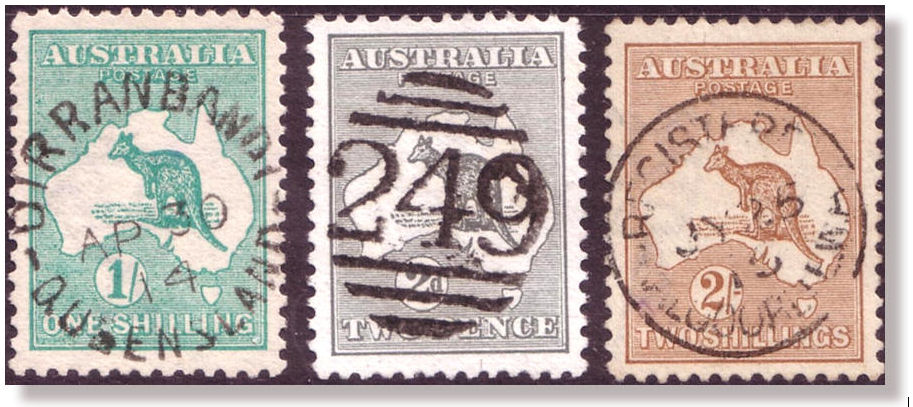 Australian dealers in general are pretty lazy and slap-dash and vague with used stamp terminology. The Term "FU" is applied to ANYTHING, with any cancel, most times! Loosely translated it means "NOT MINT." Convenient for them - yes. Accurate - NO! Entire price lists headed "Fine Used" exist. However they often mean if you order "FU" and the dealer has a single copy in stock that is truly graded AVERAGE used, you'll be cheerily supplied with that unless you complain - end of story. As for private sellers ... "rust and toning and foxing - what's that"?? Is a 3 mm tear, pinhole, or bad corner crease worth mentioning - of COURSE not! "Is that a paper thin, or the watermark - let's say watermark" as it will sell for more. "What is re-perfing?" - they do not know (or care), and you do not know. The Blind leading the Blind in many cases. 😊
I have FIVE specific USED grades in my stock - from Spacefiller Grade, to Superb Used Grade. You pay for, and GET exactly WHAT grade suits your collection best. Warning - the very TOP grade "SUPERB USED" sets are incredibly tough to assemble, as you might imagine, and are priced accordingly, and can take quite a time to assemble and ship. Ask FIRST. The other 4 grades below are good to go right now, when you order. For MOST buyers, "Clean Good Used" is actually perfect. Better than MOST dealer's "VFU" grading!
"Instant Kangaroo Collection": I've assembled full sets of 34 different Roos in EVERY Watermark. 1st and 2nd Wmks to 1/-, 3rd Wmk to BOTH 2/- colours, Small Multi Wmk to 2/-, CofA Wmk to 5/-, and even both the 6d "OS" overprints - which are actually VERY scarce used, but are needed for EVERY printed album. Melbourne retail for these same 34 stamps in normal used condition is over $A950. ACSC cat is way higher. Buy just the EXACT grade that suits your budget, and collecting requirements as follows: (Order as stock number 245RU and specify GRADE.)
Spacefillers - $A225 Average Used - $A400 Nice Good Used - $A575 Clean FU - $A900 Or for the perfectionist - hand selected Superb Used complete set of 34: $1,450. And I also have great stocks of the higher face values than these - and the best stock in Australia of Perforated "OS" Roos - all GUARANTEED GENUINE unlike the ebay Forgery Factory. Also I have great stock of the Stanley Gibbons listed watermark errors, perfs, shades, Dies, and SG listed printing varieties etc. Please enquire. - (Order as stock number 245RV and specify your wanted GRADE.)
Roo "Upgrade" Kit: Add the real key values to the Roo set above. Add the 1913 2/- First Watermark, the 2/- Second Watermark, and both the scarce 5/- Third Watermark, and Small Multiple Watermarks. And last but not least, add the 10/- CofA to your page. These five scarce stamps are missing from near all collections. The 10/- Roo is going up in price strongly each year. ACSC Cat for "normal" average used grade for just these 5, in very cheapest shades is $1,350! So the attractive Good Used set at $675 is HALF CAT. 😊
My price for these 4 stamps: Spacefillers - $A325 Average Used - $A500 Nice Good Used - $A675 Clean FU - $A950 Or for the perfectionist - a hand selected SUPERB Used complete set of 5: $A1,500 - (Order as stock number 245RW - and specify your wanted GRADE.)
This offering above is just a tiny "taste". The prices on this page for these collections supersede any of my other prices on the web. I will gladly price ANY used single stamp you need, and naturally all the later issues. Whether KGV Heads sets of 72, 5/- Bridges, Kookaburra Mini Sheets, £1 Thin paper Robes, £2 Navigators etc. I have them ALL in 5 condition grades. I stock Australia 100% complete, 1913-1985, in used condition. And I have all these above in MINT of course … and MUH. Let me quote you! Glen