Click To Go Back To The Main www.GlenStephens.com Stamps Homepage

Welcome! You are visitor
to www.GlenStephens.com




Glen Stephens
Monthly "Stamp News" Market Tipster Column


July 2015

---
VALE - Arthur Gray 1939-2015
Many readers will not know yet, but well known collector Arthur Gray passed away peacefully on May 22 in Sydney, from a long illness, aged 76.

As I commented on the "Sydney Morning Herald" Memorial page – tinyurl.com/GrayTribute that many of his stamp world friends have added to, and keep adding to -

"Larger Than Life" really sums up Arthur perfectly, and he will be sadly missed by all his many stamp collecting friends - globally.

In my lifetime there has never been, and I am sure will there ever be, any more influential or knowledgeable collector of this Australasian region. A true Philatelic LEGEND in every sense of that word.

I have met no other collector in my 35 years as a full time dealer that you'd also brand "Larger Than Life", and Arthur "Nugget" Gray held that title all on his own in my view.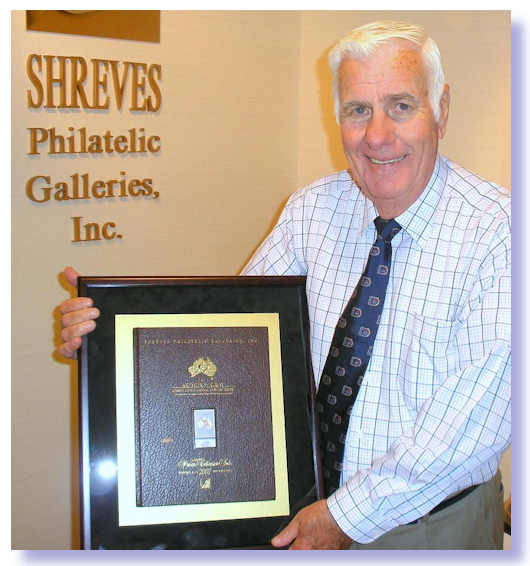 World's best stamp Auction Catalogue.

Always the life of any party, and the focus of attention in any stamp hall. Arthur left an indelible impression on all who ever met him - indeed his stamp research and exhibits touched thousands who never met him.

Stamp collectors are generally quiet and reserved, indeed they are often intensely private, and downright withdrawn and reclusive - but not Mr Arthur Gray.
The cheeky prankster.
The family members recounted his practical jokes and cheeky pranks right up to his passing, and at his home we saw home videos of him cavorting in sequinned dresses and wig, and (badly) singing Johnny Cash songs at family gatherings, beer in hand etc.

As a perfect example of the intensely private collector type, UK collector Sir Gawaiine Baillie did not exhibit, or belong to any clubs, attend any auctions, or even discuss stamps with those in his closest circles.

Sotheby's auctioned his superb stamp collection, and it realised £15,975,438 - or near $A40 million at the time. This represents the highest total ever achieved for any single owner series of stamp sales in Europe.

Sir Gawaiine Baillie's family and close friends did not even know he collected stamps - literally. They thought he was in his office doing "company bookwork" all those long nights.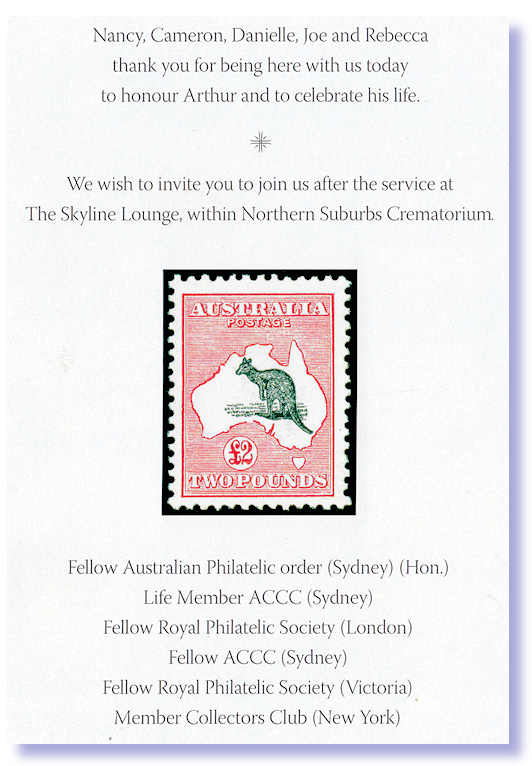 RIP Arthur William Sinclair Gray

Contrast that with Arthur Gray who for the past 15-20 years of his life had stamps as a dominant and major factor in his life, and he "lived the dream". Travelling the world exhibiting, selling, buying and discussing them.

By 1999 Arthur had his successful business career largely behind him, and in very good hands. The children were all educated and independent and successful, and it was now the hour for his stamp collections to blossom onto the global stage.
Never exhibited until aged 60.
Arthur never exhibited anywhere until 17 years back, and was aged 60 when he won his first serious level medal at "Australia 99". Since then he won at least 21 Large Gold, and 11 Gold Medals at world philatelic exhibitions, for his various Australian Commonwealth exhibits.

No other collector from here has come even close. This is an object lesson to all collectors that starting to exhibit a collection later in life can be done well, and done VERY successfully. All you need is the material!

I took some photos of the many attendees at the first "wake" and one is shown nearby. Many dealers and collectors flew in, from all states, to pay their last respects. It was the best attended funeral in Australian philatelic history.

From left to right: great friend Dr Geoff Kellow, Editor of ACSC Catalogues, talking to Melbourne dealer Richard Juzwin. At far right of photo is well known dealer/collector Rodney Perry who flew down from Cairns.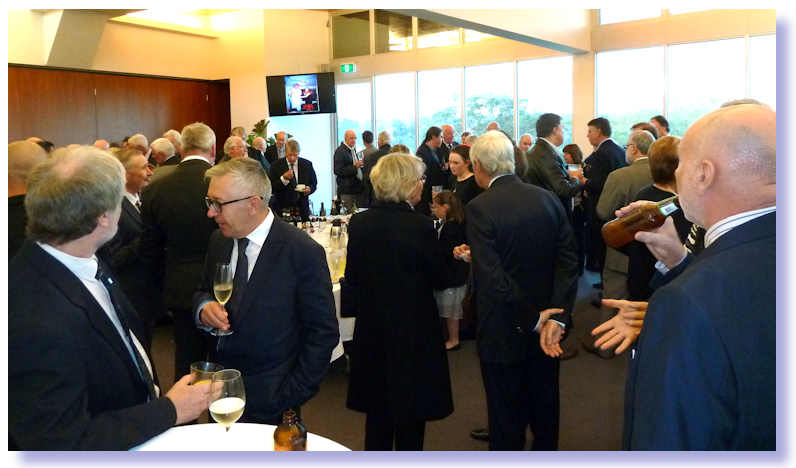 Australia's largest stamp funeral.

After the Funeral Service there was a public "wake" in the Centre to farewell Arthur, in accordance with his very specific wishes. There was a far smaller gathering later on, at the family home in St. Ives, wonderfully hosted by wife Nancy.

Youngest daughter Rebecca said during the service: "Dad said he wanted a bloody ripper of a Wake, so let's give him one today!" And so it came to pass - exactly as Arthur wished and planned.

The strong attendance pushed the large chapel to well over capacity, and Gary Watson, Geoff Lewis and I were seated together upstairs in the choir room.

Old friend Michael Drury, President of the ACCC gave a long and interesting summary of his stamp exploits with Arthur over the decades. His two daughters and son told stories brimming with stamp related anecdotes of their father.
A Bankstown Boy.
He was a Bankstown Sydney born man, from very humble beginnings, and his father worked for the Post Office there, we were told at the funeral service.

Arthur had no airs and graces, and was total no nonsense. The family members recounted that he never had any time for designer clothes, fancy food and wine, or any of the usual trimmings and trappings of success.

He owned an ancient and beat up Suzuki Rav4 car, that was literally falling apart, and the family joked his shoes all had holes in the soles, and he used packing tape to line them, to keep water out!

His frequent world travels to Stamp Expos in Europe were often 24-30 hours of flights each direction, and Arthur insisted on only flying economy class, shrugging off the "soft yuppie excesses" of pointy end travel.

The family members joked at the wake, they were thereafter now always going to fly long haul in some kind of comfort, and would toast Arthur with Champagne each time, to his memory!

His sparring with dealers over prices was absolutely legendary, and he won nearly every time. No matter how scarce or fine it was, Arthur would heap friendly scorn and derision on your major rarity piece, and offer you half the asking price!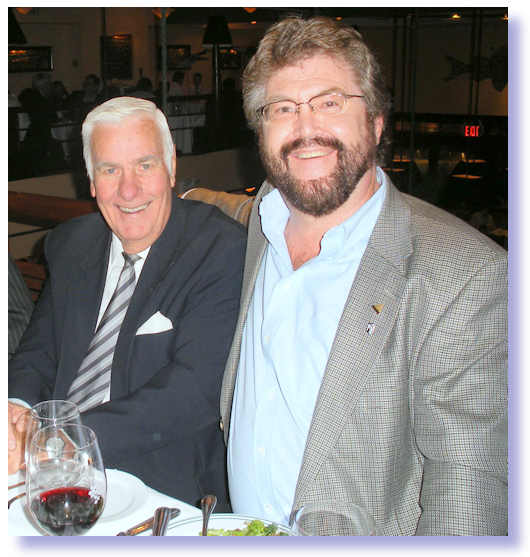 Two troublemakers in New York

I spent several days with Arthur in New York in 2007 when his "Kangaroos" Collection was sold by Charles Shreve. They sold for $A7.15 million - a world record price for a 20th Century collection of anything philatelic, indeed a world record price for a single stamp issue EVER, of any era.

The Harrison Imprint block of £1 Brown & Blue Kangaroos set a then world record price of $A265,000. Charles Shreve nearly had a fit I'd drop it into my coffee, when this nearby photo was being taken! Complete rundown of that historic sale, with masses of pics, are at - tinyurl.com/GrayRoo
The Party King.
That was a truly amazing few days, and we'd go out partying every night until 3am at Irish pubs etc, with another sadly departed friend Simon Dunkerley, and others. Next morning Arthur was in FAR better shape than any of us "youngsters"!

We took Simon one bleary early morning to the legendary Stage Door Deli as he had never had a Pastrami Sandwich. Arthur vigorously shook "salt" over it for a minute, to discover it was SUGAR. His schmoozing of these tough New Yorkers to get it replaced free, was something to behold!

The Shreves hard bound 'leather' Kangaroos catalogue is THE finest stamp auction catalogue ever produced in my view. Superb scans, and exact colours, and a reference text then, now, and into the future.

"Kangaroos" were of course only the tip of the Gray Collection. Many other sectors won International Large Gold Medals in their own right. When it came to Australian stamps, Arthur pretty much had it all - in depth.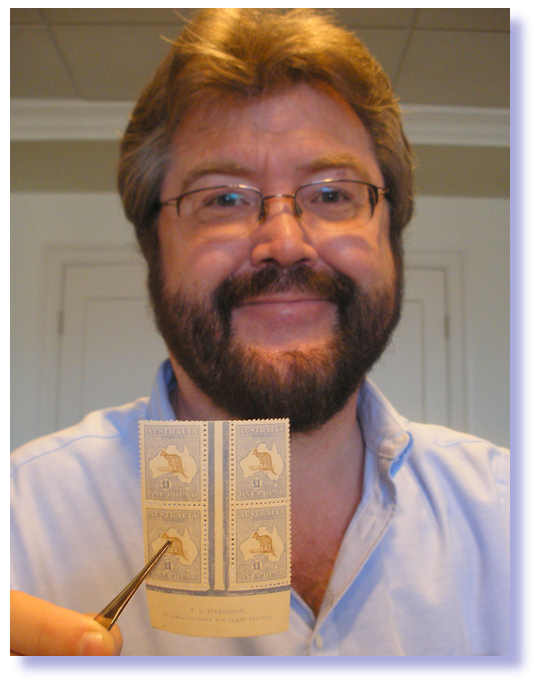 World record price for Australian stamps.

The "KGV" as I reported here recently, are to be auctioned by mossgreen Melbourne in October, and of course are worth many millions, with numerous unique and mega rare pieces. More photos of them next month.

The "KGVI" and "QE2" and "Booklets" are also stand-alone major collections, as well as the best collection in existence of Kangaroo "CTO" and Specimen stamps, and very many sideline areas. Postage Dues, Postal Stationery etc, etc.

What separated Arthur from many collectors, was that he was always very keen to share his material and knowledge. I never once saw him look at a catalogue, but the detail stored in his head on his stamp areas was encyclopaedic.

He followed the long stampboards thread on the many variations of the CTO official cancels, as this was an area he had always been keenly interested in.
Great sharer of material.
Arthur lived quite nearby to me in Sydney, and one day he phoned to say he could bring over his collection if I wished, so it could be scanned for the benefit of others studying the field, as he had much totally unrecorded material.

He is photographed nearby sitting outside whilst I did this, admiring one of the many cheeky Eastern Water Dragons on the chair, that run wild all around the place here. Not a lot of top end collectors are willing to share their knowledge, and encourage others to add to his research.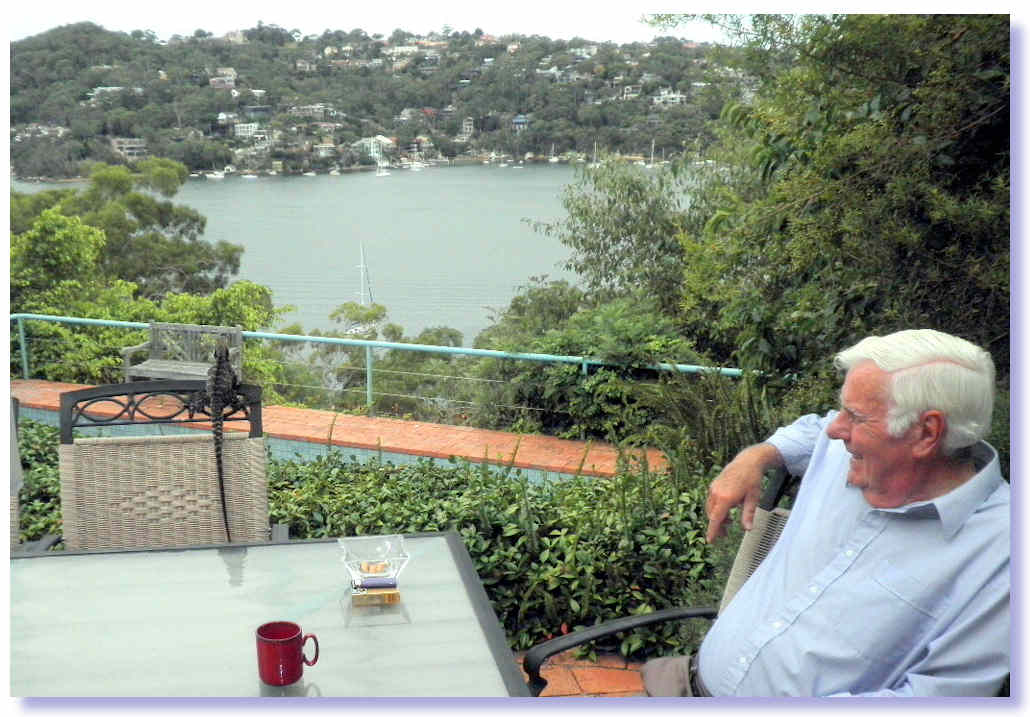 Arthur making a new friend!

tinyurl.com/ozCTOs is the detailed discussion on these CTO cancel variants, and the new research always going on there. Hard to imagine there can be 4000 detailed messages solely on official CTO Australia stamps, but that is the case.

Arthur's well written collection of these official CTO issues and Specimens was duly scanned in and loaded up, and is constantly being referred to there, as a benchmark reference point. For many cancels, he owned the only copies recorded.
Team Leader.
Many leading collectors very sadly, put nothing whatever back into the hobby. In contrast, Arthur Gray was a Team Leader sort of guy. Whether as President of the ACCC in Australia, or VERY active Vice President of the mega successful "Australia 2013" World Stamp Expo etc. .

Some people are born leaders, and Arthur was one. I am sure if he was born a little earlier and joined the services in WW2, he'd have riser to a high rank very rapidly. He was popular with everyone, and knew just how to get his way in every situation.

I can remember being at a few Palmares Award dinners where numbered booklets or MS were being auctioned off as fundraisers etc. Arthur's booming voice would bellow: "I am SURE I just heard Glen Stephens bid $500". Laugher all round, and me or some other luckless dealer got "Arthured"!

Arthur was keen on stamps to the very end. He attended the Sydney Stamp Expo at Hurstville for several days in mid-April, only a month before he passed, despite being in less than perfect health. He was still buying major pieces there, and chided me for not mailing him something he wanted.

R.I.P. to one of Australia's greatest philatelists of all time, and it was a great pleasure to have dealt with him for 35 years, and the local stamp world will simply not be the same after his passing.

tinyurl.com/ArthurGray contains pages of tributes and stories and stamp dealer anecdotes from all over the globe to this remarkable philatelist. A great man, sadly missed by all in this hobby.
$600,000 collection on ebay!
Only on ebay.

Some USA dealer has listed up a world stamp collection for sale on ebay as "Buy It Now" for $US475,000 - a tad over $A600,000 as this is typed.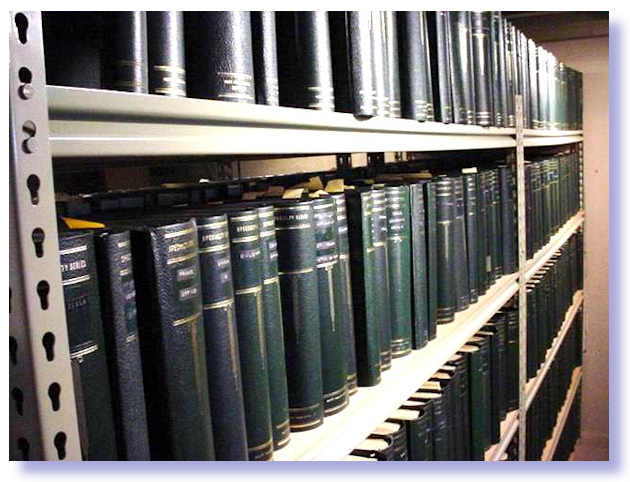 Yours for just $A600,000.

For a change, it is not the usual ebay dreamer kiddies book of mangled and dead common childhood stamps, in a battered ETA peanut butter album collection etc. However it is of course worth nothing like $A600,000!

However just for the fun of it, for anyone interested in perusing it all, the discussion of this lot and many pix of the contents is here - tinyurl.com/475Kstamps

It is housed in 270 albums, in shelving, and my professional guess is that in the real world the rest of us live in, is worth about a quarter the asking price, but of course on ebay anything may occur.

The same seller has an eclectic selection of stamp material on approval dealer cards mostly, often forged or misdescribed, with alleged cat $US500,000 offered as "$1/2 Million Dollar ($500,000) WORLD RARITIES Investment Portfolio!"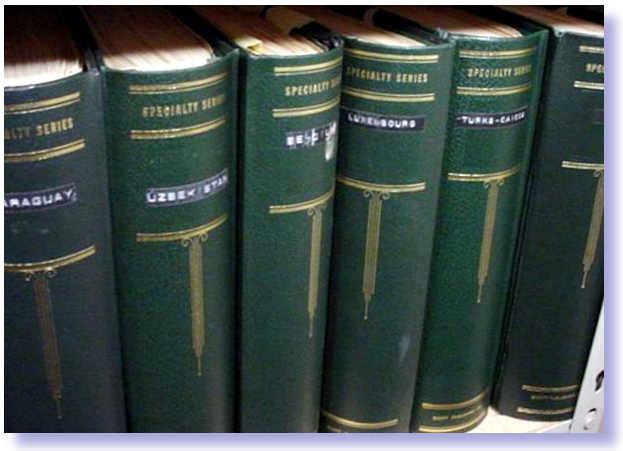 A few Scott "International" albums.
| | | |
| --- | --- | --- |
| | Fellow dealer colleague Rodney Perry described it on that discussion thus - "it would be …. a very poor investment." The world is full of optimists. Price of these gems was only $US175,000 or about $A230,000, for the budget minded buyer who does not have $600,000. | |
World Record Price for Australasia



A good used, 3 margin Western Australia 1854 4d Blue Swan "Inverted Frame" stamp has just sold for around $A250,000.

The stamp sold for £122,400 at the Spink Lord Vestey sale of May 19 - around $A250,000. More than DOUBLE their top estimate of £50,000-£60,000.

My checking reveals it is a world record price for ANY single stamp from Australasia, from 1850, to the present day. Pretty amazing, and is WAY over full Gibbons catalogue of £90,000 for SG 3h.

The 1928 Imperforate Kookaburra Miniature Sheet at $A326,000, and the unissued block 6 of the 2d red KEVIII stamp at $A500,000 (also ex Vestey) got more in dollars, but have 4 and 6 stamps in them.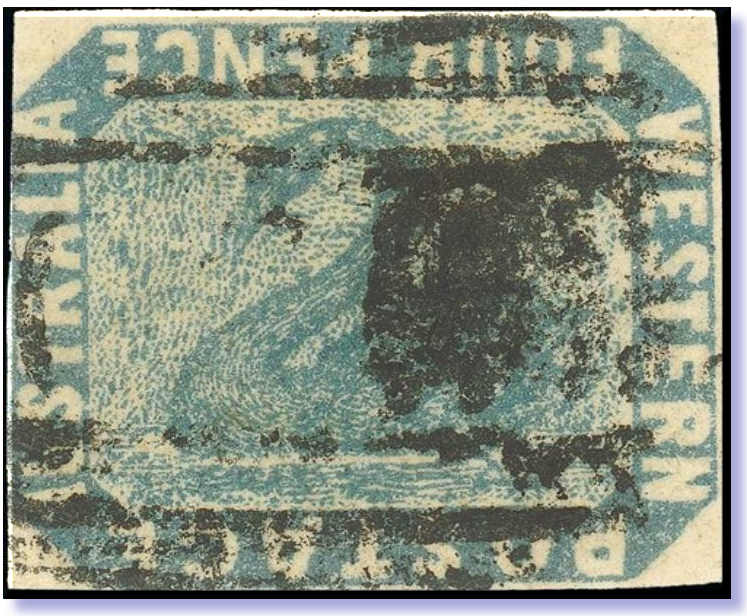 World Record Price - $A250,000
| | | |
| --- | --- | --- |
| | The Arthur Gray Imprint block 4 of the £1 Brown and Blue Kangaroo shown nearby was invoiced at $A265,000 in 2007, but again is 4 stamps, and not one. At the time of that sale it held the record price. | |
Woo Hoo!

The stamp I understand was secured via phone bid by retired Hong Kong physician, Dr Arthur Woo, adding this example to his absolute fistful of these stamps. He now owns near all the few examples of this classic "Bird" rarity not in Institutions and Museums etc.

Woo's tally, among many other examples now, includes the "forged" example sold in 1980s by Christies in the "Isleham" collection for £31,000. Some opinion now seems to lean to it NOT being forged. And the damaged strip of 3 x 4d used stamps, showing part of an inverted frame on one!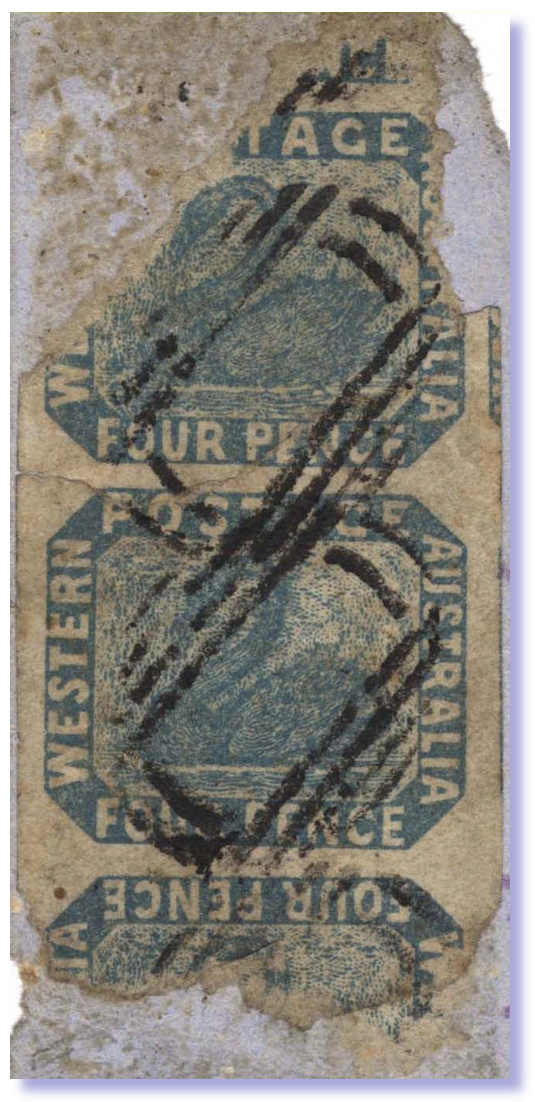 The "Proving" Discovery.

| | | |
| --- | --- | --- |
| | The damaged strip of 4 is weirdly overlooked by many in the "count" - however it was the "PROVING" find that showed clearly it was the FRAME inverted, and not the centre inverted, as was widely believed for decades. | |
Bought £850, sold for £122,400.
In December 1942 this single 4d Swan was bought by the original Lord Vestey for the princely sum of £850 by Private Treaty from Robson Lowe. Some 73 years later, it achieved a World Record price of £122,400 - near enough to $A250,000 exact when bank rate conversion charges were added.

I was having a drink with Richard Juzwin at Arthur Gray's funeral last week, and he'd just got back from London from the auction. He bought the 1854 4d Swan imperforate full sheet of 60 he told me - no invert on that one sadly!

The WA prices were incredibly strong Richard told me, even for "bread and butter" basic WA stamp single items, and he said the SG valuations on WA in next SG will increase widely as a result of this sale.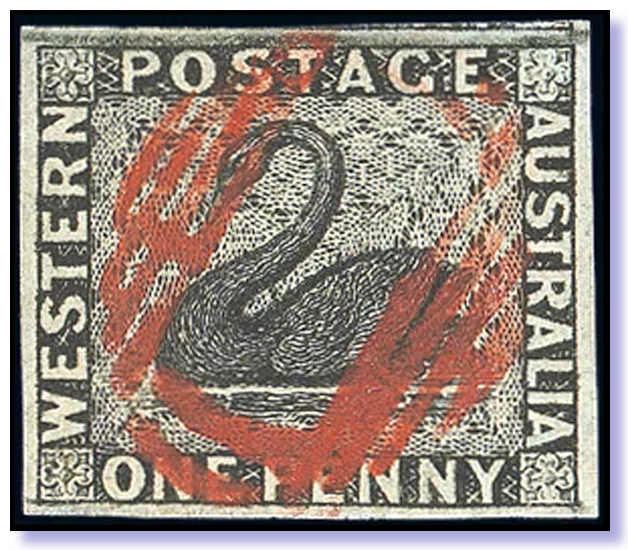 Pretty 1d Swan with red cancel.
About time - to this day I sell presentable used 1854 1d Black Swans, SG #1, for under $A100, so the time is long overdue for some price movement UP!

Really NICE 1d Swans did however get strong prices at Vestey. The attractive red barred cancels always look pretty, and this stamp shown nearby was invoiced for about £700 - near 3 times full SG catalogue.

tinyurl.com/SwanWA is a detailed rundown with good photos of the results of the Lord Vestey Western Australia stamp auction, and some of the results will blow your mind!

I contacted the Stanley Gibbons catalogue editor to alert him that many current SG prices are way on the low side now, and he had finalised Australia for "Part 1", but agreed to try and adjust these, given the huge prices.
Cream always rises to the top.
| | | |
| --- | --- | --- |
| | Nothing is truer than typing that rare and eye catching stamp pieces invariably go UP in price, whilst the junk settles to the bottom of the philatelic pond mud. | |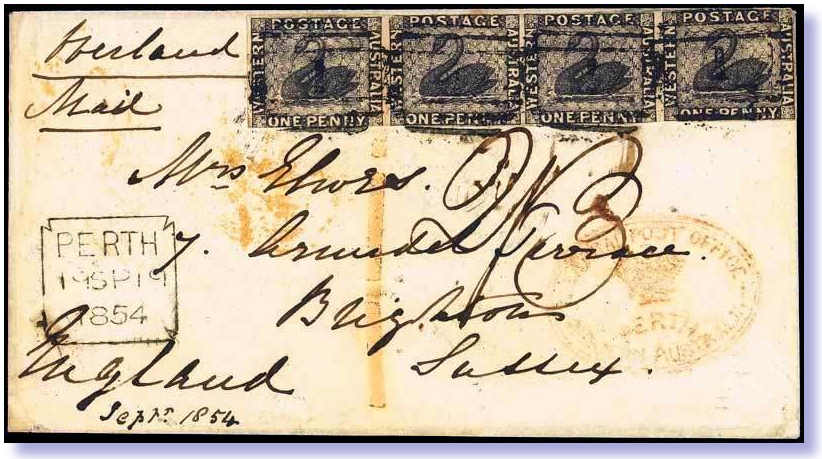 Sold for $A5,500, now gets $A60,000.
The lovely Western Australia cover shown nearby I advertised in the Australian magazines in May and June 1982 for $A5,500, and it was bought by Lord Vestey, and was this month just sold by him.

At that "stamp boom" time, the "smart money" was buying truly scarce pieces like that. The Bunny Money was on lining up at Post Office buying First Day Covers and full sheets of the "RARE" 1982 Roses and Yachting PO new issues!

I'd bought the cover for WAY less than that at Feldman's Switzerland Auctions a few months earlier, when an Australia dealer was having a bit of 'fire sale' for various reasons. He probably netted half that for it.

As chance had it, I had dinner with that same dealer a week after the Vestey sale, and when in town for Arthur Gray's funeral, and nobly did not mention this recent bullish sale of it!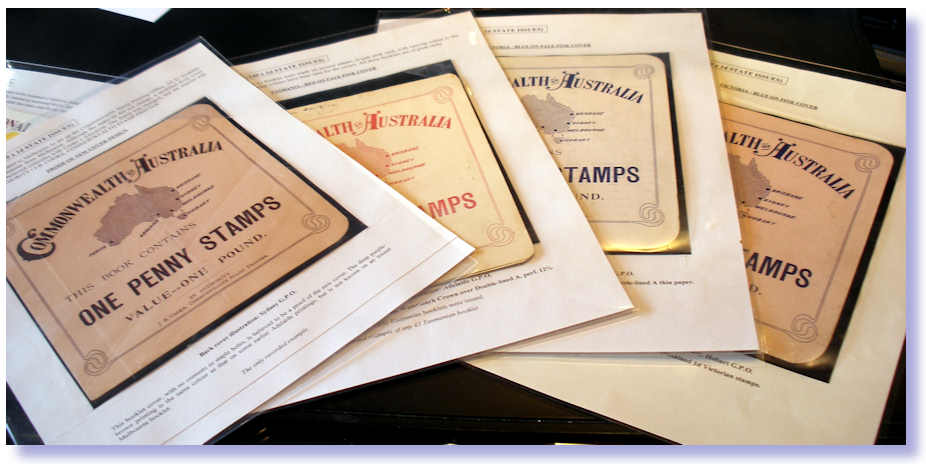 Most of the world's supply!
| | | |
| --- | --- | --- |
| | However he recounted how he bought a half dozen of the huge Australia early £1 Booklets when they were auctioned in New York from the collection of the booklet doyen, Harriett Work, for around $US200 each, as "our booklets were dead back then". | |
£1 Stamp Booklets Hoard.
Each of those rare £1 booklets are worth today around $50,000, some higher, and are each great rarities, so in stamps there are very many "overs and unders" - you win some, you lose some!

Several of those booklets - near unseen here for decades at that time, ended up in the Gold Medal Booklets collection of the late Arthur Gray.

These very early £1 Booklets are MASSIVE. They are near the size of a Hagner sheet, and each contained 240 stamps. TWO complete sheets of 120 x 1d Kangaroos or 1d State stamps, or 1d KGV folded, each into 4 blocks of 30 - WITH all monograms etc!

Indeed in the case of Tasmania, the huge 1d red Pictorial stamps were printed in sheets of 60, so FOUR complete sheets of 60 needed to be folded up, and stapled to inside cover of each book.

Arthur Gray once kindly bought his Gold Medal "Booklets" collection to my home, so that I could scan the covers in high resolution, so as the Stanley Gibbons catalogue could be updated in future with photos of many of the covers.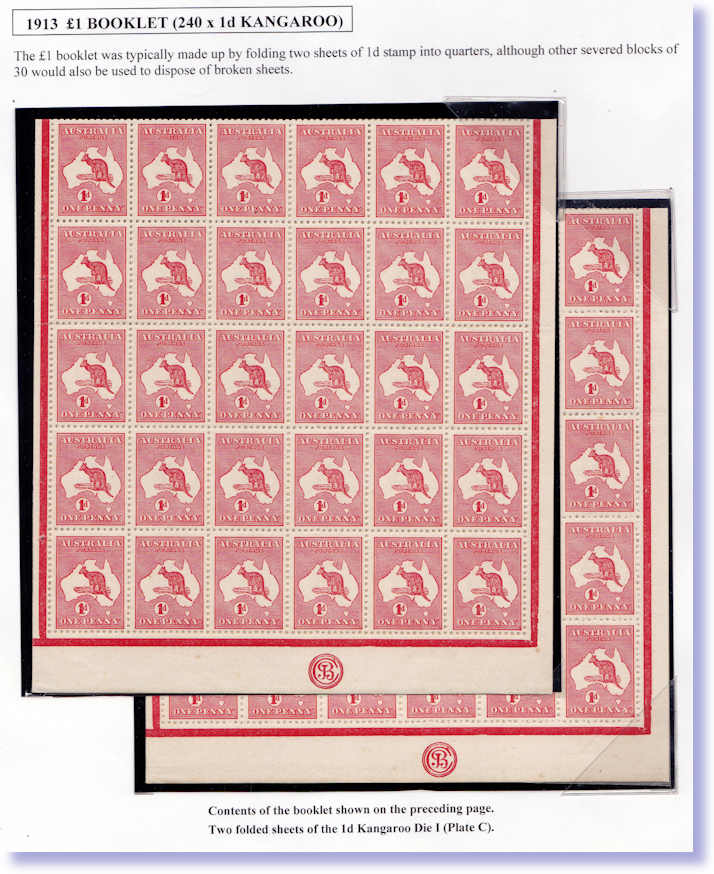 £1 Stamp booklet contents.
| | | |
| --- | --- | --- |
| | Other than the examples Arthur owned, there were generally no other examples available to scan, as they are all incredibly rare. Collectors pre-war simply had no interest in stamp booklets it seems clear, despite rather large numbers being sold. | |
Never sighted by modern collectors.
Most of the booklets shown or described in this article have never been seen by existing dealers or collectors. Arthur Gray was keen they be shown more widely, to create interest in this neglected field, and I am keeping my word to him here.

Before his sad passing Arthur said me would call me to outline more detail on these, as the "Booklets" ACSC 2nd Edition, is 12 years old now. Sadly that chat never took place and my account below is based on the ACSC, and Arthur's album page scans I took.

Both inner covers of these huge books had a ledger style ruled page with columns as you can see. Arthur told me they were bought mostly by small companies, and the clerk would note who used what of the 240 stamps. "Mr Smith x 10, Mr Jones x 17, Mr Brown x 22" etc.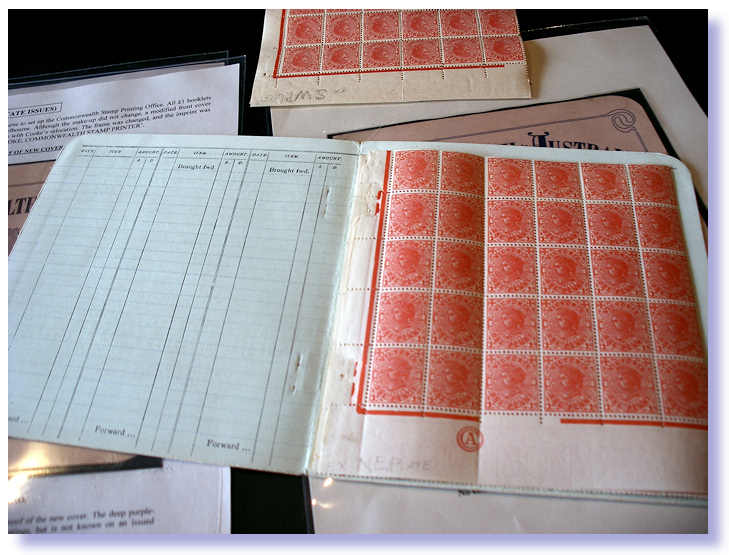 Complete £1 Victoria stamp booklet.
A complete and unique Victoria (2 sheets of 1d) £1 Booklet of the same massive size shows this well nearby. The front cover ink colour and board colour varied. The reverses of the State issues showed images of the various Capital City GPO's mostly, but a few had pictorial scenes.

Indeed until recent very times, only the GPO reverses were known or recorded, as so few of those booklets, or even the covers had survived. These extra scenes appear to be only on the £1 pre-Kangaroo era booklets. In 1918, Harrison dispensed with the back cover scenes entirely.
Large numbers Booklets sold.
A LOT of these booklets were sold rather surprisingly over 15 years, and they contained the stamps of all the 6 Australian States. ACSC notes the following based on Kellow archive research.

The first of the £1 booklets were prepared in Adelaide by Government Printer Mr J. B. Cooke, and were issued in late 1903, and contained the buyer choice of 1d or 2d stamps, with stamps of all 6 states done, and books shipped to those states alone.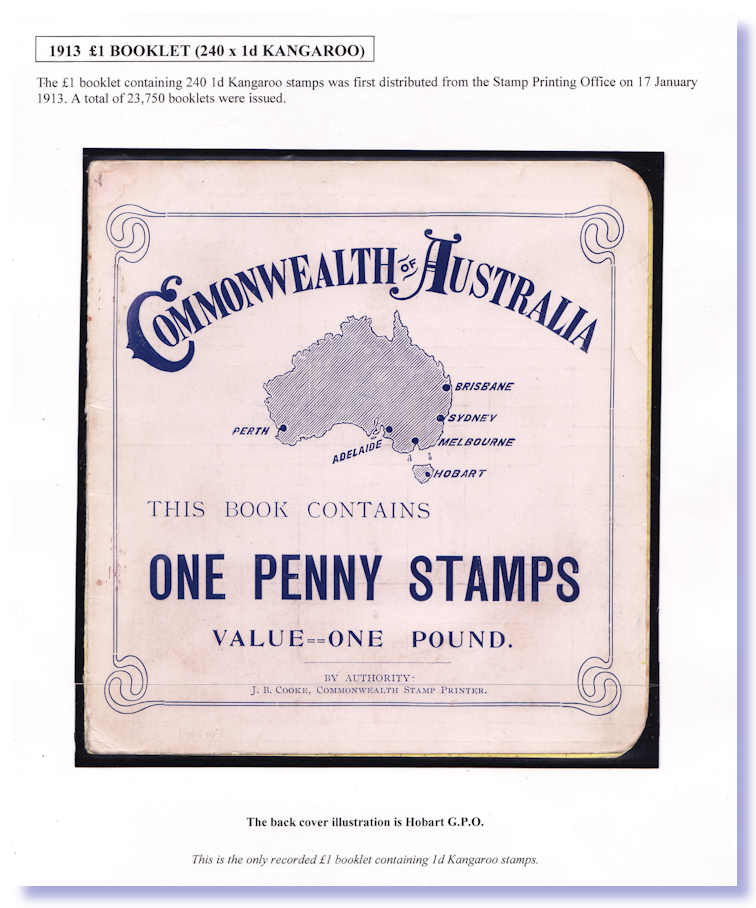 Unique £1 Kangaroo complete booklet.
The geometric design at corners of cover were at right angles - a subtle change to the later "swirly" corner 1908 design you see on the blue cover nearby, as well as small font differences, as you can see if you examine each one.

Usage in the early period was not great although Kellow records near 5,000 £1 x 1d stamp booklets were sold in Victoria alone during the years 1904/1905/1906. Only one survives today it seems, and for most States, no books or even covers survive.

No 2d stamp booklets survive, although all states sold them in many 1000s of units total. Only one Queensland cover survives, that a Melbourne dealer foolishly added a sheet 120 of the wrong watermark 2d stamp inside, issued long after the books were made up in 1903.

Production of these large booklets with 1d stamps between 1909 and 1912 was greater - Kellow records 57,407 of these huge books were prepared for all States, with each state's stamps inside. Again sent only to those states.

From 1913-1918 with the 2 sheets each of x 1d Kangaroos, and later 1d red KGV heads, sold around 74,000 x £1 of the Cooke and Harrison printing booklets of this huge size, yet only a tiny few covers or booklets survive.

These being the first AUSTRALIAN stamp issues, they were distributed nationally, and it now seems only State GPO's were on reverse and not state scenes. Whether SA got only Adelaide GPO back covers etc is not known.
Even an empty cover $10,000+
I have NO doubt examples of these booklets - perhaps the covers only, exist in company archives filed away, to record who used what stamps each month etc, and in old estates. Even a cover in good shape is worth $10,000+ I'd suggest, and some discoveries are certain yet to be made.

These booklet updates are a work in progress at Gibbons, but many covers have been added, right back to 1919, to what was shown before. There was nothing illustrated pre-war until recently in SG, and some more earlier ones are in the pipeline. Collectors have Arthur Gray to thank directly.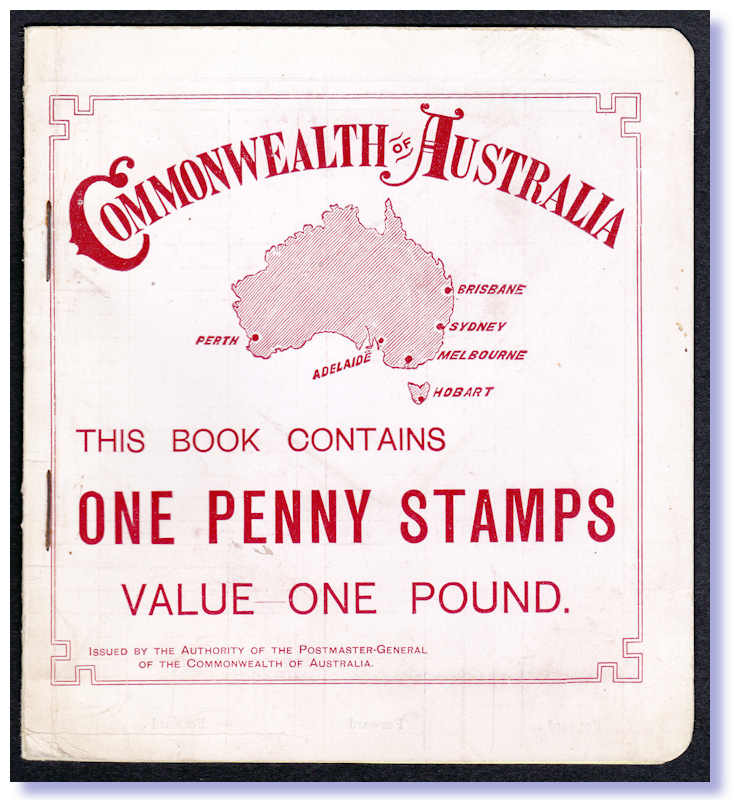 Illustration destined for next SG?
Arthur's superb and unparalleled "Booklets" collection was entered into some future overseas Exhibitions prior to his passing, his very good friend Gary Brown from the APF told me at his wake.

The first one will be at Singapore shortly, where it is expected to score a high level Gold medal, which seems to be normal for the superb Arthur Gray collections. I hope so – that would be a fitting farewell to a LEGEND of the hobby.









Get my regular market update emails FREE. Stamp gossip, price trends, record sale prices, and many one-time stamp specials, wholesale bargains, and exciting offers and breaking philatelic news. A mini stamp magazine in every email! "KNOWLEDGE IS POWER". The ONE stamp list you MUST be on, to keep in touch with the rapidly changing world market. One client made $65,000 profit in a few months after following my specific advice. Sign up securely and quickly by clicking HERE to access my automated data base. And wiser still ADD your home AND work email, if I only have one right now. Add a stamp friend's email address if you wish. One short click and you are subscribed to probably the most read email list in the stamp world!




If you would like to be notified of updates to this website,

Click HERE. If have any questions,
or comments regarding my site, please email me at glen@glenstephens.com



| | |
| --- | --- |
| | Search all my 300+ web pages! Simply type in what you are looking for. "Penny Black", "Latvia", "Imprints", "Morocco", "Fungi" "Year Books", etc! Using quotes ( " ) is more accurf used with no quotes. Search is NOT case sensitive. Tip - keep the search word singular - "Machin" yields far more matches than "Machins" etc. |


I am a Dealer Member in Good Standing Of:

Full Time Stamp Dealer in Australia for over 35+ years.

Life Member - American Stamp Dealers' Association. (New York)
Also Member of: Philatelic Traders' Society. (London)
GLEN $TEPHEN$

Full Time Stamp Dealer in Australia for 35+ years.

Life Member - American Stamp Dealers' Association. (ASDA - New York) Also Member - Philatelic Traders' Society

(PTS London) and many other philatelic bodies.

ALL Postage + Insurance is extra. Visa/BankCard/MasterCard/Amex all OK, at NO fee, even for "Lay-Bys"! All lots offered are subject to my usual

Conditions of Sale, copy upon request .

Sydney's

BIGGEST STAMP BUYER: Post me ANYTHING via Registered Mail for my same-day cheque. Avoid copping the Now normal 45% Auction "Commissions" (15% Buyer + 20% Seller + GST, etc) AND their five-month delays!

Read HERE for details.

"Lothlórien", 4 The Tor Walk, CASTLECRAG (Sydney), N.S.W. 2068

Australia

Phone 7 Days: (02) 9958-1333

PO Box 4007, Castlecrag. NSW. 2068


E-Mail: glen@glenstephens.com The Number #1 Web Sites: www.stampboards.com