Special Offer #3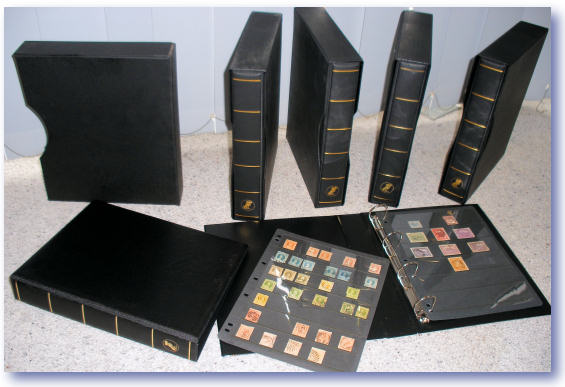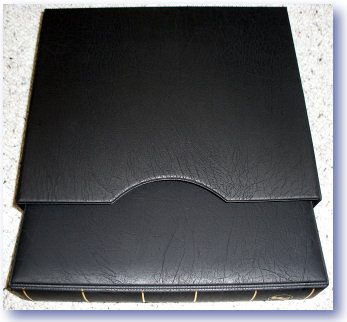 DELUXE "LEATHER LOOK" BINDERS FOR HAGNER SHEETS, WITH MATCHING SLIPCASES - DIRT CHEAP - AS LOW AS $35 A SET!
Superb big black real "leather look" jumbo thickness, with matching black heavy duty slipcase. The photo above shows exactly what you will receive. (No stamps or Hagners of course!)
These have the discreet 5 gold stripes on spine, and are superb. Check the deep leather look graining .. they REALLY look classy, and are MILES better looking than some shiny vinyl things on sale for twice this price.
5 or 10 of these on bookshelf REALLY look classy. Red, green and blue never looked like leather to me, as I cannot ever recall seeing a red, blue or green COW!
These have the LARGEST capacity you can buy. Beware of thin spine binders, which often cost more, and of course store less sheets! These 4 ring binders hold about 40-50 Hagner type sheets very comfortably in most cases, although if you store a lot of FDC or covers on #1 or #2 size Hagner sheets, they are clearly a little less per album due to thickness.
So the 5 Binder/Slipcase deal will hold the 200 Hagner sheets VERY nicely. And 400 Hagners will fit perfectly into 10 sets, and likewise 15 sets will house the 700 sheets.
The very classy leather look slipcase alone should cost this much! "Seven Seas Stamps" sell their garish colour album protective SLIPCASES ALONE for about $A22 EACH - www.sevenseas.com.au/catalog/?id=166 You MUST have slipcases for storage in this country especially.
It keeps most dust and junk and moisture and insects OUT of your stamps, which is what causes rust/toning/foxing. You MUST use slipcases - please read my detailed story about this very important matter here from my 'Stamp News' magazine article: www.tinyurl.com/GlenMay16
I've seen retail elsewhere of over $A60 a set for this kind of Binder/Slipcase quality! These are under $A35 a set – indeed are about $A30 a set when bought as a discount lot with Hagner sheets.

FIVE sets of Deluxe binders AND the 5 matching slipcases for $A215 (Stock 827WJ)
Or a huge factory carton of 10 sets for just: $A400 (Stock 827WK)
Or TWO huge cartons i.e. 20 sets for just: $A700 (Stock 827WL
NOTE: - Although these are VERY bulky as you can see – they are LIGHT, so post cost is VERY reasonable. And of course I used light CTO valuable franking on ALL my parcels! If you order 5 sets at the SAME TIME as the Hagner sheets special offer above, the extra cost to ship these Binders/Slipcases is generally minimal (often NIL) as weight is not great.
Special Offer #3a
COMBINE Hagner sheets AND Deluxe Binders/Slipcases
to house them all in, and SAVE another $A100!
Order 200 genuine and top quality British Made Hagner sheets, in the exact size mix YOU require, as well as FIVE of the superb black binders/slipcases above, that will house them perfectly, and safely, and you save about 50% off retail price!
Instead of paying $A290 and $A215 - you pay only $A485 plus shipping, and save $A20 extra. (Stock 827WP)
And remember the shipping is nearly (indeed often exactly the same) the same cost for the Hagners, if you add the 5 x Slipcases/Binders to the same order in the same carton.
Order 400 Hagners of your choice or sizes (normally $A495) and TEN x Deluxe Binders/Slipcase to house them in (normally $400) together for $A895 and save a further $A40! (Stock 827WQ) (Due to weight and volume, these are shipped as two parcels.)
Order 600 Hagners of your choice or sizes (normally discounted to $A715) and TWENTY x Deluxe Binders/Slipcase to house them in (normally discounted to $A700) together for $A1,315 and save a further $A100! (Stock 827WR) Due to weight and volume these are shipped as three parcels.)
NO GST is added to prices to any items on this website.
All prices on EVERY list are weak Australian Dollars!!
All prices are "nett" ... what you see is what you pay. NO Nasty, nasty 15%-20% Auction house "Buyer's Commission" silly nonsense is later extorted from you!
Special Offer #4

1985 33¢ "Barred Edge" Frama Labels Stamps: Australia's - indeed the Southern Hemisphere's FIRST ever Frama machine label design stamps! Same colorful red.white/blue design as the 1984 Barred Edge, but these were a rate increase set, 33c from 30c, and thus are FAR scarcer to be honest. Complete P.O. set 9 mint unhinged still in original PO glassines: Ret. $A20 set (once was $A60!)

10 sets $A75 -- 25 sets $A165 -- 50 sets $A250


Special Offer #5

Papua New Guinea 1994
Rare "Emergency Overprints":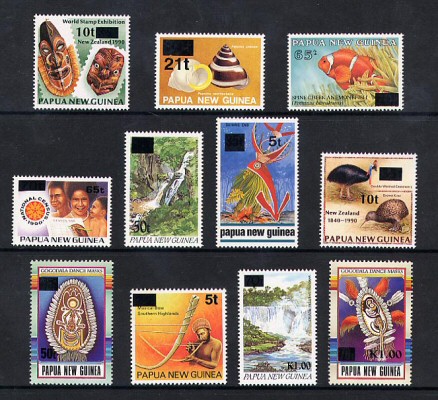 Papua New Guinea 1994 "Emergency Overprints": I do now have, and have always had, the largest stock of these overprints in the world. Buy DIRECT from the original "source"! Thousands of collectors NEED this set to complete their collections. Only 45,000 were ever printed, NONE were sold by the agents, Papua New Guinea Bureau, or even Australia Post. Nearly all were used up on genuine commercial mail. Not discovered by stamp world until months after all the key values all used up! I first reported their existence to the stamp world.

"Set of 11" - SG # 730/740. Michel # 714 -724. Scott # 860/871. ASC Cat $A420.

Local Richard Juzwin retail price is $A330. The Seven Seas Stamps "Australian Stamp Catalogue" (ASC) price for the set 11 is $A420. MUH set of 11 - my VERY special DISCOUNT price offer for this month is: $A275. Or MUH blocks of 4 (very rare) $A1,250. I also have the earlier and later overprints also at terrific discount prices. For a complete set of TWENTY different overprints my discount price is $A335 or that full set 20 in MUH blocks 4 for $A1,500. These will never be cheaper.

Definitive sets like the 1967 Anguilla overprints are already cat at £9,000 in Stanley Gibbons ... and Anguilla has NOTHING like even 1% of the collector following of PNG I suspect. Think about it! £9,000. This PNG set has a LONG way to go yet - that seems very clear. This PNG set selling for DOUBLE my price would not surprise me to see in the next few years. For very detailed and comprehensive background on this issue with all numbers printed etc - see my special page on these issues: https://www.glenstephens.com//overprints.html

Finally - all the 1994 "Emergency" sets I sell are of course guaranteed 100% genuine. You may ask for a Photo Certificate Of Genuineness on my security watermarked colour letterhead for this set of 11 or 20, dated and signed, illustrating in full colour the exact set I mail you. If required, this CERTIFICATE costs you an extra $A45 on top of price of the stamps, largely to cover the considerable time and messing around of individually preparing each one, typing, and scanning &c. This is Substantially cheaper than sending it to the R.P.S. in London etc, which takes half a year to get back, and also incurs substantial Registered airmail cost to you - in both directions. And quite frankly, the RPS would not have a clue about these issues. 'Too Modern' they would sniff. Years down the track when the set sells for several times what it does now, such a certificate Guaranteeing these came from original PNG sources in 1994/5 will add FAR more than $A45 to the extra price you obtain when selling.

Special Offer #6

CHINA ... Mao Tse Tung - Entire Cultural Revolution series $A125!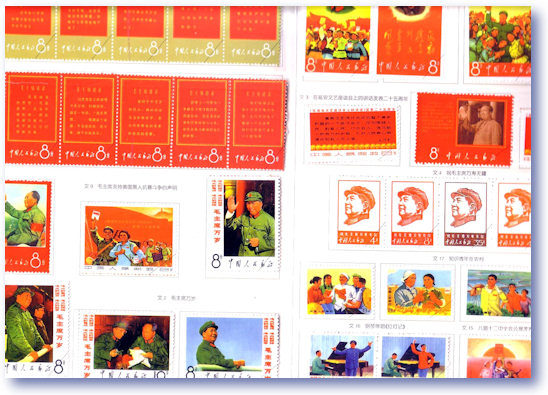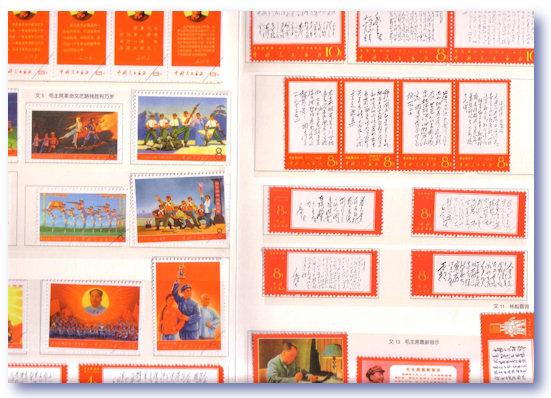 From April 20th 1967 to August 1970. Scott 938 -1046 complete, (less the cheap #1019/37) i.e. you are buying 81 different stamps in total here. Full colour perforated forgeries/reprints (no idea which is correct to be honest!) in a handsome 8 page, 7" x 10" full colour folder/mini stockbook. All neatly arranged in clear hawid mounts. Includes all 4 of the valuable se-tenant strips 5 and the super rare 1968 8f "Entire Nation Is Red" stamp, Scott #999a. Originals of that one stamp alone are now selling MUH in auction for $A125,000.00 apiece – the PRC market is RED HOT in 2010 - www.glenstephens.com/snapril10.html

Catalogue value is WAY into double digit 5 figures for these stamps postally used. (Mint catalogue of course is many times higher still!) EVERY collector of China or whole world with a printed album, has all the pages blank for this very scarce era. Most will readily consider buying these spacefiller attractive reprints than live with blank spaces for eternity in this era in their album. Even if you sell these at DOUBLE this as a starting price on ebay etc, you'll do very well. Bidding might go mad on the scarcer pieces.

The Red hot PNC market might see you do sensationally well offering these per set and strip. Profit margin considerably higher if you buy in bulk - see the figures below. One client sent these out in APS approval books marked correctly as not genuine, and told me he got back around $500 nett profit for that effort! He bought more and hopes to repeat that massive return. I've had these books for 10-15 years, and only just found them in a box.

1 album for $A125 - - 5 albums for $A525

Special Offer #7
| | | |
| --- | --- | --- |
| | | |
"The Engraved Stamps Of The Commonwealth Of
Australia" - price *Reduced* $A200 this month!

The quite magnificent official Australia Post produced coffee table book. Compiled by Richard Breckon. Brass cornered, beautifully gold deeply embossed leatherette cover, gilt edged outer leaf edges, with matching marbled heavy slipcase. Issued in a VERY limited Edition for 'Australia 99'. I am advised only a few 100 copies were ever made, and were a near instant sell-out .... even at the very high issue price. Being so recent they almost NEVER come on the market - no-one wants to let them go!

Semi opaque interleaved pages with designs on them. Real heavyweight grade archival weight paper. Varnished glazed paper for effect in parts. The photos really do not begin to convey the lavishness and class of this book. My guess is the book and slipcase cost well over $100 to make. Shows masses of issued designs and superlative background info. Similar in size to a 'Leather' PO Year Book. Also contains 28 different Official correct size recess printed DIE PROOFS in black from the original dies - from 1913 1d Engraved KGV to 1965 Anzac. Inc most early commems - like Bridge, Jubilee, Canberra, Hermes, Sturt, Sesquicentenary etc. Also high value Definitives like the £1 Robes and Arms, 7/6d Cook &c. All this at around $14 an official die proof! And NOT obtainable any other way than via this book.

The die proofs sold separately would realise FAR more than the entire book is selling for here. The KGV 1d Engraved, or £1 Robes could very easily bring $100 on their own if sold separately as official PO issued die proofs.

A magnificent book for ANY collector to own. Words cannot describe the lavish production and contents and luxury "feel" .... EVERY person - dealer or collector - who has seen it here in the office desk picked it up and said "WOW"! Gary Watson's Prestige Philately got $437 for a set in a Public Auction. They call them "without doubt the BEST product released by Australia post in recent decades". Bought 3 in an estate, and have reduced price of last 2 from $500 to just $300 each! Buy yourself a classy GIFT you'll always love handling and looking at $A300 - (Order as stock number 428YS)
Buy Mint Australian Stamps at $100s below FACE value!!!

I have right now about $20,000 of mint with gum Australian and AAT and Cocos and Christmas Island decimal currency period stamps.

All perfectly valid for use on local or overseas mail of course. AND you can pay the Registered fee on overseas mail using stamps as well etc. Your discount depends entirely on the quantity you order, and you will save a TON on your postage costs.

For instance right now I can sell you $A500 face value for $A390 cash*!

Buy $1,000 face value for just $750 cash*

You save a cool $250. No GST is added to your invoice either. CATALOGUE value will be many times face value most times. Generally in full sets .... I can often supply the entire order in Post Office packs where the stamps are all mint unhinged, and in complete Post Office sets. Perfect for anyone sending out philatelic mail to clients .. either here or overseas. OR also perfect for folks overseas placing mint Australia up for sale on eBay etc.

Or, if you run a small business or want to impress the boss with your business savvy - save yourself $100s today!

Full commemorative sets or mini sheets lightly cancelled are generally worth MORE than face value when lightly used, so using these on mail is a VERY appreciated gesture by those receiving them. Do NOT pay full face to the PO when you can save $100s and buy off me!

Click here for FAR more detail on my offer – www.glenstephens.com/postage.html

Special Offer #9

1970 7¢ Sturt's Desert Pea Missing BUFF Colour: New listing in latest SG - #486bb £200 ea = $A550 (ACSC $A300 ea) I just bought a strip of TEN copies cheap. MUH single $A165 -- pair with special coil perf $A300 -- strip of 5 for $A675 = ¼ SG!

Special Offer #10

Lady Diana Stamp Errors.

Well, I get to be offered all sorts of things in this business. How about the apparent first offering after 15 years laying un-recognised, of Lady Diana stamps printed Tete-Beche???!!

I bought them cheap, and am selling them cheap. They may well be worth TEN times my silly low price of a few dollars each from error specialists or mainline dealers. As usual, my business logic holds fast – "you can't go broke making a fast profit"! In a short time they'll all be sold. And so what if they later get auctioned etc … it is not my worry.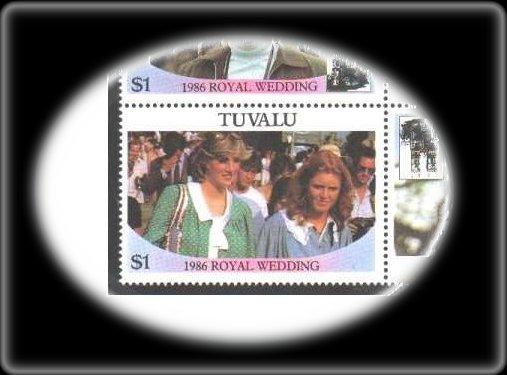 Special Offer #11


***** I bought Pallet loads from Germany! *****

LIGHTHOUSE STOCKBOOKS AT Under HALF THE COST OF HAGNER SHEETS !!!!!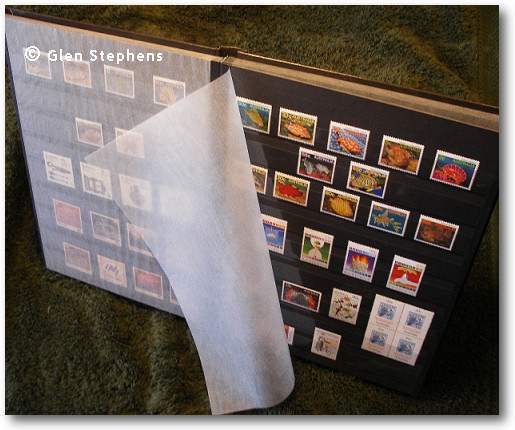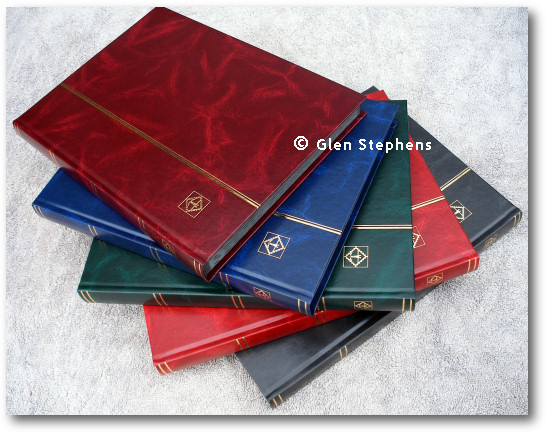 Bulk in bulk and pay 20% UNDER RETAIL!




This is a wonderful lot. My BEST selling line all year. Another few pallets of stock just arrived. All BLACK pages as that is what all collectors prefer. Your stamps look SO much better on black pages than white. The universal best-seller 32 page size. More details on this offer here - www.glenstephens.com/lighthouse.html

This new Deluxe line has really CLASSY looking covers front and back - like a rich 'marbled' leather look I suppose you'd call it. SO much nicer looking than the boring solid colours used for the past 30 years - even by "Lighthouse"! A lovely mix of cover colours per carton as you can see in photo. Five different colours - 2 books in each colour per carton. PERFECT for your fast location of your GB, NZ, Norfolk or USA or Canada collections.

These are top quality West German made "Lighthouse" books. The BEST! Surely your stamps DESERVE the best .... and at HALF the usual storage costs ..... why ever not?! The photos above were taken by me, and are of the books and colours you actually receive.

These books have CRYSTAL CLEAR strips - 9 strips per page. This is much more expensive than glassine to manufacture of course, but with glassine your stamps are always half hidden behind murky/cloudy type glassine when you look at them. VERY few stockbooks (only a few %) sold in the past 25 years have CLEAR strips, as the cost to make them is high.

Strong LINEN HINGED pages on both sides for very long wear, and DOUBLE glassine interleaving to protect all your stamps - and stopping the cheaper single interleaved pages from tangling and crumpling up - which they ALWAYS do!

Retail price is $33 each. My 2 carton buy is more than 20% below retail price!

I am selling these ONLY in

Factory cartons of TEN for $A270 (Stock code 592SK)

Or TWO factory cartons of ten

= 20 stockbooks - for just $A515!
(A80¢ a page!) – over 20% discount retail. (Stock code 592SL)

(And yes, I will quote even lower prices on larger buys - dealers, re-sellers or collectors with a LOT of re-housing to do please enquire!)

Postage and insurance is of course extra, but as always, I use carefully selected, light cancelled, philatelically VERY valuable stamps and se-tenant strips, small run modern mini sheets of 10 etc on every carton mailed, so the "real" shipping cost is often basically zero to you. POSTAGE ON TWO BOXES is exactly the SAME as ONE box within Sydney! Indeed, TO ANYWHERE within the Sydney Metro/Central Coast/Newcastle/Wollongong costs the SAME for 1 or 2 boxes - i.e. $A10 Registered post and packing in total.

Don't ask me why but if I mail you ONE stock book it costs exactly the same as TWENTY books costs! Australia Post calls anything over 500g a "parcel" therefore 501 grams to 20 kilos costs the identical dollar figure to ship to these areas. So you save a FORTUNE on shipping if buying your stockbooks in one order.

REMEMBER: It is a great idea to now and again re-house ALL your stamps. At this price why not do that NOW? Stockbooks 10-15 years old WILL have mould growing on the pages if stored in Australia. NO doubt about it. In any coastal areas it will start in well under 10 years. And on black pages it is VERY hard - indeed almost impossible - to see with the naked eye. You WILL see it using a UV lamp - go check your books! For a measly $26 a new stockbook to put your $1,000s of stamps into a brand new clean book makes superb sense.

In 25 years of stamp dealing I have learnt one truism. No collector can EVER have too many empty stockbooks! Just because you "think" you will not use 10 or 20 (or 30 or 40 or 50) you are WRONG. Trust me