Click To Go Back To The Main www.GlenStephens.com Stamps Homepage


Welcome! You are visitor
to www.GlenStephens.com




Glen Stephens
Monthly "Stamp News" Market Tipster Column


March 2009

---



Correct Postage Stamp Storage Tips



Stamp dealers are like doctors. We generally get to tell you about your problem only when it is too late.

The NUMBER ONE problem for stamp collectors (and dealers) in this part of the world is our climate.

Probably 90% of Australian stamp collectors live in the coastal strip from Melbourne to Cairns. These areas suffer from sustained high humidity over the long Australian summer.

Most readers of Stamp News in Australia are reading this in the most humid part of the year. So please take heed.

Humidity is moisture in the air. Stamps, stamp albums, stockbooks and Hagner sheets - all being paper - absorb this humidity in varying degrees, and stay very slightly damp for weeks ... sometimes for months.

Damp paper in this warm climate gets slightly mouldy. The less you air and ventilate your albums, the faster this mould will grow. This gives rise to small (soon to become bigger!) brown spots.

Most stamps are stored in poorly ventilated rooms – often in boxes in dark wardrobes and garages etc. Damp paper with no exposure to sunlight is a disaster waiting to happen.
BAD news for stamps
Dealers and collectors have varying names for this phenomenon - spotting, toning, rust, foxing, tropicalisation etc. Whatever term you choose to use it spells BAD NEWS for your stamp collection – or your stock.

If you live near the sea (and most Australians do), the humidity is also mixed with small amounts of salt laden air. This quickly makes a really nasty brown-orange sodium rust "cocktail" that eventually eats your stamps.

How can I prove that slipcases have any bearing in preventing the amount of "rust" your collection will get without slipcases? Simple.

I often buy collections of Australia Post year books along with that same collector's usual stamp album/stockbooks. All the PO year books as we know are issued in slipcases as a matter of course.

Amount of rust or foxing found on stamps in the Year Albums - usually none.

Amount of foxing found in the NON-SLIPCASED albums and stockbooks stored around them - or right next to them in most cases? Well, you already know the answer I think!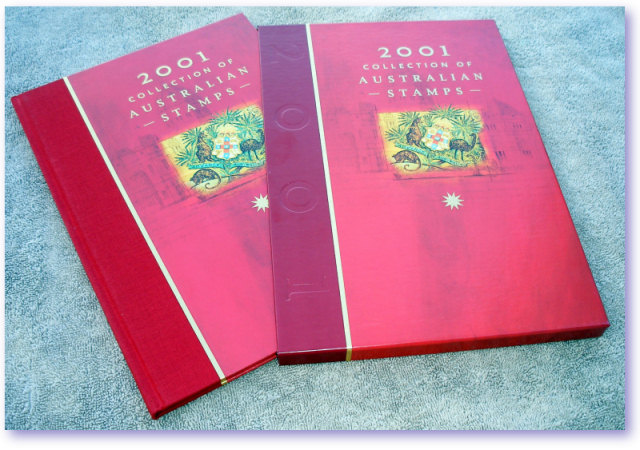 Over my 30 years as a dealer I have purchased and valued literally 1000s of collections from within Australia. The condition of many is appalling.

A mint £2 CofA watermark Kangaroo with bad tone spots is basically worth $400 as ultimately "fine used" instead of $4,000 as fresh mint. All directly due to careless storage.
Do not "POWDER"!
There are quite a few myths regarding wise stamp storage. In Queensland especially, the widely believed and widely acted upon old-wives-tale of pouring talcum powder over your stamps "to stop rust" is to be avoided at ALL costs.

And the same goes for "powdering" with the very slightly less destructive 'French Chalk'.

These both make a horrible, messy, oily WRECK of your collection (and albums) in most cases.

Most talcum/baby powder has an oil component, and that being smeared all over your stamps is total madness.

This slippery gunk NEVER gets off the face of the stamps, and indeed in engraved/recess printed issues, such as KGV/KGVI Definitives from nearly all countries, it lodges between the fine recess ink lines.

No amount of huffing, puffing, and blowing and wiping EVER gets it off.

I've bought collections where entire containers of yukky white baby powder have been upended into the storage boxes - "to stop rust".

So if anyone in your Queensland club advises this – please take them outside and beat them mercilessly with a cricket bat!
Stockbook Slipcases
Most collectors store part or all of their collection in stockbooks. These stockbooks have been widely available now for about 40 years, and most (if not all) readers of this magazine have some (or many) in their stamp den.

How many of you have those stockbooks stored in a slipcase?

Almost NONE is my best guess. Why? Because until recently almost no-one manufactured them!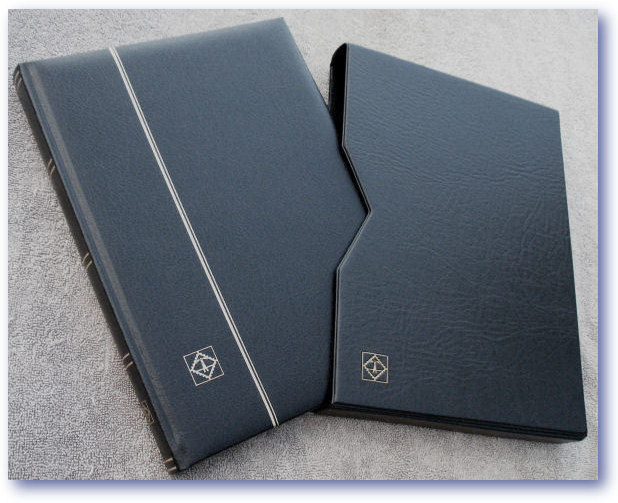 You MUST have these
For collectors in the USA, Canada and Europe there are ordinarily no sustained months of humidity that creates the problem we get here. Therefore worldwide demand is low.

In Australia I often buy say 20 stockbooks from an estate. Each one when opened up shows the TOP row or two of stamps have the worst toning/rust/foxing. Why?

Airborne dust settles there, and then when combined with the humid (often salt bearing) air - which also goes down only a row or two, you have a deadly mixture. Slipcases combat this perfectly.

Any dust or gunk sits on TOP of the slipcase and rubbing a finger over it will show you how MUCH gook would have gone down into your stamps otherwise.

My column in this magazine well over TEN years ago called on "Lighthouse" to make slipcases for local collectors. The local agents passed the idea onto the brass in Germany, and it seems to have shuffled right down to the base of the "to be worked on" file.

Not any more. I now note that "Lighthouse" make slipcases specifically for use on stockbooks. There are 2 sizes - one for the biggest selling 32 page stockbooks, and one for the jumbo 64 page size.

As you can see in the nearby photo, they have the well known gold "Lighthouse" logo on the lower left corner.

Slipcases work on a very simple principle. You slide in the stockbook, and the TOP of the pages, and the stamps on top rows are then NOT exposed to moisture, airborne dust, salt, insects or humidity etc, etc.
Please repeat after me -

Please repeat after me - "Slipcases are THE most cost effective rust prevention accessory available to collectors". Say it five more times.

THEN phone your regular dealer and order as many slipcases as you have stockbooks containing decent stamps. No matter what European brand - all will fit into these new "Lighthouse" slipcases.

And order soon. I asked the Australian agent today how many slipcases they had ordered. The answer was: "only 50 sets, as we are not sure how great demand will be".

I know one client who will be onto me for near all those 50 units as all his extensive collection is all in stockbooks! New stock takes 3 months to import, so make that phone call.

The price is quite sensible at about $A22 for the 32 page, and just $A25 for the large 64 page size slipcase.

As I showed above, a mint £2 Roo sells for about $4,000, but it worth only $400 with rust, as it is then basically just a "FU" stamp when someone washes the diseased gum off.

A $22 slipcase can prevent that potential loss of $3,600 AND prevent the toning/ruin of all the other stamps in that same stockbook.

I imported a few cartons of the special Lighthouse black page LEATHER covered stockbooks as shown in photo, with the matching slipcases. At $A75 the matched pair they are a nice and classy way to house better collections. (See full details here – www.xiaquie.notlong.com )
"Chinese" Stockbooks
I did an insurance valuation last month for $90,000 of pre war Australia, that was literally housed in four of those horrid $6 "Chinese" stockbooks.

Naturally I berated the owner about the lunacy of that, as the highly acidic and unbleached cardboard used on those appalling books is like storing stamps in a weak acid bath in this climate!

Needless to say - he now owns 4 of the slip-cased pairs shown above .. . $300 to house $90,000 of stamps is a VERY small storage price to pay!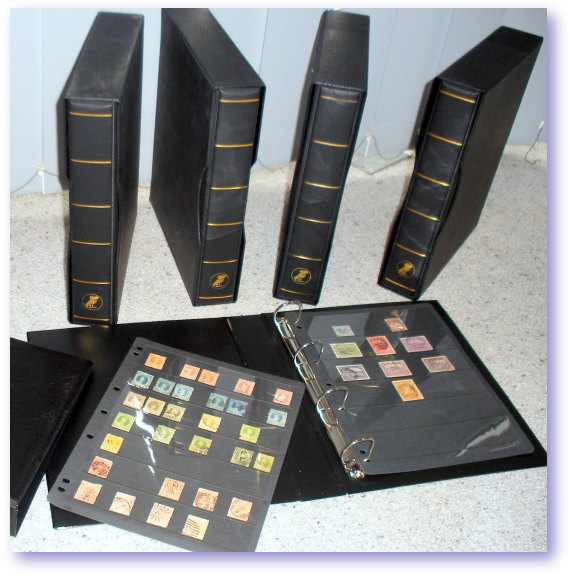 Hagner slipcases too

The Australian agent for Lighthouse also now sells a superb slipcase and binder combo that is specifically made for the "Hagner" style black storage sheets so widely used.

A few are shown above and it really is a very classy product. At around $35 a binder/slipcase pair from all major dealers, also surprisingly cheap, and essential in this climate.


Each set holds about 50 "Hagner" style sheets as it has the very LARGE size "D" rings, and I sell hundreds a year due to their low cost. Well worth thinking about.

After about 10 years the "D" rings on your current binder usually start to rust, and the very thin chromium coating will start to flake off, and get into the stamps. Toss them away.
Forged "Inverted Jenny"

Sadly stamp forgers are always active, and often the results can be pretty convincing.

On stampboards.com in mid January a new member from the UK called "willis8732" posted up a photo of a USA "Inverted Jenny".

He claimed he'd bought it in a cheap £4 stamp junk lot, bought on the back streets of Portsmouth UK, from an antique dealer.

The stamp looked quite genuine, with the correct gauge perfs, and even gum that looked likely genuine, and correct.

As readers know this famous 1918 stamp, if genuine, is now selling for around the $US1 million mark for top end examples – IF genuine.

The scans Willis showed were twice the size of what you see here, and even up large it looked VERY convincing. Full discussion is here - www.uwaih.notlong.com

I show nearby the nice example Robert Siegel of New York sold in November 2007, for $US977,500 - as written up in my column at the time.

And also shown nearby alongside it is the "willis8732" fake ….. can you pick the genuine one?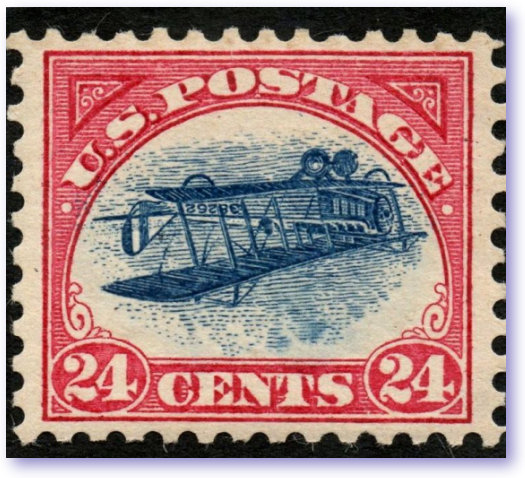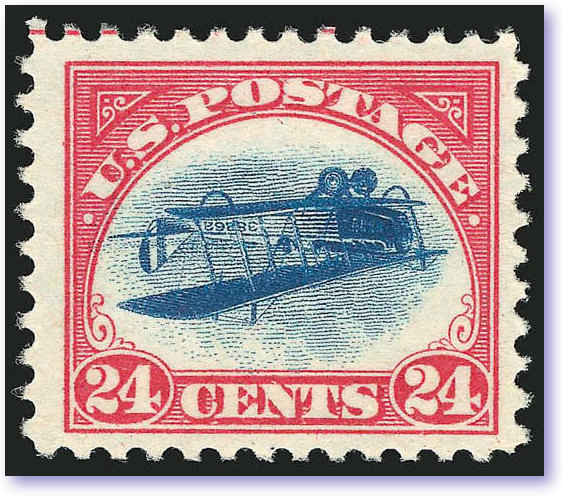 Pick the fake invert!

The "million dollar" genuine Jenny is the one with the "long" perfs along the top left. Did you pick it?

After wasting a lot of stampboards member's time, it soon became clear that "willis8732" was not being entirely truthful.

One member noticed he had 2 weeks before purchased a mint "Inverted Jenny" for $US15 on ebay from a German seller – sold as a forgery.

This German seller offers both mint AND used copies for $15 each .... rather clever, seeing no used copies are known!
"Is it fake: I don't know"

Even knowing this was a forgery, willis8732 listed the one shown nearby up on ebay as:

"Here I am selling an Inverted Jenny, is it fake?? I don't know"

Well of course he knew. A stampboards member bid on it, and advised him it was fake, and he should withdraw the lot as listing it and not marking it as a fake breached ebay's rules.

Another stampboards member did some sleuthing and discerned "willis8732" had a duplicate ebay handle, "penny_stamp_sale" and it was clear both accounts were bidding on each other's material.

This practice is known as "shill bidding" and is heavily frowned on by ebay. Several members reported both accounts to ebay and hopefully both will be closed.

"willis8732" was soon banned as a member on stampboards.com, and then joined a USA board loudly protesting his innocence.

A rather dumb thing to do, as the owner there had owned a genuine "Jenny" invert in very recent times, and pointed out the subtle differences via his detailed scan, and "willis8732" was roundly admonished on that board too.

The point of this update is that this is a new and most convincing forgery. At first – and second glance it fooled me for sure.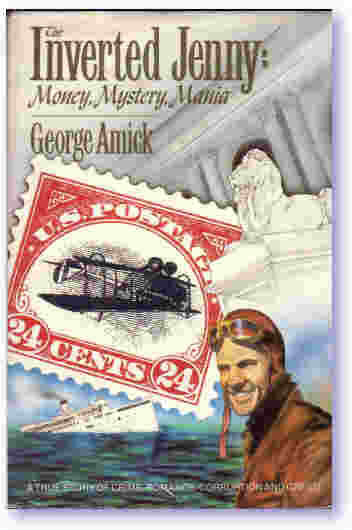 Read the Book!

Luckily all the known "Inverted Jenny's" are all logged with photos and their history, in a most useful and widely available book by George Amick, so a "new discovery" will not fool experts for very long.

But it WILL fool novices looking for the ever elusive "find of a lifetime" in the years ahead, so please be warned.

If this were cunningly hinged onto a page of USA genuine airmails it would fool most collectors – and indeed most dealers - is my bet.

Hope Springs Eternal

On May 29 the United States Postal Service will issue a 42c letter rate stamp to honour the life and achievements of comedian Bob Hope.

Hope died in 2003 and becomes the FIRST person to benefit from a USA postal rule change, allowing individuals to be honoured on a stamp five years after their death.

Before the rule change in 2007, people other than ex-Presidents had to wait 10 years to become the subject of a stamp.

The issue date of May 29 marks what would have been Hope's 106th birthday. The stamp will be available nationwide across the USA on that day.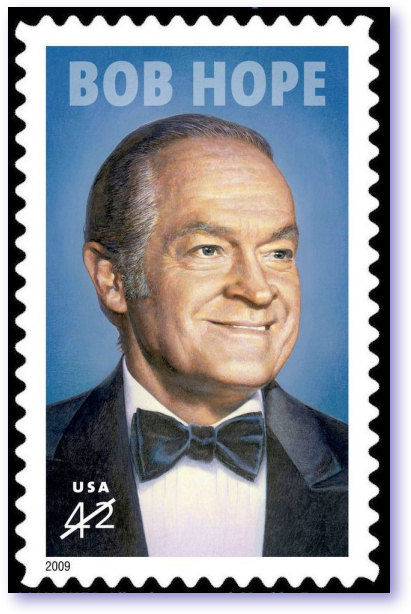 Issued on 106th Birthday

Leslie Townes Hope was born May 29, 1903, in Eltham, England. In 1920 after migrating, he was granted U.S. citizenship by virtue of his father's naturalisation.

Hope's natural talent for singing and dancing eventually led to touring on the vaudeville circuit.

In the early stages of his career, he teamed up with several dancing partners, but he received the best audience feedback when adding jokes to his act, and so he decided to try it alone as a comedian and master of ceremonies.

Although Hope never officially served in the U.S. Armed Forces, he dedicated a significant part of his life to entertaining America's men and women in uniform. Starting in 1941 and continuing right through to the Persian Gulf War five decades later.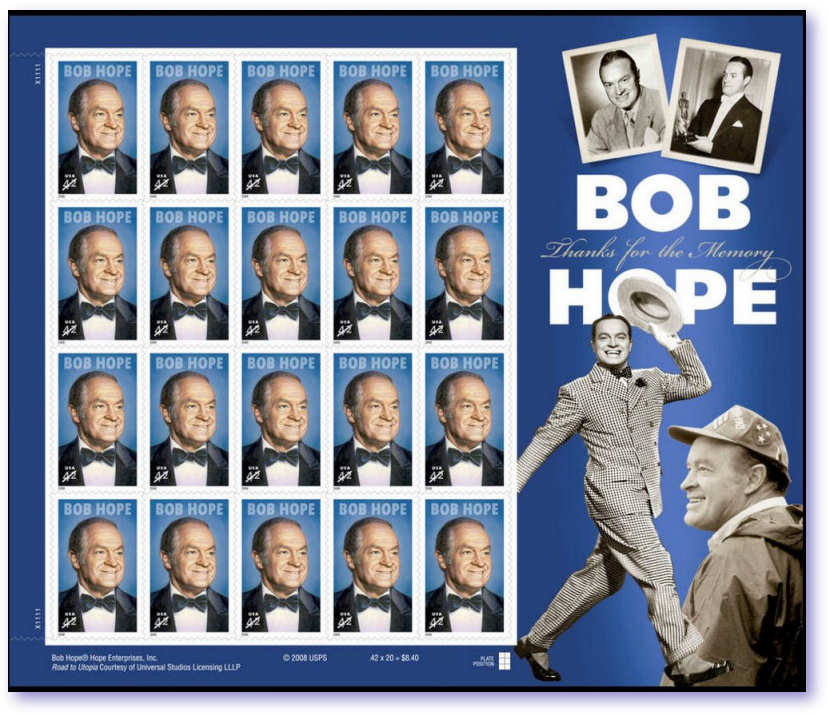 The $8.40 Sheetlet

After giving hundreds of performances overseas, he earned the nickname "G.I. Bob" and in 1997 became the first person ever recognized by the U.S. Congress as an "honorary veteran of the United States Armed Forces."

Hope's thousands of honours also included the Congressional Gold Medal, and the Presidential Medal of Freedom.

Among his many friends were several U.S. presidents, with whom he often played golf for charity.

Bob Hope died at his home in Toluca Lake, CA, on July 27, 2003, two months after his 100th birthday.

All new issue dealers will be able to order you in copies of this stamp if you'd like them.
Paris Balloon Mail to Sydney!

On March 18 Mowbrays Australia in Sydney will Auction the cover illustrated nearby.

It is the only cover addressed to Australia from the famous Siege of Paris. It was sent out in 1870 aboard the Balloon "Armand Barbes".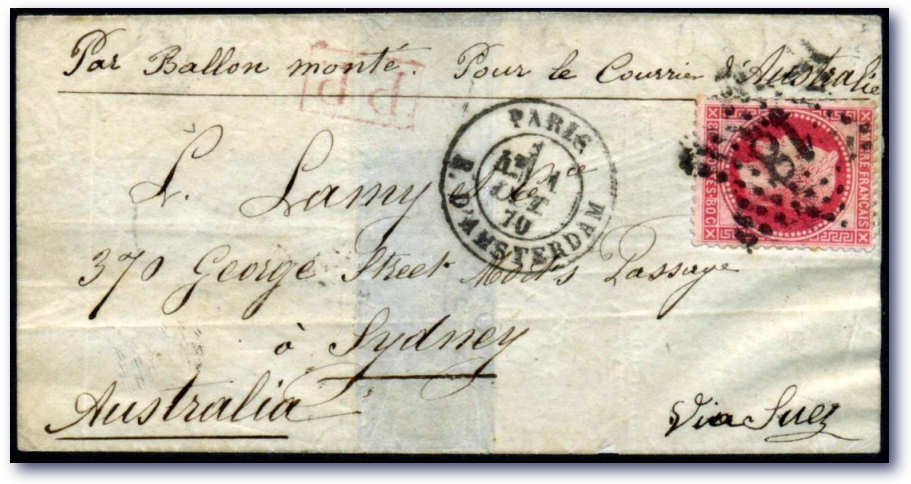 Unique Balloon Monte to Australia
That balloon coincidentally, also had on board Leon Gambetta, Minister of the Interior, who was on his way to establish the Government of National Defence at Tours.

This cover is addressed to "L. Lamy and Co", who were importers of French millenary goods, in Pitt Street, Sydney. It reached Sydney on the "RMS Rangoon" via Suez.

This cover is part of a superb France collection belonging to legendary collector W.M. Holbeach. He was well known in the 1940s to 1960s for his fabulous collection of Australia Commonwealth which was auctioned by Christies in the 1970s.

Despite its hefty estimate of $40,000, Mowbrays received two pre-sale offers above that from a local and overseas dealer. Both offers were rejected.

The Holbeach offering also has a vast array of other choice early France and associated material.

The same sale also has other interesting pieces - including a 1d "Headless Kangaroo" strip of 3.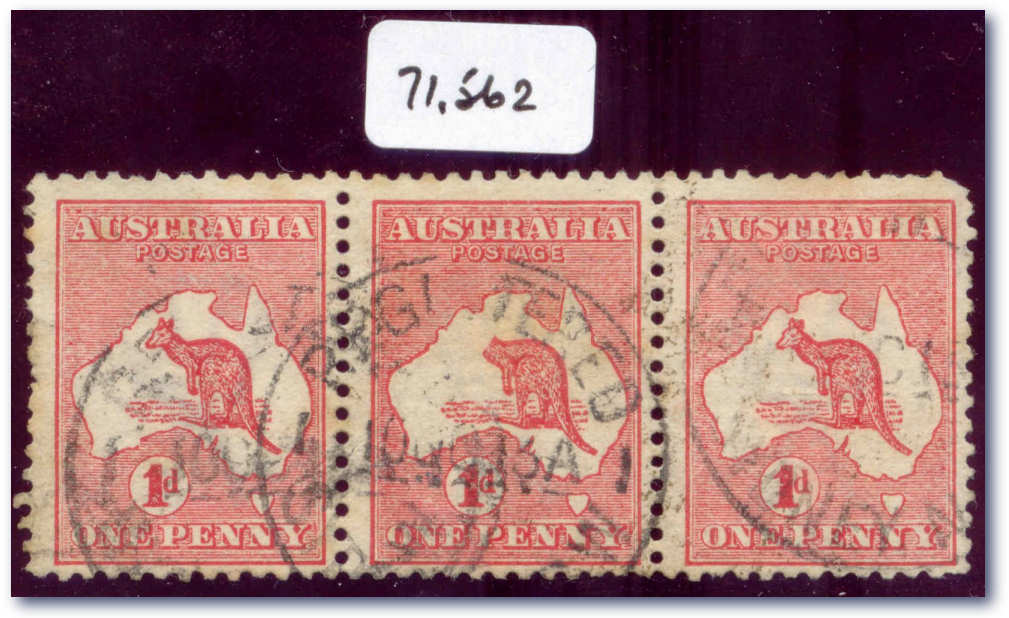 Estimated at $5,000 it has a recent BPA London Certificate saying it has a "confetti flaw".

Manager Danny Jurd told me many locals were sceptical about this item, but his close examination convinced him it was a legitimate printing error, and hence sent it to London for the Certificate.









Get my regular market update emails FREE. Stamp gossip, price trends, record sale prices, and many one-time stamp specials, wholesale bargains, and exciting offers and breaking philatelic news. A mini stamp magazine in every email! "KNOWLEDGE IS POWER". The ONE stamp list you MUST be on, to keep in touch with the rapidly changing world market. One client made $65,000 profit in a few months after following my specific advice. Sign up securely and quickly by clicking HERE to access my automated data base. And wiser still ADD your home AND work email, if I only have one right now. Add a stamp friend's email address if you wish. One short click and you are subscribed to probably the most read email list in the stamp world!


Instant Currency Conversion


FREE! Just click here...




If you would like to be notified of updates to this website, Click HERE. If have any questions,
or comments regarding my site, please email me at glen@glenstephens.com
| | |
| --- | --- |
| | Search all my 300+ web pages! Simply type in what you are looking for. "Penny Black", "Latvia", "Imprints", "Morocco", "Fungi" "Year Books", etc! Using quotes ( " ) is more accurf used with no quotes. Search is NOT case sensitive. Tip - keep the search word singular - "Machin" yields far more matches than "Machins" etc. |


I am a Dealer Member in Good Standing Of:

Full Time Stamp Dealer in Australia for over 25 years.
Life Member - American Stamp Dealers' Association. (New York)
Also Member of: Philatelic Traders' Society. (London) ANDA. (Melbourne) American Philatelic Society, etc
GLEN $TEPHEN$
Full Time Stamp Dealer in Australia for over 25 years.
Life Member - American Stamp Dealers' Association. (New York)
Also Member - Philatelic Traders' Society. (London) ANDA. (Melbourne) American Philatelic Society, etc

ALL Postage + Insurance is extra. Visa/BankCard/MasterCard/Diners/Amex all OK, even for "Lay-Bys"! All lots offered are subject to my usual Conditions of Sale, copy upon request BIGGEST STAMP BUYER: Post me ANYTHING via Registered Mail for my same-day cheque. Avoid the GENERALLY 40% Auction " Commissions" (15% + 17½ + GST, etc.) AND their five-month delays! Read for details.
"Lothlórien4 The Tor Walk, CASTLECRAG (Sydney), N.S.W. 2068
Phone: (02) 9958-1333 Fax: (02) 9958-1444 (Both 25 Hours, 7 Days!)
E-Mail: glen@glenstephens.com
Web Sites: www.glenstephens.com www.glenstephens.net or www.australianstamps.net