Click To Go Back To The Main www.GlenStephens.com Stamps Homepage

Welcome! - You are visitor number
To -
www.Glenstephens.com
The Glen Stephens (monthly)
"Stamp News Column" Page.

September 2003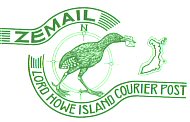 Stamp News has received a large number of enquires as to the story behind the Lord Howe Island "Paquebot" FDC illustrated on front cover of the "June" Magazine.

The magazine gave away 20 copies in a competition, and the winners are listed in a recent magazine. The Editor advised me there was a huge response. He asked me to pen this article to give readers fuller background to these stamps which seem to have received little if any stamp media in the past.

Lord Howe Island has always been extremely popular with stamp collectors. NSW stamps were used in the 19th century, and used on cover fetch big prices. Australian issues were used from 1913.

The famous 1930 pen cancelled "2d Paid P.M. LHI" Postmaster Provisional's on 1˝d KGV heads and Charles Sturt issues are rare and keenly sought. Prices often run well into 4 figures for many pieces and even Stanley Gibbons notes and prices these legendary provisional's.

Sir Francis Chichester's flight in 1931 to Australia with a small airmail in his Gipsy Moth cancelled at LHI are also keenly sought by aerophilatelists. Only 45 such covers were carried LHI-SYD and most if not all of which survive according to Eustis - yet sell for about $1,000 each. These numbered covers carried by sea in less than double that number are also potentially very valuable.
"ZEMAIL" is launched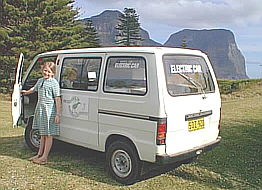 The sleepy little island of Lord Howe Island (L.H.I.) decided in 1998 to issue a stamplike label to pre-pay the local courier deliveries on the island. L.H.I. is postally part of New South Wales. Australia Post delivers to your P.O. box at the one Post Office agency. No postman - no mail van. If you are sick or infirm, or if it is pouring down with rain too bad! You need to get to the P.O. box to pick up your mail A local service was devised where for $A1.80 any article would be collected or delivered to you. A courier service in essence. They exist all over Australia and NZ without incident. To cut pollution an electric van was ordered for this purpose. They called this service Zero Emission Mail - or ZEMAIL.

During 1998 someone decided to create a fancy label or stamp to use on this mail. A "Cinderella" or "Local" is probably the more correct term. A reproduction of an 1936 Gower Wilson Hospital Cinderella stamp was used - with the addition of "Lord Howe Island Courier Post $1.80" to the original design.

There was no use of the word Australia anywhere upon it. The new stamp was very popular, as only 200 sheets of 32 were printed, and 200 stamp booklets were made up from this stock. All had special matt gum to combat humidity. Both sold out in very short order, which when we look back now was self evident, as L.H.I. is a very popular place with stamp collectors - worldwide.

The debut stamp issue quickly soared in value. Singles sell for $A30 each and sheets of 36 fetch $A700. The $A7.20 booklets sell for $A150 each today. A good number of stamps and booklets were bought by islanders as souvenirs and will likely never re-enter the stamp market. Many were of course also used for the courier service fee and discarded.

The L.H.I. Courier Service decided to print far more glamorous full colour stamps for future use and in a much larger quantity - due to the instant sell-out of the debut issue. One of the companies asked to tender for printing them was the Australia Post owned Sprintpak. >From that time on, the troubles began for this tiny island.
Federal Court Threat

The heavies at the Australia Post legal department came down in March 1999 like a ton of bricks on the L.H.I Courier Post, demanding all sorts of undertakings in writing. They claimed the issuance of these stamplike labels was breaking an Act of Parliament - the Australian Postal Corporation Act (1989) and may also have been in breach of the Trade Practices Act of 1974.

Legal action in the Federal Court of Australia seeking costs was threatened unless 5 responses were made within 7 days, and this included details of numbers sold and profits made. Further heavy legal letters emanated from Australia Post Solicitors upon the hapless LHI locals again threatening Federal Count action and damages and costs.

Now we are talking here of a little island with a total population of about 300 people. But make that 300 feisty people! The courier service has strong community support on the island, and they fought back. They pleaded their case to the super powerful corporate watchdog - the Australian Consumer & Competition Commission, or the ACCC, headed by Professor Alan Fells.

Meetings were held with Australia Post staffers on June 9 1999. Discussions went on, and on, and on. The ACCC thought L.H.I. had a strong case from the moment they were contacted, and later wrote the LHICP in September 1999 that in their view there was no substance to the Australia Post claim that the $A1.80 Cinderella contravened the Trade Practices Act 1974. Further, the ACCC determined that the sale of LHI stamps did NOT contravene the Postal Act 1989. The little LHI woodhen roared - and Australia Post needed to back right off.

The second L.H.I. issue (June 10th 1999) was thus a monocolour black $1.80 Emergency label stamp, created because the legal position with the AP heavies was still not resolved at the meeting a day earlier. This Emergency issue had a very limited print run and I feel is under-rated by the market, especially on FDC. They also come (only) in booklets, and again, complete booklets at $A25 each are very under-priced compared to the initial issue, as the 4 colour issued followed very soon after.
Full colour issue in 1999
A very pretty 4 colour, 4 stamp set of $1.80 local marine and bird life issues was then designed on LHI and printed in Dunedin New Zealand to ensure Australia Post did not get stirred up again. LHI became a "World Heritage Site" mainly because of the unique marine and bird life.

For anyone who collects this sort of thing - go for it. The stamps are not terribly expensive, and they are the forerunners of a regular and long running issue plan. And we all know what usually happens to the "First" of anything that gets widely overlooked! New Issues of LHI island stamps can I understand be ordered from P.O. Box 105 Lord Howe Island, NSW 2898. Australia.

The covers given away in a 'Stamp News' competition were carried in huge seas by Alan Pitt - Managing Director of Renniks Lighthouse Publications. See the 2 page feature story on Alan's stamp dealing career in the "June 2003" magazine. Alan is also a Past-President of the ASDA/APTA dealer body.

These basic underlying covers themselves are scarce as the printer omitted the words "First Day Of Issue" at lower left on the first batch of envelopes. These were destroyed, and all the normal FDC's have this wording. Alan bought 100 of the first version, had the stamps cancelled, designer signed, and sailed them back to Australia in the small 33 foot sloop "TARANAKI".
100 numbered covers exist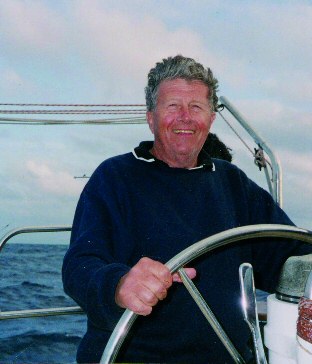 Alan Pitt at the wheel of the Taranaki
There were only 100 of this design existing - No. #1 was presented to the NSW Governor - Gordon Samuels AC who officially launched the stamps on LHI. They were then actual yacht carried to Australia by Alan Pitt and crew - and are covered both sides in colour cachets inc 'Paquebot' &c.

Other cachets inc a boxed red "Damaged By Sea Water In Transit". Each was hand numbered by Alan #1 to #100 in the style 077/100. Fifteen were presented to dignitaries and officials at the launch or retained by the crew. Only 85 then existed for sale. A detailed letter is inside each one from Alan Pitt re the voyage.

Most were slightly salt water wettened in the hold in the violent storm on the return. Storms were so rough on the voyage across, a experienced crew member FLEW home as he could not face the trip back! Each cover is also signed by stamp designer Margaret Murray and all the 4 crew members, all on the face - crew names are listed on reverse.

Each cover also has a large green ink handstamp on reverse stating carried on sloop "Taranaki" and listing dates, times, latitude and longitudes and duration involved, all crew etc. This was no Sunday afternoon fun sail, as LHI is over 700 Km from Sydney, and return journey took well over 3 days in the very heavy seas.

The Editor advises me that Stamp News received many requests from readers who had not seen them and were interested in purchasing them and they are offered below. These may well be valuable Limited Edition postal history of the future from this SUPER popular island, and until now this cover has received no magazine coverage anywhere in the world.
First Mail of this Millennium

As LHI is over 700 km from Sydney, it was the first PO in Australia to usher in the new Century. A small quantity of 500 special flown covers were created to commemorate this. A beautiful envelope was created, inscribed "New Day - 1st January 2000".

An Eastern Australian Airlines (Qantas) flight departed Sydney December 31 with all 500 bearing the Australia 45˘ Millennium stamp cancelled Sydney airport pictorial "Smithy" cancel of December 31, 1999. Each were signed by the pilot Peter Gavin, also the Chief Pilot of Eastern Airlines, Stewart Boyd.

LHI PO staff cancelled the 500 covers after midnight, with "1 Jan - 2000" cds - on a single stamp on front of envelope, and on a block 4 on reverse. The sun rose at Lord Howe Island at 5.22am January 1, 2000 to perfect conditions. At 10.00 am on Saturday January 1, 2000, the local Courier Post Managers - Peter Phillipps (General Manager), Chris Murray (Courier Services Manager), Margaret Murray (Stamp artist) and Helen Hall (Office Manager), arrived outside the Island Post Office to distribute pre-ordered and now cancelled covers to Island residents and visitors.

The queue of customers almost blocked the main road outside the Post Office, and it took two hours to fill all orders. This was followed by a special Courier Post ZEMAIL run in the electric vehicle in the afternoon to deliver those covers not collected by residents outside the Post Office.

The face value of issues on each envelope is $9.45 and they sold for $15 to cover the flight, autographs and special cover. Demand greatly exceeded the small supply. The great majority stayed on the island with residents and visitors as souvenirs and likely will not enter the philatelic market.

They have also proven to be popular with Aerophilatelic collectors, due to the very unusual nature of the flight. I understand it was the last flight of the century to leave Australia.
Lord Howe Island Courier Post
I have been fortunate to secure a small stock of early material from this exciting Pacific island. These date from the very scarce FIRST issue for which I have one sheet still intact. Only 200 sheets were EVER printed and most were bought by the islands as souvenirs! At $A700 a sheet of 32 this might be a superb item to tuck away for a rainy day, as older Lord Howe Island material is highly sought after and VERY pricey.

The debut issue is now 5 years old. There are NO other dealer stocks of this material extant. This range of material has not been offered before by myself. Indeed I have never see this material offered ANYWHERE for sale by another dealer.

See above for my detailed history of how these issues came to exist, and their titanic battle with the giants of the Australia Post legal department to release them.
See above for my detailed history of how these issues came to exist, and their titanic battle with the giants of the Australia Post legal department to release them.
A LOT more detail on these Lord Howe Island Stamp Issues are issues here - https://www.stampboards.com/viewtopic.php?f=65&t=5319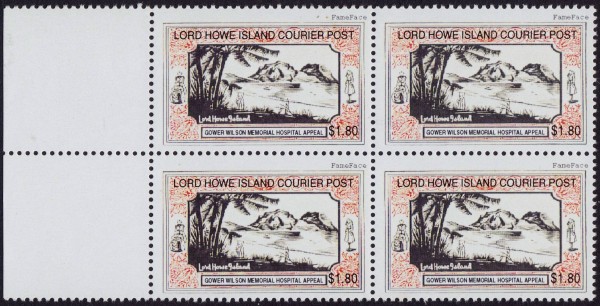 First Issue. $1.80 - December 31, 1998. (Only 200 sheets 32 issued!)
Single - $A30. (Stock 483AA)
Block 4 - $A100. (Stock 483AB)
Sheet 32 (1 only) $A600 (Stock 483AC)
The $7.20 stamp booklet - only 200 ever made! $A100 each. (Stock 483AD)

ORIGINAL huge stamp 1930s - fresh unused - $A100 (Stock 483AE)


Second Issue. $1.80 - June 10, 1999. Emergency label issued only in booklets 4.
Booklet - $A40. (Stock 483AF)
5 booklets for $A125 (Stock 483AG)
First Day Cover (very few serviced) $A35 (Stock 483AH) - or 4 for $A100 (Stock 483AJ)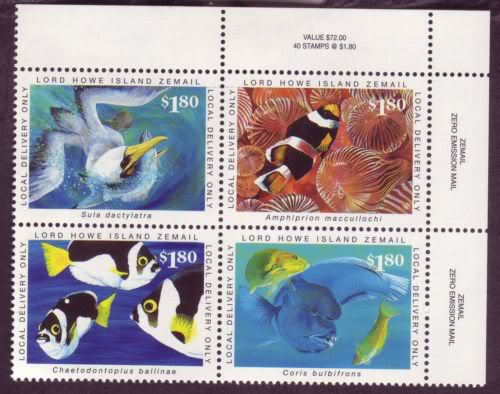 Third Issue. October 11, 1999. Marine & Bird Life Issue.
4 x $1.80 MUH block 10 - $A40 (Stock 483AK)
Sheet 40 x $1.80 (Face $A72) stamps with all imprints - $A80 (Stock 483AL)
TEN sheets of 40 MUH for re-seller (Face $720) $A600 (Stock 483AN)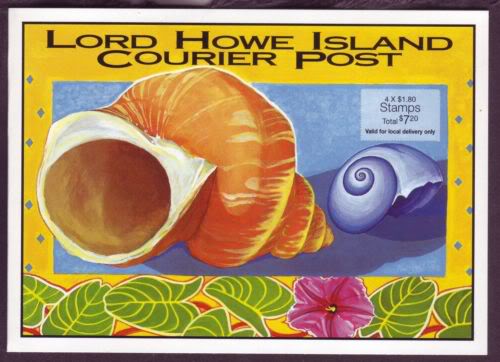 | | | |
| --- | --- | --- |
| | Third Issue: - Colourful stamp booklet. Each $A20 (Stock 483AO) - or 5 for $A75 (Stock 483AP) | |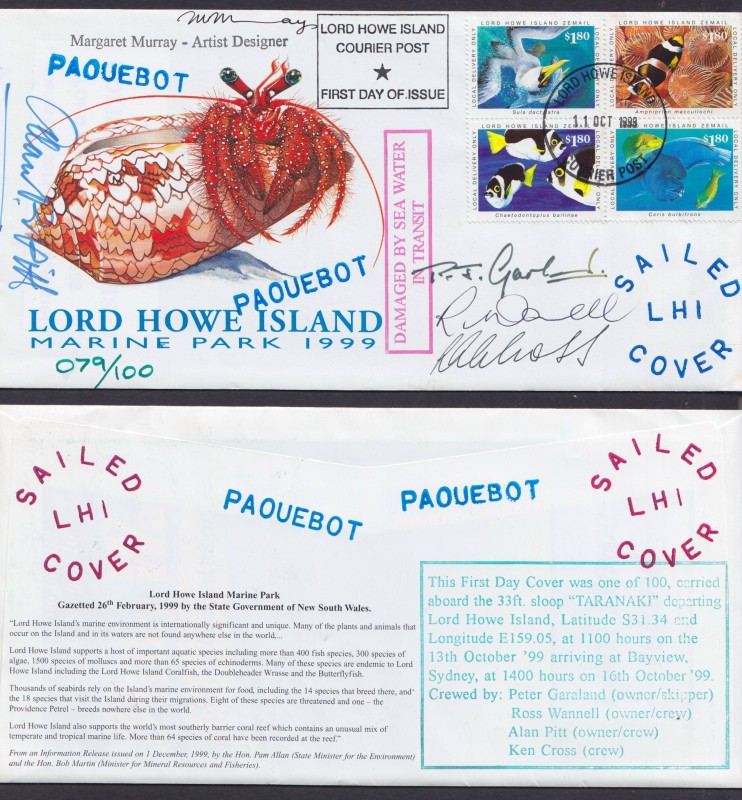 "Damaged By Sea Water" Paquebot FDC - Yacht carried to Australia in storms.
Stamp designer signed, and all 4 crew signed. Only 85 were ever for sale, and all are hand numbered. Large detailed colour cachet on reverse with all technical details and date and latitude and longitude even! Detailed insert inside. $A50 each (Stock 483AT) - or 5 for $A190 (Stock 483AR)

| | |
| --- | --- |
| | Search all my 300+ web pages! Simply type in what you are looking for. "Penny Black", "Latvia", "Imprints", "Morocco", "Fungi" "Year Books", etc! Using quotes ( " ) is more accurate for multi word searches - i.e. "Australian FDC" gives FAR more specific matches than simply Australian FDC if used with no quotes. Search is NOT case sensitive. Tip - keep the search word singular - "Machin" yields far more matches than "Machins" etc. |


Full Time Stamp Dealer in Australia for over 35 years.
Life Member - American Stamp Dealers' Association. (New York)
Also Member of; Philatelic Traders' Society (London) IFSDA (Switzerland) etc

For the Order Form, click here. To read instructions on ordering, click here.



Every credit card shown is accepted WITHOUT fee. Earn Frequent Flier points
while buying at bargain prices! ALL prices are in weak Ozzie Dollars.
I charge NO nasty, nasty "Buyer's Commission" on stamps
like nearly every "Auction" does.










Click *HERE* and get my regular market update emails FREE!! The home of - Rare Stamps. Postage Stamp Rarities. Scarce and Unique world postage stamps. All time Philatelic Classics. Scarce Postal History. Stamp Errors, Stamp Varieties, Stamp Freaks, Stamp Missing Colours and Stamp Imperforates, Stamp Investments, Stamp Classics, and Stamp Collections at bargain prices. Bookmark THIS page and you'll very likely see them offered here eventually!


If you would like to be notified of updates to this website, Click HERE. If have any questions,
or comments regarding my site, please email me at glen@glenstephens.com



GLEN $TEPHEN$
Full Time Stamp Dealer in Australia for 35+ years. Life Member - American Stamp Dealers' Association. (ASDA - New York) Also Member - Philatelic Traders' Society (London) and IFSDA (Switzerland) and many other philatelic bodies
ALL Postage + Insurance is extra. Visa/BankCard/MasterCard/Amex all OK, at NO fee, even for "Lay-Bys"! All lots offered are subject to my usual Conditions of Sale, copy upon request
Sydney's BIGGEST STAMP BUYER: Post me ANYTHING via Registered Mail for my same-day cheque. Avoid copping the now normal 45% Auction "Commissions" (20% Buyer + 15% Seller + GST, etc) AND their five-month payment delays!
Read HERE for details.
"Lothlórien", 4 The Tor Walk, CASTLECRAG (Sydney), N.S.W. 2068. Australia
Phone 7 Days: (02) 9958-1333. PO Box 4007, Castlecrag. NSW. 2068
E-Mail: glen@glenstephens.com The Number #1 Web Sites:
www.glenstephens.com/rarity.html and www.stampboards.com

Visit my Red-Hot daily changing *RARITIES* page - Roos & other expensive large photo items.
Sign up AUTOMATICALLY to my world renowned monthly stamp gossip /special offers EMAIL!
Click here to see MANY 1000s of stamp lots for sale - all at low $A Nett prices
Click HERE for all you need to know re SELLING your stamps for IMMEDIATE SPOT CASH
Click here for the current Monthly "Internet Only" special stamp offers - CHEAP!
Click for an enormous 10 year library of all my International stamp magazine articles.
Click here to ORDER on-line ANY items - from ANY of my many dozens of lists
Click for detailed info on important Conditions Of Sale, Payments, Shipping, Returns &c
Click here for the detailed library of my very unusual world travels. 120 countries!
How to PAY me. I accept nearly EVERYTHING - even blankets and axes and beads!
Australia Post Annual YEAR BOOKS - massive stock - '27% off' discount offer today!
Click to visit the leading stamp Bulletin & Discussion board. Sell/Buy/Swap/Gossip - totally FREE!
Click here to get back to the main www.GlenStephens.com Homepage.