Click To Go Back To The Main www.GlenStephens.com Stamps Homepage

Welcome! - You are visitor number
To - www.Glenstephens.com


April 2021


---
World's priciest stamp AND coin for sale!
The legendary British Guiana 1856 1¢ Black on Magenta cut to shape imperforate stamp classic, is to be auctioned on June 8, 2021, by Sotheby's in Manhattan, New York.

It last sold for a $US9.48 million invoice price, also by Sotheby's - near exactly 7 years ago, on June 17, 2014. The seller is American woman's shoe designer Stuart Weitzman, based in New York.

In the same sale, Weitzman will also offer the unique multi-million dollar Plate Block of 4 of the USA 1918 "Inverted Jenny" 24¢ stamp, and also apparently the world's rarest coin, the also unique in private hands 1933 $20 "Saint Gaudens" double eagle.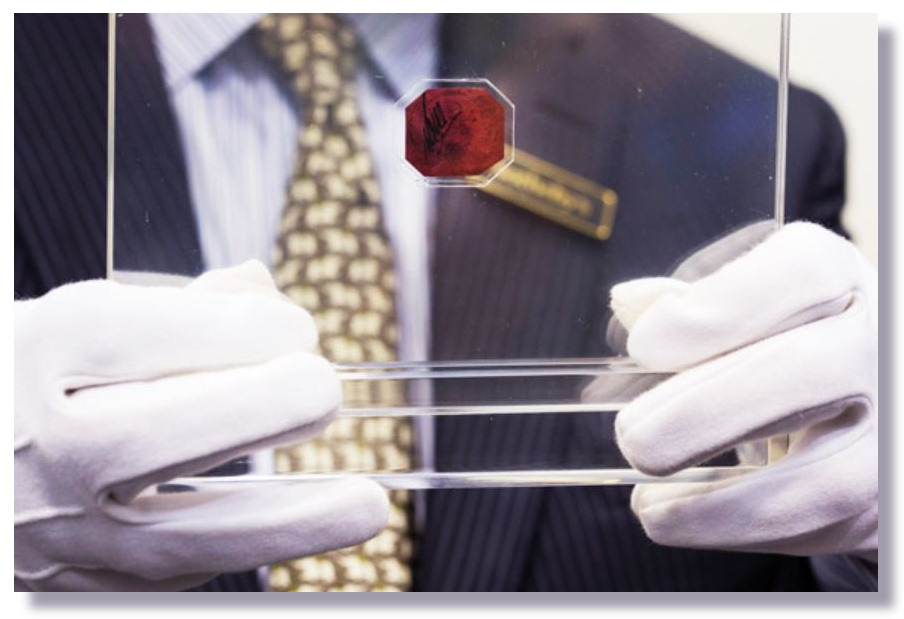 A $10+ million plus stamp perhaps?
On July 30, 2002, the USA 1933 $20 coin was sold at a Sotheby's auction held in New York for $6.6 million, plus a 15% Buyer's Premium, and an additional $20 needed to "monetise" the face value of the coin so it would become legal currency - in a bizarre deal the Feds struck with the seller.

This brought the final invoice price to $US7,590,020 - at the time a record price for a world coin I understand. Half the bid price was to be delivered to the United States Treasury, plus the $20 to "monetize" the coin, while the vendor was entitled to the other half.

It has not been offered for 19 years, and Sothebys state they expect the $20 gold coin to fetch $US10-15 million hammer price, and even if it gets somewhat less than that, will make it the world's most valuable coin item after the 20% or whatever Buyer Fees are added.
Offering together a very smart idea.
| | | |
| --- | --- | --- |
| | It might be a very smart move offering the two together. Some Arab sheik, or Texas oilman etc, might decide it is cool to buy both the world's priciest coins and stamps in one hit, and an invoice price for the 2 items of about $A25 million would not surprise me at all. | |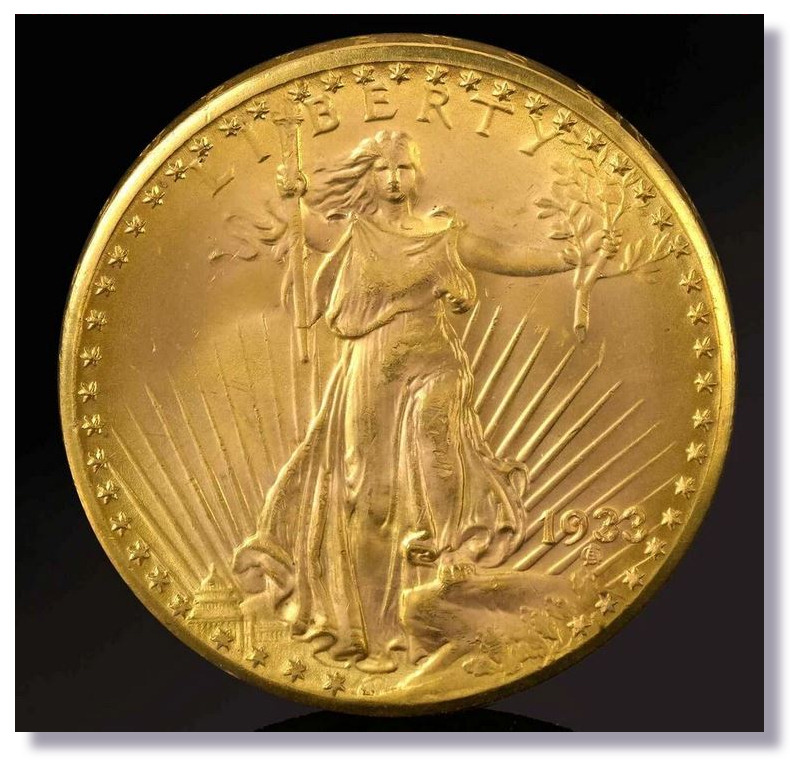 The world's very priciest coin?
Interest and Bond rate returns globally are near (or below!) zero, stockmarkets are pretty jittery, and in that kind of climate there are many well-heeled folks looking for something with kudos and provenance to park some funds in, AND have at the same time own a couple of unique and famous items as well. This is why Picassos always sell well!

Stampboards.com was literally the first outlet on earth to publish the price of the 2014 Guiana sale, and had several members in the saleroom with smartphones and videos, and they added a posted first hand live commentary, and video of the sale taking place - tinyurl.com/1856BG1c

The stamp weight has been estimated to be nearly the same as the Sweden 3sk "Tre Skilling Yellow" which we know weighs exactly 0.02675 grams (0.0009 ounces). This gave the British Guiana stamp the staggering value of over $US350 Billion per kilogram - $US354,392,523,364.49 to be exact! The most valuable object in the world by weight or volume - no contest.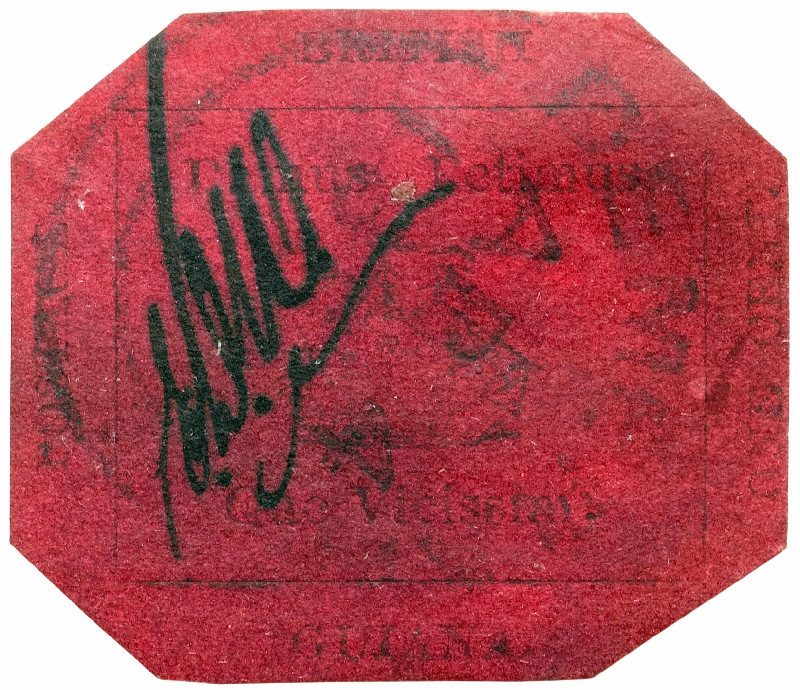 Value over $US350 BILLION per kilo.
| | | |
| --- | --- | --- |
| | The stamp is defective, cut-to-shape, very heavily faded, has been "painted in", over past surface scuffing, and now has been signature vandalised with a sharp pen/pencil by owner Weitzman, but it wil still sell for millions despite this COVID cloud we are all living under. | |
World's most valuable object by weight.
The last sale really spoke volumes about the health of the stamp hobby globally. The 2014 auction yielded superb and positive global publicity for stamps, and that is always most welcome. "The world's most valuable object by weight" etc.

Weitzman purchased it from the estate of John E. du Pont, an heir to the du Pont chemicals fortune, who had acquired it in 1980, before he died in prison for the murder of the Olympic wrestler and coach Dave Schultz. The killing served as the basis for the 2014 film "Foxcatcher."

The 2014 price was about TEN times what du Pont purchased it for in 1980. Many at that time in 1980 speculated the price paid was quite absurd, and the buyer would certainly lose money on it when re-sold.

In fact, du Pont paid 3 or 4 times what Weinberg paid only 10 years earlier. And Weinburg paid 5 or 6 times what Australian Gallipoli war hero Frederick Small paid. Which in turn was more than Arthur Hind paid etc!

Stampboards.com had a maths whizz compute that since John du Pont purchased the stamp in 1980, it had appreciated at 6.25% p.a. - pretty amazing in a USA economy, where annual real interest rates had been negligible in that same period.

Mainstream and POSITIVE media for stamps is very scarce these days. I had many media calls, and this long interview was on National primetime ABC radio here - tinyurl.com/GlenBG The record price actually paid, after the cheeky 20% auction house "Buyer Fee" was added, was $US9.48 million.

As I said in that interview it is the ONE major Commonwealth stamp rarity the Royal Collection does not possess. KGV was underbidder to Arthur Hind, and who knows, there may still be some interest in it going there. It was strongly thought by many the Queen was the buyer last time it was auctioned, as buyer was "anonymous" for quite a while.



Money cannot buy wisdom.
One of the more fascinating aspects of the famed British Guiana 1856 1¢ Black on Magenta stamp is the reverse side, which shows the personal owner marks of several of its famous (and infamous) owners over the past Century. Few stamps exhibit so many owner marks. No stamp in history has ever COST this much of course!

The new owner of the mega million British Guiana stamp decided recently to flamboyantly add his initials to the reverse of it. Nothing really unusual about that, as many past owners have done that just that - see photo nearby and index of those markings. Stampboards has videos of this pen vandalism taking place - tinyurl.com/1cVandal

Stuart Weitzman does not really collect stamps. He designed expensive women's shoes. So his brainstorm was not just to initial the back of the stamp at far left with "SW", but to also add a large stylised woman's Stiletto shoe under and beside his SW initials. Brilliant stuff. Both he and his off-siders in the videos, handled this unique stamp without tweezers or cotton gloves.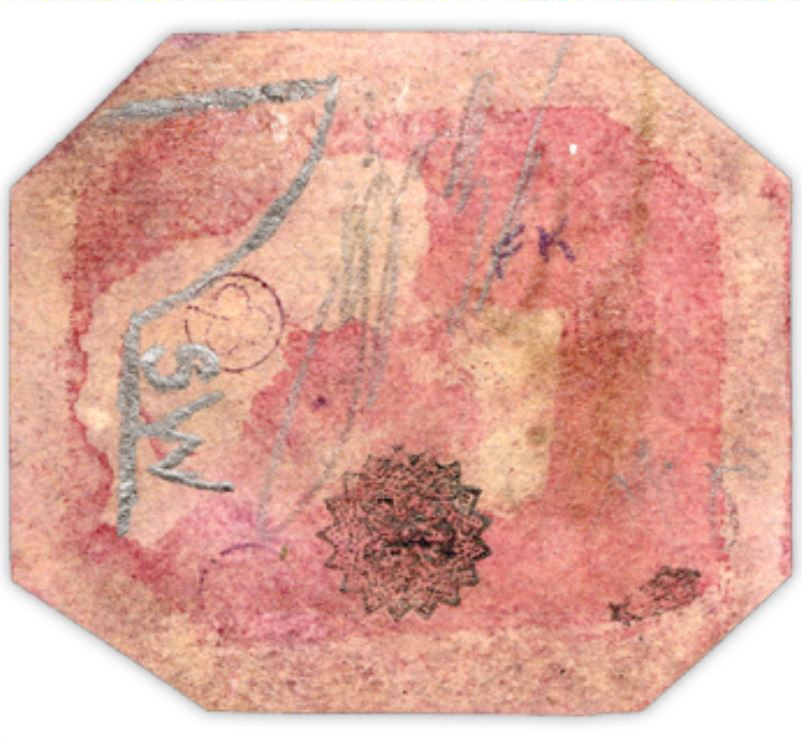 Just SO subtle, Mr. Weitzman.
Having apparently far more money than sense, Weitzman appears to have executed this vandalism using heavy pressure, with a sharp HB pencil or even a metallic ink ball pen. See photo of it nearby. Watching him clumsily sign it on the video was disturbing. He seemed there to have zero clue about the history of the stamp.

The final leg of the "W" he has used such pressure the stamp paper looks to have nearly been punctured. I have grave fears the next time this stamp is scanned, this heavy graffiti will show through on the face, on this very thin paper. Very clever behaviour. Hopefully will have cost him a million dollars deducted from bids.

We are all but temporary custodians of any stamp or cover or coin we own, and this kind of dopey stuff is infuriating - to me anyway. Sure, he can slice it all into little pieces if he really wishes, as it is right NOW his plaything, but such an over-the-top defacement was excessive to most who commented.

Thank Goodness for philately that Donald Trump did not choose to buy it - he'd likely have used a black Sharpie marker pen - on the FRONT! If these guys bought one of the 17 existing copies of the Magna Carta would they also go scrawling stiletto heel graffiti all over that too?

Anyway, what is done is done, and hopefully now that Weitzman has already tired of it, someone with a bit more common sense will own it, and not repeat the same wanton ego madness. The different markings you see on reverse are outlined in this list - most of them are very discreet -

1. Two strikes of Count Philipp von Ferrary's famous "trefoil" owner's mark. One impression is very faint, at lower left. It sold for then $US32,500 in 1922.

2. A large faint "H" of new owner, American Billionaire Arthur Hind at top - said to have burnt a second copy sold to him. "It is now STILL unique".

3. A small "FK" of Finbar Kenny, the manager at Macy's Stamp Department, who brokered the sale by Hind's widow to Fred Small for $US45,000 in 1940.

4. Large, ornate 17 pointed star of Anna Hind, placed OVER her 30 year older husband's "AH" cloverleaf, who had largely cut her out of his will.

5. A small discreet shooting star lower right, added by Australian born WWI Gallipoli hero, Frederick Small, who owned it under total secrecy from 1940-1970.

6. A pencilled "IW" by Irwin Weinberg, head of a group of investors who bought it 1970 for $US280,000 at Siegels, and later sold it to du Pont via Siegel Auctions.

7. A large soft pencilled "J E d P", initials of the late John E. Du Pont who bought it for $US935,000 in 1980, and died in prison. His heirs sold it in 2014.

8. Vandal scrawl added 2019 of "SW" and a vertical stiletto squiggle in heavy pencil or metallic ink pen, by NY shoe designer, Stuart Weitzman who paid $US9.48m.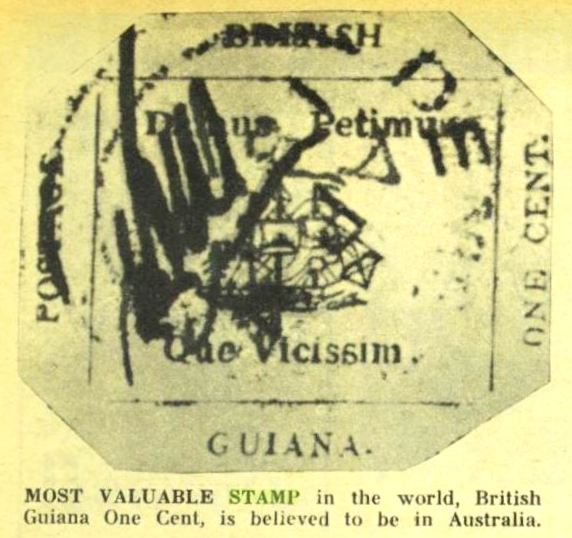 Looks better in Mono than Colour!
This poor old stamp, damaged and repaired, has been exposed to so much light over its long history, it is now faded beyond recognition. A blurry pinkish little smudged rectangle basically when I saw it in recent years. I took the nearby photo of Margo standing next to it.

The black and white photo nearby is what it looked like in a 1952 "PIX" magazine article here, which revealed an Australian WWI Gallipoli Hero has quietly owned it for 30 years, and even his wife did not know! It is one of the few mega rare stamps to look FAR better in mono than colour!
Sweden Tre Skilling Banco also on display.
| | | |
| --- | --- | --- |
| | I inspected this British Guiana stamp in 2016 at the New York Expo where it was in a clear Perspex case with bright lighting beaming down on it. (The multimillion $ Sweden Tre Skilling Banco was also on show in a collector exhibit there.) | |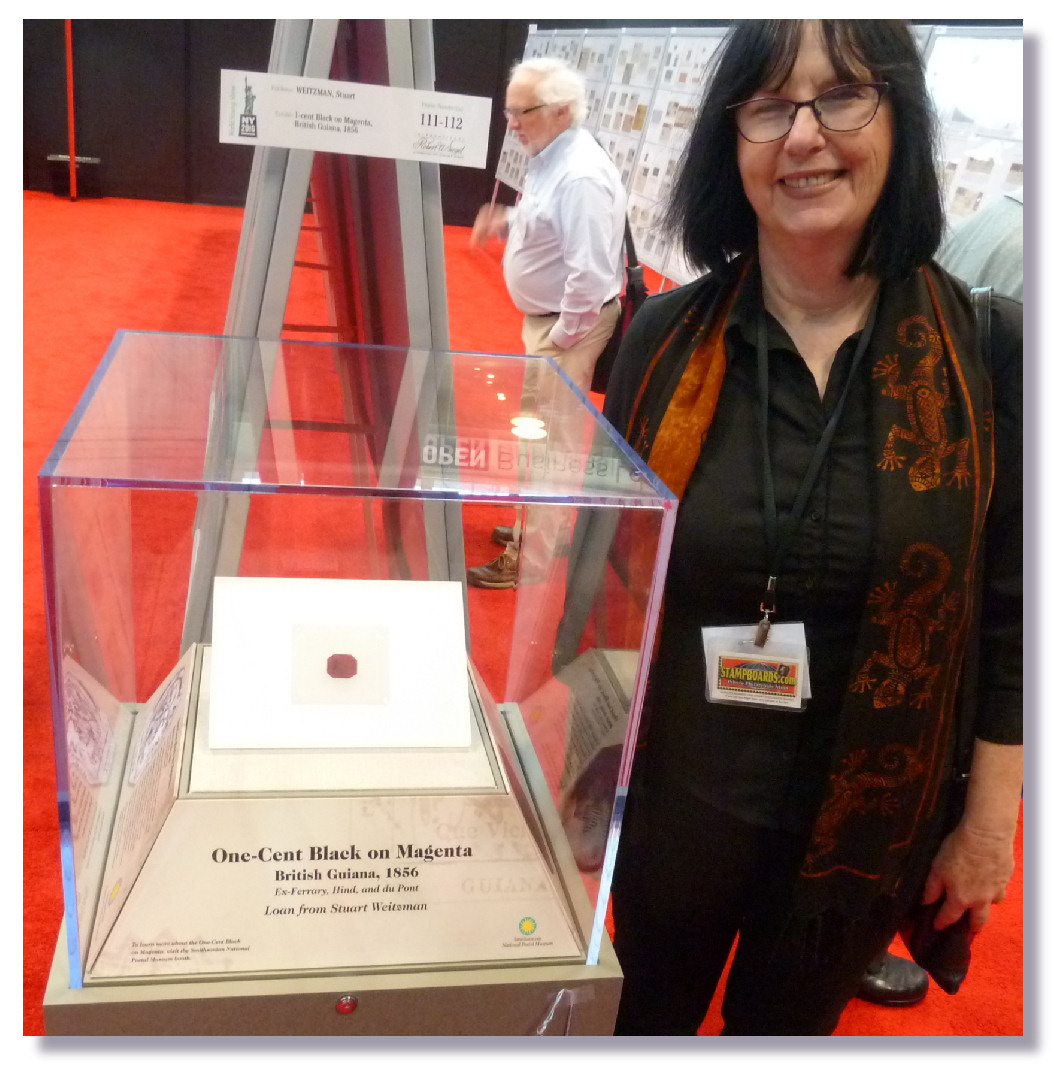 Eight days exposed to bright light.
Weitzman is selling the pieces as he is 79, and says his family are not interested in stamps or coins. It is stated the monies raised -as much as $US37 million, based on Sotheby's presale estimates, will go to charitable ventures, including The Weitzman Family Foundation.

I am no expert on US tax law, but I understand over there one receives a full tax write off for such donations, if the sum donated is verifiable and confirmable etc, as in this case? Seems to happen a lot there, and Americans are far more philanthropic than citizens of most nations,

Billionaire stamp collector and Large Gold medal winner Bill Gross (who of course also owned the "Inverted Jenny" Plate block 4) has donated mega millions to the Smithsonian National Postal Museum in Washington DC.
Bill Gross a very generous donor to Philately.
Gross initial donation was $US8 million alone, to create a new 12,000 square foot gallery that was named in his honour. Gross also loaned some of his star USA stamp pieces to be exhibited there to visitors. It has been a great success - I have visited it, like millions of others, and a top effort.

Bill Gross has sold off many of his superb stamp collections via Charles Shreve, and Siegel Auctions, and donated about another $US30 million to charities etc from those. A very generous man, and great for our hobby.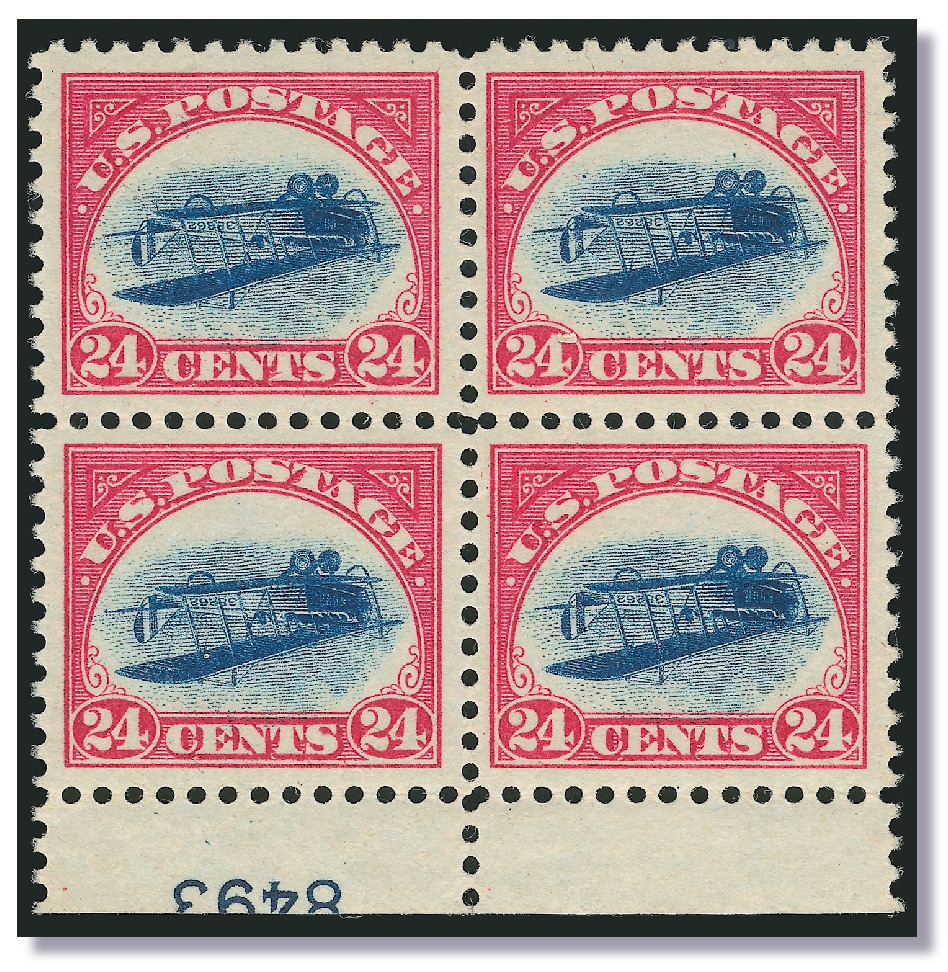 Will Jenny keep flying high?
Also for sale on the same day as the British Guiana stamp and $20 coin, is the unique Plate Block of 4 of the USA 1918 "Inverted Jenny" 24¢ stamp. The block is hinged which means a big hit on Jenny prices, but being the plate block, will likely still fetch several millions - likely not as many as Sothebys estimate of $US5-7 million, before commission.

In 2005, it sold at auction by Siegel Auction Galleries in New York, where it sold to bond tycoon Bill Gross for $US2,970,000. Mr. Gross's ownership was short-lived, as he swapped it within a week to Donald Sundman of Mystic Stamp Company, for the USA 1¢ blue Franklin "Z" Grill rarity.

After the completion of this bizarre trade, Gross became the only person alive to own a complete collection of United States postage stamps, by Scott numbers. He might have overpaid however, just to secure it for the "swap". Heaps of background to the Jenny inverts are here - tinyurl.com/Glen0519

Mystic Stamp Company retained the 24¢ plate block and used it for advertising and promotion purposes and razzmatazz etc until 2014, when it was purchased by Stuart Weitzman of shoe fame, the current vendor. The price paid is unknown.

Gross has owned LOTS of "Inverted Jennies" - they are not really scarce at all (just pricey!) as the full sheet of 100 copies are all basically still floating about the global stamp market. I have things in stock priced at $1000s, not millions, that far less than 100 exist of!
"Please keep them for the grandchildren."
He gave his 3 children a handful of these Inverted Jenny Airmail stamps, an American classic issue he clearly is very fond of, and requested they all be put aside for the future - "to be kept as an inheritance for his grandchildren."

Youngest son, 31 year old Nick Gross, a little known rock musician, sold his gifted "Centre Line" block of 4, and a single 24¢ invert at Spink New York in September 2019, despite his father attempting to stop the sale, and not even being aware it was taking place.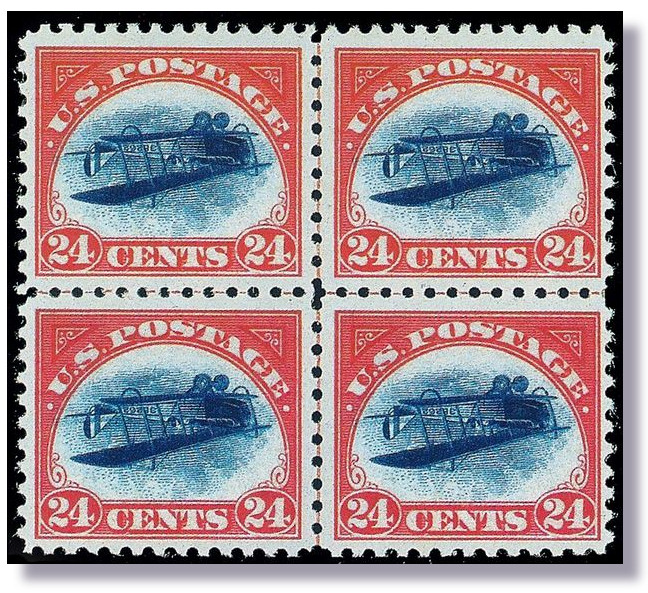 HUGE mistake to sell this block Nick.
According to a "New York Post" report, around the time of the sale, Nick Gross suggested that if his father would like to have the Inverted Jenny stamps back, "he is welcome to buy them at the auction."

The block 4 got a surprisingly poor figure for these - $US1,450,000 hammer price, and I suspect young Nick's position in Dad's Will was adjusted out by many, MANY times that figure, for his crass ingratitude and petulance! The "wisdom" of greedy youth.
$20 coin nearly destroyed in 9/11 attacks.
In 1933 in the Great Depression, President Franklin Roosevelt stopped the issuing of any gold coins, and indeed made it illegal to own the metal at all - although coin collectors could retain their existing pieces.

With one exception, no 1933 double eagles were ever legally released, although some were stolen from the government, and over the decades, all but one were recovered. The one being auctioned here.

The 445,500 x 1933 date $20 coins that were minted, were supposed to have all been melted down to preserve US Gold Reserves etc. However, 20 coins, including Weitzman's, were stolen from the US Mint.

The Feds over many decades have clawed back 19 of these 20 stolen 1933 gold coins from public hands, and they wanted this one shown nearby too, and many court battles ensued over it. The UK owner Fenton was arrested in a "sting" at The Waldorf-Astoria Hotel in New York.

First he claimed he bought it over the counter. Then he claimed it was ex King Farouk of Egypt. Who "sort of" had legal permission to own one. Which complicated the issue, as after all, unlike 20 x Penny Black stamps etc, 20 x uncirculated Gold Coins of the same date and Mint all look more or less identical.

The coin very nearly melted or vaporised, as whilst these Court proceedings took place, the coin was secured in the Twin Towers in a USA Federal storage facility there. Only 2 months before the 9/11 terrorist attacks, the coin was very fortuitously moved to Fort Knox.

The US Feds have chased down all the other coins vigorously that were stolen from them, and even in recent times had 10 of them turned over to them, despite all kinds of court appeals and processes, that went on to as recently as 2016.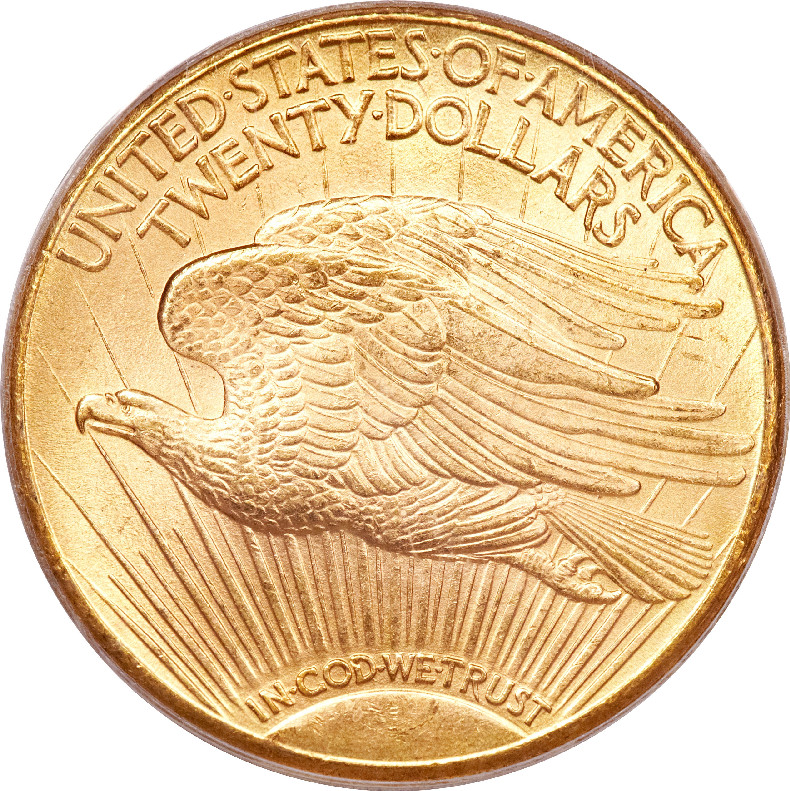 The single eagle, "double eagle" coin!
Why is it known as a "double eagle" coin, when they is only ONE eagle on the reverse was my first thought? Why - because it was double the face value of the $10 coin! I kid you not. Anyway that nickname has stuck, although many collectors more logically call this $20 long series of coins issued from 1907-1933 "The Saints".

The original missing $20 "Augustus Saint-Gaudens" designed double eagle was acquired by King Farouk of Egypt, who was a voracious collector of many things, including imperial Fabergé eggs, gold antiquities, precious objects, postage stamps - and coins, of which he had a nice collection.
USA Export Licence for $20 coin granted.
In 1944 King Farouk purchased a 1933 $20 coin, and in strict adherence with the law, his Ministers applied to the United States Treasury Department for an export license for the coin. Mistakenly, just days before the Mint theft was discovered, the license was granted.

The US Treasury Department attempted to work through diplomatic channels to request the return of the $20 coin from Egypt, but World War II delayed their efforts for several years. It was not a major priority of course in the post-war era.

In 1952, King Farouk was deposed in a coup d'etat, and went into exile in France, and most of his possessions were sold by public auction - including the $20 USA coin. The massive stamp collection section alone took a WEEK to auction by Harmers in 1954.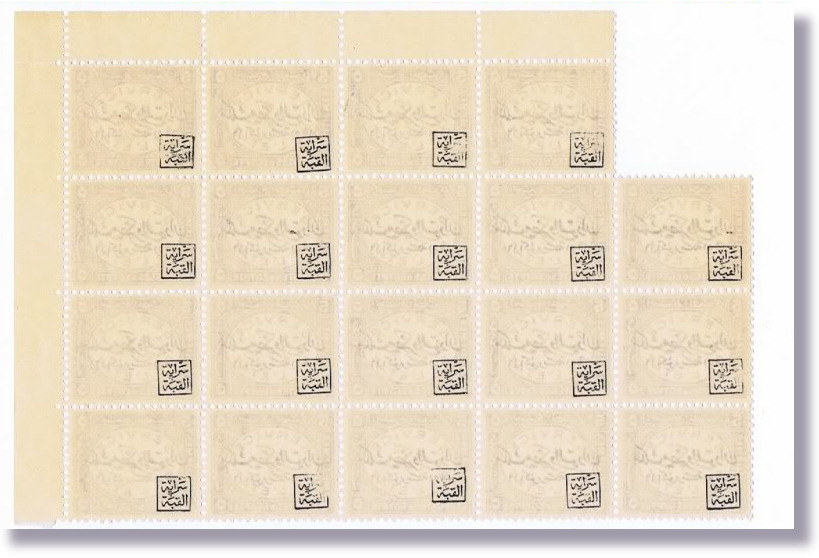 The King Farouk Sale official cartouche.
This monochrome British Pathé Newsreel footage of the Auction is quite something to view - tinyurl.com/Farouks Many scarcer stamps had the "Royal Cartouche" marking added on gum, which is basically a small black square with Arabic inscription inside. Backstamped by the curators of the collection, on what they considered more important issues.

King Farouk was an AVID stamp collector. He instructed his stamp printers to "create" all kinds of misperfs and imperfs and oveprint errors etc. This material sold for a "song" in 1954 but has slowly gained in popularity in the ensuing decades.

The United States government requested the return of the $20 coin, and the Egyptian government stated that it would comply with the request. However, the coin then "disappeared", and was not seen again in Egypt.
Owner arrested in "sting" raid in New York.
In 1996, this $20 coin surfaced after over 42 years of obscurity, when British coin dealer Stephen Fenton was arrested by U.S. Secret Service agents during a "sting" operation at the Waldorf-Astoria Hotel in New York.

Although he initially told investigators he bought the coin over the counter at his shop, Fenton later changed his story. Under sworn testimony, he now insisted the $20 had come from the collection of King Farouk, although this could not be verified.

This caused a very obvious problem for the Feds. They could not prove it was NOT the Farouk coin, for which a US Export License had been issued! Criminal charges against Fenton were subsequently dropped, and he defended his ownership of the coin in court.

The case was settled in 2001 when it was agreed that ownership of the coin would revert to the United States government, and the coin could then legally be sold at auction. The United States Treasury issued a document to "issue and monetize" the $20, thereby making it a legal-tender gold coin in the USA.
Boring looking lettercard sells $3,000!
Some very odd things occur in Stamp Auctions. Often it is obvious why - silly low estimates, or under described material, or an obvious flaw or postmark not noticed by the busy describers etc, etc.

Do look at the NSW Lettercard shown nearby. It is the bog basic NSW issue, in pretty average condition, and addressed to St Mary's - now an outer suburb of Sydney, and from Canberra, not very far away.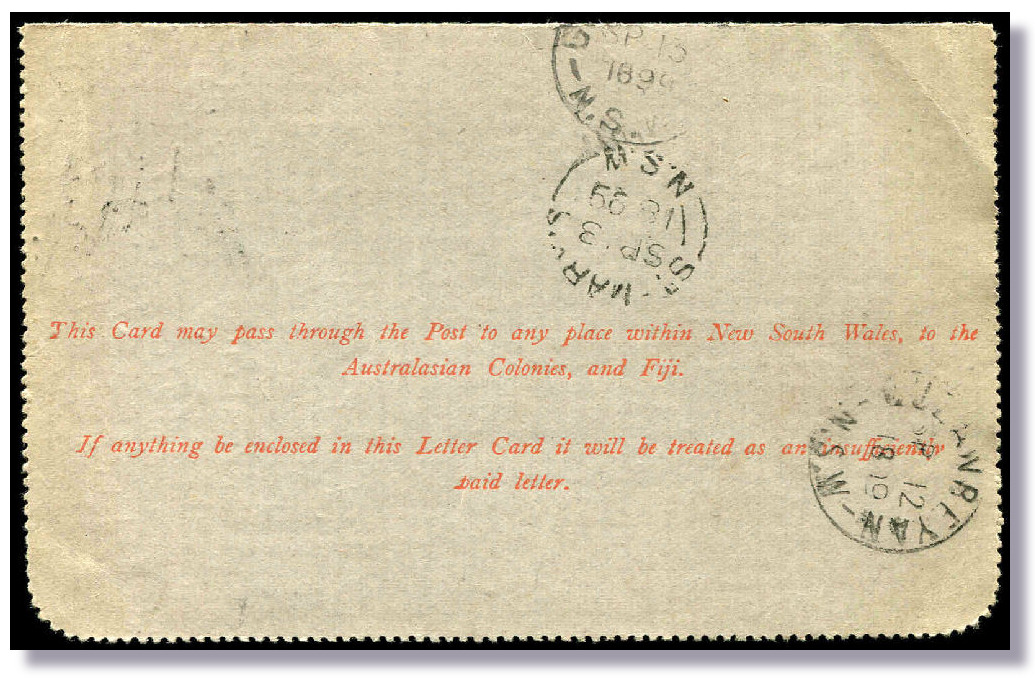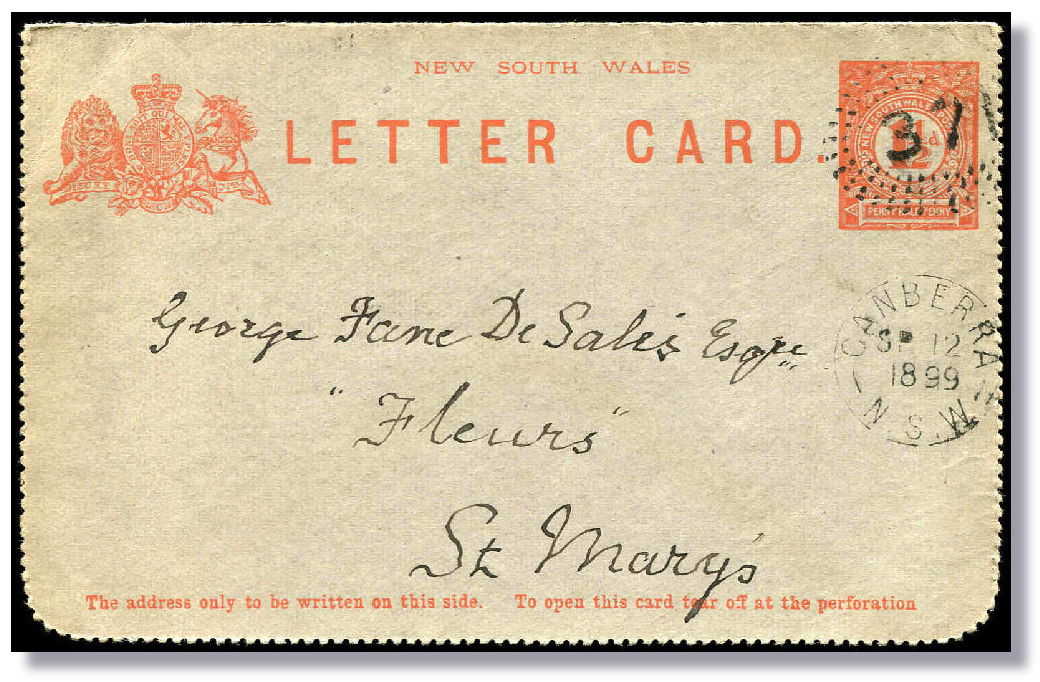 Estimate $15 seems about right to me anyway!
The Canberra numeral cancel "371" is not very scarce, nor are the Canberra, or St, Marys or Queanbeyan cds cancel strikes. All pretty run of the mill cancels. The lettercard appears to be very normal issue. The Phoenix Auctions March 7 description simply said -

Canberra (1): framed 'CANBERRA/SP12/1899/N.S.W' tied with rays '371' (A2) on 1½d Letter Card, unframed 'ST MARY'S/SP13/1899/N.S.W' arrival backstamp. PO 1/1/1863; renamed Ainslie PO 2/6/1913. Estimate. $15

Estimate $15, it was invoiced at $A3,000! David Wood the owner of Phoenix Auctions replied on stampboards when it was raised, and posted this - "I can tell you we are just as mystified as everyone else."

tinyurl.com/NSW1899 is the discussion on this lettercard, and no-one there can offer any suggestions as to why a Lettercard that David Benson, Phoenix and myself all agree was truly worth only $10-$20, was invoiced for $3,000. Does any reader have input on this?








Get my regular market update emails FREE! Stamp gossip, price trends, record sale prices, and many one-time stamp specials, wholesale bargains, and exciting offers and breaking philatelic news. A mini stamp magazine in every email! "KNOWLEDGE IS POWER". The ONE stamp list you MUST be on, to keep in touch with the rapidly changing world market. One client made $65,000 profit in a few months after following my specific advice. Sign up securely and quickly by clicking HERE to access my automated data base. And wiser still ADD your home AND work email, if I only have one right now. Add a stamp friend's email address if you wish. One short click and you are subscribed to probably the most read email list in the stamp world!




If you would like to be notified of updates to this website,
Click HERE.
If have any questions,
or comments regarding my site, please email me at glen@glenstephens.com
| | |
| --- | --- |
| | Search all my 300+ web pages! Simply type in what you are looking for. "Penny Black", "Latvia", "Imprints", "Morocco", "Fungi" "Year Books", etc! Using quotes ( " ) is more accurf used with no quotes. Search is NOT case sensitive. Tip - keep the search word singular - "Machin" yields far more matches than "Machins" etc. |


Full Time Stamp Dealer in Australia for over 35 years.
Life Member - American Stamp Dealers' Association. (New York)
Also Member of; Philatelic Traders' Society (London) IFSDA (Switzerland) etc


GLEN $TEPHEN$
Full Time Stamp Dealer in Australia for 45 years. Life Member - American Stamp Dealers' Association. (ASDA - New York) Also Member - Philatelic Traders' Society (London) and IFSDA (Switzerland) and many other philatelic bodies
ALL Postage + Insurance is extra. Visa/BankCard/MasterCard/Amex/PayPal all OK, at NO fee, even for "Lay-Bys"! All lots offered are subject to my usual Conditions of Sale, copy upon request
Sydney's BIGGEST STAMP BUYER: Post me ANYTHING via Registered Mail for my same-day cheque. Avoid copping the now normal 45% Auction "Commissions" (20% Buyer + 15% Seller + GST taxes, etc) AND their five-month payment delays!
Read HERE for details.
"Lothlórien", 4 The Tor Walk, CASTLECRAG (Sydney), N.S.W. 2068. Australia
Phone 7 Days: 0409 399 888 For valuable items mailed use - PO Box 4007, Castlecrag. NSW. 2068
email: ozstamps@gmail.com or glen@glenstephens.com Visit the Number #1 Web Sites:
www.glenstephens.com/rarity.html and www.stampboards.com