Click To Go Back To The Main www.GlenStephens.com Stamps Homepage

Welcome! - You are visitor number
To - www.Glenstephens.com


January 2021


---
PO Year Book "MISSING AUSTRALIA" error
A rather extraordinary printer's error occurred in the 2020 Australia PO Stamp Annual Year Books. The books I bought all had a very spectacular printing error in there on one set.

The entire word AUSTRALIA was *MISSING* on one $1.10 stamp of the Aboriginal "Art Of The Desert" series, as was the year of issue - see photo nearby. A rather huge error in this modern era, of computer controlled error checking, that ensures such basic things do not occur generally.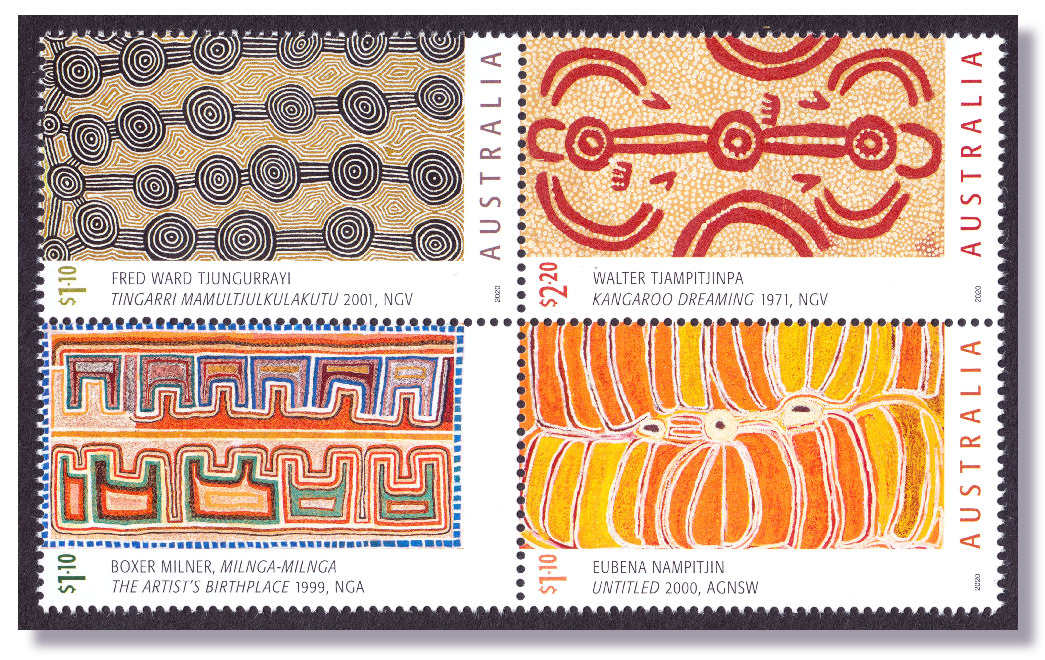 How can this major error occur in 2020?!
NORMALLY the PO would simply swap them over for the corrected version, before placing them on sale nationally - but this year, for the first time ever, all the 2020 annual books did not have the stamps loose as usual in a cello bag, or on Hagners etc, that you then placed in the pre-affixed mounts yourself.

They are now for each set, all printed on a page of gummed paper, with design elements all around them, as you can see on image nearby of the "Opalised Fossils", and then perforated as per issue, but within that A4/Quarto sized sheet. Each page is like a huge A4 size Souvenir Sheet essentially! Some folks like it, some do not.

The example I scanned nearby of the August 17th, $4.40 "Opalised Fossils" Miniature Sheets shows very clearly what I mean. The issued Miniature Sheet of 4 stamps has now morphed into a large Souvenir Sheet, with a Dinosaur as dominant part of the issue, that was not on the issued Miniature Sheet, They are Hagner sheet, or stockbook page sized items, and many will like them I am sure.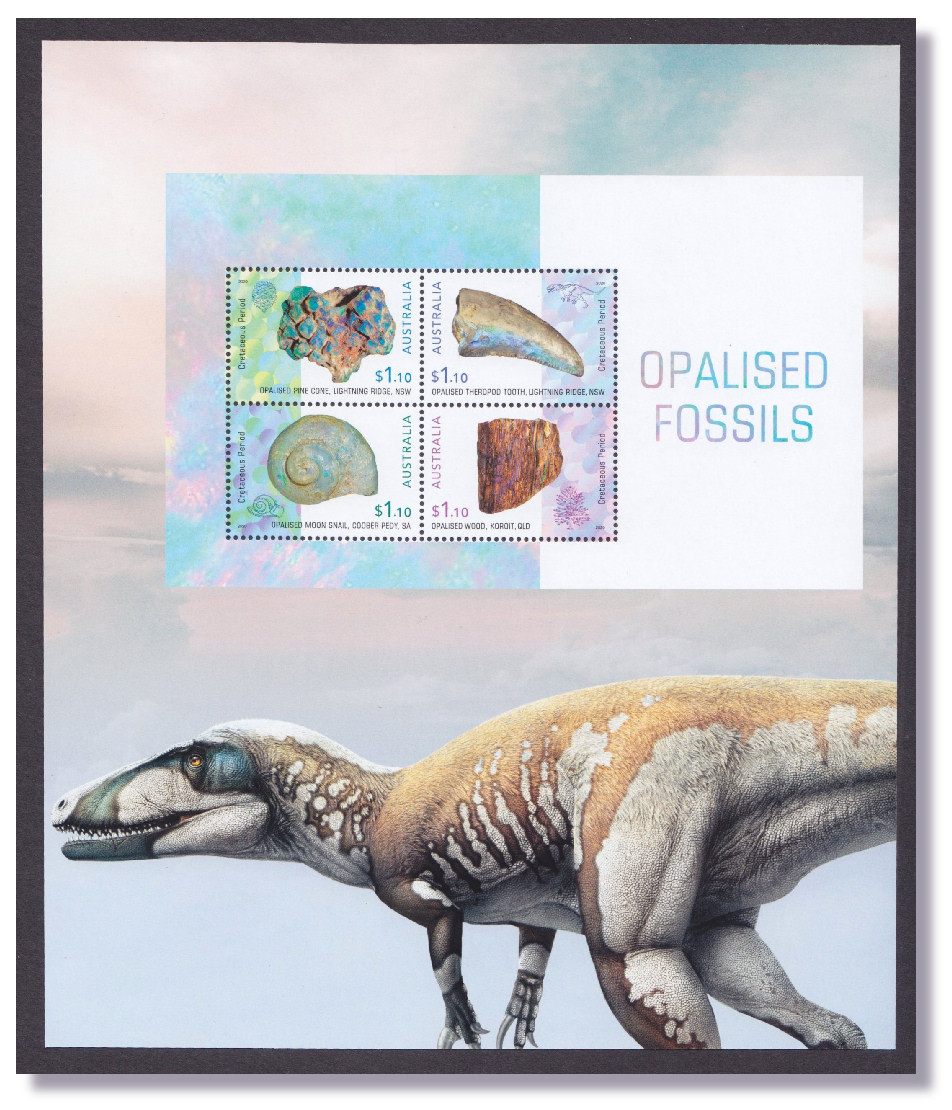 Now this is a brand new look!
| | | |
| --- | --- | --- |
| | So to swap these errors over by PO, would mean all the completed Year Books had to be destroyed, new pages for that error set made correctly, and then the entire book totally re-printed again, and that page newly bound in. Many WEEKS of work, and mega expense. The lead up time for these books to be printed and bound is clearly substantial, and changing horses at the last moment is just not going to work out, if they are to go on sale latter year as always. | |
These books are never reprinted.
I am advised the error was not noticed until almost the on-sale date, so it was WAY too late for all that work to be re-done, as books are bought heavily each year as annual gifts, and in recent years, they do sell out very fast, often before Christmas. They are never reprinted.

The CORRECT stamp with usual wording AUSTRALIA version, and the issue year, was on course on the stamps in all the PO packs, on the FDC, Maximum cards, and in the usual mini sheet form etc, issued in June. So a "before and after" page can readily be made.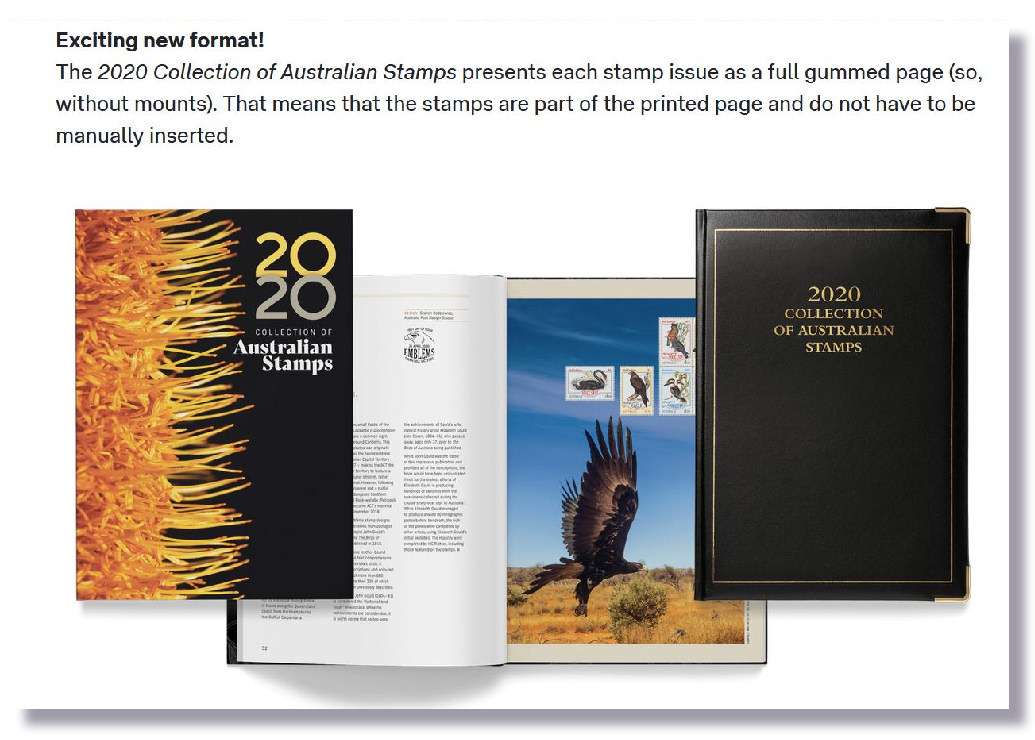 "Exciting new format" we are assured!
Such a "Country Name Missing" printing error will of course get into catalogues globally - such things in the past are generally many $100s, or even $1,000s each. The GB Xmas stamp error that also appeared only in PO Yearbooks is Cat The huge Colnect collector catalogue and listing site added the error on December 4 as can be seen, and I have passed all this on to the relevant Catalogue Editors.

SG Editor confirms it will be listed in the next SG "Australia" Catalogue being worked on now. He advised: "... the 'AUSTRALIA' omitted will be a guaranteed listing. It is a similar situation to the 13p Christmas stamp of 1988 (SG 1414a) over here, which also only appeared in yearbooks. (That error is cat £12,500 mint, and FDC get near the same sum.

Where the price will finally settle on these 2020 albums and errors, like you, I have absolutely no idea - they are advertised at $435 already on ebay etc, but when existing dealer and re-seller stock is gone, it is gone forever, and clearly they will be a very tough animal to replace again! Lots of clients have asked me to do Registered covers, bearing the error and normal stamp alongside.

I tipped off the "Stamp News" Editor Kevin Morgan on December 4 to try and secure some, and he drove to 5 Post Offices in his Melbourne area, and not even one book was to be found among them he advised. I think these will have a very solid future. He placed the error Block 4 shown nearby on the front cover of the Christmas Edition of the magazine.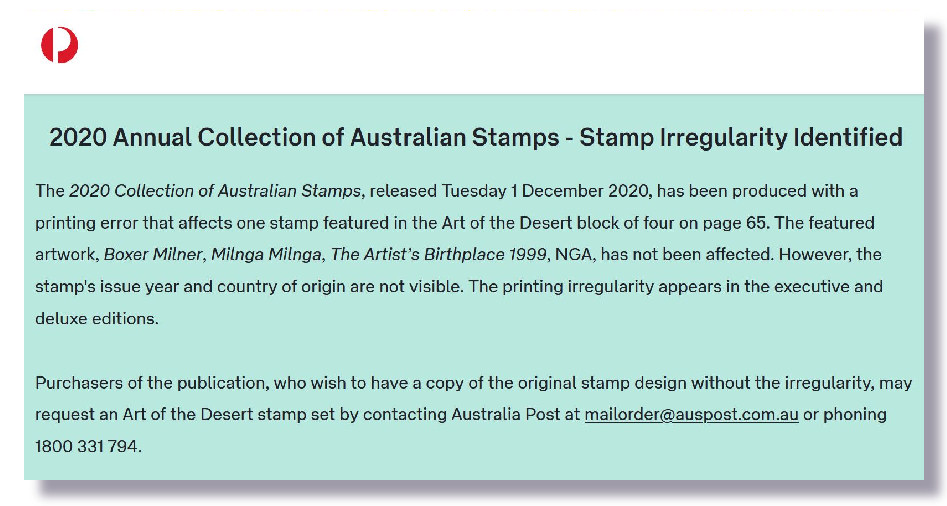 Red Faces all around at AP.
MASSES of books will be broken up, just to secure this SG catalogued error stamp, being the ONLY way to source it. The rest of the contents will used up for postage etc, or added to albums, due to the differing formats in many cases of the initial issues.

This tearing apart of number of full books clearly will make complete books scarcer than ever, and the recent years are tough enough to source already. Only 6,500 hand numbered copies were ever printed of the 2020 Executive Album of course, and near all get added to existing complete runs from regular buyers.
A room full of PO Annual Albums!
I stock and sell more Australia Post Stamp Annual Year Books than anyone in Australia - by a country mile, as no other dealer bothers basically. 40 years of them have been issued now, and they come in Deluxe and Executive for each year - they literally take up a full storage room here!

I keep them all in stock, 20 copies of most years, and some of the recent ones are quite pricey. The 2018 seems unusually hard to source for some reason, and it sold out super fast (possibly the Bird topical cover?) and my retail already on those is $A260 and $A290 - see for yourself the current Australia yearbook prices here - tinyurl.com/APyear

The lesson is hopefully clear to all readers - do NOT miss out buying them each year, or you will get serious "sticker shock" if you do! The last 5 years sell for well over $1,000 alone, for the cheapest versions of the PO Annual albums.

I packed an order yesterday for those same 5 years, and the buyer near collapsed when I told him the invoice price! Folks think nothing of paying $260 for an older stamp, but for a 2 year old yearbook?? Hard to grasp really.

Why is this so - because the recent ones are truly SCARCE. If you asked me for TEN x 1932 5/- Sydney Harbour Bridges CTO, I can supply them ex stock on hand at around $A260 each - no problem. Phone 20 other dealers, and you can round up 100+ more 5/- Bridges most likely. Easily done.

Ask those SAME 20 dealers how many 2018 Post Office Year Books they have in stock, and the TOTAL number on hand nationally will be pretty much zero. I kid you not. Ebay has none offered globally. The same price point as the 5/- Bridge, but one is truly scarce, and one is not.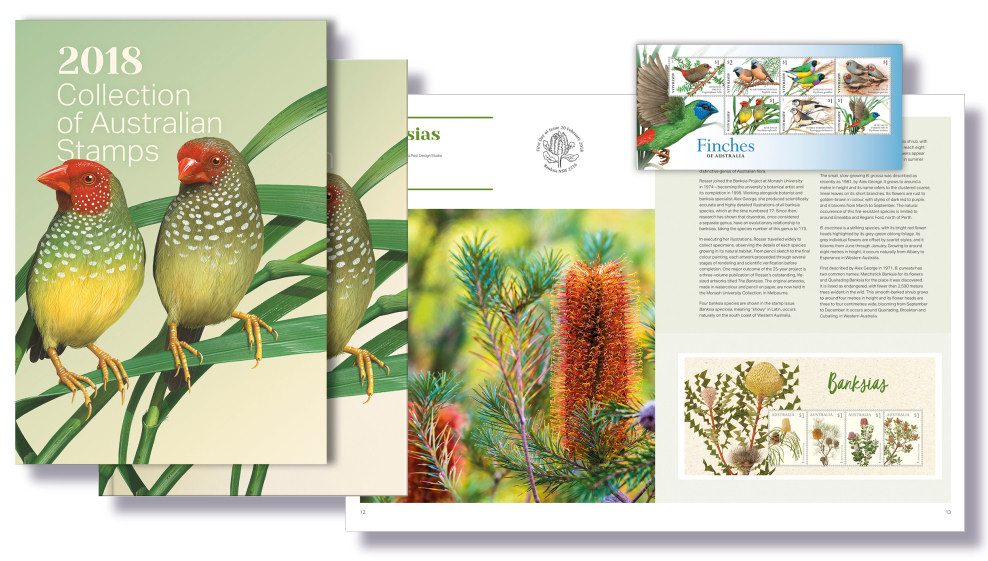 Same retail as a 1932 5/- Harbour Bridge.
Anyway, a 2020 Error Block with a future I suspect. Visually very striking large stamps as you can see, and all are of important Aboriginal artist paintings hanging in the National Gallery of Australia (the error stamp) and Art Galleries of NSW and Victoria etc, etc.

I had a few blocks central cancelled on the first day of issue of the Year Albums, and a few clients even asked me to use them as Registered franking on their orders, protected under plastic - postally used in the correct period will be very SCARCE
Correct postally used will be scarce.
A 250g to 500g large letter now costs $5.50. This block 4 is $5.50 face, the exact legal rate for that heavily used mail piece. An A5 size envelope weighing 251 grams costs exactly $5.50, and easily fits a Hagner page etc when it arrives. This block 4 affixed, pays the exact postage rate for such an A4/A5 size letter.

Indeed If mailed tomorrow, it was legally mailed at exact correct rate, within a week of being issued etc. Getting such pieces BACKSTAMPED on arrival is really essential as 100% proof. Many collectors for such items, print out the PO tracking path as well from the AP website, which confirms the lodgement, and transit and arrival dates and times etc.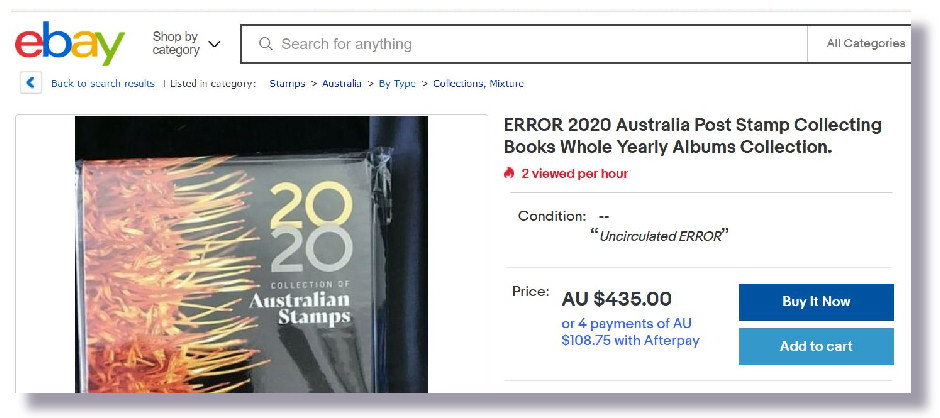 Very quickly on ebay at $A435.
All in all, something different and unusual, and pretty exciting, and stampboards.com as always, was the first globally with the breaking news that these errors existed, and alerted many readers to grab them if they could source any. Many members were able to secure them in time.

Most relevant is that 99.9% of Annual album buyers will be TOTALLY unaware of this error, place it on the bookshelf, along with their other 40 volumes issued since 1981, so there will be surprisingly few blocks or books around in the stamp market, I feel sure.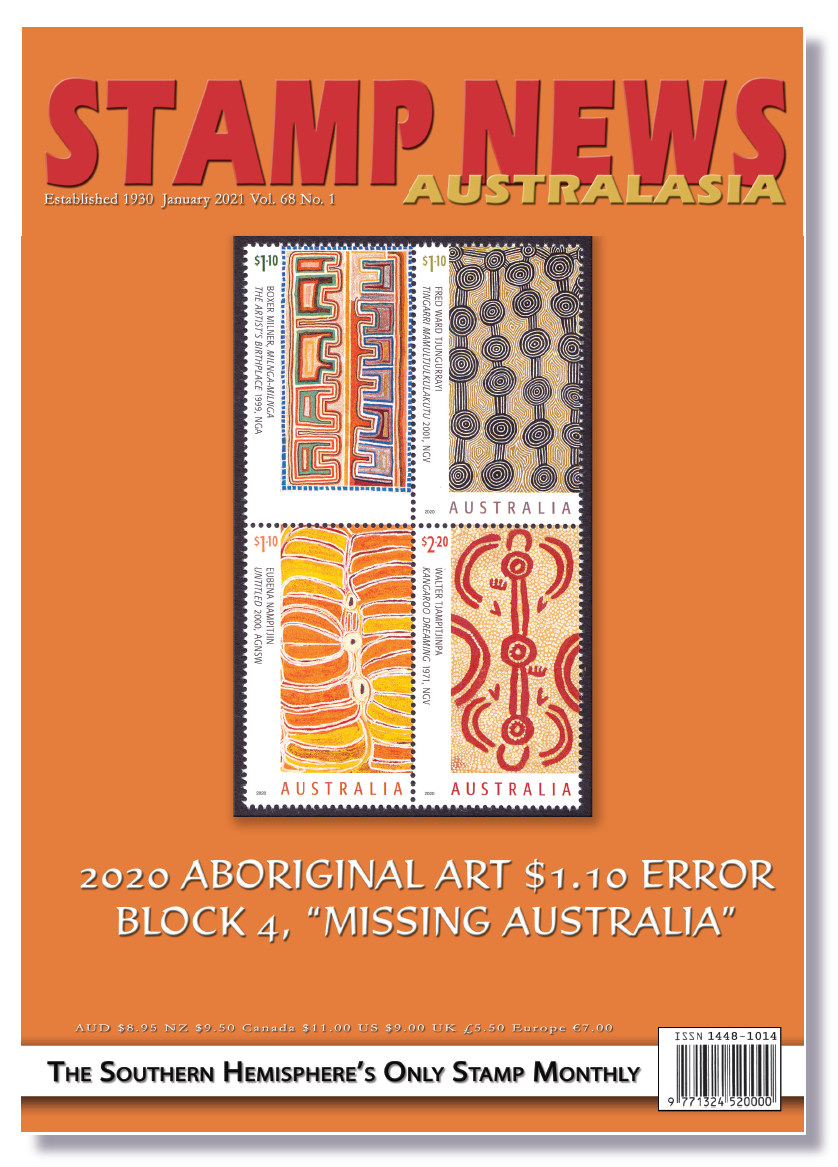 Made front cover of "Stamp News Australia" magazine

Nothing is as it seems sometimes.
| | | |
| --- | --- | --- |
| | Take a CLOSE look at the 1969 Hong Kong cover shown nearby. It is a common 40c stamp, SG 259, and if this ugly hand addressed cover turned up in an estate lot here, it would end up in one of my weekly $100 Nuclear Waste Junk Cartons for CERTAIN! Collectors of QE2 era FDC despise handwritten addresses, and this one looked like a Junker - to me anyhow. | |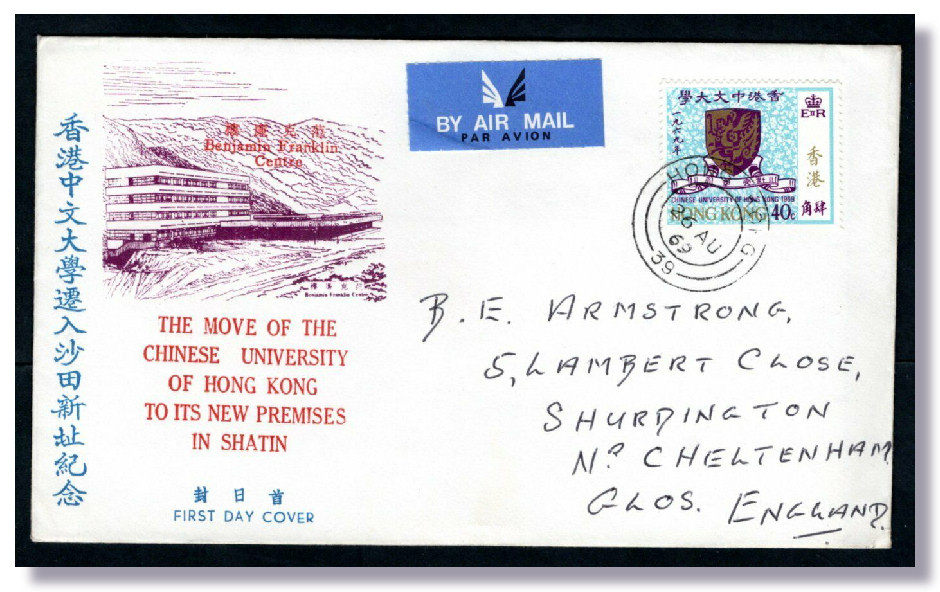 Junk Box - or Hidden Gem?
A stampboards member called Anadon in the UK asked others this month did they have any idea why he was getting lots of emails and bids for it on eBay. My comment was as above - it was an instant Junk Box item for me anyway - all day long. Dreary and ho-hum subject matter, lowly catalogued stamp, and ugly addressed.

He started it at 99p, and within a short time the bidding had passed £100. Anadon advised he had received private offers of £200 and £400 for it, and then one for £600. The chorus was resounding to take the £600 offer (near $A1,200) and hope like heck the buyer was not playing silly games of some kind, which is commonplace on eBay.

He cancelled the auction, started a Buy It Now listing for it, and got paid the £600. He also charged buyer for full tracked/signed for/insured postage, to ensure there was not the widespread eBay scam of "Goods Not Received" where seller then loses the lot - the goods AND the postage cost. Seems like it was all legitimate - in this case anyway.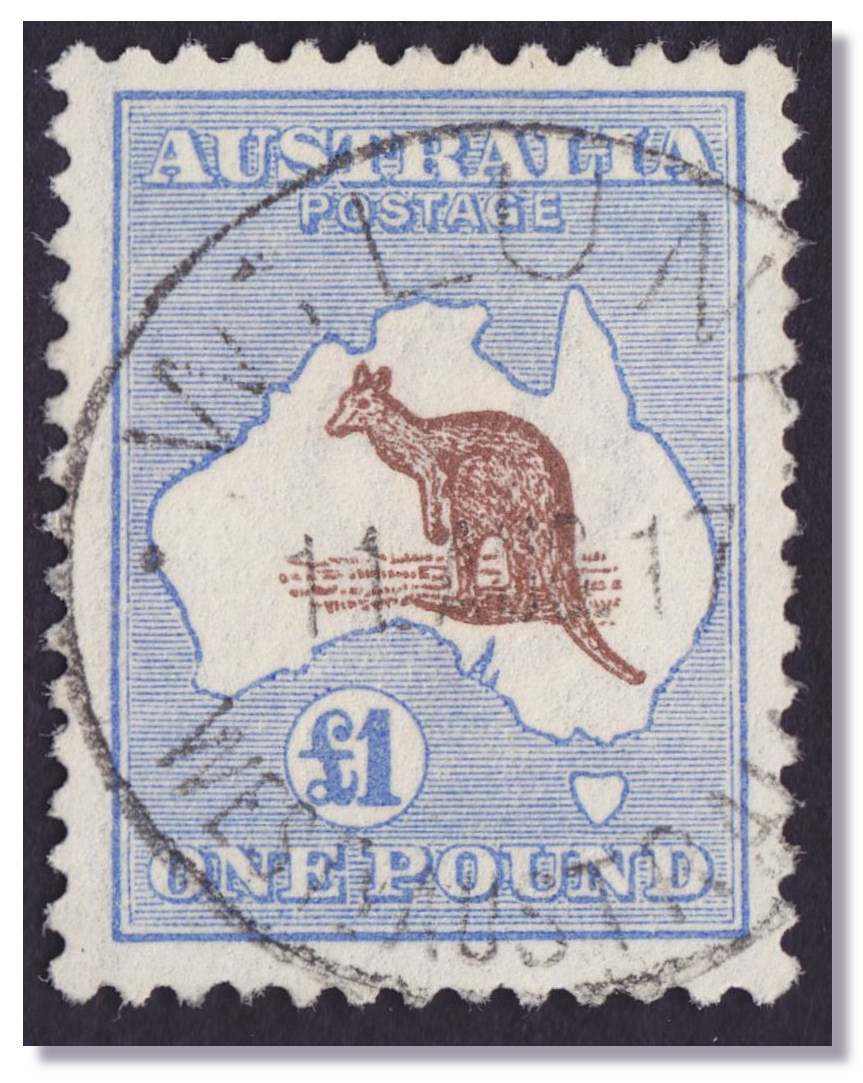 Decision - one of these, or the HK FDC!
Indeed, Anadon advised on stampboards that 10 minutes after he got paid the £600 plus shipping, someone offered him privately £700 = near $A1,400 for this cover! I guess the one great sale like these makes up for the many Auction items that only sell for a small fraction of retail, or a scammer claiming it "never arrived" etc, and you lose the lot.

I sold a superb used £1 Brown and Blue Kangaroo stamp for about that $1,400 sum! The world has gone crazy when you see things like this, but it shows time and time again that not everyone knows everything, about all areas of stamps. In 5 years' time, would you rather own this rather boring looking cover, or a superb used £1 Brown and Blue Kangaroo stamp? Hmmmm.
New find after 75 years.
| | | |
| --- | --- | --- |
| | An exciting and very significant new find was offered by Philas Stamp Auctions in Sydney in mid-November, as Lot 2208 in their Auction No. 136. A set of 3 Die Proofs of the 1945 Duke and Duchess of Gloucester issue, was of a type that has not been previously seen for Australian Die Proofs in collector hands. They were invoiced for near $A8,000. | |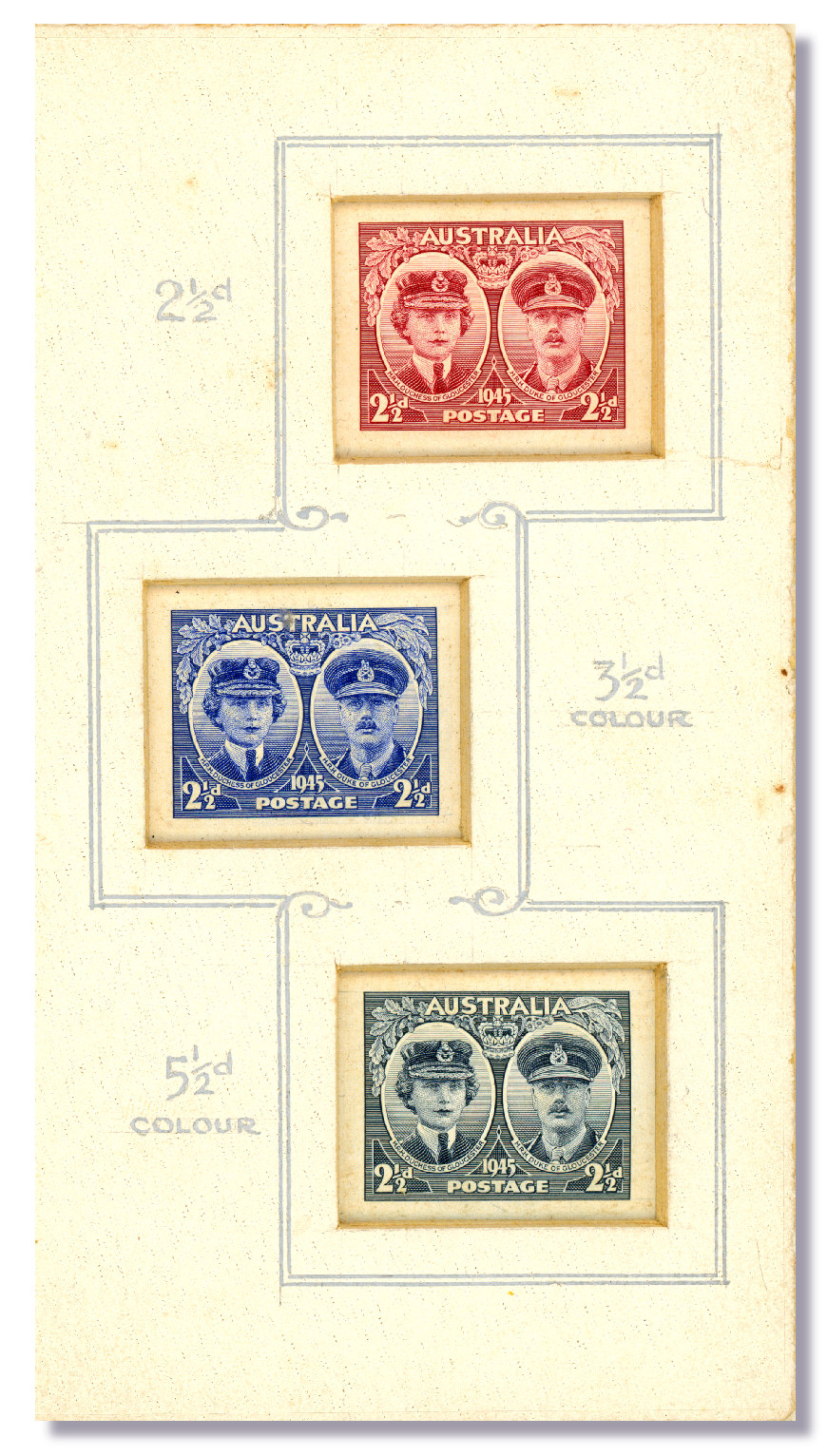 Unique in Australian Philately.
As the proposed stamp design featured Royal portraits, it was necessary for the design to be approved by King George VI before printing. For this purpose, a set of three die proofs was prepared by the Note Printing Branch Melbourne, in the proposed colours of the three stamps - 2½d Lake, 3½d Ultramarine and 5½d Indigo.

HOWEVER, uniquely here, each Die Proof was pulled from only the 2½d master die. This procedure was followed so that, if adjustments were required to the design, these could be made to the master die, and then the 3½d and 5½d dies could be derived from the approved design. No other set of proofs is recorded showing the proposed colour scheme using the master die only.

The three proofs are mounted in sunken matted frames as was usual, but unusually, they were then added into in a blue leather folder. This folder would have been submitted to the Post Office for forwarding to the Australian High Commissioner in London, who in turn would have sent the proofs to Buckingham Palace for approval.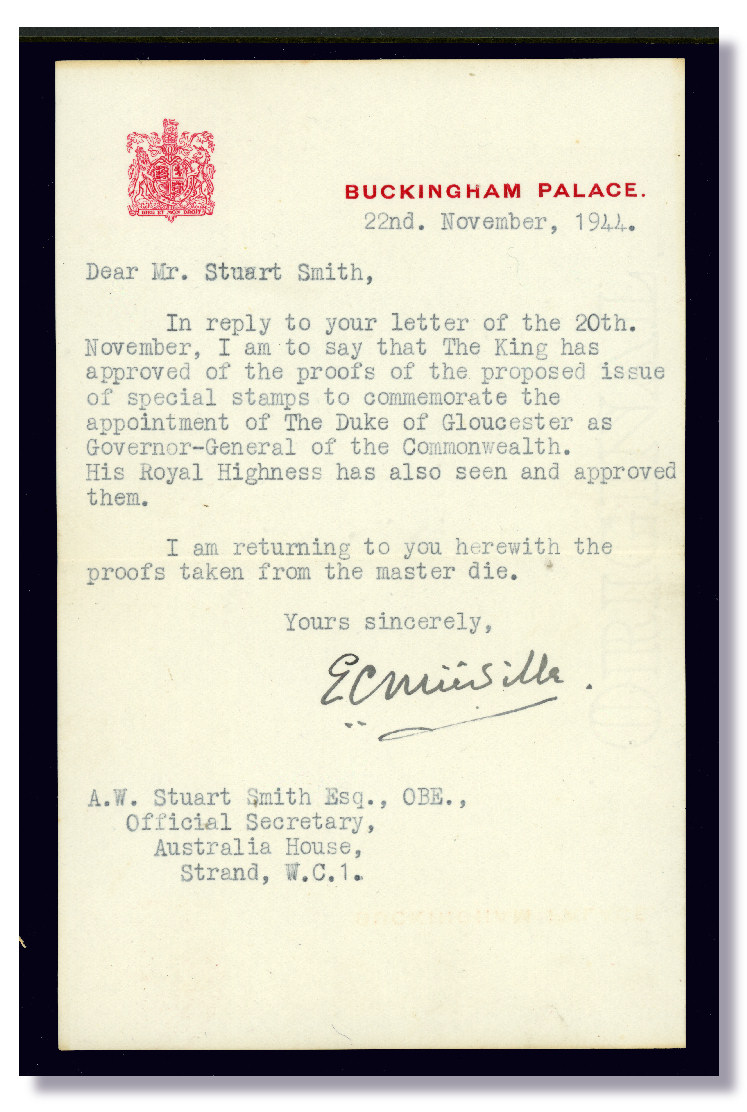 Approval from the very top!
The proofs were accompanied by a letter from the Palace returning the proofs to Australia House, noting that King George VI had approved the design, and that the Duke had also seen the proofs. It would seem that the proofs were not returned to Australia, but remained in London, where they may eventually have been souvenired by a staff member etc.

The set of 3 stamps were issued as we know, on February 19, 1945, and these proofs were mailed to UK in November 1944. All very formal, seeing WW2 was still raging fiercely - the German unconditional surrender only took place on 8 May 1945, and Japan did not surrender until August 1945. A very classy piece of history, that Temora on stampboards.com kindly shared.
MASSIVE mail delays due to COVID.
COVID has left a terrible legacy re mail services. This is my record trackable mail delay of all time - OVER EIGHT MONTHS from being mailed. Can anyone beat this? As far be seen, perfectly and clearly addressed. No "mis-sent" or redirection notices etc - it just sat somewhere for 8 months. We will never know where.

Containing 1000s of Rand at my cost, a £2 stamp, it was mailed Registered Airmail on MARCH 25 from Somerset, Cape Town, South Africa. Weight was assessed at 28 grams, and 53.80 Rand postage was paid, as can be seen. The letter recently arrived at my PO Box. Over 8 months since being posted.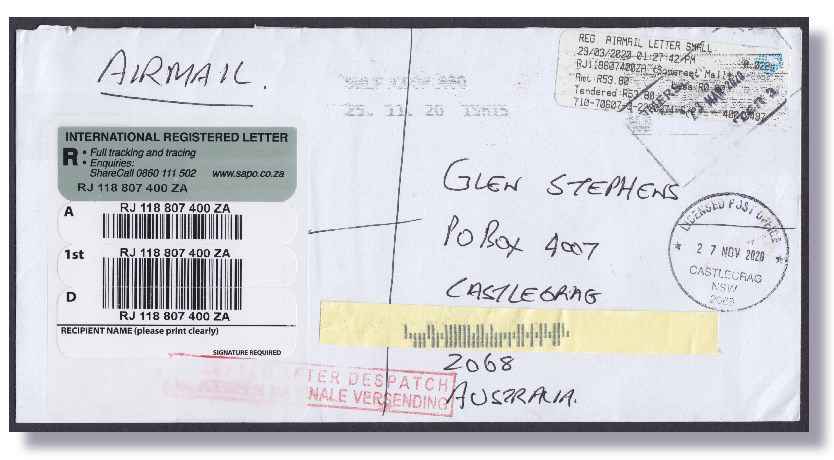 Registered "Air" - took 8 MONTHS!
"SWLF" (South West Sydney Letter Facility) arrival in Australia, ink jet spray cancel of Nov 25 at top, and I asked my postmaster to handstamp it on arrival November 27, as can be seen. I had written it off long ago as lost, and fully assumed I'd never see this stamp.

The sender seller was someone called Clinton Hale from "Cape Philatelics" in Cape Town, whose website as shown on his letterhead in with the stamp, is now selling concrete sealant in 10 litre tubs, all in Chinese writing - www.capephilatelics.com - take a look - that inspires HUGE confidence! NOT.

Hale was not responding to any of my emails in recent months to his various email addresses, asking him for a Registered number that I could track, so assumed I was sadly wearing the loss on this, and he had gone to ground, or had gone bust etc. Or both.

I could not even do a credit card/PayPal chargeback etc, as is usual in cases of non-receipt, as I had asked a local South African client to pay Hale direct in Rand in March, by local bank transfer. They cannot be reversed.
Mailed March 23 from Cape Town
Cape Philatelics at first glance appeared to me to be kosher, with lots of expensive material in stock on his site, so no way was I too worried initially, but I had never had any contact before with him.

However, now upon detailed checking, I see that Clinton Hale appears to be a member of NO stamp dealer bodies, not even the South African one. Always a flashing red light - so do keep that in mind for folks you have not bought off before.

Anyway, I'd long written off this scarce stamp, and it fortunately has now arrived. South Africa has been a disaster for mail sadly, and even now, no letter mail is being accepted from here to there. PARCELS take 2-3 months the AP website says, and one would ASSUME First Class letter mail would also be going sea, but in this case, clearly not.

Arrived here - "SWLF 25-11-20"
| | | |
| --- | --- | --- |
| | There was a red handstamp applied lower left. The left portion of it fell onto the high gloss Registered sticker, and hence was smeared, but appeared to say, bilingually - "RECEIVED AFTER DISPATCH" - no idea what that relates to? Does anyone know? | |
Anyone have a COVID MAIL sideline collection?
If anyone has a sideline collection of COVID delayed mail, this one probably takes First Prize!? Let me know - it will pay for a couple of beers! Postal History of the future for sure, like Strike Mail and Crash Mail etc. DO check your Post Office website re mail delays. I have a banker in the Czech Republic wanting me to mail him a $500 Mafeking, Baden Powell stamp.

HOWEVER - near all mail to the Czech Republic is restricted (likewise to MANY other countries) - all Express and Courier services letters are simply not accepted to there from here by any Post Office, as can be seen on this constantly updated Australia Post website black list - tinyurl.com/AP-Covids

I can send Registered Mail letters which is not cheap, and with the Third World Australia Post non-system, those are not tracked from here, which as you can see, they are saying is taking "25+ Working days" (= 5+ weeks) or more in transit, and is NOT signed for on arrival on the link above, Czech Post are clearly saying.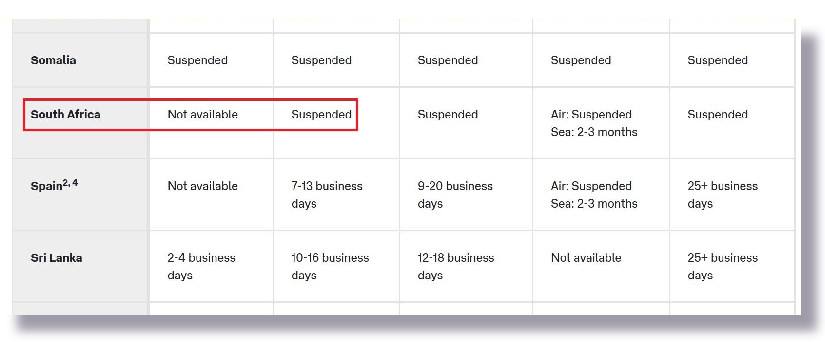 South Africa is very bad news.
For some countries it is essentially impossible to mail stamps even now, and be SURE they will arrive, and get tracked. And if they are not, buyer can simply initiate a refund from Credit Card company or PayPal, who pay out the total cost or goods plus shipping to buyer, if you cannot give them a link that PROVES it arrived. So for stamp buyers in MANY countries this is the current mess. And for about 9 months it has not got better.

Our totally incompetent Post Office here STILL does not offer any tracking whatever on the $16 Registered Mail pre-paid overseas envelopes. Way too busy handing out $5,000 Cartier watches to the Executive team, which saw the current CEO Christine Holgate kicked out the door recently. Good riddance - she achieved nothing much at all except huge price hikes. Yes, we get a lodgement receipt for the article, but that is it.
Zimbabwe level service - for $A16.
So if we use them, and the overseas buyer quite understandably wants to track it online, to see where their goods are, they simply cannot do that. They cannot even see they have been lodged. Zimbabwe level service, for a $16 "Registered" letter size price. Foreign buyers think I am lying when I tell them that, as on the cusp of 2021 that is unthinkably primitive for most. I agree.

I bought a carton of these very thick, Rigid card Express Post International envelopes shown nearby, some years back. Good for a whopping 500 grams, and a generous 20mm thickness too. PO offers nothing like that these days sadly. POs here can still enter them into the computer, and give a lodgement receipt.

Most countries these can be used to readily, and they DO seem to get signed for on arrival as they look "important" to PO staff overseas, but PO here cannot (now) accept them to places like South Africa or Czech Republic etc, that are on their website black list.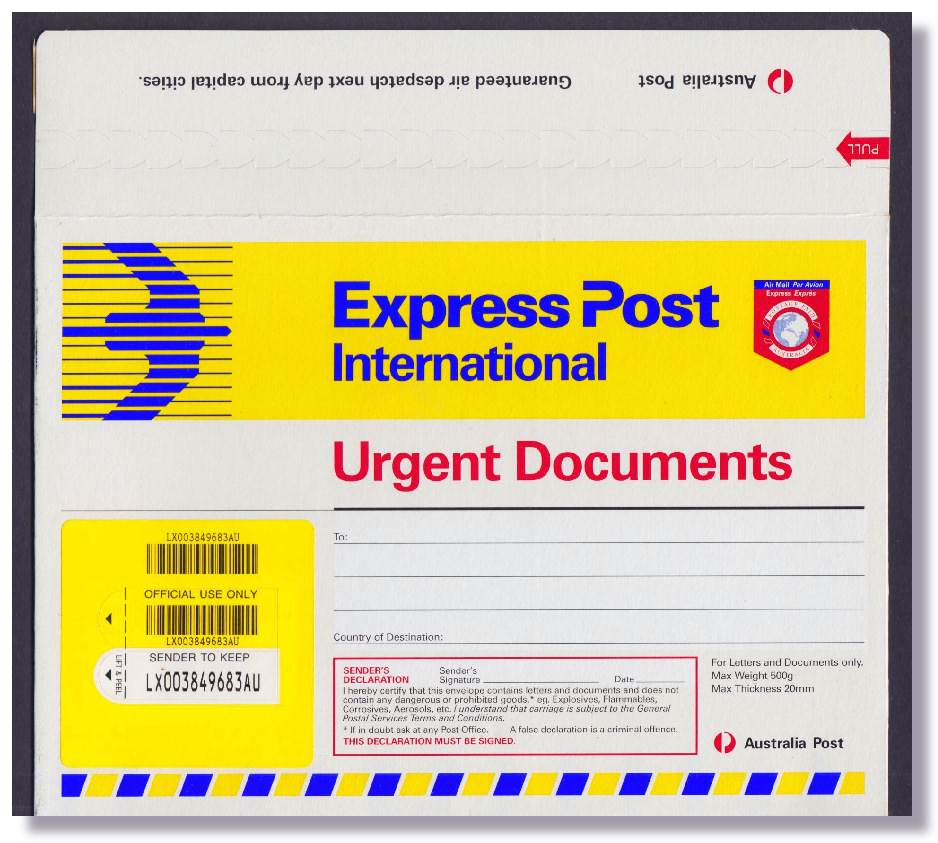 About the only thing that works now.
A normal air letter totally UNTRACKED from 250g-500g costs $A20 right now, and can take 3 to 5 months. These get there very FAST, and get tracked as can be seen, and if anyone needs some, I sell sealed packs of 10 for $A180. For eBayers and direct mailers, it is right now the ONLY thing that works to save you chargebacks, and hours of wasted time, and raised blood pressure, AND the real risk of losing the lot.

When THEY get into somewhere efficient and First World, like into the USPS system they provide total tracking events texted/emailed to you in real time. Australia Post can tell me nothing about any of their Top End overseas mail items - only when they enter REAL PO systems, can we find out where they are!

Crazy - but when it enters into a REAL and efficiently run Postal Service, such as the USPS still offers, despite Trump, we see this huge and helpful detail as shown on link here - and you get text/email updates for each movement of the item – take a look - tinyurl.com/GlenUSPS
Only a Mother could love this?!
They say that there are some babies only a mother could love, and to be honest, this re-joined vertical pair shown nearby, to ME, falls into the same category! Luckily for philately, not everyone thinks the same, as it was just invoiced for about $A340,000 in November, in France. Over DOUBLE full Gibbons.

One of the lesser known rarities from our region is the South Australia 1872 4d blue. All copies of these were supposed to have been surcharged "3-PENCE" in a bold font. That is, the 4d blue WITHOUT oveprint is the error. It is believed only 2 unused examples exist in private hands, and these are those two stamps. About 7 used copies are recorded outside institutions.
Not pretty - sold for $A340,000!
SG 68c cat £40,000 a single mint stamp. Only 2 unused copies are possible to buy, and French dealer BEHR hinged them together to make this offering in their November Auction. The top stamp was sold at Prestige auction in 2014 for $A75,000 plus buyer fees. It was accompanied by an RPSL 1996 Certificate that said it has a thin, and a tear at top right.

That Certificate appears to have magically "evaporated" (coff) in the ensuing few years, and BEHR offered the pair with no mention of these faults, or the ripped out perfs at right. Indeed, there was no mention of condition issues on either. "Nice work if you can get it." No matter - it was invoiced for 220,000 Euros, or about $A340,000 at the time.

So full SG Cat was £80,000 - and as can be seen, this pretty ugly looking re-joined pair, not in perfect shape by any means, despite BEHR not bothering to mention that, was invoiced for about DOUBLE full catalogue. Anyone who says Gibbons catalogue prices are too high on rare classics, please take note!
Season's Greetings To All!
The stamp business for me has gone totally BALLISTIC this year. The weaker $A has seen a vast surge in orders from overseas, from USA especially earlier year. Particularly for better pieces in the 3 and 4 figure plus range, that I mostly deal in. We are doing 100+ hour weeks, and not even touching the sides.

Other dealer colleagues report the same kind of story and pattern this year. The global COVID lockdown, and the resultant working from home for many, has been an absolute bonanza for all non-storefront dealers. I've sold more stockbooks and Hagners in the last 7 months, than in the past 7 years!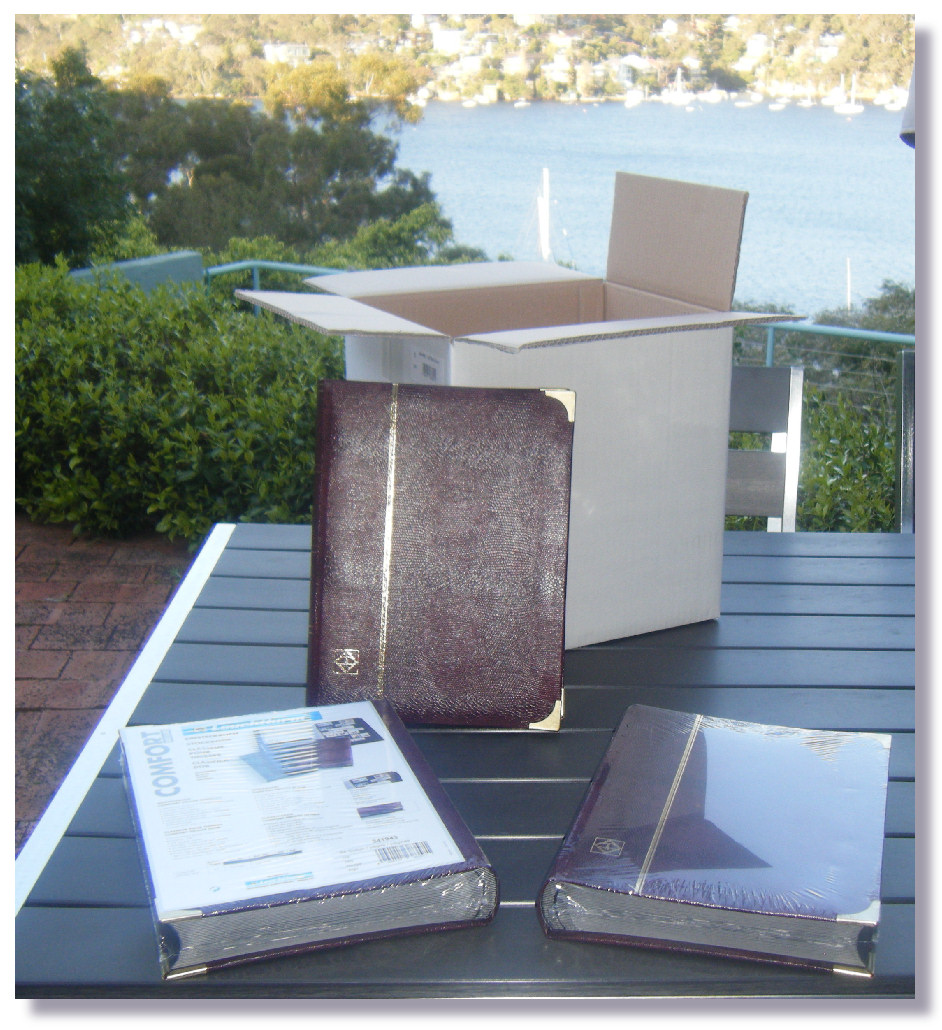 Sold more than in past 7 years!
Super low (or negative!) interest rates globally, often nervous and jumpy share markets, and even more nervous real estate markets in many countries, has seen a good deal of savvy money switching into better stamps. Which often rise 5% or more a year - and that rise is mostly Tax Free, for private collectors, in most countries.

2020 has of course not been a year where many of us have been able to travel. From Australia at least, it is totally impossible really, to fly for tourism outside the country, even to New Zealand, even in December, without later quarantining for 2 weeks.

Margo and I spent last Christmas in India. I chose THE most far away speck that Air India flew to for Christmas Day - and ended up in the truly remote Andaman and Nicobar Islands, way out in the middle of nowhere, in the Bay Of Bengal. Flying in via China and Chennai, via a convoluted string of flights, taking 30 hours.
Anyone remember *2G* series WiFi?
The Andaman Islands literally had 2G series WiFi (I kid you not!) that partially worked, for some hours of each day. Sometimes. A small email took 10-15 minutes to send or open etc. Or not at all. Margo nearly broke her spine, when a 1950s TATA museum piece public bus was hurtling around the remote countryside, at double the speed limit, and hit a massive pothole.

We were sitting on the rear bench seat, and we both bounced off the roof, then landed heavily on the rusty metal seat rails, and both ended up in a tiny "hospital" somewhere - battered and bloodied and bruised, and getting tetanus shots, and hastily patched up etc.

By a miracle, a lovely woman was also on the near empty dilapidated bus, spying on the reckless driver for the day, as there had been many complaints about his speed, and sorted out our medicals, which there, would be impossible on your own. The hour fare was only 15c, so you mostly get what you pay for in life!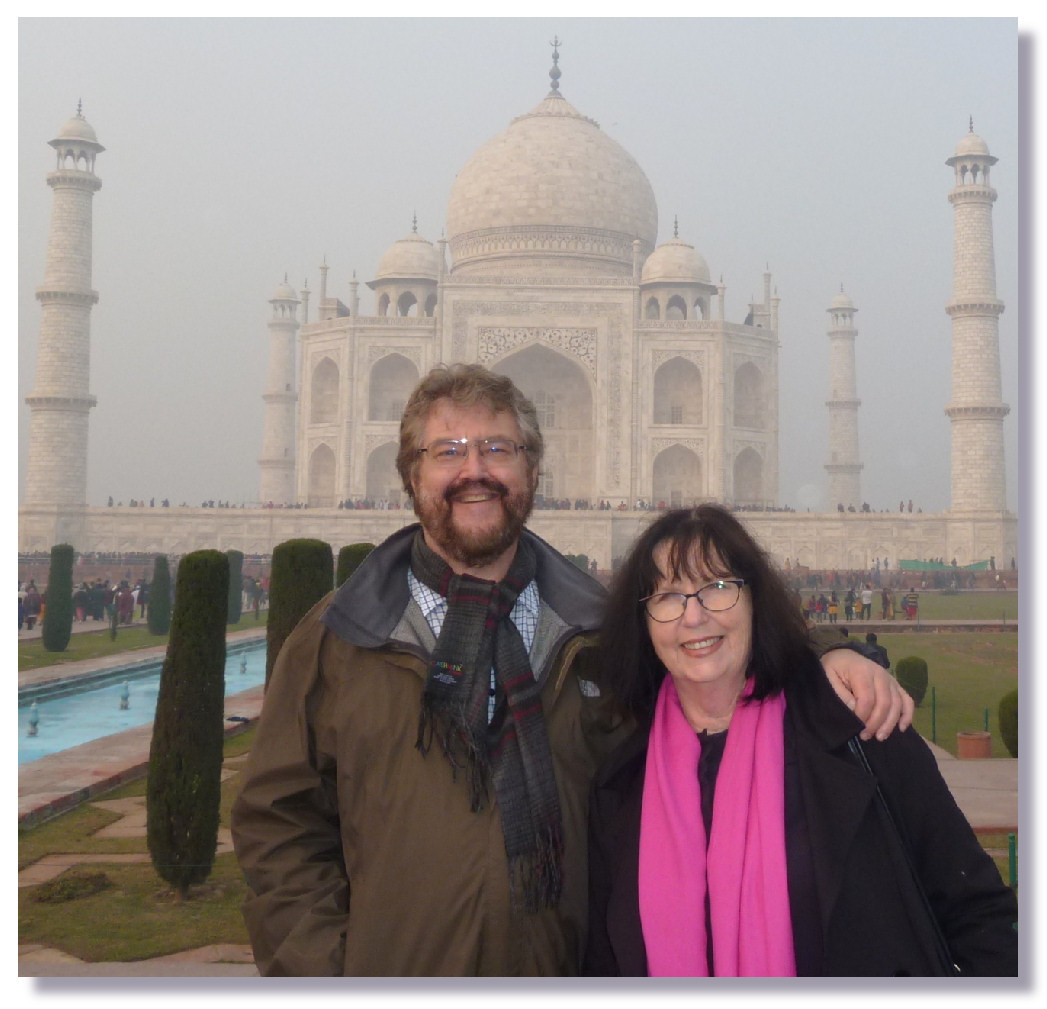 Christmas at a very misty Taj Mahal.
Anyway the "Joys" of travel. I'm fast moving in on 3 score years and 10, and do not need that anymore! We later wandered around many parts of India, and ended up in Kathmandu Nepal, for New Year's Eve. Still rebuilding there after the massive earthquake of recent years, and a place I have always liked. Back home via Chengdu China again, with some countryside sightseeing, and after COVID had hit, but China was not telling anyone yet. Hmmm.

I've been somewhere totally different overseas, each Christmas, and each New Year's Eve for 45 years now, in probably 50 or 60 different countries, but like most are grounded in 2020. We can all hope this nasty Virus has effective vaccines with us VERY soon. Please all stay safe in the meantime.
Thank You to all readers.
"Thank You" to all readers globally, for the many phone calls and letters and emails with comments - both for AND against what has been written here, over the past year! All input is greatly appreciated and taken on board. It has been a most interesting one, heavily impacted by COVID, and an exciting year for the entire stamp world.

"Merry Christmas and Happy New Year", to one and all, and to all you and yours. Be safe, be very COVID focused, and have a great time among your family and friends, and then get stuck into the STAMPS - and enjoy the long holiday break! We are all part of THE most amazing Hobby. See you all in 2021. Glen









Get my regular market update emails FREE! Stamp gossip, price trends, record sale prices, and many one-time stamp specials, wholesale bargains, and exciting offers and breaking philatelic news. A mini stamp magazine in every email! "KNOWLEDGE IS POWER". The ONE stamp list you MUST be on, to keep in touch with the rapidly changing world market. One client made $65,000 profit in a few months after following my specific advice. Sign up securely and quickly by clicking HERE to access my automated data base. And wiser still ADD your home AND work email, if I only have one right now. Add a stamp friend's email address if you wish. One short click and you are subscribed to probably the most read email list in the stamp world!




If you would like to be notified of updates to this website,
Click HERE.
If have any questions,
or comments regarding my site, please email me at glen@glenstephens.com
| | |
| --- | --- |
| | Search all my 300+ web pages! Simply type in what you are looking for. "Penny Black", "Latvia", "Imprints", "Morocco", "Fungi" "Year Books", etc! Using quotes ( " ) is more accurf used with no quotes. Search is NOT case sensitive. Tip - keep the search word singular - "Machin" yields far more matches than "Machins" etc. |


Full Time Stamp Dealer in Australia for over 35 years.
Life Member - American Stamp Dealers' Association. (New York)
Also Member of; Philatelic Traders' Society (London) IFSDA (Switzerland) etc


GLEN $TEPHEN$

Full Time Stamp Dealer in Australia for 35+ years.

Life Member - American Stamp Dealers' Association. (ASDA - New York) Also Member - Philatelic Traders' Society

(PTS London) and many other philatelic bodies.

ALL Postage + Insurance is extra. Visa/BankCard/MasterCard/Amex all OK, at NO fee, even for "Lay-Bys"! All lots offered are subject to my usual

Conditions of Sale

, copy upon request .

Sydney's

BIGGEST STAMP BUYER

: Post me ANYTHING via Registered Mail for my same-day cheque. Avoid copping the Now normal 45% Auction "Commissions" (15% Buyer + 20% Seller + GST, etc) AND their five-month delays!

Read HERE for details.

"Lothlórien", 4 The Tor Walk, CASTLECRAG (Sydney), N.S.W. 2068

Australia





Phone 7 Days:

(02) 9958-1333

PO Box 4007, Castlecrag. NSW. 2068




E-Mail:

glen@glenstephens.com

The Number #1 Web Sites:

and www.stampboards.com