Click To Go Back To The Main www.GlenStephens.com Stamps Homepage
Welcome! - You are visitor number
To -
www.Glenstephens.com




Glen Stephens
Monthly "Stamp News" Market Tipster Column


July 2008

---
Who said modern stamps do not increase in price?!

A Melbourne auction house on May 24 sold a block of letter-rate Australian stamps for $A95,000 plus 16.5% in fees = $A110,675 – nearly double the current ACSC value.

I am not sure if any British Commonwealth piece, from any country from the Post War era has topped the $110,000 mark - I certainly cannot think of one.

This exact same block was sold off as surplus by Australia Post in 1987 for just $6,500 .. as that that was the best offer they received for it in the highly controversial public tender.

The lot sold by AP for $6,500 in that same tender also included 2 sets of Olympic booklet covers.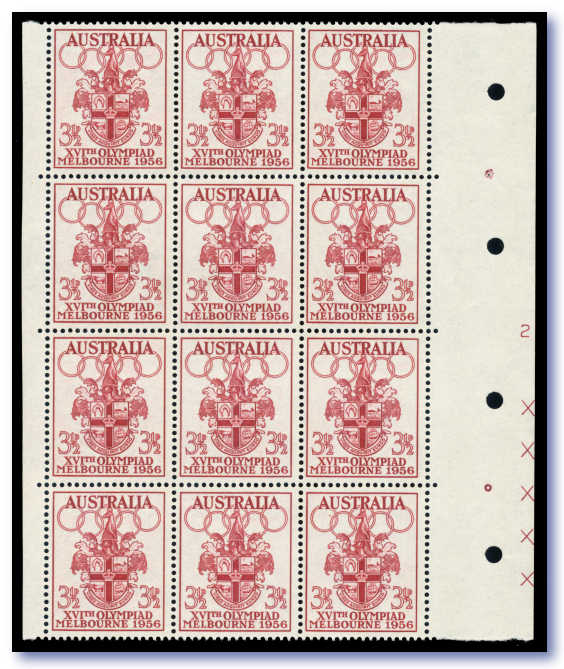 Sold for $A117,375
A set of front and back booklet covers was offered at the same sale on its own and realised $A6,700. So the original $6,500 purchase has now sold for $A117,375 in total.

The price has increased more than EIGHTEEN times since 1987. Has money in the bank done that? Have blue chip share indexes or property or gold or oil or diamonds done that? None of those have done anything remotely LIKE that.

Gary Watson told me today the buyer of the mint block did not especially want the booklet cover, so Gary brokered a sale of that to the under-bidder for the booklet cover!

Those two sales in themselves of blank booklet covers are almost certainly a price record for any Post War booklet item from anywhere.
Staying Local
The plate block of 12 and the covers all sold to Australian collectors Watson told me today.

The record breaking block is the 1956 Olympic Games 3½d carmine-lake, in an inter-marginal block of 12 (3x4).

It comprises two complete booklet panes, with the complete Plate Number '2' in the margin at right. ACSC #332E(1)z and is unmounted mint.

The piece has a current ACSC catalogue value of $60,000 as the unique plate block of 12.

It originated from the Australia Post Philatelic Archival Sale, Tender Number One (Lot 295) where it was purchased by collector Tim Rybak - who is a Sydney lawyer.

Last month, Rybak sold his New Guinea area GRI stamp collection for $A1.8 million.

This plate block might be considered to be the most important stamp item from the reign of Queen Elizabeth II - perhaps for the entire British Commonwealth.

It is also one of the most important Olympic theme items from any country – and most certainly in the Post War era there would be nothing even close in price as far as I am aware.

The un-issued Germany 60+30pfg Moscow Olympic stamp is far scarcer and is cat 30,000 Euros, but that of course is only known in used singles.
What happened?

How did a final print 3½d value exist, when as we all know the ISSUED stamp in this design was of 4d denomination?

The ACSC states: "All preparatory work for the base-rate value of the Olympic Games issue was done on the basis of a 3½d value. The increase of the basic letter rate to 4d on 1st October 1956 was done on short notice, and necessitated a change of value."

"By that time, however, the 3½d die had been engraved, and steel master plates and electrotype plates prepared, both for sheet stamps and a special plate for printing stamps for a proposed 3/6d booklet."

"No sheet stamps were printed, but a printing was made from the 432-on booklet stamp plates comprising 27,000,000 stamps. Following the rates change, the proposal for the stamp booklet was scrapped. The Post Office retained some uncut sheets of the 3½d booklet stamps [and destroyed the balance]"

"... The Archival Sales of 1986-1987 [sic: the two tenders were actually in 1987!] are the sole source of the 3½d stamps. In total 40 stamps were sold, comprising four singles, four booklet panes of six, and a Plate Number 2 block of 12."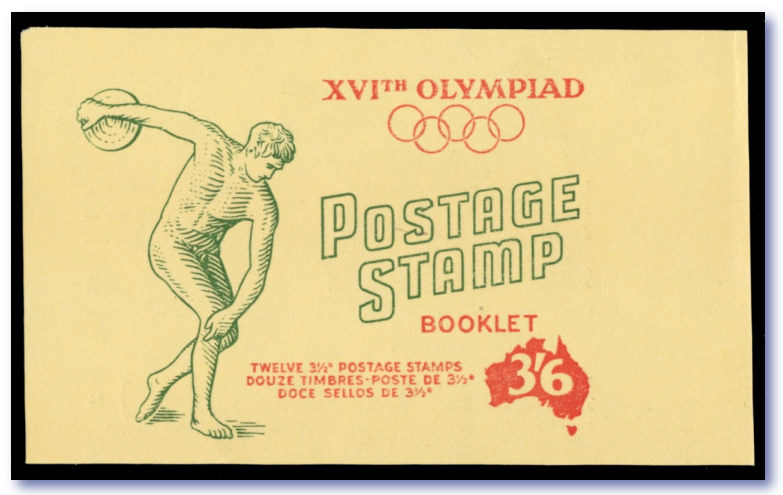 Even this sold for $6,700
| | | |
| --- | --- | --- |
| | In the Australia Post catalogue for the debut 1987 Archival Sale it was stated: "No copies of this stamp exist presently in the philatelic market. Only the equivalent of 16 panes of 6 (96 stamps) will be released through these sales." | |
40 copies exist
However, Australia Post reneged on its undertakings to conduct further sales beyond the second tender sale in November 1987. Only the 40 examples detailed above were released. In respect of this item, the APO tender catalogue stated: "This is the only plate number piece, and the only multiple larger than a pane of 6, which will be offered". That at least was true.

Of the 40 examples sold by Australia Post in 1987, no less than 36 were in blocks of 6 (4) plus this block of 12. There is no doubt that they have been "well held".

In recent years, very few single examples of this stamp, and no blocks, have been offered at auction. A single stamp, catalogued at $5000, sold for $12,075 at a Prestige Philately auction of April 22, 2006.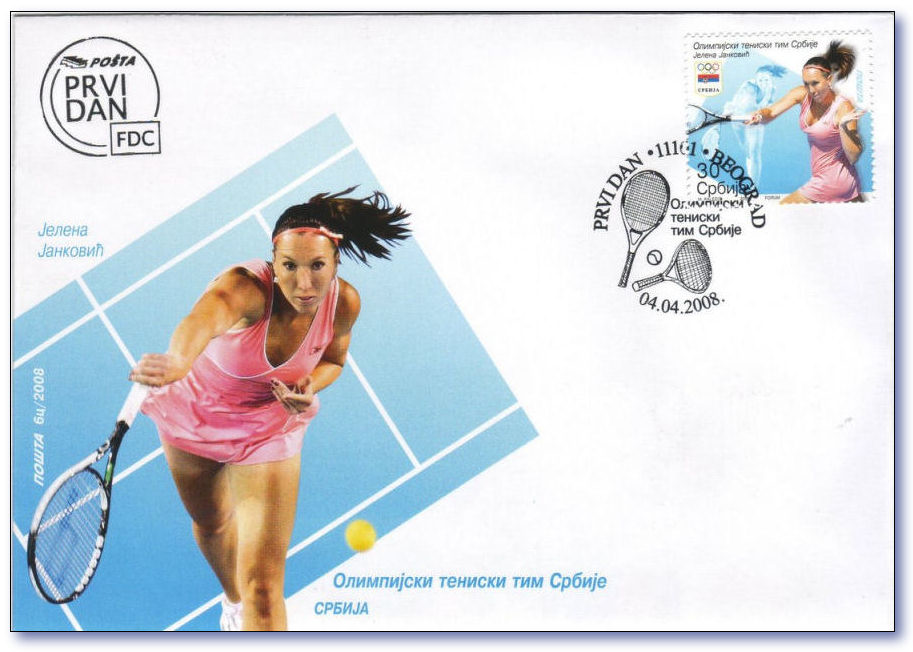 Jelena Feels Jilted

Game - Set - Match!
The most successful Serbian tennis players, including current women's tennis stars Ana Ivanovic and Jelena Jankovic, have been depicted on the Serbian stamps specially issued in April for the upcoming 2008 Olympic Games in Beijing.

However, there was some unseemly controversy over the design process. Ana Ivanovic and Jelena Jankovic have protested not all the stamps have the same face value, and that was why they didn't co-operate in the promotion of the stamps.

The women appear to feel slighted that male star Novak Djokovic "outranks" them on the set of stamps.

Janko Tipsarevic's stamp is denominated 20 dinars, Jelena Jankovic's and Nenad Zimonjic's are 30 dinars, Ana Ivanovic's is 40 dinars, (about $A80c) and male here Novak Djokovic's stamp is 46 dinars.

"We are all proud to grace the stamps, but there was a misunderstanding in communication, and certain details should have been explained to us," said world tennis No.2 Ana Ivanovic.

"It's an incredible honour," continued Ivanovic. "It's surreal. This isn't something I ever imagined would happen to me, especially when I am so young. But it's a great feeling." The sheetlet of her 40 dinar stamp is shown nearby.

World No.5 Jelena Jankovic said: "We are all part of the Olympic team. All the players should have the same stamp face value. The stamps are a big honour, we just need to determine the value."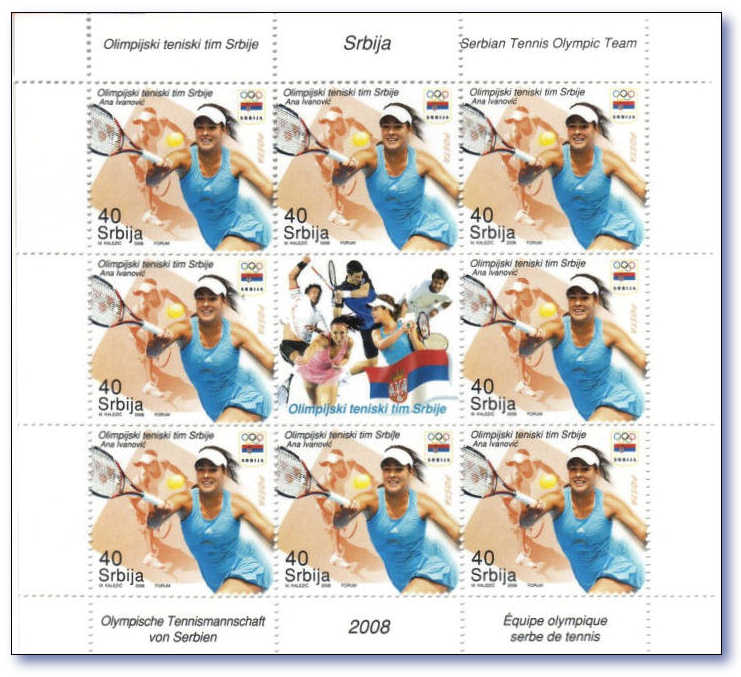 Forty Love
A first day cover of the 30 dinar Jelena Jankovic stamp issue is shown nearby.

Vesna Rudic, spokesperson for the Serbian Post Office hastily explained that the value of the stamps isn't in proportion in any way with the value or talents of the athletes.

Rudic made a comparison with Serbian banknotes — "the 1000 dinars and the 100 dinar banknotes are both very important."
Bridge Fever
Former Australia Post Chairman Maurice Williams sold his collection of Sydney Harbour Bridge stamps for more than $120,000 at the same Prestige May 24 auction mentioned above.

The "Five Bob Bridge" is this country's most iconic stamp design - the one issue every collector of Australian stamps aspires to own.

It is to Australia what the 1929 £1 PUC Pound is to Great Britain fans, and what the 1893 $5 Columbus is to United States collectors.

Mr Williams' collection went far beyond the basic stamps. He managed to acquire First Day Covers, rare plate dot blocks, varieties, and many of the non-stamp collectables associated with the Opening of the Sydney Harbour Bridge in 1932.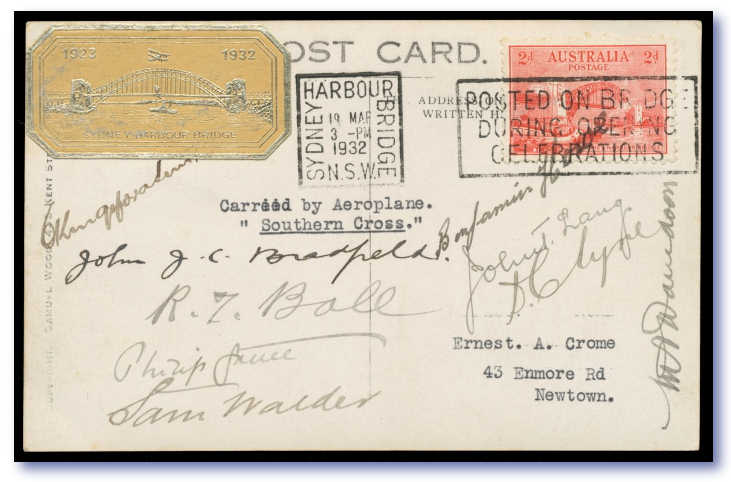 Charles Kingsford Smith carried 15 postcards on his dare-devil flight to commemorate the opening of the Sydney Harbour Bridge.

The example in this sale franked with a near worthless 2d red, was signed by John Bradfield who designed the Bridge and other dignitaries, and sold for almost $10,000.

Only a month or so back a similar opening day postcard flown by Kingsford Smith and signed by others, sold at a Charles Leski Melbourne auction for $A3,737. Maurice Williams' example went for almost three times that figure at $9,611.

A client of mine bought the Leski piece, and is absolutely delighted with his savvy judgment! Earlier this month I sold him a far rarer 'Smithy' signed cover for far less than that, so he is having a good year.
Sheet of 5/- Bridge
A sheet of twenty of the 5/- Bridge value cost £5 ($10), or at least two weeks wages in the Depression era, when issued in 1932.

It is no surprise that very few complete sheets still exist. Maurice Williams' sheet of 20 in good condition sold for $27,960.

Mr Williams and his wife Norma attended the sale, and claimed that they were thrilled with the results. As Mr Williams left the room he punched the air with delight I am advised!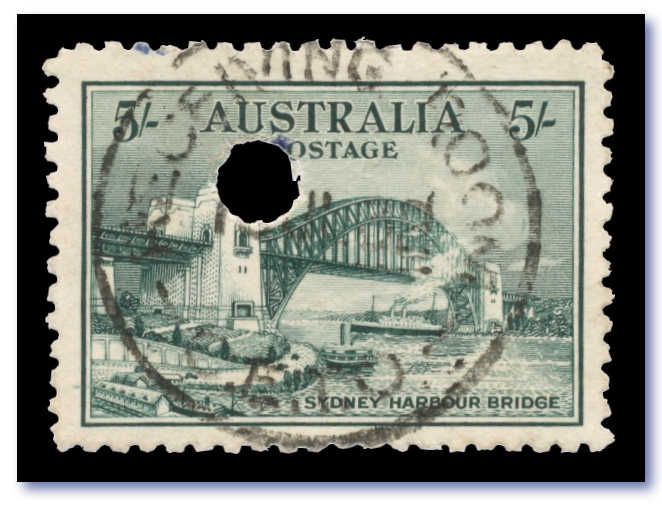 Cannon-balled Bridge
The one result that amazed me was a pretty rough looking telegraph punctured copy that looks like one I sold many years back as a space-filler to someone. Has blue pen marks on it and lumpy perfs etc.

Stolen goods pure and simple, as no telegraph punctured examples of any stamps have ever legally reached the market. In the past they have been sold as very cheap gap-fillers by the trade.

High value Kangaroos sell for about 20-25% of normal price with a telegraph puncture, as space-fillers.

This 5/- stamp shown nearby sold for about $A875 – or around four times what a nice CTO copy brings. If this is the same one I sold, I'd have priced it at a quarter of CTO level. How fashions change in stamp collecting – and very fast!
China Earthquake Appeal
| | | |
| --- | --- | --- |
| | The death toll from the May 12 earthquake in Sichuan province China is officially around 70,000 and continues to climb. | |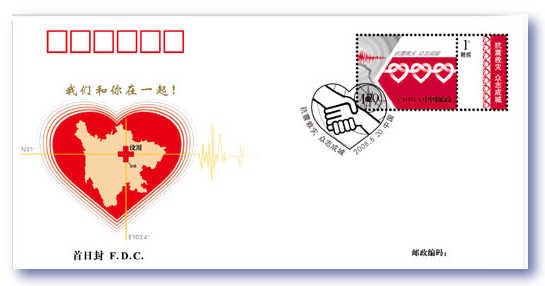 Earthquake Stamp


Another 366,586 people were counted as injured and 18,618 were still listed as missing.

As of early June, officials say that 45.55 million people were affected by the quake, of whom 15.15 million had been relocated.

The State Council, China's Cabinet, says donations for disaster relief have reached $1.5 billion.

Special stamps to help raise more funds for earthquake victims have recently gone on sale in China.
Featuring three interlocking hearts on a red background, the stamp has a printed value converting to about 16 cents Australian but sells for double that at Post Offices

The stamp is the seventh in China to be issued as a form of community donation or "Charity" issue. It is the second stamp released to help fight disasters, according to Shanghai Post.

China's official Xinhua News Agency says 13 million of the special stamps were placed on sale. It states all proceeds will be donated to the disaster areas.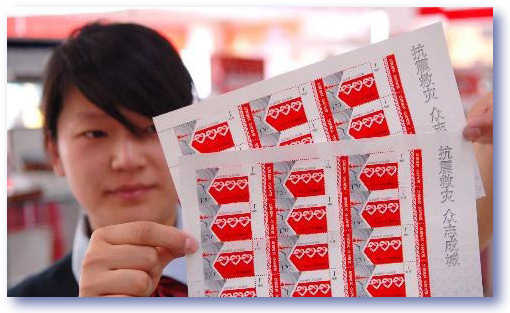 Just Released
| | | |
| --- | --- | --- |
| | An employee of the post office in Jinan, capital of east China's Shandong Province, shows several sheets of the newly-issued stamps in the photo nearby, on day of issue. | |
Or a related natural disaster, stamp dealers and collectors have rallied generously to the Burma Cyclone appeal ran through stampboards.com.

We have a man on the ground there, who has made several trips into the Delta region distributing countless huge sacks of rice, other food, candles, medical aid and emergency relief.

Full details - with many graphic photos he takes each trip are found on www.glenstephens.com/burma

As I write this we are on target as a stamp group to raise $10,000 for this superb cause - so if you can assist in any way please do so SOON!

Scores of collectors and dealers have donated material to be sold with funds raised going to the appeal, so buy stamps – and help others who desperately need your assistance.
Black Blockbuster

Classic Great Britain was just one of many highlights of the Mowbrays Australia June 18th Auction in Sydney.

Amongst the many rarities in this 150 lot section was the unused block of 9 of the Penny Black shown nearby - which was offered with a pre-sale estimate of $A50,000.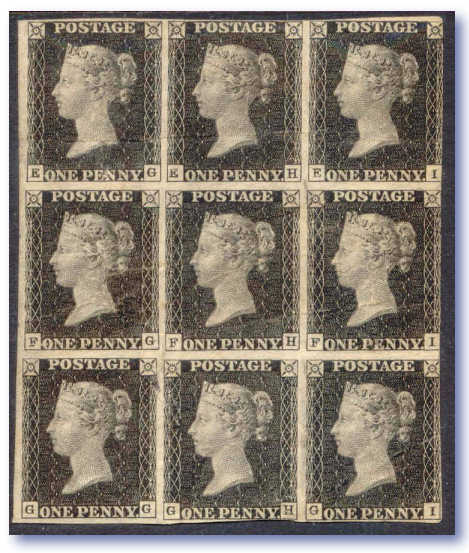 Estimate $50,000
It was offered, along with four other unused Penny Blacks - including a Plate 11. And a nice range of full margin used Penny Blacks - including a strip 3, and three of the scarce Plate 11 examples.

The deadline for this column was just before the sale took place, so sadly I can't update you on prices they fetched. I am flying off to Cuba before the sale commences, so can't even sneak in a few highlight prices!

Indeed most major auctions never tell me about their auctions in enough time to PRE publicise them, which is pretty silly seeing they are working months ahead themselves.

This is a huge loss to their vendors - of free and timely worldwide exposure. However I live in perpetual hope that one day some of them may get co-ordinated enough to do that.

Many large auctions do not even bother to advise of results AFTER successful sales without a cattle prod, and again this oversight is quite inexplicable. Getting info from many of them is like pulling teeth.

To top off the Mowbray offerings of this famous world's first 1840 stamp, there were also two unused examples of the rare 1d "VR" lettered Penny Black, estimated at $9,000 and $2,500 respectively.

In the 1847 "Embossed" issues, a striking corner block of 4 of the 10d brown, estimated at $18,000 captured my eye.

It is illustrated nearby. Collectors should take a close look at how close the impressions are to each other and then wonder why "4 clear margin" examples are near impossible to locate!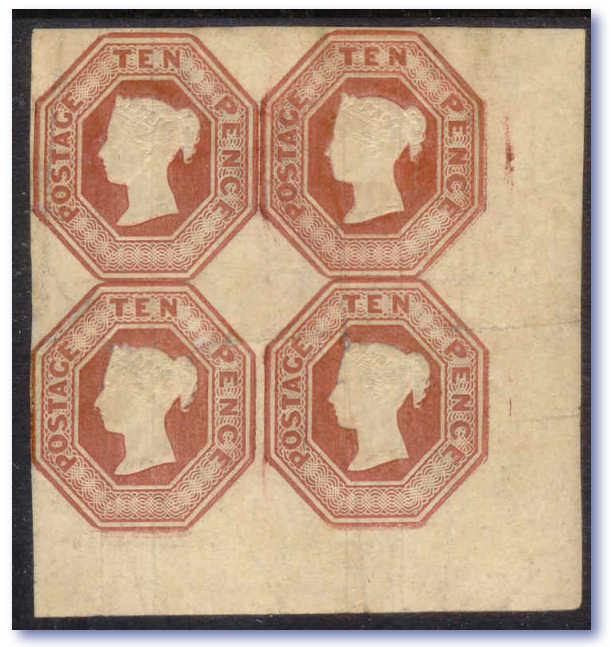 Love those margins!
| | | |
| --- | --- | --- |
| | These stamps were literally embossed one by one onto sheets of paper, and indeed I have often seen not only the design touching by clearly OVER-LAPPING onto the adjoining stamp | |
A strong segment of this Mowbrays sale was devoted to the Australia errors and varieties. They covered the George VI period with skipped perfs and voids, through to more recent colour and perforation errors.

A number of noteworthy pieces included a 1954/59 6½d orange strip of 4 with variety "Imperf at right" estimated at $2,000 and a 1965 5d Christmas corner pair showing "Missing Blue" variety estimated at $2,000.

In the Decimal period the errors covered some 50 odd lots including 1972 18c Rehabilitation strip of 5 with "missing orange - partially on two units", estimated at $2,000, and a 1973 1c Banded Shrimp pair - one unit with "missing red" and estimated at $3,000.

Another striking item was the 1980 Stamp Week 22c marginal pair variety Imperf at left - estimate $1,500.

I also noted a nice looking 1980 Stamp Week Mini-Sheet partially Imperforate, estimated at $1,900.

Other attractive varieties include a 1985 Classic Children's Books 33c Ginger Meggs/Blinky Bill block of 4 with variety 'Imperf Three Sides" estimated at $650, and a 1986 $1.50 Christmas Mini-Sheet with variety "misplaced perforations" estimated at $1,000 and many others.









Get my regular market update emails FREE. Stamp gossip, price trends, record sale prices, and many one-time stamp specials, wholesale bargains, and exciting offers and breaking philatelic news. A mini stamp magazine in every email! "KNOWLEDGE IS POWER". The ONE stamp list you MUST be on, to keep in touch with the rapidly changing world market. One client made $65,000 profit in a few months after following my specific advice. Sign up securely and quickly by clicking HERE to access my automated data base. And wiser still ADD your home AND work email, if I only have one right now. Add a stamp friend's email address if you wish. One short click and you are subscribed to probably the most read email list in the stamp world!


Instant Currency Conversion


FREE! Just click here...




If you would like to be notified of updates to this website, Click HERE. If have any questions,
or comments regarding my site, please email me at glen@glenstephens.com
| | |
| --- | --- |
| | Search all my 300+ web pages! Simply type in what you are looking for. "Penny Black", "Latvia", "Imprints", "Morocco", "Fungi" "Year Books", etc! Using quotes ( " ) is more accurf used with no quotes. Search is NOT case sensitive. Tip - keep the search word singular - "Machin" yields far more matches than "Machins" etc. |


Full Time Stamp Dealer in Australia for over 40 years.
Life Member - American Stamp Dealers' Association. (New York)
Also Member of; Philatelic Traders' Society (London) IFSDA (Switzerland) etc
GLEN $TEPHEN$
Full Time Stamp Dealer in Australia for 40 years. Life Member - American Stamp Dealers' Association. (ASDA - New York) Also Member - Philatelic Traders' Society (London) and IFSDA (Switzerland) and many other Global philatelic bodies
ALL Postage + Insurance is extra. Visa/MasterCard/Amex all OK, at NO fee, even for "Lay-Bys"! All lots offered are subject to my usual Conditions of Sale, copy upon request
Sydney's BIGGEST STAMP BUYER: Post me ANYTHING via Registered Mail for my same-day cheque. Avoid copping the now normal 45% Auction "Commissions" (20% Buyer + 15% Seller + GST, etc) AND their five-month payment delays!
Read HERE for details.
"Lothlórien", 4 The Tor Walk, CASTLECRAG (Sydney), N.S.W. 2068. Australia
Phone 7 Days: (02) 9958-1333. PO Box 4007, Castlecrag. NSW. 2068
E-Mail: glen@glenstephens.com The Number #1 Web Sites:
www.glenstephens.com/rarity.html and www.stampboards.com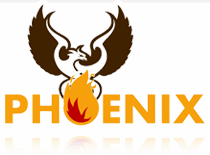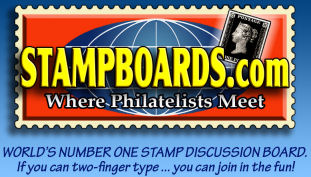 Instant Currency Conversion


FREE! Just click here...


E-mail me at glen@glenstephens.com -
Every credit card shown is accepted WITHOUT fee.
Earn Frequent Flier points while buying at bargain prices!
ALL prices are in weak Ozzie Dollars. I charge NO nasty, nasty
"Buyer's Commission" on stamps like nearly every "Auction" does.






All content on every page of this site is International Copyright © 1995 - 2009 Glen Stephens. All rights Reserved.