Click To Go Back To The Main www.GlenStephens.com Stamps Homepage

Welcome! - You are visitor number
To - www.Glenstephens.com


March 2021


---
Penny Black COVID face masks
All around the planet we need to wear face masks more and more these days. We flew to Adelaide this week, and needed by law to wear them in the Taxi both ways, into both airports at all times, in all areas, and on the plane - 4 hours of face masks. And then get COVID tested on arrival, and self-quarantined.

Those dinky little blue ones I do not like, as they are small and fall off, and as I wear glasses, they fog up with those types, so I was keen to find something more robust and larger, and that also created a talking point now and again. The question was - WHAT design was it best to use for that?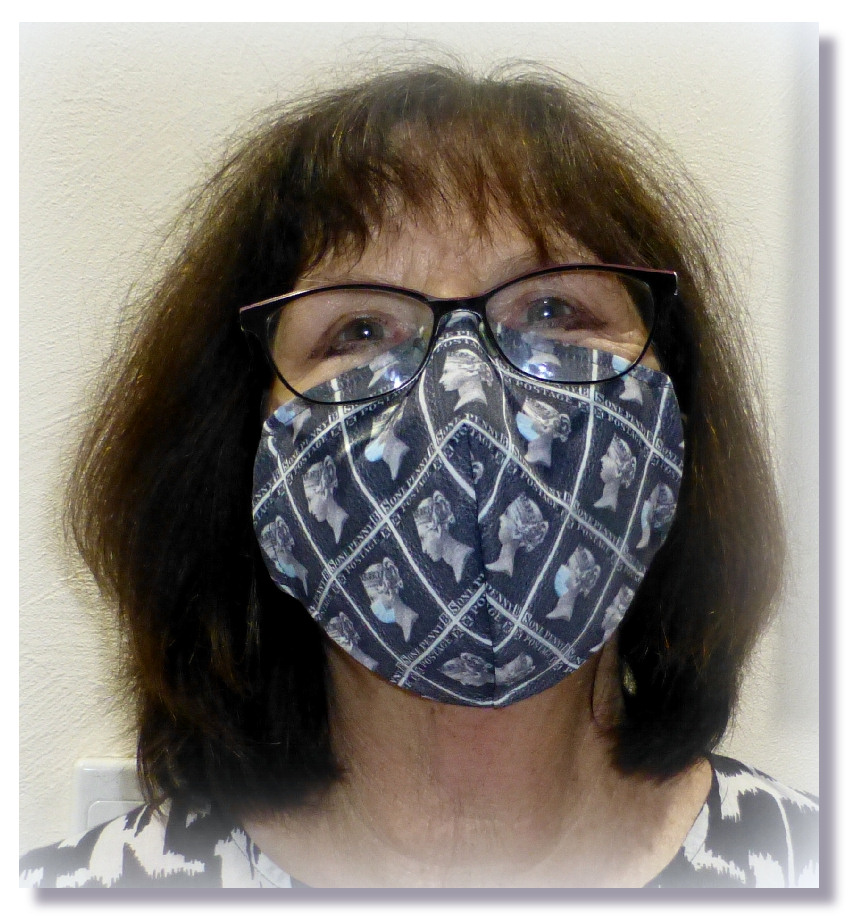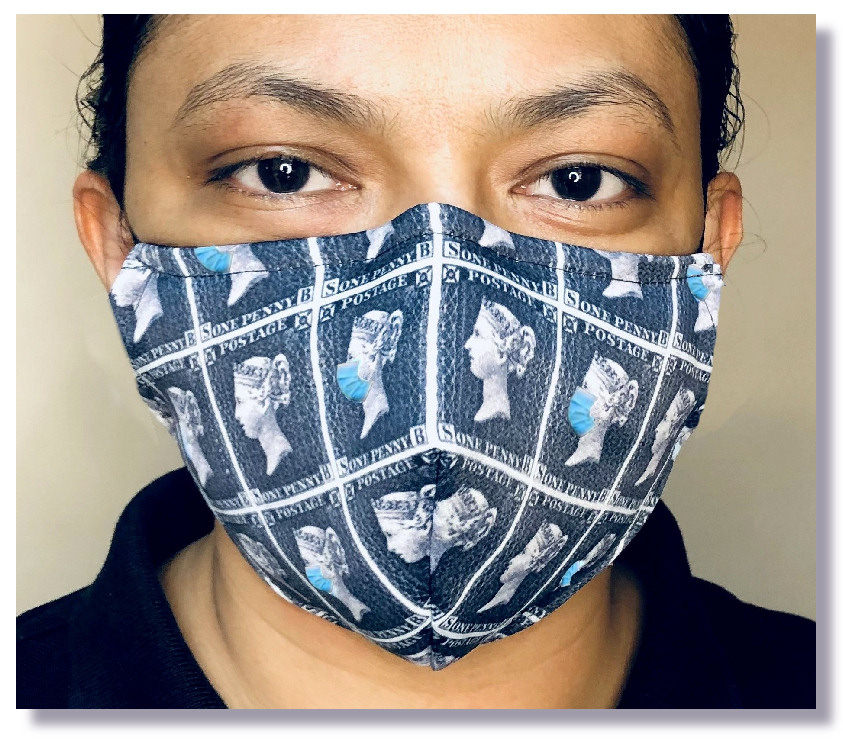 Penny Black COVID stamp masks
For a stamp dealer there is of course only one obvious choice. THE PENNY BLACK! Stampboards Member Greg Allen is a graphics whizz, and kindly created the artwork for them, offering me many options. The most favoured was creating repeated images of Queen Victoria - each alternating one wearing a blue COVID mask!

These looked pretty good I thought, as did others commenting on them. I located a FRPSL member, Kapil Gogri, who is a leading figure in organised philately in India. He runs a fabric and associated company there, and after many emails we got a plan and budget organised, to make a small supply of these Penny Black masks.

These are not just a 1d Black design transferred onto a single thickness cloth, but it is printed onto a full 5 layer anti-bacterial filter, high rated SSMMS quality protective mask basis, washable, reusable, and in a good generous size - not like those tiny little blue things, that to me seem to offer little real protection.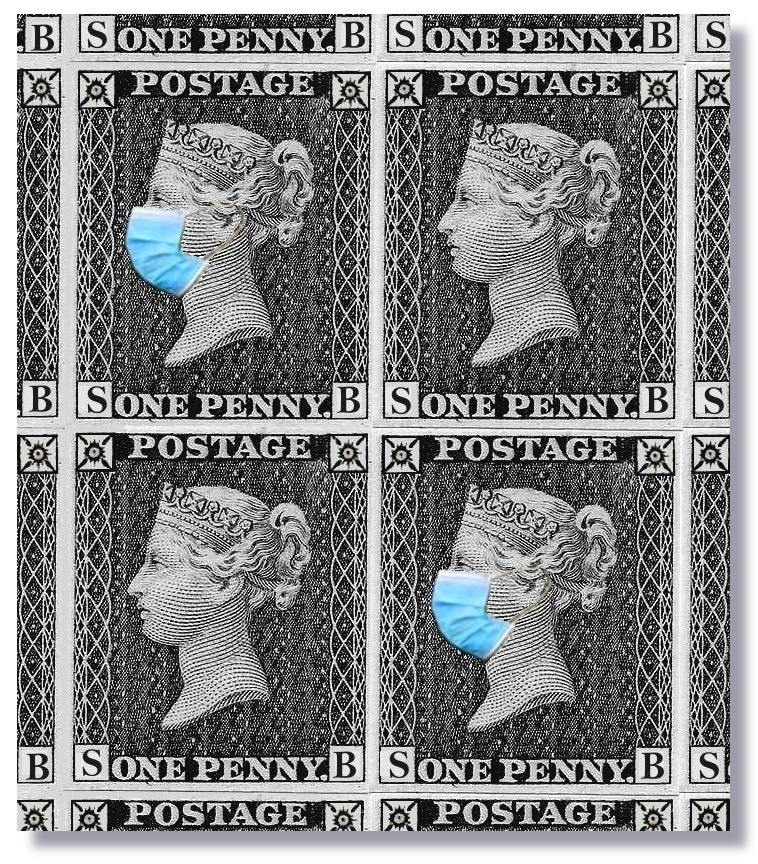 Her Majesty would not be amused!
Greg custom designed the 1d Black, all with "S.B." corner letters for StampBoards, and with Queen Victoria wearing a blue COVID mask on each alternate image. It looks pretty cool I think, and it most certainly gets LOTS of comments when worn in public, as I have been doing.

If we need to wear one by law, we may as well wear a stamp related one was my thought! They are inexpensive, especially for a 100% custom printed and hand finished design, that needed to be specially designed and printed, and hand stitched up so designs meet exactly at bridge of nose, and I only had a very small number done.
One size does NOT fit all!
| | | |
| --- | --- | --- |
| | These have the robust black fully adjustable securing ear bands as you can see, which are so much better than the 'one size fits all' (they do not!) thin white elastic band type deals, on the cheapie throw away blue masks. Mine used to fall off all the time, and my glasses continually fogged up. | |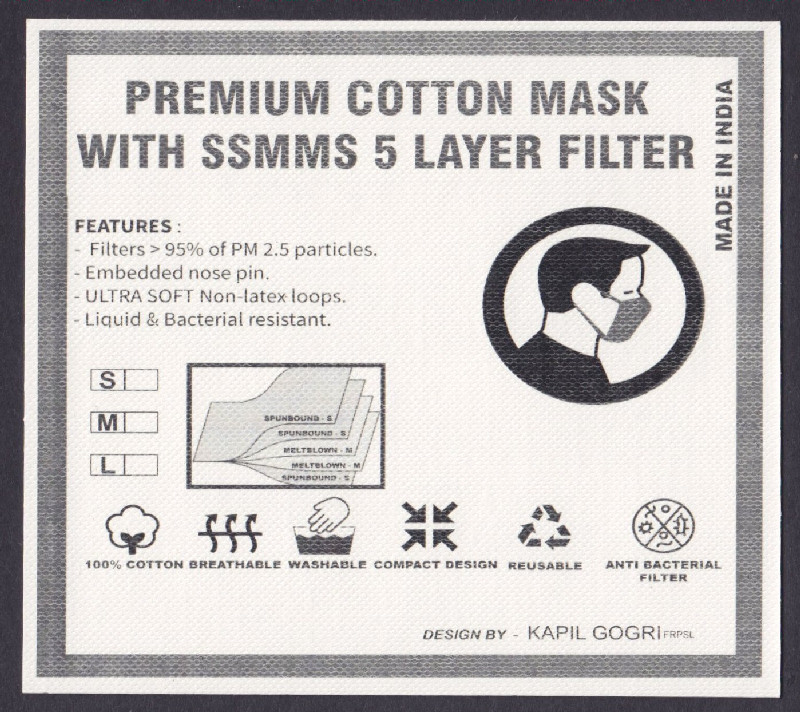 Not just cheap toys these masks.
I did only one run of them, as DHL Express here was a killer as carton was 5 kilos, and when these are sold they are gone forever. It was just a fun little side project this month. Unit cost is not high, and weight is minor, so grab a half dozen for your stamp club friends perhaps, or overseas correspondents?

A dealer friend ordered 10 as he is very confident he will double his money offering these singly on ebay to a global market, so time will tell. For the cost of a beer apiece, he will make a guaranteed buck on them I feel sure, and with a low cost to mail anywhere globally, that is certainly a plus.

You'd be amazed how many people you do not know from Adam, comment on the mask when worn on planes, in shopping centres, in airports and trains etc. Lots more folks seem interested in stamps than you'd ever imagine. I should have handed out some business cards to them all!

tinyurl.com/1dCovid has much more of this interesting story of the genesis of this mask, and the different designs considered, and the modest costs involved to secure them, and all order details etc. It all promotes stamp collecting to a wider audience, and that is a very good thing that we all should do where possible.
German stamps now with unique bar codes,
German stamps from February 2021 have been sold, each with an individual and UNIQUE matrix codes printed on them, to help stop letters getting lost in the mail, as they can be tracked, the national postal company Deutsche Post announced in January. There are many other features too - see below.

Their customers in Germany will now be able to use these unique codes to track when their letter has arrived in the local processing centre, and when it has reached its destination region processing centre, Deutsche Post claimed last month. All for the very modest cost of a local letter.

So in short, very soon, every standard letter you mail in Germany, you will be able to see the progress of, through the German mail system. You also can offer proof of where and when it was purchased, when it was mailed, and to where etc, to anyone who wants to know - i.e. eBay buyers and so on.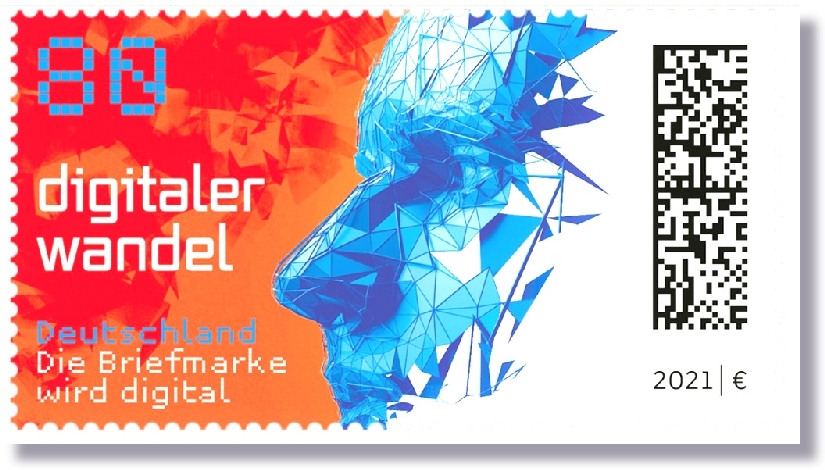 Hi-Tech stamps of the future?
The unique Digital Matrix codes, which are rather similar to the now familiar QR codes, just sit alongside the traditional images on the stamps in each new issue design released, in what will be "a new generation of stamps", according to the German company.

"These new stamps with matrix codes make our service even more reliable - and hence make the postage stamps more interesting," said Tobias Meyer, head of the company's German post and parcel division last month in a News Release.

The first stamps featuring the codes went on sale in early February, with more different issues to follow later in the year. By 2022, these unique codes will be featured on all German stamps. However, the codes do not allow for full parcel-style tracking, and they will not tell customers whether a letter has actually been delivered.
Four *BILLION* combos possible.
All new stamp issues it is claimed, will exhibit an individual matrix code DataMatrix digital code complying with the ISO/IEC 16022 standard, in a dimension of 6.8 mm × 20.3 mm, which allows more than four billion numbers within each run. With all of them holding an imbedded unique individual identifier for each stamp.

The debut issue - a very Germanic looking red, white and blue 80c issue is shown nearby. The wording on the stamp translates loosely as: "80c - Digital Change - GERMANY - Our Stamps are now going Digital"

Stampboards members advise this stamp is sold as normal gummed, also self-adhesive via two printers, Berlin State Printers, and Enschedé in Holland, in different perforations, and even a postal stationery envelope, blank with the stamp imprinted on.

Perhaps Germany is running out of interesting things to depict on their stamps? Their March 1 issue duo is shown nearby, and oddly depicts escalators at 2 train stations. Now that is plumbing the design depths it seems. What next - historic sewage farms!?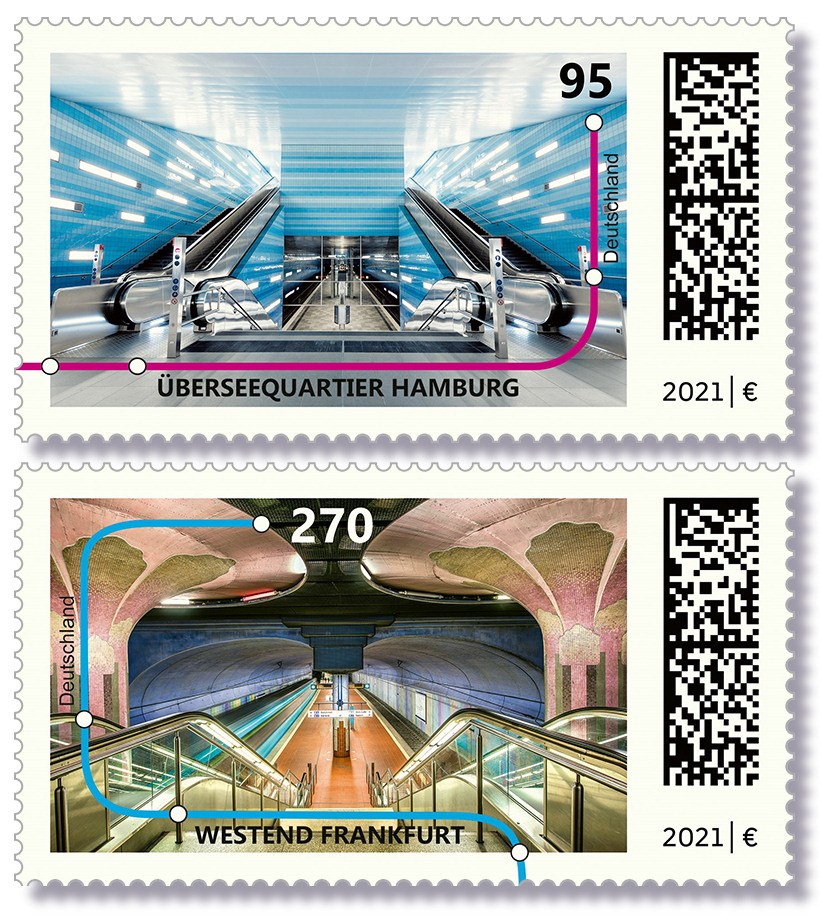 Germans go wild with stamp designs!
The Matrix codes are added to each stamp at the printing stage. The code will allow basic track and trace, and details of the issue can also be called up via a mobile phone app etc. They say the code is also used internally within the PO to automatically determine whether the franking is legal and correct, or has been used before, or is FORGED etc.

So in THEORY the global cottage industry of soaking off stamps that have already been through the mail, but are not cancelled, will also stop. Buy 1000 of these off some eBay spiv, sourced from Charity kiloware, and NONE of your "cheap" mint stamps will pass through the system, as it "sees" the stamp unique code has already been used up.

Naturally these codes also make cancelling stamps totally pointless, and that has raised its own issues. Many mail users WANT to see traditional cancels from their post office counter, or the local mail sorting centre, and to that end, all German POs and sorting centres swapped to using BLUE ink on February 4. More on that below.

Stampboards members were fast to report this revolutionary new innovation, and German members there were mailing early date covers and 'last day' black cancel use of old stamps etc, to other members around the world. A long discussion on this new development, with many images, is here for those interested - tinyurl.com/GermanMatrix

It seems the current flower Definitives, which are of course very small sized, will stay unchanged right now, and one assumes a new series later year will be larger, so as to have enough room on them to allow the 7 x 20mm vertical code box to be placed upon them, in a suitable manner, so as to be scannable.
The data embedded in every new stamp -
German Post advises the code on each stamp contains all this data:

1. The letters DEA, with DE for Germany and A for Deutsche Post.

2. The Customer Number.

3. If purchased from a Stamp machine, the exact machine identifier number.

4. Type of stamp, i.e. internet stamp, machine stamp, PO bought commemorative stamp etc.

5. Date first scanned in at a PO, or printed out from machine etc.

6. PO Product number of the stamp.

7. The Consignment number.

8. Anti-fraud and anti-forgery elements, such as a crypto string.

9. The Issue date, and the face value.

It seems that in later 2021, most if not all new issues will have the code. From 2022 ALL German issues sold will have them, the PO claims. There doesn't seem to be much information available yet about the impact on number of new stamp issues, or how long traditional stamp issues will still be useable etc.

And far more importantly, what if these new codes all auto-expire after 2 years, 5 years, 10 years or whatever, even if never used on mail, making them legally invalid for usage. That is surely The Elephant In The Room here? 200 or 500 Euros of mint stamps not able to be used on mail possibly, will not be popular.

Here, any Decimal Currency stamp issued since 1966 is valid for posting today. A 1966 $2 stamp is still good for $2 postage today etc. In the USA and Canada, France and other places, most stamps issued 160 years back etc, are still valid. Germany not so it seems?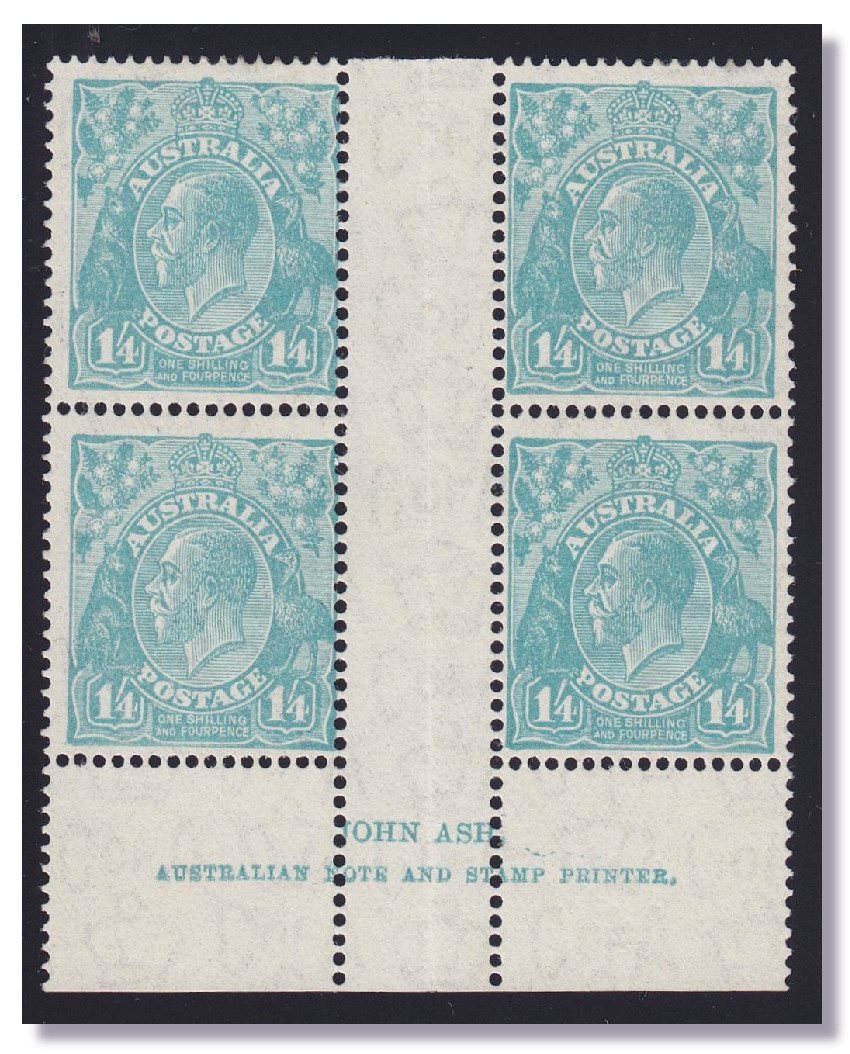 Can you see this BLUE colour?!
All German Post Offices and mail centres were issued with BLUE ink bottles and pads on February 4. Why? As I know from my long background in journalism, advertising, and printing, anything written in a mid-BLUE colour cannot be "seen" by process cameras etc. All correction and grid layout and markings and notes were always done using BLUE ink or crayon, or blue pencil.

This colour oddly never showed up when the artwork was copied or scanned in - no idea why. Maybe someone in printing can email me to advise why - it seems strange they scan fine for me. I can scan a mid-blue 1/4d KGV head stamp perfectly well and that works - see a nice looking block from stock nearby I just listed for sale - just one of life's mysteries.
Three months of colour ink trials.
German PO ran many trials since November, and of course discovered that these new digital matrix codes were messed up, when any parts of the usual BLACK ink cancels got anywhere upon them. The app was reading lines and letters from the cancels as being part of the unique coding, and was obscuring other sections of it.

So after much experimenting, a mid-blue colour ink was found not to be "readable" by their sorting and scanning equipment, and so the entire German Post Office moved over to Blue ink for all cancelling functions on February 4. Some recent examples of this postal useage are shown nearby.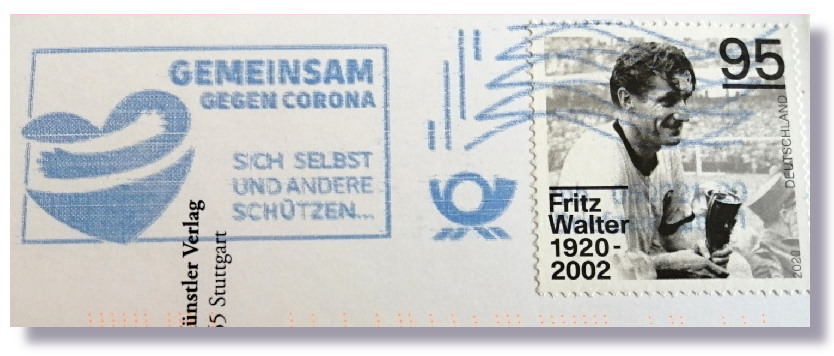 "Together Against CORONA" blue slogan cancel.
| | | |
| --- | --- | --- |
| | Naturally, any letter bearing any OLDER stamps now also gets the blue ink cancels. An October 2020, 95¢ issue of German footballer Fritz Walter is shown nearby, that a stampboards member received in the UK, with a February COVID mail centre spray cancel in light blue - "Together Against CORONA". | |
German postmarks now all in BLUE!
It was officially confirmed that ALL German postmarkers - handstamps, hammer devices, rollers, old machines, "new" spray device machines etc, in the BZ "Briefzentrum", central handling, sorting, and postmarking facilities etc, uniformly switched from traditional black postmark colour to BLUE on February 4.

stampboards.com members in Germany also have confirmed that all the counter service handstamp pads in actual Post Offices and shop agencies were changed over as well, on or about February 4. Naturally, some staffers and offices did not read the directions accompanying the new inking supplies.

Some added the blue ink onto existing pads, that had been earlier inked with the usual BLACK ink, so a strange mixture of a darker violet colour ensued, that still "read" as black on the scanning equipment. So a commercial cover collection from February 2021 will be an interesting and very colourful sideline for many!

The machine cancelled example shown nearby, on a cover to Ireland along with a 30c Flower, will be a star of the future with a clear BLUE Sorting Centre dated cancel of Hereford - "BRIEFZENTRUM 32" dated February 9 - just 5 days after the Blue ink order on all cancel devices came into effect.

Right back to the 1840 1d Blacks and 2d Blues, different colour inks used on Maltese Cross and '1844 type' cancels are very highly collected, and fully catalogued by Stanley Gibbons, and often sell for 4 figures Sterling for the scarcer ones. Well worth looking out for!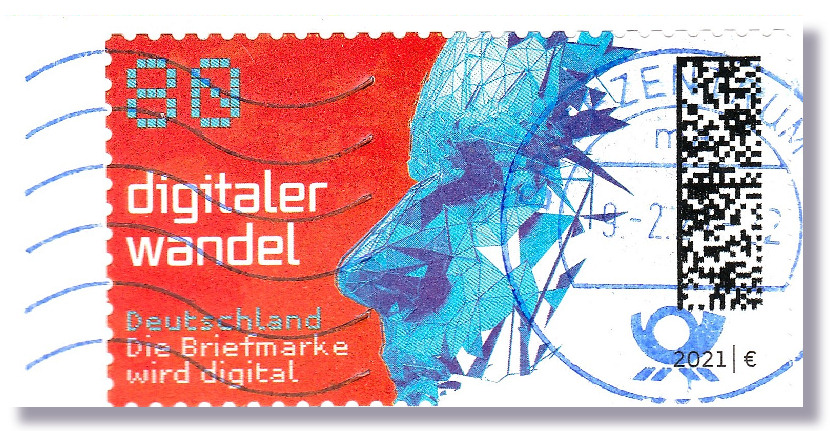 BLUE ink Cancel used in first week.
The background to the introduction of these matrix stamps was of course the vast amount of total forgeries of German mint stamp imitations of very high quality. These included full coil boxes of 500 or 1000 pieces, being sold on Ebay etc as cheap postage. Made in China to very high grade standards.

Such wholesale forging of current stamps, the Chinese have been doing for years, and also here, and for UK stamps, Canadian, France, USA etc. Ebay of course does nothing about it, as they make a fortune from it, as they do from stamp forgeries of older stamps, as with selling current stolen postage defrauding Governments.

I wrote a long piece on this in my column last month, outlining arrests of various Australians, coast to coast by the Federal Police here. They were importing literally TONS of $20 type Express Mail and Parcel Post satchels and selling on eBay, that they were sourcing for 1c each from Alibaba in China, who openly offer them complete with all tracking codes - "500 million pieces a month capacity".

The German PO can certainly afford a few truckloads of blue ink pads etc, right now! A few plane loads in fact. The Deutsche Post AG share price has exploded in the past year, from just over 19 Euro in mid-March 2020, to about 44 Euro as I typed this. What a superb investment that has been.
66.8 BILLION Euro revenues in past year.
Revenues have climbed 5% year-on-year to 66.8 Billion Euros, buoyed by strong performances from the parcels and express units. "2020 was an exceptional year - despite all the challenges faced, we achieved a record result," said Frank Appel, Chief Executive Officer of the Deutsche Post - DHL group.

As well as responding to increased e-commerce, as the coronavirus closes stores, and meant more and more consumers shopped online, Appel said the group was now also helping to distribute Covid-19 vaccines "all over the world" he concluded in his report. Still none arrived in Australia, but hardly his fault!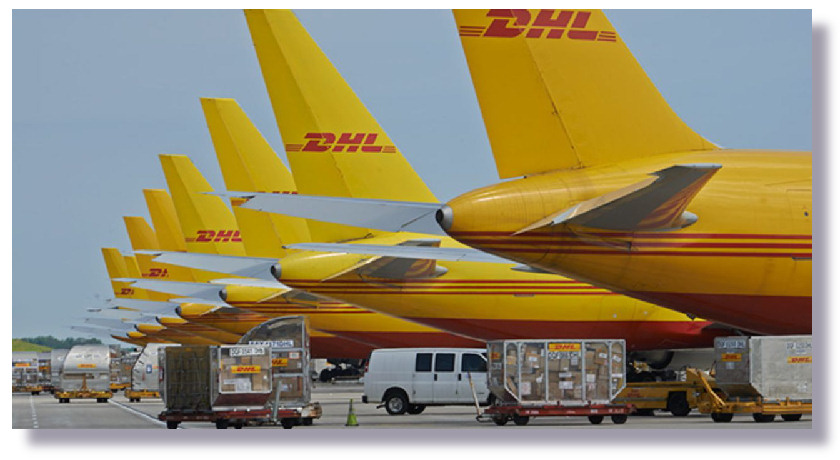 Your parcel is probably aboard these!
A lack of airline cargo space following a near grounding of global passenger flights will continue this year, according to their CEO Frank Appel. That gives Deutsche Post an edge, as it has both an express delivery service with a fleet of more than 260 cargo planes, and is a freight forwarder, with both units benefiting from synergies between their operations.

The strong results led the company to announce a new order for eight more huge Boeing 777 long range freighter planes, worth $$ several Billion. Coupled with a previous order, that means the company will take delivery of four new 777F aircraft this year, and a further four in both 2022 and 2023. The company also has an option to add a further four after that.

As there have been essentially no commercial flights to Australia for a year, Australia Post needs to send parcels to Europe and beyond via these DHL Freighters, and hence parcel rates from here have skyrocketed. No mid-range options for a year - all top whack airmail or Express tables now.
Ebay forgers now doing Monograms.
Nothing surprises me with what scams the FakeBay scammers dream up. Vigilant stampboarders recently reported that the most active Sydney forger has recently turned to faking margin stamp monograms on stamps from Australasia.

As most readers know, these sheet marginal monograms from Australia, are super popular, and can literally add $150,000 on top of the value of the same stamp with NO Monogram - hence these waste of space spivs turn to faking them.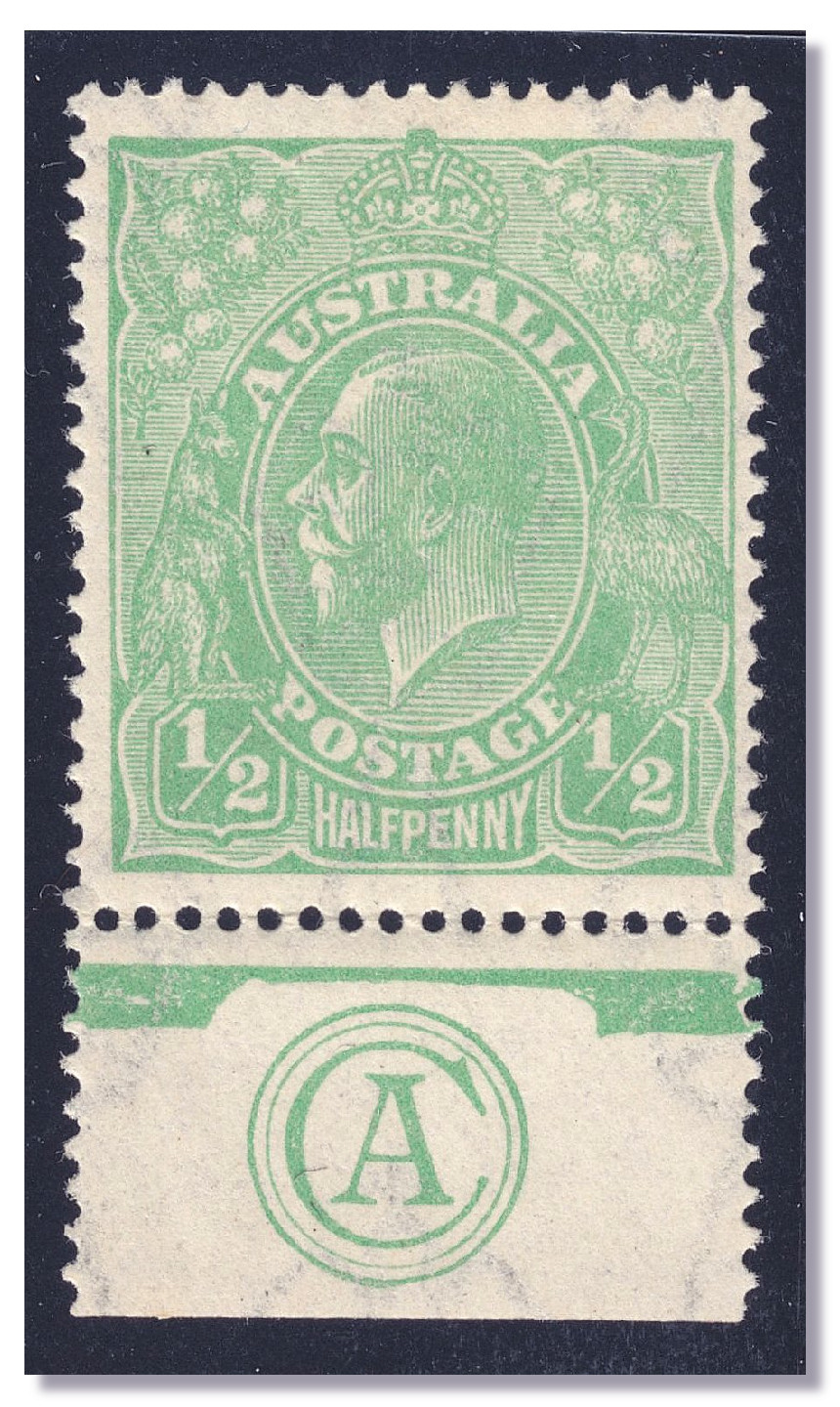 A Real Deal "CA" Monogram.
Printer monograms were of course part of the original plate, and printed at the same time as the stamp. The circle lines are clear and sharp and even, and are in the exact SAME COLOUR of the issued stamp of course. These ebay dopes know none of the above.

I show one nearby I added to stock today, a Large Multiple watermark KGV, with the rather unusual 'CA' Monogram being substituted for 'JBC', and seems like it is on very thin paper to boot. But I add the image here, simply as it shows the design crispness of a real Monogram, and the colour matches exactly.
Water based ink pad used!
Shown nearby is one of the current forgeries peddled on FakeBay. As can be seen, he has had a rather fuzzy detail metal handstamp image made of the CA monogram design, and then used a water-based ink pad, in a totally WRONG green colour, to make his total fake nonsense.

Such a joke would not fool anyone experienced of course, especially when being peddled on ebay by a known stamps forger, but sadly the Bunnies out there see a perceived "BAHHRGGEEN" and off they spend. They never have the brains to check the seller, and his other offerings, and past sales.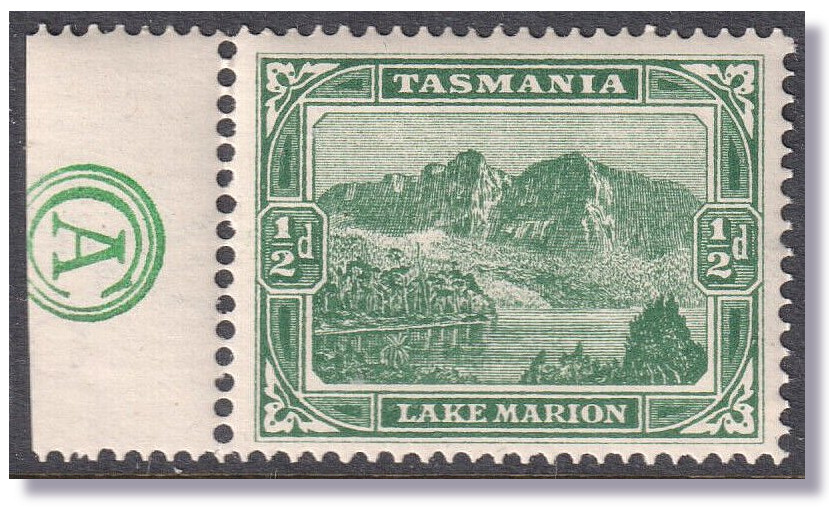 The WRONG ink colour used, you dummy!
Monograms from this region have got super popular in the past year, with many new deep pocket buyers emerging, so the spivs are keen to cash in on this new increase in demand, and this is their newest money spinner. Who would have thought to check if a monogram itself was faked?

Stampboards members have had over 100 eBay accounts of this one Sydney faker ALONE closed down, by persisting with ebay, who are clearly not at all interested, unless beaten around the head relentlessly to do something. That is after getting endless detailed reports, from vigilant and concerned collectors.

tinyurl.com/FakesBay contains details and images all these recent swathes of fakes - totally forged Tasmania early imperfs, forged South Australia Departmentals that the Bunnies pay $500 each for, and anything overprinted or perfinned that you can dream of is on offer, until the accounts are closed down by eBay.

Buying ANYTHING Australian over $100 off ebay, except off a respected high feedback seller is super dangerous - more than even generally savvy buyers realise - google the ebay seller name FIRST, and for the scammers, the first match will often be right to the stampboards Rogues Galley discussions. Try it out! The power of google.
Common looking QE2 FDC worth $US175?
| | | |
| --- | --- | --- |
| | The thing I love about this hobby is that the most unremarkable looking things have great value quite often. As a dealer, knowing WHAT those pieces are is the very tricky part! One learns something new and important EVERY day in this hobby, which is why I love it. | |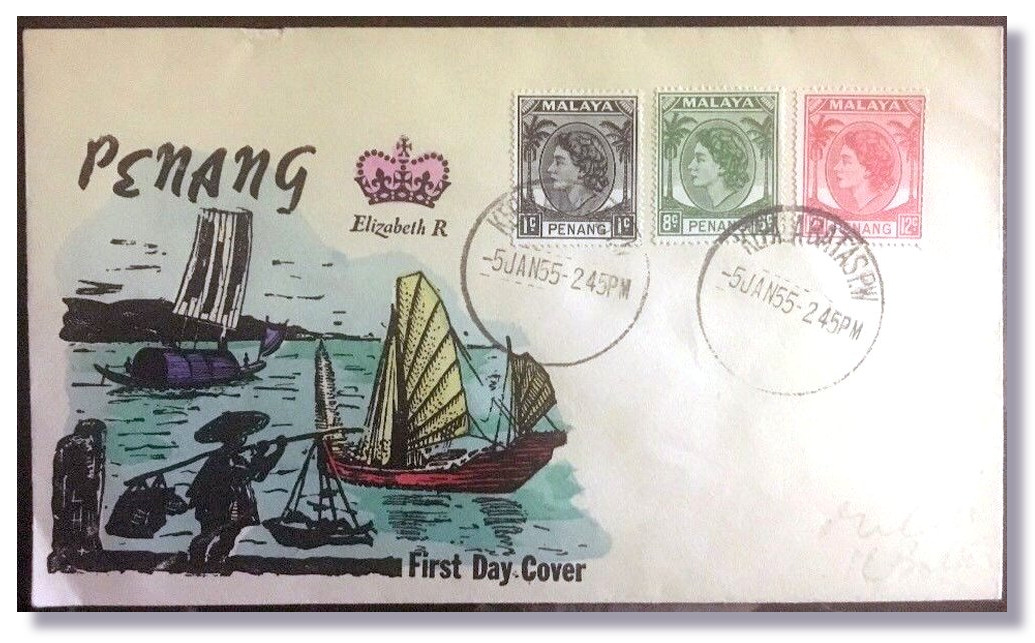 Honestly : what you would value it at
Take a look at the 1955 Penang FDC illustrated nearby, with three QE2 low values upon it. Excuse the cruddy image - the best ebay can offer, as usual. It is grubby, and has just a few no account low values, worth a few cents on or off cover generally.

tinyurl.com/PenangFDC is the stampboards link where a member there was offering $US175 to buy one. And as you can see, there were no takers for a long time! You can buy a superb CTO 1932 5/- Sydney Harbour Bridge for $US175! That is very serious money for a nothing looking FDC.

It simply goes to prove that the ordinary items to some, are real gems to others. If one of these turned up in an estate lot here, it would have gone right into my monthly $100 Junk cartons. Anyway good to see well known Melbourne FDC collector Noel Almeida finally prevailed, and found his FDC!








Get my regular market update emails FREE! Stamp gossip, price trends, record sale prices, and many one-time stamp specials, wholesale bargains, and exciting offers and breaking philatelic news. A mini stamp magazine in every email! "KNOWLEDGE IS POWER". The ONE stamp list you MUST be on, to keep in touch with the rapidly changing world market. One client made $65,000 profit in a few months after following my specific advice. Sign up securely and quickly by clicking HERE to access my automated data base. And wiser still ADD your home AND work email, if I only have one right now. Add a stamp friend's email address if you wish. One short click and you are subscribed to probably the most read email list in the stamp world!




If you would like to be notified of updates to this website,
Click HERE.
If have any questions,
or comments regarding my site, please email me at glen@glenstephens.com
| | |
| --- | --- |
| | Search all my 300+ web pages! Simply type in what you are looking for. "Penny Black", "Latvia", "Imprints", "Morocco", "Fungi" "Year Books", etc! Using quotes ( " ) is more accurf used with no quotes. Search is NOT case sensitive. Tip - keep the search word singular - "Machin" yields far more matches than "Machins" etc. |


Full Time Stamp Dealer in Australia for over 35 years.
Life Member - American Stamp Dealers' Association. (New York)
Also Member of; Philatelic Traders' Society (London) IFSDA (Switzerland) etc


GLEN $TEPHEN$

Full Time Stamp Dealer in Australia for 35+ years.

Life Member - American Stamp Dealers' Association. (ASDA - New York) Also Member - Philatelic Traders' Society

(PTS London) and many other philatelic bodies.

ALL Postage + Insurance is extra. Visa/BankCard/MasterCard/Amex all OK, at NO fee, even for "Lay-Bys"! All lots offered are subject to my usual

Conditions of Sale

, copy upon request .

Sydney's

BIGGEST STAMP BUYER

: Post me ANYTHING via Registered Mail for my same-day cheque. Avoid copping the Now normal 45% Auction "Commissions" (15% Buyer + 20% Seller + GST, etc) AND their five-month delays!

Read HERE for details.

"Lothlórien", 4 The Tor Walk, CASTLECRAG (Sydney), N.S.W. 2068

Australia





Phone 7 Days:

(02) 9958-1333

PO Box 4007, Castlecrag. NSW. 2068




E-Mail:

glen@glenstephens.com

The Number #1 Web Sites:

and www.stampboards.com