Click To Go Back To The Main www.GlenStephens.com Stamps Homepage

Welcome! - You are visitor number
To - www.Glenstephens.com


September 2020


---
What would you value this cover at?
Dealers like myself that price all items with a fixed figure generally have a pretty good idea of fair retail value. A fine used 5/- Harbour Bridge, or a 1963 Navigator set MUH - all a cinch, as catalogues guide us on such items and sets. A First Day Cover of anything is easy to price for the same reason. They are in catalogues, and 99% easy to price.

Commercial COVERS however can be very tricky, as several varied factors come into play. My sadly departed colleague Rodney Perry would have been pleased to see the result on the cover illustrated nearby. He would have been widely extolling its virtues, so here is one for Rod!

The cover is pretty ugly, damaged, and banged about, with a totally unclear 1966 date on the smeary Melbourne cancel. Despite Auction blurb, there was no evidence of any kind it was posted before Decimal currency commenced – 14/2/66, and even so there was a 2 year grace period to use up old currency stamps. So date is totally irrelevant

The 3/- franking covered the: "other articles per 2oz by airmail rate to the USA." Both 1/6d Galah stamps are punctured "VG" for Victorian Government use - not a scarce perfin in any way, on 1/6d Definitives. So we have a conundrum here.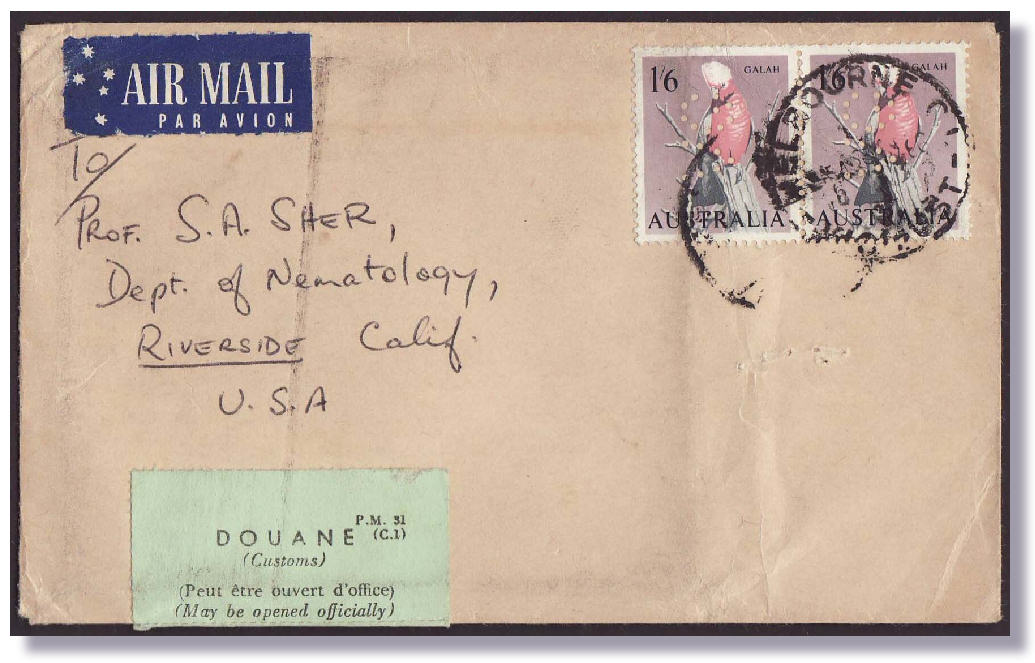 Got more than £1 Brown & Blue Roo!
| | | |
| --- | --- | --- |
| | The stamps were not described as having missing colours, and clearly do not appear to be thus, the only real reason I'd have thought anyone would pay $1,450 for it! It is not a terribly difficult definitive to source on cover. One of life's mysteries, however at least 2 collectors were hell bent on securing this cover, and had very DEEP pockets. | |
Estimated $75 - invoiced $A1,450!
It was offered by Millennium Auctions Sydney in July, with an estimate of $A75. If it had been in my stock I'd have ripped your arm off if offered as much as $75! I'd have taken $A10 just as fast. Indeed, it almost certainly would have remained in one of my huge junk cartons of bits and pieces and floor sweepings I offer weekly for $150 the carton on stampboards.com

The auction description agreed the date was not clear, and indicated the green DOUANE label on reverse stated the content were "Museum Specimens Only" Nematology is the scientific discipline concerned with the study of nematodes, or roundworms. There is my new word for the day!

It was estimated $A75 and was invoiced at around $A1,450. You can buy a VERY nice £1 Brown and Blue fine used Kangaroo stamp for that. In 5 or 10 years' time I know which one I'd rather own! Anyway, one ecstatic and totally bemused vendor I am sure. The Auction description said this -

"1964-65 Birds 1/6d Galah pair punctured 'VG' tied to 1966 (date unclear) 'Museum Specimens Only' packet from Melbourne to USA, paying very scarce 30c (3/-) other articles per 2oz. by airmail rate, exceptional £sd usage within decimal era, minor blemishes not detracting. Estimate: $75"
Are your stamps INSURED?
I am always amazed at how many otherwise very savvy collectors mention in conversation they have ZERO formal insurance documents covering their stamps. Often for 6 figure collections. The USA seems rather lenient on stamp insurance paperwork. In Australia Insurance companies are (understandably) very hard-nosed and tough.

I do several Insurance valuations and claims matters every month, and have flown to all states to do this. Not just for insurance, but for divorce, and inheritance and probate matters etc, as outlined here in detail - tinyurl.com/GlenIns These days there is no retail stamp shop in the entire city of Sydney, so those in country areas etc, have NO hope of a local dealer doing it!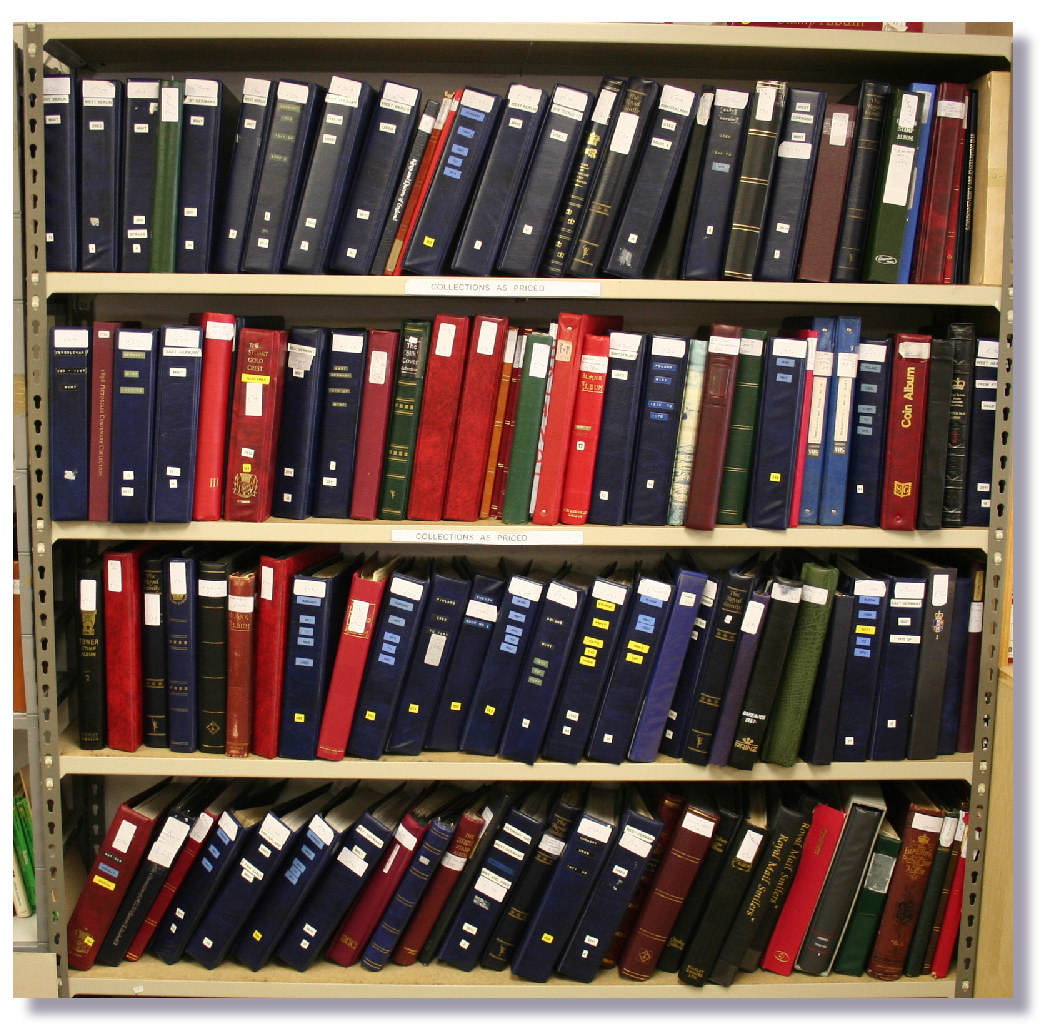 You MUST get stamps insured.
In Australia, in short - if your stamps are stolen, burnt, water damaged etc, you generally have **ZERO** chance of getting a cent refunded, unless you can furnish insurer with a detailed, dated, and all signed off assessment, all done well BEFORE the alleged event occurs.

Insurers here ask that it be done by a qualified, independent stamp valuer, and a member of the relevant Stamp Dealer Trade Associations, whom they recognise. A scribbled note from your mate at a stamp club etc, they will simply NOT accept, as many assume AFTER the event will be the case!
Penny Pinching brings $100,000 loss!
One local client had about $100,000 real world value of mainly Kangaroo stamps etc, purchased over the decades, from dealers, fairs, and on-line etc. He asked me what it would cost for a formal typed valuation, and told him the typical cost was a few $100 to cover my time.

Mr. Genius snorted derisively, and stated that was far too high. He said he had an Excel document listing them all in great detail, along with the recent catalogue values etc, and he felt happy his detailed inventory was totally adequate to satisfy any possible Insurance claim, should one occur.

He was burgled a few months later, and cheerfully emailed his inventory to his Insurers after the theft to be paid out in full, and they basically laughed, and said he might well have typed that up a few hours back, and paid him zero, and declined the claim entirely.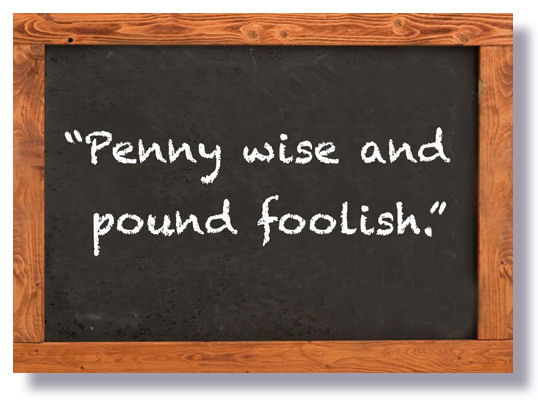 "Father Knows Best"!
My Dad used to call that kind of cheapskate logic "Penny Wise, Pound Foolish" and this fellow's "saving" of a couple $100, for a professional written valuation, cost him his $100,000 collection more or less. The stamps are gone forever. He never saw them again, and he wore the entire loss. Genius.

Anything less than that kind of detailed valuation, all dated and lodged with insurer in advance, being a copy of the original documentation, and you have no chance in general of being paid out here. In general insurers trust NOBODY!

Often there is a modest nominal sum covered for "general household goods" stolen or damaged on any Home Contents Policy, but nothing like covering the full amount of larger stamp collections. It might be capped at $1,000 or $2,500 etc. (Here in Australia anyway, I can't speak for overseas countries.)
Useful for Police & Dealer tracking.
| | | |
| --- | --- | --- |
| | The good thing about a detailed written valuation, is that it can be handed to Police to assist them, and also circulated globally to stamp dealer bodies. I get regular advices from PTS/ASDA/IFSDA listing stolen material, and stamp dealers are a very small group, that communicate very well, and we very often help recover the goods. | |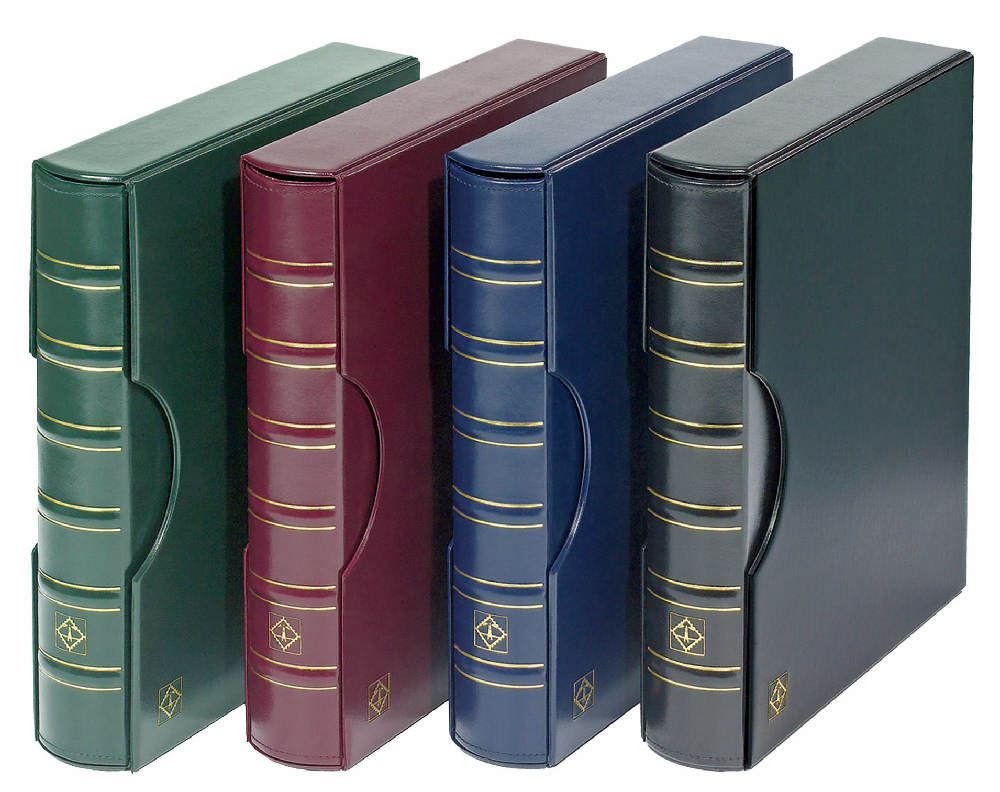 You need to specify cost of ALBUMS.
I generally take photos of the better items in collections, and again these are essentially a "Fingerprint" that protects your material. Own a 5/- Bridge with a Kalgoorlie cancel and that is likely unique. A Druggie caught trying to sell that is behind bars if the Cops have my image on file.

Likewise, I also have another ID trick I pass on to those whose goods I have valued, that almost no-one has ever thought of. Like the photos, it is a certain set of handcuffs to anyone caught with YOUR books when claiming "Grandma left them to him last week" etc.

A common mistake is not to specify the replacement costs of your albums and pages and catalogues etc. The 4 x "Lighthouse" albums shown nearby I sold to a client with Australia hingeless pages in them. Cost him $A1,800 alone. In his case, my written valuation had $42,500 for stamps, and $5,000 to replace the Hagners, albums, slipcases, catalogues and reference books. Many dealers lazily fail to list those, or to value them.

For all written valuations, I email a very detailed copy to the client after close inspection. I urge the collectors to print out 2 copies. ONE to keep filed away safely, (well away from stamps!) the other copy I suggest they mail Registered Post to their insurer to attach to their client files.

THEN if your formal valuation dated June, 2020 is on their file, and your house is burgled, flooded or burnt down etc in September 2020, and the Police/Fire Department reports confirms that event, they tend to accept that stamp loss as real and legitimate, and they pay up on it pretty fast.

Many large Insurers in Australia have a "new for old" policy when covering household contents. This is terrific news for stamp collectors. ALL stockbooks and Hagner sheets MUST be replaced every 20 years or so, as they start to age, and that can damage the stamps. So if you have a claim, all your 20 year old books and sheets are replaced with NEW ones!
$50,000 refund based on my paperwork.
| | | |
| --- | --- | --- |
| | One client got ~$50,000 back recently, based solely on my very detailed valuation letter of about a year earlier, which outlined the replacement value of his stamps, hingeless pages, and reference books, and catalogues, and the extensive set of quality albums he had them all stored in. | |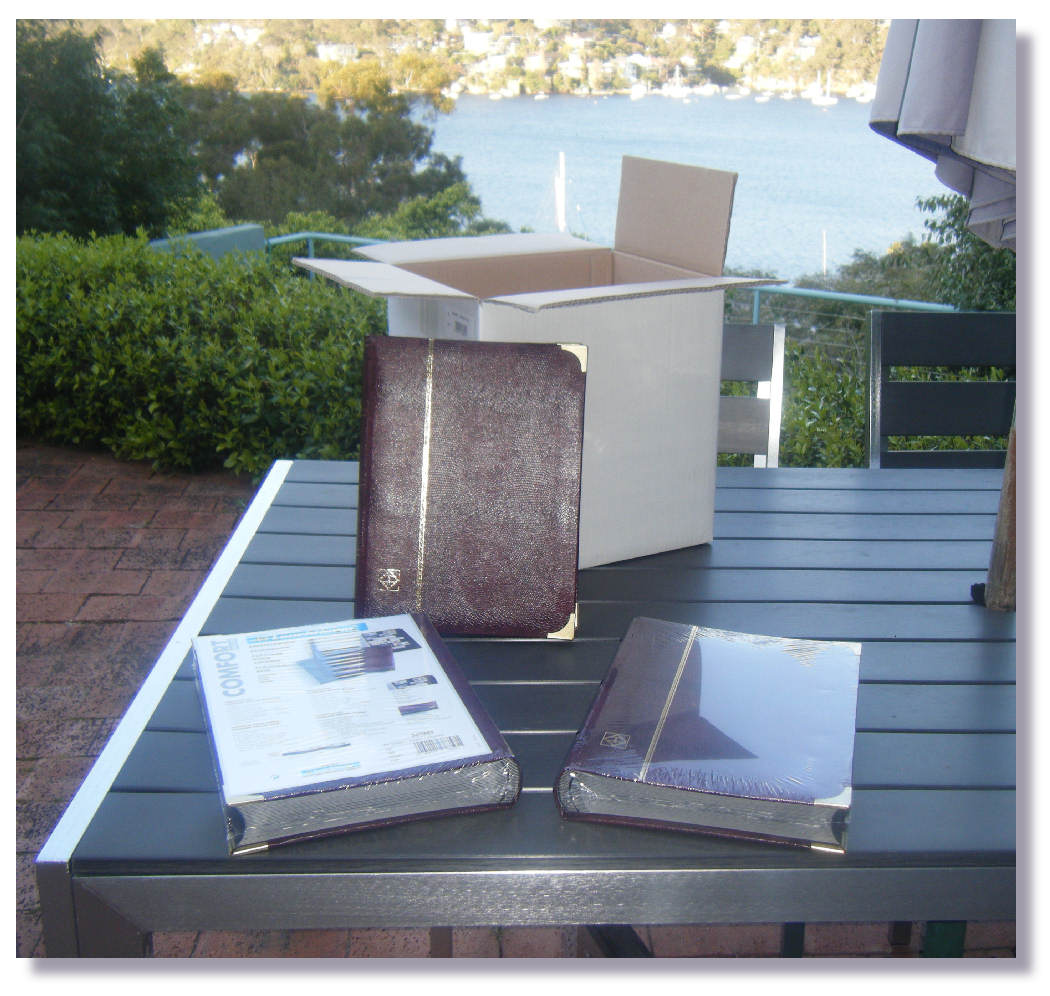 Page cost LESS than Hagner sheets!
Albums can be very expensive. I sold this week a set of seven x "Seven Seas Stamps" hingeless album binders/slipcases/pages for Australia, 1966-2019. Retail of those is near $A1,400 EMPTY, just for the Decimal era albums and pages. Most collectors forget to list those, and insurance companies will not ASSUME you owned them! European albums are far pricier.

In the past 5 months since COVID struck, I have sold more albums, Hagners, Binders and catalogues than in the past 5 YEARS! True - and other dealers concur. Most folks are largely stuck inside, and at least have plenty of time to re-arrange and update their storage and albums etc. Perfect break - and do look at your insurance too!

I mail several 21 kilo factory cartons of 20 x German made Lighthouse stockbooks to folks each week. I kid you not. At $A30 a thick book it is a very cheap way to store stamps, at under $1 a page, and mail cost is far more palatable buying via the heavy carton, as a single book costs $20 to mail these days! But I bet those guys do not update their insurance cover.

Stockbooks have improved out of sight in recent years. My best seller is factory cartons of the German Lighthouse "Crocodile Skin" huge 64 page books, which literally have 24 carat Gold corners for wear protection - tinyurl.com/CrocBooks ANY collection looks superb in these - black pages, crystal clear strips, yet cost per page is WAY less than a Hagner sheet!
1929 Swan FDC fetches $A600 - true!
| | | |
| --- | --- | --- |
| | This stamp is not really scarce on FDC. ASC lists it as $70. Ebay buyers of course often never bother with buying boring old catalogues - but just pay 5 times real value and "save" on reference works! This appears to have been a genuine recent sale with many bidders. The fuzzy cellphone shot nearby was all they offered. | |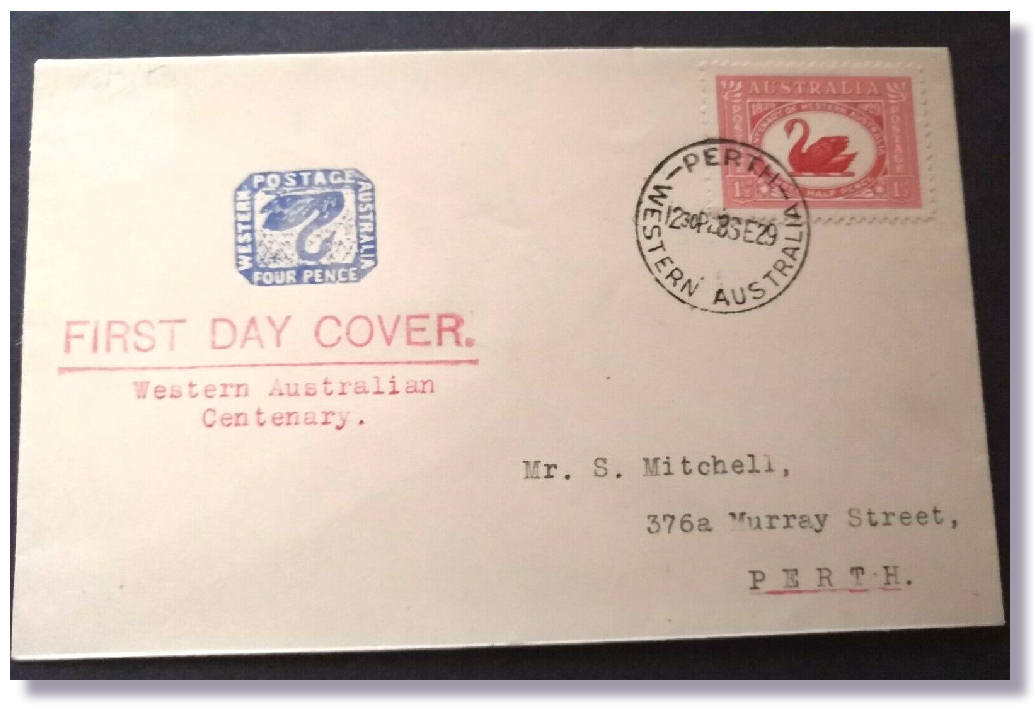 ebay Bunnies come out to play.
Offered by a UK seller, this 1929 1½d Western Australia Swan was invoiced to any ozzie buyer for about $A600 after GST and postage added, and then the obligatory fake PayPal currency rate gouge is added on top of all that. Lots of bidders. I sold a very nice one last year for $A125. Identical "Mitchell" FDC. As that was the fair market price to any informed buyer. And at least I bothered to take a decent grade scan of it.

Gotta luv those ebay BAHHRRGEEENZ! You just can't make this stuff up. ASC cat is just $70 - it is not an especially difficult FDC to locate, and a decent looking "Mitchell'' at $A125 is about right – so $600 is just more Ebay Bunny madness. Do not get me wrong - many early circa 1930 FDC are scarce, but this one is near the bottom of that list to be honest.
House Walls covered in Penny Blacks!
| | | |
| --- | --- | --- |
| | It does sound fanciful I agree, but a detailed discussion of rooms and houses being covered in stamps has been taking place on stampbpards.com An ad on page 1, column 2, of "The Times" on October 29, 1842 seems to be the earliest reference, and it is shown nearby. | |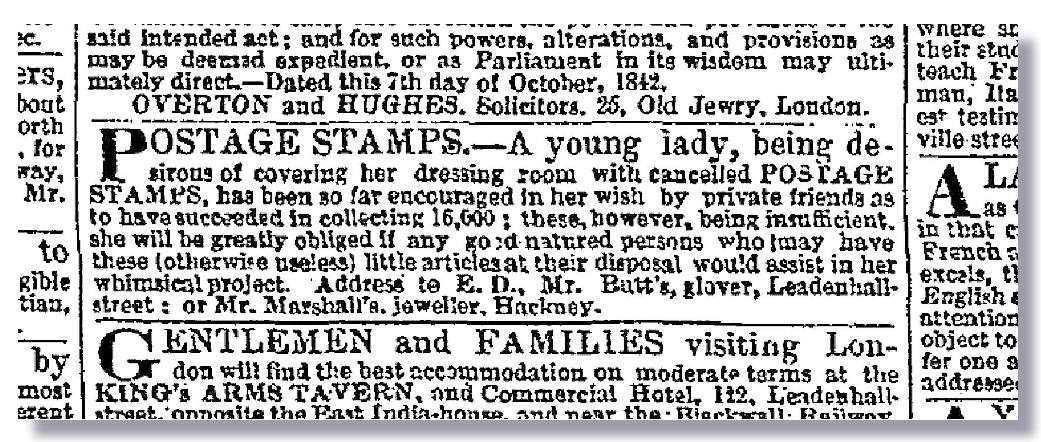 "Seek Otherwise Useless Imperf Stamps"
"Otherwise useless 1d Blacks and 2d Blues" - classic! A member on here - tinyurl.com/EarlyStamp – transcribed the near 180 years old The Times advertisement as reading -

"A young lady, being desirous of covering her dressing room with cancelled postage stamps, has been so far encouraged in her wish by private friends as to have succeeded in collecting 16,000! These, however, being insufficient, she will be greatly obliged if any good-natured person who may have these (otherwise useless) little articles at their disposal would assist her in her whimsical project. Address them to E. D., Mr. Butt's, glover, Leadenhall Street, or Mr. Marshall's, jeweller, Hackney."

Similar requests were made in the UK press at this time .. one seeking donations of "worthless" new used stamps to be sold to aid the rebuilding of a chapel etc, and all sorts of appeals. One room got covered in GB imperfs and leading dealers Whitfield King bought it "as is" and peeled them off, and tried to salvage the 1000s of imperfs - including 1200 x 1d Blacks.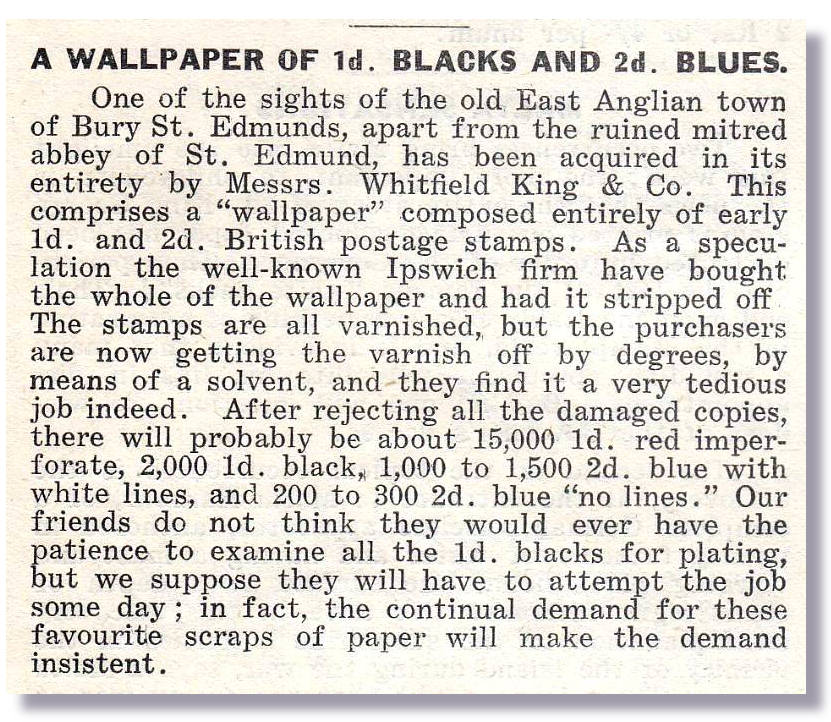 1200 x 1d Blacks peeled off wall!
| | | |
| --- | --- | --- |
| | The piece from a 1920 Magazine .. itself now 100 years back, is nearby. 'The New Zealand Stamp Collector' journal from November 20, 1920. Whitfield King were a VERY large UK stamp dealership. They printed quality albums and stamp Catalogues, and made accessories etc. Their catalogue was almost as widely used as Gibbons, in their era. | |
Dealer employed 17 staff.
Charles Whitfield King was a very successful businessman and stamp dealer, and sold millions of stamps from Ipswich. He employed 17 people in the grand Morpeth House office building - including sorters of stamps, addressers, cleaners, and even an engineer to keep the building in tip top condition. A photo of it is nearby.

The Stamp Room within Morpeth House was created by Charles Whitfield King. It was a former library that was wallpapered in 1892 with 44,068 stamps (total face value £699-16s-9d he boasted!) by a decorator engaged exclusively for 3 months, working eleven hours a day.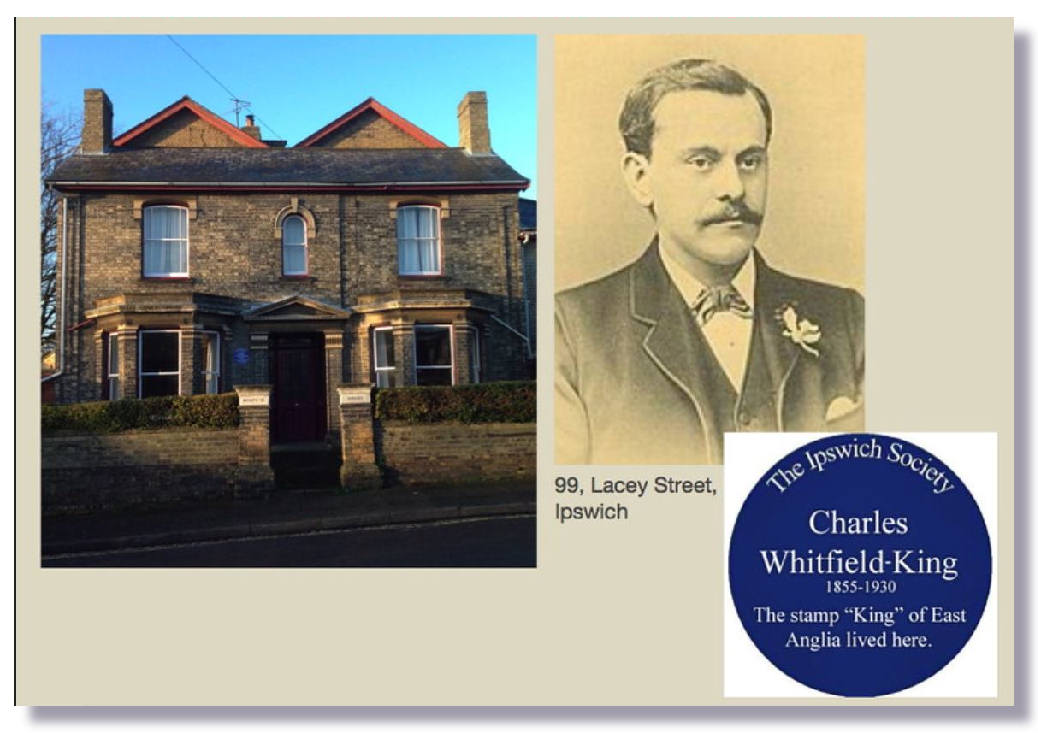 The home of Whitfield King - dealers.
| | | |
| --- | --- | --- |
| | Moving onward in time - "The Stamp House" was a well-known building (a pub actually) in Bersted, near Bognor, which I understand the British oddly regard as a "beach". The grains of alleged "sand" there can run to several kilos each, and could readily be used in the discus throw at the next Olympics. But I digress! | |
The fateful bet!
"Rising Sun" pub owner Richard Sharp collected postage stamps, and this was to form the basis of his future fame. As the years progressed, his stamp collection grew, and he began decorating a few picture frames with his spare stamps. Then, in 1882, a customer bet Mr Sharpe he would not be able to cover part of a room with stamps, within a time restriction.

Mr Sharpe was quick to take up this challenge - as most would, and with 76,795 stamps he succeeded - gluing the stamps on all the walls and obviously won his bet. But of course this was only the start. He continued covering items such as tables and chairs with stamps.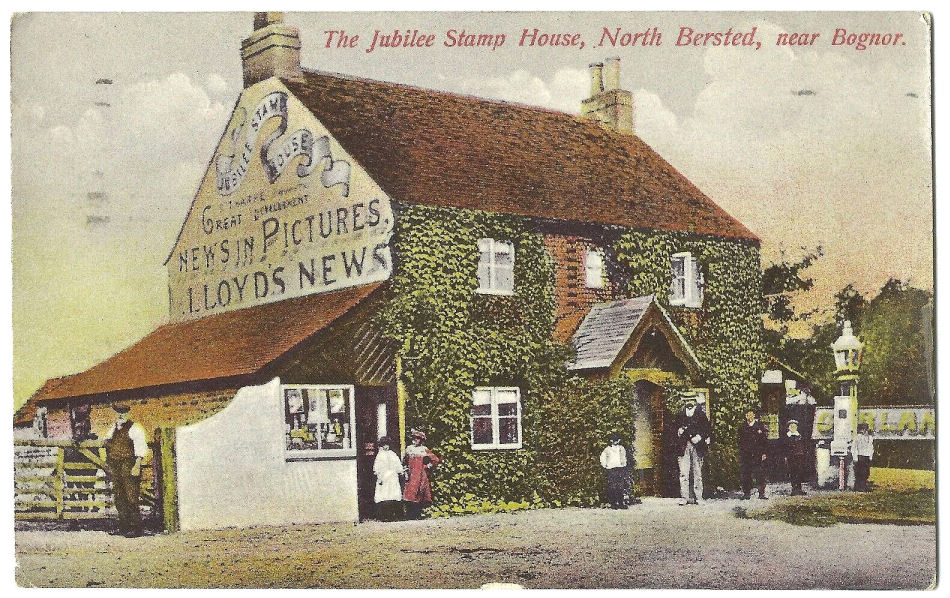 "The Stamp House" in Bognor Regis.
When the village of North Bersted had planned nothing for Queen Victoria's Golden Jubilee year in 1897, Sharpe thought he could produce his own memorial so as to mark the occasion, which would also further extend his hobby of stamp collecting.

He decided to paste stamps over a complete room, from floor to ceiling. It took him five years to complete. It was not a random task of just sticking the stamps on walls. He formulated designs and words with the stamps, such as the words 'Jubilee Stamp Room' on one wall.

Another wall displayed a large star design, and the Bognor coat of arms was displayed above the fireplace. Other displays included a picture of Queen Victoria, and the Prince of Wales Feathers. Patriotism was all the rage in the Nineteenth Century!

It was estimated more than two million stamps were used and their estimated value, during the 1920s, was in the region of £28,000. It was a continuing interest and, as more visitors came and its fame grew, people began sending stamps for his use. Sometimes, full sacks of stamps arrived at the pub.

During its heyday, The Rising Sun was mentioned in many publications recounting that it was 'one of the sights of Sussex'. Mr Sharpe also received letters from all over the world regarding his unusual art form. He was not to stop at one room, and he started to cover chairs, tables, a candlestick, a tablecloth, a hat and even a bust of King Edward VII! His work then extended into a corridor, and even continued out into the summerhouse in the garden.

Eventually, in the 1920s, Mr Sharpe retired. By then, over three quarters of a million visitors had seen his stamps and written in the 24 visitors' books. The signatures included such people as members of Parliament, Sussex nobility, and Justices of the Peace. By 1929, it was claimed that 764,580 visitors had signed the books.
Valuable Australia stamps glued on!
| | | |
| --- | --- | --- |
| | Richard received and used stamps from worldwide destinations, and some attached to one of the doors, included quite rare stamps from Australia. He apparently received many offers for this particular door, with the purchasers willing to remove the door, there and then, to take it home with them | |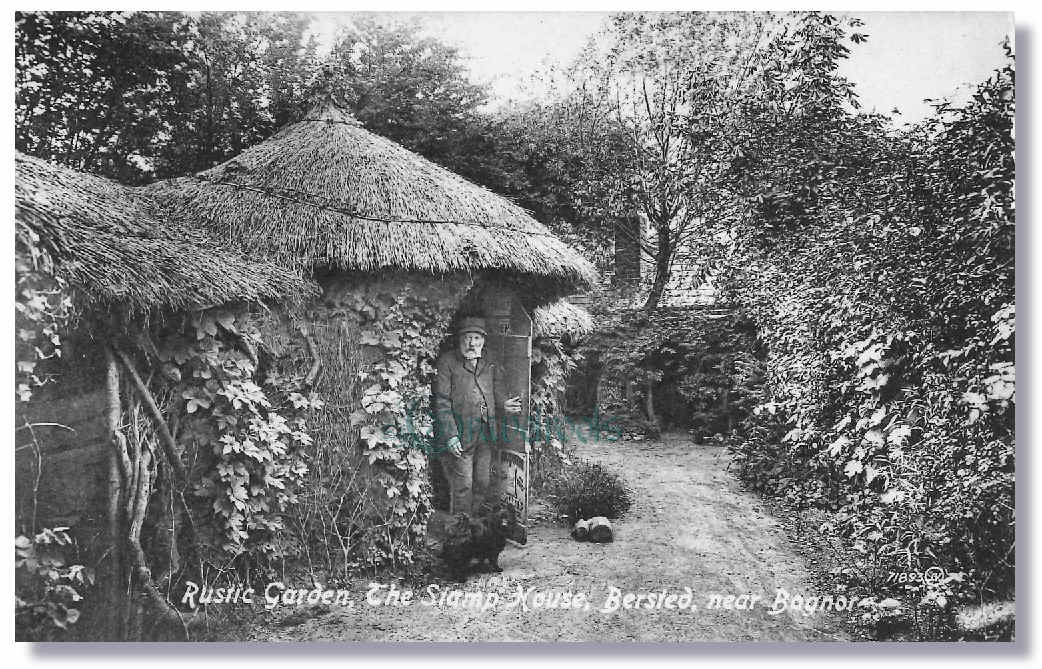 Richard Sharpe in stamp garden.
With the ever-increasing number of stamps Sharpe received, it became impossible to paste all the stamps on to walls, doors or items, so he started to thread stamps onto cotton thread, and made them into long garlands or 'snakes', festooned around the walls etc. Some garlands were suspended from the ceiling - one large version is said to have contained more than 60,000 stamps.

Finally, the Rising Sun pub closed, the building started to decay, and eventually it was demolished in 1957. It is now a Tesco Express Supermarket! It had a Stamp Garden and Stamp House Tea Rooms even. Lot of photos of all the garlands of millions of stamps inside it etc, can be seen here - tinyurl.com/EarlyStamp
Pakistan - "Kashmir Under Siege" Stamps.
Stamps and politics have gone hand in hand for well over a century. As most realise, there has been a long conflict for decades - sometimes military, and always diplomatic conflict, between Pakistan and India, over the disputed territory of Jammu and Kashmir in the north of India. (China also appears to meddle in it quite a bit too!)

From time to time they issue stamps to draw attention to their viewpoint of the simmering confrontation, which could any time break out into a major military crisis. Now the postal service of Pakistan has returned to the philatelic facedown, with a single 58 Rupee stamp very recently issued - on 5 August 2020, which is titled 'Indian occupied Jammu and Kashmir - 365 days under siege'.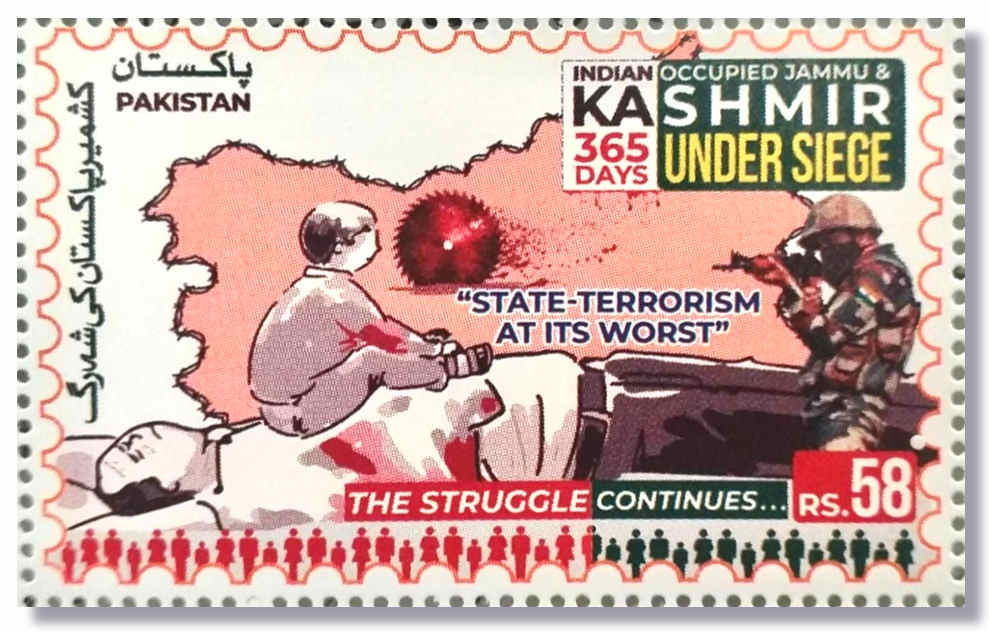 Political messages on stamps.
This has a graphic design featuring an armed Indian soldier pointing a rifle at a child, with blood stains on his arm, and an adult male lying with blood stains on his chest and abdomen. The stamp also bears the inscription 'State terrorism at its worst' and depicts a saw cutting through the middle of Kashmir. No subtle messaging anywhere here.

I am not on any side of this dispute. But do find it rather interesting that even in 2020, some countries find postage stamps a preferred avenue in which to get across very political messages. I really wonder how many of these kinds of Propoganda stamp issues get used on mail? One thing for sure - I bet none are delivered to any address in India!








Get my regular market update emails FREE! Stamp gossip, price trends, record sale prices, and many one-time stamp specials, wholesale bargains, and exciting offers and breaking philatelic news. A mini stamp magazine in every email! "KNOWLEDGE IS POWER". The ONE stamp list you MUST be on, to keep in touch with the rapidly changing world market. One client made $65,000 profit in a few months after following my specific advice. Sign up securely and quickly by clicking HERE to access my automated data base. And wiser still ADD your home AND work email, if I only have one right now. Add a stamp friend's email address if you wish. One short click and you are subscribed to probably the most read email list in the stamp world!




If you would like to be notified of updates to this website,
Click HERE.
If have any questions,
or comments regarding my site, please email me at glen@glenstephens.com
| | |
| --- | --- |
| | Search all my 300+ web pages! Simply type in what you are looking for. "Penny Black", "Latvia", "Imprints", "Morocco", "Fungi" "Year Books", etc! Using quotes ( " ) is more accurf used with no quotes. Search is NOT case sensitive. Tip - keep the search word singular - "Machin" yields far more matches than "Machins" etc. |


Full Time Stamp Dealer in Australia for over 35 years.
Life Member - American Stamp Dealers' Association. (New York)
Also Member of; Philatelic Traders' Society (London) IFSDA (Switzerland) etc


GLEN $TEPHEN$

Full Time Stamp Dealer in Australia for 35+ years.

Life Member - American Stamp Dealers' Association. (ASDA - New York) Also Member - Philatelic Traders' Society

(PTS London) and many other philatelic bodies.

ALL Postage + Insurance is extra. Visa/BankCard/MasterCard/Amex all OK, at NO fee, even for "Lay-Bys"! All lots offered are subject to my usual

Conditions of Sale

, copy upon request .

Sydney's

BIGGEST STAMP BUYER

: Post me ANYTHING via Registered Mail for my same-day cheque. Avoid copping the Now normal 45% Auction "Commissions" (15% Buyer + 20% Seller + GST, etc) AND their five-month delays!

Read HERE for details.

"Lothlórien", 4 The Tor Walk, CASTLECRAG (Sydney), N.S.W. 2068

Australia





Phone 7 Days:

(02) 9958-1333

PO Box 4007, Castlecrag. NSW. 2068




E-Mail:

glen@glenstephens.com

The Number #1 Web Sites:

and www.stampboards.com