---
Click To Go Back To The Main www.GlenStephens.com Stamps Homepage



Welcome! You are visitor
to www.GlenStephens.com
Click smiley to make GlenStephens.com your default homepage when you open computer!
Remember, there is always a few $1000 prize being offered - it could just be your lucky day!

---

August 21, 2000. (Front page feature story)
Australia to issue stamps for Aussie gold medalists one day after their wins

By Glen Stephens Tell Us Now ... In September, Australia is issuing instant stamps the day after its Olympic athletes win gold medals. About 20 gold medals are expected. What do you think?
Australia Post will issue the world's first instant stamps to honor Australian gold-medal winners at the Summer Olympics in Sydney Sept. 15-Oct. 1. Each gold-medal winner from Australia will be pictured on a stamp, showing that athlete or team in action from the actual final of the event. A sample stamp image is shown here, based on the gold-medal achievements of distance runner Herb Elliott at the 1960 Summer Olympics in Rome.
These stamps will be placed on sale at 67 post offices across Australia by midday of the working day following the win, even though many finals are held in the evening. Never before has any country printed and issued a stamp within hours after the design artwork was conceived and approved.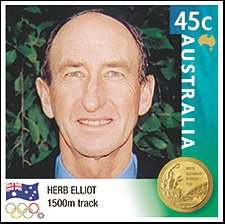 This sample design for Australia's Olympic Gold Medal stamps pictures Herb Elliot, a gold medalist at the 1960 Rome Olympics.


To put the scope of this logistics achievement into perspective, the land area of Australia is almost the same as that of the contiguous 48 United States. It would be akin to the U.S. Postal Service placing on sale almost daily an Olympic winner stamp by midday next day from Seattle to Miami and all main population points in between.

Unlike the official policy in the United States and many other countries, Australia, since 1996, has permitted images of living people to appear on postage stamps. This policy has proved popular with consumers.

The Australian breakthrough is likely to result in many stamps, not just a few. Based on projections by Olympic experts, Australia should have about 20 different gold-medal winners. The Gold Medal stamps may quite possibly be issued daily over two weeks.

Modern digital technology and advanced computer data transmission will make these stamps possible. Australia Post has been holding secret trials for this new instant-stamp concept for many months. The print results, deadline compliance and quality finished product have been perfected.

I was flown to Melbourne in August by Australia Post to receive a detailed briefing on the technique that allows almost instant stamps to be issued nationwide. I spoke with the three chief executives of Australia Post philatelic division about this top-secret project. I also was shown samples of test stamps created for the Australian Swimming Championships held earlier this year.

The first step in producing the Gold Medal instant stamps will be to take a large number of action images at the Olympic event using sophisticated digital cameras. These cameras do not record the images on film. They store them instead as encoded data on computer disc memory.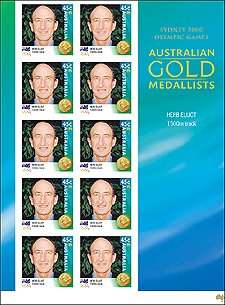 The test design for a pane of 10 of Australia's Gold Medal stamps, including an emblem in the lower-right corner. Australia Post plans to issue a pane of stamps for every Australian who wins a gold medal at the Sydney Olympics.


Every event in which an Australian will be competing for a gold medal will have these images taken by professional photographers who will be accompanied by an Australia Post stamp design expert. The images will be taken by the official Olympic Games photographers, a company called Allsport.

After a gold medal is won by an Australian, a suitable action shot of the athlete or athletes involved will be selected and will be added to a preset stamp design template.

The final design suggestion or suggestions will be data transmitted to Australian Olympic Committee officials for their rapid approval. The AOC and the Olympic Games organizing committee, SOGOC, have licensed and endorsed this project and have agreed to fast-track approval of the final stamp designs. Australia Post is confident that the entire process will take no more than two hours per stamp.

The AOC approved image will be transmitted electronically to the Australia Post design studio in Sydney to fine-tune the technical aspects, and, in effect, create the final stamp artwork. Next, the completed artwork will be electronically transmitted via high-speed data lines to special stamp printing centers in the Australian state capital cities of Sydney, Perth, Adelaide, Canberra, Brisbane and Melbourne.

This leading-edge computer technology will allow identical stamps depicting yesterday's gold-medal winners to be on sale by midday at 67 larger post offices across the continent. A list of these offices is to be posted on the Australia Post web site: http://www.auspost.com.au/

The method being used for these stamps allows the printer to bypass one complete step in the traditional offset printing process. In conventional offset stamp printing, film color separations are made from the electronic data. This is time consuming. The instant Gold Medal stamps will be created by producing the printing plate directly from the electronic file from Sydney. The usual color film intermediate stage will be entirely eliminated.

All stamps produced by this overnight method will be a common-size square format and will bear a 45˘ denomination, the letter rate within Australia. Each stamp also will include the Olympic rings logo. Each 45˘ stamp design will be printed in panes of 10, the way all Australian letter-rate stamps are now supplied to post offices. Approximate size of each pane is 8 inches deep by 6 inches wide, an ideal size for normal album pages or for Hagner pane-type storage.

The margin area of each pane will outline the name and athletic career details of the applicable gold medallist. The digitally produced panes will each bear a native animal or bird logo printed at the lower right in red. This will denote the capital city each was printed in, with Melbourne denoted by a possum, Sydney by a platypus, and Perth by a black swan.

Collectors will have a choice of buying just the panes printed in Melbourne with the possum logo, or the set of six state logos for any individual gold-medal winner. The digital panes will be on sale until sold out at the 67 centers. However, a quantity will be held back for mail-order sale.

A similar, but traditional offset-printed version of these Gold Medal stamp panes also will be available for general sale nationally, with most post offices receiving stock three days after the gold-medal win. The panes of the more conventionally printed (offset) stamps for any individual medal winner will have a red map of Australia logo printed in the lower right to differentiate those panes from the digital-print versions.

Russell Hick, marketing manager of Australia Post's philatelic division, told me: "Organizing national distribution of the Melbourne-printed conventional offset-printed stamps to post offices nationwide by noon three days after a medal win has been a logistical nightmare. We have worked closely with our express division and are now confident this military-style operation will go without a hitch. We have even arranged for several offices to open Sundays."

In summary, any given Gold Medal pane will be available in the mass-produced offset (map of Australia) version and six state versions making a total of seven panes for those collectors seeking completeness. I examined samples of both versions of the proposed stamps, and the quality of both was very good. The paper, gum and perforations of all appeared typical of conventional stamps. The color resolution was sharp and clear.

Collectors in the United States may order these panes (both digital or offset printed) from the official agent for Australia Post in North America, Unicover of Cheyenne, Wyo., at 800-443-3232.

Australia Post was to have loaded images and details onto its web site when the official embargo on news about the issue was lifted Aug. 10.

For contractual reasons, Australia Post will not offer first-day covers of any of these digital-printed panes, which is most unusual. A special pictorial canceler will be on hand at all 67 national centers selling the Gold Medal digital stamps with the wording "Australian Gold Medallists -- First Day Of Issue," the applicable date slug and the issuing post office's name incorporated into the design.

Australia Post is offering a special ring album and suitable Hagner-type sheets to hold each offset-printed Gold Medal sheet it will release. This $A17.95 (U.S. $10.50) album will be offered at no cost to collectors who preregister online or with Unicover.

How many Gold Medal stamps will be issued? When I asked David Maiden, manager of Australia Post's philatelic division, he answered: "Clearly no one knows in advance. Olympic experts are tipping a record haul by Australian athletes of some 70 medals of which about 20 may be gold.

"The first medals will be awarded Sept. 16 and the final medal of any Olympics is, of course, the men's marathon, on Oct. 1. Sept. 16 is a Saturday, so our first Gold Medal stamps may be issued Sunday, Sept. 17, if an Australian athlete wins.

"However many gold medals Australian athletes win, and whatever the dates, I am confident you'll be able to buy those stamps by midday the next working day, right across the continent in 67 major centers.

"We know it is possible -- we know it will work. We have spent two years formulating and perfecting this world philatelic first. Australia Post is itself determined to deliver a gold-medal performance to ensure it all happens on schedule, as promised."

Centrebet is the largest sports betting company in Australia, and one of the top five in the world. I spoke with Gerard Daffy, national sports betting manager, about how many Olympic gold medals the smart money indicates Australia will win. Daffy said: "It looks like the figure of 20 golds is about what most feel is realistic. To illustrate this we in fact are right now offering identical odds of 1.8:1 ($180 return on every $100 wagered) for 'less than 20' and the same odds for 'more than 20 golds.' As the Games draw closer, we will fine-tune the odds to other specific medal totals, and also offer odds on the number in swimming, number in athletics, etc. as well."

Innovative stamp designs and leading-edge technology have been used recently to great success by Australia Post. The enormously successful Australia 99 World Stamp Expo in March 1999 saw the debut of the world's first personalized stamps. This technique allows show visitors to have their own photos taken and printed on a pane of postally valid letter-rate stamps.

The personalized stamp technique has been copied recently by other countries, including Canada, Ireland, Great Britain, Singapore, Switzerland and Indonesia. Australia Post has made the technology available recently for the public to send in their own photos, of a new baby, newly married couple or birthdays that can be replicated on a pane of stamps.

Glen Stephens is a philatelic journalist and stamp dealer based in Sydney, Australia.


This is an edited version of a Linn's article that appeared in the August 21, 2000, issue of Linn's Stamp News. For the complete story, subscribe to Linn's Stamp News.