Click To Go Back To The Main www.GlenStephens.com Stamps Homepage

Welcome! You are visitor
to www.GlenStephens.com
FastCounter by LinkExchange

Click smiley to make GlenStephens.com your default homepage when you open computer!
Remember, there is always a few $1000 prize being offered - it could just be your lucky day!


December 7, 1998. (Front page feature story)
---
Stamp scandal may involve Prince Rainier of Monaco
By Glen Stephens



A scandal in France may connect Prince Rainier of Monaco with a fortune in dubious stamp issues, according to reports in European newspapers.
The tiny principality of Monaco, area only 481 acres and population 27,000, has long been a favorite with stamp collectors worldwide.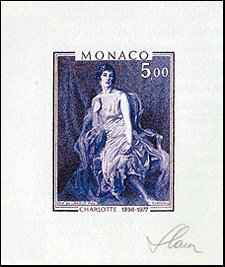 A proof for Monaco's 1981 Princess Charlotte stamp signed by engraver Czeslaw Slania. Similar, but unsigned, proofs have been the subject of an investigation in France.


The British newspaper The Express reported in a feature article Nov. 14 that French police were investigating what the newspaper called a "royal stamp swindle" worth an estimated £45 million (approximately $75 million).

The stamps involved are said to be the imperforate and nondenominated modern issues of Monaco that are widely sold to collectors as so-called printers proofs or similar deluxe proofs.

Some 1,221 residents in southern France alone were sold these stamps at up to approximately $165 a set.

The Express article, which was bylined from Jack Chee in Paris, contended that Sako Khatchikian, a French businessman living in Switzerland, may have reaped a fortune from the sale of such special stamp issues.

Selling stamps at a profit is of course an honorable profession, but the stamps involved in these circumstances supposedly are ones normally only issued to Monaco's Royal family to hand out as gifts to guests and dignitaries and to commemorate special events.

However, instead of receiving only a small number of these imperforate items, the Monaco government reportedly asked for tens of thousands of sets of each issue.

The reports also claim that the publishers of specialist catalogs of French-area material were induced to promote and list these imperforate proofs as collectible items.

French police investigating the matter found two check payments from Khatchikian totalling more than $276,000 said to be made out to "His Most Serene Highness, Prince of Monaco," the official title of Prince Rainier.

There is no suggestion in The Express article that the prince was aware of what was going on behind the scenes with these proofs.

French police issued a summons Nov. 13 to the 74-year-old Prince Rainier following the discovery of these large-denominated checks, according to the newspaper report.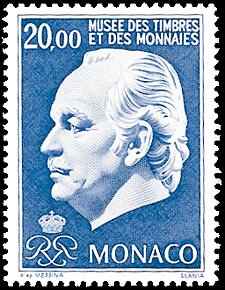 Prince Rainier on a stamp issued by Monaco in 1996.
However, a spokeswoman for the press center of the Principality of Monaco told Linn's that while a general investigation is going on, the prince has not been specifically connected with it.
The Express quoted a member of Monaco's public prosecutor's office as saying: "Our police will certainly pass on the French summons to the prince. But there is not an earthly chance that he will respond."
The French police claim that Khatchikian may have collected more than $1 million for his role in enlisting the supposed cooperation of Prince Rainier.
Khatchikian told the French police that he worked with Gerard Lheritier, a French Riviera stamp dealer, to carry out the plan.
Lheritier is stated to have made £45 million ($75 million) from the sale of these imperforate Monaco issues. How this figure is arrived at is not stated, nor is the number of sets of proof stamps sold, nor the period of time or number of sets they covered.
According to the Express article, a Monaco palace spokesman said, "You can be certain that the prince is not involved in any sort of fraud."
The article also noted that the prince recently has been under fire for allowing dubious financiers to set up banks in Monte Carlo and for failing to prevent Mafia bosses and drug dealers from stashing their ill-gotten gains in secret accounts in the Monaco tax haven.
Monaco has been issuing stamps since 1885, but its stamps entered the albums of most American collectors in 1956. The Royal Wedding issue of that year featuring the dashing prince and American film actress and stage darling Grace Kelly mesmerized the world.
The 1-franc value of that set (Scott 366) was seemingly produced in the tens of millions and was used as a premium or bonus item by approvals companies for years. It was so widely available that to this day, 42 years later, it still rates only the lowest price quoted (15¢) for any single item in the Scott stamp catalogs.
Both Prince Rainier and Princess Grace have appeared on many other stamps from Monaco. For example, the United States and Monaco both showed the princess on a 1993 joint issue (U.S. 2749, Monaco 1851).
The 20-franc Prince Rainier stamp illustrated nearby was released March 11, 1996 (1996). The stamp bears an inscription honoring Monaco's stamp and currency museum.
The proof of the 1981 5-franc Princess Charlotte stamp (1303) shown nearby is from the prince's collection, which is housed in the museum. This proof is signed by the engraver, Czeslaw Slania.
A proof is a trial impression from a die or printing plate made before actual stamp production. Proofs are made to examine a die or plate for defects and to compare the results of different inks.
The illustrated Princess Charlotte proof probably was used in the production of that stamp, as opposed to the many so-called deluxe proofs that were sold to collectors.
Glen Stephens is a dealer and philatelic journalist based in Sydney, Australia.

This is an edited version of a Linn's article that appeared in the December 7, 1998, issue of Linn's Stamp News. For the complete story, subscribe to Linn's Stamp News.

All content
Copyright
2000 Linn's Stamp News, of Sidney, Ohio, USA and by the author Glen Stephens.
---
height="15">
To order, click here. To read ordering instructions, click here.
Instant Currency Conversion


FREE! Just click here...
GLEN $TEPHEN$
Life Member: ASDA, PTS, APS, ANDA. ALL Postage + Insurance is extra. Visa/BankCard/MasterCard/Diners/Amex all OK, even for "Lay-Bys"! All lots offered are subject to my usual Conditions of Sale, copy upon request or they are outlined in full on this Web site. Usually allow at least 14 days for order dispatch. If you want same day shipping please go elsewhere! I am Sydney's BIGGEST STAMP BUYER: Post me ANYTHING via Registered Mail for my same-day cheque. Avoid NASTY auction "commissions" of GENERALLY 35% (12½ + 15% + GST, etc.) AND their five-month delays! Read for details. I stock Australia & Pacifics nearly 100% complete 1913-1980. Ask for my LOW quote!
"Lothlórien," No. 4 The Tor Walk, CASTLECRAG (Sydney), N.S.W. 2068
Phone: (02) 9958-1333 Fax: (02) 9958-1444 (Both 25 Hours, 7 Days!)
E-Mail: glen@glenstephens.com
Web Sites: www.GlenStephens.com, www.GlenStephens.net, or www.AustralianStamps.net
Back to Lists of Stamp Lots for Sale

| | | | | | | |
| --- | --- | --- | --- | --- | --- | --- |
| | | | Time and Temp in Sunny Sydney! | | | |


Sign up AUTOMATICALLY to my world renowned bi-weekly stamp gossip mailing list!

Click here for full library of my unusual world travels!

E-mail Me - Click HERE Right Now For Regular Specials, News,
Updates, etc and Other Great Stuff!

Click here to get back to many lists of lists of stamps for sale at low $A Nett prices!

Click here to find out all you need to know about SELLING your stamps for SPOT CASH

Click here for the current Monthly "Internet Only" special offers - CHEAP!

Click HERE to read my recent International stamp magazine articles.

Click to go back to the main www.GlenStephens.com Stamps Homepage



Instant Currency Conversion


FREE! Just click here...



E-mail me at glen@glenstephens.com -

Every credit card shown is accepted WITHOUT fee.
Earn Frequent Flier points while buying at bargain prices!
ALL prices are in weak Ozzie Dollars. I charge NO nasty, nasty
"Buyer's Commission" on stamps like nearly every "Auction" does.






..