Click To Go Back To The Main www.GlenStephens.com Stamps Homepage



Welcome! You are visitor
to www.GlenStephens.com
Click smiley to make GlenStephens.com your default homepage when you open computer!
Remember, there is always a few $1000 prize being offered - it could just be your lucky day!

---

February 14, 2000. (Front page feature story)
U.S. Treasury Department demands details of North Korean stamp agency's U.S. sales

By Glen Stephens

The new-issue agent for North Korean stamps in the Americas received an official demand in January from the United States Department of the Treasury in Washington, D.C., for complete details of the firm's sales and suppliers.
The letter is from the Office of Foreign Assets Control, which is responsible for implementing and enforcing economic and trade sanctions against targeted foreign countries.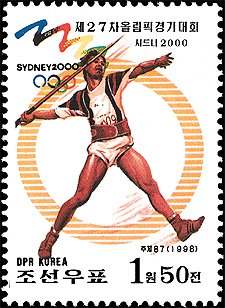 The new-issue agency for North Korea in the United States received a letter from the U.S. Office of Foreign Assets Control demanding information about its sales and suppliers for recent North Korean stamps, such as this one honoring the 2000 Olympics.


The letter states that these sanctions include the long-standing embargoes against the Democratic People's Republic of Korea, commonly referred to as North Korea. Although not stated in the letter, the trade embargo against North Korea dates back to 1950.

The sales agent involved, and indeed many other dealers in the United States, were of the opinion that the sale, importation and possession of North Korean stamps by U.S. citizens and businesses has been legally permitted since Sept. 17, 1999, when President Clinton announced an easing of sanctions on North Korea.

The OFAC letter on Department of the Treasury letterhead is dated Jan. 18, 2000.

It is addressed to: "Attention President," Pacific Rim Company, of Oakland Calif., and is signed by David H. Harmon, chief of the enforcement division of OFAC.

The Pacific Rim Co. operates the North Korea Stamp Agency in the Americas. Mark Dianda is director of the firm.

In the letter, Harmon claims that section 500.201(b)(1) of the North Korean regulations prohibits any person in the United States from having any business dealings with North Korea, unless licensed by OFAC or if they are exempt by statute.

Harmon specifically claims that the following transactions are prohibited by the present regulations:

"The purchase or sale of North Korean stamps, either within the United States or abroad, or, the importation of such North Korean stamps into the United States, either from North Korea or any third country, or the exportation of North Korean stamps from the United States to any third country."

The letter continues: "OFAC has not licensed Pacific Rim Company ('PRC') to engage in any of the foregoing prohibited transactions.

"Based upon statements made by PRC to potential stamp buyers, OFAC has reason to believe that PRC sells North Korean stamps . . ."

Harmon further states: "Criminal penalties for violation of the regulations range up to 10 years in prison, and $1 million in corporate and $250,000 in individual fines. Civil penalties up to $55,000 per violation may also be imposed."

Pacific Rim Co. has been ordered in writing to identify and list all stamps in its possession from North Korea, and any other embargoed country; supply names and addresses of the suppliers, date and cost of same, amount purchased, and all supporting documents; and provide selling price and quantity sold of North Korean stamps in the past.

The letter demands answers to all these questions within 20 days from receipt. However, Dianda negotiated a March 1 extension for filing his reports to OFAC.

To take the matter further, Dianda e-mailed President Bill Clinton Jan. 24, seeking assistance of his office to overrule the Department of the Treasury request.

In that letter to President Clinton, Dianda cited privacy concerns for his clients, "many of whom are attorneys, doctors, teachers, police, military officers and other small business owners in the United States as well as worldwide," he wrote.

Dianda also outlined his joint three-country issue scheduled for Friday, Feb. 18, at the American Philatelic Society's Ameristamp Expo 2000 in Portland, Ore.

North Korea, Namibia and Norfolk Island are to issue stamps picturing ducks on the first day of the show (Linn's, Jan. 24, page 2). Dianda, who also operates new-issue agencies for Namibia and Norfolk Island, is a dealer member of the APS.

Dianda closed his e-mail letter to President Clinton, "I would be most honored to send your office a framed edition of this series after their release date."

There had been no response from President Clinton when this story went to press.

Also, the stance of the APS regarding the first-day ceremony is not known at this time.

Dianda has done much in the past year to raise the sales visibility in the United States of stamp issues from Norfolk Island, Namibia and North Korea.

He also is the sales agent for North Korean new issues in all of North America, Central America, South America and exclusively via the Internet, according to information in his e-mail to President Clinton.

I met Dianda a few weeks ago in San Francisco, while enroute to Antarctica to spend New Year's Eve on an icebreaker. At that meeting Dianda was excited about his exclusive North American agency and predicted that sales of North Korean stamps would boom following the apparent lifting of the U.S. sanctions.

This is where the problem seems to lie. Dianda feels that the embargo against U.S. citizens owning or buying North Korean stamps was lifted several months ago. He claims the U.S. Attorney General announced the lifting of the trade restrictions on consumer (not military) sales nationwide Sept. 17, 1999.

In fact, at one time, the OFAC's web site had a statement from the press secretary of the White House about the easing of sanctions against North Korea.

This statement, dated Sept. 17, 1999, began: "Today, the President announced his decision to ease some sanctions against the Democratic Peoples Republic of Korea (North Korea), administered under the Trading With the Enemy Act, Defense Production Act, and the Department of Commerce's Export Administration Regulations."

The statement also said, "The easing of sanctions will allow most consumer goods to be available for export to North Korea and will allow the importation of most North Korea-origin goods into the United States . . ."

The statement was included on the "What's New" section of OFAC's web site at least through Sept. 28, 1999. However, it is no longer on the site.

Dianda told me that he feels that the Department of the Treasury is simply way behind the fast-moving events with the legal status of North Korea.

He said: "If United Airlines can land a plane in North Korea, almost certainly bearing stamped mail to and from the United States, and if the Bank of America can open branch offices in Pyongyang, then I can surely sell North Korea's stamps to American collectors."

The reality is, of course, that North Korean stamps have been widely bought, sold and traded within the United States for quite some time by many dealers.

Pacific Rim is a small company and clearly does not have the resources or contacts to engage in a battle with the might of Washington.

Dianda said: "I hope someone reading this may be in a position to get the Treasury Department to see common sense in this matter.

"My e-mail address is pacrim@dnai.com for anyone who has any input and suggestions."

What will be the future of North Korean stamps in the U.S. market?

One only need look at China's stamps from the Cultural Revolution period (the late 1960s). These also were once banned from importation into the United States. Now, even in used CTO (canceled-to-order) condition, which cost dealers outside the United States only pennies at the time, these stamps and sets list in the Scott Standard Postage Stamp Catalogue for many times their face value .

Mint stamps are listed at considerably higher amounts in Scott, and both the mint and CTO stamps are in demand within the United States.

The same applies to the earlier issues of North Vietnam: Demand in the United States is very high; supply is generally nonexistent; and the price trend is consistently up.

I think that the same will happen when the buying and selling of North Korean stamps is normalized in the United States.

North Korea issues approximately 100 stamps and souvenir sheets each year featuring a variety of subjects. For example, the 1.50-won stamp shown nearby was issued Sept. 25, 1998, to commemorate the 2000 Summer Olympics to be held in Sydney, Australia.

Glen Stephens is a philatelic journalist and stamp dealer based in Sydney, Australia.


This is an edited version of a Linn's article that appeared in the Feb. 14, 2000, issue of Linn's Stamp News. For the complete story, subscribe to Linn's Stamp News.



All content Copyright 2000 Linn's Stamp News, of Sidney, Ohio, USA and by the author Glen Stephens.

---
height="15">
To order, click here. To read ordering instructions, click here.
Instant Currency Conversion


FREE! Just click here...
GLEN $TEPHEN$
Life Member: ASDA, PTS, APS, ANDA. ALL Postage + Insurance is extra. Visa/BankCard/MasterCard/Diners/Amex all OK, even for "Lay-Bys"! All lots offered are subject to my usual Conditions of Sale, copy upon request or they are outlined in full on this Web site. Usually allow at least 14 days for order dispatch. If you want same day shipping please go elsewhere! I am Sydney's BIGGEST STAMP BUYER: Post me ANYTHING via Registered Mail for my same-day cheque. Avoid NASTY auction "commissions" of GENERALLY 35% (12˝ + 15% + GST, etc.) AND their five-month delays! Read for details. I stock Australia & Pacifics nearly 100% complete 1913-1980. Ask for my LOW quote!
"Lothlórien," No. 4 The Tor Walk, CASTLECRAG (Sydney), N.S.W. 2068
Phone: (02) 9958-1333 Fax: (02) 9958-1444 (Both 25 Hours, 7 Days!)
E-Mail: glen@glenstephens.com
Web Sites: www.GlenStephens.com, www.GlenStephens.net, or www.AustralianStamps.net
Back to Lists of Stamp Lots for Sale

| | | | | | | |
| --- | --- | --- | --- | --- | --- | --- |
| | | | Time and Temp in Sunny Sydney! | | | |


Sign up AUTOMATICALLY to my world renowned bi-weekly stamp gossip mailing list!

Click here for full library of my unusual world travels!

E-mail Me - Click HERE Right Now For Regular Specials, News,
Updates, etc and Other Great Stuff!

Click here to get back to many lists of lists of stamps for sale at low $A Nett prices!

Click here to find out all you need to know about SELLING your stamps for SPOT CASH

Click here for the current Monthly "Internet Only" special offers - CHEAP!

Click HERE to read my recent International stamp magazine articles.

Click to go back to the main www.GlenStephens.com Stamps Homepage



Instant Currency Conversion


FREE! Just click here...



E-mail me at glen@glenstephens.com -

Every credit card shown is accepted WITHOUT fee.
Earn Frequent Flier points while buying at bargain prices!
ALL prices are in weak Ozzie Dollars. I charge NO nasty, nasty
"Buyer's Commission" on stamps like nearly every "Auction" does.






..