Evans auction smashes Australian records

By Glen Stephens

The auction record for an Australian Commonwealth stamp item was more than doubled in the May 9 auction in Melbourne of the Lt. Col. Harrie Evans collection of early Australian Commonwealth material of 1913-39. Total prices paid by buyers fell just short of A$1,000,000 (about U.S. $500,000). Room bidding was intense from the packed sales room.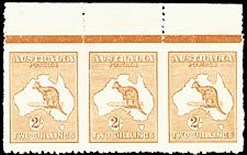 This Australian 1915-28 brown 2/- Kangaroo top marginal strip of three imperforate on all three sides brought a record price of A$96,800 (about U.S. $ 48,300) for an Australian Commonwealth stamp in a May 9 auction in Melbourne.


The sale attracted strong international bidding because of the weak Australian dollar, but most key pieces stayed in Australia. This happened even though Australian buyers were required to add 10 percent GST (goods and services tax) on purchases. Exports are exempt from this tax.

The star piece of the collection was a strip of three of the 1915-28 brown 2/- Kangaroo imperforate on three sides and with small faults. The new owner, a well-known Sydney collector, paid a record A$96,800 (U.S. $48,300) for the piece. This result was greeted with spontaneous applause from the room.

The error strip went for triple its catalog value and almost double the previous world record price at auction for an Australian Commonwealth stamp item -- a composite die proof of the Kangaroo issues sold in recent years by Harmers of London for £13,000 (U.S. $19,500). The Australian Commonwealth stamp issues commenced in 1913 with the Kangaroo and Map series. The great rarities of the region, such as the 1854 Western Australia 4-penny inverted-frame Blue Swan, are from the Australian states era of the previous century.

The Kangaroo 2/- imperforate error is not listed in the Scott Standard Postage Stamp Catalogue, but it is listed by Stanley Gibbons as No. 41a with a value of £16,000 (U.S. $23,000). The Australian Commonwealth Specialists' Catalogue values it at A$30,000 (U.S. $15,000). Both of these catalog valuations are for an error pair, not a strip of three. Several other pairs are recorded, including one in the British royal collection.

The Evans collection attracted national media before and after the auction. The Australian Financial Review (equivalent to The Wall Street Journal) ran a photo story on the star item on the day after the auction.

This strip of three, along with much of the Evans material, was unknown to the market, having not been seen or exhibited for more than 60 years (Linn's, April 9, page 1).

The collection was formed by Evans, a retired army officer who died in 1971. Throughout his adult life, Evans was a dedicated but private stamp collector. It is believed that he never joined a philatelic society and never exhibited his collection. His Australian collection was housed in 33 large albums and covered the period of 1913 to 1971. It was strongest in the Kangaroo and King George V head issues, the following issues being weakly represented.

Auctioneers Premier Philatelic Auctions in Melbourne reported enormous international interest in the 764-lot sale. Every lot sold, and before the sale more than 80 percent of the lots had postal bids that were above the reserve.

Some collectors and dealers called this auction the "selvage sale" because of the consistent world-record prices obtained for monogram pieces, especially in the Kangaroo series. Monograms are printer control devices printed on the stamp selvage (margin). The £1 brown and blue JBC monogram Kangaroo single sold for A$43,560 (U.S. $22,000). This was the second-highest price in the sale, and a world-record auction price for any Australian monogram stamp of any era. This is 25 times the price the same stamp would sell for without the selvage.

Likewise, the only-known 1d red Kangaroo sideways watermark block of six, previously unrecorded with monogram, sold for A$32,670 (U.S. $16,000) against an estimate of A$10,000. As one person put it, "That is A$25,000 worth of margin." As is the case in many U.S. auctions, multiples of catalog valuations were obtained for well-centered pieces, and even for poor-condition stamps that are known to be rare. For example, the aforementioned 1d red Kangaroo block was off-center.

The Evans collection was also strong in King George V heads. A scarce but not easily distinguished shade of the 1d red issues is called "Salmon Eosin" (a salmon-red). This shade is not cataloged by Scott or Gibbons. The highest price previously obtained for this shade at auction was A$4,200 in February 2001.

The Evans collection had two mint singles and a block of four with gum bends, all of which had been part of a block of six before being divided by the auctioneer. The singles were purchased for A$9,075 (U.S. $4,500) and A$12,705 (U.S. $6,300), making a tiny piece of blank selvage, so it seems, worth A$3,630 to someone. The block of four smashed all King George V penny red shade records, selling for A$41,140 (U.S. $20,500).

The Evans family, who consigned the collection to an Australian auctioneer despite much interest from the United Kingdom auction trade, were delighted with the results and faxed the auctioneer their congratulations for what they termed a "fantastic result."

Evans also formed the most valuable Fiji collection ever seen, and he had a strong collection of New Guinea, Papua and North West Pacific Islands. Both collections will be offered in later sales.

A deluxe sale reference catalog with prices realized of the Australia sale with full-color illustrations is available at A$25 posted airmail. Credit cards are accepted.

The Evans Fiji and New Guinea sales catalog is priced the same. The firm's mailing address is Premier Philatelic Auctions Pty Ltd., Box 126, Belgrave, Victoria VIC 3160, Australia. The telephone number is 011-61-3-9754-7666, fax 011-61-3-9754-7677. Send e-mail to ppa@premierauctions.com.au.

Glen Stephens is a philatelic journalist and stamp dealer based in Sydney, Australia.


This is an edited version of a Linn's article that appeared in the June 4, 2001, issue of Linn's Stamp News.
For the complete story, subscribe to Linn's Stamp News.
All content Copyright 2000 Linn's Stamp News, of Sidney, Ohio, USA and by the author Glen Stephens.

---
height="15">
To order, click here. To read ordering instructions, click here.
Instant Currency Conversion


FREE! Just click here...
GLEN $TEPHEN$
Life Member: ASDA, PTS, APS, ANDA. ALL Postage + Insurance is extra. Visa/BankCard/MasterCard/Diners/Amex all OK, even for "Lay-Bys"! All lots offered are subject to my usual Conditions of Sale, copy upon request or they are outlined in full on this Web site. Usually allow at least 14 days for order dispatch. If you want same day shipping please go elsewhere! I am Sydney's BIGGEST STAMP BUYER: Post me ANYTHING via Registered Mail for my same-day cheque. Avoid NASTY auction "commissions" of GENERALLY 35% (12½ + 15% + GST, etc.) AND their five-month delays! Read for details. I stock Australia & Pacifics nearly 100% complete 1913-1980. Ask for my LOW quote!
"Lothlórien," No. 4 The Tor Walk, CASTLECRAG (Sydney), N.S.W. 2068
Phone: (02) 9958-1333 Fax: (02) 9958-1444 (Both 25 Hours, 7 Days!)
E-Mail: glen@glenstephens.com
Web Sites: www.GlenStephens.com, www.GlenStephens.net, or www.AustralianStamps.net
Back to Lists of Stamp Lots for Sale

| | | | | | | |
| --- | --- | --- | --- | --- | --- | --- |
| | | | Time and Temp in Sunny Sydney! | | | |


Sign up AUTOMATICALLY to my world renowned bi-weekly stamp gossip mailing list!

Click here for full library of my unusual world travels!

E-mail Me - Click HERE Right Now For Regular Specials, News,
Updates, etc and Other Great Stuff!

Click here to get back to many lists of lists of stamps for sale at low $A Nett prices!

Click here to find out all you need to know about SELLING your stamps for SPOT CASH

Click here for the current Monthly "Internet Only" special offers - CHEAP!

Click HERE to read my recent International stamp magazine articles.

Click to go back to the main www.GlenStephens.com Stamps Homepage



Instant Currency Conversion


FREE! Just click here...



E-mail me at glen@glenstephens.com -

Every credit card shown is accepted WITHOUT fee.
Earn Frequent Flier points while buying at bargain prices!
ALL prices are in weak Ozzie Dollars. I charge NO nasty, nasty
"Buyer's Commission" on stamps like nearly every "Auction" does.






..