Click To Go Back To The Main www.GlenStephens.com Stamps Homepage



Welcome! You are visitor
to www.GlenStephens.com
Click smiley to make GlenStephens.com your default homepage when you open computer!
Remember, there is always a few $1000 prize being offered - it could just be your lucky day!

---

June 5, 2000. (Front page feature story)
Aussie £1 Kangaroo brings record price

By Glen Stephens
An Australian stamp recently brought a world record price for a single nonerror item from that country. The stamp, a 1913 £1 brown and blue Kangaroo (Scott 14), with attached selvage with a "CA" monogram, sold for A$30,000 (approximately US$17,200). The stamp was purchased in mid-May by a United States East Coast collector from dealer Michael Eastick of Melbourne, Australia.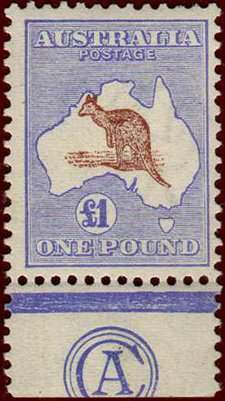 This Australian 1913 £1 Kangaroo stamp with selvage with a "CA" monogram recently sold for about US$17,200, a record price for a nonerror stamp from Australia.


The A$30,000 price is easily a record for a single nonerror stamp from the Australian Commonwealth. However, the highest-priced Australasian stamp remains the 1854 Western Australia 4-penny blue swan with inverted frame (3a) that has sold for up to A$140,000. It is listed in the Scott 2001 Standard Postage Stamp Catalogue at US$60,000.

Never-hinged examples of the 1913 £1 Kangaroo stamp with the same centering usually sell in Australia for about A$4,000 (US$2,300). The Scott catalog lists the never-hinged stamp at US$2,750. The reason this example sold for nearly eight times the usual figure is the printer's monogram on the stamp selvage. The circled "CA" is an abbreviation for "Commonwealth of Australia." Each post office sheet of 120 of this 1913 Kangaroo issue bore a "CA" marginal monogram along the lower selvage on the left pane of 60 and a similar "JBC" monogram on the right pane.

The editor of the Australian Commonwealth Specialists' Catalogue recently conducted archival research and proved that 240,000 £1 stamps were printed. This means that there were 2,000 examples of the "CA" monogram and 2,000 of the "JBC" printed on the outer selvage. Few collectors in the World War I era bothered to keep these selvage monograms.

Even on the lowest values of the set, they command substantial premiums. For instance, a monogram single of the common 1-penny carmine Kangaroo stamp (Scott 2) sells for 20 times that of a normal single, yet 8,773,000 sheets were sold bearing 17,546,000 marginal monograms. The monograms traditionally are collected in a lower-corner strip of three, and prices for such items are typically two or three times the price of a single monogram stamp.

This £1 Kangaroo exists in such a corner strip with the "JBC" monogram. This strip might fetch about A$60,000 (US$34,500) if sold today. It was last auctioned in 1984 for A$5,750. Few dealers or collectors outside Australia realize the high prices these pieces command in the home country.

Eastick also set a record price for a 1913 10/- Kangaroo stamp (13) in late 1999. He sold that hinged stamp, also bearing a trimmed "CA" monogram, for A$14,125 (US$9,000). Eastick had purchased this stamp only months before from a dealer at a stamp show in London, England. He paid A$600 (US$380) for the stamp, the usual price for a mint, hinged example.

Several examples of the "CA" monogram exist on 1913 £1 stamps outside archival collections. At least three mint singles are known, and there also is a block of six with a Specimen overprint. The 1996 edition of the Australian Commonwealth Specialists' Catalogue had this £1 monogram stamp valued at A$7,000. The recently released year 2000 edition, issued after the new record-setting example had been auctioned in the United Kingdom, listed its value at A$15,000, based on the A$13,000 purchase price.

Rodney A. Perry, a Melbourne dealer and auctioneer, had purchased the stamp at a Phillips public auction conducted Nov. 25, 1999, for £4,300 or just over A$13,000 at that time. Perry also is the publisher of the Australian Commonwealth Specialists' Catalogue and is president of the Australian stamp dealer body, the Australasian Philatelic Traders Association.

Perry told me: "This sale [of the £1 stamp] by us to Michael Eastick who in turn placed it within days shows the continuing strength of the top-end Australian stamp market. Serious collectors are realizing that the key pieces have been selling for a fraction of what similar scarcity stamps routinely obtain in a dozen overseas countries." A number of recent sales of stamps at amounts well above full catalog demonstrates the firming of this top-end sector.

Perry continued: "I sold the last copy offered of this stamp in 1984 at my large Ausipex 84 show auction and, despite being better centered, that stamp realized only A$2,640 including commission. A better than 11-fold increase in the ensuing years is quite an impressive performance."

Eastick said that the sale had been easy. "There is strong demand for this material right now due to the impending 10 percent government GST [goods and services] tax which comes into force on July 1," he explained. "This stamp would cost an Australian buyer A$3,000 more after that date, so there is a buying panic to secure these sort of expensive items before that time.

"The American buyer lucked on the best Australian-U.S. dollar exchange rate for two years, and that gave him the clear edge over any prospective local purchaser. Six months ago that U.S. client would need to have paid me 15 percent more in US dollars."

Glen Stephens is a philatelic journalist and stamp dealer based in Sydney, Australia.


This is an edited version of a Linn's article that appeared in the June 5, 2000, issue of Linn's Stamp News. For the complete story,




All content Copyright 2000 Linn's Stamp News, of Sidney, Ohio, USA and by the author Glen Stephens.
---
height="15">
To order, click here. To read ordering instructions, click here.
Instant Currency Conversion


FREE! Just click here...
GLEN $TEPHEN$
Life Member: ASDA, PTS, APS, ANDA. ALL Postage + Insurance is extra. Visa/BankCard/MasterCard/Diners/Amex all OK, even for "Lay-Bys"! All lots offered are subject to my usual Conditions of Sale, copy upon request or they are outlined in full on this Web site. Usually allow at least 14 days for order dispatch. If you want same day shipping please go elsewhere! I am Sydney's BIGGEST STAMP BUYER: Post me ANYTHING via Registered Mail for my same-day cheque. Avoid NASTY auction "commissions" of GENERALLY 35% (12½ + 15% + GST, etc.) AND their five-month delays! Read for details. I stock Australia & Pacifics nearly 100% complete 1913-1980. Ask for my LOW quote!
"Lothlórien," No. 4 The Tor Walk, CASTLECRAG (Sydney), N.S.W. 2068
Phone: (02) 9958-1333 Fax: (02) 9958-1444 (Both 25 Hours, 7 Days!)
E-Mail: glen@glenstephens.com
Web Sites: www.GlenStephens.com, www.GlenStephens.net, or www.AustralianStamps.net
Back to Lists of Stamp Lots for Sale

| | | | | | | |
| --- | --- | --- | --- | --- | --- | --- |
| | | | Time and Temp in Sunny Sydney! | | | |


Sign up AUTOMATICALLY to my world renowned bi-weekly stamp gossip mailing list!

Click here for full library of my unusual world travels!

E-mail Me - Click HERE Right Now For Regular Specials, News,
Updates, etc and Other Great Stuff!

Click here to get back to many lists of lists of stamps for sale at low $A Nett prices!

Click here to find out all you need to know about SELLING your stamps for SPOT CASH

Click here for the current Monthly "Internet Only" special offers - CHEAP!

Click HERE to read my recent International stamp magazine articles.

Click to go back to the main www.GlenStephens.com Stamps Homepage



Instant Currency Conversion


FREE! Just click here...



E-mail me at glen@glenstephens.com -

Every credit card shown is accepted WITHOUT fee.
Earn Frequent Flier points while buying at bargain prices!
ALL prices are in weak Ozzie Dollars. I charge NO nasty, nasty
"Buyer's Commission" on stamps like nearly every "Auction" does.






..