Click To Go Back To The Main www.GlenStephens.com Stamps Homepage



Welcome! You are visitor
to www.GlenStephens.com
Click smiley to make GlenStephens.com your default homepage when you open computer!
Remember, there is always a few $1000 prize being offered - it could just be your lucky day!

---

Australia begins issuing next-day stamps for gold medalists at the Sydney Games

By Glen Stephens

Australia swimmer Ian Thorpe won two gold medals and was pictured on two stamps issued the first weekend of the Summer Olympics in Sydney, Australia. Australia Post is issuing stamps to honor all Australian gold-medal winners at the Sydney Games. The stamps will be issued by noon the day after the athlete or team wins the gold, according to Australia Post.
Glen Stephens reported on Australia Post's plans for these so-called instant stamps on the front page of the Aug. 21 Linn's.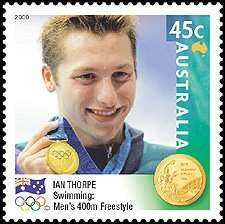 Australia pictured Ian Thorpe on a stamp issued Sept. 17, one day after he won the gold medal for 400-meter freestyle swimming at the Olympics.


Seventeen-year-old Thorpe, nicknamed "the Thorpedo," broke a world record to win a gold in the men's 400-meter freestyle swimming Saturday, Sept. 16, in a time of 3:40.59.

Russell Hick, marketing manager of Australia Post, reports that panes of 10 stamps showing Thorpe with his gold medal were on sale in some major postal outlets on Sunday, Sept. 17, and in many more by Monday. Hick added that the stamps also are on sale at the Olymphilex stamp exhibition being held in conjunction with the Olympics.

Thorpe won a second gold medal Sept. 16 as part of the men's 4 x 100m freestyle swimming relay. The stamp shows the four swimmers: Thorpe, Michael Klim, Chris Fydler and Ashley Callus. Australia's team narrowly beat the United States in a world record time of 3:13.57.

Michael Diamond received Australia's third gold medal at the Games for men's trap shooting Sept. 17. The stamp picturing Diamond holding his gold medal went on sale Sept. 18. Diamond won with a score of 147 out of 150, five points ahead of his nearest competitor.

Other Australians won gold medals in the following days, and their pictures also appeared on new Australian stamps.

David Maiden, the manager of Australia Post's philatelic division, said of the first three instant stamps: "These are the first of what Australia Post is hoping will be a daily addition to our tally. We are committed to recognizing every single Australian golden moment at the Sydney Games, and we're certain the Australian Gold Medalist stamps will become a true collectors item."

All of Australia's instant stamps honoring the gold medalists are denominated 45˘ to pay the basic domestic letter rate. Each stamp will be available in seven different versions in panes of 10. Six of the versions are the digitally produced panes available the day after the medal win.

Each of these panes bears a different emblem in the lower-right corner depending on where it was printed. The emblems are a platypus for New South Wales, a kookaburra for the Australian Capital Territory, a kangaroo for South Australia, a koala for Queensland, a possum for Victoria and a black swan for Western Australia.

The seventh version of the pane is offset printed with a map of Australia in the lower-right corner. This version is to be available at most Australian post offices three days after the gold-medal win.

Further details on ordering the stamps can be obtained from Australia Post's web site at: www.auspost.com.au/stamps or by writing to the Australian Philatelic Bureau, Box 4000, Ferntree Gully, Victoria 3156, Australia.


This is an edited version of a Linn's article that appeared in the Oct. 2, 2000, issue of Linn's Stamp News. For the complete story, subscribe to Linn's Stamp News.