---
Australia Post scores with instant stamps

By Glen Stephens
The Sydney 2000 Olympic Games provided Australia Post with its greatest-ever stamp sales success. Australia Post debuted a world first by issuing instant stamps depicting each Australian gold-medal winner after the medal ceremony. The instant stamps were available for sale nationally coast to coast by midday on the day after the medal was awarded.
The use of modern digital camera technology and high-speed data transmission lines allowed the stamps to be produced next day for every gold-medal winner. There were no hitches, no exceptions. For each stamp this deadline was met.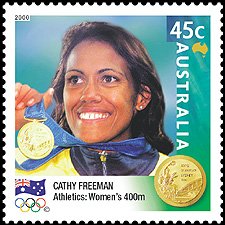 Australia Post issued a 45˘ stamp for each of its Olympic gold-medal winning athletes on the day after the medal was awarded. This is the stamp for runner Cathy Freeman.


Digital photographs were taken of athletes wearing their medals and several design possibilities were rapidly created into artwork and rush approved by the appropriate Olympic officials before the final approved image was transmitted electronically to six national printing centers in the early morning hours.

Australia ended the Sydney Games with a record 16 gold medals in 11 different sports, up substantially from the nine gold won at the 1996 Atlanta Games. A list of the 16 Australian gold-medal winners and the date of issue of the stamps appears below. Previous articles about the Australian stamps were published on the front pages of the Aug.21 and Oct.2 issues of Linn's.

The Australian general public quickly joined the stamp-collecting habit when these stamps were put on sale, and long lines formed at most of the 70 major offices nationally that had the digitally printed Gold Medalist panes on sale. Often the lines formed many hours before post offices were opened.

Each Gold Medalist stamp is an identical square size with a common outer border. Each bears a 45˘ denomination for the domestic letter rate, and each was issued for post office sale in a decorative pane of 10, measuring approximately 6 inches by 8 inches.

The Sydney Morning Herald of Oct. 3, in an article highlighting the enormous success of the Gold Medalist stamps, claimed that Australia Post had made a profit of A$135 million (approximately U.S. $73 million) from these stamps. David Maiden, group manager of Australia Post's philatelic division told me that the A$135 million profit figure was "a load of rubbish," stating it was substantially smaller.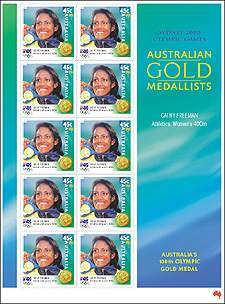 The pane of 10 of Australia Post's stamp honoring Cathy Freeman for receiving a gold medal in the women's 400-meter run at the Summer Olympic Games in Sydney, Australia.


Forty million stamps were printed initially, more than two for each person living in Australia. In early October, Maiden reported that a new printing was under way for all the offset versions. The general public swamped post offices for the 500,000 digitally printed Gold Medalist stamps for each Australian gold medal. Cathy Freeman, the popular 400-meter track victor, saw her stamps sold out in 43 minutes. Millions of the conventionally printed offset versions of the same panes were on sale for each stamp issue within three days of the gold-medal win.

Popular athletes such as Freeman and swimmers Ian Thorpe and Susie O'Neill also were a near instant sellout in the original digital-printed versions. Unlike the official policy in the United States and in many other countries, Australia, since 1996, permits images of living people to appear on postage stamps. This policy has proved popular with consumers.

At many post offices, lines started in the early hours of the morning, not long after the gold-medal ceremonies were broadcast live on television nationwide. Post offices were even open on Sunday in many Australian states to place on sale Gold Medalist stamps from Saturday events.

I spent the first week of the Olympic Games traveling throughout the United States and Mexico. The NBC coverage was delayed for U.S. prime time television viewing, and often events were 14 hours old before being screened for U.S. viewers. In some cases, the Gold Medalist stamps literally were on sale in Australia before NBC telecast to U.S. viewers the final of the event involved.

I spoke to Andrew Brown, operations manager of Federation Couriers, the company contracted by Australia Post to ensure that all designated post offices in New South Wales obtained the instant stamps on time. "It went very smoothly. I was very proud of our people and the highly organized Australia Post well-drilled operation," he said. "We had been planning this operation for several months.

"I remember the men's cycling gold medal was won very late evening. My staff collected the digitally printed stamps early next morning, and drivers were stationed with inventory at post offices before 9 a.m. waiting for PO staff to arrive. These stamps were literally on hand at those post offices well within 12 hours of the gold-medal event being decided, and often before NBC showed the event result on national television in the U.S.A."

Brown telephoned me Oct. 3 trying to buy several panes he had missed securing for his collection. He is typical of a new type of stamp buyer who previously didn't collect stamps but was determined to acquire a full set of these 16 Gold Medalist panes.

During the Sept. 15-Oct. 1 Olympic Games in Sydney, Olymphilex, a philatelic exhibition backed by the International Olympic Committee, was held in the center of the Sydney central business district. IOC president Juan Antonio Samaranch officially opened the Olymphilex exhibition Sept. 15.

I attended the opening day and closing dinner of this exhibition, presented on three floors of the downtown Centrepoint Tower complex. A line of people stretched around the venue on most days waiting to purchase the Gold Medalist stamps, and then another line formed to have the stamps canceled with the special event pictorial handstamps.

Melbourne stamp dealer Tony Shields, who had a booth at the show, told me: "The long lines were ridiculous. They were always right in front of my booth and affected my ability to serve regular clients. However we had a good show despite this."

In addition to the stamps, special IOC first-day covers were on sale at Olymphilex. A total of 500 IOC FDCs were produced for each stamp. These FDCs, machine-numbered to 500, picture the applicable gold-medal winners.

Some of these 500 FDCs were presented to dignitaries and officials, and few complete sets are in collector hands. Several part sets exist because of the transient nature of the crowds at Olymphilex over the two weeks.

The IOC was strict on cover distribution. Leading dealers with booths such as Tony Shields and Max Stern received no automatic allocation. Standing in a long line was the only way to secure the prized covers.

Sydney cover and postal history dealer Martyn Grieve of A-One Stamps attended Olymphilex each day primarily to obtain these official IOC covers. He managed to assemble only three sets of 16, and had two sets presold.

Maiden of Australia Post said: "From our point of view, Olymphilex was a great success. The Gold Medal stamps being on sale generated large lines. We also had out special 'P' (personal photograph on a label attached to a stamp) booths in operation to long lines most of the time. I know this was a far bigger success than both [the Summer Olympics in] Atlanta and Barcelona."

In a final piece of news, I was told that Australia Post's annual collection of stamps for the year 2000 will contain a different version of the 16 Gold Medalist stamps not available elsewhere. This pane will include the 16 different Gold Medalist stamps se-tenant, or side by side. The pane will not be sold separately.

The annual collection, if ordered before Dec. 27, costs A$82.50 (U.S. $45), or A$87.50 thereafter until sold out. Collectors in the United States may order the annual collection from the official agent for Australia Post in North America, Unicover, 1 Unicover Center, Cheyenne, WY 82008-0010, or phone 800-443-3232.

Australia Post expects a fast sellout of the annual collection, and it may restrict the number purchased per client. I believe that the pane of 16 se-tenant Gold Medalist stamps will be highly sought as an individual item not only by Australian collectors but also by Olympic topical collectors worldwide. Australia Post has never before issued an item in any annual collection or other packaged product that was not itself freely available for individual sale.

I would not be surprised to see a retail price of at least U.S. $50 per pane reached soon in this market. Each annual collection contains A$68 in face value of mint stamps apart from the Gold Medalist pane, so the math is pretty simple. Issue price of the entire album is less than U.S. $50. The pane also will be a nice memento of the Games.

As a Sydney local, I was proud at the way the Games ran smoothly, with no serious threats, boycotts, bombs, road, air or rail transport chaos, and other afflictions commonplace in recent Olympics. I attended a day of track and field finals at the main stadium, and the atmosphere in that filled stadium was electric. Sydney 2000 was truly the "friendly games." Roll on Salt Lake City 2002.
Australian gold medalist stamps

Gold medal winners

event

date of issue

Ian Thorpe
men's 400-meter freestyle swimming
Sept. 17
Michael Klim, Chris Fydler, Ashley Callus and Ian Thorpe
men's 4 by 100m freestyle relay swimming
Sept. 17
Michael Diamond
men's trap shooting
Sept. 18
Andrew Hoy, Stuart Tinney, Matthew Ryan and Phillip Dutton
three-day team equestrian
Sept. 20
Susan O'Neill
women's 200-meter freestyle swimming
Sept. 20
Ian Thorpe, Michael Klim, Bill Kirby and Todd Pearson
men's 4 by 200m freestyle relay
Sept. 20
Simon Fairweather
men's individual archery
Sept. 20
Brett Aitken, Scott McGrory
men's Madison cycling
Sept. 21
Grant Hackett
men's 1,500m freestyle swimming
Sept. 23
women's water polo team (Liz Weekes, Yvette Higgins, Gail Miller, Naomi Castle, Bronwyn Mayer, Simone Hankin, Danielle Woodhouse, Kate Hooper, Debbie Watson, Taryn Woods, Bridgette Gusterson, Joanne Fox and Melissa Mill)
women's water polo
Sept. 23
Nathalie Cook, Kerri Pottharst
women's beach volleyball
Sept. 25
Cathy Freeman
women's 400m run
Sept. 25
Lauren Burns
women's under 49kg taekwondo
Sept. 27
women's field hockey team (Rechelle Hawkes, Alyson Annan, Juliet Haslam, Clover Maitland, Jenny Morris, Kate Starre, Kate Allen, Lisa Carruthers, Renita Garard, Nikki Hudson, Rachel Imison, Claire Mitchell-Taverner, Alison Peek, Katrina Powell, Angie Skirving and Julie Towers)
women's field hockey
Sept. 29
Jenny Armstrong, Belinda Stowell
women's 470 sailing
Sept. 30
Tom King, Mark Turnbull
men's 470 dinghy class sailing
Sept. 30
Australia Post issued a stamp for each Australian gold medal winner the day after the medal was won. The 16 Australian gold medal winners are listed in this chart. For ordering information, contact the Australian Philatelic Bureau, Box 4000, Ferntree Gully, Victoria 3156, Australia; e-mail mailorder@auspost.com.au; or web site http://www.2.auspost.com.au.
Glen Stephens is a philatelic journalist and stamp dealer based in Sydney, Australia.

This is an edited version of a Linn's article that appeared in the Oct. 23, 2000, issue of Linn's Stamp News. For the complete story, subscribe to Linn's Stamp News.