Click To Go Back To The Main www.GlenStephens.com Stamps Homepage


Welcome!

You are visitor
to www.GlenStephens.com
FastCounter by Microsoft

Mug Shot Stamps From Australia Post!
In a world first, Australia Post this month offered to print your photograph in colour on a postally valid, officially issued stamp. And don't forget, you read it here first in Australasian STAMPS Magazine!
The leading edge technology debuted March 19th at the massive "Australia 99" World Stamp Expo in Melbourne Australia. A very large crowd attended what was possibly the large attendence show worldwide in 1999. (See last magazine for complete details.)
Collectors and dealers were able to buy blocks of 10 domestic letter rate 45˘ "Polly Woodside" ship thematics issued specially for the exhibition, printed with their photo alongside. The regular issue 45˘ "Polly Woodside" stamps have an unusual perforated, gummed, vertical "tab" to the side of the design, one half the regular stamp size, each bearing the "Australia 99" Koala Bear logo.
Special sheetlets 10 of these stamp were printed with this fully perforated design tab totally blank, alongside the 45˘ ship stamp. A secret trial campaign spanning several months allowed full colour photo images of a person or persons to be rapidly printed upon this blank "stamplike" tab.
YOUR FACE ON A STAMP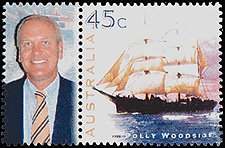 | | |
| --- | --- |
| | In a world first, Australia Post allowed you to create postally valid stamps with your own photo on them! |
The most remarkable part of the issue is that Australia Post waived the usual rule that only official standard design postage stamps are postally valid in Australia. For example, a normal non-postal coloured label, charity seal, or stamplike "cinderella" will not be deliberately be hand cancelled by Australia Post staff, this being against regulations.
These "personalized" tabs were decreed to be 100% postally valid whilst still attached to the 45˘ "Polly Woodside" stamps, and were thus eligible to be hand postmarked with any official postmark, or even passed through the regular mails, where a machine postmark is normally applied. Postally used examples dated March would be very nice items to seek out, and will one day be worth good money if kept on cover.
Readers who obtained a sheet or sheets can use them on Registered, Insured or even overseas mail as single units, or in multiples of any size up to 10 units. ($A4.50). Think how great they would be to send out your Christmas cards! Note that the photo labels must at all times remain affixed to the 45˘ stamp to be postally valid.
The personalized "real photo" stamps could of course have been affixed on March 19 to Post Office First Day Covers and cancelled quite legally at the show, making them one of the most amazing FDC's in any reader's album. It adds new meaning to that quaint American term "socked on the nose" cancels!
David Maiden, National manager of Australia Post Philatelic Division told me today: "we are very excited to have pioneered a totally different type of stamp onto the world market".
Maiden continued: "Australia 99" was the largest stamp exhibition ever held in the southern hemisphere, and it is expected to be the largest philatelic event worldwide during 1999. We really wanted to offer something special to show our leading edge technology to the world."
I asked David whether he can envisage these items being offered by mail order in the months after "Australia 99". Perhaps produced by collectors posting in colour photographs for scanning. He replied: "we have no firm position on that right now. We will see what kind of response we get in the ensuing months after the "Australia 99" debut, and take that as a pointer to whether we proceed any further with this novel concept. I will keep collectors advised on our position. We seek the views of your readers as to whether they want to buy this type of product."
HOW WAS IT DONE?
For the technically minded, here is how state-of-the-art modern technology made these unique stamp items possible. The cost of the trials and software, and special stamp print runs must have ran way into a 6 figure sum. I think Australia Post are to be congratulated on beating the Americans and Europeans and better still, the Japanese to this end product.
Collectors stood in front of one of several expensive digital cameras on site at "Australia 99". Their personalized image or "photograph" was captured using an expensive Agfa digital camera. This digital image was then processed through customized software using a new range of iMacs supplied by Design Wyse.
After graphic manipulation, the image was printed digitally in sharp full colour by a Fuji Xerox Docucolor model 40/40. The image was printed upon the conventionally pre-printed and perforated gummed stamps, thus giving the recipient a block of valid postage stamps bearing their own likeness.
Extensive trials of this exciting process were conducted over recent months by the Australia Post owned Sprintpak, and Excel Digital, a design reproduction company located in Melbourne Australia.
Michael Laurence, publisher of Linn's Stamp News said in his editorial March 1, that 15 years ago he felt the computer was a threat to our hobby, but now felt it was leading us into a golden age. He also said "we live in exciting times" and this new innovation certainly bears this comment out! I posted Michael a few examples for his files.
WHAT DID IT COST?
What did all this technology cost the collector or dealer waiting in line, and how long did it take to print out the stamps?? At "Australia 99" World Stamp Expo March 19-24, collectors were invited to use one of 4 cameras able to deliver this new technology.
Cost was $10 for each personalized sheet of 10 x 45˘ stamps, along with their own color photo on each attached perforated "tab". There was a maximum 5 sheets supplied per person, i.e. 50 "photo stamps" in total.
The same photo image appeared on each of the 10 stamps - there were no changes of pose possible within each sheet. Collectors or dealers could of course choose to go back in line and strike other poses, or pose alongside a friend or family member - the photos allowed two persons posing together within each "tab".
Australia Post claimed that the photographic image was transferred and printed "in less than one minute". A humorous notation was made in the instructions that were handed to each potential stamp subject, after advising them that they took "no responsibility for any person's personal presentation".
The notation read : "Anyone deliberately making inappropriate gestures during photography will automatically forfeit their order and a refund will not be provided".
Use your imagination as to what MAY have happened, but I did not hear of any photos getting confiscated, so presumably everyone behaved themselves!
There was no mention of whether the infamous "good face for radio" type visages of many of our friends or colleagues would be permitted as sitting subjects, or simply banned on the grounds of good taste!
---
These articles are all Copyright © 1999 Glen Stephens. They may NOT be reprinted or used without written permission. However, permission will be granted for virtually any reasonable useage purpose, providing full and correct attribution to the writer and magazine is given. Applicable scans from articles in black and white or color can also be arranged to be E-mailed to you.
Above is one of my Market Man "Tipster" columns published in the Australasian STAMPS Magazine.
height="15">
To order, click here. To read ordering instructions, click here.
Instant Currency Conversion


FREE! Just click here...
GLEN $TEPHEN$
Life Member: ASDA, PTS, APS, ANDA. ALL Postage + Insurance is extra. Visa/BankCard/MasterCard/Diners/Amex all OK, even for "Lay-Bys"! All lots offered are subject to my usual Conditions of Sale, copy upon request or they are outlined in full on this Web site. Usually allow at least 14 days for order dispatch. If you want same day shipping please go elsewhere! I am Sydney's BIGGEST STAMP BUYER: Post me ANYTHING via Registered Mail for my same-day cheque. Avoid NASTY auction "commissions" of GENERALLY 35% (12˝ + 15% + GST, etc.) AND their five-month delays! Read for details. I stock Australia & Pacifics nearly 100% complete 1913-1980. Ask for my LOW quote!
"Lothlórien," No. 4 The Tor Walk, CASTLECRAG (Sydney), N.S.W. 2068
Phone: (02) 9958-1333 Fax: (02) 9958-1444 (Both 25 Hours, 7 Days!)
E-Mail: glen@glenstephens.com
Web Sites: www.GlenStephens.com, www.GlenStephens.net, or www.AustralianStamps.net
Back to Lists of Stamp Lots for Sale

| | | | | | | |
| --- | --- | --- | --- | --- | --- | --- |
| | | | Time and Temp in Sunny Sydney! | | | |


Sign up AUTOMATICALLY to my world renowned bi-weekly stamp gossip mailing list!

Click here for full library of my unusual world travels!

E-mail Me - Click HERE Right Now For Regular Specials, News,
Updates, etc and Other Great Stuff!

Click here to get back to many lists of lists of stamps for sale at low $A Nett prices!

Click here to find out all you need to know about SELLING your stamps for SPOT CASH

Click here for the current Monthly "Internet Only" special offers - CHEAP!

Click HERE to read my recent International stamp magazine articles.

Click to go back to the main www.GlenStephens.com Stamps Homepage



Instant Currency Conversion


FREE! Just click here...



E-mail me at glen@glenstephens.com -

Every credit card shown is accepted WITHOUT fee.
Earn Frequent Flier points while buying at bargain prices!
ALL prices are in weak Ozzie Dollars. I charge NO nasty, nasty
"Buyer's Commission" on stamps like nearly every "Auction" does.






..