Click To Go Back To The Main www.GlenStephens.com Stamps Homepage

Welcome! - You are visitor number
To - www.Glenstephens.com


June 2020


---
Rodney A. Perry - R. I. P.
It was with great sadness I took a call from a close colleague on the morning of May 8, to advise Rodney A. Perry had passed away peacefully in Cairns, an hour or so earlier. Rod Perry had been very ill for months, and sadly lost the long battle, at age 72.

A very great loss to this hobby, and to all those who knew Rod, or dealt with him. Margo and I had a lonnnnng lunch with Rod and wife Madel in latter 2019 up in Cairns, over many bottles of wine, and grandson Raphael popped in at the end, for a photo nearby, taken by his mum Alana.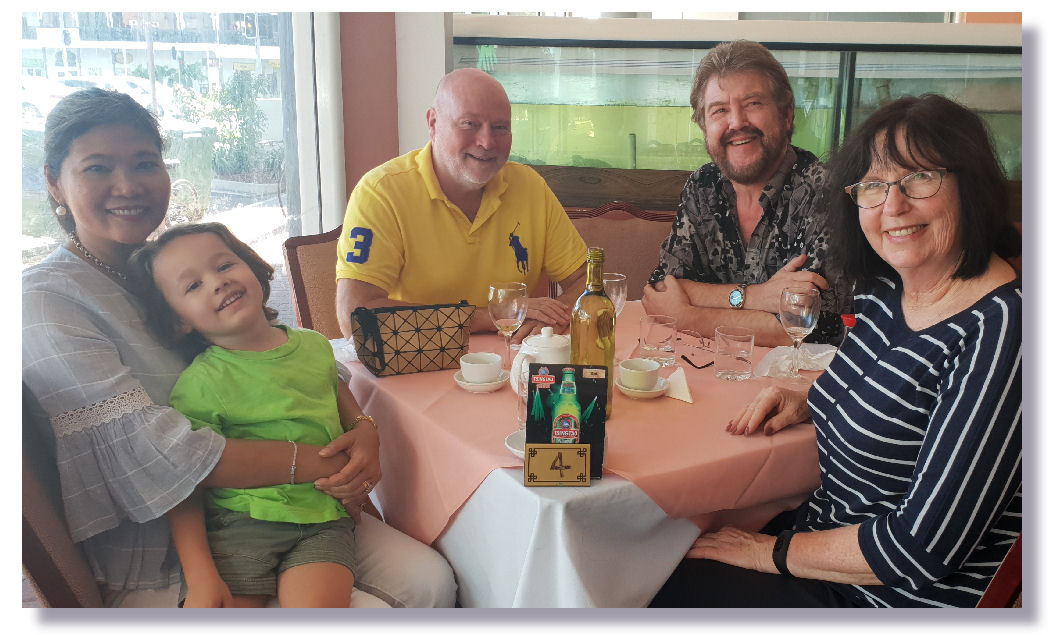 Madel and Rodney Perry at left.
I've known and dealt with Rod for over 40 years, and he was a font of knowledge on all aspects of stamps, and on the dealers and collectors who make up the hobby. His current collecting passion was assembling covers and ads and material and pricelists relating to the vintage Australian dealers right from the 1860s, all seen here - tinyurl.com/OzDealers

Rod ran the largest Stamp Auction here for ages, and helped launch and fund the current Brusden White ACSC Catalogues set - the finest one country catalogue series on this planet, into their current form. Rod and Geoff Kellow started this off when Geoff occupied an entire floor of Rod's large heritage ex Tramways Trust Building in downtown Melbourne, with his vast reference library.

Many of the leading lights in the stamp business in recent decades started their careers working for Rod, and under his guidance, went on to establish themselves in their own successful stamp businesses. He was well established when the huge "stamp boom" exploded in the later 1970s, and rode the roller coaster more successfully than anyone here, right through its duration.

He was a past President of APTA, the dealer body, but also collected on a serious level, forming the finest ever collection of the stamps of the state of Victoria - FIP Grand Prix D'Exhibition Award, and Gold Medals for his material, and he had many other many varied and unusual stamp collecting interests.
Infectiously enthusiastic about covers.
Rod above all was passionate about collecting stamps on COVER. His passion was infectiously enthusiastic, and 1000s of current collectors of covers were inspired to do so by Rodney Perry. His monthly columns in Stamp News Australia - "Woodchip Free Zone" constantly stressed that soaking or snipping stamps off covers was vandalism in his eyes.

tinyurl.com/RodPerry is the stampboards tribute to Rod – literally pages of messages from the Global stamp family Rod was part of there - add yours by all means. Rod posted near 4000 messages, and 1000s of images there, over 10 years. All are still visible, and are a permanent memorial to his huge knowledge.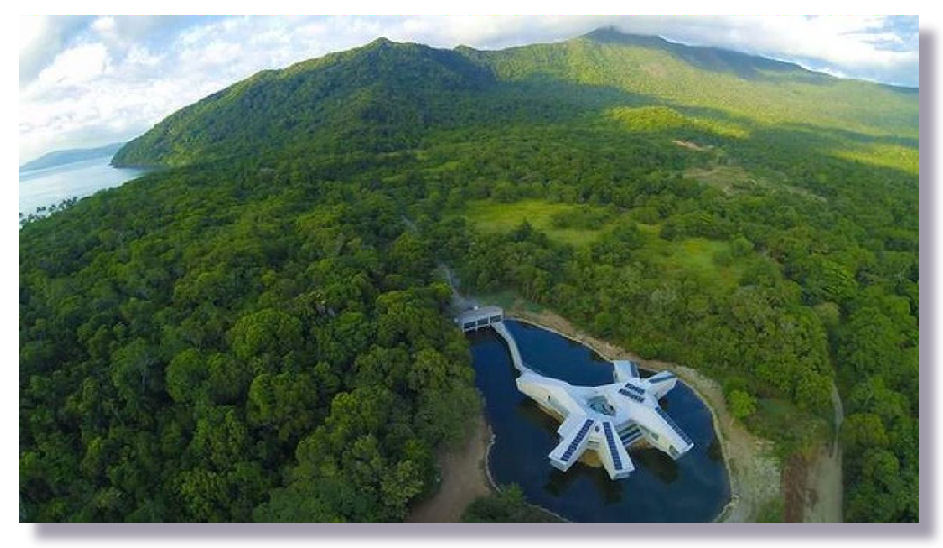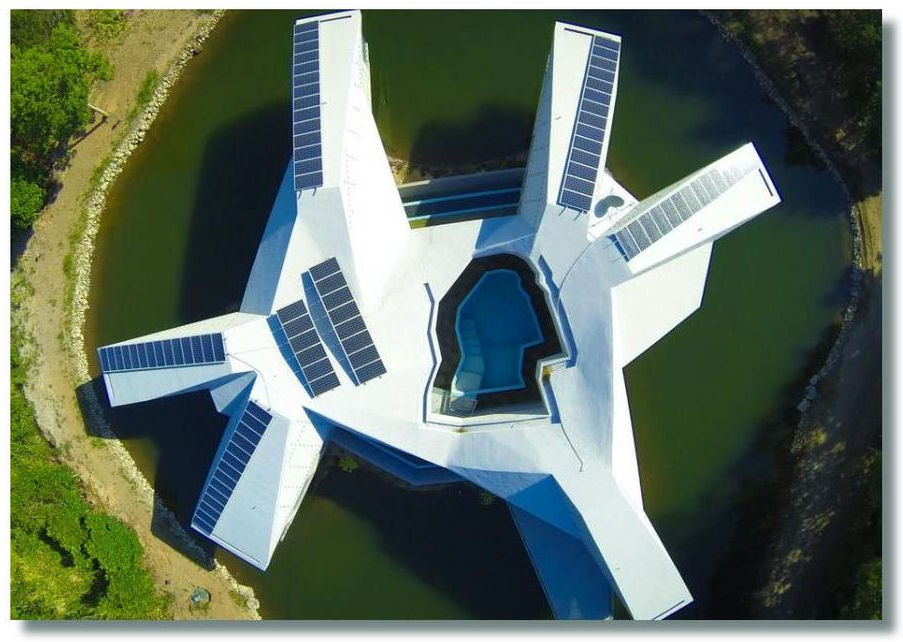 Rod Perry's rainforest ALKIRA legacy.
Rod lived most of his life in Melbourne of course, but a decade or so back, moved the family and his stock from there to the tropical and humid Cairns area, in Far North Queensland. Near 3000 km or 30 hours driving away - as distant as London to Moscow!

Rod and Madel built the most talked about home in the history of World Philately, in 75 acres of World Heritage Rainforest in the truly remote Daintree wilderness - the massive ALKIRA. It looked more like a Sheraton Hotel Resort! Rod's stories about the complexities and approval paperwork of getting that built were well worth hearing.

Each huge wing has stamp perforation designs in the concrete walls – very striking. The swimming pool outline was shaped based on the famous One Pound Jimmy 2/6d Aboriginal stamp profile, that Rod loved the design of - see image nearby. It sold for near 8 figures, after a very long international campaign.

A great man, an icon of philately - and not just here, but globally. A true Encyclopaedia of stamp knowledge, that he was always ready to share patiently on stampboards and elsewhere. My condolences to Madel and his children and family. R. I. P. - Rodney Perry. Your friendship and support and enthusiasm will be sorely missed.
Major Kangaroo Auction June 12.
| | | |
| --- | --- | --- |
| | Phoenix Auctions in Melbourne Australia will auction off on June 12, the fantastic Large Gold Medal mouth-watering exhibit of the Australia Kangaroo and Map stamps, formed by Gold Mining identity, Peter O'Rourke of Queensland, who exhibited it widely. | |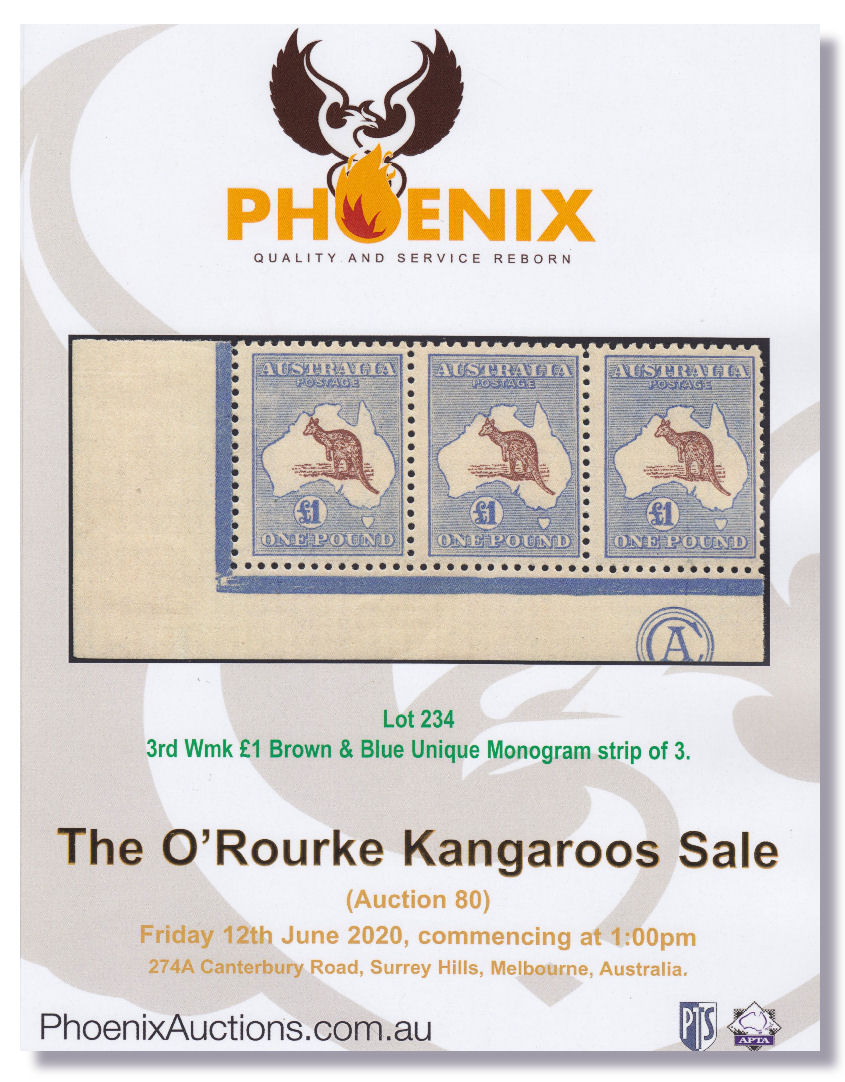 $A2.5 MILLION of pre-sale estimates!
This wonderful collection is full of top end Kangaroo rarities, many of which have not been on the market for decades. There are a staggering number of now very popular Monogram and Non-Monogram items. Also a wide range of watermark and perforation errors, and other major varieties. Many estimates are in the 6 figure zone.

This is one of the most significant collections formed of this era. Unlike the Arthur Gray collection, there are no proofs or essays in here, as the owner did not like them, but plenty of very nice stamps! O'Rourke started collecting in 1944, and some of these pieces have not been seen for a generation.
COVID rules affect Auction.
David Wood, the owner of Phoenix Auctions told me today, that the pre-sale estimates total around $A2.5 Million, and that advance internet bidding on the material was already strong. With the COVID rules, only 10 people can attend in person, but extra phone lines have been set up, as well as enhanced internet bidding.

I smiled reading the June 12, 2020 sale catalogue shown nearby, to see the £2 "OS" mint Kangaroo I'd illustrated in a previous column, and about which I had this to say about it, after reading the original Phoenix press release on the O'Rourke Kangaroo sale, where it was stated to be 1913 First Watermark -

"I sell more Roos than just about anyone, and you get to be able to sort most of them by watermark just by looking at them - perf characteristics and colour etc. If I were asked to guess at the watermark off this photo, I'd opt for THIRD watermark almost certainly. I have not seen the stamp in person, so assume it is correctly ID in a Gold Medal collection. Interesting."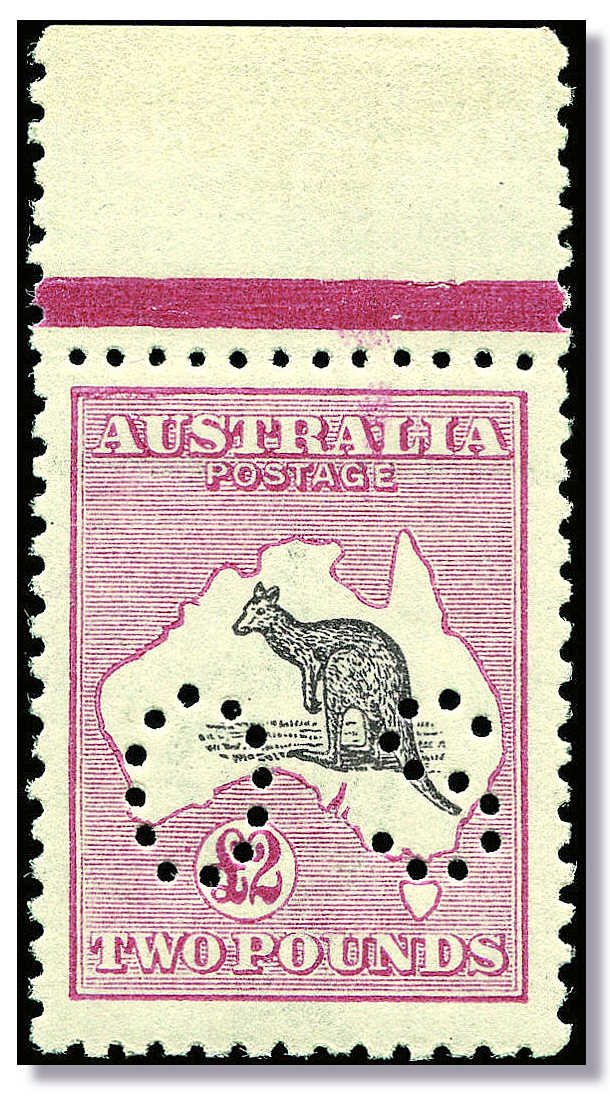 Can you pick the watermark?!
The auction description now says it is indeed the THIRD Watermark Kangaroo, as I had guessed immediately, without ever seeing the stamp, or the reverse! Nonetheless, a very rare stamp in fresh MUH original gum, indeed it originated from the Post Office Archive Sales, and I'll bet that it will fetch a good deal more than the $8,000 estimate.

The sale is weeks away, so plenty of time to take a look at the material being offered. Better Kangaroo material is going absolutely gangbusters this year, and all nice looking material I list up on my Rarity Page sells in days, if not hours. Often for a few $1000, you can buy pieces that are unique or very close to it, and that is a tiny price for pay for such scarcity.

Stamps from the USA, or other major collected countries, of which 1 or 2 or 3 pieces are known, can and do fetch 6, 7 or even 8 figures as we know, so a mere $1000 or two, obtained for many Kangaroo pieces, is actually insanely low when you think on it. Still plenty of good buys exist, and with bank interest rates near zero today, not a bad option
Loopy Ebay Bunnies Breeding up.
| | | |
| --- | --- | --- |
| | The mind-numbing dumb waste of money one sees on eBay in buying utter garbage is depressing. If these Bunnies spent the same kind of money buying GENUINE material, they'd stay in the hobby, and heaven forbid, actually see their outlay increase in value over time! | |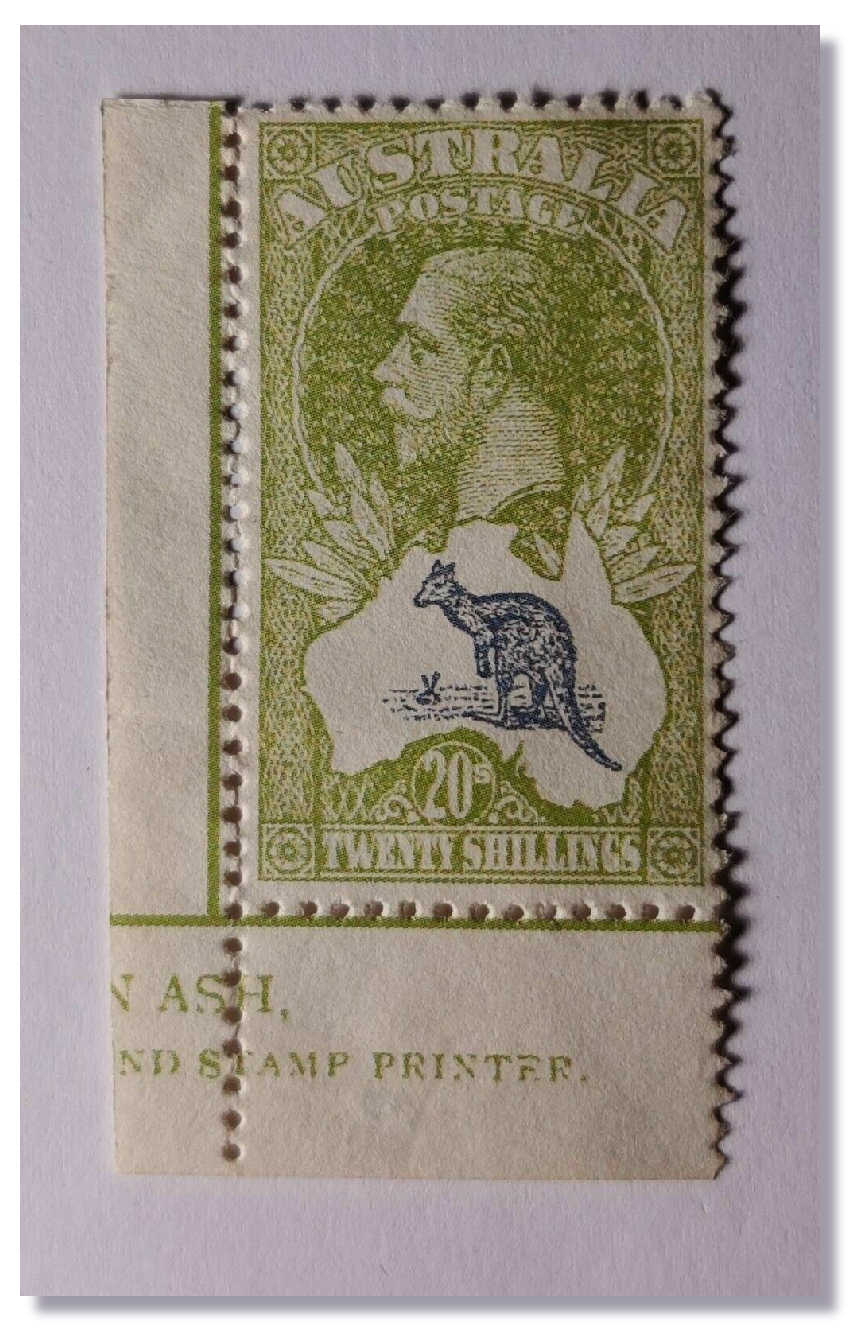 $640 paid for this modern garbage.
However no IQ test is needed to open an Ebay account - and it shows! The worthless piece of landfill illustrated nearby should not fool a blind nun, but it sold for £321= $A640 on 31 bids - that is the scary part. Seller was UK based ebay crook nsmnic3 who of course is offering all kinds of other bogus material - some of it is selling to other Bunnies.

tinyurl.com/FakeRoo Is the stampboards discussion on this madness, that is simply a fantasy creation photoshopped onto ungummed blotting paper just months ago, and "perforated" with a blunt nail, and peddled on eBay as: "Australia GV 20sh (£1) essay or trial for the Kangaroo issue."

The Kangaroo issue was released 1913. Any essay or trial would precede that of course, AND be listed in the ACSC catalogues. It has a John Ash printer imprint at base as can be seen. The geniuses bidding on this garbage clearly do not realise printer John Ash did not even ARRIVE in Australia until 1923, and then went on to be stamp printer.

This waste paper fantasy is one of 100s of similar nonsense pieces peddled on ebay out of Taiwan for a few dollar apiece. Ebay rules ALLEGEDLY state they must be backstamped FACSIMILE on reverse, but of course they never are. Ebay make money on all levels from it, and of course do not care one iota if such rubbish wrecks the stamp hobby.

There are endless more examples, as the dopes keep breeding and buying it sadly. For that same $650 I, or any real dealer, can sell anyone an absolutely SUPERB used £2 Kangaroo stamp, with a decent chunk of change left over. THAT will be worth more than you paid for it in years to come. It seems just basic common sense, but these Bunnies never read stamp magazines!
NZ ceases "Health" Stamps.
New Zealand post in recent years announced that the very familiar NZ "Health" stamps, which have been issued annually in New Zealand since 1929, have now totally ceased - ending an 88 year tradition for this very popular series since the first issue.

In 1929 New Zealand Post worked with Children's Health Camps - now called Stand Children's Services ("STAND") - to create an annual postage stamp issue, to help New Zealand's most at risk children with the funds raised. These funds were raised via the clearly visible Charity surcharge on each stamp.

The members of the public and collectors who purchased the stamps, in effect donated the surcharge to the "Health" cause. The iconic New Zealand "Smiling Boys" stamp pair issue from 1931 shown nearby, as can be seen, raised 2d to the cause (1d each stamp) and were only valid for 3d of postage value. Near half the cost of each set purchased was donated.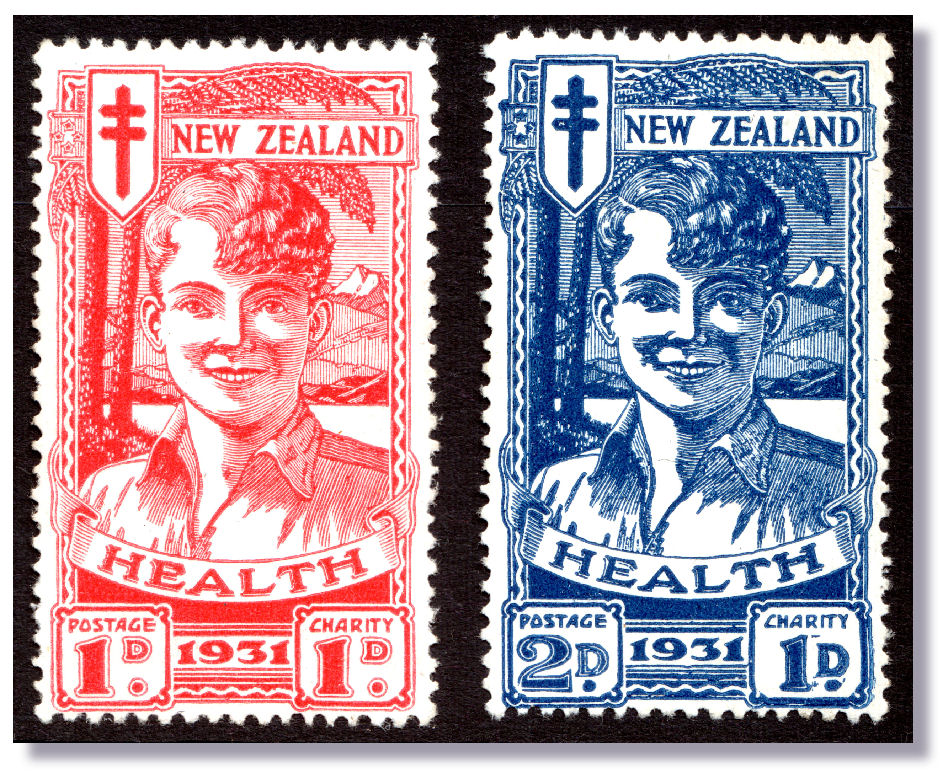 All time classic NZ Health set.
| | | |
| --- | --- | --- |
| | Each issue had a different theme, with the aim to educate New Zealand children and their families about good health. The donation from the sale of each stamp provided important funding for the Children's Health Camps across New Zealand. In later years sets of stamps AND Miniature Sheets were issued, for each year since 1957 - so 60 years of Health Mini Sheets exist | |
"Stamps not financially viable."
In recent times, NZ letter mail volumes have been in decline, a global reality, and this has of course been reflected in the number of Children's "Health" stamps sold. Unfortunately, this has led to it no longer being financially viable for New Zealand Post to administer this stamp issue each year, they advised the stamp world.

Not sure why - the "Health" surcharge was only 10¢ on the then current $2 health stamp as can be seen nearby, versus near HALF of the purchase cost of the 1931 set shown above, so the monies raised one imagines were not breaking NZ Post - or the purse of the public who bought them??

So these Health issues survived each year right through the Great Depression, and even right through World War 2 they did not miss a beat, and a set was issued every year. Sad to see them go, and at least a "complete" collection can now be formed with some certainty. Try getting them all on FDC - THAT is an incredibly tough ask!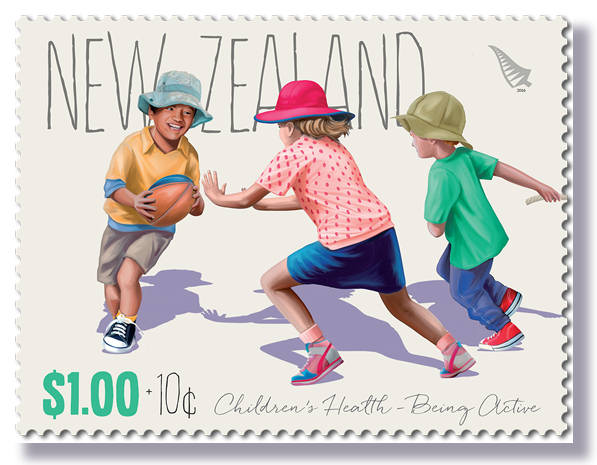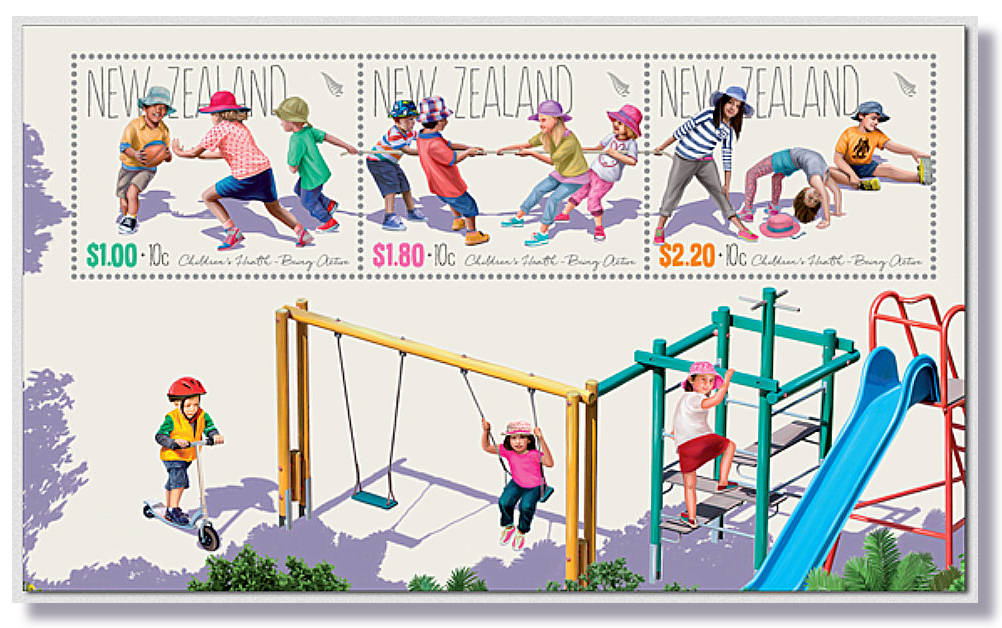 Very last NZ Health Stamp issue.
| | | |
| --- | --- | --- |
| | As a result, this annual stamp issue will be no longer. However New Zealand Post claims they will continue to support the great work that STAND does, by other means. I hope so. However as can be seen below, the new May 2020 COVID Teddy Bear stamp issue makes a $3 donation to Red Cross so maybe the thinking is changing? | |
The NZ 1996 "Teddy Bear" Healths.
The most notorious issue of these NZ Health stamps was in 1996. The 40¢ value was about to go on sale when the Road Safety "powers that be" noticed the baby in the back seat was facing forward. Shown clearly, as the Teddy Bear toy had a belt across the left shoulder, proving both it and the baby were facing forward.

In this PC world, that is not OK it appears, and I gather the NZ law even back in 1996 stated babies in these "pods" or capsules must face backwards in the car, so they do not get flung forward in any accident. The stamp issue depicting "Road Safety" was not doing a great job here! So all hell broke loose in PO Headquarters and the NZ Media. .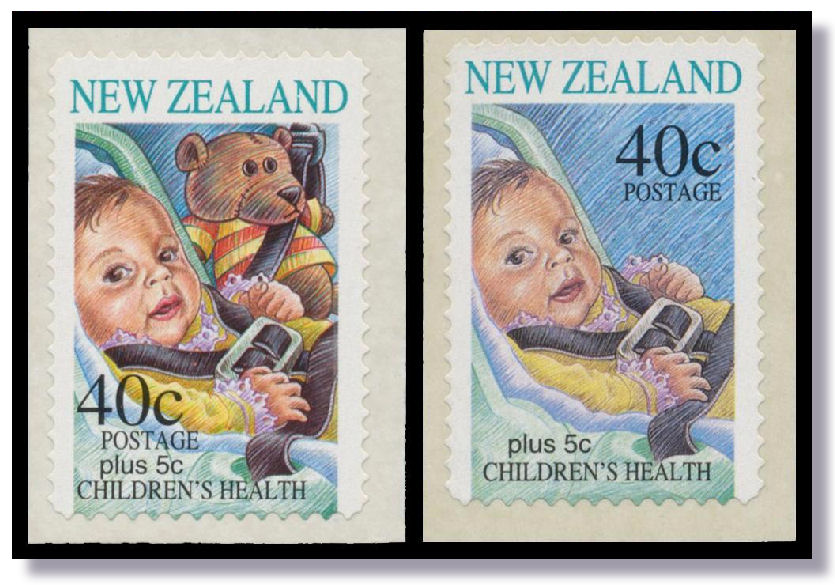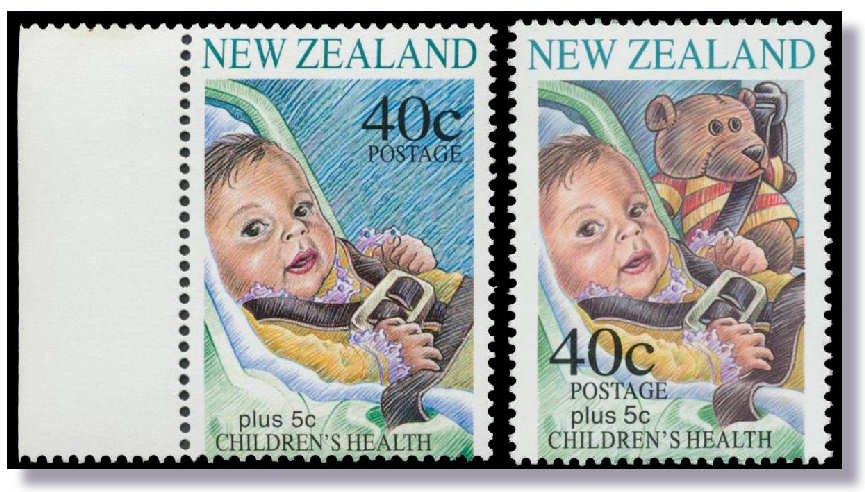 NZ 40¢ "Teddy Bear" normal and coil.
The offending Teddy Bear design was amended at the last moment, and the original large printing supposedly destroyed. The final issued design having no Teddy Bear, and no seat belt, it was not apparent if the restrained child was facing in the "illegal" direction. This largely kept everyone happy.

The amended design stamps were issued on June 5, 1996. It soon became apparent, due to an alert stamp collector, that at least some of the original "Teddy Bear" stamps had not been destroyed as the Post Office had claimed was the case. A few commercial covers were sighted, one of which was a FDC. The hunt was on!

Further investigations showed that a financial institution, The Auckland Savings Bank, had purchased most of the error stamps, and used them on normal business mail. A part sheet was sold broken down somewhat, and the $60,000 proceeds donated by the Bank to charity. A daily newspaper clipping of the time is nearby, re that auction.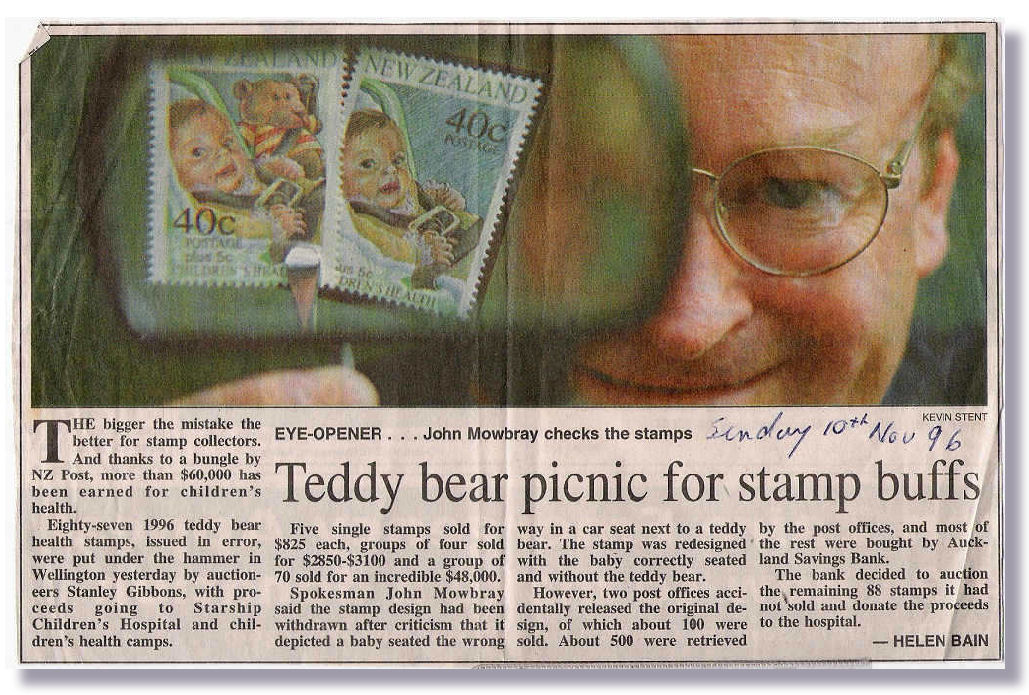 Made the main NZ newspapers.

| | | |
| --- | --- | --- |
| | The error stamps were sold from only two NZ Post Offices that did not bother to read their "DO NOT SELL THESE STAMPS" Memos - Royal Oak PO in Auckland, and the Te Ngae PO of all places - near Rotorua. The only stamps sold, and only in a few 100 total, were 40¢ sheet and coil stamps -l but never the Miniature Sheets for some reason. | |
Rapid Global publicity.
I wrote extensively about these "Teddy Bear" issues at the time, and several of my stories were on page 1 of the mass selling "Linn's Stamp News" in the USA. This link shows some of my 24 year old reports - tinyurl.com/TeddyStamp A Linn's reader in the USA read one, and bid for 2 singles, paying $A2,640 and $A2,210 in the Auction sale below.

Stanley Gibbons Auctions in Australia offered three lots of these stamps in their Sydney auction on February 25, 1997. These lots were a corner block of 6, and two single stamps. The corner block of 6 sold to a telephone bidder in Japan for $A10,450. No Miniature Sheets were ever sold by NZ Post, to anyone, at any time.

The Linn's reader had no idea these errors even existed until that article, he told Linn's staff, so it does prove that stamp magazines articles DO sometimes get read! The self-adhesive 40¢ single is known to be many times scarcer than the regular gum version, so him paying 20% more for it was a good buy, but I think he bought right at the top of the market.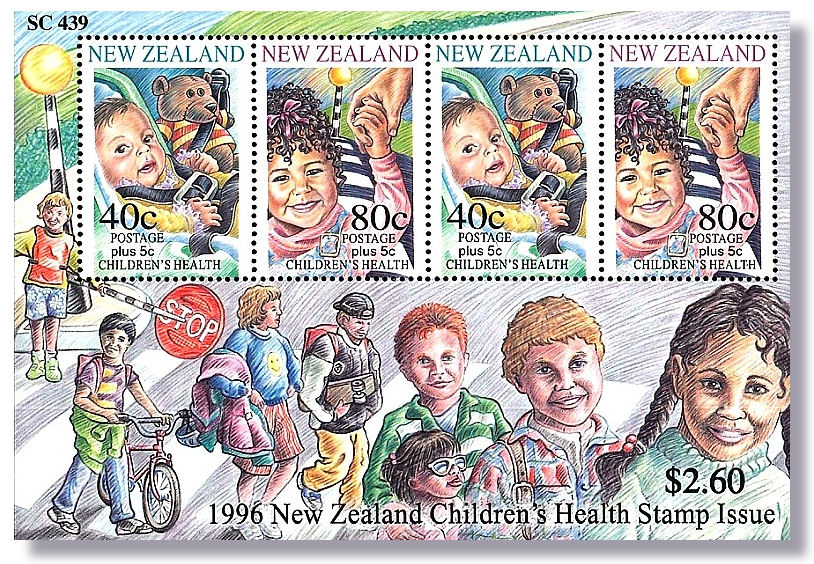 A likely stolen NZ Teddy Bear sheet.
The New Zealand Post Office was NOT amused when Dutch dealers and individuals started offering the "Teddy Bear" Miniature sheets to dealers here - mainly because the sheet had never ever been on sale in NZ! I refused to handle them, as it appeared they were stolen property, and NZ Post was breathing fire and brimstone that legal action would ensue, if anyone offered them.

I am most surprised to see that the Auckland City Stamp Catalogue (ACS) fully catalogues and prices these mini sheets in their latest 2020 catalogue. None were sold by the Post Office, and their legal status would be "very dark grey" at best I'd suggest, even today. "STOLEN goods" would be a term many would prefer.

Stanley Gibbons in their stamp catalogues quite correctly does not list or price these Dutch printed unissued "Teddy Bear" sheets. From what I have been offered over 2 decades, MANY exist. I have always refused to buy them at any price. Both normal as shown, and overprinted "CAPEX 96" for the big show. Stolen from the printer type material I'd say.

The genuinely issued NZ "Kapa Haka" set.
| | | |
| --- | --- | --- |
| | Even more oddly, the ACS catalogue does not number or price the 2006 Kapa Haka sets of 5, coil stamps, booklet stamps, and booklets, plate blocks and FDC. Quantities of ALL of which were mailed to collectors by NZ Post and their credit cards charged. New Zealand Post fully agrees in writing this is the case. They were issued stamps, but withdrawn from wide sale at last moment. So they sell for $1000s a set. | |
Sudden Death for Enschedé Printers!
The Error 40¢, and the Miniature Sheets were printed in the Netherlands by Enschedé Security Printers, in Haarlem. The Miniature Sheets exist both normal, and with "CAPEX 96" wording on them. It seems clear that staffers at Enschedé got their hands on these sheets despite NZPO never "issuing" them. I do know the brass at NZPO were furious with this breach, and as far as I know, Enschedé has never printed another stamp issue for NZ.

I was told by an ex-Employee there, that visitors there to Enschedé - potential future clients, or PO big shots, or VIPs etc, were routinely given a "Goodie Bag" of recent stamp issues they had printed, as a memento of their visit. Things that might have been printed but not yet issued by the respective Government etc. So staff internally clearly had access to such material it seems pretty clear.
New NZ Covid BEAR HUNT 2020 set.
| | | |
| --- | --- | --- |
| | New Zealand Post released a miniature sheet on 20 May 2020, which includes 6 images of Teddy Bears chosen from national entries in its Bear Hunt photograph competition. The New Zealand public was asked to enter, to capture the spirit of the people of New Zealand, during its recent COVID-19 lockdown. | |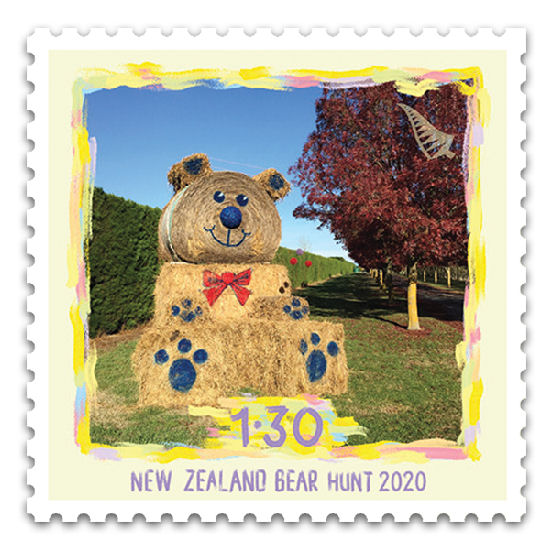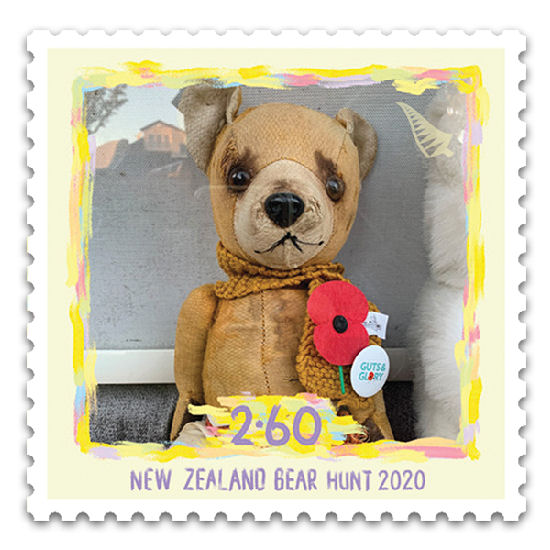 Two of the May 2020 NZ issue.
The stamps are arranged so that there are 3 different vertically se-tenant stamps at either side of the miniature sheet. New Zealand Post will allegedly "donate" $3 from the sale of each sheet it sells to the New Zealand Red Cross "to support New Zealanders to stay at home and save lives". Big deal - the BUYERS are making the donation, not the PO!

The new issue was designed by Cam Price of New Zealand Post in Wellington, and were printed by Collectables and Solutions Centre, Whanganui. They are perforated 14.4 x 14.6 on gummed paper, in a miniature sheet format of 6 stamps. Unless stocks are exhausted earlier, these stamps will remain on sale until 19 May 2021.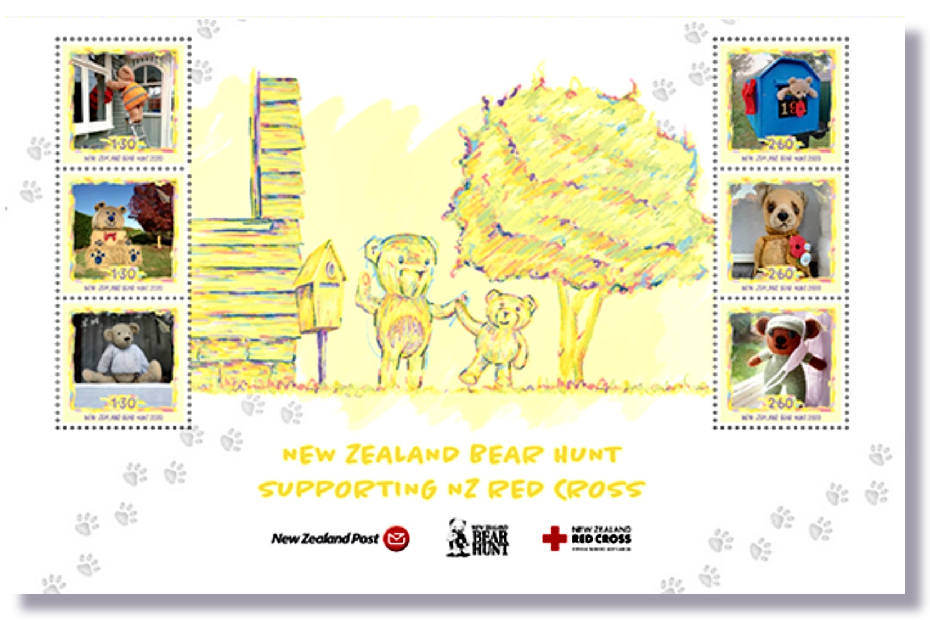 Apologies for the terrible image!
Please excuse the appallingly fuzzy low-rez image of the full mini sheet shown nearby - it is the very best NZ Post can offer us on their website, in 2020! Shameful. $1.30 x 3 and $2.60 x 3 in each sheet - face value of stamps is thus $11.70, giving a total postal franking value of that sum, but they will charge buyers $NZ14.70.

Pretty stingy by the NZPO - had they sold these for $11.70 franking value, and then donated $2 or $3 per sheet to Red Cross - as Australia did for the Bushfire issue earlier in 2020, THAT is a PO "Donation". Right now NZ Post is adding nothing themselves to the tally raised, despite stating to media THEY are "donating $3 a sheet sold" - stamp collectors are making any donation, not the Post Office.
COLLECTORS are the "donors" here!
Most buyers of such sheets retain them for stamp collections, and the stamps thereon never see any postal use, so essentially each $11.70 of stamps on here is pure profit to NZ Post anyway. Switzerland in April issued a COVID sheetlet 10 of 100+500 CHF stamps = 60 CHF.

However a 50 Swiss Francs (CHF) cost price was shown on sheet of 10, and Swiss Post are donating the entire 50 CHF paid per sheetlet of 10 (about $A80), to Swiss Solidarity and the Swiss Red Cross. Their website shows a daily tally of how much has been donated so far. Very unusual.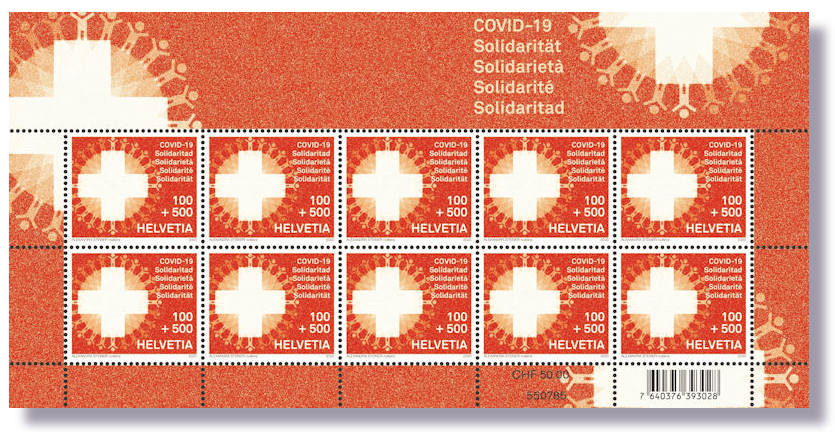 Swiss PO donated *EVERY* Cent.
| | | |
| --- | --- | --- |
| | Australia Post in February 2020 sold panes of 5 different $1.10 letter rate stamps nationally for $5.50, and THEY donated $2 of that $5.50 to Red Cross. THAT is a donation, and THAT shows some corporate concern to the issue at hand - full details of that I reported in this magazine 3 months back - tinyurl.com/DisasterAP | |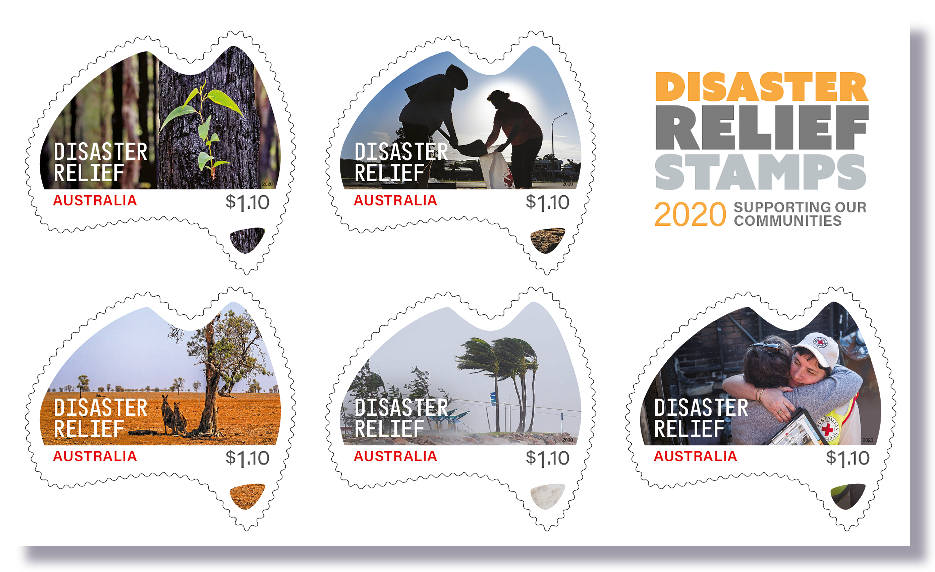 THIS is how a "donation" works, NZ Post!
The NZ idea to depict Teddy Bears on these new stamps came about from people self-isolating - placing Teddy Bears in house windows and on front porches, or at entrances to homes etc. The New Zealand Prime Minister Jacinta Ardern, seems to have embraced and encouraged the idea.

"People can also take children or dogs to a park or field for walks, as long as they maintain social distancing with others outside of their self-isolation groups." Ardern also said they accept people would go for a walk and take their children outside to get some fresh air.

"They might look for teddy bears in windows - but as they pass people, keep your distance, don't talk to others, just stay within your bubble," Ardern continued. "And if you're in Wellington, and you're walking in a local neighbourhood, you might see one in my window."








Get my regular market update emails FREE! Stamp gossip, price trends, record sale prices, and many one-time stamp specials, wholesale bargains, and exciting offers and breaking philatelic news. A mini stamp magazine in every email! "KNOWLEDGE IS POWER". The ONE stamp list you MUST be on, to keep in touch with the rapidly changing world market. One client made $65,000 profit in a few months after following my specific advice. Sign up securely and quickly by clicking HERE to access my automated data base. And wiser still ADD your home AND work email, if I only have one right now. Add a stamp friend's email address if you wish. One short click and you are subscribed to probably the most read email list in the stamp world!




If you would like to be notified of updates to this website,
Click HERE.
If have any questions,
or comments regarding my site, please email me at glen@glenstephens.com
| | |
| --- | --- |
| | Search all my 300+ web pages! Simply type in what you are looking for. "Penny Black", "Latvia", "Imprints", "Morocco", "Fungi" "Year Books", etc! Using quotes ( " ) is more accurf used with no quotes. Search is NOT case sensitive. Tip - keep the search word singular - "Machin" yields far more matches than "Machins" etc. |


Full Time Stamp Dealer in Australia for over 35 years.
Life Member - American Stamp Dealers' Association. (New York)
Also Member of; Philatelic Traders' Society (London) IFSDA (Switzerland) etc


GLEN $TEPHEN$

Full Time Stamp Dealer in Australia for 35+ years.

Life Member - American Stamp Dealers' Association. (ASDA - New York) Also Member - Philatelic Traders' Society

(PTS London) and many other philatelic bodies.

ALL Postage + Insurance is extra. Visa/BankCard/MasterCard/Amex all OK, at NO fee, even for "Lay-Bys"! All lots offered are subject to my usual

Conditions of Sale

, copy upon request .

Sydney's

BIGGEST STAMP BUYER

: Post me ANYTHING via Registered Mail for my same-day cheque. Avoid copping the Now normal 45% Auction "Commissions" (15% Buyer + 20% Seller + GST, etc) AND their five-month delays!

Read HERE for details.

"Lothlórien", 4 The Tor Walk, CASTLECRAG (Sydney), N.S.W. 2068

Australia





Phone 7 Days:

(02) 9958-1333

PO Box 4007, Castlecrag. NSW. 2068




E-Mail:

glen@glenstephens.com

The Number #1 Web Sites:

and www.stampboards.com