REALLY IMPORTANT - for regular visitors to this page (which changes weekly - sometimes daily) your computer generally "caches" the old version. Which means you only see today the PREVIOUS page content you already looked at - NOT the new lots. Hitting "Refresh" does NOT in general update this page. To quickly get around this, press the "F5" key found along the top row of your keyboard. BINGO - all the exciting new material will now load! Try it and see. Also allow a while for the new lots to then load up.

Click To Go Back To The Main www.GlenStephens.com Stamps Homepage

Glen Stephens
Stamp Rarity Corner
| | | |
| --- | --- | --- |
| | This page features worldwide rare, unusual, and one-of-a-kind items of special interest. It is Australia's MOST visited stamp dealer web page. Bookmark it and check EVERY day, because as you can see - new items are regularly added - sometimes each day, and the sold ones are removed. Many large dealers buy from here regularly. Click the "F5" on top row of your keyboard to ensure you see the NEW material not your old "cached" page. | |
| | | |
| --- | --- | --- |
| | So that I can show you the items in great detail in high resolution, some of the images may take a little while to load up if you have slow internet connection. I apologize for this, but it's worth waiting for! | |
| | | |
| --- | --- | --- |
| | A note about payment on these: Yes, these lots often have healthy price tags, but "Lay-By"/Layaway is available on them ALL. E-mail, or Phone me, to discuss it. See something for $600 you like, and you can pay it off over several months at no fee or penalty. By Credit card or Paypal if you wish. And I do NOT rip you off like auctions, and then add 20%-25% to my prices in Buyer Fees and taxes. AND have the cheek to then add 3% more to use your Amex card! A $1,000 stamp costs $1,000 from me - not $1,300. | |
For the Order Form, click here. To read instructions on ordering, click here.





Every credit card shown is accepted WITHOUT fee. Earn Frequent Flier points
while buying at bargain prices! ALL prices are in weak Ozzie Dollars.
I charge NO nasty, nasty "Buyer's Commission" on stamps
like nearly every "Auction" does.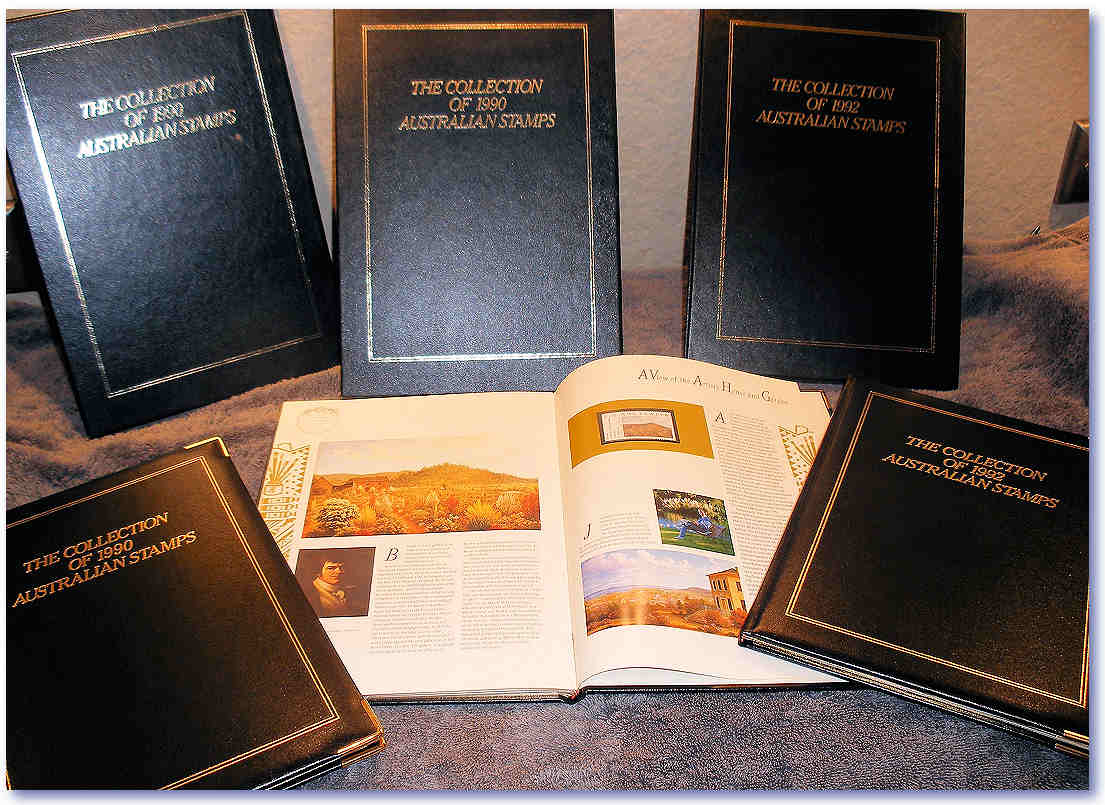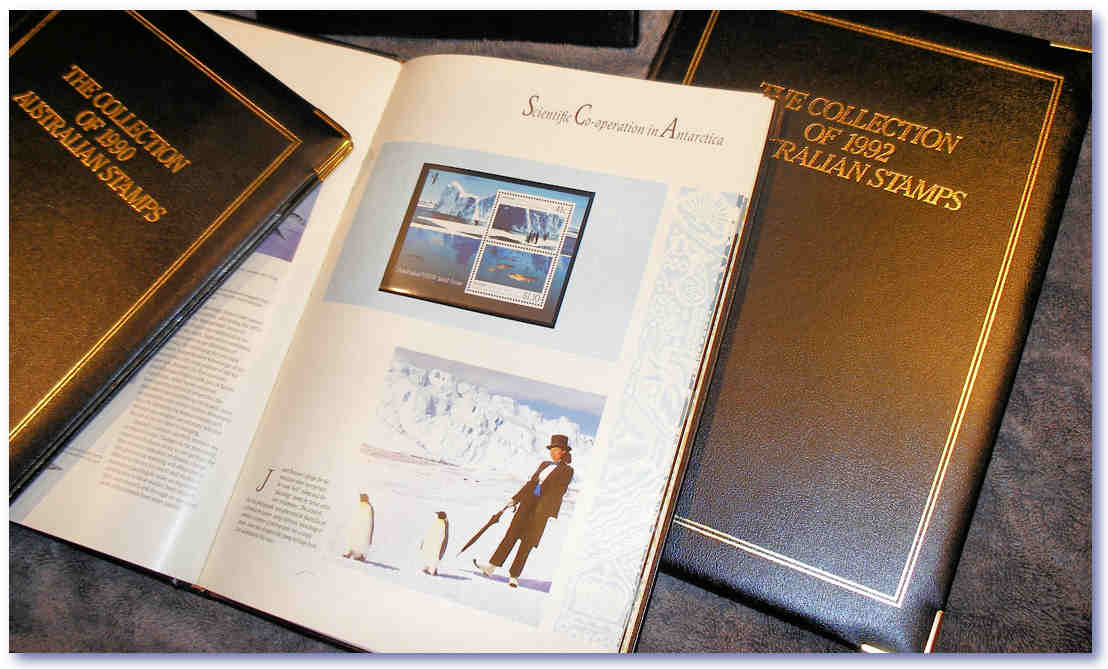 Australia Post Annual "Year Books" Black LEATHER "Executive" Edition complete - Book #1 to 2000 - $A575 under retail – ONE set only! The "Leather" (Executive) books are VERY classy. All have been Black genuine Leather covered, with brass corners, since the first issue in 1986, so they are a fully matched classy Black set. Covers are thickly padded and deeply gold inscribed on front and spine. Each book has a matching gold embossed heavy slipcase ….. see the main photo above - the 3 slipcases are standing at back. These keep dust and moisture OUT of your stamp albums and are ESSENTIAL in this climate.
Australia Post charges $35 more for each Leather album over the regular Year Book, due to high cost of making leather covers etc. So retail is accordingly much higher - add that extra cost up over 15 books! Numbers produced are a small FRACTION of normal books, so re-sale value stays very strong. Sitting in a neat row on a lounge room bookshelf these look super classy - like a set of Law Books or Britannia's etc! They come out each year in same design, so you can readily keep up to date.
The presentation of the stamps and the artwork and detail on the pages in these books is an absolute credit to Australia Post. High gloss varnished paper, and double facing pages of info on EVERY stamp issue. Laden with photos and factual background information. For collectors with younger children or Grandchildren this is a goldmine for their education and general knowledge. Or a family heirloom collection to keep up to date.
The 2000 regular Year Book surprised everyone by having in it, the Australia Sydney Olympic Gold Medal winner sheetlet of 16. You could obtain this sheet NO other way. That sheetlet alone retails for $100 in many shops. The 1988 LEATHER book has always been near impossible to source. Full retail list of these superb books here - http://tinyurl.com/mgcqfbw
I have ALWAYS had the largest stock of Year Books in Sydney – probably Australia. I buy more estates than anyone else it seems, and also folks come to me when selling these books, as they know I will buy them. And I thus MUST sell as cheaply as I can, to MOVE all this stock, or I will drown in it! Bought this CHEAP today in an Estate, so OUT they go.
This is a lovely collection of EVERY leather book issued from 1986 (Leather Book Number #1) to 2000. FIFTEEN matched books. A large wine carton FULL. My normal discount retail on these as you can see nearby is $A1,575. (All later Leather books are in stock of course.) A superb gift idea perhaps for someone? To clear this Estate lot fast, out they go for $575 less than retail - a round figure per set of 15 - $A995 (Order as stock code 451W)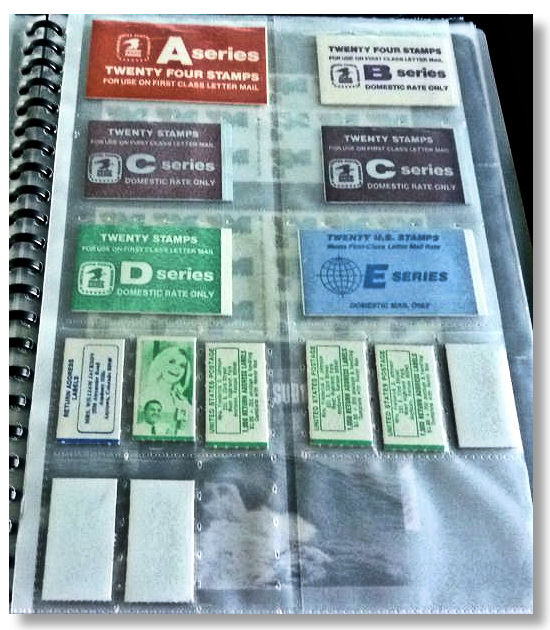 | | | |
| --- | --- | --- |
| | USA booklets and booklet panes, 1980 to 2001, total face value $US380 - $US300: Lovely clean looking lot, and retail would be many times face. The Eagle booklet is retail $US60 alone. All nicely arranged in an A4 album. Have not checked any of them for better types etc. Clean looking lot. A superb collection, and only a few pages shown above. Many more pix are here - http://tinyurl.com/o8xg7uh FACE alone $US380 - My selling price by paypal "Family and Friends" option is $US300 (Stock 356SN) | |

| | | |
| --- | --- | --- |
| | Penrhyn, Aitutaki, Rarotonga, Niue M&U on Hagners - 20% SG!: Correct SG cat value £669 = $A1300. Penrhyn - £170.5, Aitutaki - £121, Rarotonga - £57.50, Niue - £320. Strong in earlies in usual mixed shape, many aged, but used are worth more than mint in many cases .. often much more! The 1932 Cook Island set is in strips 3 all pretty decent shape MUH! Huge cat, and priced dirt cheap to clear to save me the trouble of splitting it down any .. someone else can make 100 ebay lots out of it! A heap of pix here - http://tinyurl.com/m2dgqe9 Buy at less than 20% of SG cat! $A250 (Stock 563ZW) | |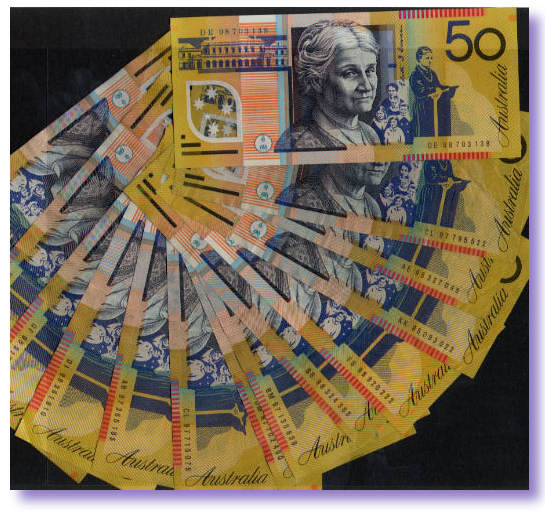 Australia & AAT MUH stamps - $A1,000 face value for $A700! Mostly in PO packs and collector blocks etc: I buy a lot of this in deceased estates. No photo needed, as each sending will vary - except I'll instead show the $100s of MONEY you save if you buy a large lot of this off me! Perfect if you send a lot of ebay lots, or the boss's mail from work, or a Charity etc. OR you want to sell these yourself on ebay etc, OR start a new collection - as the packs are generally all different! Or I can send mostly MUH blocks of 4 or larger if you prefer. Let me know what YOU need them for, and we'll tailor something.

For instance right now I can sell you $A500 face value for $A360 cash! Or cheaper still ...... buy $A1,000 face value for just $A700 cash, all mint with gum. I always have $1000s or so of face on hand. If you just want 70c in stamps for domestic mailing in sheets etc, I can often help with those too at a tad higher rate of course. Tons more detail here - www.tinyurl.com/OzPost $A1000 gummed face value for just $A700 (Order as stock number 748LT)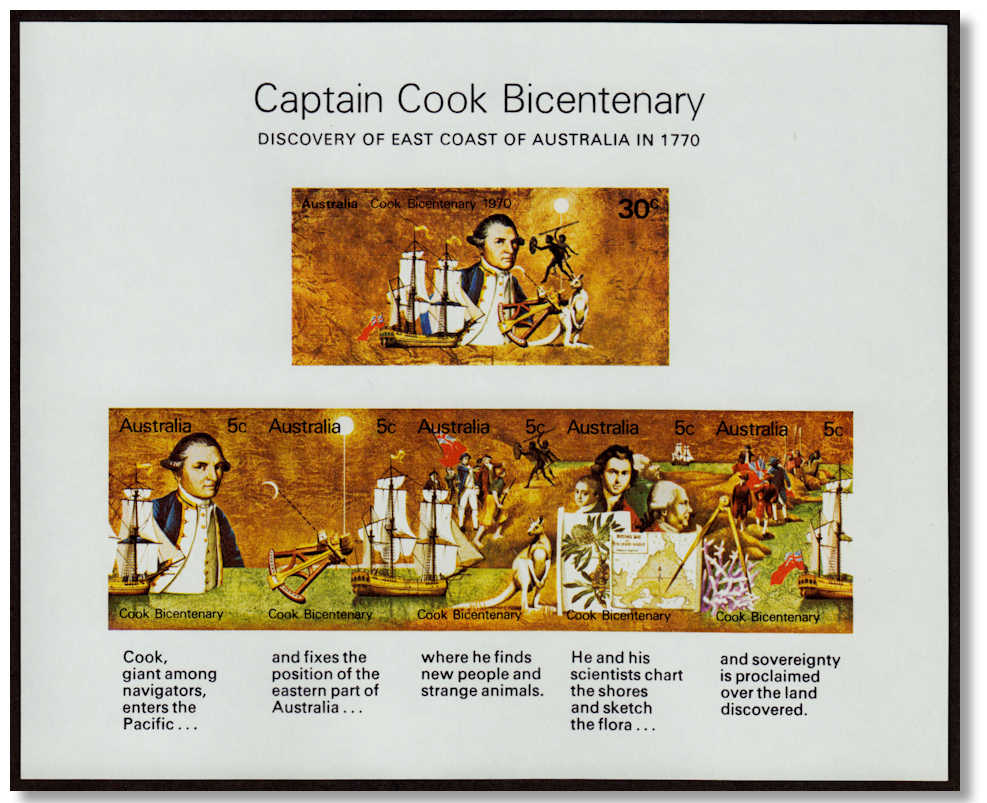 1970 Captain Cook Mini Sheet x FIFTY fresh MUH – Cat $1,000 - $A225: What a find. These are 45 years old and were of course Australia's first ever imperf issue. The same stamps were of course issued in normal sheet form. The mini-sheet seemed to have not caused much interest. 1970 was a decade before the "stamp boom" and in those days there was no speculative buying. Except this guy, who incredibly bought FIFTY as a new issue, and tucked them away. Captain Cook is a global topical.

In 1980 these were up to $50 a sheet = $A2,500. They are still ASC Cat $20 each = $A1000. This sheet foxes and tones badly for some reason, and due to size and thin paper they readily crease and bend. These look like they came from PO last week! Cat $1,000 – FIFTY sheets for just $A225 – for USA buyers that is just $US175 right now! Brilliant for ebay seller etc to offer singly, or per 5 or 10. Indeed many have the ACSC Variety "Double Spear" on the 30c, which is cat 3.5 times a normal and sell well singly. $A4 each – a coffee costs more than that! $A225 = $US180 (Stock 835LE)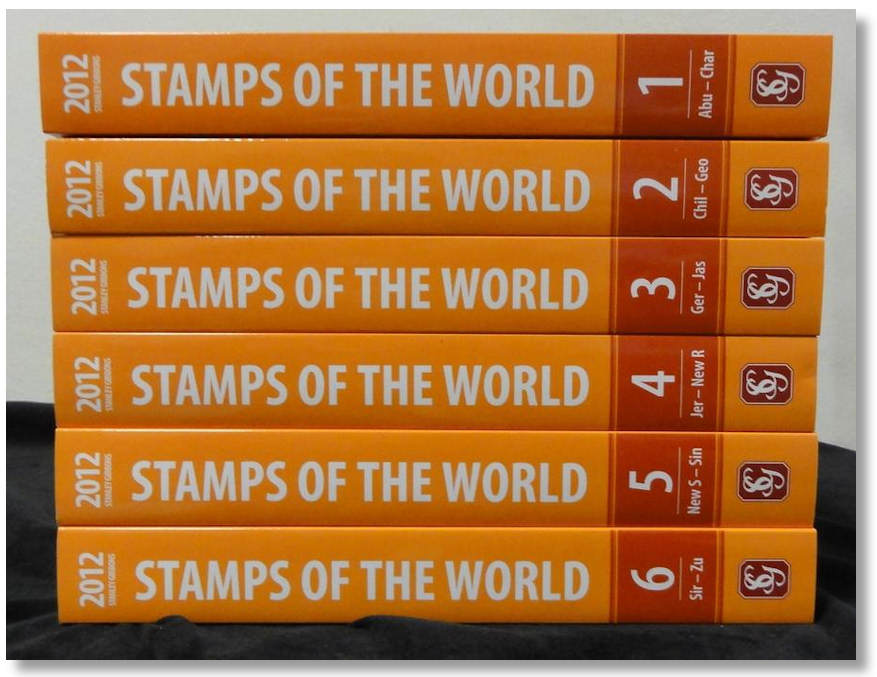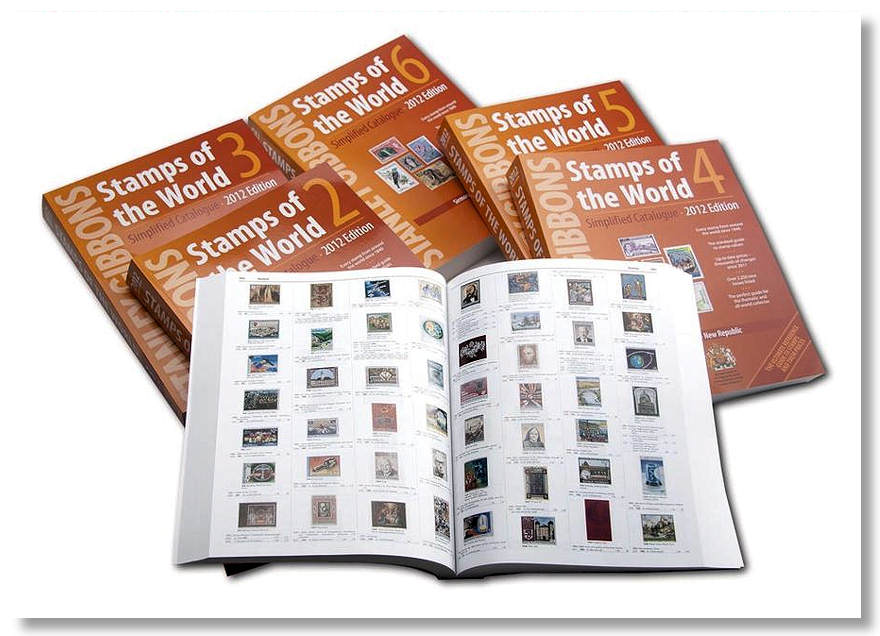 | | | |
| --- | --- | --- |
| | Gibbons "Stamps Of The World" Cat 6 vols WAY under *HALF* Retail: Found a few boxes of these in my storage garage, and time to move them on at cost - if you can bear with being a year or so out of date, you save $250! Brand new, in SG factory shipping box. The 2014 set is $A550 retail locally, with the strong Sterling. These are now in colour, on Brite-White paper stock, not the yellowed old paper and mono of just a few years back. There are around 6,800 huge pages and way over HALF MILLION stamps all priced here. There are over 165,000 stamp illustrations. Tons more pix and info here - http://tinyurl.com/SOWcat - $A250 (Stock 518DK) | |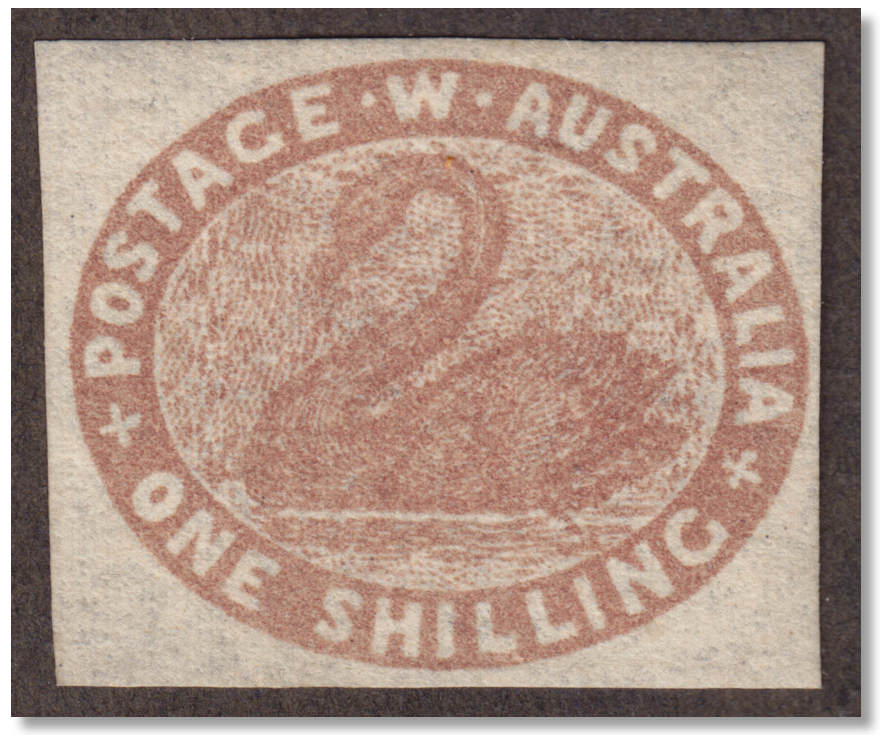 | | | |
| --- | --- | --- |
| | Western Australia 1855 1/- Brown Imperf Swan, superb Mint: Terrific wide straight margins for this "primitive", very printed roughly in the colony - from literally a huge lithographic chunk of limestone! From a famous collection. SG 4b £650=$A1,300. Very fresh mint, and absolutely no hinge remains etc to hide things and repairs etc, as one usually finds on these 160 years old classics. TOP grade for these, I kid you not, and I have handled 100s. Razor sharp early plate impression and nice colour as you can see. GUARANTEED by me to be free of repairs etc. One of the world's earliest BIRD stamps, and the top face value issued by WA at that time – indeed it was 5 decades until a 2/- came along. WAY under HALF Gibbons, and far nicer than ANY 1/- in this finest of WA collections - www.tinyurl.com/WAswan $A525 = $US420 (Stock 297EK) | |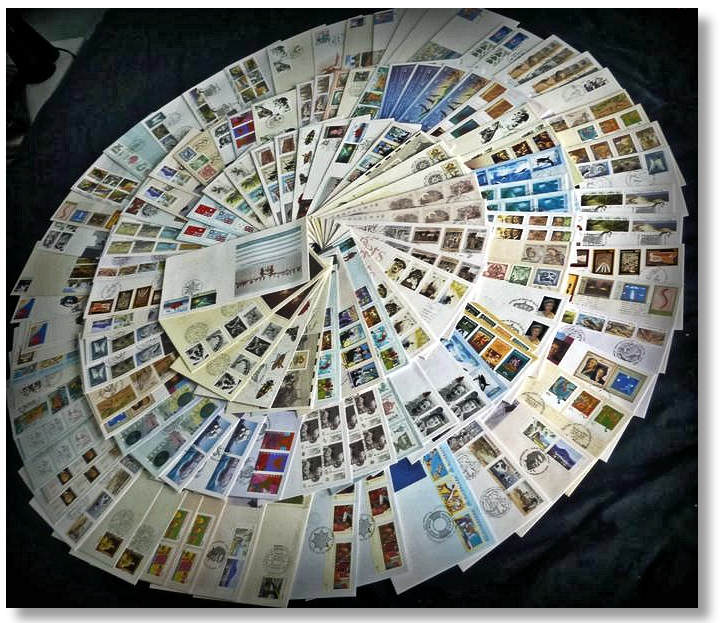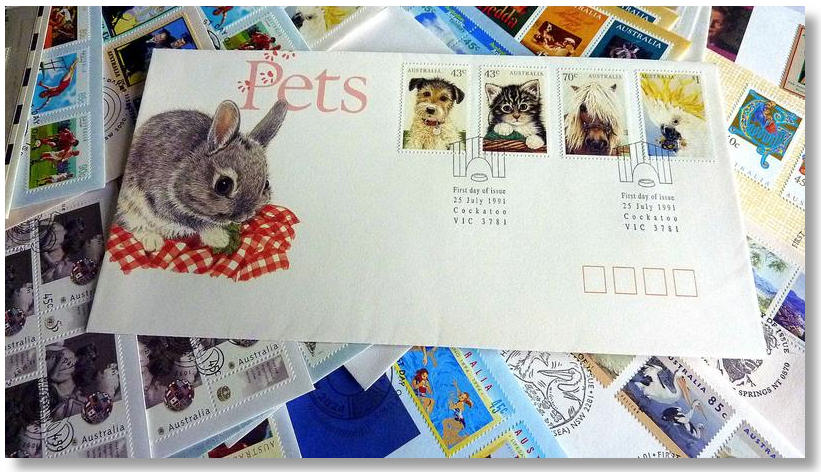 Superb Australia FDC Coll 1990s. HALF the PO cost! $A175: Amazing run of the Hot 1990s era. Dealers call this the "Liquid Gold" era and most retail for 2 or 3 times FACE value. 1980s are around in bulk due to the 80s 'stamp boom'. But with the MEGA high value $20 Glover Painting stamp issued in 1990, (over 25 years back) masses of folks quit buying as $20 back then, was about $40-$50 in today's spending power. So 1990 was a HUGE line in the sand for a vast number of collectors. They stopped buying cold. So few collectors buying, and almost no dealers buying is a sure-fire recipe for a shortage.

Spans the VERY saleable January 1990 to mid-1990s period. The 'Seven Seas' ASC cat has a MINIMUM Cat value of 2 times face for this era and often 5 or 10 times face. 15 or 20 times for some. The AVERAGE as you can see would even out at about 3 times face across the board. So retail will be about $850 or so. All the red-top topicals and thematics are here - nothing removed by me as always. Even to soak off as VFU you are MILES ahead! The companion FDC 1985-1990 era from same estate are listed here for $A85 - buy them together and save a lot on postage! A ton more pix here - http://tinyurl.com/90sFDC - $A175 = $US140 (Stock 847LM)

Nice looking 1917 10/- Deep Aniline Roo with OVAL telegraph puncture, $A185: A scarce stamp and in FU grade (no puncture) like this right now is well over $750 in this striking shade. These also usually have ugly "fluffy" perfs. Clean and fresh and bright vivid aniline pink colour that "bleeds" wonderfully through to reverse. ACSC 381XE – Cat $800. Coming up to 100 years old.

Single crisp "MURWILLUMBAH 11 AU - 24 NSW" cds. With very unusual OVAL telegraph puncture - not seen by me ever before. Usually with a round puncture and those usually take off Roo head making the stamp look far less attractive. There is a growing band of collectors of the various types of Telegraph Punctures, and this would be a prize addition to any such collection. $A185 (Stock 381XE)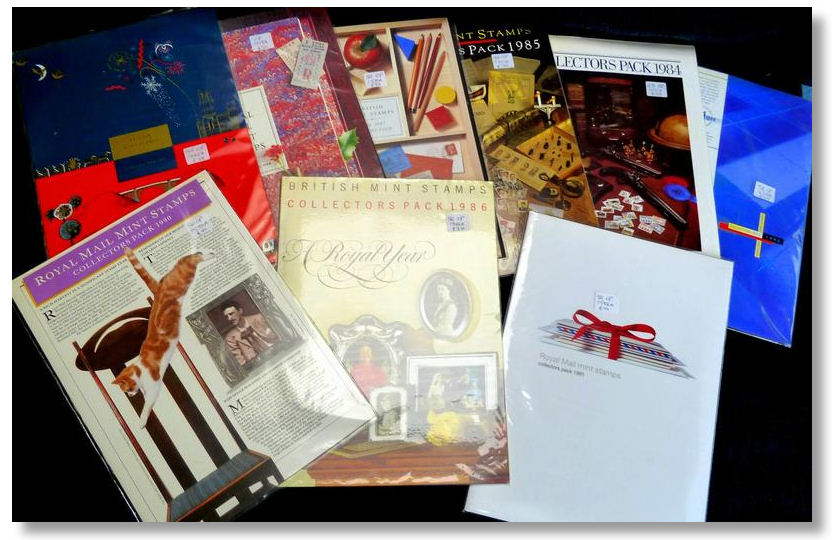 | | | |
| --- | --- | --- |
| | GB Annual Collector Packs 1984 to 1992 (9) Cat $650 for just $A200: SG Concise cat £344 - $A650. All in good condition, in original outer sleeves as issued, and bought from Max Stern as New Issues costing over DOUBLE this price. At around TWENTY BUCKS APIECE to clear off my desk! Many more photos here - http://ow.ly/H26VY - $A200 (Stock 546XC) | |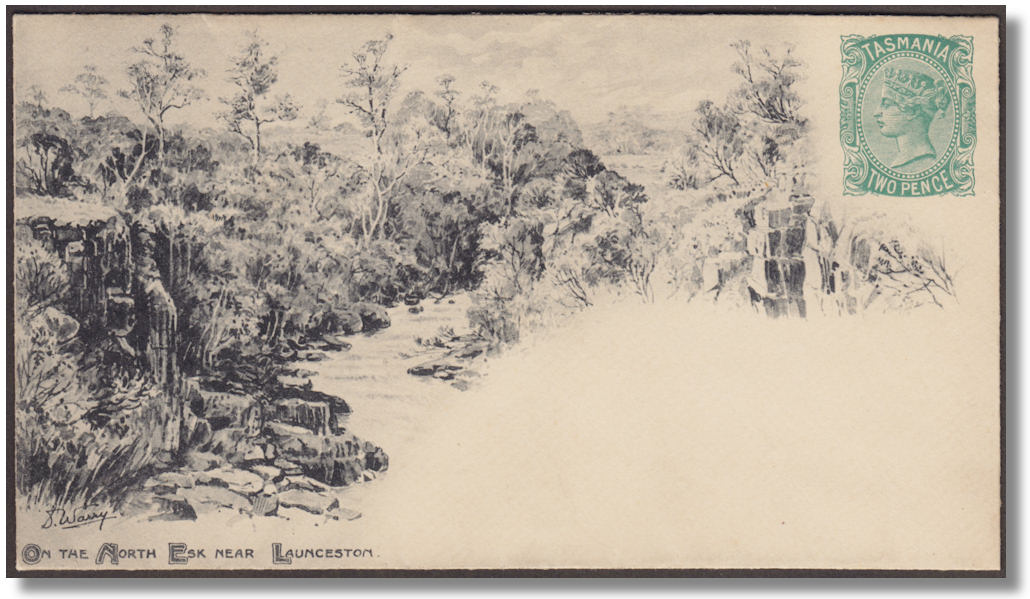 | | | |
| --- | --- | --- |
| | TASMANIA 1898 superb mint 2d QV Pictorial View envelope: The superb Waterlow London printed classic, with detailed view by D.A. Warry of "On the North Esk Near Launceston". In really excellent condition for 116 years old. Hinges on back from page mounting as usual, but clean and fresh and pristine. A popular and rare official Tasmania Post Office piece – only 312 ever printed! $A225 (Order as stock code 418EK) | |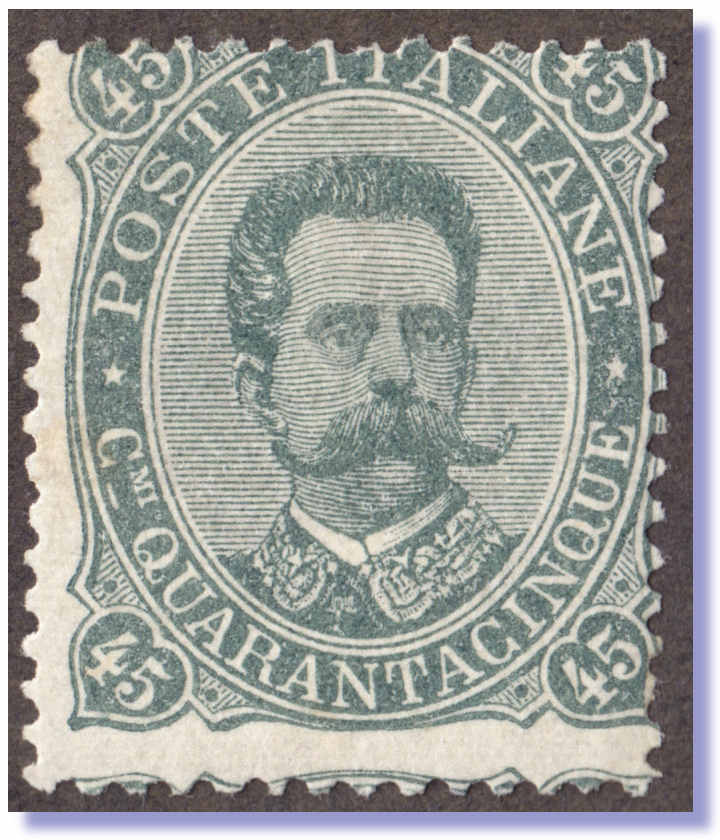 | | | |
| --- | --- | --- |
| | ITALY 1889 King Umberto 45¢ Dull Green MLH Cat £2,500 for 10% of SG cat!: Bought cheap and have several other Mint Italy from his era also cheap if you have gaps. MLH with guaranteed ORIGINAL gum, and usual centering of this era. Deep rich original colour, a bargain at. SG #40 £2,500 = $A5,000. Decent shape for 125 years old, and bought cheap to sell cheap at LESS THAN 10% of SG Cat! $A450 (Stock 634EK) | |

| | | |
| --- | --- | --- |
| | | |
"The Engraved Stamps Of The Commonwealth Of
Australia" - price *Reduced* $A200 this month!

The quite magnificent official Australia Post produced coffee table book. Compiled by Richard Breckon. Brass cornered, beautifully gold deeply embossed leatherette cover, gilt edged outer leaf edges, with matching marbled heavy slipcase. Issued in a VERY limited Edition for 'Australia 99'. I am advised only a few 100 copies were ever made, and were a near instant sell-out .... even at the very high issue price. Being so recent they almost NEVER come on the market - no-one wants to let them go!

Semi opaque interleaved pages with designs on them. Real heavyweight grade archival weight paper. Varnished glazed paper for effect in parts. The photos really do not begin to convey the lavishness and class of this book. My guess is the book and slipcase cost well over $100 to make. Shows masses of issued designs and superlative background info. Similar in size to a "Leather" PO Year Book.


Also contains

28 different Official correct size recess printed DIE PROOFS

in black from the original dies. From 1913 1d Engraved KGV to 1965 Anzac. Inc most early commems - like Harbour Bridge, Jubilee, Canberra, Hermes, Sturt, Sesquicentenary etc. Also high value Definitives like the £1 Robes and Arms, 7/6d Cook &c.

All this at around $10 an official Die Proof!

And NOT obtainable any other way than via this book.

The Die Proofs sold separately would realise FAR more than the entire book is selling for here. The KGV 1d Engraved, or £1 Robes could very easily bring $50 to $100 each on their own if sold separately as official PO issued Die Proofs.

A magnificent book for ANY collector to own. Words cannot describe the lavish production and contents and luxury "feel" .... EVERY person - dealer or collector - who has seen it here on the office desk picked it up and said

"WOW"!

Gary Watson's Prestige Philately got $437 for a set in a Public Auction. They called them "without doubt the BEST product released by Australia post in recent decades". Bought 3 in an estate, and have reduced the price of last 2 from $500 to just $300 each! Buy yourself a classy GIFT you'll always love handling and looking at $A300

-

(Order as stock number 428YS)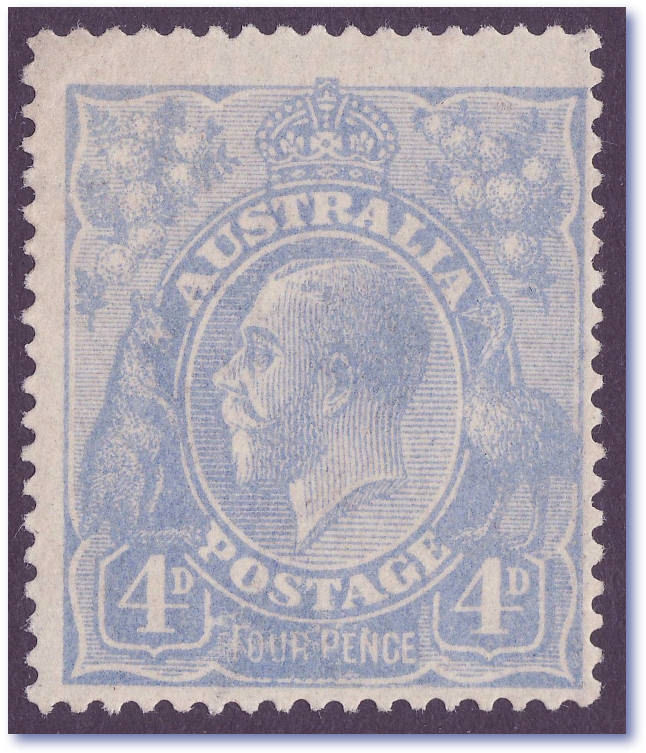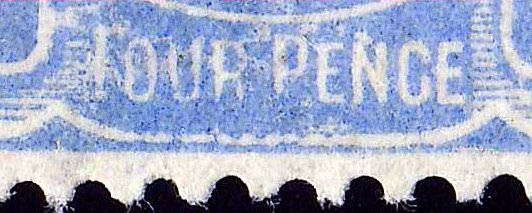 | | | |
| --- | --- | --- |
| | Australia KGV 4d ultramarine, 1922 Cooke Plates Thin 'FOUR PENCE' (Deteriorated State): Fresh MVLH with the striking very late state of this famous error as you can see. With characteristic centering of near all known copies, due to position in sheet of the error. ACSC 112(2)rb, Cat $A1,000. SG 65a £450=$A875. Being SG listed is GLOBALLY sought and is always popular. Shows this famous variety unusually well. A KGV head "Classic" error. $A500 (Stock 579FB) | |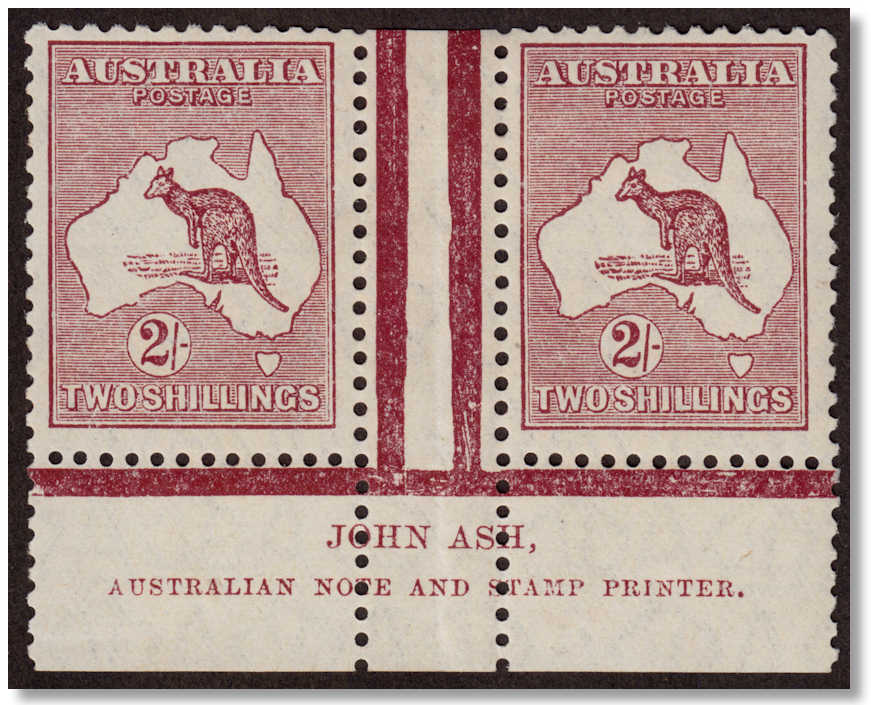 | | | |
| --- | --- | --- |
| | Australian 1929 2/- Small Multiple Watermark, attractive "John Ash" Imprint Pair: Finding centering this attractive for both stamps is most unusual for ANY imprints of this era. Usually the left stamp is WAY off centre due to the settings of the comb perf machine. No hinges on stamps, MLH in central gutter only. ACSC 39(1)za $1000+ as HINGED. $A500 (Stock 781EX) | |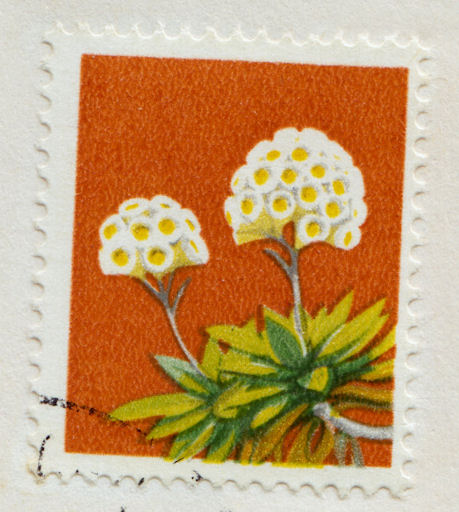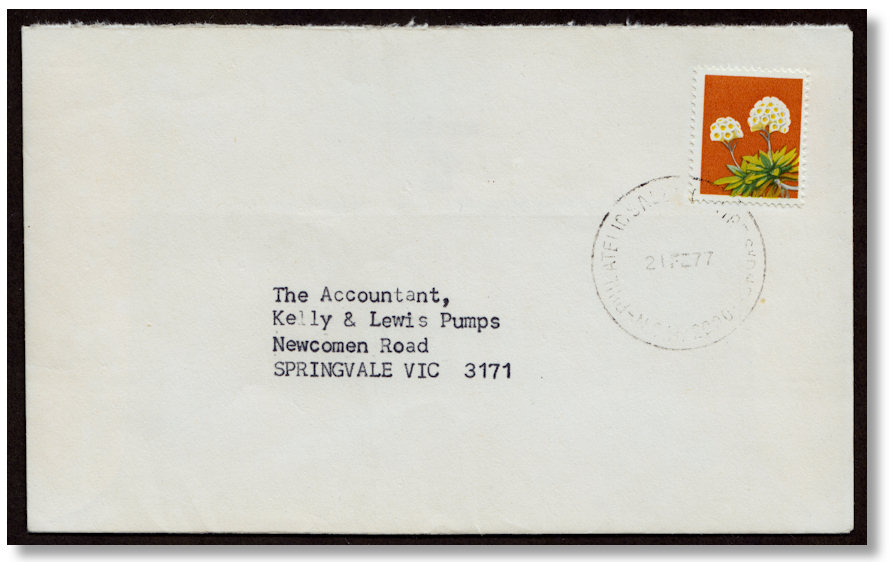 | | | |
| --- | --- | --- |
| | Australia 1975 18c Wildflower "Missing Black" used on COVER in 1977: One of Australia's most spectacular missing colour errors, with value and country name TOTALLY absent. Issued in August 1975, some mint sheets were discovered in 1977, and mint copies are hence affordable. However any used on COVER are rare - the ACSC note 3 from 2002 values on cover use at $A500. 13 years on, that figure has probably doubled to $1,000 when ACSC is next updated. "21 FE : 77" cds, and commercial address. Bought very well, so out it goes for Xmas at just - $A250 (Stock 394JX) | |

| | | |
| --- | --- | --- |
| | South Australia 1855, QV "SG #1" lovely looking Imperf Pair, with Cert: Queen Victoria Perkins Bacon London Printing, 1d Dark Green, imperforate horizontal pair. Large Star watermark, exceptionally fresh with four clear to wide margins - with part of adjoining stamp at left. 112011 RPSV Photo Certificate, noting only "minor damage in N.E. corner of first stamp". Clean and fresh and free of gook and gunk, so common on classics of this age. Lovely light "27" Barred Diamond cancel of Kapunda - very scarce, if not otherwise unknown used on SG #1. Now 160 years old. SG #1 £950 = $A1,900. Priced to sell at: $A800 (Stock 391HL) | |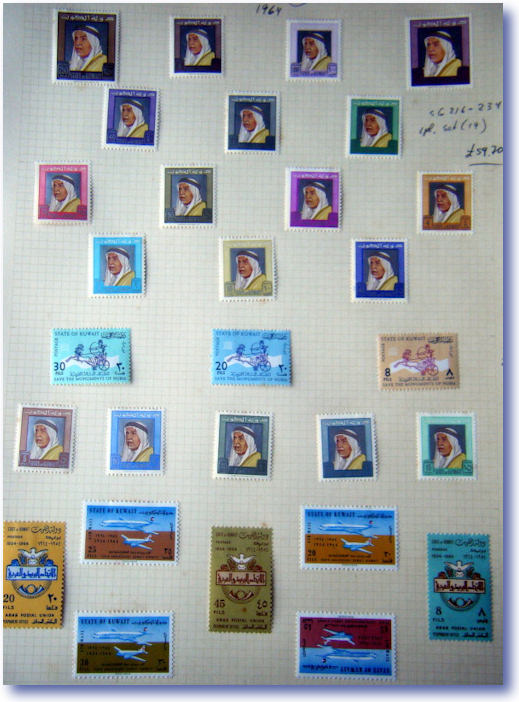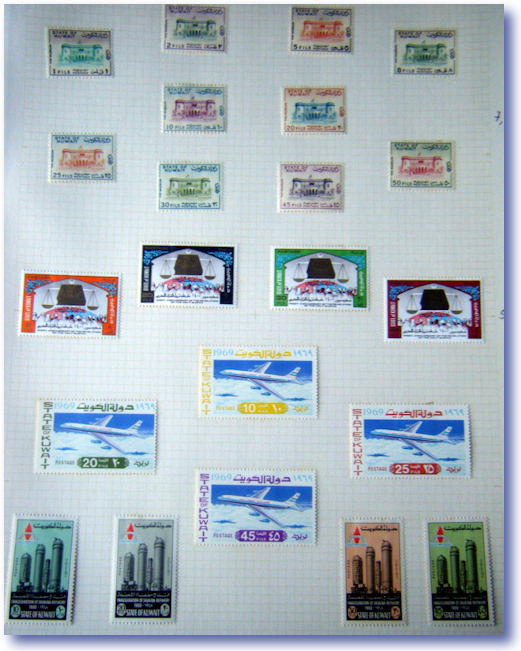 KUWAIT 1958-1969 Mint Stamp Coll on leaves. Cat £545, Just Reduced $50 to $A225: A couple of no account sets are lightly stuck to these heavyweight pages due to humidity, but cat value of the used cat is often MORE than the mint if you float them off, and call them 'very fine used'. Coff. Those huge, really heavy gauge Stanley Gibbons "PHILATELIC" pages are a little aged here and there, so that would be a very wise move actually, to re-house the entire lot in a stockbook, and would yield a rather nice collection. A little mild perf toning now and again, but again, generally on the no account sets, and really luckily, most of what is here is on the pages, and not any stamps! Re-house them, and problem solved.

Most of these seem to be £5 to £10 sets, so clearly were missed by most as new issues, hence the good SG value today. A great way to pick them up in one hit. In 35 years of dealing, I have NEVER once before had a Kuwait collection for sale. Sets here up to very high SG cat - these generally in nice shape. Top end stuff you see photo'd in auction catalogues. Attractive stamps, and VERY seldom offered in a large, near complete run. Bought cheap, so out they go cheap as well to a new home! SG Cat £545 which these days is near $A1,100! A TON more photos here - http://tinyurl.com/KuwaitColl $A225 (Stock number 497UT)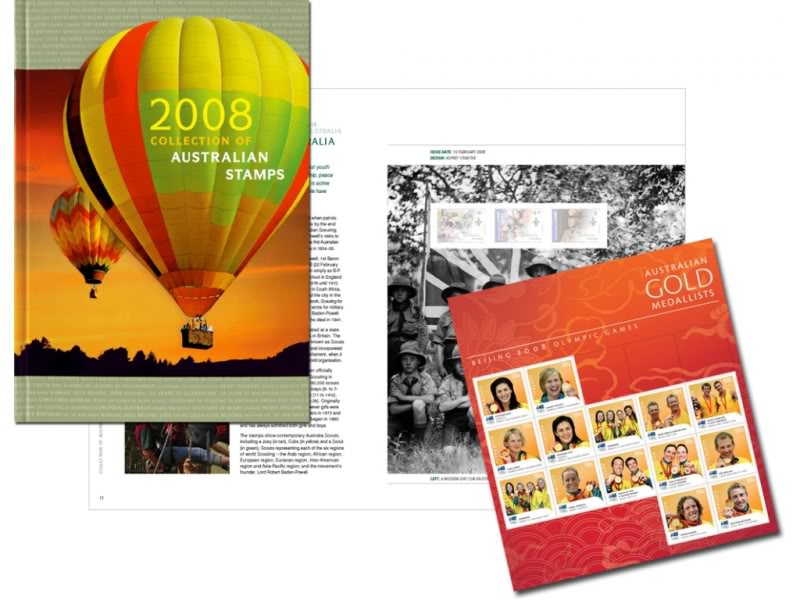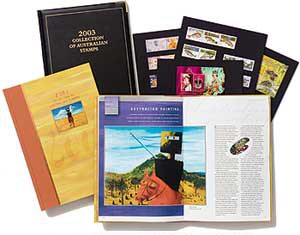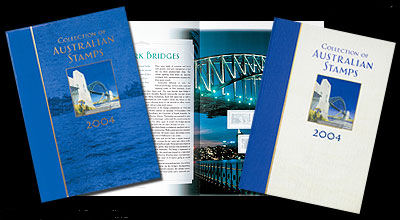 Complete Set Aust Post Year Albums 1981-2000 **WAY UNDER FACE**!

Estate special. All TWENTY albums! The FACE value of the stamps inside is $720. You are paying $45 UNDER FACE! ALL are valid for 100% postage if you ever need to use them. You are buying "CASH" essentially. I just bought THIRTY sets of 20, off a guy who bought them for an "investment" – so have slashed my selling price.

The issue price from PO was $964!

You are paying near $300 UNDER PO cost.

Each Australia Post book from the debut 1981 book (issue number #1) also has a matching coloured, hard slipcase to prevent dust and moisture entering the book. Retail is $1,250.

Save $575!

All the LATER books and leather ones are all in stock - also dirt cheap, and offered singly at -

http://tinyurl.com/yearbks

$A675

(Stock number 735ER)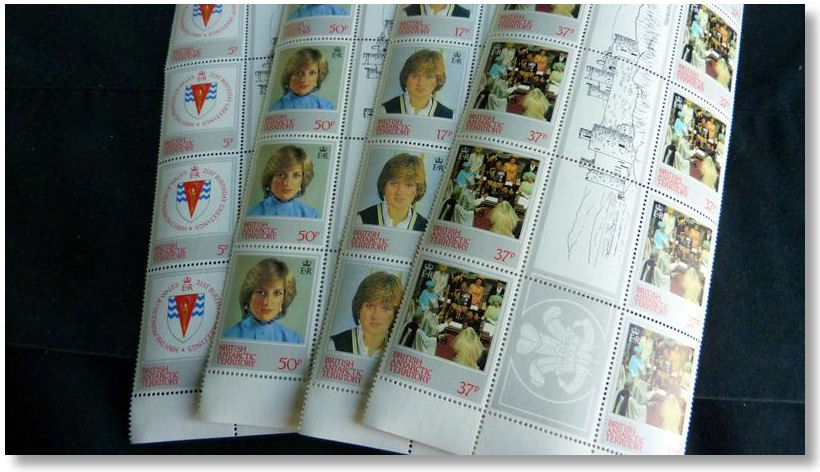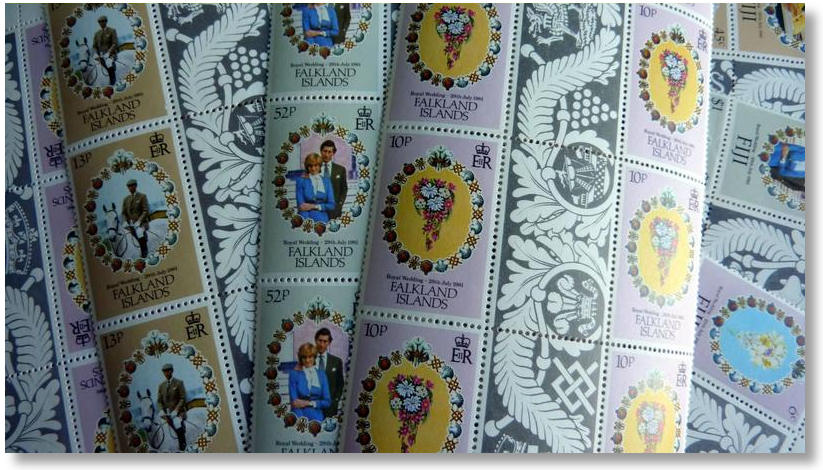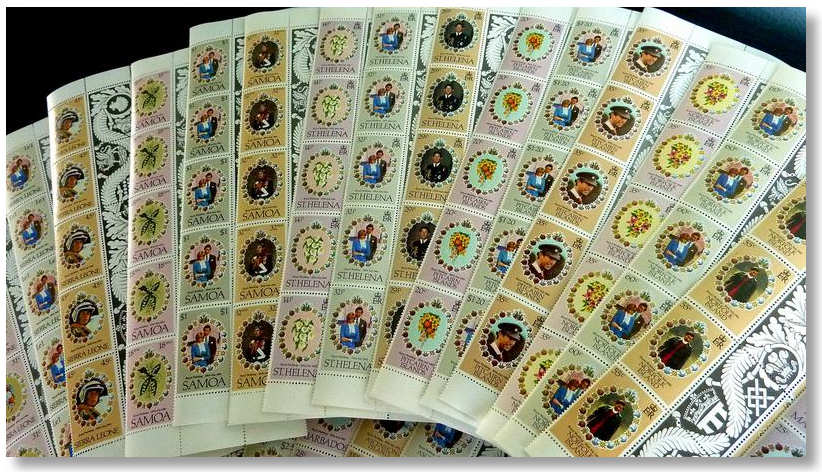 Charles/Diana 1981 Royal Wedding, AND Diana 21st Birthday MUH: Commemoration stamp sets in complete gutter blocks 10. Comp Omnibus from all the Crown Agent country Wedding - 22 countries for the Royal Wedding alone, and 17 for the Birthday. Each Royal Wedding set consists of 3 gutter strips of 10 stamps from the 22 countries (660 stamps alone.) Each with the superb Prince Of Wales Heraldic artwork down the centre.

21st Birthday sets of 4 gutter strips of 10 stamps each from 17 countries total 680 stamps. So we have here 390 sets 4 of this super popular topical = 1340 MUH stamps. The Decorative gutters strips are highly collected as near all sales were in single units as the decorative gutter blocks were SUPER PRICEY to buy back 33 years back.

Buyer's invoice from Max Stern was in there for $A1,600 which for 390 sets of stamps is what was charged back then - a ton of face value here. Clean looking lots, and at just a DOLLAR A SET is my clearance buy of the month! That is LESS than $US1 a set. A ton more photos here - http://tinyurl.com/DiStamp

Superb collection right here, as they are perfect Hagner or stockbook page size, or to list each country on ebay etc you'll be amazed. The SUPER popular countries are here - Ascension, St Helena, British Antarctic Territory, Falkland Dependencies, Hong Kong, Pitcairn, Norfolk, Tristan da Cunha, Fiji, Falklands etc. $A425 (Stock 684JG)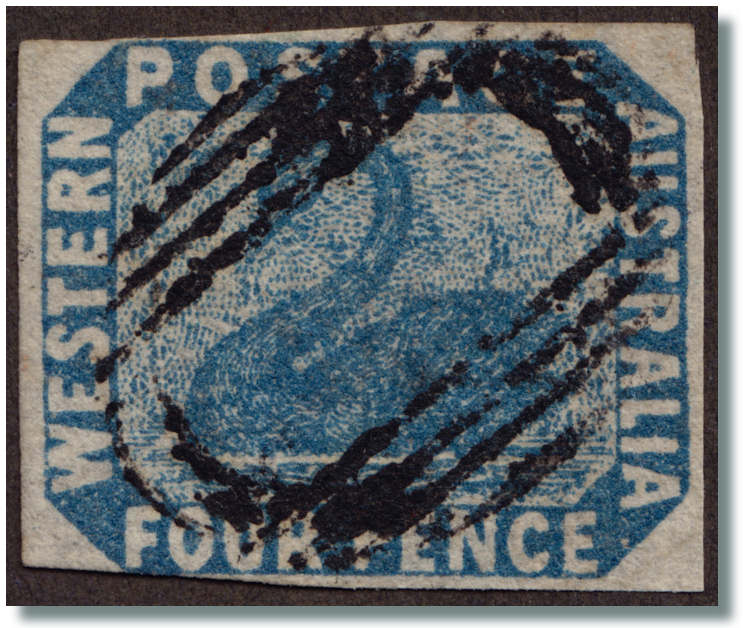 | | | |
| --- | --- | --- |
| | Western Australia 1854 4d Deep Dull Blue Swan – SG £850 - $A450: The striking 'Deep Dull Blue' shade. Attractive item. Sadly not the even pricier 'Slate Blue', but very scarce all the same! Indeed Prestige regards THIS shade as the scarcer of the 2 - tinyurl.com/pex33tz SG 3d £850 = $A1,700. Wildly misidentified on ebay etc of course, with the regular "Blue" being often sold as this very distinctive shade. See examples of all shades here - tinyurl.com/o735vrr Clean VFU, neat Perth "Mute" numeral, and clean and fresh and GUARANTEED by me to be free of toning, repairs, old paper hinges and foxing so common on these 160 year old classics. Margins all round – just touching at SW corner. Swan sideways watermark shows clearly. The world's earliest "Bird" stamp? $A450 (Order as stock number 639LE) | |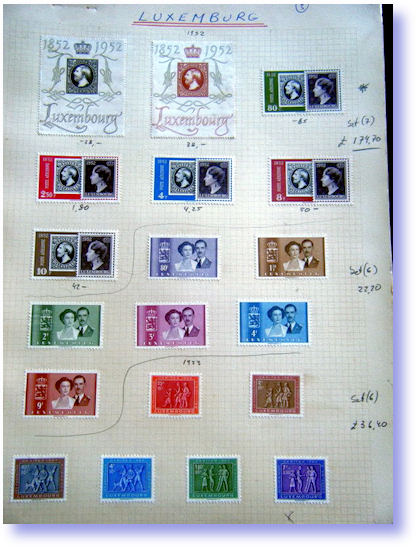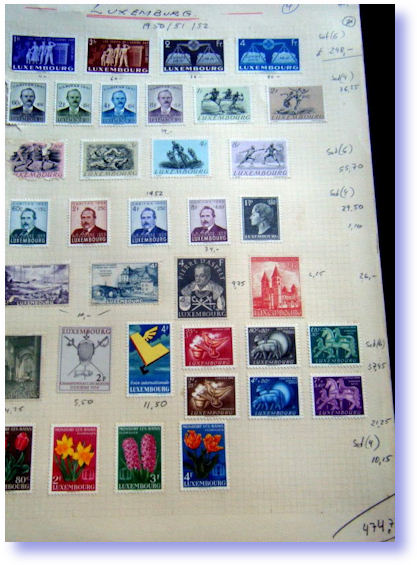 LUXEMBOURG 1945 to 1968 Mint coll. Cat £2,243. $A400: As usual due to the thick shiny gum used, some are 'stuck' to the large heavyweight and expensive (Ret $7 each - true!) Gibbons "Philatelic" brand top end pages, due to humidity. But luckily value of the used cat is often higher than mint if you float them off, and call them 'very fine used'. MANY more pix are here - http://tiny.cc/3bwv7w

Pop them all into a nice new "Lighthouse" stockbook, or on Hagners, and bingo - they'll look 10 times neater. Some modern sets are often not stuck, and are normal Mint. Current SG cat is about £2,243 = $A4,100+, and current SG cat values are noted next to each set for your convenience of checking. Attractive stamps, and VERY seldom offered in a large, near complete MINT run. Bought cheap, so out they go cheap as well to a new home – at UNDER 10% of SG! $A400 (Order as stock number 214TS)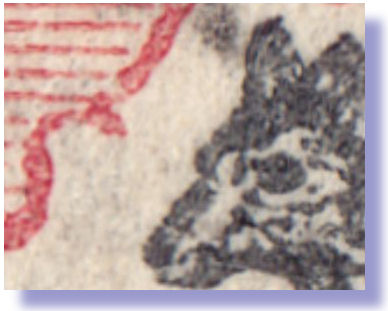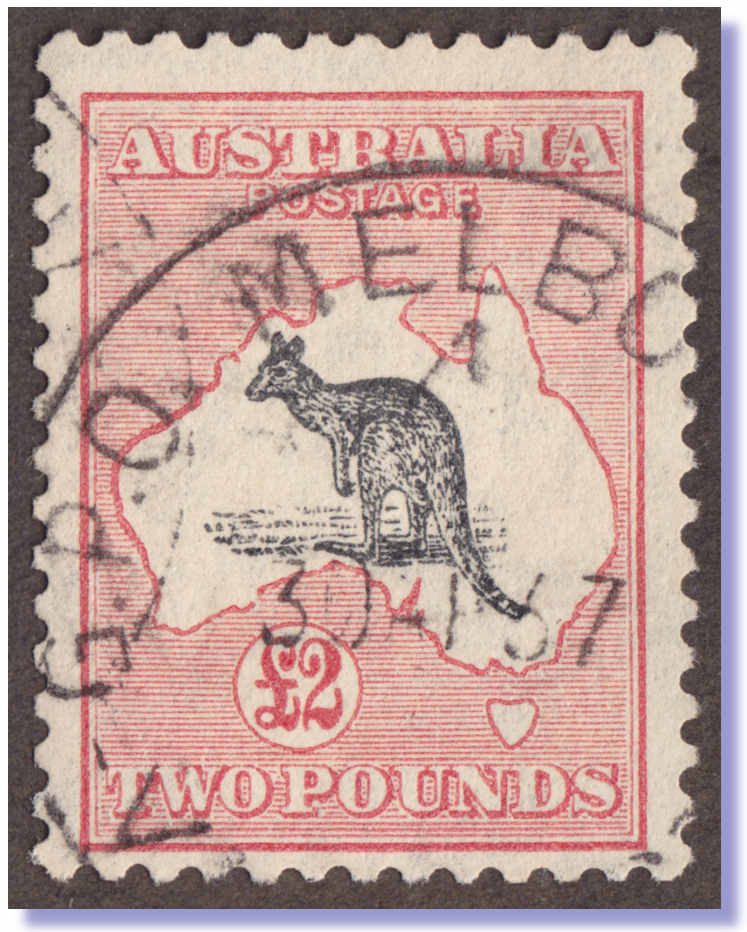 | | | |
| --- | --- | --- |
| | Australia £2 Black and Red Kangaroo VFU – with ACSC Var: The ONE stamp missing from near all Australia collections is the "2 Pound Roo". They have never been cheap, and get dearer each year. Indeed value of these beats out inflation rate every year. They were used on heavy parcels and MOST have issues as a result. Tears, scuffs, creases, thins, greasy stains or perf problems etc. This one is SUPERB in all those respects. Neat GPO Melbourne cancel, clean and fresh, and free of hinges and gook and gunk. Juzwin $725 for average used with no variety. Has ACSC listed Var, "Break in NW Coast WA" showing very clearly away from cancel. SG 138, ACSC 58(D)E, $1,500. $A700 (Stock 824XR) | |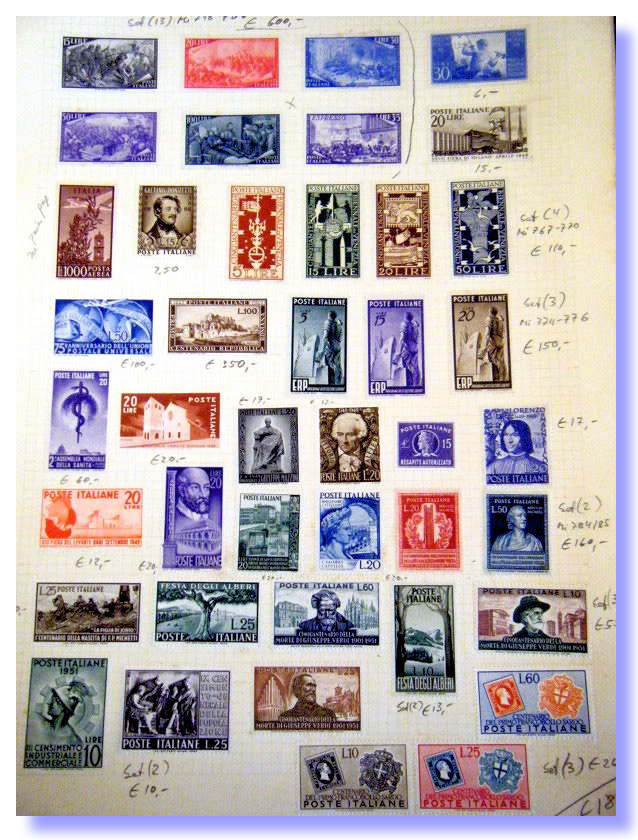 ITALY mint stamp coll 1941-1968 Cat €7064 = $A10,850 - for $A700:

HUGE catalog value - a superb way to fill you post war album at about 7½% cat! Most of earlies are "stuck" to the stack of large heavyweight and expensive (Retail $7 each - true!) Stanley Gibbons "Philatelic" brand absolute top end album pages, due to humidity where the book had been stored.

Those pages are overall a bit aged, so that would be a very wise move actually. There are a few age spots on the pages, and almost none on stamps, and if so, generally just one 1 or 2 perfs here and there, that will vanish in a hot water soak. A hot soak, and re-house, and you have a nice collection here. A stack more photos here - http://ow.ly/BgqRn Brilliant lot for ebay re-sellers etc at just 7½% of Michel Catalogue!

$A700

(Stock 547BP)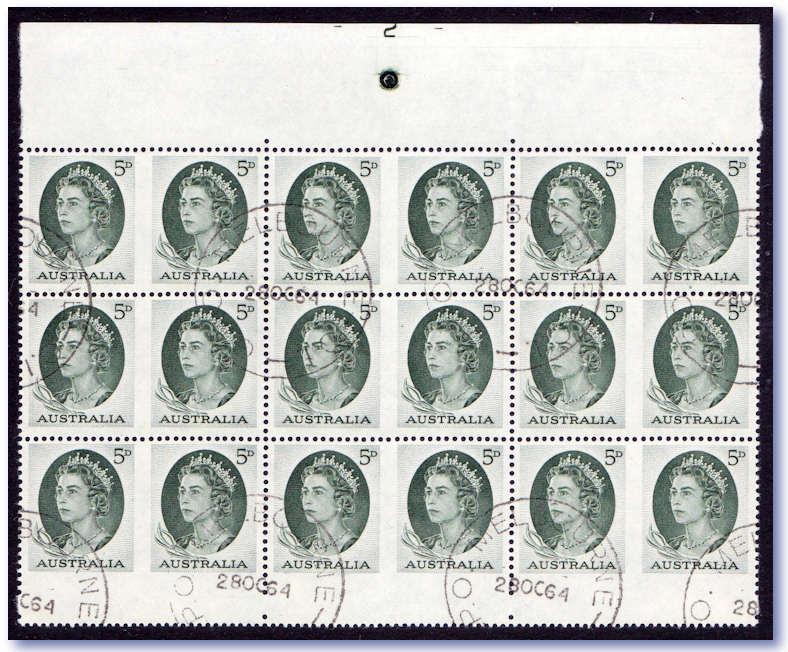 | | | |
| --- | --- | --- |
| | 1963 5d Green QE2 Imperforate Between Booklet panes with Plate Number " - 2 - ": Now and again one sees things with the official CTO looking cancel, that may or may not have had any official history. The "G. P. O." cancel outer lettering on this is the same as used on the 1930s' PO "Specimen" pack issues. Superb CTO with full unhinged gum - "28 OCT : 64". Being on an imperf between panes block, with plate number "- 2 -", if a collector had this done at issue time, the Philatelic Sales Bureau cancel would have been used. Even so, it is the only used in period plate number piece I have ever sighted. When the ACSC lists used blocks one day, as they surely will, this one will be hard to price! $A250 (Stock 683HW) | |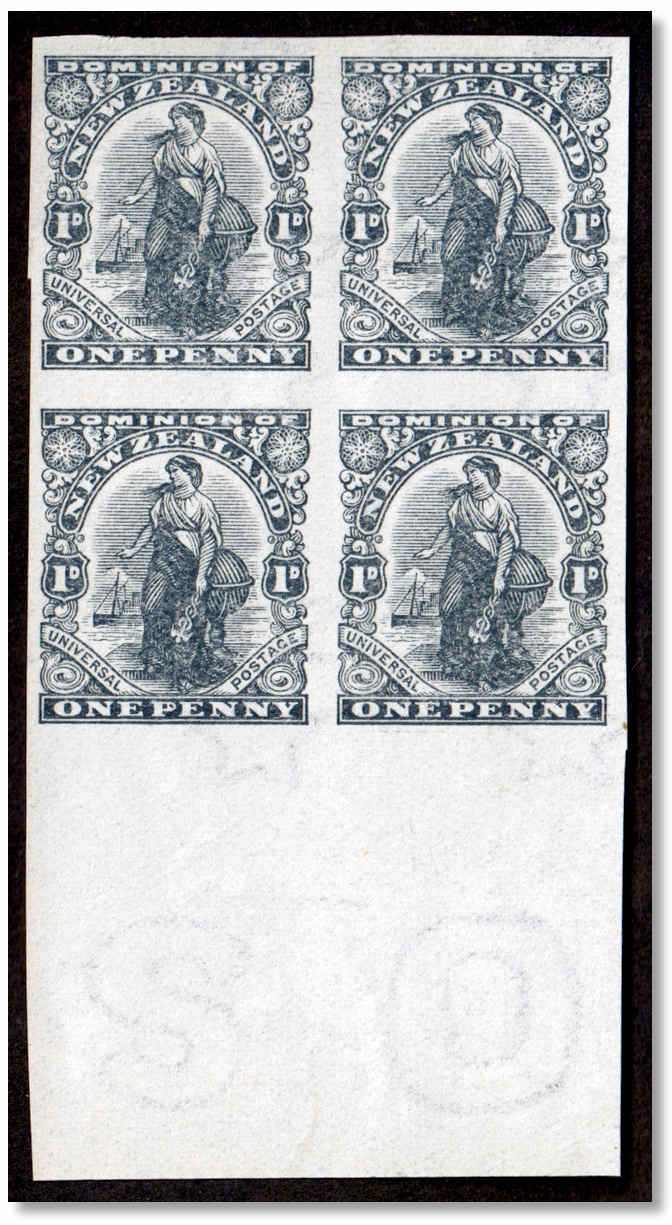 | | | |
| --- | --- | --- |
| | New Zealand 1909 1d "Dominion" Superb Plate Proof Block 4: Fresh lower sheet block 4 in grey, on normal watermarked NZ and Stars, with "PO" marginal letters from "POSTAGE" outer double lined watermark. 4 superb margins massive on base. Clean and fresh, and never had this one before. Impossible quality to improve upon, especially given its age. A brilliant addition to any NZ collection. $A200 (Stock 381PZ) | |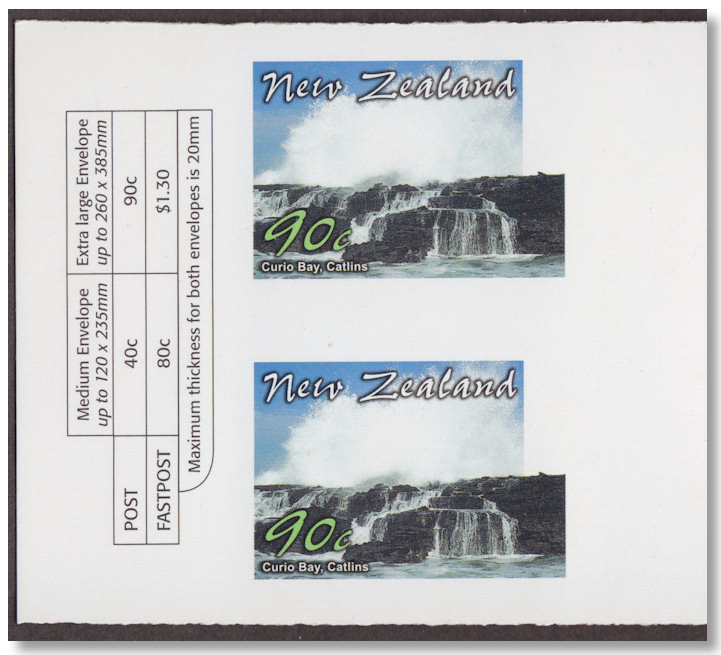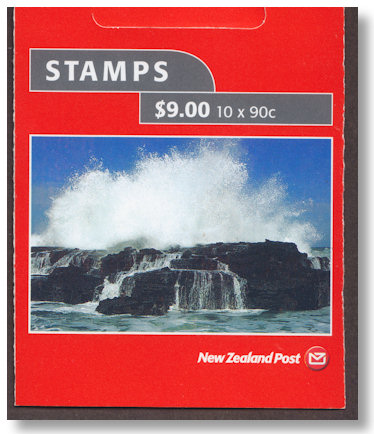 | | | |
| --- | --- | --- |
| | New Zealand 90c 2002 $9 Curio Bay Stamp Booklet TOTALLY IMPERFORATE!: A brilliant modern error. 90c Curio Bay (Catlins) stamp. Clean and fresh and totally IMPERFORATE - not even traces of the cutting knife as one usually sees in such cases. Campbell Patterson W88AY Cat $2,500. For an ebay seller etc, you have FIVE imperf pairs here inc a MEGA margin small imperf pane, costing you just $150 a PAIR! Only a few books discovered, and will sell fast at $A750 (Stock 914EJ) | |

1928 3d Kookaburra on possible FDC to UK. Cat $2,000 if correct - $A195: Interesting buy this week. VERY clean unit for 87 years old. Marked as "First Day Issue" on very old SG album page, from a collection formed in the 1930s. Presumably by the person who received it. Addressed to London, and then re-directed to Bangor, County Down, Ireland. Pretty cover, with great eye-appeal, and ornate wax seal on reverse. Has a Sydney NSW machine cancel, but sadly can't quite make out the date under the December 10 London arrival cancel which annoyingly is over the top.

This stamp was issued November 2, so 5 weeks to London from Sydney was very fast sea passage, (airmail did not commence until 1931) and the London arrival (or re-direction) cancel is on front and back. So no doubt whatever, about its arrival date - on or even before December 10, 1928. Cat $80 on ANY cover, and Cat $2,000 on a FDC. You be the judge! $A175 (Order as stock number 427PX)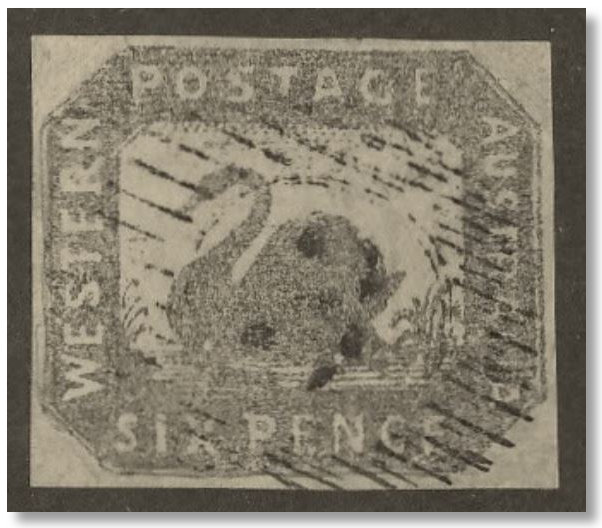 Western Australia 1857 6d 'Hillman' Swan, superb looking imperf $A250: The scarcest face different stamp of WA - the 1857 6d "Hillman" Swan imperf. These were locally lithographed on wafer thin tissue type paper, from massive limestone printing stones .. the printing stone of which still exists. It was found in 1979 being used as a doorstop in an old house! (And later sold for an absolute fortune!)

Poor printing impressions are therefore normal on this, and the 1857 2d "Hillmans". Four margins and large cancels are very scarce. Even average 2 margin copies sell for a few $100's and goodies get way into 4 figures - indeed a VERY similar looking one sold at auction for $A5,350 - http://ow.ly/F91Mh - That stamp illustrates WHY you MUST buy early WA from reputable dealers who offer a guarantee, and who will be there in 5 years. This stamp would probably get around $2,000 if I listed it on ebay as "Superb Used" with this photo. And the buyer would likely be delighted. As 4 even straight margins like this, and lovely light "3" cancel are near unheard of on THIS stamp.

Instead I offer it here today for $A250. Why so cheap? As some incredibly skilled old time repairer has added corners to it. Looking even carefully at the stamp I could not see it at first with the naked eye, as it is so skilfully done. The paper is so thin it is near impossible to believe it can be done -- but it has been! It will be the best looking stamp on your page of WA imperfs. OR your money back. $A250 (Stock 619JR)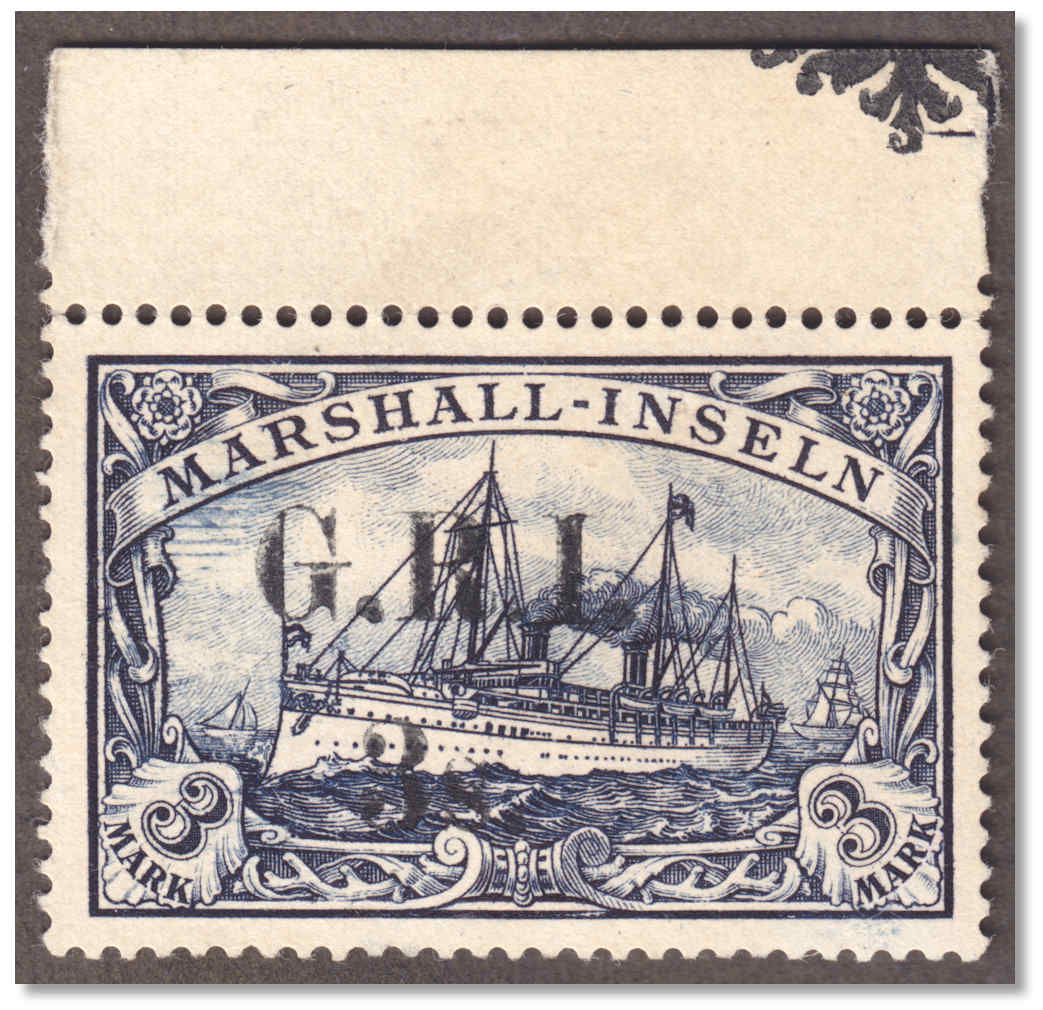 1914 "G.R.I" Marshall Islands 3/- on 3M Yacht with Certificate: 1914 3½-4mm spacing, on Marshall Islands High Value "'3s" on 3 Mark violet-black, SG 61. Marginal unused example from the top of the sheet, with part ornate "Heraldic Eagle" adornment in the margin. Has the well-known "Stop Replaced after I" constant error, to correct the SG 61b error. Exceptional centring, with 1997 Peter Holcombe Switzerland Photo Certificate, also with his plating notes in very light pencil on back:' "Setting III, Pos.2, inserted stop after I". The Certificate also confirms the further 2 Expert marks on reverse, of "Kossak" and "Corinphila", Switzerland. So Expertised THREE times.

Robert Gibbs "GRI" Bible on p.viii states Holcombe is the world's greatest expert on this issue. Tim Rybak's mint example, without the variety, worse centred and thinned, sold for $A4,900 by Prestige back in 2008, when the SG value was about 50% less than today. Couple totally trivial blemishes as these all have, and a clean and most attractive, perfectly centred example of this Classic. These exist in dozens not hundreds - a tiny emergency issue in the middle of WWI. A really lovely looking example of a major Pacific Rarity, now 100 years old. Scott 41, Michel 16, SG 61 - Cat £6,500+ = $A12,000+ (Cat £9,500 used!): $5,250 (Stock 813XK)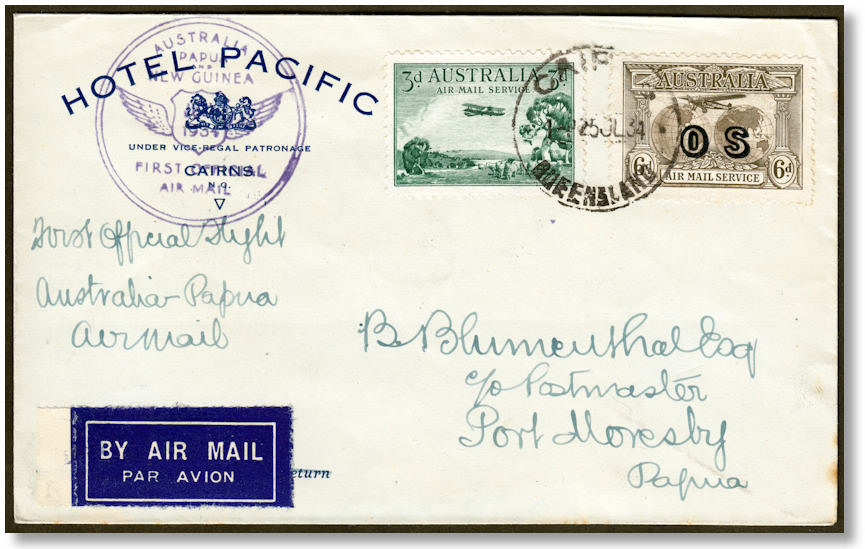 | | | |
| --- | --- | --- |
| | 1934 First Flight Cover to Papua with rare use of 6d Kingsford Smith "OS" OFFICIAL: This stamp is rare used on any cover. SG 0127 Cat £55 used OFF cover. ACSC 144()S) Cat $A275 used on cover. On most attractive crested envelope - "Under Vice-Regal Patronage" cover, Cairns to Port Moresby. Exceptional condition for 80 years old. Superb strike of the special violet cachet front and back, and on reverse the Port Moresby arrival cds. $A150 (Stock 812LZ) | |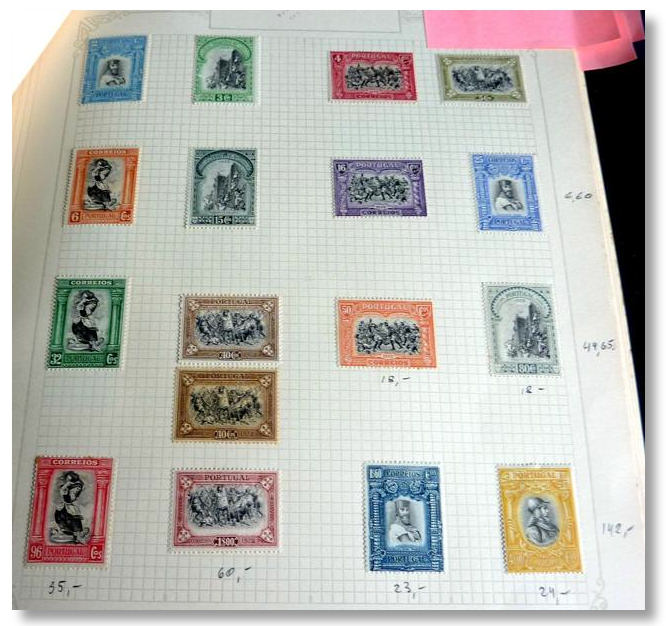 | | | |
| --- | --- | --- |
| | Portugal M & U stamp collection 1855 to 1960 SG value £2,414, Just $A450: Old collection, not added to for over 50 years. Condition a bit mixed here and there, but value is in a few sets - those following alone are cat £1,325 - 1866 120R imperf x copies 3 (£330) 1928 Independent set of 16 mint (£194) 1940 Legion set of 8 mint (£239)1945 Navigators & Carmona mint (£300)1946 castles (£232)1949 UPU (£32) A TON more pix here - http://ow.ly/EWcl7 To clear ex Estate, at less than 10% of SG for this very popular, and seldom offered country. $450 (Stock 787FC) | |

| | | |
| --- | --- | --- |
| | LUXEMBOURG 1945 Liberation IMPERFS, set 4, Fresh MUH: Superb imperforate set with large margins. A rare set, with only a small number sold. (Mark on corner of green stamp is just lint/hair on scanner platen!) Michel 343U-346U Cat 200 Euros = $A340. $A150 (Stock 716EX) | |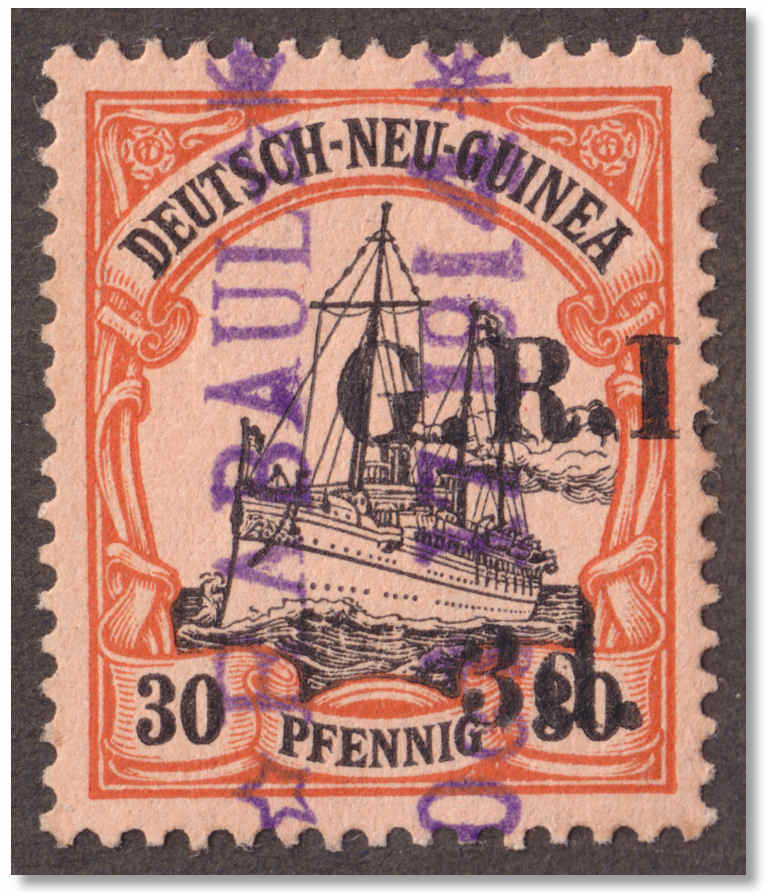 | | | |
| --- | --- | --- |
| | 1914 Deutsch NEU-GUINEA "G.R.I. 3d" on 30pf Yacht, with FIRST DAY CANCEL!: The first issue, with 6mm overprint setting. Quite superb used for 100 years old, with a brilliant sharp strike of the strange looking 2 line violet rubber cancel of *RABAUL* – Oct 17 – 1914* (Powell 49b) - in use for only a week. This date being the FIRST DAY ISSUE of the initial printings, (verified by SG Cat) and rare thus, and always struck vertically. SG 8 - Cat ؔ£500 with ANY cancel, and FDI rate a premium! Perfect perfs centering and freshness and with clear BPA London Photo Certificate #5787 – "SG 8, Cancelled in violet on Day of Issue, is genuine." The superb "Ello" and "Rybak" collections both had examples of this rare cancel, and got high prices. $A600 (Stock281JL) | |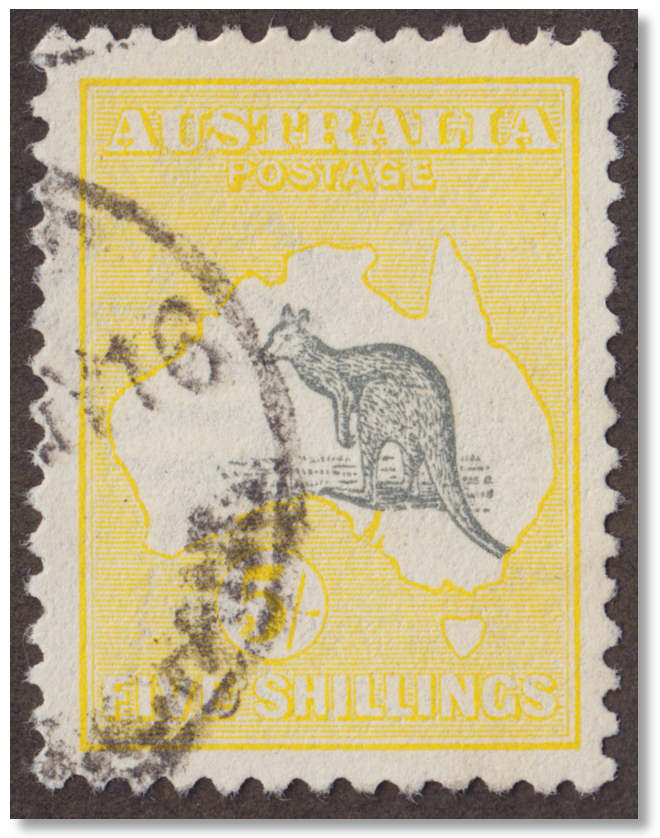 | | | |
| --- | --- | --- |
| | Australia 1915 5/- Second Watermark Kangaroo, Superb Used: Second watermark, clean and fresh and totally free of hinges, gook and gunk or faults. SG 30, ACSC 43, Cat $675 plus a premium for this superb perfs and centering. Nearly all this issue had ugly "Fluffy" perfs, due to perforating equipment in middle of WW1 not being procurable and replaced from the only suppliers - in "enemies" Austria and Germany! With lightest possible cds on these, of May 1915. Also has a nice "Clipped Tail Roo" as a bonus! These were used on heavy parcels during WW1, and much nicer than this is tough to find. CTO copies do not exist. About as fine as you can source. $A550 (Stock 413DJ) | |

AAT *FULLY IMPERFORATE* Miniature Sheets - $A50 each: In November 2013, Australia Post released just 250 x IMPERFORATE panes of 15 mini sheets of stamps. You needed to phone the special PO "800" number, or order online, and the strict maximum order was ONE sheet a person, and the sheets sold out in super-fast time, as you'd expect.

There will be near none in the secondary market, as collectors who ordered them for themselves will not be sellers - at any price. I'd guess there are easily 20,000 keen global collectors of AAT, but only 250 of these sheets to go around. If 200 buyers hold on to their sheets for their collections, that leaves just FIFTY to service those 20,000 collectors worldwide.

99% of AAT collectors do not right now realise this IMPERF issue even exists. In the 57 years since AAT first issued stamps in 1957, I can't recall any other *AAT* imperforates sold by the PO. This is an Official Australia Post Australian Antarctic Territory issue, it is imperforate. It is limited, it is 100% OFFICIAL PO, and it was RED hot from Day #1.

Tons more photos, and sheet options (pairs and number and colour sheet margin blocks) here - http://tinyurl.com/AATimps - These prices are SUBJECT UNSOLD, and I reserve the right to amend them at ANY time based on demand from my ads. An imperf mini sheet of 5 MUH or CTO is - $A50 (Order as stock number 629KE) A superb cancelled Imperf AND perf sheet used on A4/Quarto cover to you or friends anywhere on the planet is just $A65 (Order as stock number 629KO)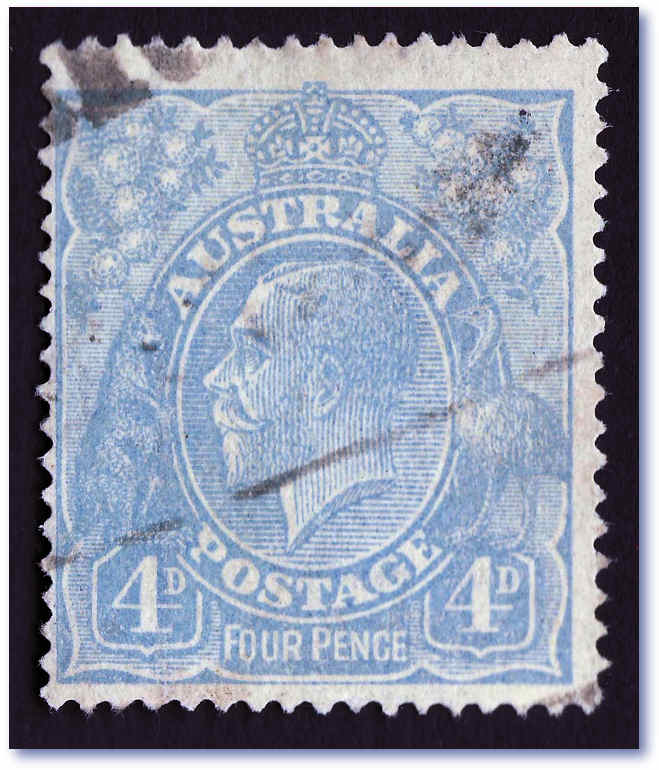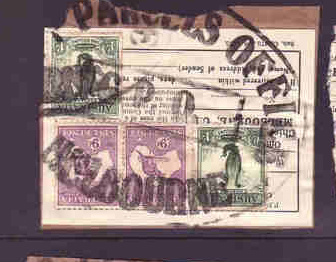 | | | |
| --- | --- | --- |
| | KGV 1923 4d Blue KGV Harrison print with INVERTED WMK - at UNDER HALF cat: One of the rare ones. ACSC 113A(aa) Cat $1,000. SG 65w. Oddly this is cat a lot higher genuine USED than mint. How does one tell a genuine used? Well a vague light corner cancel is one way to dismiss contenders pretty fast .. and I've seen a dozen of those for sale! Clean and fresh with no hinges, gook or gunk on reverse. This has a LIGHT portion of the massive rubber "Melbourne Parcels Office" cancel, that is a very distinctive "killer", that USUALLY totally obliterates the stamps. It was heavily used in the 1920s, a small inset is nearby showing a full strike of this huge cancel. Cat $1,000, and 105% genuine used - to clear for $A400 (Stock 296LQ) | |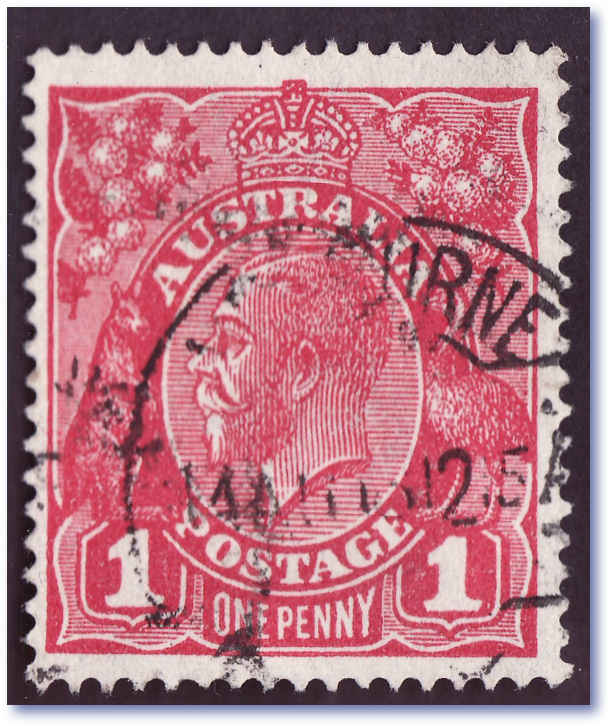 | | | |
| --- | --- | --- |
| | KGV 1d Red, scarce Die 3, with *Inverted Wmk* – Superb Used: A little RIPPER. Clean and fresh - and free of hinges and gunk. Virtually perfect perfs and centering .. this issue is often WAY off centre even in the NORMAL wmk! Very rare with inverted watermark. ACSC 75a. SG 53w. Nice upright Melbourne cds of "14 AU:18 12.45pm". The very BEST you'll see, trust me. $A175 (Stock 691GJ) | |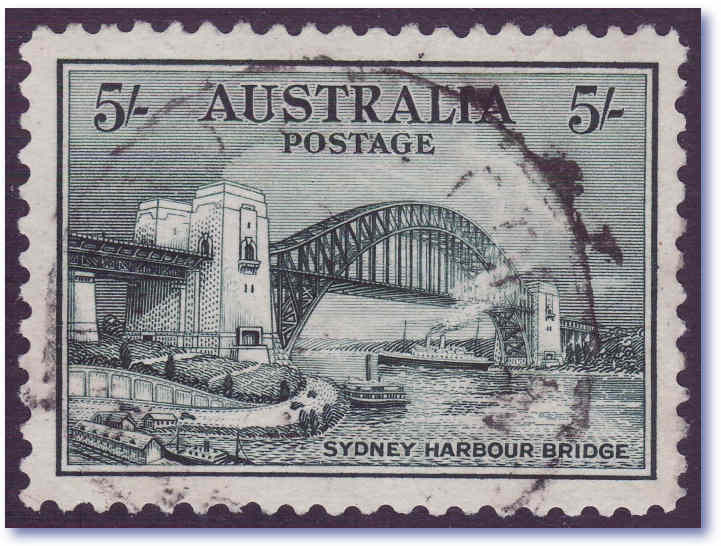 | | | |
| --- | --- | --- |
| | Australia 1932 5/- Sydney Harbour Bridge VFU *POSTALLY* Used: Clean and fresh and totally free of hinges, gook and gunk, or any faults of thins, with superb centering and perfs. Lovely light central POSTAL cds. See my Recent article on this new reality - such copies are getting large prices lately - http://ow.ly/El3B7 - to clear at $A450 (Stock 713VG) | |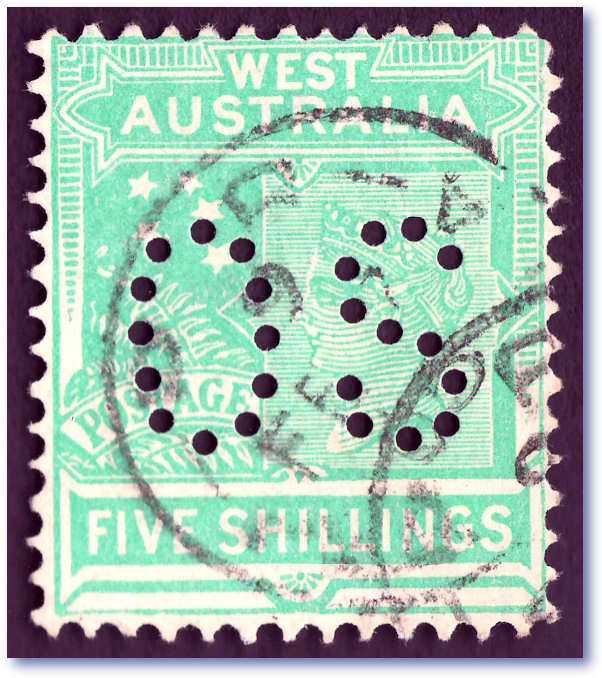 Western Australia 1902 5/- Green Queen Victoria VFU with UNRECORDED 'OS' Perfin: SG 126. Superb used - ACSC 63B ... this single line perf 12.4 is UNRECORDED in perfin OS. 'Perth Feb 2:05' cds. SG 126. Die 2, Inverted wmk and is cat $250 as normal NON "OS". OS perfins on most WA issues of this series are listed and priced in ACSC. Often several times higher than NON "OS" as they are clearly far scarcer.

These were issued initially in the FEDERAL period, and these are Commonwealth Of Australia stamps, not a "WA" stamp as such - they could legally be used in ANY state. The ACSC now catalogues and prices all such issues, and their prices will rocket, as they truly are "Australian" stamps, not "State" stamps. Clean and fresh superb used, free of hinges and gunk and gook or faults. Incredibly condition for a stamp that was used on a heavy parcel. Crisp "Thimble" cds of Perth Feb 2 : 05 WA". $A275 (Stock 827KT)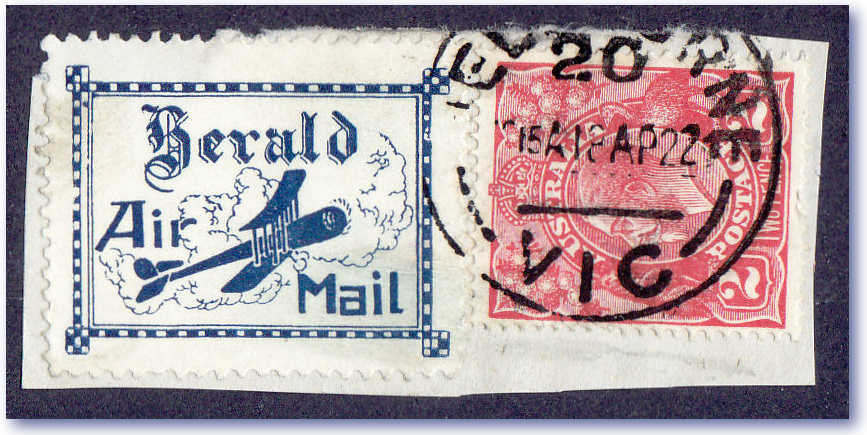 | | | |
| --- | --- | --- |
| | Australia 1922 "Herald & Weekly Times" Air Mail Vignette on piece from flight cover, along with 2d KGV head: This is an incredibly scarce label, and far scarcer than current catalogues indicate. I see one off piece, every 10 or 20 years. Even today no-one is certain of the sheet size they were issued in .. AAMC guesses it was of 20, but none are known to exist. A lovely clean copy on piece, well tied by a clear Melbourne April 18 1922 cancel. Eustis cat $1,500 on cover. $A300 (Stock 827PR) | |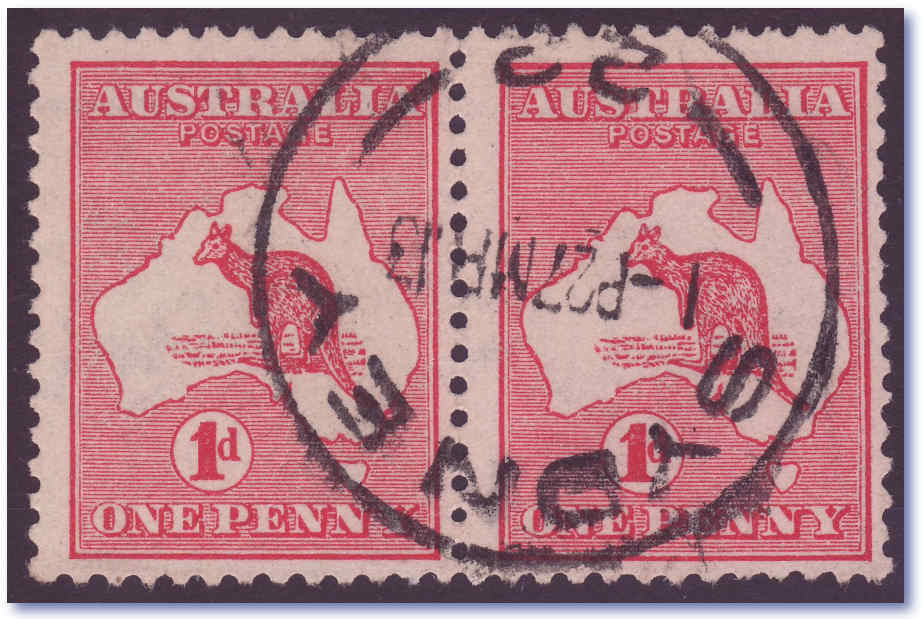 | | | |
| --- | --- | --- |
| | 1913 1d Kangaroo *SIDEWAYS* watermark rare PAIR: A clean FU looking pair with nice bold single cds "Sydney 22 - 27 MR;13". Fresh and attractive with a tiny reverse thin on one unit. Multiples of any kind are not common. (A mint monogram block got $44,000 at Arthur Gray sale! Indeed all the sideways 1d got WAY over estimate.) Crown to right as seen from front of stamps - the scarcer of the 2 possibilities, ACSC $900++, SG 2aw £600 - so huge Cat as singles, with no premium for pair. $A600 (Stock 592DV) | |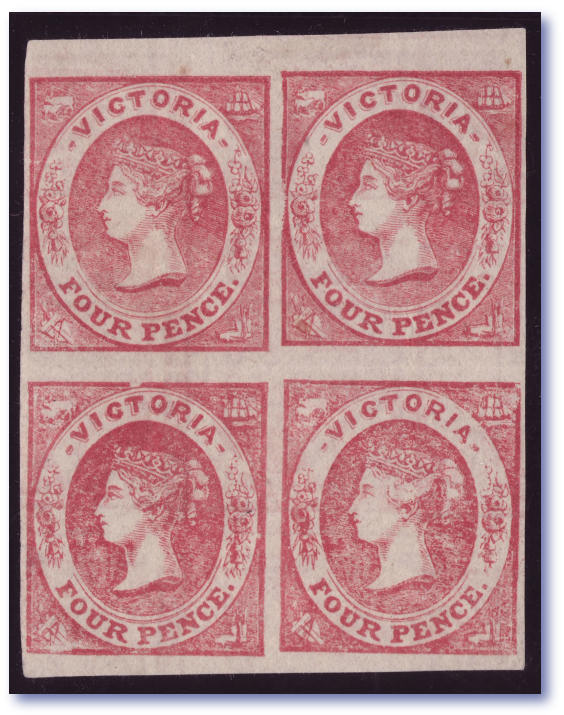 Victoria 1857 4d Red Plate Proof block printed both sides!

Not only printed both sides, but printed DOUBLY on reverse .. once sideways! These were produced as "make-ready" proofs in 1857 by Calvert, under his first contract. Mentioned by Kellow in "Stamps Of Victoria" as type (iv) on page 114. Wonderfully fresh for well over 150 year old, and one of the most attractive and show stopping pieces possible from the era, yet most affordably priced.

$A625

(Stock 738TW)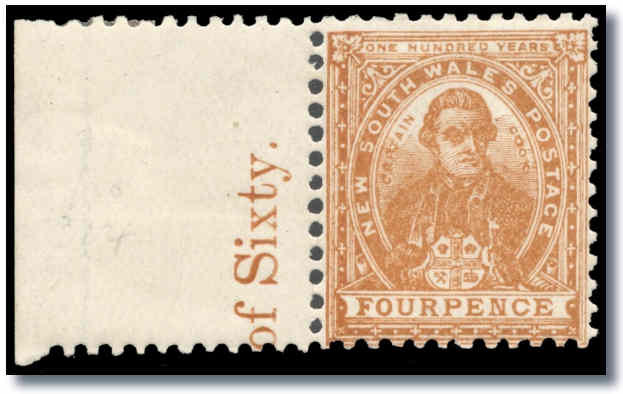 NSW 1907 4d Captain Cook with *NO WATERMARK* Emergency Printing on Victoria Paper: ACSC #N31Baa, 4d Pale Orange Brown. Marginal example from the upper-left corner of the sheet, lightly mounted. Cat in the 12 year old ACSC $2,500 – unknown used. The Victoria paper was not the exact same size as the 4d Cook plate, so ACSC notes some stamps show only sheet margin watermark letter or lines - or in this unusual case, nothing at all. Unlisted by Gibbons - but I have contacted Hugh Jefferies suggesting it be listed as SG 357a, now that one exists with a clear Certificate.

Complete with RPSV Photo Certificate (2009) noting this as being from Position 1/1 on the sheet. A CAPTAIN COOK thematic item of highest exhibit standard. And, being first issued in 1907, is an AUSTRALIAN COMMONWEALTH issue. It is believed unique as an expertised example. As very few Australian Commonwealth issues exist with the watermark missing, this price is plain silly. I sold the late Simon Dunkerley the 2d Red KGV, ACSC 96aa - cat $20,000 for instance. My price is just 10% of that .... one to "tuck away" for the future - its day will come - $A1,750 (Stock 287AT)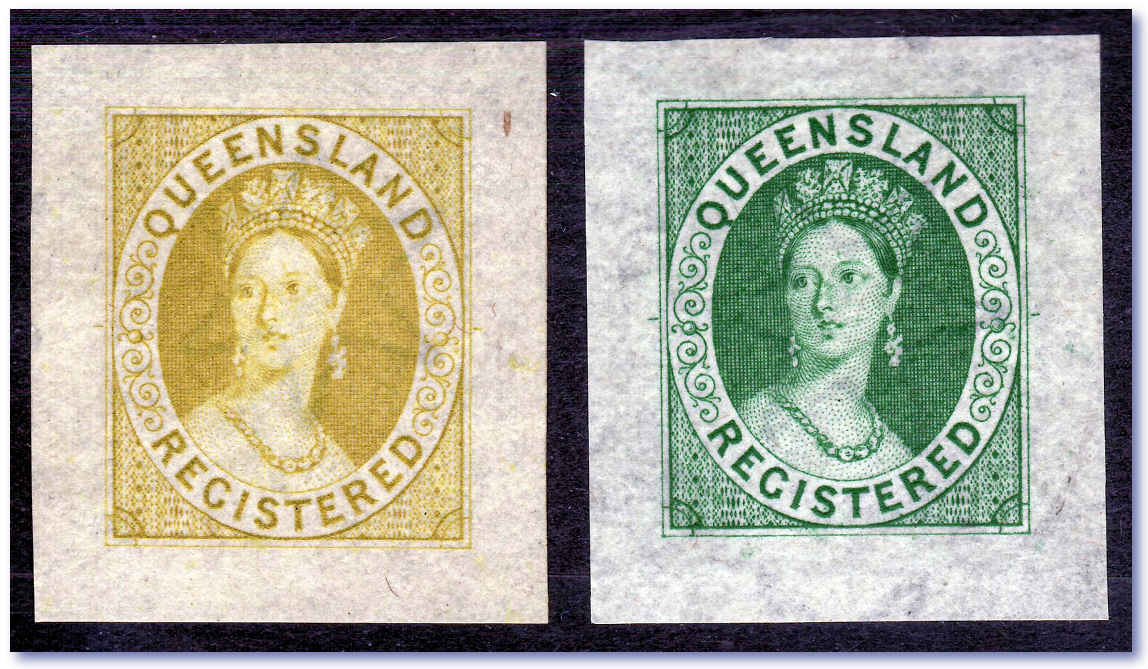 Queensland 1860 "Registered" - Superb looking *DIE PROOFS*: Stunning pair. In Green, and the Yellow Olive issued colour, on thin single Star watermarked paper. Larger margins than some of the other colour Die Proofs of this stamp. Both are ex the huge Sir Gawaine Baillie sale, Sotheby's July 2005 in Melbourne (lots 981/982). Where they sold for $A517 and $575 respectively = $A1,092 plus shipping. Both in superb "English Fresh" grade .. such a nice change for States items of this age.

Baillie bought them from the brilliant J.S. White collection in 1997. So the provenance is impeccable for the next owner - "ex White, and Sir Gawaine Baillie". Beautiful crisp 'razor-sharp' plate impressions. After 9+ years, you still pay only around Baillie price. If these were Kangaroo proofs, you could add a zero or more! Even 1d PLATE proofs of Roos got up to $37,500 each, like lot 68 at the Arthur Gray sale. These are absurdly under-rated right NOW in the market - just as Roo proofs were only a decade or so back. (Stock 627HR) $A1,200 (Stock 621HR)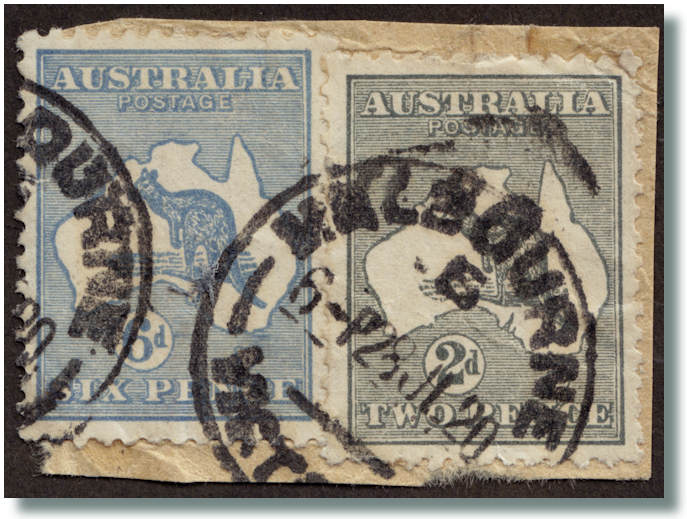 | | | |
| --- | --- | --- |
| | Roo 1915 Third Watermark, 6d Dull Dark Blue, on small parcel piece cut out: A very scarce and distinctive shade - from the Die 2 Cooke printing. There was one small printing of this colour due to WW1 ink shortages – most printing ink of course came from Germany and Austria in that era! (Hence the VAST range of shades on 1d Reds and 4d Orange KGVs during WW1.) Even used OFF piece it is rated $A100. ACSC #19c Cat $A600 on parcel piece or fragment. Also has 2d Grey alongside - that is cat $275 on piece. Both tied "MELBOURNE 28 JL 20 VICTORIA" dated cds. A unique piece, and a very cheap pick-up for the specialist. $A135 (Order as stock number 294XE) | |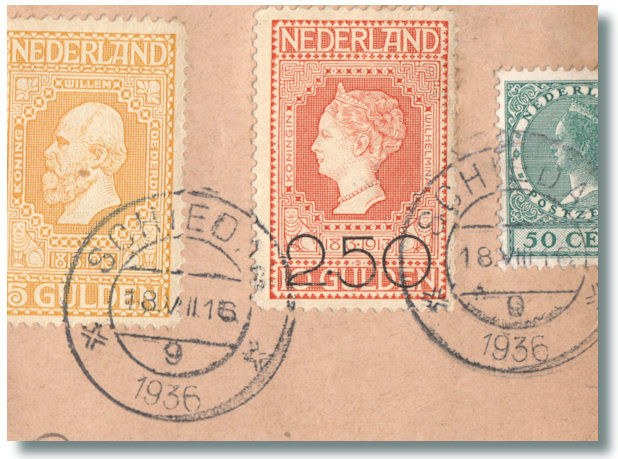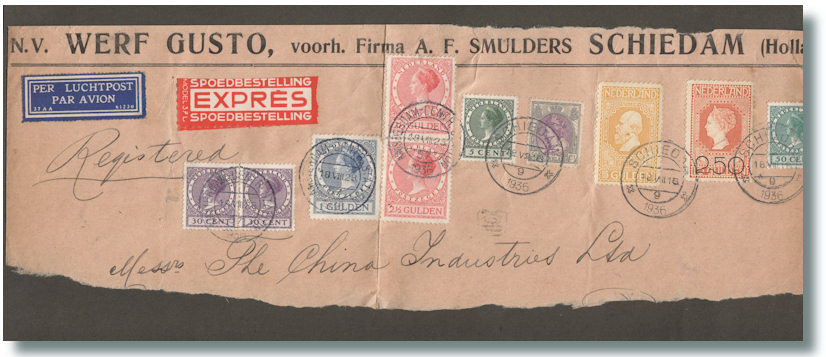 Netherlands huge Registered & EXPRESS Airmail franking piece to China, 1936: Bought this stunning and clean piece from a collection formed by a chap who was manager of the Shanghai Museum in the pre-war 1930s. This piece is from the famous shipbuilder and Engineering company of Werf Gusto, located in the small town of Shiedam, Holland well outside Amsterdam. Some stamps are cancelled at Amsterdam the others at origin. WEIRD!

This was clearly off a large packet that was sent Registered, Airmail, and EXPRESS - the latter 2 services very expensive to China in 1936. Likely they were Engineer plans etc. There are 2 sets of cancels - one from Shiedam, and the others on 5 stamps on left from Amsterdam Central Station .... all on the same day. Schiedam PO used a yellow 5 Guilder King high value as we can see (SG 224 £50=$A100), AND a 2½ Guilder overprint on 10G - SG 237 Cat £170 = $A340 used - a very scarce stamp used off piece even. Detailed discussion on this piece here - http://tinyurl.com/Shiedam : $A225 (Order as stock number 294LR)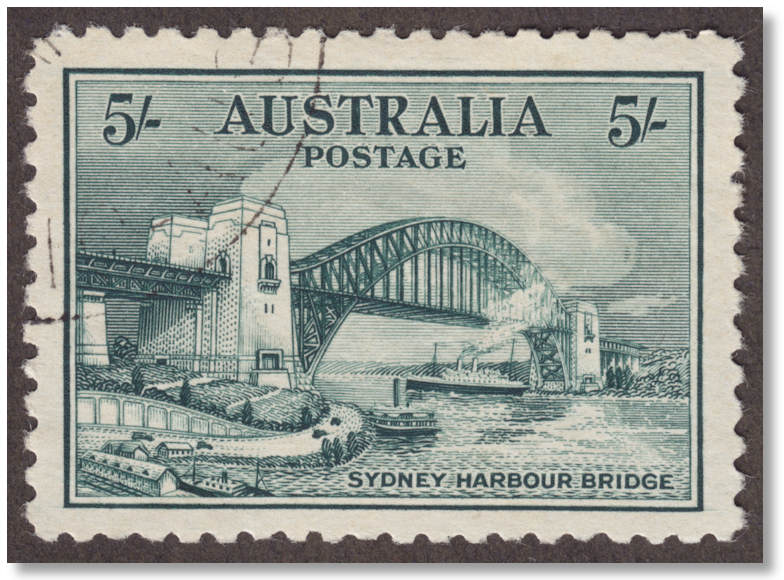 | | | |
| --- | --- | --- |
| | 1932 5/- Sydney Harbour Bridge stamp Superb VFU: The most iconic stamp from this country, and is missing from 95% of collections. It was printed on what was essentially coarse handtowel type paper and perforated with blunt nails. This was the absolute height of the Great Depression, and even the Government Printer was economising. The coarse paper means a large number are thinned, and the perfs, as all will know are often terrible and ripped out. They were perforated with the single line machine – like a fancy treadle sewing machine – 1 line at a time then sheet rotated 90 degrees and the other sides done. Hence wide margin centring is not common at all. A beauty – clean and perfect with superb perfs and centering. Yes these do sell a little lower at times BUT that is due to the inferior centering and reverse etc. $A265 (Stock 912AX) | |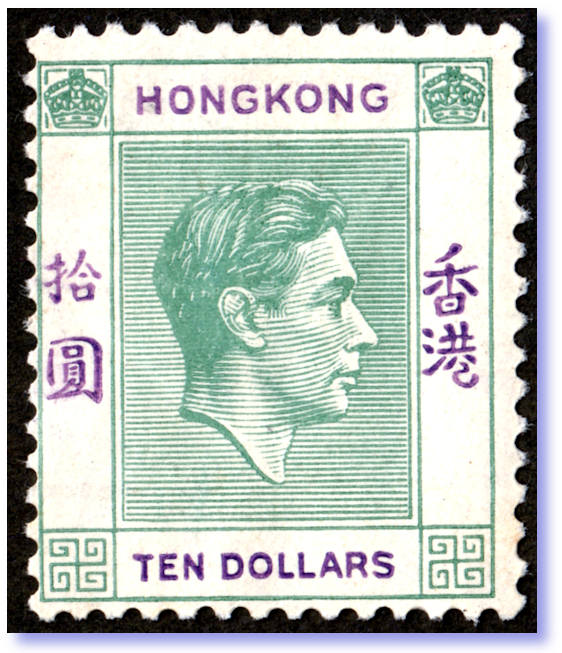 | | | |
| --- | --- | --- |
| | Hong Kong 1938 $10 KGVI Green and Violet - Top Value of set: One of the key and priciest KGVI stamps from the entire Commonwealth. The original 1938 issue, which only exists with streaky yellow gum arabic. Mint lightly hinged. Nice deep, vivid, original "unrubbed" colour as you can see. SG 161, £700= $A1400. A small FRACTION of Gibbons catalogue at: $A400 (Order as stock number 214TR) | |


| | | |
| --- | --- | --- |
| | Hawaii 1864 set 5 Plate Proofs - Scott $US1,750 – Just $A350: Bought these in a nice old collection. They are clean fresh plate proofs of the issued set of 5. They are in amazingly fresh bright condition for 150 years old! On thin ungummed paper, and look very clean. Scott is $US1,750 = $A2000 in my 2014 specialised (Cat #30P3-34P3) Way under 20% of Scott. $A350 (Order as stock number 375JR) | |



| | | |
| --- | --- | --- |
| | Isle Of Man - both the 1973 Definitives Colour Outer Border Errors: I bought pairs of these from a well-known UK dealer. Not really easy to tell apart unless you are experienced with them. SG 17a and 18a – see SG cat here - http://tinyurl.com/kse5cte - Cat £125 each, i.e. £250 for one of each or cat £500 for a pair of each. He guarantees these are the correct SG listed items. Mailed along with normals. Gibbons have ONE stamp error on sale right now for £160! A joined pair of each as shown above, Cat £500 (=$A1,000) fresh MUH for - $A175 (Order as stock number 735LP) | |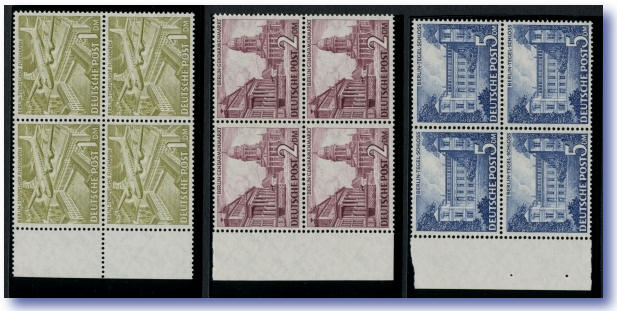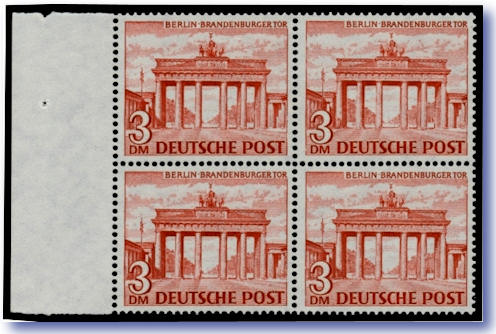 | | | |
| --- | --- | --- |
| | BERLIN 1949 Buildings, Dm1 to Dm5, matching marginal blocks of 4 Genuine *MUH*: Cat €2,280 (=$A3400) for just $A800! All matched and well centred, and fresh MUH original gum, from the left of the sheets, all with the essential leading expert Herr Schlegel guarantee handstamps. Michel 57-60 Cat €2,280+ = $A3400. Superb! (4 blocks) - $A800 (Order as stock number 724LT) | |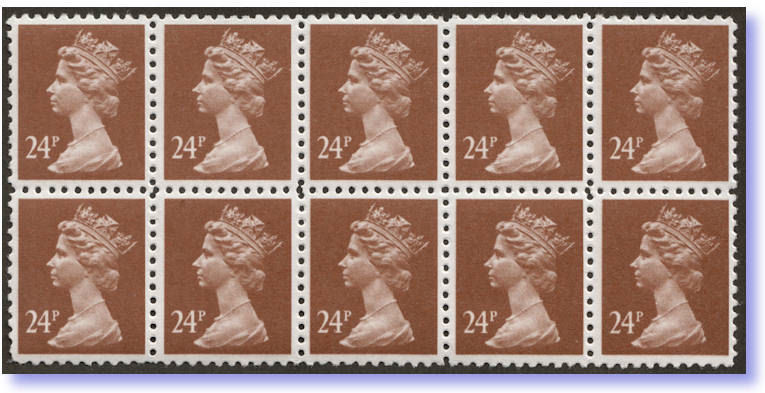 GB 24p Machin stamp POSTAL FORGERY in MUH blocks. As low as $5 each! I bought a couple of sheets of these nearly 20 years back when they first surfaced in the UK, sold to Indian and similar family owned small corner stores and supermarkets, who retailed stamps for letters. A UK dealer, Bushell & Wright, was too scared to offer them in the UK in case Scotland Yard paid him a visit, so he did a deal with me, and I sold them here for about $A40-$50 per stamp as I recall. Sterling was VERY high back then of course, and UK retail was £20 which was about $A45 a stamp then - literally.

He got a Barrister's written opinion that him owning or selling these above face value created no offence under British Law. Just as well - the forgers were caught and got prison sentences of up to 12 years each - see detail on link below. Single current Machins from Kiloware are getting $A325 each on ebay as I report below, so Machins are back in the news BIG time! - http://tinyurl.com/Nov12SN

UK dealers currently sell blocks of 8 of these same stamps for £77.50 ($A125) or over $A15 apiece, as you can see - http://tinyurl.com/Mach24p - see other blocks sizes and prices here - http://tinyurl.com/24PMach I have one even larger block on hand at $A5 a stamp, if anyone is interested in breaking it down on ebay etc for a far greater profit. Keep a single or block of 4 for yourself from the above lots, and sell the others on ebay etc, to get yours FREE! You may even come out in front money wise, and keep yours free. Illustrated MUH block 10 as per photo, at under half dealer price - $A70 (Order as stock number 619TQ)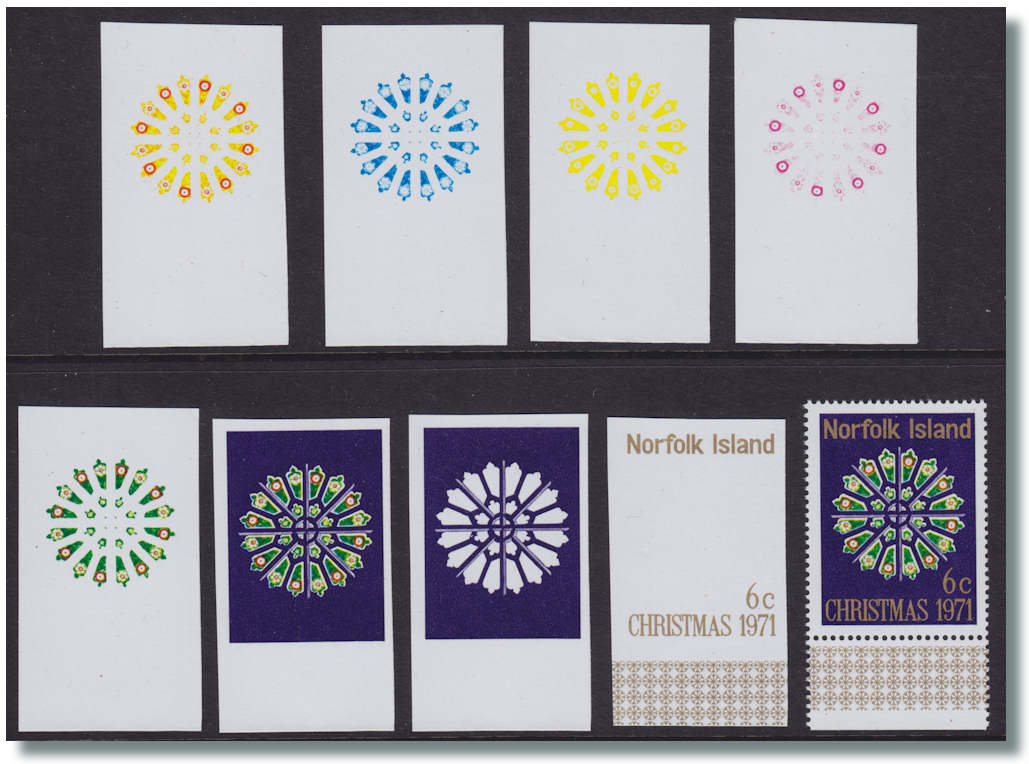 NORFOLK ISLAND, 1971 Rose Window at St. Barnabas Chapel Proofs: As a dealer for 35 years, I have NEVER even seen a set offered such as this from Norfolk. The spectacular 2002 Stephen Bradford and 2011 Eddie Garrard Norfolk Island collections did NOT have these. Presumed to be from the Printer Archive – Heraclio Fournier, Spain.

I am not aware of any other stamp from Norfolk (or anyone locally) printer by Fournier. Fresh MUH progressive Colour Proofs, on same gummed paper as issued stamp, with matching perforated stamp. A spectacular looking album page. At only $55 each, for almost certainly unique pieces - indeed each is HALF what the AP current PO year book costs! Insane. SG #125. $A500 (Order as stock number 672FT)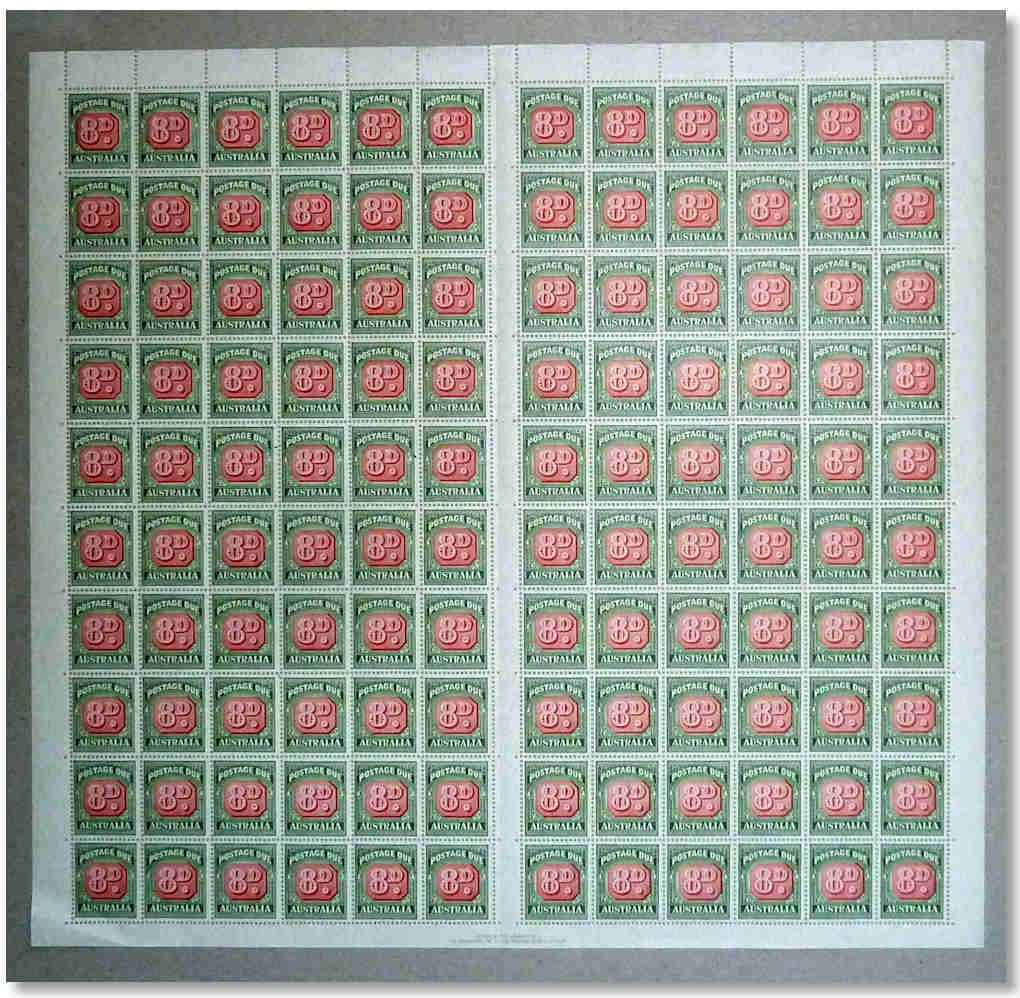 Australia 1957 8d Postage Due Sheet of 120, Cat $A4,000 - just 15% of ACSC! An almost certainly UNIQUE survivor. Literally one of Australia's most under-rated post-war stamps. True. There were actually less of these printed than either of the 1913 10/-, £1, and £2 Kangaroos! And as these were used up pretty heavily by postmen in "taxing" unstamped standard letters at 8d, near all that exist are USED.

This was issued in April 1957, as a late addition to the 1946 CofA watermarked set, when postage went to 4d, and a Due was need for the Double Deficiency payment = 8d. Many dealers and collectors missed it then, as they already had the standard initial 1947 set, and Dues back 60 years ago were only a sideline interest to mainstream collectors. (The same as "Specimens" and CTOs on postage stamps - prices have gone up 100 times on those from that 1950s era!)

The Postage Dues very soon after went to NO WMK paper, and the 8d No Wmk was issued only months later in February 1958. So this stamp had a very short life of several months, and mint are SCARCE, and MUH blocks even more so. The well centred "Authority" Imprint block 4 alone is cat $A325, as clearly almost no-one bought any!

The MUH stamp are cat $A30 each c 120 - ACSC D137, and there are various plate varieties on this sheet are catalogued higher of course plus the Imprint. A full sheet MUH is most likely UNIQUE is my best guess. Have never seen another. With By Authority Imprint ACSC D137z, including varieties White Flaw on Top of '8' and White Flaw in Solid Shading Inside Top Loop of '8' etc.

A few natural gum skips as found on these issues, and stamps all attractive well centred fresh MUH - this series is prone to foxing and toning and this is unusually fresh for near 60 years old. Lies nice and flat, and comes with clear sheet protectors and correct size overlay bag, and 2 x specially cut thick backing board (see photo above) to allow stamp show display, or neat flat storage. ACSC Cat is about $A4,000 with the base stamps $30 apiece, and imprint block $325, and plate vars etc. Bought well to sell fast, at about 15% of Cat – to break these up on ebay etc you'd make a killing I suspect, as ANY kind of MUH block is very scarce. $A600 (Stock 619EJ)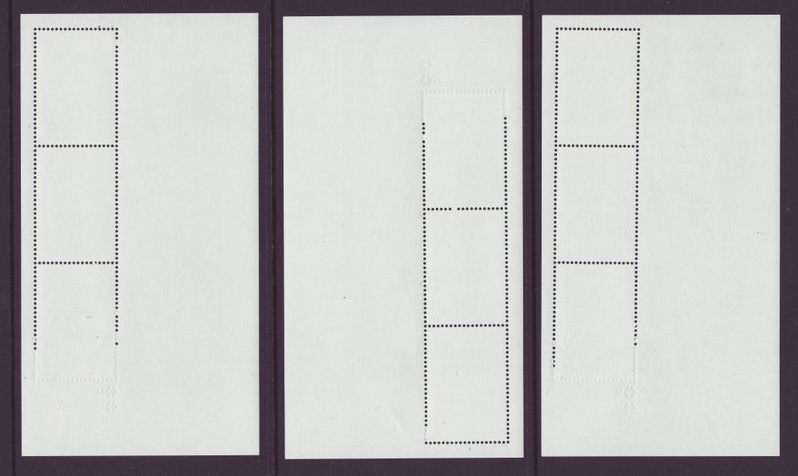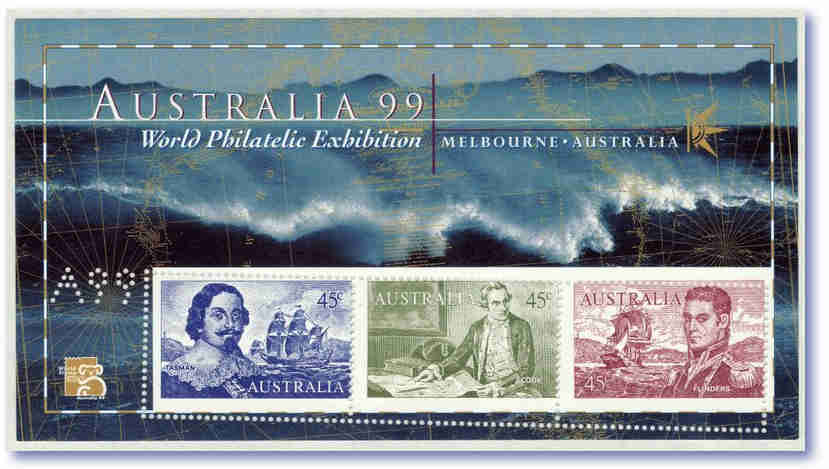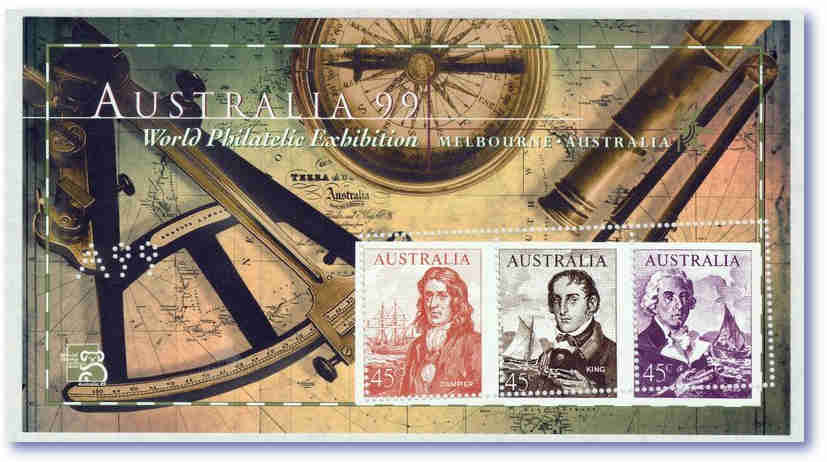 | | | |
| --- | --- | --- |
| | Australia 99 scarce official perforated pair with GROSSLY misplaced perforations. Seldom seen on the market and what a spectacular pair for just $A250! There is a detailed article of these errors here - www.stampboards.com/viewtopic.php?p=360082 – where the full story of these, and photo of the machine that made them, and the OTHER sensational errors on these is outlined with many photos. Also the same pair with PART perfs as shown above ( 3 different) – also $A250 for that pair of sheets. $A250 - (Order as stock number 785XR) | |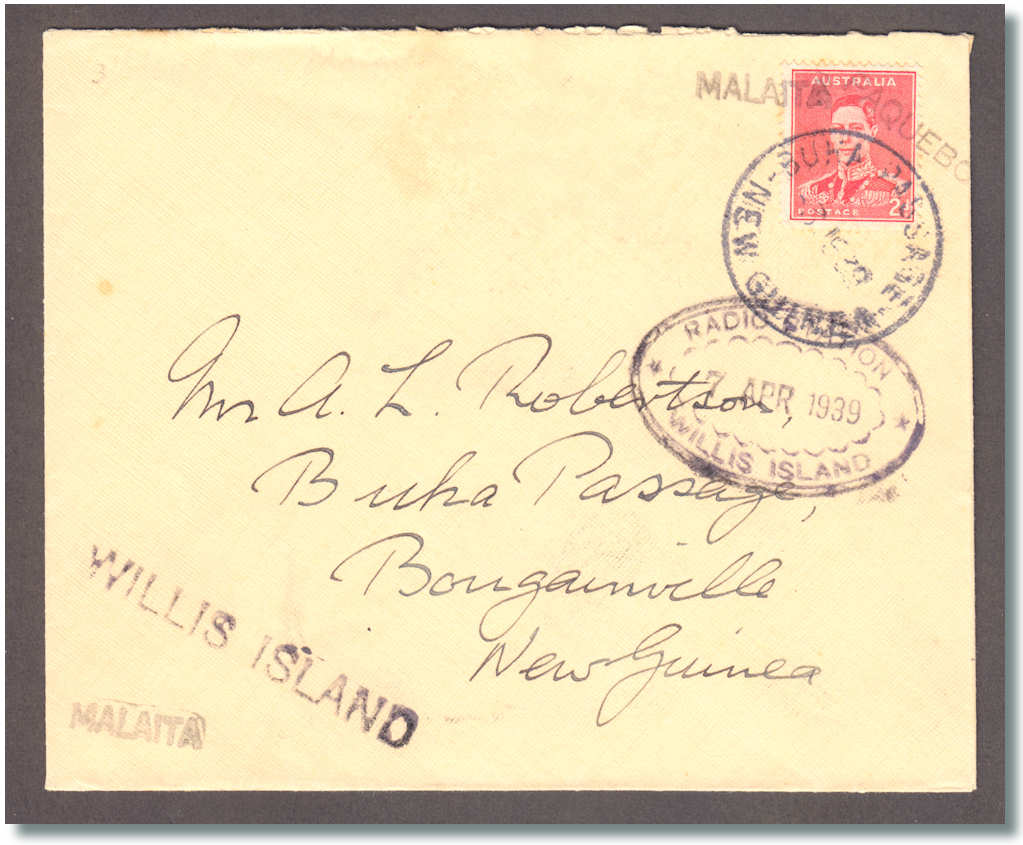 Sand Cay WILLIS ISLAND (QLD) to "Buka Passage" New Guinea 1939: FROM - "Willis Island Queensland 7 APR 1939 Radio Station" scalloped oval in Violet. And a straight line WILLIS ISLAND handstamp on face as well. With correct 2d KGVI stamp - normal domestic post rate applied to British New Guinea at this time.

The little sand cay is about 500 kms steaming east of Cairns, in the Coral Sea. Addressed to "Buka Passage, Bougainville New Guinea". The album page notes that cancel was used only until 1942.

On Burns Philip crested Belt and Buckle stationary - also with the Willis Island backstamp, so that points to it being 100% commercial. Via Burns Philp Line trading boat - S.S. Malaita - with MALAITA straight line hand-stamp, and also PAQUEBOT (Posted at sea) handstamp.

Stamp appears to have NOT been date-stamp cancelled at Willis Island, so it was cancelled on arrival at Buka Passage ..... that cds being "Buka Passage 3 JU 39 - New Guinea".

This was just before WW2 commenced, so is not a wartime cover. However the S.S. MALAITA soon became a troop and transport ship, and was later torpedoed by the Japanese. Auction price for identical cover is $A1000+. MANY more pix, map and discussion on it here - http://tinyurl.com/BukaPass - $A500 (Order as stock number 271LR)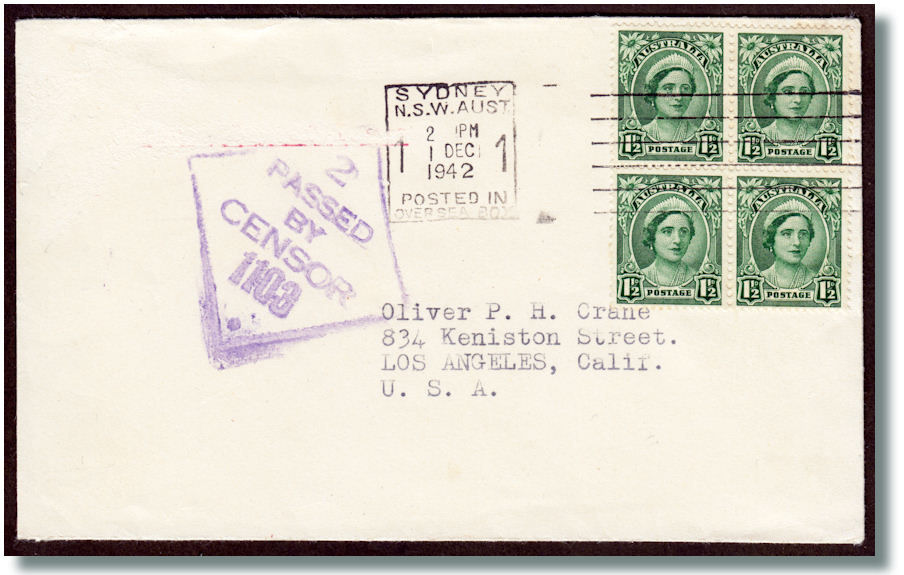 | | | |
| --- | --- | --- |
| | 1942 Australia Rare 1½d Queen Mother FDC - Just $800: One of the most scarce KGVI era covers. Issued right in the middle of WW2, and most collectors were serving overseas. No pre-announcement of these at all, and only a few genuine covers are recorded. ASC 22a $900 for a single on FDC – block 4 FDC are retail now $A2,750 - http://tinyurl.com/Block4FDC and are rare. Censored, to USA with letter inside to a friend noting it was a surprise new issue that day. Superbly clear Sydney cancel of December 1 1942 issue date. Much more discussion on it here - http://tinyurl.com/1942FDC Being a block is most uncommon, and a VERY clean cover, being overseas near all its 72 year life, and went 7,500 miles to SEA to USA right through a heated Pacific War! $A700 (Stock 629KQ) | |

REALLY IMPORTANT
- for regular visitors to this page (which changes weekly - sometimes daily) your computer generally "caches" the
old
version. Which means you only see today the PREVIOUS page content you already looked at - NOT the new lots. Hitting "Refresh" does NOT in general update this page. To quickly get around this, press the
"F5"
key
found along the top row of your keyboard. BINGO -
all the exciting new material
will now load! Try it and see.
Also allow a while for the new lots to then load up.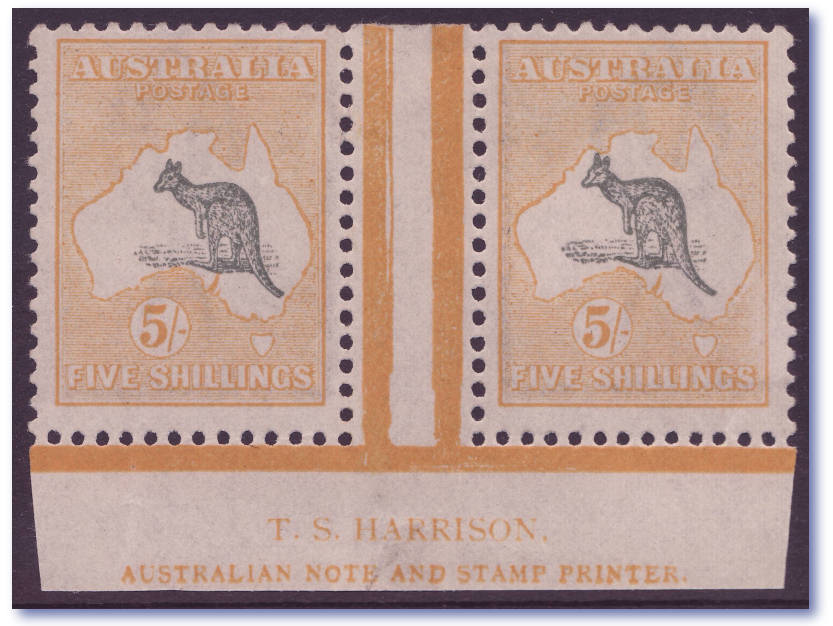 | | | |
| --- | --- | --- |
| | 1918 Kangaroo 5/- 3rd Watermark Grey and Pale Yellow, Harrison Imprint Pair: Most attractive with exceptional perfs for this "terror" which often has raggy and "fluffy" ones. Has the constant flaw on RH stamp - "White Flaw Off NSW Coast". Clean and fresh with the lightest trace of a hinge touch - most unusual, as they generally have ugly and heavy yellow hinge gobs on the reverse! Has a tiny margin split at base margin, around "E" of "Note" which you can see in photo, and mentioned for accuracy. ACSC 44ze, Cat $3,000. Note the VERY different placement of Kangaroo image on each stamp! Dirt Cheap at $A1,650 (Order as stock number 728LT) | |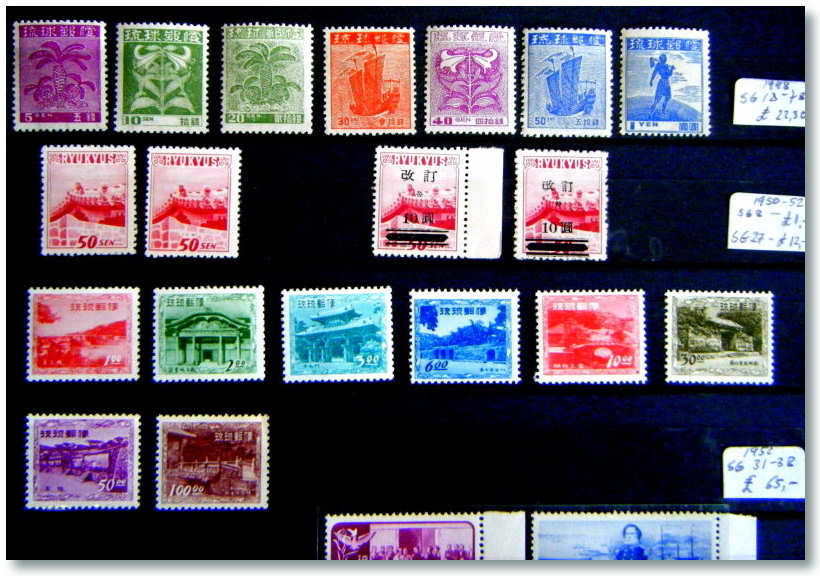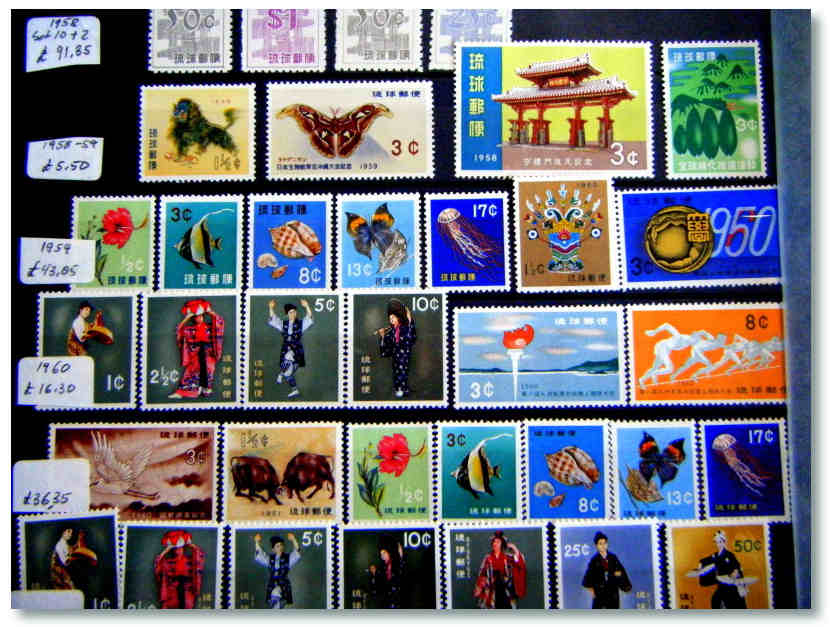 | | | |
| --- | --- | --- |
| | Ryukyu Islands, MUH stamp collection 1948-1972 cat £711=$A1,400 just $A375!: Almost never seen out here in Australia, and a great and comprehensive lot at this low price - a heap MORE pix of these pretty stamps you are buying are here - http://ow.ly/C1uVX Elusive material - now PRICE REDUCED to just - $A375 (Order as stock number 473JT) | |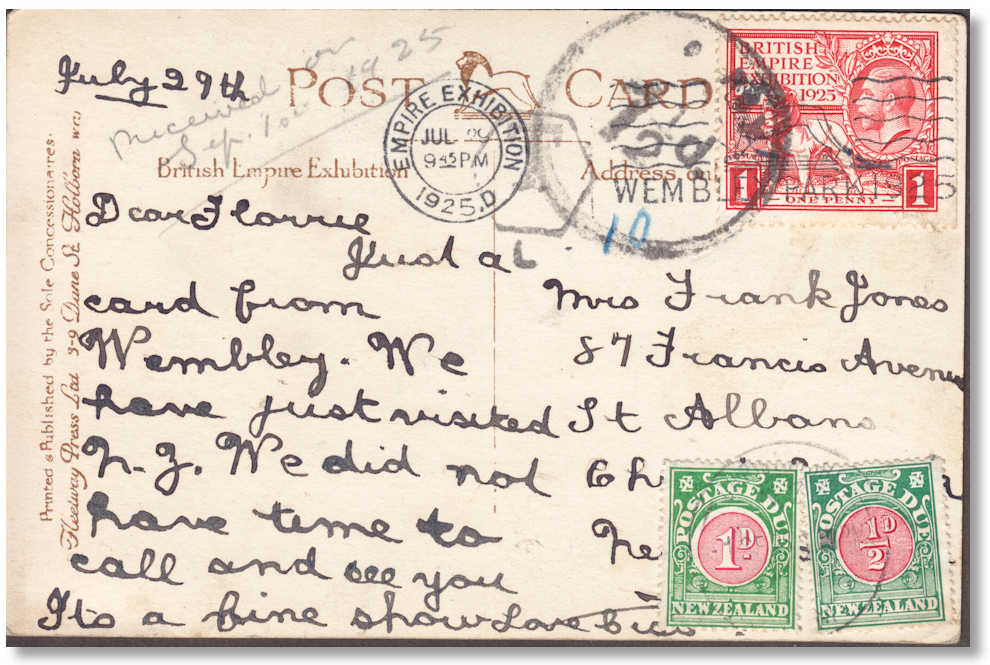 Wonderful postcard from the 1925 Wembley Exhibition in London: The 1d red KGV SG 432 postally used is rated higher than MUH even by SG, at £30 loose off card. Addressed overseas to NZ is a big bonus, and probably a $A50 postcard alone, with no Postage Due additions! Has the Wembley "Lion" design special machine cancel - "WEMBLEY PARK 1925" on the stamp, and a crisp "Empire Exhibition July 29 1925" Duplex to left.

Underpaid, so rated 1½d "Postage Due" via a manuscript "10" (UPU Centimes) in blue, Hexagonal "T" marking, and a large double circled "1½d" nicely tying the stamp. All nice enough, with a fine view on reverse of the large "New Zealand Pavilion" at the British Empire Exhibition. NOW it gets interesting. Inscribed by recipient in pencil at top left "Received September 1st, 1925". And tied by clear "1 – SP - 25" cds at arrival office. Many more pix here inc close ups - http://ow.ly/BYlqp

You might imagine a ½d and 1d Postage Due, tied by arrival office of "St Alban's Christchurch" would add little. WRONG. (If they were SG D23/D24 you'd be right however!) The ½d is the SG D26 on the white gum Jones Chalky paper, issued in May 1925. SG Cat "From x 6" on cover = £330 or $A600+. How do we know is it the watermarked D26 from May 1925, not the cheaper No Watermark D27 issued July 1925, just 2 months later? As I carefully, with wetting fluid "lifted" the lower half of the stamp! That very clearly shows a watermark "43" and white gum. o we have a nice 1925 Wembley postcard to NZ ..... itself a very nice piece 'as is'. Underpaid, and payment collected via a Postage Due stamp that was in existence for a mere 2 months, and indeed the current SG value of that seems pretty light-on to me, and would there be another on cover anywhere - I doubt that. All in all, a nice little unique piece, in VERY good condition for ~90 years old, that I added to stock today for just: $A200 (Stock 294RE)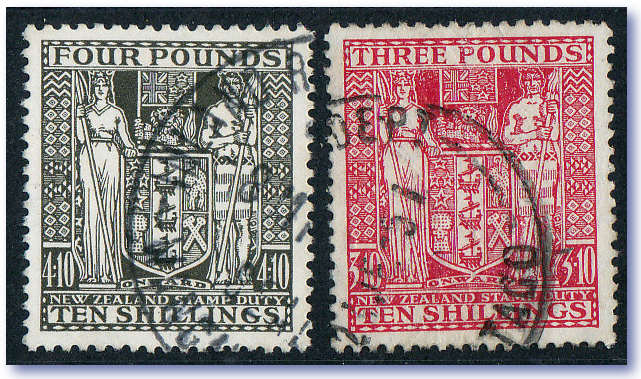 | | | |
| --- | --- | --- |
| | New Zealand – KGVI reign £3½ and £4½ "Arms" issue for tiny % of SG! £4,250 for $A495: Clean Fine Used, with no faults or repairs or embossing. Cancelled with non-postal dated cancels, that many dealers would simply sell as "FU". A stamp pair missing from nearly all KGVI collections, worldwide. SG Cat F 209 - £2,250 and SG F167 £2,000 for $A275 each – or the both for $A495. The fiscal copies of these usually have multiple ugly auditor hole punches, and/or pen or crayon cancels and/or heavy embossing "crimps" – or all 3! Pop them on ebay, and you never do know! I have a couple of each. Sold for just a few % of the Gibbons cat for postal used. Or buy the SG cat £4,250 pair = $A8,500 pair at just - $A495 the PAIR - (Order as stock number 502GL) | |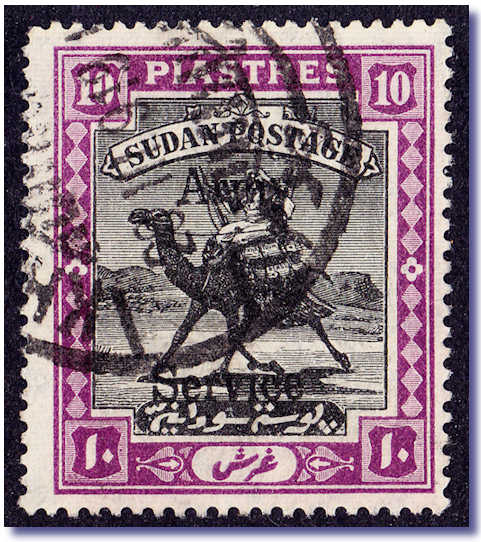 1911 Sudan Camel Postman 10pi top Value "Army Service" Stamp FU:

Black and Mauve Star and Crescent watermark, with nice dated cds of Khartoum on top of the overprint. Clean and fresh used with strong deep colour. SG A13, Cat £700 = $A1400 - just 25% of SG

$A350

(Order as stock number 296GL)

| | | |
| --- | --- | --- |
| | MALTA 1860s to 1960s M+U Coll. Cat £930 for $A400: On a stack of old SG 'Senator' Leaves. Not seen by anyone for 50 years. Great starter lot of this wonderful country. Cat £930 = $A1800 as you can see, and condition a trifle mixed as always on large lots. Ton more photos here - http://tinyurl.com/MaltaColl Will sell fast at just $400 or under QUARTER Gibbons. $A400 (Order as stock number 498FD) | |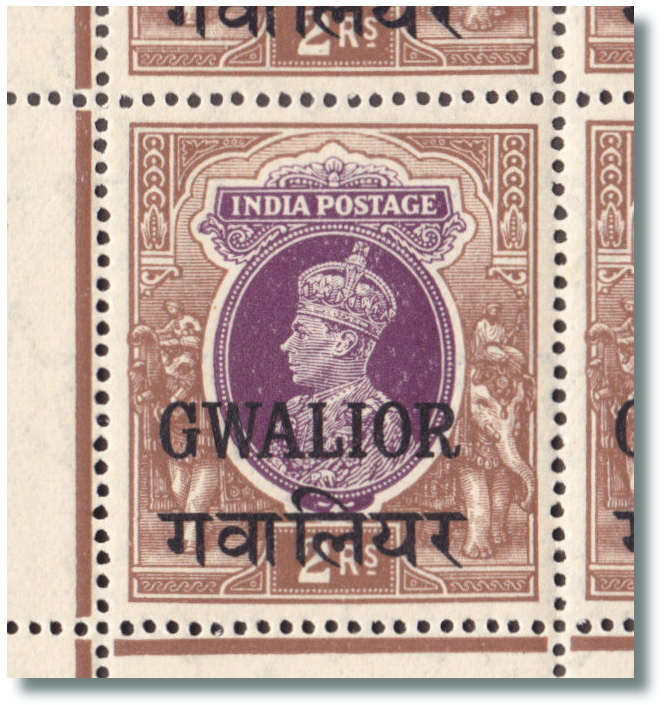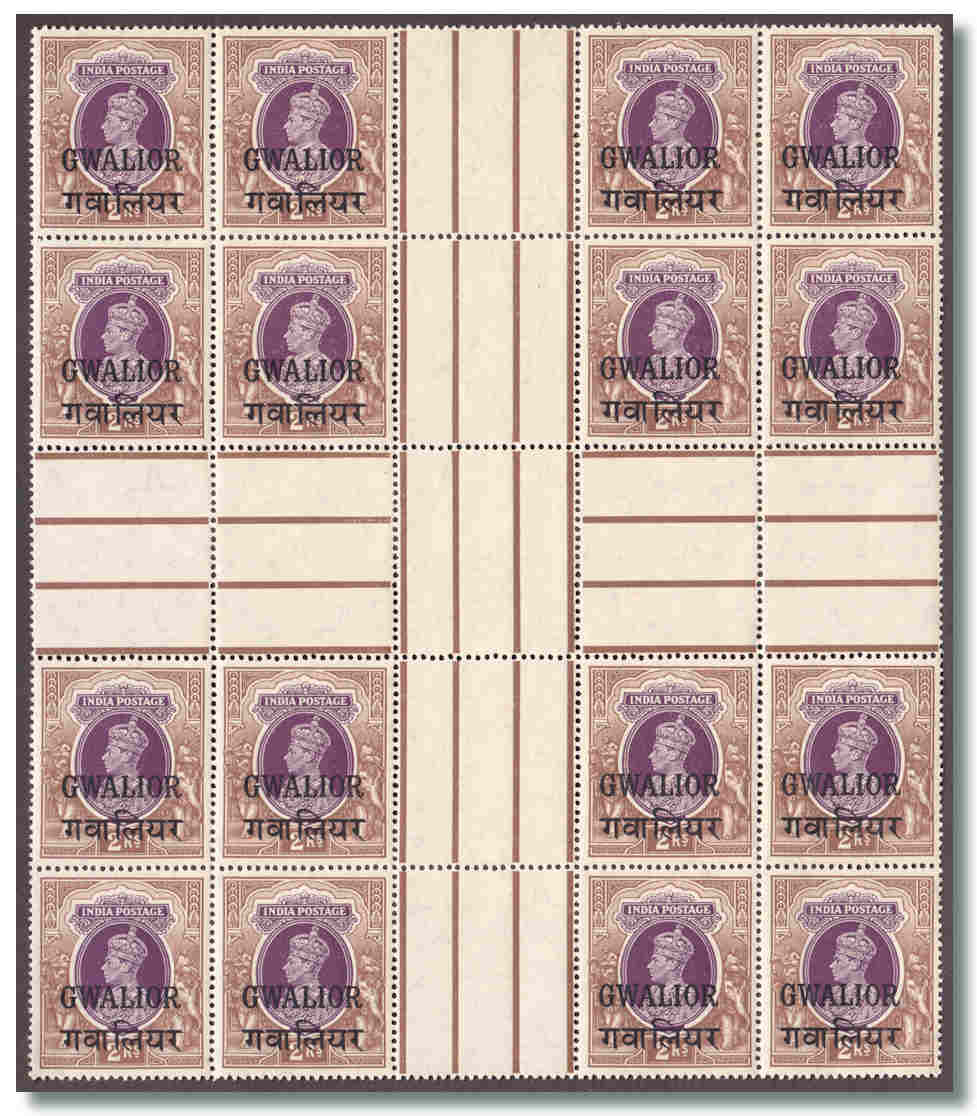 | | | |
| --- | --- | --- |
| | INDIA Gwalior State 1938/48 KGVI Hi-Val, cross gutter MUH Block 16!: A most spectacular and probably UNIQUE block. Fresh MUH – rare enough for something 76 years old. Gum on these if stored in India is deep brown – this is a beauty. All the interpanneau gutter lines, and not even a hinge touch. SG 113 Cat £880=$A1700 as 16 mint singles. Scott #113 $US1,000. In my view, all India related high values in CLEAN condition and MUH, have a TON of future upside. These are just $A28 each! My steak cost that tonight. $A450 (Order as stock number 936KT) | |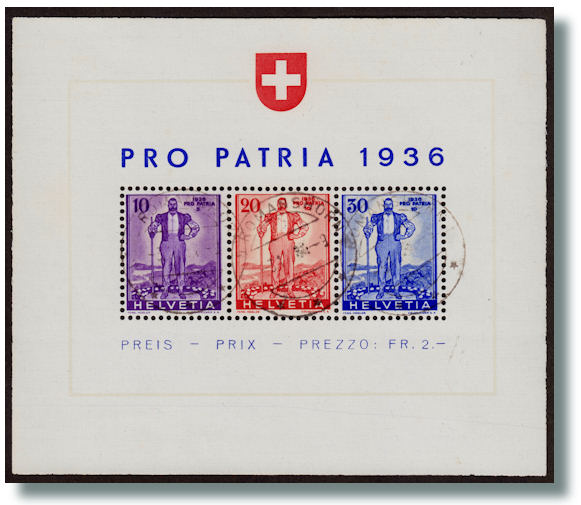 | | | |
| --- | --- | --- |
| | Switzerland 1936 "Pro Patria" Miniature Sheet - Superb Used: Fresh and clean and flat, with well centred stamp impressions. Being large size, these often have creases or thins, or bent corners etc. Clean and fresh. "LUXUS". Michel Bloch #2 - 260 Euro, and SG 367 £300 = $A600. $A165 (Order as stock number 241LE) | |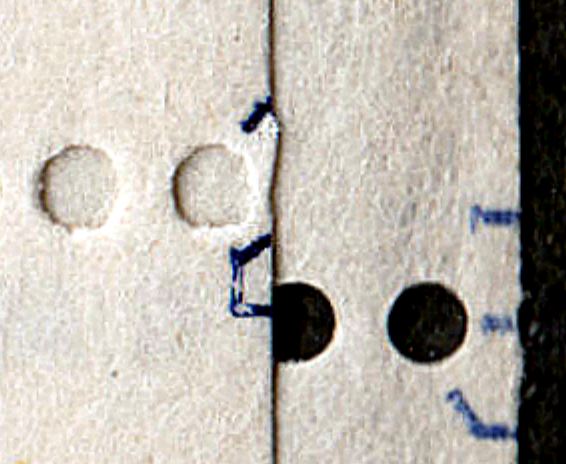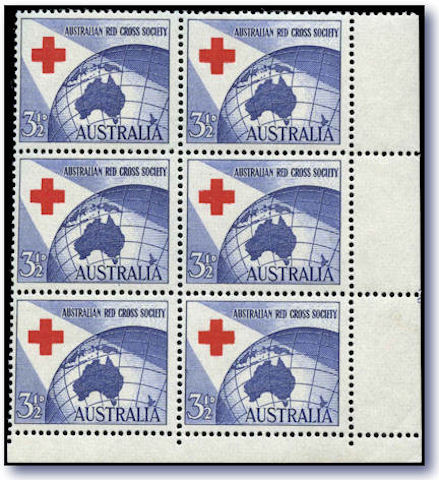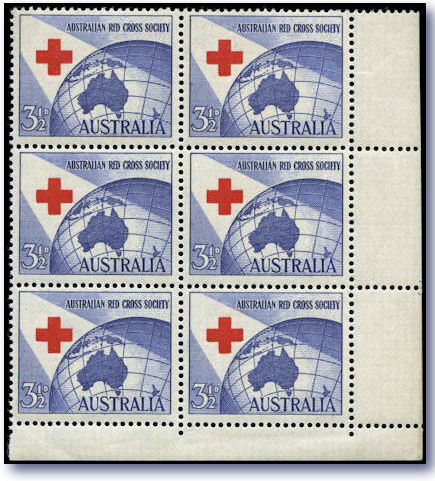 | | | |
| --- | --- | --- |
| | Australia 1954 3½d Red Cross stamp, Matched Plate Number '2' and '3' blocks 6 MUH: SG #276, lower right corner MUH blocks of 6, with Plate Nos '2' and '3' on outer margins. ACSC #312z. Really scarce .. near all were guillotined off when trimming down the sheets. MANY times scarcer than current ACSC prices would suggest. I see one block each few years. (12) Both fresh MUH, gum wrinkle on 1 stamp. $A200 (Order as stock number 143EY) | |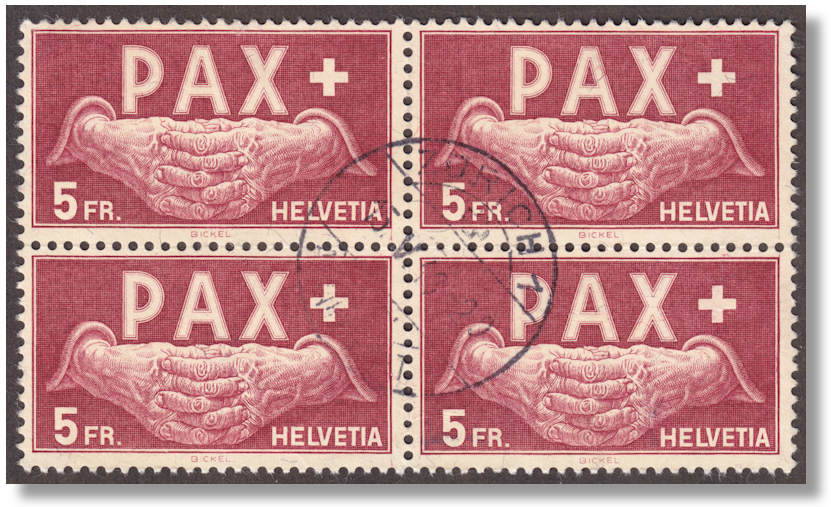 | | | |
| --- | --- | --- |
| | Switzerland 1945 "PAX" High Value 5FR, in Superb U Block 4, under ¼ SG!: Attractive clean used block 4, on the silk thread fibre "Granite" high security paper, with central "ZURICH 15 V 46" cds. Europe's most expensive post war stamp I think, and in a postally used BLOCK is an absolute gem! SG 458 £1,800 = $A3,500 in latest 2014 SG cat. Was used on a heavy parcel to Australia. Had lower margin on when I got it, but that was a little wrinkled from parcel transit so I removed it, but that is added to stockcard in case you want to hinge it back on! USED Blocks in Swiss stamps are super keenly sought, and often vast premiums are paid for them over 4 singles. Bought well, so to clear at under a QUARTER SG cat, of 4 singles! $A800 (Stock code 722EX) | |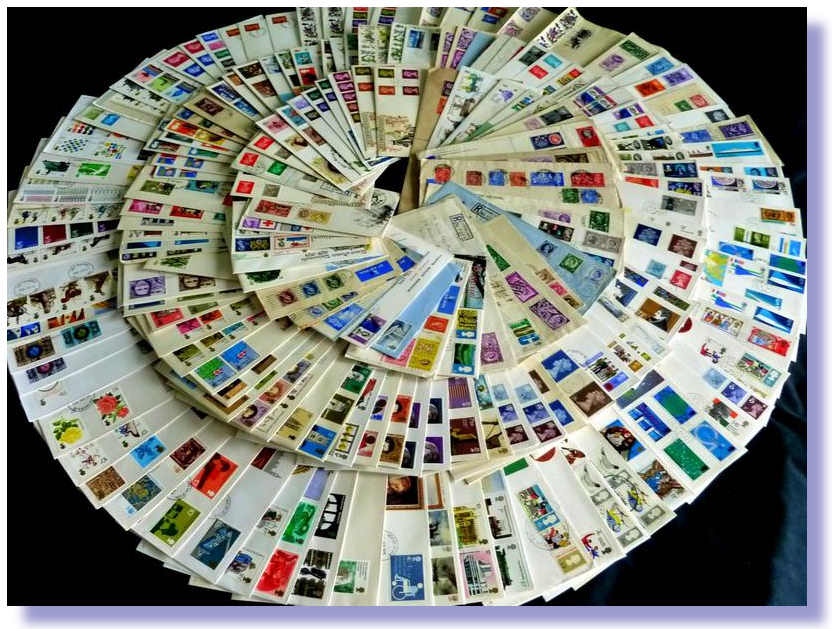 | | | |
| --- | --- | --- |
| | GB large FDC collection 1936 to 1975 - SG £2,550 = $A5,000 for just $A500!: Large boxful. 1936 KEVII (Plain Reg'd) Nice pictorial 1937 cover, some good QE2 early Wildings. Good early commems (some phosphors even) and Large Machin Defins to £5 etc. Mostly cacheted official PO FDC. Many are PO unaddressed, some are Registered the others majority neatly typed to original buyer. Usual mixed condition ex estate, as these near all went through the 10,000 mile mail trip. SG cat lightly 3B Pencilled on each, and in 2005 that was £2,551 = $A5,000 today. A TON more pix of them here - http://ow.ly/AtNT7 Did a quick spot check in latest SG Concise and those I checked had gone up about 10%. So buy in one nice run for UNDER 10% of SG Cat! $A500 (Stock 635DF) | |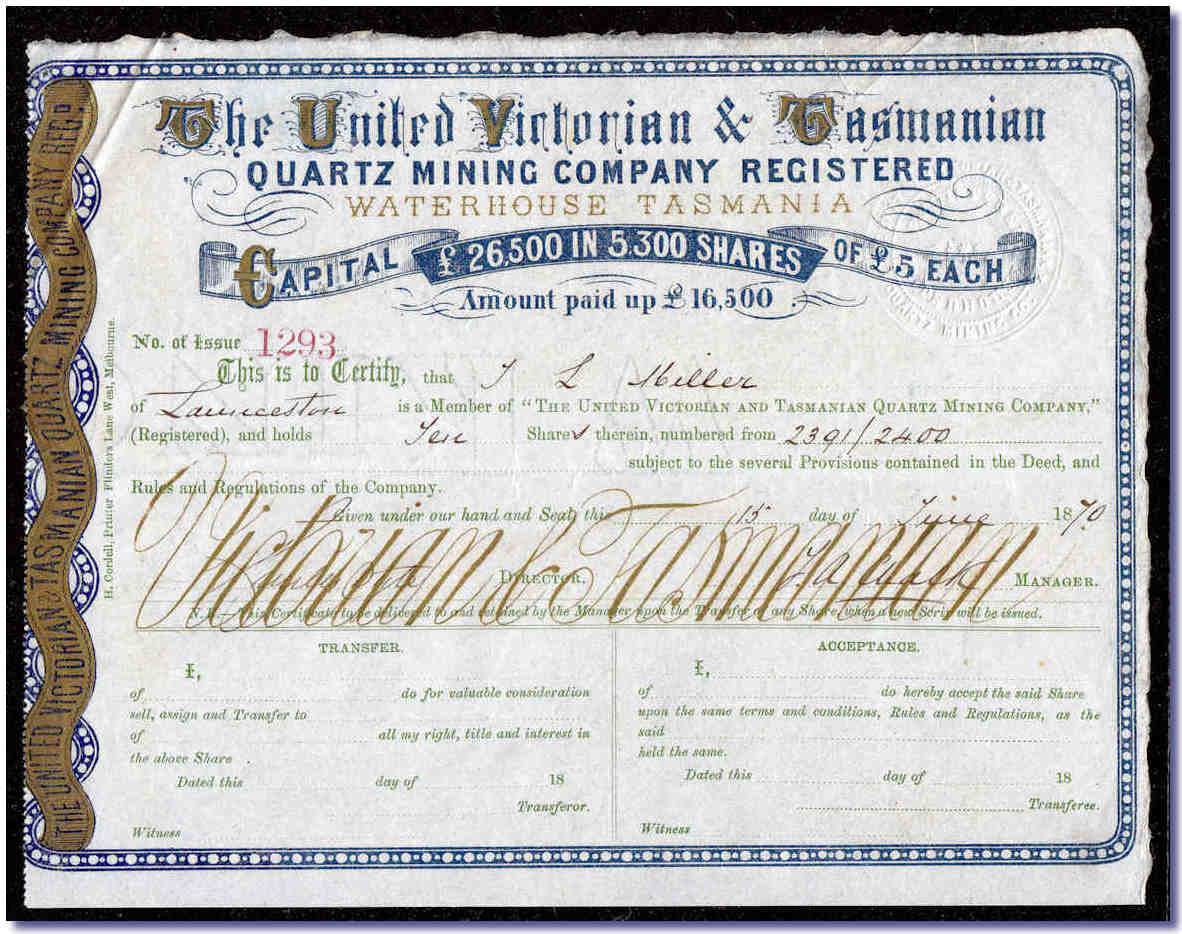 Superb and Ornate NE Tasmania 1870 Share Certificate: (Price Just Reduced By $200 - HALF price!) I paid a lot of money for this one, as it is by FAR the most attractive and colorful share cert I have EVER seen from the Australasian area. Mostly they were pretty boring and drab looking, but this is an absolute gem - a real ornate work of art, as can be seen with gold leaf even! On watermarked, deckle edge quality handmade paper.

"United Victorian & Tasmanian Quartz Mining Co" 1870 blue & gold 'Scrip Certificate' for 10 shares. Beautiful! This relates to the short-lived gold rush at Lyndhurst (then called Waterhouse) in NE Tasmania. Gold was discovered there in 1869. The similar era and size, private Australian banknotes have gained in interest enormously in recent years and sell into 5 figures. Again, the most ornate get the best prices in general. These are very akin to those private banknotes.

A near identical one - made out to same person even, with near identical share registry numbers, was offered at the nation's leading Numismatic auction Nobles last month and was invoiced after costs for $A815 - on a $250 estimate - http://ow.ly/AlvIE See large blow up of it on that site. Save $515 buying from Stevo for a finer example! Absolutely wonderful fresh condition for 140 years old – and no pinholes as per the Noble's example. $A300 (Order as stock number 527GD)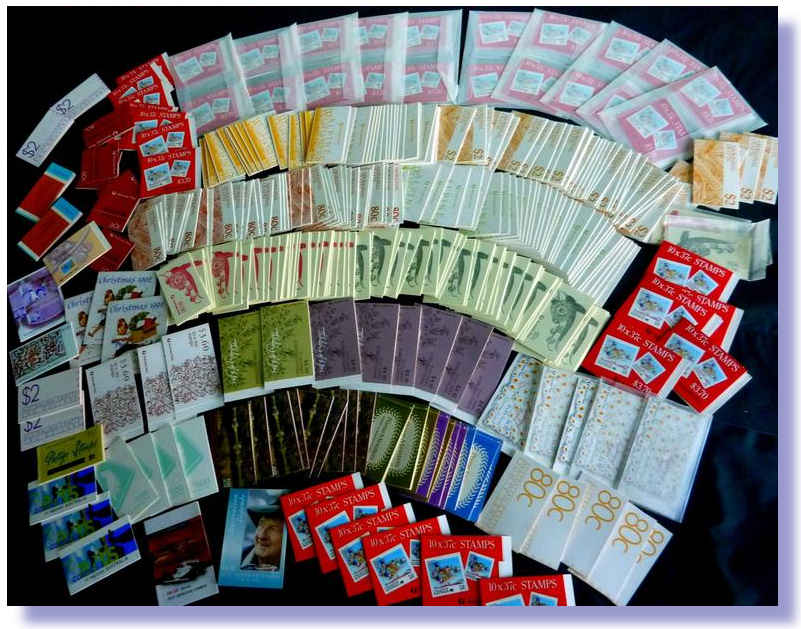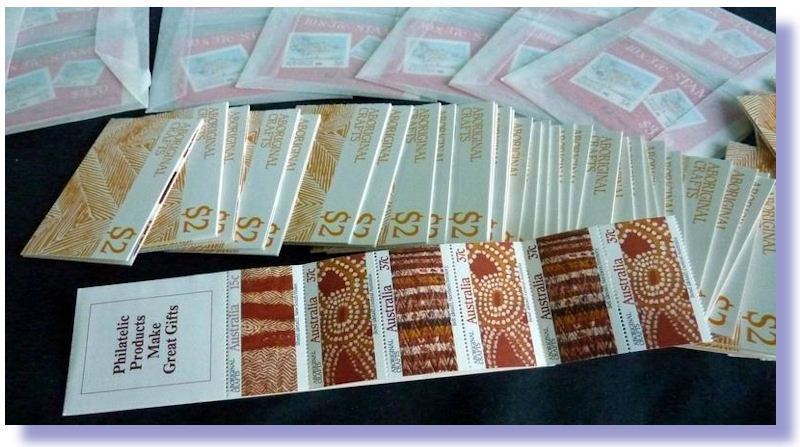 Aust Booklets HOARD of 320, 1967-2002, SG £1407. $A600: Bought this from an Estate, where owner has quietly bought up these popular items. The 1986/1987 Alpine Flowers and Aboriginal Craft sets are VERY high priced in SG as you can see as booklets or stamps, and USED.

The 5 different stamps in the Aboriginal craft set SG 1093/1097 are cat £8.75 mint and £14 USED, and the ONLY source of them is these booklet sets. EVERY printed album on earth has spaces for these Aboriginal Craft stamps, the Alpine Flowers and Eucalyptus etc, and they are ALWAYS sought after.

These have always been big sellers on ebay, in stores, and to booklet collectors etc. The FACE value is $A542, and you are paying a shade over actual face - and these go back near 50 years! SG Cat is £1407 = $A2800. You are paying way under QUARTER GIBBONS! Dozens of extra pix and checklist here - http://ow.ly/A8pDl $A600 (Stock 314WD)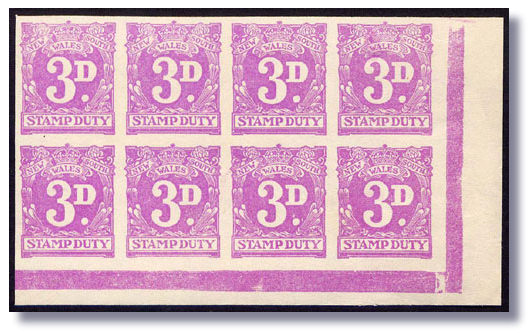 | | | |
| --- | --- | --- |
| | New South Wales Stamp Duty *IMPERFORATE* MUH Block - $25 each!: 1938 No Wmk, imperforate 3d Purple, corner block of eight, fresh unmounted mint. A lovely eye-catching piece for any collection - and at only $A25 apiece! Lovely shape for 76 years old, and it is believed only a part sheet was found. Un-recorded in Elsmore and Barefoot. $A200 (Stock number 994XD) | |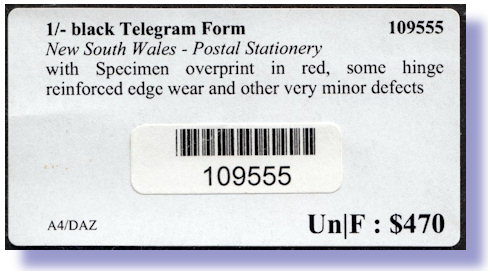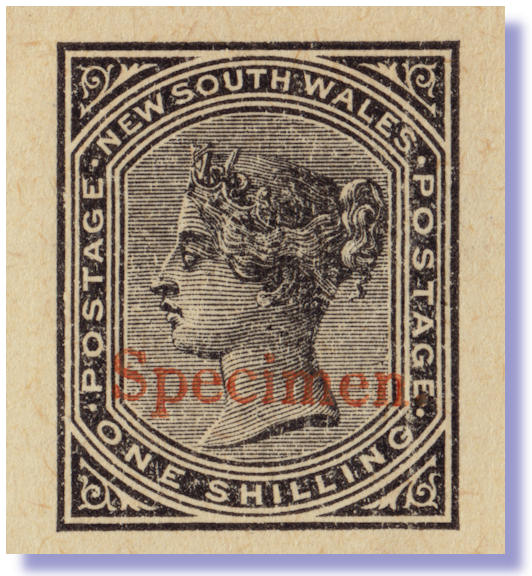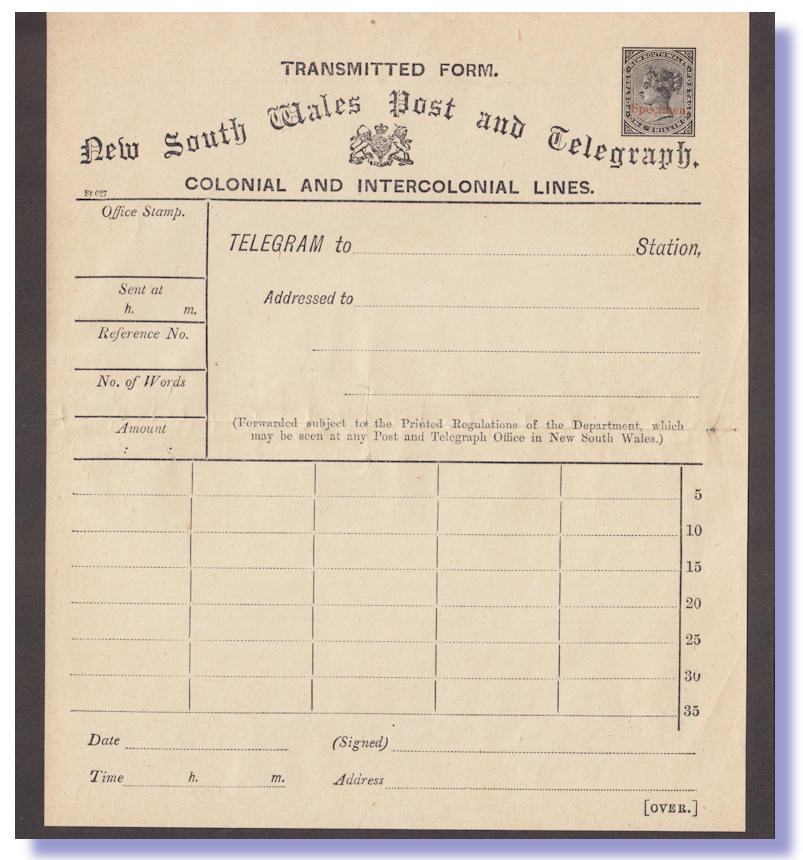 NSW 1894 1/- QV DLR Telegram Form o/p "SPECIMEN" $A225: The very scarce 1/- black Queen Victoria value, showing the 1876 De La Rue design type. Cost the buyer $470 as you can see! These NSW Telegraph/Telegram forms were issued in February 1894 – 120 years back. The 6d value was for city and suburban messages, and this 1/- was for inland messages. The messages could not exceed ten words for the pre-paid 1/-. Lovely item to display for the collector – fits nicely on a #1 Hagner Sheet, or album or stockbook page, and looks very attractive on the face as you can see.

A little sensible hinge reinforcing as usual on reverse, as they were UPU distributed folded horizontally, to the recipient UPU countries, and these are on very fragile paper. I've seen these in the past where foxing is very bad due to the cheap acidic paper used, and this is VERY clean I am pleased to say. Previous buyer had paid a Melbourne dealer $470 .. still in that wrapper – see scan of his write-up. That seems manifestly excessive (Melbourne dealers are well known for that!) and I am happy to let it change hands at well under ONE HALF that bullish figure. I've seen the pair get over $700 at public auction so this is quite a deal - indeed I have the 6d for $A200 if you want to complete the set! $A225 (Stock 815LW)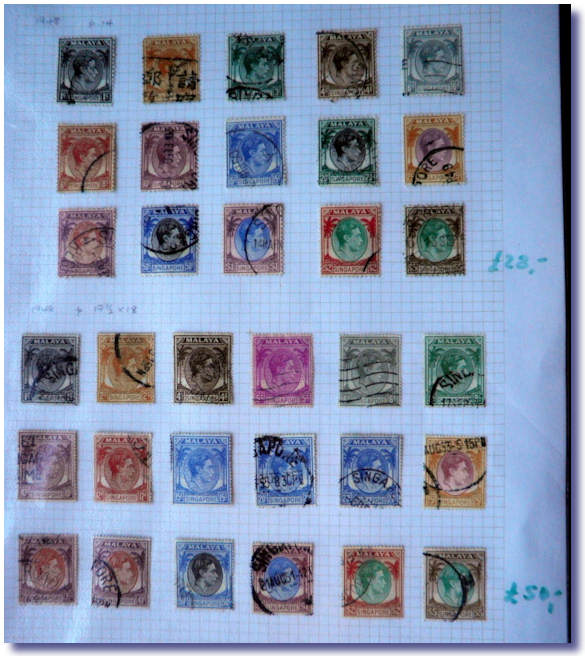 | | | |
| --- | --- | --- |
| | SINGAPORE used coll, from SG 1 to 1990. SG £938 for just $A400: (Price Just Reduced By $100!) Handy lot, from KGVI Defins - sets to $5 in both perfs, to 1990. Many key sets and Defins all through. A lot more pages of stamps shown here - http://tinyurl.com/SINcoll Correct SG cat is £938 = $A1,850 last year – higher in new cat for sure. All on pages in side plastic protectors, in a red album. Condition seems OK on a quick look, but being in protectors, hard to check them! Under a QUARTER SG Cat - $A400 (Order as stock number 187QV) | |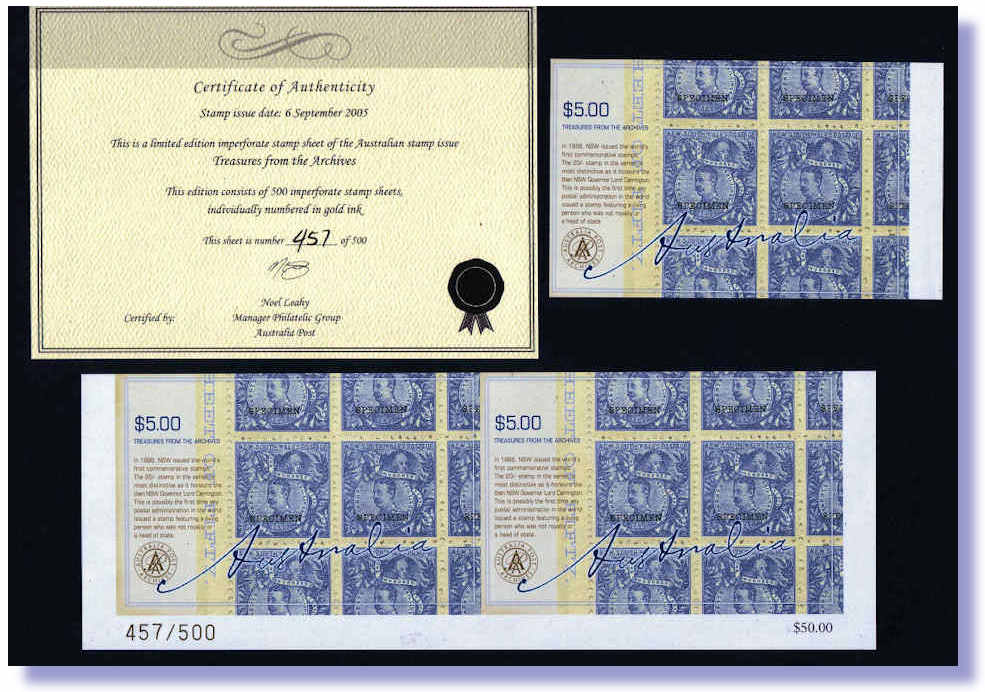 Complete IMPERF sheet 10 of $5 "Treasures Of The Archives": Features the NSW 1888 20/- (£1) "Carrington" the highest face value postage stamp ever issued by New South Wales. It was replaced by the 1913 £1 Brown and Blue Kangaroo First Watermark. Stamp is MASSIVE - 105 x 70 mm. (About 4½" x 3"!) Literally the size of many modern Mini Sheets. The sheet of 10 is about the same size as a regular sheet of 100 stamps.

Just 500 of these sheets were issued IMPERFORATE by Australia Post. They were sold via a telephone order allocation on January 10, 2006 - the first callers to phone after a certain hour could buy STRICTLY one sheet. There were only 500 sheets ever sold by Australia Post. All were numbered in gold ink on lower left corner as illustrated. About 350 MUH sheets were sold by the phone ballot. The other 150 sheets were nicely framed with a brass plate and special numbered AP Certificate - the same as illustrated here. They sold quickly at $149 each.

The fools GLUED down these 150 sheets with a strong adhesive "to keep them flat", so those 150 were destroyed as far as "MUH" was concerned. So we have about 350 MUH sheets of 10 remaining for the world. Of an official imperforate issue sold by Australia Post. Of a beautiful stamp topical. Demand of course was massive and most collectors who were successful in waiting on the phone for 40 minutes have no intention whatever of parting with their prize, no matter how high the price gets. A classic "supply and demand" squeeze!

NONE

were sold to dealers or overseas agents - unless they phoned up and waited on the line like everyone else! I have not heard of one dealer who bought them from AP. I bought a few sheets and sold them off as singles for $A215 and imperf pairs for $A400. And the full sheet of 10 for $A1,750. I bought one back from an Estate today – superb and flat MUH, and in the special hard card storage envelope. Buy it at

HALF his cost price

at $A875. Each huge imperf costs you $87 each – you could double your money offering on Ebay etc I feel sure.

$A875

(Order as stock number 852LH)


| | | |
| --- | --- | --- |
| | Netherlands 1913 Centenary Set 13, Cat £1325 – just $A600: This is the complete set of 13, attractive clean used. The same year and same importance as the 1913 Kangaroo set – THOSE are over $6,000 used, and these are just $600! Michel 81-92 cat E1,100. SG 214/222 £1325 - $A2600, just - $A600 - (Order as stock number 283LF) | |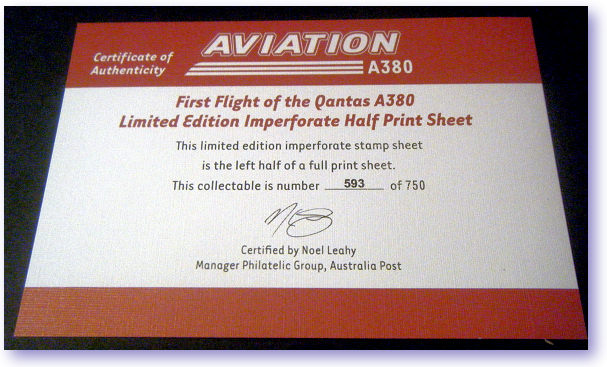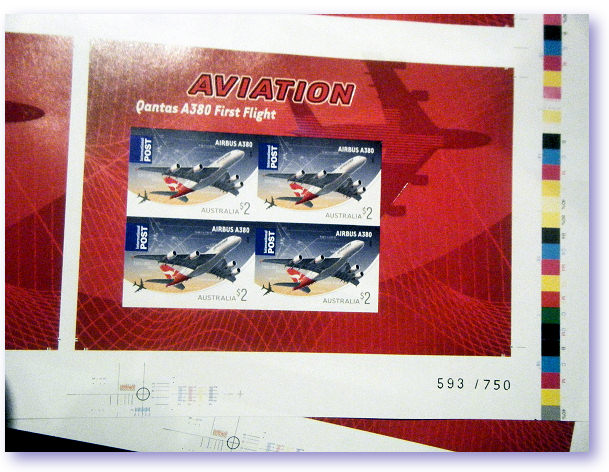 QANTAS $2 Airbus A380 stamp, totally **IMPERFORATE** Block of 4 – just $A40!: Australia Post released just 750 x IMPERFORATE uncut panes of mini sheets of 4 x $2 stamps. You needed to phone a special '800' number after midday, and maximum order was a sheet a person, and they sold out within hours as you'd expect. All the $2 stamps depict the massive Qantas Airbus A380.

Each sheet is foil numbered in lower right margin, and also comes with a hand numbered PO Certificate Of Guarantee that only 750 panes in TOTAL were sold, including all left and right panes. Indeed there were only 375 left pane and 375 x right pane ... both panes of 12 sheets are marked thus lower left. This is a Qantas Airbus A380 issue and that is a red hot theme, even for non stamp collectors. And it is fully imperforate. It is an 100% OFFICIAL PO issue, and one of the very smallest issues in the post war era.

It is limited, and has remained RED hot - just like the stamp border colour! I obtained a few by paying folks $100 to sit on the phone for hours re-dialling until they got through! Price per IMPERF pane is from $A40 – full details here - with a LOT more photos of all the options and choices on these – even full uncut sheets available for $A350 - http://tinyurl.com/lspm4vf $A40 (Order as stock number 433VN)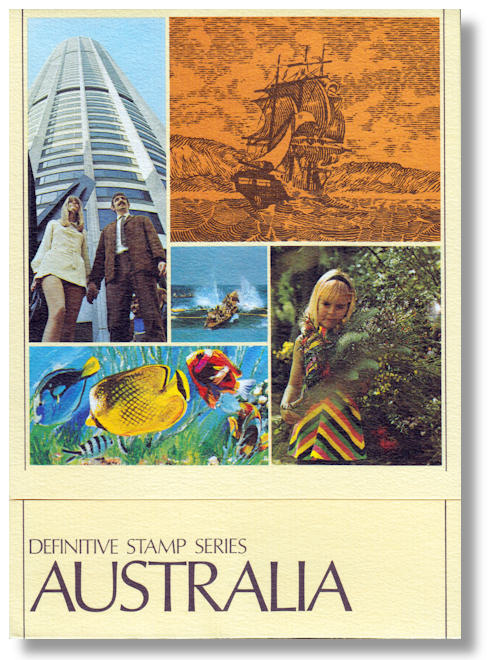 | | | |
| --- | --- | --- |
| | Australia 1970 "Definitives" Post Office Pack: The *Gorilla* …. the scarcest Australia face different PO pack by several miles, as it cost a FORTUNE back then. I see one each few years or so. This larger sized B5 pack has all the current Defins right up to the 1966 Navigator set 6 in a Hagner type sheet inside. The $4 King alone cost EIGHTY times the then 5c letter rate, i.e. a $56 stamp alone in buying power, on today's 70c rate yardstick. So the pack was about $A150 type buying price, adjusted to today's money. Little wonder almost none sold! ASC P7 – Cat. $450 and seldom seen. Fresh and un-opened. $A300 - (Order as stock number 439ZB) | |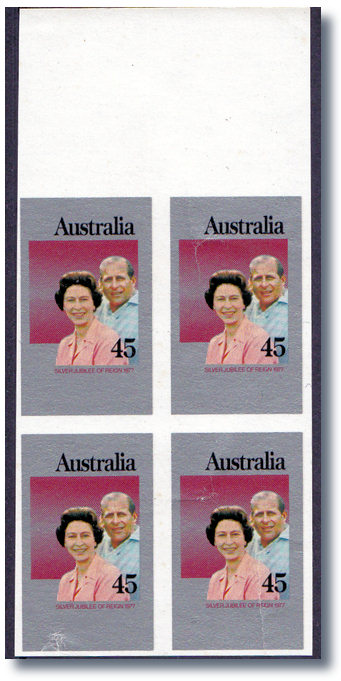 | | | |
| --- | --- | --- |
| | Australia 1977 Silver Jubilee PLATE PROOF BLOCK 4 at Quarter Cat! Always a fast seller. These are official PO plate proofs, and like all the others have some creasing. ACSC 766PP(1) Cat $500 per imperf PAIR or $1,000 a block 4. Seemed a real shame to cut it into pairs but if you want a pair, I will do that for $A140 .. your choice or top or bottom. $A250 - (Order as stock number 225RL) | |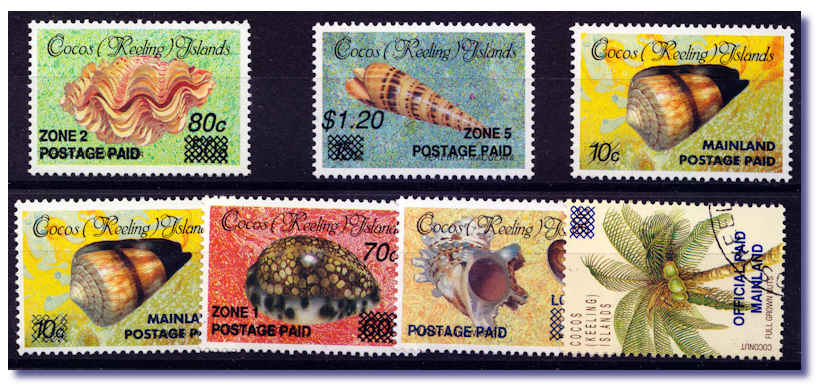 | | | |
| --- | --- | --- |
| | Cocos Island 1991 Provisional overprint set of 7: Fresh MUH set of 7, SG 234/239, and the very rare 1991 Coconut "Official" which as always is CTO with full gum – and was never issued Mint. (SG 01) ASC 140a/148a. One of the priciest and most sought "Shell" stamp sets of the post war era - globally. Retail $300. $A200 - (Order as stock number 107CQ) | |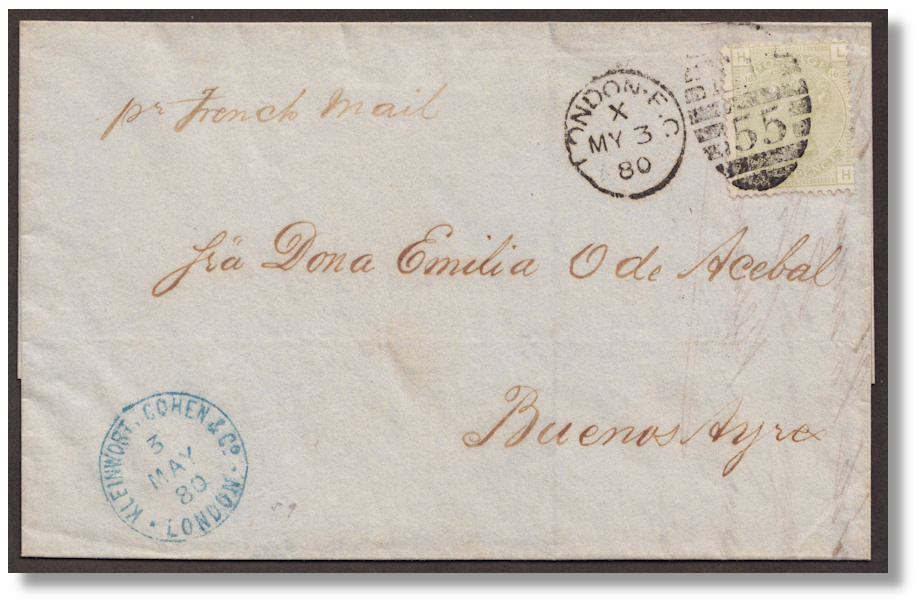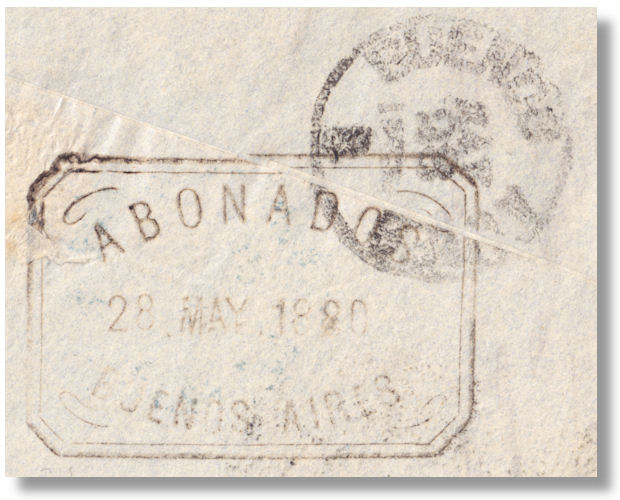 | | | |
| --- | --- | --- |
| | GB 1877 4d Pale Sage Green on neat cover to ARGENTINA! SG Cat £600+ - $A225: A short lived pale color, and covers seldom seen, hence the high SG price of "From £600" = $A1125. Better still, it is to ARGENTINA. Clear London "May 3 1880" cancel, and endorsed by sender as "PER FRENCH MAIL". Neat corner sender dated "chop" in BLUE, of "Kleinwort Cohen & Co London" - later Kleinwort Benson, bankers. Lovely clear arrival 8 sided double boxed (Paid) cancel: "ABANADO 28 MAY 1880". A worn Buenos Aires cds alongside for same May 28 date. Amazingly fresh condition for 134 years old. SG 153, Plate 16, Cat $1,125, for just 20% of SG - $A225 (Stock number 928EJ) | |


| | | |
| --- | --- | --- |
| | Greece 1906 Olympics High Values, perfect centred mint: Not often seen well centred, these as you can see are spot-on perfs and centering wise – far better than usual. Fresh Mint with hinge remainders. 3D and 5D - top 2 values on this long set – the £1 and £2 Kangaroos of this era. These are now 105 years old. I also have the Greece 1896 Olympic set USED to 5D, and the 10D used on its own, very cheap if anyone has gaps there! Michel 156/7 Cat E350. SG 195/6 £350. $A200 (Order as stock number 283LR) | |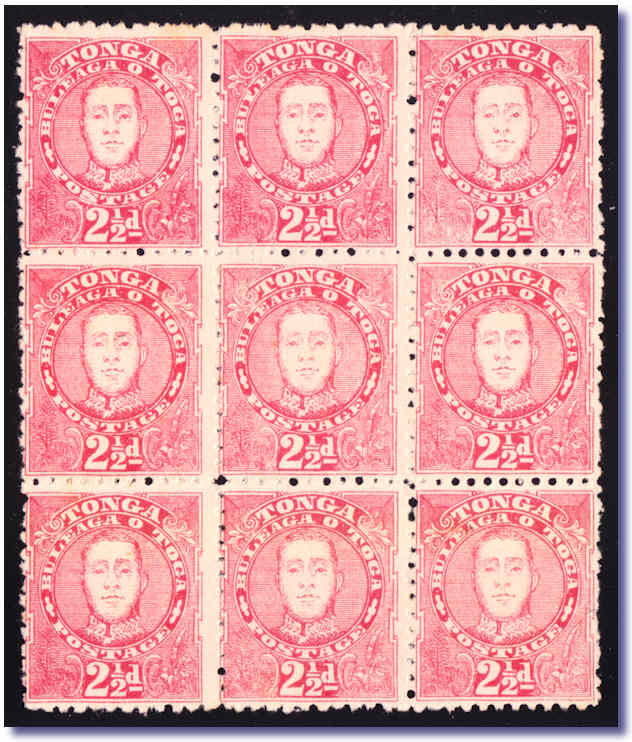 | | | |
| --- | --- | --- |
| | Tonga 1895 George II 2½d Rose block of 9: SG 33. Characteristic rough perforations, fresh and flat unused, Cat £261++ = $A500++. BLOCKS from Tonga of this era are most elusive. A block 4 of the 1897 'Inverted Centre' of this same King recently sold for $A75,000 – despite being way off centred, and thinned on 2 stamps! SG of that is only £24,000 - yet 3 bidders fought it out madly over the phone - http://tinyurl.com/MayGlen - so grab an issue from the same era for just - $A200 (Order as stock number 725GA) | |



| | | |
| --- | --- | --- |
| | USA 1974 10c Kentucky Settlement, error "Dull Black colour omitted": Scott 1542a, SG 1540a, fresh unmounted mint MUH. Perfectly centred as you can see, and with well centred normal stamp for comparison. Fort Harrod - Kentucky Settlement Centenary 1874. Scott Cat US$700 or SG £650=$A1,300. Very striking error and seldom offered. $A375 (Order as stock code 932LW) | |

REALLY IMPORTANT
- for regular visitors to this page (which changes weekly - sometimes daily) your computer generally "caches" the
old
version. Which means you only see today the PREVIOUS page content you already looked at - NOT the new lots. Hitting "Refresh" does NOT in general update this page. To quickly get around this, press the
"F5"
key
found along the top row of your keyboard. BINGO -
all the exciting new material
will now load! Try it and see.
Also allow a while for the new lots to then load up.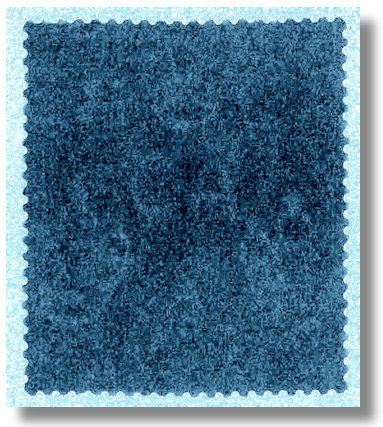 Bermuda 1920 2/- KGV, VFU with *WATERMARKED REVERSED*, Cat £2,500 for just $A1,500: One of the highest catalogued 20th Century Bermuda stamps - a true Classic from this super popular collecting area. The reversed "CA" watermark shows perfectly and clearly and centrally on the reverse – as you can readily see, in the over-exposed image above of reverse, tweaked to highlight the "CA" letters.

This is a huge bonus, as most reversed watermarks you need to peer and squint at, and still not be at all certain. (SG of course lists all wmks as seen from the FRONT.) Fine used and fresh - free of hinges, toning, thins and gunk, and beautifully centred. With lightest face free "Parcel Post" cds, and bright and attractive colour. Be impossible to improve on this one methinks - for quality, appearance, or for price! One THIRD of SG. SG 51bx £2,500 = $A4,750. $A1,500 - (Order as stock number 638HX)


New Zealand 2006 Kapa Haka "Unissued" set of 5: Sold, advertised, mailed and charged to some standing order clients by NZ Post. But hastily withdrawn in panic at 11th hour, as some Maori activists did not like the design images. 39 mint sets of 5 were mailed and they are the rarest post-war issues for 100 years from NZ. (See note in SG "New Zealand" cat.) An affordable way to buy these is via the un-issued 45¢ "Poi" Maori dancer self-adhesive booklet stamps or the 45¢ coil version. FAST ordering is recommended as when my small stock is gone, they can't be replaced.

Price is $A2,000 a single 45¢ self-adhesive booklet stamp neatly cut from the block, or $A3,950 a horizontal pair. (45¢ Coil stamps the same prices) Or $A7,000 a booklet block of 4 - if a block is still intact of course when you order! (A block of 4 is a booklet "pane" - each booklet has 2 panes of 4, and a pair.) Or the complete booklet of 10 for $A14,000. (One only in stock.)

These figures are miles lower than NZ retail which is high as tiny supply rapidly shrinks, and news of their existence slowly spreads overseas. "Linn's Stamp News" carried my story on these front page in colour. And best of all, the NZ dollar has strengthened a lot against $A in recent months. A Len Jury auction in Auckland saw a set of 5 of these sell for $14,900 on a $13,500 estimate, and a later Mowbrays NZ sale had a set 5 invoiced at $14,562. I have several full sets of 5 for sale MUH at $A8,500 a set 5 or $A45,000 for a plate block 6.

If you buy them off me, as an Australian resident, you avoid a certain 10% GST impost upon arrival from NZ as a highly insured item, versus ordering locally, and avoid the nasty new 3-4% "overseas use surcharge" + bad exchange rate your credit card bank will certainly levy. Likewise for NZ buyers I mail in such a way Registered as to cause no interest there on entry. My copies are IN-STOCK, and ready to mail now.

Remember only 39 mint sets of 5 of these were sold, and NZ Post has confirmed that in writing – see article below. Each stamp in each set is FAR scarcer than the 1906 1d "Claret" Christchurch, which have fetched up to $NZ22,500 each at public auction. A full set of 5 from me costs only $A8,500 – or just $A1,700 each. Classics of the future.

For FAR more details of them all here: www.glenstephens.com/kapa_haka.html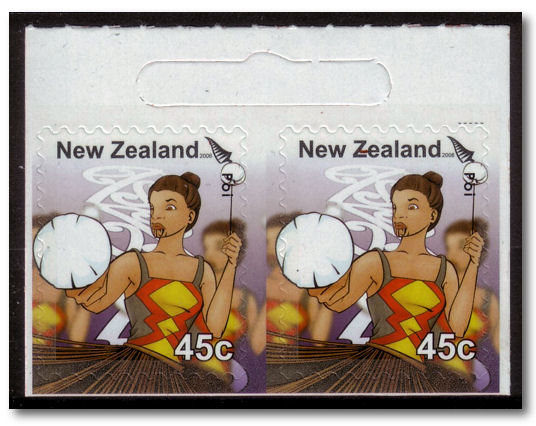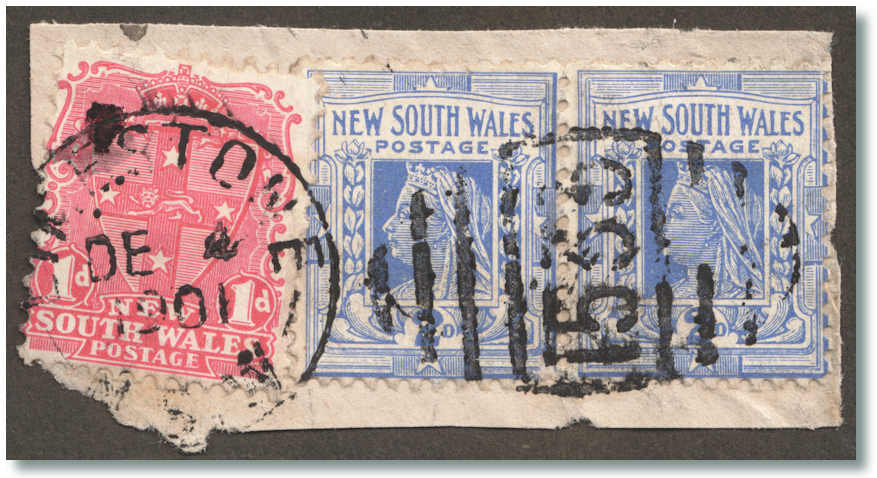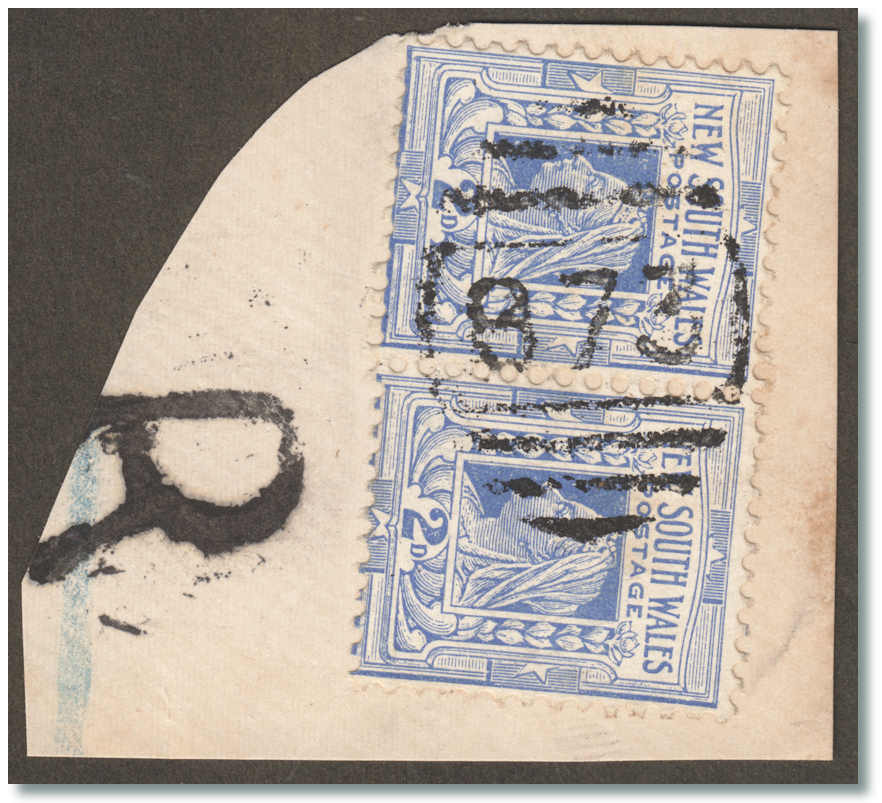 New South wales "RRRRR" Top Level Rarity cancels: The super new book on NSW cancels from Hugh Freeman has seen interest and demand for these EXPLODE globally. We have seen Victoria, WA and Tassie cancels get 4 figures, and this SA one on a common stamp getting $A4,140 at auction - http://tinyurl.com/SNFeb the superb Freeman book is at - www.tinyurl.com/FreeNSW Want a new collecting challenge – this could be the one! ALL of these should be $750 cancels already – they are the top of the tree for NSW.

Anyway only the VERY rarest NSW cancels are Rated "RRRRR" and these are superb examples. Prices for NSW are in their very infancy. The very highest price recorded so far for a RRRRR is $A825 for an indistinct 971 of Mount Poole – i.e. - http://tinyurl.com/FreemNSW I have secured a few of these superb and rare cancels, and can offer at around HALF that price point due to buying attractively. I have a few complete CD Roms of that superb Freeman work for $A40 should anyone not have the book.

Will you ever see 2 good strikes of"1010" on piece with the also rare cds tie for a mere $A500 ever again – I do not think so! These pieces would be 4 figures from the other states. (A) "873" superb strike of WHEALBAH on pair 2d Blues. $A425 (Stock 518TW) (B) "1533" of Acacia/Limestone on 2 x 2d and a 1d with the "Limestone" tie of Dec 4, 1901. $A475 (Stock 518TX) (C) "1010" 2 lovely full strikes on 3 x 1d Red and 2d Blue Reg'd piece and "TIN TIN HULL - SP 1:99" cds $A500 (Stock 518TY) Or SAVE $100 - the THREE for just $A1,300 (Stock 516TZ)



Papua New Guinea 1994
Rare "Emergency Overprints":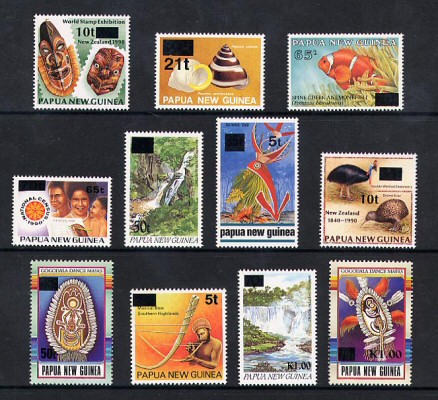 Papua New Guinea 1994 "Emergency Overprints" stamp set: I do now have, and have always had, the largest stock of these overprints in the world. Buy DIRECT from the original "source"! Thousands of collectors NEED this set to complete their collections as all album pages make spaces for them. Only 45,000 sets were ever printed, NONE were sold by the agents, Papua New Guinea Bureau, or even Australia Post. Nearly all were used up on genuine commercial mail. Not discovered by stamp world until months after all the key values were all used up on mail! I first reported their existence to the stamp world. "Set of 11" - SG # 730/740. Michel # 714 -724. Scott # 860/871. ASC Cat $A420.
Local Richard Juzwin retail price is $A330. The Seven Seas Stamps "Australian Stamp Catalogue" (ASC) price for the set 11 is $A420. MUH set of 11 - my VERY special DISCOUNT price offer is: $A275. (Stock 928ZC) Or MUH blocks of 4 (very rare) $A1,250. (Stock 928ZE) I also have the earlier and later overprints also at terrific discount prices. For a complete set of TWENTY different overprints my discount price is $A335 (Stock 928ZJ) - or that full set 20 in MUH blocks 4 for $A1,500. (Stock 928ZL) These will never be cheaper.
Definitive sets like the 1967 Anguilla overprints are already cat at £18,000 in Stanley Gibbons ... and Anguilla has NOTHING like even 1% of the collector following of PNG I suspect. Think about it! This PNG set has a LONG way to go yet - that seems very clear. For very detailed and comprehensive background on this issue with all numbers printed etc - see my special page on these issues: www.tinyurl.com/1994PNG
Finally - all the 1994 "Emergency" sets I sell are of course guaranteed 100% genuine. You may ask for a Photo Certificate Of Genuineness on my security watermarked colour letterhead for this set of 11 or 20, dated and signed, illustrating in full colour the exact set I mail you. If required, this CERTIFICATE costs you an extra $A50 (stock 928ZV) on top of price of the stamps, largely to cover the considerable time and messing around of individually preparing each one, typing, and scanning &c.
This is substantially cheaper than sending it to the R.P.S. in London etc, which takes half a year to get back, and also incurs substantial Registered airmail cost to you - in both directions. And quite frankly, the RPS would not have a clue about these issues. 'Too Modern' they would sniff. Years down the track when the set sells for several times what it does now, such a certificate Guaranteeing these came from original PNG sources in 1994/5 will add FAR more than $A45 to the extra price you obtain when selling.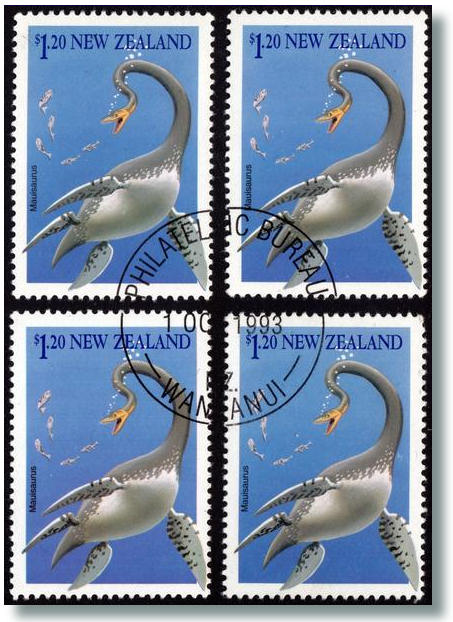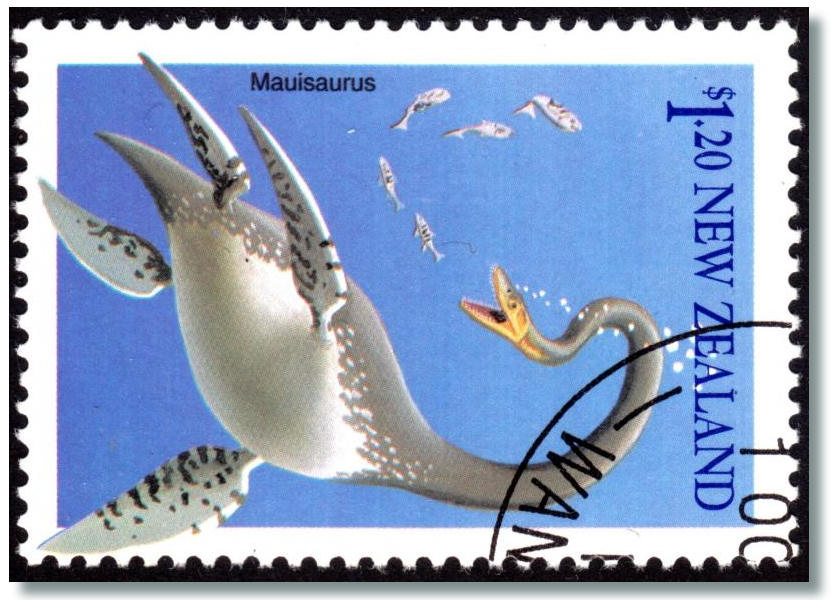 NZ 1993 $1.20 Dinosaur Stamp superb CTO, SG Cat. £3,125 for just $A250! What an amazing hoard. A dealer bought a stack of sheets of these in 1993, all cancelled FDI at the Philatelic Bureau on October 1, 1993. He knew this Mauisarus stamp would be scarce, as it was a UNIQUE Dinosaur species from NZ (from 70 million years back) and as such had barely appeared on any other country stamp for that reason. As there are masses of Dinosaur topical collectors globally, all after things they do not own, that was pretty cunning.

His theory was perfect as the used stamp soon shot up in value – to more than mint in fact, and in the SG cat is SG 1766, Cat £2.50 each x 1,250++ units = £3,125 current cat. Dealer laboriously tore them into singles and added one in each outgoing order as a "thank you" freebie for his buyers, with a little roneoed note inside as to what it was, and why it would stay scarce. Smart idea as a good client freebie for a low cost Would work just as well today actually, or offer them on ebay etc - £25 SG cat, superb FDI CTO, for $10 each lot etc. $A250 (Order as stock number 713LD)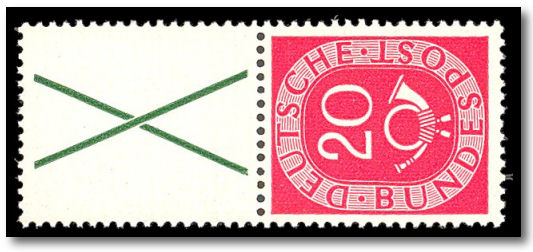 West Germany - 1951 'Posthorn' 20Pf red from booklet sheet: (Price Just Reduced By $100!) Vertical se-tenant strip with green "X" label (at top), Michel #S7, Cat €550 = $A1,125. Excellent perfs and centering as you can see, and guaranteed original gum. WAY under HALF Michel cat at - $A300 - (Order as stock number 535RR)

West Germany - 1951 'Posthorn' 6pf orange & 10pf green from booklet sheet: (Price Just Reduced By $100!) Se-tenant interpanneau horizontal strip of 4, separated by label with colour vertical bars & label with green "X", Michel #WZ4, Cat €550 = $A1,125. Excellent perfs and centering as you can see, and guaranteed original gum. Way under HALF Michel cat at - $A300 - (Order as stock number 536RR)

Buy both together (Cat a whopping €1,100, and save $100 more! (Price Just Reduced By $200!) $A500 - (Order as stock number 537RR)
All prices on EVERY list are weak Australian Dollars!!
All prices are "nett" ... what you see is WHAT you pay. NO Nasty, nasty 15%-20% Auction house "Buyer's Commission" silly nonsense is later extorted from you!
Buy with CONFIDENCE from Glen Stephens

This page features worldwide rare, unusual, and one-of-a-kind items of special interest. It is one of Australia's MOST visited stamp dealer web

pages. Check EVERY day, as you can see - new items are regularly added and the sold ones removed. Many large dealers buy from here regularly.

So that I can show you the items in great detail in high resolution, some of the images may take a minute or three to load up if you have slow dial-up connection. I apologize for this, but it's worth waiting for!

A note about payment on these:

Yes, these lots are expensive, but
"Lay-By" is available; E-mail, Phone, or Fax me to discuss it. I do NOT rip you off like auctions and add 15-20% to my prices. A $1,000 stamp is $1,000 - not $1,200.
For the Order Form, click here. To read instructions on ordering, click here.





Every credit card shown is accepted WITHOUT fee. Earn Frequent Flier points
while buying at bargain prices! ALL prices are in weak Ozzie Dollars.
I charge NO nasty, nasty "Buyer's Commission" on stamps
like nearly every "Auction" does.
REMEMBER - WHAT YOU SEE HERE IS WHAT YOU PAY!
Most 4 figure items like these on this page only appear at public auction. You THEN need to pay 15-20% extra on top of the hammer price - for the nasty, nasty "Buyer Commission". As well the associated GST taxes, then added to that commission, and then GST added on the postage and handling and insurance etc. AND then often another 3½% on top of all that, to use a credit card like Amex or Diners! So your invoice can often be 25% MORE than you bid.
These commissions pay for the MASSIVE overhead of the auctions. Their dozen or so staff, Director Fees, fancy rented buildings, Deluxe catalogues, and $2000 a page full colour ads in magazines all around the globe etc. I have none of this overhead. I work on my own - from home. No rent, no staff, no fancy catalogues or $2000 ads. Just fast turnover and low prices, and a "done on the CHEAP" website – as you can see!
All prices on this page are nett
- NO extra taxes or commissions are added to the price. KNOW in advance what you are up for! And I NEVER charge buyers extra for using their credit card. NEVER. That is absurd, and pure gouging, but the world's leading auction houses seem to hate Amex cards as you will doubtless realise.
In my near 35 years full time selling stamps I have hardly auctioned one stamp. I do not believe in it. My huge website gets far more visitors than most large local auctions, and always has. Coming up to THREE MILLION visitors is living testament to that. I am pleased to sell direct - at fair sensible prices, so you know EXACTLY where you stand. You buy direct off me, and YOU the customer get the savings.
And as many of my clients are overseas, remember EVERY price below is in AUSTRALIAN dollars. For European buyers go check how cheap these "Pacific Peso" prices really are on: www.xe.com And most importantly, the way I ship, you generally avoid the nasty UK 20% VAT - and the similar European and NZ and Canada import and GST taxes etc.
As with ALL my sales, payment is tailored to suit YOU. If you see something for $A1,000 that will mean a divorce case if you buy it outright, I am happy to do a lay-by or layaway. I can debit your credit card 4 debits of $250 or whatever suits. There is NO price penalty whatever for you to use this system - even if you use credit cards. Just let me know what suits. Happy reading!
Glen











Get my regular market update emails FREE. The home of - Rare Stamps. Postage Stamp Rarities. Scarce and Unique world postage stamps. All time Philatelic Classics. Scarce Postal History. Stamp Errors, Stamp Varieties, Stamp Freaks, Stamp Missing Colours and Stamp Imperforates, Stamp Investments, Stamp Classics, and Stamp Collections at bargain prices. Bookmark THIS page and you'll very likely see them offered here eventually!


Payment via 'real' credit cards possible!





Every credit card shown is accepted WITHOUT fee from me. Earn Frequent Flier points while buying at
bargain prices. I charge NO nasty, nasty 15-20% "Buyer's Commission" on stampslike every "Auction" does.

| | |
| --- | --- |
| | Search all my 300+ web pages! Simply type in what you are looking for. "Penny Black", "Latvia", "Imprints", "Morocco", "Fungi" "Year Books", etc! Using quotes ( " ) is more accurate for multi word searches - i.e. "Australian FDC" gives FAR more specific matches than simply Australian FDC if used with no quotes. Search is NOT case sensitive. Tip - keep the search word singular - "Machin" yields far more matches than "Machins" etc. |

I am a Dealer Member in Good Standing Of:

Full Time Stamp Dealer in Australia for over 35 years.

Life Member - American Stamp Dealers' Association. (New York)
Also Member of: Philatelic Traders' Society. (London)

GLEN $TEPHEN$
Full Time Stamp Dealer in Australia for 35 years. Life Member - American Stamp Dealers' Association. (ASDA - New York) Also Member - Philatelic Traders' Society
(PTS London) and many other philatelic bodies.
ALL Postage + Insurance is extra. Visa/BankCard/MasterCard/Amex all OK, at NO fee, even for "Lay-Bys"! All lots offered are subject to my usual Conditions of Sale, copy upon request .
Sydney's BIGGEST STAMP BUYER: Post me ANYTHING via Registered Mail for my same-day cheque. Avoid copping the Now normal 45% Auction "Commissions" (20% Buyer + 15% Seller + GST, etc) AND their five-month delays!
Read HERE for details.
"Lothlórien", 4 The Tor Walk, CASTLECRAG (Sydney), N.S.W. 2068 Australia
Phone 7 Days: (02) 9958-1333 PO Box 4007, Castlecrag. NSW. 2068
E-Mail: glen@glenstephens.com The Number #1 Web Sites:
Back to Lists of Stamp Lots for Sale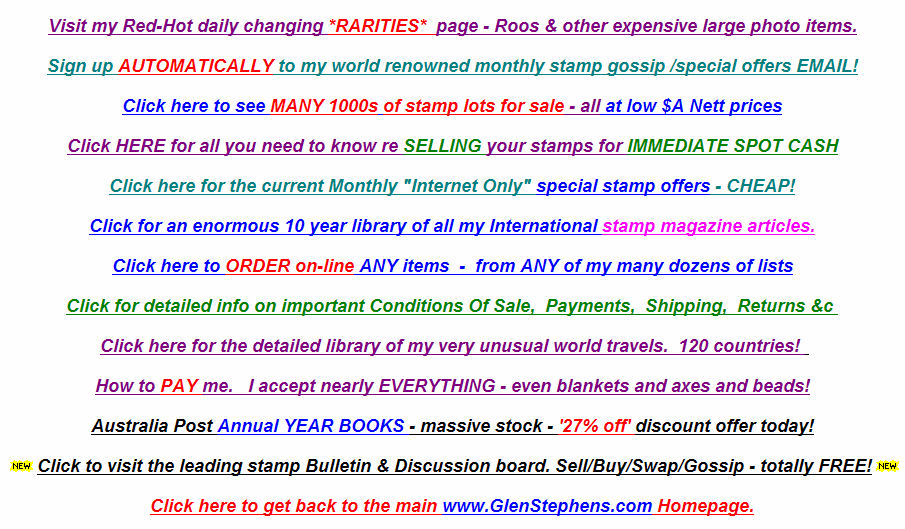 Instant Currency Conversion

E-mail me at glen@glenstephens.com -

| | | | | | | | |
| --- | --- | --- | --- | --- | --- | --- | --- |
| | | | | | | | |