Click To Go Back To The Main www.GlenStephens.com Stamps Homepage

Welcome! You are visitor
to www.GlenStephens.com


August 2016


---
Norfolk Island is now "Australia."
Many readers will not be aware of this, but from July 1, 2016 stamps inscribed "Norfolk Island" were no longer valid for use, even on Norfolk Island. For postal purposes, from that date Norfolk Island was part of Australia.

Nearby is the write up in the last ever "Philatelic Bulletin" from Norfolk Island. It contains official confirmation that Norfolk Island stamps produced before the takeover were no longer valid for postage on the islands from 1 July, 2016.

Apparently Norfolk residents will lose their income tax exempt status etc, but will gain access to many Australian and State Government services that are not currently available there, such as Defence, free health and education and pensions and benefits etc.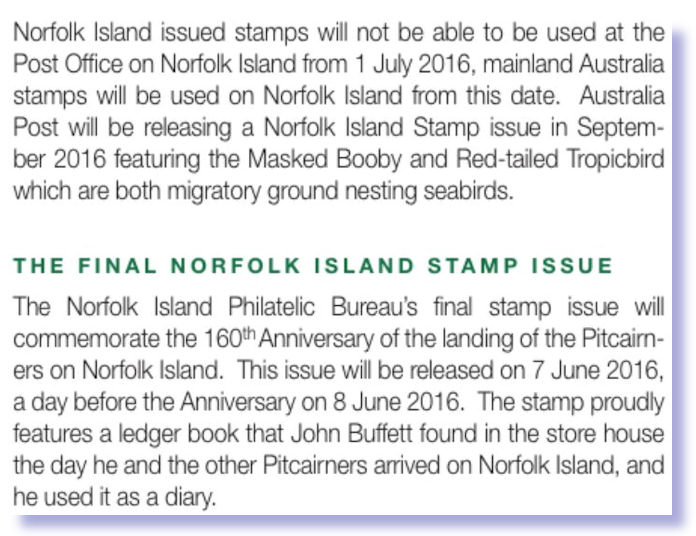 Official advice from Norfolk
There was minimal advice of these postal changes, and many interesting postal history items will have been created by quick thinking collectors. Covers cancelled June 30 as "Last DAY of Validity", and FAR smarter, covers mailed Registered July 1, using current Australian stamps on the first day valid.

Well that is not technically true, as in fact Australian stamps were the only stamps used on Norfolk Island until the "Ball Bay" definitives were issued in 1947. Indeed Tasmania stamps were valid there when it was utilised as a harsh penal colony in the 1850s, and usage from there is of course scarce

As I often type in this column - "Knowledge Is Power". The very ugly looking 3 margin cut-to-shape Tasmania ("Van Diemans Land") 1854 4d orange "Courier" shown nearby is worth about $10 normally in this shape. This one appears to have a very large tear or crease through it - neither were mentioned in the lot description.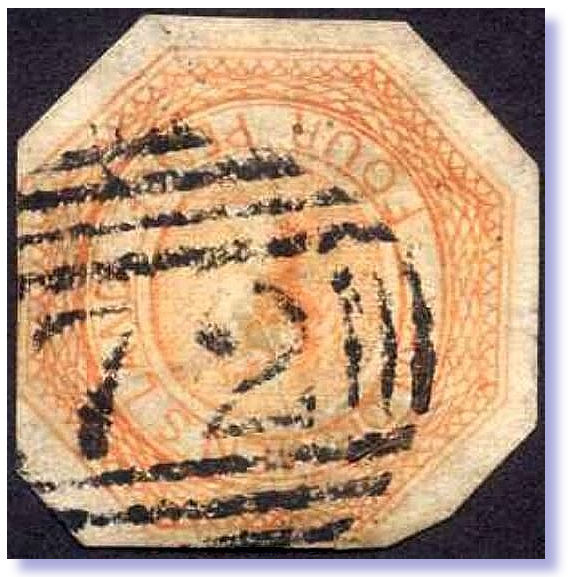 $10 stamp becomes $1,864!

As most collectors know, this stamp (along with the GB 1854 "Embossed" series) is near valueless if the corners are removed or "cut-to-shape" as this one is. Nonetheless, and despite being cut into at side, it was auctioned in the past by Prestige Philately in Melbourne for way above estimate - at $A1,864, when the "buyer fees" and taxes were added.

"Why does a $10 stamp become $1,850 more valuable" you might well be asking? And so you should. The postmark is the key here, as it has a clear strike of the Tasmanian barred numeral "72". Not that this is so easy to see, when the stamp is turned the "correct" way up.
Ugly stamp sells for $1,864!
This is where the "Knowledge" comes into play. Tasmania numeral "72" was allocated to Norfolk Island, when the very harsh penal colony was set up there, and it was administered initially from Hobart, Tasmania.

The "72" canceller finally arrived on Norfolk Island in July 1854. The Government brig carrying it - the "Lady Franklin" initially sailed December 16, 1853, but was forced to turn back owing to a mutiny of the convicts on board. This cancel had only a short working life on Norfolk Island.

In May 1855 the last convicts were removed, and Norfolk was presumably uninhabited until the descendants of the mutineers from the "Bounty" arrived April 8 1856 from Pitcairn Island. Norfolk Island was removed from Tasmanian postal administration in October 1856, and reverted to New South Wales control.

How does one know all this? Well there are 2 excellent large handbooks on the "Postal History and Postal Markings of Tasmania", authored by Bill Purves et al. To my mind these are absolutely essential books to own if you have any interest in Tasmania postmarks or markings.

Many circular postmarks on the common 1899 "Pictorial" series are worth several $100s each - many indeed are way into the 4 figure region. The Tasmanian Philatelic Society recently issued an updated handbook on the Pictorial Stamp Rarity ratings, that I reviewed in a past column.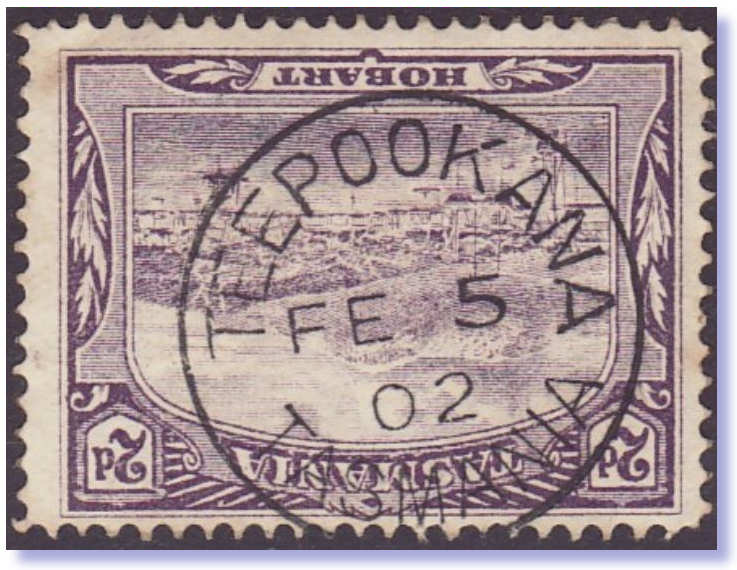 A $A3,620 circular cancel

| | | |
| --- | --- | --- |
| | The one shown nearby sold for $3,620 at auction. Most readers of this article would not have given it a second glance it if were on a circuit book page marked at $1 - the underlying stamp is retail 10¢. "TEEPOOKANA" is one of the scarce cancels. That is more than a superb Mint £1 Brown and Blue Kangaroo stamp costs! | |
Wavy lines & squiggles POSTAL use.
Likewise, often very valuable, are the many manuscript cancels of wavy lines, squiggles, wiggles, cross-hatching, signature scrawls and graffiti tags on imperfs, which many folks assume are near worthless fiscal cancels. They are POSTAL and are valuable - I bought a Hagner full of imperfs this week, I'll sell as a job lot for $250.

From the same source, was the used strip of 4 of the Tasmania 4d Blue imperforate Chalon shown nearby. MANY dealers and collectors globally, would assume the pen cancel on it denotes revenue use, and would place minimal value on it. WRONG.

The first allocation of numerical cancellers did not reach all Tasmania offices quickly, and TORQUAY used pen manuscript to postally cancel all imperfs until it got a numeral in 1861. This was a sound used strip 4 of the 4d Blue, with complete manuscript: "Registered Torquay 16/8/56". I sold it last month for very many $100s, hours after listing it on my Rarity page.


Fiscally cancelled? No Way!

| | | |
| --- | --- | --- |
| | Tasmania fiscal use of stamps was not started until Oct 1863, so ALL Large Star watermark Chalon stamps pen cancelled are postal used. A little known fact - "Knowledge Is Power". Much more detail on these here - tinyurl.com/tazMS Singles with "Torquay" M/S are seen, but not a full Registered cancel like this. | |
Long Norfolk connection to Oz.
Back to Norfolk Islands, their stamps have had interesting postal ties to the Tasmania, New South Wales and Australian postal administrations in the past 150 years. When the "Ball Bay" series was issued in 1947, Australian stamps were no longer possible to use in Norfolk - until this month.

Likewise Norfolk stamps from 1947 onwards were not legally able to be used in Australia. Like all rules, things were not always adhered to. The 1960 commercial cover shown nearby to a local newspaper office shows a 5d Norfolk stamp accepted untaxed, as correct Australian 5d domestic postage.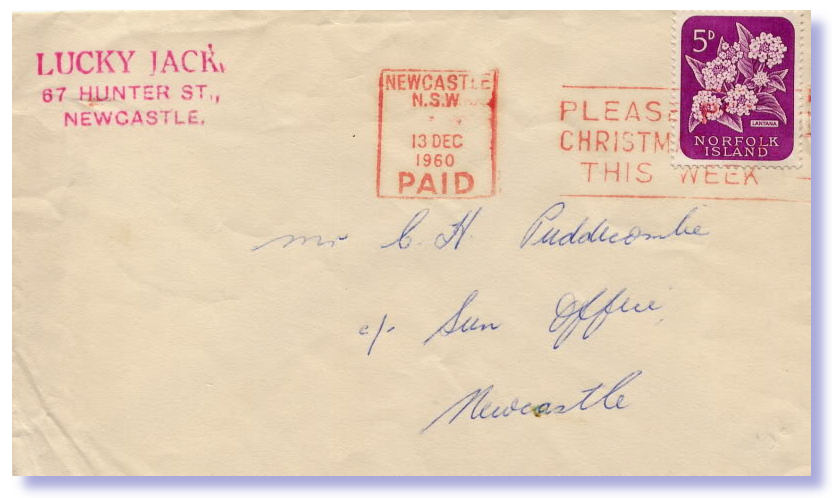 Illegal, but untaxed usage.



All this means that interest in Norfolk Island stamps will greatly increase in future years locally. Many folks collect just "Australia" and to them that strictly means Australia, Australia Antarctic Territory (AAT), Christmas Island and Cocos Islands - only.

The later 2 jurisdictions are like Norfolk - some earlier issues were valid for use in Australia and many were not. However ALL issues of both latter countries are now collected here from SG#1, as both entities are regarded broadly as "Australia".

To that list many will now add Norfolk Island. "Standing Order" clients with Australia Post will doubtless soon start getting stamps inscribed "Norfolk Island Australia" in their new issue standing orders, and will gradually seek all the issues pre 2016.

Large local album maker Seven Seas Stamps have of course always made attractive Hingeless Albums for Norfolk Island, and I am sure they'll sell far more sets in the next 12 months, than they have in the past decade!

Demand for Norfolk increases now.

I have noticed an uptick in demand for the Norfolk older stamp issues, and several other dealers have commented they have seen similar interest. tinyurl.com/NorfIsl is a set of Seven Seas albums and MUH stamps I listed recently, and getting stamp content that goes past the 1980s is very difficult.

One stampboards.com member announced he had decided to collect all the past Norfolk stamp issues on postally used envelopes or parcel pieces. tinyurl.com/NIcovers is the discussion, and if you can assist, he'd appreciate hearing. A HUGE challenge! But NOW is the time to start.

I understand the newest volume of the ACSC being worked on is "Papua New Guinea" and who knows, adding in Norfolk right now might be a perfect fit with this news. Assigning 'on cover' use prices for either will be tough, and those who buy NOW, will be the winners for sure!