Click To Go Back To The Main www.GlenStephens.com Stamps Homepage

Welcome! You are visitor
to www.GlenStephens.com


January 2016


---
"Let Them Eat Cake"
Whilst letter, and parcel, and overseas mail prices skyrocket, and local mail delivery time performances schedules are in total disarray due to near non-functioning new sorting equipment - the Boss of Australia Post is splurging out $4.5 million expanding his massive mansion!

Australia's highest-paid public servant, Ahmed Fahour, plans to spend $4.5 million - the value of a most sizeable prestige home anywhere in this country - just on extending his Hawthorn mansion in the Melbourne suburb of Hawthorn. Shades of - "Nero Fiddles, Whilst Rome Burns."
Massive AP salary buys Mansion.
Fahour bought the "Invergowrie" Manor two years ago for just over $A20 million, reported the Domain property tracking website in November. A few year's pay, bonuses, and the inevitable massive payout when he is sacked/flicked, will have paid for it, pretty much it seems. Nice work if you can get it.

As well as a new pool and landscaped garden, the Australia Post chief executive has applied to expand the internal area of the colonial gothic-style riverside homestead, which was built in 1846 for James Palmer, the first Speaker of the Victorian Legislative Council.

It reminds me of that alleged Queen Marie Antoinette phrase "Let Them Eat Cake" when the poor people of France complained the cost of bread was getting too expensive. We can all learn from history, and Mr Fahour might do well to read up on what happened to Marie Antoinette!

WE are all paying for this mansion of course. Mr Fahour has just somehow almost succeeded in hoodwinking the Government to approve the cost of a normal first class letter to more than DOUBLE to $1.50 from January 4, and has obfuscated the media so cunningly, that it has barely been reported.

The FINAL approval from ACCC and Communication Minister has yet to be given, but both appear formalities in normal situations. Maybe if enough people read up on this, and lodge a formal complaint it might still be blocked - stranger things have happened. Add YOUR say!
Letters $1.50 - Media hoodwinked.
First Class or "Priority" Letters (defined by them as anything up to 5 working days from mailing!) will NOT cost $1 from January 4, as the PO PR spin soothingly implies. They will actually cost $1.50, for exactly same speed that costs 70¢ now. The media does not realise this, as the detail was buried in the schmooze wording. Pass the link to this column on to them - tinyurl.com/GlenJan16

There would be a mini-riot if they did know, and I do hope someone reading this, can get "Current Affair" or someone in mass media interested in highlighting this truly massive hike.

By far the LARGEST increase in our 228 year postal services history. From 60¢ to $1.50 in under 2 years. The new price is near TREBLE last year's price, whilst the CPI inflation rate has been just a few % in same period.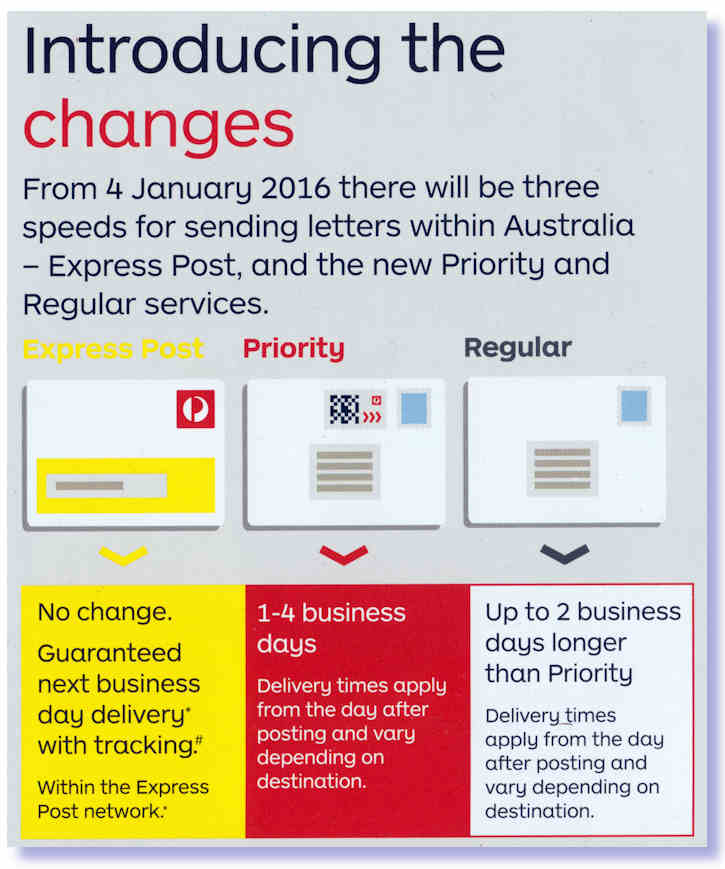 Brave New World.

These are lodged in normal mail roadside red letter boxes, or normal PO mail bags as always, are not tracked, and I have zero doubt they will take as long or longer than 70¢ mail does today, or indeed as long as 60¢ letter mail took last year. The Express Post Mail system with Gold mail boxes and envelopes still exists at high cost, and this alleged "Priority" system does not replace that, or even pretend to.

These new stamps have sideways "V" shape slits x 4 - 2 on each side, and 4 x vertical slits as well more centrally. All designed to stop these being peeled off and re-used it seems clear. Whether they have used permanent (non-soakable) adhesive, I am not sure.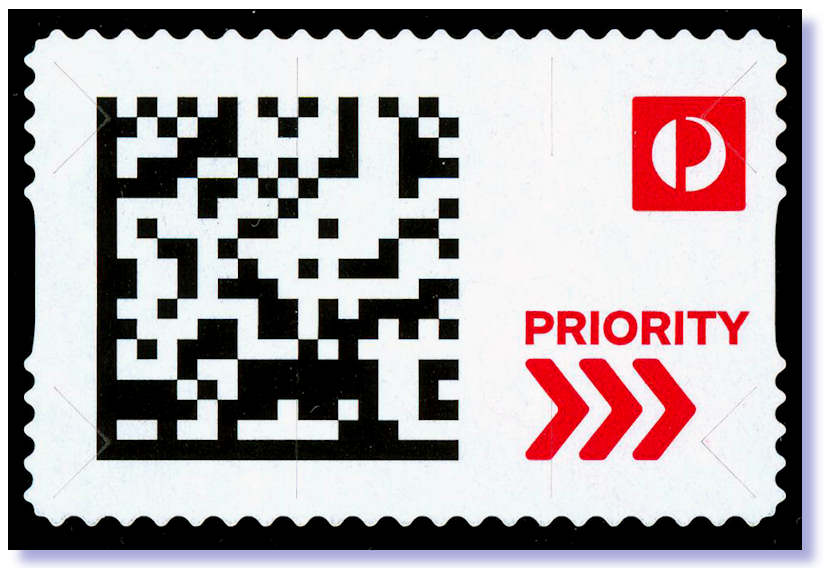 Uninspired new design.

The PR spin of course is that "Concession Stamps" are unaltered in cost. Most mail users do not qualify for those, and of course that price anomaly will quietly be amended as soon as they are able to - late 2016, is my strong prediction. They'll likely double too, the very next time they can swing it. AP do not want to deliver mail for 60¢.

All they need to do is quietly cease printing the current design, and only supply a "Priority Concession Stamp". "Due to strong public demand we are delighted to announce that the new design $1.20 Concession Stamps will now be valid for Priority letters, saving our valued pensioners a huge 20% off the normal cost, and ensuring speedy delivery." I have written their PR spin for them up front.

I have warned loudly here in print for SIX months this $1.50 letter mail absolute con was firmly in the wings, and urged dealers and collectors to write to the ACCC and Communications Minister, to try and have it blocked or modified or scaled back. It seems few if any bothered, sadly.

Issue of "Priority Stamp" Bungled.
Like many things at AP lately, even the release of these red "Priority Mail" stamps was bungled and chaotic and confused. They were for sale on the PO website in November in sheets of 5 for $2.50, and many stampboards members ordered in November, and received them days later.

The Pamphlet at the POs early December stated these "Priority" stamp labels would be available at POs December 14 (in sheets of 20),and also buyable online on same date. Why they were freely buyable in November is anyone's guess. A portion of that pamphlet is shown nearby.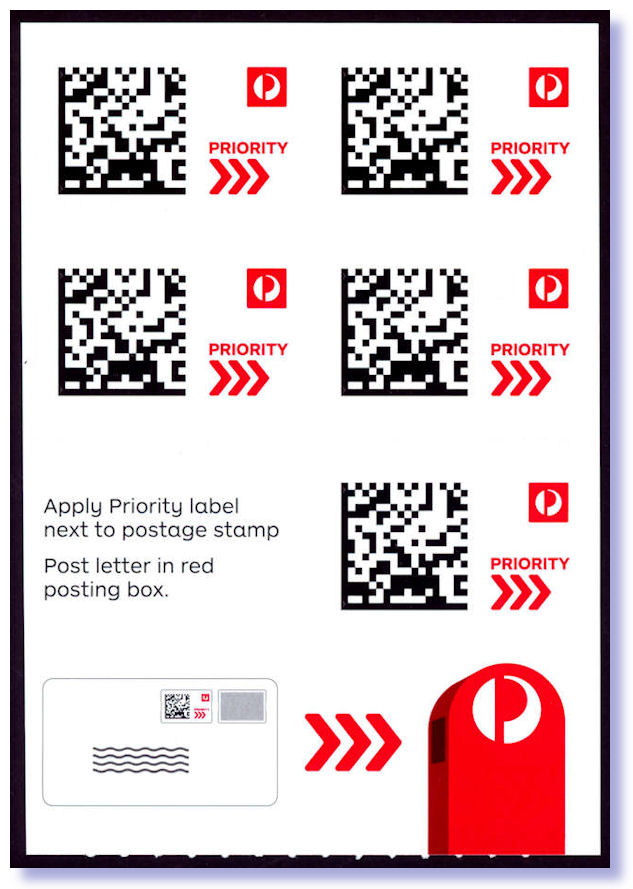 Now you see them - then you don't!

And many used them on mail. Some with 70¢ stamps, and some with no 70¢ stamps - full discussion and interesting photos here - tinyurl.com/150stamp I received a cover weeks back from Noel Almeida mailed December 2 from Melbourne, and he feels it will be one of the very earliest covers bearing this new "stamp".

Then AP panicked and removed them for sale from their website. And a week later added them back on Dec 9. So it seems there was no official First Day Of Issue, and it appears they will not actually be required/legal until January 4. Philatelic Department missed a huge bonus on these for not offering a formal "FDC".
Why play silly games?
Why they are playing games, and not just issuing a "First Class" stamp and a "Second Class" one as the UK has done for decades, only the Multi Million geniuses as AP would know. Many folks will simply buy these labels for 50¢ and affix to an envelope, with no other stamps, deliberately or in ignorance. So AP is costing itself a fortune then, as those users will be getting Priority Mail for 50¢ and not $1.50. Mr Fahour somehow, despite these genius decisions, gets paid TEN times what the Postmaster General of the USA gets paid, to head a Corporation which due to his litany of poor business decisions, posted a LOSS for the first time, in the last reporting season. I suspect most of us could have achieved the same loss result, or indeed a profit, for a small fraction of the $A4½m a year this fellow gets.

Hare brained ideas announced breathlessly by Fahour that lost them gazillions I am sure, like "Digital Mail Boxes", and all kinds of regionalised parcel lockers seem to have been greeted with a vast yawn in the main, from the general public.

As Australia Post is majority owned by the Federal Government - i.e. the taxpayers, WE are all paying for his Hollywood renovation, and goofy products that do not work. It was a perfectly profitable Corporation before the disastrous Fahour era, and it delivered a PROFIT to taxpayers. Management was experienced, the system worked smoothly, and it priced services at a reasonable cost. And DELIVERED mail fast.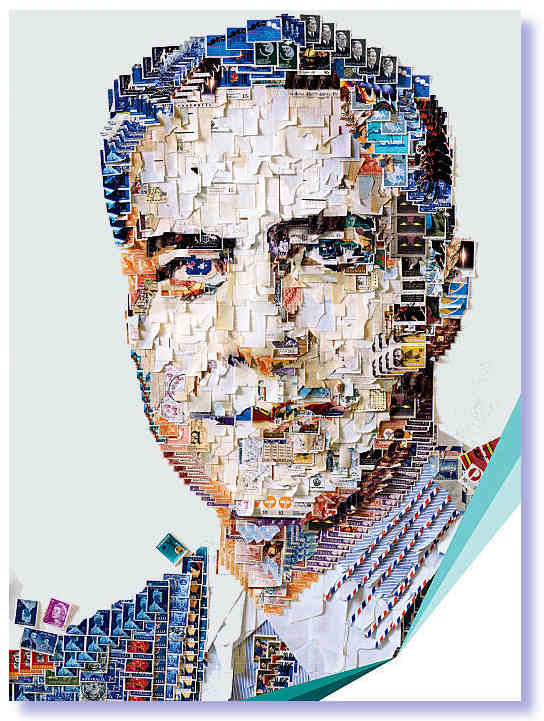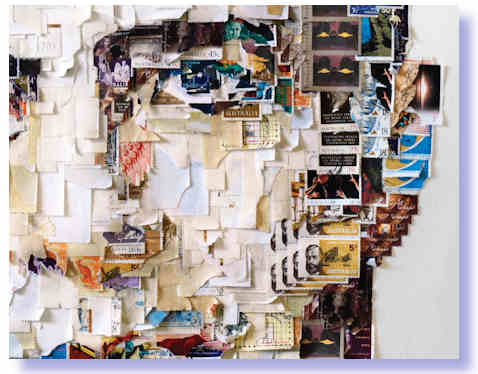 Near TREBLED letter cost in <2 years.
Whomever decided an ex banker with zero experience in running any Post Office, should be paid much more than many successful CEO's of very large PROFITABLE companies here get paid, has some big explaining to do. This man seems near universally reviled by all PO employees I have spoken to. Never good for Corporate morale.

Fahour was paid more than the heads of Woolworths, Woodside Petroleum, Village Roadshow, Seven Network, Fairfax, David Jones and JB Hi-Fi received last year. They all run highly profitable, publicly listed companies, and have to answer to shareholders, while Fahour is in charge of a largely protected monopoly, and is paid by taxpayers.
POs have 2 VERY simple functions -
National Post Offices have 2 VERY simple functions. 1. To Deliver mail in a speedy and efficient manner. 2. To do it

at a cost that is fair and equitable to all. For 227 years our previous Post Office heads have done exactly that. Enter Fahour stage left, holding his wrecking ball.

ABC News reported this year that fully 20% of our national parcels are mis-sorted and misdelivered, due to the $500 million White Elephant new equipment Fahour presumably signed off on, and was fully aware of was being ordered. Delivery times have got terrible and cost has increased for 60¢ in early 2014 to $1.50 right now for the EXACT service. Near TREBLE.

WHY Australia Post ordered this dud machinery from the Netherlands, then literally bolted on a half dozen different software systems that do not all talk to each other, according to ABC News, is a major mystery. Surely there are tried and proven complete systems that other major foreign POs use, that do WORK? Why didn't we buy THOSE?

Why buy some unassembled LEGO style kit machinery, for HALF A BILLION DOLLARS, and then play act with it, and bolt on all kinds of software that does not communicate with each other? It is all like a rejected Monty Python script. All WE are paying for it, all is the sad part. In both massive delays to mail, and the obvious higher parcel and letter costs.

It would be like Qantas deciding not to purchase Boeing jetliners that DO work, and are known to work, and instead, spending that same money on an IKEA kit set passenger plane, assembling it here, and bolting on all kinds of random software and then praying it flew 5000 miles safely. I'd not be flying to Los Angeles on THAT dumb experiment - would you?!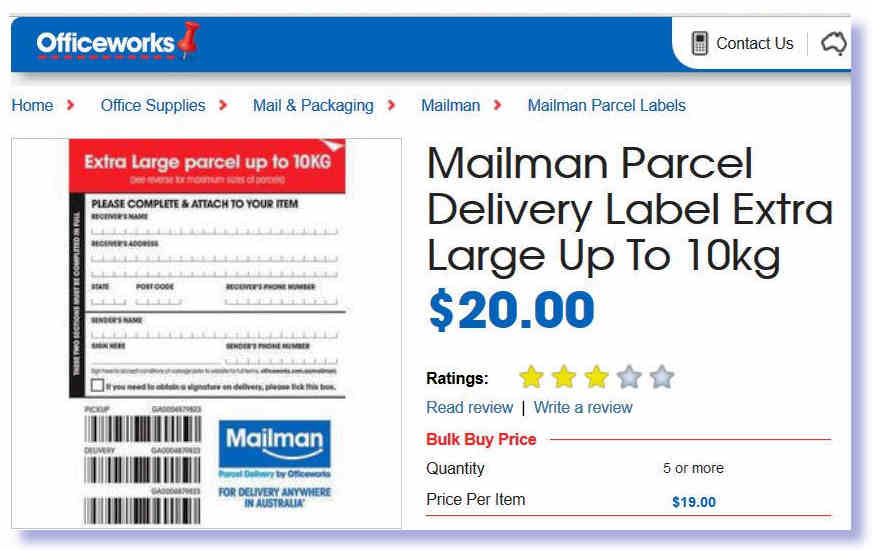 Aust Post $68. MAILMAN is $19
| | | |
| --- | --- | --- |
| | AP has been making a FORTUNE on parcels and packets in recent years, due to enormous increases in on-line buying. AP hikes the rates for those services at will - generally 2 or 3 times a year, as it needs ZERO approval from Government or ACCC for parcel and overseas rates. Hence Fahour and his buddy Fat Cats obscene salaries are funded by it all. | |
Parcel Post Competitors move in.
Of course this Cash Cow has been noted by others, and vast corporations like Wesfarmers, via their 7 day a week national Officeworks "MAILMAN" parcel network, and Japan Post/TNT are moving in, as AP have priced themselves out of business on parcels too, due to rampant greed, and inefficient delivery.

"MAILMAN" offers low flat rate parcels. They are running heavy TV advertising campaigns. You can drop them off generally up to 9pm, 7 days a week nationally, to a vast store network. Their delivery service appears reliable, and is advertised as a couple of days, versus the reality of AP of a couple of WEEKS many times.

Their 10 kilo parcel for a flat $20 ($19 per 5 label buy) is an example of how low they are. The very CHEAPEST Sydney-Perth 10 kilo surface parcel - a box of 10 stock books that I mail many times a week with AP, is $44.35. Sydney-Darwin is $68.35 - Mailman is a flat $19 for either. AP is well over TREBLE.

These new entrants of course cherry-pick only the profitable Capitals and large city routes, and leave AP with the incredibly unprofitable ones like Thursday Island to Karratha, or Longreach to Ceduna etc, which costs AP 10 times to deliver than they are paid. Brilliant Business model.

My own experiences shows Registered Mail articles often take three weeks to reach destinations here this year since the new "ALDI Brand" sorting fiasco, that used to be next day. Often crossing the country several times before arriving at their destination. Sometimes coming back to me with no markings, after 6 weeks of dispatch.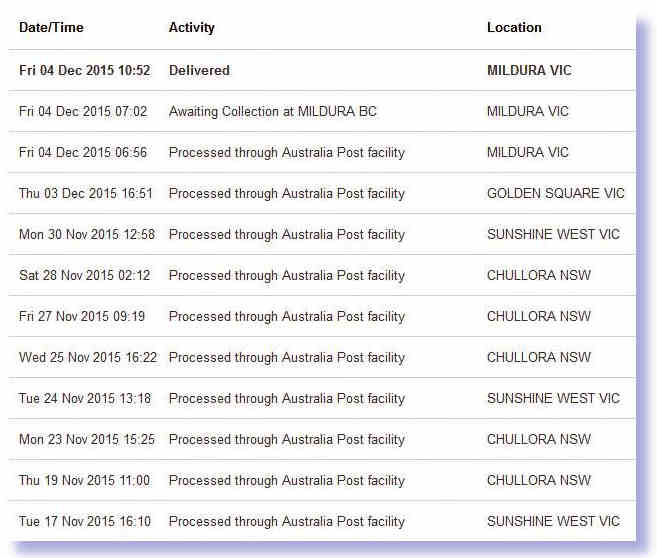 Incompetence running rampant.
I had one Registered parcel this week aimlessly zig-zag from Sydney to Melbourne FIVE times. Clearly and correctly addressed, with neatly written postcode, this book was mailed at Castlecrag on the morning of November 16. The recipient has approved me showing his name and address nearby.

It then made FIVE journeys SYD-MEL-SYD-MEL-SYD-MEL as you can see, for reasons known only to these malfunctioning "sorting" machines, and their brainless Laser Beams. Before leisurely heading out to Bendigo, and onto Mildura, where it arrived December 4.

It would do things like arrive back in Chullora Mail Centre NSW on Wednesday, and sit there until Saturday doing nothing, and going nowhere, as you can see. Sender gets zero compensation for this mess. Buyer blames sender of course for being slow in delivering. These zig-zags are happening with MOST of my sendings. And I am not alone.
Income $15. Outgoings $30. Brilliant.
Actual cost to Australia Post for this one parcel to zap around the country was probably $30, maybe a lot more, in REAL transport, fuel and labour and handling and wage dollars. I paid $15 to mail it. So this parcel cost them at least TWICE as much to deliver as they were paid. And they wonder aloud why they made a loss last report??? And more than doubled letter cost to make it up!

The inmates are clearly running the Asylum, and something has to be sorted, and sorted soon. Australia Post will not HAVE a parcel business if this craziness keeps going. Sack the guy who bought these dud machines, and pay someone to get them working, or get new ones, or bring back the old ones. And sell the turkey ones on ebay to Zimbabwe Post or someone who deserves them.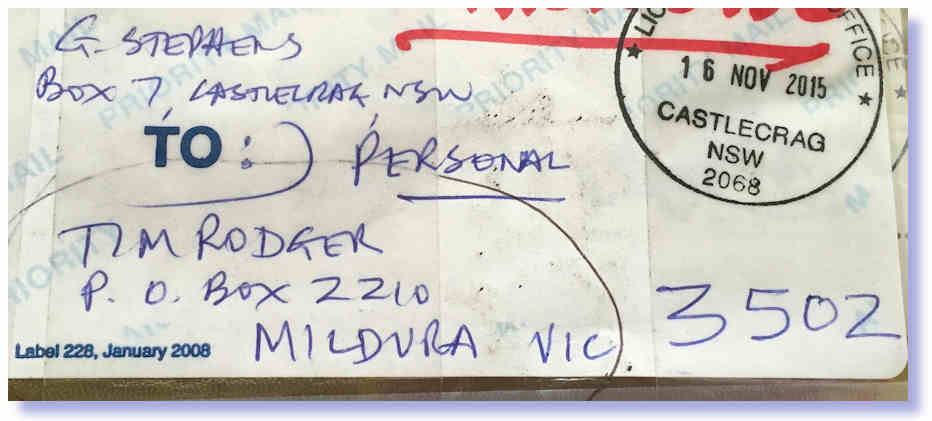 Can anyone misread this "3502"?
I've stopped writing my postcode on sendings now, as the dopey machines read my "2068" and send parcels back to me. I've stopped writing my PO Box number "4007" too, and use just "7", as the same clueless machines see that, and send it to Brisbane - "4007". Look at the Mildura label nearby that took 3 weeks - HOW could that postcode "3502" be misread by either man OR machine?

I was told the dud new machines were reading Tim's Box "2210" as Sydney postcode "2210" (Peakhurst) and sending the box back from Melbourne each time. Sorting is all done by laser beams now, that bombard each side of any parcel. No humans to be seen. The minute a 4 digit number is "read" the parcel goes there. Whether that number is the sender postcode, or a Mildura Box number, as in this case.

New technology takes a little time to bed in, we all know that. However these White Elephant machines have been in place for a year or so and get WORSE, not better each month. Heads should roll.
Unique hoard turns up in Switzerland!



The longer I am in this business, the more amazing stories you hear of things turning up unexpectedly, in the strangest of places. Stamps that simply should NOT exist, and were unrecorded and totally unknown to philately. Even after 125 years.

The page of MINT Victoria 1880s high value "Postal Fiscals" shown nearby, is one such example. Excuse the rather fuzzy photo shown here, but it is the only one that was retained of this "find's" storage when it arrived at the auction house.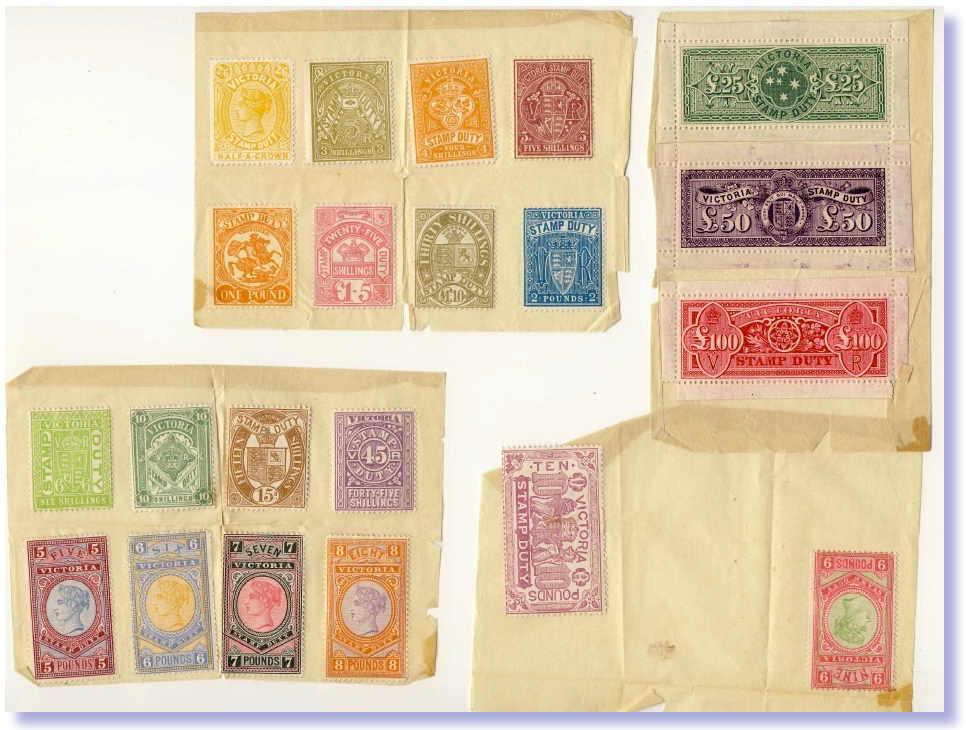 Cost 2+ years Bank Manager wages.

As can be seen it shows a set of the Victoria 1880s "Postal Fiscals" from 2/6d to £100. The 3 high values are all in the so-called "Mini Sheet" format with margins on all side. They were printed thus, one at a time, directly from the stamp die. All these stamps were valid for postal OR fiscal use.

Near every stamp on this page is a major rarity MINT. Lots of these stamps have had violet rubber fiscal cancels, or pen initials bleached off, and then re-gummed and are sold on places like ebay to the Bunnies as "mint", and of course a rapid UV Lamp check will show they are NOT mint!

However this new find most certainly all had totally original gum. They turned up unexpectedly in Switzerland in the office of well-known stamp Auctioneers David Feldman. British Commonwealth area stamp describer there, Ricordo Verra posted on stampboards

"They were hinged to what is best described as the interleaving in old stamp albums, by old paper hinges. So they've obviously been tucked away for a long time. Some were slightly stuck to the paper and the gum a little toned but apart from the £10, which has a little toning they all look great."

We are talking about £230 face value, about 125 years ago. To give this some perspective, £200 was about TWO years Gross wages for a steamboat Captain, or suburban Bank Manager. So probably in the order of $250,000 of 2015 money to buy these New Issues.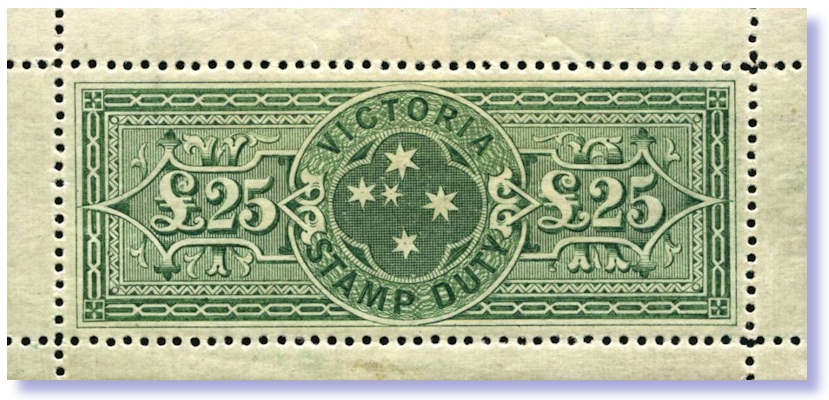 One stamp from this amazing "Find".

Rodney Perry posted on stampboards that is it known Stanley Gibbons sold 5 sets to wealthy clients as New Issues at a small mark up over face value. Count Ferrary purchased one set, and Bill Purves bought that WAY under face in the 1920s Ferrary "fire sale". His law firm used them on stamp duty documents, hence getting full face value.

There were a large number of different printings of these high value stamps. All outlined in great detail - different colours, watermarks and printing methods. Geoff Kellow's superb hard cover book "Stamps Of Victoria", that I still sell many copies of each year. A classic.
High Values do NOT exist postally U.
The super high values £25 to £100 do NOT exist postally used of course - but superb looking CTO sets exist, and are good buying even at their current price levels. These were printed first by Recess Engraved, as were the trio sold here, and also later via the far cruder looking Electrotyped method.

The £100 pictured nearby I sold recently and I love the look of these stamps. It had a totally unrecorded CTO date according to the recent Kellow/McCredie handbook, and was a nice looking and clean example as well. These pieces are stars of the future.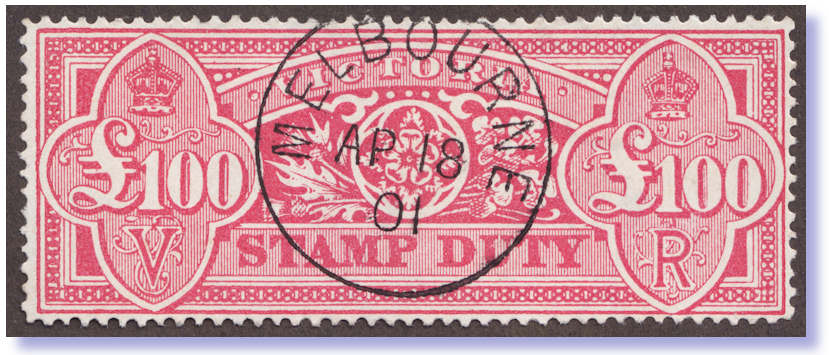 Unrecorded date on £100 Victoria.

Feldman offered the high value trio as one lot, at vendor request, being the £25, £50 and £100 values with outer margins. They sold for £160,000 plus 20% "Buyer Commission" at their auction earlier this year. At the time, that was about $A325,000. And is even higher now!

tinyurl.com/Vic1880s has the detailed discussion on this amazing modern find, from the time they first were reported to the stamp world, to the auction sale, and the later discussion on how are likely existing etc - interesting reading.
Posting fresh apples to USA!
Artist Peter Liversidge in the UK sends unwrapped items covered in postage stamps to people around the world

"The first thing I ever sent was a piece of toast when I was 11" he said in the UK "Observer" newspaper.

In summary, he will send people things through the post (from yo-yos to axe handles) completely unwrapped. In place of packaging, the objects themselves are covered in postage stamps with the address painted alongside.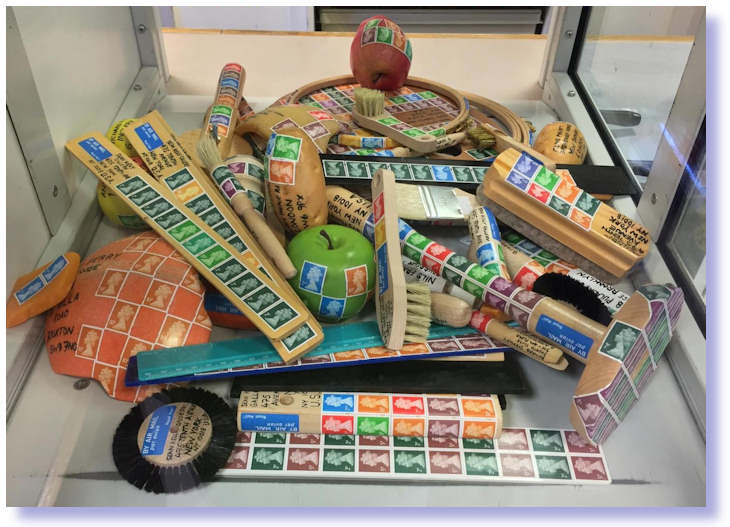 Stamps on Tennis Racquet strings

"It's strange to think about all the people who interact with the letters we send. There's a certain level of trust you have to have with the postal service, one which I personally never thought of, until I got sent a brush covered in stamps" said Liversidge.

This December 4 article shows images of many of the really strange unwrapped items Liversidge has sent like paint cans, footballs, apples and other strange objects - tinyurl.com/UKmails

Someone on stampboards asked HOW Royal Mail cancelled the items, and the linked article above shows other photos of items that arrived overseas and stamps had cds cancels, pen cancels, market pen cancels and some were totally uncancelled.
Season's Greetings To All!
| | | |
| --- | --- | --- |
| | Last Christmas day we spent in Madrid, a city that really comes alive at that time of year downtown. Then a few days in Istanbul enroute to Athens for a wild NYE. Then a flight then to Tirana ALBANIA, for my first visit to that country, seldom on any toursit maps, and also visited Montenegro and Croatia. | |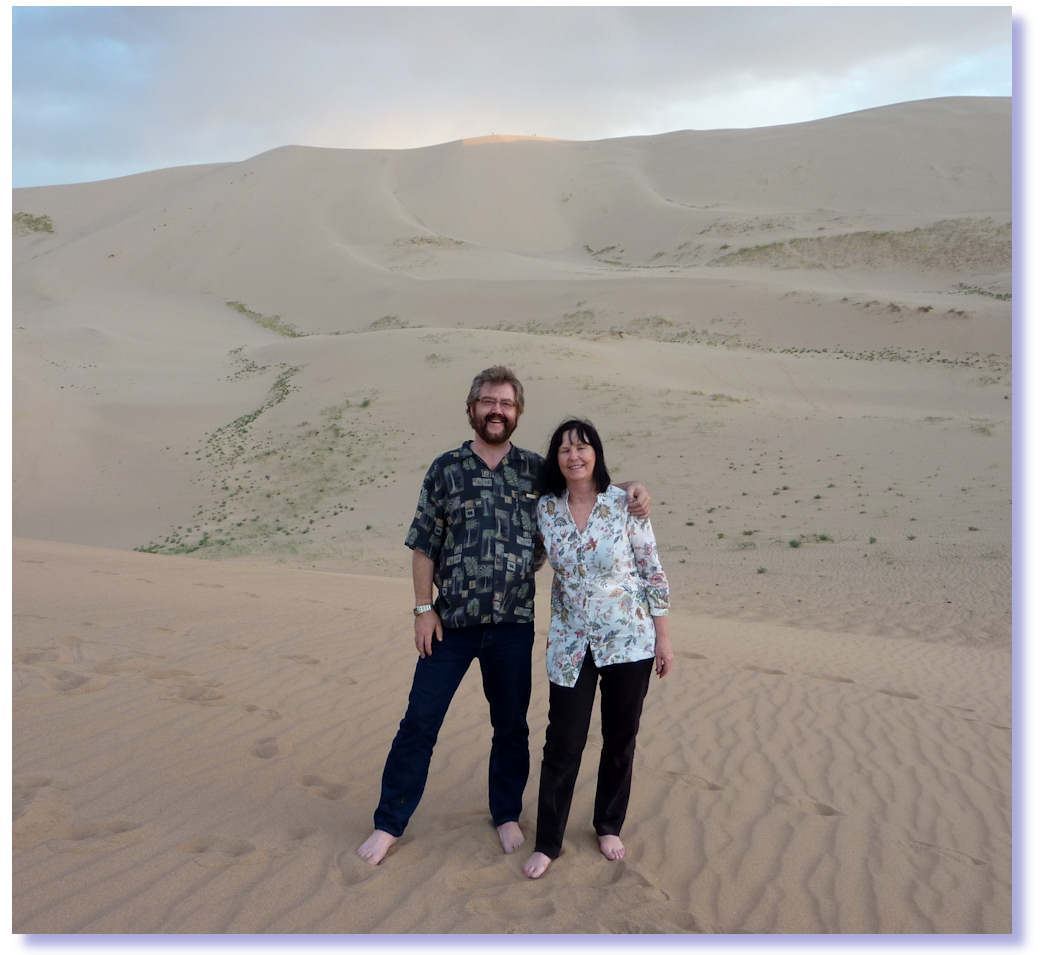 Sunset in the deepest Gobi Desert.
Mid year we made a visit to Mongolia for the bizarre Naddam Festival, and then flew out for a few days in the Gobi Desert, with zero internet access, and drinking fermented Mare's Milk, and eating goat curd and sleeping in Yurts, which was all pretty weird. A few days in Beijing was "Big Smoke" in comparison.

This Christmas we fly to Thailand, and then have a few days in Luang Prabang, Laos, a very pretty city that I like. A few days there, and off to Sri Lanka for New Year's Eve, and driving around this not often visited country. Back home via New Delhi, and wade into the back-orders here in early January!

"Thank You" to all readers for the many phone calls and emails with comments - for AND against what has been written here!

"Merry Christmas and Happy New Year", to one and all, and your families. Be safe - and enjoy the break!










Get my regular market update emails FREE. Stamp gossip, price trends, record sale prices, and many one-time stamp specials, wholesale bargains, and exciting offers and breaking philatelic news. A mini stamp magazine in every email! "KNOWLEDGE IS POWER". The ONE stamp list you MUST be on, to keep in touch with the rapidly changing world market. One client made $65,000 profit in a few months after following my specific advice. Sign up securely and quickly by clicking HERE to access my automated data base. And wiser still ADD your home AND work email, if I only have one right now. Add a stamp friend's email address if you wish. One short click and you are subscribed to probably the most read email list in the stamp world!




If you would like to be notified of updates to this website,

Click HERE. If have any questions,
or comments regarding my site, please email me at glen@glenstephens.com



| | |
| --- | --- |
| | Search all my 300+ web pages! Simply type in what you are looking for. "Penny Black", "Latvia", "Imprints", "Morocco", "Fungi" "Year Books", etc! Using quotes ( " ) is more accurf used with no quotes. Search is NOT case sensitive. Tip - keep the search word singular - "Machin" yields far more matches than "Machins" etc. |


I am a Dealer Member in Good Standing Of:

Full Time Stamp Dealer in Australia for over 35+ years.

Life Member - American Stamp Dealers' Association. (New York)
Also Member of: Philatelic Traders' Society. (London)
GLEN $TEPHEN$

Full Time Stamp Dealer in Australia for 35+ years.

Life Member - American Stamp Dealers' Association. (ASDA - New York) Also Member - Philatelic Traders' Society

(PTS London) and many other philatelic bodies.

ALL Postage + Insurance is extra. Visa/BankCard/MasterCard/Amex all OK, at NO fee, even for "Lay-Bys"! All lots offered are subject to my usual

Conditions of Sale, copy upon request .

Sydney's

BIGGEST STAMP BUYER: Post me ANYTHING via Registered Mail for my same-day cheque. Avoid copping the Now normal 45% Auction "Commissions" (15% Buyer + 20% Seller + GST, etc) AND their five-month delays!

Read HERE for details.

"Lothlórien", 4 The Tor Walk, CASTLECRAG (Sydney), N.S.W. 2068

Australia

Phone 7 Days: (02) 9958-1333

PO Box 4007, Castlecrag. NSW. 2068


E-Mail: glen@glenstephens.com The Number #1 Web Sites: www.stampboards.com