Click To Go Back To The Main www.GlenStephens.com Stamps Homepage

Welcome! You are visitor
to www.GlenStephens.com


March 2016


---
2016 "Emergency" stamps sell for $1000s.
Domestic Letter rates were increased heavily on January 4 in Australia - by about 40% for the cheapest speed domestic letter. The new price was $1 so you need an extra 30¢ to mail legally.

This created a stamp shortage, and one State printed their own 30¢ values. The price of these "Emergency" issues is totally going through the roof in Australia, as only about 200 mint sets 6 are estimated to exist in collector hands globally.

A single stamp, along with a normal 70¢ stamp, both on piece torn off an envelope, just sold for over $2,025 - tinyurl.com/CPS2025 – and attracted 36 frantic bids. Full story here - tinyurl.com/2016set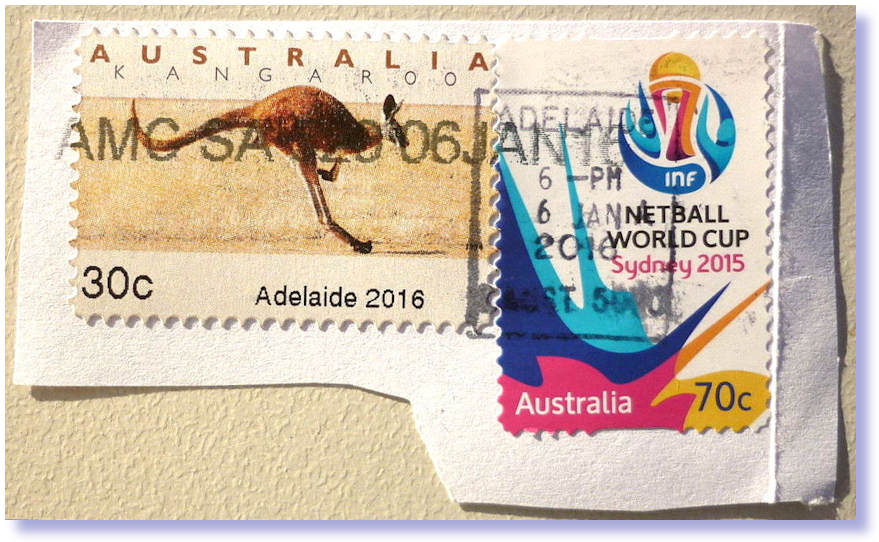 Kiloware piece just sold for $A2,025!
I'd suggest that is a WORLD record price for 2 letter rate stamps on a kiloware snipping from ANYWHERE in the world, Post War - can you think of another?! Probably for the past Century, now I think on it.

The huge prices for these have created stories across all mainstream Australian media, as many used copies are in kiloware etc. Commercial covers with single "Emergency" stamps are already selling for up to $1,700 to keen postal history collectors, before the new high $2,025 was reached for a piece.

A domestic First Class Australia letter increased over 100%, to $A1.50 from 70¢. A new service, "standard letter" (Second Class delivery time frame) was introduced, costing $A1 - a hike from the 70¢ First Class rate of 2015. And up from just 60¢ in 2014.

Australia Post CEO Mr Ahmed Fahour has overseen regular and massive rate hikes in recent years, at all levels, yet the Corporation has slid solidly into the red for the first time. Mr Fahour is paid about $A4½ million - about TEN times what the USA Postmaster General receives.

In Australia nearly the entire country takes summer holiday from mid-December until mid-January, and this much delayed and debated price rise was finally approved late 2015, and deemed to take effect almost immediately on Monday January 4. When the country was basically closed, business wise!
Bureaucratic incompetence reigns.
| | | |
| --- | --- | --- |
| | The national supply of the 30¢ Crocodile Definitive "make-up" stamps was not beefed up in the regional distribution centers, as an orderly price rise usually ensured occurred. Due to the frantic pace the rise was implemented. They knew for 6 months this rise was imminent. | |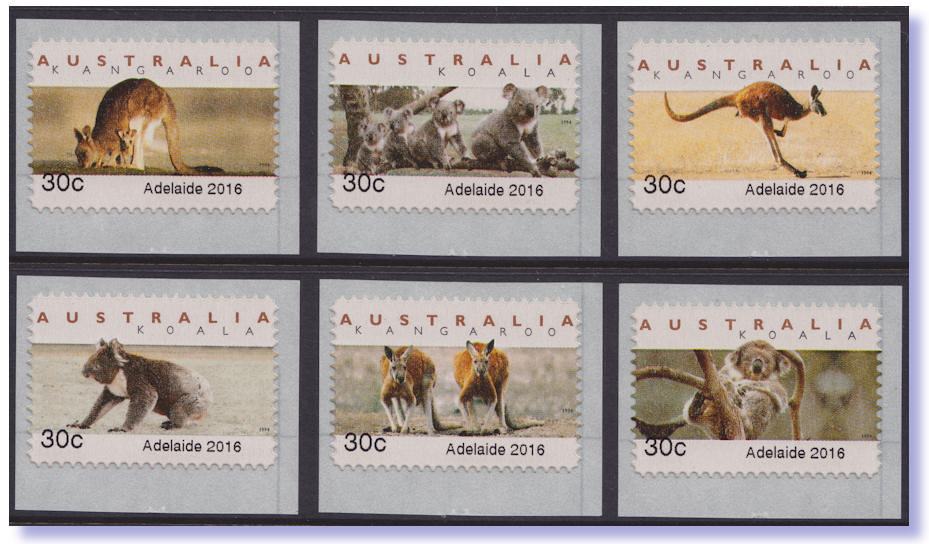 Face value $1.80 – retail $4,000!
The Adelaide South Australia, Distributor of Stamps Office for Australia Post, totally ran out of 30¢ stamps the first day of the week the letter rate increased to $1 - on Monday, 4 January 2016. To alleviate the shortfall, the Adelaide GPO hastily printed up a very small "Emergency" issue of 30¢ Counter-Printed peel and stick Stamps. ("CPS")

They used a slow, clunky, 22 year old "CPS" (Counter Printed Stamps) machine that was only used once or twice a year for stamp show souvenir stamps etc. Adelaide is the only state GPO to have retained one. (All states received these machines in 1994.)

Distribution of these "Emergency" 30¢ issues began on afternoon of January 5 to a wide range of suburban Adelaide PO's urgently needing 30¢ make-up values. The earliest potential sale date was 6th January as offices received them, and started selling their stock.
Stamps needed for just 3 days.
The Emergency lasted only 2 or 3 days. I know of 3 commercial used "FDC" with clear January 6 machine cancel dates, and retail of those is about $3,000 apiece as I type this, but all are in good homes. More details here - tinyurl.com/2016set

Supplies of 30¢ Crocodile stamps were back in the stocks of the Adelaide Distributor of Stamps from Melbourne, by Friday January 8, and NO more 30¢ counter-printed stamps were produced - and this was confirmed by Australia Post on January 27.

At no time in history has any CPS machine been used for other than current letter rate I understand. And NEVER for a postal "Emergency" issue. This was a "First" in very many ways. Many collectors and dealers VERY strongly and loudly urged a reprint of these sets, but Australia Post declined.

There was zero advance notice given of these 30¢ Emergency issues, and no philatelic stocks were put aside, or sold to collector outlets or standing orders. A sharp eyed Adelaide collector noticed them on sale in his Post Office, and "the hunt was on".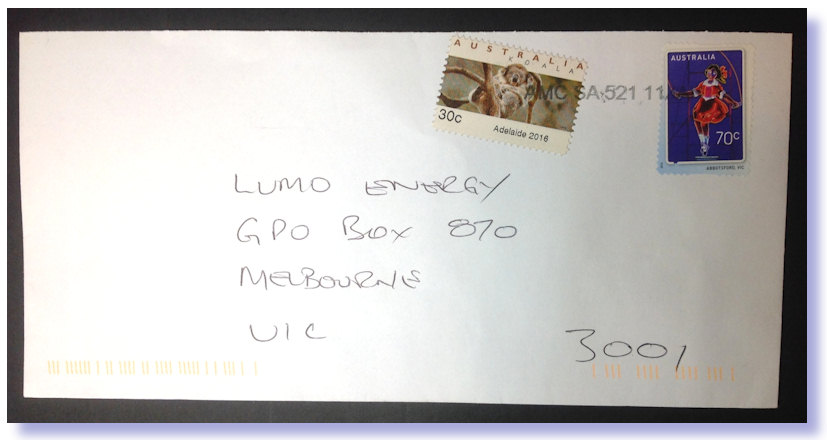 LUMO Envelope gets near $1,700.
stampboards.com the large postage stamp chat board and Stamp Bulletin Board Forum, broke the story of these emergency issues to the stamp world on January 18. That was a day or so AFTER the copy deadline for last month's magazine column, hence this lag.

These six 30¢ Emergency produced stamps - three depicting Kangaroos, three Koala Bears, all in different designs, and all inscribed at base "30¢ Adelaide 2016" are peel and stick, on waxed backing paper, with die cut perforations.

This is the very first time since Federation in 1901 that the Australian Post Office has printed an "Emergency" postage stamp issue of any kind. Most unusual, and highly collectible, hence the global wave of interest. I've mailed these to collectors in 5 continents already.
100% Official PO Issue.
It was 100% official, authorised by the Manager of a main State GPO in an operational Emergency. They were sold for face value at many large POs for a couple of days, and they were widely used on commercial mail. Many genuine covers, and kiloware used copies exist already.

They will doubtless be listed and priced thus, mint and used, in many catalogues globally as their background meets listing requirements. The 1994 PNG items of exactly the same background to this day gets VERY high prices, despite a huge 45,000 sets being produced.

Rodney Perry, well known, and 50 year in the stamp trade experienced Australian dealer veteran, described this Australian 30¢ issue of 6 "Emergency" stamps on stampboards several times as a "Modern Rarity".

National mainstream Australian Fairfax and News Limited Media picked up on it late January, with this story being the most viewed news item on the leading Melbourne daily newspaper "The Age" website, tinyurl.com/TheAgeMel and the "Sydney Morning Herald" etc. It was the most viewed news story that day on The Age website.

National radio networks followed, with stamp dealer interviews nationally on the issue. I was interviewed for over 10 minutes on the highest rated radio station in the country – tinyurl.com/2GB30c Seldom does a new stamp issue make the wide palate of mainstream media, and this is clearly great for the hobby.

One senior medico buying many of the covers and specialist pieces etc, has not collected stamps for decades but the media focus on this caught his eye, and got him "hooked" again on the hobby.

The Australia Post Collectibles Facebook page added a link to these major news stories, tinyurl.com/OzpostFB adding to their official endorsement of the set - very curious for a stamp new issue that they were unable to ever sell to collectors!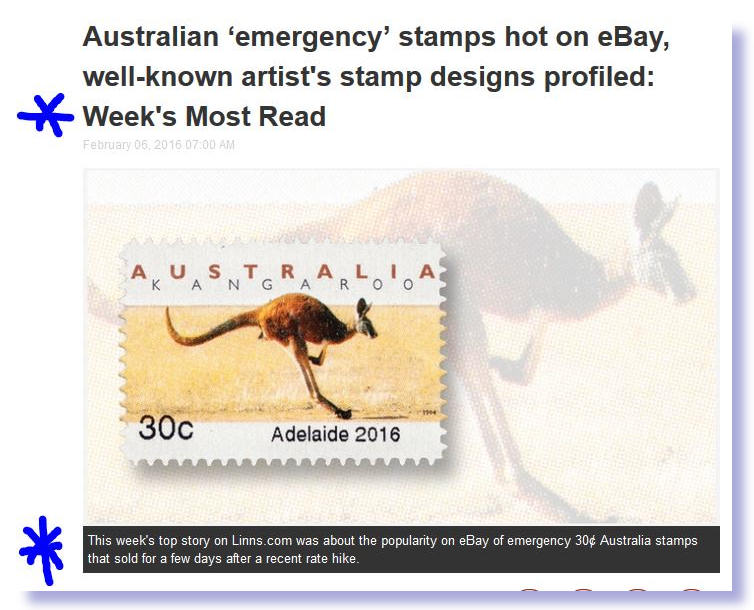 Most read story on Linn's website.
The story has made the UK Stamp magazines, and was a lead story in the mass American magazine "Linn's Stamp News" - and the Linn's website reports it was their #1 most read article. American buyers seem very active in this issue.

The very first ebay sale of a set of 6 of these was completed January 24 - tinyurl.com/SA30c which sold after 49 bids, for $A1,051. To the great surprise of many - me especially, as I was still mailing out sets clients had ordered at $125 off my email offer that week!
Sold for ~1000 times face value.
A parade of sets then each reached well over that 4 figure price on ebay, with the highest I personally saw early on, being a "Buy It Now" offer being grabbed on Jan 31 at $A2,800 - tinyurl.com/Strip2800 - cost price at a Post office 3 weeks earlier $A3 - so that figure was near 1,000 times face value.

A set closed at auction February 4, also about 1000 times face value - tinyurl.com/Set30c reaching $A1,875 after 27 bids setting a new high water level - for a short time. At the time of all these many sales in the 4 figure region of stamps and covers outlined above, the "Emergency" set had not even been printed for one month.

Most sellers mentioned they'd bought the stamps at various Adelaide POs to add as "make ups" to their existing 70¢ values, and had seen the mass media reports of these, and decided to cash in on their lucky purchase.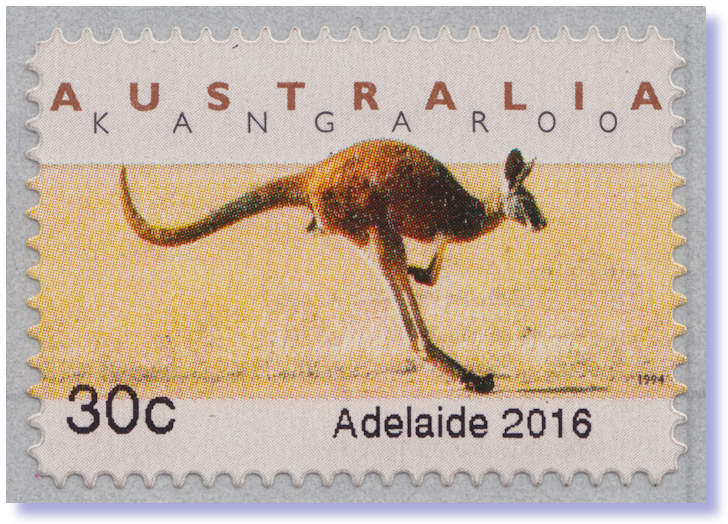 Prices keep hopping along!

Most of that kind of "Lucky Break" material has appeared and sold already, and real collectors with them are hanging on tight it seems, so the ride from here on will be pretty interesting I imagine as stock dries up.

The highest "Buy It Now" offer on ebay I have seen up to mid-February for a set of 6 is $A4,000 - tinyurl.com/4000CPS - face value $1.80 - so more than 2,200 times face value. A mint £2 Kangaroo only costs that!

Limited issues of some British Commonwealth QE2 sets do get very high prices. The Anguilla 1967 set is listed in Stanley Gibbons at £24,000 mint, and £4,000 used. Scott lists them at similar prices - $US26,935 mint and $US4285 used.

The Postmaster there distributed these sets to a selected few, the SG note indicates, yet the prices stay high, and the set is pricey and popular, despite no domestic Anguilla collector market to speak of.
Range of Registered sent.
| | | |
| --- | --- | --- |
| | Via a helpful Adelaide friend, I was able to arrange for many clients to get real mailed Registered covers bearing sets and singles of these stamps mailed to them in January, for a very modest cost, as prices were only just rising then. One such cover with a single sold for over $1,025 on February 7, with a January 11 philatelic cancel. | |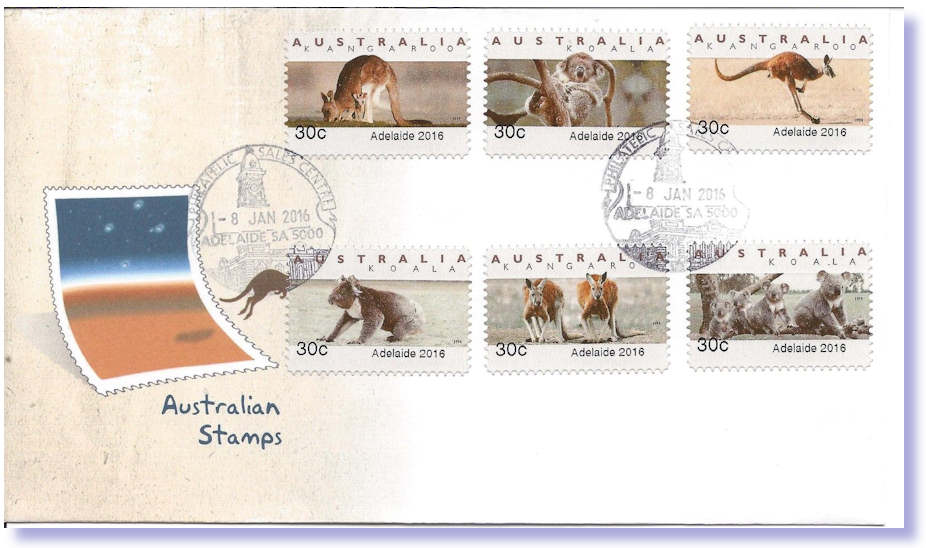 Totally philatelic cover gets $1,880
A cover with a set of 6, handed back over the counter at Adelaide GPO got $1,880 after 37 bids - tinyurl.com/1880CPS to the amazement of the sender and the seller. And to me - I'd sold 4 identical covers that week for a small fraction of that!

A genuine $1 commercial cover bearing an Emergency 30¢ stamp issue, to the Lumo Energy utility company in Victoria, with January 11 machine cancel, was sold on ebay after 67 bids reaching $A1,694 on January 31 - tinyurl.com/30cCPS - certainly a world record price for any modern issue stamp on cover, anywhere, with no variety.

That cover was found in a bag of business mail by the Uniting Church "Sammys stamp charity" by a stampboards.com member, and the monies it raised went to that charity, less ebay fees. An unattractive window faced cover was found the same day there, and also got a huge 4 figure price - $1,413 on February 7.

I had an order for a set of 6 covers bearing these stamps, to be airmailed to Russia, to the Commander of the orbiting "ISS" MIR Space Station, who is a keen stamp collector and Exhibitor. QUITE a story. One went to South Africa with the ozzie Nelson Mandela stamp on it, the owner now loves.
CHECK your kiloware sources!
Readers are urged to check recent kiloware and inward mail from Adelaide for these January issued stamps, as even postally used pieces are routinely obtaining massive sums in Auction and from dealers - $2,025 is the highest price so far, for a torn off envelope corner.

The stampboards detailed photo discussion has identified 2 different designs (CPS Paper Types 3 and 4) among the sets printed, which added to the few specialist error pieces being identified has made this into a true fertile area for serious philatelic study.

I heard about these sets very early in the piece luckily, and sold them at ever increasing prices, as new stocks were sourced. Starting at $50 a set, my price as I type this is $1,950 a set of 6. Stampboards as usual broke the news globally - 600+ posts on it here - tinyurl.com/2016set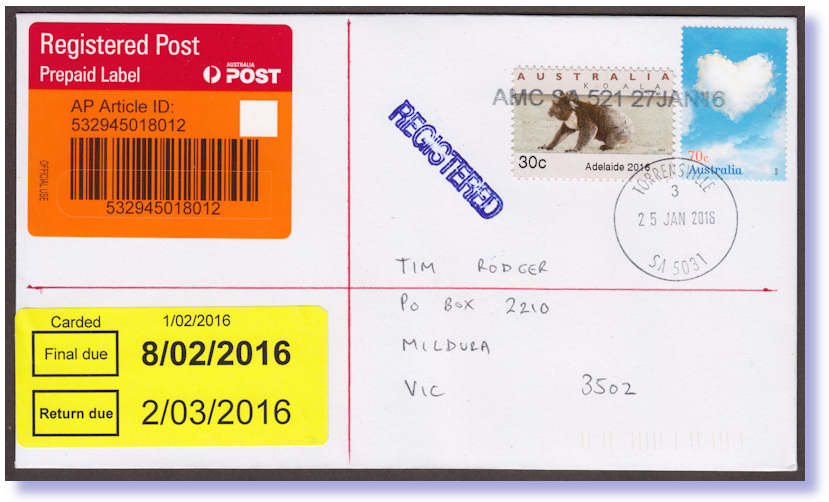 Someone WON this in February.
One client in Cairns bought a set 6 from me for a few $100, and noticed there was a strange sort of albino invert look to the CPS print. As I typed this, it was ebay bid up to $4,500 with days to go although he now greedily wants much more, despite his modest cost only 2 weeks earlier - tinyurl.com/varCPS

A Registered postal cover bearing this issue, from Adelaide to Mildura Victoria, clearly cancelled Jan. 24, was offered free to any collector who wished to enter, on stampboards - tinyurl.com/WINcover to celebrate their reaching 15,000 global members this month. Even those are getting 4 figures, and as I type this, it had 50,000 entries!

Who says that "Modern" stamp issues are BORING?!
Half Century of Decimal Currency
| | | |
| --- | --- | --- |
| | Australian readers will be aware that on February 14, we celebrated a Half Century of adopting a Decimal currency. In February, Australia Post issued the $1 stamp shown nearby to mark this occasion. | |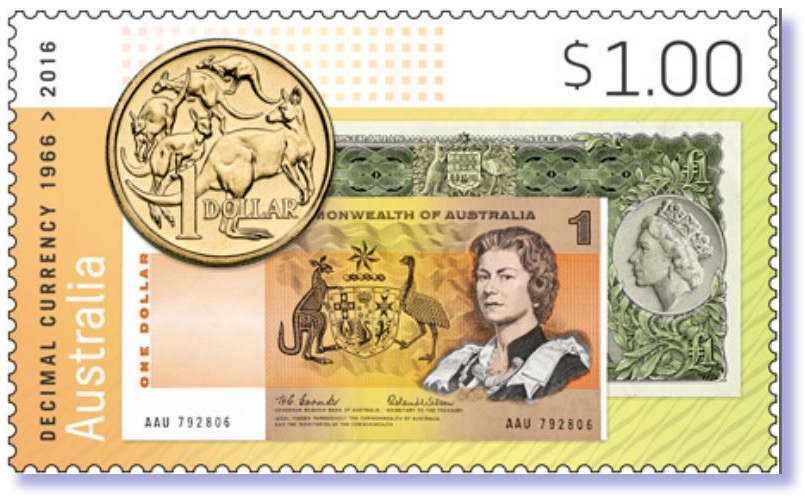 Fifty Years of DOLLARS!



A great and wonderfully simplified system I must say, as someone who grew up the era where wrestling with ridiculous figures like £36/7/11½d ($72.80 to younger readers!) was encountered in all walks of life, and many can well remember that era.

Many stamp collectors do not realise that all pre-decimal stamps were legally valid on mail for a further 2 years - until February 14, 1968. This of course included ANY stamps from the "Australian States" era, even 150 year old issues. No gum or creased versions of many of these were common in dealer stocks, and they were sometimes used on letter mail.

So, when we went Decimal on February 14 1966, the public were given 2 years to use up any pre-decimal stamps they still had in their possession, i.e. until February 14 1968. This was little known, and even by stamp collectors, little used.

They were to be accepted at the slightly complicated MANDATED changeover rate where 1d = 1¢ for single stamps. (But a 5d stamp was accepted at only 4¢ – see, I said it was complicated!) In practice this concession was rarely used by the public, and was little publicised. And further, very rarely done in conjunction with the Decimal issue stamps.

Any pre-decimal franking usage I have seen, was mostly early 1966 where folks used up "old" stamps still in wallets and purses, and from postage folders in small offices and businesses etc. This one illustrated is near 2 years on.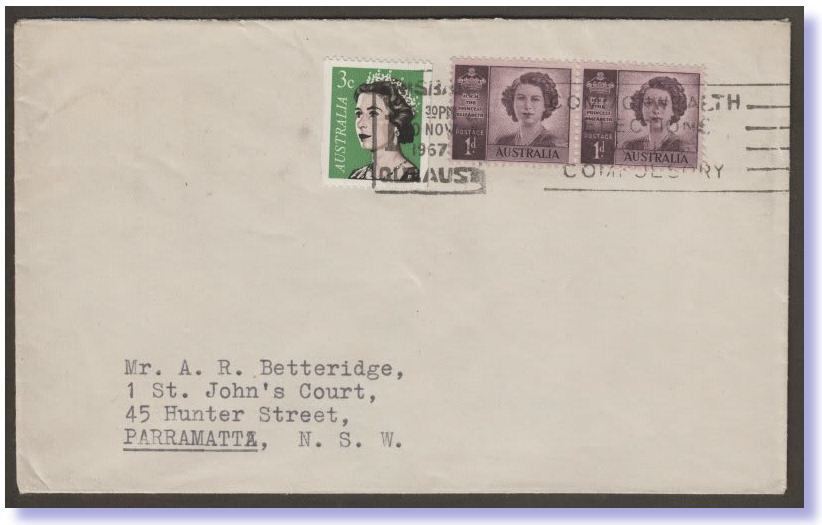 Decimal AND pre-decimal franking.
Shown nearby is a commercial cover from Queensland, addressed to Parramatta in Sydney, and dropped into a pillar box at the GPO after closing time. Has a clear Brisbane GPO roller cancel of "November 10, 1967" with 5.30pm time-slug.

The domestic letter rate had increased on October 30 1967 from 4¢ to 5¢, so this is the correct rate, used a fortnight or so after it had been raised. The 3¢ COIL was seldom used on any mail as it never represented any rate, however vending machines for this value oddly, stood alongside the 4¢ or 5¢ coil machines at GPO's.

As the 3¢ COIL is seldom seen on any kind of mail item, the ACSC rates it (14 years back) at minimum $18 on any kind of cover, and its value is a great deal more today. Used as a valid make-up value, on this dual currency combo cover, it is especially desirable.

I sold it on stampboards for $A40, and really think it was a nice piece of apparent non-philatelic mail in this changeover period, allowing a generous 2 year "Grace Period" to use up the old sterling currency denominated stamps.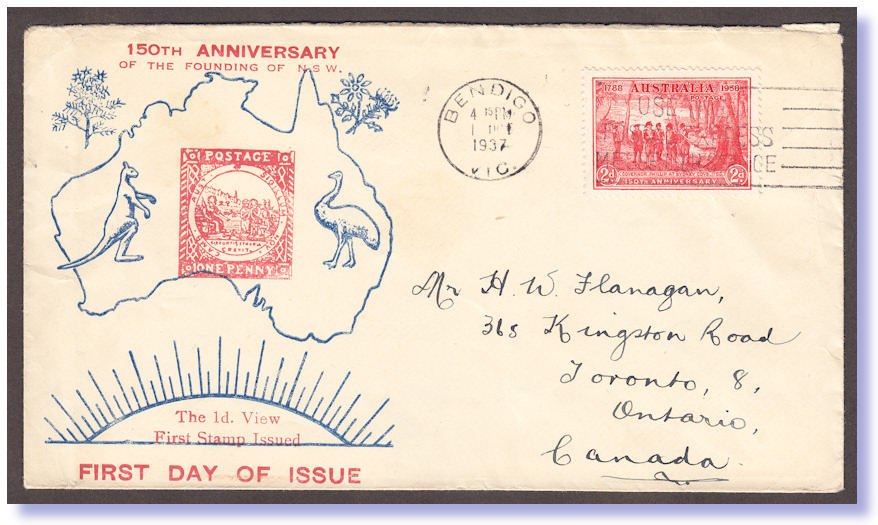 "ILLEGAL" cover cachet!
A curious way of proving how seriously the Post Office took this rule was when large Sydney stamp dealer A.C. Campe produced a cacheted FDC design for the 1937 Sesquicentenary issue in 1937. As you can see, he used, as part of the cover design, the NSW 1d red Sydney View "no clouds" stamp.

That was NSW 1d Red, 1850 SG #1, and of course was the first stamp ever issued on this continent - just beating the Victoria "Half Lengths" issued in the same year, 1850. And was a very logical design element for the 1937 150th Anniversary series.

The Post Office did not agree it was legal use, and came down like a ton of bricks on the hapless Campe, as they argued the 1d red stamp on the left could be cut out and used to pay legal 1d postage! As the "Sydney Views" were only issued imperforate, and as this was a very clearly printed reproduction, I suppose the argument had some merit.

Some will say "but who would bother to defraud, to save just a penny?" Well in the happier days before Mr Ahmed Fahour's new $1.50 for a domestic First Class letter, a mere 2d (two pence) sufficed to the entire British Commonwealth - Canada in this case. So one mere penny actually had some decent value, as can be seen then.

The covers were all printed, and rather than reprint them all, I understand Campe gave an undertaking to the Post Office that covers he used after his warning would have an indelible pen or pencil "X" defacing the NSW 1d "Sydney View" and that did happen, as I have seen several such covers.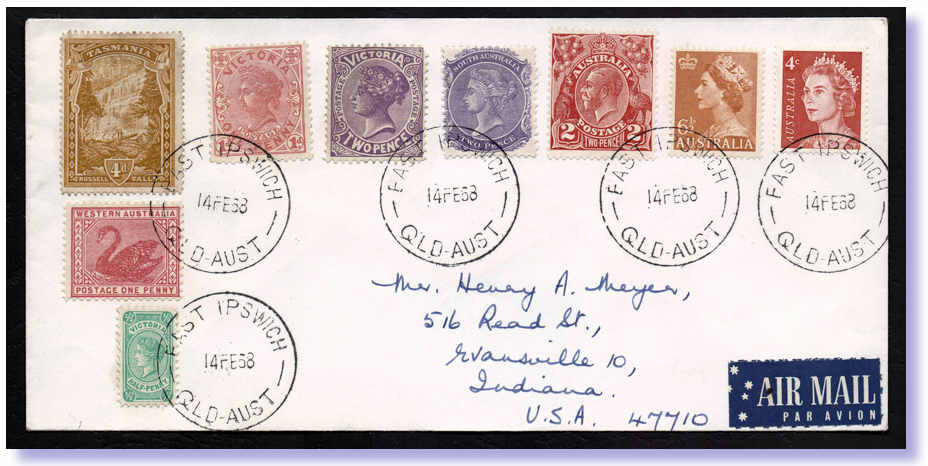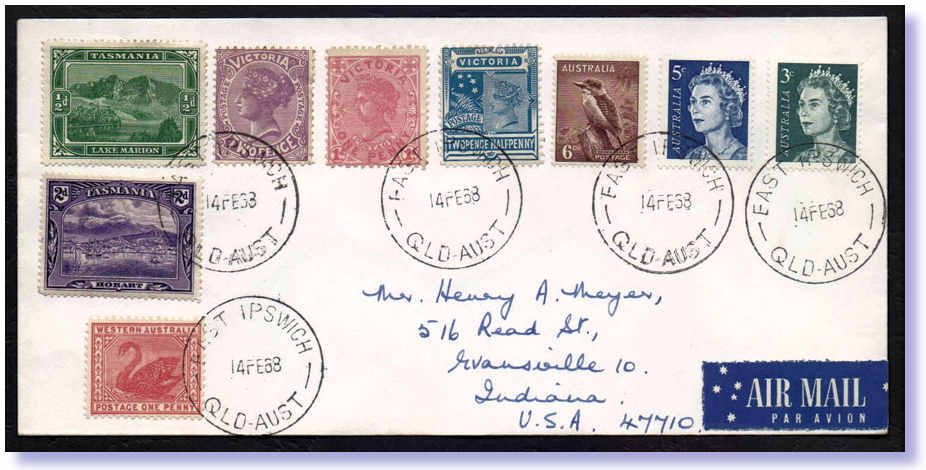 100% legal rate and frankings.
Stampboards.com had a Melbourne member show a couple of neat envelopes to Indiana USA postmarked February 14, 1968 the LAST day the "old" stamps were valid. They had a fun mix of "State" stamps, pre-decimal Australia, and Decimal Australia.

There is a grand total of 1/7d franking on the first cover - 4d + 1d + 2d + 2d + 2d + 1d + 6½d +½d, a total of 16¢ when legally converted. Add 4¢ decimal and we get to 20¢ - the correct airmail letter rate to the USA at that time.

The second cover has ½d + 1d + 1d + 2½d + 6d + 2d + 1d = 1/2d = 12¢ legally converted, plus 8¢ in decimal stamps = 20 cents total. Again the exact correct 20¢ airpost rate to the USA.
A RIGHT "ROYAL" MESS
Most will not be aware, but instead of the perfectly sensible original currency unit the "DOLLAR", the mega arch Royalist Toadie Prime Minister we had at the time, Sir Robert Menzies, was determined that our new Decimal currency was to be called THE ROYAL. Due of course to his lifelong crush on the Queen, and all things Royal.

"I did but see her passing by, and yet I love her til I die" (Menzies speech 1963, at a function at Parliament House Canberra, attended by Her Majesty.) Menzies described himself as being "British To The Bootstraps".

Robert Menzies was so right wing, John Howard looks like Stalin or Mao Tse Tung in comparison! He was commonly known by the population as "Pig Iron Bob" - for many decades after the reason he got that nickname - for an Export order he approved. Selling steel scrap to Japan JUST before WW2.

On November 15th 1938, 180 men on the Port Kembla wharves stopped loading scrap iron on one ship, the "Dalfram". They believed the "pig iron" destined for Japan, was to be used for armaments in the invasion of China, where vast numbers of innocent people were being killed.

These workers also held the superbly accurate belief that very soon this same "pig iron" would return as weapons against Australia, in Japan's advance south.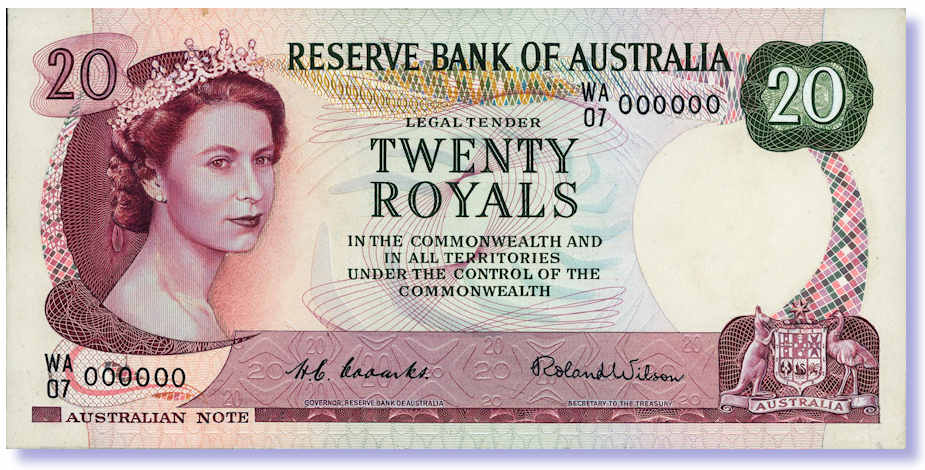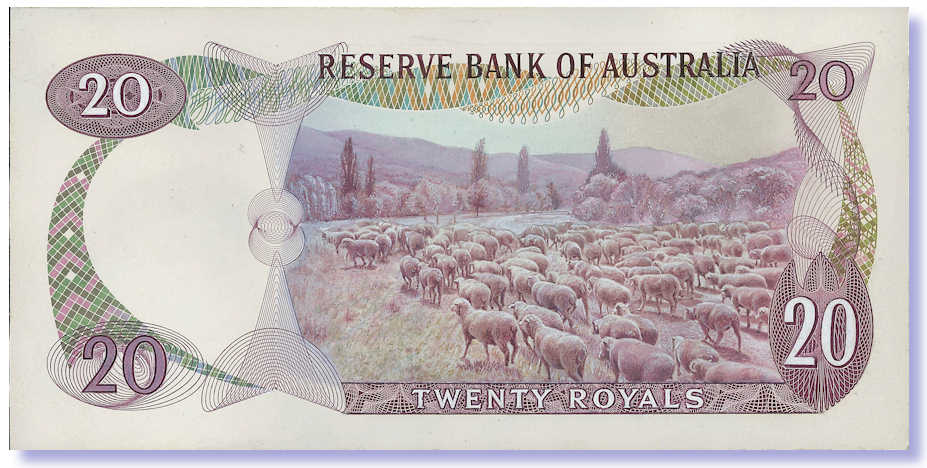 A truly ROYAL Joke!
| | | |
| --- | --- | --- |
| | Menzies seems to have personally approved the laughably named "ROYAL" currency, and new banknote dies were designed and engraved, all the complex and expensive steel engraved intaglio recess metal plates were made, and completed banknotes were even PRINTED. | |
5 "Royals" for a beer!
Until the Cabinet and/or a wave of common sense thankfully beat some sense into his silly old Monarchist head - or we'd still be the laughing stock of the world, for introducing such a wacko and bizarre sounding monetary unit, in the latter half of the Twentieth Century.

We got THAT close to that quite absurd name for our new currency being inflicted on us. Fully finished printed banknotes were prepared, as can be seen in the photos nearby. Imagine paying 5 "Royals" for a beer!

These images shown here were sent to me by the Reserve Bank of Australia, and had never appeared on the web anywhere until I used them. Took me a week of paperwork to obtain them - you have NO idea the red tape it involved.
R.I.P. - Max Stern, AM.
Just as this column is being typed I heard the sad news that Max Stern had died at home February 12 from a heart attack, following a heavy fall the previous day - just short of his 95th Birthday.

Fred Diamond, Max's multi decade office manager posted on stampboards that Max had spent a day in the office the day of his passing, and that is exactly how Max would have wanted to go - no suffering or pain, and still working hard.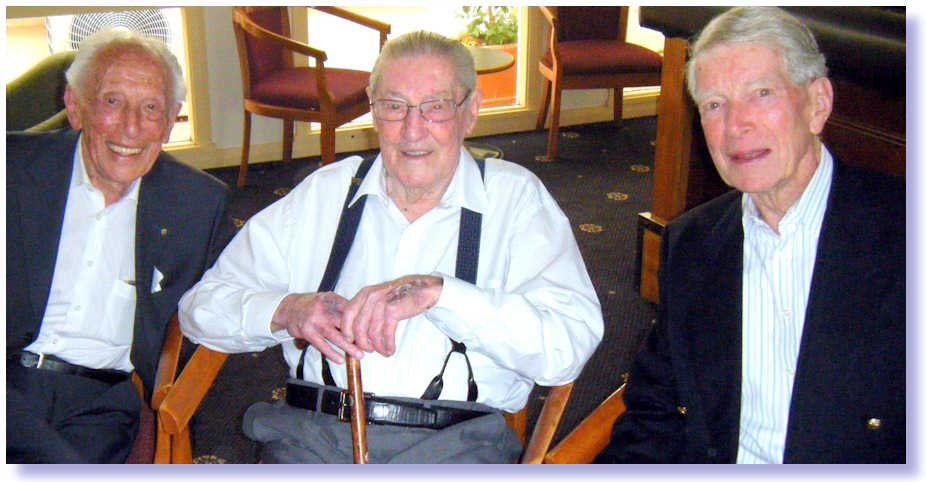 Max Stern, Ken Baker and Kevin Duffy.
I doubt there is a collector in this country who had not dealt with Max in some capacity, and two generations of dealers and collectors overseas also had dealt with Max Stern and Company.

He was a dynamo of a man, with endless energy and ideas and enthusiasm, and was truly one of those folks you really imagined would be with us forever. He was still playing competitive soccer each week, until he was about 90!
A man of boundless energy.
I sat next to Max at fellow legendary dealer Ken Baker's 100th Birthday Lunch only a 3 years back, in Moss Vale NSW, and was amazed at how a man well into his 90s could be so ENERGETIC. He was like a coiled up steel spring.

Max was visiting China several times a year even then, and other foreign countries, doing deals and moving and shaking, which is was what he had always done for his 80 years or so in the stamp business.

The nearby photo I took there, of Max and lifelong dealer friends Ken Baker and Kevin Duffy really does prove that stamps are good for our health - stamp dealers and collectors reaching ages of 90 or ever 100 are commonplace. Must be the gum!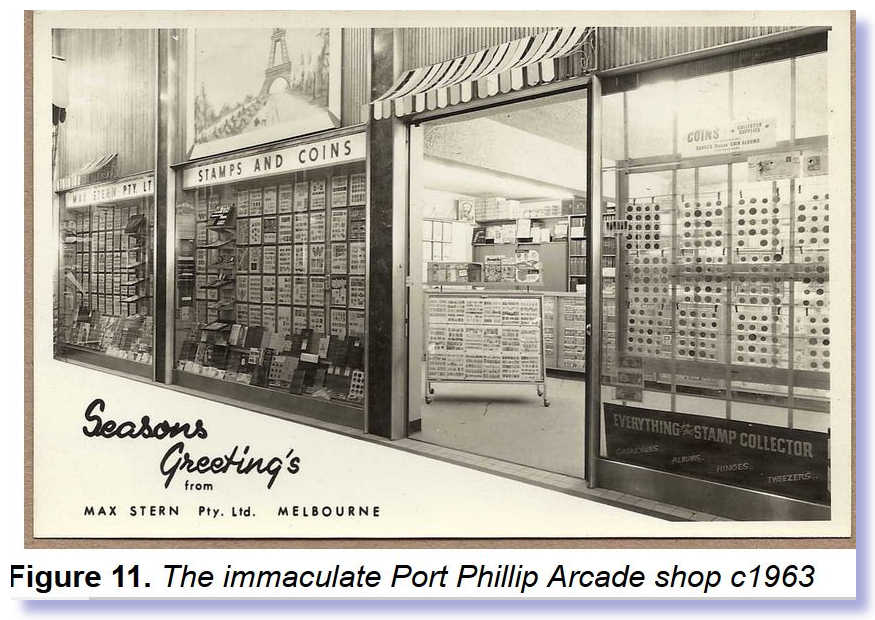 Same shop location for 60 years
This massive 9 shop complex of stamp and coin shops in the Melbourne Port Philip Arcade (with offices upstairs too as I recall) had been a haunt for collectors for 60 years. (Postcard courtesy Rod Perry.) Sadly, underground rail lines planned in Melbourne means these legendary shops will likely be demolished soon.

Max had a sad and graphic personal tale of the WW2 era, being Jewish and living in Nazi occupied Europe. Hiding in cinema roof spaces, even whilst the cinema was being bombed, and later found by the Gestapo etc.

The murder of most of his immediate family, and his VERY near misses personally from the same fate, via his fake Argentinian passport etc, are all recounted in his well-known book of his life - a highly recommended read. "The Max Factor - My Life as a Stamp Dealer".

tinyurl.com/MaxStern is the stampboards tribute discussion to Max, and all who knew him or dealt with him, are invited to leave a personal comment, and it already has input from all over the globe, as he was so well known and liked.

R.I.P. Max Stern - one of the true legends of the global stamp business, and a wonderful guy to have ever had contact with. You will be missed, and there will never be another Max.
New ACSC QE2 1953-1966
I have typed this before, but it is true and bears repeating. Australia has THE best and most detailed stamp catalogues of any country on earth in my view. No-one else comes close.

The 10 Volume "Australian Commonwealth Specialists' Catalogue" (ACSC) edited by Dr. Geoff Kellow leads the world. Germany, the UK and the USA produce nothing even remotely as detailed. That would surprise many readers I am sure, but it is totally true.

The "Stanley Gibbons GB Specialised" multi volume set is a very sick joke in comparison. They lack any kind of notes whatever as to numbers extant of errors and varieties, or numbers sold or produced of the basic stamp in most cases. Much other essential detail and constant varieties are also totally lacking, and that is a terrible shame.

Even worse is the Scott "Specialised" USA which is a quite pathetic single volume that purports to cover all USA issues from 1847 in specialised form. Like the SG Great Britain "Specialised" virtually no detail whatever is given by Scott as to numbers known of key pieces, and details about them etc.

And even the Michel German "Specialised" for Germany is nowhere remotely near as detailed as the ACSC. And what detailed info there is written in technical German. I once asked fellow Sydney dealer Manfred Junge to translate a footnote in Michel for me. Manfred was born and raised in Germany until an adult, and obviously speaks fluent German.

Manfred simply did not have a clue what much of it said, as it was using technical language and terminology that he simply could not translate. So for the rest of us non German speakers, reading Michel Specialised is a non-starter.
First Edition for TEN years.
The last edition was in 2006 - TEN long years back. At $A105 the value is there - finding just ONE half decent stamp - a scarcer type Specimen overprint, watermark variations, printing errors, or re-cut or re-entry etc will readily repay that outlay many times.

All leading dealers should have stock of this new catalogue as you read this. I had a lot of pre-orders. Go and peruse one - you'll be glad you did. Having these new editions as fast as you can source one is wise as often stamp bargains are a begging in dealer stock!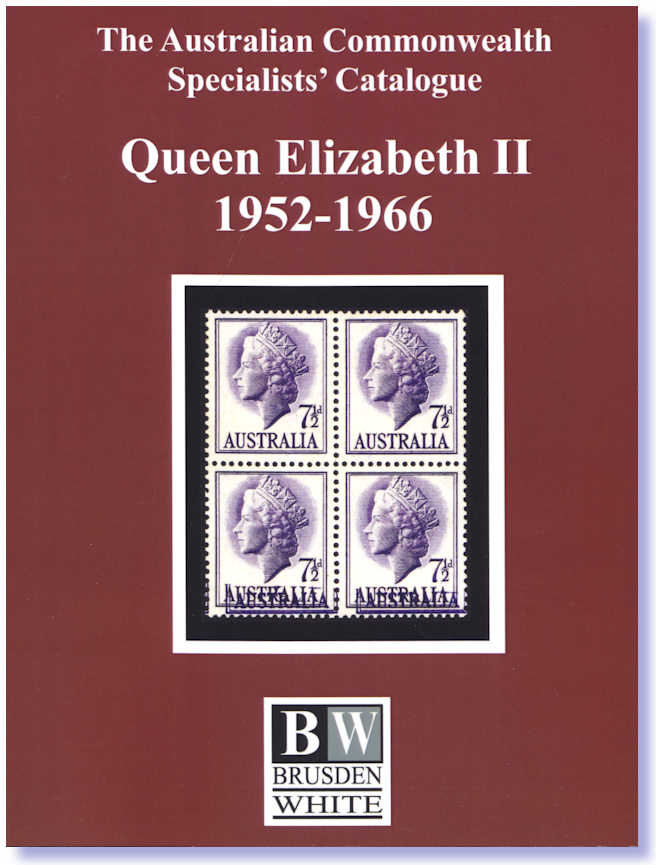 First Edition for 10 years.
This volume is completely revised, with new details of numbers printed, new shades and varieties, and many dramatic upward price adjustments, based on actual market realisations. On the first few stamps I looked at, many prices were up about FIVE times the old edition. That general trend continues through the volume.

Even the very pricey material often increases a lot. The front cover Block of 4 of 7½d violet, Double Print at base goes from $15,000 to $25,000 for instance. There are many other examples of key pieces experience massive price updates.

This edition has a very handy new section in the front listing all the postage rates relevant for this era. Most useful, and very difficult data to find published in print elsewhere.

This volume also lists flaws on the relevant Australian Antarctic territory stamps and the Cocos Keeling Island stamps, proofs, plate varieties, and Base cancel fdcs etc.

A meaty 360 pages, so excellent value at $A105. All leading dealers should have stock of this new catalogue as you read this. Go and peruse one - you'll be glad you did

If you have an earlier edition of the "QE2" Catalogue - just toss it away or give it to someone as a reference - the often massive 500% price rises and new information in here makes the old one totally redundant.
Kudos to publishers
Dr. Geoff Kellow is an editor without par for this series of catalogues. Meticulous and scholarly original research is evident in all volumes.

The resultant 10 volume ACSC set is something all parties involved should be enormously proud of. NO other country can boast such a complete set of catalogues. Or indeed anything even close to them.









Get my regular market update emails FREE. Stamp gossip, price trends, record sale prices, and many one-time stamp specials, wholesale bargains, and exciting offers and breaking philatelic news. A mini stamp magazine in every email! "KNOWLEDGE IS POWER". The ONE stamp list you MUST be on, to keep in touch with the rapidly changing world market. One client made $65,000 profit in a few months after following my specific advice. Sign up securely and quickly by clicking HERE to access my automated data base. And wiser still ADD your home AND work email, if I only have one right now. Add a stamp friend's email address if you wish. One short click and you are subscribed to probably the most read email list in the stamp world!




If you would like to be notified of updates to this website,

Click HERE. If have any questions,
or comments regarding my site, please email me at glen@glenstephens.com



| | |
| --- | --- |
| | Search all my 300+ web pages! Simply type in what you are looking for. "Penny Black", "Latvia", "Imprints", "Morocco", "Fungi" "Year Books", etc! Using quotes ( " ) is more accurf used with no quotes. Search is NOT case sensitive. Tip - keep the search word singular - "Machin" yields far more matches than "Machins" etc. |


I am a Dealer Member in Good Standing Of:

Full Time Stamp Dealer in Australia for over 35+ years.

Life Member - American Stamp Dealers' Association. (New York)
Also Member of: Philatelic Traders' Society. (London)
GLEN $TEPHEN$

Full Time Stamp Dealer in Australia for 35+ years.

Life Member - American Stamp Dealers' Association. (ASDA - New York) Also Member - Philatelic Traders' Society

(PTS London) and many other philatelic bodies.

ALL Postage + Insurance is extra. Visa/BankCard/MasterCard/Amex all OK, at NO fee, even for "Lay-Bys"! All lots offered are subject to my usual

Conditions of Sale, copy upon request .

Sydney's

BIGGEST STAMP BUYER: Post me ANYTHING via Registered Mail for my same-day cheque. Avoid copping the Now normal 45% Auction "Commissions" (15% Buyer + 20% Seller + GST, etc) AND their five-month delays!

Read HERE for details.

"Lothlórien", 4 The Tor Walk, CASTLECRAG (Sydney), N.S.W. 2068

Australia

Phone 7 Days: (02) 9958-1333

PO Box 4007, Castlecrag. NSW. 2068


E-Mail: glen@glenstephens.com The Number #1 Web Sites: www.stampboards.com