Click To Go Back To The Main www.GlenStephens.com Stamps Homepage

Welcome! You are visitor
to www.GlenStephens.com


May 2016


---
Stamp Storage Tips
Stamp dealers are like doctors. We generally get to tell you about your serious problem only when it is too late to rectify anything. The NUMBER ONE problem for stamp collectors (and dealers) in this part of the world, is our climate.

Probably 90% of Australian stamp collectors live in the coastal strip from Melbourne to Cairns. These areas suffer from sustained high humidity over the long Australian summer months from about November to March.

Humidity is moisture in the air. Stamps, stamp albums, stockbooks and Hagner sheets - all being paper - absorb this humidity in varying degrees. And then stay very slightly damp for weeks - indeed generally for many months.

Damp paper in our warm climate gets slightly mouldy. Or VERY mouldy! The less you "air" and ventilate your albums - and many collectors do not, the faster this mould will grow and spread. This gives rise to small (soon to become much bigger!) brown spots etc.

Stamp Collecting was initially a Northern Hemisphere hobby. In Scotland, Scandinavia, Hamburg, Boston, Chicago or Toronto etc, etc, they have no idea how much humidity we get in the Pacific region, each and every Summer.

Cartons of old correspondence in the attic of a Glasgow Solicitor etc generally looks superb when found cleaning up old file boxes. Even if 200 years old, in the pre-stamp era. Large caches of this material appear all the time, and condition is incredibly fresh. HERE it would be rotted to dust!

Most stamps here are stored in poorly ventilated rooms. Often in closed boxes that do not "breathe", in dark wardrobes, storage cupboards, attics, and garages etc. Damp paper with no exposure to sunlight is a disaster waiting to happen in this climate
BAD news for stamps
Dealers and collectors have varying names for this phenomenon: "spotting", "toning", "rust", "foxing", "aging", "tropicalisation" etc. Whatever term you choose to use, it spells BAD NEWS for your stamp collection - or your stock, if a dealer.

If you live near the sea (and near all Australians do), the high humidity is also mixed with small (or not so small) amounts of salt laden air. This quickly makes a really nasty brown-orange sodium rust "cocktail" that eventually eats, and ruins your stamps.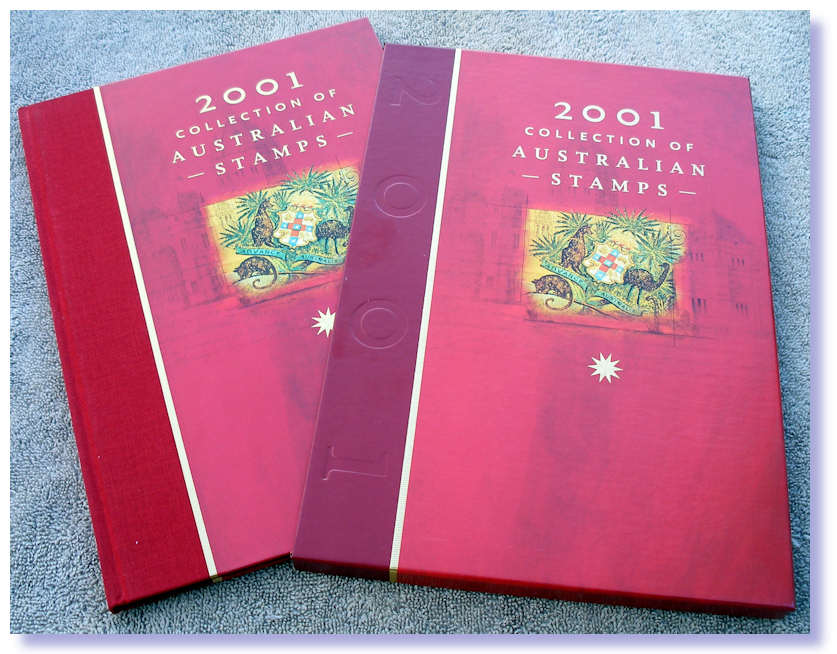 Stamp slipcases WORK!
How can I prove that slipcases have any bearing in preventing the amount of "rust" your collection will get without slipcases? Simple. I often buy collections of Australia Post year books along with that same collector's usual stamp album/stockbooks. All the PO year books as we know are issued in slipcases as a matter of course.

Amount of rust or foxing found on stamps in the Year Albums - usually none. Amount of foxing found in the NON-SLIPCASED albums and stockbooks stored around them - or right next to them in most cases? Well, you already know the answer I think!

Over my 35 years as a dealer, I have purchased and valued literally 1000s of collections from within Australia. The condition of many is appalling. A mint £2 CofA watermark Kangaroo with bad tone spots is basically worth ~$400 as ultimately "fine used", instead of ~$4,000 as fresh mint. All directly due to careless storage.


You MUST have Slipcases
Most collectors store part or all of their collection in Hagner sheets. These have been widely available now for about 50 years, and most (if not all) readers of this column have some (or many) in their stamp den. Inexpensive and very flexible stamp storage.

How many readers have those Hagners and binders are stored in a slipcase? Almost NONE is my experienced guess. In Australia I often buy 20 or so Hagner binders from Estates. Each one when opened up shows the TOP row or two of stamps have the worst toning/rust/foxing. Why?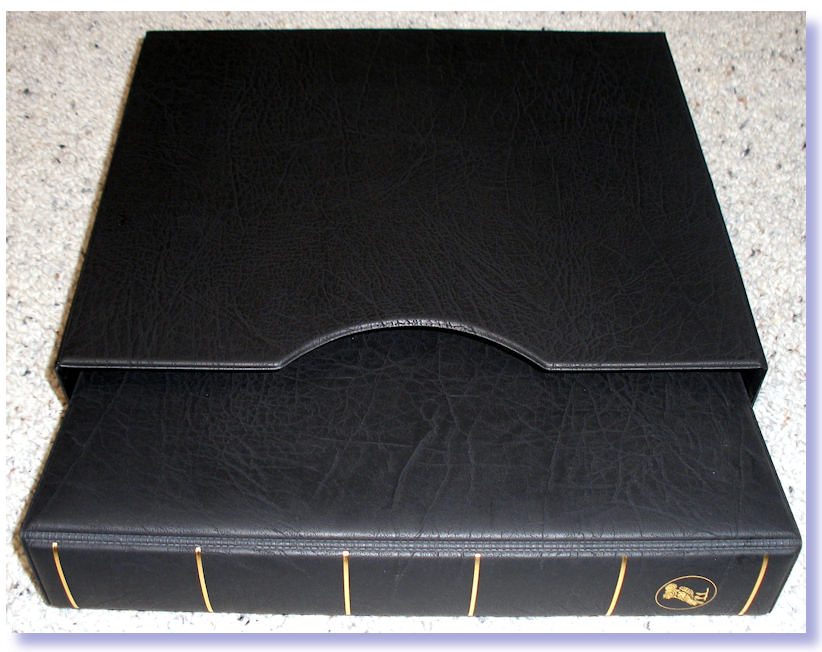 Slipcases protect it all.
Airborne dust settles there, and then when combined with the humid (often salt bearing) air, which also goes down only a row or two, you have a deadly mixture. Slipcases combat this perfectly. Any dust or gunk sits on TOP of the slipcase, and rubbing a finger over it each year or two will show you how MUCH gook would have gone right down into your stamps otherwise.

Slipcases work on a very simple principle. You slide in the Hagner binder, and the TOP of the pages, and the stamps on top rows are then NOT exposed to all that moisture, airborne dust, salt, insects or humidity etc, etc. Pure common sense.

Please repeat after me - "Slipcases are THE most cost effective rust prevention accessory available to stamp collectors". Say it five more times. THEN contact your regular dealer and order as many slipcases, as you have Hagner binders containing stamps!

A $20 slipcase can prevent a potential loss of $10,000s in extreme cases, and all dealers can tell you of such examples. I sell endless boxes of the black "Leather Look" matched sets shown nearby, and they are very "cheap insurance". And look classy too. I have never seen a blue or green cow, so why some folks buy "Leather" albums in those garish colours mystifies me.

A NSW client built in an entire wall of his lounge room in classy wood shelving to store his binders. As this design has been unchanged for 20 years, he has expanded it to several 100 volumes as he collects widely. He says visitors comment the classy gold highlighted spines looks like a Barrister's Library!
Nasty "Chinese" Stockbooks
I did an insurance valuation here for $90,000 in value, of pre-war Australia stamps, with many Roos, that were literally housed in four of those horrid $5 "Chinese" stockbooks. The pages as usual, had all buckled and warped and twisted due to the cheap clear plastic strips shrinking over time. What an ugly mess to house pricey stamps.

Naturally I berated the owner about the lunacy of that. The highly acidic and unbleached cardboard used on those appalling books, and the clear thin strips of a nasty PVC that shrinks, is like storing stamps in a weak acid bath in this climate! Needless to say they are now all in Hagner binders and slipcases!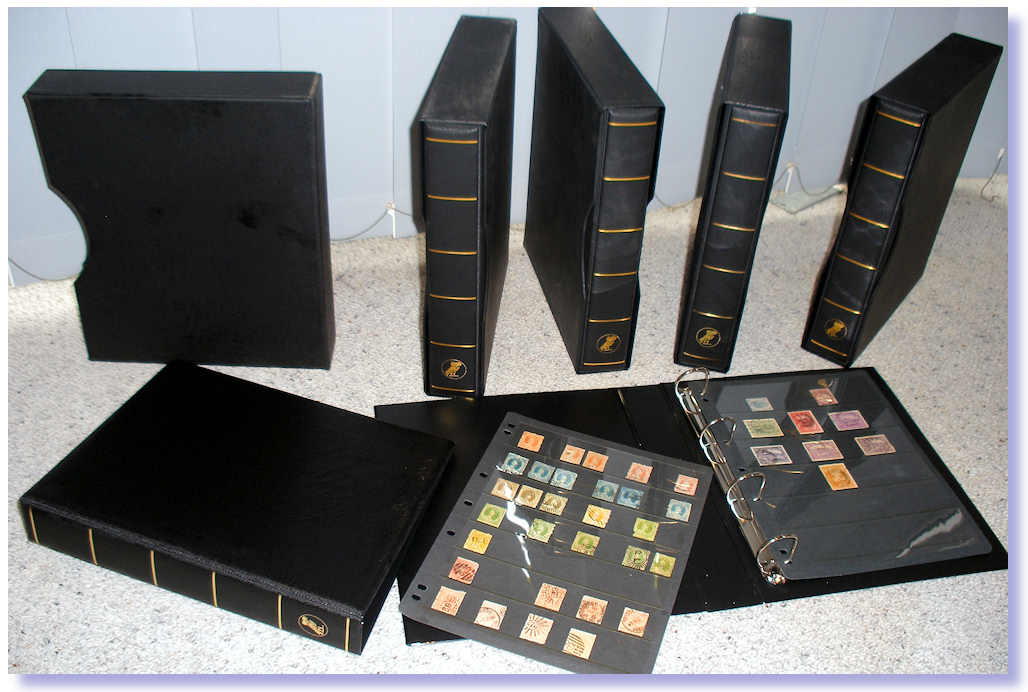 Do YOU have slipcases?
I sell far more Hagner sheets than any dealer in Australia, as my price is near half retail - tinyurl.com/GlenHags Very often in boxes of 600 or 800 sheets etc. Google "Hagner Sheets" and I am generally match #1 globally. I ONLY stock the genuine British made sheets.

A locally made "copycat" version always gave me headache issues re poor quality a decade back, with many sheets literally falling apart due to guillotining issues, and the strips falling off due to bad gluing and so on. The long term properties of the board I have no data on. Fortunately perhaps, these sheets are no longer made here.

A few binder/slipcase sets are shown above, and it really is a very classy product. "Leather" look deeply grained black covers, and gold bands on the spine. At just $36 a binder/slipcase set in a carton buy, they are also surprisingly cheap, and truly essential in this humid climate.

Each set holds about 50 "Hagner" style sheets as it has the very LARGE size "D" rings, and I sell 1000s a year due to their modest cost. Well worth thinking about. After about 10 years the "D" rings on your current binders have usually started to rust, and the very thin chromium coating will start to flake off, and get into your stamps. Toss those away and upgrade.


Do NOT "Powder" stamps!
There are quite a few mad myths regarding wise stamp storage. In Queensland especially, the widely believed and widely acted upon old-wives-tale of pouring talcum powder over your stamps "to stop rust" is to be avoided at ALL costs.

And the same goes for "powdering" with the very slimy, slightly less destructive "French Chalk". These products both make a horrible, messy, oily WRECK of your collection (and albums) in most cases. Most talcum/baby powder has an oil component, and that being smeared all over your stamps is total madness.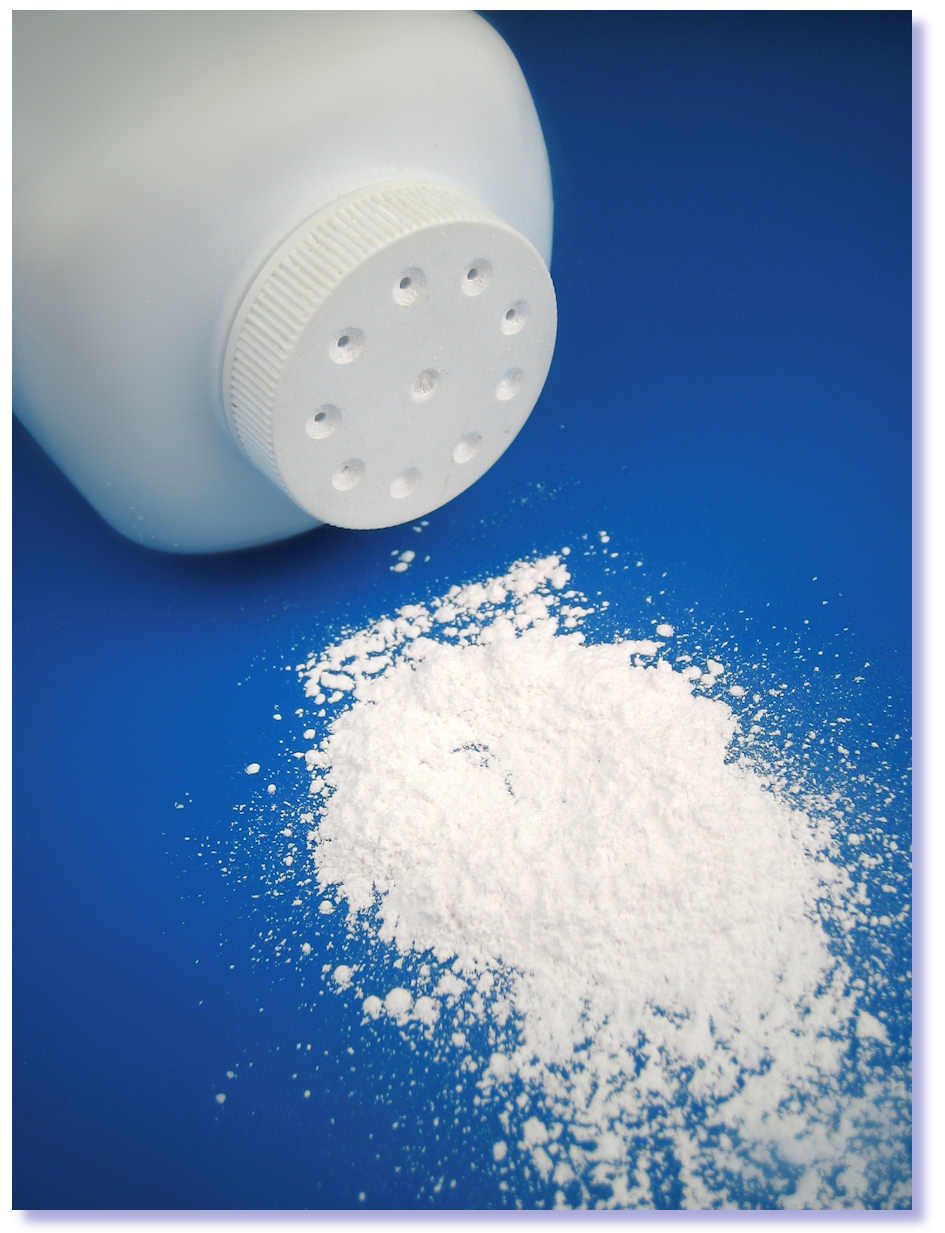 NEVER "Power" anything philatelic.
This slippery gunk NEVER gets off the face of the stamps or covers, and indeed in engraved/recess printed issues, such as KGV/KGVI/Early QE2 Definitives from nearly all countries, it lodges between the fine recess ink lines.

No amount of huffing, puffing, and blowing and wiping EVER gets it off. I've bought collections where entire containers of yukky white baby powder have been upended into the storage boxes - "to stop rust, whilst being stored".

So if anyone in your local club advises this totally loopy practice - please take them outside and beat them mercilessly with a cricket bat! It is madness, pure and simple, and yet to this day, many still do it.
"Adelaide 2016" set 6 sells $7900.
For $A7,900 I can sell you a nice set of Mint Kangaroos to £2. It can also buy you a set of 6 stamps that were sold in Adelaide 3 months back for $1.80 as POs! The "Adelaide 2016 30c" stamp juggernaut is stronger than ever.

This postal "Emergency" issue I outlined 2 months back in much detail - tinyurl.com/Glen3-16 and I sell mint sets of 6 for $A1,950 as this is typed. There are 2 different stamp design types "Type A" and "Type B", and a set of 6 each is $A4,000.

There were also some rather interesting errors on them that stampboards member have dubbed the "Inverted Ghost Albino Prints". If you look at the stamp shown nearby you can see where that name derives from. "30c Adelaide" wording is albino printed inverted along base.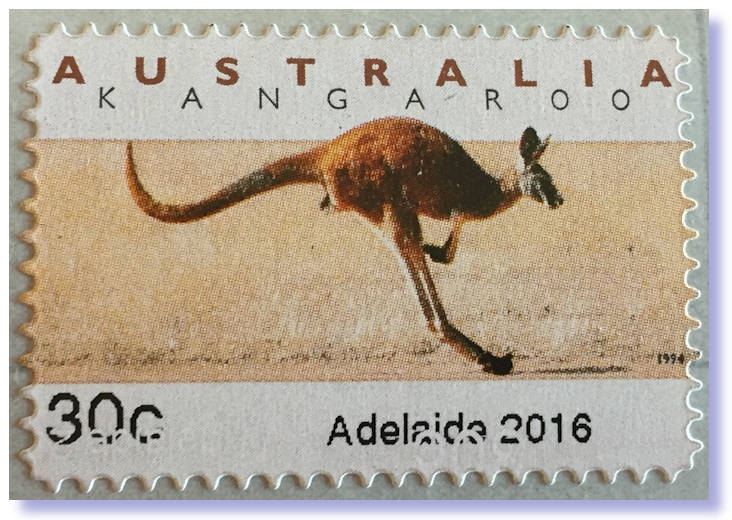 Set 6 sold for $7,900!

The stamps were produced quickly by the thermal print CPS process, using a long ribbon. If this is inserted in haste into a machine, the new printed letters partly showed portions of the earlier run. It is complex - all outlined here for the tech heads - tinyurl.com/rare30c

Many of the sets I sold earlier on were of this "Albino" variety. In fact only AFTER I'd mailed all but 1 set did I notice it, and report it with pix, and others expanded on the tech reasons how it could exist. A set of 6 I think I sold for $250, appeared on ebay recently and sold for $A7,900! tinyurl.com/Set7900 – check for yourself – 39 bids.

A single stamp with no variety on kiloware piece sold for over $2,000 on ebay and the list of other amazing results is all outlined here - tinyurl.com/rare30c It is a REAL modern Rarity set, and catalogue listing for them has now been confirmed, and interest in these will continue globally for some years.
Arthur Gray KGV "Extras"
I read on stampboards just as this column went to press mid-April, that mossgreen auctions in Melbourne plan to auction the "remains" of the Arthur Gray "KGV heads and Commemoratives" stamp collection on May 23.

The main auction of the Gray Gold Medal collection on October 30 2015, I flew down for, and it was invoiced out for more than $A3 million - a record for any Australian based stamp auction. (Gray's "Kangaroos" of course sold for $A7.15 million in 2007, but they were offered in New York, and not Australia.)

Very interesting timing for this May 23 auction, as I like many in Australia will be flying across to New York for the massive "World Stamp Expo" which commences May 28. We are flying across via Korea, so it takes nearly 2 days of travel to arrive, and then get jet-lag adjusted, so sadly can't be in MEL on the 23rd.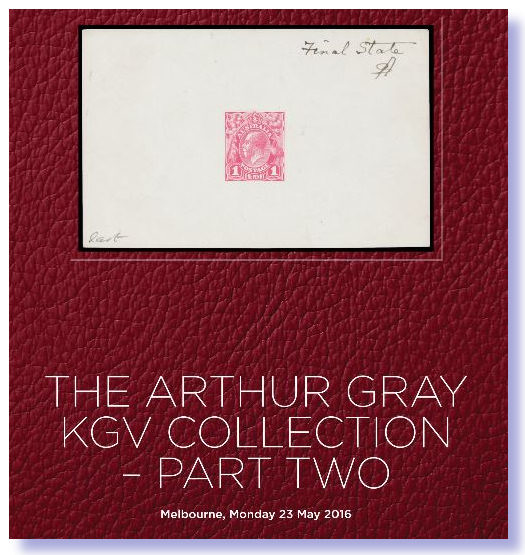 Part of Gray KGV #2 cover.
I have no photos of stamps from this auction, which will be taking place soon after you read this. The mossgreen website does not have the online sale loaded yet, just the clunky "flip book" that photos cannot be removed from, so this small size screen capture nearby of part of the front cover, is the best I can offer here, very unfortunately.

Arthur's "extras" were of course more extensive and valuable than most serious collectors accumulate in their lifetime, and I am sure there will be a lot of KGV specialists keen to chase this material. All of it will have the provenance of "ex Gray" and that is impossible to better for this era!
New York Expo May 28-June 4.
The highly anticipated "World Stamp Show-NY 2016" will be the first international show in the USA since the very successful "Washington 2006" show 10 years earlier. The show will include international exhibits, with some of the world's top philatelic rarities on display - many from Australia.

More than 200 dealers (Australians included) are booked to take stands at the show, including the U.S. Postal Service with a huge presence of course, and some 50 postal bureaux from around the world. Visit their superb website (ran by Michael Eastick in Melbourne !) for far more details - www.ny2016.org



See you there in a month!
The Exhibits Selection Committee received applications (6500!) for many more frames than were initially available. In fact, the initial allocation of 3,800 competitive frames was increased to 4,125, to meet some of the global demand.

I have decided to fly over for a few days for the show, and then drive around the Smoky Mountains in Tennessee and Kentucky, and come back home via a few days in Japan. For anyone reading this, and wants to catch up for a stampboards group dinner there June 1, please chime in here - tinyurl.com/Expo2016

My personal view is this will be LAST of the true global Mega Shows in our lifetime, so if you get a chance, book a ticket to experience it first hand, as you will likely never see anything this huge again. Cost of venues, gigantic security costs for the exhibits, and PO funding etc are massive issues for these week long shows. See you there!
Million Dollar Straight edge!



Collectors do not like "Straight Edge" stamps. They do not look attractive, and generally get a fraction of what the same stamp otherwise sells for. This has been the case for over a century.

In some countries like the USA, Post Office sheets of 100 of many stamps had straight edges on all 4 outer edges, guillotined thus by the stamp printer, from far larger master sheets. This was common late 19th Century to early 20th Century. All the higher value 1892 Omaha and 1893 Columbian stamps were printed thus as I recall.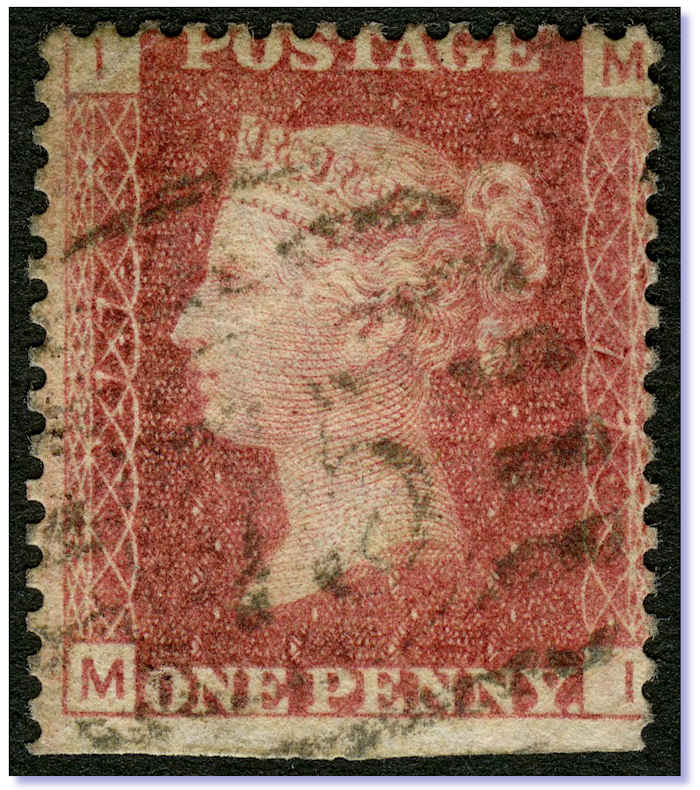 Million Dollar Scissor Cut!
The GB 1867 1d Red was not issued with straight edges by the Post Office - indeed I can't think of one regular issue UK postage stamp that used this policy in regular issue stamp sheets. Nor from Australia - the only way these stamps can have a straight edge here is from some booklet panes or coils etc.

So the stamp above had the lower perforations trimmed by someone wielding a pair of scissors over-zealously it seems. So that destroys the value - right? WRONG! Stanley Gibbons sold it last month for £495,000, which at the time was over one Million Australian Dollars.
Gibbons sell TWO copies!
"This is one of the most desirable and iconic of British stamps for collectors worldwide, highly sought after for more than 100 years," said Keith Heddle, Managing Director of investments at Stanley Gibbons, the UK dealer that facilitated the sale.

"It is testament to the strength of the market for rare stamps and also Stanley Gibbons global standing that we have managed to sell not just one, but two Plate 77 Penny Reds in the last four years.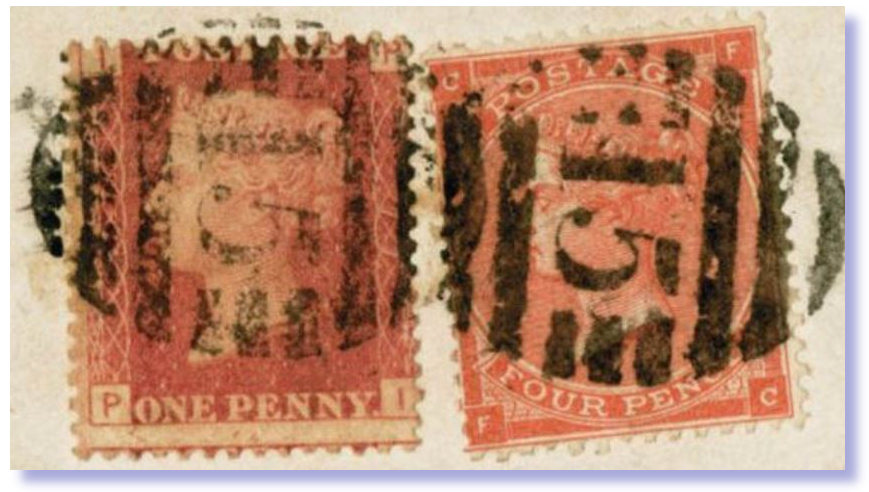 Sir Ron Brierley paid £550,000.
"This is one of the most desirable and iconic of British stamps for collectors worldwide, highly sought after for more than 100 years. With the last one having been sold to a client in Australia, I'm delighted this one has found a home in Britain." Heddle concluded. (The local Sydney buyer was Sir Ron Brierley for a similar sum - his copy is FAR more attractive!)

The stamp is so rare because the printing plate, which was created in 1863, was faulty and the perforations were out of sync. It is likely that only one sheet was printed before the plate was destroyed. The Plate 77 Penny Red was never issued, but some stamps found their way into circulation. Mint and used are recorded.

"With a stamp of this magnitude you invariably get people popping out of the woodwork and you need to figure out whether they're serious buyers or just kicking the tyres," Mr Heddle said. The buyer put down the 10% deposit for the stamp within 48 hours, Gibbons advised.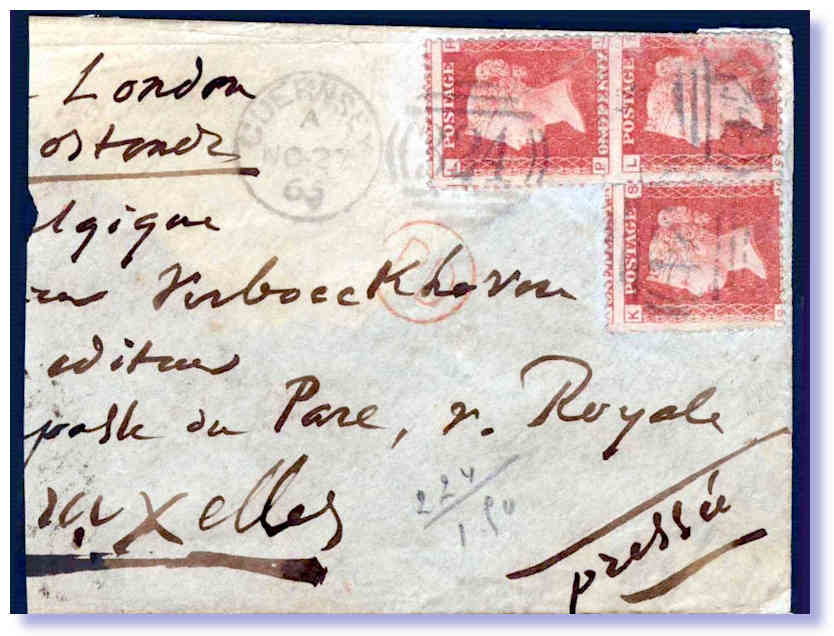 Plate 77 Victor Hugo Cover.
| | | |
| --- | --- | --- |
| | While there are only a few known examples of the stamp in existence, Mr Heddle said that 1 or 2 more - including one that is believed to have disappeared in the San Francisco earthquake of 1906 - could still re-emerge. New finds are ALWAYS possible in stamps! | |
£1 Million Victor Hugo Cover
One story I have followed with great interest in recent years, is the discovery of a part cover bearing 3 x SG 1d Plate "77" stamps. The discovery was of a 1865 part cover from Guernsey Channel Islands, to Brussels Belgium.

It was found in an old collection job lot in Europe, where the scarce plate number had not been recognised. The part cover was pre-paid with 3 x 1d Red stamps, all dreadfully centred, with the Guernsey "324" barred numeral obliterator.

One of those is very badly scuffed, and one is creased/torn. A rather ugly piece, value in normal circumstances - a dollar or so on a good day. However all stamps are showing Plate "77" on both sides as you can see nearby - making this literally a £1 million rarity. No others exist on cover.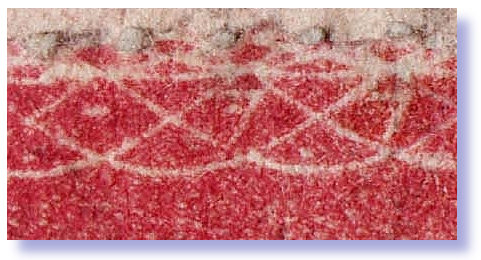 "Glooed On Da Numbahs"
It is most certainly a 7 figure piece, based on the SG recent sales of £550,000 for a single off centred example, and the recent £495,000 paid to Gibbons for the scissor mutilated stamp shown nearby. Catalogue value of a used single is now £600,000.

Stampboards has many 100s of detailed colour photos, and charts and graphs, large microscope blow ups, forensic reports, and outlining the whereabouts of the other known existing plate "77' examples. All added to and discussed, by members all over the globe.
Amateur Hour in STEREO!
The RPSL laughably claimed that all 6 x new 7s had all been "glued on", and the Philatelic Foundation in NYC initially claimed the 7s were all newly painted in, and both gave it a "faked" Certificate. Talk about Amateur Hour in STEREO!

Both utter nonsensical views it seems to me, and to many others who have studied the matter - and the cover! And both were totally discredited on all counts, in a detailed report by a global leading forensic document and ink examiner - victorhugocover.com - a fascinating read.

The Philatelic Foundation in New York after fully reviewing the real world barrage of science the owner provided on this cover, did a total back-flip, and tore up the first absurd "painted in and faked" Certificate, and issued one as genuine in all respects, see photo nearby. Full credit to them for finally getting it right.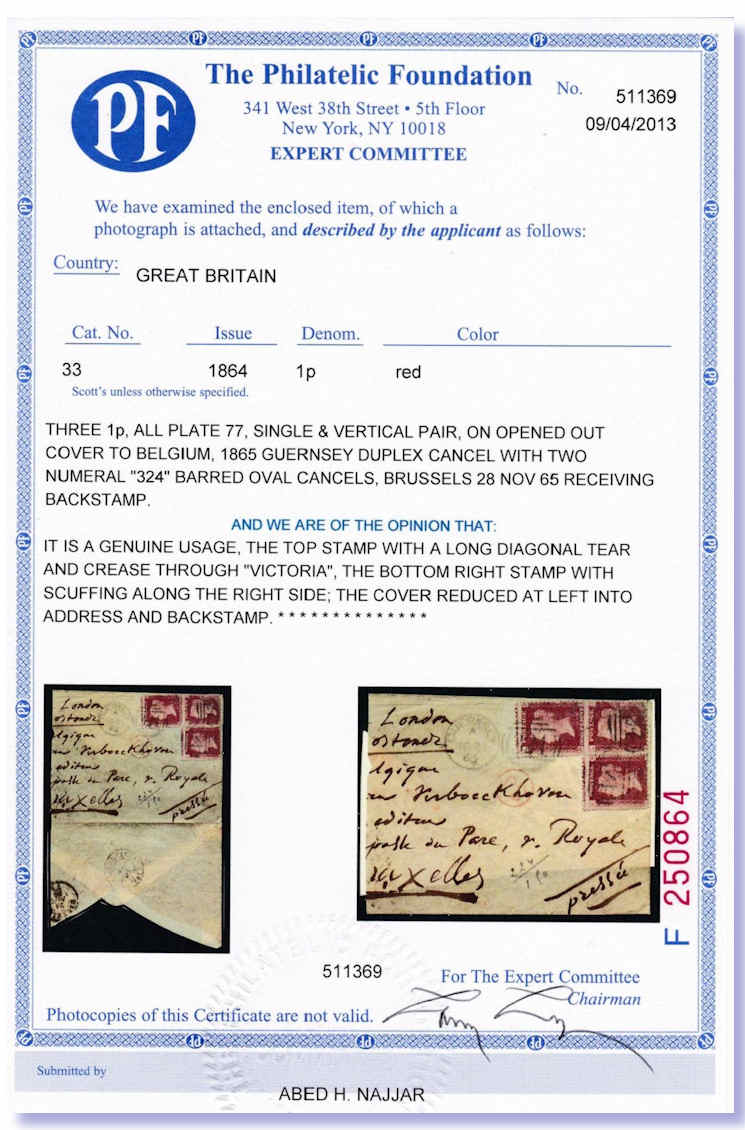 Total Backflip Certificate.
| | | |
| --- | --- | --- |
| | The American Philatelic Society Expert Committee, and Sergio Sismondo Expert Committee also later issued certificates as genuine "77" stamps and cover, leaving the "Royal" in London looking sillier than ever with their "He Glooed On Da Numbahs" nonsense view, that a 12 year old could debunk with a fingernail test and/or a $5 UV light! | |
The Swedes did the same!
| | | |
| --- | --- | --- |
| | The Swedish Philatelic "Establishment" as recently as the 1970s, totally and publicly debunked the unique "Tre Skilling Yellow" as a total fake and fabrication. A large Committee of the leading Philatelists there made all sorts of wacky and loopy claims, and science in that case too, later proved them all totally wrong. It later has changed hands for Millions at Auction. | |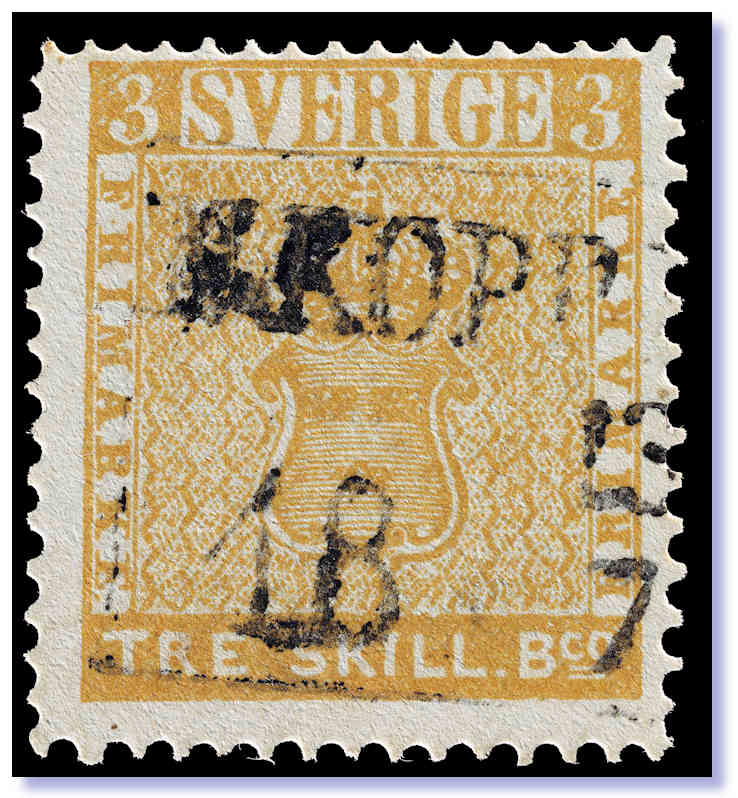 Sweden "Experts" all totally wrong.
tinyurl.com/plate77 caries the complete discussion on this Plate 77 cover, which to date has some 3,000 different messages, with near 170,000 page views thus far. Recently the owner, via neat detective work, discovered the cover was hand addressed by Victor Hugo - the famous French novelist etc, who wrote "Les Misérables" and "The Hunchback of Notre-Dame".

Hugo was the most famous resident ever of Guernsey, and the cover was addressed in Hugo's hand to his publisher in Brussels. Publisher Lacroix Verboekhoven's offices were at Impasse du Parc, Rue Royal, Brussels. Exactly as shown on the cover.
Stolen Jenny appears after 61 years.
In 1955, a block of four rare USA 1918 24c "Inverted Jenny" postage stamps was stolen from a display case at an APS Exhibition in Norfolk, Virginia. Over the ensuing decades, two of them were recovered, but there were no signs of the 2 others - until now.

Six decades after the theft, one of the stolen "Inverted Jenny" stamps has surfaced at a New York auction house. "It's one of the most notorious crimes in philatelic history, and there's a piece of the puzzle now that's in place," said Scott English, the administrator of the American Philatelic Research Library (who own the stamp) according to The Associated Press. (AP)

There are other known "Inverted Jenny" stamps from that sheet of 100, but this newly discovered stamp is from the stolen block of four. "After careful expert examination, the rarity was determined to be position 76 in the pane of 100 subjects" the Spink USA auction house said in a press release.

After the theft, the block was broken into four singles, and each copy was altered to disguise its appearance. Position 76 recovered by Spink had been re-perforated at right, and most of the gum was removed, so the pencil position numbers written on the gummed side had been lost, making identification a challenge.
"My most prized possession."
| | | |
| --- | --- | --- |
| | The collector who owned the stamps when they were stolen in 1955 was a woman named Ethel McCoy, and the press release says they were her "most prized possession." Though one of the four stamps surfaced in her lifetime, she was unable to get that one back. She later willed the legal right to the 4 stamps to the APS. | |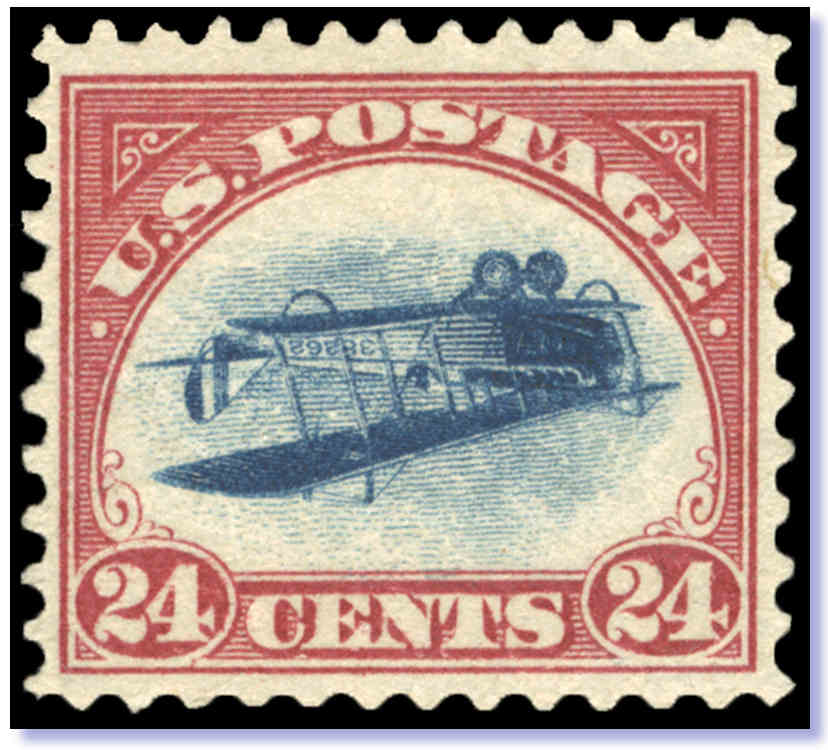 Curtiss Jenny Flies Home!
The recent copy was submitted to auctioneer Spink USA by a 20 year old man from the United Kingdom, who had inherited it from his grandfather, who said he didn't know much about it, said George Eveleth, head of the Spink USA philatelic department.

"This is one of the most exciting events in my 38 year career in the stamp auction business" George Eveleth was quoted as saying in the Spink New York press release dated April 15th.

The legal owner of all the 4 stamps, the APS Philatelic Library, is now working with Spink USA, and USA Federal authorities, to reclaim the stamp. The FBI didn't immediately respond to a request for comment from Associated Press. These stamps have sold for near $US1 MILLION apiece in headier days.

George Eveleth from Spink said authorities had told the auctioneers not to release the name of the young British consigner. Two other stolen and altered "Jenny" stamps from the Block 4 were recovered in 1958 and 1982. The whereabouts of the fourth stamp is still unknown.

While it is unclear whether the would-be consigner can shed any light on the long-cold trail to the thieves, the stamp was accompanied by an intriguing item. A 1965 letter about a monetary loan from a noted stamp dealer to a well-known auctioneer, both now dead, Eveleth said. The letter isn't necessarily connected to this stamp, however.









Get my regular market update emails FREE. Stamp gossip, price trends, record sale prices, and many one-time stamp specials, wholesale bargains, and exciting offers and breaking philatelic news. A mini stamp magazine in every email! "KNOWLEDGE IS POWER". The ONE stamp list you MUST be on, to keep in touch with the rapidly changing world market. One client made $65,000 profit in a few months after following my specific advice. Sign up securely and quickly by clicking HERE to access my automated data base. And wiser still ADD your home AND work email, if I only have one right now. Add a stamp friend's email address if you wish. One short click and you are subscribed to probably the most read email list in the stamp world!




If you would like to be notified of updates to this website,
Click HERE.
If have any questions,
or comments regarding my site, please email me at glen@glenstephens.com
| | |
| --- | --- |
| | Search all my 300+ web pages! Simply type in what you are looking for. "Penny Black", "Latvia", "Imprints", "Morocco", "Fungi" "Year Books", etc! Using quotes ( " ) is more accurf used with no quotes. Search is NOT case sensitive. Tip - keep the search word singular - "Machin" yields far more matches than "Machins" etc. |


I am a Dealer Member in Good Standing Of:

Full Time Stamp Dealer in Australia for over 35+ years.
Life Member - American Stamp Dealers' Association. (New York)
Also Member of: Philatelic Traders' Society. (London)
GLEN $TEPHEN$

Full Time Stamp Dealer in Australia for 35+ years.

Life Member - American Stamp Dealers' Association. (ASDA - New York) Also Member - Philatelic Traders' Society

(PTS London) and many other philatelic bodies.

ALL Postage + Insurance is extra. Visa/BankCard/MasterCard/Amex all OK, at NO fee, even for "Lay-Bys"! All lots offered are subject to my usual

Conditions of Sale

, copy upon request .

Sydney's

BIGGEST STAMP BUYER

: Post me ANYTHING via Registered Mail for my same-day cheque. Avoid copping the Now normal 45% Auction "Commissions" (15% Buyer + 20% Seller + GST, etc) AND their five-month delays!

Read HERE for details.

"Lothlórien", 4 The Tor Walk, CASTLECRAG (Sydney), N.S.W. 2068

Australia





Phone 7 Days:

(02) 9958-1333

PO Box 4007, Castlecrag. NSW. 2068




E-Mail:

glen@glenstephens.com

The Number #1 Web Sites:

and www.stampboards.com