"M-2" Price List






Every credit card shown is accepted WITHOUT fee. Earn Frequent Flier points
while buying at bargain prices! ALL prices are in weak Ozzie Dollars.
I charge NO nasty, nasty "Buyer's Commission" on stamps
like nearly every "Auction" does.



| | | |
| --- | --- | --- |
| | This is are a very small selection of the tens of thousands of stamps and "job lots" I have for sale. I am constantly buying new stock, so if what you need is not here, please ask! I stock basic Australia and most "Australasian Pacifics" 100% complete up to 1980, and the material in my lists is generally only the more unusual and interesting stock - let me quote on the "bread and butter" stuff. My prices on such material are the lowest you will find in Australia, whether mint, used, FDC, year albums, packs, etc. Refer to the want list page for details on how to ask me | |
| | | |
| --- | --- | --- |
| | And with the terribly low rate of the Australian dollar in recent times, the prices on these lists converts to CHICKEN FEED for those of you who earn other than "Pacific Pesos." Not ONLY the $US, but Sterling and the EURO are also incredibly strong against our pathetic little currency. I buy 99% of my stock locally - I am thought to be the largest stamp buyer in Australia's largest city, so I pay in Pacific Pesos and sell in Pesos, hence the incredible savings to ALL overseas buyers. If you buy via "Auction" (even if you are an Australian resident) you are always paying 15-20% "buyer premium", plus GST/VAT type taxes and other charges in many cases. That can add 30% to the hammer price of the stamps! There is NO sales tax or "premium" or GST/VAT of any kind added to orders from the list below, no matter WHERE I mail the goods. | |
So grab a cup of coffee, sit down, and enjoy your browsing!
IMPORTANT! Every price on my lists is NETT, in weak AUSTRALIAN dollars!!
Check the low cost in YOUR currency by clicking here.
FIXED LOW NETT PRICES
NO Nasty 15% "Buyer Commission"!
"M-2" Price List
1. Carton of mostly Dutch Stamps: From an estate and on old leaves, in glassines, envelopes, on paper + loose. Who knows what's here. Many 1000s. $A65

2
| | | | |
| --- | --- | --- | --- |
| | | Roo 5/- 1915 Second Wmk Perf "OS": Absolutely superb used – clean fresh well centred, and perfect perfs. Corner light cds. 1 in a 1000 copy - best you'll see anywhere. SG #30 £250 = $A700. The perfs on this are nearly ALWAYS rough and "fluffy" as these were produced in a printing emergency during early WWI. (Hence the wrong sized KGV wmk paper being used) And MOST times the perf pins on the 5/- run were worn and blunt and not replaceable due to them being needed to be imported from of all places - GERMANY! And being used on government parcels, the cancels are usually HORRIBLE, and on a pale yellow stamp that really shows up. Put this one away in the bottom drawer! $A275 | |
3. KGV 1d Green Imprint Block 8: "VG" Perfin. Lovely centred with ACSC 82z vars AND of course the 82qa retouch error is also present on stamp 56. $A55
4. Aust + AAT MUH 1966-2000: In brown s/bk.FACE is over $150(Cheap 'postage'!) Also pre-dec KGV to 1965 inc 2/3d commems. MUH Greece sets etc. Toning. $A125
5. White BOX USA ex Estate: On leaves from old collections + in envelopes + glassines. Lots MUH 1940s, but mostly U. (Many 1000s) and most look to be pre 1970s, and back to 19th Century. This junk must be of interest to SOMEONE?! $A65
6. FIFTY Large Stockbooks: Filling 4 x VERY heavy large fruit cartons. World A-Z, M & U. Last touched about 30 years back. Spent 10 mins looking, but mostly junk seen with some toning! Did sight useful Pacifics with Defin sets to $5 MUH. AAT 1966+73 sets MUH ($60) Aden-Seiyun 1954/66 MUH (£45) etc. 1000's. MUST be collected by buyer. I am NOT mailing it or packaging it up for ANYONE!!! $A250
7. UNUSED STAMPS: Face value $717 mostly 45c-49c with itemised lists. $A395
8. AUST F.D.C. DUPLICATED HOARD 1966-1975: A hoarder bought average 5 of each issue and sealed them in cello bags. ALL are unaddressed! To 1970 are "Wesley", then official PO thereafter. Noted early booklet panes. Scarce sets like 72 Beef x 6 (clean, and ret $100) 1972 Xmas (4) etc, 65 different issues all duplicated. (100s). Some tone spots, but the cello has assisted in keeping that down. Retail must be $1000+++. Perfect for dealer stock, or selling on eBay etc. $A140
9. 5 old kids albums: (2 x diff. ETA Peanut Butter!)+ S/Book M+U world. Noted Pitcairn 1957 Defins fresh M (Cat £48) etc. A useful NZ collection etc. $A60
NO GST is added to prices to any items on this website.
All prices on EVERY list are weak Australian Dollars!!
All prices are "nett" ... what you see is what you pay. NO Nasty, nasty 15%-20% Auction house "Buyer's Commission" silly nonsense is later extorted from you!
10. Russia 1949 Airmails Set 8: Michel #1401/08, cat 180 Dm Mint and 100 Dm used. Some toning, but all but one are MUH. Very seldom seen group. $A45
11. CANADA MUH COLL: 1971 to late 80s. Looks complete fresh MUH. Noted panes and phosphors etc. Lots se-tenants. FACE value exceeds $C250 (=$A280). Retail $A700 or so. For some reason Canada seldom seen here. $A300
12. GB 1902/13 KEVI 7d Grey: Fresh corner block of 8 (4 are superb MUH!) $A50
13. Big 100 y.o. SG 'Imperial' album: 550 huge pages. Entire B/Cwth. Superb for a QV Collector. Toning on some pages, but most are v. clean. No stamps inside. $A50
14. GB Commems only: Big stockbook from 1971 Ulster to very late 90s. About 1750 stamps here. Gibbons is up to £1½ each on some of the 90s high values! $A80
15. C.Peck 'PictorMarks' Cat: New. 2 vol.set. 880 page, 4,500 priced & illust. pmks, 19th Cent to recent. Absolutely essential ref. You could make this on one cds. $A70
16. XMAS + TB Seals: 2 big binders full. Must be 10,000+ here! Lots full sheets fresh MUH. 1933 to 1980 inc Boys Town, ALA, VFW &c + much similar. Nice lot $A85
17. Aust. USED imprint pairs and blocks KGV to 1951: Vals to 1/- Lyre. 31 items. Also page NSW + Qld duty stamps postal U 1950s + 60s along with real stamps.$60
18. £2 Kangaroo: Well centered with dated "Tennant Creek N.T 1 SE:39" cds. Couple v.minor blemishes, but HALF retail. The stamp missing in EVERY coll! $215
19. Norfolk Is. FDC Coll: 1972 to end 1982. Inc "Good" items like 1974 Cook etc. All clean PO unaddr in a $50 SG 'Thames' large format FDC alb. Inc 3 x $5 vals. $A125
20.
1929 10/- Roo Small Multiple Wmk:

Clean FU with crisp upright (probably unique on this stamp) "Norseman W.A." cds of 4/1/31. SG #112.

$A425
21. DENMARK: Red stockbook with accumulation from earlies to 1997. (1130) $A40
22. Used Australia Decimals: Big red stockbook. 1966-late 80s, heavily duplicated. Noted 1972 Beef x 11 sets 4, Booklet 'Tab' pairs etc. Large Qty. $A65
23. Aust FDC's from 1998: Aust/Cocos/Xmas Is. Clean PO unadd. FV $84. $A60
24. Australian Phonecards – 1989 1st Ever Collector Pack – Lifesavers: Cost Decased owner $200 ea! In orig. envelopes. 1 for $75 or the 4 from Estate for a bargain $A200
25. 1931 6d Brown K/Smith "OS" Block 4 CTO: w/c marginal. SG 139a £192. $A95
26. NZ Modern: $71 M face circa 1990 PLUS stack FDC's PLUS CTO same era. ALSO 1985+88 year packs ALSO 85/87/88 Annual FDC packs. Very fresh. $A95
27. SINGAPORE: in a large s/book KGVI to 2000. Some useful seen. (1900+) $A65
28. G.B. Official PO FDC Collection: 1980 Railway to 1991 Roses. 85 Diff. (+ some earlier back to 1951!) 85 x commem sets – SG £4 to £5 set USED (Cat say £300 =$A850). What a superb way to assemble VFU sets of this tough era? $A125
29. 111 Hagnars in 4 Aust.Post ring binders: Mostly #1 or #2 size so perfect for FDC or M/sheets etc. Estate lot. Retail $213 if new, and under HALF that cost. $A95
30.
Queensland 1860 2d Blue Imperf:

This state's rarest face diff issue. Many times scarcer than even the 1d and 6d imperfs, themselves classics. Gold Medal gem of

THREE

imperf singles,

on neat piece. LH unit margin touches at left, otherwise all fine 4 margin copies. Each tied single light sunburst "85" cancel. SG #2 £4500+++ (=$A12,500) The only other group of 3 x 2d I've ever seen (which had far inferior margins to these) was sold for

$A6,400

Harmers of Sydney 1979 'Slade Slade' sale when SG #2 was Cat by SG at HALF today's value!

$A3000
31. GB 1929 UPU 2½d KGV: Block 4 well centred FU on part cover. SG437 £40 $A40
32. 1927 1½d Canberra FDI: w/c Hanger size ½ sheet 36 CTO full gum (MUH) on FIRST DAY ISSUE, each stamp neat strike scarce (larger) 30mm Canberra cds. $A75
33. KGV Heads Estate Accumulation: ½d to 1/4d (nice) 3d x 4d Lemons (1x v.nice) 4d Blue, 4½d s/multi p12½,lots 4d olives &c. Useful little lot on s/card. $A55
34. PNG UNADDR FDC COLL: 1970s eras in 2 black albums inc 1973 set 18 $A40
35. PNG FDC's 1967- 1992: In 2 x large new FDC albums.(Ret.$60) Nice lot – good commems, Defins to 10K etc. Double of many moderns. Half retail at $A250
36. Seychelles 1938/49 KGVI comp MLH set 25. SG 138/49 £400=$A1125. $A275
37. NZ Health M/Sheets 1964-81 Fine Used: Complete run(ex 66+68) on leaves, crisp FU Wellington Bureau cds, correct era dates, most FDI. 16 years issues. These are very RARE genuine used. First lot I've handled in 10 years. Some toning – (most on 69+70) which should readily clean up. SG £432 = $A1180. $A275
38. N.Z. "Davo" Hingeless Album just for Mini Sheets! Brand new. 1957 to 1990 in matching slipcase. Ret. about $110. Only a few mini sheets in there. Classy. $A55
39. Australia pre-decimal collection (1914-65) in 'Seven Seas' hingeless album. (new retail is $160) No Roos or KGV, but pretty well complete otherwise from 1914 6d Large Kooka. Mostly used. Some MUH. 1937 Robes to £1 and "Arms" set to £2. 1963/5 Navigators to both paper 10/- and £1 etc. Usual mixed condition from deceased Estate, but many fine or superb, and a good basis to build upon….. $A400
40. NSW 1897 5/- "Coin": Lovely centred Mint, in the "Royal Purple" shade… $A60
41.
STANLEY GIBBONS CATALOGUES
| | | | |
| --- | --- | --- | --- |
| | | | |
The importer boobed and double ordered. Huge error. I snapped up their big mistake! I bought 1000s sets! There WERE quite a few pallets full in my garage. Almost sold out now. YOU get the savings! So buy up NOW!!

(1) The 1999 S.G. "Red Book" Brit. Cwth. Two massive hard cover books the size of Sydney phone books. True! (The photo shows the small sectional KGVI Cat - you do not get that.) Brit.Cwth, A-Z, 1840 onwards, with plate flaws, sideways and inv. wmks, all booklets all reigns, prices on cover etc. If you haven't bought for a few years you're MILES out of date. 1999 Edit. (Ret. new ed is now $267!) Only $A90 the pair (5 sets $335)

(2) Gibbons 1999 'Stamps Of The World' TWO massive books, listing EVERY world stamp A-Z (except the B/Cwth issues - see #1) priced mint & used. (Photo shows the simplified B/Cwth 3rd Volume, which you do not get or NEED - see lot #1!) Retail $375. $A125. Be quick as I have just EIGHT sets left as this is typed, and then all gone, so price just went up!! Or BOTH offers for $A210 = i.e. all FOUR massive volumes.

NOTE - this is the VERY LAST of the FAMOUS SG cats. The NEW look "B/Cwth" just out is in colour (Ret $180 and has cheap soft cover!) but is 100% SIMPLIFIED, i.e. has NO wmks, perfs, printings, errors, booklets, se-tenants, dates of issue, or even shades or Mini Sheets of any kind! If you want a REAL Gibbons Cat you MUST buy lot (1) above before it sells out. As if you do NOT, Gibbons (VERY foolishly) are NOT printing these wonderful books any more and you will REGRET missing these in a few years. They are now charging £23 ($a65!) a year for you to access it on-line!
42. Aust. PSE Mint Collection: In 4 x matched alb (ret $80!) in a large carton. Clean lot. FACE of them is about $100 – use as cheap postage and keep the albums! $A100

43. World Off Paper: 4 large chocolate boxes w/clean off paper hoard ex Estate. Aust+GB+World. Must be 10,000s. Some handy stuff seen on quick scan – $A70

44. HUGE Australia/AAT FDC coll 1980-2000 CHEAP! In 2 x large cartons. In albs and #2 Hagners in PO binders.(Albums alone worth $200+!) Looks complete inc PSE ex PO standing order. Saw Paintings set to $20 etc, and other goodies. $A300

45. Kangaroo £1 Brown and Blue: Very light "Roo free" Qld cds. Small neat repair, and better looking than most Roos on your page I bet! Ret. $1200 otherwise. A$400

46.1952 Greystanes Scout Jamboree: Nice lot of 9 identical Pict. covers – each 3½d Scout with 6 side Jamb. cds 29/Dec/52. Neat typed address $A50

47. Australia MUH blocks 1967 to 1990: Clean lot on 3 x quality stockbooks. (Ret $100) Blocks 4 of most. Lovely lot to add to or for dealer stock. Nearly all different, inc 1972 Xmas and other better items. FACE alone $1020! 20% BELOW face. $A800

48. 1938 'Robes' set in Imprint Blocks 4 cancelled BCOF Japan: 5/-, 10/- and £1 in Ash Imprint blocks tied by piece by "Aust Army PO – 14 Oc:47" (12) unusual. $A300

49. PNG 1992 Bird Paradise "small t" Original Printing Hoard: March 25 issue. 21t x 500, 60t (key to set) x 600. SG 640/645. Cost ex the Bureau 12 years ago was c$A600. SG Cat £3350 = $A9375. Selvedge damage on some blocks, but the stamps all look fine – extras included and not counted to make up for that! A couple of PERCENT of SG Cat, and way under HALF PO cost. $A250

50. 115 y.o. GB Silver coins: From 1887 Crown, 1888 6d XF, 1887 2/- + 4/-(all XF) 1889 5/- VF. 1787 1/-, + lower vals inc 1903 1/3 Farthing! + fake Sovereign &c. $A70

51. Australia USED: Roos + KGV to 1990s. In 2 x new 32 page Lighthouse Stock books (Retail $50!) Large quantity ex Estate. Buy for almost cost of the S/bks. $A60

52. Papua 1930 Bi-Colour Lakatoi set Perf "OS": Clean FU, genuine punctures with 1931 Port Moresby cds. (Cheap 1½d faded) SG # 046/54 £250=$700. $A250

53. NSW 4d Capt Cook: Perf 'OS NSW'. VFU strip 5. Neat cds "Bathurst AU 3:08" and crisp light barred numeral "9" tie. Nice looking piece, great "Cook" item! $A45

54.

Germany 1950 Akadamie 250th Year: Fresh MVLH set 10. Mich 261/70.

$A95

55. W.Aust 1854 4d Swan Imperf: 3 straight margins, just touching along top. Neat cancel, clean + attractive. Looks far more like the "Deep Dull Blue" shade to me (SG 3b £600) than the common and far paler SG #3a. A 150 year old imperf for - $A95

56."SYDPEX 88": Bundle of PSE's, FDC and Maxi Cards, also the ubiquitous 'Philatelic Passport" 100% filled up! From the estate of keen attendee.$A50

57. Wine Box – Bundles of 100 Aust: 2c to $2 (2 diff) mostly 45c. 1000s here $A65

58. 1908 the famous American 'Great White Fleet' Postcard. South Australia: The scarce 1d red. The superb unused official item with lovely bright colours. $A400

NO GST is added to prices to any items on this website.
All prices on EVERY list are weak Australian Dollars!!

All prices are "nett" ... what you see is what you pay. NO Nasty, nasty 15%-20% Auction house "Buyer's Commission" silly nonsense is later extorted from you!

59. VICTORIA 1908 America's 'Great White Fleet' Postcards: Set of the mint 1d and 1½d. Fine Mint and wonderfully attractive official items. (2) $A250

60. JERSEY 1996 Atlanta Olympics Mini Sheet x 100 MUH: SG #751 Cat £325 = $A900. Great re-seller line. Actually UNDER ACTUAL FACE VALUE at - $A250

61. Aust 'Seven Seas' Hingeless album pages: With M+U collection inside + handful 1980's era PSE's. Some toning ex Estate and almost given away at. $A45

62. GB MUH Collection to end 1997: Nice clean lot, full sets, no duplication, fresh MUH inc good machins to £5, Hi Value castles all values, and the £10 Britannia. Also M/sheets etc. On 57 Hagners in red binder. (Ret $58 alone) FACE value is £365 = $A1000. Under FACE at $A900! Wonderful estate special at only. $A900

63. Cocos Island 1963 8d Map Sheet 60: W/Centred MUH with "Authority" imprint. Owner paid $A700 in 1980s when SG Cat was £840, Scott was $US1200 and Michel was 4200 D Mark. 40 years old now and worth more than $1 a stamp! $A65

64. POW & Internment Camp Covers: Mostly from Aust, but noted 4 x Aust. POW in Italy to S.Aust, and 1 to SA from an Ozzie in Stalag XIII Germany(44)Unusual $A125

65. Aust. 1974 Sports Set 7 in sheets 100: (700) + 1973 Metrics in panes 50 (200) Fresh MUH(small % are gum damaged) Retail is $300 so bargain at under ½ $A125

66. Aust KGV 1d Reds: Old coll on leaves. 39 shades noted, inc "Salmon Eosin" ( not g'teed!) + s/line perfs. Major vars inc "Thin G, rough paper w/c VFU etc $A75

67. "Golden Replicas Of British Stamps": Massive album– 15x12x5". Full set GB 1980s FDC with descriptive cards + 22 K Gold stamp of that shown on FDC. $A100

68. "Golden Replicas Of USA State Birds + Flowers Stamps": Huge USA album, with 50 FDC, with cards, each with "Gleaming 22K Gold Replica" of stamp design on the cachet area of each FDC. Very fine. Cost $US300 – 20 years ago. Nice! $A100

69
.

PAPUA 1932 "Specimen" pair:

Fresh w/c MLH. SG #127/8. £450=$A1250.

$400
70. Roo 3rd Wmk 2½d Indigo: MLH horiz pr, one 'Retouched A' ACSC 11/11H $A45
71. 1952 Greystanes Scout Jamboree: Nice lot of 9 identical Pict. covers – each 3½d Scout with 6 side Jamb. cds 29/Dec/52. Neat typed address $A50
72. POLAND 1952 Socialism IMPERF pair: FU with huge margins. Mi 779/780 $A50
73. POLAND 1955 Warsaw Exhib. M/sheets: Very fresh Mint very light hinged $A50
74. 'A99' Scarce Perfin Navigator Mini Sheets: The 'hot' items on the International market from "Australia 99". Only 15,000 sets ever done & 90% of these went to collectors, not dealers! The rare "brown" M/sheet contains Australia's 3 very RAREST Decimal stamps (see front cover 'June' 99 ASM) ea with the rare 15½ perf. At this price they are only $30 apiece. Scott cat. already is $US67½ = $A135. A 14.75 Navigator, a far commoner stamp, is $75 even today! Per set of 2 miniature sheets Fresh MUH: $A90. 2 sets: $A170 (Remember if you want the rare perf in miniature sheet and singles format you'll need TWO sets of these hot Mini sheets!)
75. OLD Q.VIC B/CWTH on old SG "Ideal" leaves: Saw Vancouver Is SG #3 faulty (£150) B. E. Africa 1890 to 1R, Barbados inc SG #4 + 11 (£315) Early Gibraltar QV + KEVII to 1/- M, KGV to 2/-. Gambia inc SG 14B FU etc. Handy. $A95
76.GB PO 'PHQ' Maximum Cards: Superb clean coll of 330 diff. 1990-late 96. Looks complete inc £10 Britannia! SG Cat generally £3 ($8) set, so SG about $650. $A150
77. Aust Used 1930s to mid 90's: In $30 maroon Lighthouse stockbook. Some decent items and sets noticed. Also some M+U world in here too. (100s) $A65
78. 1964 10/- + £1 Nav FDC: Very fresh 'Royal' FDC. Neat typed address $A45
79. COCOS Island MUH COLL: In green Lighthouse Stockbook. 1963+69 Defin. sets etc – and later Definitive sets to $2 and $3 etc plus mini sheets… $A70
80. AUST FDC's + PSE's + Aeros: In 4 big blue albums. Incs scarce 1970 Expo/ Cook/Grassland, National Dev (all PO typed address) to 1988. Odd spot, most fine with LOTS of face value. Where else could you buy this for only $A145
81. Aust. 1980 - to end 1990: Aust + AAT in black L/House H/Less album. (Ret $214!) Nearly complete MUH. The FACE value of stamps alone is $260. $A300
82. Aust. Decimal Coll 1966-1993: MUH in green "Seven Seas" H/less alb. (Ret. $250) 99% complete, inc 1966 set, 1971 Xmas set 7 + Block 7. Inc 5 x 1967 QEII panes. Pages in fact for all booklet panes and perf vars etc . FACE alone is over $400, and retail with album is c$1300. Estate bargain buy at under ½ that! $A600
83. New Zealand : large lot of about 7500 stamps: In 3 large stockbooks. 19th Century to late 1990s. Be great for approvals or circuit books &c. Surely worth - $A95
84. USA new Hingeless albums: 2 x as new classy "Davo" hingeless albs and matching slipcases. Pages 1847 to end 1992 with officials, M/Sheets, se-tenants, Dues, blocks etc. Owner purchased new, then passed away soon after. Retail as "Lighthouse" is $1429, so "Davo" retail is probably $1000+ I imagine. PLUS inside is his by no means complete M+U coll. Nice 1904 St.Louis set (£60) Early Defin sets to $5, 1940 set 35, and later MUH blocks and used etc. $A400
85.1970 Famous Aust 'Tab' pair sets 4 MUH x 15: (60) $A45
86. Falkland Island 1878 1d Claret: A nice fresh mint copy of this highly sought stamp. SG#1, cat £550= $A1525. Estate bargain at QUARTER CAT! $A375

87.Pre-Dec AAT Set 7. SEVENTEEN sets of 7 used+ extras. Cheap buying $A70
88. MAURITIUS 1910 KEVII set 15 to 10R: Fresh, bright unrubbed MVLH. Been in UK for past 90 years! SG 181/195 £150 = $A425. A lovely set at $A135
89. MUH Aust./Cocos Is./Christmas Is./A.A.T: Great estate lot mid 1970s-1990s. Sets, packs. Mini sheets, blocks. The FACE val alone is $455. What a price - $A350
90. LARGE HP Carton Aust FDC: All PO Unaddr. 1970 Cook (2!) to mid 90s. Inc "key" items like 1971 Xmas B/7($50) 84 Framas ($40) etc. Also Cocos/Xmas/AAT + much official P/Stat FDI. Ret.$1000++. VERY clean lot. Huge face! 100s here $A325
91. "HK RETURN TO CHINA": Complete Crown Agents M/sheet omnibus of 11 (June 20) MUH hi-face values to £1 and $2.50 etc. Most with inverted, sideways or SW Inv wmks. Inc Falks, St Helena, BIOT, Bahamas and BAT. Highly sought $A70
92.
1950 Berlin Philharmonic Orchestra set FU. Mi 72/73.

€

400. $A125
93. FIJI 1979 Defins to $5 - sheets 50 each for $5 a set! Set of 17 values, 1c to $5. FIFTY MUH sets 17, in sheet/half sheets in sheet folder. Odd gum bend etc, but 95% fine. Actual cost ex PO was $278 way back in 1985 and the PO receipt is attached. SG Cat £450=$A1250. Nearly 15% of Gibbons at $A200
94. St. Kitts: 1938 5/- KGVI p13x12. Perfect centred MUH! SG #77. £65. $A70
95. "State Of Rainbow Creek" Vic: Prize album from Stamp News Stamp Design comp Oct/Nov 1983. Letter from "Governor" T.Barnes. Cards, stamps M+U 70s/80s, blocks 4 + sheetlets, sets FDC even real mail etc. Unique+ nice lot. $A100
96.Wine Carton: Lots world covers 40s-60s. Used Aust+world. USA old FDC's. $A60
97. Aust M+U on leaves 1927 to 1996 set to $4: 2/- and 2/3d Commems, 1953 food strips (4) AAT pre-decimal set both M+U etc. Cheap at $A45
98.1915 5/- Roo 3rd Wmk: Well centred fresh unused with good clean cut perfs.(SG#42) Retail $550 if 'MUH'. Regummer's delight! Cheap at $A135
99.
SWEDEN 1924 Postal Congress Set 15 MUH Original Gum:

Michel #144/58 2800 Dm. Facit 10,000 SEK. SG £571 as HINGED. Cheap.

$A750
100. USA 1893 Columbus set 9 to 15¢ Unused: Odd minor blemish. SG £465 $200
101. New Zealand FDC COLL in $40 SG FDC Album: 1969-75.Clean PO FDC. Nearly all unaddressed. Mostly in quantity of 2-3 each, inc. scarce like 1972 Lakes. Defins to $2. Also Tokelau and Niue same era, duplicated. High retail. $A120
102.
Victoria 1879 10/-:

(SG F#28) VFU crisp postal cancel '587' of Cobden.

$A125
103. 2/- Roo Perf "VG": Superb centred horizontal margin strip 3. With normal + reversed "VG" perfin side by side + in the margin too! (3) Lovely looker. $A45
104. A.A.T. Decimal M+U on leaves: to 1990: 1966 Defins (fresh MLH set + used values inc. $1 – these alone cat £60 etc) How can you lose at only $A50
NO GST is added to prices to any items on this website.
All prices on EVERY list are weak Australian Dollars!!
All prices are "nett" ... what you see is what you pay. NO Nasty, nasty 15%-20% Auction house "Buyer's Commission" silly nonsense is later extorted from you!
105. Romania 1956 Wildlife set 12: Only 70,000 printed.Superb used. THE scarcest 20th Century Romanian set. Mi 1565/76 – 250 Dm M or U. SG #2423/34 £85. $A85
106. Michel Cat West Europa 2001 in 2 vols: 3100 pages $135
107. Germany 50s+60s M+U in brown leather Stockbook: The Mint sets are mostly 'stuck'. Used look OK. Many are VFU cut-outs (also Switz.) from FDC! $A45
108. G.B. MUH GUTTER PAIRS: 1970s + 80s. Full sets commems, all MUH. The FACE value alone is £41=$A115. Owner paid £100 for these in UK! $A100
109. Germany 1934 Airmail set 11 GU/VFU: Michel 529/539. 220 Dm $A45
110. Aust MUH Decimal Coll: 1969 Flight strip to 1992 in nice "Davo" 64 page Stockbook (Retail.$45) Lovely clean lot. Blocks 4 of some – but not many. The FACE value alone is $467. Ret.$1000. Buy at nearly $100 below FACE value! $A375
111. NZ 1967/84 "ARMS"High Value set of 4 MUH to $10: FACE alone is $28! $A40
112. Collector 'Odds': Noted lots 'Cinderellas' - 1937 Exhib, Train mini sheets, "Space", Roos/KGV. Aust States inc Rail. 1937 Sesqui M, 10/- Nav mint etc. $A70
113. 1932 5d KGV Ash Imprint Block 4, Plate 3: Attractive fresh imprint blocks. 3 x MUH, 1 x MVLH. ACSC Retail $120. Pretty looking piece. $A75
114. PAPUA 1939 Airmails: Set 6 FU Cat £48- $A40 or fresh MUH Cat £60: $A60
115. Morocco Agencies: 1907 12 Pesetas on 10/- blue GB KEVII top val. Superb U, quite perfect perfs + centering. Crisp light cds "24 FE:09". SG #123 £75++. $A80
116.
Morocco Agencies:

1914 5/- + 10/- Waterlow GB Seahorse hi-values. Well centered Superb U on piece, each tied small cds: "Casablanca 21 AP:17" cds. SG 136/8

£208.

Ridiculously under-catalogued pair – first I've ever handled.

$A200
117. Morocco Agencies: 1948 Silver Wedding superbU light 1948 correct cds $A40
118. Registered Labels: Huge carton of many, many 1000s. All look to be QEII era Australia. Pads and pads of M blank and violet H/S R6. Many, many boxes of P+S mint Security Post. Stockbooks and huge divider box of soaked off – seemingly all arranged in number order with copious checklist.Wacky lot! Must be worth $A135
119. AUSTRALIA POST YEAR BOOKS CHEAP! I have MASSIVE stock purchased cheap from a very financially embarrassed "Investor". Generally 15 or 20 of EACH book, 1981 to 1995, including all the expensive "Leather" Deluxe books, and the brown boxed 1988 Bicentennial set of 5. They must clear regardless of cost. Let me quote on what YOU need: my price will amaze you! I can supply full sets, single books, multiples of any year, or just the 2 or 3 or 4 you need for completeness
120. Aust. FDC HOARD! 2 boxes full. The 1980s decade it looks like. Several of most, inc all the good sets. All PO unaddressed ex Estate. Tone spots on many, but majority fine. FACE of stamps alone is $432, so cost from PO well over $500. The toned covers would yield a lot of "Superb U" stamp sets. Check the price! $A175
121.'Cigarette Card Values' 2000 Ed. by Murray in UK. 300+ pgs with colour. $40
122. PNG 1994 Emergency Overprints:

Papua New Guinea 1994
Rare "Emergency Overprints":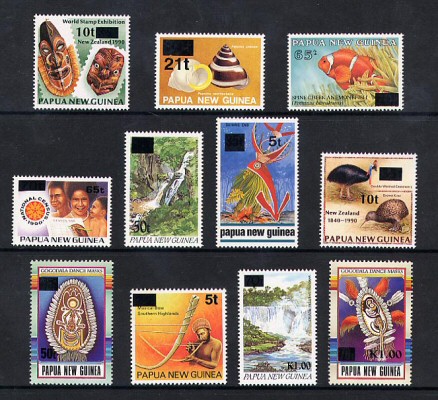 Papua New Guinea 1994 "Emergency Overprints": I do now have, and have always had, the largest stock of these overprints in the world. Buy DIRECT from the original "source"! Thousands of collectors NEED this set to complete their collections. Only 45,000 were ever printed, NONE were sold by the agents, Papua New Guinea Bureau, or even Australia Post. Nearly all were used up on genuine commercial mail. Not discovered by stamp world until months after all the key values all used up! I first reported their existence to the stamp world.
"Set of 11" - SG # 730/740. Michel # 714 -724.
Scott # 860/871. ASC Cat $A420.
Local Richard Juzwin retail price is $A330. The Seven Seas Stamps "Australian Stamp Catalogue" (ASC) price for the set 11 is $A420. MUH set of 11 - my VERY special DISCOUNT price offer for this month is: $A275. Or MUH blocks of 4 (very rare) $A1,250. I also have the earlier and later overprints also at terrific discount prices. For a complete set of TWENTY different overprints my discount price is $A335 or that full set 20 in MUH blocks 4 for $A1,500. These will never be cheaper.
Definitive sets like the 1967 Anguilla overprints are already cat at £9,000 in Stanley Gibbons ... and Anguilla has NOTHING like even 1% of the collector following of PNG I suspect. Think about it! £9,000. This PNG set has a LONG way to go yet - that seems very clear. This PNG set selling for DOUBLE my price would not surprise me to see in the next few years. For very detailed and comprehensive background on this issue with all numbers printed etc - see my special page on these issues: https://www.glenstephens.com/overprints.html
Finally - all the 1994 "Emergency" sets I sell are of course guaranteed 100% genuine. You may ask for a Photo Certificate Of Genuineness on my security watermarked colour letterhead for this set of 11 or 20, dated and signed, illustrating in full colour the exact set I mail you. If required, this CERTIFICATE costs you an extra $A45 on top of price of the stamps, largely to cover the considerable time and messing around of individually preparing each one, typing, and scanning &c. This is Substantially cheaper than sending it to the R.P.S. in London etc, which takes half a year to get back, and also incurs substantial Registered airmail cost to you - in both directions. And quite frankly, the RPS would not have a clue about these issues. 'Too Modern' they would sniff. Years down the track when the set sells for several times what it does now, such a certificate Guaranteeing these came from original PNG sources in 1994/5 will add FAR more than $A45 to the extra price you obtain when selling.

IMPORTANT NOTE ... all my stamps - on this page or other pages are charged in AUSTRALIAN DOLLARS at the $A prices shown. Where I have used a £Stg or $US price etc conversion in text on any offer at any time - that is to be treated as very APPROXIMATE as it may have been computed a while back. It was correct at that time, but $A exchange rates have been VERY volatile in recent times. Please use the spinning gold currency converter found on Home Page of my website to ascertain the current EXACT amount in your own currency according to today's mid-rate. Remember - I will always charge your credit card the $A sum shown for each lot, (plus shipping and insurance) and NOT the sum shown as rough approximation in a non-Australian currency.
There are NO nasty 15% "Buyer's Commissions" or other such outrageous fees added to the price YOU pay when you deal with Glen Stephens. A $1,000 Kangaroo stamp from me costs $1,000 plus shipping. You could bid "$1,000" for the same Kangaroo stamp from an "Auction" house (who in Sydney OFTEN owns the stamp themselves anyway!) and it might cost $1,000 plus 15% "Buyer Fee" plus 10% GST on that $1,150 = the "$1000" stamp is now invoiced at $1,265. All depends on whether possibly saving $265 is important to you I guess.
height="15">
To order, click here. To read ordering instructions, click here.
Instant Currency Conversion


FREE! Just click here...
GLEN $TEPHEN$
Life Member: ASDA, PTS, APS, ANDA. ALL Postage + Insurance is extra. Visa/BankCard/MasterCard/Diners/Amex all OK, even for "Lay-Bys"! All lots offered are subject to my usual Conditions of Sale, copy upon request or they are outlined in full on this Web site. Usually allow at least 14 days for order dispatch. If you want same day shipping please go elsewhere! I am Sydney's BIGGEST STAMP BUYER: Post me ANYTHING via Registered Mail for my same-day cheque. Avoid NASTY auction "commissions" of GENERALLY 35% (12½ + 15% + GST, etc.) AND their five-month delays! Read for details. I stock Australia & Pacifics nearly 100% complete 1913-1980. Ask for my LOW quote!
"Lothlórien," No. 4 The Tor Walk, CASTLECRAG (Sydney), N.S.W. 2068
Phone: (02) 9958-1333 Fax: (02) 9958-1444 (Both 25 Hours, 7 Days!)
E-Mail: glen@glenstephens.com
Web Sites: www.GlenStephens.com, www.GlenStephens.net, or www.AustralianStamps.net
Back to Lists of Stamp Lots for Sale

| | | | | | | |
| --- | --- | --- | --- | --- | --- | --- |
| | | | Time and Temp in Sunny Sydney! | | | |


Sign up AUTOMATICALLY to my world renowned bi-weekly stamp gossip mailing list!

Click here for full library of my unusual world travels!

E-mail me: or click HERE for regular specials & updates to be emailed to you FREE!

Click here to see MANY 1000s of stamp lots for sale at low $A Nett prices!

Click here to find out all you need to know about SELLING your stamps for SPOT CASH

Click here for the current Monthly "Internet Only" special offers - CHEAP!

Click HERE to read my recent International stamp magazine articles.

Click to go back to the main www.GlenStephens.com Stamps Homepage



Instant Currency Conversion


FREE! Just click here...



E-mail me at glen@glenstephens.com -

Every credit card shown is accepted WITHOUT fee.
Earn Frequent Flier points while buying at bargain prices!
ALL prices are in weak Ozzie Dollars. I charge NO nasty, nasty
"Buyer's Commission" on stamps like nearly every "Auction" does.






..