1. State Of Victoria numeral cancels: About 500 ex old bundleware. (Some nice TPO's also here) noted lots scarce and rare rated numbers on quick look $A135
2. Gilbert + Ellice 1946 Victory x 40 sets on FDC/Cards: All Fanning Is cds. $A40
3.
G.B. Large FDC coll 1936-1975 – a BOXFUL!
1936 KEVII (plain Regd) Nice pict 1937 Coron, some better Wildings. Good early commems (some Phos) Defins to £5 etc. Mostly cacheted. The modern unaddr, others mostly typed to orig buyer. Usual mixed cond on earlies ex Estate, but many nice. SG cat in light pencil on each and accurate 2005 SG is
£2549
(=$A6300) gotta be worth 10% SG?
$A600
4.
India Feudatory States coll:
M+U on stack of old leaves inc officials.
$A60
5.
"Soccer On Stamps" 1951 to 2002:
Coll on 130 large German s/cards 6x8¼" (Ret $100!)
A
itutaki
to
V
ietnam. Sets + M/S. Fresh. Nearly all MUH .
$A200
6.
Heavy Carton:
7 stockbooks ex estate. M+U world + old 1914 SG "Strand' + bags of odds + sods – usual very mixed cond. Even a
vintage 1920
SG cat!
$A70

Australia Commonwealth Games Un-Announced Stamp Issue Sensation!
Australia Post has done it yet AGAIN! Issue 3 in the 'Limited Edition' series of IMPERFORATE stamps. Issued Feb 1st, and already in huge demand in the marketplace. There are in fact FOUR special sheetlets/panes involved.
I secured a VERY small stock, of mint, used and FDC. See this link for colour photos and full details, and until sold out my prices are as shown.
https://www.glenstephens.com/commonwealthgames.html
7.
Postpak Carton:
Filled mostly used NZ WW1 -1960s. Also Lots Vic 1d reds.
$A70
8. GB 1966 4d 'England Winners' world's largest used block!? Block of 39 as used on a parcel to Aust on FDI – Aug 18, 1966. Couple minor faults.$A45
9. Roo 2nd Wmk 1/- green: GU 'OS NSW' scarcer than OS (Cat $175) $A60
10.
Aust. 1929 3d Airs on covers:
Rough commercial U(x 9) on 5 covers+ front, 1 to UK. Also with range other KGV heads to 4d as well. One with 2 huge perfed "4711" poster stamps as well. ACSC cat $25 EACH 3d on cover and v. seldom seen.
$A55
11. Belgium 1880s to 1960: Large accum in old green SG album, mostly used. Correct Michel cat Euro423=$A700 (Many 100s) Untouched estate lot at only $A90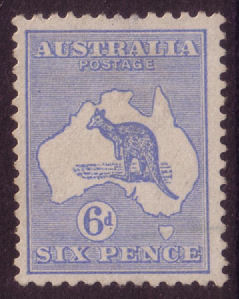 12.
Roo 1913 6d fresh unused:
Attractive good perfs ret $375 as 'MUH'!
$A40

13.
Aust. Decimal Coinage Set in 'Port Philip' Album
:
1966-85 virtually comp inc key 1968 + 1972 dates etc. Many of these look Uncirculated to me.
$A70
14.
Aust FDC coll 1966-1980 in 3 x old black albums:
Nice lot – looks complete inc v.scarce like PO 1971 Xmas, 72 Beef, 74 Pntgs, 1977 $10 etc.
$A150
NO GST is added to prices to any items on this website.
All prices on EVERY list are weak Australian Dollars!!
All prices are "nett" ... what you see is what you pay. NO Nasty, nasty 15%-20% Auction house "Buyer's Commission" silly nonsense is later extorted from you!
15.
World + British Cwlth 1850s-1960s in 3 x maroon Springbacks:
Old collection ex Estate. Some fairly useful stuff seen on a two minute peek!
$A70
16.
SAMOA early to modern M+U in stockbook:
Incl. 1972 Hi Vals MUH, 1983 Defins MUH etc. (335 stamps + 5 M/s.) Cat $385.Must surely be worth :
$A80
17.
'Ausipex 84' MUH Coll from huge range countries:
(Looks compl.) In Deluxe black page L/House S/bk.(Ret $62 alone!) + spec alb. Huge ret.
$A200
18.
Aust 1980s FDC+PSE:
In big $30 green album+bag of loose. Cheap!
$A50
19.
Greece M+U Coll 1880s to 1964:
On 42 x SG pages. Useful lot – many nice Mint sets seen. Correct Michel €450 = $A750. (800+ stamps) Estate lot
$A150
20.
Aust. FA + PM 1968-72 Booklet panes set
+ 5c Blue QE fresh MUH (17)
$A65
21.
G.B. Coll in KABE black page S/book:
(In dust box - ret $60) Patchy range. Hi Cat pre-war from imperfs with lots £100-£200 type cat stamps. Better items Cat £3,750
=$A9,000
. Usual mixed cond ex estate but around 5% Gibbons -
$A500
22.
Canada 'Colorano' Silk FDC:
19 diff commems FDC. Ret. $US64.
$A40
23.
GB 1988 "Castle" set 4 to £5
:
(SG1401/13) Getting pricier each year as many overlooked them Mint. also later Gold vignette #1611/13. MUH SG £53.
$A45
24.
World jammed into large shoebox:
Sorted by country up to 70s (1000's)
$A50
25.
PAKISTAN early 1960s IMPERFS!
:
Amazing range on Hagners up to 15R hi val. Inc MUH pairs + blocks 4. Lots diff issues. (84 imperfs) Also range Wmk Inv. Also 2 x 1961 MUH blocks with
"PASIA"
error. Condition is mostly v.clean.
$A100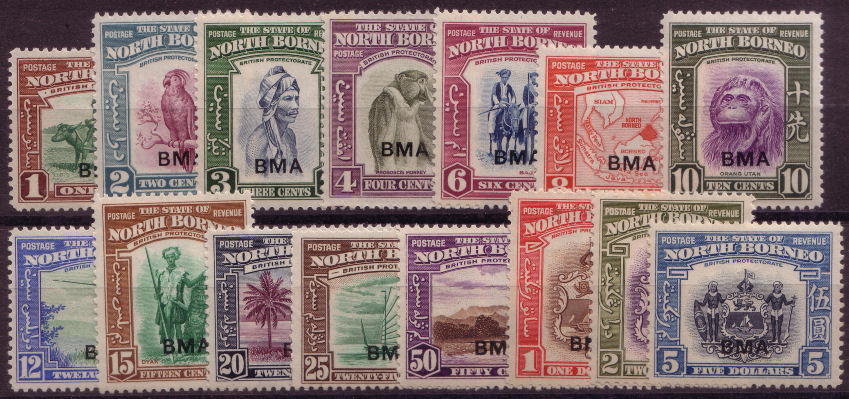 26.
North Borneo/Sabah 1945 'BMA' o/p set 15 to $5:
Very fresh MVLH – lightest possible hinges. SG #320-334 £170 =
$A425
. A quite lovely group
$A150

27.
N. Zealand M+U Coll on ancient leaves:
1898 to 1/-, 2/- Admiral, 1935 Airs, 1936-46 Defins to 3/-, Health M/Sheets 1959+63 &c and other useful stuff
$A75
28. Germany in ancient 'KaBe' S/Bk: Approx 1880s - 1949 90pf Posthorn (3) $A45
29.
Sydney Olympic 2000 Gold Medal Winners UNDER FACE!:
30 sheets 10 inc. at least one set of 16 different winners. FACE value is $A135.
$A125
30.
Aust. 1931 6d Violet Kingsford Smith "Re-Entry" Superb corner CTO!:
ex Specimen pack. Perfect perfs, centering & freshness. A beauty. SG #123a £85
$A75
31. Wine Box bundles 100 Aust: 2¢ to $2 (2 diff.) Mostly 45¢. 1000s. $A65
32.
ISLE OF MAN mint Coll 1958-1990:
On $120 set of KaBe H/less pages. Modern all MUH. Largely comp. Cat about $475. Cond. varies here & there.
$A150
33.
Very heavy wine carton of albums + stockbooks:
From a Peruvian estate so a lot of seldom seen
Latin American
material among it all (1000s)
$A120
FIXED LOW NETT PRICES
NO Nasty 15% "Buyer Commission"!
34.
FIJI QE2 1953 to 1990 M+U Coll: In 'Collecta' album:
Every space filled – earlier MLH or FU the modern era all MUH. Retail $700. A bargain at:
$A225
35.
HUNGARY Large M+U Coll:
In Blue SG album on 150 pages. Earlies to 1965. Some good sets here (noted 1949 Puskin M/S both perf + imperf mint) inc. officials + Occ etc. Correct Michel €1215
= $A2000
. Approx 2300 stamps.
$A300
36.
B.Cwth M+U in large S/Bk:
Best is H.Kong to $50 (3 inc SG 615) &c
$A45
37. CANADA Early to Modern: In good cond $24 blue Lighthouse stockbook. Useful pre-war and lots of different $5 QE values etc. About 1,275 different. $A75
38.
G.B. £10 Block 4 on piece:
+ VFU pair
+ 4 singles off parcels. (10)
$65
39.
France bunch of "Famous People" Booklets:
1989/95 Stamp Day. 1986/95 (Two sets) Fresh unfolded.
FACE
value alone 591 F.F. (=$A160.)
$A135
40.
Franklin Mint Proof Silver Coin Insert/Stamp FDCs Deluxe Folders x 7 Diff:
1977 Aust QE Visit, Last Run Orient Express, Cook Is $5 coin (2 diff) Lindbergh Flight Anniv, USA Bicent, 78 QE Coron.
V.fine.
cost $350.
$A110
41.
Roos 1913 1st Wmk Perfin 'T' :
State Gov't: 2d, 3d x 2 (inc Die 2) 4d, 5d, 9d. Far nicer than usual for this scarcest state perfin. (6)
Normals
Ret. $350!
$A175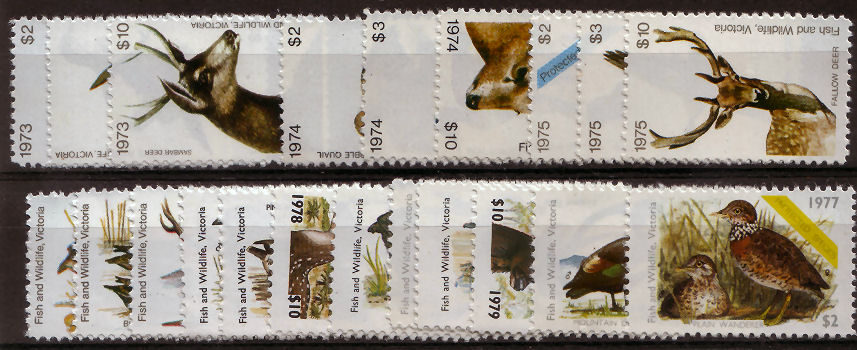 42. Victoria fish & wildlife comp Set MUH: 1973-79 (21) Face $100. $A60

43.
USA M+U Coll:
19thC to 1980s in blue Lighthouse S/Book. Some useful
$A50
44.
1966 Decimal Defins on one superb FDC:
28 stamps up to $4!
$A75
45.
World M + U "A to Z" in 4 x large, green "Zeus" Peg Albums:
Estate lot. Very strong in Spain + the Latin America regions.(must be 1000s)
$A150
46.
1982 Aust. $1 Banknotes: x 100:
Superb consecutive numbered teller unc. bundle. What a superb client gift or promo premium item at near FACE!
$A135
47.
G.B. Wildings + Castles Large Hoard in 2 Stockbooks:
– circa mid 1960s ex Bank Mgr estate. Looks to have c30 x SG597a, c45 x SG 598a (these 2 high values
cat £500 alone
) and near all with neat circ cds. Also commems.
$A125
48. World M+U in big old 'Woodstock' Peg album: Useful Aust. 1958 Xmas Is Defins M. Handy GB cat c£250. Good PNG inc 1952 Defins, 1/7d Cattle, 10/- Rabaul &c. Norfolk 1970 Bird Defins MUH &c. Also ranges of other useful $A85
49. Large wine carton Kiloware: Aust + world ex Estate. Many 1000s. $A65
50.
1994
$1.80 Aviator HiVal x 120 CTO with gum copies!
SG#1478 £390
$A115
54. Aust. 1970 Capt Cook set 12 PO Commem covers: Same design APO FDC.) Each w/strip 5¢+30¢ canclled. From Ap 20, to Aug 17 (Thursday Is) V.Scarce. $A90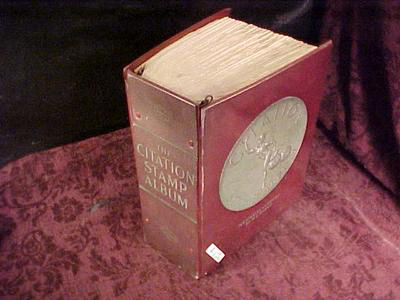 55. Humungous H. E. Harris 'Citation' Album: Spine is 5" thick! Printed spaces for 65,000 world stamps - up to 1965. Near empty. VERY heavy! It says on the front "World's Largest Capacity Volume" and that certainly appears to be true! Some Dill has just paid $US162.50 (=$A215) for 2 EMPTY Citation binders (no pages at all in them!) on eBay! - http://cgi.ebay.com/ws/eBayISAPI.dll?ViewItem&item=5670841301 $A85

56.
Norfolk + PNG early MUH Decimals:
On large sheets. Norfolk inc. 1967,70+74 Defins. PNG inc 1968 Shells + heaps commems. Some tones but a steal at:
$A55
57.
TUVALU MUH coll on Hagners in fake 'Crocodile' Binder:
Early material incl MUH bocks &c. VERY seldom offered country. FACE alone $53
$A55
58.
Aust. official Pre-Stamped Envelopes Comp Coll 1978 to end 88:
In 5 x expensive "PW" albums. (Ret $100) All clean FDI. Retail many $100s.
$A75
.
59. 1911 Stamp Design Competition Unadopted Essays Set 30: Lovely items for a special page in a collection! ACSC E107/9 – photos of these in ACSC. Numbered set 30 in various colours, on thin, glazed white card in fine M cond. Submitted by a Mr Grant of Wonthaggi Vic. Printing block now in Aust.Post archive collection. Set 30 only $A75 or 2 for $130 or set with a few fairly minor faults on a few stamps is: $A40
60. Aust. Maximum Cards Lovely Coll: In 5 x 7/Seas albums (ret $75) A Carton full. 1987 (issue #1) to 2001. 533 Diff of these large attractive postcard sized double sided stamped cards. Cost literally $617 to buy as new issues. ASC cat is $1248. Full checklist encl. Gift at under 33% cat & 35% UNDER issue price!! $A400
61.
Australia large used collection 1913 to 1990
.
In a '7 Seas' album. Handy Roos - 1st wmk to 2/- (Ret $322) 2nd Wmk ($104) 3rd Wmk to 5/- (Ret $296) etc. Heaps KGV heads (inc 3 diff 1/4d) good pre-war commems, Robes to £1, Arms set to £2 and strong later. A largely complete estate lot - condition seems OK on most, on a quick look. Retail easily $2000. Terrific lot to expand upon further
$A500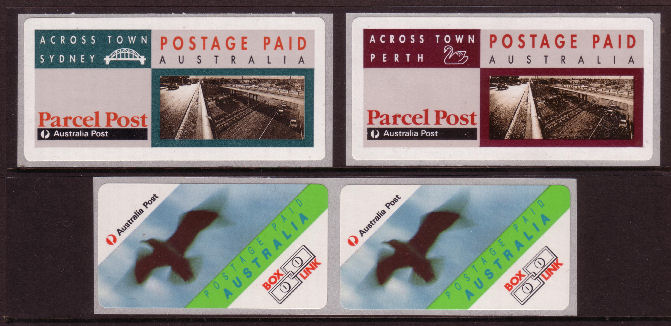 62.
1991 P.O.
"ACROSS TOWN"
PARCEL LABELS
PERTH & SYDNEY:
Your choice of Mint or FU or Pack or FDC. Also scarce "Box Link" label pair! You can mix + match between all 4 choices if you wish!
Per set 3:
$A35
5 Sets 3 (15)
$A120

63.
1928 Kooka M/Sheet
:
Fresh MUH –light crease 1 margin,so HALF retail!
$A100
65.
Australia Kakadu Park 'Duck' Entry stamps:
1993/94 singles + numbered sheetlets 4 each. Superb large MUH items(10) Face + issue cost was $A100!!
$A60
66.
Victoria Numeral Pmks on 1d Red KGV:
16 diff. Many not recorded by Freeman in the text under each pmk, like numerals 32, 58, 440, 538, 1422 etc
$A60

67.
GERMANY Mostly U Coll in black Kek S/Book:
19th Cent to 1970s. East/Berlin/West/Reich/Zones/Colonies &c, &c. Much very useful seen here.
$A165
68.
Aust Pre-Dec:
(No Roos) in Brown 7/Seas Alb. M+U
+
sml S/Bk 'States'
$A65
69. N.Z. Superb 1990 to Xmas 1998 Coll: Superb MUH on 70 hangers inc binders/slipcases (Ret $180!) Seems to be all full sets, M/S, (inc Exhib o/ps) Vals to both $10 and $20. A few FDC. FACE alone is $841½. Ret. of this c$2,000. $A650
70.
2002 Manning Rarity Sale Cat inc "Stock Exchange Inverts":
Large glossy 160 page
plus
a hardbound cello wrapped library ed of same!(2)
$A50
71.
AAT Base Cancel FDC sets all bases. 1979-end 1988:
Ships #1 to Dec 28 1988 Bird strip. 15 diff sets 4 bases, on clean PO FDC (60) Ret $300
$A125
72.
G.B. Superb MUH Coll 1935 S/Jubilee to 1997 Henry 8:
In Deluxe German S/bk (Ret $35) Inc 1948 S/Wedd ($50) good early QE2 Commems – most inc. the phosphors as well. The FACE of the decimals alone is £196 ($A475) and the retail of the collection is WAY over $A1250 even in the UK. Lovely fresh lot.
$A600
73.
PNG FDC COLL circa 1970-1980:
Official PO unaddr FDC inc full sets 1973 Panorama Defins (scarce) &c. Mostly fine condition (60)
$A70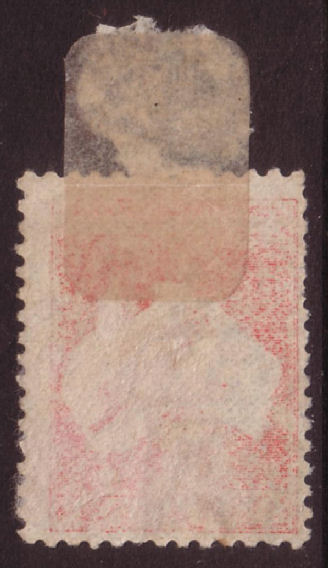 74.
1913 1d Roo Offset USED!:
Die 1, light corner cds. ACSC 2cb $400 MINT – this being the only USED copy recorded apparently. Stamps has been peeled off an envelope or of course offset would have soaked off with the gum.
Stamp still has the original mint "sheen" on face that also comes off with any soaking.
Nice.
$A200

75.
G.B. M+U Coll in S/Bk:
Q.Vic to 1/-, 2/6d + 5/- Seahorses (£125) QE2 to mid 90s. Some light cleanable toning, so priced down to -
$A65
76.
GB 1968 4d Bridge 'Printed On The Gum Side' Fresh MUH $A40
77.
World Coll in white PO Carton:
Neat inventory per SG 2004 Cat nos on
53
close typed A4 sheets attached! Mostly Brit Commonwealth on a quick look
$A65
78.
Sir EdmundHillary/Tenzing Norgay signed Silver Proof coin India 1978 FDC:
The superb Franklin Mint folder, with the Deluxe Certificate etc…..
$A60
79.
1971 Xmas Block 25 on a neat unaddressed FDC:
Nice compact 165 x 230 mm size allowing nice display in a #1 Hagner. Simon Dunkerley told me recently he has NEVER seen this block on FDC in his 30 or so years as a dealer. Neither had I ! Wonder why so few were done? It was possible to do it at any P.O. in the country of course. Just no-one seems to have thought of it!
$A225
80.
World Aust + World M+U - in 12 old albums:
Incl. a quite massive old S.G.
1899
"Century" world album - nearly empty. A large heavy carton full for -
$A95
81.
British
Africa:
M+U in large S/book. KGV to 1990s. (Also many Jamaica!) Many duplicates. Face values to $10. (2,170 stamps here) 3 cents a stamps!
$A70
82. Worldwide FRAMA labels on cover: Mostly 1990s in a $40 blue album. Many were genuinely mailed.(many Reg'd) Inc Iceland, Mexico, Tunisia, Eire, Aland, Norway, Finland + Latvia. 72 diff. Cost owner $250 he claimed. Seems right. $A75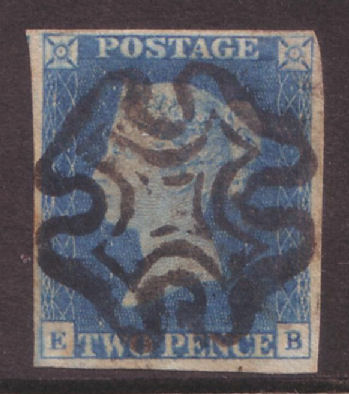 83. GB 1840 2d Blue Imperforate: The world's first stamp issue. Facially attractive 4 margin copy. Complete strike of a bold and superb Maltese Cross cancellation, as you can see. You would not get too many nicer looking copies facially. Thinned on reverse. I need to find a client with the initials "E.B."! SG #5 £650 = $A1,625. Cheap at under 12.5% of Gibbons catalogue.


The world's first and most famous stamp issue for the exact cost I sell last year's 2006 Australia Post Yearbook for - literally ... www.glenstephens.com/yearbooks The world has gone mad! $A200

84.
GB used coll Q.Vic to 1990s:
In 2 x large stockbooks (Many 100s)
$A50
85.
Platypus Frama 'ZERO" Labels ("00.00"):
A rare freak omission when machine malfunctioned. ACSC F4aa Cat $25 each. 5 x MUH
$50
,
or 10 MUH for
$85
,
25 mint for
$160
.
Great for investor or re-seller items. Order a hoard today!!!
86. 1913 1st Wmk Roos 'OS NSW': ½d, 1d, 2d, 2½d, 3d, 1/-, Clean U. $A65
87.
Nyasaland 1938/44 KGVI set 18 to £1:
Fresh bright well centered MLH. SG #130/143. Cat £160=$A400. An almost "never" offered KGVI set locally.
$A140
88.
KGV 1916 4d Lemon/Yellow Perf 'OS':
Clean GU/FU, cnr cds.
$A100
89.
POLAND 1861-1958 Powerful M+U Coll in Black album:
Michel about 4000E=$A6600. About 700 stamps and 15 M/S. Noted 1918/19 O/p part sets, 1919 5+10 o/p, 1937 Visit M/S set 3, 1938 Exhib M/S MUH, 1944 Monte Carlo M, 1944 Heroes set U, 1945 set 10 locals U &c. Untouched estate lot as recd
$A1,000
90. POLAND Huge M+U Coll: 1958/1992 in 5 large black albums. Roughly 50% M and 50% U. 1000's stamps + about 100 M/S. Michel cat approx 1600E = $A2650. Totally untouched estate lot, in usual mixed condition, in a very large carton. $A600
91.
POLAND RE-UNITE ALL SIX VOLUMES AND SAVE $100!
$1,500

| | | |
| --- | --- | --- |
| | 92. 1840 - the THIRD day of the GB 'Penny Post' cover: A lovely turned entire. Clear Hadeigh and London Jan 13 + 14th 1840 cancels. (3rd + 4th day of Penny Post use) + manuscript '1'. VERY rare early use. January 11 use is cat £500 = $A1,250. Lovely clean condition - a rare piece of stamp history, that of course predates the May "Penny Back" issue that made the Penny Post even more popular. $A150 | |

93. "Great Art Stamps Of The World": Huge Franklin Mint album. With 108 diff special and applicable recess/engraved FDC with large art stamps on each. Detailed artist/subject write up on reverse of each cover. Superb. Cost $450. $A150
94.
"Tasmania The Postal History & Postal Markings":
The 2 x thick A4 sized epic volumes on this popular subject. Avery/Ingles/Purves/Campbell etc. Published by Royal Philatelic Society Victoria and 100% essential reference.
$A125
95.
G.B. FDC 1979 to 1986:
Mostly PO commem sets to Aust. 65 diff. SG Cat to £8 ea = $A20)
Even to soak off as FU sets
this is very darn cheap buying
$A65
96.
Carton Of covers:
(In 7 x quality FDC albums ret $200) Coll mint PSE 1978 - 90 (hi Face) Sets 7+9 Frama FDC 1984-90 (ret $120)maxi cards. 60s FDC &c
$A90


97.
GB Decimal Printing errors:
4d Xmas 67 – v.faint Gold. 7½d Ulster 1971 – only 1 band. 1984 16p Urban: gross misperf. 1984 24p Xmas: misplaced value.
$A65

98. Nauru 1937/48 'Ships' set fresh MUH: Very good perfs and centering. Genuine orig. gum. These had higher face val than a set of CofA Roos to 10/- $A325
99. Tasmania 1857/69 1d Imperfs: x 7 used shades &c Mostly GU/FU. $A45
100.
Aust Royal Mint Coin Year Sets:
1974/76/78/79/81/82/83 (7) Retail $189. Popular annual sets in red RAM wallets. Similar thing to PO Year Books!
$A95


101. GB 1969 1/6d Xmas 'New Blue' Omitted: Fresh MUH. SG 814E $A60

102.
AAT Complete Country MUH to 1991:
In red 'Seven Seas' Hingeless album. (Missing the cheap 1973 set) Deceased Estate Stevo cheapie at ….
$A100
103.
NSW 5d Green Diadem perf 'OS" –
very attractive M. SG #243a p11x12.
$A50
104.
PNG M+U Coll 1952 to 1982 in old green Springback:
Mostly a mint set PLUS a partial or complete set used in here as well. Great value at only -
$A135
105. Mint Postage 1¢-$5 + nearly all vas in between! Face $120. Fresh MUH $A95
106. NZ 1882 QV sideface set of 10 to 1/-: (2x1d but no 5d) GU/FU set. $A45
107. DENMARK Semi-specialised earlies: 1851-1912. 10 x 1851 4 RBS, 1854 16S, 1858 4s mint, Plate flaws inc. INVERTED frames, shades, rare wmk varieties. 1913 GPO &c. 108 stamps. Cat years ago in Michel at 5000 Dm+. Under $4 ea! $A400
108. Kedah 1959/62 Sultan set of 12 fresh MUH to $5 Top Val: SG#104/114. $A45
109. St. Lucia 1938/48 KGVI complete set 26 to £1 per SG Cat: Fresh Mint on English album page with the perf varieties and different colours etc. $A60
110.
Nauru 1954 Definitives in very fresh MUH corner pairs
(18)
$A40
111.
E.Germany 1951 Polish President's visit set FU:
Michel #284/85.
$A45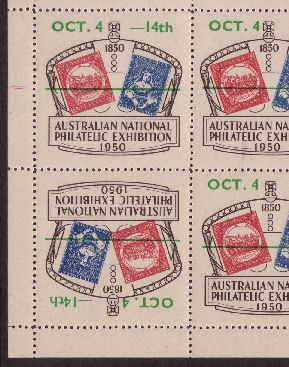 112.
Victoria
1950 "ANPEX":
Comp. sheet of 12 fresh MUH:Tete-Beche!
$A60

113.
N.Z. + Ross Dep. FDC coll 1980 to end 2003
(to Lord of Rings both perf sets) All clean PO unaddr. Bklt panes 10, Defins to $20 etc. (313 diff) FACE is $NZ1191=$A1133 – the vast bulk of this in the tough last decade era. Retail is up to FIVE times face for the scarcer stuff. Bargain! 30% below FACE value at
$A800
114. GB 1955/6 QE St. Edwards Crown wmk set 18: Fresh MVLH. SG £160 $A115
115.
Aust Coll 1913-45 on 7 Seas Leaves
: Roos to 2/- Brown. KGV heads. OP 'OS' inc 6d Roo + 4d KGV etc. Mixed cond ex Estate. Must be worth just-
$A55
116.
N.Borneo 6¢ Red Cross 'Rhino' rare p15 fresh MLH:
SG #194a £190.
$A150
117. GB 1958 1st De La Rue Castles - Only 10% SG!: 2/6d, 5/- & 10/- (also 1/- SG 554) fresh w/c unused. Few short perfs (worst on cheap 2/6d! – key 10/- quite nice) SG 536a/47a/38a/554. SG £357 = $A890. Estate super special at only - $A85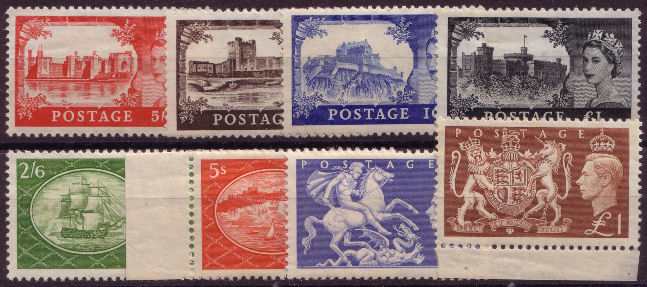 118.
GB KGVI + 1st QE2 Hi Vals to £1 MUH w/Cent 15% Cat:
SG 509/12, 536/9 all MUH, few small blemishes seen. SG £310 = $A775. 15% Gibbons.
$A100

119.
Norfolk Island mint coll 1973 Defins to 1990 on leaves miles under face!!!!
Fresh MLH and MUH on leaves. Face value alone is $A257. Estate special.
$A150
120.
Aust + A.A.T FDC Coll:
Nice lot in 5 x large Deluxe albums in large carton. 1970 to Xmas 92. All clean PO unaddr. Inc Frama sets of 7 + 9 (scarce) and looks 99% if not 100% complete. Many 100s.
Ret $2000
. Huge face value. A GIFT!
$A600
121. S.G. CATS: World A-Z 1985+1993 B/Cwth 'Part 1' (4 huge vols) 7/Seas ACSC 1996 colour + various other Aust+GB+NZ colour cats + Scott &c all U. Handy! $A85
122.
Kuwait 1950 o/ps on GB KGVI set of 9 - fresh Mint:
SG # 84/92 £70.
$A60
123.
'BIRDS OF THE WORLD':
The quite superb and huge padded cover Franklin Mint album (11x15") with full set of 108 different painting colour cards (8x4½') with MUH applicable stamp adjacent. Algeria to Yugoslavia. Full details of applicable Bird on reverse of each card. Cost $A600 -$6 a cover. Fine cond.
$A200


124.
N.Borneo
1895 Such set 5 v fresh MVLH (pulled perf 4d) SG 87/91 £120
$A85

125.
Nigeria 1938/51 KGVI Defins x 29 diff – fresh MLH:
Lovely group, virtually complete per SG with perfs + shades. Incs 4 x 2/6d, 4 x 5/-. Inc all the "biggies" – SG 54/58/58ab/59 (These 4, £273 = $A710 alone!) Total SG Cat £325=$A860.
$A275
126.
Australia - 1964 10/- + £1 Navigators on official PO FDC – very fresh: $A55
127. N.Z. Pictorial FDC 1948 Otago to 1980: From 1972 onwards nearly all are PO unaddr. (105) Odd corner bend etc. Under $A1 a FDC. Insane price! $A100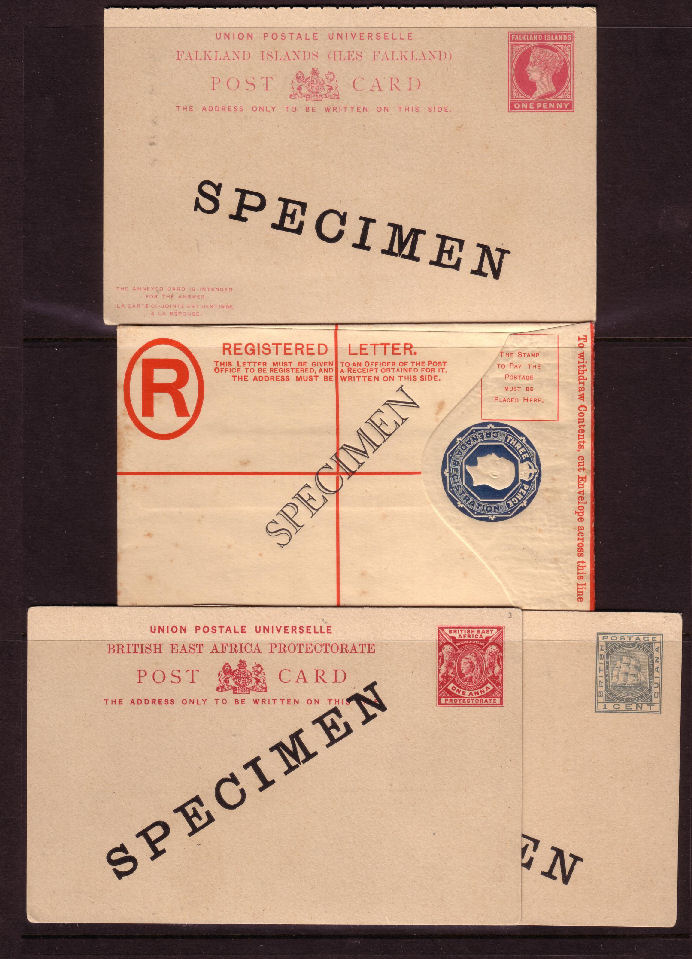 129. Early B/Cwth "Specimen" Postal Stationary:: Amazing lot of 48 diff – most QV, a few early KEVII all heavily o/p "Specimen". Lots small Caribbean + African countries Also Cyprus, Falklands, Gibraltar, Seychelles etc. Mostly Post Cards or joined reply cards/wrappers &c. Believed to be a UPU 'Specimen' distribution and only a few sets would exist worldwide now outside archives. Condition OK on most – all 100 yo now! $15 ea. $A700

130.
Hong Kong FDC Coll:
1986 Halley's Comet to June 1992 Defins to $50! Superb PO FDC in big $30 album inc. Frama + P/Due set to $10.SG Cat as used alone is £300 =$A860 and FDC are a LARGE premium over used for this era
$A250