Click To Go Back To The Main www.GlenStephens.com Stamps Homepage


Welcome! You are visitor
to www.GlenStephens.com


Concorde – the flying experience of my lifetime.
In mid 2002 a friend and I each used 125,000 Qantas frequent flyer miles and took a Concorde flight from London – New York – London. In fact it was better than that as for those 125,000 miles we also got a free Business class return side trip from ANYWHERE in Europe we wished – a valuable trip worth $1000+ on its own. Whether that was Moscow, Casablanca, Cyprus or Istanbul etc it was part of the deal.
A one hour Sydney-Melbourne free return business class ticket costs 30,000 Qantas points. I cannot believe folks use miles for cheap $A120 round trips like that and not for "impossible-to-afford-otherwise" awards like a Concorde flight. Given a choice of 4 x MEL-SYD returns or a return Concorde flight with a free side trip to Moscow, it really is a no brainer decision from me.

I phoned British Airways and asked what such a trip would cost, and the answer was Euros €13,205 plus taxes, or around $A22,000 as I type this. I do not think 4 x SYD-MEL in a cramped 737 Qantas 'business class' is quite worth $22,000 to me.
Even if you did not have 125,000 Qantas points you could have effectively purchased them for much of 2002 for $US1,256 ($A2,084 as I type this) via subscribing to a USA magazine who offered you flyer miles on each sub – then you simply said "do not mail the magazines thanks". Or, got very full mailboxes for a year! This little loophole I mentioned in a client newsletter, and many clients took advantage of the $A2084 round trip Concorde flight.
Concorde Flights cancelled forever in 2003
My dream for the past 20 or 25 years had been to fly this magic bird before it was withdrawn from service, which I predicted last year would come soon. That day sadly has arrived. Air France will not fly Concorde past May 2003,

(click HERE for news story) and British Airways will withdraw all their flights a few month later.
'Never has such a beautiful object been designed and built by man,' said Air France President Jean-Cyril Spinetta at a news conference announcing the sad news. 'This aircraft is not going to stop because it continues to live on in the human imagination.'
That news inspired me to dig out some of my Concorde souveniers, and post up this report in latter April 2003 of the airline trip of my lifetime. Better late than never I guess, and for a year I have been "meaning to do it".
Concorde is not just about "getting there".
Concorde is not just about "getting there". It is really about the whole EXPERIENCE. From check-in to arriving at customs at LHR you really get the full-on 100% VIP treatment.
The special Concorde lounges in both New York and London are of course superb. No need to check-in with the great unwashed here – you have you own special room to do all that …. behind discreet and unmarked doors. In the New York lounge there are tables with starched linen tablecloths and silver service, and personal butlers. You can have a decent meal with French Champagne BEFORE you fly if you wish.
Even the most jaded British Airways personnel perked up and became SUPER polite when they saw "Concorde" on the itinerary – it really has a special place in their world. You get special metal Concorde baggage tags and a different kind of hard plastic as well if you wish. Special boarding passes (see below) and other goodies.
At Heathrow the beautiful bird was parked just below the superb lounge. Many of the passengers wanted their photo taken with the bird as a backdrop, smiling and sipping champagne. The staff discreetly assist in this for anyone who looks interested.
The staffing of the lounges and on the plane were exactly as you'd expect - via very experienced and super efficient BA staff. Smooth as silk. Each plane has only 100 seats and most flights seem to have only about 30-40 passengers, hence the huge cost per ticket.
The seats are smallish – not unlike a business class seat on a 737. These seats are largely unchanged from the 1960s when first launched into service. No personal TVs or audio systems at all – in a less than 3 hour flight you are so busy eating, talking and drinking who CARES! You are across the Atlantic before most of today's movies would be completed anyway.

Take-off is much like a normal plane. You do NOT hear or experience a sonic boom when the plane smashes through the
Mach#1 speed of sound barrier.
The bulkhead wall of each cabin has a HUGE liquid crystal display showing 3 things – Mach air speed, height above ground, and ground speed.
The Concorde starts off and arrives slowly when flying over populated areas due to noise restrictions. However for nearly all the flight over the Atlantic Ocean the speed shows at Mach 2, or twice the speed of sound. Highest elevation I can recall on our trip was 58,500 feet. This is about double a 747's typical cruising height. It is fun watching the large digital display on the bulkhead wall climb and climb and climb seemingly forever even though plane is doing Mach 2 all the time.
Passenger window gets REALLY hot.
When Concorde reached 58,500 feet we touched the inside of our small cabin window.
It was VERY hot to the touch.
Quite a shock. Like your car windscreen temperature if parked out in the open all day in summer. Given there were THREE layers of window glass and air in between, the outside temp of the Concorde must be amazing. I read the entire plane EXPANDS about inches in length at 60,000 feet than at ground level due to the bullet like Mach 2 speed, and the old truisms, "friction causes heat" and "heats expands metal".
The food and booze of course on board Concorde are legendary, and as you can see from Menus illustrated below - beluga caviar, truffles, lobster etc all feature. The wine list I have posted below speaks for itself, and many of the bottles of Champagne sell retail for several $100 each.
BA load 48 bottles of the "featured" champagne alone for each flight, and goodness know what quantity of the others. Anyway, being champagne drinkers my friend and I made a pretty big dent in the 48 bottles in each direction! So many bottles she does not even remember arriving in New York, nor being refused entry to the United Airlines Red Carpet Club, for our on-going First Class flight that day to San Francisco then Las Vegas.
I just said: "fine then, if we are not welcome here, we will just have to go back to the BA Concorde Lounge next door" and that woman's jaw dropped pretty markedly.

We drank 1988 (not 1998) Taittinger Comtes de Champagne all the way across LHR-JFK. Tough life. And same on the return journey. In a really unusual bulbous based bottle I have never seen before. And the Beluga caviar was not bad either.

We asked politely for the Concorde kit onboard – as others had told me such things existed. We both got one, and no-one else did that I noticed. Beautiful sleek Sterling Silver pen with a discreet Concorde logo, special notepaper and envelopes, and a Certificate signed and dated by Captain etc.
There is as you might imagine a wonderful "Concorde Duty Free Catalogue" that I also retained. It had things like pure pashmina shawls for £395, Baccarat perfume for £560 a small vial, Salvatore Ferragamo men's black belt for £230 ($A640) … you get the picture. And lots of much more affordable Concorde goodies in there too.
A few celebrities on our flight
Some pretty well known folks flew the Concorde as I think we all know. A friend took his flight a week before and had Barbara Walters and Michael Jackson were travelling separately in his cabin.

All we had of note were mainly a few "Lady" this and that, and diplomats. However Bruce Springsteen and "Mr Mariah Carey" - Tommy Mottola, CEO of Sony Music were sitting a few seats away from us. Upon arrival I cheekily asked the stewardess if I might keep the 2 yard long (literally) passenger manifest as a souvenir. She smiled and said "why not" so it is now in the bundle of stuff below for sale.

It said regarding Bruce Frederick Springsteen - " *;VIP;* - Famous Musician , Springsteen Bruce " on the manifest ... Duuhhh, you'd wonder who'd NEED to be told that. Springsteen was seated next to Lady Barbara (Amiel) Black, wife of now disgraced Canadian born media baron Conrad Black. He is facing racketeering and fraud charges from Hillinger International who are chasing him and a few others for $US1.25 BILLION.
In this period the Blacks allegedly ran up a bill to the company of $US530,000 for a short vacation to Bora Bora for Barbara's birthday, so I imagine a Concorde ticket cost was just pocket change! Apart for those two you wanna see the "VIP" notes in there and most of the plane were top level BA Gold Elites, which is not a level easily obtained in that plan. My friend and I were about the only "cleanskins" with no BA Gold or Silver notations, so not too many junketeers on the LHR-JFK. (Actually, like us, Bruce Springsteen and Tommy Mottola had NO elite level status whatever with BA or One World according to the manifest - curious.)
Upon arrival into JFK we flew over that morning to Las Vegas, via SFO for one night at Luxor, which I love, and back on Concorde the next day at 0830am to Europe after arriving LAS-LAX-JFK on a red-eye about 6am. The flight was delayed a few hours, and the Concorde lounge in JFK is the PERFECT place on earth to be "stuck" for a few hours I can tell you.
The landing on Concorde is fast and abrupt, and that contrasted with takeoff, as being rather different to larger widebody jets. Arriving into Heathrow is neat if a Concorde passenger. No lining up with the masses for customs and immigration. A pukka young BA fellow with Eton accent discreetly extracts Concorde passengers from the masses of arriving hoi-polloi and directs you to a special passport/immigration desk that appears to handle solely Concorde passengers. It could be easy to get used to this kind of travel.

Norwegian fjords …. and Hashish by the kilogram.
Flew back to Amsterdam, and then took a flight up to Bergen in Norway, and had a lovely overland trip to Oslo via train through the mountains, and mail steamers down the Fjords. Norway is a pretty place but sooooooooo expensive. A couple of local beers in a small pub ran about $A35. VAT taxes there are about 25% - and on booze there is a "super tax" many times that I understand.
Caught the overnight ferry from Oslo Norway to Copenhagen Denmark which is a city I always love the feel of. Had a frequent flier friend take us on a day tour via the eyes of a local. He took us to see a small area in the centre of Copenhagen called Christiana. In 2002 this amazed us. It was an open air drugs market where virtually ANYTHING except heroin seemed on open sale from many dozens of permanent market stalls. (And I bet if you asked it was pretty easily found.) Marijuana of scores of types and joints by the 1000s, hashish in blocks and powder, magic mushrooms etc. As my friend said - "If the Grateful Dead had their own city, this would be it!"
Photographs were strictly verboten, and apparently the Police seldom bother going near it.

From Copenhagen, back to AMS, and then the long flight back home via Kuala Lumpur on KLM. This was a great round trip for me – my first on KLM for a few years. Due to a bizarre frequent flier "points/status match" deal this one economy class flight (which a friend upgraded anyway!) SYD-Europe-SYD earned me Platinum Status on KLM for 2 years AND KLM gave me 1.4 MILLION KLM flyer points. Which is enough for 225 free KLM flights within Europe. Strange but true. So if you are ever visiting Europe and need ………………

A day in Kuala Lumpur is always fun for shopping …. despite the airport being seemingly 500 miles from the city - thank goodness cab fares are cheap as anything. Was only about $US10-15 if I recall for an hour ride. The fake brand name merchandise is far more widespread and a lot cheaper than in Bangkok.
One vendor had a large table covered with fake perfumes and fragrances etc. Men and womens Not just "smells like" fakes that you see in BKK, but the whole nine yards. Down to exact bottle design, outer box packaging and shrink-wrap. You name it, he had it, and all about $US8 a bottle - most of which were BIGGER size bottles. I bought my Mom a half gallon size bottle of Chanel #5 for a laugh. She loved it, and also the 'diamond encrusted Solid Gold ROLEX' I also could not resist at $US20. And I bought a few large atomizer bottles for myself of Davidoff "Cool Water". I use that always, and this stuff looked and smelled and was packaged the same as the real McCoy, but was 5-10% the price!
Created some stamp souvenier covers for this exciting flight, and had the Captains and all flight crews in both direction signed them. See below for photo and detail.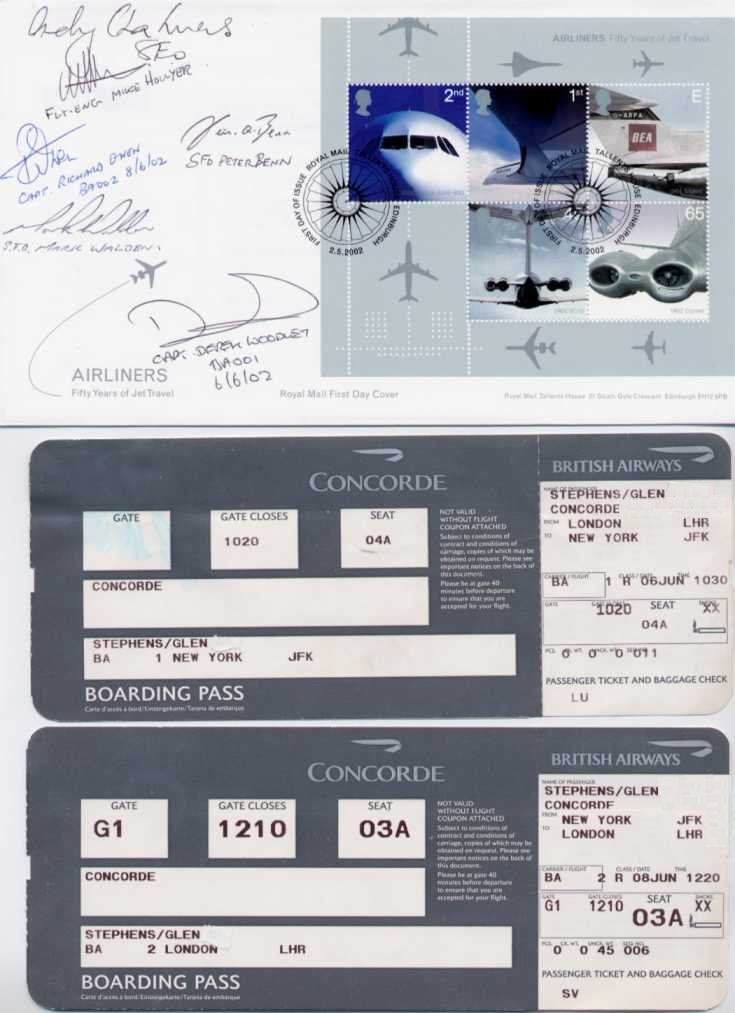 British 'Royal Mail' First Day Cover "Airliners - 50 years of Air Travel" set which was only issued a couple of weeks before. The Concorde is of course the top centre stamp. I have seven (7) only of these unique Concorde covers for sale that have been signed by the Captain and 2 man flight crews on both my 2 Concorde flights. i.e. all 6 flight deck crew signed and dated each cover as you can see. The Concorde will stop flying in 2003. A unique collectors item. Each is hand numbered by me on face, i.e. "Number #1 of #7" and signed by myself.
I started off with 15 of these unsigned special FDC, (which were not cheap anyway!) and wondered if I would be able to get any signed. I asked a flight attendant on first flight if it was possible. She raised her eyebrow and said plum-in-mouth "I really do not THINK so, as they are VERY busy up there, but I can only ask". She came back with a smile and said: "well, the boys have never seen those Airliner stamps and are all very interested in also having one of these. They have offered you a deal - if they might keep one each they will gladly sign the balance".
I said 'YES' in a heartbeat of course, and we were all pleased. They invited us into the cabin at end of flight etc for a chat and gave me business cards etc. This stewardess also gave me the entire passenger manifest after that cabin visit. On the flight back across the Atlantic, I was having a drink of Vintage Champagne in the lavish Concorde departure lounge in New York, and who should be sitting there reading a magazine - clearly a Concorde Captain.
Seizing this moment of opportunity, I asked him politely if he and his flight deck companions might also like to assist and sign these covers on the flight back. And of course made the same offer - they were welcome to keep one if they wished. He also was delighted to help and took the FDC's. Sure enough all were relayed back to me mid flight at 59,000 feet, by a rather bemused flight attendant. These guys also invited us into the cabin. "Airliners" First Day Covers are a powerful attention getter to pilots!
I am not sure anyone at any time has obtained a flown Concorde stamp cover signed by complete crews both ways, as it is absolutely not the "done" thing generally. And I can virtually guarantee no signed covers were done of THIS Concorde FDC, as it was on sale for only a few weeks. The heavy card insert depicted below with all airline specifications comes with each FDC. Concorde stamp covers are highly collected, and very few signed and genuinely flown covers exist from any time in the 24 years of Concorde's active life.
Price is
$A150
plus Registered post costs.
Only SEVEN exist. All are hand numbered on front, but I did that after I took this scan! All also have a signed and dated declaration from me on reverse to that effect. Only 15 covers were carried. Six went to the pilot and flight deck crew of both flights. My guess is those will be discarded or lost over time, so likely under 10 will survive for collectors.
My travel partner and I each retained one, and the other seven are numbered and for sale here.
Also shown here are the special black Concorde Boarding passes. I asked for an extra of each, so that when the gate reader machine gobbled up the large piece, I had more to retain for my collection than the tiny stub at end!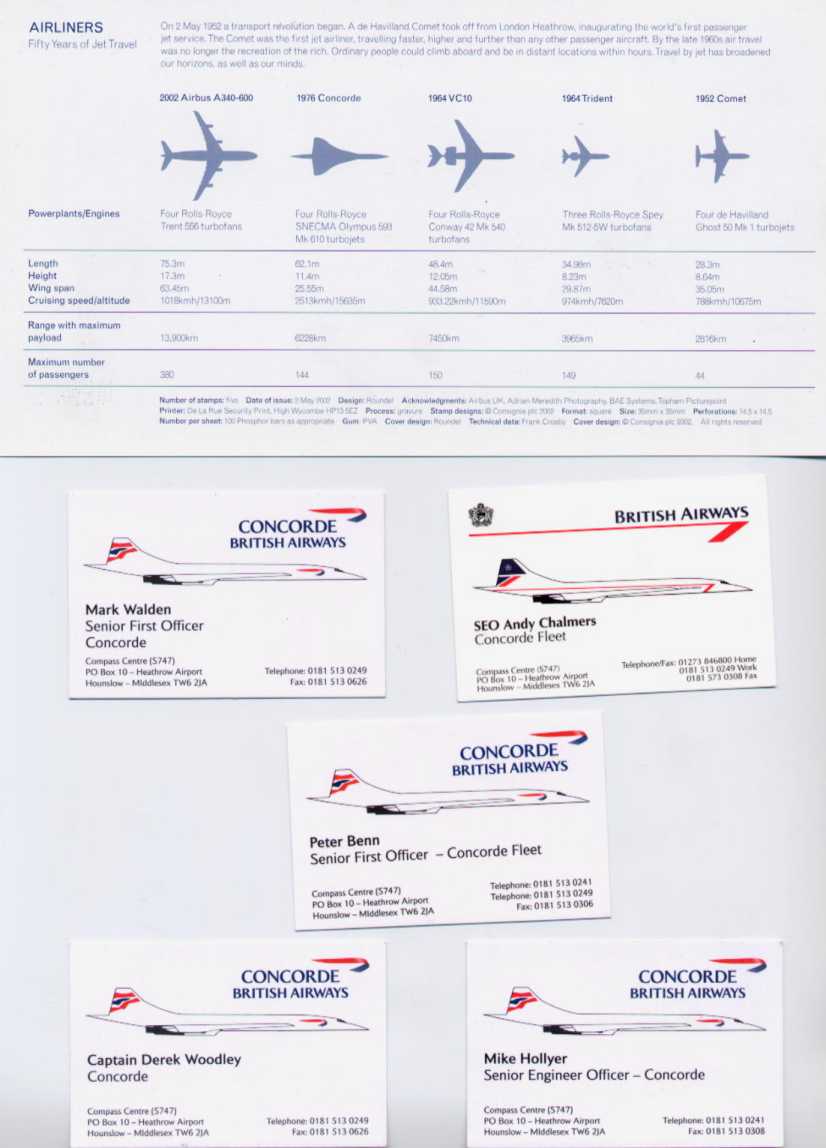 | | | |
| --- | --- | --- |
| | The special Concorde business cards from all but one of my crews. The Andy Chalmers one differs in plane livery from the others, so it may be an earlier paint job? (It also has some kind of fancy crest top left.) | |
A few in-flight souveniers above - PART of the wine menu, and the meal menus. All presented in a classy Royal Blue book style, bound with gold ribbon. Beluga caviar, Lobster, and truffles were all there. What else would one expect from Concorde?! And CHAMPAGNES to die for knowing how much I am into bubblies. Stuck with the 1988 Taittinger, Comtes de Champagne as it was quite superb, and in a rather bizarre blob based shaped bottle

This is a seat map of BA Concorde - it was important to get seat rows 10 or lower, or else the huge Delta wings block your view of the curvature of the earth as you can see. You fly at about 60,000 feet at Mach 2. Here is a superb first person article on BA Concorde, JFK-LHR. (Price one way is now $US6,350!)



| | | | | |
| --- | --- | --- | --- | --- |
| | | | | |
Dorky tourist in Concorde Lounge London


This is the way to fly TransAtlantic!



The Concorde Room London.



This was just the 'starter' – note the little can of Beluga caviar at left!

Seats really are no larger than most
737s.


The huge bulkhead speed and height
digital display.


The world's first Concorde stamp - from 1969
Special thanks for my frequent flyer friend Nathan Roemer for the use of four of his digital photos in this article - see here for them and many more - in his own terrific Concorde flight website
-
http://www.travelscholar.com/concorde
My Remaining Concorde Stuff For Sale!
| | | |
| --- | --- | --- |
| | | |
| | | |
| --- | --- | --- |
| | | |
MY Remaining Concord Stuff For Sale!


I had planned to have All my Concorde stuff mounted in a glass fronted frame to hang in the office, as a souvenir of my flight on this historic lady.

Like many things in life, "I never got around to it". and well into 2006 it has never occurred. So it likely never will now.

I do get regular requests for the special stamp cover, and they have long been sold out - apart from the single cover I kept for myself. The price on those was set far to low at $A150, and I would have sold them all just as easily at double that price, as only a few exist in the world.

The 7 buyers are pretty much all keen Concorde collectors, and 3 of them tell me no other BA covers are known signed by all crew in both directions - from any era. Whether that is true I have no idea, but may be I was the first passenger cheeky enough to "bribe" them all with a cover each if they signed the other 9?!

So here we go, someone realy keen on Concorde has the chance to own the lot. I only stumbled across the folder with all this stuff in there this week when cleaning my storage room.

Which is:

1. Concorder signed stamp cover as above ... number #3. if I sold this separately today I could ask and get $300 -$400
very EASILY as it is the only one remaining in captivity! And I get asked about the availability of these all the time.

2. All 5 x crew special business cards as illustrated avove - very keenly sought collectibles in their own right, and quite valuable as all have Concorde logo on them, and were impossible to procure unless you were given one. Value on their own easily A$50 - $100 each. ($250 - $500)

3. Both Official BA Concorde luggage tags aw illustrated. The impressive large (15cm x 5cm ) thick dark grey rectangular one with ends and wording and logo all in metallic silver. And the embossed solid metal oval one. (Actual scans of both are above. Both have a separate name and details ) I had to ask and cajole and beg for both types as neither was offered by staff. Both needed to be obtained from secret draws "out back". (In fact I have 2 of each If anyone wants 1 of just these two bag tags - brand new - they are your for $85 the pair to spruce up your briefcase, and impress your workmates!! Classy pair - these sell on eBay for well over $100.)

4. Both my COMPLETE boarding passes as illustrated above for rows 3 and 4. I must be one of the few people on earth to have retained a complete boarding pass, as I had the sense to schmooze gate agents at each end to give me a duplicate pass when checking in. Otherwise, the "gate reader" machine keeps most of it, and leaves you just the stub - one of which I also have and they too is included with this lot.

5. The large A4 size and super deluxe "The Collection" brochure of goods for sale on board duty free. With BA concorde logo on front cover. Lavish heavy grade paper production as you'd imagine, and prices inside to match the Concorde ticket price!

6. "Welcome To The Comfort Of Concorde" double sided seat pocket brochure showing how foot rest, headrest., table lock, and all seat adjustments worked.

7. Eight page Menus (food and wine) from both directions - lavish dark blue covers with "Concorde" logo blind embossed on heavy outer cover, with mind boggling contents! (2) About the most highly sought Concorde collectibles - value very easily $US100 each.

8. Similar looking menu from the special Concorde Lounge, with same dark blue heavy card and embossed cover, listing of all the goodies you could ask to be waiter served to you there, on the white linen set tables, before you set off on your adventure!

9. Special booklet given to Concorde pax at London showing layout and features of the First Class lounges and detail of the special Concorde Room and photos of it etc.

10. My boarding passes on BA Biz Class to and from Amsterdam, to and from the Concorde flights.

1

1. A large format A4 sized magazine called

"The Briefing" (see front cover scan above) which says inside "Concorde's high flying magazine". Dated on outside June 2002. Glossy stuff inside and all technical specs of Concorde. Also the entertainment channels available. (Actually I had not realised there were any!)

12. Booking confirmation from Qantas for the Supersonic flights, and also 2 separate and different print outs for same from British Airways.

13. Complete flight manifest for June 6 flights. 2 yards long computer print out given to me by head stewardess. See above - includes - Springsteen, ("*;VIP;* - Famous Musician") Tommy Mottolla, Lady Black - and me! Passenger Manifests are near unheard of items from ordinary flights outside of staff hands. From Concorde possibly only a few exist from her 24 year lifespan. And a Concorde manifest listing Bruce Springsteen as a passenger is a $US200 eBay lot to a keen Springsteen fan, I'd bet my house on that. Fans absolutely delight in buying things that are "one of a kind" and otherwise not obtainable.

14. Special and very expensive Concorde stationary given to passengers on board - who asked for it. All in a classy blue "Smythson of Bond Street London" wrapper with Queen's Royal Crest. 2 envelopes, and 4 large sheets notepaper - all with the heavy watermark of that firm, and all with colourless blind embossed Concorde logo. And 2 x blank postcard sized heavy cards, with embossed silver Concorde logo. (9 items in all)


Price for the UNIQUE lot above is $A750 plus shipping.

That is around 300 quid, enough for a night or two at a nice hotel in London. Hotel stays you will have hundreds of in your life, but a collection like this is

UNIQUE!

I bet if I put it up on eBay I'd get more than £300 the way genuine and interesting Concorde material is selling lately. It is a red hot market. And if anyone wants to add them to a website, anything of mine from this page you of course have permission to use as well.

The person who bought this off me in 2005 has passed away.

His Estate recently sold the material back to me.

It looks like it is all intact and in good shape, other than 1 boarding pass.

Over the years I had many folks ask if it was for sale. Now it is – once again.

Despite inflation, the package deal is still $A750 plus shipping!

Glen



To order, click
here
. To read ordering instructions, click
here
.
Instant
Currency Conversion

FREE!

Just click here...
GLEN $TEPHEN$

Full Time Stamp Dealer in Australia for over 25 years.

Life Member - American Stamp Dealers' Association. (New York)
Also Member - Philatelic Traders' Society. (London) ANDA. (Melbourne) American Philatelic Society, etc


ALL Postage + Insuran

ce is extra. Visa/BankCard/MasterCard/Diners/Amex all OK, even for "Lay-Bys"! All lots offered are subject to my usual Conditions of Sale, copy upon request BIblueST STAMP BUYER: Post me ANYTHING via Registered Mail for my same-day cheque. Avoid the GENERALLY 40% Auction " Commissions" (15% + 17½ + GST, etc.) AND their five-month delays! Read (02) 9958-1333

Fax:

(02) 9958-1444

(Both 25 Hours, 7 Days!)
E-Mail: glen@glenstephens.com
Web Sites: www.glenstephens.com

www.glenstephens.net

or

www.australianstamps.net

| | | | | | | |
| --- | --- | --- | --- | --- | --- | --- |
| | | | Time and Temp in Sunny Sydney! | | | |
Sign up AUTOMATICALLY to my world renowned bi-weekly stamp gossip mailing list!
Click here to see MANY 1000s of stamp lots for sale at low $A Nett prices

Click here for all you need to know re SELLING your stamps for SPOT CASH

Click here for the current Monthly "Internet Only" special offers - CHEAP!

to read all my recent International stamp magazine articles. Click here to get back to the main www.GlenStephens.com Homepage

Click here to ORDER on-line ANY items from ANY of my dozens of lists

Click for all info on Conditions Of Sale, Payments, Shipping, Returns &c

Click here for the complete library of my very unusual world travels!

How to PAY me. I accept EVERYTHING - even blankets and axes and beads!

Australia Post Annual YEAR BOOKS - massive stock - '27% off' discount offer today!
Visit my new page on RARITIES - Roos & other expensive photo items.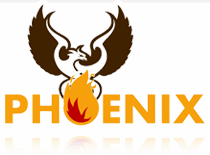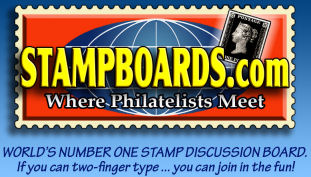 Instant Currency Conversion


FREE! Just click here...


E-mail me at glen@glenstephens.com -
Every credit card shown is accepted WITHOUT fee.
Earn Frequent Flier points while buying at bargain prices!
ALL prices are in weak Ozzie Dollars. I charge NO nasty, nasty
"Buyer's Commission" on stamps like nearly every "Auction" does.