Click To Go Back To The Main www.GlenStephens.com Stamps Homepage



British Lady Diana Stamps Printed
5 Days After Fatal Car Accident
The recent British Princess Diana stamp issue must hold a rare distinction in world philately. Never in history has a new set of stamps been printed in honour of a major public figure well before the burial took place.
It is now confirmed that Harrison and Sons were actually printing the strips of Memorial stamps within 5 days of the tragic car accident in Paris. It normally takes several months for a British stamp design to be approved, proofed, amended, tendered for, scheduled in, and printed.
There is no other example that I have been able to document, where a major country has designed and printed stamps within such a remarkably short time frame. It can routinely take Australia Post a year or longer to print a commemorative stamp from when the design and subject is first proposed.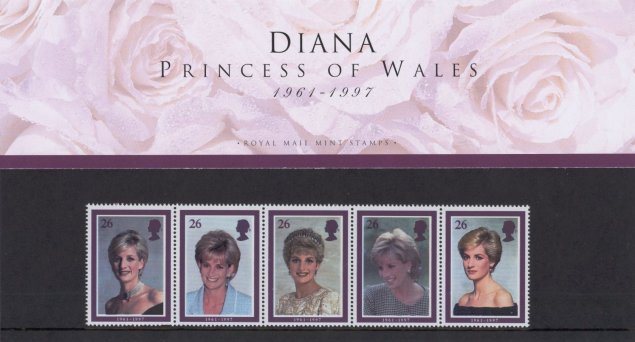 Imagine if Prime Minister John Howard, or President Bill Clinton were involved in a fatal accidental crash on a Sunday. It seems impossible a 5 stamp tribute would be printing and fully approved by the next Thursday morning.
This fatal car accident was not a pre-anticipated stamp issuing event, such as the winning of a sporting event, a pre-planned man made launch, or even the death of a much loved person that may reasonably be predicted to occur at some near point in time, i.e. the Queen Mother. Princess Diana died totally unexpectedly on Sunday August 31st in Paris, France. There is only a one hour time difference between Britain and France.
One can imagine that the Royal Mail (British Post Office) management were not able to have any meaningful discussions on a Sunday, so Monday September 1 seems the likely earliest date any decision to print a memorial stamp issue could have been taken, giving a real response time of only four days from start to finish.
The simple action of obtaining signed approval to use the 5 different Diana photographs on a major stamp issue, taken by four different photographers, would ordinarily be expected to consume days of negotiation over fees and copyright and associated paperwork alone.
Despite the numerous logistical hurdles, within days of this tragic car accident, the Princess Diana stamps, exactly as now issued, were rolling off the high speed presses at Harrison & Sons in High Wycombe. I can confirm that the first stamp printing was on Thursday September 4th. Printing continued, right through the weekend, from September 4th to 10th inclusive.
STAMPS PRINTED ON FUNERAL DAY
Printing of the Princess Diana stamps took place even on the day of the emotive state funeral at Westminster Abbey on Saturday September 6th. On that day nearly all of British retail and industry closed as a mark of respect, but Harrison & Sons continued to print the stamps. All major sporting fixtures, soccer games, and horse racing meetings across Britain were even cancelled on that Saturday.
There has been some criticism within the UK that at the time Princess Diana's casket was being lowered into her grave at Althorp Park, the Spencer family estate, the Harrison printing presses were on full speed printing the Memorial stamps.
Mr Allan Grant is Managing Director of Rushstamps in the UK, a specialist dealer in Princess Diana stamps, and a regular advertiser in Australasian STAMPS. Rushstamps recently purchased a quantity of sheets printed on the day of the funeral, September 6th.
That state funeral attracted a live television audience of an estimated 2.5 billion people, greater than any other telecast in history, including ironically, the 1981 Royal Wedding. Rushstamps advertised these stamps in the UK at £12 (about $A30) a double strip of 20 from the top of sheet, which have a face value of £5.20, and told me today that sales are very strong.
Rushstamps quickly discovered that collectors were most critical that stamps were being printed even as the body was being laid to rest. They approached a press agency Solent News in Southampton to circulate their discovery of the rather tacky "September 6th" printing of the Diana stamp issue from Britain. Solent News sold the story to two major Fleet Street newspapers, The Daily Mail, and The Sun for several hundred pounds. Both were planning to run the story, presumably heaping criticism on both Royal Mail and Harrison & Sons for not showing due respect for the burial day.
SCOOP "PULLED" AT LAST MOMENT
Mr Grant told me today: "that story was pulled at the last moment, as the newspapers themselves were of course printing sections their Sunday editions on the afternoon of Saturday September 5th, as the burial was taking place. They were cautious of being seen to be hypocritical, by lambasting Harrisons or any other printers doing their job, at the same time they themselves were printing newspapers. They paid the sum agreed upon, and simply buried the story."
Collectors are aware of the exact dates mentioned above, due to the interesting system used on all British special issue stamps for the past year or so, where actual date of printing is shown on the sheet margin. This "printing date" is a valuable "detective" aid for stamp collectors.
I can announce with certainty that the initial 120 million British stamps depicting Princess Diana were printed on the seven days from Sept 4th to 10th inclusive. Another reprint was made on the 4 days January 12th to 15th inclusive, and I understand another 50 million stamps were printed at that time. This was still three weeks before the official issue date of the stamps on February 3rd.
Royal Mail clearly had severely under-estimated the world wide demand for these stamps, which I predicted in print some months back. The extra revenue from collectors to the Princeess Diana Memorial fund from this reprint is expected to be several million pounds. There is however some concern that Royal Mail will only pay royalty on those stamps "retained" by the public, not used on regular mail. The 26p stamps represent normal 1st class domestic postage within the UK. How anyone can break down this figure is unknown.
MILLIONS SOLD FOR U.S.A. "JUNK MAIL"
USA mailing houses have ordered huge numbers of these Diana stamps, said to have totalled over a million in pre-orders alone, to use on "junk mail" or promotional type mail shots from England to USA consumers, in order to attract the attention of the recipient.

Large mail houses like Reader's Digest discovered decades ago that advertising mail franked with real stamps, not meter franks, attract up to 5 times as many orders. This is clearly due to the fact that in order to tear off the pretty new stamps, one then often sights the contents, and often orders the goods inside the mailer, instead of "binning" it unopened as I automatically do with Time, or Reader's Digest type mail!
Mike Butler, President of Interpost in New York, the USA agents for Royal Mail said that 100's of US based promotions would be launched on the back of these Diana stamps. "Diana is very popular here in the US, and she is also big business" he said. "My clients are mainly in the non-philatelic market. Some have businesses framing First Day Covers, some do mailshots for charity, some do television advertising. I couldn't really be more specific ... but I can say that everyone wants these GB stamps" he continued.
The British "Telegraph" newspaper reported that "the use of the Royal stamp in this way is seen by many American companies as a ploy to rebrand themselves with a 'high class' regal image".
The "Telegraph" went on to say that trading in these stamps could pose further problems for lawyers trying to prevent exploitation of the Princess's image. For instance there were specific legal warnings from Royal Mail on what was, and what was not, legally permissible re pre-printed Diana cachets sent to them for special cancel servicing at the six postmark points. Due to rthe exceptional circumstances of this issue, covers were being serviced until Feb 28th.
Royal Mail (the British Post Office) was criticised by a British politician for the profits they clearly will make from the sales overseas. Mr Teddy Taylor is the Conservative Party M.P. for Rochford and Southend East. He said: "before we criticise those across the Atlantic, I would like to know what Royal Mail is contributing to the Charity from these sales. It will make a huge profit from all the mint stamps it will sell abroad - the initial print run alone is 120 million stamps" he complained.
The Chief Executive of Royal Mail, Mr John Roberts said: " we hope there will be considerable demand for these stamps so that the Memorial Fund can benefit by millions of pounds, giving a boost to charities to which the Princess was so devoted". It has been estimated that when the initial print run of 120 million stamps is sold, the proceeds to the Memorial fund would be about £7 million.
HOW IS IT DONE?
How is it possible that a stamp issue agreed upon Monday can be designed, artwork sourced and copyright granted, approved, proofed and fully printed by Thursday the same week? In Australia I can't arrange completed business cards within that time frame!
I posed this question to leading UK specialist dealer in modern stamps, Mr James Skinner. Skinner owns B. Alan Limited in Sevenoaks Kent, and has a large business supplying all the modern GB reprints and technical printing and cylinder variations, and is an expert in the field of modern printing techniques and procedures for British stamps. (B. Alan advertise each month in Australasian STAMPS.)
He said today: "I am sure Harrison & Sons would have been warned about the possibility of a Diana issue on Monday September 1, and then received completed artwork electronically by a direct ISDN line, computer to computer, (basically a high speed, high clarity e-mail) on Tuesday or Wednesday. Their new computer etching technology makes it possible to produce printing cylinders in a much shorter time scale than in the past when acid etching took much time. I am certain these stamps were on the press and printing on Thursday September 4th, having been given the final go-ahead by Royal Mail on Wednesday."
Regular readers will be aware that this hasty print job way back in September did not guarantee an early release of Princess Diana stamps from Britain, with Queen Elizabeth and the Spencer Family seemingly laying blame for the eventual 5 month delay with each other at differing times.
Mr Skinner continued : "So far I have confirmed 11 different printing dates on the top sheet margins of the Diana issue, and in addition, four different cylinder number combinations, and there may possibly be others not yet reported to me, as the stamps are only recently released."
"Locating stock of all 11 date possibilities is very difficult, as the Philatelic Bureau can not always assist in this specialist regard - one often needs to locate them by detective work from smaller post offices around the country. Collectors in the USA can equate this with obtaining full sets of the coil stamp plate numbers... many are common, but some prove to be in very short supply and become quite valuable : the immediate problem is, how to know which ones are scarce!".
"We have already experienced collector demand for complete sets of these combinations. The top row of each sheet shows the Harrison Imprint, the varying cylinder numbers, and the varying printing dates, making a very attractive group - it is a serious collection, and could be competitively exhibited as a specialist display in itself" he commented.
Skinner said today: "We at B. Alan Ltd are specialists in missing colours and modern imperforates and I regret to note that no such errors have yet surfaced, despite the fact the issue was reprinted even before issue date. Possibly this reprint from January, not all of which has been released from post offices will yield a major printing error."
THIRD PRINTING POSSIBLE
"Such a stamp would sell for substantial money, due to the Princess Diana subject matter, and the world wide interest in this set. It is not impossible we will have a third reprint if demand dictates. Every new printing naturally brings with it the possibility of a printer's error" said Mr.Skinner.
I asked Allan Grant from Rushstamps if he had heard of any major errors being reported on the Princess Diana stamps. He told me: "Not a one, but we do feel it likely with the very rushed nature of this issue that an imperf or missing colour sheet could exist in a Post Office somewhere. If such an error surfaces, I have no doubt it will sell for five or ten times what an identical error would bring on a normal commemorative issue. In Britain right now there are people spending silly money on all sorts of oddball Diana souvenirs, and an imperforate stamp strip could easily fetch £1,000-2,000, and possibly a lot more, if the general media publicised its existence.
Demand for the strip of 5 Diana stamps from GB has been enormous worldwide. Exclusive agent in Australia for Royal Mail is Max Stern, a veteran of 60 years in the stamp business. "I have never seen such demand for one set in all those years" Mr. Stern told me today. He continued: "we have orders for 20,000 covers from one dealer here using them for promotion ... the demand is quite incredible. We are selling covers, packs and strips .. many people are ordering complete sheets! Our full colour ad on the back cover of last month's magazine created a direct response we could scarcely believe your readers are very keen on this set."
Max Stern & Co has been running large, expensive display ads offering the GB issue in all main daily newspapers across Australia and has been swamped with orders from the "non collecting" public. "This is a great thing for stamp collecting" Mr Stern told me. "Many of these people will now commence collecting some other area of stamps. Perhaps they will buy the IGPC Princess Diana issues, of which there are now dozens of different issues, or new series of 104 stamps. Perhaps they will seek 1982 Diana Royal birthday sets. Perhaps they will commence a one-country collection of GB, Australia or USA or whatever. It is the stimulus this hobby badly needs, and I am sure the same sort of effect is being seen in the USA, in Europe, and certainly in the UK" he told me.

(All sales will be billed in Australian dollars. All credit cards accepted without fee.)

---

| | | |
| --- | --- | --- |
| | Search all my 300+ web pages! Simply type in what you are looking for. "Penny Black", "Latvia", "Imprints", "Morocco", "Fungi" "Year Books", etc! Using quotes (" ") is more accurate for multi word searches - i.e. "Australian FDC" gives FAR more specific matches than simply Australian FDC if used with no quotes. Search is NOT case sensitive. Tip: keep the search word singular - "Machin" yields far more matches than "Machins" &c. | |

To order, click here. To read ordering instructions, click here.

Instant Currency Conversion


FREE! Just click here...
| | | |
| --- | --- | --- |
| | | |
GLEN $TEPHEN$
Full Time Stamp Dealer in Australia for over 25 years.
Life Member - American Stamp Dealers' Association. (New York)
Also Member - Philatelic Traders' Society. (London) ANDA. (Melbourne) American Philatelic Society, etc

ALL Postage + Insurance is extra. Visa/BankCard/MasterCard/Diners/Amex all OK, even for "Lay-Bys"! All lots offered are subject to my usual Conditions of Sale, copy upon request BIGGEST STAMP BUYER: Post me ANYTHING via Registered Mail for my same-day cheque. Avoid the GENERALLY 40% Auction " Commissions" (15% + 17½ + GST, etc.) AND their five-month delays! Read for details.
"Lothlórien," No. 4 The Tor Walk, CASTLECRAG (Sydney), N.S.W. 2068
Phone: (02) 9958-1333 Fax: (02) 9958-1444 (Both 25 Hours, 7 Days!)
E-Mail: glen@glenstephens.com
Web Sites: www.glenstephens.com www.glenstephens.net or www.australianstamps.net
Back to Lists of Stamp Lots for Sale

Time and Temp in Sunny Sydney!







Get my regular market update emails FREE. Stamp gossip, price trends, record sale prices, and many one-time stamp specials, wholesale bargains, and exciting offers and breaking philatelic news. A mini stamp magazine in every email! "KNOWLEDGE IS POWER". The ONE stamp list you MUST be on, to keep in touch with the rapidly changing world market. One client made $65,000 profit in a few months after following my specific advice. Sign up securely and quickly by clicking HERE to access my automated data base. And wiser still ADD your home AND work email, if I only have one right now. Add a stamp friend's email address if you wish. One short click and you are subscribed to probably the most read email list in the stamp world!


E-mail me at glen@glenstephens.com -
Every credit card shown is accepted WITHOUT fee.
Earn Frequent Flier points while buying at bargain prices!
ALL prices are in weak Ozzie Dollars. I charge NO nasty, nasty
"Buyer's Commission" on stamps like nearly every "Auction" does.