Click To Go Back To The Main www.GlenStephens.com Stamps Homepage

Welcome! You are visitor
to www.GlenStephens.com
FastCounter by LinkExchange

Click smiley to make GlenStephens.com your default homepage when you open computer!
Remember, there is always a few $1000 prize being offered - it could just be your lucky day!


May 5, 2003. (Front page feature story)
---
2 Common Australian stamps sell for $A217,898
By Glen Stephens



A mint hinged pair of Australian stamps which would sell for a few dollars if separated fetched a world record price for an Australian stamp item on March 20.
Both the vendor and the purchaser are understood to be Americans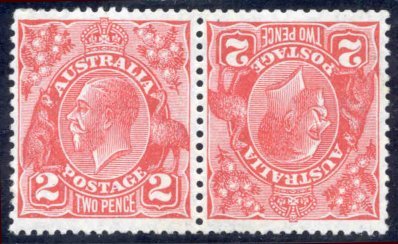 This pair

just sold for the second highest price for ANY British Commonwealth stamp item from 20th Century.
The two 1930 King George V 2d red stamps are joined "upside-down" (tęte-bęche), transforming two otherwise common stamps items into the most costly item in Australian philately.

This pair if separated would become two hinged mint copies of Scott 71, which have a catalogue value of $4 each.
The unique 1930 King George V 2d golden scarlet tęte-bęche pair realised a record Ł82,800 ($US130,028) at Spink auction in London against a pre-sale estimate of Ł20,000 - Ł25,000.
That figure is way over double the previous record price for an Australian Commonwealth stamp item. (See my page 1 article Linns June 4, 2001 for the previous record holder at $A96,800 – 2/- Kangaroo, imperforate between.)
The record price has attracted mass media coverage in Australia including the "Australian Financial Review" – the local equivalent to the "Wall Street Journal".
This realisation makes this the second most valuable stamp item from the entire twentieth century British Commonwealth from my research today.
Beaten out only by the Great Britain 1902 KEVII 6d purple "I.R.Official" overprint mint, which sold at Stanley Gibbons London for Ł92,000 in May 2000. That stamp is also believed unique in private hands but 7 other mint copies exist in institutional collections. Used examples also exist.
This Australian pair has a price in the recently published current "KGV" volume of the Australian Commonwealth Specialists Catalogue of $A75,000 ($US44,462) and as Stanley Gibbons 99ac is catalogued Ł32,000. The Spink auction realisation is nearly triple the new ACSC catalogue value. Scott does not list or price this tęte-bęche pair.
Bidding was extremely keen, with 8 bidders on the telephone trying to acquire this one item. It eventually went to a private collector believed to be in the USA. A leading Australian dealer told me today he was under-bidder, and simply wanted it for stock. The pair is accompanied by a 1981 BPA Expertising Certificate
This error has always attracted a healthy amount of controversy and discussion in Australia. Leading collector Ray Chapman FRPSL amassed the finest post-war collection of Australian stamps. This top award winning collection was purchased outright by Australia Post in 1986 for a very substantial figure (and for less than a private offer in the 7 figure range) as much of it they did not possess in their own archives.
In addition to being a noted collector, Chapman was editor of the leading "Stamp News" magazine, President of the "Ausipex 84" International and a leading light with the Royal Philatelic Society of Victoria etc .
Chapman told me he always doubted this pair was sold over a Post Office counter, and has expounded this theory in the Australian stamp press. He chose not to bid on this piece when offered at auctions in the 1960s, 1970s and 1980 when his large collection was primarily being formed.
Chapman seemed of the opinion the pair was possibly "printer's waste" of some kind with a murky history, and was not anxious to acquire it.
The definitive single volume handbook on Australian stamps was published by Alec Rosenblum OBE. "The Stamps Of The Commonwealth Of Australia" was issued in updated editions between 1922 to 1968. Rosenblum was also the founding Editor and owner of the mass circulation 'Australian Stamp Monthly' launched in 1930.
Even in the final 1968 edition of that extremely detailed work Rosenblum mentions this pair only in passing. Recording it via this short note rather dismissively in 27 words: "One pair - said to have been obtained from a repaired booklet, exists of this stamp tęte-bęche. This obviously comes from the booklet plate. Its history is obscure".
Chapman has chronicled that the pair was first reported in the "Australian Stamp Monthly" of June 1932, where it was claimed they were discovered in a Ł1 stamp booklet (120 x 2d stamps) "sold at the Melbourne GPO - full particulars next month."
The next mention of these stamp however appears to have been nearly a decade later in July 1941 in the same magazine now stating that the booklet came from "a well known suburban Post Office south of the Yarra (River) in May 1931".
The month, year and location of this "find" are thus contradicted in these two brief and contemporary stamp magazine reports.
This pair eventually found its way into the remarkable Jack Kilfoyle collection which was offered for sale by Harmers London in 1961 and sold for well under the Ł300 estimate at Ł240.
My research indicates that the pair was last offered for auction in a Greg Manning Rarity Auction in 1980. It was subsequently sold in 1981 to an American collector by Melbourne dealer Rodney Perry for $A35,000. The recent Spink price converts to $A217,898, or 6.22 times more than that 1981 sale.
Perry purchased the pair on behalf of a client in 1971 for $A4,100. He re-purchased from that client in 1975 for $A12,500, and sold at his auction to an investor in 1977 for $A26,000.
The pair has small pieces of gummed strips with neatly rounded corners adhering to the reverse. This possibly suggests that it had been taken from a master booklet sheet and then used to make up a stamp booklet pane.
Part of one of these pieces of gummed paper can be seen just protruding at top left corner of illustration. Chapman argues that pieces of regular stamp selvage were normally used for this type of rough substitution but "not neatly rounded gum strips" as were reported on the reverse of this pair.
Tim Hirsch, Managing Director of Spink said of the sale: "the price of Australian stamps has climbed enormously over the last two to three years, and generally collectibles as an alternative investment remain incredibly solid, as demonstrated by this remarkable price".
Spink claim the pair came to light by chance when a client brought it to the counter at Spink's premises in Bloomsbury, London, seeking advice on its value. He was reportedly amazed at the estimate which Spink's specialists gave him. Even more amazed one imagines when the client realised Spink under-estimated its eventual market value by some 400%.
This sale comes soon after a believed world record price for a stamp booklet from any country was achieved in January 25, by Premier Auctions Melbourne. March. An Australian 1909/12 Ł1 stamp booklet containing 240 x 1d stamps was invoiced with buyer fee and GST for $A44,352 ($US26,621).
A world record price for any
stamp booklet-$A44,342
The vendor was a well known Australian dealer who purchased it from another dealer for $A10,000. Several other different Ł1 booklets got large prices. A 1920/23 Ł1 booklet sold for $A28,000. ($US16,806)
A record price for an Australasian item of any kind was achieved at the same Auction when an 1850 cover Victoria to UK, with 10d franking sold for $A179,200. ($US107,563)
Glen Stephens is a philatelic journalist and stamp dealer based in Sydney, Australia.

This is an edited version of a Linn's article that appeared in theMay 5, 2002, issue of Linn's Stamp News. For the complete story, subscribe to Linn's Stamp News.
All content
Copyright
2000 Linn's Stamp News, of Sidney, Ohio, USA and by the author Glen Stephens.
---
height="15">
To order, click here. To read ordering instructions, click here.
Instant Currency Conversion


FREE! Just click here...
GLEN $TEPHEN$
Life Member: ASDA, PTS, APS, ANDA. ALL Postage + Insurance is extra. Visa/BankCard/MasterCard/Diners/Amex all OK, even for "Lay-Bys"! All lots offered are subject to my usual Conditions of Sale, copy upon request or they are outlined in full on this Web site. Usually allow at least 14 days for order dispatch. If you want same day shipping please go elsewhere! I am Sydney's BIGGEST STAMP BUYER: Post me ANYTHING via Registered Mail for my same-day cheque. Avoid NASTY auction "commissions" of GENERALLY 35% (12˝ + 15% + GST, etc.) AND their five-month delays! Read for details. I stock Australia & Pacifics nearly 100% complete 1913-1980. Ask for my LOW quote!
"Lothlórien," No. 4 The Tor Walk, CASTLECRAG (Sydney), N.S.W. 2068
Phone: (02) 9958-1333 Fax: (02) 9958-1444 (Both 25 Hours, 7 Days!)
E-Mail: glen@glenstephens.com
Web Sites: www.GlenStephens.com, www.GlenStephens.net, or www.AustralianStamps.net
Back to Lists of Stamp Lots for Sale

| | | | | | | |
| --- | --- | --- | --- | --- | --- | --- |
| | | | Time and Temp in Sunny Sydney! | | | |


Sign up AUTOMATICALLY to my world renowned bi-weekly stamp gossip mailing list!

Click here for full library of my unusual world travels!

E-mail Me - Click HERE Right Now For Regular Specials, News,
Updates, etc and Other Great Stuff!

Click here to get back to many lists of lists of stamps for sale at low $A Nett prices!

Click here to find out all you need to know about SELLING your stamps for SPOT CASH

Click here for the current Monthly "Internet Only" special offers - CHEAP!

Click HERE to read my recent International stamp magazine articles.

Click to go back to the main www.GlenStephens.com Stamps Homepage



Instant Currency Conversion


FREE! Just click here...



E-mail me at glen@glenstephens.com -

Every credit card shown is accepted WITHOUT fee.
Earn Frequent Flier points while buying at bargain prices!
ALL prices are in weak Ozzie Dollars. I charge NO nasty, nasty
"Buyer's Commission" on stamps like nearly every "Auction" does.






..