Australian issues surprise: Paralympic stamps

By Glen Stephens
Australia Post issued previously unannounced stamps Oct. 31 to honor athletes from the Paralympic Games held shortly after the Sydney 2000 Summer Olympics. The Paralympics are the equivalent of the Olympics for the world's top athletes with disabilities. The 2000 Paralympics took place Oct. 18-29 in Sydney.
Australia Post featured Siobhan Paton as "the Paralympian of the Year" on a 45˘ stamp, for the domestic letter rate in Australia. This stamp issue was decided on extremely short notice, and no advance information was given to any stamp media.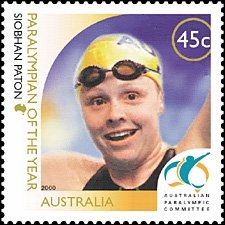 Australia Post named Siobhan Paton "the Paralympian of the Year" Oct. 30 and issued a 45˘ stamp honoring her Oct. 31.


Paton's award was announced at a dinner held by the Australian Paralympic Committee, which was attended by the entire Australian Paralympic team. The stamp was issued the next day, Oct. 31, in panes of 10. The Paton stamp was available nationally at post offices Oct. 31, using the design and the digital technology and distribution network pioneered for the 16 different Gold Medalist stamps (Linn's, Oct. 23, page 1).

Paton, a 17-year-old Canberra schoolgirl, won a record six gold medals beating Priya Cooper's previous record of five golds in a single Paralympic Games. In addition to the honor of being featured on an Australian postage stamp, Paton also received $A20,000 (approximately U.S. $10,500) from the sponsor of the awards, Australia Post.

Eight other Australian Paralympians also were honored at the Oct. 30 special awards dinner. These eight gold-medal winners are featured on seven labels attached to Australian personalized stamps with a new Earth design, and they received cash awards from Australia Post.

The special sheets of 20 personalized stamps were released nationally Oct. 31. The 45˘ stamp in the sheets depicts Earth as seen from space with Australia highlighted.

The seven labels honor the following award winners: Tim Sullivan (best male, track and field), Julie Higgins (best female, equestrian), Heath Francis (best male junior, track and field), Lisa Macintosh (best female junior, track and field), Kevin Macintosh (best coach, cycling), Sarnya Parker and Tania Modra (best team, women's tandem cycling) and Chris Nunn (merit award, track and field).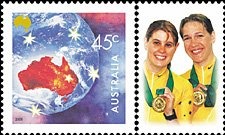 This Australian stamp has an attached label honoring Sarnya Parker and Tania Modra, who won the best team medal in women's tandem cycling at the Paralympics in Sydney.


In a large logistical operation, Australia Post also arranged to have other personalized stamps printed, each sheet depicting on labels the faces of the entire 435-member Paralympic team. Twenty mint panes of 20 of the stamps were presented at no cost to each competitor by Australia Post.

The Paralympic Games were first held in Rome in 1960. The Sydney 2000 Paralympic Games saw a record 3,824 athletes compete from 123 nations. The Australian public heavily supported these Sydney 2000 Paralympic Games, unlike the lukewarm public support experienced in Atlanta in 1996.

In Atlanta only about 500,000 tickets were sold to Paralympic events. Despite Australia having about one fifteenth the population of the United States, some 1,108,914 tickets were sold to the Sydney 2000 Paralympic Games. Prestige events such as swimming attracted more paid spectators (196,073) than attended the Olympic Games swimming events (194,200).

Australia topped the gold-medal tally in the Sydney Paralympic Games with 63 golds.

Collectors in the United States can order these stamps, and the earlier Gold Medalist stamps, from the official agent for Australia Post in North America, Unicover of Cheyenne, Wyo., at 800-443-3232.

Australia Post Gold Medalist stamps have proved to be a runaway international success -- perhaps too much so, with back orders that may take months to fill.

In its Gold Medalist series, Australia Post issued 16 stamps to honor Australian athletes who received gold medals at the Sydney Olympics. Each stamp was released on the day after the medal was awarded.

From talking to Australia Post staff and management, I understand that automated collating machinery broke down in early November. This was designed to automatically assemble sets of all 16 Gold Medalist stamps. Orders for these sets have been substantial, and hand assembly is very time consuming and has backlogged the system.

Glen Stephens is a philatelic journalist and stamp dealer based in Sydney, Australia.


This is an edited version of a Linn's article that appeared in the Nov. 27, 2000, issue of Linn's Stamp News. For the complete story, subscribe to Linn's Stamp News.




All content Copyright 2000 Linn's Stamp News, of Sidney, Ohio, USA and by the author Glen Stephens.

---
GLEN $TEPHEN$
Life Member: ASDA, PTS, APS, ANDA. ALL Postage + Insurance is extra. Visa/BankCard/MasterCard/Diners/Amex all OK, even for "Lay-Bys"! All lots offered are subject to my usual Conditions of Sale, copy upon request or they are outlined in full on this Web site. Usually allow at least 14 days for order dispatch. If you want same day shipping please go elsewhere! I am Sydney's BIGGEST STAMP BUYER: Post me ANYTHING via Registered Mail for my same-day cheque. Avoid NASTY auction "commissions" of GENERALLY 35% (12˝ + 15% + GST, etc.) AND their five-month delays! Read for details. I stock Australia & Pacifics nearly 100% complete 1913-1980. Ask for my LOW quote!
"Lothlórien," No. 4 The Tor Walk, CASTLECRAG (Sydney), N.S.W. 2068
Phone: (02) 9958-1333 Fax: (02) 9958-1444 (Both 25 Hours, 7 Days!)
E-Mail: glen@glenstephens.com
Web Sites: www.GlenStephens.com, www.GlenStephens.net, or www.AustralianStamps.net
---
codebase="http://www.7am.com/java/" align="baseline" width="450" height="15">
| | | | | | | |
| --- | --- | --- | --- | --- | --- | --- |
| | | | Time and Temp in Sunny Sydney! | | | |
Click here for full library of my unusual world travels!

E-mail Me - Click HERE Right Now For Regular Specials, News,
Updates, etc and Other Great Stuff!

Click here to get back to many lists of lists of stamps for sale at low $A Nett prices!
Click here to find out all you need to know about SELLING your stamps for SPOT CASH
Click here for the current Monthly "Internet Only" special offers - CHEAP!
Click HERE to read my recent International stamp magazine articles.

Click to go back to the main www.GlenStephens.com Stamps Homepage



Instant Currency Conversion


FREE! Just click here...


E-mail me - glen@glenstephens.com
Every credit card shown is accepted WITHOUT fee.
Earn Frequent Flier points while buying at bargain prices!
ALL prices are in weak Ozzie Dollars. I charge NO nasty, nasty
"Buyer's Commission" on stamps like nearly every "Auction" does.






..