Click To Go Back To The Main www.GlenStephens.com Stamps Homepage


Welcome! You are visitor
to www.GlenStephens.com




Glen Stephens
Monthly "Stamp News" Market Tipster Column


April 2008

---
Please use STAMPS!

Readers of my columns over the last 25 years will recognise that this is one of my pet 'hobby horses'. And I make no apology for raising it again!

This column is a "primer" for how we all hopefully should mail packets and sendings to each other.

Nothing bugs me more than receiving a parcel that cost $20 or $25 to mail from a dealer or collector, and seeing two near worthless $10 definitives on there as franking.

Or far worse still, a white "Supermarket" type white gummed frank label - value zero.

This makes my blood boil. How on earth are future generations going to source FU copies of short issue stamps unless WE all try and use them postally today??
Poor Manners
Not only is it very poor manners to another member of the stamp fraternity - it is often costing YOU money, as most times I do add on something decent for the nice frankings when folks are sending me material to purchase.

And if I pay postage for an auction sending or something I can GUARANTEE you will get a rocket from me, if you expect me to pay for junk defins on my packet.

The light padded bag shown nearby arrived this week and cost some thoughtless collector $6.70 to mail – and they allowed the PO to affix a "Supermarket" type white gummed frank label - value zero.

A couple of the attractive $2.45 Architecture plus some make up values would have had some real value.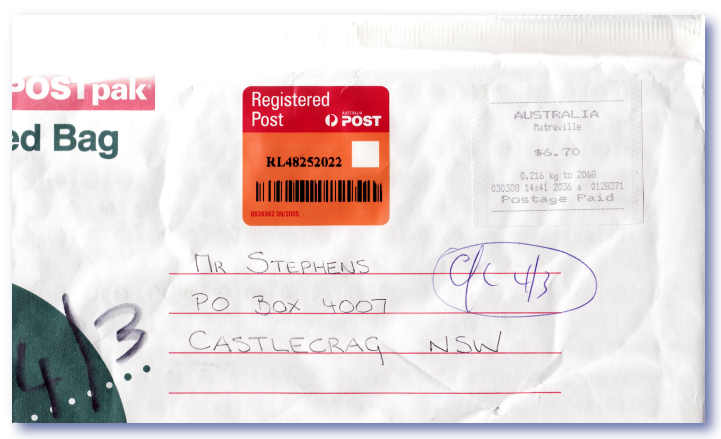 Please ask for STAMPS!

The secret of course is to outline clearly to the PO clerk BEFORE you start the transaction that you are sending your packet to a stamp collector, and you WANT them to use stamps on the sending please.

Most of the time they use the white labels by automatic force of habit as they are faster and easier. They often claim they cannot cancel the label output once printed – nonsense. Read instead: "Cancelling this label will take me 30 seconds, and I cannot be bothered to do that".
So be clear right up front you want them to use STAMPS. And you will never then have issues with them doing so in my experience.

I find the same in the USA or Europe or Canada when I post parcels to clients which is often when I am visiting those places – the same approach works.

Tell the clerk CLEARLY you want real stamps and they usually are happy to be co-operative. In fact it occurs so seldom, they often get right into the pantomime with you!

Or pre-affix roughly the stamp value needed before you leave home for your PO, and problem solved. Use up some surplus mint stamps.

Sending parcels long distance within Australia has got horrifically expensive in recent times.

The last round of price hikes on September 7th in Australia means a heavy surface mail parcel from Sydney to Perth can be up to $56.75 plus fees, and over $64.75 to Darwin. Even Hobart is $44.75.

AP Express Air Post costs are now insane - to Perth is $208.40, to Northern WA it runs $336.40 and Darwin cost is $268.40 for the same heavy parcel.
For overseas mail, Australia Post have cunningly dispensed with "Surface Air Lifted" entirely in recent years. They have also quietly stopped "Sea Mail" to Asia and NZ entirely. So you MUST send via airmail.

In the latest March 3 rate hike, a small 2 kilo packet is $30.75 to NZ, and $39.25 to Asia ... without any Insurance fees added, and this is the absolute CHEAPEST way to get your packet there.

I often mail a stockbook or catalogue to Asia, and the postage and packing totals more than the item costs from me. Ridiculous.

The ACCC needs to ratify the domestic letter rate increases, but it does seem clear AP is given a free hand to gouge whatever it wants to for overseas and domestic parcel mail.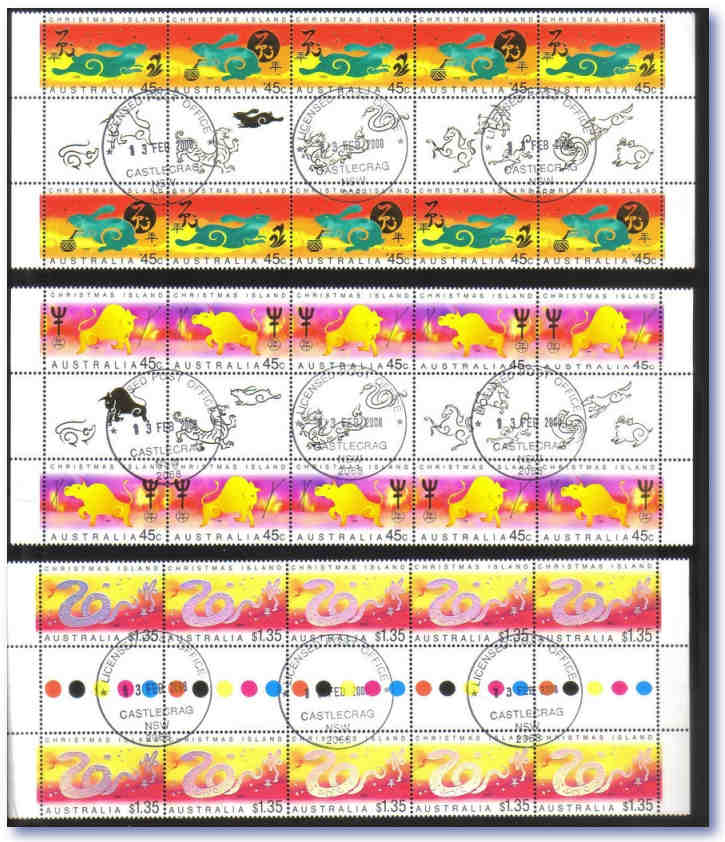 "FREE POSTAGE!"
I mailed a set of the recent "Comprehensive" Catalogues to a client in Malaysia recently. Asian collectors really enjoy the Christmas Island Lunar New Year issues, so as part of the ridiculous postage cost, I used CTO gutter blocks of the attractive Lunar New Year issues illustrated nearby.

As you can see for this $22.50 portion of his postage charge he got something worth well over that with nice cancels. Indeed he liked them so much, he scanned the blocks upon receipt, and posted them on stampboards.com to show others!
For REGISTERED post overseas for many years stamps sadly (and inexplicably) have been banned from use. You can INSURE things, but only if they exceed 500 grams - or about 1 pound weight.

For Registered letter post overseas the ONLY option these days is to use the pre-paid red, white, and blue envelopes as illustrated nearby. They cost $11.20 for the small one shown, and $18.05 for a large one that will hold Hagner sheets etc.

Neither may weigh over 500 grams, or they are returned from mail centres (trust me I know this first hand!) and it does not take very many Hagner sheets or album pages to reach 500 grams.

Indeed technically stamps should not be sent in these envelopes as they state on them they are good for: "letters and documents only and may not contain valuables."

For foreign recipients the good thing is these envelopes pass through inwards customs checks without incident 99.9% of the time most dealers report.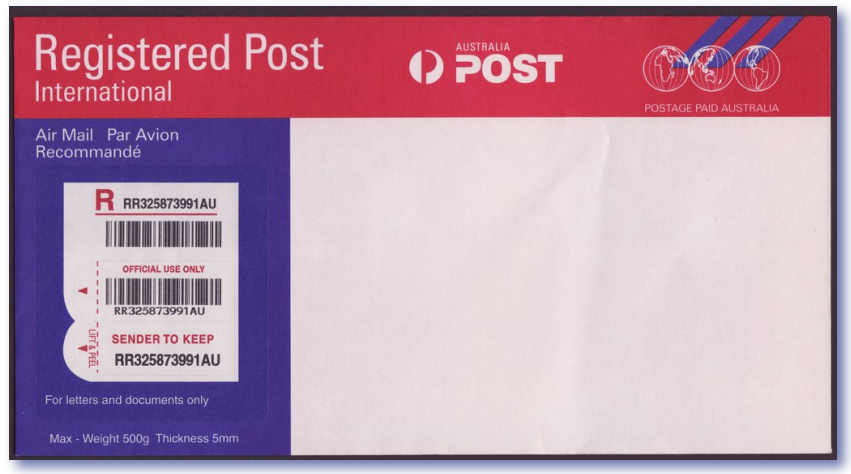 Your ONLY overseas option

in countries with 20 to 25% VAT/GST rates etc like Germany and Scandinavia the recipients really would rather forego the $11 of FU stamps, than pay say $250 import duty on a $1,000 Kangaroo.

So these high costs mean we must ALL try and 'game' the system - quite legally - by using franking that has some substantial value in the hands of the recipient when neatly cancelled.

To give you an example, I have been mailing cartons of stockbooks all over the place in recent months. Shameless plug - I am running an internet only special at $250 a carton of 10 of a new Deluxe "Lighthouse" black page books, and have sold 100s in recent months.

But they are HEAVY, and clearly cost a bomb to mail outside NSW. I have discovered the perfect type of stamp to use for this dispatch.
In September 2004 Australia Post issued the first stamp in its new $5 series "Treasures from the Archives" which highlights items from the National Philatelic Collection.

As I often say: the "First" of anything that will become a long series, is often the one to buy up. So I did.

With this issue, Australia Post created its first ever Jumbo Stamp™, the size of a miniature sheet. It features the £2 Kangaroo and Map stamp, the highest value stamp in the first Australian Commonwealth series.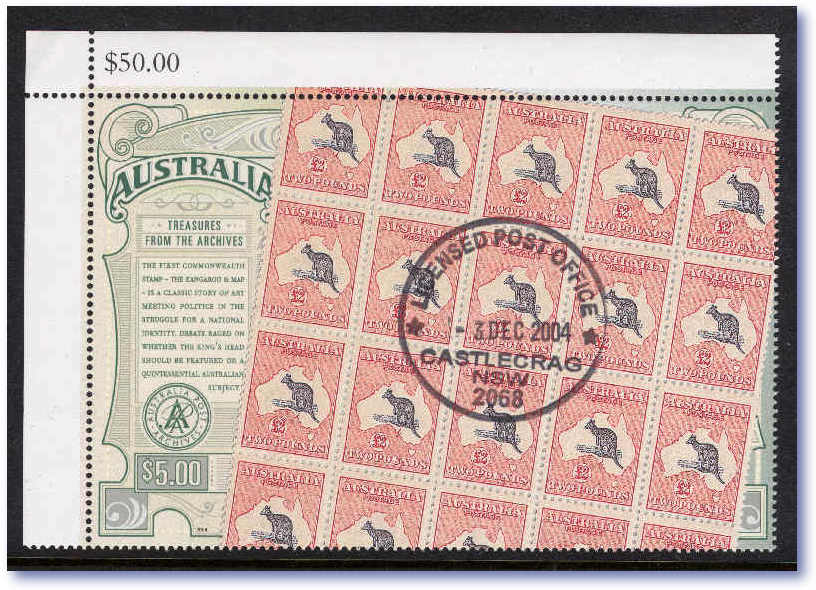 A gem for parcel use



The 1932 printing of this £2 Kangaroo stamp is shown on the stamps in a multiple format to represent the (supposedly) unique full sheet of 120 that is held in the National Philatelic Collection. I understand it is on permanent exhibition in the Post Master Gallery in Melbourne.

Why I say "supposedly" is that it is my belief another complete sheet of £2 Roos exists in the hands of a non-collecting family connected with the bookmaking business. It was purchased with "spare" cash in the Great Depression. Coff.

I have known of this sheet since "Australia 1999", and many scoffed at my report. There are some very interesting stories about its movements since. I imagine it would sell for about $A500,000-$600,000 today.

This $5 stamp is MASSIVE - 105 x70 mm. Literally the size of many modern Mini sheets. You can see from the size of the postmark on the copy illustrated nearby how large it is.

The sheet of 10 is about the same size as a regular sheet of 100, so they are clearly about 10 times the exterior size of a normal commemorative.

These kind of limited print stamps are PERFECT for us all to use on philatelic mail. These are cat £6½ each USED by SG!

I purchased dozens and dozens of full sheets, and about 200 "cheque books" of the "peel and stick" versions. Clients just love getting these on mail. Must be 20 years since I bought so many stamps for postage from Australia Post

One buyer of a stockbook carton of 10 lived in Perth. These cost $40 to ship Registered Post to him. So I used 8 of these big stamps - 4 on each side of the carton, and I bet he is a lot more delighted to get that than 4 x $10 Waratah Defins.

A UK client needed a parcel of Pacific albums sent by air and the cost was $150. I neatly cancelled 3 sheets of 10, put them in a plastic outer cover, and he got them all superb CTO full gum. Effective post cost to the UK on his carton - NIL. SG Cat is £195 as used.
Nicely cancelled, these kind of stamps of course will have a retail value of MORE than $5 each. And AP issues many such issues – every year.

As I often demonstrate, postage of a heavy carton across this country can effectively be 'FREE' it we use some common sense, and a little bit of thought and planning.

My guess is 50% of the world's used copies of this stamp down through the ages will bear postmarks of "Castlecrag NSW 2068" !

One packet I mailed recently took $10 franking so I affixed a $5 gummed and a $5 "peel and stick" alongside each other. It may well be the only cover existing with that combo.

I am often lucky to be able to apply the cancels myself when the postal staff are not busy, and even after a few 100 strikes still get a kick out of placing the postmark right in the centre of the stamp as I did on this one shown illustrated nearby.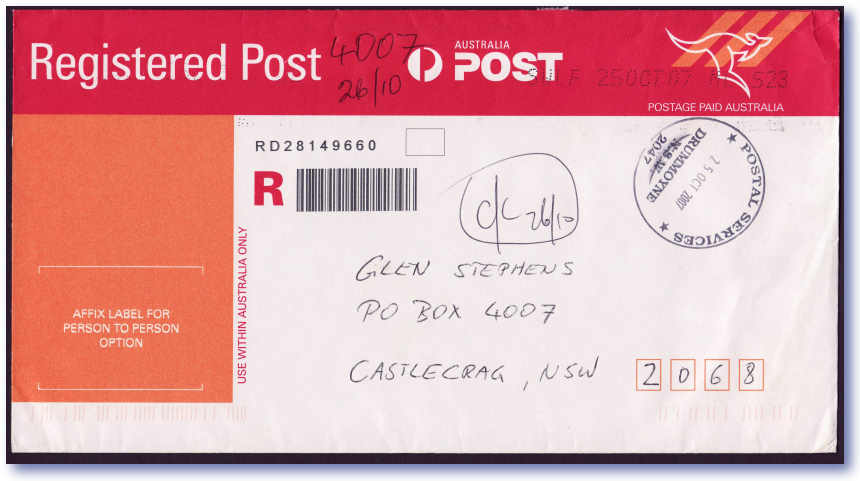 These infuriate me
The one thing that is guaranteed to INFURIATE me is to mail me something in a prepaid DOMESTIC Reg'd envelope. These cost $3.20 for the small ones shown nearby, and $4.30 for the larger ones.

When mailed by a collector or dealer to a philatelic recipient, they show a total contempt for the recipient - in MY opinion.

So for that never-ending stream of folks each year mailing me a stamp to get a free opinion on it, (and who nearly always omit to provide return postage) be fore-warned my opinion of you and your forebears is well formed, before I even OPEN your sending, if you employ these useless pieces of rubbish!

The POLITE way to write to any stamp dealer or collector via Registered mail is to take your envelope to the PO, and sweetly ask they affix a real STAMP or selection of nice stamps to it.

There is ALWAYS a $2.45 or $2.50 commemorative on hand in every PO clerk's desk across Australia. And they always have attractive $1 commemorative values.

You may ask all Post Offices to affix the illustrated "R26" label and then affix $2.70 of stamps to cover its cost, plus the postage cost. As easy as that. Try it and see.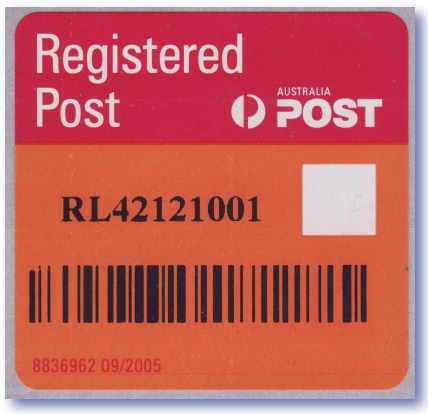 ASK for R26 labels by name

Warning - there are pre-paid Registered labels that come in rolls of 100 and look very similar to these with a peel off strip, and the PO will try and sell you those – do not use them.

Please - we ALL need to do out little bit to generate nice used stamps for the albums of the next generations.
Australia Post issued its first ever GOLD stamp on March 4. Indeed on the same day they issued their first ever Silver stamp of the same design.

These highly sought after GOLD stamp FDC's have a Gold plated 50¢ stamp depicting Pope Benedict XVI - specially issued in a wooden presentation box.

ONLY 500 exist worldwide - each is numbered on the front and the box has a brass metal plate on the lid outlining the contents.

These commemorate "World Youth Day 2008" in July, when Pope Benedict XVI and up to 500,000 people are expected to attend Mass at Randwick Racecourse Sydney.

These are about the hottest item on the world stamp scene right now. A near instant sellout at $129.95 issue price. Retail will be several times this.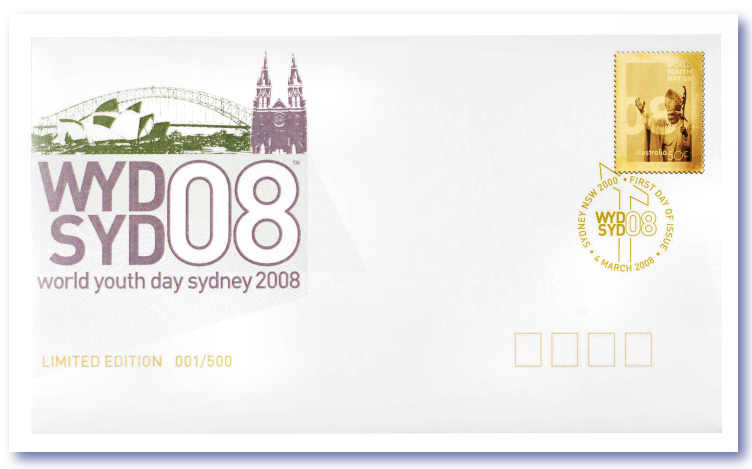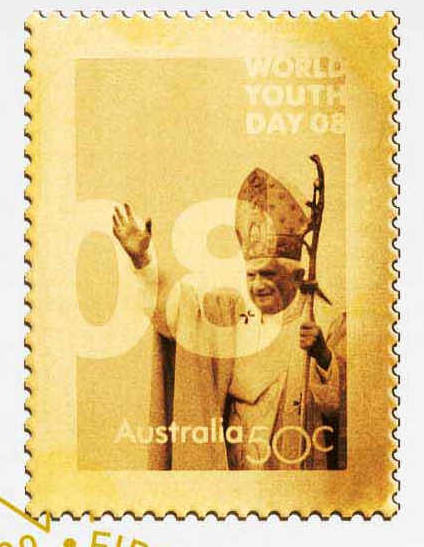 First Gold Stamp
Only 500 were created in Gold on numbered FDC's, and 5000 in Silver. (Some Silver FDC's of the similar design are still available nationally I understand at $29.95 each.)

World demand from Papal thematic collectors will be huge. The number of such collectors might have been highly under-estimated by AP.

Australia Post kindly donated one to give away, to commemorate the first Birthday on April 1 of stampboards.com - and the giveaway created a frenzy from members internationally all keen to secure it.

I am not sure if further Gold issues are planned, but if they are, you can bet more than 500 will be produced!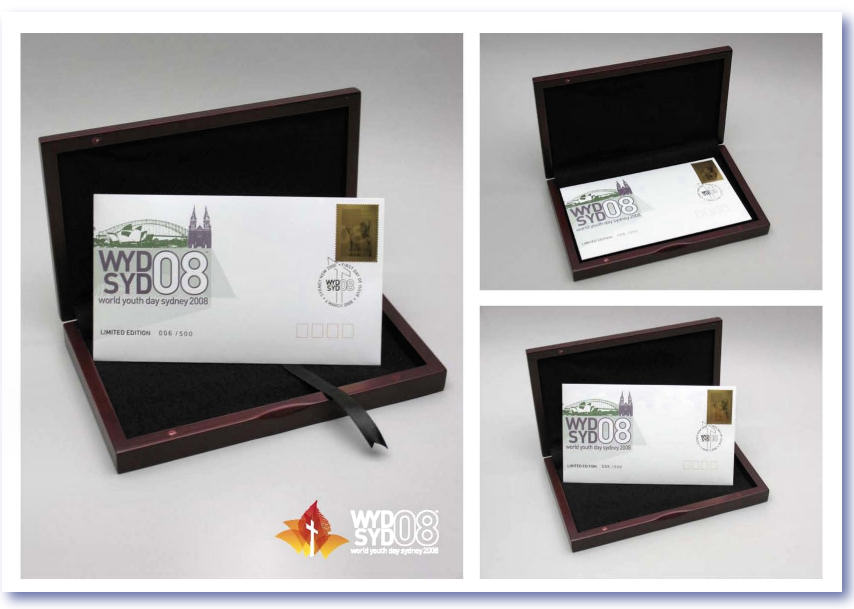 Boxed FDC

AP "Variations" Catalogue
Speaking of unusual Australia Post issues, I was mailed an interesting catalogue recently by fellow stamp columnist David Mallen.

The rather long winded title is – "The Australian Stamp Variations Catalogue Decimal: 1966 – 2007"

What it does is cover in detail in 140 large A4 pages, all the "variations" produced by AP during 2007.

Editor Mallen terms a "VARIATION" as a different version or format in which the stamp was issued, compared with the original single gummed sheet stamp. (Variations are produced by AP on purpose.)

This catalogue contains lists of the following decimal stamp variations for - blocks strips and pairs, gutters, image, imperforate, mini-sheets, overprints, paper, perforation, self-adhesive, sheetlets, size and tabs.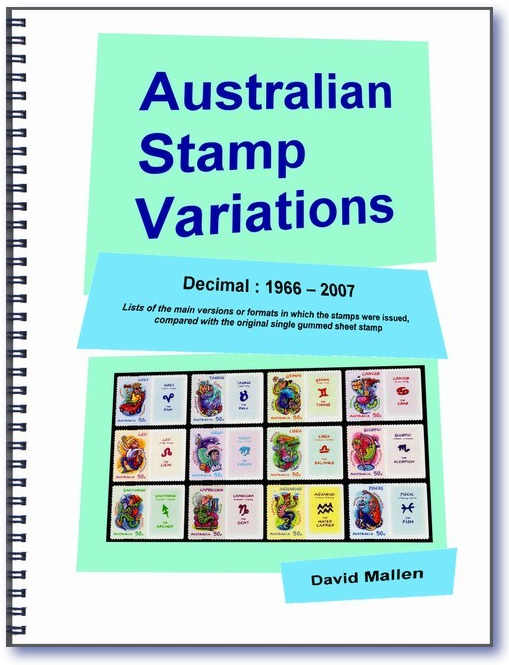 140 pages of "Variations"
And it includes all the new "Collectable Stamps" that are not valid for postage. Mallen says there are 568 different items covered inside here for 2007!

This catalogue is for the serious Australian collector, who is interested in more than just one gummed sheet stamp of each issue. It is 140 pages, A4 sized and is easy to use in lay-flat spiral binding. (Market values of each variation are not given.)

It has colour photos of many of these issues and some very interesting graphs.

Well laid out and a lot of work that is clear. My main comment is that a market value might be given to each item, as that is primarily why collectors buy such works.

Very handy if you collect these issues and wish to be complete. David made a special offer to stampbobards.com members of $A30 plus post, and feel sure he will extend that to any of my readers who are interested. His email is - asv.cat@bigpond.net.au
You never know where nice stamps will show up.

I was talking today to the staff at Noble Numismatics, the largest coin and banknote auctioneers in the Southern Hemisphere.

They mentioned they had just received a superb New Zealand stamp collection, along with a large estate of numismatic material from New Zealand.

This will be sold totally without reserve on April 11 in Sydney and will be termed the "Russell Collection". It was being lotted by Colin Pitchfork and Peter Olorenshaw in early March so was very much a last moment addition.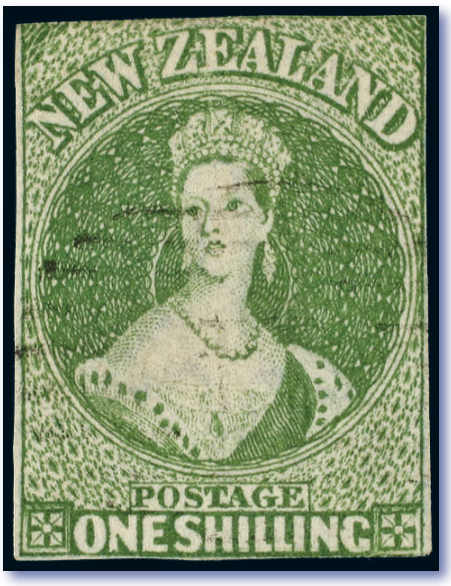 NZ SG 3 - £5,500
The collection is very strong in Chalon heads, first QV side faces, Universals, 1906-1913 Exhibition issues and proofs , Smiling Boys, OPSO and Officials, and postage dues. It also has some very nice NZ Antarctica, and quality postal history and key flight covers.

Noble's sent me a few scans and as you can see it includes key pieces like the 1855 1/- Perkins Bacon Chalon – SG 3 cat £5,500 and other similar goodies.

This auction catalogue goes mainly to non stamp collectors, so you never know .. bargains galore might be the order of the day. Or not!










Get my regular market update emails FREE. Stamp gossip, price trends, record sale prices, and many one-time stamp specials, wholesale bargains, and exciting offers and breaking philatelic news. A mini stamp magazine in every email! "KNOWLEDGE IS POWER". The ONE stamp list you MUST be on, to keep in touch with the rapidly changing world market. One client made $65,000 profit in a few months after following my specific advice. Sign up securely and quickly by clicking HERE to access my automated data base. And wiser still ADD your home AND work email, if I only have one right now. Add a stamp friend's email address if you wish. One short click and you are subscribed to probably the most read email list in the stamp world!


Instant Currency Conversion


FREE! Just click here... see exactly what my lots cost in your currency.




If you would like to be notified of updates to this website, Click HERE. If have any questions,
or comments regarding my site, please email me at glen@glenstephens.com



| | |
| --- | --- |
| | Search all my 300+ web pages! Simply type in what you are looking for. "Penny Black", "Latvia", "Imprints", "Morocco", "Fungi" "Year Books", etc! Using quotes ( " ) is more accurate for multi word searches - i.e. "Australian FDC" gives FAR more specific matches than simply Australian FDC if used with no quotes. Search is NOT case sensitive. Tip - keep the search word singular - "Machin" yields far more matches than "Machins" etc. |


I am a Dealer Member in Good Standing Of:

Full Time Stamp Dealer in Australia for over 25 years.
Life Member - American Stamp Dealers' Association. (New York)
Also Member of: Philatelic Traders' Society. (London) ANDA. (Melbourne) American Philatelic Society, etc
GLEN $TEPHEN$
Full Time Stamp Dealer in Australia for over 25 years.
Life Member - American Stamp Dealers' Association. (New York)
Also Member - Philatelic Traders' Society. (London) ANDA. (Melbourne) American Philatelic Society, etc

ALL Postage + Insurance is extra. Visa/BankCard/MasterCard/Diners/Amex all OK, even for "Lay-Bys"! All lots offered are subject to my usual Conditions of Sale, copy upon request BIGGEST STAMP BUYER: Post me ANYTHING via Registered Mail for my same-day cheque. Avoid the GENERALLY 40% Auction " Commissions" (15% + 17½ + GST, etc.) AND their five-month delays! Read for details.
"Lothlórien4 The Tor Walk, CASTLECRAG (Sydney), N.S.W. 2068
Phone: (02) 9958-1333 Fax: (02) 9958-1444 (Both 25 Hours, 7 Days!)
E-Mail: glen@glenstephens.com
Web Sites: www.glenstephens.com www.glenstephens.net or www.australianstamps.net

Sign up AUTOMATICALLY to my world renowned bi-weekly stamp gossip mailing list!
Click here to see MANY 1000s of stamp lots for sale at low $A Nett prices
Click here for all you need to know re SELLING your stamps for SPOT CASH
Click here for the current Monthly "Internet Only" special offers - CHEAP!
to read all my recent International stamp magazine articles.
Click here to get back to the main www.GlenStephens.com Homepage
Click here to ORDER on-line ANY items from ANY of my dozens of lists
Click for all info on Conditions Of Sale, Payments, Shipping, Returns &c
Click here for the complete library of my very unusual world travels!
How to PAY me. I accept EVERYTHING - even blankets and axes and beads!
Australia Post Annual YEAR BOOKS - massive stock - '27% off' discount offer today!
Visit my new page on RARITIES - Roos & other expensive photo items.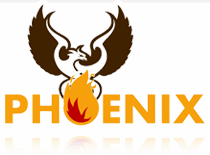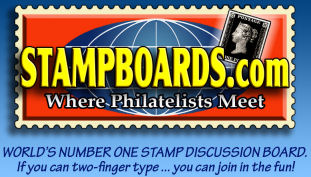 Instant Currency Conversion


FREE! Just click here...


E-mail me at glen@glenstephens.com -
Every credit card shown is accepted WITHOUT fee.
Earn Frequent Flier points while buying at bargain prices!
ALL prices are in weak Ozzie Dollars. I charge NO nasty, nasty
"Buyer's Commission" on stamps like nearly every "Auction" does.