Click To Go Back To The Main www.GlenStephens.com Stamps Homepage


Welcome! You are visitor
to www.GlenStephens.com




Glen Stephens
Monthly "Stamp News" Market Tipster Column


April 2009

---



Perforation variations on recent issues



I recently got an email from Sam Seigel, Max Stern & Co Manager - who are by far the largest new issue dealer here in Australia.

Sam outlined an important new discovery, that is sure to be SG and Scott listed etc.

I know Hugh Jefferies, the Editor of SG, generally reads these columns, so hopefully these can be noted.

It is a major perforation variety on the Australia September 2008 "Tourist Precincts" issue.

Sam advises the stamps are found with differing perforations.

The stamps in the presentation pack are perf 14 x 14¾, and the sheet stamps generally have perforation gauge 14 x 13¾.

I have no idea which is harder to find ... but the PO pack version is my strong guess.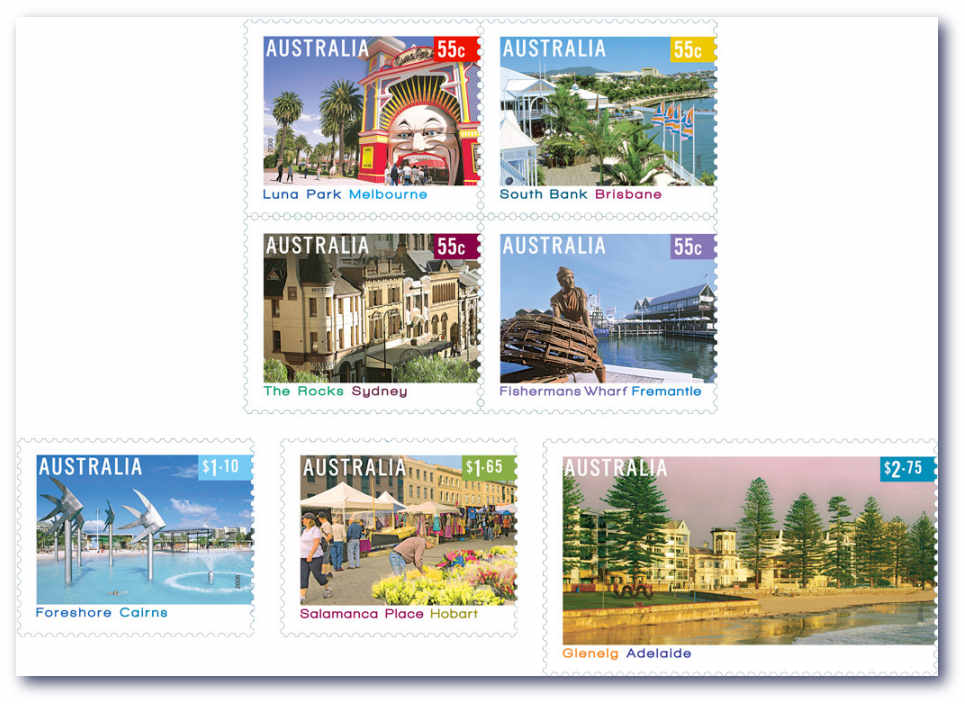 Stampboards.com reported the new find, and David Mallen fellow "Stamp News" columnist and Australia Post new issue variety guru advised he had noted this a couple of months back.

Mallen stated he had even heard some of them were placed in the annual albums. He says the $2.75 value so far has only been seen in one perforation.

That stamp appears to be heavily used, judging from how many I see on parcel mail, so an appearance in a new perf may occur at any time.

Mallen says the perforation measurement more precisely are 14 x 14.4 and 14 x 13.7 – he has not seen the $1.10 in both perfs, but believes it certainly exists.

Now is a great time for readers to buy up a few sets, and who knows - they might be worth 5 or 10 times face down the track.

And if they are not ... you can always use them up on mail!

Disclaimer - I have none for sale, but most larger new issue dealers like Max Stern will have these, and David Mallen also has most modern perf errors for sale on his website.
Collectors of used stamps in many countries have had a tough time in recent years, as I reported a few months back.

In the USA nearly EVERY self-adhesive stamp printed during 2008 and 2009 has been impossible to soak off the paper they were affixed to.

The United States Postal Service in recent times advised their three commercial stamp printers they could dispense with the once required water soluble gum layer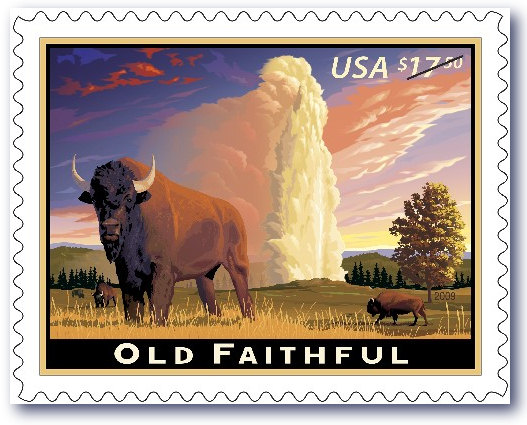 All three companies took up the offer as it saved them money on the special paper - and saved USPS money at the same time of course.

In the past, the stamp paper used had a water soluble layer between the gum and the stamp. This meant stamp mail snippings would float off in water.

Not always perfectly as we all know - but with patience and care, they DID all soak free.

Not any more - current USA stamps no more neatly come off ant more than descriptor labels from the cello overlay on packs of steak from supermarkets will soak off
And speaking of supermarkets, Great Britain adopted another supermarket label tactic to their stamps from February this year.

Royal Mail also decided that near all of the definitive "Machin" head design stamps sold at PO's will be self-adhesive – permanent gum.

And from now on they are releasing most new Machins in a new style - each with two or four "U" shape slits in each stamp as illustrated nearby.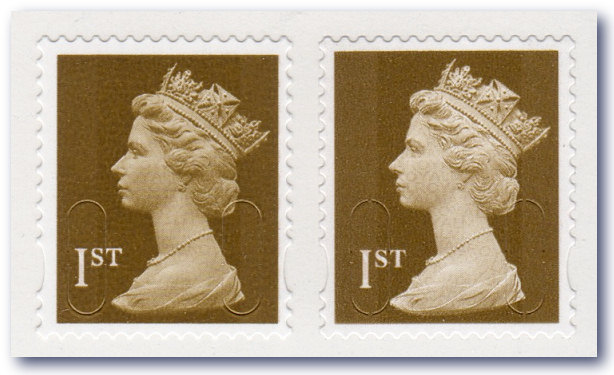 New "Slitted" Machins

The idea is, it will be impossible to peel these off an envelope that has not been cancelled, and re-use them again on the mail.

The official reason is this will: "act in the same way as retail price stickers, causing a stamp to rip if you try to pull it off an envelope."

Royal Mail also says these stamps are overprinted with: "an iridescent ink, with a security pattern on the darker background color around the Queen's head
The above overprint is an anti forgery device. The photo nearby shows a photo-shopped image of a "2nd Class" issue to exaggerate the overprint.

You can also see this wording in normal scan setting on the pair of "1st" Machin stamps illustrated elsewhere here.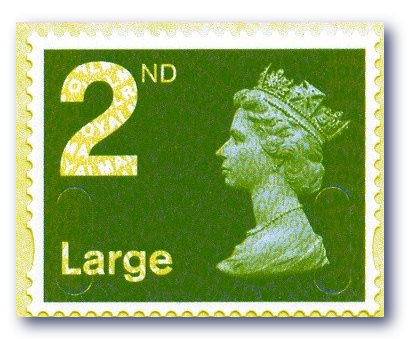 The 'ROYAL MAIL' overprint is in a semi-visible layer, more obvious as the stamp is slanted against the light - as with phosphor bands.

The semi-visible layer is an 'all-over' print, with the words ROYAL MAIL 'reversed out' of the part which is over the dark background (i.e. in 'negative'.)

However on the Queen's head, the words are smaller, and are 'positive', i.e. there is an area over the head which has a clear background, with the words printed in it.

These new "SLITTED" stamps were released in the UK on February 17, 2009.

stampboards.com

member "norvic" raise the discussion, and showed the photo of the slits in large size.

"norvic" is well known UK new issue dealer Ian Billings, from Norvic Philatelics, and his detailed discussion can be found here -

www.ughaj.notlong.com

- for any Machin fans who want more info and photos.
Billings says the heavily used non denominated Machin heads have received these slits, as have the 50p to £5. Ten denominations in all so far.

He also confirms these all allegedly have non-soakable PERMANENT adhesive on them, although he says it appears not as robust as the USA gum.

The "Machin" series has been issued for well over 40 years now, the first tranche being released in 1967 – the Queen's head design being approved in 1966.

I'd hate to think how many denominations and colours they can be found in, and how many billions have been sold. Certainly they exist from ½d to £5 - and masses of values in between.

Then you can add endless specialised variations - with various phosphor bands, shades, elliptical perfs and the like, to the list as well.
Of course with large countries like the USA, GB, Australia and NZ now using mostly self adhesive stamps, the question is often asked of me – HOW can these be soaked?

In the cases like the USA stamps, soaking in water is totally useless in most cases.

The simple answer of WHAT to use seems to be a low tech and old-fashioned one – Lighter Fluid.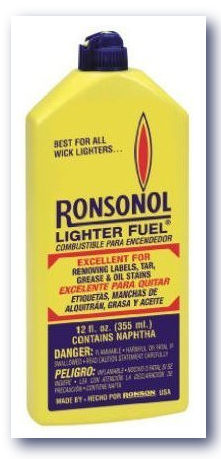 Ronson to the rescue!
This decades old method for checking watermarks on stamps now seems to have a valuable extra use!

This fluid is available worldwide and is quite inexpensive. The Ronsonol can shown nearby will be familiar to readers in most countries.

The Diggers "Shellite" brand is widely available in Australia for about $A6 per litre bottle in hardware stores. Larger 4 litre containers are sold for about $A20 if you have serious soaking to do.
Both of course are flammable, and should be used in a ventilated area etc, as per usage instructions on their packaging.

The good news is that both seem to work extremely well with assisting in removing these self-stick stamps ... even the USA ones that otherwise do not soak off at all in water.

Stampboards.com had a long discussion on this removal method.

www.meyien.notlong.com

is the direct link, for those interested in reading more on this.

It seems that stamps of some collector value are quite easily removed via a short soaking in this fluid.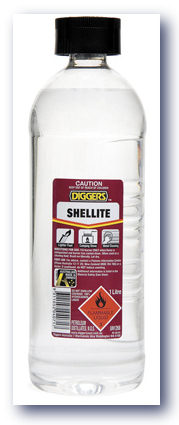 Watermarks AND Gum Removal!
In some cases, they come away cleanly from the envelope paper. In other cases a little effort and technique is needed, as outlined with photos on the stampboards thread.

Rinse in water and you are done.

Short issue stamps like the USA $17.50 "Old Faithfull" illustrated nearby are worth near face value when neatly cancelled used, so taking a moment to remove it carefully is well worth the effort.

Try this method out and let me know if it works for you. I also think that Eucalyptus Oil may work too to remove these stamps.

Billings reports for British readers, that "Sticky Stuff Remover" sold in the UK by Bettaware works wonderfully well.
French President Collector
We all realise that having high profile people as active stamp collectors is GREAT for the hobby.

When King George V, King Farouk, and President Roosevelt were active collectors, it bought in countless millions of followers.

The current French President Nicolas Sarkozy is said to have taken to stamps in a huge way, and this is attracting worldwide media coverage.

Nicolas Sarkozy has apparently become an obsessive stamp collector, in order to cultivate a less controversial image as French President.

This is the latest bizarre insight into the 54 year old's private life.

It has been stated that fellow heads of state including Queen Elizabeth 2 help him fill up his albums.
Mr Sarkozy sponsors the newly formed Élysée Philatelist's Club, named after the famous Paris Palace where he lives with glamorous third wife Carla Bruni.

Controversial Sarkozy, pictured nearby with younger new wife Carla Bruni, has apparently become obsessed with stamp collecting.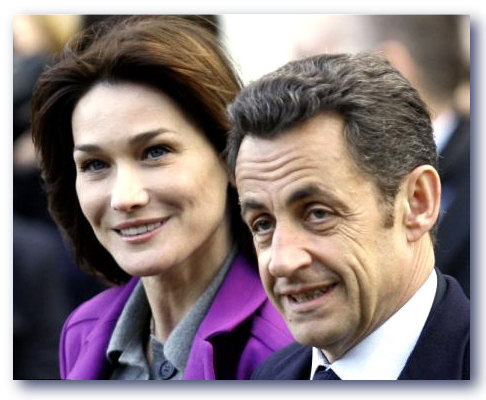 Carla and Nicolas Sarkozy
Carla Bruni-Sarkozy (41) is an Italian-born songwriter, singer, and former model. In April 2008, a 1993 nude photograph of Bruni sold at auction for US$91,000 - more than 60 times the estimated price.

It has been claimed that Bruni was romantically involved with Louis Bertignac, Mick Jagger, Eric Clapton, Léos Carax, Charles Berling, Arno Klarsfeld, Vincent Perez - and even the former French Prime Minister, Laurent Fabius.

Bruni has said she is easily "bored with monogamy". Bruni met Sarkozy in November 2007 and they married very soon after on 2 February 2008 at the Élysée Palace in Paris.

Among the items which have pride of place in the Sarkozy stamp collection is a 2 stamp set issued by Royal Mail in 2004 to celebrate the "Entente Cordiale" – shown nearby.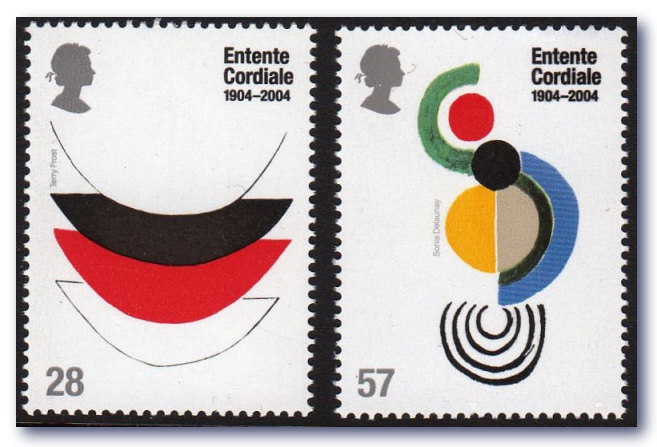 The stamps were a gift from Her Majesty when the Sarkozys stayed at Windsor Castle on a state visit in March 2008 - see nearby photo from that visit.

They are stated to be his favourite stamp set.
Mr Sarkozy was also given a leather album full of stamps by California Governor, Arnold Schwarzenegger.

"Mr Sarkozy's collection is slowly growing into one of the most impressive in the world because of all the international leaders he is in regular contact with" claimed a stamp club source.

"Being French president is a perfect job for a keen philatelist."

Paris-based Gala magazine revealed the existence of the stamp-collecting club, describing it as: "an independent association based at the presidential residence."

Mr Sarkozy is said to pursue his hobby most evenings, regularly allowing his wife Carla to inspect his albums.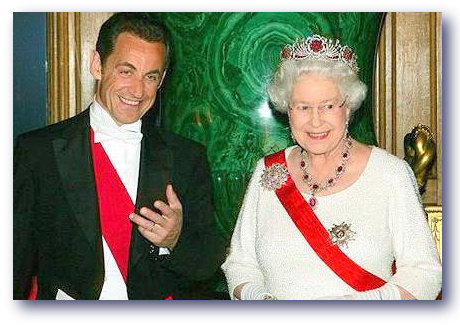 Royal Stamp Gift
Carla has confided to friends that she is glad he no longer spends his evenings karaoke singing, as he used to in his bachelor days.

Before marrying Ms Bruni about a year back, the so-called "hyper-president" was notorious for inviting young woman back to the palace for "singalongs" - which lasted well into the night.

Carla has since taken credit for calming Mr Sarkozy down, finding him a personal trainer and getting him to give up once favourite high-sugar snacks like chocolate.

However despite his more relaxed philatelist image, Mr Sarkozy's popularity rating is in freefall, as France suffers one of the worst recessions in the country's history.

Commenting on the stamp collecting at the Elysée Palace, Voici magazine sneered: "we don't know how the stamp club meetings are going, but they ought to be easier than the management of the financial crisis and the economy"











Get my regular market update emails FREE. Stamp gossip, price trends, record sale prices, and many one-time stamp specials, wholesale bargains, and exciting offers and breaking philatelic news. A mini stamp magazine in every email! "KNOWLEDGE IS POWER". The ONE stamp list you MUST be on, to keep in touch with the rapidly changing world market. One client made $65,000 profit in a few months after following my specific advice. Sign up securely and quickly by clicking HERE to access my automated data base. And wiser still ADD your home AND work email, if I only have one right now. Add a stamp friend's email address if you wish. One short click and you are subscribed to probably the most read email list in the stamp world!


Instant Currency Conversion


FREE! Just click here...




If you would like to be notified of updates to this website, Click HERE. If have any questions,
or comments regarding my site, please email me at glen@glenstephens.com
| | |
| --- | --- |
| | Search all my 300+ web pages! Simply type in what you are looking for. "Penny Black", "Latvia", "Imprints", "Morocco", "Fungi" "Year Books", etc! Using quotes ( " ) is more accurf used with no quotes. Search is NOT case sensitive. Tip - keep the search word singular - "Machin" yields far more matches than "Machins" etc. |


I am a Dealer Member in Good Standing Of:

Full Time Stamp Dealer in Australia for over 25 years.
Life Member - American Stamp Dealers' Association. (New York)
Also Member of: Philatelic Traders' Society. (London) ANDA. (Melbourne) American Philatelic Society, etc
GLEN $TEPHEN$
Full Time Stamp Dealer in Australia for over 25 years.
Life Member - American Stamp Dealers' Association. (New York)
Also Member - Philatelic Traders' Society. (London) ANDA. (Melbourne) American Philatelic Society, etc

ALL Postage + Insurance is extra. Visa/BankCard/MasterCard/Diners/Amex all OK, even for "Lay-Bys"! All lots offered are subject to my usual Conditions of Sale, copy upon request BIGGEST STAMP BUYER: Post me ANYTHING via Registered Mail for my same-day cheque. Avoid the GENERALLY 40% Auction " Commissions" (15% + 17½ + GST, etc.) AND their five-month delays! Read for details.
"Lothlórien4 The Tor Walk, CASTLECRAG (Sydney), N.S.W. 2068
Phone: (02) 9958-1333 Fax: (02) 9958-1444 (Both 25 Hours, 7 Days!)
E-Mail: glen@glenstephens.com
Web Sites: www.glenstephens.com www.glenstephens.net or www.australianstamps.net