Click To Go Back To The Main www.GlenStephens.com Stamps Homepage

Welcome! You are visitor
to www.GlenStephens.com




Glen Stephens
Monthly "Stamp News" Market Tipster Column


April 2011

---
"Sydney Stamp Expo 2011" is here!
The "Sydney Stamp Expo 2011" will be held at the Royal Randwick Racecourse from Thursday 31 March 2011, until Sunday 3 April 2011.

Very soon after this magazine is posted to subscribers – so do try and get along on one of the four days.

EXPO will be opened by the Governor-General of Australia, Her Excellency, Ms Quentin Bryce AC. This is scheduled to occur at 11.30am on Thursday 31 March 2011.

As the Exhibition will be open to the public from 11am on 31 March 2011, all visitors, exhibitors, stand-holders, judges, organisers and volunteers are welcome and encouraged to attend.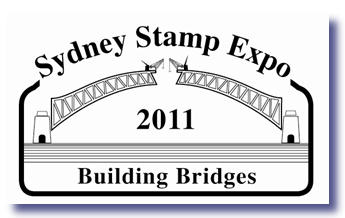 March 31 to April 3 in Sydney
The Expo has been expanded to four days – one more day than the poorly attended 2007 "Pacific Explorer" event.

40 dealers are attending, with many from the UK, NZ and the USA among them.

The dealer body running the show APTA, did not give them very much needed advertising for their high stand fees, taking no ads whatever in this magazine, which clearly will impact attendee numbers.

It is the main stamp event in Australia in 2011, and hopefully the wider efforts of the Committee will make up for the shortage of effective, targeted, paid APTA advertising for the event.

Stampboards.com has been kindly allocated a meeting slot by the Committee, and I hope a number of readers will attend the show, and look us up.
Stampboards meeting/Dinner April 3
Our meeting will be Sunday April 3 from 11am -12.30pm – www.stampboards.com – all collectors of any level welcome.

Many have questions about how things work on stampboards, and here is the perfect place to find out, and ask away, and add ideas and suggestions.

We also have a low cost and informal dinner planned nearby for that same evening around 6pm - all details of that are here - tinyurl.com/ExpoMeet

There are usually stampboards casual dinners at all national shows, and again all are welcome to attend, and place faces to user names etc.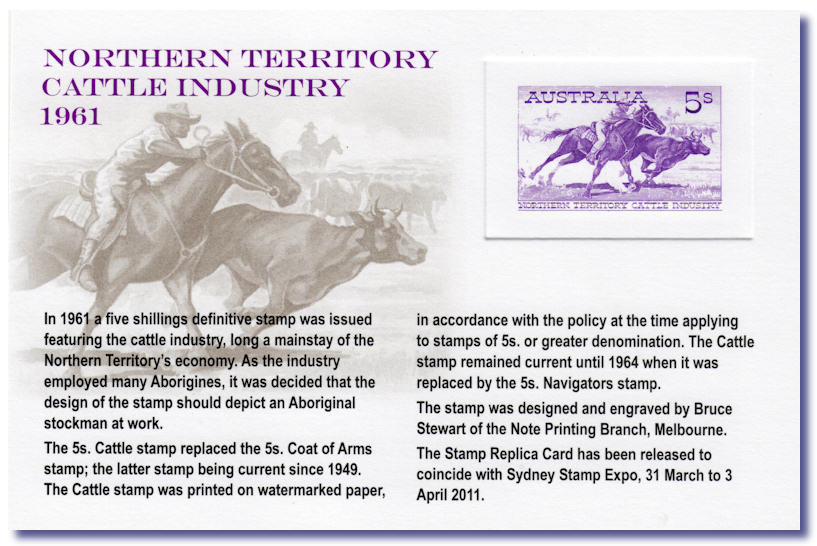 A genuine Die Proof for just $5!
There are a wide range of EXPO souvenirs on sale at the show website - tinyurl.com/SydExpo

One that will sell very well is a recess printed, actual raised "Die Proof" in issued size, of the ever popular "5/- Cattle" stamp, shown nearby – my thanks to David Benson.

These are only $5 each, and mark the 50 Year Anniversary of the first issue of this iconic Australian Aboriginal stockman stamp. I understand they are printed from the original steel Dies.
Range of philatelic souvenirs
tinyurl.com/SydExpo lists this Card, and all other special products, sheets and booklets etc, that are available – and credit cards are accepted for all mail and overseas orders.

2011 also marks the Centenary of the First National Philatelic Exhibition and Congress in Australia, and is therefore an important milestone in the history of organised philately here.

At that event special commemorative stamp "labels" were printed in sheets of twenty, in four colours - red, green, indigo blue and pale blue.

All were single line perforated 11.25, on a rather coarse paper, that thins and foxes very readily.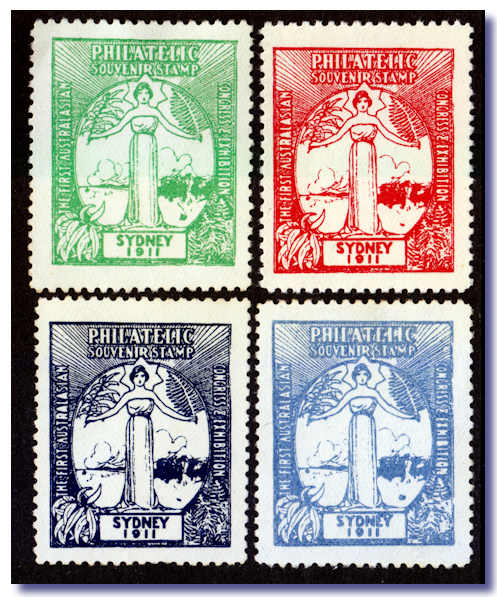 Centenary of the First Exhibition Labels
These were crudely produced, and are seldom encountered in full sets of 4. The centering can be horrific, and the gum is often poor or missing.

The set shown nearby is from my stock, and is unusually fine and attractive for this quartet of "Golden Oldies".

The Committee have re-printed this set in sheets of 20 with margins – these are rouletted, and only 100 MUH sheets of each were printed.
China Stamp Prices go Nuts!
The price rises in Chinese stamps continues to march onwards, totally un-abated.

Chinese collectors are madly chasing material from their past, and are MOST especially interested in material from the 1960's Mao Tse Tung "Cultural Revolution" era.

There are now a number of stamp auction houses in Hong Kong, and price records keep getting broken.

Prices that looked insane to me just 12 months ago, are sometimes now double that. And will doubtless be higher still in the near future

tinyurl.com/ChStamp is an "on the spot" running report from stampboards members who are based in Hong Kong, and attend these sales, and offer detailed summaries.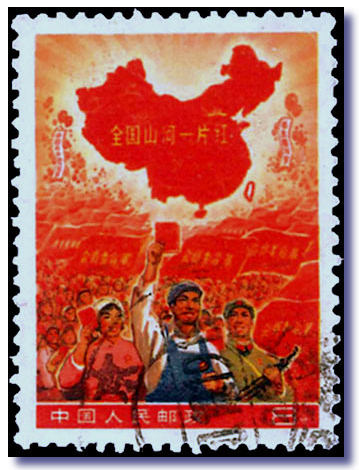 Creased with faults – sold for $US96,000
One member "aethelwulf" mentioned a used copy of this well known stamp, that was sold late February at "InterAsia".

The stamp was described as having creasing and minor faults. The invoice price was $HK747,500 or $US95,976.13. That stamp is illustrated nearby.
Doubled in the past year.
A year back it would have not got even half that sum in my view.

He reported: "Bidding opened at $200,000. Someone in the room then called out $600,000. Final hammer was $650,000. (Calling out an amount that raised a laugh in the room helped speed things up in the end I guess)."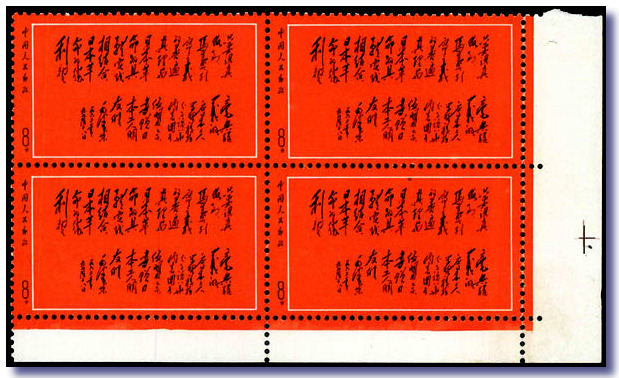 1968 China block sells for $US1,151,630.00

The entire auction set price records of similar ilk. A mint corner block of 4 of a scarce 1969 8f letter rate stamp shown nearby, sold for HK$8,970,000 (US$1,151,630) - a new world record for a Chinese stamp item at auction.

These are truly astounding prices for stamps from anywhere – even for howling world classics - and bidding was intense on them all, he reports.

I had an attractive "All China Is Red" genuine 8f example affixed to the front cover of a Mao "Little Red Book" in stock until recently.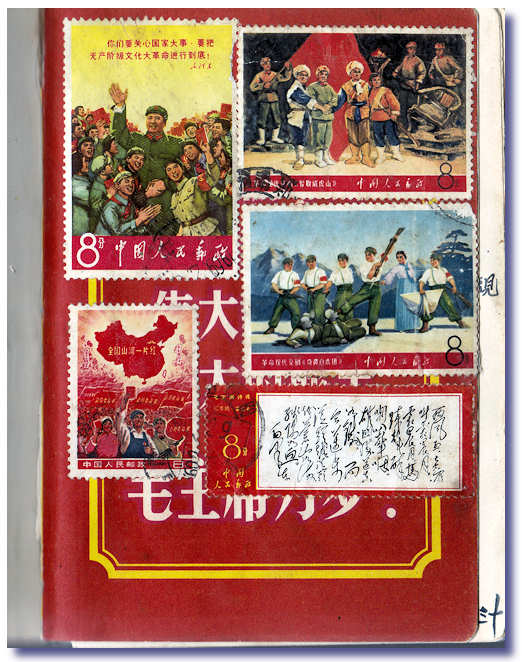 Kid's book turns into serious money
| | | |
| --- | --- | --- |
| | A leading figure in the international stamp world snapped the book up for just over HALF what the used copy above just realised! | |
It is all a numbers game!
In a year's time, it being double that price would not surprise me one bit. There are a LOT of very wealthy people in China, and many have recently decided they want to buy their stamps back.

Ferrari are poised to sell more new cars in China a year very soon, than in all of Europe combined – which underscores my point.

The market for top end pieces is just insatiable there, and the printed stamp catalogues are all way behind the market prices – even for the more run-of-the-mill sets and material.

Medium scarcity 1950s-1970s sets in the authoritative current "Yang" China cat often sell for 4 or 5 times full catalogue price. Be warned!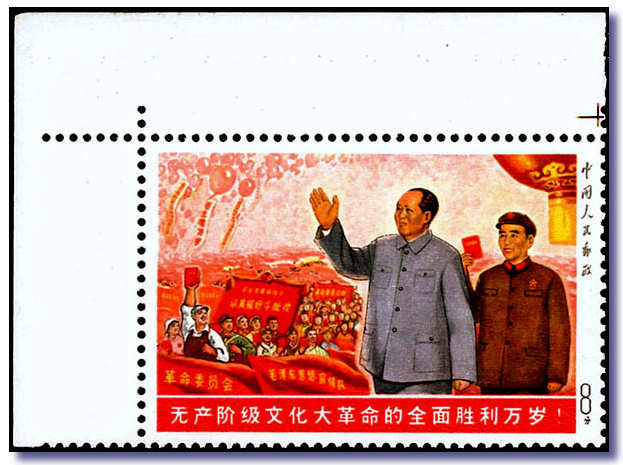 The Great Leap Forward – to $325,000!

The letter rate stamp shown nearby with Chairman Mao on it, was invoiced late February at InterAsia for $HK2,530,000 – or about $US325,000.

I showed a corner Block 4 of this same stamp in my April 2010 column, that had just sold for a then record of $US970,000.

A leading dealer told me at the time the buyer was quite insane, and would lose big money on the deal.

By my math that is now a $US1.3 million block. This year's high prices might also look cheap in a year's time – we shall see!
A Brilliant idea.
In the USA, Hallmark are offering a wide range of greeting cards, and the applicable sized pre-paid envelope that you simply address, and pop into a mailbox.

My guess is 90% of folks who buy a Birthday or New Baby or Get Well card etc have no stamps on hand, and getting one is a hassle.

I only wish they'd have used a more "stamp like" image on the envelope.

Fast, easy, and convenient

| | | |
| --- | --- | --- |
| | Chris de Haer advises me Australia Post has trialled versions of these in the past, and I am not sure why they have not taken off. | |
Hallmark envelopes are forever?
The USA envelopes are essentially "Forever" stamps - good indefinitely - tinyurl.com/Halmrk

"We know card-sending is an important tradition, and receiving cards is as meaningful as it ever was," said Paul Vogel, president and chief marketing/sales officer, U.S. Postal Service.

"We are pleased to work with Hallmark in a way that honors this tradition while providing consumers with added convenience afforded by advanced technology."

"More than 200 varieties of everyday Postage-Paid Greetings will be sold in Hallmark Gold Crown stores, Wal-Mart, Walgreens, CVS and other Hallmark distribution locations.

"Seasonal cards will be available starting this Easter season. Postage-Paid everyday cards can be purchased for $3.99, and seasonal cards will range in price from $2.69 to $3.99", Vogel concluded.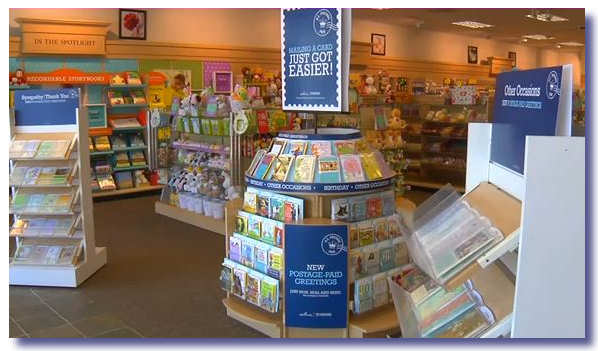 Stamped envelopes with Greeting cards
Crude fakes on ebay fetch $100s.
The average IQ of many ebay stamp buyers I am certain you could count on your fingers and toes.

Stampboards every week highlights numerous stupid ebay purchases - of glaringly faked and forged and misdescribed material, that ebay "Bunnies" bid up to crazy amounts.

The seller is often banned a week later from ebay, and your chance of getting a refund are ZERO when a real dealer eventually advises you you've bought a pricey pup.

A seller based around Bristol UK has taken in around a million pounds via ebay it seems, from trusting souls, selling "MUH" stamps that are mostly re-gummed it appears. Many with their own sham "Certificates".

It appears a bunch of accounts connected with this seller have been closed lately by ebay, but they seem to have a bunch of spare ones sitting on the shelf, ready to roll out, each with 100s of feedbacks.

If you bought "MUH" stamps from - golden-hoarde, golden_hoarde, mistatenpercent, mista-tenpercent, PhilatelicExpress, Emmastamps, lao98_98, marys-finegems and marys-gems etc, DON'T offer them to me – EVER!

tinyurl.com/UKregum has a 200+ post discussion on the Bristol UK ebay seller and apparent still bidding and regums and in-house "PES Certificates" etc.
"MUH" Kangaroos getting $12,000 on ebay.
| | | |
| --- | --- | --- |
| | There are "MUH" £2 Kangaroos shown on stampboards that trusting souls have paid over $12,000 for. Actual value when shown to a real dealer – less than half that I feel sure, if ID'd as nicely regummed. | |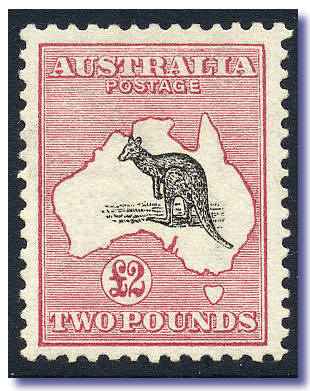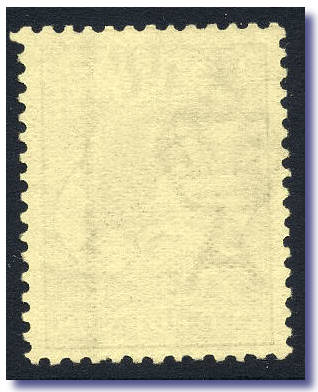 An ebay $12,000 "MUH" Bargain buy.
A pair of Sydney con-men have had about 50 ebay accounts closed down by stampboards and dealer bodies, yet still peddle fake perfins, fake overprints, and fake cancels.

The army of clueless ebay "bargain hunters" vacuums it all up – and kiss most of their money goodbye in the process.

One near sure sign - these cons near always run "Private" Auctions so the bidders cannot be ID'd – hence warned to seek a refund. See a "private auction" for stamps in seller Feedback – and run a MILE.
This utter junk gets $256
The "Sydney View" nearby would not have fooled most household pets is my guess - but on ebay the Bunnies frantically bid this piece of junk up to $A256.

It appears to be a cut-out from a low grade magazine, or a crude photocopy etc. This is the actual photo used on ebay.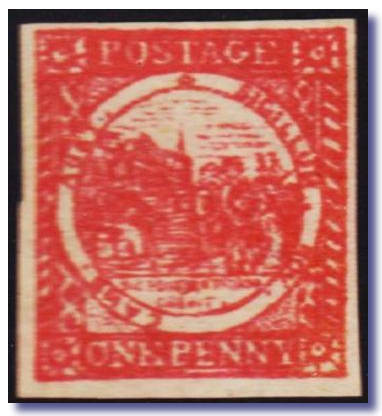 All all-time ebay "Bargain" buy
No collector alive should have mistaken this arrant nonsense for a stamp, much less a mint "Sydney View". But they did. Bidding was active.

Experienced collector, exhibitor and judge David Benson posted of this dog: "$256.51 - about $256.50 too much."

The seller "sibir2007" has a very long history of fakery and deliberate misrepresentation, but sadly THAT is no barrier to being an ebay seller, and 100s of other sellers testify to that.
"GREAT INVESTMENT" Fake Sydney View
Please excuse the capital letters, and lack of commas – both seem essential to attract cashed-up Bunnies on ebay. This is how sibir2007 described this fuzzy photocopy, or whatever it was –

1850+ MINT SYDNEY VIEW with clouds. NICE IMPERF with 4 margins. CV> $6,145.00. Excellent Condition UNHINGED/NO GUM. GREAT INVESTMENT.

He was advised by several members he was selling a crude fake or forgery, and as usual with these con-men, proceeded with the sale regardless.

Q: This just looks too fresh and bright too be genuine its got to be a forgery. What are your thoughts on it. Best regards Peter
A: IT MAY BE A DIE-PROOF OR EVEN IF IT IS A FORGERY IT SHOULD STILL BE OF HIGH VALUE.

tinyurl.com/Sibir2007 is the discussion thread where various cons from this dodgy ebay seller are outlined.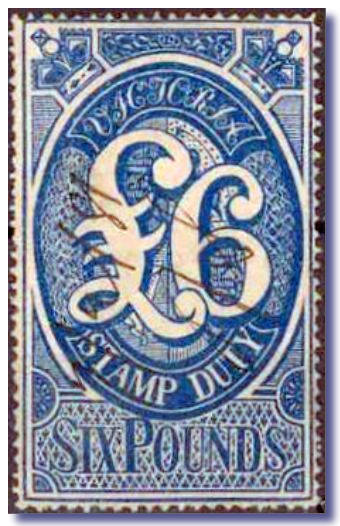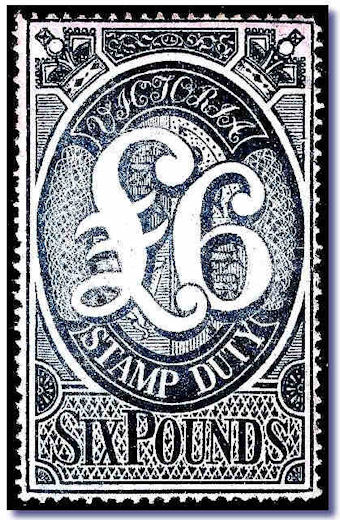 "Unhinged mint - $US1,250"
Sadly this 2007sibir guy looks like a died in the wool crook, who simply will NOT reform.

We ran this classic below on "2007sibir" before, and the late Simon Dunkerley wrote pages on him in "Stamp News" - as you can see - tinyurl.com/Sibir1
From used to "MUH" in a week
The £6 stamp was purchased by "2007sibir" for $US150 on ebay – described there accurately as pen cancelled fiscal used.

"2007sibir" then runs the IDENTICAL stamp to ebay Auction himself a week or so later.

AFTER bleaching the living daylights out of it, and trying to scrub away the fiscal pen cancel - quite un-successfully as you can see. (This is HIS scan nearby of the resultant terrible mess - unaltered by me!)

New starting price $A1,250 - claimed to be "unhinged mint" - and claimed to have a Cat value as mint of $8,150. The stamp has been totally ruined. But some ebay bunny bought it.

Why do I care if idiots with far more cash than knowledge lose $1000s on these sort of things?

WHY - as when they go to sell, and lose a fortune, they bad mouth stamps FOREVER to all those they speak to.










Get my regular market update emails FREE. Stamp gossip, price trends, record sale prices, and many one-time stamp specials, wholesale bargains, and exciting offers and breaking philatelic news. A mini stamp magazine in every email! "KNOWLEDGE IS POWER". The ONE stamp list you MUST be on, to keep in touch with the rapidly changing world market. One client made $65,000 profit in a few months after following my specific advice. Sign up securely and quickly by clicking HERE to access my automated data base. And wiser still ADD your home AND work email, if I only have one right now. Add a stamp friend's email address if you wish. One short click and you are subscribed to probably the most read email list in the stamp world!


Instant Currency Conversion


FREE! Just click here...




If you would like to be notified of updates to this website, Click HERE. If have any questions,
or comments regarding my site, please email me at glen@glenstephens.com
| | |
| --- | --- |
| | Search all my 300+ web pages! Simply type in what you are looking for. "Penny Black", "Latvia", "Imprints", "Morocco", "Fungi" "Year Books", etc! Using quotes ( " ) is more accurf used with no quotes. Search is NOT case sensitive. Tip - keep the search word singular - "Machin" yields far more matches than "Machins" etc. |


I am a Dealer Member in Good Standing Of:

Full Time Stamp Dealer in Australia for over 25 years.
Life Member - American Stamp Dealers' Association. (New York)
Also Member of: Philatelic Traders' Society. (London) ANDA. (Melbourne) American Philatelic Society, etc
GLEN $TEPHEN$
Full Time Stamp Dealer in Australia for over 25 years.
Life Member - American Stamp Dealers' Association. (New York)
Also Member - Philatelic Traders' Society. (London) ANDA. (Melbourne) American Philatelic Society, etc

ALL Postage + Insurance is extra. Visa/BankCard/MasterCard/Diners/Amex all OK, even for "Lay-Bys"! All lots offered are subject to my usual Conditions of Sale, copy upon request BIGGEST STAMP BUYER: Post me ANYTHING via Registered Mail for my same-day cheque. Avoid the GENERALLY 40% Auction " Commissions" (15% + 17½ + GST, etc.) AND their five-month delays! Read for details.
"Lothlórien4 The Tor Walk, CASTLECRAG (Sydney), N.S.W. 2068
Phone: (02) 9958-1333&n Fax: (02) 9958-1444 (Both 25 Hours, 7 Days!)
E-Mail: glen@glenstephens.com
Web Sites: www.glenstephens.com www.glenstephens.net or www.australianstamps.net

Sign up AUTOMATICALLY to my world renowned bi-weekly stamp gossip mailing list!
Click here to see MANY 1000s of stamp lots for sale at low $A Nett prices
Click here for all you need to know re SELLING your stamps for SPOT CASH
Click here for the current Monthly "Internet Only" special offers - CHEAP!
to read all my recent International stamp magazine articles.
Click here to get back to the main www.GlenStephens.com Homepage
Click here to ORDER on-line ANY items from ANY of my dozens of lists
Click for all info on Conditions Of Sale, Payments, Shipping, Returns &c
Click here for the complete library of my very unusual world travels!
How to PAY me. I accept EVERYTHING - even blankets and axes and beads!
Australia Post Annual YEAR BOOKS - massive stock - '27% off' discount offer today!
Visit my new page on RARITIES - Roos & other expensive photo items.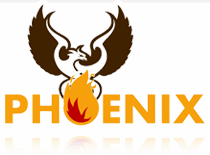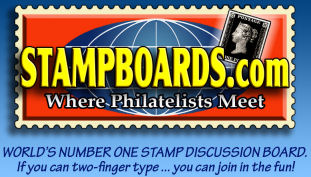 Instant Currency Conversion


FREE! Just click here...


E-mail me at glen@glenstephens.com -
Every credit card shown is accepted WITHOUT fee.
Earn Frequent Flier points while buying at bargain prices!
ALL prices are in weak Ozzie Dollars. I charge NO nasty, nasty
"Buyer's Commission" on stamps like nearly every "Auction" does.