Click To Go Back To The Main www.GlenStephens.com Stamps Homepage

Welcome! You are visitor
to www.GlenStephens.com




Glen Stephens
Monthly "Stamp News" Market Tipster Column


April 2012

| | | |
| --- | --- | --- |
| | | |
---
Win a "Penny Black"

Every collector alive is interested in owning a GB 1840 "Penny Back".

Few succeed. Even after 170 years, it is not a "rare" stamp. Just a very famous one!

Readers have a chance to win one FREE right now if you act fast - http://tinyurl.com/Win1840 - make as many entries as you wish.

Stampboards.com turns 5 years old in April, and I decided to take a nice 4 margin copy from stock, and offer it as a Birthday Prize to some lucky reader.

The "1d Black" is on our colour logo, so it seemed a perfect gift.

Cancelled with a light red "Maltese Cross" cancel, it is from plate 2, and has the slightly double corner letters on corner letters "EA". SG AS14c Cat £400.

Up for grabs – FREE!

Stampboards.com was started in April 2007, and now has 8,000 real members, from 120 countries.

There are over 2.6 MILLION messages posted there - a HUGE number of them with large stamp photos.

Google absolutely ANY stamp related subject or term, and a link to the answer will have stampboards in the first few matches.
MILLIONS of monthly hits
The board gets MILLIONS of visitor hits a month, and that elevates all links to very high google matches.

Hundreds of collector and dealer and society sites link to the board too, increasing their own google ranking, at no cost.

Stampboards is the world's largest stamp Bulletin Board, and keeps growing at a steady pace.

Most users are retired age plus, so it is kept deliberately simple, unchanged, and easy to navigate.

One super complex board closed down recently, as most folks had no idea how to navigate it.

There are no annoying pop-up ads, and no costs to anyone - except me!

Forums exist there to buy or sell stamps for free, swap or exchange, or list add your "Wanted" items to a global audience.
Exposing ebay fakers and crooks

Our eagle eyes sleuths have exposed and closed down over 100 ebay accounts selling forged stamps. Assisting the hobby GLOBALLY.

One whole Forum exists where stamp clubs and societies can outline their meeting dates and locations, and annual programs.

If your club or society does not have you listed up, please ask the Hon Sec WHY! Clubs have zero advertising budgets, so a free global platform ticks all the boxes.

Scores of members have scanned up stamp goodies they are happy to randomly give away during April as Birthday gifts, and some superb material is among it – take a look.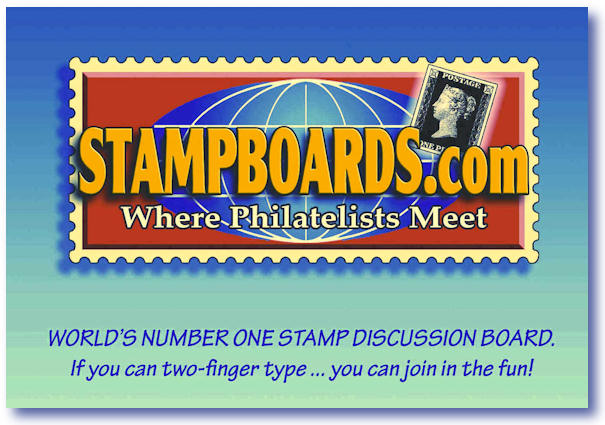 Will overtake magazines one day
In a year or two, stampboards will have a global readership greater than all the world's stamp magazines combined.

That was my vision when I set it up all those years back, and it is nearly there.

There are 2 powerful on-board search engines, and in seconds details of any stamp or area can not only be found, but added to, or corrected or amended or updated at will.

We have just moved to a dedicated state-of-the-art server in the USA to handle the huge database.

Back-ups are done every hour of the data, to ensure we have a permanent resource.

We have all bookmarked heaps of stamp resource sites in the past that simply vanish without trace one day, removing invaluable data and research - FOREVER.
All stamp data in ONE place
Keeping it all in one place is the obvious way to go. Tiny stand-alone sites simply get bypassed by google.

Members range from Presidents of leading collector and dealer bodies, owners of large auction houses, and top level global Gold Medal exhibitors.

Right down to newbies who ask what a watermark is! The Scott Catalogue editor posts regular updates, as do senior staffers at Stanley Gibbons.

The owner of the world's largest stamp auction website DELCAMPE is very active,

Unlike ebay, DELCAMPE have zero tolerance for reported sellers of forged stamps and perfins.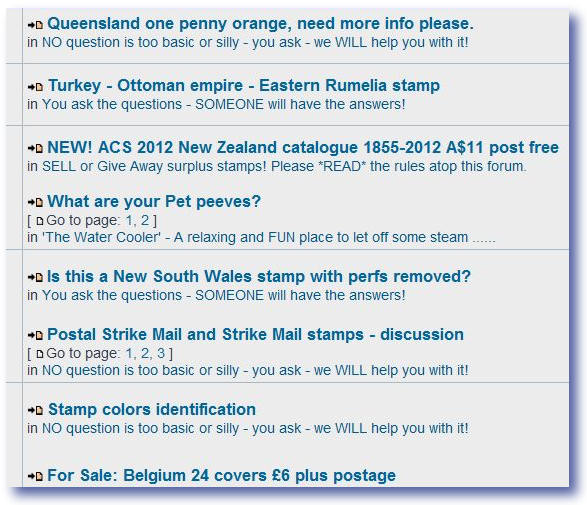 Just some of today's topics
With 8,000 members, getting an answer to any puzzling stamp question often occurs in minutes.

The once massive Kodak Corporation is now in Bankruptcy. They largely ignored the shift to digital - and are now a footnote in history.

Things change fast – even in global philately! The internet has changed it forever.

www.stampboards.com has changed how dealers and collectors communicate and educate – take a look!
Chess Legend Karpov sells up
Most readers are aware of Anatoly Karpov – the Russian Chess Grandmaster. World Champion to 1975 to 1985.

The Karpov/Kasparov chess matches were at the height of the Cold War in the mid-1980s, and attracted global media coverage.

American hero Kasparov battled through scores of draws to apparently prevail some years later! They were still battling it out in the 2000's.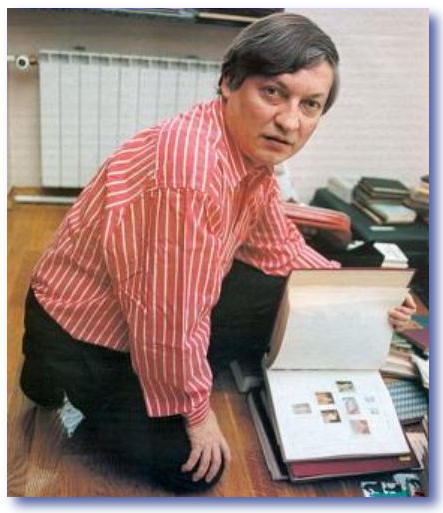 Stamp collector Anatoly Karpov
Most will not realise Karpov formed one of the finest ever collections of Belgium and Colonies – the first section of which has recently sold for around 2 MILLION Euro.

Karpov has always been an avid stamp collector, devoting the same relentless dedication to collectibles, as he did to his chess.

The first stamp in his collection was the USSR stamp celebrating 40 years of the Red Army in 1958. But it wasn't Soviet stamps which really grabbed Karpov's interest.

Instead, Karpov's attention was drawn by colonies of the British Empire, and also stamps showing animals which could not be seen in Russia - such as snakes, kangaroos or zebras.

He went on to collect Chess and Olympic Games stamps, from the first modern Olympic Games in Athens, Greece in 1896.
Karpov Sydney Visit
Anatoly Karpov visited me in Sydney in the 1980s and purchased a stack of Australian "Territory" stamps in Seven Seas hingeless albums.

Had he focused his collecting energies and large fortune on this part of the world, imagine what a difference that would have made.

Feldman Auctions of Switzerland announced on stampboards.com that the realisation in December 2011 for Part 1 of the Karpov Collection was just under €2,000,000.

Feldman will offer part 2 of the Karpov Collection on April 16th-20th, and Part 3 on December 3rd-8th 2012.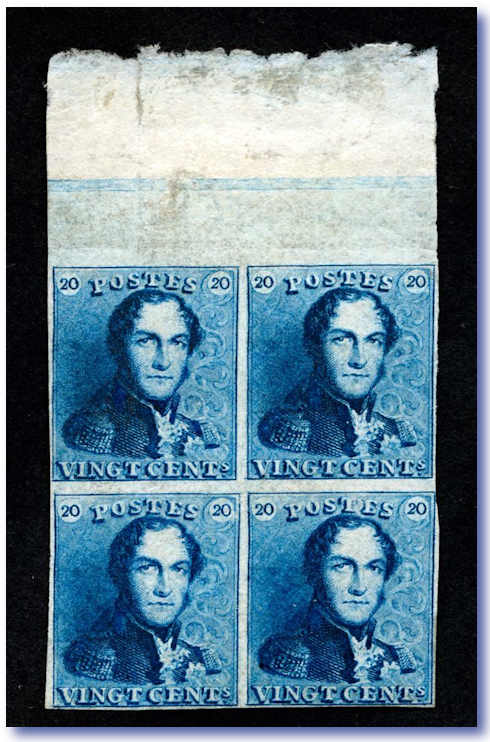 Karpov Classic
There were many wonderful early classics offered, one of which - the 1849 20c blue is shown nearby, and sold for 205,000 Euros.

Ex General Gill Collection. The better of the two neighbouring blocks from this collection. The other, had the two lower stamp margins touched at the bottom.
Kangaroo Parcel Tags
An American member of stampboards this month posted up photos of a half dozen Kangaroo parcel tags, that had apparently been sitting unloved in California.

It does illustrate that wonderful material still exists out there, un-discovered after 75 years.

They are most unusual frankings on full tags. Most of them were Registered, with Registered labels on the reverse.

One on coarse linen bagging, from Perth, almost certainly contained gold shipments to the USA Federal Reserve Bank.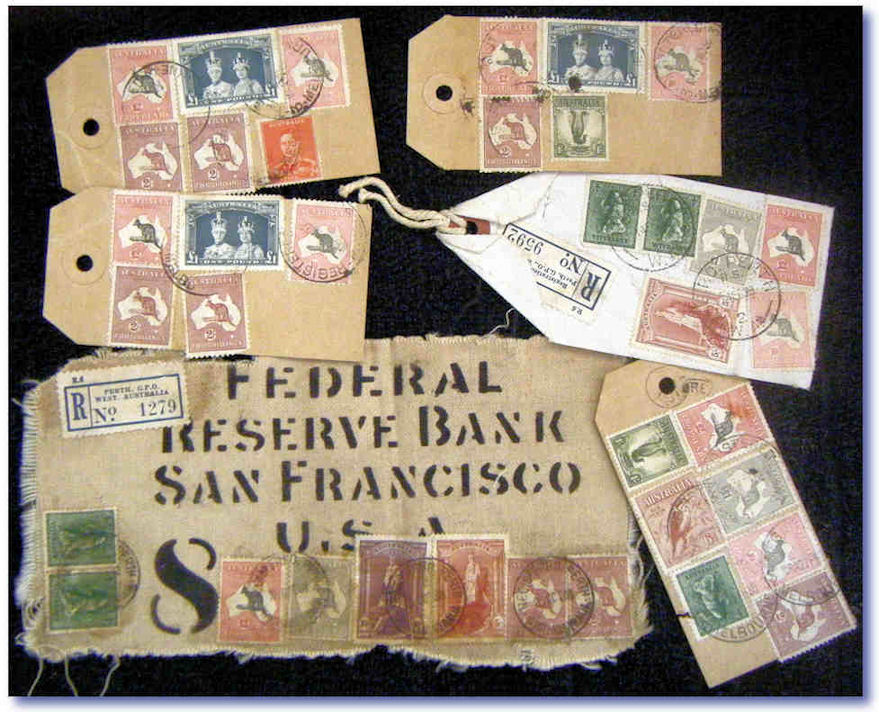 Discovered after 75 years.
I made him a fair cash offer that he accepted, and a good client bought them same day as a lot for a few $100 each, that he'll be truly delighted about in a few years.

All tags have a £2 Kangaroo at least – which these days retail for $675 for average used off piece.

And most had 10/- and or £1 as well, which are retail $275 and $375 used respectively.

And on tags of course are catalogued in the ACSC, at many times the used prices.

The old ACSC states a value of $1,500 EACH for £1 Greys and £2 CofA on tag – there are NINE of them alone, and 5 of the 10/-, cat $1,000 each.

Even a 10/- "Robes" on tag is $A350, and the £1 "Robes" is $A650, so they alone are heavy hitters, as there are 3 x £1 here.

A nice group – excuse the blurry photo taken quickly before I mailed them off! At least they are recorded here now.
$30 very well spent
I am always surprised at how strong a "crossover" there is between stamp and numismatic collectors.

About 10 years ago I owned, edited and published the "Coin and Banknote" magazine. ("CAB")

It is a great read each month, and has long been under the safe stewardship of John Mulhall.

I am sure if you email him on auscoinbank@bigpond.com John will be pleased to mail you a recent copy as a sample.

Back then, we cross referenced the subscriber names against our stamp magazine subscriber names, and the overlap was about 25%.
Large Stampie overlap
Clearly a decent chunk collect both areas. With banknotes in particular, the recess printed notes are VERY akin to recess printed KGV and KGVI stamps etc, hence the ready appeal.

Back then I retained Greg McDonald as the editor – as he had been, since he founded that magazine.

So that introduction touches on why I have mentioned this new colour NUMISMATIC catalogue, in a STAMP magazine.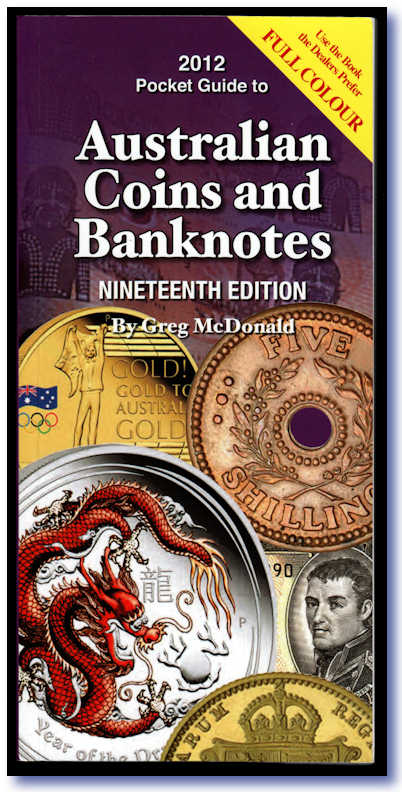 Under $A30 a copy plus post
Now in full colour this is edition 19 of this well respected work - the first being published in 1993, so felt it was long overdue for a mention.

Greg kindly lists me (mis-spelled) in the "Special Thanks" section each edition, and I thought it was time to actually plug his book!

"The Pocket Guide to Australian Coins and Banknotes" by Greg McDonald is I guess pocket size ONLY if you have massive sized pockets - as it is now 456 pages thick!

Current Australian recommended retail price is A$35, although at least one dealer is selling them under $A30 plus post – check here for one instance tinyurl.com/CatGreg

There are two excellent and long standing, market leading sellers in this market – this volume, and the hard bound Renniks catalogue, which has been published for nearly 50 years, and is edited by Alan Pitt.
Saved from a sticky fate.
Both might have vanished about 10-15 years back, when a few folks on the Numismatic trade body Committee, had ideas to produce its own catalogue, and decide themselves the "retail" values.

I have had a lot to do with Alan Pitt, Renniks, and Greg McDonald over the decades. All great people.

The Committee back then seems to overlook that 2 excellent, well respected and long standing books were already out there.

Common sense prevailed, and I really do feel the numismatic industry and hobby has stayed strong as a result, as tried and proven "arm's length" price guides are absolutely essential for stability.

I cannot believe for under $30 a copy, how few stamp dealers and collectors buy these Coin catalogues. Even if you only buy one each decade, it is a valuable book to have around.

Just one vaguely decent thing turning up somewhere will re-pay it 10 to 100 times over.

As a dealer I very often get numismatic product turning up in stamp lots.

Often just circulated coins and notes – and more often Royal Mint and Perth Mint "product" bought in the last 30 years.

Do not assume this modern material is common, and of little value.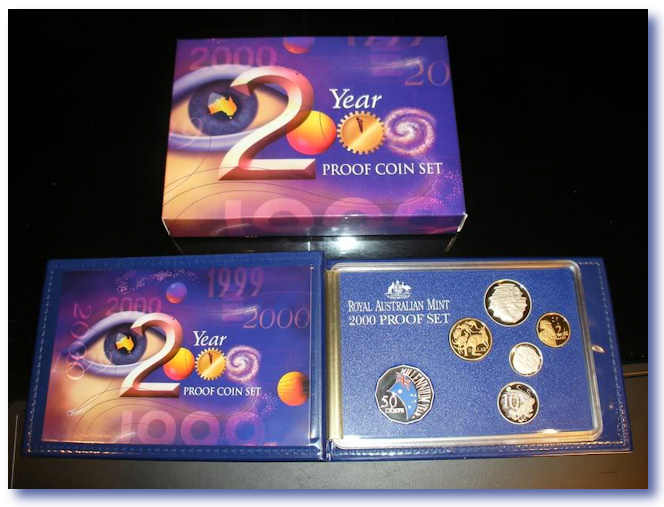 Current catalogue value - $295 -
This 'Year 2000' proof set shown nearby is Cat $295 ... and has only $3.70 of face value coinage in there, and issue price was $64.75.

Did you have any idea such very modern issues were so pricey? I sold it on stampboards to a very happy collector.
Can I spend at Woolworths?
The owner had toyed with taking the coins out and using them at Woolworths - from this and several others sets.

He assumed as they were "modern", they'd have little or no collector value!

Some of the quite ordinary looking (non bullion) product from around this era are listed in McDonald for much higher than this figure.

This week I found in a box from an estate, a 2001 "Centenary Of Federation" $5 coin that is cat $475 to my enormous delight.

Issue price was only $A79.50. If anyone needs one please let me know! I get sold a lot of this material, and job it out as it is not my main field.

Even well circulated currency notes are often worth SERIOUS money – even from the relatively modern KGVI era.
10/- KGVI Notes worth $40,000
The very common orange 10/- note design circulated during the entire KGVI reign 1939-1952 is rated in MID grade "VF" for the VERY cheapest type at $A285.

Scarce signature combos go well into 4 figures this mid-grade, and of course "Star" notes go to $A40,000.

These prices are all for the 3rd grade of the 6 grades listed – i.e. "typical grade" notes one sees from this era.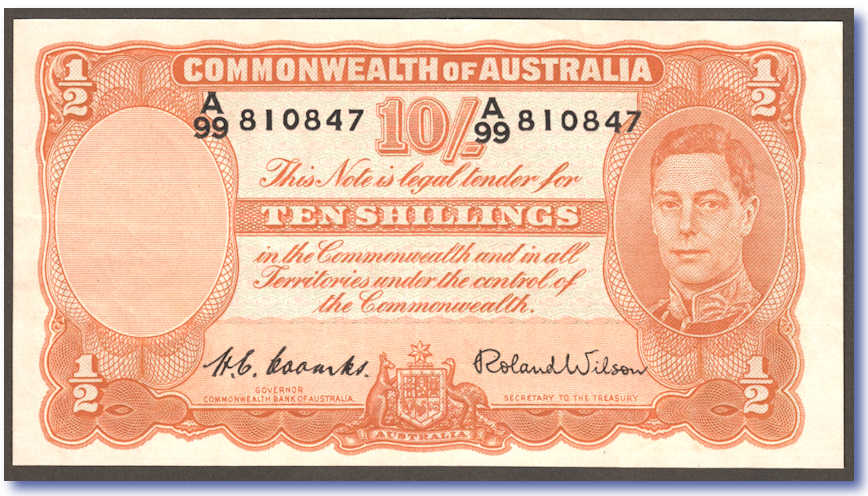 These are VERY serious dollars.
For crisp uncirculated notes taken from a pay packet etc, similar to the one in the nearby photo, you start at $A1,800 for cheapest possible type, and go to $A215,000.

And that is for the lowest face value KGVI note … I will not bore you with detail re the value of KGV notes and higher face values!
$A1,909,000.00 10/- Banknote – sold $A1,909,000.00
They can get into the 7 figure region. There is a scarce KGV Australian 10/- note shown on page 9 of this catalogue that sold at auction for $A1,909,000.

That is over 1.275 MILLION pounds Sterling.

I get dozens of circulated KGVI 10/- notes (and other values) a year buried in stamp collections.

Usually popped on a Hagner sheet or stockbook page as a curio etc, and assumed to have only a few dollars value.

I just bought a lovely top end grade 10/- I added to glenstephens.com/rarity.html for $700, if anyone yearns to buy some nostalgia – it is illustrated nearby.

It was between the pages of an old catalogue, placed there from a pay packet 60 years ago it appeared to me.

The stamp collector's estate sellers assumed it was near worthless, as it was - 'no longer valid currency' they told me.

If these folks spent under $A30 on such a book, they would realise their curio is clearly worth 25 times that price outlay!
"Knowledge Is Power"
"Knowledge Is Power" is the mantra I keep preaching for such things – and have done all my life.

As a young kid in the 1950s, my grandmother always mailed me a 10/- or £1 (or sometimes £5!) note with my birthday card. That was a very common thing to do.

Indeed the most "common" 10/- KGVI signature combination – 1942 Armitage/McFarlane has a MINIMUM catalogue value of $1,800 when never circulated.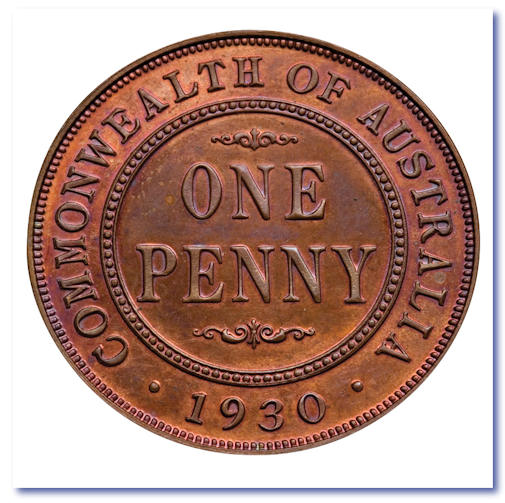 A $1,800,000 catalogue coin!
Even Australian coinage can be worth big dollars. A proof copy of the 1930 Penny is catalogued at $A1,800,000.

That is around two million $US when this was typed, and about 1.2 million pounds. For a PENNY!

The example shown nearby is such a coin, that seems to be on offer for about catalogue value in recent times from a Melbourne dealer.

Anyway a most useful catalogue, and good to see it now is released in colour. At under $A30 you'd be nuts not to have one.

I do not know any stamp catalogue that has a colour listing of all the popular "PNC" issues – the Philatelic Numismatic Covers that Australia Post sells.

McDonald does of course list, illustrate and price them all. Again I see tons of these turning up in FDC collections.

The owners very often have no clue they are valuable.
Lists all the "PNC" items
The 2000 "For Valour" PNC cover shown nearby is cat $A360, yet cost under $A10 to buy from Australia Post.

I added one cheaply to my Rarity Page this week, as it turned up without comment in a FDC collection.

Ditto the 2002 QE2 PNC - cost only $A9.95 - and Cat is now $A325.

I bet a ton of readers have both bought at issue price, and had no clue these were so valuable?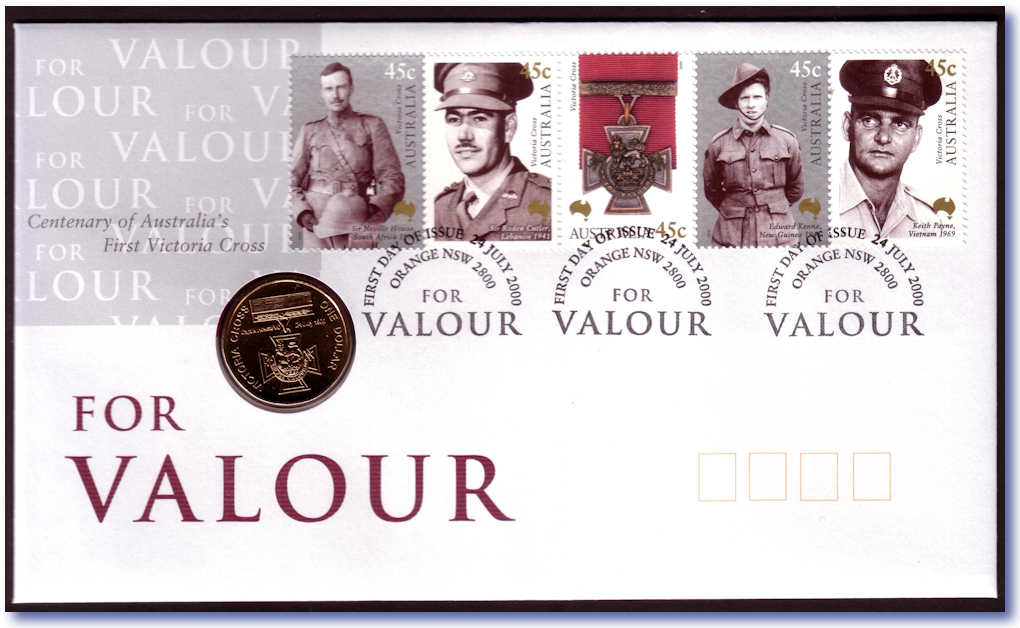 Cost $9.85 – but now cat $360.
The only drawback I ever have is Greg's odd decision not to assign ANY catalogue number, ANYWHERE in the book, to non-banknote areas.

Given the vast amount of mint coin product being issued, it is near impossible to identify anything with precision.

Why on earth Greg does not sit down and give EACH section logical catalogue numbers, that can be used universally by the trade, is one of life's great mysteries.

For instance - why not take the PNC section and give them a "P" prefix from issue 1.

Thus the 1999 "Year Of Older Persons" is McP1 - and so on. Proof year sets are McPR1, and a 1911 halfpenny is McH1, a 1911 Florin is McF1 etc.

Anyway, that bugs me every edition - and others too, so hope he can sit down and give each section a logical number system ... soon.

The work covers all the 19th Century sovereigns etc, indeed goes back to the 18th Century "Proclamation" coins etc, and the "Holy Dollar" and "Dump" issues.


Instant Currency Conversion


FREE! Just click here...




If you would like to be notified of updates to this website,
Click HERE.
If have any questions,
or comments regarding my site, please email me at glen@glenstephens.com
| | |
| --- | --- |
| | Search all my 300+ web pages! Simply type in what you are looking for. "Penny Black", "Latvia", "Imprints", "Morocco", "Fungi" "Year Books", etc! Using quotes ( " ) is more accurf used with no quotes. Search is NOT case sensitive. Tip - keep the search word singular - "Machin" yields far more matches than "Machins" etc. |


I am a Dealer Member in Good Standing Of:

Full Time Stamp Dealer in Australia for over 25 years.
Life Member - American Stamp Dealers' Association. (New York)
Also Member of: Philatelic Traders' Society. (London) ANDA. (Melbourne) American Philatelic Society, etc
GLEN $TEPHEN$
Full Time Stamp Dealer in Australia for over 25 years.
Life Member - American Stamp Dealers' Association. (New York)
Also Member - Philatelic Traders' Society. (London) ANDA. (Melbourne) American Philatelic Society, etc

ALL Postage + Insurance is extra. Visa/BankCard/MasterCard/Diners/Amex all OK, even for "Lay-Bys"! All lots offered are subject to my usual Conditions of Sale, copy upon request BIGGEST STAMP BUYER: Post me ANYTHING via Registered Mail for my same-day cheque. Avoid the GENERALLY 40% Auction " Commissions" (15% + 17½ + GST, etc.) AND their five-month delays! Read for details.
"Lothlórien4 The Tor Walk, CASTLECRAG (Sydney), N.S.W. 2068
Phone: (02) 9958-1333&n Fax: (02) 9958-1444 (Both 25 Hours, 7 Days!)
E-Mail: glen@glenstephens.com
Web Sites: www.glenstephens.com www.glenstephens.net or www.australianstamps.net

Sign up AUTOMATICALLY to my world renowned bi-weekly stamp gossip mailing list!
Click here to see MANY 1000s of stamp lots for sale at low $A Nett prices
Click here for all you need to know re SELLING your stamps for SPOT CASH
Click here for the current Monthly "Internet Only" special offers - CHEAP!
to read all my recent International stamp magazine articles.
Click here to get back to the main www.GlenStephens.com Homepage
Click here to ORDER on-line ANY items from ANY of my dozens of lists
Click for all info on Conditions Of Sale, Payments, Shipping, Returns &c
Click here for the complete library of my very unusual world travels!
How to PAY me. I accept EVERYTHING - even blankets and axes and beads!
Australia Post Annual YEAR BOOKS - massive stock - '27% off' discount offer today!
Visit my new page on RARITIES - Roos & other expensive photo items.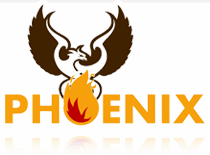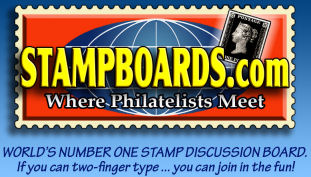 Instant Currency Conversion


FREE! Just click here...


E-mail me at glen@glenstephens.com -
Every credit card shown is accepted WITHOUT fee.
Earn Frequent Flier points while buying at bargain prices!
ALL prices are in weak Ozzie Dollars. I charge NO nasty, nasty
"Buyer's Commission" on stamps like nearly every "Auction" does.