Click To Go Back To The Main www.GlenStephens.com Stamps Homepage

Welcome! You are visitor
to www.GlenStephens.com




Glen Stephens
Monthly "Stamp News" Market Tipster Column


April 2013

| | | |
| --- | --- | --- |
| | | |
---
"War Chest 1917" Stamps

The thing I like most about my job is that EVERY day is different.

I know a lot of readers work in occupations where the day's routine seldom varies.

Each to his own of course, but every single day I see and do something different from the day before.

The most fun is the constant stream of material mailed or bought across to purchase.

The great bulk of it one has seen before - indeed if we are talking 1980s Post Office emissions I've seen it all 1000+ times before, but luckily there is often some variation in that mix.

Rare survivor in block form.



It often becomes like an old-fashioned Treasure Hunt.

I recently was bought over an old WW1 era album from someone's Grandpa's estate.

The stamps were mostly the run-of-the-mill material one sees in such albums, but in between the back cover and last page was a sheet of 24 World War 1 era "War Chest 1917" stamps.

Two blocks of 12. In 35 years as a dealer, I had never seen ONE of these stamps/Cinderellas/labels, much less a sheet!
Designed by Weston?
After some research on stampboards.com the story emerges that these appear to have been designed by a Harry John Weston, a popular artist at the time.

The last stamp on the block is inscribed "WESTON". Leski auctions got about $A2,500 for a Patriotic poster of this era from Weston, and appears to be the same style.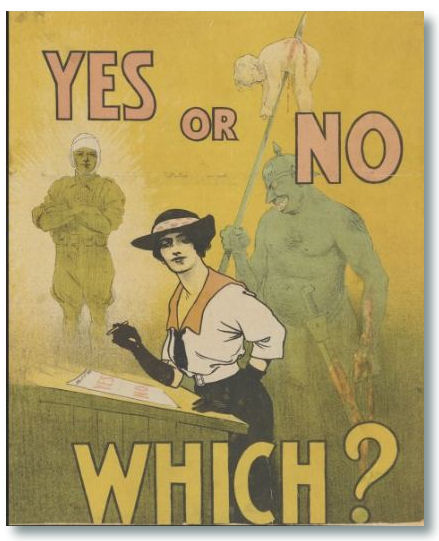 Weston poster, National Gallery
There is a Weston Anti German/Turk poster in the National Gallery, Canberra in the same style, that uses the exact same font as the stamp on this sheet.

It is shown nearby … the fonts and style used are identical on that and the sailor Cinderella stamp as you can see, in the "W" and "H" etc.

These are large, well printed, in full colour, and well perforated. The postage stamps of this era were monocolour up to 5/-, and bi-coloured only for the Kangaroo high values.

So well designed full colour stamps or labels, were a very superior product from this era – nearly 100 years ago.
I sold one block 12 to a client and the other is shown nearby. They range from full gum MUH, to part gum. Condition is mixed, damaged to fine.

There are 12 different Australian based designs. Anzac Cove at Gallipoli, Diggers tossing grenades, Camels in desert in Egypt, planes and ships - "HMAS Sydney" in battle, Sailors, Pozieres bayonet charge, and Anzac Plinth etc.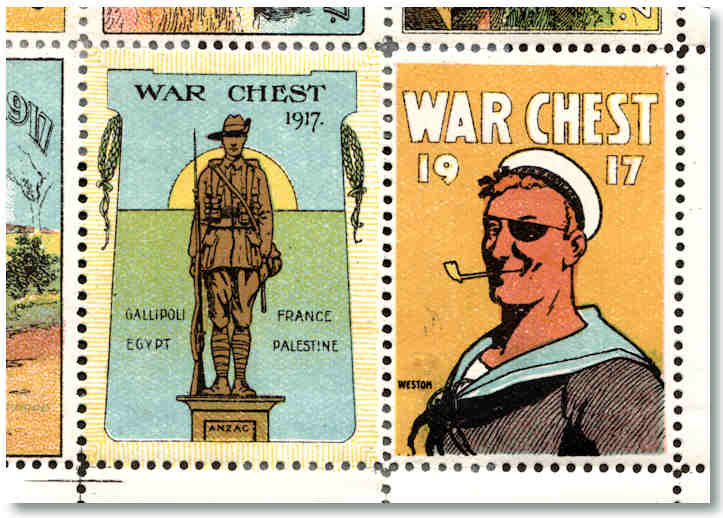 Weston inscribed sailor design
| | | |
| --- | --- | --- |
| | During 1917, "HMAS Sydney" became the first Australian warship to launch an aircraft, and the first warship anywhere to do so from a rotatable platform. | |
Set of 12 sells $A528
A stampboards member advised a set that these was auctioned locally here by PHILAS Sydney. A set of 12 in strips and singles with no gum and faults sold for $A528, on an estimate of $A100.

A client of mine purchased that. Expert on this issue Wilson Ilbery confirmed for me today that 12 stamps is in fact the full set.

Wilson advised me today he has a set, but probably not in block form. PLUS a probably unique set of black colour trial proofs of this issue. But has no idea how they were sold, and at what cost.

Even the Australian War Museum in Canberra seems to only have 8 values of the set according to their on-line archive, so these appear most uncommon.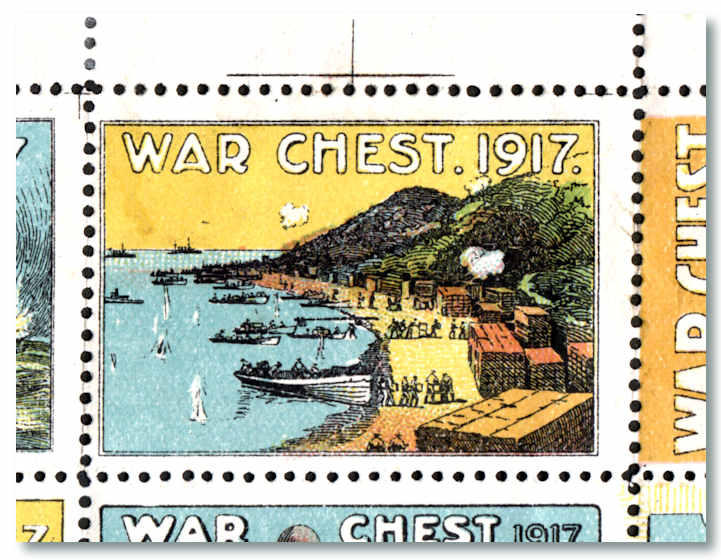 Anzac Cove Gallipoli, Turkey
The Alan Jackson catalogue on these stamps - "WW1 Patriotic Labels" was issued in 1987, some 26 years back. Even back then single labels were rated "RARE" at $50+ each, and sets 12 a premium.

Anyway with the help of many, a lot of the background on this "War Chest 1917" Cinderella stamp set has been pieced together on-line at stampboards, for the very first time it seems.

A member here bought one block 12, and the other marginal block of 12 was added to stock at $A400, some $125 less than the PHILAS auction price of the set with no gum.

With the 100th Anniversary of WW1 coming up next year, and this set depicting the beach at Gallipoli etc, interest will increase in these, not decrease.

It was fun finding these in the back of that old album, and finally piecing together some of their history - near 100 years since they were issued.

Certainly far more interesting than adding the face value of Decimal FDC and PO packs!
$30 or so very well spent
I am always surprised at how strong a "crossover" there is between stamp and numismatic collectors.

About 10-15 years ago I owned, edited and published the "Coin and Banknote" magazine. ("CAB") It is a great read each month, and has long been under the safe stewardship of John Mulhall.

I am sure if you email him on auscoinbank@bigpond.com - John will be pleased to mail you a recent copy as a sample.

Back then, we cross referenced the subscriber names against our stamp magazine subscriber names, and the overlap was about 25%.

Clearly a decent chunk collect both areas. With banknotes in particular, the recess printed notes are VERY akin to recess printed KGV and KGVI stamps etc, hence the ready appeal.

Back then I retained Greg McDonald as the editor - as he had been, since he founded that magazine.

So that introduction touches on why I have mentioned this new colour NUMISMATIC catalogue, in a STAMP magazine.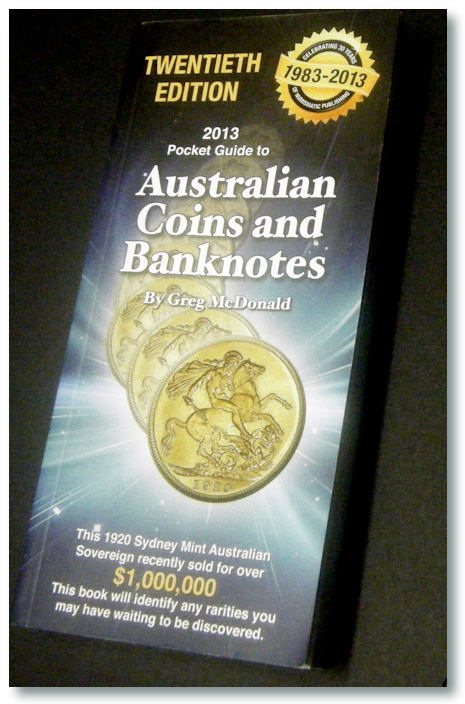 Around $A30-35 plus post
Now in full colour this is edition 20 of this well respected work - the first being published in 1993, and felt it was worthy of a review here.

Greg kindly lists me (mis-spelled every year!) in the "Special Thanks" section each edition, and I thought it was opportune to actually plug his book!

"The Pocket Guide to Australian Coins and Banknotes" by Greg McDonald is I guess pocket size ONLY if you have massive sized pockets - as it is now 545 pages thick – 90 pages more than last edition!

Current Australian recommended retail price is A$39.95, although shopping around on this one will pay off, as many dealers discount.

Front cover shows the 1920 Sydney Sovereign that sold in the UK late 2012, purchased by Sydney dealer Bob Jaggard for a client. Invoice price from auction was £780,000 - well over $A1 million.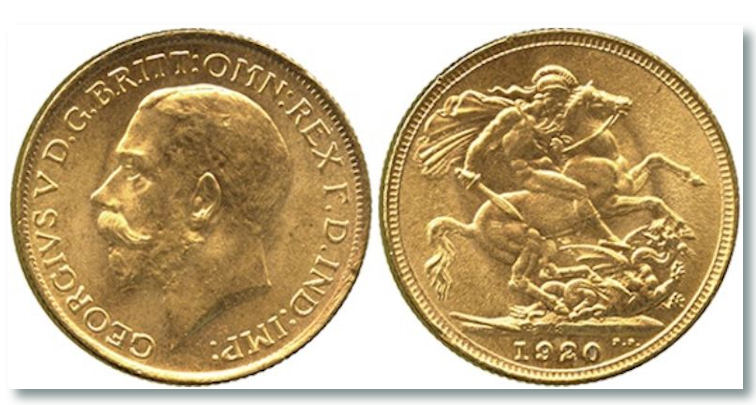 $A1 million+ for a 1920 Sovereign
It was a world record price for a British Commonwealth coin. Jaggard sold the identical coin in 1979 via his price list for $A4,250.

And Jaggard was under-bidder when it came to auction in 2006 where it sold for "just" $A580,000.

The latest price is near double that figure - in just 6 years - who said there was "no money in stamps and coins"!

Jaggard's wireless phone line from Sydney dropped out, just as bidding between the three interested parties peaked in the early morning hours.

"I was really nervous I was going to miss out on it" Jaggard told AAP. "My client never knew what happened".
Saved from a sticky fate.
There are two excellent and long standing, market leading catalogues in this market – this volume, and the hard bound Renniks catalogue, which has been published for about 50 years, and is edited by Alan Pitt.

Both might have vanished about 15 years back, when a few folks on the Numismatic trade body Committee, had ideas to produce its own catalogue, and decide themselves the "retail" values.

I have had a lot to do with Alan Pitt, Renniks, and Greg McDonald over the decades. All great people.

The Committee back then seemed to overlook that 2 excellent, well respected and long standing books were already out there.

Common sense prevailed, and I really do feel the numismatic industry and hobby has stayed strong as a result, as tried and proven "arm's length" price guides are absolutely essential for stability.

I cannot believe for around $30 a copy, how few STAMP dealers and collectors buy these Coin catalogues. Even if you only buy one each decade, it is a valuable book to have around.

Just one vaguely decent thing turning up somewhere will re-pay it 10 to 100 times over.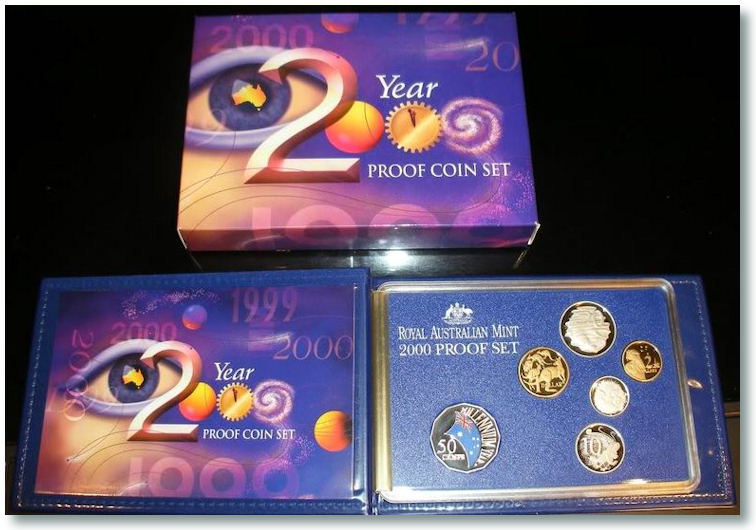 Current catalogue value - $295.
As a general stamp/numismatic buyer I very often get numismatic product turning up in Estate stamp lots.

Often just circulated coins and notes - and very often Royal Mint and Perth Mint "product" bought in the last 30 years.

Do not assume this modern material is common, and of little value.

This "Year 2000" proof set shown nearby is Cat $295 ... and has only $3.70 of face value coinage in there, and issue price was $64.75.

Did you have any idea such very modern issues were so pricey? I sold it on stampboards to a very happy collector.
Can I spend it at Woolworths?
The owner had toyed with taking the coins out and using them at Woolworths - from this and several others sets.

He assumed as they were "modern", they'd have little or no collector value!

Some of the quite ordinary looking (non-bullion) product from around this era are listed in McDonald for much higher than this figure.

I was pleased to find in a box from an estate, a 2001 "Centenary Of Federation" $5 coin that is cat $395 to my enormous delight.

Issue price was only $A79.50. If anyone needs one please let me know! I get sold a lot of this material, and job it out, as it is not my main field.

Even well circulated currency notes are often worth SERIOUS money - even from the relatively modern KGVI era.
10/- KGVI Notes worth $40,000
| | | |
| --- | --- | --- |
| | The very common orange 10/- note design circulated during the entire KGVI reign 1939-1952 is rated in MID grade "VF" for the VERY cheapest type at $A285. | |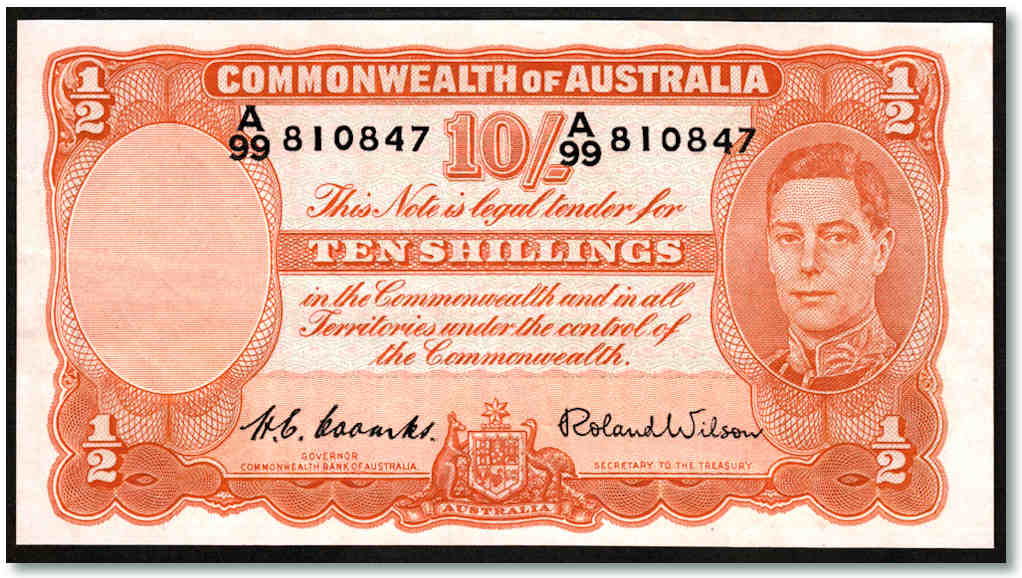 Worth VERY serious dollars.
Scarce signature combos go well into 4 figures this mid-grade, and of course "Star" notes go to $A40,000.

These prices are all for the 3rd grade of the 6 grades listed - i.e. "typical grade" notes one sees from this era.

For crisp uncirculated notes taken from a pay packet etc, similar to the one in the nearby photo, you start at $A1,800 for cheapest possible type, and go to $A215,000.

And that is for the lowest face value KGVI note … I will not bore you with detail re the value of KGV notes and higher face values up to £1000
10/- Banknote – sold $A1,909,000.00
They can get way into the 7 figure region. The scarce KGV very first Australian 10/- note sold at auction for $A1,909,000, setting a record price for any Australian numismatic item.

The record breaking note is numbered M 000001, and was given to the Governor General. The one shown nearby - number M 000004 is equally significant.

It was given to then Prime Minister, Andrew Fisher - indeed he supposedly paid face value for it!

As 1913 marks the centenary of this, our first "Australia" note, I understand Australia Post will depict this note on a stamp later this year.

"Ownership" of that M 000001 note has been very murky in recent years - to put it discreetly.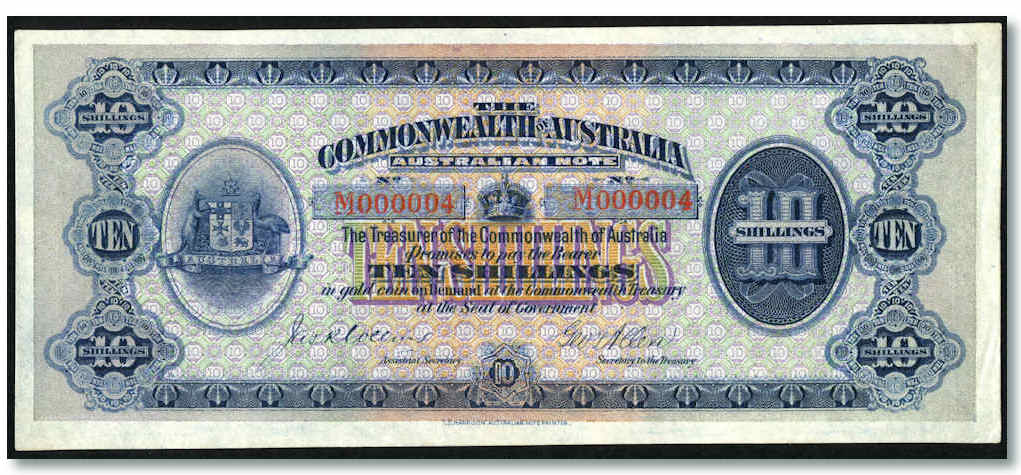 Near $2 MILLION Dollars
The attractive design note is shown nearby, and stamp collectors will be very familiar with the imprint at base "T.S. Harrison, Australian Note Printer".

I find dozens of circulated KGVI 10/- notes (and other values) a year buried inside stamp collections.

Usually popped into an envelope decades back, or flat between album pages as a curio etc, and assumed to have only a few dollars value.

I bought a lovely looking high grade KGVI 10/- I added to glenstephens.com/rarity.html for $A550, if anyone yearns to buy some nostalgia to leave to the kids - it is illustrated nearby.

The dealer's stockcard marked at $1,250 as "aUNC" (probably generous!) was in another section of the Estate boxes.
"Knowledge Is Power"
The stamp collector's estate sellers assumed it was near worthless, as it was - "no longer valid currency" they told me.

If these folks spent around $A30 on such a book, they would realise their curio is clearly worth 20 times that price outlay!

"Knowledge Is Power" is the mantra I keep preaching for such things - and have done all my life.

As a young kid in the 1950s, my grandmother always mailed me a crisp 10/- or £1 (or sometimes £5!) note with my birthday card. That was a very common thing to do.

Indeed the most "common" 10/- KGVI signature combination - 1942 Armitage/McFarlane has a MINIMUM catalogue value of $1,650 when never circulated.
Lists all the "PNC" items
The 2000 "For Valour" PNC cover shown nearby is cat $A325 in McDonald, yet cost under $A10 to buy from Australia Post.

I added one very cheaply to my Rarity Page this week, along with the also scarce "Last Anzacs" PNC, as a few sets turned up without comment in a FDC collection.

The pair are offered at $A300 in superb cond, and the same pair sold at the Philas Auction the day I typed this, way over estimate for $420. So not all auctions buys are "bargains"!

I bet a ton of readers have both bought at issue price, and had no clue these were so valuable?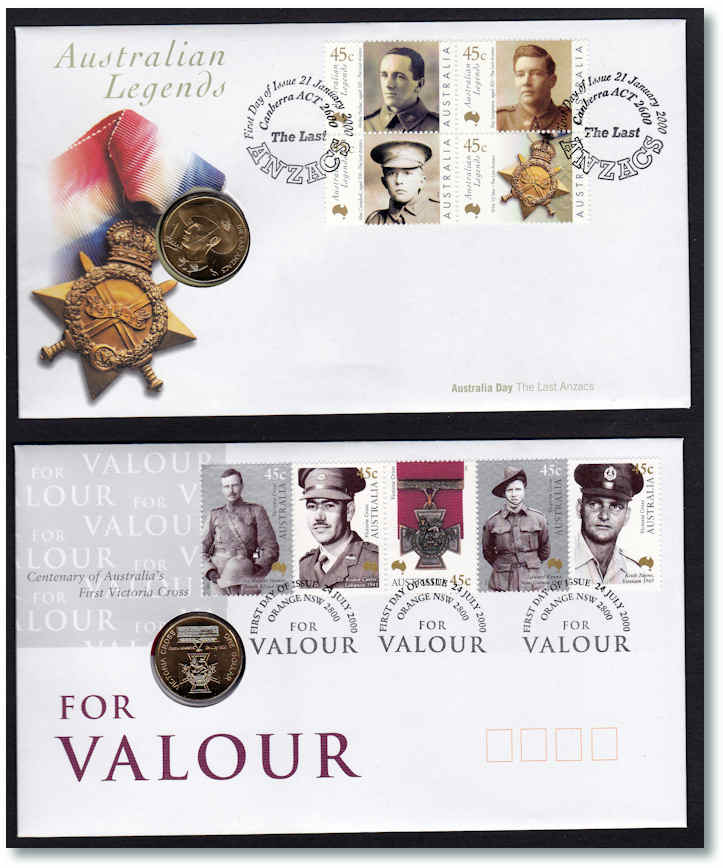 Cost peanuts – now retail $100s.
The only drawback I ever have is Greg's odd decision not to assign ANY catalogue number, ANYWHERE in the book, to non-banknote areas.

Given the vast amount of Mint coin product being issued, it is now near impossible to identify anything with precision in a price list.

Why on earth Greg does not sit down and give EACH section logical catalogue numbers, that can be used universally by the trade, is one of life's great mysteries.

For instance - why not take the PNC section and give them a "P" prefix from issue 1?

Quick and easy and helpful to all, but he claims it is "too hard" and "takes up too much space." NONSENSE.

Greg, for the PNC's it will take you 5 MINUTES! Then there will be a common national reference point for every PNC.

Thus the 1999 "Year Of Older Persons" is McP1 - and so on. Proof year sets are McPR1, and a 1911 halfpenny is McH1, a 1911 Florin is McF1 etc.

Anyway, that bugs me every edition - and others too, so hope he can sit down and give each section a logical number system ... soon.

The work covers all the 19th Century sovereigns etc, indeed goes back to the 18th Century "Proclamation" coins etc, and the "Holy Dollar" and "Dump" issues.
John Du Pont's Dues
Following his death in 2010, the first parts of John du Pont's legendary stamp collection have now appeared at auction in the UK, led by his unique 1909-1910 Australia 2d Postage Due.

It is not often that a philatelist achieves global notoriety, but John du Pont is a rare and prominent example!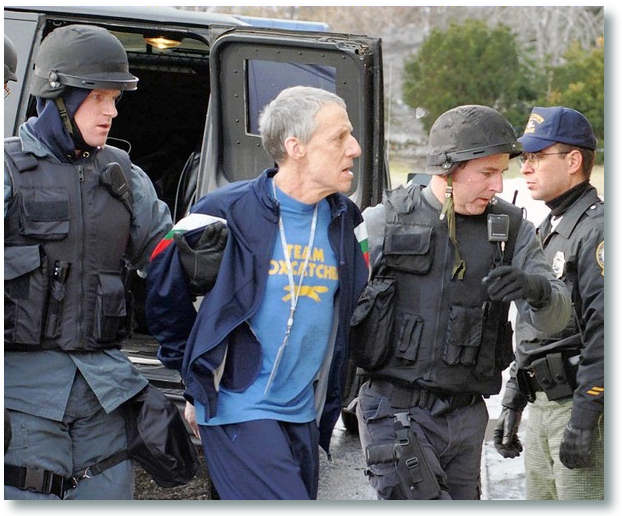 Collector du Pont being arrested.
He was known as the man who purchased the most famous stamp in existence, the British Guiana 1

¢

Black on Magenta, as well as being an eccentric multimillionaire, and convicted murderer.

Du Pont died in jail in 2010 after being sentenced to life for murder, and had an extensive stamp collection including "the world's rarest stamp".

This ugly, defective, cut to shape and repaired rag, will probably get $A5 million+ if sold at auction in this current bullish climate.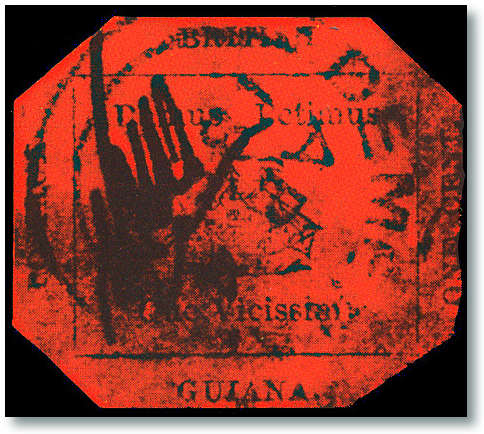 Ugly and defective $5 million stamp?
On March 6, a London auction house offered du Pont's entire collection of Postage Dues, with the 2d example shown selling for £9,000 plus the hefty 21.4% "fee" making an invoice of £10,836.

The 1909-1910 Perf 11 2d rose and yellow-green is the only unused example of this postage due stamp recorded.

Printed from Die II, it was sold without gum and described as being in "fantastic condition" and was accompanied by a 1972 BPA certificate.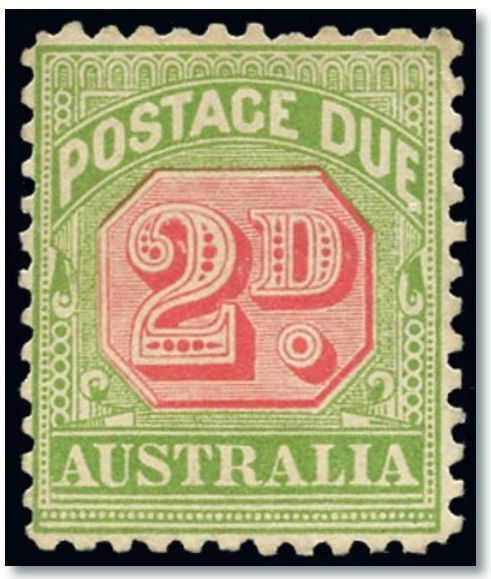 No gum did not hinder price!
Rodney Perry recalled the discovery of this stamp on stampboards:

"This rather unremarkable looking stamp was first discovered in Melbourne in 1972 by Trevor Ross, then Managing Director of Robson Lowe (Australasia) Pty Ltd.

I bought it and obtained the cert. It hasn't improved much in value in real terms, I sold it at auction c1975 for AU$3,100. Think I'll be more excited when the 1c black on magenta resurfaces." Perry concluded
Be wary of ebay "BARGAINS"
We all like a bargain. Human nature.

However when someone offers you a "GENUINE Rolex" for $50 in a pub on Friday night, you'd never dream of buying it - right?

Yet oddly when "Rolex" priced stamp lots are offered on ebay, all sorts of folks who should know better, leap madly into the fray!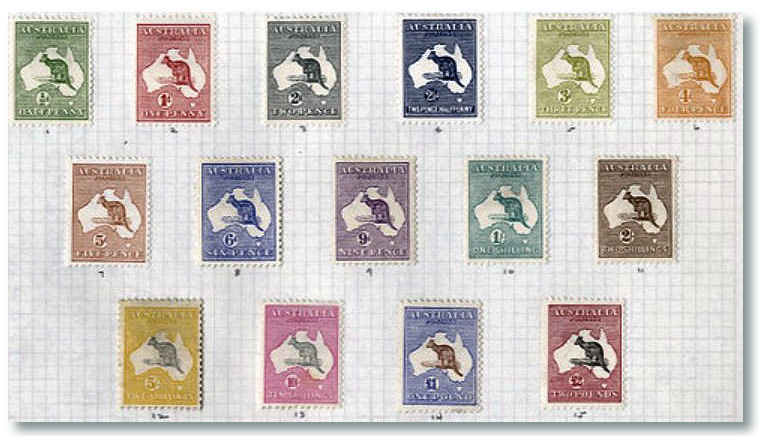 Complete 1913 set mint for £900
One ebay seller of modest under 100 feedback - "highcapacity822012" offered a full set of "Mint 1913 Kangaroos" on ebay for £900 - "Buy It Now".

This UK seller had only bought and sold real cheapie "dollar shop" cheapie items in the past - near none of them stamp related.

£900 "Post Free" was a great deal on the surface, as I'd readily buy them for $10,000 more than that in decent shape.

Excuse the horrible photo - that is all the seller listed on ebay. Another reason alarm bells should have been ringing SUPER loudly.

I do not think they were even real Roos - just the fuzzy colour photocopy fakes on white office paper that you can buy all day long on ebay for $15 a set.

Facially those look pretty good, but of course have no watermarks, and are stamped "REPLICA" on the reverse.

Ebayer "de66" jumped in and bought them - David Elsmore, experienced Exhibitor, 15 year ebay member, and fellow "Stamp News" columnist.

Astute readers are ahead of me here I think. Yep. Elsmore paid up, and the stamps never arrived.

Seller took his money and ran chuckling into the distance, causing Dave to waste hours wrestling with PayPal etc for a refund.

A full month after the sale closed, "de66" left ebay feedback saying - "A £900 sting - BEWARE" Gave same feedback re the non-existent NZ he bought.
VERY lucky buyer
Elsmore confirmed on stampboards that he managed weeks later to get his money refunded for these, and the New Zealand stamp "bargains" from same seller.

He was very LUCKY that PayPal refunded. No-one likes to see anyone dudded out of £1000.

Had the UK seller mailed him a Registered envelope filled with a few sheets of white paper, there would NOT be a £1000+ PayPal refund I am thinking.

Especially if the scammer was cunning, and picked only 1 or 2 pricey items to list now and again, so there was no pattern.

Ebay do not care about collectors being ripped off, as they get a fee on the ebay sale and PayPal payment. WIN-WIN for them.

PayPal would simply state the Registered item was mailed and was signed for, and close the case - and the cunning bargain hunting BUYER is 1000+ quid out of pocket.

Sadly that is the price of not listening to that little voice most folks have in their heads - "If it seems too good to be true - it probably IS"!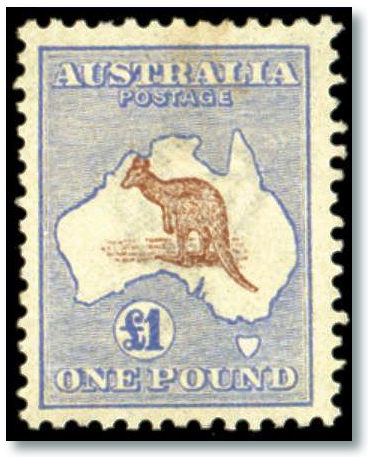 $10,000 MUH RARITY FOR £218
Similar scams took place last month on ebay where single MUH £1 and £2 Kangaroos in various watermarks were offered by ebay seller "lawersdrive" in the UK.

These were 24 hour sales (alarm bells) ran only as "private auctions" (huge alarm bells) and from a seller with low feedback - all from cheapie junk. (Massive alarm bells)

The Gold Plated Ebay Bunnies all hopped into the bidding frenzy of course, and $20,000, 1913 "MUH" £2 stamps were selling for "bargain" prices of a few $100 each.

They too all paid, never got the stamps, and left a trail of angry feedback. Well after the crook had withdrawn it all from PayPal, and was laughing at them all.

Stampboards.com had a discussion on these idiots, and one clever member traced images lifted from an old Cherrystone Auctions catalogue this shonk had lifted.

This conman seller was up to MINUS THREE feedbacks, and ebay still had not banned him at that point.
Ebay simply do not care.
Ebay have no interest whatsoever in whether forged stamps are being sold, as they make a VERY nice profit from every one.

And they have very little interest even if they are one carrying the can for reimbursing non shipment via PayPal claims - a company they own.

The same seller seems to have popped up again mid-March selling China covers and other expensive pieces. Low feedback of 15, so nobody sane would bid – WRONG.

The "seller" of that China cover is "Maddiston2012" and is based in Scotland, right next to the just banned "lawersdrive" who offered all those non-existent "MUH" Kangaroos.

tinyurl.com/maddiston is the stampboards link, to show how fast these crooks are spotted and exposed.

Indeed on March 17 as this was typed, eagle eyed stampboards members had spotted and named at least TWELVE more fake accounts this con has set up on ebay. All details on link above.

He/she may have dozens more – who knows – so be SUPER careful buying "Bargain" lots on ebay in the next months. Ebay clearly do not care, so it is "Caveat Emptor".

Low feedback, "Private" auctions, and no history of selling such high priced stamp items are the minimums to start looking for.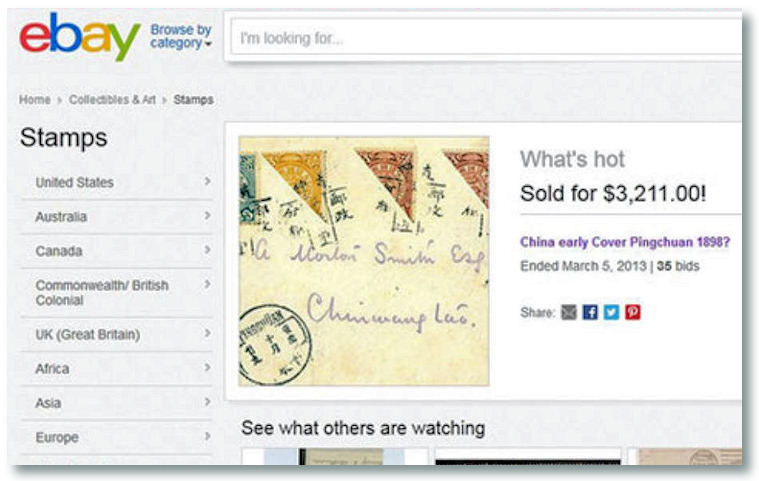 Ebay applauding con-men
Ebay in fact used the $US3,211 "sale" of his China cover - lifted from a real auction catalogue website - as their "What's Hot" bragging leader in mid-March as I typed this.

It is aimed at highlighting what great prices their sellers get!
Ebay paying millions for fakes!
Little do ebay now know, but I predict THEY will be paying $3,200 for it to the lucky bidder via a PayPal refund, as buyer will of course never receive it.

No wonder PayPal fees are so high, when they cheerfully pay out cheats massive sums globally each year - all HONEST users pay for this, in all the ever escalating fees.

Ebay in Australia still has the serial forger from Sydney operating, no matter how many accounts are closed down.

They know this shonk has an army of "shill bidder" fake accounts to push up the prices real buyers bid, and they do absolutely nothing as higher prices suits ebay.

tinyurl.com/StampCon lists this crook and many others - all ebay users should peruse that forum often.

The link above gives updates to the current handles he uses. He changes the names of current accounts often to avoid detection - he THINKS.

Reports to ebay from legitimate buyers and sellers WILL get these crooks closed down eventually.



The Bunnies enjoy buying Fantasy
This spiv offers Forged "BNG" and "NG" cancels on Queensland, forged Lord Howe Island cancels and numerals, and lots of forged BCOF overprint material etc.

Plus forged overprints, forged state and OS perfins on Aust and NWPI & States issues, regums, cleaned off fiscal cancels.

And of course total fabrications like Norfolk Independence overprints, and NZ £500 and £1000 "Probate" QE2 stamps shown nearby.

The £1,000 shown was sold for a big price by his current incantation

"stamps_star_stamps"

and of course no such series ever was issued, at any time.

You'd think collectors would look these up in catalogues first. Nope. He runs them off on a laser printer, and the Bunnies pay $100s each for these total non-existent concoctions.

He forges things that many readers own, and have paid a very high price for, from legitimate sources.
These fakes cost YOU money.
Therefore the price YOU get will be far lower when you sell, than what it would otherwise be, due to this crook driving down prices.

Try selling a mint 1931 Kingsford Smith pair, overprinted "OS". You will get HALF what you got 5 years back, as this faker has sold 100s of forged sets.

The Australia £1 "Robes" stamp WAS overprinted for Stamp Duty use in New Guinea, and genuine copies are rare, and fetch strong 3 figure sums.

So our faker takes scruffy no gum £1 copies worth $10, and applies the same overprint with his laser printer and adds a fake pen signature.

Genius ebayer "bakerxr8" bought the one illustrated nearby for $100s. He was contacted advising he'd bought a recent total forgery, and might like to ask for a refund.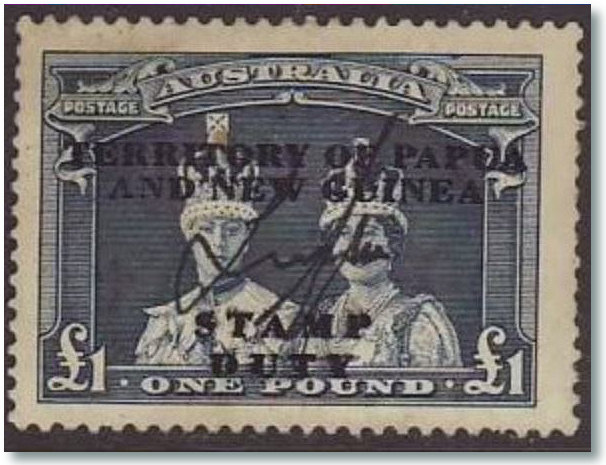 "Looks just like the genuine"
The astute buyer replied that it looked very much like the overprint in his Barefoot Revenues catalogue, so he was happy with it.

Such clueless "collectors" truly deserve to be fleeced, they really do. I bet his Rolex cost him $50 too.

Excuse the appalling low rez scans in this report - no-one sane should buy stamps off them, but our faker does that so his dodgy overprints can be less easily spotted.

The Sydney faker is also doing similar fakes on the £10, £50 and £100 Papua Lakatoi "Stamp Duty" overprints - all rare, and worth 3 to 4 figures.

The Barefoot Revenue cat on them fiscally used is £750 and £1,000 and £2,000 respectively.

Would any sane seller place such rarities on ebay - of COURSE NOT!
A £1,000 Rolex for $A160
And would any sane buyer PURCHASE such items on ebay - of COURSE they do! A £1,000 Rolex watch selling for $160 on ebay MUST be genuine - of course.

Our cheeky faker even makes "second and third chance offers" to under-bidders as he can quickly run off as many as the gullible pay him for.

So these 2 ebay geniuses are the buyer and "second chance" buyer of these fakes - "2005denver" cheerfully bid $A160.27, and "drifter8282" stumped up $A157.77 as a "second chance offer".

This stamp looks nothing even REMOTELY like the genuine shown in Barefoot and in real auctions. Such trivial detail does not bother ebayers.

American "drifter8282" was so clever, he also bought the £100 value - Barefoot £2,000, for an ebay bargain price of "just" several $100s.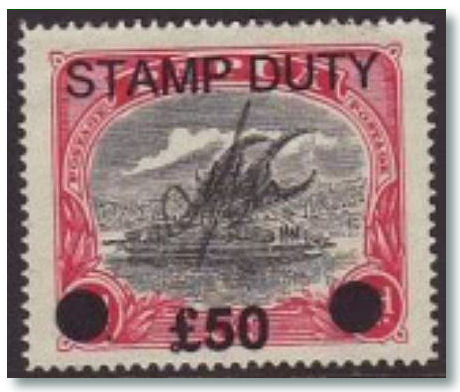 As fake as a 3 Dollar Bill
Luckily he was contacted soon after by a Papua Study Group member and returned them for refund.

However, both left good feedback thanking the seller for being ripped-off. It is like watching lemmings jumping over a cliff, in waves of stupidity.

The ebay Bunnies devour these with glee bidding madly against each other. As most of the auctions are "private", contacting buyers is not straighforward, but it can, and is done, as can be seen.

The feedback of these sellers shows buyers not lot numbers, and that allows all buyers to be warned, but do it as: "this link did NOT come from me, but - ".

A discreet email from several vigilant folks to ALL buyers shown there, to simply take a read of tinyurl.com/StampCon usually sees a flood of requests for refunds to be made.
BEWARE any "PRIVATE" ebay sale
ANY stamp seller using "Private" auctions is immediately suspect, as there is no valid reason whatever to do that for stamps, except to hide what lots folks have bid on.

Check the seller feedback - see lots of "Private" sales, and run a mile in the other direction, is generally superb advice.

I have even heard he is offering things now with totally fake BPA London Certificates to catch out the unwary.

A REAL certificate for a WA 1d is shown nearby - double check with BPA all those you see on ebay from non-dealer sellers.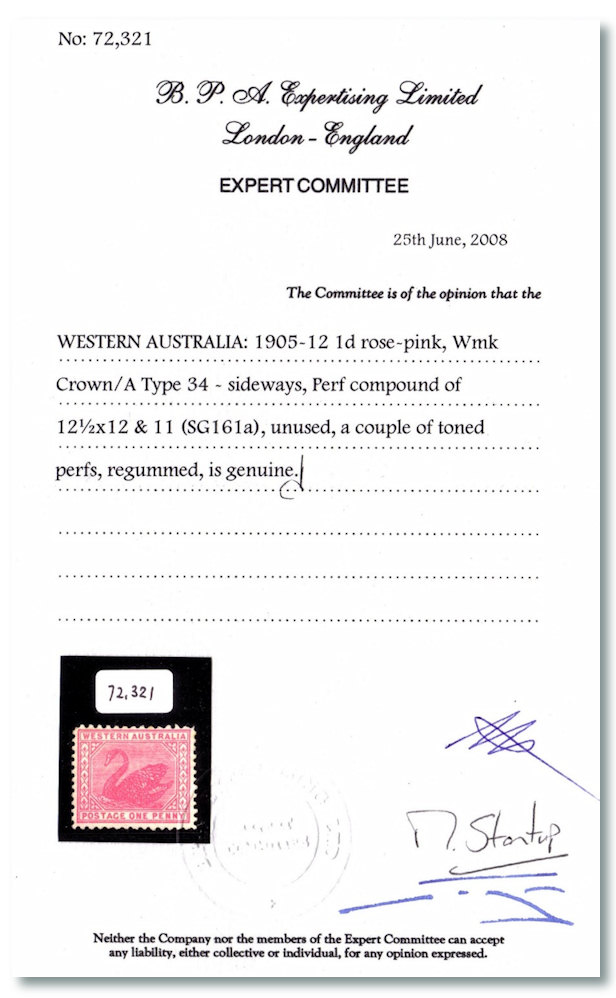 Even these are being faked
I understand the new APTA Dealer Committee is taking a renewed interest in ridding ebay of these fakes, and that is to be applauded.

Ebay sellers that are members of APTA/PTS/ASDA/IFSDA etc, have those bodies to answer to, and strict Codes Of Conduct, so bidders know they have recourse for years.

However for non-dealer body sellers (99% of those on ebay) you are often dealing with spivs out to rip you off for every cent they can, so be VERY careful.

They KNOW their account will be closed in months if not weeks, so you have a long abandoned email address to chase for your refund.

And like "drifter8282" above, you have probably already left glowing Feedback!
Google new sellers you notice
Before buying stamps worth over $50 off ANY ebay seller, I suggest you type their user name into google or better still, the stampboards.com "search" box.

High feedback means nothing - these cons buy forgotten ebay accounts off someone's kids with 500 feedbacks and 5 years membership for $100, and then start selling fake stamps.

Or they buy 200 lots of free shipping AA batteries or pens or envelopes from Asia etc for 99c, and get a 100% perfect feedback score in days.

GOOGLE the name of your seller EVERY time, to wise yourself up.

And if it leads to a negative stampboards.com link, you very likely have a crook about to sell YOU forged or doctored stamps

Stampboards has THE highest connection to google of any board on earth, so that all 3.25 million posts are ALL indexed perfectly these days.

Hundreds of collectors monitor sellers on ebay, and report obvious new crooks appearing. Honest sellers are the main policemen, as THEY want to keep ebay free of fakers.

This Sydney faker is buying dirty, creased, and defective stamps, cleaning them up, often adding fake perfins or cancels or regumming them, then offering them as "superb MUH" etc.

This 5/- roo was sold for a song as it was heavily stained, heavy hinged, and badly creased and grotty.

It later magically appears as "Superb Fresh MUH" on ebay with the scarce "WA" state perfin on it. You can still see the (flattened out) crease
Faking for Faking's sake
No question it was the same stamp with perfs trimmed off in places. The placement of the Kangaroo vignette is most helpful in such cases.

Legitimate seller "artsoldier" showed the reverse when he sold it, and that is nearby. HEAVY crease, heavy hinge, rust, gunk, and paper adherences.

Some trusting fool somewhere, is the proud new owner of this sad rag.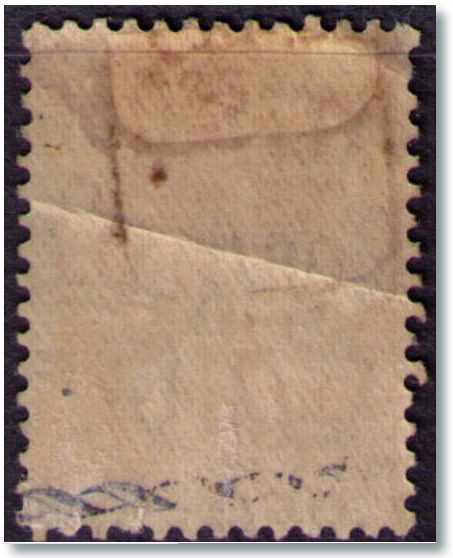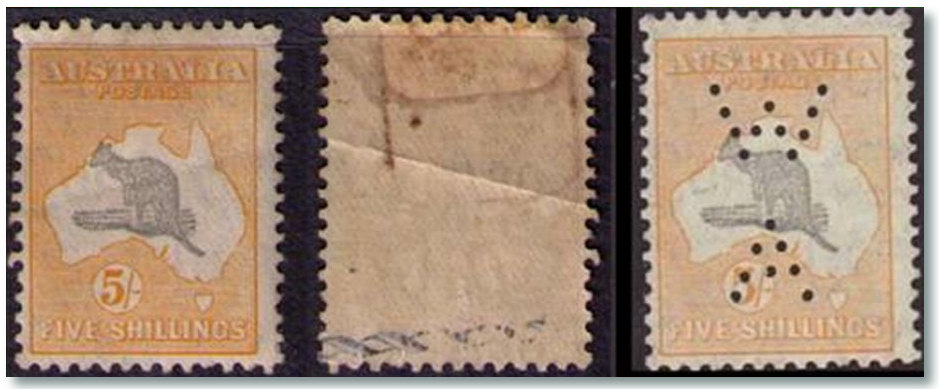 A total fake "MUH" perfin.
No question it was the same stamp with perfs trimmed off in places. The placement of the Kangaroo vignette is most helpful in such cases.

Legitimate seller "artsoldier" showed the reverse when he sold it, and that is nearby. HEAVY crease, heavy hinge, rust, gunk, and paper adherences.

Some trusting fool somewhere, is the proud new owner of this sad rag.

ALL state perfins are being done ... I spoke to some senior members of the Tasmania PS when down there at the National last year, and this idiot is faking things that simply never existed with "T" perfins.

Everyone "hoping" that others act, will get nothing done - like most things in life!

It takes teamwork and a Community Spirit, and the dodgy and misleading lots will be FAR less.

ebay now have set up a fast new portal JUST to report suspected sellers of forged stamps.

See - tinyurl.com/ebayfakes also found at - www.ebay.com/scw - there is space for 10,000 characters in your reply, so all the relevant info can be added.

Unlike most ebay complaint forms that allow just 100 or 500 characters etc, you can add more details and links and information and data.

Please take a moment to do BOTH ….. do the "Report Item" drop-down, and give a summary on the link above.

Most likely they will go to 2 different ebay staffers, and that is double trouble for the fakers.

Some staffers ignore such stuff, others are more pro-active – it is a lottery.

However several reports on any single item can be seen by all staffers looking at it, and that generally gets some action.
"NON RECIEPT" ebay epidemic
The other huge issue with ebay in the past year or so is the global epidemic of BUYERS claiming stamps are "not received".

PayPal takes their money from seller's account - plus postage, and gives it back to buyer. Email PayPal all you like - they do not care.

From Australia there is ZERO on-line tracking on overseas Registered envelopes, so PayPal cannot track it, hence you lose your stamps, even if you hear back months later the item arrived safely.

So on ebay you have large numbers of crooked buyers AND sellers to paddle around, in the shark infested pond.

For a lot of topicals and difficult cheapie things, ebay is an absolute GODSEND - true. For expensive stamps, a totally different story.









Get my regular market update emails FREE. Stamp gossip, price trends, record sale prices, and many one-time stamp specials, wholesale bargains, and exciting offers and breaking philatelic news. A mini stamp magazine in every email! "KNOWLEDGE IS POWER". The ONE stamp list you MUST be on, to keep in touch with the rapidly changing world market. One client made $65,000 profit in a few months after following my specific advice. Sign up securely and quickly by clicking HERE to access my automated data base. And wiser still ADD your home AND work email, if I only have one right now. Add a stamp friend's email address if you wish. One short click and you are subscribed to probably the most read email list in the stamp world!


Instant Currency Conversion


FREE! Just click here...




If you would like to be notified of updates to this website,
Click HERE.
If have any questions,
or comments regarding my site, please email me at glen@glenstephens.com
| | |
| --- | --- |
| | Search all my 300+ web pages! Simply type in what you are looking for. "Penny Black", "Latvia", "Imprints", "Morocco", "Fungi" "Year Books", etc! Using quotes ( " ) is more accurf used with no quotes. Search is NOT case sensitive. Tip - keep the search word singular - "Machin" yields far more matches than "Machins" etc. |


I am a Dealer Member in Good Standing Of:

Full Time Stamp Dealer in Australia for over 25 years.
Life Member - American Stamp Dealers' Association. (New York)
Also Member of: Philatelic Traders' Society. (London) ANDA. (Melbourne) American Philatelic Society, etc
GLEN $TEPHEN$
Full Time Stamp Dealer in Australia for over 25 years.
Life Member - American Stamp Dealers' Association. (New York)
Also Member - Philatelic Traders' Society. (London) ANDA. (Melbourne) American Philatelic Society, etc

ALL Postage + Insurance is extra. Visa/BankCard/MasterCard/Diners/Amex all OK, even for "Lay-Bys"! All lots offered are subject to my usual Conditions of Sale, copy upon request BIGGEST STAMP BUYER: Post me ANYTHING via Registered Mail for my same-day cheque. Avoid the GENERALLY 40% Auction " Commissions" (15% + 17½ + GST, etc.) AND their five-month delays! Read for details.
"Lothlórien4 The Tor Walk, CASTLECRAG (Sydney), N.S.W. 2068
Phone: (02) 9958-1333&n Fax: (02) 9958-1444 (Both 25 Hours, 7 Days!)
E-Mail: glen@glenstephens.com
Web Sites: www.glenstephens.com www.glenstephens.net or www.australianstamps.net