Click To Go Back To The Main www.GlenStephens.com Stamps Homepage

Welcome! You are visitor
to www.GlenStephens.com




Glen Stephens
Monthly "Stamp News" Market Tipster Column


April 2014

---
Canada' Priciest Stamp
Canada's most valuable stamp is not the famed "12d Black" - but the innocuous looking 2¢ green stamp shown nearby.

Two of the 3 known examples will be auctioned in 2014. One was sold Feb 22, 2014 for $C546,000 by Brighams in Toronto.

The firm is owned by Ron Brigham, the seller of this 2¢ stamp, and is part of his extensive and valuable Canada stamp collection being sold this year.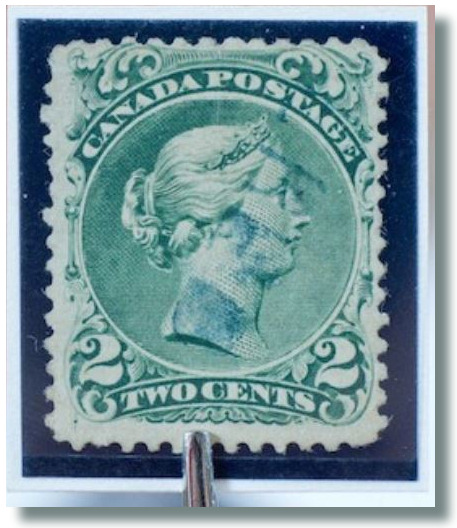 Record price for Canada stamp
| | | |
| --- | --- | --- |
| | The auction house terms state that Canada Province and GST and HST taxes apply to their auctions, and it is unknown what sum that adds on. | |
Invoiced for $C546,000
Charles Verge, the Auction CEO told me after the sale - "The stamp was hammered at $C546,000 with buyers premium. Taxes have not been established yet".

As I type this the $C is near exactly on par with the $A, so that is around $A550,000 plus the State/Federal taxes - if any.

That appears to be a little higher than the invoice price of the 1851 "12d Black" MUH example sold in 2011 for $US489,000, by Spink/Shreve in New York.

So for the time being, I think we can say this 2¢ green Large Queen holds the record price for any Canadian philatelic item.

At the time, I typed that was a bargain price for a pristine, verified MUH 12¢ example, with massive margins like that, and I concluded my auction report with -

"In my view it was a bargain, and if I had the money I'd have bought it in a heartbeat. Someone will do VERY nicely out of this next time it is sold."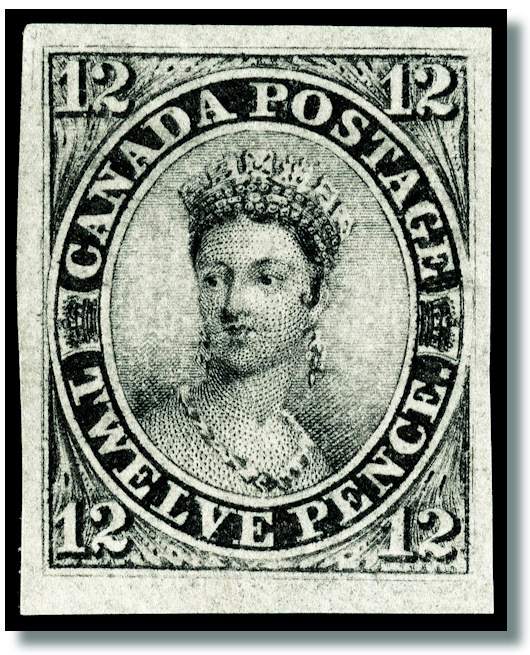 On offer for $US750,000
Someone clearly agreed - that stamp is now offered for 50% more than that 2011 Auction price, at about $US750,000. More details here - tinyurl.com/Black12d

The 2¢ Large Queen on laid paper was printed in 1868, but not first discovered by Philately until 1925, and so far only three have been found, all used.
More may exist – check!
Many more could exist, as at least one sheet must have been printed, and probably many sheets.

Other examples may lie unrecognised in stamp collections. Or circuit books!

The basic stamp is fairly common, and is printed on wove fibre paper, the type of paper used for most stamps in this period.

A small printing was done on the "horizontally laid paper" meant for postal stationary, and these are the scarce ones. SG 57ac, £130,000.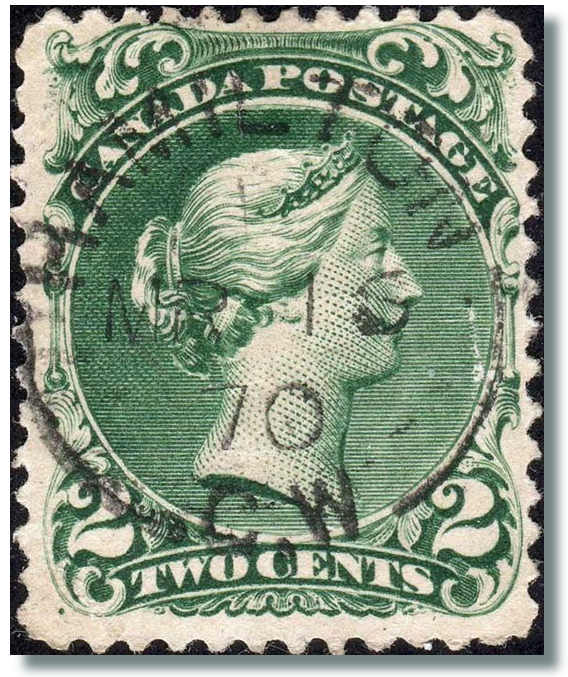 Bought for $5 - worth $600,000?
| | | |
| --- | --- | --- |
| | Until last year only 2 copies were recorded. Then a third example was bought from an American Philatelic Society sales book, for less than $5. | |
Purchased for under $5.
Sales or Circuit Books are where owners place an asking price on their surplus stamps, and the books are passed or mailed around within clubs etc.

That new find has a 2013 Vincent Greene Expert Committee Certificate as genuine in all respects.

It has small defects, as did the Brigham example, and bears a very pretty "March 17, 1870 Hamilton C W" (Canada West) SON cancel.

This new example will be offered for sale at auction by Gary Lyon in Canada in October 2014.

It has noticeably better perfs, centreing and cancel than the Brigham example, and has a current Cert, so I'd guess it will eclipse the realisaton of that example.

The Greene Certificate working papers for this stamp runs to TEN detailed pages.

A MUST for all readers to take a look at: tinyurl.com/Green2c – other expertisers eat your hearts out.

This is only the third known copy of this stamp, and the first copy seen since the two other copies were expertised in 1935 by the Royal Philatelic Society, London
TREEmendous Result!
Take a close look at the 40c stamp on cover shown nearby, and see if it looks scarce to you.

The 1978 Tree was used as intended, for the second class card airmail rate to the UK – or any other country in Zone 5 which included Europe etc.

AirMail label foolishly taped on with cellotape, that is now yellowing and will get worse. Creased corner and flap torn. Common roller cancel.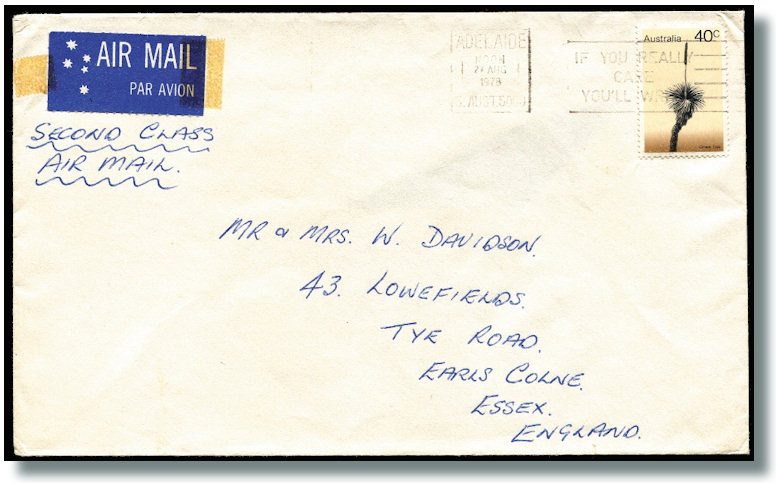 Would YOU prize this?
It was invoiced for $A268 by Phoenix in February. Estimate $180. A stampboards member was seller, as was the buyer - more Trees chat here - tinyurl.com/78Tree

Now call me old fashioned, but until recently if I bought Decimal Australia covers in an estate that were franked with generally common stamps, I ignored them.
Ignored in past decades.
Single use of Xmas stamps, or the common 1980s "Bird" Definitives etc that are worth 5c a stamp when used, simply did not raise any interest from me.

Indeed only a while back I sold an entire garage full of such covers in about 28 cartons plus other containers, for just a few $100 the lot. One box is shown nearby.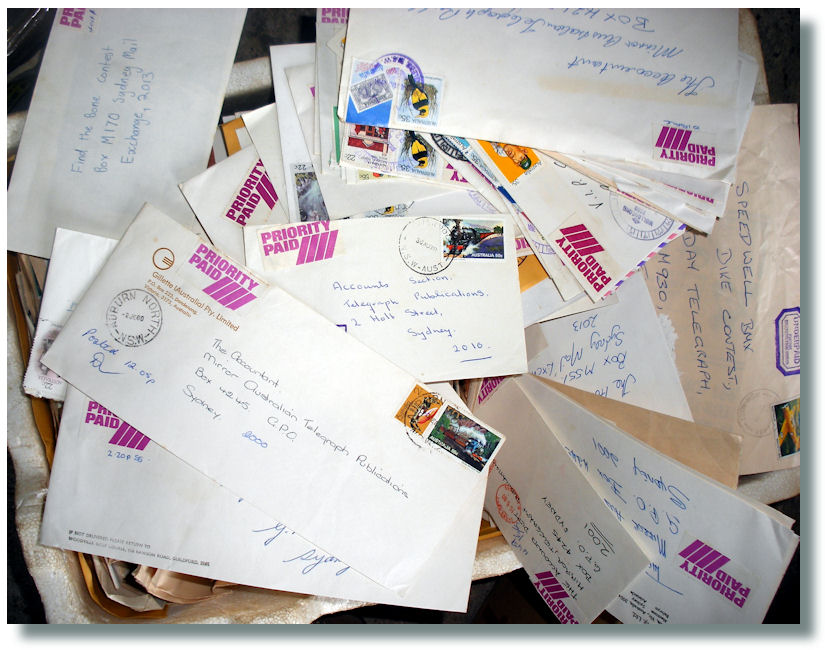 Sold for a pittance
This had cartons of Registered, Certified, Express, Priority, unpaid, Return To Sender, and taxed covers etc, going back to about 1980.

They all came from News Limited, and the seller was Rupert Murdoch's driver at the time, so he seems to have had first pick of their inwards mail!

Even over that short period of time, I would now gladly BUY it all back at more than QUADRUPLE that figure! Why?

As collecting common looking commercial mail COVERS has gone nuts in this country in the past few years.

"Stamp News" columnist Rod Perry has been pointing out the real scarcity of many of these real commercial uses for some time.

Consequently a small but very keen band of collectors has taken on this challenge of collecting real usages.
Forsake the Moët Rod!
Sadly Rod's wonderful on-line article archive website does not work anymore, as Rod let his server hosting lapse - a serious loss to collectors of this field. All for the cost of a bottle a Moët a year!

Stampboards.com has a large number of discussions with endless photos, of the many real mail uses of the different series of Decimal stamps.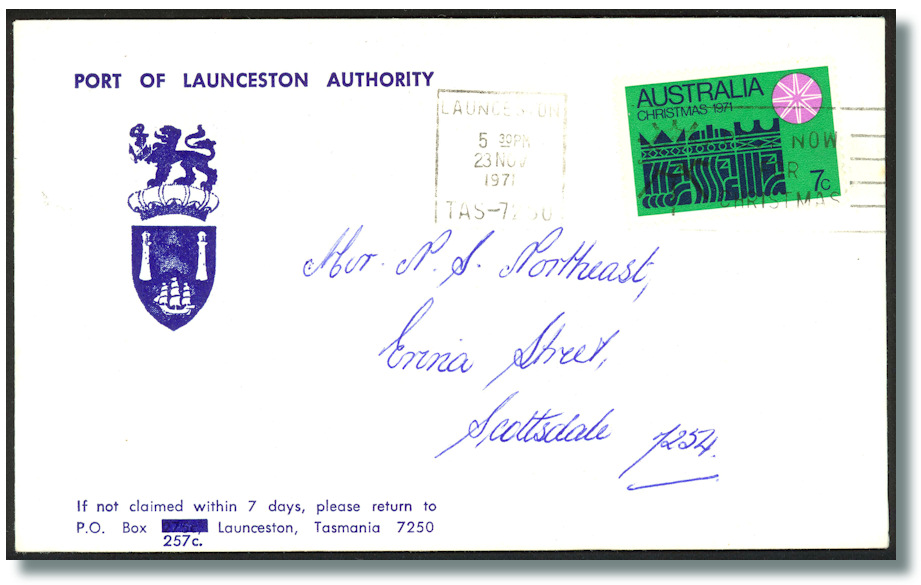 Try finding a set of 7
The 1966 Fish, Birds and Navigators, the 1971 Christmas singles, the 1980s "Bird" Definitives etc, etc. Senior collectors love these things!

There are other keen contributors from Germany, Canada, USA, UK, Austria and NZ …. there is now a truly global following for this material.

It really seems this is an interesting, and challenging field, that folks from all collecting backgrounds enjoy. And one that as yet is not too expensive - and great finds are very possible.
A modern rarity
Even things that SHOULD be incredibly common like singles of the 1971 x 7c Christmas stamps are most elusive – used on COVER.

It seems a full set of the 7 single stamps on 7 commercial covers is a VERY hard group to assemble.

Stampboards member "fromdownunder" researched the stamp numbers issued of this stamp.

There were 110 million of these 7c stamps sold altogether - 99.2 million on cream paper, and 10.7 million on the "white" KP5D paper. The usage singly on Christmas cards would have been near the only rate these fulfilled.

Quantities for each of the seven also differed considerably, because of the bizarre format of 7 identical designs but in different colours, that made up each Post Office sheet of 100.

For 5 of the stamp colour combos, there were 16 of each, per sheet of 100. For one there were 12 per sheet, and for the seventh, there were 8 stamps per PO sheet.

Actual quantities issued for each would have been: for 5 of the colour types - 17.6 million each, 1 scarcer design - 13.2 million, and the most "scarce" design - 8.8 million.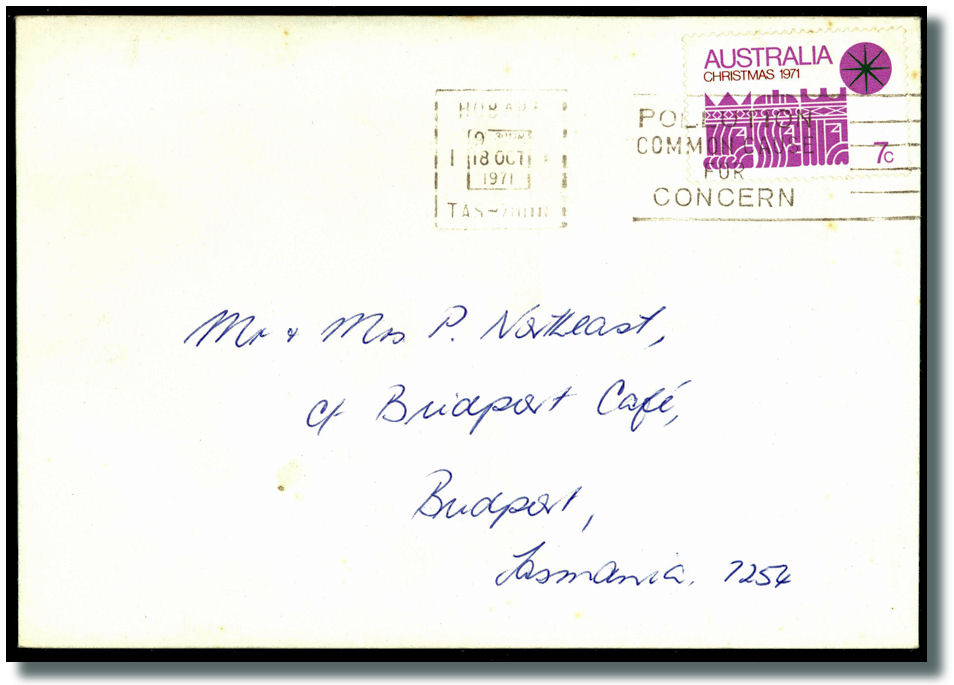 110 MILLION stamps sold
| | | |
| --- | --- | --- |
| | With the smallest number being near 9 million used, and most of them being used in 17.6 million runs, you'd imagine that finding the set of 7 on covers would be a cinch. | |
Try finding all 7 on cover!
I'd bet I could get $100 a set very readily for a clean set of 7 covers used to mail greeting cards.

However over the years I must have neglected even looking at, much less removing for stock, the many 100s that were in mixed junk lots and Estates I have handled.

Disclaimer ... I have NO sets of these Xmas stamps, nor 40c Trees etc on cover – so please do not ask me.

I am simply pointing out these are a fast emerging new collecting field, that really seems to be catching on very widely – on a global level.

Many senior collectors I am surprised to have discovered, find these very interesting and challenging, and are flocking to this field.

I must stress the absolute key here is them paying the CORRECT postage rate, to a non-philatelic recipient, using stamps franked in the CORRECT period of their issue.

Philatelic use a decade later is not counted! Lots of dealers use up old issues for mail, and these are not regarded as 'valid in period use'.

Right now there ARE chances of finding these kind of things in dealer 50c and $1 boxes, or junk lots etc, or at shows - that in a few years' time might be worth many $100s each.

Remember the ACSC Cat lists and price EVERY Australian decimal stamp on cover, and their pricing is done with the aid of experts, and is quite accurate.
Private Perfins
I received the stamps illustrated nearby on a large envelope recently, paying the exact $1.80 large letter rate.

The perfin says – "PC/NZA" in two lines as can be seen in the image nearby. Perfins are used on all mailings.

This lettering stands for the "Perfin Club Of New Zealand And Australia" (PCNZA)

It contained their 4 times a year colour A4 journal "South Pacific Perfin Bulletin" which I found a most interesting read.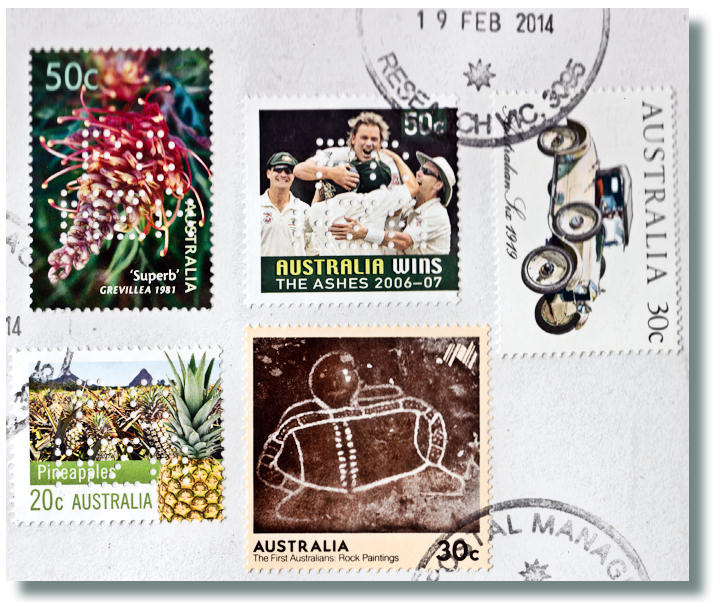 Create some perfin history!
They had a story on a new private perfin on a 5/- Harbour Bridge being reported, from Vacuum Oil Company.

A recent Bulletin is here: tinyurl.com/OzPerf - sign up details and contacts are there for those interested here - mention this column please if responding!

Australia and NZ members pay only $A10 a year, and foreign $A15, so is the surely the best club value out there, for a thick newsletter.

Members can mail in mint stamps from OZ or NZ to get the perfin applied on them for use on mail. (See link above to Bulletin for guidelines and address.)
Personalise your mail.
So if you mail in a sheet/s of the new issue 70c stamps, all your mail will carry those stamps - and those stamps perfinned will likely be UNIQUE!

Pretty neat idea to use on your collector mail – makes it really stand out, and saved by your recipients.

They need to be stamps issued AFTER February 1998, which is when the perforator was approved by AP.

My cover snipping has 2 stamps issued before 1998, that as can be seen are NOT perfinned.

Anyway, it got me wondering does ANYONE else use private perfins on stamps in Australia?

Or overseas? Please drop me an email if you know of any other instances.
PNG ups Reg'd 38 Fold!
We all see some petty absurd decisions flowing from Bureaucracy at all levels, in all countries.

The Papua New Guinea Philatelic Bureau takes the cake I think, with their mastermind decision to hike Registered rates by 38 times!

Nearby is part of a letter sent to standing orders client by the Bureau in latter 2013.

Only part of the wonderfully quaint and twisted verbiage is shown – the NUMBERS are what caught most collector's eyes.

A Registered sending rises from 5 Kina to 190 Kina for Europe and Americas - and indeed to much of the world.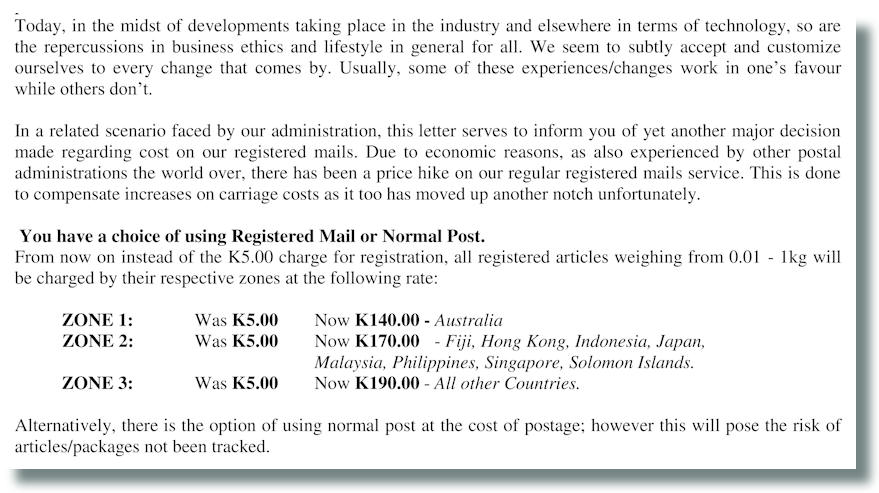 "Due to economic reasons .."
190 Kina is about $A85 as I typed this (+ all credit card conversion rip-offs) – for a small 10 gram envelope containing stamp new issues!

Signed by PNG Bureau Manager, Mr Banian Masiboda it was posted on stampboards, and it initially was thought to be a silly joke of some kind, or a fake letter. Sadly it was neither.

The Bureau was quoted soon after saying response had been negative and it might be reviewed, but in the PNG way of things, nothing more was heard.

And these crazy folks wonder why collectors often drop ordering new issues, on a standing order basis?

There is no good reason at all that Bureaus do not mail the new issues for FREE. It is near all pure profit for them, and losing buyers is DUMB!
Stamps as Art
| | | |
| --- | --- | --- |
| | I have zero ability to sing, paint, sculpt, carve, dance or play music, but enjoying greatly witnessing the talents of those who CAN! | |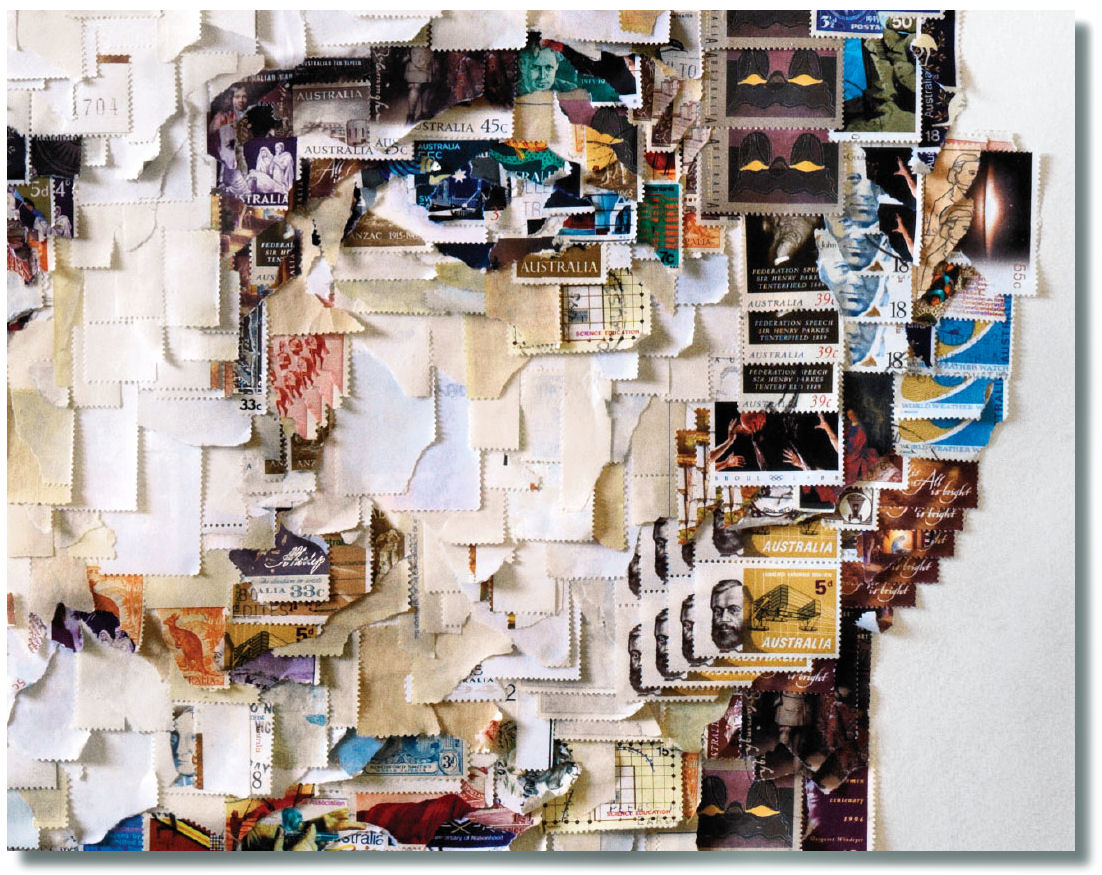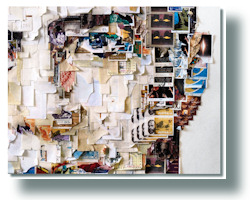 Incredibly skilful work
I saw a clever newspaper ad recently that depicted the CEO of Australia Post, Ahmed Fahour.

The ad was largely a "portrait" of Fahour but was made entirely of Australian stamps as you can see nearby.

Mint stamps, used stamps, old stamps, new stamps. Right back to the 1931 3d blue Kingsford Smith, and 1935 2d red KGV Jubilee.

I understand the creator of this innovative artwork was Ian Wright – a very clever guy I must say.

Not sure how large I can get the close up on this page, but in high rez to look at the eye area etc, it is impossible for me to conceive how such clever arranging of the stamps was possible!

A brilliant art concept.
Part stamps, back of stamps, sections of other stamps, all of them work superbly in the final artwork when you see it from a distance.

I hope Mr Fahour secured the work, and had it framed - a very fine reminder of his stint at Australia Post when he moves on - and these guys always do.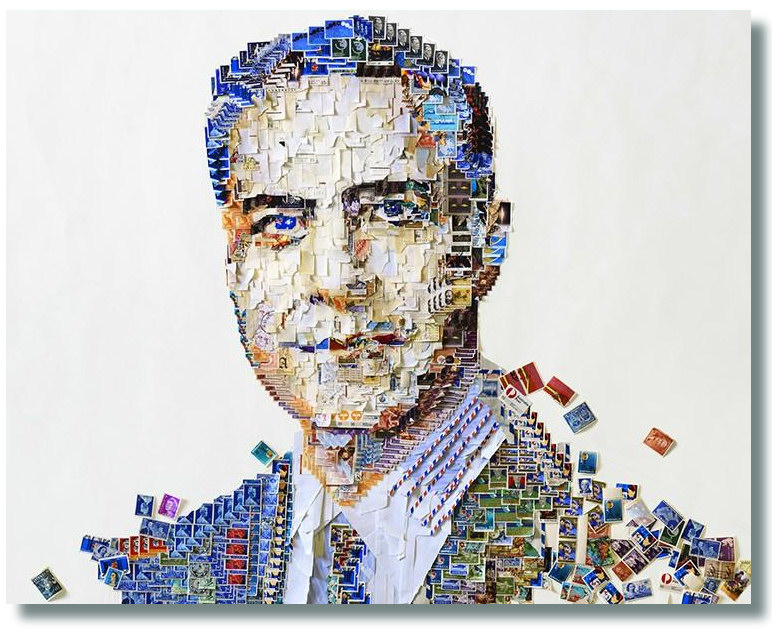 Ahmed Fahour, CEO Australia Post
| | | |
| --- | --- | --- |
| | And he will leave VERY wealthy. Mr Fahour gets paid over TEN times what the USA Postmaster General gets! True | |
Paid $A4.8 Million in 2103
Despite working for a public utility, Fahour was paid an unprecedented $A4.8 million in 2013, including a whopping $A1.9 million base salary, and more than $A2 million in incentive pay.

To fully understand the enormity of Fahour's remuneration, it needs to be compared with other well-paid bosses.

Fahour was paid more than the heads of Woolworths, Woodside Petroleum, Village Roadshow, Seven Network, Fairfax, David Jones and JB Hi-Fi received last year.

Those executives run highly profitable, publicly listed companies and have to answer to shareholders, while Fahour is in charge of a largely protected monopoly, and is paid by taxpayers.

Fahour's remuneration is even more remarkable when compared to his international peers: the United States Postmaster General earned "just" $US384,229 in 2012.

Moya Greene, the head of Royal Mail in the UK, was paid 1.47 million pounds last year.

Canada Post boss Deepak Chopra was paid a base salary of only $C497,100 with the possibility of a 33% bonus.

While Fahour has become one of Australia's highest-paid executives, he appears to show far less generosity to his fellow Australia Post employees.
Boss up 66%. Workers up 1½%
Australia Post workers received a pay rise of 1.5% in 2013. Fahour, already one of Australia's highest-paid executives, received a pay increase of 66%.

Users of the mail system - like most reading this will realise the rates for parcels, overseas, Registered, PO Box rental have gone insane under his leadership.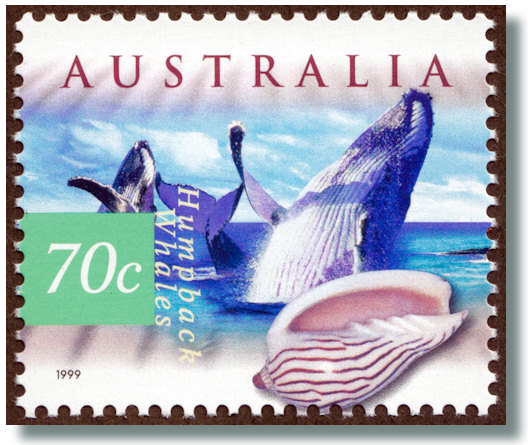 Letters up 17% this week
None of those rates need Government approval as the letter rate does, and they are hiked savagely every 6 months now.

The CHEAPEST way to send a heavy parcel to Darwin by slow road post will be about $140. CHEAPEST option.

On March 31 a heavy box to Alice Springs will also cost about $A140 Registered. Slow ROAD mail. Obscene.

I can FLY to Alice Springs each day from Sydney for $A118. Pay the airline a modest fee to check in carton, and I get a holiday for somewhat LESS than mail costs.

And the flown box arrives same day, not 3 weeks later as the slow surface mail does, more importantly.

The standard letter rate here increases 17% from 60¢ to 70¢ on March 31, 2014.

Some have wryly commented making it April 1 would have been too much a butt for jokes.









Get my regular market update emails FREE. Stamp gossip, price trends, record sale prices, and many one-time stamp specials, wholesale bargains, and exciting offers and breaking philatelic news. A mini stamp magazine in every email! "KNOWLEDGE IS POWER". The ONE stamp list you MUST be on, to keep in touch with the rapidly changing world market. One client made $65,000 profit in a few months after following my specific advice. Sign up securely and quickly by clicking HERE to access my automated data base. And wiser still ADD your home AND work email, if I only have one right now. Add a stamp friend's email address if you wish. One short click and you are subscribed to probably the most read email list in the stamp world!


Instant Currency Conversion


FREE! Just click here...




If you would like to be notified of updates to this website,

Click HERE. If have any questions,
or comments regarding my site, please email me at glen@glenstephens.com



| | |
| --- | --- |
| | Search all my 300+ web pages! Simply type in what you are looking for. "Penny Black", "Latvia", "Imprints", "Morocco", "Fungi" "Year Books", etc! Using quotes ( " ) is more accurf used with no quotes. Search is NOT case sensitive. Tip - keep the search word singular - "Machin" yields far more matches than "Machins" etc. |


I am a Dealer Member in Good Standing Of:

Full Time Stamp Dealer in Australia for over 30+ years.

Life Member - American Stamp Dealers' Association. (New York)
Also Member of: Philatelic Traders' Society. (London)

GLEN STEPHENS

Full Time Stamp Dealer in Australia for over 25 years.

Life Member - American Stamp Dealers' Association. (New York)
Also Member - Philatelic Traders' Society. (London) ANDA. (Melbourne) American Philatelic Society, etc


ALL Postage + Insurance is extra. Visa/BankCard/MasterCard/Diners/Amex all OK, even for "Lay-Bys"! All lots offered are subject to my usual Conditions of Sale, copy upon request BIGGEST STAMP BUYER: Post me ANYTHING via Registered Mail for my same-day cheque. Avoid the GENERALLY 40% Auction " Commissions" (15% + 17½ + GST, etc.) AND their five-month delays! Read for details.

"Lothlórien4 The Tor Walk, CASTLECRAG (Sydney), N.S.W. 2068
Phone: (02) 9958-1333&n Fax: (02) 9958-1444 (Both 25 Hours, 7 Days!)
E-Mail: glen@glenstephens.com
Web Sites: www.glenstephens.com www.glenstephens.net or www.australianstamps.net