Click To Go Back To The Main www.GlenStephens.com Stamps Homepage

Welcome! You are visitor
to www.GlenStephens.com




Glen Stephens
Monthly "Stamp News" Market Tipster Column


April 2015

---
Arthur Gray KGV's to go!
Mossgreen Auctions announced the auction of The Arthur Gray Collection of Australia King George V Issues on March 6. It was reported by stampboards.com in an exclusive.

The Arthur Gray Collection of Australia "King George V" is the finest, most extensive and most valuable ever formed of the issue.

The outstanding multi "Grand Prix" Award Medal winner collection is to be offered at public auction by Mossgreen Melbourne, in October 2015.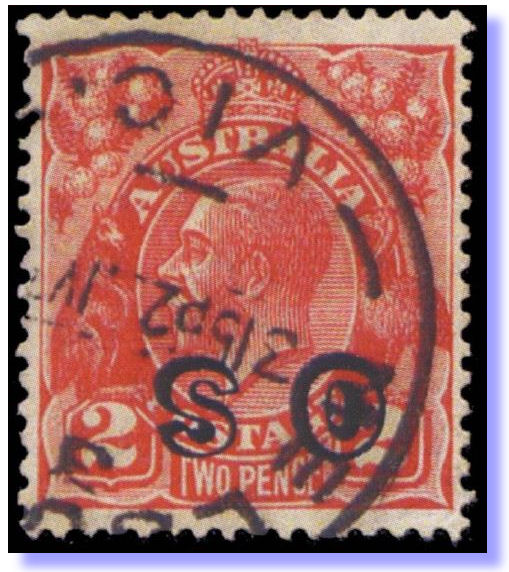 Inverted "OS" ACSC $A60,000.
It comprises not only the super popular KGV Sideface design shown nearby, rich in proofs and essays and major flaws + imprints etc, but all the KGV era Commemorative stamps, covering up to near WW2.

"Mossgreen" is a name some readers may not be familiar with. Broadly the long established stamp auction houses of Charles Leski and Prestige Philately are now effectively merged under that name umbrella. The company runs art and other collectible auctions.
$A5 MILLION expected.
The Gray "KGV" collection is expected to be invoiced at around $A5 million. An international promotional tour with stops in Singapore, London, New York and Sydney is planned, before the auction at Mossgreen HQ in Melbourne.

Arthur Gray, who lives on Sydney's North Shore, is a former executive with BHP, a merchant banker with Kleinwort Benson, and Managing Director of Russell's Health Foods. He was also an original owner of Millennium Philatelic Auctions.

Gary Watson, Mossgreen's new Head of Philately, said "We are delighted to have the opportunity to prepare this magnificent collection for sale to our global clientele of discerning buyers."

Responding, Arthur Gray commented, "I have collected stamps for more than 70 years so it is a wrench to part with my 'Heads'. However, I have known Gary Watson and Charles Leski for many decades, and am confident that they will do the collection justice."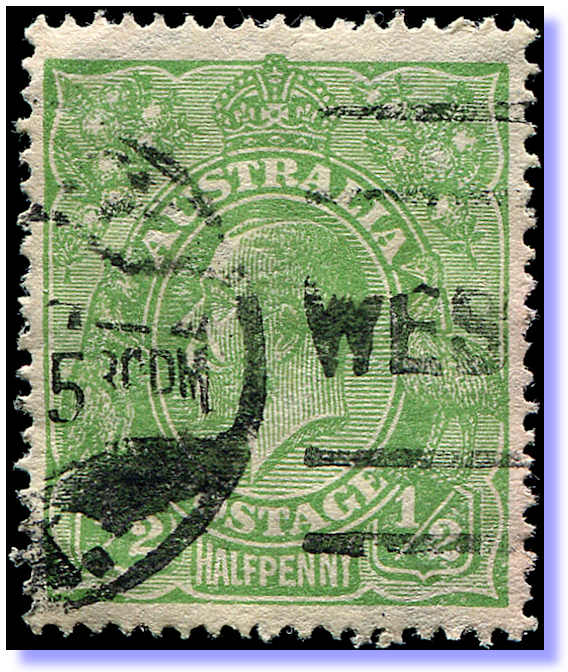 Junk lot find gets $A60,000+.
Most of the major KGV catalogue varieties are here, even recent discoveries like the 1918 ½d Green with sideways watermark. Gray has both known copies - each with the watermark in different directions.

The one shown nearby was purchased at Phoenix Auctions in June 2012, for more than $A60,000. The often sloppily edited new ACSC catalogue still has them absurdly catalogued at $40,000 each - unchanged from old 8 year old edition.

SG is far more on the ball, at £30,000 = $A60,000 each. The vendor at Phoenix found it in a box of junk, so was very pleased with the $60,000+ result! Value $1 or so with NORMAL watermark.

I had a very long phone call with Arthur Gray today, and he seems very upbeat on this sale, and feels local KGV collectors will be delighted with his decision to auction the material here in Australia.

And not via Spink London, or via Charles Shreve who now works for Robert Siegel New York - both of whom made very strong and professional pitches for the collection, he says, and the final decision was a close call.

Arthur told me the weak and unsettled Australian dollar when planning an auction for 7 months away, and nasty 3% exchange rate "surcharges" by credit cards on foreign spends, were obvious downsides - and would cost keen KGV collectors far more than if offered locally.

Also the reality the Federal 10% GST is levied on incoming sendings of goods over $A1,000 here. It is added on top of the foreign Auction fees, and even UK VAT in the case of Spink, and both companies declare goods externally for full value of mailed sendings.
"KGV will sell best here."
| | | |
| --- | --- | --- |
| | Gray told me today - "I think the KGV will do best offered here in Australia, and the local collectors will be able to view it in Melbourne and Sydney, which sadly was not able to be done with my "Kangaroos" material. Plus it will be taken on a Global road trip for viewing as well, including London and New York." | |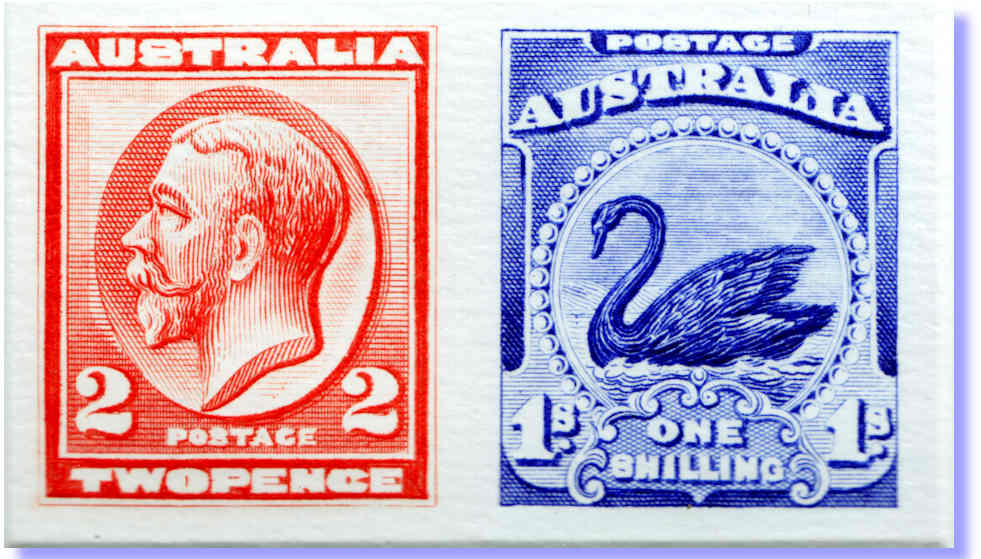 Gray originals are cat $125,000.
One item sure to get a huge price is the perforated pair of the 1914 "Unissued" Engraved pair. Only one pair is in collector hands, and those are both in the Gray Collections. (As well as the unique Die Proof of the 6d!)

Collectors know the designs, from the popular "Ausipex 84" Replica Card sunken Die Proof print shown nearby. ACSC for the Gray pair is $A125,000, and I suspect they will be the star of the show, money wise.

I asked Arthur today where he got them, and he did not recall, other than to say he'd "owned them for decades". He will get VERY many times what he paid, I feel sure. Truly rare pieces go up strongly long term, no doubt about it.
Bought in 1979.
I ventured he bought them from Harmers Sydney in the McNess sale in June 1979, that I was a major buyer at, but were above my pay scale then, and after some thought, he agreed that was likely the source.

The 1/- Swan would have made a stunning issued stamp. The 2d Die was adapted for the 6d and 2/6d War Savings stamp. A fresh MUH example of that 2/6d is shown nearby, a stampboards member also found in a junk box!

I like these stamps - they have the same Single Crown watermark as the KGV heads, and were printed at the Treasury, as were the 1913 1d and 6d Engraved. This 2/6d is a TON harder to locate than current modest prices indicate.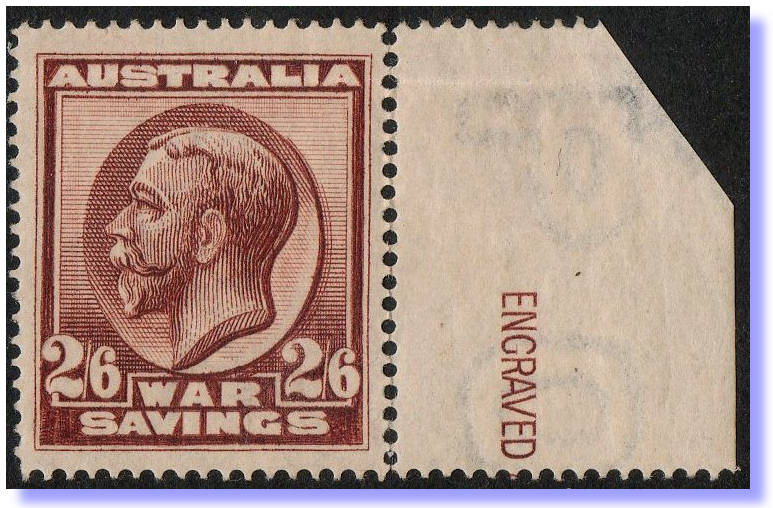 Another Junk Box discovery!
Arthur is still actively collecting, and his new focus is leaning more and more to Australian Commonwealth Postal Stationary in detail, and is still keen on Australian "CTO" and Specimen material of all eras.

And he still has all his Award Winning collections of KGVI and QEII material, and the best collection of Australia stamp booklets in existence, going back to the original States issues.

The Arthur Gray "Kangaroos" were sold in New York a few years back by Shreves Auctions - a very detailed summary is here, with many pix - tinyurl.com/GrayRoo
Kangaroos invoiced for $7,158,974
That sale grossed $US5,584,000 including the 15% buyer premium, which on the sale day converted to $A7,158,974.00. An amazing result - about 50% higher than estimate.

It was a very exciting sale to be part of over the 2 days, and many hours of wining and dining until the wee hours with Arthur and the other dealers there each evening.

That still remains the largest dollar end result for any "single stamp issue" collection ever auctioned - from any country, from any vendor, at any time, I understand.

Only a few entire country offerings have ever exceeded this figure anywhere - which nearly all comprised 19th Century "classic" stamps.

The Arthur Gray "Kangaroo and Map" design stamps as all readers realise, are "modern" 20th Century issues, printed between 1913 and 1936.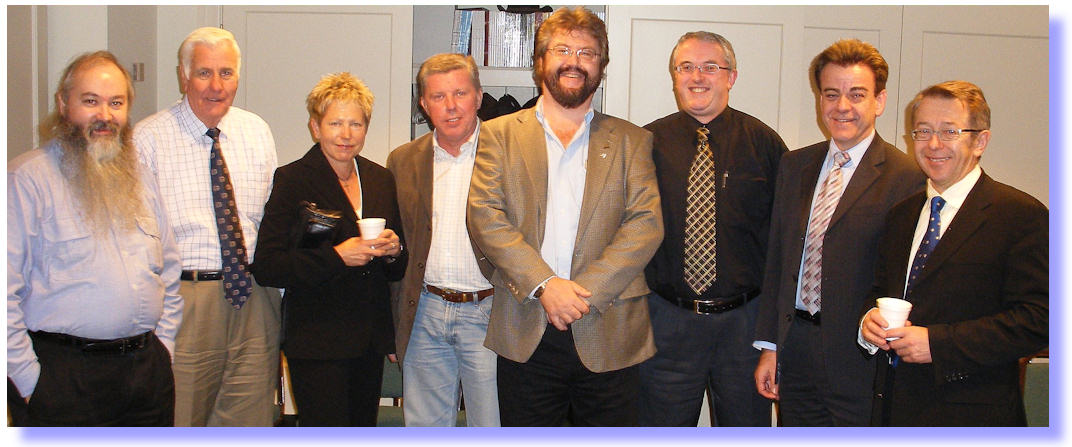 "Gum Leaf Mafia" in New York.
The key members of the Australian trade flew over in force for that sale, which was brilliantly conducted by Shreves. The "Gum Leaf Mafia" is shown here in New York with Arthur Gray.

Left to Right: Stewart Wright (owner Status Auctions) Arthur Gray, G. Woodbine, Paul Fletcher (Publisher ACSC) Glen Stephens, Gary Watson (Prestige/Mossgreen) the late Simon Dunkerley, Richard Juzwin.

Over dinner there one night, it was discovered Stewart Wright, Glen Stephens, Gary Watson, and Andy and Richard Juzwin were all born in Ballarat, which was a pretty amazing co-incidence.

So KGV Australia collectors - start saving your pennies for the Gray KGV sales later this year! Gary Watson told me today there will likely be THREE auctions of it in October.
Malaya Madness!
Now and again I see prices paid for things that are quite bizarre.

The Air Letter with 25c of KGVI Malaya stamps, mailed from Singapore and shown nearby, is one such item.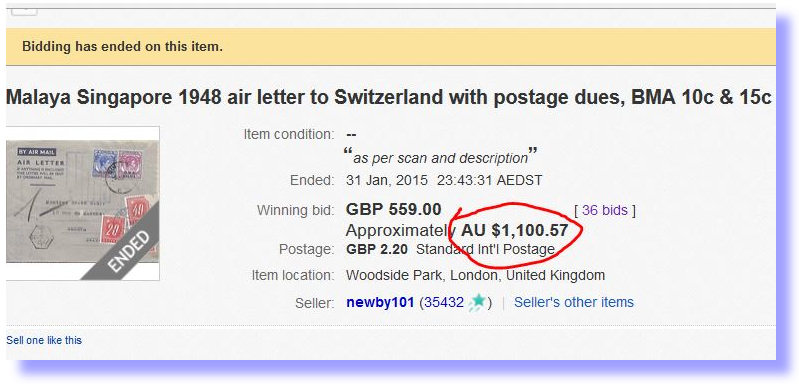 This sold for over $A1,100.
Sent from Malaya to Switzerland, it was taxed on arrival and 100 cents in Swiss postage dues affixed. The stamps and the Dues are of only VERY minor value.

The contents were of no consequence, but despite all that, it someone how was bid up to over $A1,100 on Jan 31 on ebay.

The Air Letter started at £4 and to be honest if it were owned by me, I'd have priced it at about $A50 and sold it, and moved on with a huge smile on my face!

The winning bidder started at 10% of what he finally paid, after 36 bids. Really weird price, and someone on stampboards pointed this item out as he had been under-bidder.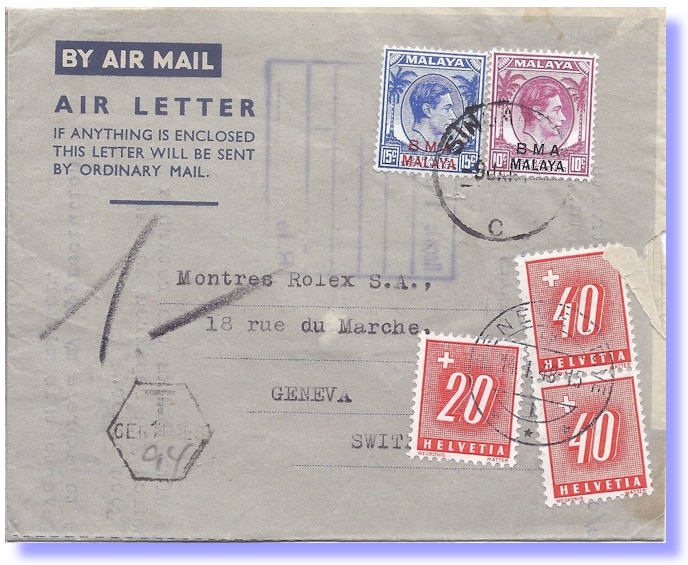 36 bids on this Air Letter.
| | | |
| --- | --- | --- |
| | There is no catalogue on these kind of strange things, and the price paid is purely dependant of how badly someone wants the piece! Seller "newby101" must be been delighted. | |
Dead Letter Delight!
The fascinating envelope shown nearby is a wonderful testament to how HARD the Post Offices tried to deliver in those pre-war days. Even for a common 2d letter.

It sold at an auction today after intense bidding for $A260. The buyer was a rather curious stampboards member, who purchases all kinds of strange things on impulse, often for silly figures, that he knows zero about.

The typed note from the original owner with it says - "Posted 3/12/36 and Dead Letter Office cancelled 14/1/37."

So in just 5 weeks (including the Xmas/New Year holiday breaks no less) it managed to circulate around to all those 25 Post Offices, over a vast area, be checked for a resident, then forwarded on to the DLO at the end.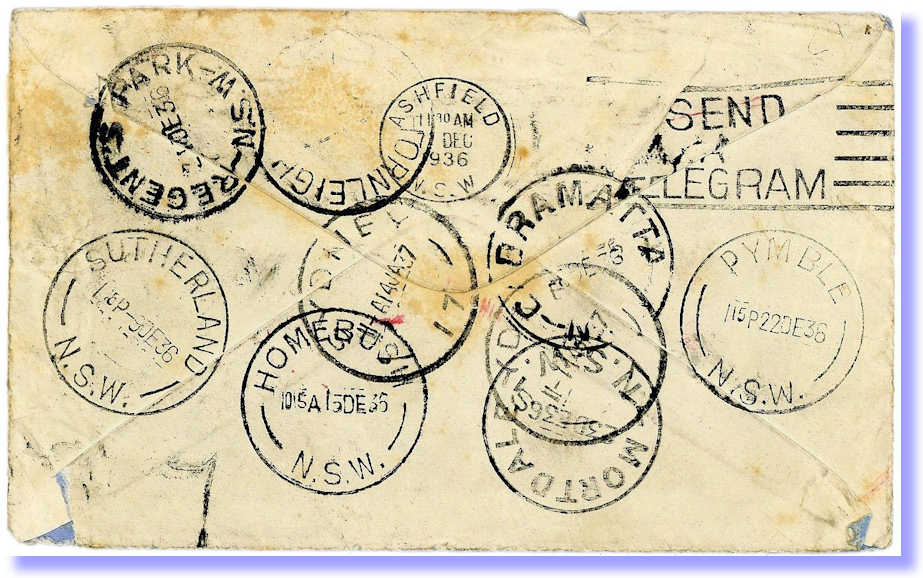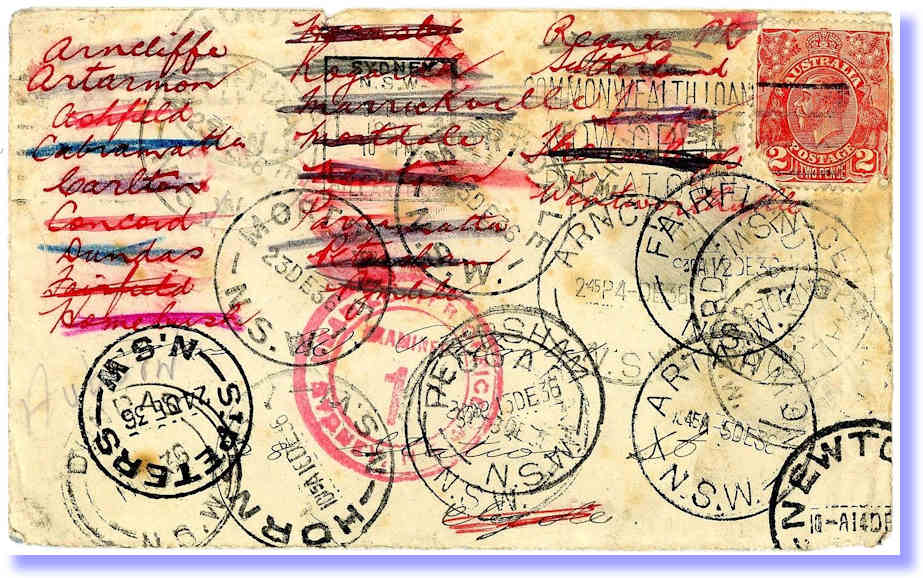 "25 Station Street" ANYONE??!!
As you can see it was addressed to a person at 25 Station Street, Clyde (a Sydney suburb) - however he was not known there.

So someone at Clyde Post Office drew up a list of the 25 "Station Streets" he could locate in the Sydney Metro area suburbs, noted them all on face of letter, and tried them all!

Living in Sydney, I can assure non locals that Hornsby to Sutherland to Artarmon to Parramatta to Kogarah etc is covering truly vast distances - all points of the compass!

I am amazed there were not more than 25 "Station Streets" actually, as it seems every train stop had one, but 25 is a pretty good effort.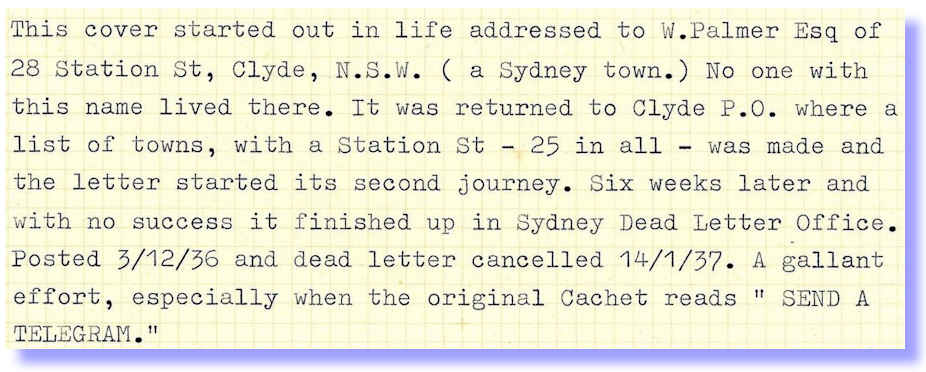 Now THIS is customer service!
| | | |
| --- | --- | --- |
| | To contrast that - I mailed 2 heavy insured parcels to the USA last month containing 26 x PO Year Books, 13 or so in each. Neatly addressed to "3 Latourelle Lane, Pittsburgh PA 15215-1829 USA" and on the other I miswrote Zipcode as 15212-1829. | |
Stolen by USPS from Insured Parcel.



Both were heavily packing taped up on all sides, as I always do for overseas insured. Mail Cost was about $90 each. USPS Tracking shows both arrived in Pittsburgh same day. One was delivered, and most yearbooks inside had been blatantly stolen by USPS en route.

Tracking shows the other was "undeliverable" and was being returned to me, so I am out the $90 postage as some lazy schmuck in Pittsburgh could not be bothered to use a brain cell, and re-check Zipcode of local "3 Latourelle Lane" - which will be UNIQUE, unlike "Railway Street."

We are talking heavy expensive Insured parcels here, and the recipient and I will now need to waste hours wrestling with POs over this, and both be out of pocket, when their fathers in the PO would simply have used common sense, and delivered it with no fanfare.
Australia Letters to be $1.50
The Federal Government approved on March 2, a price increase to take effect in September for standard letters to $1 from the current 70c, and a faster "First Class" service (i.e. same speed as present it seems) for $1.50.

The UK has of course had '1st' and '2nd' inscribed Class stamps, and the same segregated service, for decades, so the broad concept is nothing new. More than DOUBLING the stamp price to do it here, is what is outraging people.

I know you are reading this around April 1, but I stress this is no April Fool's Day Joke. It is another official Abbott Government hasty decision, made with no consultation whatever to those it will impact, and hopefully it can be overturned like the last 50 were.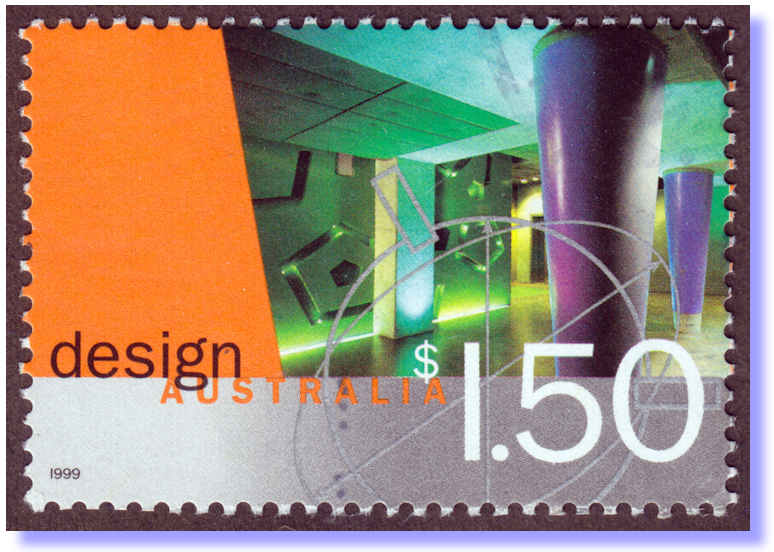 "One First Class stamp please"



The headline cost of a 70c letter going to $1 for "Second Class" delivery service (2 days slower than now) is only the tip of the iceberg, as $1.50 will be the chosen option for many - more than DOUBLING.

What the clever Government Press Releases omit to tell us is, that heaps of other mail prices AUTOMATICALLY increase to very major amounts, when the standard letter rate goes up.

To be honest they probably are not even vaguely aware of the national flow-on effect of upping the base letter price.

"Large Letters" are the slippery slope here - things not regarded as parcels, but are "large letters" - i.e. not standard size small letter items.

Items like your A4 type stamp club journals, and magazines, and mailed brochures, and so on, that we ALL receive all year.
EVERYONE will incur increases.
I get regular newsletters from the ACCC, Perfin Society, FDC Association etc, etc, all of which are large A4 format journals, and these are charged at exactly 2 or 3 and 5 times the prevailing LETTER rate. And that has been the formula for 10 years or so.

Their current cost is $1.40, $2.10 or $3.50 - hence the rather pretty Definitive stamps issued at all times to cover these heavily used rates.

These stamps shown here are on sale at EVERY Post Office in this country, and get used heavily each day for "Large Letter" use, depending on the weight.

The $3.50 becomes $5 soon.
With this new approved Government plan, these 4 will be replaced by $1, $1.50, $3 and $5 values, in whatever new stamp design is chosen.

So a stamp going up a disingenuous "just 30c" is the bare tip of the iceberg - a 260 gram "Stamp News" type mailing would go up by $1.50 - Mr Turnbull and Mr Fahour have not mentioned that little gem.

When you get a Philas Auction catalogue, or a Phoenix or Status or Mossgreen catalogue etc, they will pay these new higher rates.

Many collectors subscribe to "Stamp News" magazine and similar publications. Postage is borne by YOU as part of any subscription. When you renew, it will go up in full or in large part, if this new increase occurs.

If it now costs $3.50 to mail a 260 gram magazine or bundle of papers each month (5 times the letter rate) and that will increase to $5 in one hit, unless the Senate demands "Large Letter" rates are not touched.

That would be $1.50 extra a copy, to mail each of the 12 issues, or $A18 MORE a year than it does now, if they all were 250 grams+ and that is just a 90 page magazine etc, not large.
Magazine Subscriptions to rise.
I notice Minister Turnbull is not saying: "Each of your subscription magazines will cost you around $18 more due to my clever idea today."

Who do you think is going to pay for that - YOU ARE! Same with stamp societies - renewal rates will go up, and ditto stamp auction house subscription rates, and all other Hobby/Church/Social groups who mail you journals. None of those get special rates, as their volume is too small.

These costs will of course be passed on direct to YOU, and for many readers, this will be $50 or $100 or more EXTRA a year.

Many reading of this get ebay sendings. Typically sellers charge around $1 local post for a sending that costs them 70c plus envelope. That will go up to more like $1.50 a sending. To YOU.

Buy just 2 lots a week from a dealer or ebay sellers locally etc, and you are $50 p.a. worse off.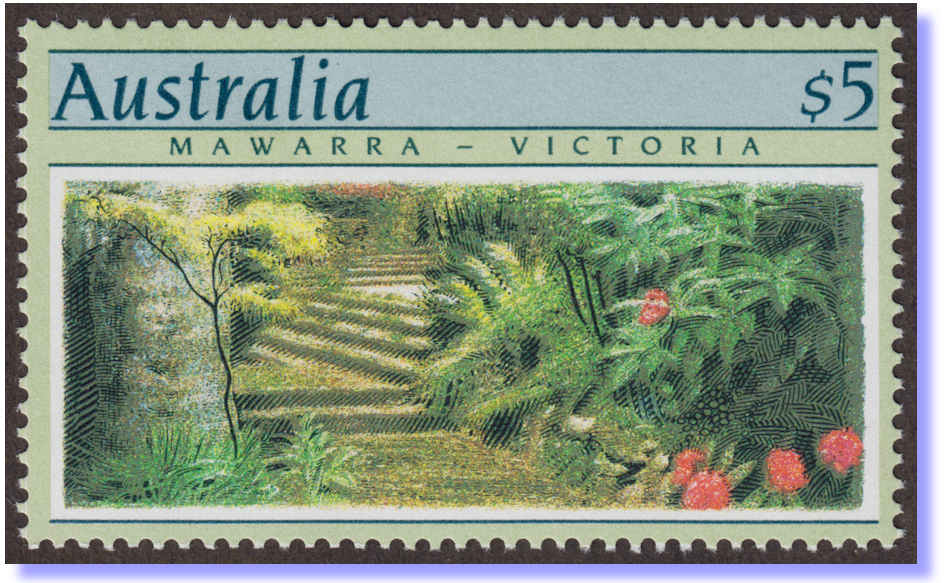 Now only good for a large letter.
Indeed given the ebay fixation on speed, many sellers will opt for the $1.50 "First Class" letters, more than doubling their current cost, meaning the BUYER will be paying that, so YOU will be another $50 worse off there too.

So even a modest recipient of ebay lots and a few magazines and journals and catalogues, will be $100++ a year worse off, before they even LOOK at what their outward costs will be.

The $5 stamp shown nearby was issued not too far back in time, and then literally covered the cost of a huge 20 KILO parcel, anywhere within 50 kms of the sending office.

Very soon it will only cover a 260 gram "Stamp News" type magazine being mailed locally, unless this Turnbull brain snap idea is overturned by the Senate.
Senate can disallow all this.
It is not being voted on by the Senate as I understand it, as the Minister has approved it, and the ACCC will ratify it of course, but the Senate CAN however move to disallow it.

The "Sydney Morning Herald" on March 3 stated: "The new regulations do not require changes to legislation, but can be disallowed by the Senate."

Many stamp collectors are pensioners of some kind, and do you think for one moment you will get a $100 a year pension rise to cover Australia Post's inefficiencies flowing on to you??

Australia Post needs to do as we all do in business - be more cost savvy than they now are. Mr Fahour and his top layer of Execs are paid MANY times what they are worth - cut that back.

$A4½ Million p.a. to top dog Fahour is just absurd, for a guy who has near driven AP into the red, and alienated the entire national network of Licensed Post Offices at the same time.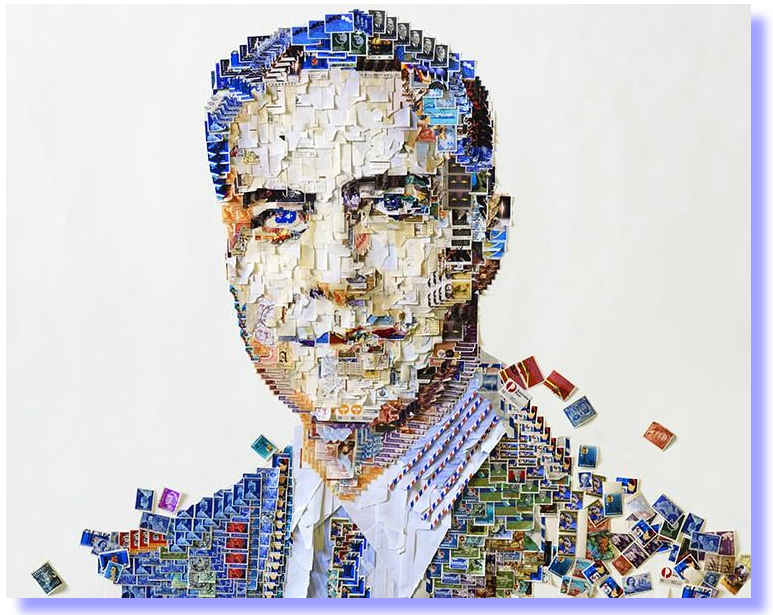 Fahour: the $4½ Million lossmaker
That figure is literally TEN times what the Postmaster General of the USA gets paid. It is far higher than CEO's of large public companies here, that DO make good profits get paid.

The crazy idea last year or so to offer to offer FREE national tracking on all domestic parcels was totally insane, and was only as ebay heavied them I understand.

That totally un-necessary brain snap costs AP literally $100s millions a year to provide and track, and they earn ZERO extra from it. Superb business idea, and they wonder WHY they are losing money???

Cancel Free Parcel Tracking.
Free Parcel Tracking chews up vast amounts of client time in lining up to lodge items to be labelled and scanned, and receipts given.

And so it goes on, in all the downstream mail centres, and delivery drivers, posties, and destination Post Offices. To earn them ZERO revenue.

The PO worked well for 175 years CHARGING for Registered and Insured and Certified Mail services, and all other mail took its chances in the mailstream. Bring those back, and all other mail is transmitted at risk of sender unless they pay for it.

A pre-paid Registered label costs $A3.70 and is incredibly profitable, as Compensation is only $A100 maximum. It was the same £50 ($100) FIFTY years back, when Registered Fee cost only 2/- or 20c.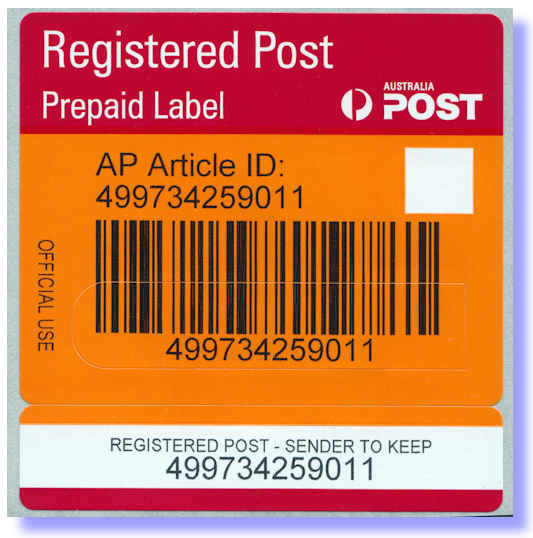 You want tracking - pay for it!
Profit to AP to cancel the free parcel tracking on 100 MILLIONS of parcels a year will drag them back into the black in a few months. Sell 100 million Reg'd labels, and you have $370 million more than you did last year.

The Senate can disallow this increase, and precious little of this Government's badly thought through ideas have survived the hostile Senate this past year. THIS one affects all reading this.
Write or email your Senators.
If enough folks here email or write your Federal Senators, AND better still the powerful cross benchers, asking for this silly idea to be disallowed, it may well be. Please pass the word on this to whom you can. Doubling the stamp price is NOT a vote winner.

Senator email addresses are oddly not on the Canberra official website, as being bothered by voters is apparently rather onerous, but they are HERE - tinyurl.com/OzSenate

If you want to avoid $100 or so EXTRA a year of a normal mail recipient locally of large letters - even if you send nothing at all, these new rates WILL be costing you.









Get my regular market update emails FREE. Stamp gossip, price trends, record sale prices, and many one-time stamp specials, wholesale bargains, and exciting offers and breaking philatelic news. A mini stamp magazine in every email! "KNOWLEDGE IS POWER". The ONE stamp list you MUST be on, to keep in touch with the rapidly changing world market. One client made $65,000 profit in a few months after following my specific advice. Sign up securely and quickly by clicking HERE to access my automated data base. And wiser still ADD your home AND work email, if I only have one right now. Add a stamp friend's email address if you wish. One short click and you are subscribed to probably the most read email list in the stamp world!




If you would like to be notified of updates to this website,

Click HERE. If have any questions,
or comments regarding my site, please email me at glen@glenstephens.com



| | |
| --- | --- |
| | Search all my 300+ web pages! Simply type in what you are looking for. "Penny Black", "Latvia", "Imprints", "Morocco", "Fungi" "Year Books", etc! Using quotes ( " ) is more accurf used with no quotes. Search is NOT case sensitive. Tip - keep the search word singular - "Machin" yields far more matches than "Machins" etc. |


I am a Dealer Member in Good Standing Of:

Full Time Stamp Dealer in Australia for over 30+ years.

Life Member - American Stamp Dealers' Association. (New York)
Also Member of: Philatelic Traders' Society. (London)
GLEN $TEPHEN$

Full Time Stamp Dealer in Australia for 35 years.

Life Member - American Stamp Dealers' Association. (ASDA - New York) Also Member - Philatelic Traders' Society

(PTS London) and many other philatelic bodies.

ALL Postage + Insurance is extra. Visa/BankCard/MasterCard/Amex all OK, at NO fee, even for "Lay-Bys"! All lots offered are subject to my usual

Conditions of Sale, copy upon request .

Sydney's

BIGGEST STAMP BUYER: Post me ANYTHING via Registered Mail for my same-day cheque. Avoid copping the Now normal 45% Auction "Commissions" (15% Buyer + 20% Seller + GST, etc) AND their five-month delays!

Read HERE for details.

"Lothlórien", 4 The Tor Walk, CASTLECRAG (Sydney), N.S.W. 2068

Australia

Phone 7 Days: (02) 9958-1333

PO Box 4007, Castlecrag. NSW. 2068


E-Mail: glen@glenstephens.com The Number #1 Web Sites: www.stampboards.com




This line is 12 point
This line is 13 point
This line is 14 point