Click To Go Back To The Main www.GlenStephens.com Stamps Homepage

Welcome! You are visitor
to www.GlenStephens.com


April 2016


---
Aussie Blockbusters
One of these days, USED BLOCKS of Australia will be listed in the ACSC, alongside mint, used, and on cover - exactly as they are right now, in many European catalogues.

When that occurs, prices will go quite insane, as quite simply - no stock of these things exist. They often have enormous facial eye-appeal as you can see in some of the photos below.

One of my long term campaigns has been to convince readers - dealers and collectors, to put aside EVERY postally used block of Australia you ever see. Right NOW most do not command much, if any, premium over 4 singles. Grab them from ANY era - from 1913 to 2016.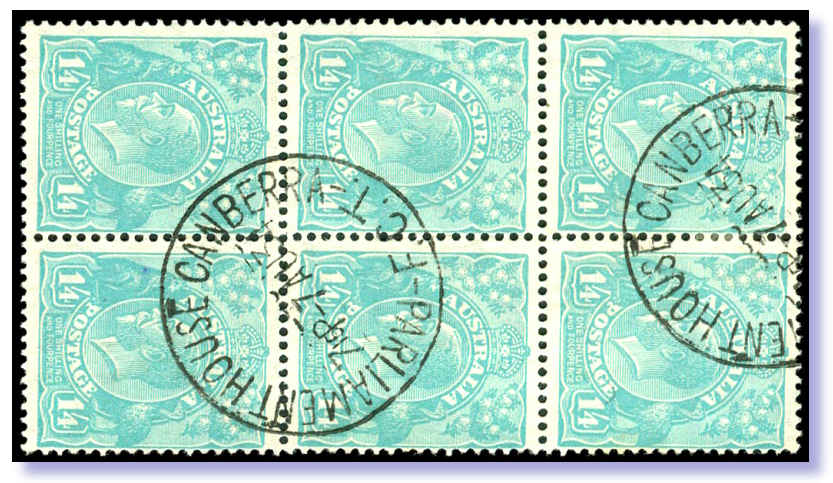 Eye-catching KGV Top Value.
I can guarantee you in a decade or two you will look back on this column, and chuckle to imagine NO-ONE placed a premium on most used blocks of Australian stamps. Especially mid values of sets etc.

It was only 20 years back, that Monogram and Imprint blocks of Kangaroos sold for typically just 5 or so times the single stamp price. i.e. a 25% premium for the margin monogram or imprint. If a single was $10, it meant an imprint block 4 was $50 or so, was dealer rule of thumb.

Arthur Gray's collection of largely such Roo pieces sold for $A7.15 million at auction in New York, and he was buying them when they were surprisingly cheap, not too long back, and largely ignored by all the rest of the stamp world globally.
$9,000 to $176,000 in 19 years.
A world record price was obtained in that sale for a single Australian postage stamp. Lot 287 was a facially attractive 1913 £2 black and red Kangaroo with lower sheet selvedge. This selvedge bore the "JBC" margin monogram of the stamp printer, J. B. Cooke.

Every post office sheet of 120 at that time contained two such margin monograms. The copy shown on the photo nearby is the only example recorded outside the Royal Stamp Collection and the Australia Post archives.


The $170,000 stamp selvedge.
This stamp was hinged, had a crease and a toned perforation, but sold after vigorous bidding for $US138,000 = then $A176,930, to Australian dealer Simon Dunkerley - buying for a client here. The estimate was "only" $US50,000-$75,000.

This stamp is SG 16, and was then catalogued at only £3,000 as mint hinged. The basic mint stamp in the 2016 SG is cat £6,500 - showing perfectly that buying the tougher stamps from ANY country, soon as you can, always pays off pretty fast!

This record price means the buyer effectively paid over $A170,000 for the tiny piece of selvedge paper! The full ACSC catalogue price for this very stamp in 1988 was just $9,000 (and $4,000 for NON monogram.) So within 19 years it sold for TWENTY times that. Current ACSC value is $200,000.

Without the marginal marking, the stamp would not have even realised anything like £3,000 then, due to the condition issues in my view. No other country places such gigantic premiums on Monogram or Imprint or plate number markings. But as I said earlier, 20 years back no-one was especially interested.

The auctioneer of the Arthur Gray Kangaroos collection Charles Shreve, was VERY nervous when I was having this photo taken nearby, in case the $170,000 stamp fell into my coffee, and torpedoed his record sale price!
Follow Europe's Lead.
Many major European basic catalogues as a matter of course, list stamps mint, used, FDC, on cover and in USED blocks of 4. Look at a Swiss/Liechtenstein Zumstein, or leading Italian or Scandinavian catalogues etc, and you will see what I mean.

Even the Stanley Gibbons Specialised catalogues for GB list and price near all pre-war issues from 1840, in used blocks of 4. So it can be done here, and it should be done here.

Stamps worth peanuts as singles, are often worth a FORTUNE in a postally used block, in many European markets. Swiss stamps issued in the Kangaroo era can catalogue 500 times as much in a used block, as for a used single.

The 1914 3Fr Jungfrau is in the basic Zumstein catalogue I have at 3,250 SFr a used block, but only 8 SFr for a used single. Many Kangaroos should rate high multiples like that in blocks. But right now sell for 5 or 10 times a single stamp!

The same rarity level applies in some Australian stamps of course. But NOT the prices - YET. The market leading Facit catalogue does the same for Sweden and Scandinavia area stamps, and has done for 100+ years.


$10 a single, $8,600 in block 4!
In a recent Facit catalogue, the common old cheapie Sweden 1858 12öre blue Arms (Facit # 9) is priced at "x 500" for a block of four. That stamp is 18 SEK for the cheapest shade for a used single, but 9,000 SEK for a used block of four of the cheapest shade.

The block shown nearby from a past David Feldman Sweden auction demonstrates the market nicely, that stampboard member Scott Starling showed me. It is a rather ugly block of the 3öre brown Lion issue of 1863, Facit Catalogue # 14Bc1 (Scott # 13). As a single this had a 2010 Facit catalogue value of SEK130 – then about $A20.

It is a common shade, and a single with this same centering and cancel would have sold for about $A10, Scott tells me. Facit doesn't list a price for a used block of four, it just says that there are three known. The starting price was 2,000 Euro (not Swiss Francs) and sold for 5,000 Euros, when the nasty "Buyer Fee" was added.

That was $A8,600 paid then, for a VERY rough looking block, of a stamp otherwise worth $10 a single. Buy such things issued by Australia now. It is certainly true that virtually EVERY Australia stamp from 1913 to the present date EXISTS in postally used blocks - even for the high values.
Most Used blocks exist.
Australia's leading collector, the late Arthur Gray and I discussed this subject at length, and he agrees with me there are very few instances where no used blocks are recorded from 1913 to 2015 - and even then, we are only guessing they are not out there.

The £1 Bi-Colour Kangaroo block 4 shown nearby was used in 1923, and first surfaced on the market in late 2008 - 85 years after being used. Until then it had been "assumed" no postally used blocks of this value existed.

For years I have been urging the editor of the ACSC to list used blocks of 4 of all Australian issues, and I feel sure one day they will relent, and create this new category. Adding a large slab of brand new collectors.


Attractive Brisbane cancel.
| | | |
| --- | --- | --- |
| | It will give added reason for folks to buy each new edition of each catalogue, and will not take any more space or pages than they do now, as they will simply add the universal cross hair "block" symbol to all current listings as they now do in Europe. | |
Dealers agree.
I have discussed this with leading dealers, and all agree the demand for used blocks is increasing all the time. Richard Juzwin told me he fully agrees the market vastly under-values such material at present, and that he is actively buying it whenever he sees it on offer, and hopes the ACSC lists them in future.

Juzwin told me he was the under-bidder on the used block of £1 Bi-Colour Kangaroos shown nearby, at Leski's auction in Melbourne some years back now. Those stamps are 3rd watermark, and were invoiced to the buyer at just on $A20,000. As 4 singles they would sell for about a QUARTER of that.

Indeed both the block 4, or 4 singles, would sell for far more today … the market on £1 Kangaroo bi-colours is extremely strong in all forms and variations. A popular stamp in all its forms, and is the Westpac Bank Share of stamp market.


Sold $20,000, some years back.
The auctioneer Charles Leski, told me the vendor bought the block in to show him, housed in a cheap $5 type "Chinese stockbook" of otherwise unremarkable junk. The vendor had no idea it was valuable, so the $20,000 price must have amazed.

This block had been in the family for decades, and was never sold for 3 generations. It had presumably been soaked off a parcel at the time of receipt in 1923. An equally nice looking 1913 £1 FIRST Watermark Roo, postally used block 4 came up at a stamp auction in Wales UK a few years back.

Myself, Simon Dunkerley and Tony Shields and several others all bid strongly on it, only to see Stanley Gibbons London outbid us all. So these high value used Kangaroo blocks DO exist for sure, and are worth seeking out.

Most of the Kangaroos are known in used blocks, and the archive sales offered the First Watermark bi-colour high values up to £2 in used blocks, with Brisbane cancels, several of which I have handled and sold since - the 10/- is shown nearby. Very pretty piece.

| | | |
| --- | --- | --- |
| | The 1913 £2 with that same cancel is on the cover of the current ACSC "Kangaroos" in block of 4. There is also a used imprint block of 8 of the £2 Third Watermark "OS" in private hands, and other £2 used blocks etc. | |
11 x £1 Kangaroos on piece
I recall my friend Martyn Greive from A-One stamps showing me a parcel piece with no less than ELEVEN x £1 Grey 3rd watermark Kangaroos on it. Including a block of 6, and also THREE x £2 Small Multiple Roos.

It was a new discovery Martin had found in the past decade or so, among an estate of a man who threw nothing out - even parcel wrappers. This piece was literally lining the bottom of his stamp collection carton!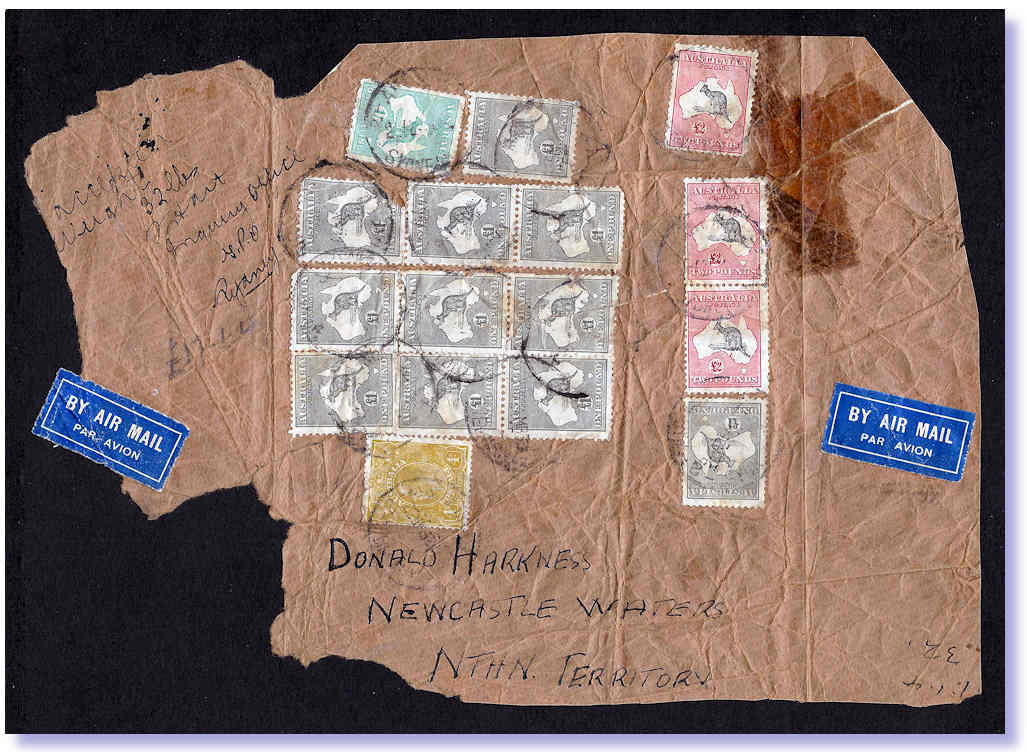 1933 Domestic franking: £17/1/4d.
| | | |
| --- | --- | --- |
| | This piece was used in 1933 from Sydney to Newcastle Waters, Northern Territory, on a 32 lbs car parts air shipment, to rally driver Donald Harkness. These tally to over £17 on a domestic parcel, so MUCH higher value used Roo frankings must certainly exist - especially to USA/Europe. | |
Rod Perry loses house in bet?
Fellow dealer Rodney Perry suggested I needed psychiatric help when I mentioned this parcel piece to him at the Canberra National a few years back. Rod stated nothing of that huge face value existed, domestically used, with Kangaroo franking. "Impossible".

Luckily even at 2am I had my laptop with me, and was able to show him the scan nearby - to the vast amusement of the many senior philatelic figures like Geoff Kellow and Arthur Gray drinking with us at the bar, who'd heard Rod declare no such piece existed.

I vaguely seem to recall that Rod bet his house, and first born child, that I was mistaken and delusional, and I need all corroborating witnesses to step forward please. All your legal fees are covered. Beston, Beston & Sons are handling the case!

OK, it was tatty and creased and stained, and could well have (and should have) borne a block of 8 x £2 Small Multiple if the clerk had that many in his stamp drawer. Indeed delightfully, a block of 9 x £2 might have been used, if it were overpaid just a tad!

The block of 6 of the £1 here is undoubtedly unique used. The relative pittance this item sold for originally, will have us ALL wincing in 10 years. Rod had it restored, and now is for sale for a healthy $A155,000, so I suspect he now believes it exists! Offered here with full story - tinyurl.com/Harknes

32lb exceeded the limit for Parcel Post, and the article was therefore required under Postal regulations to be charged at full Letter rate as follows. £17.1.4d postage for 512ozs (32lb) at 2d per oz. Letter rate = 1024d (£4.5.4d) + Airmail surcharge 3d per half oz = 3072d (£12.16.0d) = Total £17.1.4d.
All KGV Heads too.
It is rather likely all the Australia KGV heads, in all the watermarks and perforations, and dies, exist in postally used blocks too - but many would be very rare thus. But not necessarily expensive. A Challenge!

One of the scarcest face different "basic" KGV heads is the 4½d Violet Die 2, and many CTO blocks of that are out there. Most were legally obtained cleverly from PO sheet stock, by the Miller Brother dealers in Melbourne.

I flew down to Arthur Gray's KGV Auction late 2015, and he had 2 blocks 4, block of 8, and a used imprint pair of these CTO 4½d Violet. The block 4 shown nearby sold for about $A1,150. As 4 x CTO singles, retail is only $250 or so.


Used KGV Block gets $1,150.


I sold Arthur one of the used blocks 4 for about $200, so 5 or 6 times increase in price shows these pieces are starting to firm up in the market … so do not dilly-dally if you seek them in blocks!

I once asked dealer colleague Rod Perry if he had even seen or handled a KGV head 4d "Lemon Yellow" in a USED block of 4. Rod thought about it for a while, and agreed he could not recall seeing one, but also agreed one or more very likely existed, if a search were made.

An inexperienced dealer would likely offer a used Lemon Yellow Block 4 for $125 on today's market, but I'd want $500 at least. See if you can find even ONE! Drop me a line if you have a block, or have seen one - they must surely exist?
Give yourself a challenge!
Someone looking for a rewarding new stamp challenge, could do a LOT worse than give themselves a goal to collect all the Australian stamp issues, in postally used blocks of 4. Maybe start on Post War, and work back.

A client recently sold me a large stack of Hagners with postally used blocks, from 1913 Roos to modern, that he'd accumulated over the decades. So it can certainly be assembled, and he'd made a pretty good stab at it.

Some stamps not pricey on their own, look great in a used block. Last year I sold this CofA 1/4d Block of 6 pictured nearby for a fairly modest sum. Commercially used from Parliament House, it just seemed to catch my eye as a very pretty piece. Many folks tried to order it.

If you decided Roos above 5/- were removed off your list, due to high cost, the remainder of the Commonwealth would be VERY doable over time. A fun project, that few others are doing, and when you ever tired of it, the material will be worth ten times what you paid, more than likely.



Try finding one of these!
Near all issues in all watermarks are POSSIBLE in used blocks, but locating them will be the big challenge. Most dealers can sell you a MINT block 6 of 1/- Roos, but how many can offer a nice USED block?!

The fresh block of 6 shown nearby, I've sold 3 times in 30 years. I mailed it to the most recent buyer for $225 off my Rarity Page. I think the first time I sold it was for $75. That tells you a story. Today if it came back, I'd ask $350.

Used blocks of 6d, 9d, and 1/- and 2/- 1930's roos ARE certainly fairly plentiful, but near all have truly ugly parcel roller cancels, or those massive rubber 'Parcel Branch' ones. Neat circular cancels on Australian pre-war high values are the great exception, not the rule.
1964 7/6d Cook "Sleeper"
As a large dealer I guess I have owned and sold 1,000++ mint copies of this stamp in my time. Many full sheets of 80 included. Guess show many USED copies I have handled? About 5% of that. Why so few USED about?

As the August 26, 1964 issued 7/6d was mostly bought up by the stamp trade and speculators, and it had very limited real use by the time of its quick replacement in February 1966 by same design 75c Cook Navigator.

The WRONG "small number sold" figures quoted by all investors for 40 years are quite incorrect, as the ACSC and Geoff Kellow research now confirms for us in the recent QE2 editions of this era.

The number sold was DOUBLE what most think. Such FACTS do not of course deter those who buy a $6 pocket catalogue, and base $1,000s of purchasing decisions on ancient information! In the 1980s "stamp boom" this stamp mint, got up to $60 apiece.

Try finding postally USED. The current bizarre present situation where MINT is often catalogued higher than used is quite absurd. The 2016 ACSC "QE2" rates this stamp at $A500 on cover or parcel piece. THAT certainly tells you something, if you are savvy.

Genuine dated postally used of the 7/6d Navigator with contemporary cancels SHOULD be priced DOUBLE the mint value. And try finding any postally used BLOCKS!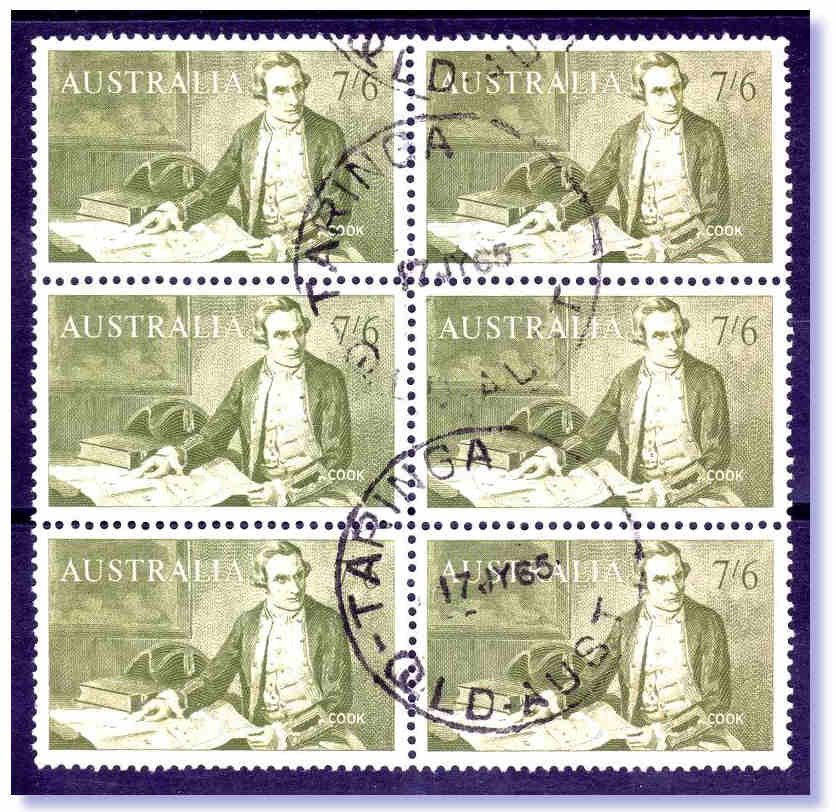 A classic of the future - $95!
I offered this superb block shown nearby for $95 on stampboards.com, and I have no doubt the buyer in future has a GEM piece. Blocks are gaining in interest all the time. And as outlined above, USED blocks are my long term hobby horse. In general they are wildly under-valued.

This stamp is plentiful MINT as speculators bought them heavily, but even a genuine date, single used copy is scarce. A postal used BLOCK is a minor rarity, and a block such as the one shown nearby with such brilliant crisp small town dated cancels is a lovely piece.

I sold it for way less than what the current Australia Post Office "annual album" costs! Absurd. Whomever bought it has a lovely piece for the future. Clean and fresh and nice. SG 357, new catalogue is only £126 for 6 used singles. What a JOKE!
Australia Post Gets WORSE.
| | | |
| --- | --- | --- |
| | Australia Post's appalling letter delivery service continues to get worse - not better, despite the price hike earlier this year to $1. It should not be possible to sink back even further, but they have. | |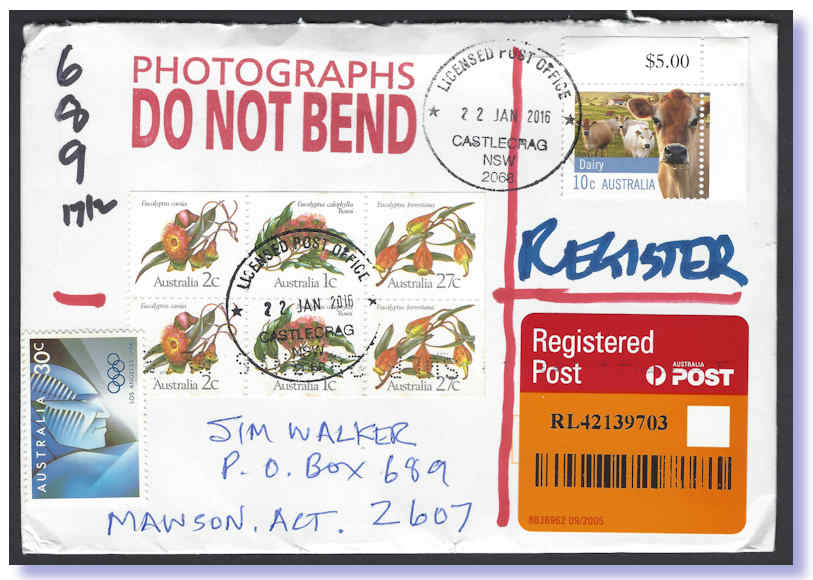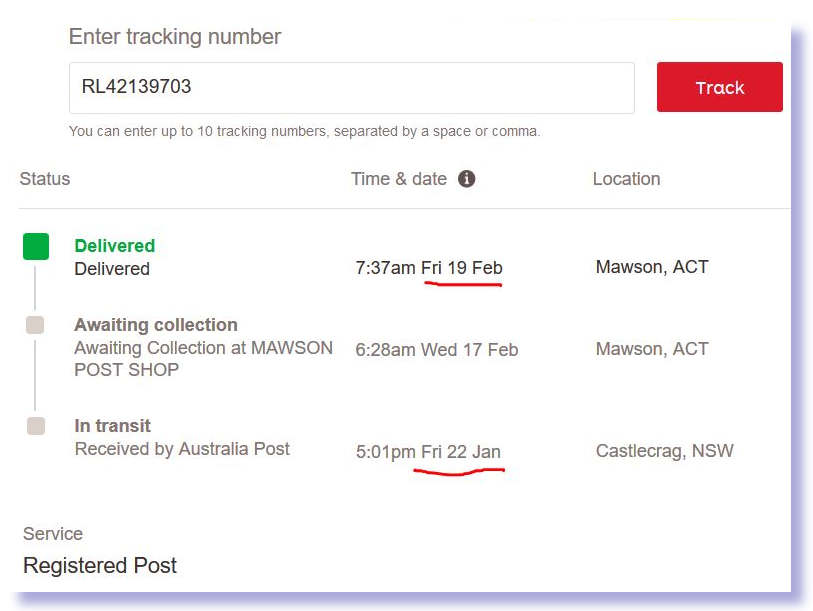 4 weeks for a 3 hour drive.
I mailed this clearly addressed Registered envelope shown nearby on January 22 from Castlecrag to Canberra. The time to DRIVE from Castlecrag to Canberra is 2 or 3 hours – all main Hume Highway etc.

Weeks dragged on and Jim had no stamps. The Post Office tracking showed NOTHING .. just lodgement on Friday January 22 and a usual Black Hole after that. There is an inverted "SWLF JAN 28" spray jet on the pane - Leighton Field MC Sydney - 6 days after mailing. Nothing else.

Several worried contacts later, he assumed the worst, that his envelope had gone missing, and he would get only the pathetic PO Compensation of $100 maximum. The exact same figure it has been for over 50 years - despite the price of the service now being 20 times higher.

Then magically the envelope tuned up at his PO Box on Friday February 19 – exactly 4 weeks after I mailed it. Absolutely no instructional markings front or back. Postcode '2607' was clearly written, so was not mis-sorted. Simply PO incompetence.

What did Jim have in the envelope - a set of 6 mint of the scarce "Adelaide 2016" Emergency set. (See last month's column - tinyurl.com/Glen3-16 ) He paid $250 as he got in quite early, and rather foolishly did not ask me to insure the $250 sending, so his MAXIMUM payout would have been $100.

At the time he received it, the set was selling on my website after several price rises in line with the market, for $2,000. So paying only $250, and thinking it was lost, when retail was now $2,000, really had him worried for weeks.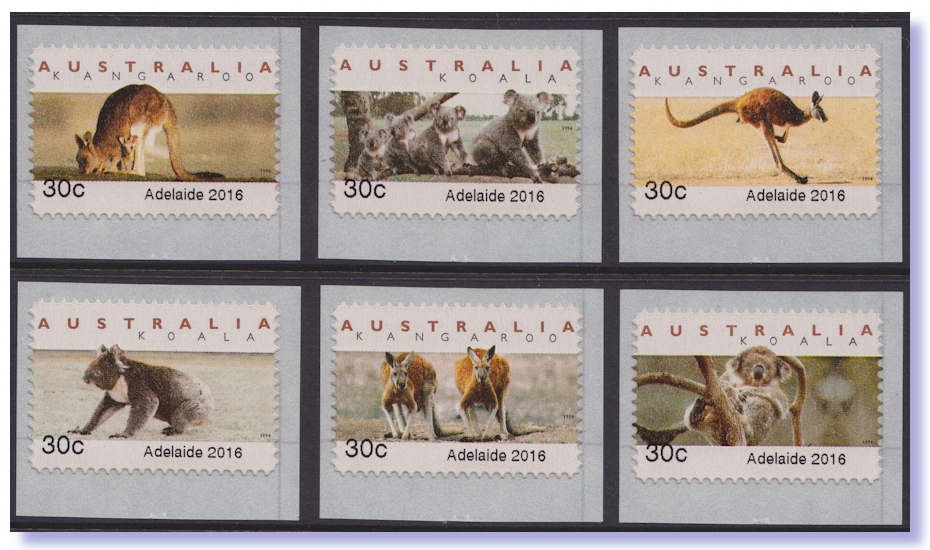 Now $2,000 a set of 6.
Moral of this story - assume Australia Post operates with the efficiency of Zimbabwe under the "leadership" of Mr MoneyBags Fabour, and do NOT panic even after a month, if your tracked letter takes 4 weeks to get to where I could drive it in 3 hours.

I now waste 10-15 hours a month on fielding enquiries just like this. Not MY fault Zimbabwe Post now owns AP, and clients do understandably worry. But I resent being a front line apologist for their new appalling Fahour delivery standards. Write your Senator, and write the Minister, and replace this Flop CEO and appoint PO trained Managers.
Ebay Bunnies Breeding Madly.
The Mad bidding we see on ebay never ceases to amaze me. There are vast armies of dreamers who ASSUME that $1,000 classic Blue chip stamps can be picked up readily for $300 all day long. Deluded.

It is like assuming $100 Bills can be bought for $30, or the guy offering you a "Genuine Solid Gold Rolex" in a pub on Saturday night for $200 is legitimate. There is sucker born every minute sadly - and most of them gravitate to ebay!

Stampboards.com has endless scammer sellers, and rip-off deals being highlighted each month. The vast number of idiots who leap in and hand over $100s and $1000s to these crooks with minimal feedback or track record, astounds me.

Googling the sellers offering things anyone with BRAIN can see are too good to be true is easy. Why or EARTH would anyone imagine an insane fake handle like "artau-0qii7" is genuine? A 5 second Google leads you RIGHT to this warning on him - tinyurl.com/BunnyEbay - so these greedy idiots deserve to lose their money. Zero research.
"MUH" £1 Gilberts for $58??
| | | |
| --- | --- | --- |
| | The Gilbert and Ellice 1924 £1 KGV head is RARE. SG 24, Cat £550 as HINGED. A few exist MUH and will be worth twice that. I'd gladly pay $600 for a nice one. Why on earth does anyone sane think a Commonwealth KGV "MUH" Rarity will be selling for $A58?? As you can see - they DO! The clueless dreamers on ebay. | |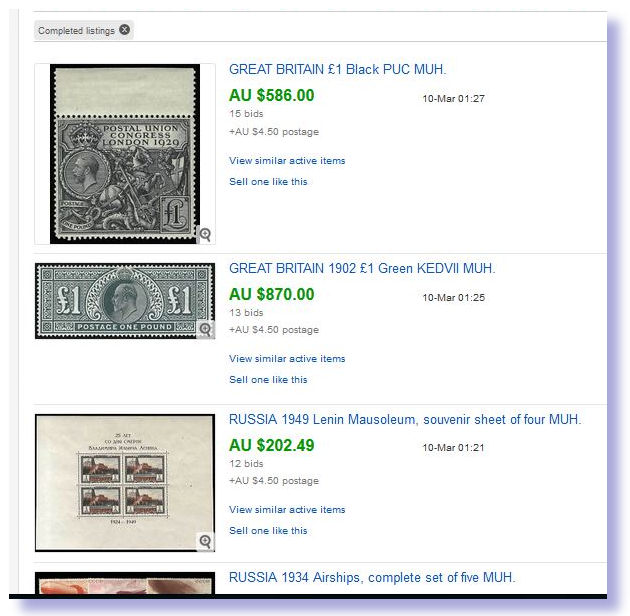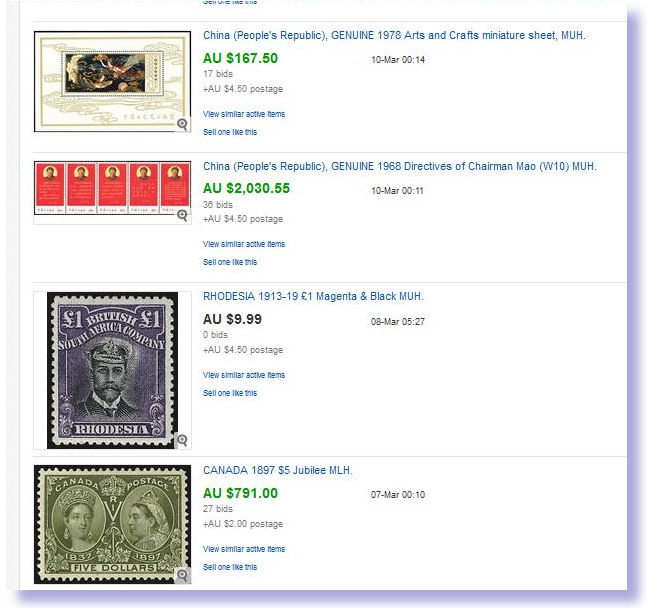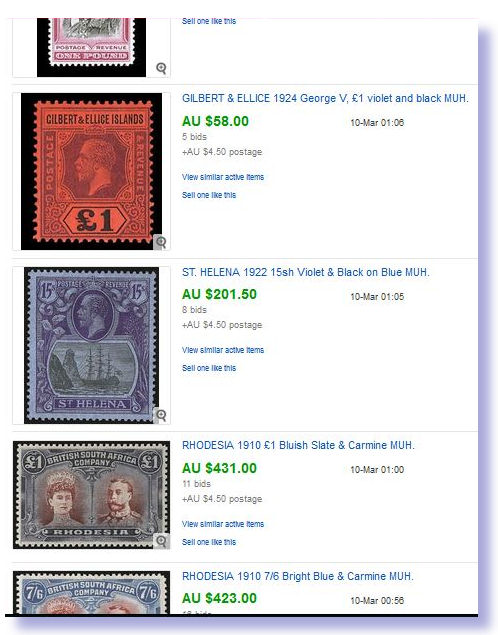 Ebay Bunny Frenzy - all a mirage.
This week's madness involves a popular tactic. List up 100 or more scarce stamps you do not own. Steal the images off real dealer or real stamp auction sites. Or scan them off old paper auctions cats even. Sit back - watch the Army of Bunnies bid like crazy on the "Bargains", gleefully pay you in full, and then you vanish with all the cash, and abandon that account, and start new ones.

Sounds impossible? Don't kid yourself. There are $100,000s of totally non-existent stamps "sold" each month globally on ebay. The Bunnies pay in full - the scammers vanish with the loot, and the fun then begins. Sobbing and blubbering via Negative feedback "Eye gurt reeped orf. BaaWaah."

Take a look at just SOME of these images nearby that a Sydney forger listed up this week - and see the stupid low prices these folks THOUGHT these key stamps were really being sold for. Durrrhhh. "The Parade Of The Suckers".









Get my regular market update emails FREE. Stamp gossip, price trends, record sale prices, and many one-time stamp specials, wholesale bargains, and exciting offers and breaking philatelic news. A mini stamp magazine in every email! "KNOWLEDGE IS POWER". The ONE stamp list you MUST be on, to keep in touch with the rapidly changing world market. One client made $65,000 profit in a few months after following my specific advice. Sign up securely and quickly by clicking HERE to access my automated data base. And wiser still ADD your home AND work email, if I only have one right now. Add a stamp friend's email address if you wish. One short click and you are subscribed to probably the most read email list in the stamp world!




If you would like to be notified of updates to this website,

Click HERE. If have any questions,
or comments regarding my site, please email me at glen@glenstephens.com



| | |
| --- | --- |
| | Search all my 300+ web pages! Simply type in what you are looking for. "Penny Black", "Latvia", "Imprints", "Morocco", "Fungi" "Year Books", etc! Using quotes ( " ) is more accurf used with no quotes. Search is NOT case sensitive. Tip - keep the search word singular - "Machin" yields far more matches than "Machins" etc. |


I am a Dealer Member in Good Standing Of:

Full Time Stamp Dealer in Australia for over 35+ years.

Life Member - American Stamp Dealers' Association. (New York)
Also Member of: Philatelic Traders' Society. (London)
GLEN $TEPHEN$

Full Time Stamp Dealer in Australia for 35+ years.

Life Member - American Stamp Dealers' Association. (ASDA - New York) Also Member - Philatelic Traders' Society

(PTS London) and many other philatelic bodies.

ALL Postage + Insurance is extra. Visa/BankCard/MasterCard/Amex all OK, at NO fee, even for "Lay-Bys"! All lots offered are subject to my usual

Conditions of Sale, copy upon request .

Sydney's

BIGGEST STAMP BUYER: Post me ANYTHING via Registered Mail for my same-day cheque. Avoid copping the Now normal 45% Auction "Commissions" (15% Buyer + 20% Seller + GST, etc) AND their five-month delays!

Read HERE for details.

"Lothlórien", 4 The Tor Walk, CASTLECRAG (Sydney), N.S.W. 2068

Australia

Phone 7 Days: (02) 9958-1333

PO Box 4007, Castlecrag. NSW. 2068


E-Mail: glen@glenstephens.com The Number #1 Web Sites: www.stampboards.com