Click To Go Back To The Main www.GlenStephens.com Stamps Homepage

Welcome! You are visitor
to www.GlenStephens.com




Glen Stephens
Monthly "Stamp News" Market Tipster Column


August 2006

---
Washington 2006 "World Stamp Expo". Red Hot China and Roo prices!
The market is red hot for Chinese material - that much is clear.

Stanley Gibbons Sydney had an auction June 21 which smashed all kinds of price records.

I spoke to auctioneer Danny Jurd about the sale and he told me he has never seen such intense bidding on any section of any of the countless auctions he has been involved in.

Auction calling of the mere 136 China lots took him 2 hours and the intense bidding saw the invoices rise to about $A385,000.

There were multiple phone, room and book bidders hammering it out on most of the lots I was told. Interestingly many of the staggering prices were for quite modern material - not pre-war classics etc.

A collection of 1963 to 1970 People's Republic was the first lot in this section and set the tone for the rest of the section. Estimated at $2,000 the lot was knocked down for $7,130.

A collection of 1960's blocks of four estimated at $1,000 sold for $7,590.

The 1950 Dairen Tien An Men $10 Blue vertical pair imperforate between, estimated at $300 sailed well above that as the phone bidders battled it out. When the dust settled the invoice was a staggering price of $10,925.

Mei Lanfang was one of the legends of Peking Opera. From his birth in 1894 until his death in 1961 his fifty year career in the Peking Opera has given him Legend status and the stamps and mini sheets issued in his honour in 1962 are always popular.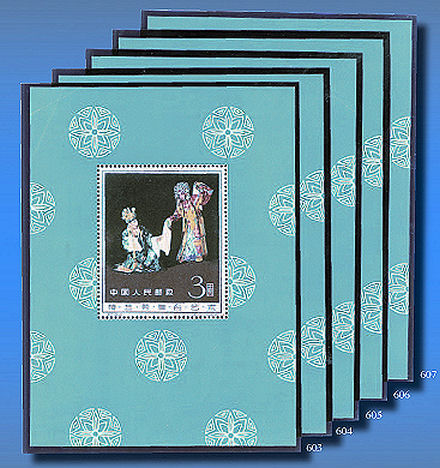 Sold for average $5,359
Lots 600 to 602 were imperforate Mei Lanfang sets, Lot 600 was the set in blocks of four- estimated at $4,000 and was eventually knocked down for $11,960,

Lot 601 the same set in imperforate pairs with "some toning" estimated at $1,200 sold for $6,670. Lot 602, four Imperf sets in strips or pairs estimated at $2,500 sold for $9,200.

The next five Lots 603 to 607 were the Mei Lanfang mini sheets all of which had some faults, and as such were estimated at $1,000 each. The sale prices left these figures way behind as they sold for $4,945, $5,520, $5,175, $5,290 and $5,865 - or an average price of $5,359 each!

The full Yang catalogue price for this mini sheet is $US2,000 MUH with small faults, and $US2,500 for perfect condition.

All 5 of these SG auction sheets had pretty serious faults. Creasing and toning etc - the top one in the photo nearby has 2 obvious corner creases for starters!

Yet all 5 sold to frantic bidding - each for more than most mint £2 Kangaroos fetch. Food for thought.

I wrote some years back about needing to source this mini sheet for a client in Tamworth. I think I charged him $400 for it when I located one.

I bet he is pleased now, as it was in very nice condition. Who says truly scarce stamps do not appreciate in value?

I asked Danny Jurd where the collection had originated. He chuckled and told me he was asked to visit an exclusive 8 figure type home in the Sydney Eastern Suburbs to give an opinion on some stamps for insurance purposes.

The albums were stored in a damp musty garage alongside cases of beer etc, and Danny advised the owner there was already a good deal of toning and rust among them, and to retain them would see that spread. This would lessen the value.

The owners had no real interest in stamps and decided to consign them to auction, and they were estimated at $100,000. They sold for $A330,000 plus the 16.5% "Buyer's Fee" including GST = $A384,450.

That exceeds the value of the houses of many readers - unless you live in Sydney's Eastern suburbs of course!

It seems a relative who had passed away 5 years back had formed the collection. He had a Russian/Jewish background, and his collection of Israel and Russia were in the same sale, and sold for modest figures. Buying the China was his master stroke it seems.

Danny made mention to me that overall the condition was poor by usual stamp standards on these stamps. The SG sale catalogue mentioned condition, and estimated them accordingly.

It seems obvious that buyers of China material are not as concerned with condition as those who collect many other countries, and this is worth noting. "Perfect" condition for much of this era is just not seen.
I returned recently from a week visit to the wonderfully successful "Washington 2006 World Stamp Expo".


Brilliantly organised, in a great central venue. Official figures were about 225,000 visitors through the doors over all days of the event (including those that re-visited) and that is great for stamps.


EVERY dealer I spoke to - from Australia, New Zealand, UK, Canada, Europe and the USA all told me they were ahead of budget and ahead of expectations. There is ALWAYS a fixed % of 'whiners' at all shows, so this positive feedback from all dealers I spoke to was most unusual.

I bumped into a large number of Australian and NZ dealers at the show, either with stands or wandering around, and doubtless there were others there walking around I did not see.

Locals with stands I spoke to included Andy and Richard Juzwin, Michael Eastick, Paul Fletcher, Geoff Kellow, Mark Knothe, Ross Waugh, Steve Hamilton, Gary Watson, John and Jane Mowbray, and Torsten Weller.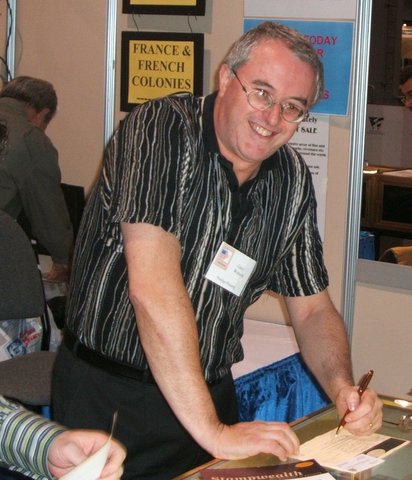 | | | |
| --- | --- | --- |
| | Gary Watson from Prestige Philately in Melbourne writing out a cheque to buy some material. (Another left handed stamp dealer!) | |
I loved the material on display - I closely inspected the $A4 million "Inverted Jenny" mint block I wrote about in my January column.

I wandered for hours through the exhibits and saw Arthur Grey's classy 1927-1936 Australian commems and recognised several pieces I'd sold him over the years! Not a patch visually on his Kangaroos exhibit was my humble opinion.

I was able to congratulate Paul Fletcher on his Australian Postage Due Exhibit, which along with Arthur's Australia and Geoff Lewis's Philippines, both won Large Golds. Australian exhibitors hauled in quite a number of Gold and other medals.


My hotel was next to the National Postal Museum, so I went and inspected the only other "Z Grill" known, apart from the one swapped for the Jenny block. First time this other one has been on display for decades.


There were good deals to be had for the sharp eyed. I bought an item (correctly described) from one large dealer (who advertises here) walked 10 yards and sold it to a leading Australian dealer who offered me $1,000 more for it - on the spot. I said 'yes' very fast, and I have no doubt he has on-sold it for $1000s more.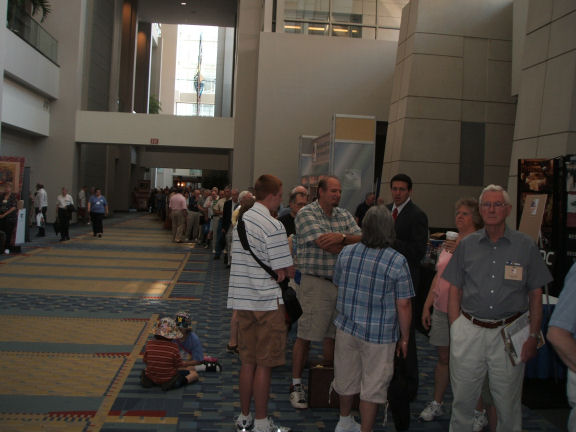 | | | |
| --- | --- | --- |
| | A small section of the crowd waiting for the 10am opening on a mid week day. The line stretched way back into the distance. | |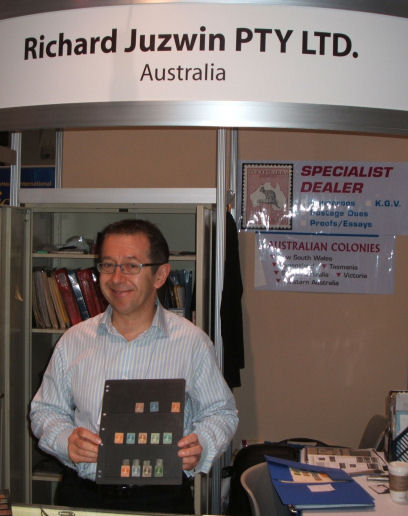 | | | |
| --- | --- | --- |
| | Richard Juzwin had just purchased a 6 figure collection of mint New Zealand Chalon heads. He told me the SG #1 and SG #3 were as nice as the Sir Gawaine Baillie copies which sold for astounding record figures earlier this year. They were from the Count Ferrary auctions in 1924 and have been in the same family ever since. | |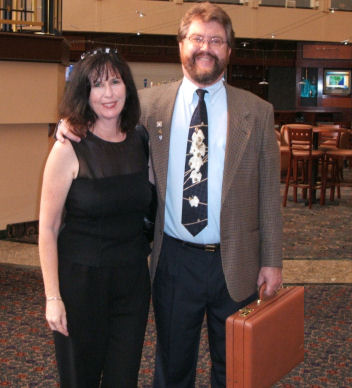 | | | |
| --- | --- | --- |
| | Margaret and Glen setting off for another long day walking the Exhibition hall! A once in a decade chance to see Glen wearing a tie and holding a briefcase! | |

"Duck" Sheets
Visitors could line up and buy 10 x US Post Office "Duck" sheets for $US25 each on the Thursday. And sell them cash before they left the halls for $US1,000 more than they paid the Post Office.


Of course they would have been wiser to put their 10 sheets up on ebay a week later as one lot and get double that - or $US2,555 from their $250 outlay as one clever chap recently did. (Lot 9526672910)


$US255 each is $A340 each. A rather high price for something (not even a postage stamp!) of which 10,000 copes exist. Half (5,000) were sold at the show, and half by mail order.

The engraver, Piotr Naszarkowski sat around signing the lower half of the sheets. Much of the time he was not busy. All 10,000 copies were artist signed. Possibly only 2500 are also signed by the engraver.


The several Australian dealers I witnessed selling their sheets on issue day lost $US500 by not spending 10 minutes to get them signed by Naszarkowski!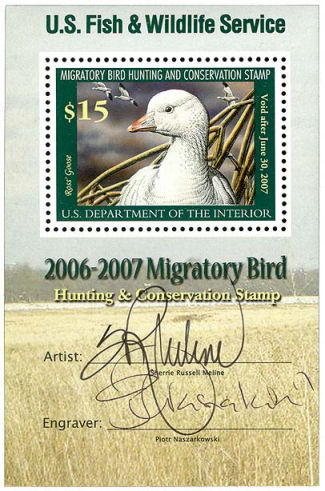 $250 to $2,555 in weeks
The line formed to secure these stretched a long way. Of course it did, as everyone with a pulse knew 10 of these would be worth at least $1,000 more than they paid for them.

I urged Australia Post - in print .... 7 months BEFORE the disastrous "Pacific Disaster 2005" to issue a similar Limited Edition item purchasable primarily at the show - to attract a crowd.


Of course they and the Committee, being much cleverer than me at marketing, did no such thing, and the crowds stayed away. Only about 10,000 turned out by most estimations, and that is a real shame.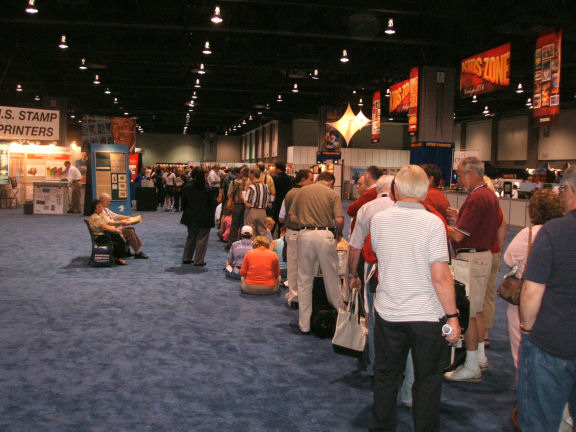 | | | |
| --- | --- | --- |
| | A small section of the long line June 1 to buy the USA Duck Stamp new issue. Each person could buy 10 sheets. Some made $1000s of profit from that one purchase. | |
Some curious things happen if you write stamp columns!


A couple of weeks back I went to collect my mail and my postmaster (who I know very well) handed over one envelope and gave me a rather curious look, but said nothing.


That envelope is illustrated nearby. It was very attractive and the sender at top left was "Parliament House/The Gay Kingdom Of The coral Sea". The cover was franked with an International Post $1.85 whale. And a 2 Euro "Gay Kingdom" stamp clearly postmarked "Heaven" by the GLK (Gay and Lesbian Kingdom) Post Office.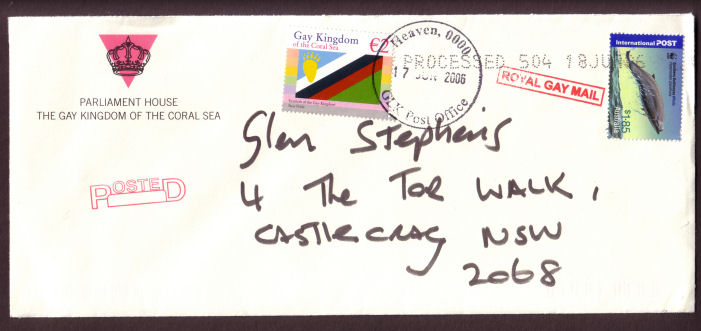 "ROYAL GAY MAIL"
There was also a bold red boxed handstamp on it saying "ROYAL GAY MAIL". No wonder I had received the quizzical look! For the record I am very happily heterosexual, but I guess receiving mail from the "Parliament of the Gay Kingdom" might have planted a seed or two of doubt.


Inside there was a very attractive miniature sheet of 9 different Gay Kingdom stamps. Individually numbered it looked like. And a letter inside outlining that the "Kingdom" was declared as a protest against the Commonwealth Of Australia's recent same sex couple legislation.


On their website they say they have declared "War" on the government over this issue. Hmmm.


They claim the 'Kingdom's" Declaration of Independence has been signed by the Sovereign and sent to the Prime Minister, and Governor General of Australia.


The Kingdom is allegedly located at Cato Reef - a speck on the map well above the Tropic Of Capricorn, reachable by seaplane.

Their website claims on the 1st January 2006 the Government of the Gay and Lesbian Kingdom of the Coral Sea Islands assumed control of its Postal Services. As an interim measure, Australian stamps were used. These were replaced by the Kingdom's own design in July this year.

The Kingdom's stamps are supposedly issued with a Euro value since trade is carried out in this currency, the subject are always of a predominantly Gay and Lesbian flavour. The Gay and Lesbian Kingdom of the Coral Sea Islands claims they intend to adopt a conservative stamp issuing policy.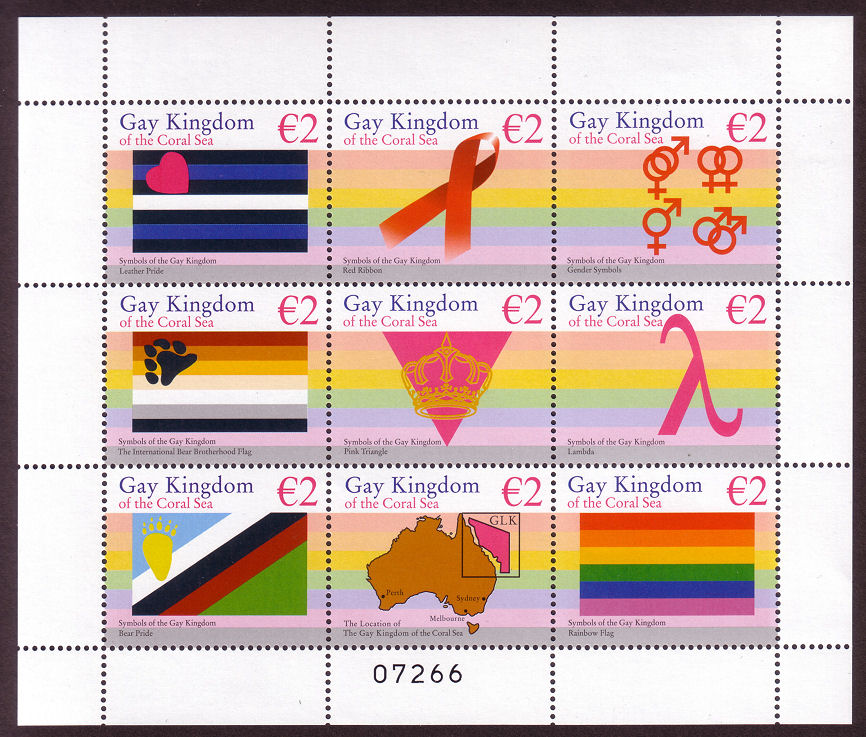 Very attractive
Anyway, all very interesting, and I must say the stamps are designed and produced to a higher design and production standard than many 'real countries' new issues.

If anyone collects these interesting Cinderellas and is interested in the cover or sheetlet please contact me.

I recall years ago driving several hours north of Perth to visit 'Prince' Leonard, at the Hutt River Principality. A bleak little farm well off the main road to Geraldton was the Royal Castle.

"Prince" Leonard Casley of course created many sets of Hutt River Province stamps - indeed even coins and banknotes, and even stamped my passport when there. The postage stamps are still keenly sought.

Late last year when visiting Broome on holiday I took one of those Camel safaris along Cable Beach at sunset. (Stunning.) The very Caucasian looking owner of the camel train was the unlikely named "Abdul" Casley.
More record prices
| | | |
| --- | --- | --- |
| | Please take a moment and tell me what you think this cover is worth - mailed from Cocos Island in 1944 to Randwick NSW. | |
What is this worth?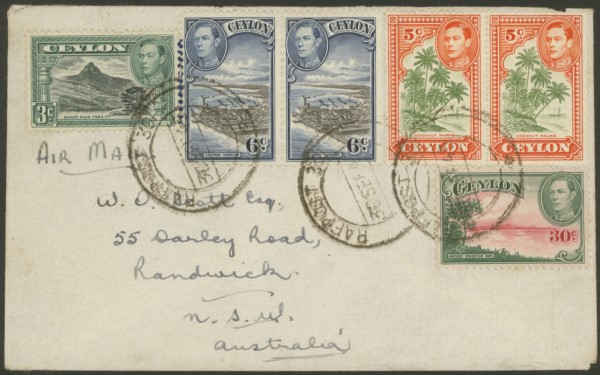 As an allegedly experienced dealer I'll be the first to confess if I saw it in a shoebox of bits and pieces I would not glance twice at it. Common stamps and a common destination and indistinct cancel.

It recently sold at auction for $4,140! Surely this a world-record auction price for any KGVI commercial cover from ANYWHERE bearing very common stamps?

The auctioneer was Prestige Auctions in Melbourne and the price was obtained in their June 24 auction.

During WWII, troops from Ceylon were based on Cocos - who of course did not issue their own (Australian valid) stamps until 1963. This cover was sent in 1944 by an RAAF serviceman in transit at Cocos Islands on his way home from the war.

The local garrison troops enjoyed free postage but others such as the writer of this letter were required to pay the 55c Ceylon stamps airmail rate. Only a few covers posted at RAAF FPO 301 bearing stamps of Ceylon are recorded - most of the other mail being "no stamp required" free postage.
Wounded Kangaroo gets $15,525
Prestige also got an amazing price for an ugly looking and torn 1945 2/- CofA watermark Kangaroo with inverted watermark. It sold for $15,525 - on an estimate of $5,000.

The stamps was described was being as having "wrinkles" and having a 5mm tear at left. That aside is clearly an ugly looking stamp, both cancel and perforation wise. Yet it sold for more than $10,000 above the estimate.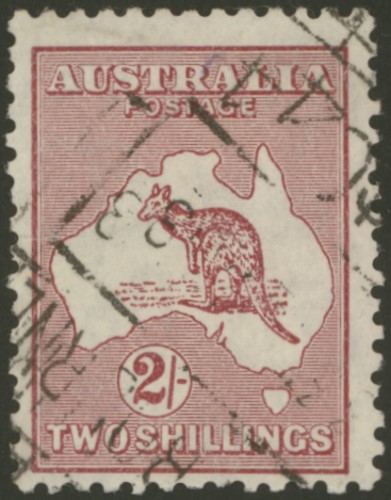 Amazing price
ACSC says 3 others copies are known - and possibly this publicity here may unearth new examples. This 1945 2/- issue (SG 212) is an exceedingly common stamp in used condition, and still exists as packet bundleware. Indeed even mint copies are only a dollar or so apiece. Please let me know if you find one and I'll record it here.

And find another someone surely will. My recent articles on the KGV 2d orange with inverted watermark most certainly unearthed new copies to add to the 4 recorded as known, as listed in the current ACSC.

One new discovery of that 2d stamp I have in stock, with an AIEP Certificate of Genuineness. It is fine used and without faults, and I recently listed it on my "Rarity" web-page priced $7,000 - well under half what this ugly roo with a tear just sold for.

https://www.glenstephens.com/rarity.html

Indeed it is priced well under half the $18,640 this 2d Orange has auctioned for in recent times for similar used grade. I may need to up-rate the price in view of this and other recent sales on inverted watermarks!

Michael Eastick selling the 1915 6d Kangaroo with inverted watermark - also a very ugly looking parcel used stamp - for $48,500 as I reported here recently, has really set this market alight.

All these roo and KGV with inverted watermarks are red hot right now, and those with only a few known seldom sell for less than 5 figures. Tuck them aside now if you collect them is pretty sound advice.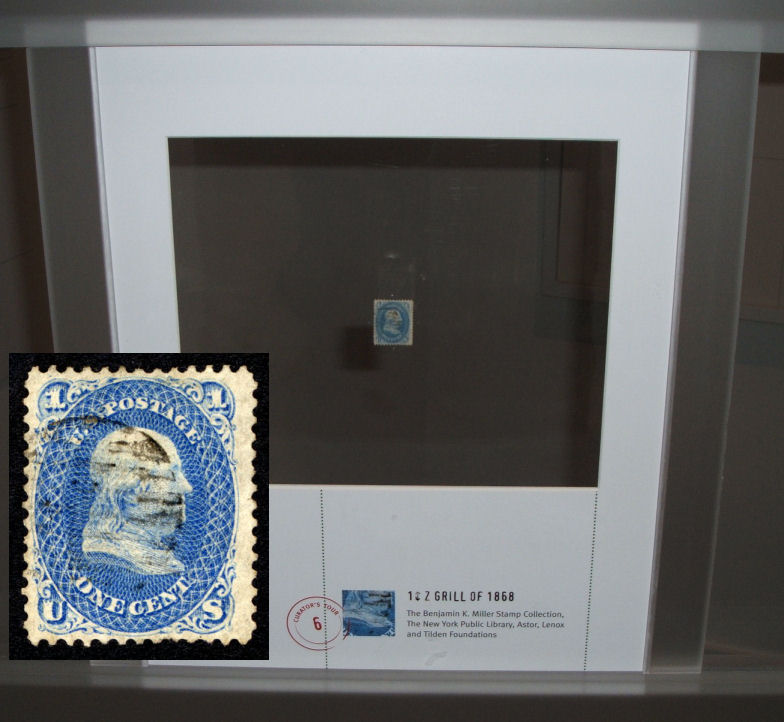 | | | |
| --- | --- | --- |
| | I visited the Smithsonian's National Postal Museum, where the only other copy existing of the rare "Z" Grill was on display. The Miller collection copy from the New York Public Library illustrated here has not been publicly seen for decades. The multi million dollar "Zoellner" copy now owned by Bill Gross will be displayed alongside it until October 1. | |









Get my regular market update emails FREE. Stamp gossip, price trends, record sale prices, and many one-time stamp specials, wholesale bargains, and exciting offers and breaking philatelic news. A mini stamp magazine in every email! "KNOWLEDGE IS POWER". The ONE stamp list you MUST be on, to keep in touch with the rapidly changing world market. One client made $65,000 profit in a few months after following my specific advice. Sign up securely and quickly by clicking HERE to access my automated data base. And wiser still ADD your home AND work email, if I only have one right now. Add a stamp friend's email address if you wish. One short click and you are subscribed to probably the most read email list in the stamp world!


Instant Currency Conversion


FREE! Just click here... see exactly what my lots cost in your currency.




If you would like to be notified of updates to this website, Click HERE.

If have any questions,
or comments regarding my site, please email me at glen@glenstephens.com


I am a Member Of
Full Time Stamp Dealer in Australia for over 25 years.
Life Member - American Stamp Dealers' Association. (New York)
Also Member of; Philatelic Traders' Society. (London) ANDA. (Melbourne) American Philatelic Society, etc

GLEN $TEPHEN$
Full Time Stamp Dealer in Australia for over 25 years.
Life Member - American Stamp Dealers' Association. (New York)
Also Member - Philatelic Traders' Society. (London) ANDA. (Melbourne) American Philatelic Society, etc

ALL Postage + Insurance is extra. Visa/BankCard/MasterCard/Diners/Amex all OK, even for "Lay-Bys"! All lots offered are subject to my usual Conditions of Sale, copy upon request BIGGEST STAMP BUYER: Post me ANYTHING via Registered Mail for my same-day cheque. Avoid the GENERALLY 40% Auction " Commissions" (15% + 17½ + GST, etc.) AND their five-month delays! Read for details.
"Lothlórien4 The Tor Walk, CASTLECRAG (Sydney), N.S.W. 2068
Phone: (02) 9958-1333 Fax: (02) 9958-1444 (Both 25 Hours, 7 Days!)
E-Mail: glen@glenstephens.com
Web Sites: www.glenstephens.com www.glenstephens.net or www.australianstamps.net

Sign up AUTOMATICALLY to my world renowned bi-weekly stamp gossip mailing list!
Click here to see MANY 1000s of stamp lots for sale at low $A Nett prices
Click here for all you need to know re SELLING your stamps for SPOT CASH
Click here for the current Monthly "Internet Only" special offers - CHEAP!
to read all my recent International stamp magazine articles.
Click here to get back to the main www.GlenStephens.com Homepage
Click here to ORDER on-line ANY items from ANY of my dozens of lists
Click for all info on Conditions Of Sale, Payments, Shipping, Returns &c
Click here for the complete library of my very unusual world travels!
How to PAY me. I accept EVERYTHING - even blankets and axes and beads!
Australia Post Annual YEAR BOOKS - massive stock - '27% off' discount offer today!
Visit my new page on RARITIES - Roos & other expensive photo items.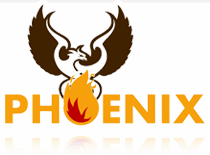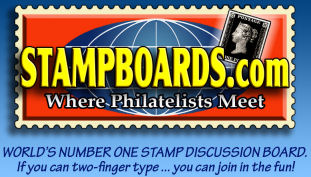 Instant Currency Conversion


FREE! Just click here...


E-mail me at glen@glenstephens.com -
Every credit card shown is accepted WITHOUT fee.
Earn Frequent Flier points while buying at bargain prices!
ALL prices are in weak Ozzie Dollars. I charge NO nasty, nasty
"Buyer's Commission" on stamps like nearly every "Auction" does.