Click To Go Back To The Main www.GlenStephens.com Stamps Homepage

Welcome! You are visitor
to www.GlenStephens.com




Glen Stephens
Monthly "Stamp News" Market Tipster Column


August 2010

---
There are some great philatelic resources being made available, via a lot of hard work and teamwork – and help from modern technology.

One new project is all 860 pages of the "Cinderella Stamp Price Lists" issued by Bill Hornadge (Review Publications) from 1990-2000.

All are now scanned and re-published, and fully searchable - on a single CD-ROM.

This is an illustrated, priced listing of Cinderella stamps of the World, compiled by Bill Hornadge, and originally published in hard-copy (print) format between 1990 and 2000.

Between 1990 and 2000, Bill compiled some 860 pages of detailed and priced, illustrated listings of "Cinderellas" and locals and revenue and similar oddity stamps of the world.
Founder of "Stamp News"
Bill was a well known dealer, and founded both "Stamp News" and Seven Seas Stamps, in Dubbo NSW.

These detailed lists he mailed as Price Lists approximately twice a year, under his Review Publications imprint.

With Bill's permission, one time "Stamp News" editor Brian Moore has recently scanned and digitally re-published these Cinderella price lists.

They are all in a browseable and fully searchable (and print-enabled) PDF format, on a single CD-ROM.

In addition to Bill's regular price lists (he produced an average of around two each year), there is included on the CD, a descriptive and illustrated price list of the Pineapple Posts of Hawaii.

In 2000, Bill published his last "Cinderella Price List" and began selling off his Cinderella and other remaining stamp holdings in preparation for his retirement. I bought very many large cartons of it.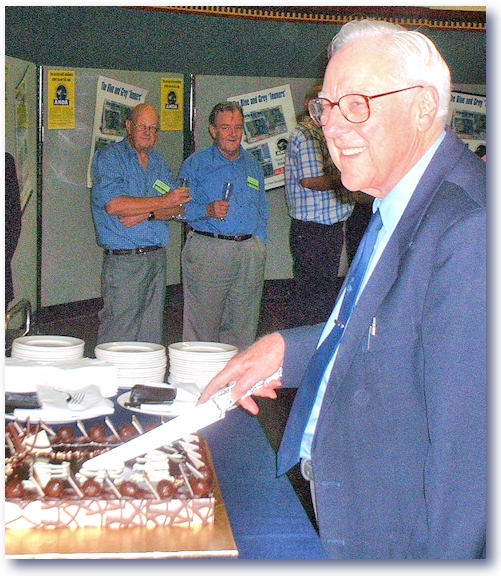 "Stamp News" 50th Birthday cake!
Now retired and in his 90s, and living in Dubbo in the west of New South Wales, Bill has made a quite enormous contribution to the stamp trade, and to philately.

His descriptive and accurate notes on many of these sets and issues are about the only thing in writing existing for many of them.

www.tinyurl.com/Hornadge was the original discussion on stampboards.com where this project was hatched, and came to fruition.

I phoned Bill, and got his blessing for the work to start.

The special "Stamp News" reader price is very cheap for such a resource, and on the link above there are contact details and extra discounts, to buy it together with the NZ "Kiwi" Catalogue reviewed here last month.
100s of hours of work
It took literally 100s of hours of work by Brian Moore to scan the old pricelists, touch out the handwritten notes, re-format them, and then encode the searchability access to the project - for 1000s of subjects.

I've used the finished CD Rom several times already, and it is very user friendly, and much more useful that I imagined to be honest.

Given the $1000s of time that went into this I really hope many readers buy a copy to support the project. EVERY dealer should own one – no question about it.

That '50c' oddity or set at the rear of stockbook might be a $40 sale if you know something of its background and value ... way more than the $A35 post free cost of owning it, on a single sale.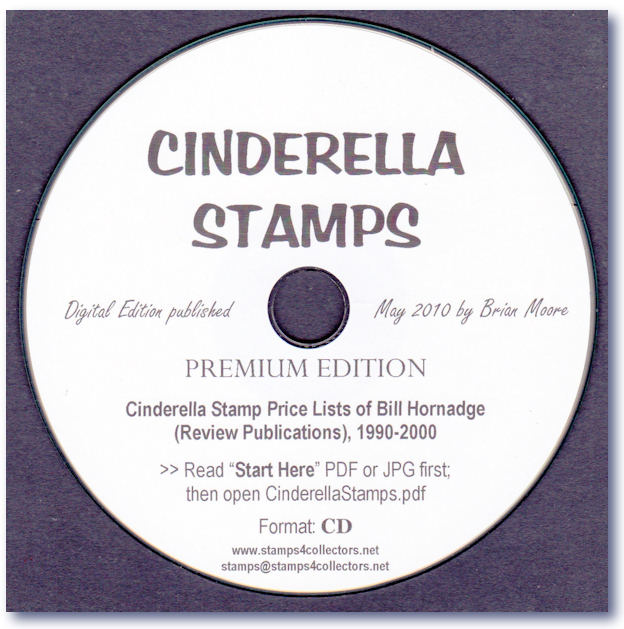 Very easy and simple to use
Whilst the information contained therein was originally compiled as a price list of Bill's retail Cinderella stamp stock, much of the background detail is unavailable anywhere else.

It forms an invaluable reference for collectors and dealers and students alike, hence this stampboards hosted project to make the content available digitally and inexpensively - for posterity.

Accessing the information contained on the CD is easy with Adobe's PDF reading software.

You can browse page by page, or use the powerful search engine to find any reference term. Or print off any specific page or pages.

As an aside of how big a project this was - what is presented on the CD was in fact put together from three different sources of the original lists, for the sake of completion and maximising quality.

Scanning of some pages proved difficult due to the opacity of the paper, and the presence of pen or other notations by previous users.

Highly recommended for $A35 post free. Email for Brian Moore is in the link above – or contact the "Stamp News" Mail Order Dept.
Iceland Volcano ASH stamps!
Well I thought I'd read of everything being on stamps - but this one takes the cake.

On 22 July, Iceland issued the three stamps shown nearby, showing the eruption of the Eyjafjallajökull Volcano, which as we know closed much of Europe's air space for weeks.

All three stamps are silk screened printed by Enschedé, with very fine-grained ash taken from the volcano!

Are you game to soak these?
Enschedé printed the three stamps in sheets of ten. The stamps are inscribed (from left to right) 'Local Letter 50g' (75kr), 'Letters to Europe 50g' (165kr), 'Letters to Other Countries' (220kr)

www.tinyurl.com/AshStamp contains a lively discussion of this trio on stampboards

Cost is just a few Euros a set, but sadly the Bureau now charges quite hefty shipping - and oddly does not use stamps on any sendings, even when clients are being charged.

Bureau Manager Vilhjálmur Sigurðsson agreed with me in an email, that real stamps should be used, but blamed it on staff cuts.

The technical data behind these.
The technical details on the "ash" - taken from their new issue brochure is shown nearby.

Collecting all things Volcano is a big thematic. I am surprised.

There is a VERY long photo discussion on that theme on stampboards, and there are a lot more of those topicals issued than I'd have guessed.
A Tale Of Two Perfs
I made a discovery recently at very low cost, that is regarded by some already as the pre-eminent Australian Decimal currency usage item.

The piece shown nearby has the same perforation $1 stamps .. and both are the rare 14.8 'emergency' late printing – SG 401c. The so-called "Perf 14¾".

Any parcel piece or fragment bearing that $1 is rare, as being a $1 stamp – or about 15 times the letter rate, (i.e. each a $9 relative value based on today's 60c rate) most were soaked off as "FU".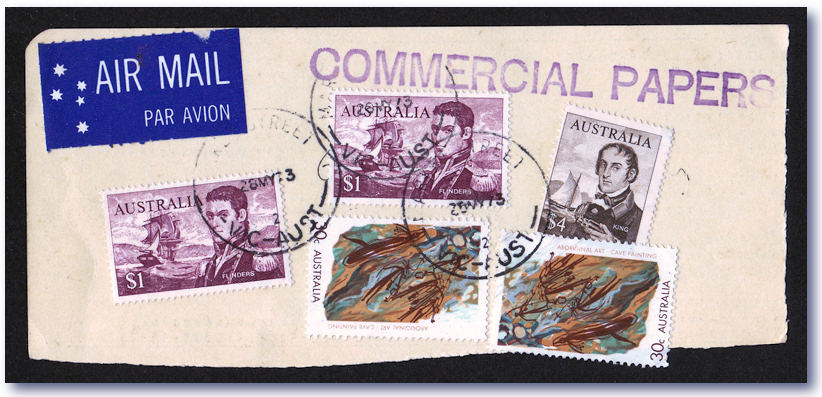 A "Decimal Classic" no doubt

The 8 year old ACSC "Decimals 1" is now sadly miles out of date, re all "on piece or cover" values.

That was a great pioneering effort, largely priced by Rodney Perry, when virtually no-one was interested in on cover/on piece use of very "modern material" - that many 'traditional' collectors sneered at.

Since that point many hundreds of collectors have entered this field, and prices have gone absolutely Ballistic.

www.stampboards.com has numerous discussion threads - listing and highlighting new discoveries, and new purchases and sales.

It is not uncommon to see single stamps from this early Decimal currency era fetching many $100s each on commercial covers.

Stamps that often are worth only cents each in soaked off "used" condition.
ACSC Prices are well outdated

So assigning accurate values is very tough, as a "Cat. $20" on cover ACSC price from 8 years back is often retailing or auctioning at more like $100+ today.

Hopefully this Decimal Volume #1 will be updated in due course, and when it is, many of the new prices in there will be terrifying to those who have not followed this market.

All through my stamp dealer life of over 30 years, I have liked to place new discoveries and new data on paper, and "on the record".

Many generations of previous stamp dealers sadly have not, and philately is so much the poorer for it.

Can you image the finds and discoveries leading Australia dealers like Fred Hagen made in the WW1 era? Or the Miller Brothers in the WW2 era?

Or Mappin and Currin, and Arnold Wheeler and Phil Downie in the 1950s and 60s, or Max Cohen in the 1970s? Generally not a single word of it was in the contemporary stamp journals.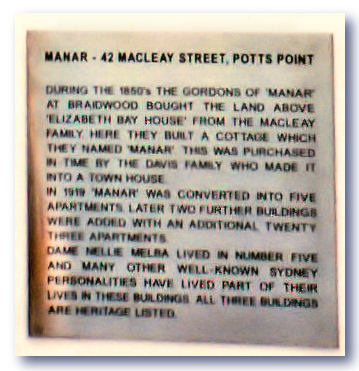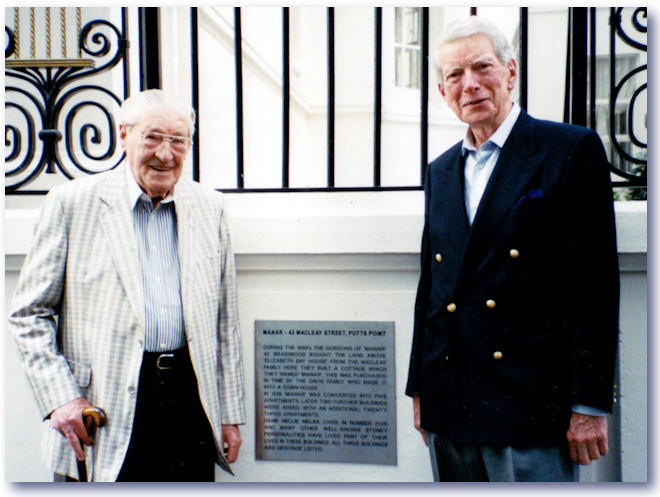 Ken Baker and Kevin Duffy

Ken Baker is still with us, aged 99 - and to my knowledge has never himself committed a word of his incredible stamp adventures to paper.

He has very kindly left me his stamp correspondence files and catalogues, so they will be in safe hands, but the stories HE could tell!

I put to print a small re-cap of Ken's recollection of his long life as a dealer here – www.tinyurl.com/KenBaker

Anyway, I enjoy adding new material to the philatelic permanent record, and a new discovery excites me more than most!

This month I discovered an item that re-writes a small piece of stamp history, and in turn makes for probably THE most important Decimal "useage" pieces yet recorded. It cost me peanuts.
Thank You "Data Card"!
The discovery was 3 x "Commercial Paper" parcel labels, from "Data Card Australia Pty Ltd". Probably a bulk postage type useage.

The 3 pieces at first glance were worth a few dollars total, and only bearing common definitive stamps.

Most collectors (indeed many dealers!) would VERY happily have sold them for $10 or $20 dollars the lot.

The clear dates of the cancels was what I first studied. All were 1973.

The first thing that crosses the enquiring mind seeing the "1966" $1 Flinders stamp with a 1973 cancel, is that it might be the rare "14¾" perforation, issued as an "emergency" print in 1973.

Sure enough, these 2 stamps were indeed that $1 – with perforation 14.8 along top, versus 14.2 on the common 1966 print.

On a parcel tag or piece or cover they are incredibly scarce, and only a few are recorded, and I understand never more than a single is recorded thus.

The 2002 ACSC rates a single stamp as $200 used thus.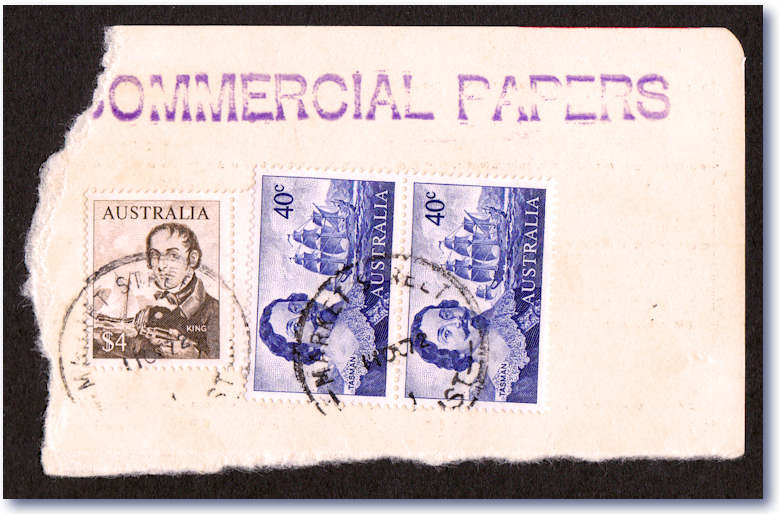 ANY on-tag use of $4 is scarce

| | | |
| --- | --- | --- |
| | And the 1966 $4 Navigator is near as scarce, carrying a $150 ACSC rating on piece or tag, 8 years back. | |
$4 had $36 buying power
Remember $4 in 1973 had the buying power of SIXTY letter rate stamps – or $36 in today's money, relatively speaking.

So these combined on one high value parcel tag cancelled in period of issue, are a "useage" collector's dream!

Today we have things like a 1932 1/- "OS" Lyrebird pair on parcel piece, with estimate $6,750 in Phoenix Auctions, July 27 sale.

A $4 Navigator on a rather similar 1970 parcel tag to that shown nearby, has an estimate of $500 in the same Auction - again showing the old $150 ACSC values are way out of date.

Anyway, all that aside, I knew I had a lovely find here with the $1/$4 Navigator tags.

Taking a closer look I saw the cancel was applied at the large commercial PO at Market Street in the Melbourne CDB, on May 28, 1973.

Stanley Gibbons say the $1, "Perf 14¾" stamp was issued in September 1973, as does the ACSC stating "late 1973" – and also "Earliest recorded postmark date is September 1973."
Four MONTHS earlier than known
Clearly these two shown nearby are cancelled MAY 1973, or FOUR MONTHS earlier than any others yet recorded.

As we can see below with the KGV cover, cancelled a single DAY before other known copies, can create you a $5,125 "gem" – so what price these?

And seeing we are 37 years down the track now, it seems unlikely too many more early dates will appear!

The only thought that crossed my mind was – "what if this is just a simple date slug error" – i.e. " May 28, 73" for either "72" or "74".

That was quickly discounted. These were simply not printed in May 1972, that much is clearly obvious.
The date must surely be 1973
And the large $1 "Sergeant Of The Light Horse" Definitive was issued in April 1974, and a large CDB PO like Market Street would have started using those right from the April issue date.

The $4 "Shearing Of The Rams" definitive was also issued in April 1974, and the same logic applies about being used from day #1 – so clearly this parcel tag WAS cancelled in May 1973.

It simply cannot have been 1972 not 1974 on the balance of any probability. Also large POs had their date-stamps checked several times each day.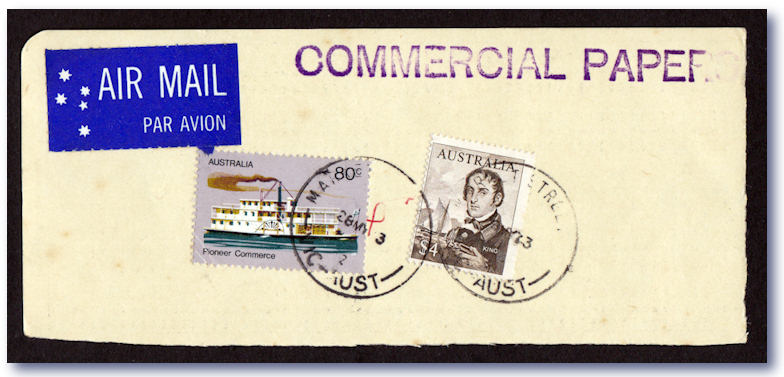 Late use of the $4 Navigator.
So here we have a really scarce $1 stamp on piece, with a date proving it was on sale FOUR months earlier than the leading literature records.

That to me is very exciting, and proves that a little detective work and logic can all add to the philatelic story at times.
WHY are they so scarce?
Why are these $1 "Perf 14¾" so scarce? Simple – the PO made no announcement whatever at the time that the perforating head had changed slightly.

It was some years later - in the late 1970s when Alan Salisbury, writing in the specialist "Commonwealth Corner" column of the "ASM" magazine, reported he had been shown a used copy.

The hunt was on, and dealers and collectors trawled through their holdings of mint and used copies of the otherwise common $1 Navigator - and both mint and used copies were discovered.

As there was no announcement of it, dealers and collectors alike missed the chance to put aside mint copies, so even today they are an $A80 stamp.
A quick way to check perfs.
The fast way to check the perfs on these, is to hold up any $1 right over a 40c or 75c of the series … which are always perforated 14.2 along the top.

If the perf tips line up perfectly all along the top – you have the common $1 perf. If the perforation tips fall out of line, you have the "good" 14¾ version. A fast and easy way to check.

I have passed this discovery on to the editors of the ACSC and Stanley Gibbons etc, to allow them to amend their earliest recorded date for this stamp to May 1973.

It may be even earlier, who knows - but May is proven, and is far earlier than September.

In the case of KGV heads, even a usage a DAY earlier than recorded can cause major frenzies!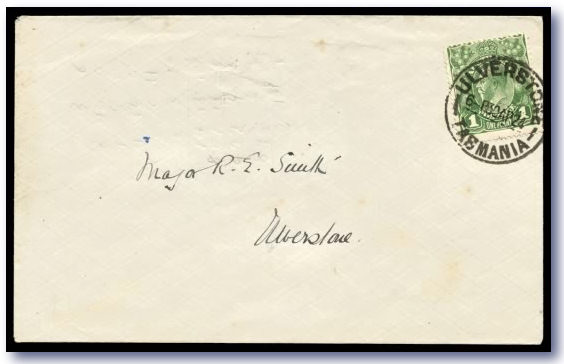 $5,125 well spent?
Some genius paid $A5,125 for an apparent simple date-slug error on a 1d green KGV commercial cover at auction in February 2009, that had a shopping list scrawled across the back.

That cover was allegedly used the day before issue at a small Tasmania PO. Sure thing.

I'd have gladly taken $50 for it, but what do I know about KGV heads!

A client expressed interest in the 1973 pieces, and for a sum just breaching 4 figures, he now owns them.
Consult the Crystal Ball
In 10 years time, will the 1d green cover still be worth FIVE times this trio? I'd bet the answer is "NO WAY".

Would they have bought more than that in an Auction? Who really knows, as I auction NOTHING.

However my honest guess is "HELL YES" as many collectors are keen on this area, and clearly pay breathtaking prices at times when bidding against each other.

This $1 and $4 Navigator parcel tag would be possibly the most significant Australian decimal "usage" piece existing, and the absolute Rolled Gold key for any serious exhibit of the era.

Three tags each with a $4 Navigator are probably worth well into 4 figures alone these days – forgetting entirely the $1 perforation 14.8.

If 2 x 1/- Lyrebirds on parcel piece are estimated in the $6,750 region – and I do not dispute that is around their true value level, these will seem a bargain in a very short while I suspect.

Where did they come from? As unsold postal bid sale lots from a highly venerated collector body in this part of the world, and cost me peanuts.

I am flying to Montevideo Uruguay (via Canada!) a few hours after I type this.

This little find – and recognising its significance – paid for my entire stay at the Sheraton there. As I type incessantly – "Knowledge Is Power"!










Get my regular market update emails FREE. Stamp gossip, price trends, record sale prices, and many one-time stamp specials, wholesale bargains, and exciting offers and breaking philatelic news. A mini stamp magazine in every email! "KNOWLEDGE IS POWER". The ONE stamp list you MUST be on, to keep in touch with the rapidly changing world market. One client made $65,000 profit in a few months after following my specific advice. Sign up securely and quickly by clicking HERE to access my automated data base. And wiser still ADD your home AND work email, if I only have one right now. Add a stamp friend's email address if you wish. One short click and you are subscribed to probably the most read email list in the stamp world!


Instant Currency Conversion


FREE! Just click here...




If you would like to be notified of updates to this website, Click HERE. If have any questions,
or comments regarding my site, please email me at glen@glenstephens.com



| | |
| --- | --- |
| | Search all my 300+ web pages! Simply type in what you are looking for. "Penny Black", "Latvia", "Imprints", "Morocco", "Fungi" "Year Books", etc! Using quotes ( " ) is more accurf used with no quotes. Search is NOT case sensitive. Tip - keep the search word singular - "Machin" yields far more matches than "Machins" etc. |


I am a Dealer Member in Good Standing Of:

Full Time Stamp Dealer in Australia for over 25 years.

Life Member - American Stamp Dealers' Association. (New York)
Also Member of: Philatelic Traders' Society. (London) ANDA. (Melbourne) American Philatelic Society, etc

GLEN $TEPHEN$

Full Time Stamp Dealer in Australia for over 25 years.

Life Member - American Stamp Dealers' Association. (New York)
Also Member - Philatelic Traders' Society. (London) ANDA. (Melbourne) American Philatelic Society, etc


ALL Postage + Insurance is extra. Visa/BankCard/MasterCard/Diners/Amex all OK, even for "Lay-Bys"! All lots offered are subject to my usual Conditions of Sale, copy upon request BIGGEST STAMP BUYER: Post me ANYTHING via Registered Mail for my same-day cheque. Avoid the GENERALLY 40% Auction " Commissions" (15% + 17½ + GST, etc.) AND their five-month delays! Read for details.

"Lothlórien4 The Tor Walk, CASTLECRAG (Sydney), N.S.W. 2068
Phone: (02) 9958-1333 Fax: (02) 9958-1444 (Both 25 Hours, 7 Days!)
E-Mail: glen@glenstephens.com
Web Sites: www.glenstephens.com www.glenstephens.net or www.australianstamps.net