Click To Go Back To The Main www.GlenStephens.com Stamps Homepage

Welcome! You are visitor
to www.GlenStephens.com




Glen Stephens
Monthly "Stamp News" Market Tipster Column


August 2011

---
Tax Dept checking on ebay sellers.
tinyurl.com/ATOebay discusses in depth a new ebay Australia official Announcement, that related to information ebay passed to the Tax Office on August 1 - tinyurl.com/ebayATO

"The Australian Taxation Office (ATO) and Centrelink have each advised eBay that they will be issuing formal requests for information relating to sales by Australian eBay members, who sold over $20,000 worth of goods on eBay.com.au during the tax year ending June 2011.

The ATO and Centrelink have indicated that they will request the following information in relation to affected sellers:

Contact name, Address, Telephone number, Email and IP address, User ID, Date of birth, Date of registration on eBay, Monthly and annual sales volumes and value, Power Seller status, eBay store status

eBay is legally required to comply with these requests for information. In addition, such disclosure is also permitted pursuant to our Privacy Policy.

We confirm that disclosure will be made to the ATO by August 1 2011, and in accordance with Centrelink's required timeframes. eBay may also be required to provide available bank account information" they concluded.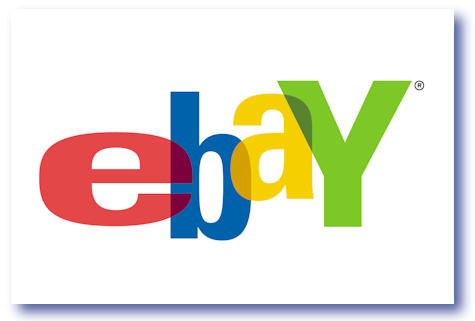 Sold over $20,000 on ebay?
I am not sure if this is an issue that occurs in other countries?

Not a large number of genuine stamp collectors will have done over $20,000 a year I guess, but they will be far more than we imagine I am sure.

This probe comes also from Centrelink, and they oversee all pensions and benefits – some of which have strict "income" ceilings. Exceed that "income" and your benefit may cease.

Ebay/paypal fees are well over 10% these days, so lots of sellers try and sell goods "under the radar" of ebay.

Find a good buyer and then offer all kinds of things as "private" sales via email, and bank payment, to avoid the eBay/paypal gouge.

However if the ATO demand the bank account numbers as seems apparent, this extra activity wil be a lot more evident.
PNG "Specimens" sell for $A3,262
You see some weird things at public stamp auctions.

Prices that no sane person would pay a dealer, often get double that at auctions. Or TEN times!

Whether it is the excitement of the moment, a rush of blood to the head, inexperience, more money than sense, ego, or not wanting a fellow collector to get it - often the end results are NUTS.

In many cases the bidders by phone or internet forget in the excitement of the moment, the price they bid will have 15 to 20% tacked onto the price they actually bid.

So a "$2,800" bid is really going to be near $500 more than that on your invoice, when all the "Buyer Fees" and GST etc, are glued on!

When the hammer price is in the $1000s league we are talking several $100 in extras that will be on your invoice.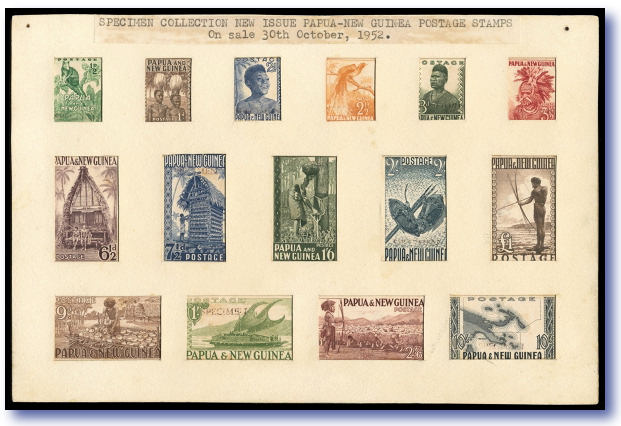 A $3,262 PNG set at Auction
The April 30 Prestige Auction had a set of 1952 PNG Defins in a rough frame, that apparently had been in a Post Office window somewhere.

The set is shown nearby .. excuse the very poor quality fuzzy image, but that is all they had loaded.

Offered with a few other small account stamps with faults, it was invoiced for $3,262 before postage and insurance etc.

The set was apparently overprinted "Specimen" - but the Auction stated the wording had faded after exposure to the sun.

Not to be confused with the heavy bold overprints on the 10/- and £1 done in Australia, and sold in "Specimen" packs, and listed in SG at £120.

The only one I could see an overprint on was the 1/- green, and even then only part of the word was visible to me.
Estimate was $300 – most sensible!
The estimate was $300, and to be totally honest if I owned it, I'd have VERY gladly accepted that price for this lot.

WHY it was bid to $A3,262 only the bidder and under-bidder(s) knows .... the mind boggles.

Prestige and I seemed in concurrence that a few $100 was fair value for this piece.

The price was discussed on stampboards, and members there were also perplexed at the result.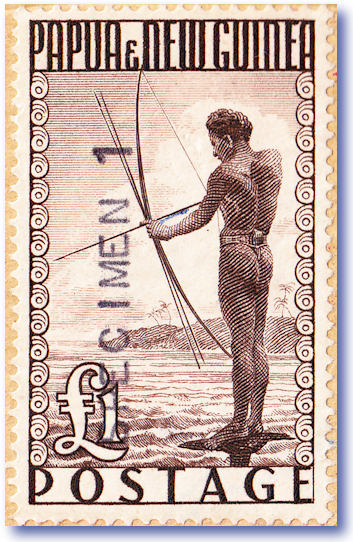 From the depths of my archives!
I delved into my files of long forgotten oddities, and came up with a 1952 £1 Fisherman that was overprinted "SPECIMEN1"

I bought it decades back from another dealer's stock for a pittance as it was unusual, and I had not seen it before.

It was mounted on thick card and affixed to another card – possibly an Archives item that was "Liberated" 50 years ago etc?

It then rapidly found a new home with a PNG collector – for a very tiny % of the auction result, yet we both were happy.
New information surfaces
A Bavaria, German stampboards member "wolfgang" later posted up scans of the same £1 Fisherman with same vertical overprint on piece, with 2 x ½d as well - all pen cancelled.

He also showed the pair illustrated nearby bearing other values, and with a clear cds of the PNG "Training Post Office".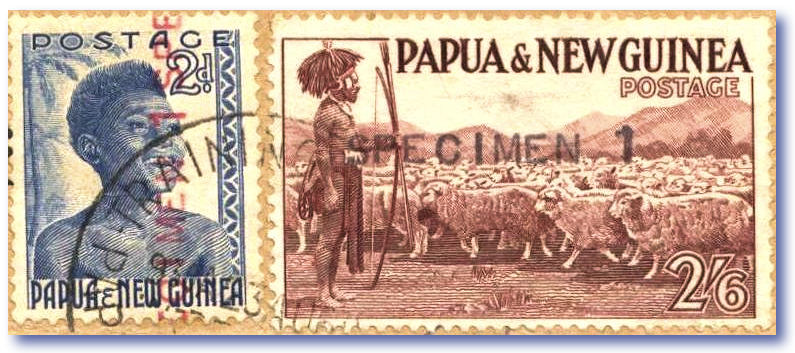 Mystery solved - from Germany!
So mystery solved on those. And near 60 years since issue, may well have not been recorded before.

New PO recruits were given these stamps to sort and count, and lick and mess with, as part of their training course.

As to the bidder for the faded set at $A3,262 – well paragraph 3 above refers!
Hepburn stamp gets $A170,000
I reported in the September 2010 magazine on the fascinating saga of the Germany Audrey Hepburn "Error" stamps.

tinyurl.com/Hepburns gives you the full rundown - it is the most comprehensive coverage of these stamps - in English OR German.

And it shows EVERY copy of the stamp known to exist - mint and used, and outlines their unique stories.

The unique mint sheetlet of 10 was auctioned October 16, 2010 by Schlegel Berlin, and realised 430,000 Euro – then $A610,000.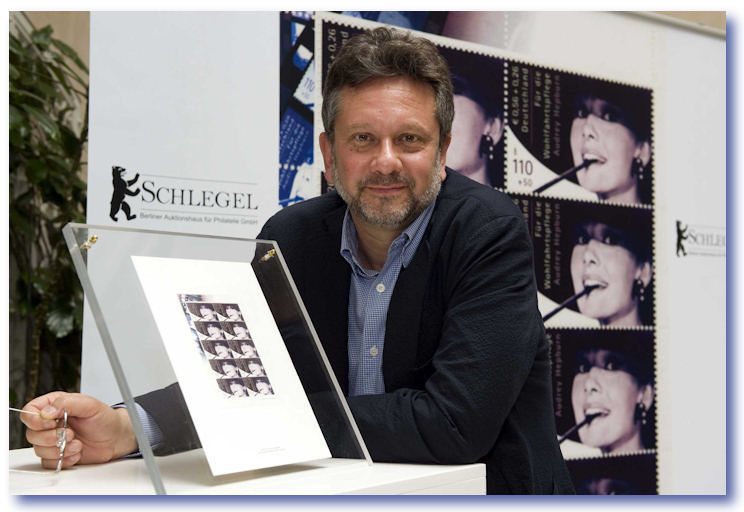 Son Sean Ferrer with the block of 10
Hepburn's son, Sean Ferrer said he was donating all the proceeds of the sale to UNICEF – a favourite charity of his mother.

He still has a single mint copy, that he has indicated the family may retain.

This 430,000 Euro price was well below what I expected, and a was a superb buy for someone.

As I typed in my December 2010 column -

"Schlegals appear totally inept at global marketing, and I suspect someone savvier, like Prestige in Melbourne, or Shreve/Spink in USA would have got a FAR higher price."

"I feel sure there are at least 10 keen collectors who'd pay 85,000 Euros average a stamp, doubling the buy price. Germany is a massive stamp market."

I personally would give NOTHING to this Schlegal auction. Try googling them - they essentially do not exist! Even when using google Germany.
"Mary Celeste" stamp auction house
Schlegel Berlin are the "Mary Celeste" stamp auction house on the web - inexcusable in 2011.

When I did eventually find them, my enquiries to them were akin to talking to a brick wall. Hopeless. How do these outfits stay in business?

Anyway, that aside, my price prophecy quickly came true – BIG time.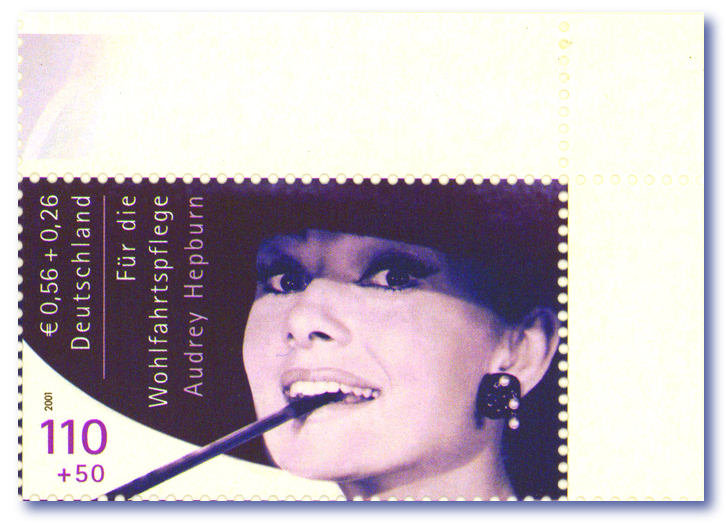 Audrey gets $A170,00
The top right hand single from this sheet was auctioned on June 10, 2011 by Galerie Dreyfus in Basle Switzerland, and was invoiced for 126,000 Euro – or about $A170,000.

As I predicted the person who paid 43,000 Euro a stamp in October got a real bargain - with this example bringing near THREE times their cost.

I have no indication who the seller or buyer were.
Contact the under-bidders!
As Galerie Dreyfus had at least one and maybe more under-bidders, one assumes approaching them might get from 3 or 4 bidders, what the entire block of 10 sold for only 8 months earlier.

ALL five used copies offered of this stamp in the past have sold for well over $A100,000 each - indeed one fetched $A272,000. So $A170,000 for a mint copy seems about right.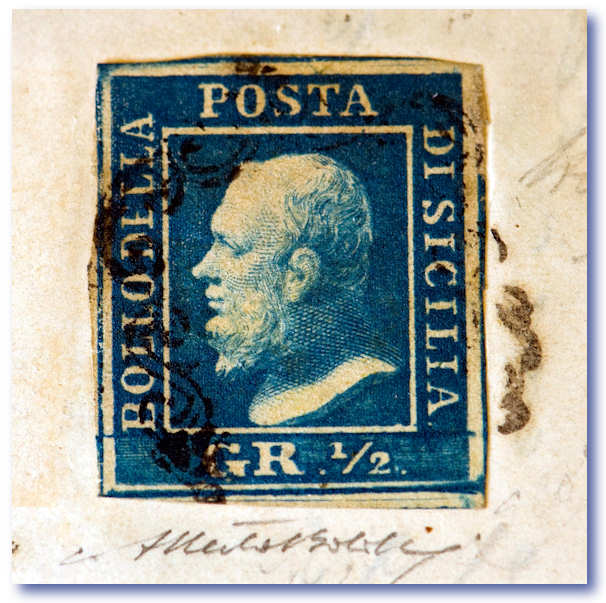 Near $A2½ Million Sicily error
Another highlight of the Dreyfus sale on June 10 was the auctioning of the Sicily 1859 ''error of color'' (blue not orange) on piece, for 1.8 million Euro – or $A2,440,870 on day of sale.

From all accounts this was a genuine Auction result, and if so, would make this one of the most pricey philatelic pieces on earth.

The buyer of the Sicily error of colour was stated by Dreyfus to be based in France.

Another strong result from Dreyfus was the ''Champion'' letter from 1855. Apparently named as the legendary Theodore Champion once owned it?

It is franked with two Switzerland 5c Strubels in blue instead of the usual brown, and a normal brown 5c Strubel stamp.
Auctioned for the first time?
Supposedly auctioned for the first time ever, the cover is stated to have fetched 1.5 million Euros.

Excuse the terrible scan, but that is all this auction offered. It appears to be the only time this image has appeared as far as I can see.

For a $A2 million+ piece I find that quite incredible.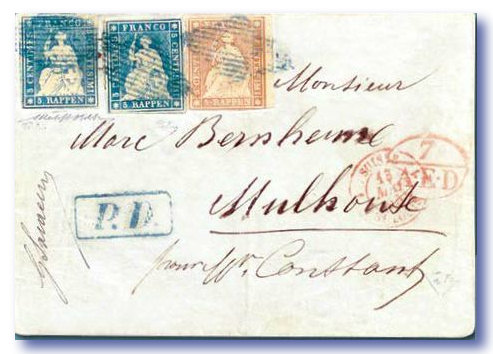 Over $A2 Million for this.
If you have an hour of your life to waste getting frustrated, be my guest - tinyurl.com/dreyfs

Like many European auction houses, their online interface is absolutely appalling.

They seem to spend a fortune with high tech whizzes - who add all the bells and whistles we do NOT need, and forget the absolute bare basics!

A week after the sale no prices realised were posted. Several emails from me were unanswered. So I am ASSUMING the prices above are quoting invoice prices.

However as the auction house foolishly does not show prices realised, or answer emails, they might all be plus 20% in Fees – who knows?

A ton of money for these pieces no matter what figure you use!

The Swiss cover I've never heard of before. A lot of web searching brings up nothing on it.

I was told some feel the blue stamps are simply essays or proofs used alongside an issued stamp.
Thailand is HOT!
I must give credit to Prestige Auctions in Melbourne for often devoting entire sales to material I'd have guessed might bomb or perform rather poorly, yet turns out very well.

The Thailand collection of Adelaide academic Len Colgan Collection was offered on June 24.

I know very little about Thailand stamps, see almost none of them, and would die if asked to lot up a collection such as this!

I glanced through the results after the sale, and my overview was near all of it sold, and for around or well above the estimates, which all looked pretty full was my feeling.

Prestige advise 93.5% of the lots were sold, with the total invoices being near $A500,000, making this by far the best result for an Asia-only sale in Australia.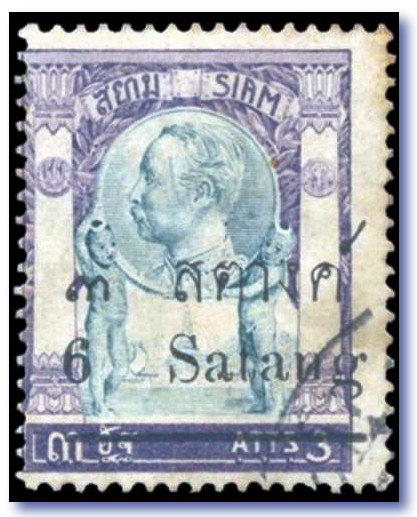 Who'd have thought $4,900?
Some of the realisations amazed me, and credit to Prestige for taking on such a collection - AND getting for the vendor (who I do not know) a far better price than any other firm on earth would have garnered is my guess.

The stamp nearby is one I chose at random. If it turned up in a book here I'd have no idea of what is was, and standard catalogues would not assist me. Prestige gave this description -

"1909 New Currency Satang Surcharges on Wat Jang Issue '3 Satang' on 3 atts violet & grey with Error of Surcharge '6 Satang' F&O #119c (H #137c), neat corner cancellation, Cat 50,000 baht (= $A1666) mint; unpriced used. [Frajola & Ostlie state "It is possible that the errors...were produced in connivance with postal authorities.]"

The estimate was $A600, and it sold for $A4,893 when all the add-ons were tacked to the invoice. There were covers right up into the $40,000's league, that looked pretty ordinary to my untrained eye.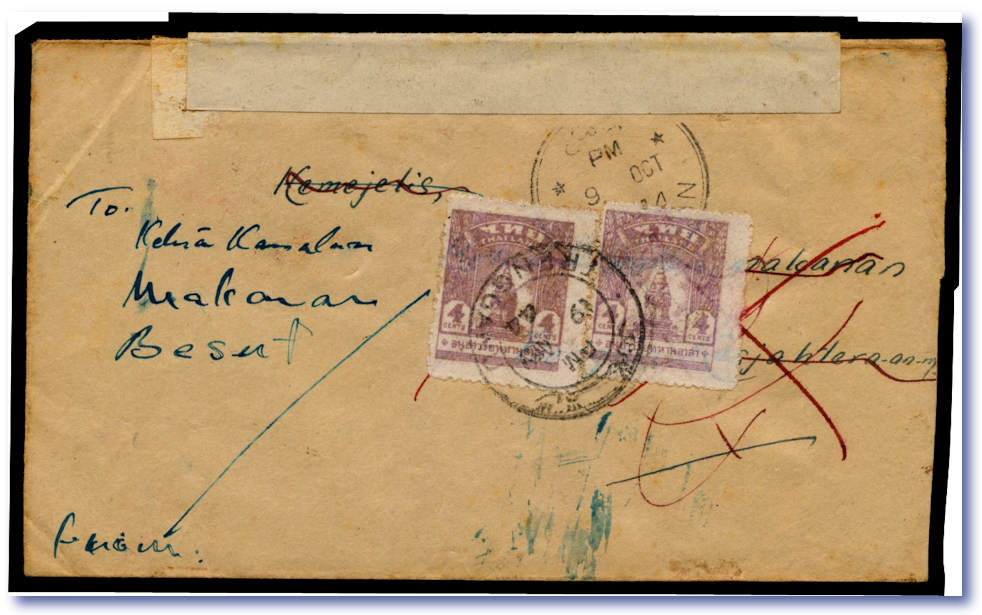 $1000s each for WW2 covers?
A group of three covers from the period of Thai Occupation of Malaya during World War II soared to $8,912 invoice, making the $400 estimate look like it was a zero short!

Anyway, I hear the vendor was happy, and good to see material from unusual places getting strong results, when offered lotted up carefully - and promoted widely
Tonga block sets world record.
Another example of the benefit of the global reach Prestige Auctions has, was in the result earlier year of this Tonga "Inverted Centre" block of 4 of the 1897, 7½d King George II.

The seller was well known Tonga collector, philatelic judge, and stampboards member – David Benson from Sydney.

With an estimate of $25,000, and SG 48a cat £24,000, I'd have expected an invoice price of about $30,000 (as did the vendor!) was likely – indeed $28,000 was the highest "book bid".

This guess was based on the prices two singles of this same invert from David's collection had sold for in the same auction in recent months, being invoiced for $A6,325 and $A8,625 respectively.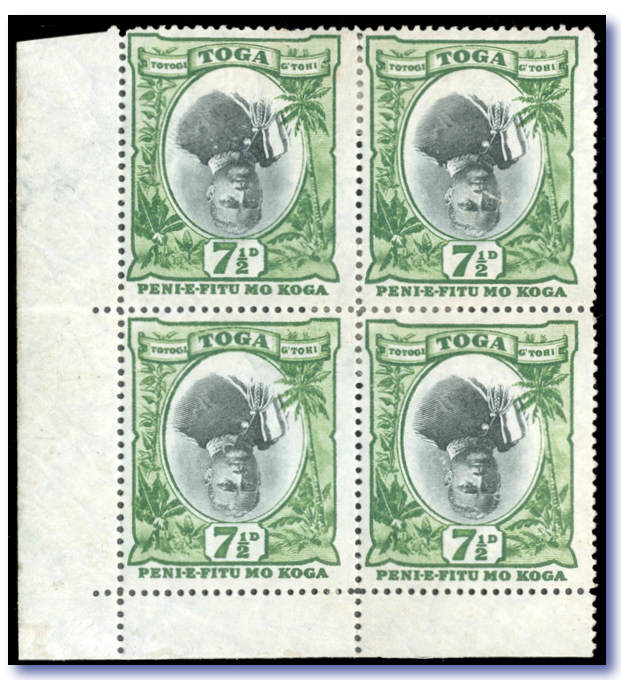 Tonga Inverted Centre Gets $74,250
The battle came down to three determined overseas telephone bidders, from 3 different continents, and the most determined won the day.

The item opened "on the book" at $21,000 and the auctioneer went up in $1000 increments to $40,000, and then bids of $2,000 and $2,500 from that point.

The first to fall, an American client, dropped out at $44,000. At $50,000 there were audible gasps in the room. When the hammer dropped at $65,000 to "Aaron", spontaneous applause broke out.

Prestige owner Gary Watson confirms that the block went overseas to a male bidder, so there was no GST on the "Buyer Fee" - hence invoice was $A74,750, plus shipping and insurance - so little change out of $75,000.

The block as can be seen was terribly centred, the top stamps had gum thins, stamp 1 had pulled perfs, and hinging appeared heavy, but all of no concern to the bidders!

tinyurl.com/TongaKing is a special link to the full audio call of this lot, created by the Prestige techies, for all that are interested - a fun bit of stamp price history.

Benson told a stampboards meeting at "Expo 2011" he purchased the block in 1975 at the Sir Lacon Threlford sale by Harmers, where it sold for £2,000.

tinyurl.com/TongaInv outlines Benson's story of exactly how he came to own the block – he was at the 1975 sale but did not buy it directly.


Instant Currency Conversion


FREE! Just click here...




If you would like to be notified of updates to this website,

Click HERE. If have any questions,
or comments regarding my site, please email me at glen@glenstephens.com



| | |
| --- | --- |
| | Search all my 300+ web pages! Simply type in what you are looking for. "Penny Black", "Latvia", "Imprints", "Morocco", "Fungi" "Year Books", etc! Using quotes ( " ) is more accurf used with no quotes. Search is NOT case sensitive. Tip - keep the search word singular - "Machin" yields far more matches than "Machins" etc. |


I am a Dealer Member in Good Standing Of:

Full Time Stamp Dealer in Australia for over 25 years.

Life Member - American Stamp Dealers' Association. (New York)
Also Member of: Philatelic Traders' Society. (London) ANDA. (Melbourne) American Philatelic Society, etc

GLEN $TEPHEN$

Full Time Stamp Dealer in Australia for over 25 years.

Life Member - American Stamp Dealers' Association. (New York)
Also Member - Philatelic Traders' Society. (London) ANDA. (Melbourne) American Philatelic Society, etc


ALL Postage + Insurance is extra. Visa/BankCard/MasterCard/Diners/Amex all OK, even for "Lay-Bys"! All lots offered are subject to my usual Conditions of Sale, copy upon request BIGGEST STAMP BUYER: Post me ANYTHING via Registered Mail for my same-day cheque. Avoid the GENERALLY 40% Auction " Commissions" (15% + 17½ + GST, etc.) AND their five-month delays! Read for details.

"Lothlórien4 The Tor Walk, CASTLECRAG (Sydney), N.S.W. 2068
Phone: (02) 9958-1333&n Fax: (02) 9958-1444 (Both 25 Hours, 7 Days!)
E-Mail: glen@glenstephens.com
Web Sites: www.glenstephens.com www.glenstephens.net or www.australianstamps.net

Sign up AUTOMATICALLY to my world renowned bi-weekly stamp gossip mailing list!

Click here to see MANY 1000s of stamp lots for sale at low $A Nett prices

Click here for all you need to know re SELLING your stamps for SPOT CASH

Click here for the current Monthly "Internet Only" special offers - CHEAP!

to read all my recent International stamp magazine articles. Click here to get back to the main www.GlenStephens.com Homepage

Click here to ORDER on-line ANY items from ANY of my dozens of lists

Click for all info on Conditions Of Sale, Payments, Shipping, Returns &c

Click here for the complete library of my very unusual world travels!

How to PAY me. I accept EVERYTHING - even blankets and axes and beads!

Australia Post Annual YEAR BOOKS - massive stock - '27% off' discount offer today!



Visit my new page on RARITIES - Roos & other expensive photo items.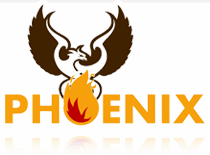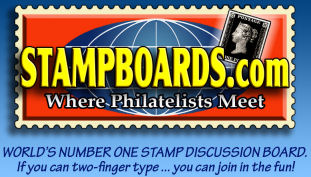 Instant Currency Conversion


FREE! Just click here...



E-mail me at glen@glenstephens.com -

Every credit card shown is accepted WITHOUT fee.
Earn Frequent Flier points while buying at bargain prices!
ALL prices are in weak Ozzie Dollars. I charge NO nasty, nasty
"Buyer's Commission" on stamps like nearly every "Auction" does.