Click To Go Back To The Main www.GlenStephens.com Stamps Homepage

Welcome! You are visitor
to www.GlenStephens.com




Glen Stephens
Monthly "Stamp News" Market Tipster Column


August 2013

---
Please use STAMPS!
Readers of my columns over the last 30 years will realise that this subject is one of my pet "hobby horses". And I make no apology for raising it again!

This column is a "primer" for how we all hopefully should mail packets and sendings to each other. No matter WHERE you live!

Nothing bugs me more than receiving a parcel that cost $20 or $25 to mail, from a dealer or collector, and seeing two near worthless $10 definitives on there as franking.

Or far worse still, a white "Supermarket" type white self-adhesive meter frank label - value to anyone being ZERO. Or a plastic pre-paid satchel.

This makes my blood boil. How on earth are future generations going to source FU copies of short issue stamps unless WE all try and use them postally today??

Simply Poor Manners



Not only is it very poor manners to another member of the stamp fraternity - it is often costing YOU money, as most times I do add on something decent for the nice frankings, when folks are sending me material to purchase.

And if I pay postage for an auction sending or something, I can GUARANTEE you will get a rocket from me, if you expect me to pay for lazy junk definitives on my packet.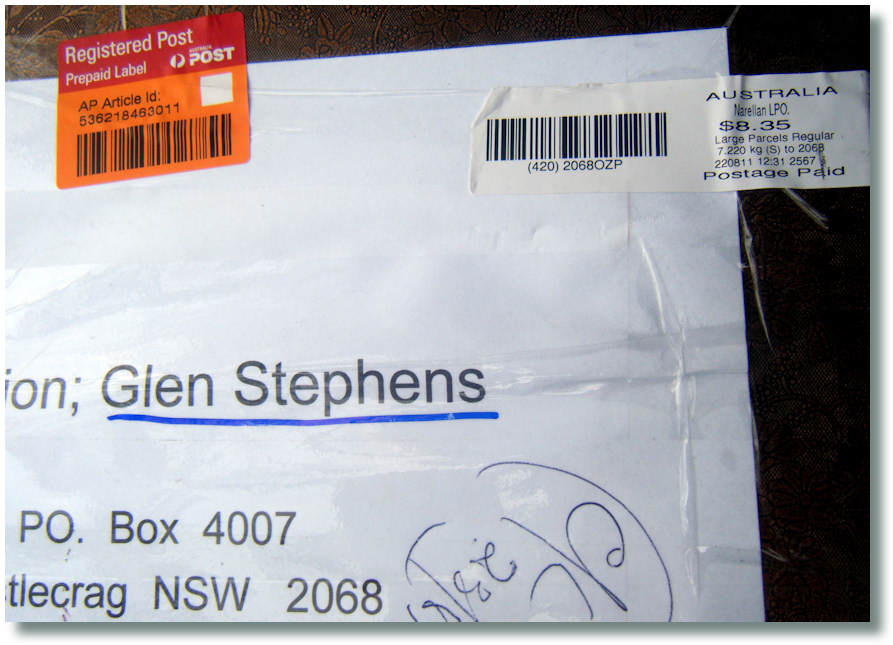 Please ask for STAMPS!
The parcel front shown nearby cost some thoughtless collector $8.35 to mail to me locally - and they allowed the PO to affix a "Supermarket" type white frank label - value zero.

My blood pressure is sky high before I even open up such parcels, and trust me - the sender often gets FAR less, than had they used some nice STAMPS.
A worthless $81 white label
Some idiot from Perth used a $81 white label on a road parcel to me this week. Had he used a Block of 4 of the current $20 Glover Painting, I'd have allowed him $50 extra in his payment. Why?

tinyurl.com/20Block4 is where I sold a postally used block of these for $70 this year on a parcel from Darwin - why don't all collectors use such logic?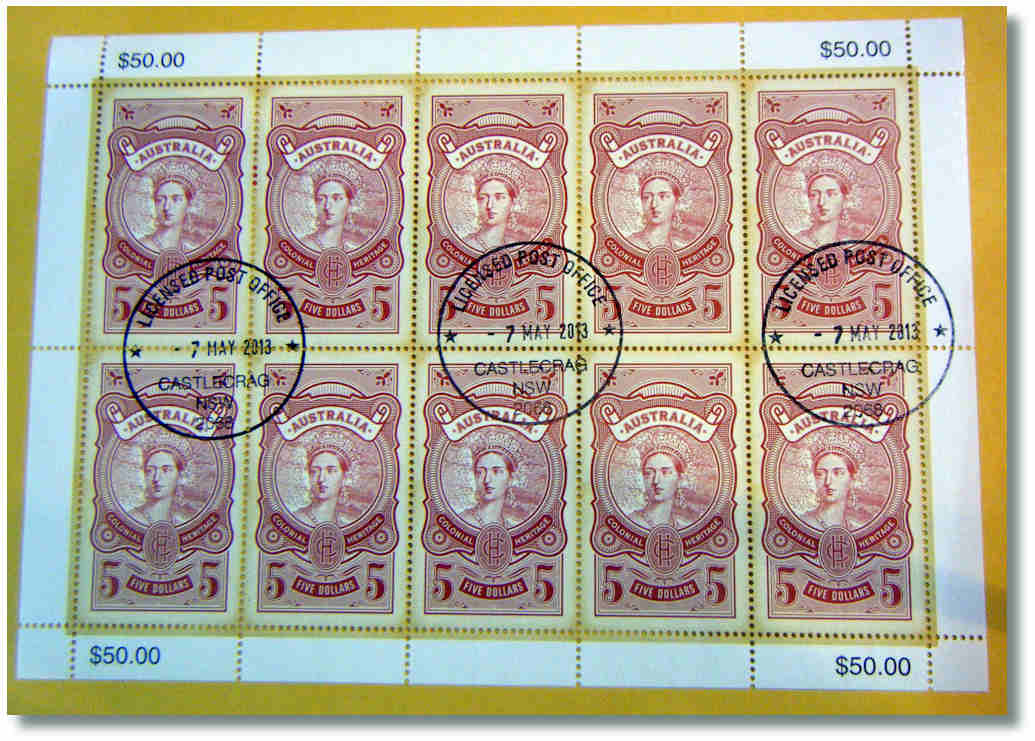 MAKE money on a $50 parcel.
The recent huge price increases for parcel post here means you are a MUG if you do not use stamps to pay for your sendings.

$50 is a MEDIUM weight surface parcel to or from WA or NT these days, and all dealers and collectors need to get savvy to compensate.

Parcel costs overseas are terrifying since the very recent price hikes

The recent ACSC "Postal Stationary" catalogue costs me over $A100 Insured air to Europe - buyers EXPECT me to use decent frankings to defray costs.
Small parcels are often $100+ now
I bought 100 of these sheets of $50 shown nearby to use on parcel mail to clients. They are VERY popular.

Took this photo at PO on a parcel to WA to make the point on stampboards.com that a $50 franking can be worth MORE than $50 on receipt!

Why can't the Australia Post boffins use some BRAINS and have a pictorial designs on these annoying white label blanks - exactly as the UK does with their machine labels?

Send some letters in folks - someone in there may actually take notice, and they then MAY be collectible one day.

One of the recent pretty UK issues is illustrated nearby. Collectors LIKE these labels.

MINIMAL cost to create, and global philatelic sales of these brings in 10,000 times more than any production costs.

Changing the base designs each year or so as they did with "Framas" labels is savvy, and generates much philatelic usage and purchases.


Why can't AP use designs?
The secret of mailing these days of course is to outline clearly to the PO clerk BEFORE you start the transaction, that you are sending your packet to a stamp collector, and you WANT them to use stamps on the sending "PLEASSSSE".

Most of the time they use the boring white labels by automatic force of habit, as they are faster and easier. Clerks often claim they cannot void the label output once printed - nonsense.
"We cannot use stamps anymore"
Read instead: "Voiding this label will take me 30 seconds, and I cannot be bothered to do that".

Some clerks here now claim - "we now cannot use stamps on parcel mail". Utter fiction. Get smart - affix stamps to parcel BEFORE you take it in, and they then can't use that lame excuse for being lazy.

Within Australia a stockbook type packet costs about $15-$20 to most places. The PO has a good online rate checker. Lick on a block of 10 x $1.50 or $2 Commemoratives on, and you are ahead of them!

Many dealers sell mint stamps well under face that you can use for postage, and I have no idea why every stamp den does not have a folder of them sitting there for this use. More now than ever.

tinyurl.com/300saved offers $A1000 of face value in perfect full sets for $A700, so you SAVE money - $300 - using stamps and not labels. AND get happy recipients as a bonus. WIN-WIN.
"I want STAMPS please"
So be clear right up front you want your Post Office to use real, attractive, postage STAMPS.

And you will never then have issues with them doing so in my experience.

I find the same in the USA or Europe or Canada when I post parcels to clients, which is often when I am visiting those places - the same approach works.

Tell the clerk CLEARLY up front you want real stamps, and they usually are happy to be co-operative. In fact it occurs so seldom, they often get right into the pantomime with you!

Or pre-affix roughly the stamp value needed before you leave home for your PO, and problem solved. Use up some surplus mint stamps.

Foreign mailers … even large Auctions - CAN use current stamps - if you ask, and IF they bother to try.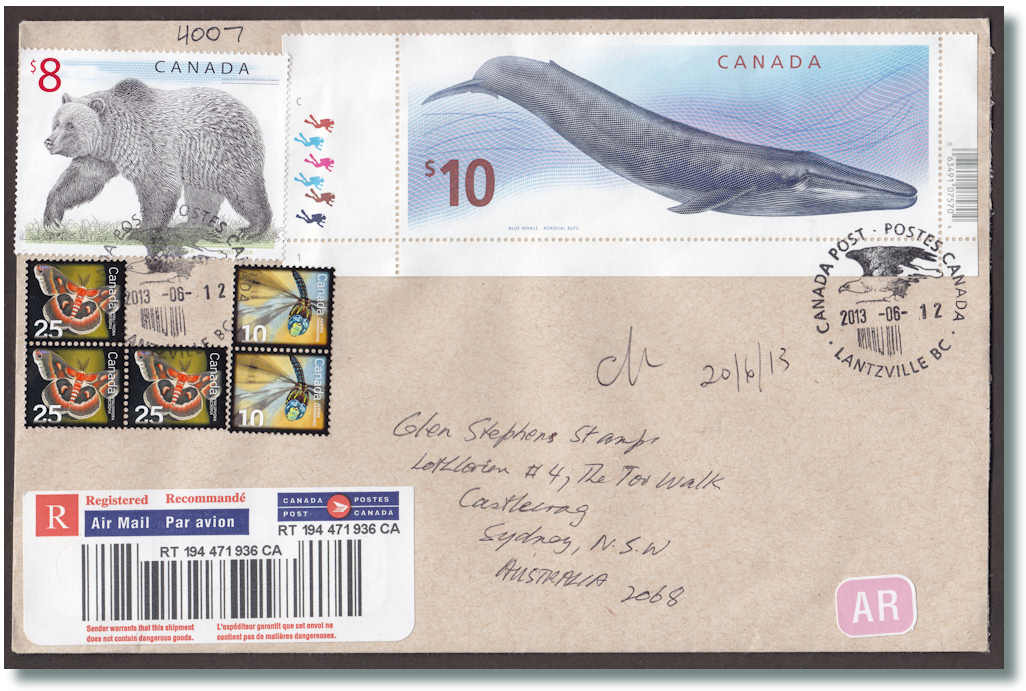 Cost under $20 - sells for $40
A client recently mailed me the Canada cover shown nearby. Has the massive $10 Whale and $8 Grizzly, and some low value shrapnel to make up exact correct "AR" registered rate. All on sale at all PO's there.

Cost him exactly the same as using a boring and worthless label. I listed this up for sale on stampboards.com today at $40, and have no doubt it will sell.

In 10 years' time a perfectly valid used in period like this will be worth many times that, so WIN-WIN all round!

We all have the responsibility to ensure that future generations of collectors get a supply of used stamps from OUR era.

I get packets from senior, senior, Gold Medal collectors that use pre-paid envelopes and satchels, indicating a total laziness and apathy, and that is appalling, and I was very tempted to name names. YOU know who you are!
New Gibbons "AUSTRALIA"

The backbone of the stamp collecting hobby are the Stanley Gibbons Catalogues.

Anyone using books like Scott or Michel for this part of the world is frankly just wasting their time.

The brand new 2013 "Australia" book (8th Edition) is an absolute essential, for ANYONE collecting or dealing in this region.

The Seven Seas Stamps "ASC" catalogue used to be the unassailable leader for this kind of single country catalogue. Dominant, ANNUAL, accurate prices, full colour, and well laid out.

However they have adopted the cunning Mao and Stalin "Five Year Plan" tactic it seems, and grace us with a new edition once or twice a decade - so SG have wisely filled the gap!

The Brusden White - ACSC publishers seem to have also copied this very brilliant business plan in the past decade or so, with precious little new output, although this year has seen an encouraging sign the long hibernation is behind us.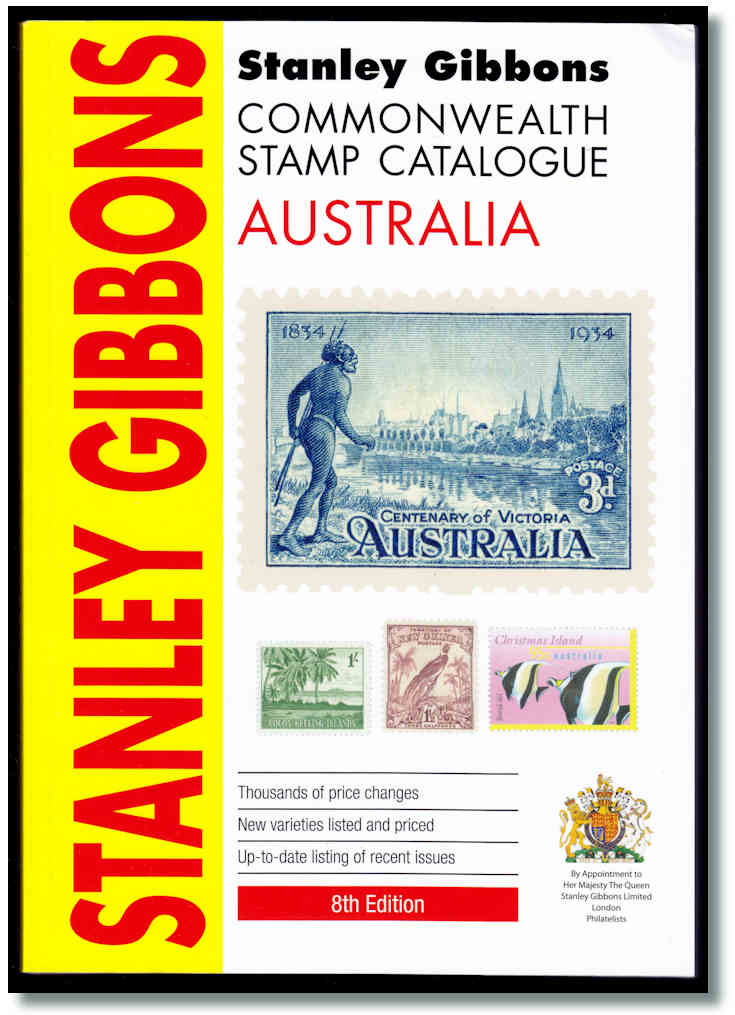 Outsmarting the local publishers
I have often typed, the ACSC 10 Volumes were THE most comprehensive and detailed specialist catalogues published in ANY country, and I do hope some updates of past volumes returns there soon.

A sad state of affairs, that has been a large sea-anchor on the strong real-world prices we have in this market, so Gibbons have stolen some serious business from them too.

New editions of this SG "Australia" have been appearing each year or so, given the inexplicable vacuum left to them on a plate by Seven Seas Stamps and Brusden White.

This latest SG edition continues in the far more sensible and smaller B5 size format adopted for recent editions, and this book I use every day.
New Edition 326 colour pages
For folks who have not bought SG catalogues for a while, these new editions are now in full colour, on bright white paper. Superb.

This volume includes all the Colonial ("State") issues, and all the stamps of the Commonwealth of Australia, including the 1946 British Occupation Force (Japan) overprints.

And all booklets and booklet issues - and dies, inverted watermarks, and major plate varieties postage dues etc. And prices for on-cover copies for them all etc.

The new issues go right into 2013 - most impressive for a UK printed catalogue I had in my hands in May.

Also included are issues from the Australian Antarctic Territory, Christmas Island, Cocos (Keeling) Islands and Norfolk Island.

And also the pre-independence Issues for Nauru (to 1968), New Guinea, Papua and Papua New Guinea, and the popular GRI/NWPI etc
Extensive price revisions
Prices have been extensively revised - with many 100s of significant increases since the last edition. Starting at SG1, right through.

How on earth editor Hugh Jefferies gets the vast swag of Stanley Gibbons Catalogues out, is anyone's guess.

This new catalogue is very reasonably priced at less than $A50 RRP, and all leading dealers stock them. The local price was $75 only a few years back.

The strong Australian dollar has allowed the local agent to drop prices sharply. UK retail is £28.95, so with the new high post rates ex the UK, buying locally is the smart option.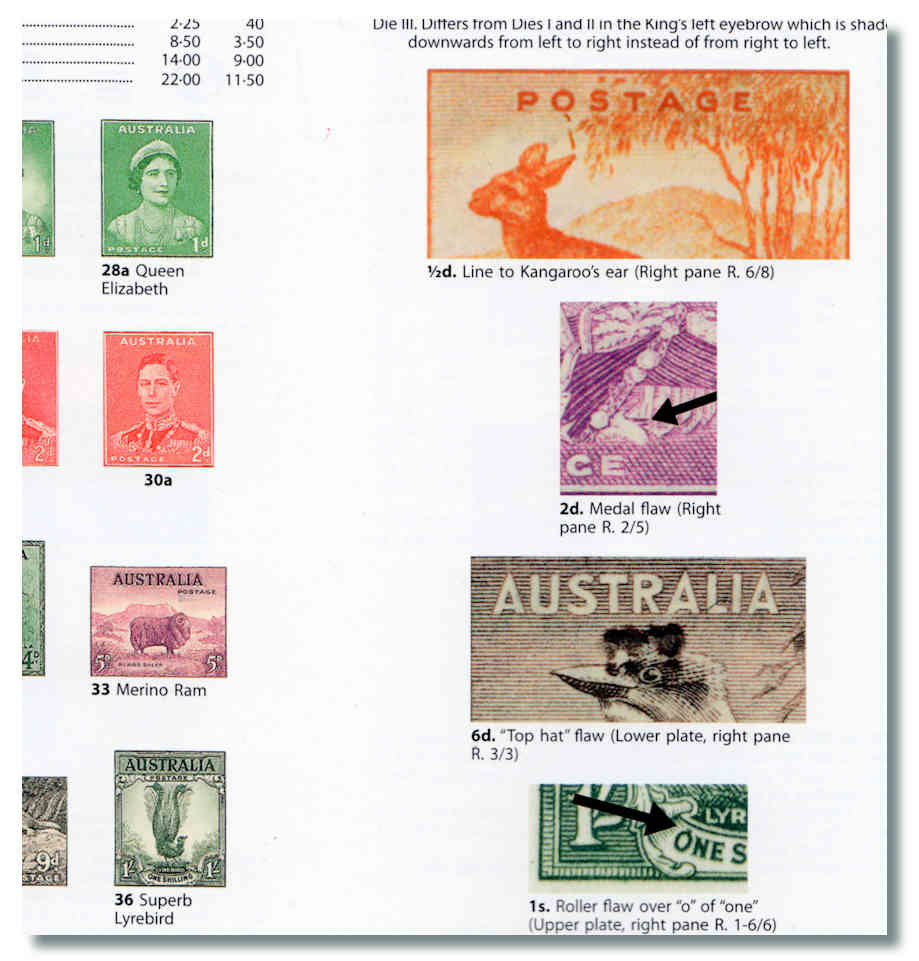 Much more detail in here.
Major plate flaws are being added and priced all the time, as is shown nearby.

There are 53 detail packed pages on "Australian States" issues ALONE - and paying less than $1 a page for that info is fair value on its own.

No other single reference on earth cover the "States" so widely, and using other foreign catalogues for them is all but useless.

Australian agent MD Ian Pitt told me today - "sales of these increase issue by issue - SG really are on the ball for producing these annually."

For 326 full colour pages for the price of a dinner out, it represents excellent value in my view. A "one stop" buy for local collectors.
China stamps burn RED hot!
China's rarest regularly-issued stamp, the 1897 "Red Revenue" Small One Dollar was sold for HK$6.9 million (presale estimate HK$6.5 million) in Interasia Auctions Hong Kong record-breaking June 29-July 1, 2013 auction.

At the time of the auction that was near enough exactly one MILLION Australia dollars.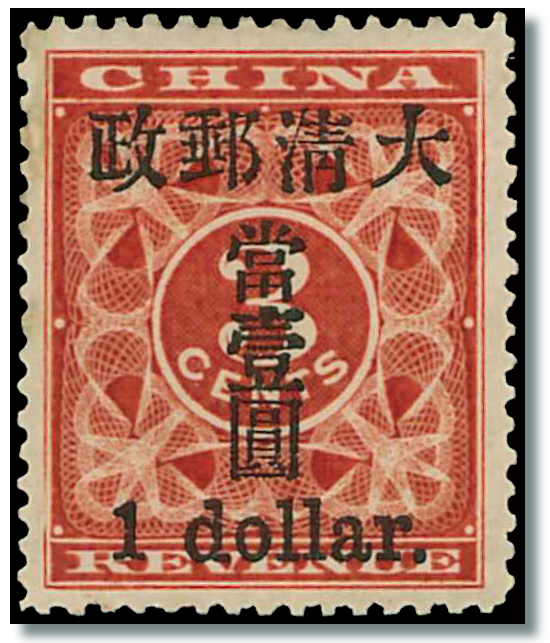 The million dollar China stamp
The 2,800 lot sale was invoiced at HK$71,851,540 (=$US9,264,000), smashing its pre-sale estimate of HK$50 million.

Making it the year's largest stamp auction in dollars in Hong Kong, as well as the largest auction of Chinese stamps anywhere in the world in 2013.

Only 32 examples are recorded of the 1897 "Red Revenue" Small One Dollar, which is acknowledged as the rarest regularly issued stamp of China, and ranks among the world's great stamp rarities.

The "Red Revenue" series, of which the Small One Dollar is a part, was adopted as a provisional measure, as the set of stamps to reflect China's new currency that was to be issued, was delayed at their Japanese printer.

Consequently, an unissued red revenue stamp was overprinted with various denominations as a stop gap measure.
First National China stamps?
The "Red Revenues" are also considered by many to be the true first national issues of China.

The previous China stamps listed in the standard catalogues were issued by the foreigner-dominated Maritime Customs Department for their limited postal system.

The "Red Revenues" were issued by the Qing Government itself for the national postal system that it was instituting. Their bright red colour - a symbol of luck and good fortune in Chinese culture, no doubt adds to the series' appeal.

The Chinese characters in the Small One Dollar's overprint were however considered too small, so that a second one dollar "Red Revenue" stamp with larger characters was subsequently issued.

Another highlight of the 3 day sale was a group of five 1884-1885 Taiwan envelopes, from a family correspondence to Germany, that was invoiced for a total of HK$11,615,000 (US$1,498,000).

The sale of these five rare newly-discovered early envelopes from Taiwan, brought a total of HK$11,615,000 (US$1,498,000) against a presale estimate of HK$880,000, through fierce bidding among floor and phone bidders.

The five 1884-1885 envelopes from a family correspondence to the then Chief Minister of the German principality of Oldenburg, all originated from the Customs Post in Southern Taiwan.

They then transited through Amoy (Xiamen) on the Mainland, representing very important pieces in the development of both the post in Taiwan and Cross-Taiwan Straits postal arrangements.

Each bears the Customs Post handstamp of Takow (Kaohsiung) or Taiwanfoo (Tainan) of its southern Taiwan origin, as well as Hong Kong stamps cancelled by the British Post Office in Amoy, which paid the overseas carriage to Europe.

Each cover was invoiced for over a million Hong Kong dollars.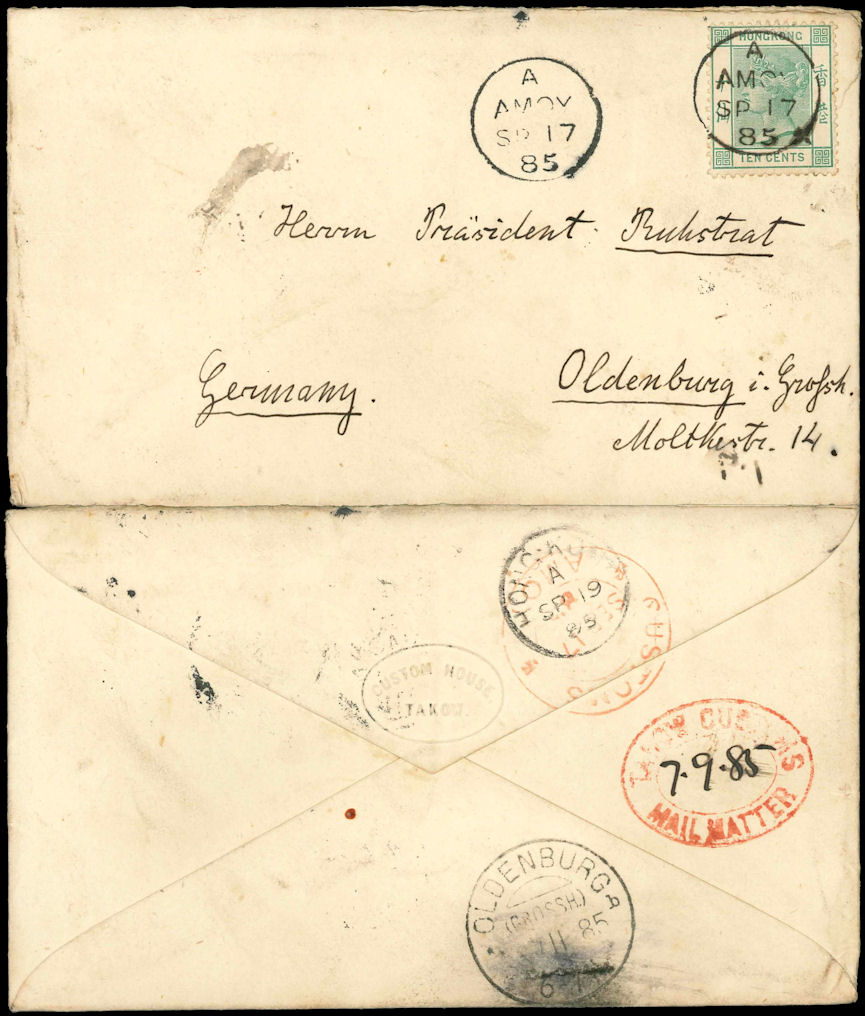 Sold for HK$4,600,000
The star was an 1885 envelope showing the earliest of the three recorded examples of the "Takow Customs/Mail Matter" handstamps, and fetched a staggering $HK4,600,000 on a presale estimate of just $HK200,000!

That set a new world price record for both a Taiwan and a Hong Kong postal history item.
World record China prices
An 1884 Hong Kong postal stationery postcard, discussing the difficulties of sending mail from Takow because of the French blockade during the then Sino-French War sold for HK$2,300,000 (presale estimate HK$180,000), a world record for a Hong Kong Postal Stationery item.

A substantial People's Republic section reflected the popularity of this extensively collected subject both within Greater China and abroad, with the two complete sheets of the ever-popular 1980 Year of the Monkey bringing HK$1,150,000 and HK$1,092,500.

Dr Jeffrey Schneider, Director of Interasia Auctions said: "Philately has a special place in Chinese culture, with rare stamps regarded as important cultural icons and treasures, just like art."

"Fierce competition for rarities and record-breaking sales reflect the economic growth of Mainland China and its emergence as an economic superpower, with stamp collecting holding a place both as a sophisticated and fashionable hobby, as well as a store of value and alternative investment."

"Major collectors have emerged in Mainland China in recent years, along with growing enthusiasm from ethnic Chinese abroad and non-Chinese alike, making Chinese stamps some of the most popular stamps in the world" Schneider concluded.









Get my regular market update emails FREE. Stamp gossip, price trends, record sale prices, and many one-time stamp specials, wholesale bargains, and exciting offers and breaking philatelic news. A mini stamp magazine in every email! "KNOWLEDGE IS POWER". The ONE stamp list you MUST be on, to keep in touch with the rapidly changing world market. One client made $65,000 profit in a few months after following my specific advice. Sign up securely and quickly by clicking HERE to access my automated data base. And wiser still ADD your home AND work email, if I only have one right now. Add a stamp friend's email address if you wish. One short click and you are subscribed to probably the most read email list in the stamp world!


Instant Currency Conversion


FREE! Just click here...




If you would like to be notified of updates to this website,
Click HERE.
If have any questions,
or comments regarding my site, please email me at glen@glenstephens.com
| | |
| --- | --- |
| | Search all my 300+ web pages! Simply type in what you are looking for. "Penny Black", "Latvia", "Imprints", "Morocco", "Fungi" "Year Books", etc! Using quotes ( " ) is more accurf used with no quotes. Search is NOT case sensitive. Tip - keep the search word singular - "Machin" yields far more matches than "Machins" etc. |


I am a Dealer Member in Good Standing Of:

Full Time Stamp Dealer in Australia for over 30+ years.

Life Member - American Stamp Dealers' Association. (New York)
Also Member of: Philatelic Traders' Society. (London)
GLEN $TEPHEN$
Full Time Stamp Dealer in Australia for over 25 years.
Life Member - American Stamp Dealers' Association. (New York)
Also Member - Philatelic Traders' Society. (London) ANDA. (Melbourne) American Philatelic Society, etc

ALL Postage + Insurance is extra. Visa/BankCard/MasterCard/Diners/Amex all OK, even for "Lay-Bys"! All lots offered are subject to my usual Conditions of Sale, copy upon request BIGGEST STAMP BUYER: Post me ANYTHING via Registered Mail for my same-day cheque. Avoid the GENERALLY 40% Auction " Commissions" (15% + 17½ + GST, etc.) AND their five-month delays! Read for details.
"Lothlórien4 The Tor Walk, CASTLECRAG (Sydney), N.S.W. 2068
Phone: (02) 9958-1333&n Fax: (02) 9958-1444 (Both 25 Hours, 7 Days!)
E-Mail: glen@glenstephens.com
Web Sites: www.glenstephens.com www.glenstephens.net or www.australianstamps.net