Click To Go Back To The Main www.GlenStephens.com Stamps Homepage

Welcome! - You are visitor number
To - www.Glenstephens.com


August 2018


---
GST now added to overseas buys.
The Australia Federal Government a year back, announced that from July 1, 2018, all goods imported of less than $1,000 value must have local GST paid on them at the full rate of 10%.

This is a dramatic deviation from the arrangement in place for recent years, where imported personal use goods here costing less than $A1,000 could arrive free of GST, or any local taxes.

I touched on this looming tax in a recent column, but the situation was still very unclear as to whether large online sales venues like ebay would ignore, or defy Canberra. As I type, the real world situation is now finally clear, and the news for consumers and stamp buyers is NOT good at all.

The previous policy was absurd for Government, as BILLIONS in tax income was totally lost in recent years. Consumers buying a new iPhone, Camera, shoes, Perfume, expensive watches/jewellery, computer tablets, toys, perfumes, or stamps etc from overseas, were paying ZERO tax to Australia - either GST, or anything else.

Retailers like Harvey Norman, JB HiFi, or David Jones etc, make zero on that iPhone or Camera or laptop etc if consumers buy it direct from Asia or USA etc. They employ staff, pay taxes, and rent buildings, collect 10% GST, take advertising, and add to the economy.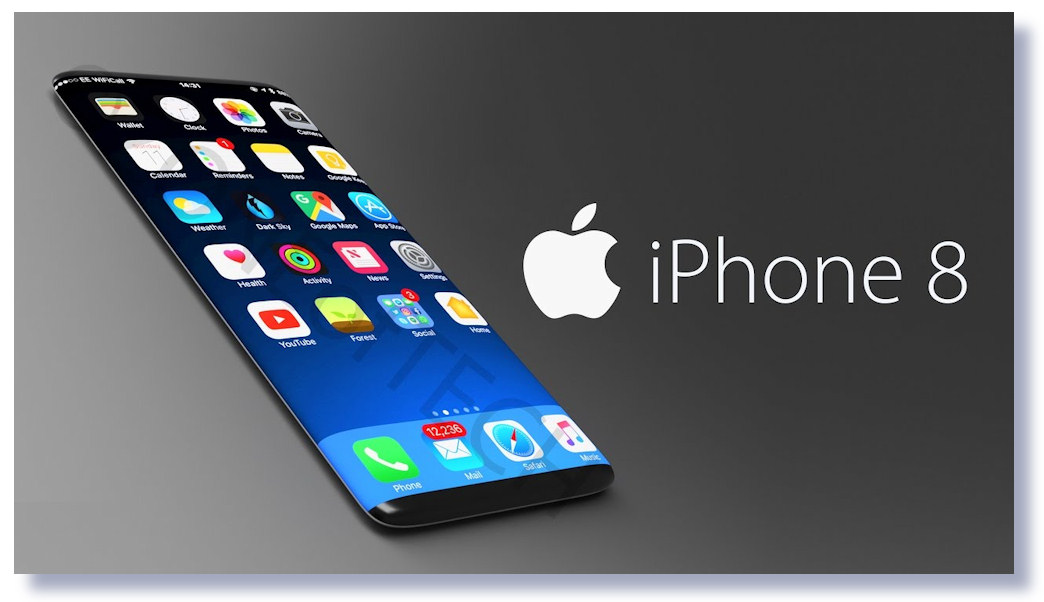 Buying overseas: no tax before July 1.
They can't do so much of that, when the public had been legally buying planeloads of sub $1,000 small physical size purchases on the web, and dodging tax entirely in this country. It makes zero sense to anyone with any grey matter. Sadly few of our politicians are over-endowed in that area!

The Import Rule was capped at $A400 tax free until recent years, when some genius in Government for no sane reason whatever, RAISED it to $A1,000. Instead of using some brains, and reducing it to a $100 or $200 maximum. That price level seems fair enough, and targets only higher value merchandise.

Even if they chose that lower $A100 level, it would have been wildly generous compared to Canada, UK, Europe and Scandinavia etc. In Canada and Europe and NZ etc, anything over $A25 imported mostly gets taxed (usually their VAT/GST is 20%), AND a "collection/processing fee" is added on top!

This summary below is the official Australian Government outline of the "new deal" that became law on July 1st, 2018, and the Feds are hell bent on enforcing this regime, on all personal imports under $A1,000, even $1 items -

"The Government has announced that from 1 July 2018, GST will apply to imported low value goods. This includes all physical goods sold to consumers and imported into Australia, that have a value equal to or less than A$1,000. These goods are currently exempt from GST."

"Under this measure, you may need to register and pay GST if you are a non-resident supplier who sells low value goods to consumers, and import the goods into Australia, and meet the registration turnover threshold of A$75,000."

These clueless Bureaucrats have moved us from near the world's most generous system on personal imports, to the world's most draconian, at the stroke of a pen. In the space of a day, we went from $999 of goods - absolutely no GST tax payable, to every $1 stamp or $1 toy or $1 lipstick - you now pay full GST 10% TAX! NO other country is that draconian.

So common sense has gone out the door. A sensible Tax Free limit of $100 or so on personal imports was wise, when stepping down from $1,000, but few things our Government has done in recent years are wise in my view, and this sledgehammer levy, is just one more example.
Fawlty Towers Regulations.
It is like Fawlty Towers at work. As IF most foreign sellers will bother - and what possible penalty can OUR Government invoke, to penalise a Chinese, Hong Kong, Russian or Canadian etc seller of anything, or Stamp Auctioneer, for not becoming an unpaid tax collector for Australia!

The huge Amazon portal simply told the Federal Government to Go Jump in mid-2018. Amazon stated they were "Geo-Blocking" or "Geo-Fencing" Amazon.com (USA) and Amazon.co.uk sites etc, to Australian buyers from July 1. You simply cannot buy what you see there - Amazon has blocked you!

All you now see, as you are being Geo re-directed, is the heavily truncated range offered by amazon.com.au locally - being a tiny % of the overseas Amazon offerings, that was your full option before July 1. And those goods that are offered here, are at much higher prices, from the many reports I have read.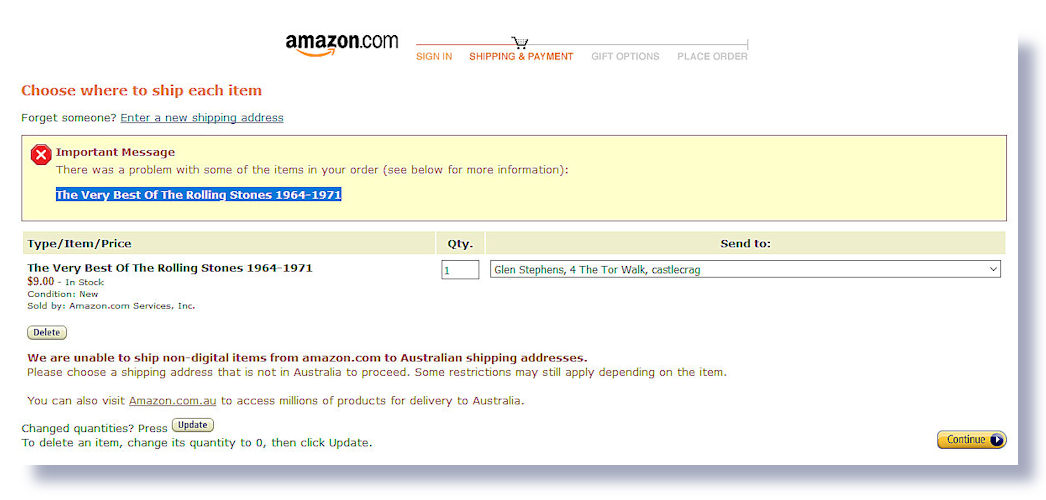 "Unable to ship to Australia."
As a perfect example, I went to order a Rolling Stones "Best Of" Music CD just now on amazon.com. Price was $US9.99 with Free Shipping - tinyurl.com/StoneCD When I went to order I get the message that the item cannot be ordered by Australians, but to try amazon.com.au instead. I did just that, and this CD is not buyable at any price on there. Durrhhh.

So I go to ebay, and find one for $US14.24, and there shipping is shown as an extra $US17.91. HOWEVER this sale is via the ebay "Global Shipping Program" that most USA sellers use to overseas buyers. How that works is USA sellers send your goods freepost to an address in Kentucky, and Pitney Bowes gets them to you.
10% GST becomes more than 20% tax.
So 10% GST is now added to the $US32.15 invoice total correct? Wrong. These folks (Pitney Bowes) add a large $US4 flat fee to collect that GST, so instead of $US3.25 GST on the CD and shipping, you see a $US7.25 charge! And this $US7.25 (~$A10) gouge does not show BEFORE you buy it sadly.

Hence the "$14.24" CD is now $US39.40 in reality, or way over $A50, even before the bad fake PayPal exchange rates swing into effect. So, I did not bother, and no-one wins. Not me, not Amazon, not ebay, not the sellers, and especially not the Federal Government here, who end up with no tax from it. I can live without an impulse buy CD. And I will not be alone in future I can bet!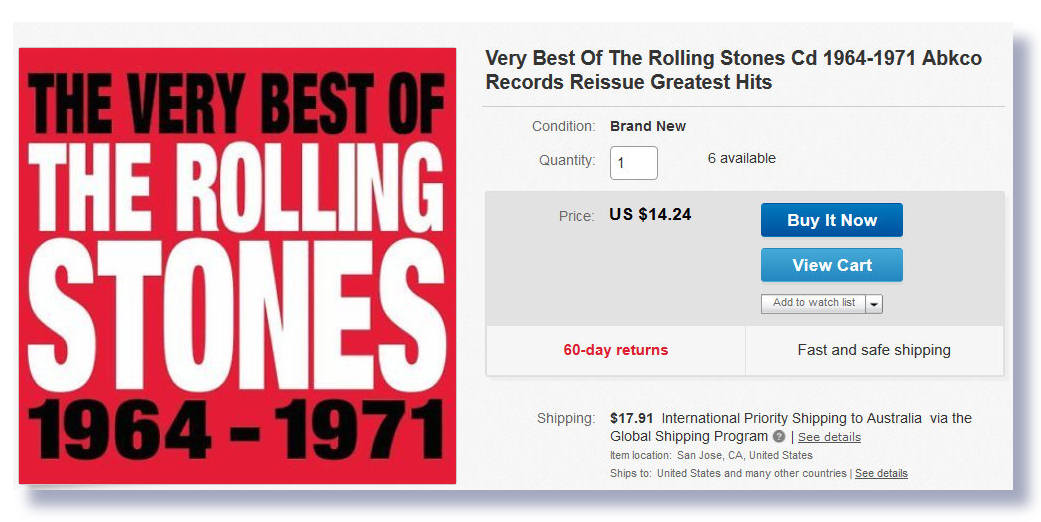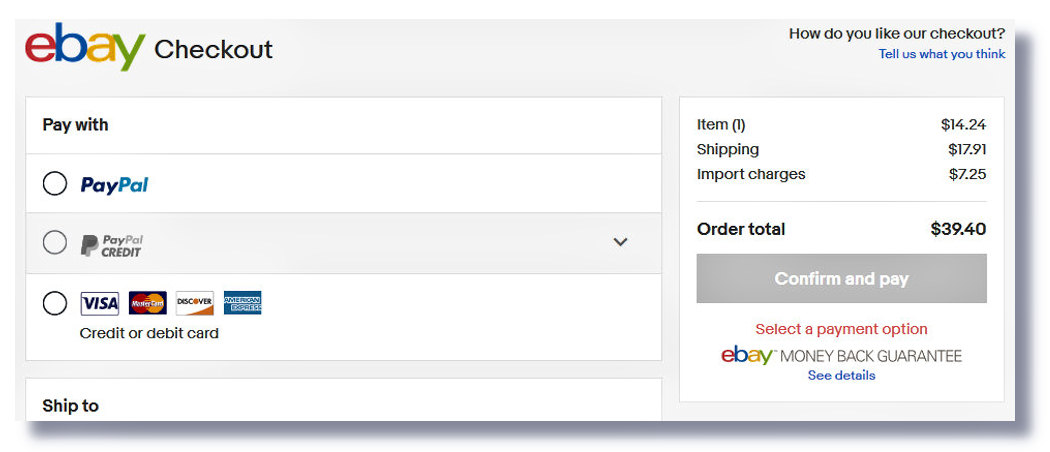 Taxes NOT shown when ordering.
The same scenario will of course apply to STAMP and COIN purchases from overseas - I used the Rolling Stones CD example, as it was one I as doing as I typed this article, and simply shows a real world example of what a horrible mess this new arrangement has created for consumers.

The ebay stamp buyer will ONLY know about the extra taxes at invoice stage. Bid $US500 or Euro 500 at an ebay stamp auction or ''Buy It Now'', and you do NOT see that looming 10% plus the extra Global Shipping fees, until you get around the paying the bill.

The 10% Australia GST will also be added to the cost of all shipping, as the "S" in GST is for "Services" and Pitney Bowes adds $US4 to that, in order to collect the tax that until last month, was totally non-existent!

All the large overseas stamp Auctions like Spink, Feldman, Gartner and Corinphila etc, will clearly all do more than $A75,000 annual sales to here, and will now need to register for Australian GST the Feds here blissfully imagine, and will now all need to add the same 10% levy at invoice point I surmise?

Given how totally muddled and confusing and contradictory Spink London are, even on their own website, at even outlining all the relevant British taxes, VAT and fees to foreign Buyers, as we saw for recent sales, they will simply charge it on ALL invoices to here I would not be surprised, not just the under $A1,000 ones.

So, a $US500 online purchase of a stamp album on ebay with $US50 shipping will cost you at least US$55 (=$A75) more, from about the date you read this, it seems. Even if you only bid $500! A very expensive lesson for many readers of this article, who I am sure had NO idea this stealthy change occurred on July 1, 2018.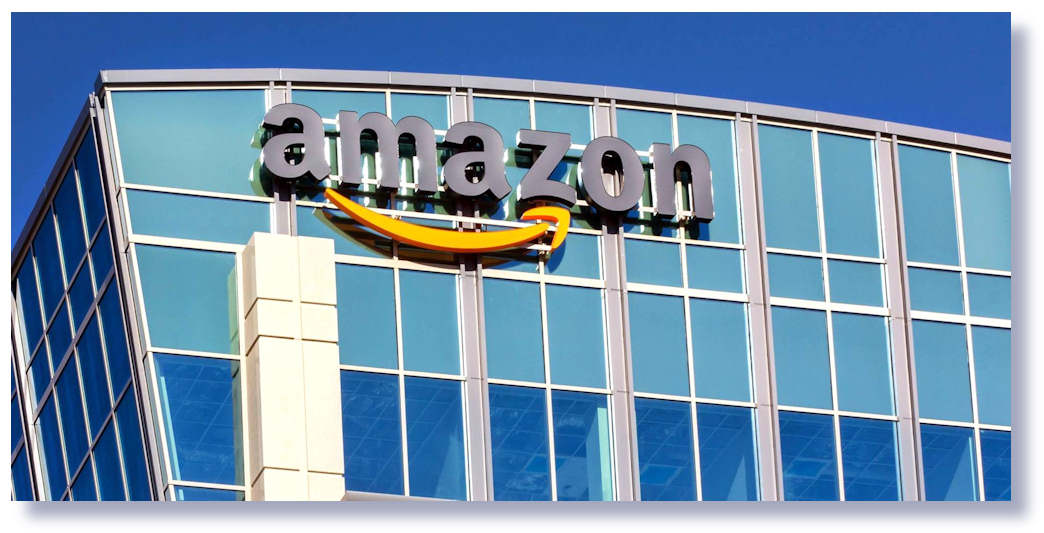 Amazon tells Oz Feds - "Go Jump"
Much more discussion here on stampboards - tinyurl.com/ebaysGST and right up to time of being implemented, it was total confusion as to who would bow to the Feds, and who would tell them to Go Jump as the massive Amazon has clearly done.

However in summary, local buyers need to accept that near all purchases from overseas will now cost them 10% more than they appears to cost, when ordering. PLUS the extra fees that ebay charge via Pitney Bowes to collect the same GST! Even for items of very low retail price.

I get the feeling the launch of Amazon Australia earlier 2018 was something of a monumental flop, compared to market predictions, due to the very limited range, far slower than promised delivery (as Australia Post were involved!) and far higher buyer costs locally, than buying ex Amazon USA.

The huge cheque that ebay hands over to the Feds will delight the latter, as it is all total "Money For Nothing". I predict it will be $100s of millions in year #1. About $A40 Billion will be spent online here in the next year, and NAB tells us (graph nearby) around 20% of that is from overseas sellers, or about $A8 Billion.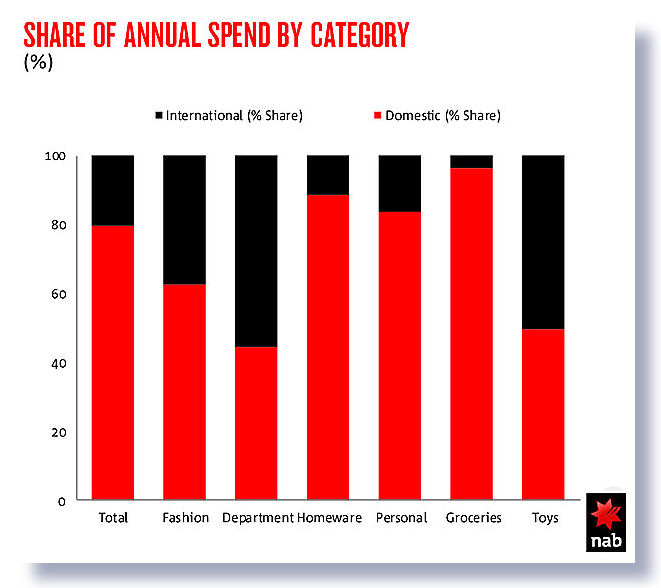 20% of online is with overseas sellers.
| | | |
| --- | --- | --- |
| | Near none of that past spend has earned the Feds here any GST taxes, and near overnight the 10% tax take will be around $A800 million, from a base line of near zero. Absolute delirium from our Federal Treasurer, as it is all absolute bonus money, over what they get now! | |
Google "Symbiotic Relationships".
A cynic might muse, that if that if ebay collects about half of that $800 million, (=$400 million) and hands over even $200 million of it, the Feds will be ecstatic. You do the Maths! Ebay sales to foreign countries are clearly a commercial secret. And they have heaps of divisions - ebay Germany, Ireland, Canada, Singapore, USA, UK etc.

The Australian Government are hardly in any position to audit ebay Canada or ebay Germany etc, and would have ZERO idea of how much any division sells to Australia - but ALL of whom have collected 10% GST on every sale, and every shipping fee. Read up on "Symbiotic Relationships" !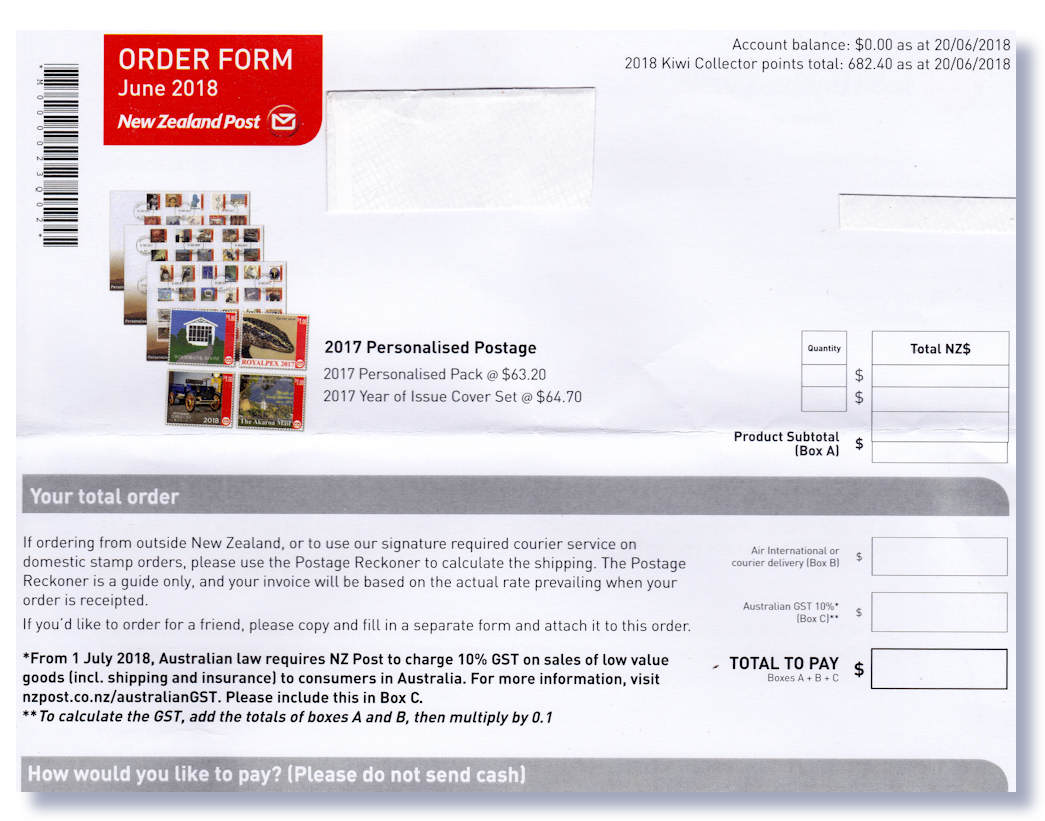 Add 10% GST on top of 15% GST!
And overseas purchases from the vast overseas network of ebay etc, are not the only area where readers of this article will be gouged for this new 10% GST tax on imported stamp items. The bad news just gets worse!

Foreign Post Offices, who are all Government Departments, and who hence will comply to the letter of the new law, have already started to charge the Australian 10% GST on their stamp new issues, and all shipping costs.

A stampboards member posted up his last New Zealand Post monthly statement, which as you can see nearby, clearly states that Australian GST will be added onto the cost of all stamp new issues, and FDC and Year Books, and shipping and insurance etc. More detail here - tinyurl.com/ebaysGST

That Sydney member, "stampmogul" points out that NZ new issues already have 15% of NZ GST embedded, and now 10% more is added on top. He posted: "I now must decide if I wish to continue with my standing order which last year exceeded NZ$1,200. Perhaps it is time to cease, or reduce, my purchases of stamps from overseas?" He will not be alone.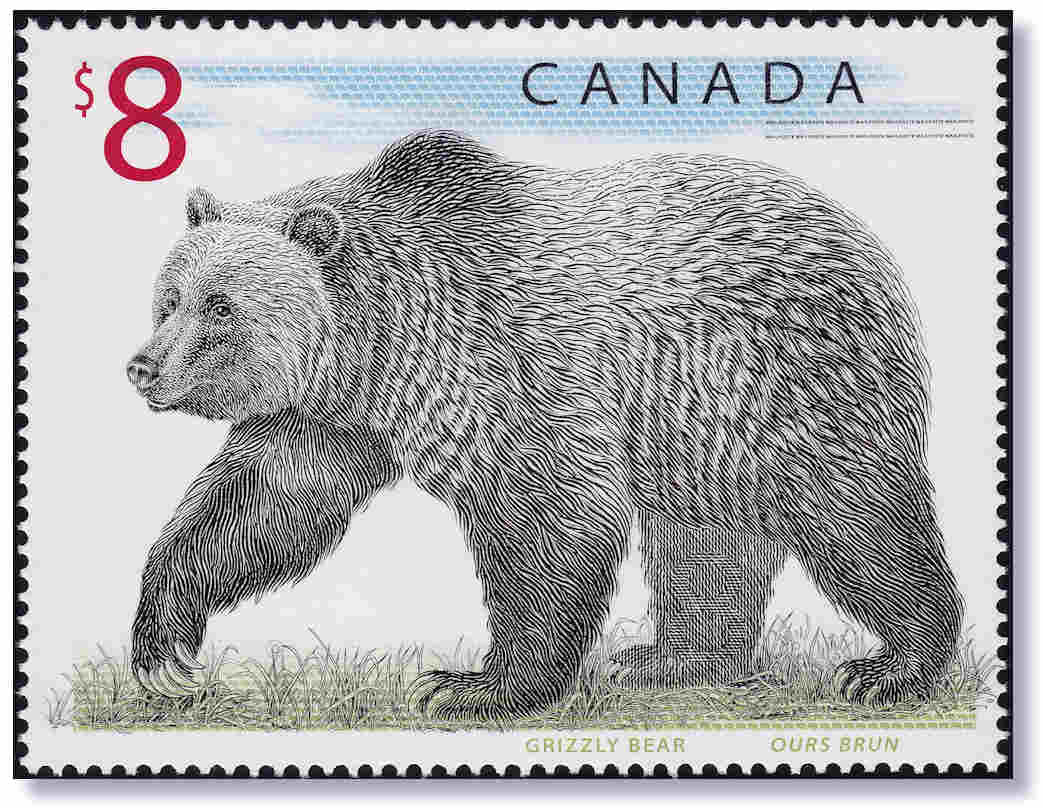 $8 Grizzly now becomes $9!
| | | |
| --- | --- | --- |
| | I assume Royal Mail and USPS and Canada Post and so on, all around the globe, have all followed suit, or are in the process of doing so. New Issue stamps, even purchased direct from issuing countries suddenly got 10% more expensive. A current Canada $8 Grizzly Bear stamp becomes more like $9! | |
New SG "Concise" Catalogue.
The new Gibbons 2018 "Concise" catalogue of Great Britain postage stamps has just been released in the UK, and all main dealers globally will have stock. If you collect or stock GB stamps, you MUST get a copy, or you will be way behind the market on current stamp prices and listings.

Hugh Jefferies and his co-editor Vince Cordell of this huge full colour opus, on low glare BriteWhite paper should be very proud, as it is now over 500 pages thick, and weighs in at a very impressive 1.25 Kilos. It really is the "one stop" volume for all UK stamp related areas.

For the first time, the "Concise" has been issued in case-bound, solid hard cover format. Such a superb improvement over the floppy soft card cover of all earlier editions, and really makes this one capable of surviving heavy use. My 2017 is near falling apart!

This catalogue features a semi-specialised listing of all GB postage stamps, giving more detailed information than the "Collect British Stamps" but less than the rather infrequent Great Britain Specialised catalogues - and 99% of collectors will be quite happy with it for that coverage.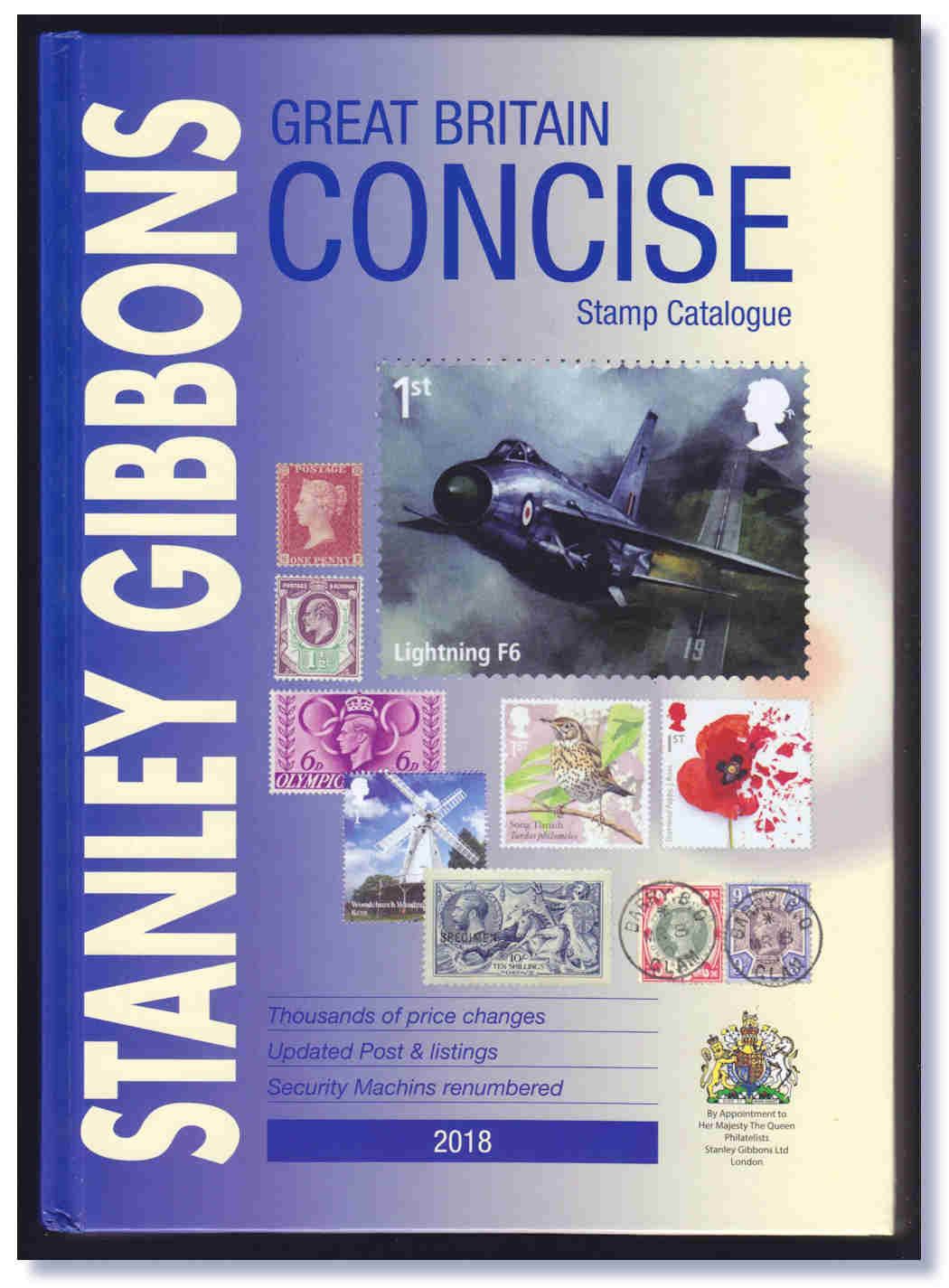 SG GB "Concise" now HARD cover.
Incudes all Definitives, commemoratives, regionals, Postage Dues, officials, postal fiscals, post office label sheets (Smilers), First Day Covers, Booklets, PO packs, PHQ cards etc. Prices are given for both hinged and unmounted mint from 1887-1935, and on cover prices up to 1910.

The LATTER should certainly be expanded to 1953 at least. Not hard to do, and a stampboards discussion this month involving Rod Perry and others agree it is very possible to expand to 1950s.

For the more advanced collector, there are details of cylinder varieties, errors (missing colours, missing embossing, imperforates, phosphor omitted varieties etc), all known inverted sideways watermarks, "Specimen" overprints, popular plate varieties and re-entries, Telegraph stamps, layout of decimal booklets etc.

Australian RRP is only $A75 this year, versus $A85 last year - for a hard-bound version, versus last year's soft cover. The hard-cover adds weight - now 1.25 kilos, so ordering from UK is expensive this year, especially now the Feds are levying 10% GST on book cost, AND the Shipping price. I've sold many this year.

The editors have worked hard to eliminate repetitive footnotes that were simply taking up space, and replaced them with single notes overing a range of issues. Space chewing illustrations of all the FDI postmarks for the QE2 era have been removed, and are now listed in text only.
Perfect size to work from.
The new hard cover RAF fighter jet cover "Concise" will stay open on your desk, without the need to balance something on one side. This makes it much easier to use, and the spine is likely to stay intact for a great deal longer than older paper covers. I always find it a perfect physical size for looking things up adjacent to an album.

This new 2018 "Concise" catalogue of course lists and prices all FDCs and PO packs, and PHQ cards, all graphite bands, and all watermark and missing colour variations where recorded, and that is a huge plus for collectors and dealers. The SPECIMEN overprints are of course now listed and priced for all reigns.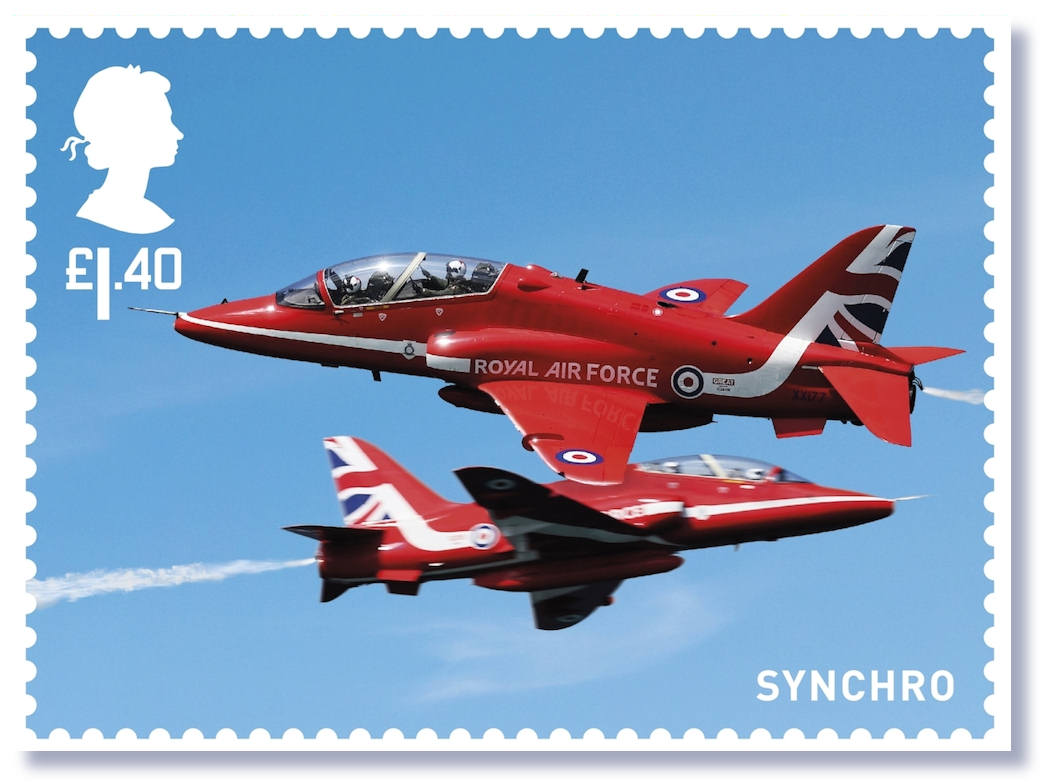 Issues right up to March 20, RAF set.
Much of the increased Market activity in the past 12 months seems to have been around more recent issues, with prices for security Machins, booklet commemoratives and "Post & Go" stamps continuing to rise. John Deering has expanded the Security Machin overprint listings, and the popular "Post & Go" stamps.

The ongoing global interest in Machin heads stamp issues is also creating demand for the earlier 'X' and 'Y' series, and while most of these are still quite plentiful, some are becoming surprisingly hard to find, and prices in the "Concise" are continually being adjusted to reflect this market reality.
Machin heads SG re-numbered.
An important note for modern collectors in that in this Edition, the "U" section of Security Machin heads has been re-numbered and re-ordered, to the angst of many collectors and dealer stockists! A helpful table provides an easy reference guide of the popular source and date codes on these "U" series Machins.

Prices for Queen Victoria material are steady overall, and given the ongoing strength of Sterling over our local Dollar, mean they have increased markedly over what they converted to from Sterling last year. QE2 era prices have been adjusted to follow the retail trends in the UK for this material.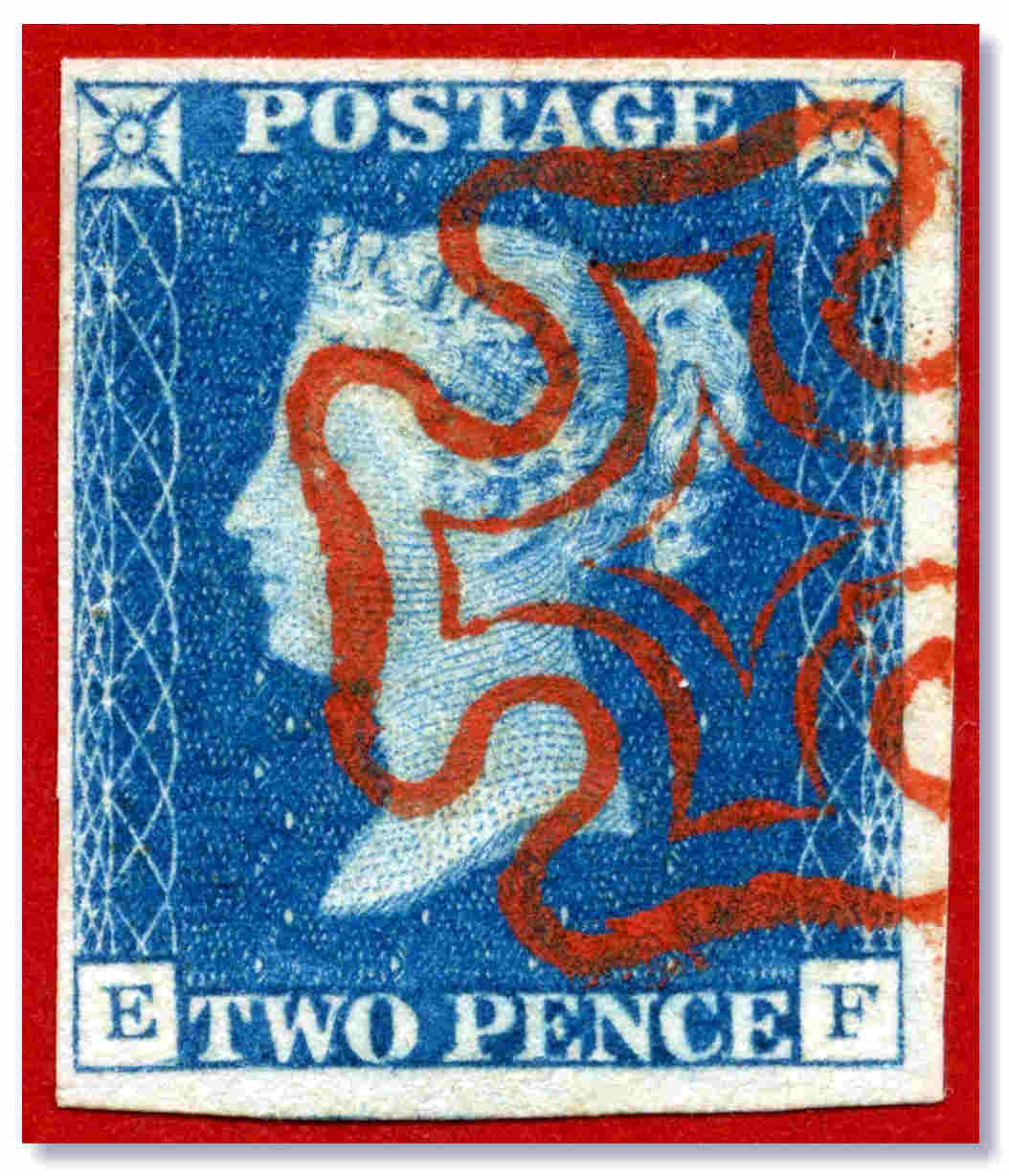 These will NEVER get cheaper!
The retail and Auction market in 2018 has continued to show that scarce and top-quality material of all eras sells well, and choice grade stamps with great eye-appeal - like the 1840 2d Blue shown nearby, will readily fetch MORE than full SG catalogue in the open market.

The nice $500 item might well become $1,000, and the $5,000 stamp might be $10,000 in a decade or so. Or far more, in some instances I can think of. And the same money in the bank will likely to have gone up somewhat less than 10% or so in 5 years after tax, the way low interest rates are globally right now.
Stock market returns uncertain.
And if left in the stock-market, or traditional funds, it may well have DECREASED, as we can all see from some recent annual returns! As an example of how easy the pricier material is to sell, I have set up a "Rarity" page offering choice single items and covers, priced mainly around the $A1,000 mark. No "20% buyer fees" - just fair NETT prices.

Shameless plug, but many items sell in a day or so of listing them - tinyurl.com/StampRare - and other dealers report the same experience with top shelf material. With the weak $A in recent times, most of what I list goes to the USA or Europe both of whom have strong currencies lately, and Europeans and Canadians and Kiwis dodge their 20% or so VAT/GST taxes too!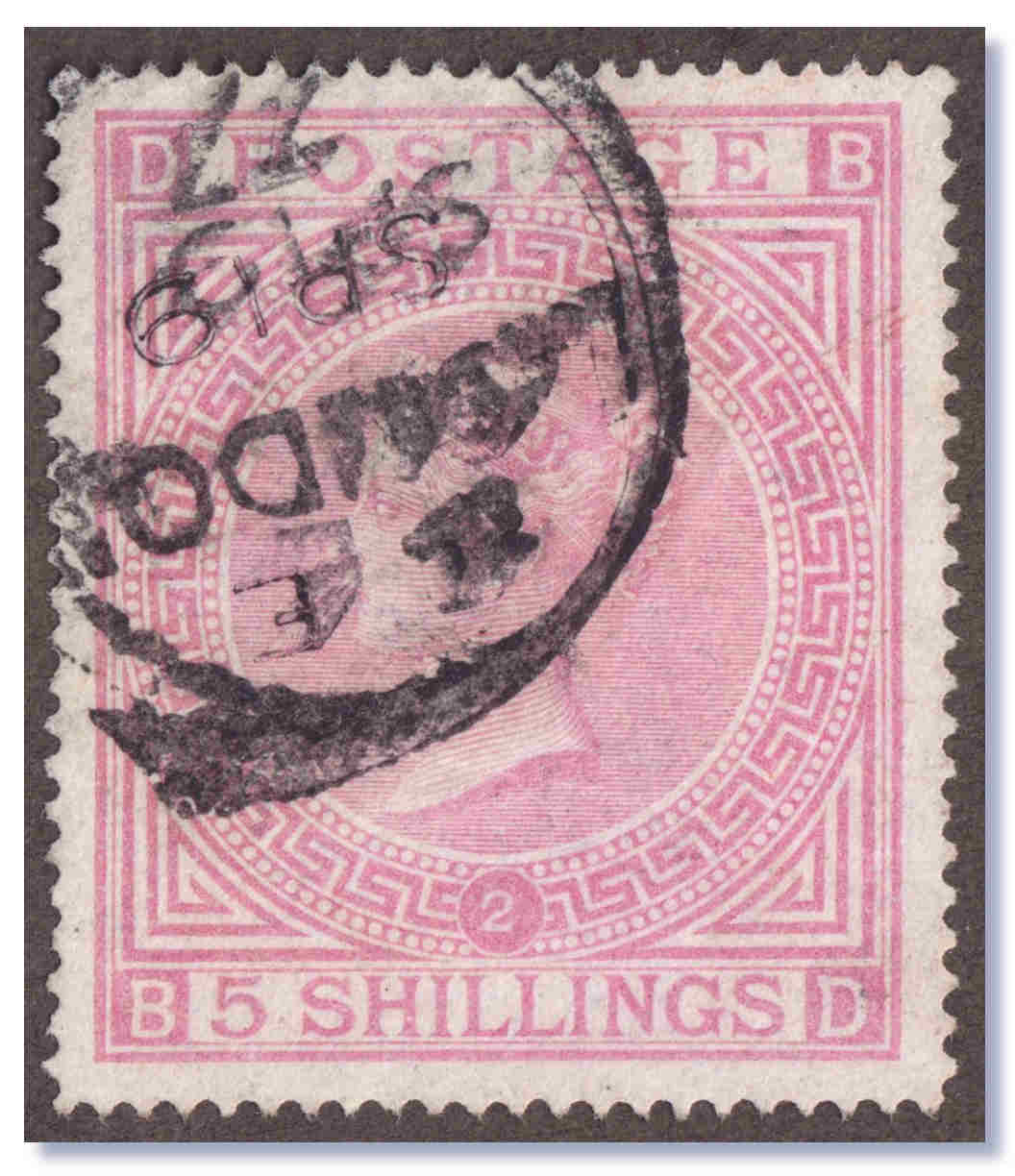 Top end QV hi-vals worth chasing.
I listed there this very scarce 1867 Plate TWO, 5/- Rose nearby at a fraction of what it would cost in the UK due to a fortunate buy. High face value early GB in top clean condition, and very well centred, and lightly cancelled, are 1000 times harder to find than "roughies"!

Hugh Jefferies and the hard-working team there at Gibbons catalogue division do a wonderful job. Having a very steady, savvy, and experienced hand at the tiller for such important resources, is a stabilising and secure outcome, and do not EVER underestimate the value of that, for an ordered stamp market - Globally.

Collectors and the trade are often very short sighted and short pocketed - catalogue sales help keep this hobby balanced. If they do not sell well, publishers are minded to cease publishing them altogether. They are businesses, not charities. When did YOU last buy one?!

The often clueless pair that were running Gibbons in recent years have long been kicked out the door thank goodness. After losing it countless MILLIONS on hare brained "Internet" total flop follies, that I predicted in writing some years back would founder horribly. As well as absurd and loopy acquisitions that did not fit in any way, and wiser heads are back at the helm - thank goodness.

The stamp hobby needs a strong Stanley Gibbons - more than many casual collectors realise. Regular SG catalogues are the anchor that is essential, and YOU buying them now and again, is doing your bit!








Get my regular market update emails FREE! Stamp gossip, price trends, record sale prices, and many one-time stamp specials, wholesale bargains, and exciting offers and breaking philatelic news. A mini stamp magazine in every email! "KNOWLEDGE IS POWER". The ONE stamp list you MUST be on, to keep in touch with the rapidly changing world market. One client made $65,000 profit in a few months after following my specific advice. Sign up securely and quickly by clicking HERE to access my automated data base. And wiser still ADD your home AND work email, if I only have one right now. Add a stamp friend's email address if you wish. One short click and you are subscribed to probably the most read email list in the stamp world!




If you would like to be notified of updates to this website,
Click HERE.
If have any questions,
or comments regarding my site, please email me at glen@glenstephens.com
| | |
| --- | --- |
| | Search all my 300+ web pages! Simply type in what you are looking for. "Penny Black", "Latvia", "Imprints", "Morocco", "Fungi" "Year Books", etc! Using quotes ( " ) is more accurf used with no quotes. Search is NOT case sensitive. Tip - keep the search word singular - "Machin" yields far more matches than "Machins" etc. |


Full Time Stamp Dealer in Australia for over 35 years.
Life Member - American Stamp Dealers' Association. (New York)
Also Member of; Philatelic Traders' Society (London) IFSDA (Switzerland) etc


GLEN $TEPHEN$

Full Time Stamp Dealer in Australia for 35+ years.

Life Member - American Stamp Dealers' Association. (ASDA - New York) Also Member - Philatelic Traders' Society

(PTS London) and many other philatelic bodies.

ALL Postage + Insurance is extra. Visa/BankCard/MasterCard/Amex all OK, at NO fee, even for "Lay-Bys"! All lots offered are subject to my usual

Conditions of Sale

, copy upon request .

Sydney's

BIGGEST STAMP BUYER

: Post me ANYTHING via Registered Mail for my same-day cheque. Avoid copping the Now normal 45% Auction "Commissions" (15% Buyer + 20% Seller + GST, etc) AND their five-month delays!

Read HERE for details.

"Lothlórien", 4 The Tor Walk, CASTLECRAG (Sydney), N.S.W. 2068

Australia





Phone 7 Days:

(02) 9958-1333

PO Box 4007, Castlecrag. NSW. 2068




E-Mail:

glen@glenstephens.com

The Number #1 Web Sites:

and www.stampboards.com