Click To Go Back To The Main www.GlenStephens.com Stamps Homepage

Welcome! You are visitor
to www.GlenStephens.com




Glen Stephens
Monthly "Stamp News" Market Tipster Column


December 2006

---
Mistake Stamps
A Queensland used stamp pair found in a child's collection was auctioned October 21 in Melbourne.

The pre-sale auction estimate was $50,000. It sold for $44,270 with commissions added. The buyer was an English dealer. Had an Australian purchased it, 10% GST was extra on the hammer price.

The 1902 6d green Queen Victoria pair has the "6" value shown in the lower corners only.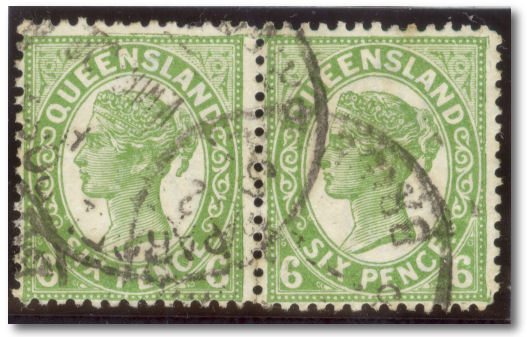 The unique multiple


The regular issued stamp has the "6" figure of the 6 pence value in all 4 corners. That stamp is common and is valued at only a dollar or less in normal used condition,

Stanley Gibbons Melbourne office discovered this pair in an old "Strand" album consigned for auction. The vendor had no idea this stamp pair was valuable
Only multiple recorded
This is the only multiple ever recorded. About 16 singles are known according to the latest "Australian Commonwealth Specialist's Catalogue."

The stamp is Stanley Gibbons 230, cat £30,000 (=$A75,000) as 2 singles. Scott lists this as #111a at $US50,000 for 2 singles.

This is by far the most valuable Queensland stamp - priced by Scott at more than 10 times the value of a used 1860 2d blue imperforate.

It has a "Brisbane Parcels Branch" cancel - as do most known examples. The cancel is lighter on both stamps than most known examples.

General Manager of Stanley Gibbons Australia is Tony Corbisiero.

Corbisiero told me today: "we believe this is a new world sales record for any Queensland stamp item. The vendor is delighted - one of our describers noted the pair in an otherwise commonplace Strand album".

In my opinion this is the most valuable 20th century stamp item existing from any of the Australian States.

This Queensland error stamp is ACSC cat Q42A and is catalogued at $70,000 as 2 singles.

As this 1902 stamp was issued after Federation in January 1901 it is now correctly regarded as an "Australian" issue. The latest "Australian Commonwealth Specialist's Catalogue" now lists and prices all such "State" issues released after 1901.

For postal arrangements, the amalgamation of the six different state Post and Telegraph services was required. This occurred on March 1, 1901.

That date can be regarded as the date after which any stamps issued, were done so by the Australian Commonwealth Postmaster-General's Department.


Only 47,840 ever issued


Strong price rises have taken place since that catalogue's release, especially among high face value stamps. The Western Australia £1 Orange, and Victoria £1 and £2 King Edward VII issues were all issued comfortably after March 1901.

Printing numbers are very low on all three, especially compared to the 1913 Kangaroo high values issued soon after, which sell for about ten times more.
Queen Victoria died in January 1901. King Edward VII's Coronation was 9th August 1902. This top value Victoria stamp shown nearby was first issued on June 2, 1902. Other than these £1 and £2 high values, KEVII was not depicted on ANY other State's postage stamps, which is most curious.

Only 47,840 of this £2 stamp shown nearby were issued. I listed this on my glenstephens.com/rarity page recently with a matched CTO £1 (55,760 issued) for a few $100 the pair. That price will seem like a joke in 5 year's time.

An identical Melbourne CTO cancelled £1 and £2 1913 roo pair I offered at the same time for 10 times that price. However there were 240,000 each of the 1913 £1 and £2 roos printed.

I love the design and colour of this £2 KEVII stamp. It is my favourite "States" issue visually.

Many with long memories might recall it was blown up to A4 size as stippled background to my very expensive letterhead back in 1980 when I started business as a dealer.

I think that letterhead cost me more than my first month's gross takings! Bold raised print in 2 colours, on linen bond watermarked paper, also in 2 colours - the works!

These post 1901 "States" high values will NEVER be cheaper than they are today. Mark my words.

Classic Victoria
Sold for $94,875

Another most impressive auction result was obtained by Millennium Philatelic Auctions in Sydney on October 11.

The Ken Barelli collection of "Classic Victoria" set many new price records.

An unused vertical strip of 4 of the Victoria 1850 3d bright blue "Half Length" was sold for $94,875 with premium.

Two of the stamps had creases, and the strip had no gum as is common for this era, but bidding forced the price well over the $75,000 estimate.

This stamp is Stanley Gibbons 4, and Scott 4. Scott catalogue value for 4 unused singles is only $US3,000. This is the equal largest unused multiple of this stamp recorded, and is most attractive having the lower sheet margin.

It is a wonderful crisp early impression of the plate, and a real eye catching piece - no doubt about it.
Bargain of the sale
They say there is a bargain in every Auction. A few days after the sale I sighted an item I would most certainly have bid upon at well above the sale price - had I noticed it. It was the very final lot.

The stamp was Victoria 1863 2d grey-lilac error of watermark - numeral '6', SG 101ab, Scott 100a. Lightly and most attractively cancelled with a Melbourne duplex dated "OC 26 63".

Only three examples are recorded. One is in the Royal Collection. The other was discovered and reported in 1897 but has not been seen by modern day collectors. This copy illustrated nearby is ex Purves and Perry. It sold for just $13,400 including all premiums, on a $15,000 estimate.

For what is almost certainly a unique stamp in private hands, it should be worth SEVERAL times that sum in today's strong market. If the USA1868 1˘ "Z Grill" can be rated at $A4 million - also unique in private hands - that is a very apt comparison.

Neither stamp are facially evident as being unusual in any way, and both are common looking low value definitives. See my January 2006 column on my website for more details on the amazing "Z" grill swap.

Even compared to the $44,270 for the Queensland 6d green pair above - of which at least 18 copies are known, this Victoria stamp was a screaming bargain for someone in my view.

Very few British Commonwealth Queen Victoria reign stamps are unique in private hands, and this is one.

Possibly unique?

Both Scott and Gibbons have ridiculously outdated catalogue values on this stamp - $US5,750 and £4,750 respectively, and both will hopefully change radically after this sale.

Alongside the folks who "bravely" bought Roo monograms and inverted watermarks 5 or 10 years back at double prevailing catalogue levels - only to see them now at 5 times that figure, the buyer of this item was equally savvy.

I have absolutely no idea who bought it, but they certainly have an astute eye for a bargain, and own a delightful looking stamp!

If I offered it on my Rarity page for around double the October auction price right now it would likely sell.

Apologies for reporting the result of these items well AFTER the auction sale dates. Most large auctions have no concept or comprehension of the long lead up time involved in monthly magazine copy deadlines.

I keep begging them for supply of information and illustrations a couple of months in advance, and ONE day the penny may drop!

All of them of course have key material in their hands several months before the sale date - they just seldom tell anyone about it who can make good use of that info.

I have been writing monthly market columns for about 25 years now, and sadly, nothing much has changed over that time after a stream of owners and managers of the leading Auctions. It really is like painfully extracting teeth at times.

Advance notice and wide exposure is good for their vendors due to the consequent stronger prices they generally obtain as a result. And better still, the publicity costs them zero.

In my view the Queensland pair above would have EASILY obtained 10% - 20% more for the vendor with good advance publicity, especially to American collectors, who simply love such "one known" rarity pieces.
I love working in this business. It is about the only hobby on earth where a defective item sells for MUCH more than a perfectly produced example.

A missing colour, missing perfs, or other printing defect vastly increases value. And so it is with this amazing pair I recently added to stock. (Shameless plug!)

This 1932 1d green OS "Official Service" KGV mint pair is so woefully off centre it is an exhibition piece.

I bought it off an experienced leading dealer (for quite a tidy sum) who described it as the most off centred KGV item he had ever sighted. I agreed with him - I could not resist buying it and sharing with readers. I have NEVER seen a more striking example.

As you can see it is not only horridly centred, but the "OS" overprint was for some reason also applied FAR too much to the left for some inexplicable reason. Making this error even more visually striking - if that were possible.

The WORST ever?!

The story of HOW this happened is a good read. The Australian Commonwealth Stamp Printer at this time was John Ash. Ash was Scottish born, and his Scottish frugality was legendary. This, along with the Great Depression raging at this time in the early 1930s, and consequent belt-tightening globally, combined to create this error.

John Ash was the classic "waste not - want not" man. As head stamp printer he insisted NOTHING was thrown away. Stamps poorly printed, damaged or otherwise not up to scratch visually would NORMALLY have been destroyed. Not when Ash the Scot was in charge.



The Repair King
Ash insisted his staff earmark all such defective sheets - too poorly produced to be sold to the pubic - be used for OFFICIAL stamps. It is said his justification was that the government paid nothing for their stamps, so they could be given anything within reason that he chose, if it cut costs and reduced waste.

And so it was. Off centred, poorly printed, poorly perforated - it was largely salvaged and placed aside for official use.

His staff patched and repaired all manner of sheets that in earlier days would have been destroyed. In the process they created in this early 1930s era most especially, many of the MAJOR rarities of Australian philately.

The ½d orange KGV, and both 2d Red KGV heads, and the 1932 6d Roo all exist with INVERTED "OS" overprints.

Why? Because Ash's staff patched new stamps into damaged sheets and THEN later overprinted them. However those stamps mentioned were carelessly patched in upside down! These are $10,000+ type items. Indeed, the 6d roo is cat $40,000 used for a well off centred stamp. (A local dealer colleague found that stamp un-noticed in a Specimen pack.)

The same reason is I believe behind the 5d KGV "OS" existing on Small Multiple Wmk paper. There is no doubt whatever in my mind the quite recent discovery of this stamp was due to this wrong watermark 5d being patched into a normal CofA watermarked sheet and overprinted.

Exactly similar to how the inverted overprints were created. It is the rarest KGV head stamp by far and is easily worth $50,000+ in my view. I reported this discovery on the front page of "Linn's Stamp News" in March 1999 and in local magazines.

ACSC Editor Dr. Geoff Kellow agrees that 5d stamps of this Small Multiple watermark were on hand at the time in the printers, and made a very detailed written case explaining how the error might have occurred.

These substituted stamps all were "patched" using thin strips of selvedge paper a few mm wide, and about 1 cm long, as repair tape. These typically were used diagonally in each corner to substitute a sound stamp into a sheet that had an ink blob, or a tear or some other obvious defect.

The 1932 CofA watermark 6d Kangaroo overprint invert that I was shown by the dealer that discovered it had these small repair pieces on all corners of the gum side. The illustration of this stamp in the ACSC shows these clearly.

Another patch-up


On my rarity page I illustrate a MUH pair of the same stamp with a nice row of double perfs that has a strip of this repair tape right along the top margin as you can clearly see on the photo.

This 1d KGV "OS" pair I had planned to split into 2 singles. However I noticed there is a solid blob of black colour after the left hand "O", and this inking error in pair with normal makes for a nice exhibit piece, and may assist in plating the inking error.

I have emailed this detail and scan to the editor of the ACSC for info. Hopefully it will be catalogued as a gross misperf in the next edition, as are stamps from all eras in ACSC when they are discovered.
I was interested to watch the national ABC "Collectors" program in late October to see a quite lengthy piece on Malcolm Groom's stamp collection.

Malcolm is well known in organised philately, and was in the very unenviable position of being President of the ill-fated "Pacific Explorer" mega show in 2005.

The high rating evening TV program highlights a different collectibles area in depth each week, and that show focused on stamps.

I thought it came over very well, and full credit to Malcolm for fielding the usually uninformed and dopey questions TV talking heads generally toss at guests.

I have done several TV interviews along these lines over the years, and as I am sure Malcolm can confirm, it all takes hours of messing around.

Re-doing pieces, adding interviewer "noddies" etc. The lighting crew all seem to fluff around making nuisances of themselves, and adding 30 minutes to re-do the most innocuous of things, that get edited down to one second anyway.

And the entire exercise generally gets edited down (badly) to 30 or 60 seconds on-air!

A great plug for stamp collecting in this country, and something we all should try to engineer a little more of if we are able. General media visibility is where philately is sadly lacking, and we can all do a little part if we try.

I certainly received quite a few calls after the show with general stamp queries. I wondered why, until one chap told me when you google "Malcolm Groom" my website comes up as first match!

One chap phoned to sell me something, and ended up spending $3,000.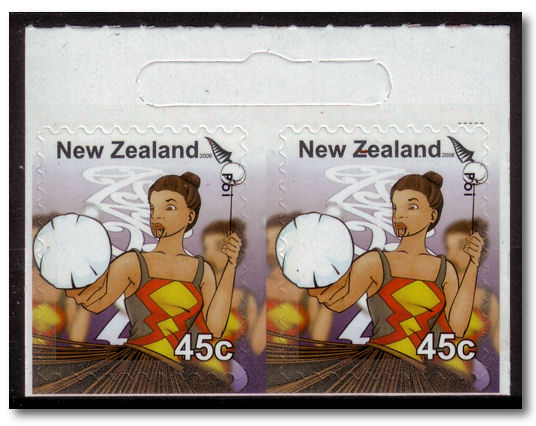 STOP PRESS - I believe I am the first stamp dealer in the world, outside of New Zealand to offer this item.

The un-issued 45˘ "Poi" Maori dancer self-adhesive booklet stamp. I have ten (10) copies of this stamp - and that is it. This is around 10% of the copies that exist worldwide. FAST ordering is recommended as when they are gone, they can't be replaced.

Price is $A2,275 a single self-adhesive neatly cut from the block, or $A4,475 a horizontal pair, which as you can see looks superb, or $A8,750 a block of 4 - if a block is still intact of course when you order! (A block of 4 is a booklet pane - each booklet has 2 panes of 4, and a pair.) Or the complete booklet of 10 for $A22,500.

These figures are in line with (or lower than) NZ retail which is getting higher each month as supply rapidly shrinks, and news of their existence slowly spreads overseas. And the NZ dollar has strengthened a lot against $A in recent months.

(I also have several full sets of 5 for sale MUH at $A13,500 a set.)

If you buy them off me as an Australian resident, you avoid a certain 10% GST impost upon arrival as a highly insured item, and the nasty new 3-4% "currency surcharge" + bad exchange rate your credit card bank will certainly levy.

Far more details here:









Get my regular market update emails FREE. Stamp gossip, price trends, record sale prices, and many one-time stamp specials, wholesale bargains, and exciting offers and breaking philatelic news. A mini stamp magazine in every email! "KNOWLEDGE IS POWER". The ONE stamp list you MUST be on, to keep in touch with the rapidly changing world market. One client made $65,000 profit in a few months after following my specific advice. Sign up securely and quickly by clicking HERE to access my automated data base. And wiser still ADD your home AND work email, if I only have one right now. Add a stamp friend's email address if you wish. One short click and you are subscribed to probably the most read email list in the stamp world!


Instant Currency Conversion


FREE! Just click here... see exactly what my lots cost in your currency.




If you would like to be notified of updates to this website, Click HERE.

If have any questions,
or comments regarding my site, please email me at glen@glenstephens.com


I am a Member Of
Full Time Stamp Dealer in Australia for over 25 years.
Life Member - American Stamp Dealers' Association. (New York)
Also Member of; Philatelic Traders' Society. (London) ANDA. (Melbourne) American Philatelic Society, etc

GLEN $TEPHEN$
Full Time Stamp Dealer in Australia for over 25 years.
Life Member - American Stamp Dealers' Association. (New York)
Also Member - Philatelic Traders' Society. (London) ANDA. (Melbourne) American Philatelic Society, etc

ALL Postage + Insurance is extra. Visa/BankCard/MasterCard/Diners/Amex all OK, even for "Lay-Bys"! All lots offered are subject to my usual Conditions of Sale, copy upon request BIGGEST STAMP BUYER: Post me ANYTHING via Registered Mail for my same-day cheque. Avoid the GENERALLY 40% Auction " Commissions" (15% + 17½ + GST, etc.) AND their five-month delays! Read for details.
"Lothlórien4 The Tor Walk, CASTLECRAG (Sydney), N.S.W. 2068
Phone: (02) 9958-1333 Fax: (02) 9958-1444 (Both 25 Hours, 7 Days!)
E-Mail: glen@glenstephens.com
Web Sites: www.glenstephens.com www.glenstephens.net or www.australianstamps.net

Sign up AUTOMATICALLY to my world renowned bi-weekly stamp gossip mailing list!
Click here to see MANY 1000s of stamp lots for sale at low $A Nett prices
Click here for all you need to know re SELLING your stamps for SPOT CASH
Click here for the current Monthly "Internet Only" special offers - CHEAP!
to read all my recent International stamp magazine articles.
Click here to get back to the main www.GlenStephens.com Homepage
Click here to ORDER on-line ANY items from ANY of my dozens of lists
Click for all info on Conditions Of Sale, Payments, Shipping, Returns &c
Click here for the complete library of my very unusual world travels!
How to PAY me. I accept EVERYTHING - even blankets and axes and beads!
Australia Post Annual YEAR BOOKS - massive stock - '27% off' discount offer today!
Visit my new page on RARITIES - Roos & other expensive photo items.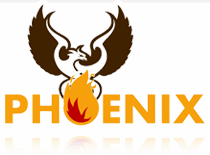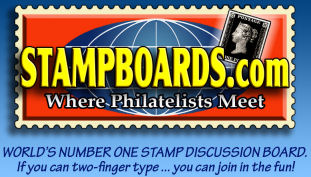 Instant Currency Conversion


FREE! Just click here...


E-mail me at glen@glenstephens.com -
Every credit card shown is accepted WITHOUT fee.
Earn Frequent Flier points while buying at bargain prices!
ALL prices are in weak Ozzie Dollars. I charge NO nasty, nasty
"Buyer's Commission" on stamps like nearly every "Auction" does.