Click To Go Back To The Main www.GlenStephens.com Stamps Homepage


Welcome! You are visitor
to www.GlenStephens.com




Glen Stephens
Monthly "Stamp News" Market Tipster Column


December 2007

---

Celebrity stamp collectors. Gibbons to cease printing 'Stamps Of The World' catalogues?



"Stamps Of World" to cease?

My column last month about how Stanley Gibbons often lose the plot with catalogue issues caused much comment.

Whilst I sympathise with the need to do something, due to the increasing size and number of listings, I do hope their current way of seeking "collector input" is not followed by management.

Gibbons right now have a "Poll" on their own website asking collectors for their views on the fate of the massive "Stamps Of The World" set of 5 volumes - i.e. the "SOW."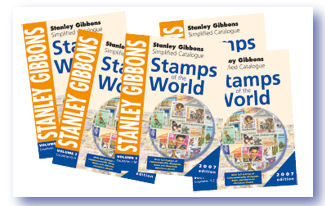 The Massive "SOW" Set 5
| | | |
| --- | --- | --- |
| | Clearly folks voting on an on-line website are already very web literate. They do NOT however represent an accurate cross section of collectors by any means | |



As I typed this (mid November) the polling result was about a 58% vote to ONLY offer this info on-line in future.

I can give the SG marketing gurus some totally FREE advice, and I don't even have a Harvard MBA. On-line stamp catalogues do NOT work. And they have NEVER worked.

Stamp collectors (and dealers) are generally over 60. In the main they are NOT computer literate.

They want a BOOK on their stamp desk next to the album, to look up the prices and information in.

I literally spend 10 hours a day on the computer doing stamp related work. I'd guess I am in the top 1% worldwide of stamp users on computers in respect to time spent.

Despite that, I NEVER use on-line services or CD Roms to look up prices, as I hate the idea of both.

Let's look at the reality of publishing. And bear in mind these are current UK prices I quote below.

Due to the massive weight to ship, and local agent fees, and GST on books, you can near double all these prices for Australian retail.

These are incredibly heavy to ship - a set weighs about 15 kilos or 35 pounds!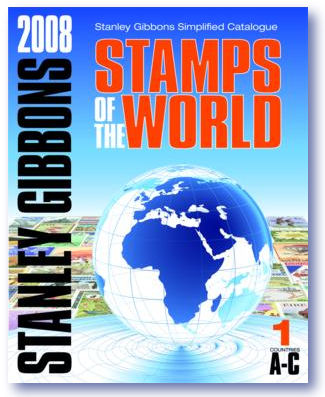 Current 2008 SG Edition



Right now the SG "Stamps Of The World" (SOW) sells in the UK for £175 a set.

Let's suppose, (and these are just guess numbers to illustrate my point) Gibbons now print 10,000 sets, and each set of 5 costs them £100 to print.

I know enough about printing to know if you print only 5,000 sets, your set cost will rise - to be more like £150 a set. That means your retail price must go up 50% as well, just to retain the same profit margin. Simple maths.

So if retail goes from £175 to £260 dramatically fewer folks will buy it. So the next year they print only say 2,500 sets and the retail needs to go to £400 and so on. "The law of diminishing returns."



That is already around $A1,000 a set - in English prices, and as I posted, retail here is near double that. Then it clearly becomes uneconomic to print them, as nearly no-one buys them, and Gibbons make zero profit from hard copy catalogues.

And THEN it is largely too late to go back and re-think things.

Scott and Michel or others will have jumped in and grabbed a decent slice of the paper based market.

The folks who refuse to use a paid on-line service will continue to do so, therefore Gibbons loses big-time - and more importantly, the stamp world also loses big time.

This is the Gibbons website "Poll" wording below - and I show the reader votes so far, after quite a while of seeking input:

'The "Stamps of the World" catalogue 2008 edition could be the last we will see in its present format. It is expected to increase to over 5000 pages for the 2008 edition, which also includes all miniature sheets.

The volume of new issues from postal administrations worldwide each year will see this publication increase in size and price. Stanley Gibbons is reviewing a number of options in this regard and would be interested in your views on which basis to proceed. The key options are as follows:


A. Continue to list all new issues in the 'Stamps of the World' catalogue, which requires an increase in cover price year on year - (21.18%)

B. Provide this information online only in the future at a lower charge to the collector - (57.99%)

C. Provide reduced content in printed form for less popularly collected countries and ignore new issues from countries with excessive issuing practices. - (20.83%) '

For what it is worth I voted for "C", although sadly "A" is the option Gibbons are stuck with most likely.

I frankly do not care if modern Cuba, Guyana or Chad or Mongolia or WhoKnowsWhatIkstan etc are included or not, or truncated or not. As long as SG still produces 5 volumes of the material that dealers do look up, and collectors do collect.

However I do hope the Hot Shots at SG "Marketing" ignore the 58% vote from on-line users, as following that skewed vote path will be a total financial disaster for them if they should do so. In my view.
Unlikely stamp collector!
The stamp world often bemoans that high profile younger public figures do not appear to collect stamps.

I saw a snippet on stampboards.com this week that indicates glamour Russian women's tennis superstar Maria Sharapova is a keen collector.

This kind of thing is great for the hobby, and it may entice some younger folks to get involved!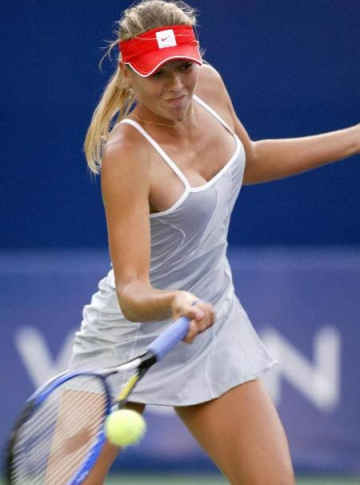 Celebrity stamp collector
Maria Sharapova
Maria Sharapova gave an interview to "The Guardian" after a recent tennis victory:

"I have collected stamps since I was nine or 10 years old" Sharapova said.

"There are so many, millions really. I have got stamps passed over from my mother's grandmother. It was more of an interest when I was younger. Now I just do it because I did it before, but English stamps are my favourite because they have that picture of the Queen."


However the fallout from it was swift. She later told "The Guardian" when asked about her stamp collecting interest:

"Oh, God, stop. Everyone's calling me a dork now"

Sharapova said, before revealing, semi-seriously, that her agent had banned her from talking about it, for fear that her sponsors might start frantically searching for geekiness clauses in her endorsement contracts.

"We're getting emails from, like, stamp collecting magazines asking if I can do an interview. I mean, it's just a hobby," continued Sharapova.

"I'm actually good at telling stories but that is one I should have never talked about. Oh, my goodness. Let's get off this subject, because I'm going to be an absolute geek tomorrow."


Collector in the White House
Another high profile stamp collector was also un-masked in recent times.

The "Washington Times" recently revealed that before he departed the White House, high profile top Presidential aide Karl Rove was busy licking postage stamps.

A keen stamp collector, the former top aide to President George Bush has been known to plaster his outgoing envelopes with a colourful array of old USA stamps up to 50 years old.

With the current USA postal rates these old stamps must add up to 41 cents for a normal letter.

Better yet, Mr. Rove would often choose stamps that bore a personal message for the recipient.

For instance, Donna Brazile, with whom Mr. Rove waged war in her capacity as head of Al Gore's presidential campaign in 2000, recently received a parting note from Mr. Rove on the occasion of his retirement.

"I love Karl, because when you receive a letter from Karl, you don't automatically go and read the letter" Miss Brazile told the newspaper. "You look at the stamps."

Sure enough, on the corner of the envelope was an old 15 cent stamp with the words: "We've just begun to fight."

"I love that man" Miss Brazile said, "because he knows how to fight."

50 year old postage

A well-known magazine editor in Washington showed the newspaper a handwritten note that Mr. Rove sent to her in the days before his retirement.

She explained that she recently sent Mr. Rove a copy of a letter that her retired father had written to his three grown children in 2001, immediately following the September 11th, 2001 terrorist attacks.

In his letter, the father accurately predicted President Bush would have no choice but to retaliate against the terrorists. However, he also correctly guessed that very few allies would be lining up to join the United States in its battle.

But in the end, he assured his children, America and all it stands for would once again prevail over the enemy.

Mr. Rove wrote back that he was dashing off to the Oval Office to show the encouraging letter to President Bush.

Rove then tucked his note inside a White House envelope and adorned it with the four stamps shown nearby - up to 50 years old.

A 3 cent 1957 "International Naval Review" stamp, a 10 cent 1976 "Bicentennial" stamp, a 15 cent 1978 George M.Cohen "Yankee Doodle Dandy" stamp, and a 13 cent 1977 "Dogface" butterfly stamp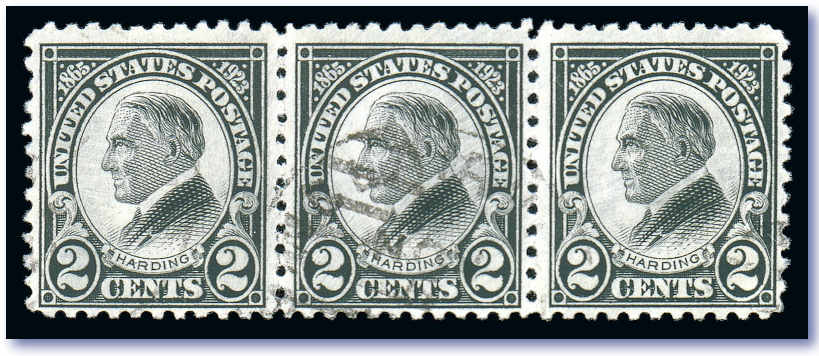 Junk box find sells for $US165,000

The stamps were a quite ordinary looking used strip of the USA 1923 2¢ black, President Warren G. Harding stamps. It sold for $US165,000 at auction in New York on October 20.

They were found by Lawrence Cohen of Plymouth, New Hampshire in an accumulation of about 150,000 copies of this stamp that were roughly stored in shoeboxes.

This stamp design is very common, and I imagine every single reader with a USA collection has at least one copy in their album.

Those stamps you have will be from the rotary press 10 x 10 (Scott 612) or flat-plate press perf 11 x 11 (Scott 610.)

For some reason some sheets were perforated 11 x 11 from the ROTARY press printing (Scott 613) and they are very valuable. Only used copies are known.

Now this is where it gets tricky. Scott states that the way to differentiate between flat-press perf 11, and rotary press perf 11 is that the flat press versions measure 19.25 mm x 22.25 mm, and the rotary press printings are at least 19.25 x 22.5 mm.

Every tried to measure a QUARTER of a millimetre accurately on a stamp? It is the tiniest of measurements. And getting it right can mean you are a million dollars in front.

To complicate things further - all three stamps on this newly discovered strip are less than 22.5 mm high. This caused some experts to proclaim it was faked - and not the rare Scott 613.

However after waiting 18 months for experts to make up their mind, the strip finally got a Certificate of Genuineness, and was auctioned October 20 as 3 x genuine Scott 613s.

The PF Expert Committee declared them to be "lightly cleaned" and the auctioneer Matthew Bennett vigorously disputed this. In their auction write
up, of that statement they: "expressed our emphatic disagreement."

As you can see the right hand stamp has a badly pulled perf at top right - not mentioned by auctioneer in his long glowing description - nor the
expertiser apparently!

Given the American fetish for perfect centering, all known copies fall way short of the "ideal" appearance.

However This is the only strip recorded, and hence the strong above estimate invoice price of $US165,000.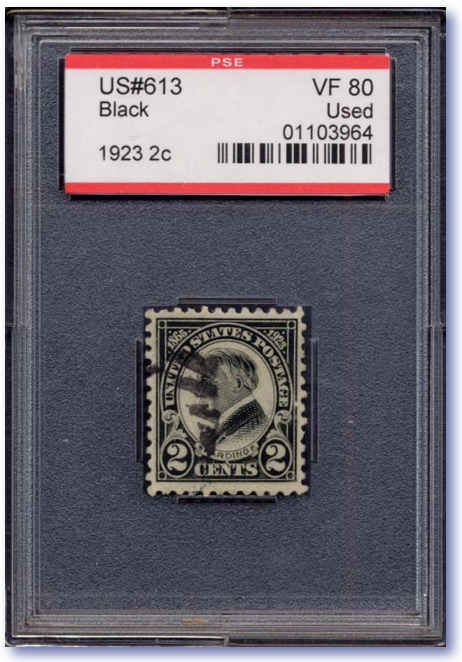 For Sale - only $US125,000

The buyer was a member of stampboards.com - Jay Parrino from Kansas. Parrino has another single used copy of this same Scott 613 on his website for sale at $US125,000. It is illustrated nearby.

Warren Harding was an incredibly popular President. When he died suddenly on a national tour, a huge outpouring of grief saw this stamp issued on September 1, 1929 - just 29 days after his death

The initial print of 300 million sold out almost overnight, and 600 million more were quickly ordered.

Due to this huge and unexpected order, the USPS authorised the rotary press be also used to supplement the normal flat-plate press used to print letter rate stamps.
Australia KGV hoard

The amazing USA "shoebox" find above is of course by no means isolated.

Major discoveries and "finds" occur often - NEVER assume the last word in philately has EVER been written!

On stampboards.com this month a regular member called "kaygeevee" outlined in detail the "mother lode" find of the century for Australian stamps.

"Kaygeevee" is a very senior Australian KGV expert and a consultant to the ACSC KGV volume.

He took the time to place on paper for the first time as far as I am aware, the full story. With his permission I share part of it here.

The web-link to his very detailed story is here - www.tinyurl.com/2753m2 - a "must read" article for all collectors.

And remember this is less than a decade back we are talking about here.

It was then about 85 years since the stamps were issued.

An Austrian collector stumbled across an unchecked hoard of about SEVENTY kilos of Australia 1d reds on paper, assembled during World War 1.

An Italian dealer had been selling them by the handful at stamp shows as common "unpicked" old kiloware, and the sharp eyed collector I'll call "Mr.
X" noticed the material was clearly unpicked.

The first 4 little packs he bought contained 1d red KGV Rusted Clichés, Substituted Cliché's, Die 2 single line perfs, many Salmon Eosin shades, ½d green single line perfs, and other major flaws and varieties.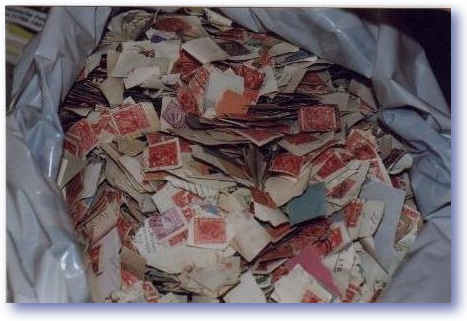 Part of "The Italy KGV Hoard"


"Mr. X" quietly tracked down the source, and was eventually able to buy it all - TWO TEA CHESTS of Australia KGV stamps on paper.

The hoard was packed in about 24 x large white thick plastic trash sacks like the one shown nearby from his files.

It was the "Aladdin's Cave" find of Australia KGV heads.

In 1998 Dr Geoff Kellow, the ACSC Editor was shown the following KGV head stamps from this hoard:

½d Green Single Line Perf. Used and Perforated "OS"
½d Green Single Line Perf. Used with part "JBC" Monogram.
1d Large Multiple watermark, used Cooke Carmine Pink Perforated "OS".
1d Red block of 4 used with both Rusted Clichés, "Thin G" & "Dot on Y"

NONE of the above were known to exist in 1998


Salmon Eosin Hoard



"Mr. X" also found the complete range of Salmon Eosin shades as per the current ACSC .... worth today a large 5 figure sum.

He had the full range of the UV bandwidth reactions on these rare Eosin shades - Roses, Pinks, Yellows & Salmons

"Kaygeevee" visited "Mr. X" in Europe to assist with the Salmon Eosin shading verification, and obtained about 6½ kilos of this mix, which even after an initial check from "Mr. X" yielded many superb items and postmarks.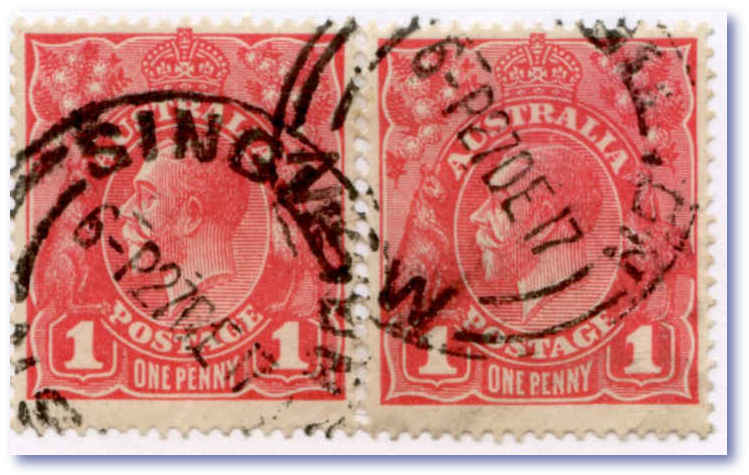 Re-joined 1d Salmon Eosin pair


One item that "kaygeevee" posted on stampboards.com was the nearby pair of salmon Eosins -- that were originally 2 separate stamps from the two tea chests.

As can be readily seen, they were once a joined pair, cancelled "Singleton NSW".

All Eosins will generally have November or December 1917 dates as these do, although they were printed in 1916 it is believed.

For decades it was believed that only the Singleton area NSW, and Bairnsdale Victoria country PO's got a "few sheets" of this distinctive "eosin" ink printing, very evident under UV light.

Alec Rosenblum states this as recently as 1968 in the last ACSC he edited.

It is now known (partly due to this find) they exist postmarked from the 5 mainland states, and even from capital cities like Sydney.

Clearly the number issued was infinitely larger than the "few sheets" once accepted as correct. My guess is many tens of 1000s were sold and used. The current ACSC prices would appear way too high on that basis.

But a re-joined pair from two different tea-chests is an exciting find, moreso 70 years after they were postmarked.

Several other items "kaygeevee" posted photos of in colour from this hoard, in the link above, were the amazing used block 4 of the 1d red KGV Rusted Clichés, a block of 9 of the Substituted Cliché's, and a superb Die 2 1d Red single line perf!

As well as Salmon Eosins of all kinds - many on piece with normals, and Eosins with "OS" and private perfins.


The Salzburg Austria finder of this 70 kilos of treasure is known to many local dealers. I wrote about some of his postal stationary finds in my column a decade or so back.

After "kaygeevee" outlined his story of the Mother Lode find, "Mr. X" joined stampboards.com as username "koala".


"koala" showed some more rare solo usages of KGVI era Australian stamps that have eluded specialists for years.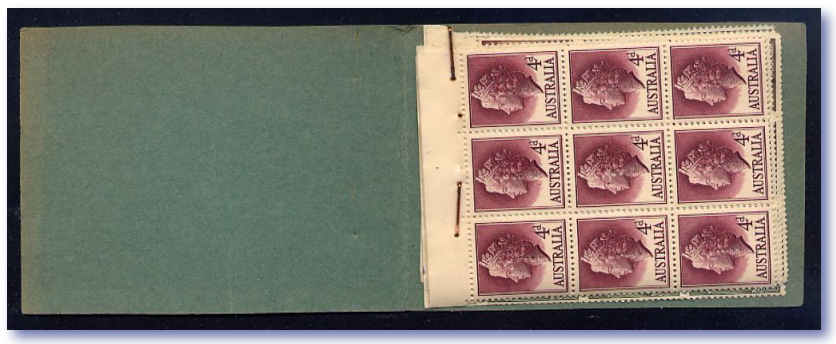 Mystery £3 "T" booklet

Tasmania perfin mystery booklet?
A Canadian member of stampboards Greg Ioannou posted up a mystery £3 stamp booklet of Tasmania "T" perfins in margin blocks of 9.

This booklet was apparently assembled about 50 years ago with 4d and 6d and 1/- definitives inside he had obtained from "koala" some years back.

I asked Arthur Gray and Ross Ewington about this "booklet" and neither had any clues. Possibly some reader can shed some light on the item?

Please visit www.tinyurl.com/26x88y if you can assist further with this puzzle. Much discussion about its likely history has taken place on that link.

Seasons Greetings to all readers - wherever you are. Thank you for your input and comments all during this year!











Get my regular market update emails FREE. Stamp gossip, price trends, record sale prices, and many one-time stamp specials, wholesale bargains, and exciting offers and breaking philatelic news. A mini stamp magazine in every email! "KNOWLEDGE IS POWER". The ONE stamp list you MUST be on, to keep in touch with the rapidly changing world market. One client made $65,000 profit in a few months after following my specific advice. Sign up securely and quickly by clicking HERE to access my automated data base. And wiser still ADD your home AND work email, if I only have one right now. Add a stamp friend's email address if you wish. One short click and you are subscribed to probably the most read email list in the stamp world!


Instant Currency Conversion


FREE! Just click here... see exactly what my lots cost in your currency.




If you would like to be notified of updates to this website, Click HERE. If have any questions,
or comments regarding my site, please email me at glen@glenstephens.com
| | |
| --- | --- |
| | Search all my 300+ web pages! Simply type in what you are looking for. "Penny Black", "Latvia", "Imprints", "Morocco", "Fungi" "Year Books", etc! Using quotes ( " ) is more accurate for multi word searches - i.e. "Australian FDC" gives FAR more specific matches than simply Australian FDC if used with no quotes. Search is NOT case sensitive. Tip - keep the search word singular - "Machin" yields far more matches than "Machins" etc. |


I am a Dealer Member in Good Standing Of:

Full Time Stamp Dealer in Australia for over 25 years.

Life Member - American Stamp Dealers' Association. (New York)
Also Member of: Philatelic Traders' Society. (London) ANDA. (Melbourne) American Philatelic Society, etc

GLEN $TEPHEN$

Full Time Stamp Dealer in Australia for over 25 years.

Life Member - American Stamp Dealers' Association. (New York)
Also Member - Philatelic Traders' Society. (London) ANDA. (Melbourne) American Philatelic Society, etc


ALL Postage + Insurance is extra. Visa/BankCard/MasterCard/Diners/Amex all OK, even for "Lay-Bys"! All lots offered are subject to my usual Conditions of Sale, copy upon request BIGGEST STAMP BUYER: Post me ANYTHING via Registered Mail for my same-day cheque. Avoid the GENERALLY 40% Auction " Commissions" (15% + 17½ + GST, etc.) AND their five-month delays! Read for details.

"Lothlórien4 The Tor Walk, CASTLECRAG (Sydney), N.S.W. 2068
Phone: (02) 9958-1333 Fax: (02) 9958-1444 (Both 25 Hours, 7 Days!)
E-Mail: glen@glenstephens.com
Web Sites: www.glenstephens.com www.glenstephens.net or www.australianstamps.net

Sign up AUTOMATICALLY to my world renowned bi-weekly stamp gossip mailing list!
Click here to see MANY 1000s of stamp lots for sale at low $A Nett prices
Click here for all you need to know re SELLING your stamps for SPOT CASH
Click here for the current Monthly "Internet Only" special offers - CHEAP!
to read all my recent International stamp magazine articles.
Click here to get back to the main www.GlenStephens.com Homepage
Click here to ORDER on-line ANY items from ANY of my dozens of lists
Click for all info on Conditions Of Sale, Payments, Shipping, Returns &c
Click here for the complete library of my very unusual world travels!
How to PAY me. I accept EVERYTHING - even blankets and axes and beads!
Australia Post Annual YEAR BOOKS - massive stock - '27% off' discount offer today!
Visit my new page on RARITIES - Roos & other expensive photo items.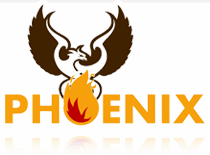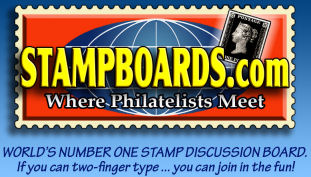 Instant Currency Conversion


FREE! Just click here...


E-mail me at glen@glenstephens.com -
Every credit card shown is accepted WITHOUT fee.
Earn Frequent Flier points while buying at bargain prices!
ALL prices are in weak Ozzie Dollars. I charge NO nasty, nasty
"Buyer's Commission" on stamps like nearly every "Auction" does.