Click To Go Back To The Main www.GlenStephens.com Stamps Homepage


Welcome! You are visitor
to www.GlenStephens.com




Glen Stephens
Monthly "Stamp News" Market Tipster Column


December 2008

---
As anyone who reads my columns knows - "Knowledge Is Power" has been my mantra for several decades.

To gain knowledge you need to read books and catalogues – it is as simple as that.

Too many folks in this hobby begrudge spending money on works that can save them 5 or 10 times the purchase cost, when they first use them.

Philatelic publishing is no goldmine. Most efforts are break even – at BEST. Many self publishers lose a lot of money but continue - as it assists others.

Seldom do I see a new work that stands out from the pack. One such book hit my desk recently.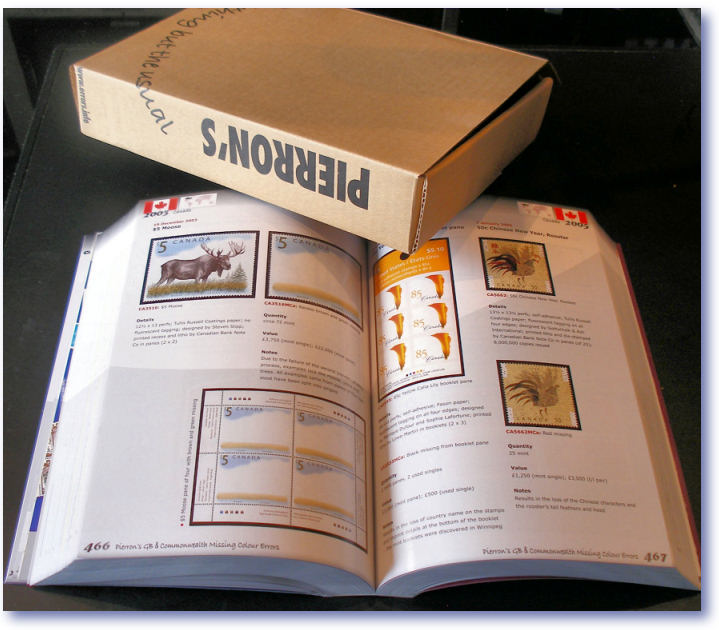 Nicely boxed

In fact the only reason I chased it up was the number of auctions and lists that were quoting "Pierron Hong Kong 558MCA Cat £750" etc, and I had no idea what was being referred to!

This is a massive new, full colour, 800 page British Commonwealth missing colours catalogue, for all stamps of the QE2 reign from 1952.
New Pierron Cat.
It has the not very catchy title of: "Pierron's Modern Great Britain & Commonwealth Missing Colour Errors."

An incredible new work. Every collector of this era MUST have one, and every dealer most certainly should have a copy, as a LOT of this content is not in Stanley Gibbons

Just one VERY moderate find will pay for it 5 or 10 times over.

The catalogue comes in a superb custom made storage box, to keep out dust and humidity etc, which in Australia is most useful.

For dealers, this also means it is a breeze to mail to clients, quickly and easily.

For the Australia errors 1952 - 2000 alone, you'd need to buy 5 volumes of the ACSC - for $A365 just to look these issues up.

They are all in this one book for $A100 - and you get all the detailed GB and British Commonwealth errors for free!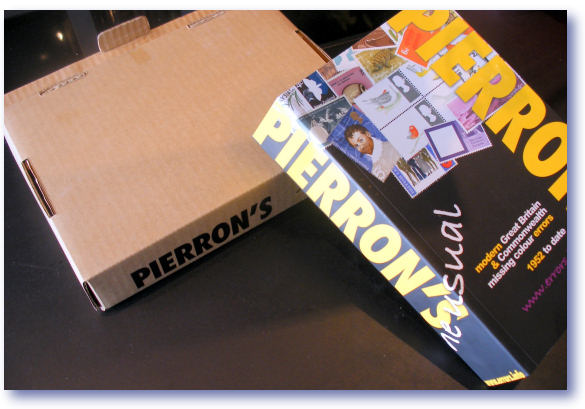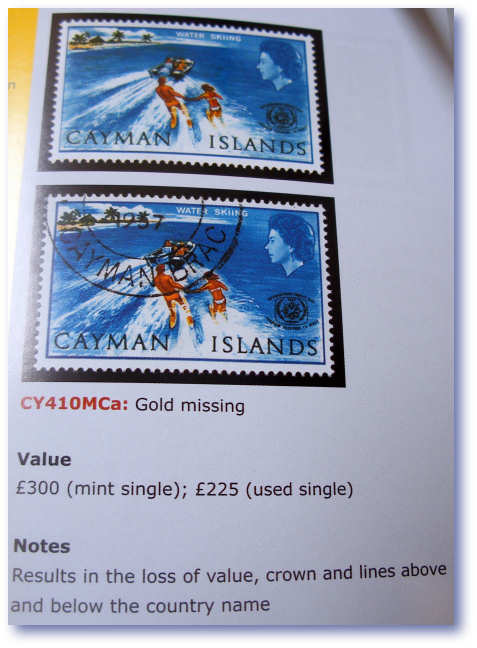 Crisp presentation
Retail price in the UK is £49.95 ($A125 at time of typing) plus post. Due to the vagaries of exchange rates, I sell these to clients just $A100 plus post!

I've sold a couple of cartons already, so they have been a big hit with local collectors. SG have left a huge gap in the catalogue market, and "Tom Pierron" has very neatly filled it.
Superb Production Quality
This is no back-yard stamp society effort, done on the cheap. It is very professionally laid out, with brilliant graphics and image quality, and printed on top quality low gloss bright-white paper.

The author (whose name is not Tom Pierron!) is a leading collector in this field, and knows his stuff. I understand he owns a printing business in Europe, hence the very polished and professional final product.

He is an active member of stampboards.com and has posted some of his superb material up there for others to admire.

Some of the things photographed on this page are worth well over $A1,000 apiece, and yet most collectors or dealers would not know they were rare errors, even if they tripped over them!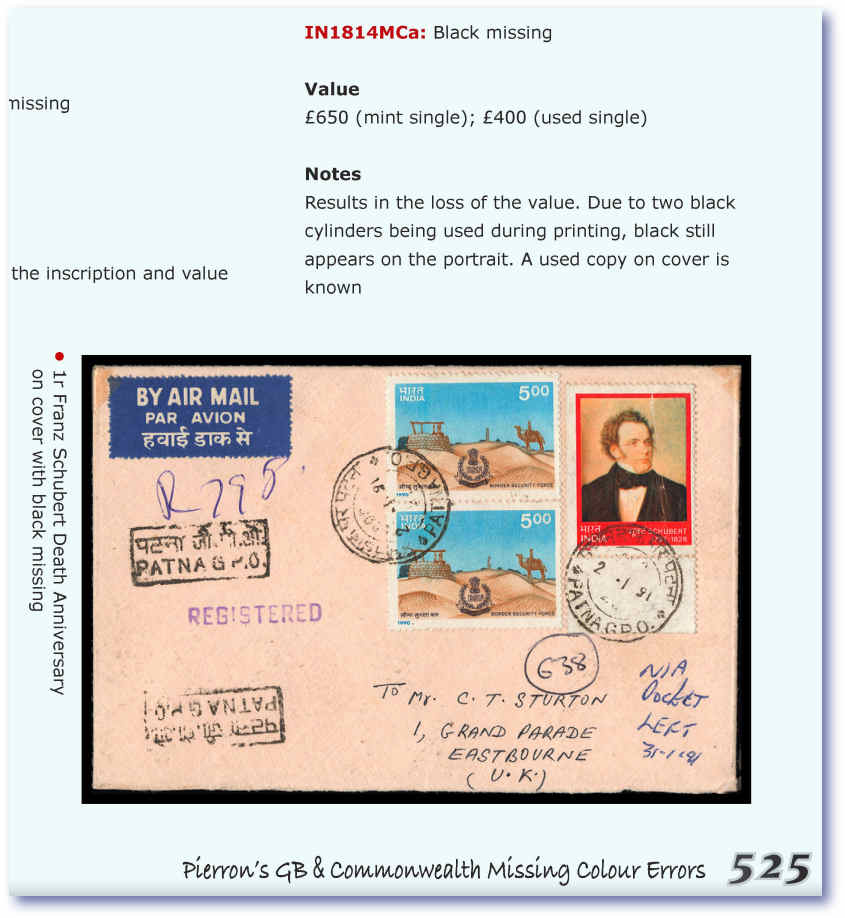 Worth $1,000.

Does this Indian "missing black" stamp on cover nearby look like a $1000 item to you? Well not to me it doesn't, that's for sure.

How can you look it up in SG -- they do not list modern issues past 1970 such as that in "Part One", which is the problem.

Did you know the Bermuda 1977 Fish missing color was worth £3,750? That's $A8,500 for a modern stamp. You will not find that in SG either as their "Part One" listing stops in 1970.

And hundreds more stamps are in the same category.

Every QE2 era recorded missing colour is shown here in colour, and is priced accurately, numbers known are given, and other details surrounding it, where known.

The photos of actual error pieces is invaluable. The various Australia 1965 5d Christmas missing colours are well covered - as a good example.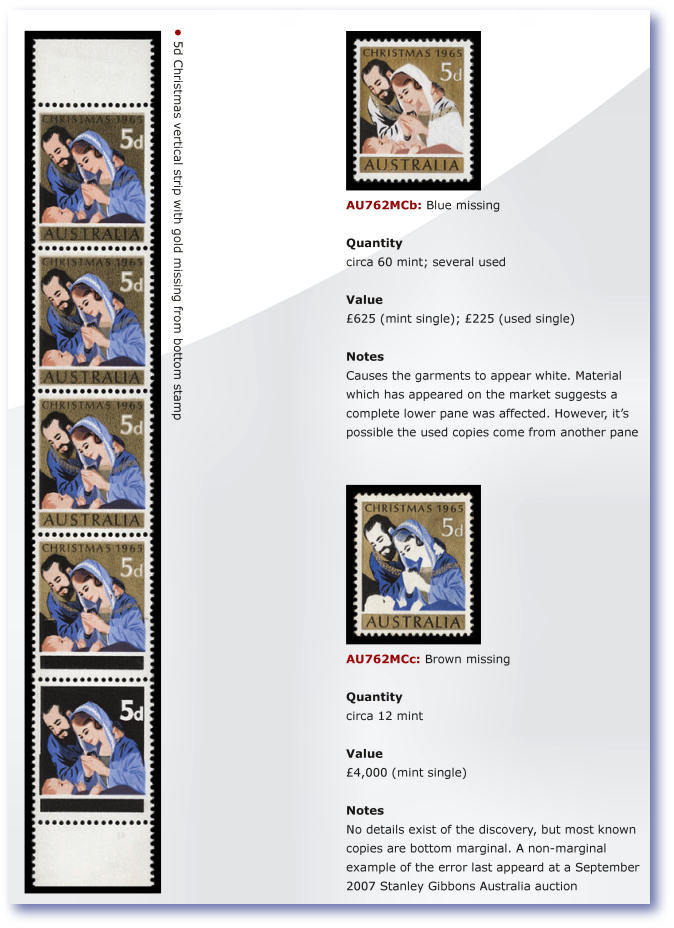 TRUE "Missing Gold"
See the photo nearby – which shows the ACTUAL "Missing Gold" in a strip of 5, being the lowest stamp in the strip.

Every year dozens of dreamers and/or con-men list these up on ebay etc, at $100's each after creating them with a Q-Tip dipped in Methylated Spirit. And many sell to clueless buyers.

Once you have seen the TRUE error, or a sharp colour photo of it, these crude ebay confections do not warrant a second glance.

This catalogue was created by a very keen collector of the field, with active assistance of the leading error dealers on all continents.
Many "Old Friends."
I see a lot of "Old Friends" in here …. many of which I discovered.

The Australia 1992 45c Animal roll of 100 with missing black I bought off a client only as it had a red pen mark through it all, so was unusual.

We both agreed it looked odd. I paid him many times face value for it, which he was happy with, and I forgot about it for some months.

Only much later when fidgeting with the roll when on a phone call, did I notice it also had missing black on all 100 stamps!

A dealer offered me a sum that exactly matched the current economy class airline ticket overseas I'd just booked, which pleased me.

I now see the roll is cat £24,000 - or near $A55,000 in Pierron, so I should have forsaken the airline ticket!


Cocos Missing Pink
Another "old friend" I see in here is the Cocos Island 1969 4c fish with Salmon Pink missing. In 1984 I found a small block of these in a box of junk, with the colour progressively missing, and totally missing on one row.

No-one had seen them before. Or since. I think there were 3 or 4 strips in the block, so today's prices are way too low in my view.

I offered them to (the late) UK error dealer Derek Worboys soon after, who offered me VERY many hundreds of times what the box of junk had cost me.

I remember the year exactly, as I'd just taken vacant possession of my new home in Hunter's Hill. The VERY first phone call I took was Derek phoning from London to make me an large offer. Paid for the removal van – and more!


A unique discovery

These Cocos Fish are now £1,750 ($3,850) per strip of 3. To this day I understand it is the only missing colour ever discovered from Cocos, since SG 1 in 1963.

As I first found them by chance 15 years after issue date, I feel sure no others have turned up, so these really should be priced 2 or 3 times higher than now.

Over 80 different countries are covered in this Pierron, with 1,250-plus errors detailed, and more than 2,500 sharp images.

Normal stamps appear alongside errors for easy reference. Known or estimated quantities are listed. Genuine market prices, based on dealer sales and auction results, are included.

How the errors occurred, where and when they were found, and other significant information also appears – often available nowhere else.

Values for all recorded formats of every error are included: mint, used, first day cover, traffic light block, plate/cylinder block, booklet pane, sheet etc.

The electronic version of this Pierron catalogue also is sold on CD-ROM for $A62 to Australia. Files are in PDF format and require Adobe Reader or similar. Order via - tompierron@bacchic.net

Because of the huge file size of the electronic catalogue, it's impractical to offer it as a download. Instead, it comes on a packed CD-ROM and can be copied to (and printed from) your computer. PC and Mac compatible.
SA Railways Cat
Staying with the "Knowledge is Power" theme and new catalogues, I'll mention another useful niche publication.

I was in Adelaide mid October for "STAMPEX" and was given a copy of "The Parcel Stamps Of South Australia – Part One – Railways, Tramways and Bus".

This has just been released in time for the show by well known local authors Martin Walker and Tony Presgrave.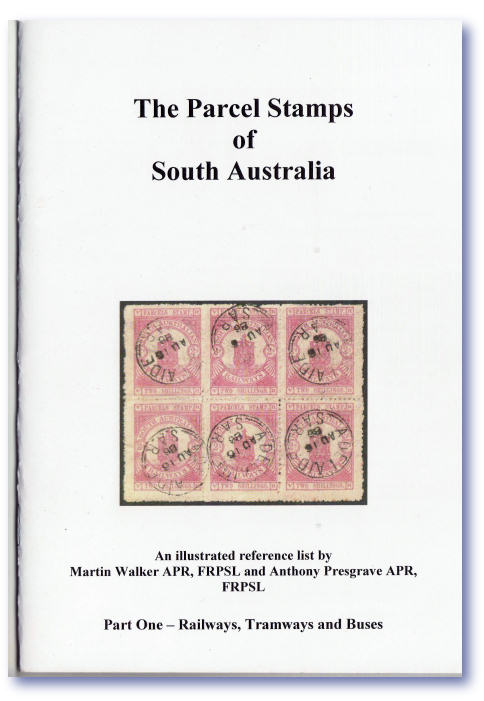 15 years in the making!

They told me this has been 15 years in the making. A most useful book for collectors of this area and is 52 pages, in a font size far too small for many, I'd guess.

Why it was not 52 x larger A4 pages I have no idea, as much of the text is far too small to read readily, and many collectors of this area will have far worse eyesight than me!
Bring your magnifier!

It has every appearance of being prepared as A4 in normal font size, and then shrunk down to A5, so I am at a loss as to what that was about, other than to save a few cents on paper and ink?

It may not be too late to revert back to the more usual A4 size for future copies if my guess is right. I showed it to others, and got the same comment re the small font size.

Martin Walker tells me today it is the same size font used by SG catalogues, so readers can be the judge on whether that works when in A5.

Anyway, it has copious numbers of color photos, which is a nice change from many earlier Railway type listings.

The authors are both members of stampboards.com and said there that they had bowed to suggestions and rated scarcity via both "R" rating AND $ prices.

Not always a popular course with collector authors, but the market seems to demand it these days.

A very useful book to obtain for both dealers and collectors. And at $A25 just one barely decent discovery will repay that very fast.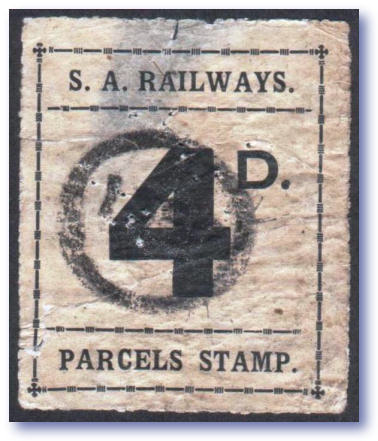 How much?

Let me ask all readers – if they saw this nearby ratty looking 1930 4d black in a circuit book or dealer stock at $2 would you give it even a second glance?

Well I most certainly would not have, but with this book you'd discover it is rated "R5" and is valued at $A500!
1930 series RARE
Indeed the entire 1930 set in this design are all rated "R5" – and all are at $500 either mint or used – even the lowest 1d value.

I would never have bothered to even ask about a 1d railway stamp, or look it up to be honest, so these books are a great resource.

This scarce set is on plain paper – the sets before and after it on coloured or under-printed paper are also all scarce, but not quite in this league.

Oddly most states did not have very high value Railway Parcel stamps for some reason - despite some very costly parcels being hauled.

For several of the SA series even 5/- top values are reported but not seen by the authors.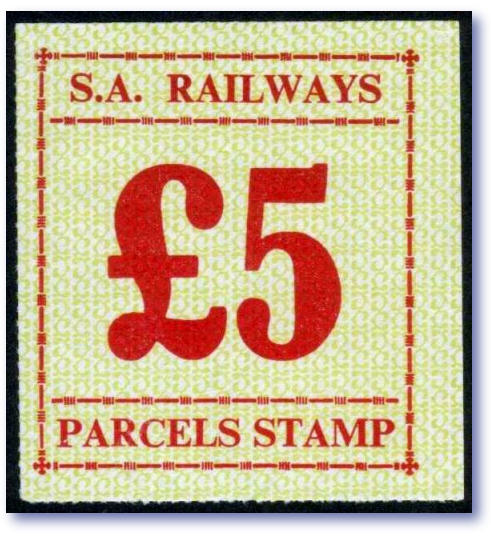 A $1,000 item

This SA £5 depicted nearby is the highest railway face value I can recall seeing. It is a $A1,000 stamp mint, and $A750 used.

Yet even on this set, the 5/- value has not been sighted by the authors, but 3/-, 10/-, and £1 are recorded. The £1 is the same price as the £5, and all 4 top values are "R5".

The book has useful sections on all the SA Private bus companies, meter and cash register stamps, and even the Silverton Tramway issues and all Commonwealth Railway issues. With lots of colour photos.
No used copies?
One interesting fact that Martin Walker confirmed for me when in Adelaide was the 1962 Commonwealth Railways pre-decimal set of 17 values mint, 1d to 10/- have never been seen used by the authors! Not a single value of it.

Pretty amazing as they were not replaced until 1966 with the decimal series. I recently sold complete MUH sheets of 24 of each value, so it is surprising no used copies have been sighted.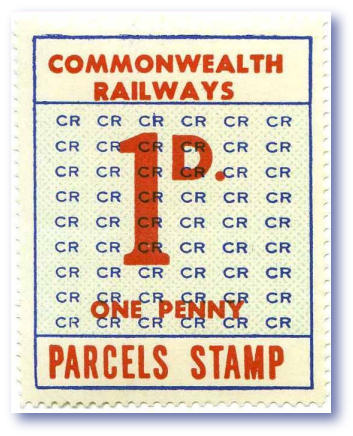 Ever seen this used?
Technology is taking over catalogues of all kinds, and Dave Elsmore has a rather useful online railway and revenue listing, that sometimes does not agree with this book.

It is sad that even the basic values known to exist in sets etc can't even be agreed on by both sides, given that very serious collectors are involved.

The good thing about on-line catalogues is they can be amended and updated fast when needs be. Both with prices and new discoveries. I'll take a closer look at that next month.

We have a wealth of info in Australia on these issues, and it would be superb to see that knowledge being combined and amalgamated by common agreement.
Block Busters
One of my long term campaigns has been to convince readers to put aside EVERY postally used block of Australia you ever see.

Right NOW most do not have much if any premium over 4 singles.

I can guarantee you in a decade you will look back on this column and laugh to imagine NO-ONE placed a premium on most used blocks.

Many major European basic catalogues as a matter of course list stamps mint, used, FDC, on cover and in USED blocks of 4.

Look at a Swiss/Liechtenstein Zumstein or Italian or Scandinavian catalogues etc and you will see what I mean.

Stamps worth peanuts as singles are often worth a FORTUNE in a postally used block in many European markets.

Swiss stamps issued in the Kangaroo era can catalogue 500 times as much in a used block, as for a used single.

The 1914 3f Jungfrau is in the basic Zumstein at 3,250 SF a used block, but only 8 SF for a used single. Many Kangaroos would rate high multiples like that.

The same rarity applies in Australian stamps of course. But NOT the prices – YET.

Facit does the same for Sweden and Scandinavia. In the 2009 Facit, the relatively cheap Sweden 1858 12öre blue Arms (Facit # 9) is priced at x 500 for a block of four.

That stamps is18 SEK for the cheapest shade for a used single, but 9,000 SEK for a used block of four of the cheapest shade.

For rarer issues Facit list how many blocks of four are known.

Facit also list largest known multiples. For some issues it might only be a pair that is the largest se-tenant unit, for others it is a block of 20 or larger. The ACSC can do the same.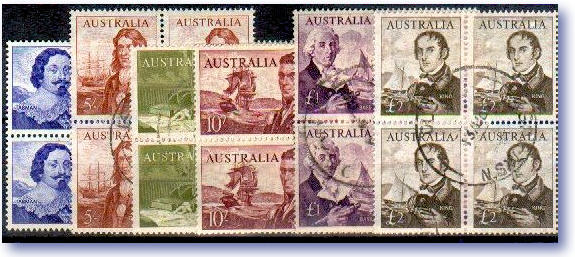 Buy such things now.
I sold the 1963/5 Navigators shown nearby in postal VFU blocks recently for $A600 – all with different cds, and all correctly dated in period. That is only the price of 4 used sets.

It is certainly true that virtually EVERY Australia stamp from 1913 to the present date EXISTS in postally used blocks - even high values like these £2.
Used blocks exist

Arthur Gray and I discussed this on Adelaide this month, and he agrees with me there are very few instances where no used blocks are recorded – and even then we are only guessing they are not out there.

The £1 Leski block shown nearby was used in 1923 and first surfaced on the market this month – 85 years after being used.

But just try finding them if you start collecting them.

Right now, few bother. For years I have been urging the editor and publisher of the ACSC to do so at some point, and I feel sure they will one day.

It will give added reason for folk to buy each new edition of catalogues and will not take any more space or pages than they now do, as they simply add the universal cross hair block symbol to all current listings.

I have discussed this with leading dealers and all agree the demand for used blocks is increasing all the time.

Richard Juzwin told me in Adelaide he fully agrees the market under-values such material at present, and that he is actively buying it whenever he sees it on offer, and hopes the ACSC lists them if future.

Juzwin told me he was the underbidder on this used block of £1 Kangaroos shown nearby at Leski's October 6th sale in Melbourne.

The stamps are 3rd watermark, and was invoiced to the buyer at just on $A20,000. As 4 singles they would sell for about a QUARTER of that.

Charles Leski told me the vendor bought these blocks in to show him, housed in a cheap $5 type Chinese stockbook.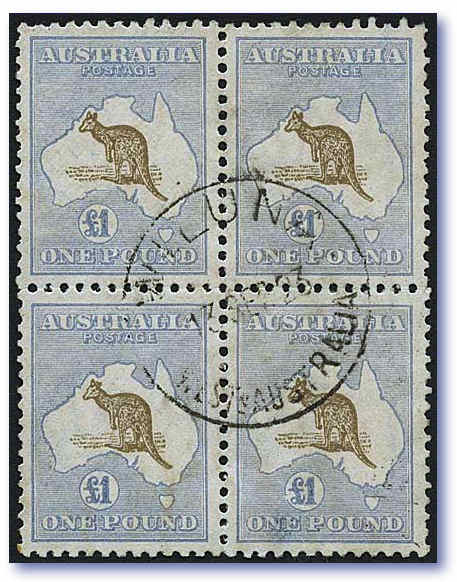 Sold for ~$20,000
This block had been in the family for decades and never sold for 3 generations, so had presumably been soaked off a parcel at the time of receipt in 1923.

An equally nice looking £1 FIRST watermark used block came up at a stamp auction in Wales UK a couple of years back, and I know myself, Simon Dunkerley and Tony Shields and several others all bid strongly on it, only to see Stanley Gibbons outbid us all.

Most of the Kangaroos are known in used blocks, and the archive sales offered the First Watermark bi-colour high values up to £2 in used blocks with Brisbane cancels, several of which I have sold since.
11 x £1 Roos on piece
I recall Martyn Greive from A-One stamps showing me a parcel piece with no less than ELEVEN x £1 grey 3rd wmk Kangaroos on it, including a block of 6, and also THREE x £2 Small Multi Roos.

It was a new discovery he'd found in quite recent times, among an estate of a man who threw nothing out – even parcel wrappers.

This piece was used in 1933 from Sydney to Newcastle Waters NT, on a 32 lbs car parts air shipment. Over £17 on a domestic parcel, so MUCH high value used Roo blocks DO certainly exist – especially to USA/Europe..

It is likely all the KGV heads, in all the watermarks and perfs and dies exist in blocks too – but many would be very rare thus.

I once asked experienced dealer Rod Perry if he had even seen or handled a KGV head 4d Lemon Yellow in a USED block of 4.

Rod thought about it for while, and agreed he could not recall seeing one, but also agreed one or more likely existed, if a search were made.

An inexperienced dealer would likely offer it for $50 to $100 on today's market, but I'd want $500. Watch this space.

I've outlined the above and similar facts to the publisher and editor of the ACSC over several years, and if you agree please add to the groundswell.

Publishers need to add good reasons for each new edition to be purchased, and here is a perfect reason for EVERY volume to get new sales.

As I have typed many times our ACSC is the world's best, but like a top sportsman it needs to keep improving, to stay in that position.










Get my regular market update emails FREE. Stamp gossip, price trends, record sale prices, and many one-time stamp specials, wholesale bargains, and exciting offers and breaking philatelic news. A mini stamp magazine in every email! "KNOWLEDGE IS POWER". The ONE stamp list you MUST be on, to keep in touch with the rapidly changing world market. One client made $65,000 profit in a few months after following my specific advice. Sign up securely and quickly by clicking HERE to access my automated data base. And wiser still ADD your home AND work email, if I only have one right now. Add a stamp friend's email address if you wish. One short click and you are subscribed to probably the most read email list in the stamp world!


Instant Currency Conversion


FREE! Just click here...




If you would like to be notified of updates to this website, Click HERE. If have any questions,
or comments regarding my site, please email me at glen@glenstephens.com
| | |
| --- | --- |
| | Search all my 300+ web pages! Simply type in what you are looking for. "Penny Black", "Latvia", "Imprints", "Morocco", "Fungi" "Year Books", etc! Using quotes ( " ) is more accurf used with no quotes. Search is NOT case sensitive. Tip - keep the search word singular - "Machin" yields far more matches than "Machins" etc. |


I am a Dealer Member in Good Standing Of:

Full Time Stamp Dealer in Australia for over 25 years.
Life Member - American Stamp Dealers' Association. (New York)
Also Member of: Philatelic Traders' Society. (London) ANDA. (Melbourne) American Philatelic Society, etc
GLEN $TEPHEN$
Full Time Stamp Dealer in Australia for over 25 years.
Life Member - American Stamp Dealers' Association. (New York)
Also Member - Philatelic Traders' Society. (London) ANDA. (Melbourne) American Philatelic Society, etc

ALL Postage + Insurance is extra. Visa/BankCard/MasterCard/Diners/Amex all OK, even for "Lay-Bys"! All lots offered are subject to my usual Conditions of Sale, copy upon request BIGGEST STAMP BUYER: Post me ANYTHING via Registered Mail for my same-day cheque. Avoid the GENERALLY 40% Auction " Commissions" (15% + 17½ + GST, etc.) AND their five-month delays! Read for details.
"Lothlórien4 The Tor Walk, CASTLECRAG (Sydney), N.S.W. 2068
Phone: (02) 9958-1333 Fax: (02) 9958-1444 (Both 25 Hours, 7 Days!)
E-Mail: glen@glenstephens.com
Web Sites: www.glenstephens.com www.glenstephens.net or www.australianstamps.net