Click To Go Back To The Main www.GlenStephens.com Stamps Homepage

Welcome! You are visitor
to www.GlenStephens.com




Glen Stephens
Monthly "Stamp News" Market Tipster Column


December 2010

---
Hepburn sheet gets $A610,000
I reported in the September 2010 magazine on the fascinating saga of the Germany Audrey Hepburn "Error" stamps.

tinyurl.com/Hepburns gives you the full rundown - it is the most comprehensive coverage of these stamps - in English OR German.

And shows EVERY copy of the stamp known to exist, and outlines their unique stories.
Sold for 430,000 Euro
The unique mint sheet of 10 was auctioned October 16 by Schlegel Berlin, and realised 430,000 Euro – then $A610,000.

This was well below what I expected, and a was a superb buy for someone.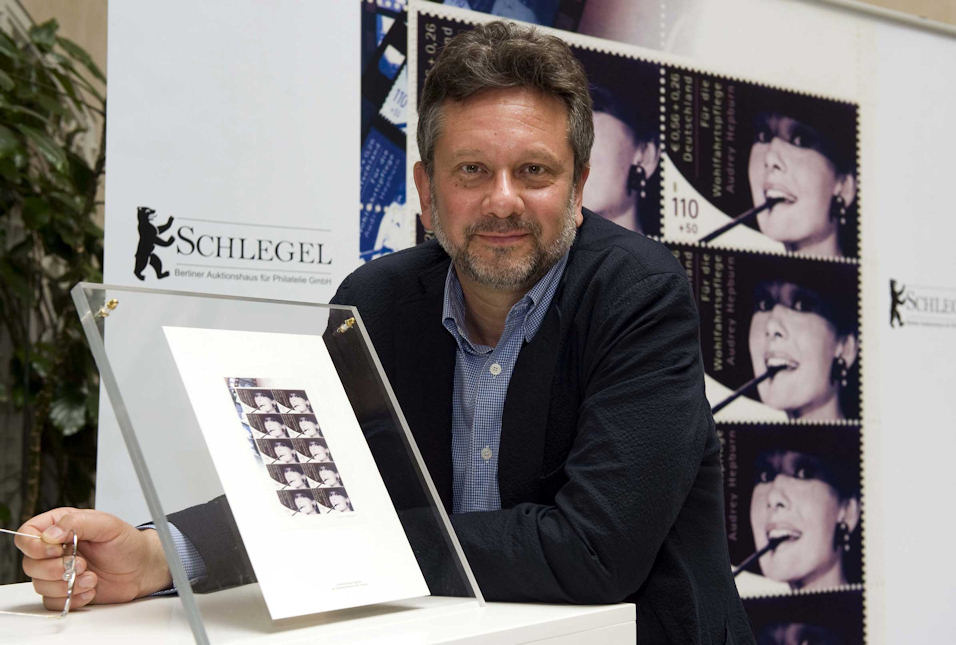 Sean Ferrer with the unique sheetlet
Schelgels appear totally inept at global Marketing, and I suspect someone savvier, like Prestige in Melbourne, or Shreve/Spink in USA would have got a FAR higher price.

I feel sure there are at least 10 keen collectors who'd pay 85,000 Euros a stamp, doubling the buy price. Germany is a massive stamp market.

ALL five used copies offered of this stamp have sold for well over $A100,000 each - indeed one fetched $A272,000.
One for the tax lawyers?
I have no idea of German tax law, but it may well be a well heeled person could have paid the $A610,000, and then donated it to an institution.

And then get a tax deduction for the "appraised amount" – as occurs so widely in the USA. And your name on a large plaque as the generous donor.

The "appraised" figure might well be double or treble the auction price. Coff. So your "philanthropy" turns a profit, as so many Americans have done.

Perhaps even the act of buying at a UNICEF charity auction allows a full tax donation to be taken, if a wealthy private collector retained it?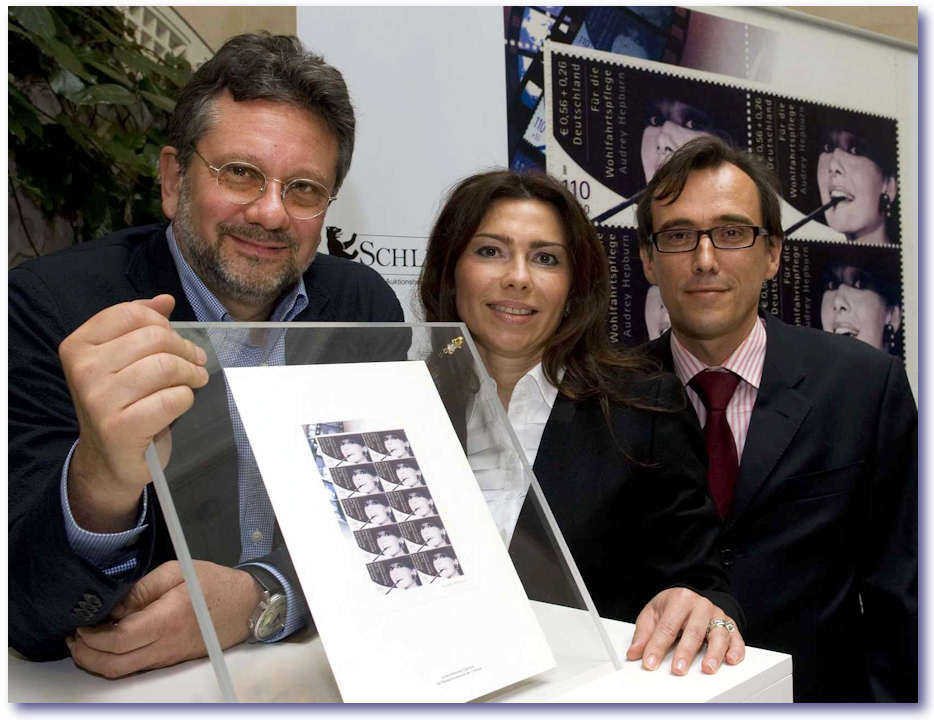 Ferrer and the Auctioneers the Schlegals

It seems hard to believe, that a block of 10 stamps printed in the last decade, is almost certainly the priciest Post-War stamp item from anywhere on earth.

Indeed it might well be the most valuable philatelic item from Europe for at least the past century - nothing whatever comes to mind that would top it.
Hepburn sale benefited UNICEF
Two-thirds of money raised will go to the Audrey Hepburn Children's Fund, and one-third to UNICEF Germany.

Only after the stamps were printed was Sean Ferrer, 50, Hepburn's son and the chair of the Audrey Hepburn Children's Fund, first contacted to grant copyright.

Ferrer is an active campaigner against alcohol and tobacco addiction and abuse.

It appears the first he knew of the impending issue, was when Deutsche Post mailed him a single mint stamp, and the pane, showing their next issue.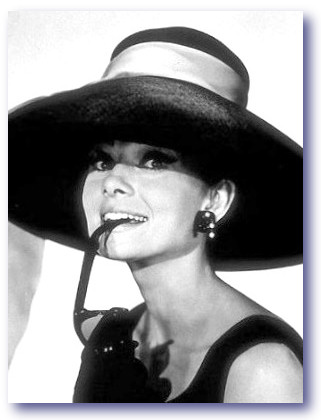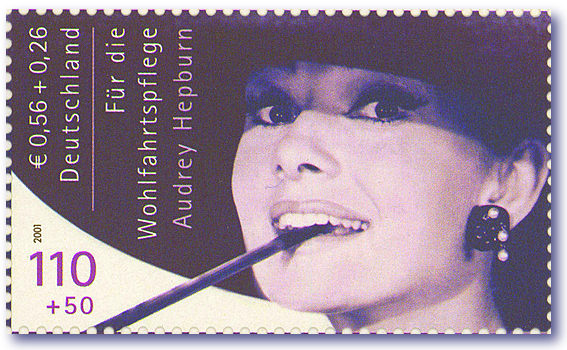 The German artist screwed up badly.
| | | |
| --- | --- | --- |
| | Ferrer refused to approve the issue, arguing that the image on the stamp had been altered. | |
Germans altered the image

"In the original photo, she's got sunglasses hanging from her mouth, but they had flipped the negative and replaced the glasses with the cigarette holder," Ferrer told The Associated Press this month.

I had not read this gem before, and spent hours searching for the original photo. I do not believe any stamp magazine in the world has shown it before now.

I finally located it - showing the Belgian-born actress in her most famous role as the ebullient "Holly Golightly" in Breakfast at Tiffany's.

As can clearly be seen the artist simply reverse directioned the original image, which faced right.

Then removed the sunglasses arm that Hepburn had in her mouth, and substituted a long woman's cigarette holder.

As can be seen in this photo, the ear-rings and hat are identical, and even the shadow of the hat over Hepburn's eyes is identical.

Ferrer also objected to that choice – sunglasses or not as - he felt his Mother's eyes were her trademark feature, and this photo covered them up.
Did a deal with German Government

Before the sale of the pane, Ferrer signed a contract with the German Finance Ministry, securing rights to sell the stamp sheet for charity.

The contract ensured the German government would not be able to sell either of its two sheets until 2040 – if at all.

That move helped drive up the price of the auction, said Mercer Bristow, director of stamp authentication for the American Philatelic Society.

"It goes back to supply and demand. It's the only sheet out there people can bid on, and she's still such a popular actress," he told the AP from Bellefonte, Pennsylvania.

Ferrer stated he had hoped the sheet might have sold for a higher sum.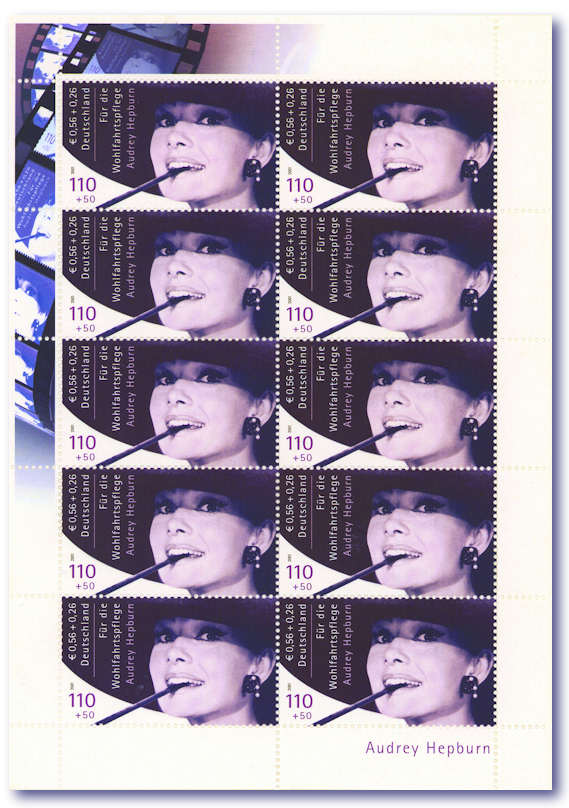 Sold for $A610,000
"I feel wonderful about the fact that something that belonged to her today can bring focus on children in need all over the world," Ferrer said.

Hepburn was a UNICEF Ambassador from 1988, until shortly before her death from cancer in 1993.

My mother always told me, "I didn't make a perfume or go sell toilet paper. I did something good with my name," Ferrer concluded.
A long term tip.
Sometimes the prices of certain material seems to bear no relationship to common sense.

Well all know there are trends and fashions in stamp, and many things that are very rare get prices way under what seems applicable.

One area I believe has huge potential are Die Proofs on USA stamps, especially the issued type.

They are often selling for prices less than $100 each. If they were from countries like Australia you could literally add a zero or two to that price!

As an example I recently purchased from a famous collection a set of 6 of the 1873 Die Proofs that has previously been in ex President Roosevelt's Collection.
A bargain at $100 each

The set of 6 cost me around $A100 each and I sold them within days via my Rarity page.

As you can see they had bright colours, and razor sharp impressions. Clean as a whistle. Scott #157P2/165P2.

Yet it sold for literally the price of the current Australia Post 2009 Annual album!

I handle a lot of stamps, and after a while one gets a tad jaded with some of it.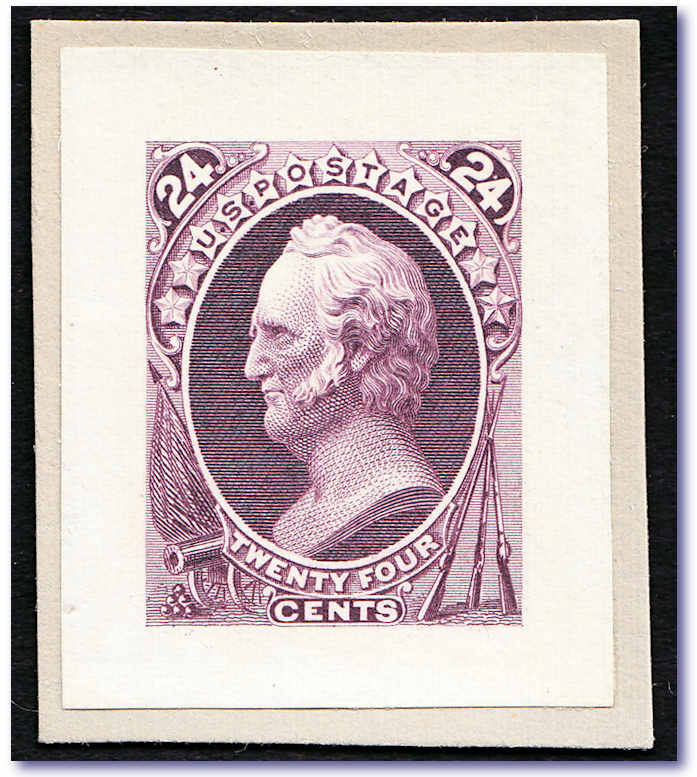 A credit to the Engraver's Art
Handling a superb set like this is a real privilege, and they really are a wonderful testament to the art of the engraver.

Those side whiskers are captured brilliantly, and who would have remembered there were 3 crossed rifles on the stamp design?
From Roosevelt Collection
Anyway, this set, still on pieces of the Roosevelt album pages, is the kind of thing that in my view has a very strong future.

As with anything this age condition is important, and many in this collection were described as having "usual toning" and those I'd always avoid.

USA Die Proofs from this era are way under-done price wise and

Clean and fault free at today's prices are joke!










Get my regular market update emails FREE. Stamp gossip, price trends, record sale prices, and many one-time stamp specials, wholesale bargains, and exciting offers and breaking philatelic news. A mini stamp magazine in every email! "KNOWLEDGE IS POWER". The ONE stamp list you MUST be on, to keep in touch with the rapidly changing world market. One client made $65,000 profit in a few months after following my specific advice. Sign up securely and quickly by clicking HERE to access my automated data base. And wiser still ADD your home AND work email, if I only have one right now. Add a stamp friend's email address if you wish. One short click and you are subscribed to probably the most read email list in the stamp world!


Instant Currency Conversion


FREE! Just click here...




If you would like to be notified of updates to this website, Click HERE. If have any questions,
or comments regarding my site, please email me at glen@glenstephens.com
| | |
| --- | --- |
| | Search all my 300+ web pages! Simply type in what you are looking for. "Penny Black", "Latvia", "Imprints", "Morocco", "Fungi" "Year Books", etc! Using quotes ( " ) is more accurf used with no quotes. Search is NOT case sensitive. Tip - keep the search word singular - "Machin" yields far more matches than "Machins" etc. |


I am a Dealer Member in Good Standing Of:

Full Time Stamp Dealer in Australia for over 25 years.
Life Member - American Stamp Dealers' Association. (New York)
Also Member of: Philatelic Traders' Society. (London) ANDA. (Melbourne) American Philatelic Society, etc
GLEN $TEPHEN$
Full Time Stamp Dealer in Australia for over 25 years.
Life Member - American Stamp Dealers' Association. (New York)
Also Member - Philatelic Traders' Society. (London) ANDA. (Melbourne) American Philatelic Society, etc

ALL Postage + Insurance is extra. Visa/BankCard/MasterCard/Diners/Amex all OK, even for "Lay-Bys"! All lots offered are subject to my usual Conditions of Sale, copy upon request BIGGEST STAMP BUYER: Post me ANYTHING via Registered Mail for my same-day cheque. Avoid the GENERALLY 40% Auction " Commissions" (15% + 17½ + GST, etc.) AND their five-month delays! Read for details.
"Lothlórien4 The Tor Walk, CASTLECRAG (Sydney), N.S.W. 2068
Phone: (02) 9958-1333&n Fax: (02) 9958-1444 (Both 25 Hours, 7 Days!)
E-Mail: glen@glenstephens.com
Web Sites: www.glenstephens.com www.glenstephens.net or www.australianstamps.net

Sign up AUTOMATICALLY to my world renowned bi-weekly stamp gossip mailing list!
Click here to see MANY 1000s of stamp lots for sale at low $A Nett prices
Click here for all you need to know re SELLING your stamps for SPOT CASH
Click here for the current Monthly "Internet Only" special offers - CHEAP!
to read all my recent International stamp magazine articles.
Click here to get back to the main www.GlenStephens.com Homepage
Click here to ORDER on-line ANY items from ANY of my dozens of lists
Click for all info on Conditions Of Sale, Payments, Shipping, Returns &c
Click here for the complete library of my very unusual world travels!
How to PAY me. I accept EVERYTHING - even blankets and axes and beads!
Australia Post Annual YEAR BOOKS - massive stock - '27% off' discount offer today!
Visit my new page on RARITIES - Roos & other expensive photo items.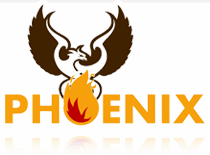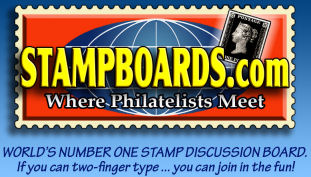 Instant Currency Conversion


FREE! Just click here...


E-mail me at glen@glenstephens.com -
Every credit card shown is accepted WITHOUT fee.
Earn Frequent Flier points while buying at bargain prices!
ALL prices are in weak Ozzie Dollars. I charge NO nasty, nasty
"Buyer's Commission" on stamps like nearly every "Auction" does.